Over the past few years, Spotify has established itself as the largest among all music streaming services. Spotify's popularity continues to surge as it eclipsed 130 million premium subscribers this year.
As streaming services continue to compete for your attention, there's one thing you should expect: more bundles. With the success of others — like the Disney Plus bundle — it's easy to see why they're all the rage. The Disney Plus bundle includes Disney Plus, ESPN+, and Hulu for $18.99/mo.
But, did you know that there's a Spotify bundle? Together with Spotify's premium subscription, you'll get free Hulu with Spotify, all for an affordable monthly cost. But there's one major caveat. Keep reading to find out how to get the Spotify bundle.
Hulu and Hulu Live TV
Start with a Hulu Free Trial
Get 75+ channels along with a library of 8,000+ on-demand titles! Bundle with Disney+ and ESPN+ for even more great content.
Sign up for Hulu + Live TV
What is the Hulu and Spotify Premium bundle?
By signing up for the Spotify Premium bundle, you'll get Spotify Premium, Hulu Basic, and even Showtime. The Spotify Premium bundle is one of the best deals out there — it combines a music streaming service, a video streaming service, and a premium subscription. It's exclusively available for students for an extended four-year period.
There are other Spotify plans like Spotify Duo ($12.99/mo.) and Spotify Family ($14.99/mo.), but they don't come with Hulu and Showtime like Spotify Student. Spotify Premium typically costs $9.99/mo. after your first free month. However, if you're a student, you qualify for Spotify Student ($4.99/mo.) and, therefore, the Spotify bundle. Here's what you get.
Spotify Premium
Spotify boasts one of the largest music libraries in all of streaming, with over 50 million tracks. And with Spotify Premium, you'll gain full access to every song, podcast, and more without commercial interruption, not to mention unlimited skips and replays. You also have the ability to download an unlimited number of tracks for offline use, which is perfect for travel and saving data.
Hulu Basic
Hulu Basic typically costs $5.99/mo. and contains thousands of episodes and movie titles. Compared to other streaming giants out there, Hulu's base package is one of the most affordable. However, there are a few limitations. For instance, Hulu Basic is ad-supported and won't let you download titles for offline viewing. So, if you want to enjoy the best of Hulu, you'll need to be within reach of a Wi-Fi connection. You also won't be able to share your subscription with friends or family since it doesn't have any simultaneous streaming features.
Showtime
The Spotify Premium bundle also tosses in Showtime. Similar to HBO and Starz, Showtime is a premium channel that offers tons of popular blockbuster movies, documentaries, and original content. There are quite a few fan-favorite series like Billions, Homeland, Kidding, and Shameless within its catalog. Movies available through the service include A Most Violent Year, Ex-Machina, Hustlers, Room, and The Amityville Horror. You'll also get some sports coverage with Showtime Sports, which broadcasts live championship boxing alongside commentary shows like All the Smoke with Jamie Foxx.
How much do I save with the Hulu and Spotify Premium bundle?
Spotify offers a few plans for you to choose from. A free ad-supported plan is available if you're not interested in opening your wallet. But for the best features, you'll need to pay for a premium plan. Each of Spotify's subscriptions come with one month free for new subscribers.
Spotify Individual costs $9.99/mo. and gives you a completely ad-free experience with offline features. If you're sharing with a friend or family member, then there's Spotify Duo for $12.99/mo. You'll get 2 premium accounts along with an additional shared playlist that comprises both of your favorite tracks. The best option for large households is Spotify Family, priced at $14.99/mo. Spotify Family has 6 premium accounts, comes with a joint family playlist, and lets you block explicit songs.
Hulu student discount
Spotify Student is the only plan that offers the Spotify bundle as referenced above. To take advantage of it, you'll need to be a student at a college or university. It costs $4.99/mo. and gives you all the best of Spotify Premium, in addition to Hulu and Showtime.
Hulu and Hulu Live TV
Start with a Hulu Free Trial
Get 75+ channels along with a library of 8,000+ on-demand titles! Bundle with Disney+ and ESPN+ for even more great content.
Sign up for Hulu + Live TV
How do I sign up for the Hulu and Spotify Premium bundle?
To take advantage of Spotify Premium's bundle, you'll need to first make sure you already have the Spotify Student plan. To sign up, visit spotify.com and click the 3-barred icon at the upper right-hand corner of your screen. From there, select Premium, scroll down to the Student plan, and click 'Get Started.' If you already have a free account with Spotify, simply login to your account and tap the Upgrade button.
You'll next be directed to a page where you'll need to fill out a series of fields. This is where you'll also need to verify your college or university. Once verified, add your payment information, and you're all set.
What if I want to cancel?
Canceling your Spotify Premium plan is simple. Just make sure that you're logged into your account, locate Your plan, and select Change Plan. Then, scroll down to Spotify Free and tap Cancel Premium. After that, confirm your decision, and your premium subscription will be canceled.
Note that your subscription will be canceled after the billing cycle is complete. So, if you cancel in the middle of the month, you'll have the rest of the month to still enjoy your premium subscription.
The final cut
Spotify delivers the beats, whether you're seeking free music or a premium ad-free subscription. But if you want the Hulu and Spotify Premium bundle with Hulu and Showtime, they're only available with the Student plan. So, if you're not a student, you're unfortunately unable to get the bundle. That said, Spotify has plenty of other plans to choose from. And if nothing else, you can still listen to thousands of your favorite tracks with Spotify's free app.
Check out all of Hulu Bundles here.
Sours: https://www.cordcuttersnews.com/hulu-and-spotify-premium-bundle/
Hulu and Spotify launch an even more steeply discounted bundle of $9.99 per month
Hulu and Spotify today announced an expansion of their partnership on discounted streaming bundles, which lowers the price of Hulu's ad-supported service to, well… nothing. Starting today, Spotify Premium subscribers can basically tack on a Hulu subscription for free on top of their existing $9.99 per month streaming music plan. In other words, for the same price you're currently paying for Spotify Premium, you can now opt in to Hulu.
The deal is open to both new and current U.S. subscribers, including those who previously took advantage of last year's $12.99 per month bundle deal, says Hulu.
New subscribers also will be able to get the first month of Hulu for free, as part of a trial period, before the $9.99 per month bundle pricing kicks in. Meanwhile, existing Spotify Premium subscribers can add Hulu by visiting their Spotify account's Services Page and activating Hulu's ad-supported plan as part of their account.
The two companies have been working together since 2017, when they first realized the potential in making both their services available as a single, affordable subscription.
Initially, Spotify and Hulu offered a discounted bundle aimed at students, which brought the cost down to $4.99 per month for both services — the same price as Spotify's student plan. Last year, Spotify expanded the student bundle to include Showtime, and rolled out a low-cost $12.99 per month bundle for all other users. (Those promo subscribers will be automatically shifted to the new, cheaper plan.)
Hulu more recently has been focused on bringing the cost down for its entry-level, ad-supported service for everyone. In January, it lowered its pricing to $6 per month, while simultaneously raising the prices for its Live TV add-on. The thinking here is that the ad-supported version of Hulu can serve as a loss leader for Hulu's more expensive plans, including its commercial-free service and the increasingly popular Live TV plan, which includes a cloud DVR and access to local channels.
It also brings more eyeballs to Hulu with ads – a growing business for the streaming which now reaches 25+ million subscribers, including its live TV service, and sees $1.5 billion in ad revenue by the end of 2018. Meanwhile, it's looking to grow its live TV side – according  to a report this month from Bloomberg, Hulu's Live TV service has now reached 2 million users and adds hundreds of thousands of new users per quarter. Hulu believes it can better attract more new users if it can promote its available upgrades to current subscribers — which is where this Spotify bundle also comes in.
Hulu says this discounted bundle is being offered to Spotify customers, new and existing, through June 10, 2019 or "while supplies last." That implies there's a cap on how many discounted bundles will be sold through this promotion.
It's also worth noting the timing of the joint announcement is coming just days before Apple's big March 25 "special event," where it's likely planning to unveil its own video streaming service for the first time. Some reports said Apple could be selling its service as a bundle with Apple Music; Spotify and Hulu's preemptive move here seem to give more weight to those rumors. The two companies appear to be ready to challenge whatever Apple announces with an almost no-brainer alternative: Spotify with free Hulu instead.
In reality, this new bundle doesn't mean Hulu is giving away its service for free — that's just what it feels like for consumers. It's actually a revenue-sharing agreement between Hulu and Spotify that benefits both parties' user acquisition efforts. And both are choosing to take the hit on pricing as part of this agreement.
As part of their collaboration, Hulu is also promoting some of its original shows on Spotify, with official playlists for The Handmaid's Tale and Pen15.
Sours: https://techcrunch.com/2019/03/12/hulu-and-spotify-launch-an-even-more-steeply-discounted-bundle-of-9-99-per-month/
Managing a Spotify-billed Hulu account
With Spotify Premium for Students + Hulu, subscribers can have access to both Spotify and Hulu (ad-supported). You can confirm if you're subscribed to Spotify through Hulu on your Hulu Account page in the Payment Information section.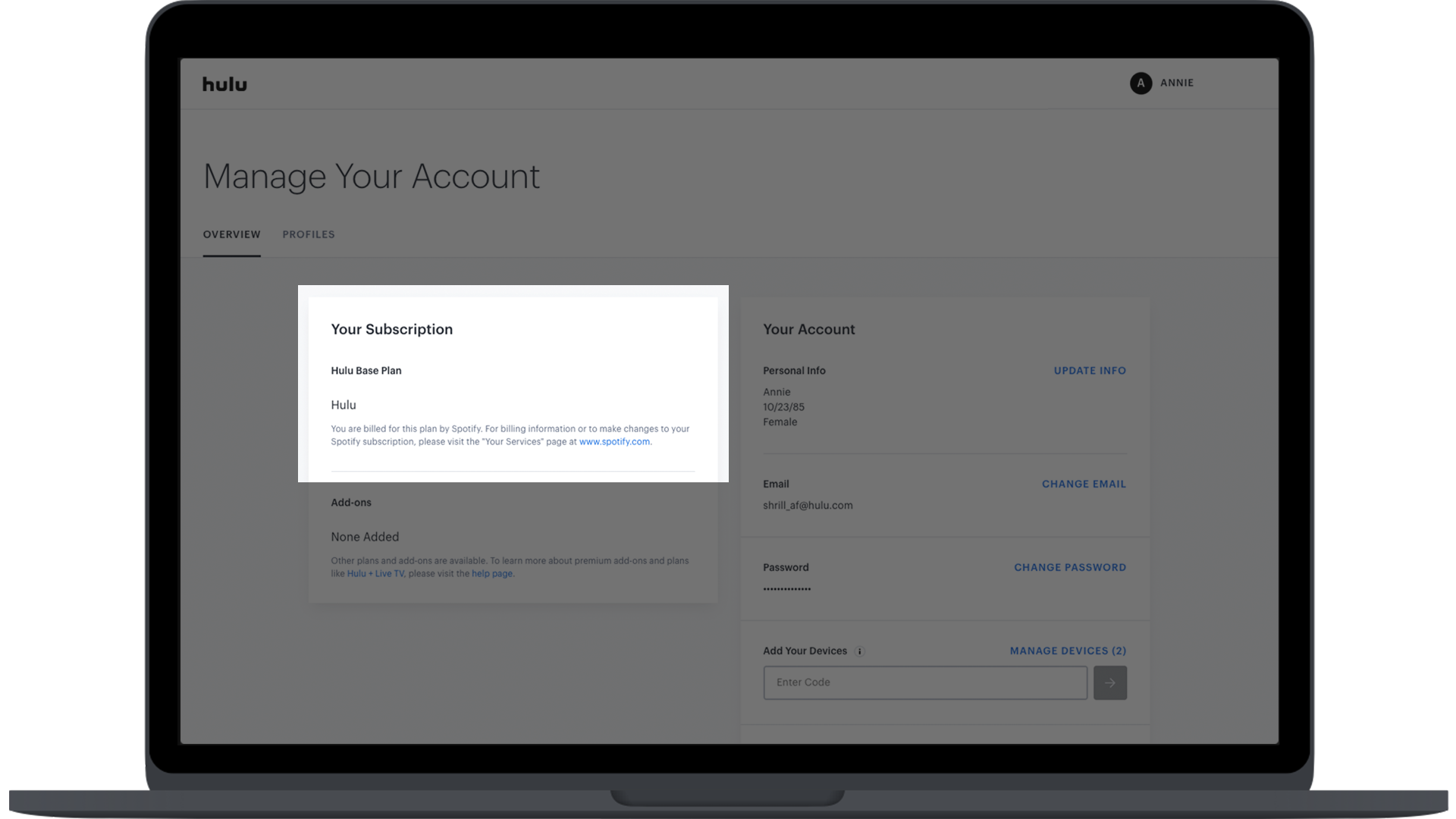 Select a topic from the list below to learn more about account management as a Spotify-billed subscriber:
Signing up for Hulu
If you have Spotify Premium for Students but don't currently subscribe to Hulu:
Log into your Spotify Premium for Students account
Go to your account page and select Activate Hulu under Account overview
Complete the required fields and following prompts to activate your Hulu account
Once you've activated your Hulu account you should be all set to log in on any of our supported devices and start streaming.

If you already subscribe to both Spotify Premium for Students and Hulu separately:
Make sure your current Hulu account is billed directly through Hulu (not a third party)
Ensure that the email associated with both accounts is the same
Follow the steps above to activate

If you have Hulu but don't currently subscribe to Spotify:
Visit Spotify's support site to see if you're eligible for a Spotify Premium for Students account
If eligible, create an account using the same email associated with your Hulu account
Follow the steps above to activate
BACK TO TOP
Updating your payment method
Spotify-billed subscribers can update their payment information directly through Spotify. If you'd like to change your billing date, please visit Spotify's support site.

If you no longer wish to subscribe to Hulu through Spotify, you will need to subscribe directly through Hulu. Existing Spotify-billed subscribers can deactivate Hulu by following the steps below, then resubscribe at hulu.com/welcome.
BACK TO TOP
Switching plans or managing add-ons
As a Spotify Premium for Students subscriber, you only have access to Hulu's ad-supported plan. If you'd like to sign up for Hulu (No Ads), Hulu + Live TV, or any add-ons, you'll need to subscribe directly through Hulu. Existing Spotify Premium for Students subscribers will want to deactivate Hulu first. If you'd like to sign up for The Disney Bundle, you'll need to visit ​​DisneyPlus.com and sign up with same email you use for your existing Hulu subscription.

After deactivating your Hulu account, click Go to Hulu or visit hulu.com/welcome to resubscribe. Make sure you use the same email address as before if you'd like to keep your profiles and watch history.
BACK TO TOP
Cancelling your Hulu account
Spotify Premium for Students subscribers can cancel their Hulu account at any time directly from your Spotify account page. To do so, select Your Services under Account Overview then click Deactivate Hulu. Completing this action only removes your access to Hulu — your Spotify account should not be impacted.
BACK TO TOP
Sours: https://help.hulu.com/s/article/what-is-hulu-spotify
How to get Spotify Student Premium Account - Spotify Student Discount
Spotify Premium now includes a free subscription to Hulu's ad-supported plan. This perk goes into effect today, and it is available to new and existing users of Spotify's Premium streaming service in the US. Following Netflix's recent price hike, Hulu lowered the cost of its ad-supported plan down to $5.99 a month, and now, Spotify users will get savings on top of savings.
To take advantage of this deal, new Spotify users can sign up now. Just be sure to activate Hulu on the "Your Services" page within account settings. If you already get Hulu through Spotify, you won't have to do anything to start saving an extra $3 per month. On the other hand, if you subscribe to Hulu and don't yet have a Spotify account, you'll need to cancel your billing through Hulu, then set it up through Spotify to receive the discount.
Unlike Spotify's $4.99-a-month student plan, which bundles Hulu's limited commercial plan, plus the Showtime channel alongside the music streaming service, its new promotion doesn't include any other free extras. In fact, it actually restricts you from adding premium channels, like Showtime or HBO, to your account. (You'll have to find another way to watch Game of Thrones in April.) It's also a bummer that this deal excludes those who have a family plan. But for everyone else in the US, Spotify says that this offer is open until June 10th, 2019, or while supplies last.
Sours: https://www.theverge.com/2019/3/12/18260278/spotify-premium-hulu-bundle-price
Family plan hulu spotify cost
Hulu Spotify Bundle: How to Sign Up for Free Hulu with Premium Spotify Plan
Spotify is once again teaming up with Hulu to offer free video-on-demand subscriptions. Find out how to sign up for the Spotify/Hulu bundle, here.
On Tuesday, Spotify and Hulu announced a limited time Premium Bundle that allows Spotify users to get a free subscription to Hulu's ad-supported plan. The plan is available to both new and existing Spotify and Hulu customers. It only requires having a Premium Spotify account. Spotify's Premium Account will set you back $9.99 a month, but with it, you'll be getting a free basic Hulu plan valued at $5.99 a month. Spotify's Premium/Hulu Bundle previously ran $12.99 a month, so while new customers are getting a super low bundle price, existing bundlers will see a limited time $3 dollar reduction on their bill. Customers subscribing to either Hulu or Spotify Premium separately are eligible for the offer as well. According to Spotify's website, the offer is open until June 10, 2019or while supplies last, so we'd advise jumping on the deal quickly. In order to help you get signed up for free Hulu with Spotify, we've put together a complete guide below, along with answers to questions you may have concerning the Hulu/Spotify bundle.
Hulu Spotify Bundle: How to Sign Up for Free Hulu with Premium Spotify Plan​
If you are NOT a Spotify subscriber…
To take advantage of the Spotify Hulu bundle, you will need to go to the official Spotify website and sign up for the deal. You will be charged $9.99 a month for the ad-free Premium Spotify plan and receive a free basic Hulu plan (with ads). Once signed up, you will need to activate your new Hulu plan through the "Your Services" page in your Spotify account settings.
If you already have Hulu Spotify Bundle …
If you are already paying for the $12.99 Hulu Spotify bundle, you don't have to do anything at all. Existing bundlers will see a $3 dollar lower bill during the time of the promotion. After the promotion ends, however, existing subscribers will see their bundle return to the earlier price of $12.99.
What if I have a Hulu account already? How to add Hulu to your account
For users who already have a Hulu account, things get a little more dicey. In order to take advantage of the bundle, you will need to cancel your existing Hulu plan and set up the new account you'll receive as part of the bundle. If you subscribe to Hulu's Live TV services or channels like Showtime or HBO, those won't be accessible with the Spotify bundle.
Can Spotify Family subscribers sign up for the Hulu Bundle?
Unfortunately, the Spotify Hulu bundle is strictly for solo Hulu Premium plans. Family plan users cannot take advantage of the offer.
How does this bundle compare to the Spotify Student Bundle?
Though the new Spotify Hulu bundle can save customers some money, if you are a student, there is an even better plan to take advantage of. Subscribers who can verify their student status can sign up for Spotify's $4.99 Student Bundle that includes a free basic Hulu subscription and Showtime.
What do you think of Spotify's new Hulu bundle? Will you sign up? Share your thoughts in the comments below!
Sours: https://www.newsweek.com/hulu-spotify-bundle-how-sign-free-hulu-premium-family-plan-1359991
How strict is Spotify family plan?
Why is Spotify family premium still not included with the Hulu offer for Spotify premium? And if this really cannot be given to Spotify family, why is it not promoted right away that it's only for INDIVIDUAL Spotify premium. I had to dig around to find out that I am not able to get the same deal for Hulu since I have Spotify premium for FAMILY.
This is very deceiving and is horrible customer service in my opinion. In addition, Spotify always promotes the family account as having the SAME features as Spotify premium for individuals. Literally on their website, under my account review page, it says "As part of Premium for Family you will get all of the premium benefits but at a lower cost." It is unacceptable to advertise FALSE information as clearly I do NOT receive ALL of the premium benefits. Either consider adding Hulu for Spotify family as well, or stop advertising that the plan is the same as Spotify premium for individuals.
Sours: https://community.spotify.com/t5/Premium-Family/Can-I-get-Hulu-with-Spotify-premium-for-family/td-p/4709277
You will also like:
Unnoticed, he went into the bathroom, threw off his clothes and stood under a warm shower. Lathering up with a fragrant gel, greedily rubbed his torn, sticking out member. Quickly wiping himself off, he went naked into the corridor and stepped back to you. In a few minutes, the picture changed again for the umpteenth time.
You were kneeling with cancer facing the door, and our guest again sat down behind and shook you violently.
1021
1022
1023
1024
1025