What to do if a wheel lock nut key is missing or broken?
If you found that the wheel lock key is missing or stripped, or one of the lock nuts is broken, you are not alone. It's a very common problem.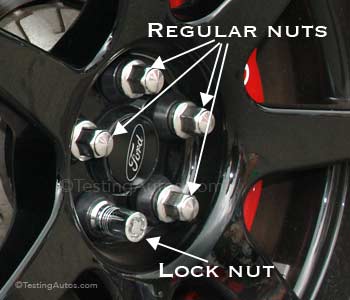 Wheel locks.
Often a wheel lock key simply wears out from repeated use. When this happens, and you cannot remove the wheel locks with the tools you have, there are a couple of options.
One option is to call your mechanic or any local auto repair shop. Many mechanics have special tools (sockets) for this purpose, so they might be able to remove the wheel locks without a key. In some cars it's fairly easy, in others it's difficult. They might need the help of a hammer and penetrating oil.
Another option is to visit the service department of your local dealership of the same brand. Dealership mechanics have the manufacturer-specific master set of keys so they can remove your wheel locks. Usually, you don't need an appointment for a simple service like that unless the dealership is very busy. Of course, the dealer may charge you some labor. A dealer should also be able to remove the wheel lock nut if it's broken or stripped. The next question is, do you want to keep the wheel locks or just install the regular nuts? Wheel locks may prevent someone from stealing your wheels and tires, but how often does this really happen in your neighborhood? Then again, if someone really wants to snatch the wheels from your car, they can find a way to remove the locks.
With that in mind, many owners opt to install regular nuts if the vehicle is old or when installing winter tires on steel rims. It helps if you can find the original nuts still stored somewhere in the trunk. With regular nuts, you don't have to worry about misplacing or breaking the key.
Can you get a replacement wheel lock key? Some dealers can order a key separately, although it will take some time for it to arrive. Most dealerships will only sell wheel locks as a set.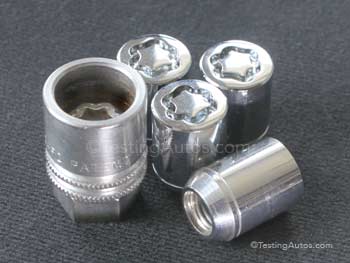 Wheel lock set with the key.
The price ranges from $20 to $120 for a set. You can also order a new wheel lock set online; the prices are also within this range. Many cars have wheel locks supplied by the company called McGard. They sell online, and you can even order the key only, as long as you have the key code, which is usually stored with the set as an ID card. It might also be in your owner's manual pouch.
What is the best place to store a wheel lock key? The common practice is to store the key together with the jack and the wheel wrench, in the spare tire well in the trunk. Many car owners leave the key visible in the center console when they are bringing the car for service, so that the mechanic knows where it is, if needed. This way, when you get your car back, you will know right away if they misplaced the key, which does happen sometimes.
Are wheel locks necessary from a technical point of view? No, wheel locks are not necessary; regular OEM nuts or bolts will do the job as long as they are all in place, fit properly to the rims and torqued to specs. If in doubt, ask your mechanic or check the owner's manual.
Why do cars have lock nuts? It's a security device that is supposed to make stealing the wheels more difficult. Wheel lock nuts or bolts have a unique pattern and come as a set with the key that matches that pattern. In most cars, wheel locks are installed by a dealership technician during the pre-delivery inspection. One lock nut (or bolt) goes to each wheel. The key and the regular nuts that came from the factory are typically placed in the glove box or in the trunk, sometimes in a plastic caseor a little pouch.
Read Next:
When does the tie rod end need to be replaced?
When should struts and shock absorbers be replaced?
When to replace sway bar links?
How often should the wheel alignment be done?
Why does the steering wheel shake when braking at high speed?
How to spend less money on car repairs - insider tips
Sours: https://www.testingautos.com/car_care/wheel-locks.html
It wasn't that long ago when most affordable vehicles came standard with black steelie wheels and crap-tastic plastic hubcaps that seemed to break and fall off whenever driving over a slightly bumpy road.
Today these wheels seem to be relegated to winter duties and bottom of the rung base models that (thankfully) aren't as common as they used to be.
While they do shave some weight in most cases and don't turn into that awful shade of rust—alloy wheels or more commonly "rims" do their part by making an unattractive car look like something that you don't have to be embarrassed about.
It is one of the most common ways in which people can jazz up the appearance of that 3 year old Civic or Corolla without breaking the bank. Sure if you want those forged lightweight BBS rims – savings go out the window, but those are overkill unless you autocross or track every weekend, at which point rims are the last thing you will need.
Regardless of whether your car has factory or aftermarket alloys, many of them(the more expensive ones at least) will be sold with some form of locking wheel bolts or nuts. Basically one of the 4 or 5 bolts on the wheel will have a unique pattern on it that a standard socket will not fit. These bolts come with a matching key that fits into the aforementioned standard socket and allows the owner to remove the locking bolt.
I have had these wheel locks on the last 3 of my cars—and I absolutely hate them.
Why?
They are a pain in the butt! More of a headache then they're worth. Especially if like me, you live in Canada, and have to swap between winter and summer wheels twice a year—every year.
Ford Focus RS comes with standard winter tire package
The keys to the locks frustratingly seem to be made of a softer material than the bolt and usually wear out over time. So if you've had the car for a few years, chances are, the technician or yourself changing over the wheels will end up with a stripped key and will have to resort to forcing the bolt out using expert techniques like hammering and striking.
Keys can get lost, and it's difficult to get replacements, resulting in having to take the locks of all the wheels and replace them with new locks.
Taking a car in for what should be a routine wheel swap can end up taking double the time and double the dollars in labour costs. Not something any consumer who has already waited in line to get the wheels swapped would be happy with.
"But those wheels locks will stop a would-be criminal from taking my wheels, so I feel safer knowing they are on there, protecting my investment" you might be thinking.
Well, as is more often the reality, anti-theft devices such as wheel locks and even alarms are nothing more than a deterrent—a minor nuisance for a car thief.
Presuming you live in a city of average size, when was the last time you actively stopped what you were doing to investigate a blaring car alarm? Food for thought.
If a thief really wants your wheels, he or she will get them locks or not. It will just take them an extra 30 seconds.
I had this issue just this past fall when I brought my car into a local shop to get my winter wheels put on. Shop owner calls me. "Sorry sir your key is stripped and we only got one wheel off, do you give me permission to force off the other bolts?"
Not having much of a choice I told them to proceed, and further to this, the shop didn't carry my specific wheels bolts. "Perfect!" It should be clear why I hate wheel locks and this was only the latest problem I've had with them.
I bought 4 new standard non-locking bolts and life is better without them.
How to change your tires from summers to winter rubber
If you find yourself in a situation where you have lost the key to your wheel locks, there is an easy way to remove them, apart from buying a special socket specifically made for this purpose. In a nutshell, you hammer on a standard socket that just fits over the locking bolt or nut and then using a lug wrench slowly twist it off.
Famous You-Tuber Eric the Car Guy dedicates his channel to the art of auto repair and helping the DIY'er do almost everything with basic tools and a little bit of elbow grease. Wondering how to take off the front bumper on your 99 Acura Integra? No sweat, Eric shows you exactly how it's done.
Watch as Eric shows us how to remove locking wheels bolts using just a standard socket set and lug wrench. And as Eric states in the video, please do not use this for any sort of criminal activity, as we definitely do not condone it. This is purely for those emergency situations, where you have lost, misplaced or like me just plain tired of the extra hassle and inconvenience that these tiny locking bolts bring.
Follow Wheels.ca on
Facebook
Instagram #wheelsca
Sours: https://www.wheels.ca/guides/why-wheel-locks-are-not-necessary-and-how-to-remove-them-without-a-key/
$6.99 New
Free shipping.
5 Point Spline Drive Tuner Socket Key Tool for Five-Spline Wheel Lock Bolts
View Product
$8.99 New
Free shipping.
ZHTEAPR 1pc 7 Point 7-Spline Lug Nut Socket Wheel Nuts Key for 7-Spline Drive Small Diameter Lug Nut...
View Product
$18.99 New
Free shipping.
Circuit Performance Small 6 Point Standard Spline Tuner Lug Nut Tool Key (5 Tools)
View Product
$13.99 New
Free shipping.
Dynofit Solid Spiked Lug Nuts Key with 19mm Hex, Universal Spike Lugnuts Socket Key Replacement Tool...
View Product
$58.97 New
Free shipping.
MIXPOWER 16-Piece Locking Lug Nut Master Key Set of Spline Star and Hex Style Keys, Wheel Lock Remov...
View Product
$54.99 New
Free shipping.
NEIKO 02457A 16 Piece SAE Metric Universal Locking Lug Nut Master Key Set | Wheel Lock Removal Kit F...
View Product
$7.16 New
Free shipping.
6 Point Spline Drive Tuner Socket Key Tool for Six-Spline Wheel Lock Lug Nuts - 17.6mm Inner Diamete...
View Product
$56.97 New
Free shipping.
CASOMAN 16 Pieces Wheel Lock Removal Tool Kit SAE/Metric Locking Lug Nut Master Key Set for Removing...
View Product
$9.99 New
Free shipping.
Circuit Performance Large Black 6 Point Spline Truck SUV Tool Key
View Product
$55.99 New
Free shipping.
TOPEC 16 SAE Metric Piece Locking Lug Master Key Set, Wheel Lock Removal Kit for the Purpose of Easi...
View Product
Sours: https://fobbattery.com/parts/search/5%20point%20lug%20nut%20key
3 Ways to Remove a Locking Lug Nut Without a Key
5-Spline Lug Nut Keys & Wheel Lock Keys
---
Replacing a flat tire can be a burden, but the job will always be made worse if you have lost or misplaced your lug nut key. Fortunately, Brandsport.com has a large selection of 5-point lug keys in stock and ready to ship. Manufacturers such as Excaliber Wheel Accessories produce quality lug nut keys that fit most 5-spline tuner-style lug nuts. These small diameter lug nut keys have a hardened steel construction and a chrome finish. When considering the purchase of a replacement lug nut key, it is very important that you match the wheel lock key measurements with your lug nuts as these must be the same size. Purchasing replacement lug nut keys are a valuable investment as removing wheels that require lug nut keys that you do not have can be expensive. These replacement keys are also good if own a used car that did not come with a lug nut key when you bought the car.
---
Lug Nut Key
5-Spline
13/16" I.D., Fits 5-Spline Lug Nuts & Lug Bolts
Sours: https://www.brandsport.com/5-spline-lug-key.html
Key lock 5 wheel point
I pulled out the books, notes and all the rubbish on which I was preparing and asked what should I do. Oksana asked: "Do you want to do mathematics?" I was surprised and asked if I have a choice. She came up to me and, looking intently into my eyes, in a strange tone replied: "Yes, you have a choice. " At the same moment I felt how she stroked.
My chest with one hand, and had already thrust the other under her skirt !!.
3 Ways to Remove a Locking Lug Nut Without a Key
Everyone did this and returned to the conversation. Until this time, they started talking about how such a competition would have happened among their guys, for better or worse. But the idea. Of comparing themselves with the boys, with all the advantages and disadvantages, encouraged them to participate further.
Julia, who was sitting on the couch, at some point sat down tightly with her legs clenched.
Now discussing:
8 August 15. 26Hi, stranger, Its very nice to hear such pleasant words. Thank you very much. Friendship is no problem, but something more.
1039
1040
1041
1042
1043