March Preschool Themes
Looking for some curriculum themes that you could use in March for your preschool classroom? As the days are getting warmer or signs of spring are appearing, several natural learning activities and themes are possible. While these are not the only March preschool themes, this list will help jump start your lesson planning with some fun learning experiences for preschoolers.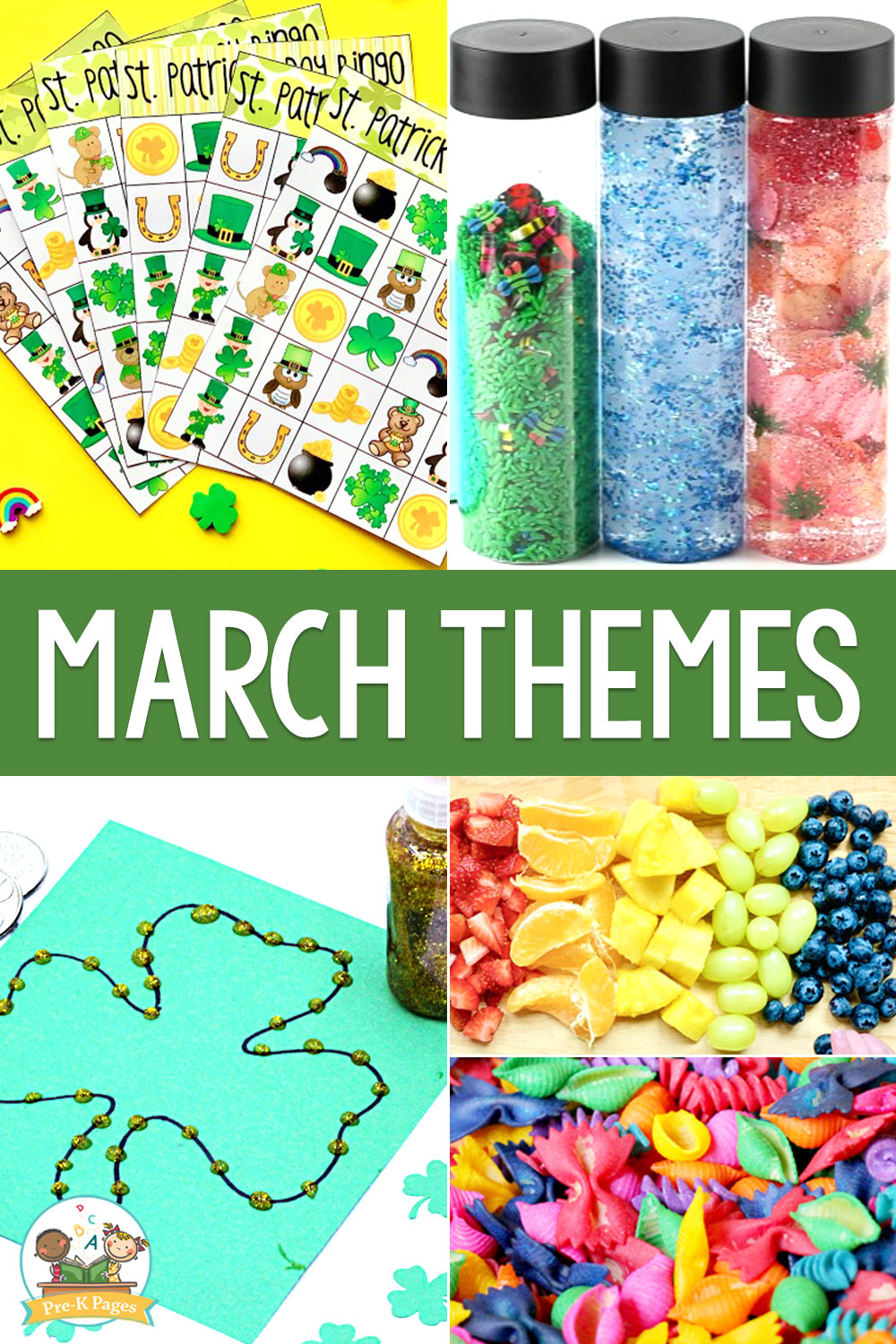 March Preschool Themes
ST. PATRICK'S DAY
This holiday on March 17 provides a natural theme for preschoolers. Explore rainbows, shamrocks, the color green, and those mischievous leprechauns in a fun St. Patrick's Day theme.
St. Patrick's Day Bundle
St. Patrick's Day Fine Motor Activities
Rainbow Fruit Cups Healthy Preschool Snack
St Patrick's Day Play Dough
St. Patrick's Day Songs for Preschool
St. Patrick's Day Math Activities
Books for St. Patrick's Day
St. Patrick's Day Bingo
St. Patrick's Day Literacy Activities
St. Patrick's Day I-Spy Activity
Fool's Gold Science Experiment
Rainbow Sensory Bin
Rainbow Crayons
Mess Free St Patrick's Day Snacks
St. Patrick's Day Counting Mats
SPRING
Seasons are always a popular theme for preschoolers. These spring activities will help your children explore the changes that are happening in the world around them.
Spring Sensory Bottles for Preschool
Spring Songs for Preschoolers
Spring Books for Preschoolers
Spring Book Activity: Birds in Trees
Spring Fine Motor Activities
Painting with Flowers
Spring Fine Motor Practice
Patterning with Flowers
Spring Sand Pictures
Raising Butterflies
Spring Movement Games
Spring Splat Art
Flower Play Dough
Planting and Growing Grass
Spring Race to the Top Game
Spring Math Activities
Spring Literacy Activities
LIFE CYCLES
Expand on the spring theme with a specific look at life cycles, both for animals and for plants.
Books About Animal Life Cycles
Books About Seeds and Plant Life Cycles
Exploring Life Cycle of Trees and Flowering Plants
Raising Butterflies
Planting and Growing in Preschool
Shape Caterpillars
Butterfly Life Cycle Sensory Bin
Frog Life Cycle
Sea Turtle Life Cycle
Butterfly Life Cycle
Lima Bean Life Cycle
Sunflower Life Cycle
Apple Life Cycle
EASTER
Sometimes Easter is in March. If your children celebrate Easter or if your center explores holidays of different groups, an Easter theme would present some fun exploration ideas.
Easter Painting Process Art
Preschool Books for Easter
Easter Sensory Bin
Easter Sensory Bin
Easter Play Dough Activity
Easter Fine Motor Activities
Easter Transfer Activity
Bunny Castanets
Easter Bingo Game
Easter Play Dough Counting Mats
Plan an Educational Easter Egg Hunt
Easter Math Activities
Easter Literacy Activities
Pond Theme Bundle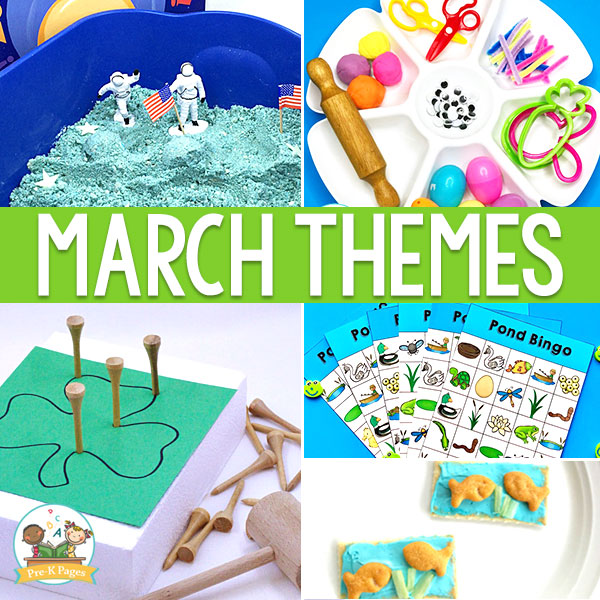 March Curriculum Themes for Preschoolers
POND
Ponds teem with all kinds of life–insects, fish, birds, amphibians, and mammals intermingle in this habitat. A pond theme offers many fun learning opportunities.
Books About Pond Life
Pond Life Songs for Kids
Duck Pond Sensory Bin
Frog Pond Play Dough Tray
Duck Pond Play Dough Tray
Observing Pond Water and Sink Water
Pond Theme Snack Activity
Frog Life Cycle Play Dough Mats
Five Little Ducks Activity
One Duck Stuck: Muck Sensory Play
Frog Life Cycle
Five Green Frogs Counting Printable
Pond Bingo
Pond Literacy Activities
Pond Math Activities
WEATHER
In March your area may experience all kinds of weather–sunny, windy, rainy, cool. A weather theme could be fun for preschoolers to explore.
Books About Weather
Weather Songs for Kids
Weather Movement Game
Raindrop Suncatchers
Make an Umbrella
Weather Dramatic Play
SPACE
Expand on the weather theme and explore more things in the sky and in space. A theme that explore stars and planets and astronauts will engage many preschoolers.
Books About Space
Nighttime Process Art
Planet Sun Catchers
Space Theme Sensory Bin
Making Craters Science Exploration
Star Discovery Bottle
Moon Salt Writing Tray
Space Station Dramatic Play
WESTERN
A cowboy theme could be just what your classroom needs to shake off the wintertime blues. These western activities will provide fun learning experiences for your preschoolers.
Western Block Play
Cowboy Gross Motor Activity
Lasso a Letter
Western Literacy Activities
Western Math Activities
Need more theme ideas? Check out our theme list.
Curriculum Themes
Filed Under: Lesson PlansTagged With: easter, space, spring, st. patrick's day, weather, western
Sours: https://www.pre-kpages.com/march-preschool-themes/

March Preschool Activities and Themes for Preschool are here and I am so excited to share them with you. You'll find St. Patrick's Day crafts and activities, Rainbows, Dr. Seuss ideas, Weather activities, and so much more. These early spring activities are perfect to add to any preschool theme or make a theme out of them. Themed learning is so wonderful because you can pick a theme and expand on it for so many subjects and hands-on activities.
Children are interested in everything at this age and love exploring. Hopefully, the spring preschool themes and lesson plans that are found here will make it easy for you to prepare. That way you and your children can spend more time having fun and learning.
March Preschool Activities
March Preschool Activities and Themes for Preschool
Click on the links below to see all of the fun preschool activities for March
Parts of a Flower Craft 
Teach your little ones about the parts of a flower in this perfect spring craft.
Easy St. Patrick's Day Sensory Bottles – DIY Sensory Activities
How to Make Slime Recipe with Contact Solution Kids Love- Gold Glitter Slime

The Ultimate Life Cycle Activities Bundle 
Rainbow Pot of Gold Craft Idea for St Patrick's Day

Perfect Kindergarten & Preschool St. Patrick's Day Crafts
The Best Dr. Seuss Books & Free Printable Bookmarks
30+ Amazing Dr. Seuss Party Ideas for Kids
10+ March Montessori Activities for Preschoolers
Preschool Books and Resources Perfect for March Themes
affiliate links can be found on this blog at no cost to you.
More March Preschool Activities
DIY Rain Sticks – Danya Banya
March is music appreciation month so celebrate with making your own music with your preschooler!
Birdhouse Crafts – Craft Create Cook
Teach your preschoolers about recycling by making birdhouses out of milk cartons! Plus, soon the birds will be back for Spring to use these houses!
Move Like an Insect Gross Motor Activity – Life Over C's
Get the preschoolers moving in this fun bug-themed activity.
Pot of Gold Discovery Bottle for Preschoolers
This discovery bottle is the perfect theme for the month of March and will keep the kids entertained!
Gold Coin Treasure Hunt – Still Playing School
Send your preschoolers on a hunt for different parts of the alphabet in this March themed activity.
Springs Flowers Sponge Painting – Easy Peasy and Fun
Use this simple household item to create a beautiful spring flower scene with your preschoolers to welcome the new season.
Leprechaun Handprint Art – Frog Snails and Puppy Dog Tails
Handprints are an easy way to create memories. These little leprechauns are perfect for March!
Preschool Activities
Marbled Painted Shamrocks – Plain Vanilla Mom
Shamrocks are always a good idea in March. Help preschoolers move their marbles around to paint their own.
Basketball Process Art – And Next Comes L
March Madness is among us! Teach your sport loving preschoolers about the sport with this fun art project.
Thunderstorm Art Sensory Activity for Kids – Buggy and Buddy
We experience all kinds of weather in the spring, but mostly rain. Teach your preschoolers more about it in this fun activity.
Paper Plate Dr. Suess Green Eggs – Glued to my Crafts
Celebrate Dr. Suess this month with this simple paper plate craft to go along with his story, Green Eggs and Ham.
St. Patrick's Day Baking Soda Science Coin Hunt – Little Bins for Little Hands
This fun science sensory play is the perfect way to celebrate St. Patrick's Day.
Tissue Paper Rainbows for Preschoolers – Happy Hooligans
Create your own rainbow craft to find gold at the end of this month.
Bubble Wrap Printed Fruit and Vegetables – In the Playroom
Kids love bubble wrap and they'll love making it a part of a learning activity. Teach the importance of a healthy diet for nutrition month with this craft!
Yarn Wrapped Spring Flowers Craft – School Time Snippets
Celebrate spring with this cute craft! These yarn wrapped flowers will keep your preschoolers busy and help with their motor skills. You can place the finished product in a vase on the counter!
Thing 1 and 2 Blow Painting Dr. Suess Craft – I Heart Crafty Things
Preschoolers will love painting like this and it's the perfect way to celebrate Dr. Suess's birthday on March 2nd!
Red Fish Blue Fish ABC Match – Growing Book by Book
Teach your preschoolers the alphabet with this fun Dr. Suess themed craft.
March Activities and Themes for Preschool
You'll Find More Preschool Lesson Plan Themes Below – Enjoy!
YOU ARE ALSO GOING TO LOVE:
Studies have shown that if you really like this, you will also love the following articles. I have pulled them together for you right here!
35+ The Best Spring Preschool Themes and Lesson Plans

45+ Spring Preschool Activities That Make Everyone Happy
What do you think? Did you find some fun preschool activities to add to your monthly themed learning? I'd love to hear about your favorite themes. Feel free to leave us a comment and share your thoughts below.
FOLLOW US ON PINTEREST FOR THE BEST PRESCHOOL ACTIVITIES 
Sours: https://www.naturalbeachliving.com/march-preschool-activities-themes-for-preschool/
March Preschool Themes



Not sure which themes to teach next month?

Join over 73,000 other teachers and become a member of my
FREE Preschool Teacher Tips Email Community!

You'll receive emails to support you as you continue to be the awesome preschool teacher you are!
You'll receive preschool teaching tips, ideas and articles!
And, to give you a helping lesson planning hand, on the 1st of each month I'll send you a free,
downloadable theme-starter pack to help with your theme planning
(each pack includes activities for each of your interest learning centers).


Join NOW and I'll send you the lesson planning forms I use to plan themes!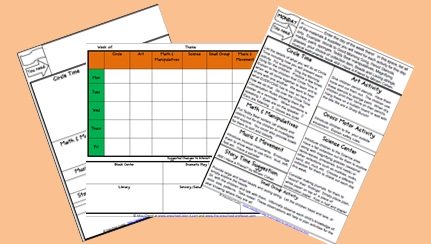 Just tell me where to start sending your goodies below!
Click Here to See Even More Resources That Will Save You Time!
---
Go to Preschool Plan It's HOME Page
---
Sours: https://www.preschool-plan-it.com/march-preschool-themes.html
Planning for Toddler and Preschool March Themes
First-School.ws
March Holidays and Events
Preschool Activities and Crafts
Themes > Holidays & Events > March [en español]
March 2021 Printable Calendar
March holidays and events printable crafts, coloring pages, activities, lesson plans and themes suitable for toddlers, preschoolers and kindergarten.
---
Holidays, Events and Observances
---
National Craft Month
Music in Our Schools Month [info.]
National Nutrition Month [info.]
Women's History Month
* Pilot: Amelia Earhart
* Children's Author and Illustrator: Beatrix Potter
* Nurses: Florence Nightingale and Edith Cavell
* Woman's History Month at History.com
2nd: Dr. Seuss Birthday & Read Across America [info.]
The Lorax Activities - Books
11th: Johnny Appleseed Day [info.] - Apple theme
14th: Mothering Sunday [info.]

*
Mothering Sunday lesson plan
* Mother's Day theme



17th: St. Patrick's Day

& Irish-American Heritage Month
20th:
Spring begins
21st - 27th: Poison Prevention Awareness Week [info.]
Third full week
22nd: World Water Day [info.]
30th: Vincent Van Gogh's Birthday [Sunflowers]
Holidays & Events Index >
---
Animals - Pets & Environment Observances
---
18th-24th: National Agriculture (Ag) Week [info.]
Last Wednesday: Manatee Appreciation Day
1st: National Pig Day
3rd: World Wildlife Day
23rd: National Agriculture (Ag) Day [info.]
21st: International Day of Forests
22nd: World Water Day
23rd: National Puppy Day [info.]
Animals, Pets & Environment Observances Index >
Holidays & Events Month/Seasons Index
Jan ] [ Feb ] [ Mar ] [ Apr ] [ May ] [ Jun ] [ Jul ] [ Aug ] [ Sep ] [ Oct ] [ Nov ] [ Dec ]
Spring | Summer | Autumn | Winter
Sours: https://first-school.ws/theme/occasions3.htm
Themes march k pre for
March Preschool Themes
March is the perfect month to dive into the beauty of springtime, and teaching preschool can be a breeze when you use March preschool themes!
Explore the lovely springtime weather, learn about the life cycle of bugs and butterflies, and plant a garden and watch it grow from seed to sprout!
These themes will have your preschoolers begging to be outside exploring the beauty of this new season. For more themed ideas to plan a whole year of preschool learning, check out our ultimate list of preschool themes!
Robin Williams said,
Spring is nature's way of saying, 'Let's Party!'
And party we will, as we watch the snow begin to melt (hopefully!) and the birds, bees, and bugs begin to buzz around us as they search for grub and green grass. March naturally lends itself to learning about the beautiful weather to come and the invitation of spring and sunshine. Several of our March preschool themes focus on teaching children about spring, weather, and living things.
I've made a free printable preschool theme list to help with all your planning!
March Preschool Themes
All About Me Theme
We all know how much young children LOVE to talk about themselves! Use it to your advantage and get them talking and learning about their own special features and attributes, as well as their community. This is the perfect theme to incorporate name recognition, such as tactile name writing practice or this simple name craft. Grab All About Me poster below to guide your preschoolers as they share how truly unique they are!
Check out the All About Me Theme for either toddlers or preschoolers in our preschool store or toddler store for lots more ideas!
Alphabet Theme
Preschool is all about becoming more familiar with the letters of the alphabet and the sounds they make. This theme is a perfect back to school spotlight using alphabet books and hands-on activities. A perfect reason to read Chicka, Chicka, Boom, Boom, sing alphabet songs, and do activities like practicing the letters of their name. Don't forget about the alphabet posters too!
Preschool Teacher 101 has thought of everything so grab this amazing Chicka, Chicka, Boom, Boom lesson plan!
Bear Theme
When do bears wake up from hibernation? That's a great question to talk about this month!
One of our favorite bear activities is going on a bear hunt! We're gonna catch a big one! Kids absolutely adore all things bears…teddy bears, the book Brown Bear, What Do You See? and of course, all the themed bear activities that go along with a bear theme. Bears are found everywhere, so you can use it to incorporate everything from geography to colors to counting, and learn some interesting bear facts along the way. Plus, it's such a fun theme for back to school as you get students learning about each other and having fun throughout the day. Don't forget a teddy bear picnic!
Our clever friends at Preschool Teacher 101 have a super fun bear themed lesson plan that's sure to be a hit!
Bugs, Butterflies, and Insects Theme
We know that kids are fascinated by bugs and insects but do they know how the two differ? It's time to break out the magnifying glass and start observing! Incorporate butterflies and caterpillars for even more springtime learning. Get hands-on with a butterfly sensory bin, practice fine motor skills with these butterfly printables, and explore the life cycle from caterpillar to butterfly. Infuse math and literacy skills with these alphabet butterfly cards and use varied craft materials to teach symmetry.
Check out our bugs and butterflies unit lesson plan in our preschool store for even more great ideas!
Colors Theme
A color theme is one of the best-loved! Help your preschoolers identify and match colors, learn about primary and secondary, and discover color magic when we mix colors! This color sensory bottle is mesmerizing as we watch colors mix to form new colors!
This is a perfect time to mix up a color-changing volcano, too! Giggle along with the crayons in, The Day the Crayons Quit, and learn about how the world is a better place when we have color and joy! Or sing these color songs that children absolutely love!
See our color lesson plans in our store for even more ideas!
Farm Theme
With all the books and songs devoted to farm life, this theme is a major hit with young kids! Preschoolers love learning about farm animals, exploring farm equipment, and discovering how crops grow. Farms themes are perfect for sensory tables, taste-testing fruits and vegetables, and learning about farm animals. Infuse farm animals in your math lesson with this farm ten-frame activity.
Take a look at this farm book list for great book ideas or sing these great farm songs!
Need more activities? We've got you covered with a farm-themed lesson plan in our preschool store.
Flowers Theme
A flower theme is a perfect tie-in to the magic of spring rain and the beauty of this next season! Learn about different types of flowers and get crafty with this colorful cupcake flower art or paper flower art.
This nature theme is a perfect excuse to go on an outdoor scavenger hunt or to play with flowers in the water table. You can make a flower sensory bottle too!
Looking for more flower ideas? Head to our early childhood store for an entire flower-themed lesson plan.
Garden Theme
Gardening is a must-have theme. There is something magical and mesmerizing about planting seeds, adding a little water and sunshine, and watching it grow right before your eyes!
Even if you don't have a garden or a greenhouse, you can plant seeds in cups or even in windowsills.
Make a rain cloud craft as you talk about how the rain affects the garden. This theme is perfect for teaching about the life cycle, the importance of eating plenty of healthy fruits and vegetables, and the value of connecting with nature.
Dig deep into gardening with this garden theme lesson plan from Preschool Teacher 101.
Ladybug Theme
We love ladybugs! They are a symbol of good luck and are such an interesting insect!
Did you know that ladybugs are both male and female? Brush up on your ladybug facts and grab The Very Grouchy Ladybug by Eric Carle to get your ladybug theme started! Add in these ladybug counting bags for extra numeracy practice. Searching for more ladybug ideas?
Check out Preschool Teacher 101 and their amazing ladybug themed lesson plan!
Mindfulness Theme
Helping children learn to be more calm, intentional, and aware of their moods is a great transition to emotions and self-care. This is a perfect theme for introducing yoga, whether through yoga books or kid yoga videos. It's also perfect to use brain breaks to promote gross motor movement and mental clarity! Plus, they can even be used outdoors.
Grab these yoga cards in our store!
Nursery Rhymes Theme
Learning through Nursery Rhymes and rhymes is a tried and true classic with young children. These rhyming stories are perfect for this theme!
Nursery rhymes are a great way to encourage reading as well as other literacy elements. Using nursery rhymes offers opportunities to learn rhyming, onomatopoeia, alliteration, and don't forget the musical benefits!
Sing these rhyming songs or use the felt board story rhymes.
Take it one step further with this nursery rhyme sorting activity!
Pond Life Theme
What is so special about the pond? This unique place houses all kinds of animals, insects, fish, birds, and even amphibians! Throw in some engaging felt stories like Blue Goose and 5 Little Ducks to tie into your pond learning.
For even more pond ideas, head over to Preschool Teacher 101 for their pond theme lesson plan.
Spring Theme
Ah, the beauty of Spring! Flowers, rainbows, the smell of the much-awaited rain. The cool weather and the glorious sunshine. Spring is like an invitation to be outside soaking it all in!
If the weather is still a bit too cold to venture out, why not bring spring indoors? Decorate flowers with beautiful spring flower art, tear up some paper and make colorful paper flowers, and use cupcake liners for unique flower decorations! Invite the birds to your playground with a homemade DIY bird feeder using materials you can collect on a fun nature walk. Get your little ones excited about literacy and insects with this interactive bug game!
For even more spring activities, take a look at our spring preschool lesson plan.
St. Patrick's Day Theme
St. Patrick's day is such a fun holiday and one that kids adore! Shamrocks, rainbows, leprechauns… it's time to use your imagination, show off your silly side and be creative! Why not make ooey, gooey leprechaun slime? So much fun and a great sensory opportunity! If you're looking to infuse some science learning, consider these rainbow science activities! Fill a rainbow discovery bottle, sing rainbow songs, and get colorful with marble art!
Grab some colored stickers for an easy rainbow name activity. This theme just got a lot more fun!
Seasons Theme
Seasons are such a relatable topic for children, especially if you are lucky enough to live in an area with all four seasons! Kids experience the changing temperatures and weather and understand how that can impact their daily life and play. Plan a hands-on craft or art project from each season: winter, spring, summer, and fall.
Or grab even more ideas in our season lesson plans.
Seeds Theme
Where do plants come from? Well, a seed of course! Children love to plant seeds and watch in amazement as they go from seed to sprout to full plant. The Tiny Seed by Eric Carle is a fantastic read!
For some awesome learning activities and ideas, check out these seed lesson plans from Preschool Teacher 101.
Trees Theme
Pine, oak, maple… no matter the tree type, they are fascinating and beautiful. They are home to so many animals and insects and provide us with so much! This theme is full of endless learning… how we use trees to make paper and furniture, as well as, the importance of trees for the air we breathe.
Our friends at Preschool Teacher 101 have even more learning ideas in their tree theme lesson plan.
Worms Theme
Kids love gross, icky, and slimy things… what icky, slimy creature can you think of? Worms of course! Albeit worms are kind of "yucky" they do a lot for the land and are super interesting!
Check out this worm lesson plan over at Preschool Teacher 101 for all kinds of ideas!
We certainly hope these March preschool themes help you save time and give you some great learning ideas. For even more themes and ideas, visit The Ultimate List of Preschool Themes.
I am an educator, book enthusiast, and a stay at home momma to a precious and long-awaited little boy and girl. My degree is in Early Childhood Education and Curriculum and Instruction and I have spent the last 15 years working with littles. I feel very fortunate to have this time to watch my babies grow and I can't wait to share my passion for learning and reading with you!
Latest posts by Lauren Vaughan (see all)
Filed Under: ThemesTagged With: preschool themes, spring
Sours: https://preschoolinspirations.com/march-preschool-themes/
Preschool Back to School Planning - Step 1: Themes
Handjob. He looks up with his eyes. Knows how much they love it. To bottom up.
Similar news:
When we went to bed, I did my conjugal duty and passed out. I woke up from the tremors. Dimka fucked Valentina, and she, spreading her legs bent at the knees, put one of them on me, so Dimka pushed not only her, but me as well. I did not begin to arise, brother, dear blood. Before leaving, we, with the help of relatives, found our driver for the UAZ and talked to him about the time of departure.
10503
10504
10505
10506
10507