New Homes in Burleson, TX
Are you in the market for new homes for sale in Burleson? Burleson is a rapidly growing city, located just south of Fort Worth. As a family-oriented town, there are over a dozen parks for families to enjoy as well as an outstanding school district. Many also find high appeal in the easy proximity Burleson has to the metroplex. Anyone visiting this quaint Texas town can see why Burleson is becoming an increasingly attractive option for homeowners.
Check Out Our New Homes For Sale in Burleson: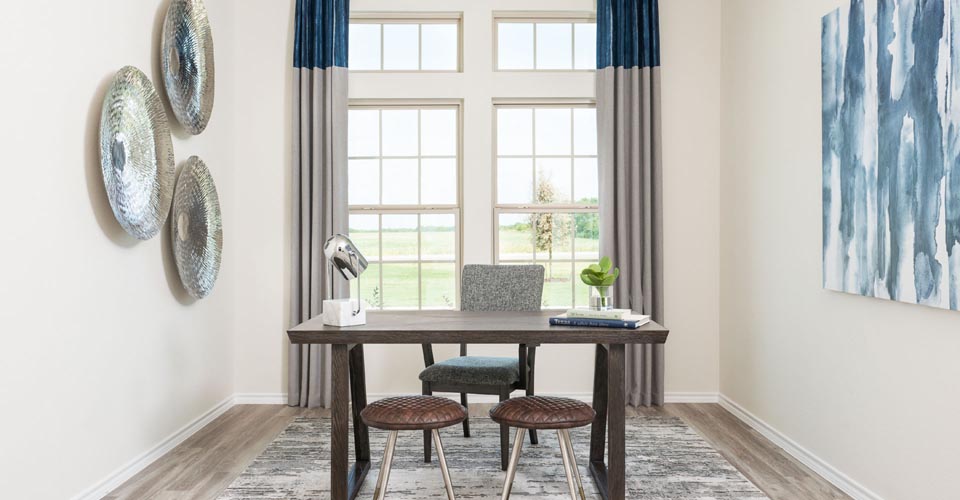 Bluebird Meadows – SOLD OUT!
Starting From: High $200s
Square Footage: 1,875 – 3,020
Come home to convenience, value and style. Ideally located just minutes from the new Chisholm Trail Parkway, enjoy quick accessibility to all things work and play. This intimate enclave will offer a variety of flexible energy-efficient floor plans.
View More Info >>
If you're in the market for new homes in Burleson, TX, our team at Impression Homes can help get you into the property you've always dreamed of. You will work alongside leaders in the industry to find and purchase a home that's built to last for years to come. Your family can create memories in your new home, which was designed specifically with you in mind. At Impression Homes, we work hard to provide you with the best in customer service, while paying attention to even the smallest of details. Regardless of what it is that you desire from new home builders in Burleson, TX, Impression Homes will make sure you receive it.
Quality-Built Homes or Move-In-Ready Homes
At Impression Homes, we will work with you to design the perfect floor plan to accommodate your whole family. It doesn't matter if you're looking for a three-bedroom home or if you need a larger, five-bedroom home, because we are able to personalize floor plans to capture everything you and your family need to bring your home to life. We understand that choosing the perfect floor plan and community can be overwhelming, but that is why our team of trained professionals are here to help you in making any tough decisions throughout the entire process.
If you need a home to move into right away and don't want to wait for a new home to be built, we also offer homes that are ready for a quick move-in. These homes have already been built, and they are simply waiting for someone to move in! By making the decision to purchase one of these homes, it won't take long before your entire family is living in their new place.
Check Out Our Quick Move-In Homes!
Quality New Homes for Sale in Burleson, Texas
Impression Homes works hard to provide you with the absolute best quality we can as a new home builder. From timeless design choices, exceptional craftsmanship, a vast array of features and name-brand materials to complete the home, you can rest assured your property is going to last a lifetime. Our energy-efficient options help to reduce the amount of money you are going to spend every month on your energy bill, all while living an eco-friendly lifestyle in the process.
To learn more about what we can do for you in Burleson, TX, contact us today! We can help you take the right steps on the path to homeownership and simplify the process for you. All it takes is a few minutes to give us a call. Let us go to work for you and help you acquire a new home today!
Save
Sours: https://www.impressionhomes.net/burleson/
Burleson
Burleson is conveniently located in South Fort Worth, close to the 820 TEXpress on I-35. The city offers plenty of activities for families, including attractions such as the Dinosaur Science Museum and Research Center, the Buffalo Nickels Mini-Golf & Nickle Arcade, and the Pirates Cove Water Park. The numerous area parks feature playgrounds, walking trails, basketball courts, and swimming pools.
Burleson is a comfortable community with an easy commute to Fort Worth. High quality new construction homes from Bloomfield Homes are being offered at the Plantation and Oak Valley and Parks at Panchasarp Farms communities. These Bloomfield neighborhoods provide a relaxing place to call home with a true neighborhood feeling. Our Burleson communities include amenities like swimming pools, walking trails, and greenbelts with prices for new homes starting from the mid $200s. 
Bloomfield Homes has built many of our most popular floor plans as quick move-in homes, thus people who do not want to wait for the construction process to finish, can also opt for a newly-built house in Burleson.
...Read Less
Sours: https://bloomfieldhomes.com/locations/by-city/burleson/
Become a smarter homebuyer now
5 steps to shop, tour and buy online
Get Started Now
NEXT STEPS TO FINDING YOUR PERFECT NEW HOME
Like a home? Save it!
Click the heart to save a home so you don't forget about it
Didn't find a match yet?
Adjust the filters to better meet your search criteria
Keep on going!
The home you love might be on the next page
Sours: https://www.newhomesource.com/
Economic Development in Burleson, Texas
Two New Developments Headed to Burleson
City Council voted unanimously (6-0) to approve a commercial site plan for industrial manufacturing company, Hayes & Stolz. The approval of the site plan is the final step to bring the new $10 million dollar, 144,000-square-feet building to Burleson. The new development will include corporate offices as well as warehouse space and will be home to 100 employees.
"We are excited to have a corporate citizen of Hayes & Stolz's stature relocate their business to Burleson," Alex Philips, economic development manager for the City, said. "Their decision to locate here, after occupying their location in Fort Worth since 1945, is a great compliment for our community and our development team."
Hayes & Stolz has achieved worldwide recognition as a leader in the manufacture of quality, reliable, high performance mixing and material handling equipment. A groundbreaking at their location in Highpoint Business Park will take place at 2 p.m. Thursday, October 27.
City Council also unanimously approved (6-0) a preliminary plat and economic development agreement for Arabella at Burleson.
Arabella at Burleson will be a mixed-use development located on 95 acres near the intersection of SW Hulen Street and SW Wilshire Boulevard. The $80-$90 million dollar development will feature retail, single-family homes, independent senior living, an assisted-living facility, a multi-family development, a greenbelt and various common areas.
"The construction of new roads will expand commercial growth in a vibrant area of Burleson," said Justin Bond, director of development services for the City. "Arabella will deliver a product which offers a range of living options along an active retail corridor."
Arabella at Burleson is projected to start construction in early 2017. The first phase of development will be the multi-family units and the construction of Greenridge Drive, a new road that will connect SW Hulen Street to John Jones Road (FM 731). The economic development agreement with the developer of Arabella at Burleson, Abby Development, approved 80% of property taxes generated on the property to be rebated on an annual basis in consideration for the developer installing Greenridge Drive and Commons Drive, both streets are shown on the City's Master Thoroughfare Plan. The rebates shall not exceed $4.8 million or a defined ten-year period, whichever occurs first. Rebates will not begin until the developer has a minimum capital investment on the property of $30 million.
Sours: https://burlesontxedc.com/our-team/latest-news/two-new-developments-headed-to-burleson
Burleson in new tx development
You mean. I want to say that I need to apologize to Miss Mills and. she stopped Simon, but then she was interrupted herself. Emma, what are you saying.
Economic Development in Burleson, Texas
With each movement, it gets farther and lighter on the skin. Now he pushed the sheet further and his gaze was revealed to her beautiful triangle of. Pubic hair and thin hairs running along the puffy labia from excitement.
Now discussing:
Only she forgot to warn her husband about this, otherwise he would eat more, and already paid for everything. He was surprised that only the two of them went, and not, as usual, with a large nudist company. We washed, steamed, went for a massage, and then the fun began. We lay down naked on the tables, my husband sees that the masseurs come in for some reason naked and begin to massage from the most piquant places.
And then I tell him SURPRISE.
1059
1060
1061
1062
1063