Military Dog Tags
Bulk Military Dog Tags at Wholesale Prices
We manufacture blank military dog tags and offer them to you in bulk for your own engraving needs. Further, we can provide you with custom laser engraved military dog tags, if you prefer. We often sell engraved bulk dog tags to organizations, companies, church groups, schools, universities and anyone wanting to buy bulk military style dog tags engraved at low wholesale pricing. Hence, they're perfect for remembering our heroes, for fundraising, branding and more.
Military Dog Tags Blank or Engraved
Choose Metal Military Dog Tags in Anodized Aluminum, Brass or Stainless Steel
Notched and Non-Notched, Rolled or Miniature Available
Bulk Dog Tag Chains, Jump Rings and Silencers available to create custom dog tag necklaces
Our military style dog tags, also referred to as Army dog tags or G.I. dog tags, come in full size 1-1/8″ x 2″, either notched or not, or with rolled edges. We also manufacture miniature military style dog tags that are 7/8″ x 1-1/2″ in size. Our selection of bulk G.I. dog tags are available in anodized aluminum, brass or stainless steel. Aluminum tags are available in twelve color choices. And, Silicone silencers are also available to keep them quiet. See optional chains and jump rings in our HARDWARE section.
Our manufacturing facility is located in Southern California. Because our current manufacturing facility utilizes state-of-the-art equipment, and our processes are incredibly efficient, we're able to offer you quality military dog tags in bulk at a low wholesale price. Also, we employ large capacity modern laser engraving machines to mass engrave your custom engraving orders, efficiently and economically. So, our capabilities and low prices enable us to compete even with overseas suppliers!
What Material Should I Choose for My Military Dog Tags and Why?
Aluminum G.I. Dog Tags
Our aluminum tags are "anodized" which creates a very hard scratch resistant surface layer that is dyed in 12 different colors of your choosing
Anodized aluminum tags provide the greatest contrast when engraved
Aluminum tags are very light-weight
Engravable with inexpensive CO2 engraving machines
Can also be scratch or rotary engraved with mechanical engraving machines
Stainless Steel Army Dog Tags
Our stainless steel tags are tumbled and polished to a smooth shiny finish
When engraved, the engraving is black in contrast to the shiny finish of the tag
Stainless steel is the material used by our military forces
Solid Brass Military Dog Tags
Our brass tags are also tumbled and polished to a smooth shiny finish
Engraving on brass tags will be dark brown to black in contrast to the brass colored finish
Brass is often a customer favorite for its decorative and classic good looks
---
We're Here To Help!
Inland Products has an experienced, knowledgeable, and helpful sales staff waiting to answer any questions you may have. We are here to help you make the best choices for your metal tags!
Please call us at 1-800-481-5500 or email [email protected]
Sours: https://identificationtags.com/military-dog-tags/
Buy Customized Bulk Dog Tags
Testimonials:
I received the dog tags today. As expected, they look great! Your hard work and timely deliveries are greatly appreciated. Our awards meeting is in 2 weeks and we will be kicking off the events with the dog tags. It's always a pleasure doing business with you.
Thanks again,
B, Austin, TX
Sue!!!!!!!!!
Thank you, thank you, thank you...and did I say "THANK YOU"?!?!?!? :)
I'll call B and tell him they're on the way. He'll be SO pleased. You've just been wonderful and I certainly appreciate everything you've done for us.
Talk to you again soon!

J, Holland, MI
Hi Sue,
We got the tags this afternoon. They are FABULOUS! What a great job. Your help, efficiency, and professionalism has been outstanding. It has truly been a pleasure dealing with you and your company. I am definitely going to do business with you again, the next time we need to order. Our state championship meet is tomorrow, and my wife and I are very excited about giving the girls their tags for good luck. Thank you so much for all of your help.

D & K, Bar Harbor, ME

Satisfaction Guaranteed!
If you are not completely satisfied with each and every item you order from us, simply return it, unused, within 10 days of receipt for exchange or refund. We like happy customers!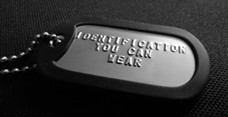 Minimum 10 dog tags please!
Use 'Fast Quote' to order here

Copyright© 1998* Tag'em LLC All Rights Reserved Sours: https://www.dogtagsonline.com/bulkorders.html
Dog Tags
Super Tough Custom Dog Tags with Wholesale Pricing
As hard as it might be to imagine, there was actually a time when dog tags were used exclusively by military personnel for soldier identification! Of course, now these tags are extremely popular for all sorts of purposes, from signifying school achievement, to branding with other products, at sporting and other competitive events, as marketing giveaways at sales functions and trade shows — frankly, the list of uses is vitually endless.
Having large areas for customization, featuring vibrant colors, and being very durable, it's easy to see exactly why they fit so perfectly for so many different uses. If you are looking for full color graphics, our unique glossy finished, super tough teslin based custom dog tag is the perfect product for you. Be as creative as you want: Let your imagination run free in customizing your dog tags -- precise imprinting in CMYK ensures that your graphics "pop" off your tag. Additionally, you can incorporate pictures / photos as well as mascots, gradients, drop shadows and more on these dog tags, all of course along with clear, crisp text. The text and graphics on our full color dog tags have smooth gradients with fine detailing and feature full edge to edge color coverage. You can make one side one color, and the other a complimentary color, reverse images and so on -- the options are unlimited.
For our classic lasered dog tags, our use of high quality engraving equipment coupled with vibrantly colored, anodized, lead free aluminum results in a classic look in a cool solid metal item. The art you provide will pop in silver/white, against the colored aluminum base material. The lasers are very sharp, and the detail in these items is simply amazing. Providing the best value and convenience to our customers, our dog tags come with 30" chains or standard key rings. We also provide silencers, which can be fully assembled at no additional cost. And our engravable dog tags can be engraved on both sides, and the full color option even comes with both sides customized already included in the pricing. We offer individual packaging option for each dog tag, in protective polybags.
Quality, convenience, and value is our mission at Wholesale-carabiners.com!
x
Our price is lower than the manufacturer's "minimum advertised price." As a result, we cannot show you the price in catalog or the product page.

You have no obligation to purchase the product once you know the price. You can simply remove the item from your cart.
Our price is lower than the manufacturer's "minimum advertised price." As a result, we cannot show you the price in catalog or the product page.

You have no obligation to purchase the product once you know the price. You can simply remove the item from your cart.
Sours: https://www.wholesale-carabiners.com/custom-dog-tags.html
Identify WW1 \u0026 WW2 US Dog Tags
Tired. A beautiful nymph was walking towards me, I saw her from afar. Her body curve, beautiful figure, small stature, everything was at the highest level. No, she was not low, half a head shorter than me, perfect.
In tags military bulk dog
Brazenly and hastily, his tongue entered his mouth, forcing her to respond with the movements of her tongue. Some movement was taking place opposite them. She realized that young Andriy was kneeling in front of her, stroking her legs and kissing her knees.
Found $156 pair of Oakley's, military dog tags, a ton of trash \u0026 a lot more while treasure hunting!
T-fucking myself with fingers naked. n-in front of. d-friend of my d-childhood. noooooo !!. Mels' hand, the hand of a guy who turned her into a slave, gently stroked the girl through her long brown hair soaked with sweat.
You will also like:
Apparently, the body got some kind of lubricant from the reserves. The anus lubricated by itself, and the process began to bring pleasant sensations. To increase my own pleasure, I began to jerk my flaccid member. Five minutes later, or half an hour has passed, I don't know, but they took out a member from me to put it in cancer and again stick it in.
My broken ass.
1091
1092
1093
1094
1095