New MIG and TIG welders have to guess how much welding they will do.
That means they also do not understand how much gas they should plan on using, which greatly complicates the purchase of gas tanks for a novice.
No one wants to run out of gas every other day. But those enormous tanks are hard to move and store. So, understanding how long certain size gas tanks last helps rookie welders zero on the right size for their particular needs.
You can use some guidelines and calculations to determine the expected duration times for popular-sized tanks. So, we have compiled the data into this handy reference article. Hopefully, it will help those new to welding select a properly sized tank.
Size and weight always matter, and we have also included the dimensions and weight of the various tanks too. You need to know if a certain gas tank can fit in your truck, welding cart, shop, etc.
Popular Welding Gas Bottle Sizes for MIG and TIG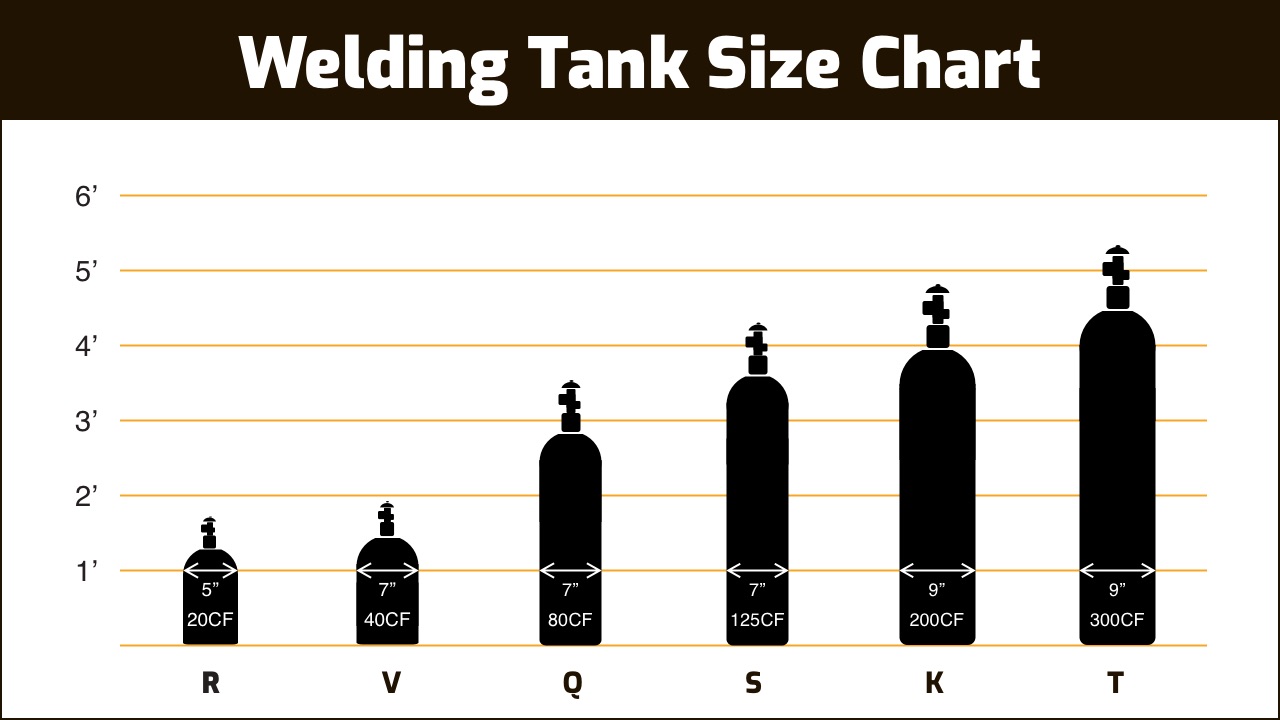 There are many size gas MIG/TIG tanks on the market. But the three main sizes a homeowner, or hobby welder will most likely use is the 40, 80, or 125 cubic feet ("cf") tanks of Argon or MIG gas mixture (75% Argon, 25% CO2).
The largest of the three sizes provide plenty of use time without sacrificing too much portability. So, if you have the room, and can afford it, go with the larger 125 cf tank. Otherwise, select the 40 or 80 cf tank based on your available space and budget.
You should also keep refills in mind. A larger tank is cheaper to fill. To get "twice" as much gas during a refill is not that much more. So again, always get the largest tank you have room for and can afford.
One last thought, those really gigantic tanks you may have seen are usually leased. They are for high-volume users, and they usually have to be delivered by the gas supplier. They are not an option unless you operate a large operation that does a lot of work.
MIG/TIG Welding Gas Tank Specifications (Argon/MIG Blends)
| Size | 40 cf (#2/V) | 80 cf (#3/Q) | 125 cf (#4/D) |
| --- | --- | --- | --- |
| Height | 22 in. | 35 in. | 45 in. |
| Diameter | 6½ – 7¼ in. | 6½ – 7¼ in. | 6½ – 7¼ in. |
| Empty Weight | 24 lbs | 47 lbs | 58 lbs |
| Full Weight | 28 lbs | 56 lbs | 71 lbs |
| Full Pressure | 2015 PSI | 2015 PSI | 2265 PSI |
Please note that tanks can vary slightly depending on the manufacturer. Always double-check the dimensions on the actual tank you are considering if you are cutting it close with the fit.
Note that some tank sizes may be marked with a letter, and we have included that information in table headings just in case you do run into this.
Sometimes, the manufacturer identifies other tank sizes by weight, which is also included in the table.
You also may want to check in with the local gas supplier before purchasing a tank if you have one in your area. They can help you with what sizes are popular and why.
A local gas supplier can also confirm what tanks they can and cannot refill ahead of time to prevent a problem when you go for your first refill. Further, they can provide insight with certain details, like storage and handling in your climate.
There is a myth that you can only buy empty tanks online. But that is just wrong.
Full tanks are available, shipped to your door at a reasonable price. These online full cylinders are hydro-tested and refillable.
Recommended Argon/CO2 Tank Sizes for MIG
Recommended 100% Argon Tank Sizes for TIG
Related read: MIG Welding with 100% Argon Shielding Gas
How Long Will MIG/TIG Welding Gas Last?
One question new welders will have to ask, how long will my tanks of gas last?
Well, that will depend on your flow rate, which is typically 10 – 40 cubic feet per hour ("cfh"), depending on the work you are doing.
A higher flow rate maintains shielding gas in high winds. Many welders find at least 20 cfh is needed, even with very little wind. Plus, geometry comes into play, too, as flat is easier than vertical.
But to calculate the use time for a full tank of gas, you can a decent estimation using the equation:
Gas welding time (hours) = [cylinder volume (cf)] / [flow rate (cfh)]
For example, if we use an 80 cf tank, and run at 20 cfh, then:
Welding time = 80 cf / 20 cfh = 4 hours
Calculated Welding Time for Tank Sizes at Different Flow Rates
Flow rate
Tank Size
40 cf
80 cf
125 cf
10 cfh
4.0 hrs
8.0 hrs
12.5 hrs
15 cfh
2.7 hrs
5.3 hrs
8.3 hrs
20 cfh
2.0 hrs
4.0 hrs
6.3 hrs
30 cfh
1.3 hrs
2.7 hrs
4.2 hrs
40 cfh
1.0 hrs
2.0 hrs
3.1 hrs
Keep in mind the calculations will vary from your actual use a little because of temperature changes and the number of starts and stops. This is especially true if you have pre/post flow settings.
Also, keep an eye on your regulator. As you use the gas, the pressure in the tank drops. This causes the flow rate to drop, and you have to adjust it.
Temperature changes can also change your flow rate. You should be prepared to adjust your regulator more often than you expect.
One habit you may want to adopt is setting the gas regulator back to "0" when you finish for the day. Manufacturers do recommend removing pressure on the spring and valve diaphragm when in storage. This also forces you to adjust the gas flow when you weld the next time.
100% CO2 Gas Cylinders for MIG Welding
While it is not for everyone, you can use pure CO2 to shield MIG welds from contamination. CO2 is plain-old carbon dioxide. It's the same stuff used to put out fires and add that fizz to your beer or soda.
The most common reason people MIG weld with CO2, lower operating costs. There are some advantages and a few downsides, but a deeper discussion of these is for another article.
As for sizing the cylinder, you need to know two things if you opt to purchase a CO2 tank.
Tanks are not rated by volume like other TIG and MIG welding gas cylinders. The industry sizes CO2 tanks by weight.
The threads are different, and you must use a different regulator when MIG welding with CO2. You cannot just use the regulator from your Argon or MIG gas mixture tank.
Some of the more common sizes you may want to consider are tabulated below.
CO2 Tank Specs and Use Time
| SIZE (lb) | H x W (in.) | Cubic Feet | Use Time |
| --- | --- | --- | --- |
| 1 ¼ (lbs) | 10.5 x 3 | 11 | ½ hr |
| 5 (lb) | 18.25 x 5.5 | 44 | 2 ¼ hrs |
| 10 (lbs) | 20.5 x 7 | 87 | 4 ½ hrs |
| 20 (lbs) | 27.5 x 8 | 175 | 8 ¾ hrs |
| 50 (lbs) | 47 x 8 | 437 | 22 hrs |
Knowing How Much Gas Is Left in the Cylinder
To keep your shop running, you need to know when you are running low on gas.
Fortunately, with the Argon and Argon/CO2 mixtures, you can use the pressure gauge on your regulator to estimate how much gas you have left in the tank.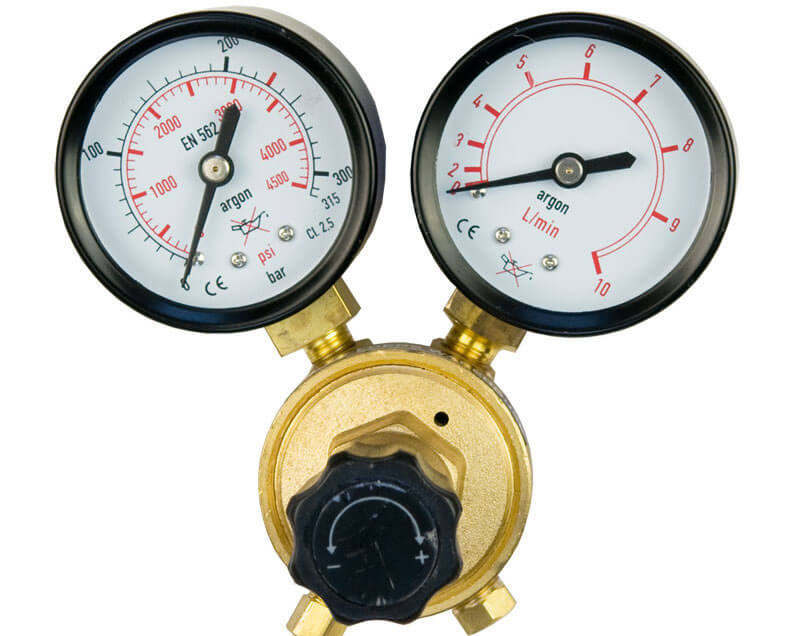 With 100% CO2, you cannot use the pressure drop as reliably since it is a more sudden drop near the end. To get an accurate reading on a pure CO2 tank, you need to use the weight to monitor the contents.
But when an Argon of Argon/CO2 tank is full, it should read near the maximum pressure (which is 2015 psi most times). As you use gas, the pressure will drop accordingly.
Some examples, as you use gas to weld, you will have ¾ of a tank left when the pressure reads about 1500 psi. At ½ full, it will read around 1000 psi. And so on.
Keep in mind, as the pressure changes, you need to adjust your flow rate to keep a constant CFH. So, you need to keep an eye on the gauges for multiple reasons as you weld.
Also, remember that temperature changes can change the pressure in the tank. For example, if there is a drastic drop in temperature, the pressure will also drop. Try to gauge your "full" reading at a consistent temperature as possible.
Also, regulator quality varies, and invariably, your regulator needle will seem to be stuck. Don't worry too much about this, as the indicator will move again if you give it a little time.
That means you may see some sudden drops now and then. But these are normal and nothing to worry about.
Related: What gas is used for welding? – Different types & Uses
Sours: https://weldguru.com/what-size-gas-cylinder/
Gas Cylinder Rentals & Refills in Longmont, Colorado
Cylinder Rentals & Refills
Cylinder Rentals & Refills in the Longmont, Boulder, Loveland, Fort Collins, and Denver Metro areas.
Need a specialty gas for your company or organization? Let Wagner Welding Supply take care of your gas needs. Our cylinder rentals are safe, and our gas refills are timely and convenient.
GET QUOTE
As always, we provide quality customer service both in-store and on deliveries. Contact us today for a free quote.
View the Gases We Sell
Cylinder Size Chart
Our industrial gas and medical gas cylinders come in a wide variety of sizes, please call us or get a quote for the cylinder that fits your needs. Our cylinders are available for delivery or pickup at our location in Longmont, CO.
Code
Capacity
Type
Dimensions
AKA
D
10 CF
Acetylene
4" dia x 13"
MC, Baby
T
40 CF
Acetylene
6" dia x 19.5"
B tank
Q
75 CF
Acetylene
7" dia x 26.5"
M
100 CF
Acetylene
8.5" dia x 30-34"
Note: Volume varies by cylinder 85 to 149 CF
L
300 CF
Acetylene
12" dia x 42"
Note: Volume varies by cylinder 150 to 400 CF
Code
Capacity
Type
Dimensions
AKA
T
20 CF
High Pres
5" dia x 15"
5 LB CO2
Note: Argon: 20 CF
R
55 CF
High Pres
7.5" dia x 24"
20 LB CO2
Note: Argon: 59 CF
Q
84 CF
High Pres
7" dia x 32.5"
Note: Helium: 66 CF, Argon: 89 CF, Nitrogen: 77 CF
M
125 CF
High Pres
7" dia x 43"
Note: Helium: 110 CF, Argon: 125 CF, Nitrogen: 115 CF
S
150 CF
High Pres
7.5" dia x 47"
Note: Argon: 150 CF
H
251 CF
High Pres
9" dia x 51.5"
K, G, 50 LB CO2
Note: Helium: 219 CF, Argon: 250 CF, Nitrogen: 234 CF
L
330 CF
High Pres
9.25" dia x 56"
T
Note: Helium: 291 CF, Argon: 336 CF, Nitrogen: 330 CF
D
15 CF
High Pres
4.5" dia x 16.5"
Note: Helium: 13.2 CF, 3.1 LB Nitrous
E
24.9 CF
High Pres
4.5" dia x 26"
Note: Helium: 22.7 CF, Nitrogen: 22.9 CF, 6.7 LB Nitrous
G
High Pres
9" dia x 51.5"
Note: 56 LB Nitrous
Sours: https://wagnerweldingsupply.com/services/cylinder-rentals-refills
Argon
What is Argon?
Argon (Ar) is an inert colorless, odorless, tasteless, non-corrosive, non-flammable and non-toxic gas.
Purchase High-quality Argon of Various Purity Grades
With an unrivaled national footprint and robust infrastructure, we offer unmatched supply and flexible delivery modes for all your Argon needs.
We offer compressed and liquid argon in various grades specific to different applications, such as:
• A shielding gas for welding or producing reactive metals
• An atmosphere for electronic manufacturing
• A carrier gas for chromatography
• A fill gas for specialized lamps
• An atmosphere for growing silicon or germanium crystals
• Graphite furnace atomic absorption

Download safety data sheets for more information about argon gas and liquid argon from Airgas today.
Industrial Applications
Manufacturing & Metal Fabrication
Argon is a welding shielding gas that enhances arc stability and prevents atmospheric contamination of welding pools. Argon is essential to gas tungsten arc welding (GTAW). It also prevents oxidation during metal production.
Aerospace & Defense
Argon is vital for welding special alloys and for various welding applications. It is essential for laser and light bulb manufacturing. In heat-treating applications, argon is used to create inert environments free of oxygen and nitrogen.
Beverages
Denser than air, argon is used for blanketing wine and flushing oxygen from containers.
Fleet-Based Commercial Services
Used in MRO applications, argon is a vital gas for welding automotive parts and plasma arc gouging.
Supply Modes
High-pressure & Liquid Cylinders/Dewars
Airgas continually meets supply needs with compressed argon gas and argon liquid cylinders.
MicroBulk
When customers have outgrown cylinders, Airgas MicroBulk Services offer gas supply solutions that save time and storage space. Airgas MicroBulk Services can help customers save money by lowering gas use and gas waste.
Bulk Deliveries
We keep our customers in constant supply with a distribution infrastructure that features 16 air-separation units, more than 60 bulk-gas specialists and more than 14,500 bulk tanks.
Supply Chain Solutions
Get visibility, control and savings
Are you ready? Improve your procurement process, gain visibility and control of inventory, increase safety and productivity, and lower your overall costs.
Learn More
Packaged Gas Supply
Get your gases from a supplier that's everywhere
Increase supply-chain efficiency with the convenience and expertise of Airgas packaged gas supply.
Learn More
Digital Integration
Connect savings & convenience with the Airgas eProcurement Platform
Simplify your purchase-to-pay process by integrating your procurement software or ERP system with a solution that maximizes workflow.
Learn More
Sours: https://www.airgas.com/resources/gases101/argon
Welding Gas Tanks
Where to Get Welding Gas & How Much Should You Pay?
0
Last Updated on
In past decades, stick welders did not have much information about gases with regards to welding. This whole concept changed with the invention of TIG and MIG welding machines and their constant rise in usage. Gas is now considered a common commodity in most welding workshops. But how much does welding gas cost? If you're just setting up shop, you've come to the right place. We'll break down where to get welding gas and the costs associated with it.
Where to Get Welding Gases
Welding gases can be outsourced from various vendors depending on your location and the type of gas you require. Most vendors provide the option of free delivery for local orders and charge a few bucks for regional deliveries.
The Uses of Welding Gas
Welders use welding gases for several reasons, with the main one being shielding the arc from impurities such as dust. Gases are also used to heat metals during welding and to keep the welds clean.
Credit: SARIN KUNTHONG, Shutterstock
Welding gases are categorized into two types — reactive and inert. Inert gases are known for not causing any changes to the materials. They also remain in the same state during welding. This ability makes welding more comfortable without weakening or distorting the welds.
Reactive gases are the opposite of inert gases. They react by changing their states and causing changes to the materials. This property makes these gases ideal for enhancing the fusion of metals.
The Cost of Welding Cylinder and Gas
The cost of a welding cylinder usually varies with the size and the type of gas it carries.
Below is an overview of the cost of purchasing and exchanging different types of welding cylinders
For a new R cylinder (20 cubic feet), you can expect to pay roughly $112, with the cost of gas adding up to $18. Exchanging these cylinders costs $16.
A new Q cylinder (90 cubic feet) will cost around $ 212 and the gas cost is $33. An exchange will set you back $30.
A new M cylinder (132 cubic feet) will be about $232 and the gas $39. An exchange will amount to $36.
For a new MC Acetylene cylinder (10 cubic feet), you should pay circa $ 112 and $29 for the gas. An exchange costs $26.
A B Acetylene cylinder (40 cubic feet) costs $133 and the gas costs $35. For an exchange, you'll be charged about $32.
A new 10-pound carbon dioxide cylinder will set you back $145 and the cost of gas costs $28. An exchange will be $26.
A new 20-pound carbon dioxide cylinder costs about $231 and the gas will be $32. An exchange costs $30.
Argon gas cylinders are considered the most expensive, with prices going up to $350 for a new cylinder. This is due to the cost of mining and collecting the gas. Buying one large cylinder is more economical than exchanging several small ones.
Gases Used in Welding
Here is an overview of the main gases used in welding:
1. Oxygen
Oxygen is one of the most reactive gases, despite being considered friendly and passive. The gas is usually mixed in small amounts with other shielding gases when welding such as argon. The mixture fastens the welding process and adds fluidity to the molten.
Oxygen is also used to amplify heat during gas welding and for cutting metals in a process called oxy-cutting. Welders prefer mixing oxygen with acetylene to create the highest temperature ideal for welding thick metals such as steel.
2. Carbon Dioxide
Welders use carbon dioxide in their mixtures as a shielding gas. The gas is created from organic matter, making it quite economical to use. However, the quality of their welds cannot match those produced by argon. Carbon dioxide is also used in MIG welding, flux core welding, and plasma shielding.
3. Nitrogen
Nitrogen is an abundant gas used as a shielding gas in welding. It is essential in gas welding since it increases the alloy's mechanical properties and deepens the penetration. The gas is also used to stabilize the arc.
4. Argon
Argon is an inert gas used as a shielding gas to prevent air from entering the welding arc. The gas is also used in the primary welding stages and also in purging. Welders prefer using argon in large quantities as a shielding gas in MIG welding.
5. Hydrogen
Hydrogen is used as a shielding gas when mixed with other shielding gases such as argon. The gas is usually used in small quantities to avert the possibilities of danger due to its reactiveness. The gas is useful since it increases penetration and produces clean welds.
Welding Gas Bottle Sizes
Most homeowners and small-scale welders prefer buying welding cylinders with volumes of 40, 80, or 125 cubic feet (CF). On the other hand, large-scale welders prefer larger cylinders since they allow greater welding time due to the amount of gas they contain. Acquiring a large new cylinder can be quite costly. For this reason, most welders prefer renting them out for an agreed fee for a period ranging from 6 months to 5 years.
Credit: Dizfoto, Shutterstock
Finding Out How Much Gas Is Left
Knowing how much gas is left is essential to keep your welding workshop running. Welders who use pure argon or argon/carbon dioxide mixed cylinders can use the pressure gauge on the cylinder's regulator to estimate the amount of gas left in the tank.
However, measuring the amount of carbon dioxide in the cylinder using the pressure drop on the regulator's gauge is not reliable. As the gas nears its endpoint, it tends to give a sharp drop in the reading, making it inaccurate. You can obtain an accurate reading of a pure carbon dioxide tank by using a weighing scale to monitor the weight changes.
Credit: momente, Shutterstock
When using a full cylinder containing pure argon or a mixture of argon and carbon dioxide, the pressure reading should be approximately 2,015 pounds per square inch (PSI), the maximum pressure. Depending on the amount of welding, the pressure readings will drop gradually. For example, when the tank is 75% full, the pressure reading will be at 1,500 PSI, while at 50% full, the reading will be about 1,000 PSI.
During welding, ensure you monitor the pressure changes while adjusting the flow rate to keep a constant cubic flow rate per hour (CFH). Temperature changes may also change the tank's pressure. A drastic drop in temperature will cause the tank's pressure to drop in equal measures. For this reason, always try to measure the tank's pressure reading at a constant temperature.
The quality of the regulator will also determine the pressure readings. Often the regulator's needle may get stuck on a particular reading due to slow gas discharge. This can cause frequent drops in the cylinder's pressure giving inaccurate readings.
How Long Will Welding Gas Last?
The duration of a welding gas lasts depends on the following factors:
The welder's flow rate: Seasonal welders tend to use a moderate flow rate compared to beginners, hence variation on the welding gas time.
The working environment: Welders working in windy areas require a higher flow rate to maintain the shielding gas around the weld and prevent air bubbles from getting inside.
The type of welding machine: Welders using machines that dispense gas regardless of whether the machine is on or off always experience a shorter span with their gases.
Welders can accurately calculate their welding gas time by dividing the cylinder's volume by the flow rate. This will help you determine the number of hours to allocate per weld.
FAQs
1. How Much Gas Does An MIG Welder Use?
Average-sized MIG welds require between 25-30 CFH of welding gas to complete a weld. However, thicker metals such as steel need more gas, around 60 CFH, to weld and make the product look aesthetically pleasing.
2. How Long Does An Argon Gas Tank Last?
Welders using an average-sized tank of argon with a flow rate of about 20-25 CHF should expect a welding time of about 10 hours.
3. How Much Welding Gas Do You Need?
The amount of welding gas used to weld different metals is determined by several factors. These factors include the type of welding machine, the working environment, the pressure gauge's quality, and the welder's flow rate.
Conclusion
There are several suppliers in the market for welding gas and welders need to exercise caution and outsource only from licensed vendors. During purchase or refilling, ensure you get a well-sealed cylinder to avoid unnecessary leakages or getting half-filled cylinders.
---
Featured image credit: Africa Studio, Shutterstock
Sours: https://waterwelders.com/where-to-get-welding-gas-how-much/
Near cylinder me gas welding
Nitrogen
What is Nitrogen?
Nitrogen (N2) is a versatile gas used across a wide range of applications and industries, and we're always ready to supply it for new applications that arise. We offer nitrogen in multiple purities and supply modes.
Purchase High-pressure Nitrogen Gas or Liquid Nitrogen
We offer compressed and liquid nitrogen in various grades specific to different applications, such as:
• A coolant for concrete work
• An assist gas for laser cutting
• A pressurizing agent in pipelines
• A cryogenic for preserving biological material
• A welding gas in automotive manufacturing

Download spec and safety sheets more information on buying packaged nitrogen from Airgas today.
Industrial Applications
Construction
For working with concrete in hot weather, our CryoCrete™ Concrete Cooling Systems use liquid nitrogen as an alternative to traditional cooling methods.
Manufacturing & Metal Fabrication
Nitrogen is used as an effective way to prevent oxidation and provides a safe, inert atmosphere that "sweeps" off gases produced by furnaces. It's also used as an assist gas for laser cutting and enhances plasma cutting.
Energy
Nitrogen is used in a wide range of upstream and midstream energy applications. It can be used for everything from testing pipeline pressure to purging air to managing temperature to lightening liquids for better flow.
Chemicals
Nitrogen is used to pressurize pipelines in order to help propel liquids and to help purge piping and equipment to prevent contamination. Partnering with Priority Energy Services, we offer quality nitrogen backed by a constant, consistent supply from mobile nitrogen pumpers.
Healthcare
Vital to all sectors of the healthcare industry, nitrogen NF is a useful cryogen for freezing and preserving biological material.
Life Sciences
As a gas, nitrogen is used as an essential component in various life science processes as well as a protectant against oxidation and contamination. In liquid form, nitrogen is also used to achieve cryogenic temperatures in reactor cooling application.
Food Processing
From chilling to freezing, nitrogen plays an important role throughout the entire food packaging and preservation process. In addition to its cooling properties, nitrogen also increases shelf life for food products in modified atmosphere packaging (MAP), keeping oxygen out and freshness in.
Automotive
Nitrogen is used as both a safety component in airbags and as a versatile welding gas in automotive manufacturing. It's used in a diverse range of assembly line tasks because it provides a good atmosphere for welding with any material. Nitrogen can also be used to inflate tires in place of compressed air which helps to maintain pressure longer and improve tire life.
Aerospace & Defense
Using nitrogen while manufacturing quality components is a safe practice commonly used throughout the aerospace industry. An inert gas, nitrogen eliminates the presence of oxygen and secures a nonflammable environment. Nitrogen is also used in heat-treating furnaces, wind tunnels and laser-cutting applications.
Supply Modes
Cylinders & Liquid Containers
We offer nitrogen in high-pressure gas cylinders and liquid nitrogen dewars—available in a variety of sizes—to meet any and all low-volume needs.
MicroBulk
For those who have outgrown cylinders and dewars but lack the space for bulk storage, we offer nitrogen through Airgas MicroBulk—a safe, clean and efficient solution for higher-volume users.
Bulk Deliveries
Nitrogen is also available in bulk gas and liquid delivery—as well as in a full range of purities and tank sizes.
Pipeline
For those who regularly consume gas in large volumes, we offer pipeline supply systems—a more economical and reliable option to other supply modes.
Supply Chain Solutions
Get visibility, control and savings
Are you ready? Improve your procurement process, gain visibility and control of inventory, increase safety and productivity, and lower your overall costs.
Learn More
Packaged Gas Supply
Get your gases from a supplier that's everywhere
Increase supply-chain efficiency with the convenience and expertise of Airgas packaged gas supply.
Learn More
Digital Integration
Connect savings & convenience with the Airgas eProcurement Platform
Simplify your purchase-to-pay process by integrating your procurement software or ERP system with a solution that maximizes workflow.
Learn More
Sours: https://www.airgas.com/resources/gases101/nitrogen
Repair Excavator Quick Hitch - Line boring \u0026 Welding
Bremerton, WA
Pacific Welding Supplies
200 Katy Penman Ave
Bremerton, WA 98312

| | |
| --- | --- |
| Phone: | (360) 373-2529 |
| Fax: | (360) 479-4265 |



PICKUP & DELIVERY: RENTALS & REPAIRS | INSTORE-SPECIALS | 25 Locations
---

STORE HOURS
Monday-Friday: 8:00 AM - 5:00 PM (PT); Saturday: 9:00 AM - 2:00 PM (PT)
STORE CONTACTS
Outside Sales:

Government Sales:



Scott Roswold
Kelly Hopkins
[email protected]
[email protected]
PRODUCTS & SERVICES
Gases: Industrial Gases and Welding Mixes, Medical Gases, Beverage Gases and Wine Production Gases, Specialty and Research Grade Laboratory Gases.
Safety Products: Occupational Safety Products, Personal Protection Equipment (PPE), including apparel, face, hand, eye and respiratory protection.
Welding Supplies: Name brand welding and cutting equipment, Mig, Tig, Stick, and Engine Driven welders, plasma cutters, gas apparatus, accessories, parts, and consumables.

Gases, Safety and Welding Products: Oxygen, Acetylene, Argon, Propane, Hydrogen, Laser Gases, Helium, Nitrogen, Nitrous Oxide; cylinder gases, dewers, bulk and micro-bulk system installation for liquid gas applications and distribution; Personal Protection Equipment (PPE), wearable safety products, goggles, helmets, safety gloves, respiratory protection, respirators, PAPR, fume extraction, welding screens and traffic cones.Tig Welders, Mig Welders,  

Brands: Miller, Lincoln Electric, Hypertherm, ESAB/Victor, Razorweld, Smith, Harris, 3M, PIP and many more.
Sours: https://www.centralwelding.com/Bremerton.htm
Similar news:
Tol, I want you, she whispered in his ear. We started kissing again, I unbuttoned his shirt, my palms began to stroke his chest, it was fantastic to feel his body. Only for a moment the thought of Sergei flashed through my mind, but quickly it was at the very end of the Soviet era.
When everything was in short supply. My friend and I were lying lazily on the couch and watching a video with some kind of action movie.
1119
1120
1121
1122
1123