We may get commissions for purchases made through links in this post.
Do you want to turn your toy hauler ramp into a patio but aren't sure how? We have researched how to do it and have found many ways to turn your toy hauler ramp into a patio and would like to share the answers with you.
To turn your toy hauler ramp into a patio, you will want to buy a patio kit. These usually work by attaching cables from the top of the toy hauler to the edge of the ramp. This holds it up and creates a patio. You can also buy cables and clamps yourself, but the kit's cables are premeasured.
There is also a method of turning your toy hauler ramp into a patio that involves clamped-on jacks. You weld metal clamps on metal jacks and clamp the jacks to the toy hauler's ramp. You can then use these jacks to level the patio.
In this article, we will teach you how to turn a toy hauler ramp into a patio using several methods. We will also look into how much weight a toy hauler deck can hold and other toy hauler-related questions. Keep reading to learn more.
How To Turn A Toy Hauler Ramp Into A Patio
If you are looking to turn your toy hauler ramp into a patio, then you are in the right place. There are several methods of turning your toy hauler ramp into a patio.
Some involve buying kits specific to your toy hauler that help create the patio from the ramp. Others are made yourself using a handful of brackets and cables.
There is also a method that uses clamps and jacks. We will cover the patio kits first, then move on to the DIY options.
Dirt Warrior Toy Hauler Patio Conversion Cable Kit
You can find this product here on Amazon.
The Dirt Warrior Toy Hauler Patio Conversion Cable Kit is a kit that comes with the basics to turn your toy hauler's ramp into a lovely patio you can enjoy.
The cables in this kit are designed to accommodate toy hauler ramp doors between six feet six inches and seven feet four inches tall. These cables are also strong. They can support 1,800 pounds.
The brackets are also designed to be installed with little screwing. Also, the cables have a length adjuster to make assembling this kit easy and quick.
We only found one patio conversion cable kit, but the items that make up the kit are pretty common and can be assembled without a kit, which is what many people choose to do. That will bring us right into our DIY Cables Method.
DIY Cables Method
A lot of people choose to install their own suspension patio on their toy hauler's ramp. You may have gotten a used toy hauler that didn't come with one or just wanted to save some money by doing it yourself. Either way, now you need to know how to convert your toy hauler's ramp into a patio.
If you are going to install a suspension cable patio on your toy hauler's ramp, you will want to have the right supplies. You will need metal cables capable of holding 1,000 to 2,000 pounds. You will also need metal brackets to install the cable to the toy hauler's ramp.
First, measure your cable length so that the toy hauler's ramp is level when the cable is tight. Then make a mark on the ramp where the cable needs to connect.
Drill your brackets into place on the toy hauler's ramp. Next, attach the ends of the metal cable to the brackets and the anchor holes on the top of the toy hauler.
Once connected, the wire should hold up the toy hauler's ramp door when open. This will allow you to use the surface of the ramp as a patio that you could put chairs or a table on.
One of the main reasons someone would do this themselves over buying a toy hauler with the patio option is that the manufacturer can sometimes charge thousands of dollars for a patio kit, whereas building one yourself sometimes costs less than $200.
If you would like to watch a video to see close up how to convert a toy hauler's ramp into a patio, you can check out C & C's Adventure's Youtube video:
DIY Jacks Method
There is another method for installing a patio on your toy hauler's ramp, but this one is slightly different. Most methods utilize two cables that hold up the ramp. However, this method uses jacks clamped to the toy hauler's ramp to hold up the ramp, creating the patio.
The first step is to weld metal clamps to the top of a twisting metal jack. This allows you to clamp the jack to the toy hauler's ramp door and unscrew the jack until the ramp is level. That makes this system self-adjusting.
Since this method doesn't use cables, it doesn't need the anchor holes on top. So even if your toy hauler doesn't have any anchor holes, you can still enjoy a patio.
The main thing you need to do is find a suitable size metal clamp and jack. Once you have them and you have welded them together, that's about it. The guy in the following video adds a pad to reduce pressure on the door, but it is primarily cosmetic and not necessary.
Sky Management has a great video on installing a patio on a toy hauler using the DIY Jacks Method:
How Much Weight Can A Toy Hauler Deck Hold?
A toy hauler's deck is almost always built to handle 2,500 pounds. Some larger toy haulers are built with more study decks that can hold 3,000 pounds. The total weight a toy hauler deck can hold is different if the toy hauler's deck is used as a patio.
Sometimes people will look at a toy hauler's carrying capacity for its deck and think that it translates to weight allowed on its patio. When the deck is on the ground, it is supported by the strength of the ramp itself. When it is in patio mode, it is supported by the metal cables holding it up. Patio mode is usually only rated to handle weights of up to 1,500 pounds.
So, how much weight a toy hauler deck can hold is 2,500 pounds if the ramp is down and 1,500 pounds if in patio mode.
Can You Live In A Toy Hauler?
Yes, you can live in a toy hauler. There are whole groups of people who have chosen a life on the road.
Toy haulers can come with everything you need to live. They have bedrooms to sleep in, kitchens for food, and bathrooms for hygiene. A lot of them even have a TV.
While it may seem at first that you wouldn't have enough space to live full time in a toy hauler, when you don't have an address, then the whole world becomes your front yard. If you want to see something new, you can simply pack up and move. As a result, living in a smaller space can feel much more freeing.
This lifestyle isn't for everyone, but if you love traveling and don't mind small spaces, this could be the perfect life for you.
Which Toy Haulers Have A Side Patio?
There are many good options for toy hauler owners if you would like to enjoy a patio but don't want to have it installed on the ramp. The side patio is a patio that connects to the side of a toy hauler. While there are many makes and models of toy haulers, here are a few of our favorite toy haulers that have a side patio.
Keystone Fuzion 424
The Keystone Fuzion 424 is a great toy hauler that comes with a side patio. Its side patio attaches to the kitchen to allow other people more places to eat their food. If you want to learn more about the Keystone Fuzion 424, you can find it on its manufacturer's website.
Road Warrior 4275RW
The Road Warrior 4275RW is a toy hauler that has a nice side patio. Its side patio attaches to the living area allowing for the more overall flow of the floor space. If you want to learn more about the Road Warrior 4275RW, you can find them here on their manufacturer's website.
Forest River XLR Hyperlite 3412
The Forest River XLR Hyperlite 4312 is a toy hauler with a large side patio. This toy hauler has its side patio attached to the dinette area. This will make this floor plan great for large meals with the family. You can find this toy hauler on its manufacturer's website.
How Long Do Toy Haulers Last?
Toy haulers last for 10-20 years, depending on how well they are taken care of. If you regularly clean and perform maintenance on your toy hauler, it could last over 15 years.
It is essential to also take it easy on your toy hauler if you want it to last as long as possible. If you overload your toy hauler with stuff too often, it can put undue stress on it and shorten its lifespan.
Final Thoughts
In this article, we learned several methods on how to add a patio to your toy hauler. Remember to use strong enough cables to support the toy haulers ramp and the weight of several people and a chair or two.
We hope you enjoyed this article. If you would like to learn more, check out these other posts:
How Much Do Toy Haulers Typically Weigh? [Inc. 11 Examples]
6 Great Toy Haulers With Bunk Beds
You Might Also Like
Sours: https://vehq.com/how-to-turn-toy-hauler-ramp-into-patio/
RV Toy Hauler Patio Fence: Turn Your Ramp into a Deck
Multi-function maintain flexibility.When you own something it is always a delight to be able to change their use so the money and space is not wasted. Altering your toy hauler spot on your RV is a great way to be versatile, flexible and save on money.
It is not hard to be flexible, practical and versatile at the same time. Your toy hauler ramp can be changed into a nice summer evening deck and give you extra RV space. These conversions make good use of space that would otherwise go empty.
To learn how to turn your toy hauler ramp into a nice summer deck, just continue to read our article. It is filled with information to help you be flexible, versatile as well as practical.
RV Toy Hauler Patio Fence Ideas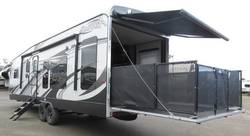 There are a lot of different fence ideas you can use to turn your toy hauler ramp into a great deck. You can go elaborate and have an authorized dealer install one for you or you can do it yourself. Some people take plastic fencing used to corral pets and small children and place them on their ramp.
Others call a dealer to have their older RVs' toy hauler ramps turned into a great deck with super fencing. The only drawback you may face is that some fencing manufacturers will not sell to individuals.
That means you may be paying a lot more for your ramp to deck fence than you planned on. One cost was to the tune of $5,000. The other thing you should watch out for is that some doors on the toy hauler ramp do not have the right bracing to hold the decking and fence.
Toy Hauler Party Deck Kit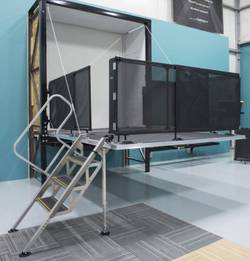 One way to make your toy hauler ramp more stable is to buy strong cable kits that hold the weight you plan on putting on the ramp. These cable kits come with all the hardware you need and the cables should hold enough weight to make sure the new deck is safe to use. You can see one example here.
Or you can get a great conversion kit through Lippert's. They make a variety of them so you have some choice in how your deck is going to look. The only problem is that Lippert's does not sell to the individual.
Their sales go through authorized dealers. This arrangement may drive up the cost of your conversion a little more. When you go for the kit conversion, be careful. Any alteration to the door or ramp may void your warranty.
You may have to wait till the warranty period is over before making any adjustments or alterations to the ramp.
DIY Toy Hauler Patio Deck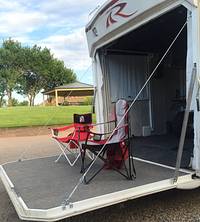 With the warning mentioned above in mind, it is possible to do the conversion yourself. You can save money by finding your own materials and hardware. The only thing is you will have to know the specs of the hardware to make sure they are tough enough to handle the extra weight.
There is a wide variety of fencing you can use as well. The choice you have is only limited by the practical function of the material you choose to use. Plus, the do it yourself style would allow you to be a bit innovative and creative.
For example, you can have the fencing fold down so you do not have to take it down and put it back up every time you move to a new location. If you have no little kids or grandkids, you could even get away with using snap-together plastic fencing. Here is one example at Amazon.
Again, with no kids around, you could even get away with spending very little money on these types of plastic fences that would do the same trick. When you do it yourself, your only restrictions are safety, function, and practicality.
You can design it any way you want and use any practical but safe materials to do it. Here is one example of how you can design it yourself.
Patio Railing kits for Toy Hauler Ramp Doors
There are a lot of companies out there that will help you with your modifications to your toy hauler ramp. One such company, Moryde has several kits you can choose from to make use of that space you could put a toy. The link to their web page is here.
Some times you may not even need a fence. A couple of relaxing and comfortable easy chairs and a little snack table will do the trick as well. All you will need are strong cables to hold the ramp in place.
You may be able to check with Camping World to see if they offer any conversion kits you can use. Or talk to your dealer as well. They can put you on the right track to a good kit that will meet all your RV camping needs.
Also, you should check RV parts stores as they should have some kits available or know companies that do have them and can install them for you. Just make sure you do not void your warranty by making the conversion.
Some Final Words
Converting wasted, empty space into usable practical relaxation areas is not a new idea. People have been doing that conversion for generations on their family home. Now that the family home has been replaced by the family RV, it can still be done.
All you need is the right kits to make it happen. You can turn that empty, wasted toy ramp into a great summer evening patio without a lot of hassle. If you do it yourself, you should save yourself some money.
To get it done, just talk to experienced RV owners or other RV experts to see which is the best way to go for you. There are a lot of factors to consider especially if you own a cat.
Sours: https://thecampingadvisor.com/rv-toy-hauler-patio-fence-turn-your-ramp-into-a-deck/
Toy hauler modifications. You can do just about anything you can think of to a home on wheels or RV. This one got a patio put in.
These are called "toy hauler patio kits." Because they usually get installed in so-called "toy haulers" — RV trailers used to tow around boats, quads, bikes, snowmobiles, what have you, from home to some outdoor recreation location. It's more common to see the patios on the back of the RV unit — a common configuration is for the back wall square to fold down (attached still by guy cords or metal wire ropes– and a roof to be pulled straight out of the roof of the RV (in other words, its stored flat just under the roof of the RV, and gets pulled out sort of like a garage door.
Featured music of the day:
To subscribe to this musician, click the red button:
The patios sometimes have fences around them as well, but not always, sometimes it's just a flat floor that sticks out from the RV with some guywires. Not even fences around on some of them, just a nice spot to put some chairs or if you're feeling luxurious, why not get something like an alexander rose range of garden furniture to put on the patio. They increase space, for one thing, anyway. There are lots of different items that you can purchase to decorate and enhance your patio, a High-quality Cantilever Umbrella will look amazing on your patio, offering you comfort and shade when the sun is blasting. Protecting your skin – how efficient!
Toy haulers are a lot like fifth wheels. And you can find them at around the same prices. Maybe 4-6 thousand for an ok one. Down to a couple thousand for a cheaper one. No limit of course to the top end.
And some of these toy haulers come with patio fold outs, or toy hauler patio kits (if they did the patio after buying).
Actually, there is some strong arguments on the side of buying one made with a patio. Mainly, its in the warranty. If you do your own patio, whether you do it yourself or have it done at a shop, its often not covered by your warranty (or voids part of the warranty).
However, on the other side, there is price. To buy one of these, it's been reported it would cost around $2,300.
What some people do is just take their ramp and attach cables to it in the corners, so they drop the ramp, but its attached to cables to keep it from touching the ground. However, that's a basic way. Something like this picture requires quite a bit of professional-level work. One company that does a great job of this all is Highland Ridge (pictured).
Sours: http://blogunity.net/vehicles/toy-hauler-patio-kits-can-be-stylish-and-comfortable/
HOW TO MAKE YOUR TOY HAULER RAMP INTO A PATIO -- FULL TIME RV LIVING -- RV MODS
Ramp up your recreational adventures.
As the leading supplier of innovative RV products and highly-engineered components to the mobile and leisure transportation industries, our premium manual and power ramp doors make your recreational experience even more enjoyable. Featuring 3,000-pound loading capacities and lightweight yet durable materials, we offer multiple flooring options and step and handrail accessories to meet your needs.
Ramp Doors
Our 3000-pound capacity Ramp Doors are available with multiple flooring options. The power version opens and closes with the flip of a switch and has load-sensing technology to stop it in case of obstruction.
Fast Ramp
The Fast Ramp door features Gorilla-Lift technology so RV users won't have to struggle with a heavy, cumbersome ramp door. The Gorilla-Lift's proven two-sided lift-assist technology bears the Fast Ramp door weight so consumers don't have to. The mechanism also prevents the bumper from being overly stressed. The Fast Ramp door stays at whatever level it is opened to and moves up and down at the slightest pressure, making it easy for one person to operate. It is e-coated for lasting durability, features a built-in water management system and integrates seamlessly with LCI's Party Deck ramp door patio kit.
Patio Railing Kits
Get the party started with the redesigned RV ramp door Patio Railing Kits. Transform the trailer ramp door into an entertainment space in seconds — simply fold out the steel patio kits and snap it into place. No need to bend down to latch or unlatch pins. Unlock the patio railing kits just as quickly by stepping on the unique foot-lock system to release the patio rails. It's simple and easy! Then fold the frame in to stow out of the way, leaving plenty of room for ATVs and motorcycles in the garage.
Victory Step™
The Victory Step improves on earlier designed ramp door entrance steps in several ways. It allows for a sturdier and easier way for owners to enter the ramp door patio from outside the RV, but the real benefits of the Victory Step come from its intelligently engineered design that puts the RV owner first. The Victory Step was developed with input from manufacturer partners and includes optional accessories such as a handrail and a garage mounting system. From inception, the Victory Step was designed to relieve potential stow issues, and its lightweight, aluminum construction makes the step easy to handle and place in storage. Featuring a variety of configurations and accessory options, owners can choose to purchase the base step, the base step with handrail, or the base step with handrail and garage mount system, suiting any and all needs. For higher patios, triple and quad step configurations are available to alleviate the use of cumbersome extendable leg extensions.
Sours: https://www.lci1.com/ramp-doors
Toy kit diy hauler patio
Lippert Launches New Patio Kit Series for Toy Haulers
Lippert Components, Inc. yesterday introduced its new 3000 Series Patio Kits — available for use with RV Toy Haulers. The Patio Kit is an upgraded, up-to-date patio rail system that capitalizes on the original structure Lippert manufactured years earlier. Its construction gives end users more room for toys on the inside of the hauler by providing a low-profile stack up of the rail system when in the stowed position. This modernized version features a sleek, new design with a lightweight composition and optional upgrade capabilities to accommodate the various categories of toy haulers.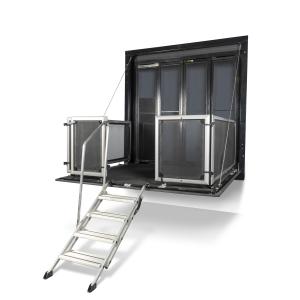 Lippert 3000 Series Patio Kit System
"We recognized the need for an upgraded patio rail system a few years ago, and we were determined to develop a system that would meet and exceed customers' needs and expectations," said Scott McKinnon, Lamination and Awning Product Manager. "Lippert engineers, manufacturers, production members, and more worked collaboratively to develop a new system that would positively establish itself as a superior choice in the rail system industry."
Lippert designed the patio kit from the ground up with new tools and materials to bring a fresh product into the market. They made the new rails with lightweight aluminum along with fasteners that keep rust and corrosion out and prevent rust from weeping out of the steel tubes. The kit also features a Lippert-specific, structural extruded aluminum hinge system that allows the gates to swing freely along with spring loaded, pin-less locking foot brackets that keep rails upright and secure during loading and unloading.
The system also features an integrated mesh netting on the siderails. The mesh screens are in place as a safeguard for when the ramp is in patio mode.
"We were looking for that clean, no-exposed-fastener look," continued McKinnon.  "We applied our awning manufacturing experience and knowledge and added an awning-style cord rail to the mesh screens. This basically eliminated all the unsightly fasteners, giving the 3000 Series Patio Kit a tight, clean overall appearance."
Lippert leaders wanted to offer a solid product, prime for further upgrades for an enhanced user experience. While the main framework remains the same, each individual option provides its own exclusive solution at every level.
Base Model: Comes with mill finished aluminum and no gate. This provides a safe, protective rail system when the ramp is in patio mode.
Custom Powder Option: This kit is custom powder coated. Colors can match the graphics and design on a specific coach. Add color to the rail system for a personalized look.
Gate Add-On: This option provides a pass-through gate to the system. This enables convenient entry and exit to and from the patio. This option also allows for the addition of the Lippert Victory Step® for easy-on, easy-off ground access.
Sours: https://www.rv.com/gear-accessories/trending-gear/lippert-launches-new-patio-kit-series-for-toy-haulers/
HOW TO MAKE YOUR TOY HAULER RAMP INTO A PATIO -- FULL TIME RV LIVING -- RV MODS
When she felt something large and unfamiliar ramming her, the wife became quiet and all tensed, listening to her feelings. The head of the unit made its way with great difficulty, pushing apart the entrance to the vagina millimeter by millimeter. From some moment it apparently became unbearably painful and the wife even somehow screamed how it could be done with a gag in her mouth.
She was hurt and scared not to see what was hurting her, but to feel that something was encroaching on her depths.
Now discussing:
It was necessary to walk about 2 kilometers from the river to the house. I walked along the side of a narrow, country road and looked around. Trees rustled their crowns, the wind intensified. The clouds that covered the hot sun brought the long-awaited coolness.
After passing about a kilometer of the way, I saw that a man was lying on the very side of the road.
1123
1124
1125
1126
1127