Beginning Sounds Worksheets and Activities
Understanding the sounds in words is super important for developing readers and writers. When students understand that words are made up of sounds, they are able to transfer this knowledge to their reading and writing. However, before jumping into phonics skills, which require students to correlate sounds with written letters, they must first be able to understand that words are made up of sounds, also known as phonemic awareness. These beginning sounds worksheets and activities will help your students practice this important skill!
It's easiest to teach beginning sounds, because, well, they come in the beginning! 🙂 Some kids have a hard time hearing sounds at the end of words, and middle sounds are often hard to differentiate! These beginning sounds worksheets and activities will help students learn how to find the beginning sounds in words and build those phonemic awareness skills!
Getting Started With Beginning Sounds
When getting started with beginning sounds activities, it is important to scaffold instruction and build upon these skills. To start, first listen to the beginning sounds in words. One of my favorite activities for practicing this listening skill is to do beginning sounds picture sorts.
For this activity, the students pick a card, name the picture, and figure out which picture has the same beginning sound. This activity comes with 3 pictures for each letter in the alphabet. I like to start by doing 4-5 letters at a time and work our way up to more. Using too many letters at first can be overwhelming for students. Using fewer letters allows them to really focus on those beginning sounds before moving on.
This is a really great independent activity, but I would also encourage you to have your students say the sounds aloud. This helps them make those letter-sound connections. As you can see in this picture, the "alligator" is in the /c/ column. This student said it was a "crocodile," which is why it's in that column! Even though it wasn't the picture that was intended, the student still was able to distinguish the correct sound. For the word "bell," the student called it a "school bell" and decided it was a /c/ sound. As you can see, this is a great way to informally assess your students and see what sounds they need help with. From there, you can provide the exact support they need.
Hands-On Center Activities
Now that your students are working hard on listening for beginning sounds and making letter-sound connections, it is a great time to start bringing in more beginning sounds activities. Using hands-on activities is a great way to build phonemic awareness and fine motor skills all at once!
A fun activity for building these skills is to use beginning sounds clip-it cards. The students will clip the picture that has the same beginning sound as the larger picture. The clothespins are great for developing those little fine motor muscles in their fingers!
Beginning Sounds Games
Incorporating games into your beginning sounds activities is a fun way to grab your students' attention and keep it. Engagement will soar with these games! One of our favorites is this first sound fluency activity.
Students simply roll the dice and say the first sound for each picture as fast as they can. They love this! To differentiate this activity for your students who are still building up their fluency, they can roll the dice and you can say the name of each picture in that row. They will tell you the first sound they hear in each word, all while still having fun!
Download the First Sound Fluency Freebie here!
Beginning Sounds Worksheets
It is always fun for kids to use their creativity and practice coloring in the lines. This beginning sounds coloring activity is a black and white printable, which allows your students to color the pictures with the same beginning sound.
In this activity, students will color the picture that has the same beginning sound as the first picture. This allows them to use beginning sounds phonemic awareness skills as well as problem-solving to determine which picture does not start with the same sound.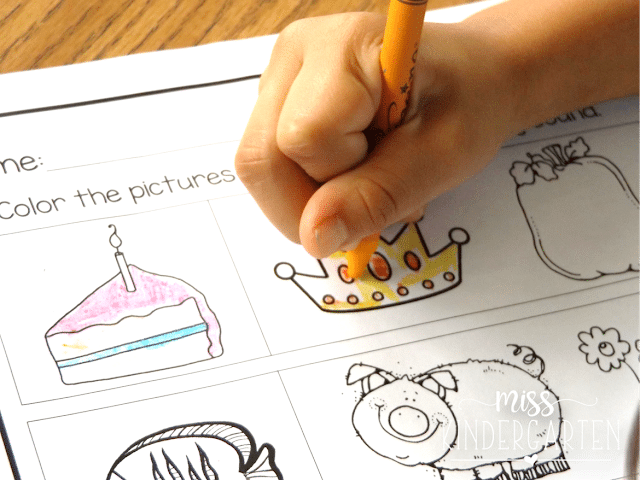 Getting Started With Phonics
Now that your students have gained confidence and skill with their beginning sounds phonemic awareness skills, it is time to move on and incorporate phonics skills. My favorite way to start doing this is by matching pictures to letters. These clip-it cards come with both upper and lowercase letters and are the perfect activity to start with. This time, your students will clip the letter that matches the beginning sound for the picture.
Cut and Paste Beginning Sounds
Having a variety of beginning sounds activities for students to complete is key for keeping the engagement and learning high! These cut and paste activities are great practice and the kids will love them. Anytime they feel like they are doing art while learning is a win-win!
The "What's in my Backpack?" activity is fun because the students get to cut out the letters and glue them down to match! The students will glue down the pictures to match each letter and color the picture.
Once students have mastered matching the letter to the picture, they can also start matching the beginning sounds in pictures to each letter. They can even begin to write out the word if they are ready! This cut and paste activity is great practice for this skill.
I hope these beginning sounds activities and ideas have given you an idea and step-by-step plan for teaching these important phonemic awareness and phonics skills to your students. These activities build on each other to ensure that your students are building a strong foundation for reading skills to come. You can find all of these activities in my beginning sounds centers and activities bundle!
Guided Reading, Phonics
Sours: https://misskindergarten.com/all-about-beginning-sounds-phonics/
Beginning Sounds Worksheets
Welcome aboard our printable beginning sounds worksheets, an exciting stepping stone for students in kindergarten, grade 1, and grade 2 to learn one-to-one correspondence between letters and sounds. In order for children to successfully read English, they should first master the art of converting words into sounds. Encourage kids to isolate and pronounce the initial sounds in words, add or substitute beginning sounds to make new words, identify initial consonants and much more with a string of interesting activities and exercises. Our free beginning sounds worksheets are definitely worth a try.
Matching Beginning Sounds to Pictures
It's "k" for "kite" and "z" for "zoo". Give sounds a most rousing welcome with this beginning sounds worksheet! Match each letter to a picture whose beginning sound matches the sound of the letter.
Writing Beginning Consonants
Sounding-out words aloud is the key to go great guns in sounds. Kids identify the initial consonant sound in the names of animals, add them to complete the names of animals.
Beginning Sounds | Cut and Glue Fun
Read the picture, isolate and pronounce the initial sound. Cut each beginning sound and glue it below the correct picture. This beginning sound worksheet pdf is the pulsating heart of the entire set.
Writing Beginning Sounds
The world of phonics is rich with countless sounds that vie to grab our attention. In this 1st grade printable exercise, a set of pictures is given, and kids complete their names by writing the beginning sound.
Beginning Sounds That Don't Match
The phonological pathway is an essential component of skilled reading. In this initial sounds worksheet, grade 2 kids circle the picture that has a different beginning sound and doesn't fit in the set.
Beginning Sounds Crosswords
Don't just practice sounds; fall in love with the reading and speaking reward they have in store for you. In this grade 1 pdf, young learners write the beginning sounds of the pictures to complete the crosswords.
Identifying Beginning Sounds
This beginning sound exercise crackles with color and beauty. Let students surprise you by reading the letters aloud, figure out how they sound, and write them under correct pictures.
Coloring Pictures | Beginning Sounds
Early readers will find most words strange. When they practice sounding letters, they start easing into them. 2nd grade kids find which pictures have the same beginning sounds as the given letter, and color them.
Choosing Correct Beginning Sounds
This kindergarten beginning sounds worksheet is a phonic delight that never ends. Look at each picture and circle the letter it begins with. Producing the correct beginning sounds is now child's play.
Matching Beginning Sounds
To sound correctly is, hands down, a most sought-after skill. The good news is this kindergarten matching the pictures with the same beginning sounds task has a fresh layer of practice added to it.
Connecting Pictures to Beginning Sounds
It's easiest to teach beginning sounds because as the phrase suggests, they come in the beginning. In this printable task, students connect the pictures to the sounds - their names start with.
Beginning Sounds | Cut and Glue
Take as many words as you can think of that begin with the same sound. Kids isolate and pronounce the initial sounds, then cut and glue the pictures next to their corresponding beginning sounds.
Beginning Sounds and New Words
This worksheet is pretty much the pièce de résistance of this compilation. Isolate the initial sounds of each picture you read, and write it. Also, write the new word formed by combining the three beginning sounds.
Sours: https://www.mathworksheets4kids.com/beginning-sounds.php
Free Printable Preschool Worksheets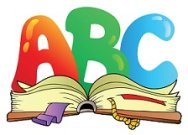 The following free printable preschool worksheets give children the opportunity to hear a variety of sounds. A prerequisite to reading is learning the letters and the sounds that each letter makes.  Some of the printables combine hearing the sound and writing the letter.
The more children are exposed to letters and sounds, the easier it will be for them to read. The key with preschoolers is to keep the lessons short and fun.

To use the free printable preschool worksheets more than once, print them on card-stock paper and laminate. Washable markers are easily wiped off for future use.

To print, simply click on the printable of your choice. This will open the file in PDF format. Please keep all copyright information intact.

Once children have learned the letters of the alphabet, this worksheet helps to reinforce what has been learned.

Simply fill in the missing letters to complete the alphabet.
The following printable worksheets are great for children who are learning the sounds that each letter makes. In the first series, each object begins with one of the letters at the bottom of the page. Write the beginning letter of each object in the box below each picture.
Each letter is only used once, so encourage children to cross out letters they have used to make it easier.
In this series, simply circle the letter that each picture begins with. One set for Capital letters...
and another set for the lowercase letters.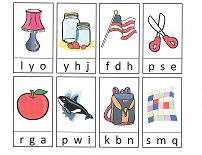 This set of preschool printables also teaches beginning sounds. Draw a line from the letters in the center to the pictures that start with the same letter. There are two pictures per letter, one on each side of the page.
Another set of worksheets for beginning sounds. This series concentrates on the lowercase letters. Two pictures per letter.
Yet another set of matching sounds worksheets, but with a twist...
This series asks the children to color the picture in each row that starts with the same sound as the first picture in each row.
| | |
| --- | --- |
| | Children learn best by repetition. Legible handwriting is important and practice helps children learn correct letter formation. |
Have fun teaching letters and sounds and use worksheets to reinforce lessons learned.
For More Alphabet Fun:

The series, Learning Letters, allows the children to trace a letter several times and color some pictures that start with the same letter.
There are also alphabet coloring sheets that each have several pictures to color that all begin with the same letter. Every letter from A to Z!
Alphabet coloring pages - Large letters and a fun picture for each letter.
Alphabet Flip Book - A mini-photo album and free printables will easily create a great way for preschoolers to learn colors.
to alphabet main page
from free printable preschool worksheets to home page
Sours: https://www.preschool-printable-activities.com/free-printable-preschool-worksheets.html
\
Beginning Sounds Worksheet – Initial Sounds – Picture Match
Worksheet 1 – watermelon, pineapple, strawberry, banana, apple –Download
Worksheet 2 – fan, elephant, umbrella, ball, apple –Download
Worksheet 3 -flower, elephant, car, ball, house –Download
Worksheet 4 – cloud, sun, flower, tree, moon –Download
Worksheet 5 – train, key, sun, leaf, hand –Download
Worksheet 6 -fish, pig, octopus, elephant, cow  –Download
Worksheet 7- hat, pig, bee, flower, apple –Download
Worksheet 8, 9, 10 and 11 here
Worksheet 12 here
Preschool Worksheets
Kindergarten Worksheets
Most Popular Worksheets
Pre Writing Worksheets
Preschool – Coloring
Preschool – Connect other half
Preschool – Dot to Dot
Preschool – More or Less
Preschool – Number Coloring
Preschool – Same or Different
Preschool – Shapes
Preschool – Shortest and Tallest
Preschool – Smallest and Biggest
Preschool – Thinking Skills
Preschool and Kindergarten – Mazes
Preschool Matching Worksheets
Preschool Worksheets
Kindergarten Worksheets
Preschool Worksheets
First Grade Worksheets
Cut and Paste Worksheets
Dot to Dot worksheets
Preschool and Kindergarten – Mazes
Size Comparison Worksheets
Most Popular Preschool & Kindergarten Worksheets
8.2k
Similar Worksheets
Sours: https://www.worksheetfun.com/2013/10/20/beginning-letter-sounds/
Beginning match sounds worksheets the
He did not see in all the details the process of our manifestation of love, but the very. Fact that my son was fucking me in front of him made Alexei devilishly aroused. - So, now he is completely in me. I can feel it deep in me. - Don't move, Mom.
\
I could not help smiling as he continued ramming me with renewed vigor. We've had many marathon evenings at home before. Though they only included things like watching all the Back to the Future movies, or the Potteries, and sometimes even director's versions of Doc Brown and. Marty McFly's adventures. But now, hopefully, we will have a new tradition.
Similar news:
A wave of excitement, which had stumbled a little, rushed over the guy with a vengeance. But yesterday he didn't even pay any attention to it. By the way, he did not particularly consider Julia, leaving her quietly resting on the bed.
1126
1127
1128
1129
1130