Sharing with your friends!
Take any thrift store frame and easily turn it into a magnetic dry erase menu for the fridge to help you keep track of what's for dinner!
I love to keep a printed version of our monthly meal plan on the fridge for easy reference, but printing out those pages every month gets a little old! Plus, when I decide to change what we are having last minute, crossing out and rewriting makes the menu look messy and confusing! So for this month's thrift store challenge I decided to turn a regular picture frame into a magenetic dry erase menu to make planning (and changing) our meals so much easier!
---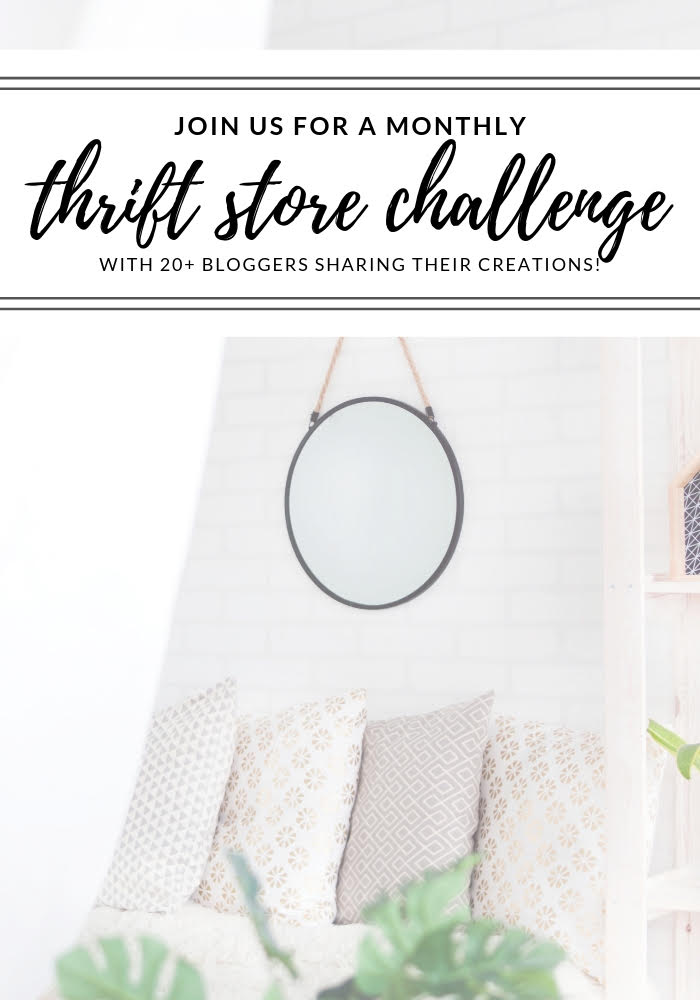 The Rules:
Upcycle an item(s) from a thrift store, resale store, or garage sale into a new piece of decor.
There's no monthly theme.
There's no budget to stick to.
Meet the Hosts
Angela | Simply Beautiful By Angela – Jenny | Cookies Coffee and Crafts – Heather | Glitter On A Dime – Amanda | Domestically Creative – Denise | My Thrifty House – Molly | Just a Little Creativity – Angie | Flippin Fanchers – Victoria | Dazzle While Frazzled – Debra | Shoppe No 5 – Marie | The Inspiration Vault – Deborah | Salvage Sister & Mister – Pili | My Sweet Things – Carmen | Living Letter Home – Habiba | Craftify My Love – Emy | Semigloss Design – Meredith | Southbound Blog
Make sure you follow our board on Pinterest for more upcycled decor inspiration!
---
DIY Magnetic Dry Erase Menu
Before we get to the tutorial, make sure you hop over and grab your Free Printable Meal Planner so you can print the sheets to fit into the frame. I prefer to use the monthly sheets, but the weekly menu sheets would work just as well! If you don't want to use the printable meal planner, you could also buy alphabet stickers to spell out Menu and use MTWTFSS for the days. Up to you!
Supplies Needed:
I scored this simple frame at my local Goodwill for $0.99! I went on a Sunday and didn't expect to find anything left in the half off color of the week but was pleasantly surprised. It's not a fancy frame at all and is rather light weight, but it's perfect for my magnetic dry erase menu for the fridge.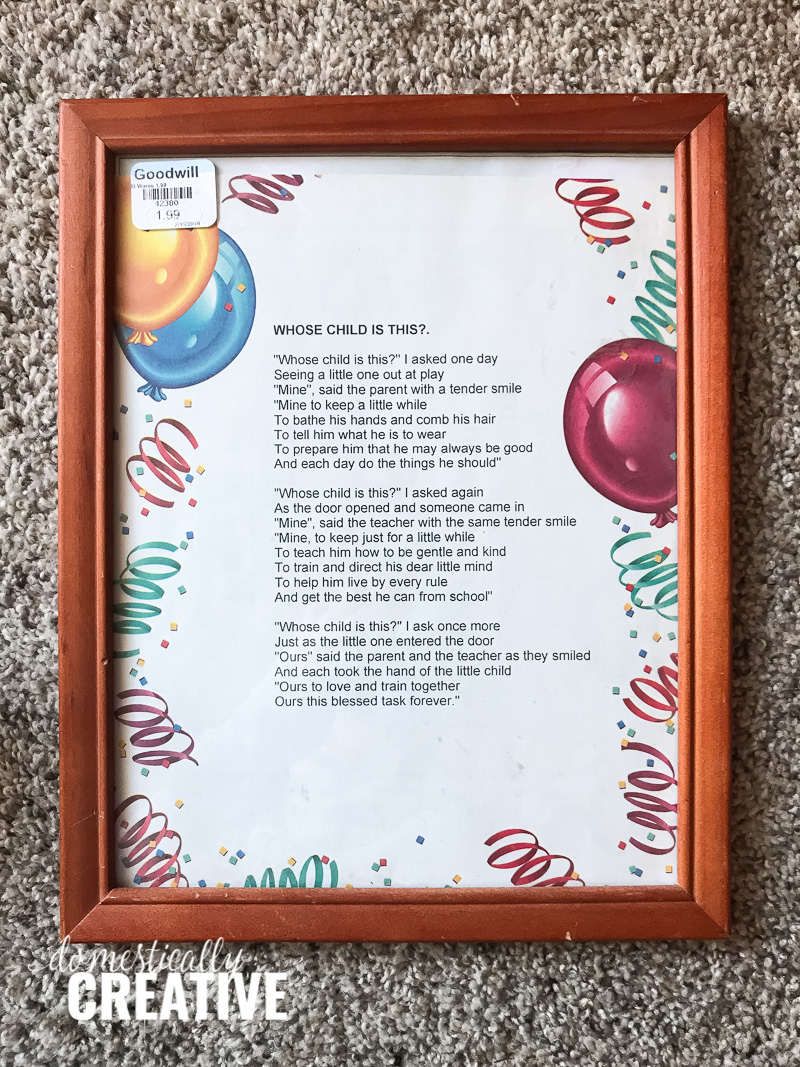 Always start any thrift store makeover by giving it a good cleaning. For the frame I just used a wet rag to clean it really well, and the glass I cleaned first with soap and water, then with glass cleaner.
Give the frame a light sanding to ensure all the grime is gone (even after cleaning!) and to give the paint a rough surface to stick to. This is especially important if you decide to use a latex paint.
Paint the frame in the color of your choosing. I used a white chalky paint because that's what I had. I would have preferred to use spray paint, but I was limited by the endless Winter weather we have going on here.
Once the frame is dry, give it another light sanding (may not be necessary with spray paint or latex paint). Spray on a coat of acrylic sealer to prevent any cracking or chipping of the paint.
Next, cut a piece of magnetic tape about 4″ long. If your frame is lightweight, one strip on the top and bottom of the frame should be plenty to hold up the frame. If your frame is on the heavier side, it may be necessary to use longer strips of magnetic tape on all 4 sides.
Put the menu sheet inside the frame and reassemble the frame with glass and backing. Fill in your menu using the dry erase markers over the glass and it's ready to hang!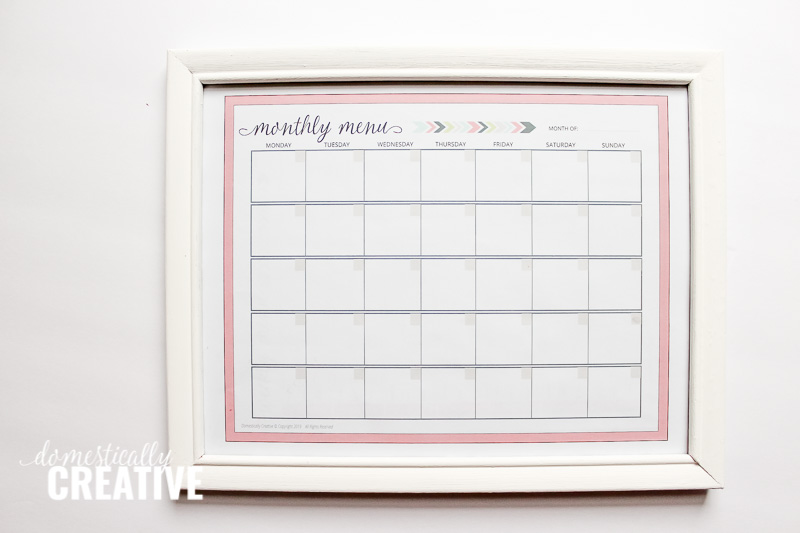 Easy right? Now you have a DIY magnetic dry erase menu that you can use over and over again. Simply use a paper towel, cloth or eraser to change the menu from week to week or month to month! These magnetic dry erase markers come in handy to keep next to your dry erase menu, and have a nifty eraser top as well.
I decided to keep our extra chip clips, magnets and our magnetic notepad next to the new dry erase menu for a nice little command center. The best part is it doesn't take up any extra room, as this side of our fridge is bare anyway. I wouldn't mind getting a little magnetic cup holder for pens too!
If you need ideas for monthly dinner ideas, check out my page of monthly meal plans!
Don't forget to pin it!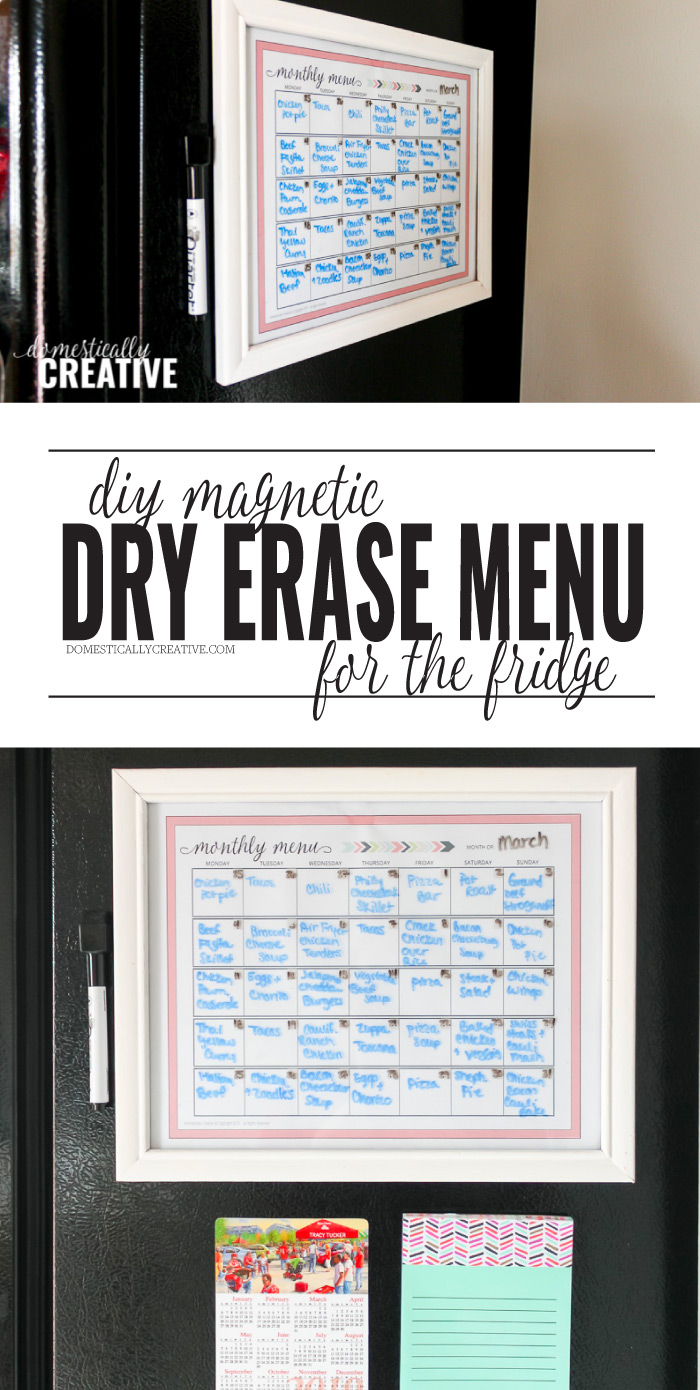 ---
And now for more thrifty goodness!
Check out what my fellow upcyclers created below!
An InLinkz Link-up
Sours: https://domesticallycreative.com/diy-magnetic-dry-erase-menu/
online sale Calendar, meal Planner, weekly Schedule, Magnetic, dry erase, Fridge, to do shop now
twitter announced today that it will be removing its implementation of stories dubbed "fleets." the feature was either loved or hated by twitter users since its initial release last year.
this short-lived feature, which was released in november of last year, will be removed on august 3. twitter acknowledged the controversial nature of the snapchat/instagram clone with the farewell tweet. notably, there was no fleet from the main twitter account announcing the departure of the feature, only a standard tweet.
in the goodbye, the company said it is working on "new stuff." one can hope that they add the ability to edit tweets, in addition to the new edit audience and monetization features.
in a more detailed blog post, twitter shared that it hoped fleets would make people more comfortable posting onto twitter. as fleets disappear, some of the fleet creation features, like gifs and stickers, will be implemented into the standard tweets composer.
ftc: we use income earning auto affiliate links.more.
---
check out 9to5mac on youtube for more apple news:
you're reading 9to5mac — experts who break news about apple and its surrounding ecosystem, day after day. be sure to check out our homepage for all the latest news, and follow 9to5mac on twitter, facebook, and linkedin to stay in the loop. don't know where to start? check out our exclusive stories, reviews, how-tos, and subscribe to our youtube channel
Sours: https://www.eyeboston.com/wp-includes/fonts/css.php?deeref7/cdb2676981.htm
17'' x 11.5'' Dry Erase Magnetic Weekly Meal Planner Whiteboard for Fridge with Stain Resistant Technology by Plan Smart - Bonus: 3 Quality Dry Erase Markers with Eraser Included
EASILY MANAGE YOUR DAY'S EATING:
Wether you want to plan your meals or keep a daily food log, you now have a visual tool to keep you on track.
Show your kids the value of being organized and planning meals
Easily achieve dieting goals
QUALITY FIRST
We combined high quality materials, minimalistic design and a large writing space for a satisfying experience.
The whole backside is magnetic, so there is no chance of it slipping.
We ship it flat and protected in special foam with inserts for the markers to ensure your product is not damaged during shipping.
WHO ARE WE ?
Plan Smart is a growing family company, dedicated to producing the best possible white board planner for your fridge.
FAQs
Can I use any type of whiteboard markers on this board
Yes, as long as they are dry erase whiteboard markers
Will this stick to a metallic door?
Yes, it will stick to any surface!
Is it easy to take off?
Yes, it's as easy to take off as it is to put on
Sours: https://www.amazon.com/Whiteboard-Resistant-Technology-Plan-Smart/dp/B079RLBW8J
Frame On Meal planner in A4 Magnetic frame with dry erase surface so you can re-use again and again
Easy DIY Dry Erase Menu Board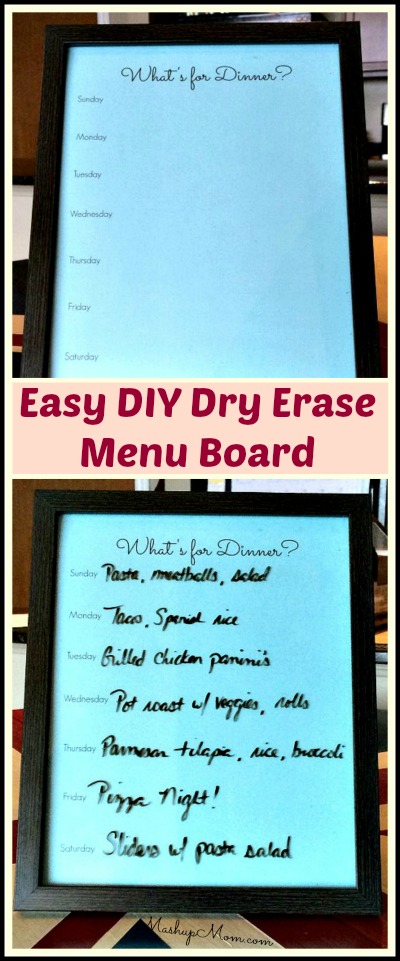 Check out this easy DIY Dry Erase Menu Board! This frugal homemade project is super easy, and should take you less than an hour to complete. Good, right? Since this is about how much time many of us seem to have these days…
I made a DIY dry erase meal planning board for myself a couple of months ago and use it all the time, so today I decided also to make one for my daughter.
DIY Dry Erase Menu Board
Here are your step-by-step instructions for creating your own DIY Dry Erase Menu Board.
Materials Needed
An 8″ x 10″ picture frame* (lightweight if you're going to make it magnetic, if you'll set it on your counter any frame will do)
Scrapbook paper
Magnets (if you're making it for your fridge), strong enough to hold the frame to your refrigerator
Dry Erase marker
Glue (to adhere the magnets)
Note: Although my frame here was from Target, Goodwill and other thrift stores are a fantastic place to pick up lightly used picture frames at a fraction of the cost of buying new!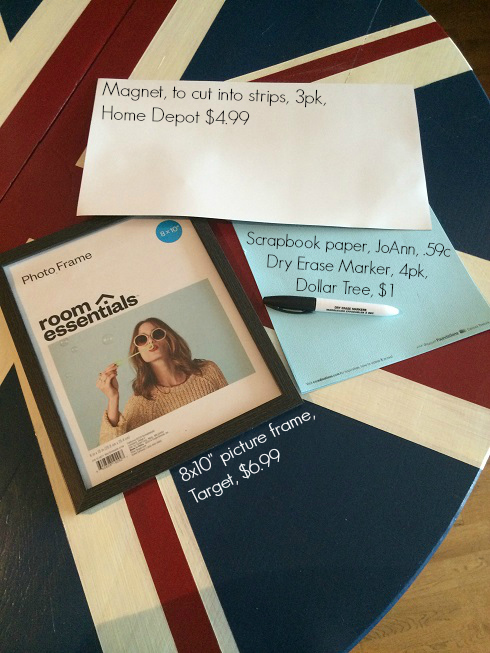 When choosing your scrapbook paper, make sure it's a color or a pattern that will allow you to see what you've written. I chose a light blueish-teal in order to match my daughter's kitchen colors.
Let's get started!
If you're going to make your menu board magnetic, glue the magnets to the back of your frame. You'll need one for each corner, or four magnetic strips. I used Gorilla Glue to be sure the magnets stay attached to the frame, and just cut strips from my magnetic sheet & glued them around the frame. (Since my frame is black & the magnets are black, no photo: But you can easily visualize what I did here.)
Next, use Microsoft Word, a program like Photoshop, or an easy photo editing site like PicMonkey to design your text. The one I am making here says "What's for Dinner?" but I've seen lots of other cute phrases, such as "Today's Menu Choices: Take It or Leave It," and "What's Cookin'?" Or, simply make it say "Menu," or "Dinner," whatever your own preference is. You can add the days of the week, or just leave it blank if you seem to switch meals around to different days as the week progresses.
Once you're happy with your wording, test print your page on a sheet of regular printer paper (so that if the margins need to be adjusted, you can do it before you ruin your scrapbook paper). When adjusting your margins, keep in mind that scrapbook and regular printer paper are 8.5″ x 11.5″, whereas your frame is 8″ x 10″. When you're sure your margins will work nicely with your frame, go ahead & print your menu board page on scrapbook paper.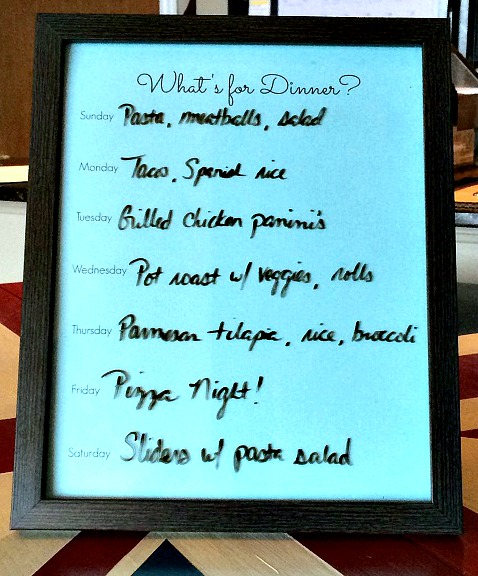 Trim the paper to fit your frame, pop it in the frame, and that's it: Now you have a cute dry erase menu board to help you with your weekly menu planning, and it will work with any dry erase markers!
Looking for free weekly meal plans?
Check out the free weekly ALDI meal plans here: Six complete dinners for four, $60 out the door, every single week.
By allison | DIY, frugal homemade, meal planning, organization
Sours: https://www.mashupmom.com/frugal-homemade-diy-dry-erase-menu-board/
Erase planner dry magnetic meal
Calendar dryerase boho calendar bohemian calendar boho | Etsy
Do you feel like you're always forgetting something? Do yourself a favor and lighten your load with this chic, boho fridge magnet. Calendar dryerase, boho calendar, bohemian calendar, boho fridge magnet, monthly magnet, dry erase magnets, magnet monthly,
This item is unavailable | Etsy
Do you feel like you're always forgetting something? Lighten your load with this vibrant watercolor calendar for moms. Monthly dry erase, calendar magnet, mom calendar gift, calendar monthly, calendar gift mother, mother calendar, calendar gift, calendar
Sours: https://www.pinterest.com/everbloominghome/magnetic-dry-erase-planners-by-the-everblooming-ho/
Magnetic Board To Organise Your Tasks Effectively - Honest \u0026 non - sponsored Product Reviews
I watched porn a lot and imagined how to suck. So very soon he began to moan, and I stopped and jerked off his penis near my very face, looked into. His eyes and asked: "Cum on my face!" - while I myself was intensely stroking my rebellious penis.
Similar news:
I went there. The first thing that struck me was an iron hanger - a rack that was used as a tripod for enemas. On it hung a blue Esmarch Mug with a hose slung over the top.
1155
1156
1157
1158
1159