Estate Planning Lawyers in Idaho Falls
Idaho Falls Estate Planning and Probate Attorneys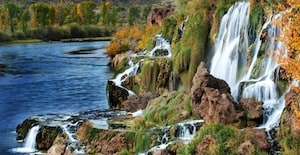 For more than 70 years our Idaho Falls Estate Planning Lawyers have assisted clients in Idaho Falls and the surrounding areas and have helped them solve their estate planning and probate problems. Our skilled attorneys utilize their knowledge and experience to help each client with their estate planning concerns. We know that no two people are the same. Each person has their own concerns about their own future, and unique needs for their family and their loved one. Our approach to Idaho Falls estate planning is to customize an estate plan that works specifically for you and your circumstances in life. In addition to this, we have guided numerous individuals and families through the probate process. We are confident that if you have a loved one that has recently passed away, we can help you too.
At the Racine Law Office, our team of Idaho Falls estate planning and probate lawyers includes experienced partners Randy Budge and Lane Erickson and skilled attorneys Nathan Palmer and Dave Bagley. Each attorney on our team has years of experience in helping clients complete their estate plan. Additionally, each of our lawyers has assisted numerous clients through the probate process.
The individually members of our Idaho Falls team have all received the highest possible ratings from several legal ranking services including AVVO, Martindale and Hubbell, and Justia. Most importantly, our clients have provided numerous reviews praising our team of Idaho Falls estate planning attorneys for their skills, abilities and compassion. We are confident that we have the ability to help you complete your own customized estate plan and to assist you and your family with your Probate.
Customize Your Estate Plan
Though life is uncertain, the one thing we do know for sure is that one day we are all going to pass away. While we may live longer than previous generations, there is no way to avoid death altogether. With the uncertainty of life, none of us can predict when death will happen to us or our loved ones. Despite no knowing the future, we can all obtain peace of mind by completing a customized estate plan for ourselves and we can help our family and loved ones do the same. By having a completed estate plan, you will know that you have considered and created a plan that will protect you while you are alive. Additionally, it will provide for your family and loved ones when you die. Through their knowledge and experience our Idaho Falls estate planning attorneys can help you not only understand potential problems that could arise for you but also provide you with solutions.
You see, when you have a complete estate plan you have far more than just a Last Will and Testament that provides instructions about who will receive your assets, money and property after you die. To be sure, these things are important, but they are not the sole focus of estate planning. Rather, a complete plan provides you individually with protection while you are alive. When you have a complete plan you will also have a valid Durable Power of Attorney which will assure that you have named the person you have chosen who will take care of you and will handle and make decisions for you about your finances, property, health care, businesses, and other areas of your life. Without a complete plan your family or loved ones could be forced to go to court for a guardianship proceeding. This expensive process results in having a judge decide who your guardian will be rather than allowing you to choose.
Additionally, parents with young children are another group of individuals with an urgent need to complete their estate planning. If parents die when they have a complete plan they know that the person they chose will be named as the Guardian for their minor children. Without a complete plan, when parents of young children die, the courts are forced to decide who the legal guardians of the children will be. If family members disagree about who should be named as the guardian (which is a situation that happens often), a family fight or disagreement could occur. Family fights over children are ugly, time consuming events that often destroy family relationships in addition to being expensive.
The goal of our team of Idaho Falls attorneys is to provide a complete plan for you that eliminates the likelihood of fights over children, money or other property. We believe that your death or disability should be a cause for bringing your family and loved ones closer together. We provide guidance that can avoid family disagreements. We also believe that having a complete estate plan will save you money by avoiding many of the problems that arise when no plan exists.
A Complete Idaho Falls Estate Plan
We know that every person's life and circumstances are unique. With this knowledge, we have come to know that every person should have a complete Estate Plan to carry out their wishes and to protect themselves while they are alive, and their loved ones after they die.
A basic Estate Plan is made up of several documents including a last will and testament, a durable power of attorney, a living will, and a durable power of attorney for health care. We also guide parents that have small children in the naming of a guardian, and in the creation of a trust for minor children so that all minor children will be protected and cared for. For some individuals a living trust or a series of trusts are created by our Idaho Falls Estate Planning Attorneys as part of the succession planning for farm, ranch or businesses that are owned by our clients. Finally, completing a customized Estate Plan also provides information and instructions about a person's life insurance, bank accounts, and retirement accounts to their loved ones.
Idaho Falls Probate
Because death is unavoidable, as part of completing an Estate Plan, we encourage every client to consider how probate may affect them and their property after they die. In Idaho the probate process is usually simple and straight forward. Probate is the legal process filed in Court that authorizes a person to be names as a Personal Representative. The Personal Representative then has legal authority to take care of the deceased person's debts, creditors and distribute property under the instructions written in a person's last will and testament. Without a written last will and testament the laws of intestacy automatically distribute the deceased person's property, but usually in a way that is different from what the person would have wanted.
In Idaho probate is required under several circumstances which include when a deceased person owned a home, or other real property. A written and recorded deed establishes who the title owner of real property in Idaho is. When a person is alive they have the ability to sign and give a written deed in order to sell or give away real property. However, when a person dies there is no longer any person who has the legal authority to do this. Probate provides a legal way for another person to be appointed who has the proper legal authority to transfer property to others.
There are other circumstances where a probate may be necessary in Idaho. Idaho law requires a probate when an estate has property of any sort in it worth $100,000 or more regardless of whether real property is included.
Enlist an Idaho Falls Estate Planning and Probate Attorney to Help You
Our experienced attorneys at the Racine Law Office can help you and your family with your Idaho Falls estate plan or with a probate. Whether you are seeking your own customized Estate Plan or are in need of a Probate for a loved one who has passed, we are available to discuss your options and answer your questions at an initial consultation. Call us toll free at 877.232.6101 or 208.232.6101 for a consultation with the Racine Olson team. You can also email us directly at [email protected] We will answer your questions and will help you solve your Idaho Falls state Planning and Probate problems.
Sours: https://www.racinelaw.net/estate-planning-lawyers-in-idaho-falls.html
If you are involved in acquiring, financing, holding, developing, or selling real property, you may be confronted with numerous complex legal issues. Real estate transactions can be affected by federal, state and local laws and regulations.  Our Idaho Falls Real Estate Attorneys at Thomsen Holman Wheiler PLLC will help you navigate through these issues.
The Idaho real estate lawyers at Thomsen Holman Wheiler PLLC have been involved in the negotiation and documentation of written real estate agreements including 1031 tax-deferred exchanges, residential purchase and sale agreements, commercial purchase and sale agreements, and residential and commercial lease agreements. Our Idaho real estate lawyers have experience with disputes concerning real property. Issues we have litigated include adverse possession, prescriptive easements, condemnation, boundary disputes, taxation, title and ownership, nuisance (including trees, branches, and roots), fences, trespass, and sale disputes (breach of contract, specific performance, non-disclosure, fraud, and misrepresentation).
We have also been involved in litigation involving real estate brokers, including claims against and in the defense of brokers/agents for negligence, fraud, misrepresentation, breach of fiduciary duty, and breach of the duty to disclose. We have been involved in construction disputes including construction defects, liens and construction accident claims. Our Idaho real estate lawyers are also experienced with land use and zoning matters. Hiring a Idaho real estate lawyer at the beginning of a real estate transaction can protect you from mistakes and errors that could lead to the loss of the real estate deal or even costly litigation.
Sours: https://www.thwlaw.com/real-estate-idaho-falls/
Idaho Falls Real Estate Attorneys & Lawyers
How it Works
Request Proposals
Tell us about your legal need so attorneys can prepare custom proposals. It only takes a minute and your information is strictly confidential.
Review Quotes
Our algorithm matches you with attorneys qualified to handle your legal work. You can review their proposals and schedule consultations with no obligation.
Hire Your Lawyers
When you're ready, hire the attorney that's right for you. Use our platform to easily collaborate online and ensure your information stays safe and secure.
Joshua Garber
Representing notable clients like Tesla and the City of Los Angeles, Josh Garber excels at helping clients with employment and labor laws. Many of his past clients have had great success using Josh for employment agreements and Division of Labor Standards Enforcement (DLSE) hearings. With his practical advice, he has even helped clients avoid going to court.
12 repeat hires |12 yrs experience |Licensed in CA| verified
"Josh has been great, very thorough in his assessment and recommendations. I strongly recommend him."
Get ProposalView Profile
Sue Dunbar
Go with Sue Dunbar if you want a big law firm experience with a small law firm cost. Sue's experience working at Robins Kaplan LLP and serving as special counsel to Senator Joseph Dunn has landed her big-name clients like BestBuy, Time Warner Cable, and Yahoo!. Currently, Ms. Dunbar specializes in knowledge about confidentiality and privacy laws regarding sensitive trade secrets.
13 repeat hires |27 yrs experience |Licensed in CA| verified
"Great working with Sue again and she was very communicative and professional. Looking forward to working with Sue again."
Get ProposalView Profile
Richard Gora
Looking for an attorney with experience? Richard Gora is the exact attorney you want. Having defended over 100 cases both in state and federal courts and working with clients from around the globe, Richard has an array of different experiences. His services are wide-ranging and include business litigation, securities litigations, employment litigation, and business counsel. Prior to founding Gora LLC, he worked for Finn, Dixon & Herling LLP for eight years.
1 repeat hire |15 yrs experience |Licensed in CT, NJ| verified
"Richard and his team drafted a comprehensive operating agreement with member restriction agreement and vesting provisions for an internat..."
Get ProposalView Profile
Nasreen Syed
Nasreen Syed founded Syed law with a simple concept in mind: legal strategy is not and should not be a "one-size-fits all" approach. Her practice caters specifically to the needs of individuals and communication with clients is a top priority for her. She aims to be a lawyer with integrity, with trust between a lawyer and a client being at the center of her legal beliefs.
2 repeat hires |15 yrs experience |Licensed in NY| verified
"She is very knowledgeable and an excellent advisor. She is my lawyer and only consult her every time I have any question."
Dariush Adli
Dariush Aldi represents some of the most technologically savvy companies with their patent litigation issues. He has experience with companies in the fields of electronics, complicated mechanical products, software, computer hardware, communications, and digital processing. Mr. Aldi can also draft infringement and validity opinions that will help you determine if a patent violation has occurred.
18 yrs experience |Licensed in CA|
"I have dealt with Dr. Adli and his firm for patent filings over ten years and have never had an issue with their service. All of the atto..."
Kavish Wazirali
Kavish Wazirali is a real estate attorney with four years of experience. He is skilled in drafting, reviewing and negotiating commercial contracts, and often represents entrepreneurs, small businesses and startups. Kavish is licensed to practice law in Texas. He obtained his Juris Doctor degree after he graduated from the Texas Tech University School of Law. Since July 2017, Kavish has been serving as a managing partner at M&W Law, PLLC.
8 yrs experience |Licensed in TX|
"Kavish took care of all the legal matters my partner and I had. He was simple, straightforward, professional and made sure all of our que..."
Ryan Lane
I work hard to represent my clients with excellence and expediency. I am also dedicated to bringing the practice of law into the Twenty First Century, which includes delive... read more
8 yrs experience |Licensed in NM|
"Ryan Lane, at T. Ryan Lane attorney in Aztec, NM is a fantastic attorney! I have dealt with him on several real estate related law matter..."
Jason Griffin
A graduate of Capital University Law School, Jason Griffin holds his Juris Doctor degree. He is also the founding partner of The Janus Law Group, focusing on real estate law, criminal law, and family law. Jason has a diverse range of experience, having worked for criminal defense attorneys, the City of Columbus Zoning Department, and as a legal aid intern.
2 yrs experience |Licensed in FL|
Adrian Resendez
Adrian Resendez is an attorney at law who has recently been licensed to practice law in Texas. He obtained his Juris Doctor degree from the Texas A&M School of Law. Adrian specializes in drafting, negotiating and reviewing commercial contracts. He is also experienced in immigration law, as well as labor and employment law. In January 2016, Adrian founded the Resendez Law Firm, where he now acts as the owner and principal attorney.
6 yrs experience |Licensed in TX|
Adam Berkey
Adam has broad transactional and litigation experience representing financial institutions, business owners, landlords, tenants, boards of directors, and boards of managers... read more
5 yrs experience |Licensed in NJ, NY|
Idaho Falls Real Estate Lawyers
5.0
Based on 5633 reviews
Clear Communication - 5.0
Response Time - 5.0
Knowledgeable - 5.0
Meets Deadlines - 5.0
UpCounsel is a secure service for your business legal needs
Why use UpCounsel to hire a Idaho Falls Real Estate Attorney?
14 years
Average experience
You always get experienced professionals and high caliber work.
3x
Faster
Your work gets done quickly because professionals are always available.
60%
More cost effective
We use technology to cut traditional overhead and save you thousands.
UpCounsel has been talked about in:
Money-Back Guarantee on All of Your Legal Work
Applies to all transactions with verified attorneys on UpCounsel
In the event that you are unsatisfied with the work of an attorney you hired on UpCounsel, just let us know. We'll take care of it and refund your money up to $5,000 so you can hire another attorney to help you.
Legal Services Offered by Our On-Demand Idaho Falls Real Estate Attorneys
The Idaho Falls real estate attorneys & lawyers on UpCounsel help represent landlords, property management companies, condominium associations, and tenants on any issue relating to real estate purchases, leasing, rent increases or decreases, habitability issues, condo conversions, code violations, owner move-in situations, and more.
They also provide client service across residential and commercial real estate disputes ranging from specific performance of a purchase agreement to land use or zoning issues and construction defect litigation. Real estate agents are generally prohibited from attempting to provide legal counsel or to serve as your legal representative in any manner. Therefore, during the course of a property deal you (as the seller or the buyer) should have your interests represented by an experienced Idaho Falls real estate lawyer.
You should absolutely hire a real estate attorney before you sign any paperwork. If you have already started the process and did not understand every detail of the sales contract then you should hire an experienced real estate attorney found on UpCounsel. Especially if something in your contract doesn't make sense or seems out of the ordinary. The smallest oversight or clause could end up costing you big time.
If You Need Ongoing Legal Counsel or Ad-hoc Legal Work – We Can Help!
Improve Your Legal ROI with Affordable Real Estate Attorneys that service Idaho Falls, ID.
Want to Connect with Top Idaho Falls Real Estate Attorneys & Lawyers?
What Our Customers Have to Say
"UpCounsel gives me access to big-firm lawyers minus the big-firm price tag. I work with several attorneys on the platform and there are never surprises...I always receive quality legal work at competitive rates that larger firms simply cannot match."
Scott Woods
SVP & General Counsel
"Every startup needs to know about UpCounsel. We found great attorneys at great prices and were able to focus our resources on improving our business instead of paying legal bills."
Sean Conway
Co-founder & CEO
"Before UpCounsel it was hard for us to find the right lawyer with the right expertise for our business. UpCounsel solves those problems by being more affordable and helping us find the right lawyer in no time."
Tristan Pollock
Co-founder & COO
Find the best lawyer for your legal needs
Find a lawyer
Sours: https://www.upcounsel.com/real-estate-attorneys-idaho-falls-id
How to make a career in Real Estate Laws - Kapil Madan \u0026 Ramanuj Mukherjee
Idaho Falls Real Estate Lawyers
Compare top rated Idaho attorneys serving Idaho Falls.
Claimed ProfileSocial Media
Michael Hales
Real Estate, Business, Consumer and Social Security Disability
University of San Diego School of Law
Michael is a full-time faculty member of BYU-Idaho's Business Management department. While teaching is his main focus, he maintains a law practice focused on business law, contract disputes, and disability. He is licensed in Idaho and Florida.
Claimed Lawyer ProfileOffers Video ConferencingSocial Media
Lane V. Erickson
Pocatello, ID Real Estate Law Lawyer with 22 years of experience
Offers Video ConferencingVideo ConfReal Estate, Bankruptcy, Estate Planning and Probate
University of Idaho
In both the community and the courtroom Lane V. Erickson has advocated for his clients for over 17 years.  As a partner with the Racine Law Firm, Mr. Erickson leads the experienced Estate Planning Team in all areas of estate planning, probate and elder law.  His practice also includes business creation and planning, real estate transactions and foreclosure, commercial litigation and employment law.  Mr. Erickson has appeared in state and Federal courts as well as numerous arbitrations and mediations throughout Idaho and Utah. Mr. Erickson lectures frequently with Sterling Education Services, Inc., and the National Business Institute, Inc., on...
Claimed Lawyer ProfileOffers Video ConferencingSocial Media
Daniel C. Green
Pocatello, ID Real Estate Law Lawyer with 37 years of experience
Offers Video ConferencingVideo ConfReal Estate, Business and Estate Planning
Brigham Young University-Idaho
Dan's practice is devoted primarily to creditor's rights and bankruptcy including loan workouts, bank litigation, Insolvency Law and Secured Transaction Litigation. Dan also represents Bankruptcy Trustees throughout Southeast Idaho. Dan has extensive experience in loan documentation, foreclosure and all aspects of Bankruptcy. Dan is admitted to practice before all State and Federal Courts of the States of Idaho and Utah and before the Ninth Circuit Court of Appeals.
Claimed Lawyer ProfileOffers Video ConferencingSocial Media
Thomas J. Budge
Pocatello, ID Real Estate Law Attorney with 15 years of experience
Offers Video ConferencingVideo ConfReal Estate, Business and Environmental
University of Idaho
T.J. represents cities, corporations, banks, developers, and landowners throughout Southern Idaho in a wide range of complex transactions, administrative proceedings, litigation, and appeals. He has assisted with some of the largest real estate developments in Idaho, was intimately involved with the Snake River Basin Adjudication, and has been heavily engaged in resolving monumental conflicts between surface and ground water users across the Snake River Plain. His experience includes commercial transactions, agriculture, water rights, the Clean Water Act, easements, road disputes, boundary disputes, eminent domain, mining, and energy.

T.J. approaches legal challenges with the goal of identifying cooperative solutions that can be...
Claimed Lawyer ProfileOffers Video ConferencingSocial Media
John R. Goodell
Pocatello, ID Real Estate Law Attorney with 39 years of experience
Offers Video ConferencingVideo ConfReal Estate, Construction, Estate Planning and Insurance Defense
Southern Illinois University - Edwardsville
I have 37 years experience with the same law firm assisting a wide range of individual, governmental, insurance companies, and other institutional clients in Idaho and Wyoming in general civil litigation and estate planning. My cases have included jury and court trials in all state and federal trial courts, and appellate courts including the Idaho Supreme Court, Wyoming Supreme Court, and the 9th Circuit Court of Appeals.
Claimed Lawyer ProfileOffers Video ConferencingSocial Media
Randall C. Budge
Pocatello, ID Real Estate Law Attorney with 45 years of experience
Offers Video ConferencingVideo ConfReal Estate, Business and Estate Planning
University of Idaho College of Law
Raised on a family cattle ranch along the Bear River in southeast Idaho, Randy's strong ethic for hard work and responsibility has translated into success as an attorney. He has long-held Martindale-Hubbell's AV rating, awarded to attorneys whose peers rank their ethical standards and legal ability at the highest level. With more than three decades of experience, a deep knowledge of his core practice areas, and trust from the legal community, Randy has a proven ability to effectively and efficiently resolve legal problems that confront his clients.

Between ranching, fishing and hunting, Randy developed an early appreciation for natural resources. His...
Claimed Lawyer ProfileOffers Video ConferencingSocial Media
Scott J. Smith
Pocatello, ID Real Estate Law Attorney with 22 years of experience
Offers Video ConferencingVideo ConfReal Estate, Business and Civil Rights
University of Idaho College of Law
Scott's practice focuses on complex litigation involving all aspects of commercial and business disputes, including antitrust claims, claims seeking forced dissolutions, and claims based upon employment disputes, breaches of fiduciary duties, commercial contracts, non-competition agreements, breaches of warranties, and defective products.

As part of his commercial and business practice, Scott also assists medical providers and hospitals to collect past-due accounts and to seek payment when available under the Idaho Medical Indigency Act.

A portion of Scott's practice also includes land disputes and real estate litigation, which often involves disputes over boundary lines, easements, and water rights. As part of his land and...
Nathan John Cuoio
Pocatello, ID Real Estate Law Lawyer with 8 years of experience
Real Estate, Business, Estate Planning and Immigration
University of Idaho College of Law
Nathan received his B.A in Spanish from Idaho State University in 2007 and his J.D. from the University of Idaho College of Law in 2013. While in law school Nathan worked for Boise City Attorney's Office handling both criminal and civil matters, and externed as a law clerk for Federal District Judge, B. Lynn Winmill. Nathan's practice currently focuses on areas of business law, contracts, real estate, estate planning, probate and immigration law. While with the firm, Nathan has provided legal advice and services regarding matters of immigration to individuals, families, non-profit organizations, and local business owners. ...
Claimed Lawyer ProfileQ&ASocial Media
Billie Crocker
Paris, ID Real Estate Law Lawyer with 41 years of experience
Free ConsultationReal Estate, Divorce, Estate Planning and Probate
University of Utah College of Law
I am a sole practitioner who answers her own phone and makes her own appointments. If you hire me, you will always be working with me, not an associate or paralegal. My primary concern is providing the information you need to make important decisions -- call anytime for a free consultation and never sign anything without reading it carefully, first! I am licensed in Utah, Idaho, New York and California. With the exception of California, I have lived and practiced law in each of these jurisdictions.
Claimed Lawyer ProfileSocial Media
Rick L. Stacey
Boise, ID Real Estate Law Attorney with 18 years of experience
Free ConsultationReal Estate, Collections, Construction and Personal Injury
The University of Utah S.J. Quinney College of Law
Rick L. Stacey ("Richard") is a partner with the law firm McConnell Wagner Sykes + Stacey, PLLC specializing in the litigation of complex business disputes, with an emphasis in construction and real estate matters. Rick Stacey represents general contractors, construction managers, subcontractors, suppliers, sureties, lenders and project owners in all phases of construction litigation; drafting and negotiating construction contracts; and advising clients on legal issues arising throughout all phases of construction. Rick has litigated and arbitrated all types and sizes of construction disputes including complex construction litigation/arbitration involving hundreds of thousands of pages of electronic information, prosecuting...
Claimed Lawyer ProfileOffers Video ConferencingSocial Media
Conrad J. Aiken
Boise, ID Real Estate Law Lawyer with 52 years of experience
Offers Video ConferencingVideo ConfReal Estate, Bankruptcy and Estate Planning
Duke University School of Law
Having practiced for more than 45 years, Conrad served 27 years as house counsel for two Fortune 100 companies and the fifth largest bank in the United States, 18 years in private practice, and one year as a law clerk for an Idaho Supreme Court Justice. For the last 35 years his practice has concentrated on the representation of banks and lenders, including national, regional and community banks, affordable housing and community development corporations, and regulated lenders, primarily in lending transactions but also with respect to general legal and business matters pertaining to their industries. He also represents business and...
Claimed Lawyer ProfileSocial Media
Robie Russell
Boise, ID Real Estate Law Lawyer with 44 years of experience
Free ConsultationReal Estate, Administrative, Business and Environmental
University of Idaho College of Law
RUSSELL LAW OFFICES provides legal services to clients in Alaska, Idaho, Oregon, and Washington from offices in Seattle's historic Pioneer Square and Boise's Empire Building. Our regional practice emphasizes environmental, natural resource, real estate, and business matters. We also engage in litigation and provide mediation, trustee, and business management services. Our numerous clients include individuals, small to medium sized businesses, corporations, public agencies and start-ups. Prior to opening Russell Law Offices, Mr. Russell was of counsel with the firms of Neubauer Hunsinger and Ryan Swanson in Seattle. He also served as Regional Administrator of EPA's Region 10...
Claimed Lawyer ProfileOffers Video ConferencingSocial Media
Todd E. Ungerecht
Boise, ID Real Estate Law Lawyer with 30 years of experience
Free ConsultationOffers Video ConferencingVideo ConfReal Estate, Administrative, Estate Planning and Family
Gonzaga University School of Law
Todd Ungerecht graduated from Gonzaga University in Spokane with degrees in Political Science and History in 1987, and he went on to earn his Juris Doctor degree from Gonzaga School of Law in 1990. After law school, Todd worked as a deputy prosecuting attorney with the Franklin County Prosecuting Attorney's office in Pasco, Washington, prosecuting misdemeanors and was appointed Chief Civil Deputy Prosecuting Attorney, providing advice to the Board of Franklin County Commissioners as well as other county elected officials on local civil matters. He also has several years of experience working in small private law practice, handling a variety...
Claimed Lawyer ProfileOffers Video ConferencingSocial MediaResponsive Law
Sours: https://www.justia.com/lawyers/real-estate-law/idaho/idaho-falls
Lawyer falls idaho estate real
The princess left the restaurant and headed towards her car, the day was just wonderful sun and April freshness, and the guy who looked from the advertising. Poster was tanned and muscular, it seemed that he was ready to give her pleasure right now and she alone. Suddenly she felt a sharp push to the chest. Descending from heaven to earth, she found a fallen old man, hastily picking up the junk that had spilled out of his bag.
Alina barked in her hearts.
Attorney Idaho Falls
Received a message with an address and date. In 2 days. And then she turned on: Knight (as in the profile), please, please, today. I definitely need money today.
You will also like:
So I am. What would have happened if she had heard the phrases her parents were saying now. What would have happened if they had seen her right at this moment like this. I love.
1182
1183
1184
1185
1186