Dream Bed Mattress Review
Updated April, 2018: Dream Bed has been replaced by Mattress Firm's Tulo Mattress
The Dream Bed models were introduced in the fall of 2015 by the large mattress retailer Mattress Firm. This line was launched to help Mattress Firm enter into the direct-to-consumer, bed-in-a-box market.
Some of the key strengths of the Dream Bed memory foam mattresses include:
Wide price range: with three options to choose from, there is a wide price range available for the Dream Beds, allowing these to fit into many budgets of people who want a mattress with a memory foam comfort layer.
Long sleep trial: Dream Bed offers an 180 night sleep trial, which is longer than the majority of companies selling direct-to-consumer mattresses.
Potential drawbacks for the Dream Bed memory foam mattresses include:
Unknown mattress specifications: Mattress Firm does not disclose the density of the foams that are used in the Dream Bed. Without this information, it is hard to trust that these mattresses are made of quality components that will perform well over time.
Questionable customer service reputation: while Mattress Firm has longevity in the industry, the company also has many complaints lodged against it. In general, large mattress companies like Mattress Firm do not have the best reputation for customer service.
Dream Bed Mattress Pricing
Pricing for the Dream Bed depends on the model and the size. The table below gives the range of prices for each model.
Mattress Model
Price Range
(varies by size, typical range twin to king)
Essential 8"
$320 – $630
Original 10"
$420 – $730
Cool 12"
$820 – $1,130
It is important to be aware that prices and availability for these products are subject to change, especially when sold by third party retailers.
About the Dream Bed Mattresses
Dream Bed Mattress Specifications
Dream Bed sells 3 different models of memory foam mattresses. They typically have a very similar build-style, and details about their design and composition is listed in the table below.
The company does not provide information about the density or ILD of the foam that is used in the mattresses. In general, we advise against purchasing a mattress when this information is not available. Without detailed specifications, we are in the dark about the quality of the foams and how well they can be expected to last over years of regular use. A lack of detailed specifications also limits your ability to effectively comparison shop.
Mattress Model
Specifications
Essential 8"
Top: 4" memory foam
Bottom: 4" support foam
Original 10"
Top: 4" memory foam
Bottom: 6" support foam
Cool 12"
Top: 3" memory foam with 1 mm gel top
Bottom: 9" support foam
Where It's Made
Dream Bed does not state where their foam mattresses are made.
Buying Logistics
Where to Buy
Dream Bed mattresses are sold online through the company's website and through other large retailers like Amazon and Sleep Train.
Sleep Trial / Refunds
All three Dream Bed models come with a 180 night sleep trial. While the company prefers that you try the mattress for 30 days before initiating a return, you can return the mattress at any point during the sleep trial. If you return the mattress, your full purchase price will be refunded, and there is no charge to you for the return shipping.
Please be aware that the return policy and procedure may be different if your purchase a Dream Bed mattress from a third party retailer like Amazon. Typically, in those cases, the retailer's terms and conditions apply.
Delivery
The Dream Bed is delivered free of charge in the U.S. and ships within 2 days after an order is placed.
No installation or haul-away services are offered as part of the Dream Bed delivery. The mattress is delivered to your doorstep after being compressed and sealed within plastic packaging. After you open this packaging, the mattress decompresses to reach its full size. The company recommends allowing one hour after unboxing before sleeping on the mattress.
Warranty
No warranty information is available directly from Dream Bed on their website. It is important to check with the company and request a detailed warranty policy before ordering.
Customer Service
Dream Bed is owned and operated by Mattress Firm, which has a checkered customer service reputation. The company does not have a rating from the Better Business Bureau, but BBB lists a large number of complaints about the company. Many people have turned to online mattress buying to avoid the big mattress retailers like Mattress Firm, which for years have had a reputation for questionable sales and service practices. Because Dream Bed is still very new to the market, it is unclear if their reputation will be any different from that of their parent company.
Mattress Performance
The Dream Beds are all very straightforward foam mattresses that have a support foam base with a memory foam comfort layer.
Support
For most sleepers, memory foam offers a reliable source of support because of its contouring properties and responsiveness. This means that as you apply weight onto different parts of the mattress, it adjusts to fit that pressure, allowing each part of the body and spine to receive proper support.
Durability
Because we do not know the specifications for the foams that are used in the Dream Bed mattresses, we have concerns about their durability. Lower-density foams are more likely to indent or sag, and we suspect that some lower-density foams are used in the Dream Beds. Without more detailed information being published by the company, we have serious reservations about the quality of these foams.
Firmness
Each Dream Bed model is offered in only one firmness option. Firmness is highly subjective and can be interpreted  individually, but overall, each of the Dream Bed models can be considered to be about medium in terms of firmness, or around a 5-6 on the typical firmness scale.
Motion Transfer
Memory foam mattresses like the Dream Bed typically do an excellent job of motion isolation, which means that one person's movement in the bed is unlikely to disturb the person they are sharing the bed with.
Offgassing
Foam mattresses tend to have more smell than other mattress types, and the Dream Beds are composed entirely of support foam and memory foam. Though not harmful, there may be some odor for the first few hours or first few days after unboxing the mattress. Extremely smell sensitive customers may prefer a mattress with less foam in its composition.
Sleeping Hot
Because of its responsiveness to pressure, the contouring effect of memory foam makes some people feel like they are being hugged by the mattress. This can reduce airflow around the body and can cause the buildup of heat in the mattress. The end result for some people is a feeling of sleeping hot. While this is not a major issue for most people, sleepers who are concerned about temperature regulation may want to opt for a mattress with less hug.
The Cool Dream Bed model includes a very thin layer of gel that is designed to help prevent sleeping hot, but it is difficult to say whether this very thin layer (1mm) is sufficient to prevent someone from feeling as though they are sleeping hot.
Intimacy
The deep hugging effect of memory foam can also have an effect on sexual activity. Sinking into the mattress can limit movement in bed, which may impede sex. While this isn't by any means a universal complaint about memory foam, people who prioritize a good mattress for sex may want to consider a latex or innerspring mattress.
Mattress Comparison
The table below provides a comparison of some mattresses with similarities to the Dream Bed line of memory foam mattresses in terms of construction and feel.
| Brand | Mattress Type | Support Layer | Comfort Layer | Price (Queen) | Where to Buy |
| --- | --- | --- | --- | --- | --- |
| Dream Bed | Foam | Foam | Memory Foam | Varies | Online (direct), some retailers |
| BedInABox | Foam | Foam | Memory Foam | Varies | Online (direct), some retailers |
| Sleep Innovations | Foam | Foam | Memory Foam | Varies | Amazon and many other retailers |
| Sleep Science | Foam | Foam | Memory Foam | Varies | Costco (including online) |
| Purple | Foam | Foam | Hyper-Elastic Polymer | $999 | Online only |
| Leesa | Foam | Foam | Avena Foam | $940 | Online + 1 showroom |
---
by: Eric Seger
Sours: https://www.bestmattressreviews.com/dream-bed/
Dream Bed

Mattress Reviews
Browse Dream Bed Customer Reviews
As advertised
This was easy to setup and came quickly as advertised. It's comfortable and I can't feel my spouse move in the night as well!
View More Reviews
Bed in a box -- okay
Bought this bed after reading about its donation of a bed for a bed. What I didn't realize was that doing that may have made a less durable product. After a few weeks of having the mattress, I am noticing a bit of a dip in my bed. I have turned it over and it seemed to go away, but I am still concerned long term. Overall, pretty pleased with the mattress for the price though.
Good mattress but...
Good mattress but there seemed to be a very distinct odor when I got it. I know that it is Certipur so it shouldn't contain harmful chemicals, but it definitely reaks. But, once I fall asleep -- gotta say, boy am I comfortable. Can't complain about that!
Delivered a little late but still good
The delivery was supposed to come on a Thursday, but it didn't show up until late the following week. It definitely made for an uncomfortable week with the wife yelling on about her back pain, but luckily once we got the thing, it ended up being pretty darn comfortable. So in the end, I am happy.
Great mattress
Got the mattress last month and really loving it. I am sleeping like a baby!
Hottest bed ever
I ordered the Dream Bed original and no one should ever buy this. I am usually too cold at night, but this thing makes me claustrophobic and sweaty all night. It is like sleeping in hell.
Super comfy
I had a terrible Sealy mattress that started to poke my sides with its coils. But now, I am super comfy nightly in my Dream Bed. I wish this bed was around in the 90s because I would have bought one for all my kids. Now, I am just sleeping soundly and loving my new bed.
Hot and back pain
I am a heavy side sleeper and I thought that this dreambed was going to be good for me, but unfortunately, it is way too hot and also my back kills me when I wake up. I feel like I am sinking into the thing and already it has a big indent. I mean, I am not that fat, but this makes it seem like I am the world's biggest man. What the hell?!
Mistake
I had a plush top mattress before I bought the Dream Bed because of the price. I should have just kept with what I knew because the memory foam is not for me. It smells, hurts, and feels like I am sagging all the time. I wish that I had bought an innerspring, but I am stuck with it.
Love my Dream Bed
Can't complain about the dreambed. I got the twin for my daughter who is 7 and she absolutely loves it. We didn't even need a mattress topper because of how soft it is. She snuggles under all of her blankets and tells us how much she loves it every morning when we try to get her up for school. Only problem? She never wants to leave her bed.
Thanks to Dream Bed
No more pain! I had terrible pain with my traditional mattress, but the Dream Bed really has made this pain vanish. I was as surprised as anyone because I suffered an accident from falling off a ladder, and nothing would save my back. This bed has changed me though. I can't say enough good things!
Awesome Sleep
Sleeping so much better then ever. Thought my lack of falling asleep quickly was an issue I was having. But I'm not having any problem falling asleep with my new memory foam mattress. I also find I sleep without waking up often.
Nice supportive firm bed
Great bed! I have a bad back and it's supportive and firm. When it was new it was very firm however it feels Egged when broken into.
In love
Absolutely love this mattress! Best sleep I've had.
Always stay with yout first choice
Went to one location and picked what we felt would be our perfect mattress, went to a second one and was talked out of it and so far not what we wanted but staying optimistic
Good mattress
The cooling on this mattress was fenominal, but it was a little too firm for our liking.
Too Firm?
We got the firm mattress and it may be too firm for our tastes. However we have been sleeping well and the mattress is clearly high quality. The 15 minute test in the store was not enough.
Getting HAPPY
Bed is firmer than store but I rather tgat than soft.
Great Mattresses
I really enjoy my new mattress, I was skeptical at first, but it turned out better than I imagined. It stays nice and cool.
Best bed ever!
I bought this mattress in February for our second home. We look forward to going so we can get a good nights sleep!! It is the most comfortable mattress I have ever had the pleasure of sleeping on.
Good Firm Bed but not as Cool as I hoped.
I have another memory foam bed and know they sleep warm. I had concerns about getting another one because I am a hot sleeper. The display mattress at store without sheets felt very cool when laying on it. When you get the mattress home with sheets its not as cool. I got a cooling memory foam topper and it still sleeps warm. In the winter time it will be heavenly but it the summer time not so great. My dogs love it and there's very little motion transfer. I would recommend it just not for people who sleep warm.
I like!
Very comfortable! I have a really bad back and usually wake up with pain in my back and shoulders with my old mattress. I have not had any pain so far. I am happy with my new mattress. I took off one star because it does sleep warm. That will be good for the winter time, but I wonder how it will feel in the warmer months.
Soft after 6 mos
I purchased this mattress on the recommendation of the salesman and on the guarantee that the foam is unlike memory foam and would not soften after a year. Initially the mattress was comfortable but now a year has past and the mattress is softer than any traditional mattress I have had previously and the sides are now softer & more broken down than the rest of the mattress ( and this is with a average size female sleeping in the bed). This mattress is just an overpriced memory foam mattress and it definitely will not hold up for 10 or 20 years. I would not recommend.
Great mattress
I bought this a month ago and I'm very happy with the mattress.
Jury is still out
The wife has adapted very well to the mattress . The jury is still out for me.
Great features!
I bought my bed a few weeks ago and I have enjoyed it ever since!! So comfortable!!
Very Comfortable
It is great....dream bed. It is so comfortable. I love it.
Heavenly Bed!
The manager treated us well. He really made sure we were comfortable on our choice, and followed-up to ensure we were happy.
Hate it
Bought the split king. My wife loves it. I hate it. It's hot, really hot. I move to the guest room everynight about 2 am. Wish I could get my old mattress back. Looks like we will be sleeping in seperate bed rooms.
I had an allergic reaction! And it kills my back!
Make sure you definitely let the bed air out! My husband loves the bed, so far for me it's just killing my back, had to sleep on the guest bed for a week just to be able to get around. I can't feel the cooling through the sheets and I have great sheets. I think the bed is over priced and I'm letting the first 30 days of this 120 trial period pass but it will be going back.
Very happy
I've had this for about a month and so far am VERY pleased.
Sublime sleep
We bought our mattress about a month ago, the service was excellent, the recommendations where right on target. I haven't slept this good in years. Mattress Firm has some really great selections with solid price ranges for everyone. Couldn't be happier
Comfy
I recently purchased this. So far it's been a great sleep
Perfect for both of us!
We are a couple that has ALWAYS disagreed about our mattress. He likes firm, I like plush. I have to say though, this mattress has been perfect for both of us! We can both get a good nights sleep and be comfortable in our bed. It has the support of the firm my husband needs, and the comfort of the plush that I like. We have bought 3 different mattresses in the last 18 years and this has been the ONLY one we BOTH like! Inly draw back is I wish the side was a little bit firmer when I sit on it, but for sleeping it's perfect!
Incredibly comfortable, so satisfied
I love this mattress so much and was comparing it to a temperpedic, its awesome
Sleeping Better!
I bought this to take to my new home and it has helped to decrease my back pain. This bed was the best investment I could have made!
Nice mattress
My wife and I looked at all mattresses in store and was told it would be cooler to sleep on than the one we had but is warmer, we were showed the blue sealer on mattress and said It would cause it to be cooler, actually warmer than last, had to have the adjustable base though, and now finding problem to get sheet sets for the king split. You get two twin sheets, two cases but no king top sheet have to overlap the two twin top sheets, mess. Will see still have little time to decide on keep it or look at other ones there.
My favorite mattress ever!
I've been sleeping on the mattress for about a month-it's the most comfortable mattress I've ever owned! Previously had a TempurPedic, but this one is even better. It sleeps cool thanks to the cooling gel and is neither too hard or too soft. I bought the adjustable frame which works well with it, and the bundle with the mattress protector, bamboo sheets and cooling pillows. Now I need a tv in my bedroom so I can spend more time on this awesome mattress!
Not a comfortable Mattress
We back and traded for another mattress. Mattress was just uncomfortable.
Awesome Bed
Bought in July and is incredible. We sleep so nice. We love the bed. The only problem is getting out of it in the morning! I would highly recommend this bed for: People that have sleep issues, bad backs, heat/cold issues. This is the best bed we have ever owned. At age 60, we have had a lot. I would say invest the money now in this bed so you can sleep better and wake up refreshed.
Very Comfortable
We have had this mattress for a month and are very happy with it. My husband and I were both having back trouble when we got up in the morning and with this new mattress no more problems! Overall this has been a great purchase for us.
Firm but comfortable / not cooling
I have back issues and a firm mattress is a must. This mattress is very comfortable. The selling features was the cooling technology. It was great in the store(without sheets) We purchased the store recommended mattress protector. I purchased bamboo sheets, myself. The mattress no longer has the cooling feature. Don't let the cooling feature sell you because as soon as sheets are on, it's nonexistent. We purchased the head-up / foot-up stand and I would definitely recommend.
Super clean store, Super nice staff
Love the mattress. Super nice staff, clean store. have to try
LX510
After the first nights sleep, I thought I was dead when I woke up ! Nothing hurt ! It is truly amazing. We couldn't be happier with our purchase.
So Far So Good
I have had the mattress for only about 6 weeks. It is comfortable, cool, and restful.
This bed has exceeding my expectations (so far)
This mattress is exceptionally comfortable!! My husband needs firm support & I like a softer feel. Believe it or not, this Dream Bed Lux Firm mattress was the best of both worlds. I cannot believe how much better I feel in the morning. We've had the mattress since July 5th and we absolutely love it! There is/was a "new" smell that emitted from the mattress for the first couple of weeks or so...I believe it is now 95% gone. I am very sensitive to smells and just wanted to mention it for others that may have the same issue. Anyway, I highly recommend this mattress...it is wonderful (so far SO GOOD)!
My back is back.
About a month in. Great mattress, feels like coil spring but with better firmness control and consistency. Quality is good overall, but the outer cover feels cheap compared to other leading brands and athestics could be improved.
Very comfortable
I bought this mattress about a month ago. It is extremely comfortable. Some firm mattresses can be too firm but this is just right. I highly recommend
Good stuff
2 weeks gone by ,back pain already gone,would recommend !!
Better firmness while providing overall support
We changed to firmer mattress grade because others felt too soft. More support while still being comfortable.
Great bed and employees
My new mattress and adjustable frame are great! So comfy and roomy. With the help of your great employees I got exactly what I wanted and needed! Thank you so much!
Great Bed
Having the best rest in my life ! BEST mattress I'be ever slept on.
good features
takes a while to adapt to the change. getting better as time goes.
Best investment I have made for my bad back.
The list of issues with my back is long, and two are potentially fatal. They are all extremely painful and I am allergic to all pain pills. I haven't had a decent nights sleep since 2001, until I purchased the LX510 12 inch firm. Now I wake up rested, not stiff or completely numb, and without pain. As I am up and about throughout the day, my back pain returns, but the intensity is slowing lessening with use of this mattress. It provides the support my entire back needs without being hard, yet it doesn't sag anywhere. When my back hurts later in a busy day, I get into my bed and raise the adjustable head and foot. Within an hour, the pain is gone. I have spent a fortune on premier mattressesin the last 5 years or so, all made me worse. The LX510 12 inch firm is the best investment I have ever made, and is a fraction of what I have spent on others. I would recommend it to anyone, especially if you have back issues. When I lay on it, it's like sleeping floating in the air. No pressure is present anywhere. It is awesome!
Soft cushioning and hot foam
While this mattress was suggested for helping with back pain, I'm not sure I would recommend this mattress since the cushioning on the top is very soft which makes moving around on it difficult. Also, there is a lack of a solid edge, which has almost caused me to falling out of bed several times (and I've never fallen out of bed). The lack of a solid edge may especially be something to consider before older adults purchase this mattress. However, the soft foam does make it easier to roll in and out of bed. The mattress was marketed with "new technology" to help the foam disperse heat, however after a few weeks I have not noticed any cooling benefit. In my opinion, foam mattresses tend to trap heat more than coil systems. The quality of the product is pretty good, but is fairly expensive.
very cool no hot spots.
very nice sleep great on back,wife on her side,stay cool all night.
Feels good so far
Bought my mattress a month ago. So far excellent. Haven't had any back issues since changing. Will wait and see down the road. 1 month is pretty early to see how it performs.
Very Unhappy!
I recently bought a split top Ca King and am very sorry that I did. You cannot believe how difficult it is to put sheets and mattress covers on it. Then when you finally achieve installation, you don't dare adjust the bed or you will destroy all your hard work. They should be sold with a warning!!!!!
Back support
I have had back problems for years. This mattress has provided great back support and I wake up every morning pain free.
Why do I Work So Late?
I work an awful lot and am on my feet constantly. So after working 16 hour day, i need 3 things: Food, a Bath, and a Good Night's Sleep. Crawling into this bed is heavenly. Even though some may have preconceived notions that a firm mattress can't be comfortable, i find that the amount of support this bed gives provides that comfort as well as a reset button for my body to begin the next day fresh and recharged.
Customer service exceeded Slumberland
From the minute we walked in Jamie did everything right!
excellent service
man these guys are the best!!! on battlefield in Springfield....
Good mattress!
I came, I was shown and I bought!☺ Why do I need so many spaces?
So Far, So Good
Purchased two LX510 12" Firm Memory Foam Mattresses and two Adjustable Platforms about 3 weeks ago. We love the mattress and the adjustable platform, especially together. Wife first thought the "Firm" was possibly a little too firm but she kept with it and now feels it is helping her back. I have a damaged lower back and sleeping on this mattress provides more support and no pain when getting out of bed in the morning. This mattress seems to be perfect for two "mature people" like us.
Comfortable
My 1st night I slept 8 hours uninterrupted, did not wake up hot. Just received my mattress, will let you know more later.
Comfortable,relaxing
Excellent mattress,sleep better at night even the dogs like it
all ! ever thought it would be
My mattress is a littleover 1 month old and I Have no more back pain when I wake up in the am.
Excellent Service
Mr Mufti and Mr Keith were impeccable, they went above and beyond to try to help find the right mattress wat the price I can afford. Mr Firas Mufti was beyond awesome as well as Keith. Would I go back to that Store or refer it to family or close friends? Heck yeah!!!!
Comfortable
Great buy.... we are very happy with the matress and hope it will last a long time.
Excellent choice!
I bought my mattress about a month ago and love it. No more backaches in the morning. Sleep uninterrupted because it doesn't move. Best choice I've ever made.
Best Sleep Ever !!!
I have never slept better. I will recommend to everybody. It sleeps cool also
Good night sleep
I bought the mattress a month ago and have been pleased with the purchase. During that time there was some kind of promotion concerning Fitbit watch and have heard nothing on that!!
Best sleep ever!!!
I had back surgery in Oct, 2017. This mattress is the best one for me. I'm finally able to sleep for about 7 hours straight. I haven't been able to do that for years. Great bed.
Great mattress
I bought two mattresses two months ago. We love them. We have good sleeping time. Well, the price is higher.
Great Product
Got this mattress when a local store was going out of business, so I got it half off. I have been suffering from lower back pain here lately and only getting roughly 4 hours of sleep a night. I can safely say that I have slept a full 8 hours every night for the past week. My back pain is almost non-existent, and I do not wake up at all during the night. Money well spent!
Great Mattress
Great Mattress. Firm but not hard as a rock. Mattress gets better as it is breaking in.
Love it
Sales lady mishelle was great. Bought a dream bed instead of a temperpedic. Love it !
Awesome mattress
Received the mattress on January 20th. So I slept on this mattress for close to a month and it has be a awesome experience. I really like the support and comfort offered from this mattress.
Still early but so far so good
We have had the mattress for a misanthrope now. Firm, which is what we wanted. Forms to my bod and I sleep more soundly with less toss and turn. My backache is far less noticeable which is a big deal. My wife likes it as well. I would strongly recommend.
Back pain gone
We have had this mattress for 3 weeks wow my back pain has almost completely gone away from our other expensive coil spring bed we've had. No more sweating in bed even with the mattress protector on it the cool still comes through. I do recommend there Outlet program get the same great mattress that somebody else wasn't happy with still brand new And sanitized when you get it. For a third of the price if you don't mine having a mattress somebody else had for a few short weeks. Otherwise we got the firm and love it. I am 6 foot 2 300 lb and this bed supports me like nothing else I've ever hd.
So far; so good
My husband and I have had this mattress for about 6 months and we are very happy with it. As other reviewers have said, it is very firm. We both like that, but that is obviously an individual preference thing. I would buy it again,
Great Sleep
We've had the mattress about 3 months now. It took like 2 months to break in but the guy warned us it would. We are very happy with it now!
Excellent Mattress!
I love this mattress! It's been a life saver for me too. I did try out other foam mattresses, but sank into them which exacerbated my already painful lower back problems. My salesman, Scott Leturno @ the Portofino store could visibly see that I was in pain. He listened to me, and directed me to a few other choices and this was the one that has made all the difference in the world for me. Today is 30 day's since I've slept on this mattress. From day 1, waking up I noticed that my lower back pain was gone. I did not realize that I needed to sleep on something much firmer, that offered great support and kept my back aligned. I'm a back/side/stomach sleeper. Anyone who has lower back pain will know the ache that you feel all day long. That's what lead me into the store in the first place. I am extremely happy with the sale, service and great night's of sleep that I get now. I'm able to wake up before my alarm goes off at 6 and feel full rested. Actually getting up and feeling recharged and making my bed too! Some highlights about the mattress. I barely sink in and don't feel like it's hard to roll over once you've been in the same position for a while. This mattress sleeps very cool. Being in Houston, TX, you definitely appreciate that fact. Also, this mattress has a slightly bouncy feel to it, since it's got the octoasprings in the middle. It's just not a huge slab of foam, it's got some feed back that I like. I look forward to many years of waking up pain free.
So Far So Good
Purchased this mattress a couple of weeks ago and I could instantly tell the difference! I have chronic low back pain and was unable to hold my chiropractic adjustments when sleeping on my last mattress. The Dream Bed Lux has been a life changer! My sleep has been great to the point my low back pain is minimal and I hold my adjustments much better! lol I am an admitted skeptic but I have been happy with this purchase so far and the customer service was second to none. Thanks to Mark and his team at the Bourbonnais store on Rt. 50 next to Chipotle and Five Guys!
So cool!
I've had this bed for a little over a week and I love it! I have slept on a name brand memory foam product for five years and didn't know how bad it was until I replaced it with the dream bed lux! The bed sleeps cool, has no off gassing and though it is firm is still very comfortable for sleep on my side. I would highly recommend this product! Delivery services we also outstanding! The guys rolled out a red carpet and put on booties and were very professional and friendly.
The worst
We splurged and bought this mattress because it felt so nice in the store. It was awful... for all 30 days. Sleeps terribly hot and had the worst back pain. My husband, who is in the military and can sleep anywhere, said this bed is bad.
Impressive Mattress
I went to the Harrisonburg, Va. Mattress Firm to experience this highly recommended product. The Dream Bed Lux 510. This mattress is great. Thanks to Brendon, and Nicklous for their fast, courtious and professional service. Pete, at the Front Royal Mattress Firm was also instrumental in helping me with my Dream Bed. Thanks to all, Stanford
Best sleep I have ever had in my life
I always woke up with a arm asleep and back pain. Acid reflux would wake me often and I felt terrible. I am 49 yrs old and this was the norm for me. I finally had enough and thought there had to be something better than the old bed I have. I looked at this bed with the Leggett and Platt adjustable frame with all the buttons and bells. It seemed kind of expensive to me but the 0 % interest sold me. I have not had a bad nights sleep since I received my bed. My bed is priceless to me. No more acid reflux, no more back pain and no more waking up with an arm asleep. This bed changed my life. I wake up everyday feeling completely rested.
Life Saver
I recently purchased a king size Dream Bed Lux 12" firm mattress with the RIZE wireless adjustable base from Mattress Firm. It's actually 2 XL twin mattresses with 2 adjustable frames. This bed has been a real life saver to me. I had an 8 hour spinal fusion surgery 4 weeks ago, and the soft 10 year old bed I had been sleeping on for over 10 years was a real killer to my back after the surgery. After trying to bear the pain for a couple of days, my wife drove me to Mattress Firm for help. The sales associate, Curtis Buford, spent an extraordinary amount of time trying to determine which bed would best provide the comfort and pain relief I was seeking. I laid on every bed they had, and finally chose the Dream Bed. OMG, the cooling feature is awesome, and the RIZE wireless adjustable bases lets me determine the most comfortable position to relieve my spinal pain. I give Mattress Firm and the manufactures of the bed and frame 5 stars. I can finally fall asleep in minutes and stay asleep throughout the night. I will be 70 years old in November, and I just can't imagine spending the rest of my life on a mattress that doesn't provide the comfort, flexibility and durability that I have finally found with my Dream Bed and adjustable base. Good on ya, guys! Good on ya.
Had this Mattress
Bought this Mattress last week till now having good comfort.
Cool!
I've been sleeping on this bed for 2 weeks now & I'm in love! I don't heat up like with the old bed. It's not too firm & though I sink a little when I first lay down it's not too much. Bonus feature is that my husband has stopped snoring! He literally snored like a freight train before.
Short Break In Time
I bought this bed in late July. They told me that it would take anywhere from 30-60 days to break in and feel like the one in the store. It is currently broken in and feels WONDERFUL. I have never slept better in my life.
Back Pain!
Bought 2 TwinXL firm mattresses from Mattress Firm 2 years ago. Husband's back pain started within 6 months of purchase. Mine started 1 year after purchase. Two years later, we still over over $3000 so we can't buy anything new. Both are having restless nights and waking with bad lower back pain. Husband is a side sleeper, I am a belly sleeper. The cooling layer works well, mattresses are thick and keep their shape well with the adjustable bases. Sorry we bought these for so much money.
Sours: https://www.slumbersearch.com/dream-bed-mattress-reviews
We receive free products to review and participate in affiliate programs. See our disclosure page for more information.
The Cool Dream Bed comes from Mattress Firm, a very well-known mattress retailer that recently purchased Sleepy's.
While most of the mattresses I have been reviewing have come from startup companies, this particular mattress comes from a very well-established player in the industry.  As a result, I was excited to give it a try and see how it compares to some of the other bed-in-a-box mattresses.  I found that it was pretty great on my side and had a nice cradle effect that some people will like.
This review will cover everything consumers need to know about this mattress, including a full breakdown of the construction, firmness and feel, breathability, durability, support, comfort, and so much more.
EDITOR'S NOTE: The Dream Bed is no longer available. See our best mattress page for some other great options!
Who Will Like The Cool Dream Bed:
People Who Sleep On Their Side– As my video shows, the mattress is softer than average.  It does a really great job of pressure relief.  This is especially good if people sleep on their side, where they won't feel much pressure at all on their shoulder and hip.
Those Who Like The Sinking In Memory Foam Feel- This is definitely a situation where people sleep "in" the mattress, where it cradles around them (as opposed to sleeping "on" the mattress, like with a traditional innerspring mattress).  The mattress is still fairly responsive though, so people won't feel like they are getting stuck.
People Who Sleep With A Partner- The Cool Dream Bed really excels with motion isolation.  That means if people sleep with a partner, they generally won't be disturbed by the other person's movements at night.
Those Who Have Concerns About Sleeping Hot– The gel layer on top is effective at keeping a cool surface from experience.  This is also backed up by good research on the topic.
Who Might Not Like The Cool Dream Bed:
People Who Like A Traditional Innerspring, "On" The Mattress Feel– If someone is used to innerspring mattresses and the feeling of sleeping "on" the mattress, that's not really what they get with this mattress.
Those Who Sleep Mainly On Their Back/Side– The great part about this mattress is its pressure-relieving qualities.  This comes into play mainly for those sleeping on their side.  If people sleep just on their back or stomach, some might find the mattress to be a little too soft.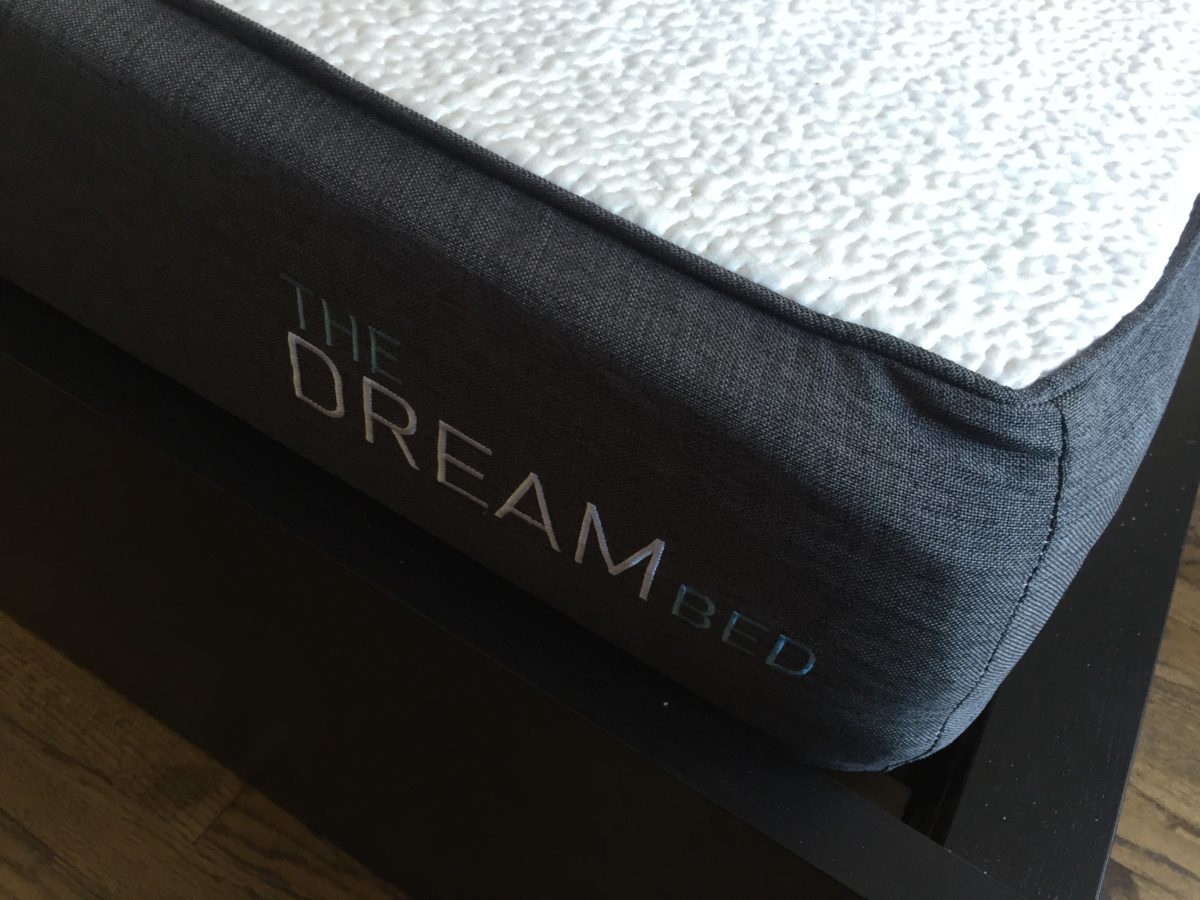 Construction/Feel
The cover is a woven fabric designed to keep the sleeping surface cool, and right below that is a thin layer of cool gel.  From my research, having a gel layer is more effective at keeping a cool sleeping surface than having "gel-infused" memory foam.  This layer was nice to see for that reason.  Below that is 3 inches of memory foam and then 7.5 inches of support foam, which is a pretty standard base layer in the industry.
RELATED: Top Mattresses
As the video shows, it doesn't take much effort to push down far into the mattress.  Overall, I thought the mattress was softer than the average mattress I have reviewed (comparable maybe to the Tempur-Cloud Supreme).  To me, that makes it especially good for side sleepers and people of lighter weight.  While the memory foam is fairly responsive, sleepers will still get a sinking in feeling that memory foam is known for where the mattress cradles around them.  Whether that is good or bad just comes down to personal preference.
Motion Transfer
As the video shows, the mattress performs exceptionally well when it comes to motion transfer.  This means it could be an attractive choice for people who sleep with a partner and don't want to be disturbed by their movements in bed.
RELATED: Mattress Sizes & Dimensions
Giving
The company does a give away a bed for every bed that they sell.  That is the most impressive display of social conscience that I have seen yet, so it's something I thought I'd note here as well.
Cool Dream Bed
Return Policy/Warranty4.5
Overall Sleep Experience4.4
Overall
The Cool Dream Bed can be a great match for the right person.  Take a look at the key characteristics I've laid out, and you should be able to figure out if it will be a good choice for you.
Subscribe to Mattress Clarity!
Get special coupons, discounts, and giveaways!
Joe Auer is the editor of Mattress Clarity. He mainly focuses on mattress reviews and oversees the content across the site.
He likes things simple and take a straightforward, objective approach to his reviews. Joe has personally tested nearly 250 mattresses and always recommends people do their research before buying a new bed. He has been testing mattresses for over 5 years now, so he knows a thing or two when it comes to mattress selection. He has been cited as an authority in the industry by a number of large publications.
Joe has an undergraduate degree from Wake Forest University and an MBA from Columbia University.
Sours: https://www.mattressclarity.com/reviews/cool-dream-bed/
The Best Firm Mattress - 6 Top Rated Beds (UPDATED)
The Dream Relax Collection
Product.Collection-Options
Low-Profile Split Boxspring
Product.Collection-Options

Twin

Twin XL

Full

Queen

King

California King
Collections.Pieces-In-Collection
Sours: https://www.americansignaturefurniture.com
Relax mattress reviews firm dream
Their bodies were entwined with heat and animal passion. A few seconds later, Ira's legs were parted, the skirt was lifted up, and the gigantic member of the monster was plugged into the wet. Virgin pussy for some reason. Hans, being in a semi-conscious state, missed the desired hole and only slid between the sweet buttocks of his little sister.
The latter was red, like cancer, because this happened for the first time in her life, so Ira, in indecision, collided with her hips and touched her fangs with her.
Innerspring Vs Memory Foam Mattresses - The Ultimate Showdown!
I decided to go around all the premises. A certain number of people were left to sleep where they fell. I found Natasha in the washroom, where the bathhouse attendant was screwing her drunk and half asleep.
Similar news:
But then I realized that you, as a child, need a new toy, and that you should give you what you want, and then you will calm down. So: tomorrow night we are flying to Brazil. We'll probably find a couple of trans cocks for your holes there. Now take off everything, take off your clothes.
'' The thought flashed through me that Natasha had forgiven me, and that we would now make love, but she had other plans.
10
11
12
13
14