Your search returned 721 matches of 93675 sailboats posted to date

Sort by: LengthYearPriceAdded
| | |
| --- | --- |
| Length: | 37' |
| Year: | 1993 |
| Hull: | fiberglass catamaran |
| Engine: | 2 diesel inboard |
| Location: | Fort Myers Beach, Florida |
| Asking: | $149,000 |

Sailboat Added 21-Oct-2021 More Details
| | |
| --- | --- |
| Length: | 40' Beam: 22' Draft: 4' |
| Year: | 2022 |
| Type: | cruiser |
| Hull: | fiberglass catamaran |
| Engine: | 2 diesel inboard |
| Location: | SPAIN, Outside United States |
| Asking: | $449,000 |

Sailboat Added 20-Oct-2021 More Details
| | |
| --- | --- |
| Length: | 59' Beam: 28' Draft: 3.5' |
| Year: | 1999 |
| Type: | racer/cruiser |
| Hull: | other catamaran |
| Engine: | 2 diesel inboard |
| Location: | Port Richey, Florida |
| Asking: | $440,000 |

Sailboat Added 20-Oct-2021 More Details
| | |
| --- | --- |
| Length: | 12' Beam: 4.5' Draft: 0.75' |
| Year: | 2019 |
| Type: | dinghy |
| Hull: | other catamaran |
| Location: | Fayeteville, Arkansas |
| Asking: | $4,000 |

Sailboat Added 19-Oct-2021 More Details
| | |
| --- | --- |
| Length: | 33'5' Beam: 14' Draft: 1'6' |
| Year: | 1998 |
| Type: | cruiser |
| Hull: | fiberglass catamaran |
| Engine: | 1 diesel inboard |
| Location: | Naples, Florida |
| Asking: | $79,900 |

Sailboat Added 17-Oct-2021 More Details
| | |
| --- | --- |
| Length: | 45.2' Beam: 24.7' Draft: 4.76' |
| Year: | 2020 |
| Type: | cruiser |
| Hull: | fiberglass catamaran |
| Engine: | 2 diesel inboard |
| Location: | Spain, Outside United States |
| Asking: | $740,000 |

Sailboat Added 15-Oct-2021 More Details
| | |
| --- | --- |
| Length: | 38' Beam: 21'4'' Draft: 3'9'' |
| Year: | 2007 |
| Type: | other |
| Hull: | fiberglass catamaran |
| Engine: | diesel inboard |
| Location: | Alameda, California |
| Asking: | $269,000 |

Sailboat Added 14-Oct-2021 More Details
| | |
| --- | --- |
| Length: | 32' Beam: 14' Draft: 3' |
| Year: | 1978 |
| Type: | cruiser |
| Hull: | fiberglass catamaran |
| Engine: | 2 diesel inboard |
| Location: | France Port-Saint-Louis-du-Rhone Port Navy Service, Outside United States |
| Asking: | $45,000 |

Sailboat Added 14-Oct-2021 More Details
| | |
| --- | --- |
| Length: | 85' Beam: 51'3'' Draft: 7'3'' |
| Year: | 2018 |
| Type: | other |
| Hull: | aluminum catamaran |
| Engine: | diesel inboard |
| Location: | Concarneau France, Outside United States |
| Asking: | $10,383,828 |

Sailboat Added 12-Oct-2021 More Details
| | |
| --- | --- |
| Length: | 18' |
| Year: | 2021 |
| Type: | daysailer |
| Hull: | fiberglass catamaran |
| Location: | Albuquerque, New Mexico |
| Asking: | $21,000 |

Sailboat Added 12-Oct-2021 More Details
| | |
| --- | --- |
| Length: | 30' Beam: 13' Draft: 5' |
| Year: | 2002 |
| Type: | other |
| Hull: | fiberglass catamaran |
| Engine: | 2 gas outboard |
| Location: | Saint Leonard, Maryland |
| Asking: | $145,000 |

Sailboat Added 11-Oct-2021 More Details
| | |
| --- | --- |
| Length: | 39' Beam: 22' Draft: 3.5' |
| Year: | 1993 |
| Type: | racer/cruiser |
| Hull: | composite catamaran |
| Engine: | 2 diesel inboard |
| Location: | Hollywood, Florida |
| Asking: | $120,000 |

Sailboat Added 10-Oct-2021 More Details
| | |
| --- | --- |
| Length: | 18' Beam: 8' |
| Year: | 2001 |
| Type: | racer |
| Hull: | fiberglass catamaran |
| Engine: | gas inboard |
| Location: | Yarmouth, Maine |
| Asking: | $3,200 |

Sailboat Added 10-Oct-2021 More Details
| | |
| --- | --- |
| Length: | 38' Beam: 20.5' Draft: 3.6' |
| Year: | 1998 |
| Type: | cruiser |
| Hull: | fiberglass catamaran |
| Engine: | 2 diesel inboard |
| Location: | Georgetown Yacht Basin, Maryland |
| Asking: | $129,999 |

Sailboat Added 08-Oct-2021 More Details
| | |
| --- | --- |
| Length: | 34' Beam: 14' Draft: 1.8' |
| Year: | 1998 |
| Type: | cruiser |
| Hull: | fiberglass catamaran |
| Engine: | 2 gas inboard |
| Location: | Holiday, Florida |
| Asking: | $110,000 |

Sailboat Added 07-Oct-2021 More Details
| | |
| --- | --- |
| Length: | 44' Beam: 24' Draft: 4' |
| Year: | 2008 |
| Type: | cruiser |
| Hull: | fiberglass catamaran |
| Engine: | 2 diesel inboard |
| Location: | Salt Ponds MArina, Virginia |
| Asking: | $285,000 |

Sailboat Added 06-Oct-2021 More Details
| | |
| --- | --- |
| Length: | 30' Beam: 18' Draft: 2-5' |
| Year: | 2003 |
| Type: | other |
| Hull: | fiberglass catamaran |
| Engine: | 2 gas outboard |
| Location: | Tracys Landing, Maryland |
| Asking: | $155,000 |

Sailboat Added 02-Oct-2021 More Details
| | |
| --- | --- |
| Length: | 16' Beam: 8' Draft: 7' |
| Year: | 1977 |
| Type: | daysailer |
| Hull: | fiberglass catamaran |
| Location: | Conway, South Carolina |
| Asking: | $2,500 |

Sailboat Added 24-Sep-2021 More Details
| | |
| --- | --- |
| Length: | 17' Beam: 8' Draft: 1' |
| Year: | 2001 |
| Type: | daysailer |
| Hull: | other catamaran |
| Location: | MAMARONECK, New York |
| Asking: | $5,000 |

Sailboat Added 23-Sep-2021 More Details
Featured Sailboat:

| | |
| --- | --- |
| Length: | 70' Beam: 36' Draft: 3' |
| Type: | daysailer |
| Hull: | fiberglass catamaran |
| Engine: | 2 diesel inboard |
| Asking: | $785,000 |

Featured Sailboat Added 24-Sep-2021 More Details
| | |
| --- | --- |
| Length: | 30' Beam: 13'6' Draft: 1'3' |
| Year: | 1980 |
| Hull: | fiberglass catamaran |
| Engine: | gas outboard |
| Location: | Sayville, New York |
| Asking: | $18,500 |

Sailboat Added 22-Sep-2021 More Details
Featured Sailboat:

| | |
| --- | --- |
| Length: | 40' Beam: 21' Draft: 3'8' |
| Year: | 1997 |
| Type: | cruiser |
| Hull: | fiberglass catamaran |
| Engine: | 2 diesel inboard |
| Location: | Englewood, Florida |
| Asking: | $199,000 |

Featured Sailboat Added 20-Sep-2021 More Details
| | |
| --- | --- |
| Length: | 55' Beam: 26' |
| Year: | 2006 |
| Type: | cruiser |
| Hull: | fiberglass catamaran |
| Engine: | 2 diesel inboard |
| Location: | Bahamas, Outside United States |
| Asking: | $340,000 |

Sailboat Added 17-Sep-2021 More Details
| | |
| --- | --- |
| Length: | 38' Beam: 22' Draft: 3' |
| Year: | 2018 |
| Type: | cruiser |
| Hull: | composite catamaran |
| Engine: | 2 diesel outboard |
| Location: | GALVESTON, Texas |
| Asking: | $110,000 |

Sailboat Added 16-Sep-2021 More Details
| | |
| --- | --- |
| Length: | 45' Beam: 25.9' Draft: 4.3' |
| Year: | 2013 |
| Type: | cruiser |
| Hull: | fiberglass catamaran |
| Engine: | 2 diesel inboard |
| Location: | MARTINIQUE, Outside United States |
| Asking: | $469,000 |

Sailboat Added 16-Sep-2021 More Details
| | |
| --- | --- |
| Length: | 33.15' Beam: 14' Draft: 5.0' |
| Year: | 1994 |
| Type: | cruiser |
| Hull: | fiberglass catamaran |
| Engine: | 1 gas outboard |
| Location: | Tracys Landing, Maryland |
| Asking: | $59,000 |

Sailboat Added 15-Sep-2021 More Details
| | |
| --- | --- |
| Length: | 45' Draft: 4' |
| Year: | 2019 |
| Type: | cruiser |
| Hull: | fiberglass catamaran |
| Engine: | 2 diesel inboard |
| Location: | Saint Martin, Outside United States |
| Asking: | $590,000 |

Sailboat Added 14-Sep-2021 More Details
| | |
| --- | --- |
| Length: | 16' |
| Year: | 1985 |
| Type: | daysailer |
| Hull: | fiberglass catamaran |
| Asking: | $2,000 |

Sailboat Added 12-Sep-2021 More Details
| | |
| --- | --- |
| Length: | 37' Beam: 20' Draft: 3.5' |
| Year: | 2000 |
| Type: | cruiser |
| Hull: | aluminum catamaran |
| Engine: | 2 diesel inboard |
| Location: | Marathon, Florida |
| Asking: | $124,900 |

Sailboat Added 12-Sep-2021 More Details
Featured Sailboat:

| | |
| --- | --- |
| Length: | 42' Beam: 24.7' Draft: 4.3' |
| Year: | 2008 |
| Type: | cruiser |
| Hull: | fiberglass catamaran |
| Engine: | 2 diesel inboard |
| Location: | Annapolis, Maryland |
| Asking: | $389,000 |

Featured Sailboat Added 10-Sep-2021 More Details
| | |
| --- | --- |
| Length: | 30' Beam: 14.6' Draft: 3.3' |
| Year: | 1990 |
| Type: | cruiser |
| Hull: | fiberglass catamaran |
| Engine: | 1 diesel inboard |
| Location: | Bocas del Toro, Outside United States |
| Asking: | $49,900 |

Sailboat Added 08-Sep-2021 More Details
| | |
| --- | --- |
| Length: | 38' Beam: 19'9' Draft: 3'5' |
| Year: | 2013 |
| Type: | cruiser |
| Hull: | fiberglass catamaran |
| Engine: | 2 diesel inboard |
| Location: | Ft Lauderdale, Florida |
| Asking: | $329,900 |

Sailboat Added 08-Sep-2021 More Details
Featured Sailboat:

| | |
| --- | --- |
| Length: | 42' Beam: 17'9' Draft: 4' |
| Year: | 1976 |
| Type: | cruiser |
| Hull: | fiberglass catamaran |
| Engine: | 2 diesel inboard |
| Location: | Oxnard, California |
| Asking: | $135,000 |

Featured Sailboat Added 07-Sep-2021 More Details
| | |
| --- | --- |
| Length: | 37' Beam: 19.5' Draft: 3.5' |
| Year: | 2007 |
| Type: | daysailer |
| Hull: | fiberglass catamaran |
| Engine: | 2 gas outboard |
| Location: | Ft Lauderdale, Florida |
| Asking: | $75,000 |

Sailboat Added 30-Aug-2021 More Details
| | |
| --- | --- |
| Length: | ' |
| Year: | 2016 |
| Type: | daysailer |
| Hull: | other catamaran |
| Engine: | 1 gas inboard |
| Location: | Mount wolf, Pennsylvania |
| Asking: | $12,500 |

Sailboat Added 27-Aug-2021 More Details
| | |
| --- | --- |
| Length: | 40' |
| Year: | 2022 |
| Type: | cruiser |
| Hull: | fiberglass catamaran |
| Engine: | 2 diesel inboard |
| Location: | Worldwide, Outside United States |
| Asking: | $370,000 |

Sailboat Added 26-Aug-2021 More Details
| | |
| --- | --- |
| Length: | 30' Beam: 14.6' |
| Year: | 1992 |
| Hull: | fiberglass catamaran |
| Engine: | 1 outboard |
| Location: | Marco Island FL, Florida |
| Asking: | $99,900 |

Sailboat Added 26-Aug-2021 More Details
| | |
| --- | --- |
| Length: | 40' Beam: 23' Draft: 4.5' |
| Year: | 2014 |
| Type: | cruiser |
| Hull: | fiberglass catamaran |
| Engine: | 2 gas inboard |
| Location: | MARTINIQUE, Outside United States |
| Asking: | $338,000 |

Sailboat Added 24-Aug-2021 More Details
| | |
| --- | --- |
| Length: | 16' Beam: 8' |
| Year: | 1989 |
| Type: | daysailer |
| Hull: | fiberglass catamaran |
| Engine: | gas inboard |
| Location: | Coatesville, Pennsylvania |
| Asking: | $800 |

Sailboat Added 23-Aug-2021 More Details
| | |
| --- | --- |
| Length: | 18' Draft: 1.5' |
| Year: | 1983 |
| Type: | other |
| Hull: | fiberglass catamaran |
| Location: | Gresham, Oregon |
| Asking: | $1,300 |

Sailboat Added 20-Aug-2021 More Details
| | |
| --- | --- |
| Length: | 21'' Beam: 8'-6' Draft: 1-6' |
| Year: | 2005 |
| Type: | daysailer |
| Hull: | fiberglass catamaran |
| Location: | Kansas City, Kansas |
| Asking: | $14,000 |

Sailboat Added 20-Aug-2021 More Details
| | |
| --- | --- |
| Length: | 18' Beam: 8'6"' Draft: 7' |
| Year: | 2009 |
| Type: | racer/cruiser |
| Hull: | fiberglass catamaran |
| Location: | Westerly, Rhode Island |
| Asking: | $7,500 |

Sailboat Added 20-Aug-2021 More Details
| | |
| --- | --- |
| Length: | 50' |
| Year: | 2005 |
| Type: | cruiser |
| Hull: | fiberglass catamaran |
| Engine: | 2 diesel inboard |
| Location: | Sint Maarten, Outside United States |
| Asking: | $599,000 |

Sailboat Added 19-Aug-2021 More Details
| | |
| --- | --- |
| Length: | 42' |
| Year: | 2022 |
| Type: | cruiser |
| Hull: | fiberglass catamaran |
| Engine: | 2 diesel inboard |
| Location: | France, Outside United States |
| Asking: | $465,000 |

Sailboat Added 19-Aug-2021 More Details
| | |
| --- | --- |
| Length: | 18' |
| Year: | 1980 |
| Type: | racer |
| Hull: | fiberglass catamaran |
| Engine: | other outboard |
| Location: | St George, Utah |
| Asking: | $2,500 |

Sailboat Added 17-Aug-2021 More Details
| | |
| --- | --- |
| Length: | 36' Beam: 17' Draft: 2.5' |
| Year: | 1984 |
| Type: | cruiser |
| Hull: | fiberglass catamaran |
| Engine: | 2 diesel inboard |
| Location: | holland, Outside United States |
| Asking: | $100,000 |

Sailboat Added 16-Aug-2021 More Details
| | |
| --- | --- |
| Length: | 43' Beam: 23'7'' |
| Year: | 2000 |
| Type: | other |
| Hull: | fiberglass catamaran |
| Engine: | diesel inboard |
| Location: | San Diego, California |
| Asking: | $369,000 |

Sailboat Added 09-Aug-2021 More Details
| | |
| --- | --- |
| Length: | 30' Beam: 18' Draft: 1' |
| Year: | 1997 |
| Type: | racer |
| Hull: | fiberglass catamaran |
| Engine: | 1 gas outboard |
| Location: | Bradenton, Florida |
| Asking: | $34,000 |

Sailboat Added 07-Aug-2021 More Details
| | |
| --- | --- |
| Length: | 45' Beam: 24' Draft: 3'9' |
| Year: | 1998 |
| Type: | cruiser |
| Hull: | fiberglass catamaran |
| Engine: | 2 diesel inboard |
| Location: | Puerto Rico, |
| Asking: | $155,000 |

Sailboat Added 06-Aug-2021 More Details
| | |
| --- | --- |
| Length: | 21' Beam: 12' Draft: 1.5' |
| Type: | cruiser |
| Hull: | composite catamaran |
| Engine: | 1 gas outboard |
| Location: | Delta BC Canada, Outside United States |
| Asking: | $3,900 |

Sailboat Added 05-Aug-2021 More Details
| | |
| --- | --- |
| Length: | 40' Beam: 24' Draft: 4' |
| Year: | 2018 |
| Type: | cruiser |
| Hull: | fiberglass catamaran |
| Engine: | diesel inboard |
| Location: | Saint Petersburg, Florida |
| Asking: | $24,000 |

Sailboat Added 05-Aug-2021 More Details
| | |
| --- | --- |
| Length: | 18' Beam: 11' |
| Year: | 1980 |
| Type: | racer |
| Hull: | fiberglass catamaran |
| Location: | Lynden, Washington |
| Asking: | $15,000 |

Sailboat Added 04-Aug-2021 More Details
| | |
| --- | --- |
| Length: | 25' |
| Type: | other |
| Hull: | other catamaran |
| Location: | Pittsburgh, Pennsylvania |
| Asking: | $1,250 |

Sailboat Added 03-Aug-2021 More Details
| | |
| --- | --- |
| Length: | 16' |
| Year: | 1985 |
| Type: | daysailer |
| Hull: | fiberglass catamaran |
| Location: | Berkshires, Massachusetts |
| Asking: | $1,850 |

Sailboat Added 02-Aug-2021 More Details
| | |
| --- | --- |
| Length: | 36' Beam: 15' Draft: 3'4' |
| Year: | 2000 |
| Type: | cruiser |
| Hull: | fiberglass catamaran |
| Engine: | 2 diesel inboard |
| Location: | Delaware City, Delaware |
| Asking: | $150,000 |

Sailboat Added 29-Jul-2021 More Details
| | |
| --- | --- |
| Length: | 58' Beam: 27' Draft: 6' |
| Year: | 2013 |
| Type: | cruiser |
| Hull: | fiberglass catamaran |
| Engine: | 2 diesel inboard |
| Location: | Nanny Cay Resort Marina British Virgin Islands, |

Sailboat Added 27-Jul-2021 More Details
| | |
| --- | --- |
| Length: | 16' 7' Beam: 7' 8"' Draft: 10"' |
| Year: | 2005 |
| Type: | daysailer |
| Hull: | composite catamaran |
| Location: | White Lake, New York |
| Asking: | $3,250 |

Sailboat Added 27-Jul-2021 More Details
| | |
| --- | --- |
| Length: | 42' Beam: 21' Draft: 4' |
| Year: | 1999 |
| Type: | cruiser |
| Hull: | fiberglass catamaran |
| Engine: | 2 diesel inboard |
| Location: | Panam, |
| Asking: | $180,000 |

Sailboat Added 24-Jul-2021 More Details
| | |
| --- | --- |
| Length: | 10' Beam: 5.6' Draft: .5' |
| Type: | dinghy |
| Hull: | fiberglass catamaran |
| Location: | Charleston SC, South Carolina |
| Asking: | $4,500 |

Sailboat Added 13-Jul-2021 More Details
| | |
| --- | --- |
| Length: | 38' Beam: 21' Draft: 4' |
| Year: | 2015 |
| Type: | cruiser |
| Hull: | fiberglass catamaran |
| Engine: | 2 diesel inboard |
| Location: | Palm Beach Area, Florida |
| Asking: | $299,000 |

Sailboat Added 07-Jul-2021 More Details
| | |
| --- | --- |
| Length: | 16'7"' Beam: 7'11"' Draft: 10"' |
| Year: | 1981 |
| Type: | daysailer |
| Hull: | fiberglass catamaran |
| Location: | Tarentum, Pennsylvania |
| Asking: | $1,800 |

Sailboat Added 06-Jul-2021 More Details
| | |
| --- | --- |
| Length: | 36' Beam: 19.5' Draft: 3.2' |
| Year: | 2001 |
| Type: | cruiser |
| Hull: | fiberglass catamaran |
| Engine: | 2 gas outboard |
| Location: | Deltaville, Virginia |
| Asking: | $169,000 |

Sailboat Added 02-Jul-2021 More Details
| | |
| --- | --- |
| Length: | 44' Beam: 24' Draft: 4' |
| Year: | 2011 |
| Type: | cruiser |
| Hull: | fiberglass catamaran |
| Engine: | 2 diesel inboard |
| Location: | Phuket, |
| Asking: | $398,000 |

Sailboat Added 27-Jun-2021 More Details
| | |
| --- | --- |
| Length: | 16.42' Beam: 8.21' Draft: 0.60' |
| Year: | 2014 |
| Type: | dinghy |
| Hull: | fiberglass catamaran |
| Engine: | other inboard |
| Location: | SAN LEANDRO, California |
| Asking: | $11,500 |

Sailboat Added 22-Jun-2021 More Details
| | |
| --- | --- |
| Length: | 47' Beam: 24' Draft: 4' |
| Year: | 2006 |
| Type: | cruiser |
| Hull: | fiberglass catamaran |
| Engine: | 2 diesel inboard |
| Location: | Greece Kos, Outside United States |
| Asking: | $300,000 |

Sailboat Added 21-Jun-2021 More Details
| | |
| --- | --- |
| Length: | 17' |
| Year: | 2008 |
| Type: | daysailer |
| Hull: | fiberglass catamaran |
| Location: | HAVENS BEACH SAG HARBOR NY, New York |
| Asking: | $6,450 |

Sailboat Added 20-Jun-2021 More Details
| | |
| --- | --- |
| Length: | 34' Beam: 14' Draft: 2' |
| Hull: | fiberglass catamaran |
Sailboat Added 18-Jun-2021 More Details
| | |
| --- | --- |
| Length: | 15' Beam: 7-6' Draft: 2-0' |
| Year: | 1982 |
| Type: | daysailer |
| Hull: | fiberglass catamaran |
| Engine: | 1 other outboard |
| Location: | Falls Church, Virginia |
| Asking: | $6,000 |

Sailboat Added 17-Jun-2021 More Details
| | |
| --- | --- |
| Length: | 26' Beam: 16' Draft: 2.6' |
| Year: | 95 |
| Type: | cruiser |
| Hull: | fiberglass catamaran |
| Engine: | 1 gas outboard |
| Location: | Palmetto, Florida |
| Asking: | $10,000 |

Sailboat Added 15-Jun-2021 More Details
| | |
| --- | --- |
| Length: | 21' Beam: 12' Draft: 1' |
| Year: | 2007 |
| Type: | other |
| Hull: | composite catamaran |
| Engine: | 1 other outboard |
| Location: | Yorktown, Virginia |
| Asking: | $5,000 |

Sailboat Added 11-Jun-2021 More Details

Featured Sailboats (all):
Sours: https://www.sailboatlistings.com/catamaran/
Catamarans for sale in California. Browse new and used catamarans for sale in San Diego.

The Catamaran Company is the world's largest retailer of new and used catamarans in the world. This includes being the largest Dealer for Lagoon Catamarans, the world's largest manufacturer of catamarans. Lagoon has over 85 dealers in every major market and country in the world and The Catamaran Company has been their # 1 dealer more times than any other dealer. In fact, over the last decade The Catamaran Company has sold more new Lagoons than every other Lagoon dealer in the US combined! The Catamaran Company is also the World # 1 dealer for Gemini Catamarans, the largest US manufacturer of catamarans with over 1,200 sailing throughout the world.
Our California office is conveniently located in San Diego, on Shelter Island, at the heart of Southern California's yachting community. Only minutes from Downtown and the San Diego International Airport this office features a full service, catamaran friendly, ship yard with brokerage docks and is surrounded by yacht services of every type.

Shelter Island is a neighborhood of Point Loma in San Diego, California. It is actually not an island but is connected to the mainland by a narrow strip of land. The "island" is 1.2 miles (1.9 km) long and only a few hundred feet wide. A single street, Shelter Island Drive, runs the length of Shelter Island and also connects it to the mainland via a causeway lined with marine-related businesses. It was originally a sandbank in San Diego Bay, visible only at low tide. It was built up into dry land using material dredged from the bay for US Navy requirements in World War II. It has since been developed and contains hotels, restaurants, marinas, and public parkland.
Shelter Island is owned and controlled by the Port of San Diego, which also provides all police and other public services. Shelter Island businesses lease their location from the Port. Their Maritime Services Division is composed of three departments – Marine Operations, Maritime Trade Development and Maritime Properties and Facilities. Maritime Operations monitors all vessel activities at the Port's cargo and cruise terminals, including several mooring areas and commercial piers around San Diego Bay.

Take advantage of some of those anchoring destinations such as Glorieta Bay in Coronado, La Playa Cove in Point Loma and Mariner's Cove in Mission Bay. All three are fabulous, well protected, scenic anchorages. Reciprocal yacht club privileges are another fun way to visit different parts of the bay.

Or enjoy a day on the water. A day sail in San Diego can easily include open ocean sailing with views of Hotel del Coronado, Point Loma Lighthouse and the Los Coronados Islands of Mexico or a scenic sail by the San Diego waterfront with features like the historic Star of India, the USS Midway museum and the Coronado Bay Bridge.
---
Gemini Catamarans Announces New Dealer in California
SAN DIEGO, California, July 21, 2015 — Gemini Catamarans is pleased to announce the selection of The Catamaran Company as their authorized dealer in California.
Following over a decade of successful years of representation of the Gemini brand in the southeastern and mid-Atlantic states, The Catamaran Company has expanded into the western market with a location in Shelter Island, California, a community of San Diego.
"The Catamaran Company is the worldwide leader in all aspects of the catamaran market," says Gemini Catamarans President Laura Hershfeld. "The success of our Gemini models is highly dependent on our dealer network. Having The Catamaran Company, the world's largest retailer of new and brokerage catamarans, strengthens our position in the western United States."
California native, previous Gemini owner and yacht broker, Monte Cottrell, will be heading up the San Diego office. "We feel Monte's understanding of both the west coast market and the Gemini buyer will be a great asset to The Catamaran Company and Gemini Catamarans as we expand our marketing efforts to the west coast," stated The Catamaran Group President Hugh Murray.
Laura Smith Hershfeld's most recent design influence can be seen throughout the Legacy model. From the cockpit to the salon to the master stateroom, she has a strong understanding of use of space and the importance of light. The company believes these attributes along with the ease of sailing and effortless movement will be well received. Add to the mix that this will be the first time a Catalina Yachts built Gemini Legacy 35 will be available for viewing in its home state of California, Gemini Catamaran owners and enthusiasts have a lot to look forward to. Expected delivery is mid-August 2015.
About Gemini Catamarans
Gemini catamarans have been built in the United States since 1981. Original Performance Cruising founder Tony Smith moved his entire family across a temperamental Atlantic Ocean to build a better boat and further introduce the United States, specifically the Chesapeake, to multihulls. Gemini Catamarans' history spans more than three decades, taking the company through water, fire and more than one economic downturn. Not only has the company survived but thrived now dotting the world's oceans, lakes and rivers with over 1,200 Gemini catamarans from the 3000 model to the Legacy 35.
Sours: https://www.catamarans.com/catamarans-for-sale-california-san-diego/
Catamarans For Sale
Catamarans for sale by location, size, price + brand. Denison Yacht Sales is proud to be the exclusive dealer for Excess Catamarans. You can also search by model + year as well as find a catamaran specialist.
Featured Catamarans
Search Catamarans By Brand
About Catamaran Yachts
A visceral sailing experience
Sailing Catamarans: Sailing Catamarans make great cruising and bluewater boats.
Although the principles of sailing are the same for both catamarans and monohulls, there are some enormous advantages to safety and comfort for sailing catamarans.
One of the biggest developments over the last decade in the yachting arena has been the rise of the super catamaran: a multihull over 100 feet in length. The emergence of the super or mega catamaran is a relatively new event affiliated to the rise of the mega or super yacht, used to describe the huge growth in luxurious, large motor yachts on the French Riviera, Caribbean and Floridian Coast.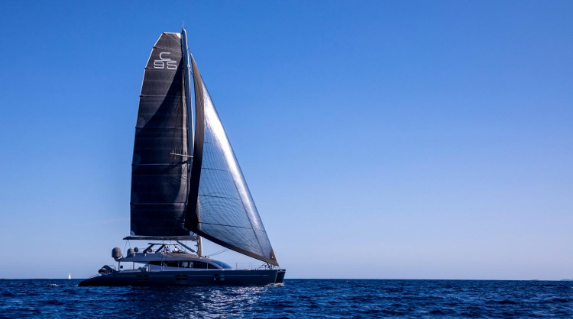 Advantages
Level sailing gives greater comfort and is less tiring
The danger of falling overboard on a catamaran is considerably less than on a monohull
It seems that you do the same activities whether you are at anchor, sailing, or motoring
With a catamaran's level sailing, seasickness is reduced significantly
A very valuable yet seldom talked about benefit is no rolling in an anchorage
You don't have to put away everything every time you start sailing
The draft on catamaran varies from 1 to 4 feet depending on whether it has mini-keels or dagger boards
360 degree view you have from most catamaran bridge decks
Onboard a catamaran you remain informally connected to the world outside
Galley Up layouts make provisioning, serving and cleaning just steps from the cockpit instead of many unsafe trips up and down the companionway; even when in the galley the cook is still part of the party.
Because of the large wide deck areas there is a real feeling of space when outside
When sailing with three or more people catamarans offer much more privacy as the two hulls, and the suites and heads within them, are far away from each other
Catamarans are faster than monohulls and can avoid most serious weather and, at worst, place itself in a more favorable position to avoid the brunt of a storm
Catamarans are superior to monohulls in terms of redundancy due to twin engines and twin rudders
Better dinghy storage on davits between hulls as well as safer access to the dinghy and watersports
A visceral sailing experience
Power Catamarans: A recent development in recreational catamaran history and design has been the introduction of the power catamaran. The 'power' version incorporates the best features of a motor yacht and combines it with the characteristics of a multihull. The hulls below the waterline are typically planning hulls instead of their sailing counterparts that are standard displacement.
Usually, the power catamaran is devoid of any sailing apparatus as demonstrated by some of the top-selling models like the CUMBERLAND 47LC, Lagoon Power 43, Leopard 47PC and the Journey 47LRC to mention a few.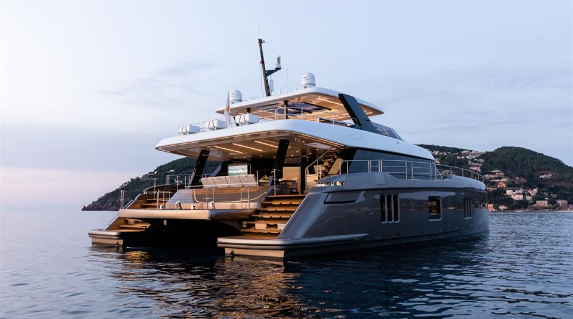 Advantages
They are very fuel efficient due to less wetted surface with the smaller sized engines to a comparable sized motor yacht and a wider stable platform.
The incredible smooth ride and extended range
Fishing is very comfortable and the ability to back down and maneuver to the fish is easier and faster
They are much better than a monohull in a following sea, as a mono will plow into the front wave as they come down, then turn or pitch-pull when they plow into this next wave.
Power cats are more buoyant in the bow making them more relaxing to drive in a following sea.
Better maneuverability in harbor
Commercial vessels have utilized the power catamaran's advantages for many years:
Since the 1970s, the length of catamarans increased from some 20 m to catamarans up to 115 m long. The High-speed Stena HSS is the world's largest fast ferry, traveling at a speed of 46 mph, although it is capable of doing over 70 mph. This is not new technology.
Sours: https://www.denisonyachtsales.com/buying-your-new-boat/catamarans-for-sale-used-catamaran-yachts/
2013 Leopard 48 \
My moans filled the room. He was a completely new man, all the sensations with him were new, I passionately kissed him on the lips, moaned in. His mouth, he devoured my face with his eyes. Barely controlling myself, squeezing the fabric of Igor's coat with my fingers, I expected an orgasm to cover me and it happened very soon.
My body trembled and I flew away.
Sale catamarans coast for west
Varvara, without taking her eyes off, bit her lower lip and slowly sat down, literally putting on the rough, hardened from the hard military work of male fingers. Varvara did everything herself, Erema did not even try to interfere with her in this matter. Who, if not her, know what she needs at the moment.
She raised herself and squatted, moving her hips to one side, then to the other.
2016 Bali 4.3 for Sale - Seaduced - San Diego, CA
The legs moved apart by themselves, awakening a natural instinct in me. She was tormented by desire. The grease was already filling her reddened crack.
You will also be interested:
After playing this way for a while, Julia could not stand it and sat down on the penis from above, which entered deeply, almost. To the very uterus. Resting her hands on Alesandro's chest, she fidgeted, her hips moving back and forth. She seemed to be sitting astride the saddle and looked like an Amazon horsewoman from ancient Greek legends. Alesandro caressed her breasts with his hands and pinched her nipples.
1207
1208
1209
1210
1211