Jeff Lutz Crashes '57 Chevy During Street Outlaws Filming
While filming the next season of Street Outlaws Jeff Lutz survived a terrible crash in his badass 1957 Chevy drag car!
Legendary racer, and one of the most prominent figures on Discovery's Street Outlaws show, Jeff Lutz, suffered a horrible accident May 9th in his 1957 Chevy while filming the next season of the hit drag racing show.
Not much is known, but Lutz was taken to a local hospital where he is recovering from the accident. The 1957 twin-turbo Chevy is one of the most iconic cars on Discovery's Street Outlaws and we're glad that the safety systems on the car did their job and allowed Lutz to survive what was obviously a very bad crash. We're also very happy to learn that Lutz will be ok and we're sure his legion of fans are all wishing him a speedy recovery. These three crash photos are circulating around social media (credit @photoowners) and are pretty low quality, but they do show how bad the actual accident was. This is certainly a testament to how good of a chassis builder Lutz and his team are.
If you follow Hot Rod's Drag Week, or drag racing in general, then the name Jeff Lutz should be a familiar one. He also seems to have a soft spot for building '57 Chevys. His previous two, both called Mad Max, and both wearing flat black paint, were powered by twin-turbo big-blocks. See a pattern here? Even his 1969 Camaro streetable Pro Mod (which won Hot Rod's Drag Week) was flat black with a twin-turbo big-block. His yellow '57 was one of the most stunning drag cars we've ever seen and a testament to Jeff's skill as a fabricator and builder.
The '57 is motivated by a 540 big-block fitted with twin 98mm turbos! And while the engine is the same displacement Lutz has used before the turbos are bigger than the 88s he has ran in the past. Also, this car has all the stuff needed to roll legal on the street. Headlights, turn signals, horn, even back up lights are present. The '57 has two tanks for fuel, at the track he runs M1 methanol, then switches to gasoline for the drive between tracks. This means he carries two ECMs and just swaps them out based on what tank the engine is drinking from. Since the big-block has only 9.0:1 compression he can run 87 octane on the street.
As we said, this just happened so keep an eye on Jeff Lutz's Facebook and social pages (Lutz Race Cars, Jeff Lutz, Street Outlaws) for more information and to find out how Lutz is doing. Knowing him he will rebuild the '57 better than ever and we look forward to seeing him back at racing!
THE LATEST IN CAR NEWS
EMAIL NEWSLETTER SIGN-UP!
Share on FacebookShare on Twitter
Sours: https://www.motortrend.com/news/jeff-lutz-crashes-57-chevy-during-street-outlaws-filming-2021/
An Oklahoma-native, Jeff Lutz is best known for his appearances on Discovery's Street Outlaws. The owner of a customized '69 Chevrolet Camaro—aka Mad Max, he has been featured on the wildly popular show for a number of years—earning thousands of fans along the way. Most recently, he appeared in season 12, which premiered earlier this summer.
In addition to racing, he is the owner of a successful car modification shop called Lutz Race Cars. Located in Callery, Pennsylvania, they have worked on hundreds of rides over the years.
How much does he pull in as a professional racer? How much is he paid as a cast member of Street Outlaws? How wealthy is the street racer? According to some sites, Jeff Lutz has amassed a net worth of $2 million as of 2018.
Jeff Lutz's Net Worth 2018 – $2 Million
How did Jeff Lutz Make His Money & Wealth?
Born on May 15, 1970, in Oklahoma, Jeff Lutz developed a fondness for cars after driving his older brother's car at a drag strip as a teen. Gradually getting more involved, he was soon gifted his first car by his father, a '74 Nova in the late '80s. Since then, his obsession for racing as soared through the roof.
Having accumulated many decades of experience, he was later invited to join the reality show Street Outlaws in 2013. Debuted on the Discovery Channel, it revolved around the ins and outs of the Oklahoma street racing scene. One of the series regulars, Lutz didn't waste any time in making himself known to the audience—within a few weeks, he had already earned thousands of fans.
The owner of a 1969 Chevrolet Camaro—a car whom he refers to as "Mad Max", he came roaring up the list in season nine. To his dismay however, his reign soon came to a halt after Big Chief nixed all promos. As a result, he came back with a new drive, a '57 Chevy—one that he had built from scratch himself in his shop—in 2017.
How much has Lutz earned from his work in Street Outlaws? Surely, his salary is half decent considering the show's popularity? Unfortunately, details of his contract have not been revealed to the public. Considering all things, however, our best guess is that he earns at least $10,000 per season, given how he is one of the series regulars. For now, it's unknown whether or not he will be returning for a 13th season.
In addition to his career as a reality star, he also runs a successful business called Lutz Race Cars. Located in Callery, Pennsylvania, the customization shop has worked in dozens of vehicles over the years—including his current car, as mentioned earlier. Seeing as how the company has nothing but stellar reviews on the web, it's probably safe to say that they're doing well. In fact, we wouldn't be surprised if the majority of his income comes from their work. 
Jeff Lutz's Personal Life and FAQ:
Is Jeff Lutz Married?
Yes, he has been married to his wife Christine Lutz for many years, since 1989.
Does Jeff Lutz Have Any Children?
Yes, he has a grown son named Jeffrey Lutz Jr.
Does Jeff Lutz Go to College?
Unfortunately, not much is known about Jeff Lutz's education background. As far as we know, however, the racer has not gone to college.
What is Jeff LutzFamous For?
Jeff Lutz rose to fame as a series regular in Discovery's Street Outlaws. To this day, it remains to be the only show that he's appeared in on television.
Where Does Jeff Lutz Live now? Photos of Jeff Lutz's House 
Jeff Lutz lives in Oklahoma City, with his wife. We do not have any pictures of their home at this time.
What Kind of Car Does Jeff Lutz Drive?
Previously, he drove a customized '69 Chevrolet Camaro, which he called "Mad Max." In 2017, he unveiled his new car, a '57 Chevy, which he built himself in his shop.
How Much Money Did Jeff Lutz Make Last Year?
This information is not available at this time.
Recent Events
Jeff Lutz most recently starred in the 12th season of Street Outlaws, which premiered in the Un.S. in May 2018.
What's the street racer up to nowadays? If you're a fan, be sure to check out his official Instagram account at @lutzracecars. While he doesn't have his own Facebook page, he does post regular updates to his business' page, which you can visit here.
Brooke Carter
Freelance writer who loves dogs and anything related to Japanese culture.
Sours: https://gazettereview.com/2018/10/jeff-lutz-street-outlaws-net-worth/
Multiple-time Drag Week Overall and Unlimited Class champion? Check. Competed at the highest levels of Pro Modified eliminator? Check. Held the crown on Street Outlaws? Check. Gone head to head with the best of the best on No Prep Kings (NPK)? Check. That is certainly an impressive list of accomplishments for any resume, but for Jeff Lutz, that's only scratching the surface. Jeff is also a renowned chassis builder and fabricator who runs not one, but two bustling chassis shops, with the help of his wife Christine and son Jeffrey, all the while juggling consistent appearances on Street Outlaws, competing on the grueling No Prep Kings circuit, and continuing to stand out as an all around great guy who is as cool as a cucumber.
Jeff carved some time out for us during the recent NPK tour stop at South Georgia Motorsports Park to answer a few questions and give us some insight on what life has been like for he and his family and crew over the years.
Mainstream America met Lutz when he first appeared on Street Outlaws back in season nine, which saw him walk in the door and go straight to the top of the list with his sinister black Camaro known as "Mad Max." Jeff's reign at the top ended, however, when full-tilt Pro Mods were banned from list races, but that didn't deter him, as he returned with a then-new 1957 Chevy Bel Air that more closely fit the image of a street car and currently holds OKC's number four spot. Hardcore drag racing fans have known the Lutz name for far longer, as Jeff was one of the pioneers of drag-and-drive racing, which pits an array of cars and drivers not only against the clock, but the highways of America as competitors drive their racecars from track to track over the course of five days. The iconic event also served as the setting for what Jeff considers his proudest moment in racing.
I'm currently on three shows, soon to be four, and it consumes every waking minute of my time, but I'm not complaining, it's a great problem to have.
In 2014, Lutz's son, Jeffrey, strapped into the elder Lutz's legendary matte black '57 Chevy and ripped off his first 200-plus mile-per-hour pass in the 21/4-mile. For a man who has spent decades breaking records, winning races and competing at the sport's highest levels, Jeff had zero hesitation listing this as his proudest moment.
"Back in 2014, Jeffrey drove the original '57 Chevy. We were in Tulsa, I had wrapped up and won the Unlimited Class and his main goal was to go 200 miles per hour, and he went out and went 200 and I was tearing up on the starting line watching him drive. It was just crazy! Over the past summer, I let him drive the yellow '57 at a handful of appearances we were at and man, that kid can drive! I think it's time, he's gonna' be wheelin' one here soon."
Tying Drag Week to his more recent street-centric routine, we asked Jeff what he thought about a hypothetical rule that the cars competing for a spot on the 405's Top 10 List have to drive to the spot to be considered eligible to race and if he thought that might play into his strengths. His reply oozed confidence earned over years of having to build cars that not only laid down blistering passes on the track, but had to endure several-hundred-miles long drives between venues.
"It would, for sure. I would have a big advantage, and that would help level the playing field for everybody, but I would probably have one of the biggest advantages."
Speaking of racing on the street, the story of how Jeff, a native of the perfectly-named Mechanicsburg, PA area ended up competing on the streets of Oklahoma City is rather amusing, as well.
"When Big Chief was looking to get the Crow done, he had gotten my number and called me, and I didn't answer. Well, he went to California to sign the contract for the next season of the show and I was just sitting down and I thought 'I'll call him back,' and he got up from that meeting to take the call and told me what he wanted done with the car, and I told him I could handle that, so I flew out and the rest is history. Now I have a shop in Oklahoma that has a bedroom and living room and I stay there when we're filming the street show, and my wife and son keep the shop in Pennsylvania running."
Photo by Brian Hogan
As you might imagine, this leads to what can only be described as juggling the duties of a chassis builder, fabricator, and driver, but Lutz points to his wife and son for helping him keep track of all the goings-on in their lives.
"Junior runs the shop back in Pennsylvania. We've slowed that shop down a bit over the past year and a half while we've been working on FarmTruck and AZN's build show (more on that here), so it's been a family deal all around. My wife comes to all of the No Prep Kings events and sells apparel, Jeffrey tunes the car, and I drive. Then with the other shows, they give what time they can, but it's very much a 'be careful what you wish for' and a 'dream come true' at the same time. I'm currently on three shows, soon to be four, and it consumes every waking minute of my time, but I'm not complaining, it's a great problem to have."
Photo by Brian Hogan
While it hasn't aired on television as of this writing, many of you are likely aware that Jeff recently suffered a devastating crash in his show-quality '57 Chevy, the car he refers to simply as "the yellow car" while competing in the annual Cash Days events on the streets of Oklahoma City. While it's clear that car was badly damaged, we asked if there was a chance we'd see that car again, to which he said emphatically that isn't happening.
"Oh no, that car is totaled," he quickly responds. "There's nothing left of that build that can be used. It was pretty gnarly, and I'm honestly lucky to be here. I got too close to the curb and the bump got me, spun me out and then I barrel-rolled and went end over end…it was just crazy. When I came to upside down in the car and hit the [quick release] buckle and hit the roof, I crawled out and when I made it back to the street, I just rolled over and pretty much blacked out then."
Turning from discussing the crash, Jeff gave a brief play-by-play of his recovery and how he wanted to get back behind the wheel quickly.
"I don't remember anything but waking up in the hospital. I guess they life-flighted me, and Ryan was standing there and Doc was in the waiting area. I got out of the hospital Sunday night and met with Sam, our producer, and we met for dinner and I told him I gotta' get back in a car right away or I won't do it, and he said we could put the GTO on the street."
The remains of Jeff's 'familiar '57 after a crash while filming on "Streets Outlaws."
He continued, "So on Monday I was still recovering, Tuesday they came out and filmed me with my wife, we were seeing the car for the first time after the crash and of course, I cried because the car is just destroyed, then on Wednesday we went to Texas to test the GTO, so I never really skipped a beat. I had to because I wasn't sure I would if I waited."
Ryan being the first face Jeff saw after his accident speaks to how close the two have grown since Lutz took up semi-permanent residence in Oklahoma. Jeff points to Ryan as not only one of his closest friends but also his nemesis among the 405 contingent, despite that fact that they often load up and go testing at various spots around the 405 together.
Lutz no-prep racing his "Mad Max" Pro Modified-style Camaro. This very car also contested OKC's list on "Street Outlaws" and challenged for the 5-second barrier in street trim at Drag Week.
"You know, I'll tell you who I just can't seem to beat; Ryan. He's always just a step ahead of me. We're like best friends but every time I line up against him, I come up short. We'll load up the night before race night and go find a quiet street and tear it up all night testing. A lot of people think we just show up and race but there's a lot more that goes into it. And everybody says, 'Oh, it's all legal now since it's on TV', but I've gotten tickets for testing so trust me, it's not all legal. But Ryan and I test together a lot, and he's really been a big, big help for my street program."
You know what I miss: 1/4-mile racing. All this no-prep stuff and radial stuff has has brought us all to 1/8-mile so long that when we do go back to the quarter with Mad Max, we're gonna' break some records, because what I've learned in the 1/8 is just crazy!
Speaking of testing and preparing for upcoming races, there's a surprising difference in mentality and preparation for racing on the street versus an event held at the track. Most observers would assume there's more consistency when dealing with a sanctioned event at a track, but Lutz says there's more consistency in preparing for racing on the street.
"On the track, you don't really know what you're racing on until you get there. Some tracks, even at no-prep events, still have a lot of rubber on them and 'come around' [track-speak for traction improving over the course of an event] pretty quickly, others might be scraped down to the concrete. Some have bumps, some have dips, so you can't really tell until you start making laps. On the street, it's kind of a given that it's going to be nasty, it's going to be hairy to get down, and that's just what you expect and plan for. That's why we do twice as much testing for the street as we do the track, though."
With much of his reputation garnered during his Drag Week days, the question arose if he'd ever revisit that format. If you're hoping to see Lutz back on the highways between tracks, you may be in for a very long wait, but if you're a Pro Mod fan, you might be in for a surprise.
"I think my Drag Week days are behind me. The level that I did it at, and the level that it's at now, I just don't know that I want to do it again because I was miserable at that level. It just takes the life out of you, and I'm getting older; I'll be 51 this year and I just don't know that I could do it any more."
Lutz went on to add, "Now, Pro Mod, absolutely. Mad Max is still sitting there ready to go, it just needs the motor put back in it. You know what I miss: 1/4-mile racing. All this no-prep stuff and radial stuff has has brought us all to 1/8-mile so long that when we do go back to the quarter with Mad Max, we're gonna' break some records, because what I've learned in the 1/8 is just crazy!"
All of this talk about the future ultimately circled around to discussing the past, and that's where Jeff got a little sentimental discussing the car that he, along with most of his longtime fans, remember most fondly; his matte black 1957 Chevy.
"That's the car that started it all for me. When we built that car, if you had told me what all would happen, I'd have told you you're crazy. A lot of people don't know that we had a fire in the shop that destroyed my Pro Mod Monte Carlo, and my insurance company wouldn't cover anything of mine as far as racecars. So, the original '57, I took all the stuff I could off the Monte Carlo and put it on the '57. I used so many parts off that car because I didn't really have the money to build a new Pro Mod and I was in the midst of rebuilding the shop and out of the fire, the '57 came out and it's all been upwards from there. Everybody just loved it…they loved the flat black paint and that kind of started that whole fad — everybody said how sinister it looked and it was just crazy."
"That car is still sitting in my shop today looking the exact same way, all the original stuff that was in it when we brought it out. It's outdated now and I'd hate to cut it up, so we're going to put an LS in it and just drive it."
Past, present and future, Jeff Lutz and his family are the quintessential racing family, and there's no doubt the legacy of the Lutz name is far from over. With the 2021 season of No Prep Kings really just kicking off, this year has much to offer, and with Jeffrey waiting for his turn behind the wheel, there's no doubt we will be hearing the Lutz name for another at least a few decades to come.
Sours: https://www.dragzine.com/features/past-present-future-with-the-icon-jeff-lutz/
Mad max on radials and big tire
Jeff Lutz is an American reality star famous for his appearance in discovery channel's Street Outlaws. He is mostly known for his customized 1969 Chevrolet Camaro popularly called the Mad Max. He has also made a name for himself because of the drag record at the Hot Rod Drag Week: a fast street event where racers engage in races and dragstrips usually performed on public roads. Right now find out about Street Outlaws Jeff Lutz wife, net worth, age and any other interesting points from his Wikipedia page.
 Jeff Lutz Net Worth and Salary
Street Outlaws Jeff  Lutz is currently a successful owner of Lutz Race Cars based in Pennsylvania. He doesn't just make his money from the business though, he also makes appearances on reality TV shows.
He is also quite inventive and resourceful. Together with his cast mates on the Discovery Channels' reality TV series, they build Hotrods and race them in championships as well as tournaments.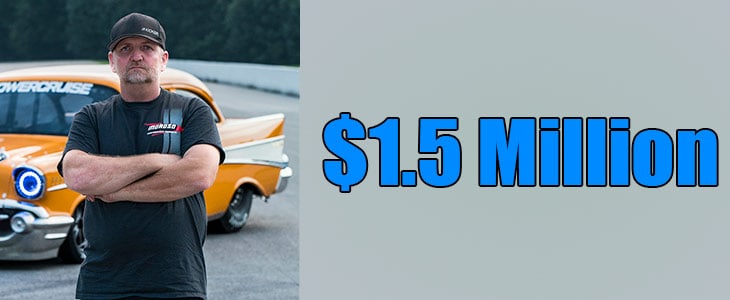 Caption:- Street Outlaws Jeff Lutz have Net Worth of $1.5 Million.
Jeff is an experienced racer and worth millions due to the number of years he has dedicated to the field. He is a two-time Hot rod drag week winner.
Jeff Lutz' net worth is estimated to be around $1.5 million which continues to grow steadily. While this street outlaws cast's current net worth is impressive enough and in reports of growing slowly, his popularity has reduced slightly after the introduction of a new cast member called Big Chief on the show.
However, that does not mean Jeff Lutz is any less of a racer and is one of the most beloved members of the show proven by his amazing net worth.
His cars and motors
Unlike other members of the show, Jeff never had a passion for racing or cars when he was younger. This was because his parents had no interest in cars.
He, however, developed the passion for cars when his brother: a former marine, bought a Camaro after the Gulf War. He let Jeff first get the behind the wheel on a drag strip. It was this experience that began his interest in cars and soon to become his career.
https://www.facebook.com/262631067109573/photos/a.392685800770765.83179.262631067109573/1677946872244645/?type=3&theater
His life in the racing dates back when his father bought him his first car; a 74' Nova Hatchback. However, during his teenage years, the car was confiscated when he was caught driving it without a license.
Street  Outlaws Jeff Lutz and his car modification company have worked on several cars. He has traded and even bought some cars off it.
He is the sole owner of a 1969 Camaro Pro Mod which is commonly referred to as the Mad Max. He also owns two 1957 Chevrolet Bel Air with twin 98mm Precision turbos that almost look the same.
He built the new car in 2017 with his son. The car debuted in the 3rd annual tri-five national bowling green competition on August 2017 in Kentucky. He is currently back on the show with the new Chevy ready to take the crown.
Street Outlaws Jeff Lutz is married to wife Christine Lutz and have a son Jeffrey Jr.
Away from his full-time career, Jeff Lutz is also a husband and father to his son Jeffrey Jr. His son is currently in his mid-twenties and has followed in his father's footsteps.
He is also a street racer. Jeff Luts is married to the beautiful Christine Lutz on July 31st,1989 into becoming his wife and has stayed happily married to her for over 2 decades.
We have no intricate details about their married life or background on Jeff Lutz's wife but Christine looks like a fine woman and perfect wife material for Jeff.
Caption:- Street Outlaws Jeff Lutz married his wife Christine Lutz on July 31st,1989
Jeff is quite open about his personal life as he is seen sharing pictures of his family on social media platforms.
Wiki, bio, age
Jeff Lutz was born on May 15th,1970 meaning he recently turned 48 years of age. Despite his age, Jeff has competed and won with other racers younger in spirit and elder on experience. Little is known about his educational background.
Before he rose to fame, he slowly made a living from construction. He was a Bricklayer in a construction company with his own crew.
He made friends in the field and when the housing market crashed, he had it easy to switch careers and dive straight into automobiles.
Caption:- Street Outlaws Jeff Lutz current age is 48.
The 48-year-old racer has also been a regular at the drag week competition.
He competes with Scott Murray: his co-pilot prior to when he had his son as his co-pilot before he made off to start his career as a street racer as well.
Tags:street outlaws
Sours: https://realitystarfacts.com/street-outlaws-jeff-lutz/
Race pa lutz jeff cars
Jeff Lutz is one of the most relatable guys I have come across. He grew up in a town outside of Pittsburgh, Pennsylvania. He isn't like most of the other drivers out there, he fully immersed into racing a little later on in life. His first car was 1974 hatchback Nova that he was given by his father at the age of 14, but he never got to drive it. Jeff moved out when was young. Shortly after he met his wife. They bought a house when he was just 18 years old and she was 17. The newlyweds had kids super early in life, because of this, Jeff is able to live the life he has today. Life has been tough but because of all of it he is able to experience the joys of working on cars with his son today.
Jeff loved watching drag racing on T.V. So when his oldest brother Rick came home from the Marines he asked Jeff to look at a car with him he jumped at the chance. It was a 70 and a half split bumper Camaro with a 400 4-speed built to the hilt. His brother couldn't drive stick all that well so Jeff took a crack at it. He dropped the clutch and away they went. The next day they took it to the track and the rest is history. That was the first time he ever been to the track. Jeff is also the first major car guy in his family, his father had some pretty mean cars all his life but never did anything to them. His dad had told him he'd never make any money working and racing with cars, yet here we are today. Later on, his father was his biggest fan before he passed away in 2015. The last race he got to see Jeff at was Norwalk, where he was runner up against Jim Bell.
In 1988 he bought an IROC-Z which his wife drove to work for just about a year before Jeff's upgrades began. Getting more and more into the car world, he wanted to put big tires on it. Old man Miller helped him out, and from there he knew he wanted to work with cars. After some time working, he slowly started buying equipment for his shop.
From bricklayer to chassis welder, Jeff had one hell of a leap of faith. He had his own brick and block company and was part of the bricklayers union. Once the housing market crashed, he hung up his mason tools and equipment. He went into the garage and never left. Lucky for him, he always had a small shop to work with the cars for himself and side business for others. That leap he took paid off, he now has a two-year waiting list of people who want him to work on their cars. As Jeff says, "it's a dream come true". He gets to work on things that he loves with his family by his side. His wife works in the office and his son is in the garage with him. Welding was something he always did. He was self-taught out of necessity, building his own tools and equipment as he needed. While working for Cody Mac Motorsports in Connecticut, who happened to own some Dunkin Donuts up there, Jeff would teach himself how to tick weld on the donut trays he had to fix. He got so good that he decided to give it shot and built his very own car trailer.
"Life has been good with it, it's a dream come true driving for these guys on No Prep Kings and Street Outlaws". Jeff got involved with Street Outlaws with a simple phone call. He started doing some work for the guys and the next thing he knew, he was invited to race with the best of them. Jeff is still learning on the street. He owes Ryan Martin a lot of thanks as well as Chief (Justin Shearer) and Shawn Ellington for showing him the ropes with street racing. He is still learning every day. Given the choice between street and the strip, he would choose the strip every time. It's where he began and what he is used to. No prep is his favorite. "I can work from time slips and it's all in a controlled area so I can work on things and tweak what needs to be. The street is tricky though, you only use 30% of your horsepower, and drag week you use it all". Drag week is a begrudging, miserable, grueling task, and the worst thing to do with a car but that doesn't stop him. Jeff has had his fair share of drag week times as well, he is currently a world record holder there for the world's fastest pass.
Currently, he has the yellow 57 Chevy and Mad Max the pro-mod, and his son Jeffery has the original 57 and drives the Civic. Jeffery also purchased a 1986 IROC-Z which he plans to make as a tribute car to the original IROC that his father had and paint it yellow. Not many people know that the original black 57 and the yellow 57 are different cars. The original 57 was supposed to be yellow but from all the fans and other drivers loving the black, they were calling it sinister so he decided to keep it that way. With his current 57, it dons the iconic red headlights, which were not a particular plan he had in mind. A friend of his asked him to advertise for them and he did. The headlights are LED and can be changed, but the intimidation factor is pure and evil.
Some of his favorite drivers are Larry Dixon NHRA, Ron Capps NHRA, Clay Millican of IHRA and Cory McClenathan of NHRA. Jeff was stunned when one day at a SEMA, Cory had once waited in line for 2 hours just to get a Jeff Lutz autograph. To this day Jeff considers Cory and Clay some of his best friends. Building race cars and doing what he does best, racing, is the epitome of living the dream for him. Following his passion and drive is what got him this far and will keep doing so. He says there isn't anything else he would rather be doing. A favorite track event of his is the Orlando World Street Nationals. He ran Heavy Street and then graduated to pro-mod racing. He was a force to be reckoned with and loved every aspect of it. Today he loves watching daily drivers at the track events. "It's fun to see the moms and dads out there driving the minivans and taking people out". One thing that keeps the public attracted to these shows and events is the fact the drivers are so relatable to the viewer or spectator.
Blessed with an understanding family, Jeff is by far one of the luckiest guys in the world. It's a whole family ordeal and they are all excited for him. With his wife in the shop and coming to the races, and having his son work beside him is a gift. His other family members enjoy his T.V. fame as well. Jeff's grandma is his biggest fan. She follows the show and has all the family that are in Kentucky keep tabs on him while he is there. Jeff also gets great joy and is beyond grateful when he gets to see the yellow 57 on all the commercials and advertisements.
Aside from his iconic car, Jeff is also known around the pits to be a nice guy. He's the one who is out there helping everyone in need. That's just who he is, his fault is being too nice sometimes and he always tries to find the good in everyone. Some of the biggest struggles he deals with is keeping the car together doing all 12 races in the season. But he loves the grind and the hustle. He is beyond thankful that Summit and other companies who understand what these guys and gals do and are on board with No Prep Kings and are able to same day delivery when needed. He is always waiting and ready to go to the next event and do his best. In his rare downtime, he likes to spend some quiet time on the lake property he has, or play a little on the drums. Jeff confessed that he learned how to play the drums from his father at a young age and still plays from time to time, Triumph – Lay it on the Line is a choice favorite. Once again keeping us fans glued to the fact that these drivers are in fact, human. If he could have a legacy it would be that he has the world's fastest 57 Chevy and the world's fastest pro-mod. Jeffery will be running with these after he is gone. According to Jeff, his son is a better welder than he is so he's not worried. Lutz racecars will be something to carry on forever.
Jeff is by far one of the coolest, and mellow guys in person, but put him in the seat of a car that's ready to race, watch out. Stop by the pit and thank him for keeping and embodying the spirit of racing alive and well, helping out one another while giving us all one hell of a show to watch.
Special thanks to Lou at 405 Photo as well for some amazing shots.
Check out more of Lou's work at 405 Photo
Sours: https://www.noprep.com/jeff-lutz-is-living-his-dreams/
Fresh motor spooling up
www.danchuk.com
Updated 12/18/2019…
In 2019, Danchuk helped Jeff Lutz rebuild "The 57" in just a few days after a wreck on the strip.  See the full story on the Danchuk blog.
In 2020, Danchuk will be helping Jeff Lutz rebuild the '57 known as "The Beast".  Watch for the story on Discovery, at danchuk.com, and on Danchuk social media.
Danchuk News…   
"Danchuk Manufacturing, Inc. is proud to be a sponsor of Street Outlaws Star (and Drag Week Legend), Jeff Lutz, for the 2019 season."
We first became aware of Jeff, owner of Lutz Race Cars in Callery, PA, when we started seeing various video clips on YouTube of a wicked black 1957 Chevy pulling insane numbers on the dyno and running down different tracks. Just teasers for us. From then on we followed Jeff around the Internet.
The first, yes first, of the 57's Jeff would build was called "The Beast". Built for the 2012 season "The Beast" sported a methanol burning 632 CI 2500 HP twin turbo charged BBC that became immensely popular with the folks that watched Street Outlaws (On Discovery) and wreaked havoc on all comers.
Jeff and his son, Jeff, Jr. followed that car up in 2014 with an almost identical car they called "Evil Twin". Same engine specs but now with a full weight saving fiberglass body with carbon fiber components and Optic Armour composite windows. The car weighed in at only 3100 pounds with Jeff in the driver seat, a full 800 lbs less than "The Beast". "Evil Twin" regularly ran 6.70 times in the quarter and almost won the 2014 Drag Week event loosing by a factor of less than 0.001 second.
At the Inaugural Danchuk Tri-Five Nationals in 2015, Jeff and his son drove the "Evil Twins" a number of times down the drag strip at Beech Bend Raceway to the delight of the crowd. If you are a Tri-Five fan you haven't lived until you have seen an almost identical pair of 57's blasting down the quarter mile. Truly a sight to see.
We'll get to the third 57 that Jeff built, but we would be failing him big time if we didn't mention Jeff's crowning glory accomplishment (to date) with his '69 Camaro Street Legal Pro Mod "Mad Max", now the "Fastest Street Legal Car" in the world. On November 10th. 2016 at the Street Car Super Nationals in Orlando, FL Jeff became the second car in history to run in the 5.80's and with a record setting run of [email protected] 251.30 he took the crown away from Larry Larson who had run a 5.89 the previous year at the event in Las Vegas. A record that Jeff promptly broke with a 5.85 @ 250.27. "Mad Max" is still the fastest "Street Legal" car to this day.
The third 57 that Jeff and the crew at Lutz Race Cars built, and the one he is campaigning now, debuted at the 3rd Annual Danchuk Tri-Five Nationals in 2017. Painted a stunning bright yellow and sporting a downsized 3500 HP BBC (only 540ci), again with twin turbos, the car took the show by storm with runs that he would not let us see numbers for. No doubt so he did not tip his hand as to how fast the new car was. Simply named "The 57" this new car has become probably the most photographed 57 Chevy in history. It was built to replace his '69 Pro Mod Camaro and we read that preliminary times put the car just a 10th of a second off the Camaro. Impressive, and truly a force to be reckoned with. We can't wait to see how many times this car will be in the winners circle during Drag Week and on Street Outlaws, which airs on Discovery. Jeff also races many, many other places. So if you get a chance to see him run, make sure you go. You will not be disappointed.
For more information you can search Jeff Lutz on the Internet and get tons of results. Some of our favorites are listed below. Check them out.
http://www.lutzracecars.com
https://www.facebook.com/LUTZ-RACE-CARS-262631067109573/
http://gmauthority.com/blog/2015/01/6000-horsepowers-worth-of-twin-turbo-57-chevys-take-over-hot-rod-drag-week-video/
http://www.superchevy.com/events/breaking-jeff-lutz-unveils-new-3500-hp-ride-for-drag-week-and-street-outlaws/
www.danchuk.com
This entry was posted in News & Other Bits by Danchuk Manufacturing. Bookmark the permalink. Sours: https://www.danchuk.com/blog/?p=5055
You will also be interested:
I was just dumbfounded. How well he sucks I thought about Kostya. And suddenly.
1221
1222
1223
1224
1225