The route planner helping you to save an hour a day
Get routes that work, stop sitting in traffic, and find addresses fast with Circuit Route Planner – the route optimization app for delivery drivers. Make sure you finish work early every day.
Try free now
Rated 5 stars by over 5000 drivers
It'a time to plan your fastest routes and get home early
1
Download the free app
Find Circuit in your app store
2
Add your stops
Unlimited, quick, and easy
3
Optimize your route
Get the fastest routes and finish early
Confidently plan your routes and save an hour every day
If you've 100s of stops, it can take ages to map out the best route – and delay you from getting on the road. But it doesn't have to be this way:
Find addresses fast
We all know that time is money. With Circuit, you can quickly add, optimize, and find every address on your route, navigating smoothly with your favorite GPS.
Stop sitting in traffic
You can add, delete or re-optimize multiple stops while on your route with ease, including hands-free voice entry to make delivery even faster.
Get home earlier
Set priority deliveries and time windows for stops you have to do at specific times to reduce the chance of backtracking and finish work early.
Try free now
"What an amazing app! It helped me tremendously with doing multiple deliveries. Very easy to use, I couldn't be happier."
Shayra KhatunDelivery Courier, DPD
"I was simply amazed at how the interface worked with Google Maps. It optimized my route and saved over an hour of my time. Two thumbs up!"
Joseph RodriguezCourier driver
"Circuit Route Planner makes deliveries so easy and efficient, less stress, safer driving, and no more u-turns! It's a joy to use."
Arlene McCoyDelivery Courier, DPD
Courier driving shouldn't be so stressful
You don't have to waste time hunting for addresses, backtracking missed deliveries, or sitting in traffic. Download Circuit and get everything you need to make delivery easy.
Try free now
GUIDE
How to be a courier and make money (in-depth guide)
This complete guide answers your vital questions on how to be a courier. Including how to find jobs, whether you can make good money, and the best vehicle for courier work.
Get guide →
Try Circuit free for up to 10 stops/day
Optimize unlimited routes and stops.
Find addresses fast, avoid traffic, eliminate backtracking – and finish work early.
Unlimited routes

Route optimization

Unlimited stops per route

Import spreadsheets (Android only)
*Price varies by country
Try free now
Frequently asked questions →
Enjoy unlimited access every Thursday
We've unlocked Circuit Premium for all our users every Thursday in 2021 – meaning you can enjoy all the benefits of a subscription and optimize unlimited stops for free every Thursday!
Find out more
© 2021 Circuit Routing Limited. All rights reserved.
Sours: https://getcircuit.com/route-planner
Screenshots
Description
Early Morning Routing Chaos Finally Solved, with Route4Me, the world's most downloaded route optimization app.

Routing chaos finally solved. Route4Me is the iphone route planning app that professional drivers and businesses trust.

The app is so powerful at saving its users tremendous amounts of money, time, and effort … that Route4Me has been downloaded more than TWO MILLION TIMES with billions of miles saved.

This makes Route4Me the world's most used route planning and optimization app.

Route4Me will put your visits, pickups, deliveries, and appointments into the best sequence thereby improving your mood, saving you time, and increasing your revenue.

Everyone benefits... from professional road warriors, field-sales reps, field-service techs, field-marketing reps, delivery drivers, and pretty much anyone doing multi-destination routes.

Route4Me is already being used by many thousands of individual UPS, FedEx, DHL, Canada Post, Purolator, Amazon Flex, and OnTrac drivers. It is battle tested... and hardened with GPS tracking and truck navigation.

You now have the opportunity to join that amazingly effective group of savvy users who have the most highly efficient and lowest cost, multi-stop routes in the world.

What makes Route4Me's App AMAZING?
1. Plan unlimited routes with unlimited stops (unlimited routes per month with a subscription after you use your 10 free routes)
2. You are in total control. Easily move stops around in seconds and select where you want to start and end your route.
3. Navigate:
Once your multi-stop route is planned, one click per destination gets you voice-guided turn-by-turn directions in your favorite navigation app.
4. Keep track of progress by marking locations visited and departed
5. Store all your important info & addresses in our Address Book and quickly plan routes with them.
6. Store & Search virtually any information about any stop on any route you've ever been on
7. Know exactly how long your route will take and how many miles you will drive.

For businesses with multiple drivers:

Route4Me not only saves you many hours of *dreaded* route planning and optimizing time… it automatically plans, and optimizes, your most difficult multi-stop, multi-vehicle routes to absolute perfection in seconds (seconds is not a typo!).

It automatically sends route info + turn-by-turn directions for the entire route right to any driver's smartphone. Plus it does driver tracking right out of the box. Hint: GPS driver tracking improves performance & reduces fraud.

Once your team gets their routes, Route4Me gives you complete visibility into drivers and vehicles, while they are on the road.

Route4Me is NOT just for delivery services. It's used by virtually every business type whose employees or contractors are out driving in the real world.

Route4Me shows you exactly where each person is on a map along the route (in real time), their speed, and exactly what is going on at each stop on each route.

Route4Me creates the most highly optimized, efficient, routes…

It's also:
An overtime eliminator…
A bad driver eliminator…
And a bad route eliminator.

No other app does nearly as much.

Be a hero to yourself and your company, download this app and experience this magic for yourself.

Purchase options:
Mobile FREE plan - FREE - 10 Routes per month / Unlimited Stops
Mobile Monthly plan - $10/Month - Unlimited Routes / Unlimited Stops
Mobile Annual plan - $79/Year - Unlimited Routes / Unlimited Stops

Subscription periods are 1 month / 1 year and billed to your iTunes Account at the time of purchase. Subscription automatically renews unless auto-renew is turned off at least 24-hours before the end of the current period. The account will be charged for renewal within 24-hours prior to the end of the current period. Subscriptions may be managed by the user and auto-renewal may be turned off by going to the user's Account Settings after purchase. Any unused portion of a free trial period, if offered, will be forfeited when a subscription is purchased.

Privacy Policy and Terms of Use
https://route4me.com/terms-of-service
Route4Me Route Planning & GPS Navigation continues to work towards building a better route app.
Additional UI/UX improvements have been made to improve route tracker settings as a delivery driver app, for pickups, drop-offs, field service, and more.

Love the Route4Me Route Planner App? Please Rate Us!
Ratings and Reviews
‼️A MUST HAVE APP & DEFINITE TIME SAVER‼️
This is an EXCELLENT Routing App. I thought I loved using "Multiplottr", until I started using "Route4Me". I have been using this now for a little over (2)+ years & have never needed to ask any questions on how to use it...extremely user-friendly without a doubt! It has saved me quite a bit of time when mapping out the daily route for my estimator/arborist for an extremely busy tree service company. On a typical day, I am having to route between 15–20+ addresses, and without "Route4Me", I would be spending hours & hours mapping & routing, which in turn, takes me away from my other job duties I could be doing. I would highly recommend this app to anybody that is having to drive around the city looking for multiple addresses on a daily basis. In my opinion, I gotta say...this IS, far the BEST routing app out there!
The only negative thing I have to say about the app, is not being able to send the daily route to my estimator via text message (hopefully it's in their near future plan/update). Other than that, I absolutely LOVE IT! Thank you Route4Me! 😊🤗
Hi, and thank you for taking the time to leave such an encouraging review! It is exciting to know that our Route4Me Route Planner app is helping you so much with your business and route optimization. We appreciate your kind words.
NO! NO! NO! NO!
This Route4Me Route Planner App is NOT as convenient as you'd think Based on the rave reviews, I had high hopes for this App in helping me be efficient in getting my sometimes very long list of errands completed in a timely fashion, without backtracking the same streets I already traveled. Unfortunately this App is not to be trusted. Right off the bat, when I typed in my first destination to the Wells Fargo bank two minutes from me, I learned that this App is unreliable. The App suggested Wells Fargo bank locations that are WAY FAR from me, like a different city, and it even listed a few that are two States away from me!!! It completely fails to list the Wells Fargo branches that I KNOW are within walking distance. I just cannot make sense of this!! So I played around with the App thinking it must be a fluke, some kind of random glitch, but sadly it continues to happen, making the entire purpose of this App (to be an efficient commuter) completely useless.

Not only is the above mentioned a huge disappointment, but there are additional flaws I've encountered using the App, such as not being user friendly when wanting to make changes to a route.

The creators of this App make it WAY MORE DIFFICULT than it needs to be. It should be super simple, but it's a pain instead. I truly don't get all the fabulous reviews. I ended up deleted it.
Hello Jesse, I am are sorry to hear you are experiencing trouble when planning your routes and adding stops, however, the Route4me Route Planner app should be working properly. I would like to take a closer look into this and assist you further, please contact me at [email protected] and I will be happy to help.

Does Not Work With iOS 11.3
After spending hours on the phone with both Route4Me and Apple tech support, it was confirmed by Apple that the update is not compatible with iOS 11.3. Route4Me isn't aware of this issue probably because not slot of the users upgraded to iOS 11.3. Initially I opened a few trouble tickets but someone at Route4Me kept closing them out saying the issue was resolved when in fact they had no idea why the app wasn't working on my phone. Apple had to erase everything from my phone and re install the iOS fresh before they could confirm 100% that the update wasn't compatible with iOS 11.3. This happened on Friday afternoon and I am waiting to see when someone from Route4Me actually acknowledges this and takes care of the problem
The developer, Route4Me Inc, indicated that the app's privacy practices may include handling of data as described below. For more information, see the developer's privacy policy.
Data Used to Track You
The following data may be used to track you across apps and websites owned by other companies:
Health & Fitness
Location
Contact Info
User Content
Identifiers
Usage Data
Data Linked to You
The following data may be collected and linked to your identity:
Location
Contact Info
User Content
Identifiers
Usage Data
Data Not Linked to You
The following data may be collected but it is not linked to your identity:
Health & Fitness
Diagnostics
Privacy practices may vary, for example, based on the features you use or your age. Learn More
Information
Seller

Route4Me Inc

Size

144.6 MB

Category

Navigation

Compatibility

iPhone

Requires iOS 13.0 or later.

iPad

Requires iPadOS 13.0 or later.

iPod touch

Requires iOS 13.0 or later.

Languages

English, Arabic, Czech, Danish, Dutch, Finnish, French, German, Hebrew, Hindi, Hungarian, Italian, Japanese, Korean, Polish, Portuguese, Romanian, Russian, Simplified Chinese, Spanish, Swedish, Thai, Vietnamese

Age Rating

4+

Location

This app may use your location even when it isn't open, which can decrease battery life.

Copyright

© Route4Me, Inc.

Price

Free

In-App Purchases

Take It Easy Unlimited Routing$9.99
Take it easy Unlimited Routing$9.99
Take It Easy Unlimited Routing$79.99
Supports
Family Sharing

With Family Sharing set up, up to six family members can use this app.
You Might Also Like
Sours: https://apps.apple.com/us/app/route4me-route-planner/id349853799
Getting tired of manually planning routes for your drivers? Looking for ways to make your life easier with route planning software, but not sure where to start? We've done the hard work for you and reviewed the best route optimization apps to help you find the right software for your business.
Our mission at Routific is to make route optimization accessible to every delivery business with the best delivery route planning software. We strongly believe that manual route planning leads to wasted driving time and fuel. In fact, research has shown that transitioning from manual route planning to route optimization software has the same impact on the environment as planting 86 trees a year!
That's why we want everyone to transition away from manual route planning to using route optimization software—even if that means using one of our competitors!
The goal of this review is to help you navigate the myriad of options, including the best free route planning software with unlimited stops.
Read on to learn which free route planners could work for your delivery business, as well as more sophisticated paid route optimization software to use as your business grows.
Free multi stop route planners
If you've just launched your delivery service or only deliver up to a dozen stops per day, you're probably fine sticking to free online tools. The benefit of using free tools is that, well, they're free! You have nothing to lose, other than your time spent learning to use the app.
It's a good way to get started delivering to multiple stops, but if you have multiple drivers and larger volumes with more complex customer needs, you might want to skip ahead to the next section.
Google maps route planner
Everyone is familiar with Google Maps, making it a strong contender for new delivery businesses to plan delivery routes.
Does Google Maps have a route planner?
Technically, Google Maps doesn't offer route optimization. They help you navigate from A to B, but they won't optimize the sequence of stops for you. You can read more about the difference between Google Maps and Route Optimization here. Because of this, once your delivery business begins to grow, you may want to consider route optimization software.
How do I create a delivery route in Google Maps?
There are some limitations when you're trying to plan routes for deliveries with Google Maps:
Your routes need to be 10 stops or less
You can only plan for 1 driver at a time
You can't optimize routes using constraints like delivery time windows, vehicle load capacities, driver breaks, etc.
You need to eyeball and manually determine an efficient order for your stops (this gets tricky when you need to factor in things like the constraints mentioned above)
Related post: How to use Google Maps Route Planner for deliveries
Since you can't plan multiple routes at the same time in Google Maps, you'll need to plan your routes in batches. Here are a few tips to route multiple locations on Google Maps:
1. Driver territories
If you have more than one driver, cluster delivery stops into driver territories so they use the least amount of fuel for a set of deliveries. This can be done by assigning postal codes to your drivers, or by dividing the city up into neighborhoods or zones (north, south, east, west).

By giving your drivers the same territories each time, they'll build up their knowledge of the area, helping both of you to map out the most efficient routes when planning in the future.

2. List stops in order of completion
Within each territory, do your best to list each stop in the order you want it completed. You can do this in Google Maps directly or by using a spreadsheet.

Download this handy excel template to help you list your stops in the right order

The order of stops should be based on proximity to the next stop, as well as things like delivery time windows (when your customer wants something delivered) or office/store hours, if you're delivering to a business

3. Give drivers delivery instructions
To make your routes more efficient, compile notes for your drivers about where to park, drop off the delivery, delivery times, ETAs, etc. This will speed up your driver's routes, meaning you either pay less wages or can fit more stops into a single route.


4. Build routes in batches of 10
Use Google Maps to find the shortest path between each stop. You'll need to do this in batches of 10 due to Google Maps' limitation.

5. Dispatch routes to drivers
Google Maps gives you the option to send a route via email or SMS.

6. Repeat steps 2-5
Since you can only route 10 stops at a time, you'll need to repeat steps 2-5 a few times until you've planned all your stops in an order that makes sense. This prevents drivers from showing up at a stop at the wrong time or doubling back unnecessarily.
Mapquest route planner
Mapquest is geared more for business use, as it supports mass upload of addresses (with copy/paste or spreadsheet upload), and offers a free route optimization option to re-order stops in the optimal sequence.
One of the options is to set it as a round trip, which is good for delivery businesses that have a central depot or warehouse that the driver needs to return to. You can send your optimized route to your driver via an SMS link.
Some Mapquest limitations are:
You can only use it for a single driver
You can only schedule up to 26 locations
Pop-up ads—if these bother you, consider looking elsewhere
RouteXL
RouteXL is free to use for up to 20 addresses. There is an option to pay 35 EUR/month to increase that limit to 100 addresses.
While they do offer mass upload of addresses using copy/paste, it does not support uploading spreadsheets, which come in handy when you're looking to sort and organize a large number of addresses. Spreadsheets also allow you to import and export data into different software programs a little more easily. RouteXL does offer more advanced route optimization options such as splitting up your stops across multiple routes. So if you need to split your orders up between multiple drivers, Google Maps and Mapquest won't be helpful.
Route XL's limitation is that the route setting applies to all routes; you cannot set up individual drivers with different shift times or starting locations.
Flightmap
Flightmap's basic route planning tool offers a free tier of up to 200 stops per month for 2 vehicles. Beyond that, you can increase the limits by paying $0.04 per stop or $5/vehicle/month.
They support uploading address data via spreadsheets and give you a few route optimization controls such as "max tasks per vehicle" and "trip duration limit".
Flightmap also has a direct integration with Tookan (a paid delivery management solution), because both products were built by the same parent company.
Same as RouteXL, their limitation is that you cannot have different settings for each driver.
The Travelling Salesman problem and Route Optimization algorithms
You might be thinking the steps listed above don't seem very efficient. And you'd be right. Free route planners are great for personal route plans and small delivery routes. But as your business grows, route planning can become extremely complex and time consuming.
That's because you're now dealing with something called the Traveling Salesman Problem (TSP) or Vehicle Routing Problem (VRP). This is a complex problem mathematicians and computer scientists have been trying to solve for years. It also happens to be one of our favorite topics of conversation here at Routific.
Essentially, the more stops you have to make and the more drivers you have, the more complicated it gets. In fact, the possible routing solutions grow so exponentially, it becomes impossible for any human to accurately calculate the most optimal order of stops without some help. The closest we've come, albeit imperfectly, is algorithms.
Route optimization algorithms are able to quickly calculate a massive number of dependencies, including addresses, delivery time windows, driver speeds, vehicle load capacities—you name it! In this next section, we'll provide you with route planner apps with these more robust planning features.
Route planner apps with more features than free tools
Once your delivery operation includes multiple drivers and more than 25 stops per day, you might want to look for more sophisticated delivery route planning software.
The below options offer more capabilities, such as customer time-windows and service durations, that might meet your unique routing needs better.
Onfleet
Although Onfleet's primary focus has been delivery management since 2012, they've since added route optimization as a paid add-on, giving businesses the best of both worlds.
You can create your individual driver profiles with their own start and/or end locations and shift schedules, as well as their capacity. For each delivery, you can specify a single time-window, service duration, and quantity.
Once you've optimized your routes, you can dispatch them straight to the OnFleet app for drivers, and track the progress from the dashboard.
The Basic package with route optimization costs $349/month.
OptimoRoute
OptimoRoute offers you flexibility and control for you to set up your routes exactly as you want. On the downside, it has a bit of a learning curve.
You can set up individual driver profiles with their own shift schedules (including breaks and overtime), start/end locations, skills (if you're in the service industry), vehicle types, service areas you want them to stay in, and even cost and speed settings. You can also set up multiple capacity constraints (e.g. weight & volume).
They have a mobile app for the drivers that you can dispatch the routes to, and you can track the progress live from the dashboard.
A limitation is that you can't adjust the routes easily with a drag and drop interface.
WorkWave Route Manager
WorkWave Route Manager is the only app in this review that doesn't offer a free trial. They also don't publish their pricing transparently—you'll have to book a demo or talk to sales to find that out. The only thing they say on the website is that it starts at $49/vehicle/month.
WorkWave focusses their products for pest control and field services industries primarily, but can also be used for delivery routes. It has all the basic route planning functionalities: drag and drop, multiple time-windows, multiple capacities, etc. But they also offer more advanced routing needs such as paired pickup and drop offs, driver territories, and even different cost structures for your drivers to optimize routes based on minimizing total cost.
Despite all this, a surprising limitation is that you don't see the route lines drawn on the map, only coloured dots on a map with numbers on them. This makes it hard to see which roads your drivers are actually taking.
They also have a mobile app for the drivers which can also be used to monitor things like speeding and hard braking incidents.
Route4Me

Route4Me claims to do everything under the sun for any type of business. In fact, we counted 92 business types listed on their homepage and one more called "Other".
When you explore their capabilities on their "Marketplace", you'll notice that they've taken a very modular and customizable approach. Each feature is a paid add-on that you can pick and choose to create your own subscription.
One limitation is that the routes are assumed to all start and end at the same location and with the same shift times. Other than that, since they support such a wide variety of use-cases, there are a ton of bells and whistles you can discover.
They present a ton of information about your routes, allows for a lot of customization and setup, and even offers a multitude of ways to view your routes (together on a map, broken out with single route views, or in a matrix overview). They also have a mobile app for the drivers with live progress tracking as well as the ability to trace the driver's routes after the fact.
Pricing with route optimization for a fleet starts at $299/month. The cheaper $199/month option allows only single-person routes. Note that these prices don't include any of the modular add-on features, some of which can be quite pricey.
Routific
We may be partial, but if you're considering a route planning app with more features than the free options, Routific is worth a look.
Routific's route optimization algorithm has been in development for more than 10 years and can shorten routes by up to 40%. Not only does Routific offer all the route optimization extras like time windows, driver speed, lunch breaks, and more to save your business time, money, and effort, but also has drivers and customers in mind. We've built our app to make the delivery experience seamless for everyone involved.
Routes can be dispatched straight to drivers' mobile devices via SMS, so you can keep your team organized and on track.
Routific also offers fancy features to improve customer satisfaction, including automatic delivery updates and notifications, proof of delivery for peace of mind, and live driver GPS tracking.
To further improve efficiencies and reduce costs, Routific has robust analytics that help your business measure success and identify where improvements should be made.
Pricing starts at $39/vehicle/month for the Essentials package, increasing from there, depending on the features you'd like to add.
Managing local delivery routes is simple & profitable with Routific
Trusted worldwide. Powering 5 million deliveries a month.
No credit card required.
Optimized routes for your delivery business
If you've read this far, you hopefully feel more informed about the various route planning software options for your delivery business, so you can transition away from manual route planning.
This review covered 9 of the best delivery route planner apps on the market, roughly ordered in increasing complexity and capabilities. This list is not meant to be exhaustive, however. There are many other options on the market that weren't included in the list that you may want to look at as well.
You might want to check out some of the route planner apps listed above, but if you're interested in Routific, we offer a free 7 day trial. No credit card required.
Sours: https://blog.routific.com/8-best-route-planner-apps-for-deliveries-2019-review
Using the Map Routing option in the Amazon Flex App for Amazon Delivery Drivers.
7 Powerful Apps for Delivery Drivers That Will Save You Time
People in any occupation are always looking for ways to improve their workday, and delivery drivers are no exception.
If you're a courier, you want to maximize your work to save time and be more efficient, whether that's following the best route or finding the lowest fuel prices. You also want to keep yourself healthy, while finishing your work on time or early, so you can enjoy life away from work too.
One way to improve your work is by using apps for delivery drivers. Chances are you have a smartphone, so why not find the best delivery apps for drivers and use the phone to full advantage.
Let's look at our picks for the best 7 powerful apps for delivery drivers that will save you time, and get you home feeling good.
7 powerful apps for delivery drivers
1. Waze
You need to find your way to each stop, so one of the top ways that delivery drivers use their phone is by using it to plan routes. While you can use a common address-finding app like Google Maps, which does allow you to include multiple stops, you may want an easier way to include several different destinations on your route.
Waze is a good option when you're looking for the best GPS app for delivery drivers. It's been around for a while, and because it is crowd-sourced, it helps you avoid unknown hazards like a traffic jam or an accident. It's also faster at providing this information than Google Maps because it is community-curated.  
You simply add your destinations and Waze will give you the best option for getting from A to B, bringing together information on traffic conditions, providing alternative routes, and giving you a real-time report on the trip ahead. You can make decisions about the best route, and be ready to go before you leave for the day.
Waze also lets you know information like upcoming tolls and how much they cost, as well as why the route looks like it is less direct than the one you would have chosen – maybe there is heavy congestion on the road ahead. They call it "the why" information and provide it in your trip preview, so you'll know why Waze considers that route the best recommendation. You can always change it and go your own way instead.
2. Flush
Don't be embarrassed to talk about bathroom breaks. You'll be in your vehicle all day long. You want to drink coffee or tea and you should drink water to stay hydrated. So you need to think about bathroom breaks or risk an embarrassing accident or emergency stop that will mess up your route. As such, Flush is among the top apps for delivery drivers.
Flush is an app for Android and iOS that finds bathrooms, making it easy to be prepared when it comes to potty breaks. Flush boasts a database of tens of thousands of public toilets, and you can even store it on your phone for offline access. The database currently features over 200,000 toilets all over the world, and there are constantly new additions to the list. 
To use it, search for a location on the map, or pan over the map to see the nearest public washrooms. When you tap on the locations, you get directions provided by Google Maps. You can also tap the directions button to get the information fast. Flush continues to expand its database and add information such as whether there is a fee, whether you require a key and whether or not they provide disabled access.
Then you can sit back and enjoy your coffee, tea, water or iced cappuccino, and know that regular bathroom breaks will be a breeze.
3. Headspace
Apps for delivery drivers aren't just for planning routes and rest stops. Staying healthy and happy is an important part of enjoying your work. The meditation app Headspaceis an ideal tool to help you be less stressed on your route, and when you get home.
That's because meditation or mindfulness is a form of mental exercise that can help you handle stress. In just eight weeks, it can actually "change your brain" by providing more capacity to manage stress.
Headspace provides the tools for meditating to reduce anxiety, reduce stress, or before bed to help you get a good night's sleep. There's nothing worse than being tired to start the workday, and chronic fatigue is one of the early signs of stress. It's important to manage stress the best you can, as it can easily build up and affect your health and well-being. Headspace is also ideal for beginners, too, since you may be uncertain about how to get started with mindfulness and meditation.
It's also been shown that taking regular breaks during the day – even for just a few minutes – will reduce stress. Planning a 15-minute stop every few hours will help you end your workday feeling better than if you raced through the day without stopping. Whether you pull over for a quick Headspace meditation, or get out and do some stretches (see app choice #5), it's a good idea to plan a few stops into your delivery day.
4. PetrolPrices and GasBuddy
Another necessary stop you will need to make, sometimes every day is a stop to refuel your vehicle. Having access to the closest gas stations is handy, but what if you could also save money on fuel?
With apps for delivery drivers like PetrolPrices in the United Kingdom and GasBuddy in North America and Australia, you can find the prices at nearby stations and consistently save time while you also save money on fuel.
With PetrolPrices, you create a free account using your email address, then enter your postcode and it will find the cheapest or nearest petrol station. The free mobile app makes it easy to use it on your route.
GasBuddy gives similar information, covering the United States, Canada and Australia. The app provides real-time gas price information at 150,000+ stations.
5. MyFitnessPal
Eating properly can be a challenge when you're on the road all day long. But it's important to your overall well-being that you include nutrition and exercise as part of your daily work plan.
You might be wondering why we've included MyFitnessPal among this list of apps for delivery drivers.
The app MyFitnessPal makes it easy to practice healthy eating and exercise. Use it to easily track the food you eat and your activity. It also provides resources like easy recipes for healthy meals and snacks, and activities to promote movement.  
It might seem like exercise is the last thing you have time for, but it's important that you do keep your body moving. Exercise breaks are beneficial to maintaining overall health, as even a short walk has been shown to boost energy, and fresh air can positively impact your mental health. Since being a courier involves a lot of sitting, finding a way to move regularly is even more important.
And what you put in your body impacts how you feel too, so healthy eating choices will give you the energy you need to get through those long days of driving.
6. WhatsApp
Communicating with other drivers, your employer or contractor, or family and friends is made easy with an app like WhatsApp.
Download it to your phone and use it for fast, simple, secure messaging. You can also use it to call for free on phones all over the world (you may have data charges from your provider, however).
But when you need to reach out and don't want to worry about using an Apple messenger or other device-specific tool, WhatsApp is an easy way to connect with anyone, anywhere.
While you obviously shouldn't text while driving, it's also important to stay connected. It's easy to start feeling lonely on those long days on the road, which can have negative impacts on your health and eventually lead to depression and physical ailments. Stay connected with this easy-to-use communication app.
7. Circuit Route Planner
There are other options for finding your way, but as a delivery driver, you need more than a map that gives you directions. You need Circuit, the best GPS app for delivery drivers. Instead of spending time rearranging addresses in Google Maps, or another app that's great for one or two stops, use Circuit to plan the best route as a courier.
As a bonus, Circuit actually works with Google Maps, Waze, AppleMaps and more, allowing you to use the navigation system you're comfortable with or the one your company insists you use.
Circuit is powerful because it does more than show you the route from A to B. Circuit is a quality route optimization tool, more than a map on your phone and more than using a GPS to go from address to address.
What is route optimization?
An optimized route is a predetermined path that is the most cost-effective, in terms of time and distance. Circuit's route optimization means you get from one stop to the next in an orderly fashion.
It helps you find your delivery destinations, while also planning your routes to decrease time spent on the road. It can help you avoid time-wasters like traffic jams and backtracking. You can add the necessary bathroom breaks, stretch and meditation breaks and more right into the route. The Circuit app builds an optimized plan for up to 500 stops in just a few minutes.
Fast Package Finder
Circuit will also save you time with its "Fast Package Finder," which will increase your package delivery speed. That's because the app will help you find the right package at the right stop. To use it, simply tell the Circuit app where the packages are in your vehicle. When you stop, the app will remind you exactly where to look to make a speedy drop.
The package finder could help you save up to an hour each day by eliminating time spent searching your vehicle at every stop. Eliminate that wasted time over the course of the day by having packages organized in your vehicle.
Circuit is the best driver app, allowing you to save time while driving and when you arrive at the drop-off location.
7 Powerful apps for delivery drivers: Driving it home
Working as a delivery driver involves balancing good driving with speedy deliveries. Getting your routes done efficiently can mean more money in your pocket, better job satisfaction and less stress.
The best apps for delivery drivers help you find your way on the best possible route, but also manage stress, provide for breaks, and save money on gas. With our guide to the best apps that will save you time and the help of the Circuit app, you can be on your way safely and return home at the end of the day feeling satisfied. Get your free trial now.
Sours: https://getcircuit.com/route-planner/blog/apps-for-delivery-drivers
Delivery routing apps drivers for
Circuit Route Planner

Optimize for the shortest routes, avoid traffic and delays, and quickly find packages in your vehicle with Circuit Route Planner, the easiest delivery driver app for couriers.

With over 150 Million deliveries optimized and over 1 Million downloads, Circuit Route Planner is the world's easiest routing app.


✔️ Optimize your delivery routes to avoid traffic & backtracking, & finish an hour early.

✔️ Tell Circuit Route Planner where a package is in your vehicle & get notified at the stop so you can quickly find it.

✔️ Choose your preferred GPS, including Google Maps, TomTom Go, and Waze.

✔️ Find and add destinations fast using accurate address, zip code, or voice search in the driver app.

✔️ Mark priority delivery stops to do them at the start of your route.

✔️ Set time windows for packages to deliver on schedule.

✔️ Choose the length of time you want to spend at each stop.

✔️ Get instant and accurate estimated arrival times.

From finding the shortest routes to helping you to avoid traffic and backtracking, Circuit Route Planner can get you home an hour earlier. Whether you're a courier, a delivery driver, or a retailer looking to start your delivery logistics, Circuit will help make delivery easy.

Enjoy quickly adding multi-stop delivery addresses in just three taps on the easiest delivery driver app. Add a list of addresses in minutes, get the fastest routes in seconds.

OPTIMIZE 💪
Get optimized courier routes for up to 500 stops in a few minutes.
Got a long list of stops? Let Circuit Route Planner handle the task – don't spend hours mapping the shortest route; optimize for the fastest delivery routes in seconds.

EDIT ✏️
Change in your schedule? Delivery logistics can be hard to predict. With Circuit Route Planner, you can easily add, delete or reoptimize multiple stops while on your route. Including hands-free voice entry to save even more time.

PRIORITIZE 🙌
Need to drop a package at a particular time? Circuit Route Planner has a time window and priority setting to make sure you arrive at your destination on schedule.

DRIVE 🚀
Navigate your preferred way. You can use Google Maps, Apple Maps, Waze, TomTom GO, or any other navigation app you like. Seamless switching from navigation to order details saves time and effort.

ARRIVE 🎉
Behind on your package route? Circuit gives you instant estimated arrival times for every stop. Circuit Route Planner can replan your route to avoid traffic and delays, so your arrival times are always optimized and up-to-date.


Circuit uses advanced technology that combines your current traffic conditions with the most up to date map data to plan and optimize your fastest and shortest routes.

Tell Circuit where and when to start your delivery route, add the list of stops you need to make, and Circuit handles the rest. It'll decide the best stop order that avoids traffic and prevents backtracking, so you'll finish your delivery route as fast as possible.

Solve all your potential routing problems with the Circuit app. It gives estimated arrival times for your planned route. If you're behind schedule, Circuit can reoptimize the remainder of your course to avoid traffic and delays, so your arrival times are constantly optimized and up to date.

Have any questions about Circuit?
*Learn more: https://support.getcircuit.com
*If you have any problems with the routing app contact us at [email protected]
Follow us for more:
"Facebook: https://www.facebook.com/CircuitRouting
*YouTube: https://www.youtube.com/channel/UC6v_QIxPgubVuqTBkKWAlgQ

Terms of Service: https://getcircuit.com/terms.html
Privacy Policy: https://getcircuit.com/privacy.html
Sours: https://play.google.com/
Top 3 Apps For Delivery Drivers
The 10 Best Multi-Stop Route Planner Apps
Is your outside sales or logistics team suffering from the struggles of a typical day in the field? A combination of bad planning, painfully slow routes, and poor time management? Or is it bad traffic and route building that's bogging your team down?
Inefficiency is a common problem with a common consequence: high costs and low sales.
The solution you're looking for is a multi-stop route planner — a tool that will make your team's day easier, more efficient and greatly increase their opportunities to sell.
A multi-stop route planner is a tool that allows you to plot the most efficient route between multiple destinations. Software such as sales route planners or delivery route planner apps have changed the way that sales and delivery professionals travel and work.
The most popular route planner in the world is Google Maps. It's reliable, easy to use — and free. But while it works great for casual traveling and road trips, the Google Maps route planner does not always meet the specific and evolving needs of professionals like salespeople and delivery drivers.
When using Google Maps, multiple stops can be difficult to string into larger routes. Google Maps also lacks many of the features that make selling and delivery easier, such as ability to save routes, customer information tracking, and visualization features to easily spot your high-priority customers on the map of your territory.
With the Google Maps route planner, multiple stops might prove too difficult for the average user to learn to plot. That's why it's important to find the right, easy-to-use multi-stop route planner for the specific needs of your business.
How to choose the right route planner for yourself
So how do you know which route planner is best for your needs? The answer depends on your own industry and goals.
According to a recent study, sales reps spend only a third of their time actually selling. The other 70% of their time is spent doing other tasks like driving, planning, or administrative duties.
In the logistics industry, 90% of shippers think data-driven decision making is crucial to supply chain activities, especially now that route optimization and inventory management tools have increased the volume of usable data.
Getting reps in front of the right customers at the right time is the key to field sales. Maximizing successful deliveries is the key to logistics. No matter your industry, the right tools will help your team achieve their goals.
Can you imagine a route planner for multiple or even unlimited addresses that uses real-time traffic data and GPS to build the most efficient route? How about one that also prospects, syncs with your CRM, and visually filters leads to find the best opportunities? Good news! The app you've been looking for actually exists.
The ideal route planner app for multiple stops will not only build the most efficient route for your team, it will be easy to implement, and host a slew of useful tools for your sales or delivery team.

Below is a list of the 10 best multi-stop route planners currently available on the market.
1. Badger Maps
Price: $49/month Business, $95/month Enterprise (Free 7-day trial)
Available on: Mac, PC, iOS, Android
Most Useful for: Big and small fleets
Badger Maps is the best route planner for field sales. It's the most downloaded multi-stop route planner app on the App Store, available for both iPhone and Android. It uses real-time traffic to plot the fastest route to your team's sales meetings, giving you driving directions for multiple stops, and seamlessly integrates with many CRMs, removing unnecessary admin work for sales reps.
Features
Badger Maps is a powerful multi-stop route planner that provides highly useful, refined tools for field sales reps.
They will get the fastest route to meetings using the built-in Optimize Route feature. It analyzes real-time traffic and distances to give reps the most efficient route possible, and provides turn-by-turn directions with your favorite GPS.
To target specific customers, users can either choose from their accounts, or use the Lasso tool. Lasso allows users to draw a line around select pins on a map, quickly building routes around their best opportunities.
Color Filters present customers and prospects as colored pins on the map, according to criteria set by you, such as Days Since Last Check In, Sales YTD, or any custom filter of your choice.
Tools for the Road
Reps can add or remove stops on-the-fly, perfect for lunch breaks, gas-ups and unexpected cancelations. Their routes will stay streamlined, in order, and optimized for efficiency. With the Places feature, reps can find new leads by plugging keywords relevant to their industry into the search bar. This reveals local listings as pins on the map, which reps can then select, add them to their route, or add them to their accounts for later.
Badger also has an in-app calendar. Reps can upload existing appointments and add new ones on-the-go to make sure they're always on time for their meetings.
When their most time-consuming tasks are automated, reps can focus on what matters the most - Selling.
Badger Maps also syncs seamlessly with multiple CRMs, keeping all your important customer information in one place.
Check-Ins record field data in real time, allowing sales managers to see the data they need to improve accountability, and create strategies that boost sales.
Sales ops and managers will also love how easy onboarding is when pre-existing routes and customer data is stored conveniently under Accounts.
Results
Badger Maps is the best route planner for sales teams, with the selling capabilities of a prospecting tool, and a CRM.
With optimized routes and seamless planning, Badger reduces sales reps' average drive times by 20%, freeing up an average of 8 hours a week. Teams also report an average of 10 additional meetings per week, made possible by their newly found free time.
Brad Moxley, Business Development Manager at Cutter & Buck, reported that, "After getting Badger Maps, weekly meetings per rep jumped from 12 to 20. This led to a 22% increase in annual revenue." And this isn't the only success story, in fact, sales teams regularly sell 20-25% more with Badger Maps.
"Each rep is seeing at least 2 more accounts and finding 2 more prospecting opportunities per day," according to Brandon Arsenault of Kerr. The ability to find new leads on the road encourages reps to prospect in their free time.
Badger starts at $49/month per user for the Business plan, and $95/month per user for the Enterprise plan, aimed at larger companies requiring additional features and more personal technical support.
Badger Maps allows sales teams to be in front of the right prospects at the right time. Head here to start your free trial today.
2. RouteSavvy
Price: $300/year for up to 3 users, $100/user/year for additional users (Free 14-day trial)
Available on: iOS, Android
Most useful for: Small to mid-sized fleets

RouteSavvy is a multi-stop delivery route planner. The software is geared more towards delivery drivers than sales reps, but it does list "Individual Professionals" as some of their existing customers. Their ideal customers are small to medium-sized businesses with delivery fleets.
On their website they offer a huge list of industries that may benefit from their services, including Dog Walking, Law Enforcement, Airport Shuttles and even Septic Tank Cleaning.
Features
RouteSavvy's features allow drivers to plug in multiple addresses, organize them, and generate efficient routes for their service calls, pick-ups, and deliveries.
They do this in one of two ways: roundtrip, or start-to-finish routes, depending on what works best for your business' needs. It can also show multiple routes on the screen at the same time, allowing managers and drivers to visualize their territory.
Another useful feature for drivers is turn-by-turn navigation, available on their mobile device through the app, or downloaded and printed as directions, if preferred.
If you're a manager looking for a multi-stop delivery route planner to track your fleet, RouteSavvy also features a new GPS tracking system at a fraction of the cost of traditional hardware tracking systems. This allows management to track driver's progress based on their cell phone's location (which can be turned off during off-hours).
Information can be tracked, stored, and exported to Microsoft Excel for record keeping.
Results
Testimonials on their site claim massive reductions in route planning, drive time, and expenditures for delivery fleets. RouteSavvy claims big savings on gasoline and labor costs, and big improvements in profitability with an immediate impact on ROI.
RouteSavvy highlights it's affordability over other more traditional delivery route planners in the industry. RouteSavvy comes in at $300/year for teams of 3, equaling just $8 per person. For teams larger than 3, the price increases at an additional $100 per user. But if you're a small to medium-sized businesses looking for a multi-stop delivery route planner, this is a good option!
Back to Top ↑
3. MapQuest
Price: Free
Available on: iOS, Android
Most useful for: Simple routing, business location
Sometimes the best option is the one that started it all. MapQuest has been one of the most reliable and popular mapping resources since 1996. Free software made for users of all skill levels, you can never go wrong with using MapQuest for your more simple mapping needs.
As the first commercial web mapping service, MapQuest changed the ways in which a map could be used in both personal and professional travel. It was a pioneer in the industry and helped create the blueprint for all other mapping softwares that followed it.
For simple driving directions MapQuest can't be beaten.
Features
A mapping tool known for its simplicity, MapQuest can be used to create routes as well as locate destinations such as gas stations, restaurants, and grocery stores.
Some other features of MapQuest include point-of-interest search, voice-guided navigation, real-time traffic updates, and even hotel booking options.
These days MapQuest's features are all standard, as they originated the concept of online maps. They've stuck relatively close to the original concept, and as such they have not quite evolved with the market as many would expect.
The fact that it's free, however, makes using its mapping software well worth it if it works for your purposes.
Results
Times have changed — but MapQuest hasn't changed much with them.
When using MapQuest for multiple stops, you can encounter some problems, as it's limited in the number of stops that can be plugged in for routes. Delivery drivers might find plotting multiple stops to be a frustrating process, as MapQuest is not designed to be used by outside salespeople or delivery services.
If your company is working with a limited budget, MapQuest could be used for more simple route planning. But for those working with a larger, more complicated operation, it might not be a feasible option.
However, if what you need is a free, easy-to-use delivery route mapper for simple jobs, using the MapQuest route planner is an option that could be a great fit for the routing demands of your business.
Back to Top ↑
4. Speedy Route
Price: $10/day or $50/month
Available on: Website
Most useful for: Delivery, timeboxing, simple interface
Speedy Route is one of the great routing programs for delivery, designed specifically for delivery drivers and sales people on the road. Featuring a relatively simple interface, Speedy Route is a great resource for those who like their route planners without the distracting bells and whistles.
Features
Speedy Route re-orders any destinations entered by its users into the most efficient order, optimizing the route quickly and easily. Based in Europe but used globally, Speedy Route is a dependable and popular app featuring a clean user interface that is easy to learn and use.
Useful features such as timeboxing also help to ensure you reach important destinations by pre-set times, and drag & drop location re-ordering gives you control over your route, allowing you to design the best route for your needs.
To top it all off, Speedy Route is free if you're only plugging in 10 stops or less. Any more stops than that requires a paid subscription, which is relatively affordable.
Results
Aesthetically, Speedy Route's interface comes across as a bit dated compared to other more modern, visually dynamic apps. It's also only available to use on the Speedy Route website, which can create limitations in regards to mobility and accessibility compared to route planner apps on a phone or device.
If you can look past the visual limitations, Speedy Route's features are as helpful as any other route planner in getting delivery drivers where they need to be in a quick and responsible manner.
In fact, those who are more comfortable working with traditional maps enjoy Speedy Route's simpler, gimmick-free approach to mapping.
Sometimes, the simpler the route planner is, the better it is for certain users. Spend less time learning how your route planner works, and spend more time actually using it.
With Speedy Route, you can forgo the distracting visual flair of other modern multi-stop route planners to focus more on getting your deliveries to their destinations on time and in a safe manner.
Back to Top ↑
5. OptimoRoute
Price: Starts at $17.10 per driver (Free 30 day trial)
Available on: iOS, Android
Most useful for: Businesses, mobile workforces
OptimoRoute describes its mission as "Organizing the mobile workforce." It is an efficient route planner servicing many industries, from outbound logistics for small to large sized delivery fleets, to field sales, to waste collection. Their website lists many other industries who could benefit from their service.

Like other multi-stop route planners on this list, OptimoRoute's primary function is planning and optimizing routes via software, accessible via smartphone, tablet, and computer.
Features
OptimoRoute's website boasts 50+ features on one app.
They offer tracking and ETA of deliveries by calculating the progress of completions and local traffic. You can also send customers personal messages regarding delivery times to keep them up to date.
Routes can be changed on-the-fly and updated automatically to account for last minute deliveries, cancelled deliveries, and sick drivers.
OptimoRoute allows users to plan routes for multiple days, weeks in advance. This is particularly important for long haul drivers covering huge distances, who want to wake up and pick up where they left off.
Route optimization accounts for drivers' allowed working hours to prevent overtime and unnecessary costs.
Vehicle Specifics keeps tracks of a vehicles capacity and features, like refrigeration and onramps, to ensure the right truck for the right delivery.
Management will appreciate data recorded automatically from the field. It allows leaders to identify both high and low performing members, and make adjustments as necessary.
Breadcrumbs compares planned routes to actual routes driven. Team leaders can uncover deviations that may need to be addressed for performance issues.
Unique to OptimoRoute is a feature called Workload Balance. It analyzes drivers existing working hours, or workload, and distributes new orders accordingly. Workload Balance can also distribute orders based solely on the number of drivers necessary, or by equal distribution across the entire fleet.
Results
OptimoRoute's customers report large reductions in mileage, and increased delivery capacity. Others claim decreases in planning time, with improvements in both efficiency and business growth.
OptimoRoute's features are certainly specific to delivery drivers and their customer testimonials are entirely from the logistics and field service industries. So if you are looking for a multi-stop delivery route planner for your fleet, OptimoRoute might have the industry specific focus you're looking for.
Back to Top ↑
6. OnFleet
Price: Starts at $149/month (Free 14-day trial)
Available on: iOS, Android
Most useful for: Fleet management
If your company specializes in delivering goods for industries such as food and beverage, retail, e-commerce, or pharmacy, OnFleet is another solid option for your route optimization needs.
Features
OnFleet is an end-to-end route planning, dispatch, communication and analytics platform tailor-made for fleet management. It is designed to handle the complicated logistics of overseeing a fleet's operations, and does so with a clean, professional user interface.
Using its integrated route optimization engine, routes are generated taking real-time traffic incidents into account. Updates can also be sent to drivers instantly, making last-minute route changes seamless.
Their auto-dispatch features also allow for reductions in both service time and labor costs by ensuring that the right drivers get the right instructions at the right time.
It also features a good onboarding experience, making adopting OnFleet quick and easy for your whole team. Plus, it integrates with Google Maps, Waze, or Apple Maps.
To top it all off, it has an impressive proof of delivery system, where managers can be reassured each delivery has reached its destination via photographs, barcodes, notes, or signatures.
Results
Companies that depend on OnFleet for orchestrating their deliveries are satisfied with their delivery capacity, finding that this multi-stop route planner fits the bill for many of their fleet needs.
Their on-time rates and customer satisfaction have improved across the board. With OnFleet, it's easier to keep things organized and ensure that a delivery ends up where it's supposed to be on time.
Some drawbacks to OnFleet are that it may prove a bit expensive for smaller companies, as it is targeted to handle large operations. While some of these bigger companies are able to afford OnFleet, companies that are growing might see its price tag and decide to look elsewhere.
If your company needs a top-notch route planner for their continued success, and has the budget to match these needs, OnFleet is a great solution.
Back to Top ↑
7. Circuit
Price: Starts at $19.99/month (Free 7-day trial)
Available on: iOS, Android
Most useful for: Courier companies, retail businesses
Circuitis another multi-stop delivery route planner, and has some of the top clients in the delivery industry like FedEx, DHL, USPS, and Amazon. They claim to have 6,000 drivers, and 3 million deliveries a month.
Features
Like other apps on this list, they offer optimized routes, however Circuit also predicts traffic flows, and continues to automatically optimize routes throughout the day-a very useful feature for delivery drivers. It also creates accurate ETAs based on a driver's history, taking into consideration previous deliveries and drive times.
Users can label stopsand pickups as a priority, or as time sensitive, to keep deliveries on time, customers satisfied, and managers happy.
Managers can track their drivers throughout the day using the real-time tracking feature. It doesn't use GPS tracking, but will still allow managers to keep tabs on their drivers based on where they've been. They can also view multiple driver's at the same time.
Manifest, route order, instructions, and navigation are all available on the app, eliminating the need for additional tools. And while it doesn't offer turn-by-turn directions, it does sync with multiple GPS platforms, including Google Maps, Waze, and others.
Circuit's API is also surprisingly hip, and user friendly. While the aesthetic may go unnoticed by most users, they certainly won't mind the simple layout, clean lines, and soft colors.
Results
Circuit doesn't share any customer stories on their website, but they do claim a universal reduction of an hour in driving time for their users. They also suggest setup requires meer minutes, and promise hours of saved time down the road.
Basic Circuit starts at $20/month per driver, which includes unified billing, route optimization and unlimited stops. Management will probably prefer their Dispatch version, at $60/month per driver, but features live tracking, parcel distribution, and the desktop app, in addition to the Basic features.
If your delivery company can get by with a basic, easy-to-use multi-stop delivery route planner app, Circuit might be a great choice-and won't break the bank.
Back to Top ↑
8. BatchGeo
Price: $99/month
Available on: iOS, Android
Most useful for: Sales mapping, geographic data analysis
BatchGeo is a mapping software than can be used as a multi-stop route planner for a variety of industries.
Unlike the other apps on this list, BatchGeo doesn't offer industry-specific tools, or route optimization. It's strength lies in the ability to plot routes around many coordinates from any spreadsheet, easily uploaded via it's website. The end result is a static digital map, very similar to a physical map, but available through your tablet or smartphone.
Features
While BatchGeo doesn't provide turn-by-turn directions, it will work with an existing GPS on your smartphone to track your location. If your phone or tablet loses service, it will still make an accurate guess as to your exact location.
It allows users to filter stops based on data uploaded as additional fields in the spreadsheet. This can be valuable to delivery drivers, or independent services who want to build routes based on specific priorities.
Maps can be emailed to anyone, meaning managers can dispatch routes from home base, and drivers can share routes between themselves. The process isn't as convenient as many of the other apps on this list, but the capability is there nonetheless. Users can also create multiple maps and store them on their device for future use.
Along with filters, BatchGeo offers different colored markers to provide a visual cue for different stops or territories. Clicking or tapping on the marker reveals data about the stop, such as sales figures, delivery information, or any other data relevant to the industry.
Intelligent clusters are another useful graphic for at-a-glance data analysis. These clusters present data as a pie chart over locations on a map, giving managers a snapshot of figures in various territories.
Results
BatchGeo does not provide customer case studies or success stories on their website.
The BatchGeo app is certainly not the most feature heavy tool on this list. As a multi-stop route planner, it can be used by many industries, but it lacks the optimization, turn-by-turn directions, local traffic analysis, and all around flexibility that most professionals desire.
Its main advantage is its cost. Basic BatchGeo is free. But the basic version won't provide much more than a traditional physical map would. To upgrade to BatchGeo Pro will cost users $99/month, and while it comes with more features, it also costs nearly twice as much as most of the alternative apps to BatchGeo on this list.
BatchGeo is best suited for businesses or individuals who need a colorful, informative map for their website or project. It can provide useful static infographics for free, but for industries such as field sales, delivery services, and logistics, other solutions will likely be more functional than any route planner for multiple stops that's free online.
Back to Top ↑
9. My Route Online
Price: Starts at $29.95
Available on: Website
Most useful for: Logistics, trucking
Dependable and featuring a simple user interface, MyRoute is a great option for truck drivers in need of a basic all-in-one solution for their multi-stop route planner needs. One of the most popular tools in professional transportation, MyRoute has been used to plan over 5 million routes.
Features
Tailored to serve truck drivers and delivery people who need a route planner that can plug in multiple stops, MyRoute helps with the everyday logistics of delivering and selling on the road.
MyRoute allows users to map upwards of 350 stops per route, optimizing routes either by distance or by time. By allowing for so many stops, MyRoute is the go-to route planner for those who have a lengthy list of customers and destinations along their routes.
Upon exporting a list of addresses to the user's GPS system or mobile device of choice, there's no longer any need to worry about juggling multiple stops — all of their destinations are laid out in the most efficient order.
Results
MyRoute is a valuable resource for truck drivers and delivery people looking to save time along their routes without paying much for the service.
There are limitations to MyRoute, however. It is entirely web-based, meaning there is no app to use on your phone or device of choice. This makes MyRoute not quite as mobile-friendly as is often required by the job, and can result in some issues with accessibility.
Some may also find the interface a bit too simple and old-fashioned, as it does not compare visually to some of the newer route planner apps that are more dynamic and advanced for the modern trucking professional.
Their customers remain happy, however, and this proves that MyRoute is a great option for truck drivers who embrace its simplicity and appreciate it's reliability.
For truckers and delivery people who are looking for an easy platform with which to plan their routes, MyRoute is a fantastic choice.
Back to Top ↑
10. Routific
Routific is another multi-stop delivery route planner app.
It specializes in planning and optimizing routes for delivery drivers. It definitely doesn't have the features key to a sales team, but if you have a courier or delivery fleet, this is an alternative to RouteSavvy.
Routific reduces clutter for your fleet by doing away with multiple tools like a GPS, physical map, and planner.
Features
It has an easy-to-use API, and features beyond planning and optimization designed specifically for delivery teams. Management can download routes prior to dispatch, or send them directly to driver's phones via their app while on-the-go.
It has a notification feature that allows drivers to inform customers of the ETA, or completion of their delivery. They can even provide a custom message for their customers regarding their drop-off.
Management will find the driver tracking feature very useful. It tracks drivers on a map based on their completions. It doesn't track their physical location via GPS, but it does provide ETAs for future stops. It also allows management to view and track multiple
at once on the same map, with a corresponding bar graph to provide an accurate view of both the territory and estimated route completion.
Every delivery service needs a signature capture for proof of delivery. Routific has one built in to the app to improve accountability.
If traffic gets heavy, or stops change unexpectedly, you can change driver's routes on-the-fly, optimize them for efficiency, and dispatch the route from home base. Data is captured within the app such as missed deliveries and completions. This gives team leaders the information they need to create more successful routes over time.
One of the best things about Routific's route optimization is that it accounts for factors specific to delivery fleets, like time windows, vehicle capacities, delivery types, driver speeds, priority stops, driver shift times and driver breaks. More accurate optimization means more accurate ETAs, completions, and happier drivers.
Results
Routific's customers boast results like significant drops in net operating costs and driving times, precise delivery windows, and lowered fuel expenditures.
As for pricing, Routific starts at $39/month per vehicle for their Essentials service, or $59/month per vehicle for their Professional service with added features. They also offer a Premium service for teams who require custom support and additional features. That service requires a custom quote from one of Routific's sales reps.
As far as a multiple route planner for delivery goes, it's a step above RouteSavvy with regards to features and overall API aesthetic. If your delivery or courier service requires some of these more plush features, Routific is a great option!
Back to Top ↑
Conclusion
The best multi-stop planner app depends on the unique characteristics of your team and what you want to accomplish. The apps above have features that naturally cater to specific industries. Hopefully this list will help you find the app that's perfect for you.
MORE QUESTIONS ABOUT DELIVERY ROUTE PLANNERS
Can Google Maps do multiple stops?
You can route up to 10 stops at a time with Google Maps. There are workarounds that allow you to plug in more stops, but many find it easier to use a different multi-stop route planner that is better suited to their needs, such as Badger Maps or OnFleet.
What is the best route for multiple destinations?
The answer depends on the types of routes you need to plan. There are many factors to consider, including route optimization, user interface, and features that solve specific problems that you experience along your routes. For field sales, Badger Maps is your best bet.
Can I add more than 10 destinations on Google Maps?
Google Maps is designed to only have 10 or fewer destinations along each route. There are workarounds to this, but if you need more than 10 stops within your routes, it might be a good idea to look elsewhere to find route planner apps more specific to your needs.
What is the best route planner app?
It depends on what features matter most to you in a route planner app — it could be visualization features, ability to keep customer information handy at all times, and check-in and follow-up enablement. For sales professionals on the road, the best all-in-one tool route planner is Badger Maps.
How do I map out multiple stops?
The best way to map out multiple stops is to use the right multi-stop route planner. There are many different route planners out there, each of them offering different features that can prove helpful, depending on your needs. Here are some options for you to consider.

Back to Top ↑
Sours: https://www.badgermapping.com/blog/multi-stop-route-planner/
Now discussing: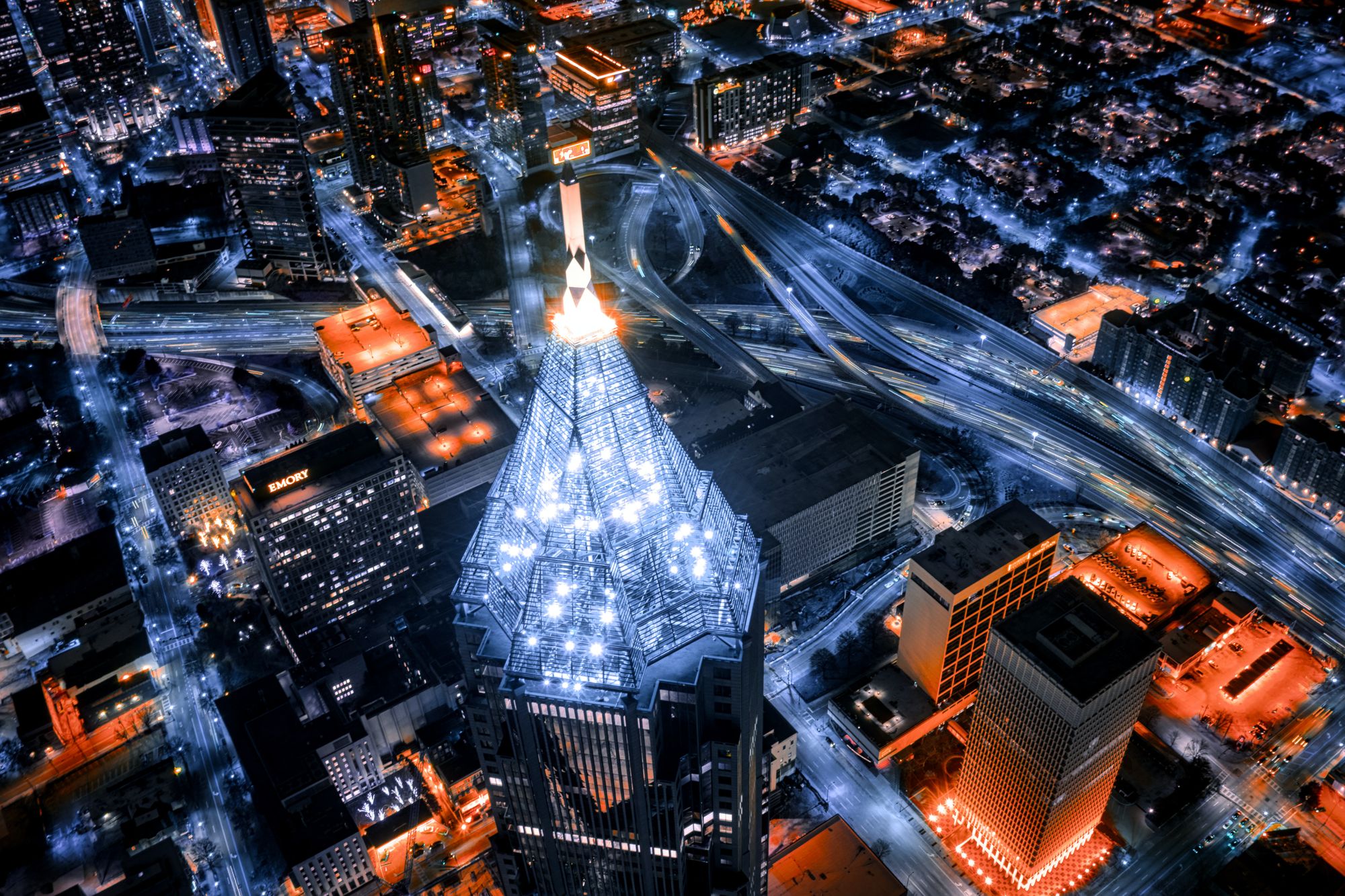 Looking for the best route planning app for your delivery drivers? Read on.
No matter how many stops along your route, all delivery businesses can reap major benefits from a delivery route planner app.  After all, the more optimized your route, the more efficient it'll be—meaning the less time your drivers spend on the road, and the more cost-effective your overall operations will be.
But there are a lot of options out there. Just which delivery route planner is right for your business? Which factors should be at the forefront of your decision-making process when shopping around?
In this post, we're going to help you answer these questions so you can determine your next stop (pun intended).
Keep reading to learn:
What a delivery route planner is
Key features to look for in a delivery route planner app
The 5 best routing apps for delivery drivers
---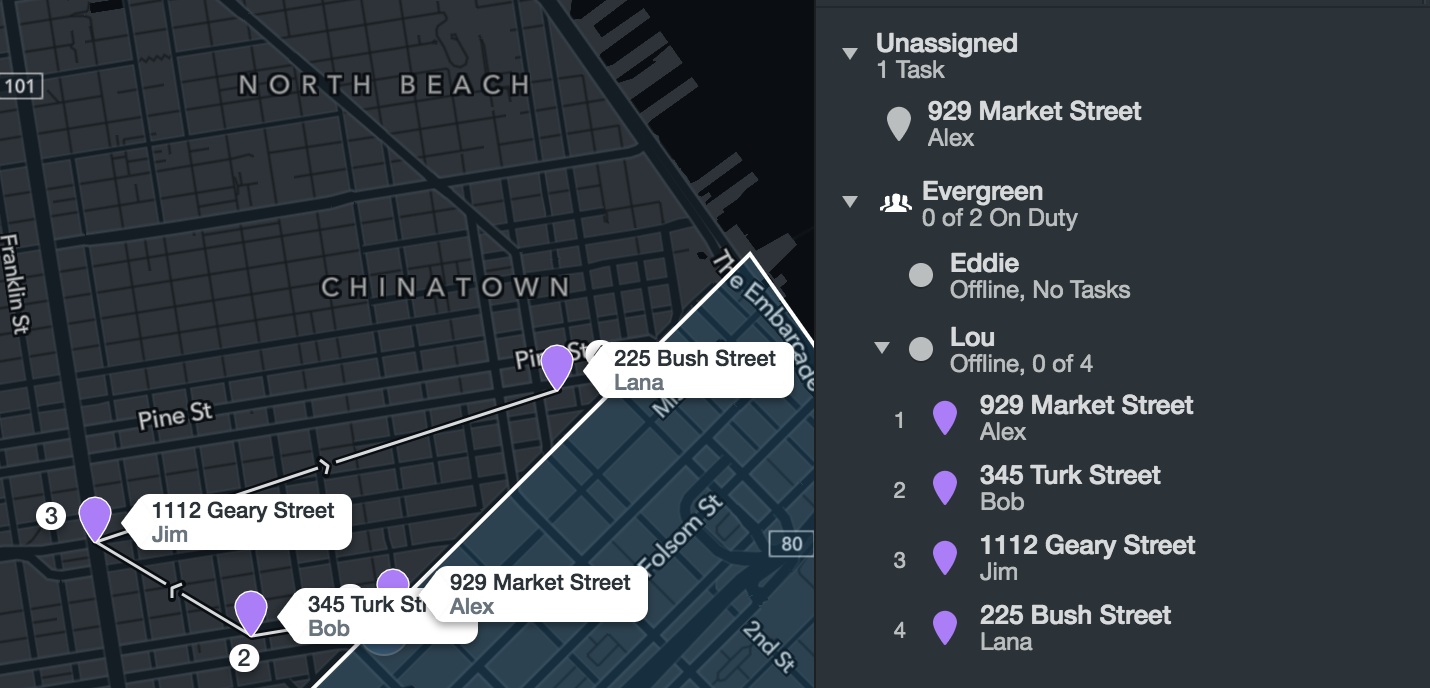 What is a Delivery Route Planner?
A delivery route planner is a software that schedules stops for fleets delivering goods and services. In addition to scheduling, a delivery route planner might also offer features like real-time route optimization, GPS tracking, and on-demand dispatch.
A delivery route planner helps businesses operate more precisely by creating more efficient routes. Many also include machine learning and capture feedback that can be used to make enhancements to the overall delivery process, like improving the driver and/or customer experience.
---
Key Features to Look for in a Delivery Route Planning App
You want to know your business will see the return on investment both in terms of money and time that you spend on whatever platform you end up going with. This pressure can make shopping around a stressful experience, especially when you don't know where to start.  
We hear you. That's why, to help get you started, we've listed the key capabilities that you should look out for when you're weighing out your options:
Route optimization
Driver tracking
Delivery status
Customer communications
Proof of delivery
---
Route optimization
Hands down, the most important thing that you can have in a delivery route planning app is route optimization capabilities. This means that your software can optimize your multi-stop, multi-driver routes in the most efficient way possible.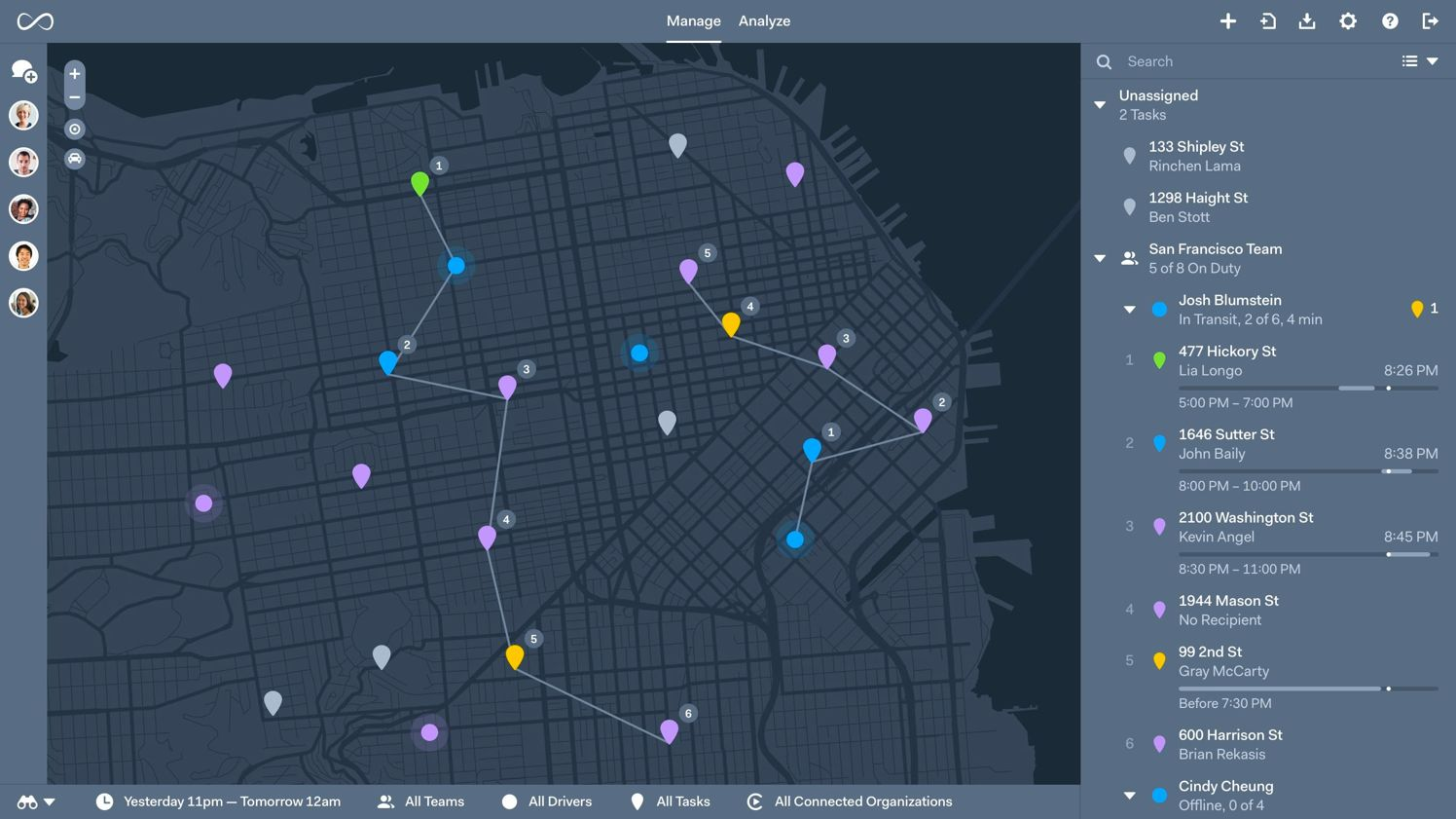 Driver tracking
Driver tracking is another important tool that benefits not only your business but also your customers when you extend this visibility to them. It lets you see where your drivers are at any given time and, in parallel, your customers can see where their parcel is resulting in positive experiences all around.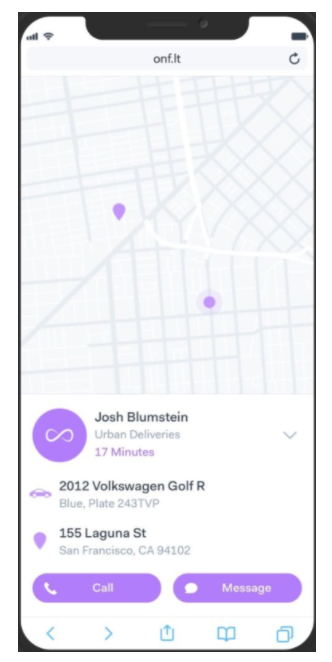 Delivery status
Designated delivery route planning software helps you plan routes that factor in constraints such as vehicle size, capacity, and delivery time windows into your routes to ensure everything is captured and prioritized accurately.
Customer communications
We touched on how driver tracking helps create a positive customer experience as it provides visibility into the status and location of their parcel. Look for a route planner that facilitates this communication, updating customers on the estimated arrival time of their delivery either through email or text.
Some apps (including Onfleet) even allow two-way communication between customer and driver.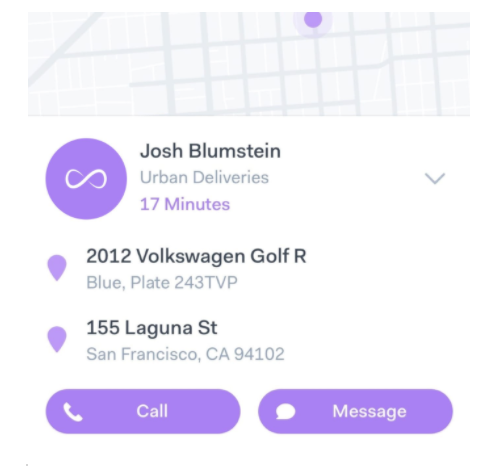 Proof of delivery
Last but certainly not least, you want an app that allows drivers to collect proof of delivery. Proof of delivery usually involves a driver taking a photo of the parcel and where it was left for the recipient (e.g. at their doorstep) and/or collecting their signature.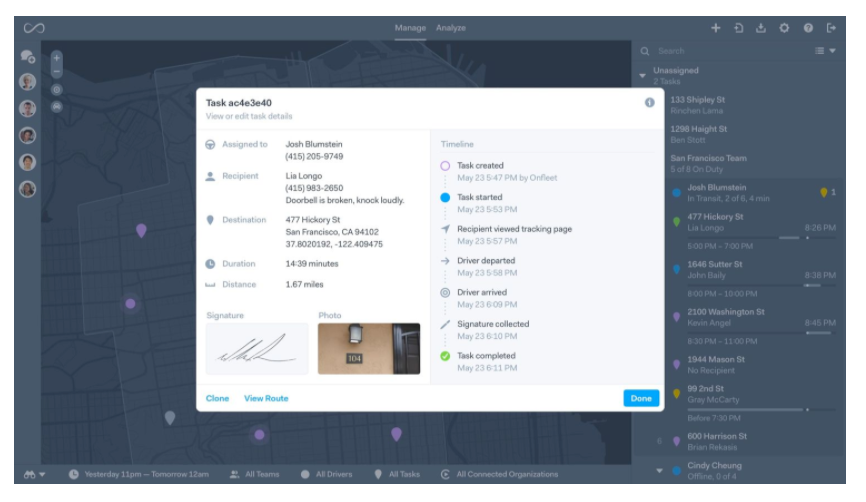 Proof of delivery is another example of a feature that benefits both your business and the customer. It protects your business by recording the specifics regarding a delivery and a way to backtrack if problems arise. It benefits the customer because they can validate that their item was delivered successfully, even when they're not home.
---
5 Best Routing Apps for Delivery Drivers in 2021
Here, we're going to look at 5 different delivery routing apps to see how they help businesses in the delivery space and help you make a decision on which one is best for your own business.
1. Onfleet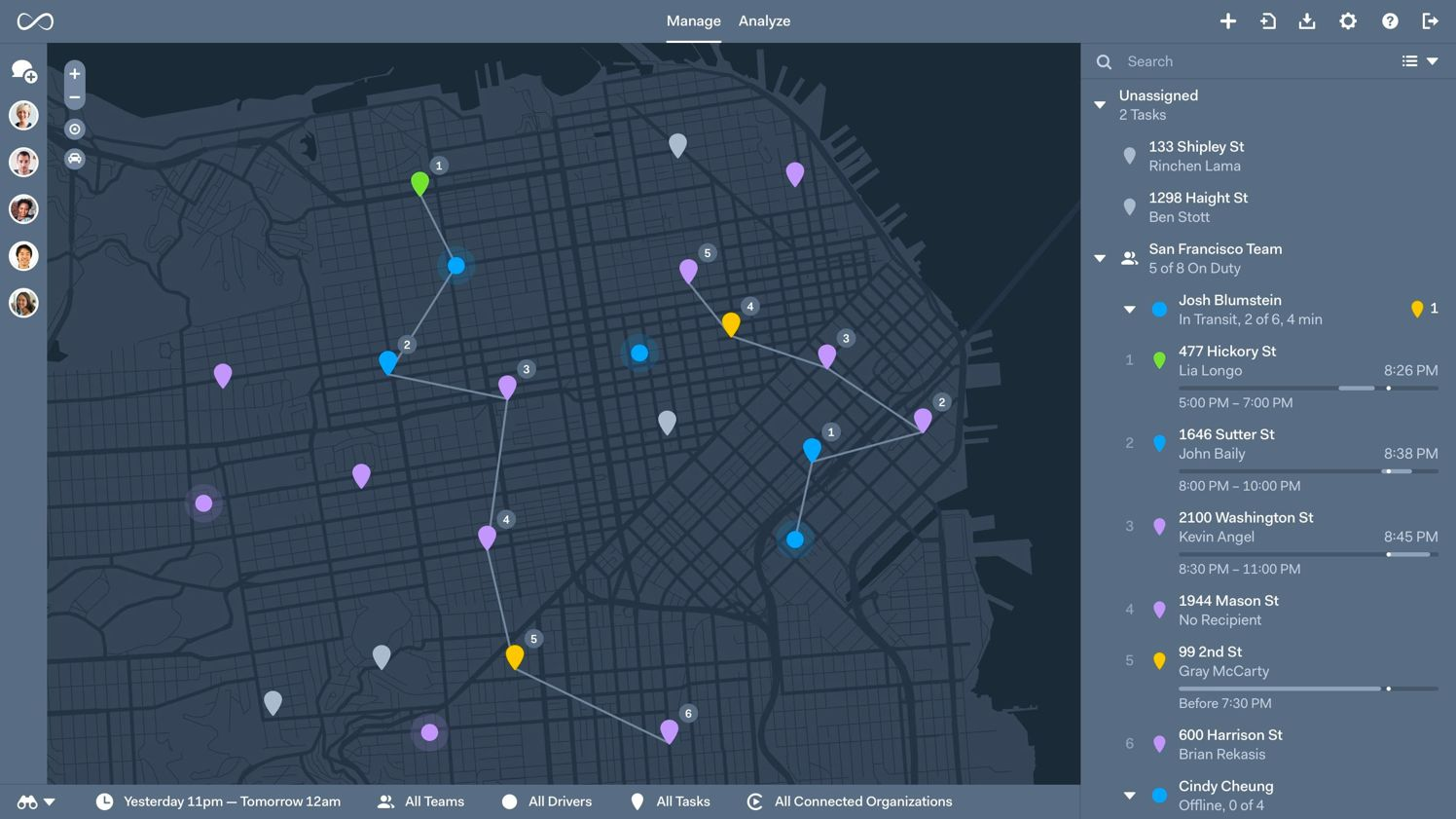 Onfleet is the trusted last mile delivery solution for companies across dozens of industries including food and beverage, retail, grocery, construction, pharmacy, and more.
Of all the last mile delivery platforms, Onfleet has the most advanced route planning feature set, promising leaner operations, smarter decisions, and a delightful customer experience.
One thing that sets Onfleet apart from competitors is the ability to create individual driver profiles, each with their own start and end location and shift schedules as well as their vehicle capacity. This is crucial for larger, multi-driver fleets as well as smaller businesses looking for a scalable solution that can grow with them.
Once your driver details are in, Onfleet will optimize your routes so you can dispatch your drivers. Drivers will have access to the Onfleet app on their mobile device while you can track their progress from the web dashboard.
Pricing: The basic plan starts at $349/month and supports unlimited users and unlimited drivers. Take Onfleet for a spin with a 14-day free trial.
Key route planning features:

Route optimization
Onfleet's integrated route optimization engine considers time, location, capacity, and traffic to produce the most efficient routing solutions. If you need to make a change or re-optimize, updates are sent automatically to your drivers in real-time.
Predictive ETAs
Onfleet lets you identify potential problems before they have a chance to happen with predictive arrival times and real-time alerts powered by machine learning.
GPS tracking
You and your customers can have visibility into live driver locations with accurate ETAs in a beautiful, branded, and responsive web tracking experience.
Automatic status updates
Let customers know when a delivery has started, when it should be expected, and when it's arriving with automatic SMS notifications.
Proof of delivery
Enforce completion requirements through the in-app collection of photos, signatures, barcodes, and notes. Photos, signatures, and barcodes collected in the field make verifying every delivery a breeze.
Integrated customer communications
Allow customers to call or message their driver, dispatcher, or call center with a single tap. Calls can be anonymized to safeguard customer data.
---
2. RouteXL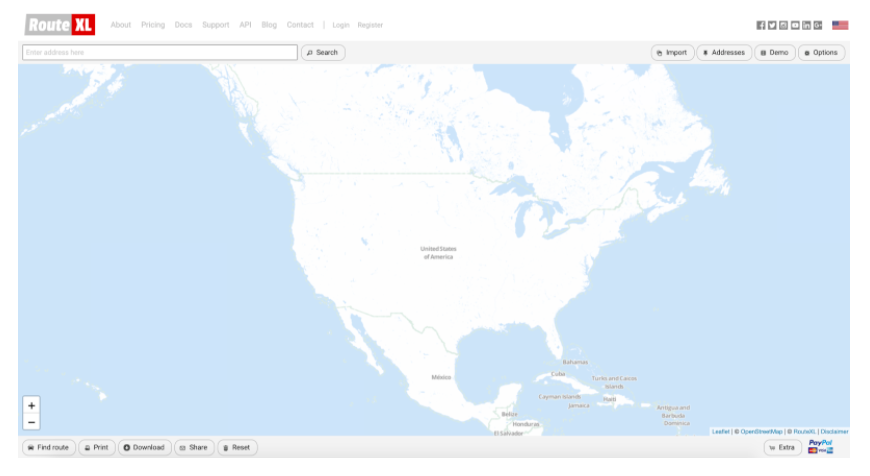 RouteXL is a route planner that works by finding the best multi-stop route for deliveries, pickups, and services. These routes are optimized when generated with the help of smart algorithms that sort addresses to minimize their duration.  
All you need to do is add your departure location and all the destinations that you wish to hit on the map, press the button, and the route will be calculated. You can then email the route to your drivers or print them out.
Unlike some of the other tools on this list, RouteXL doesn't support real-time optimization or automatic updates, so if any changes do happen on the road, your drivers will need to be reactive rather than proactive. There's also no customer updates, mobile app, or proof of delivery features.
Frankly, RouteXL isn't the most robust tool out there, but if you're a smaller single-driver company making less than 20 stops a month looking for a minimalist solution, this free app could be all you need.
Pricing: RouteXL is free to use for up to 20 addresses. To increase to 100 or 200 addresses a month costs €35 or €75 per month, respectively.
Key route planning features:
GPS tracking
Addresses can be imported from a spreadsheet or through copy/paste
Routes can be sent to drivers via email or a hard copy can be printed
WEBFLEET integration allows drivers to load the route directly into their TomTom Pro devices.
---
3. Flightmap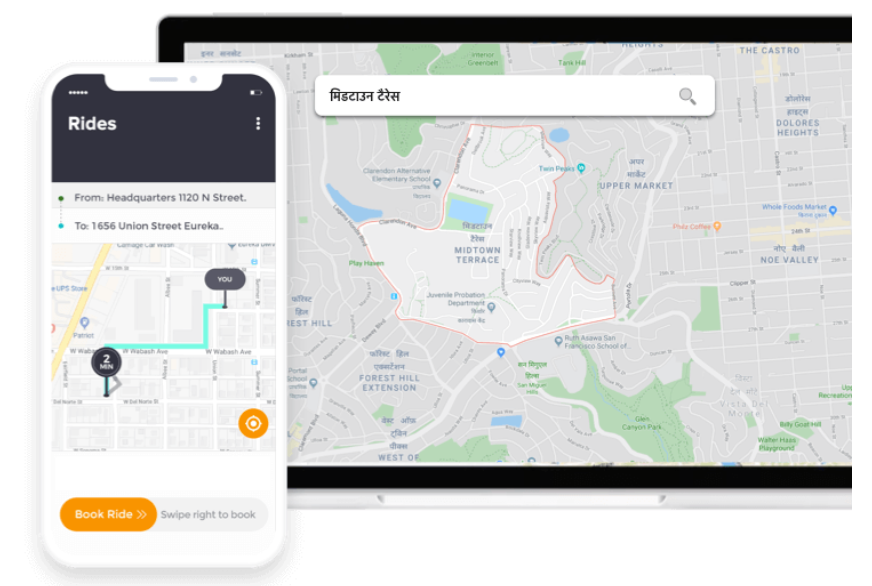 Flightmap is another basic route planning option. It works similar to RouteXL, by generating the shortest possible route based on the addresses inputted and optimization settings such as the maximum tasks per vehicle and trip duration limit.
Unlike RouteXL, however, Flightmap's free plan supports up to 200 stops a month per vehicle for up to two vehicles.  The other main benefit Flightmap has over RouteXL is that it integrates directly with Tookan, a delivery management solution offered by the same parent company. This integration does come at an additional monthly charge, though.
Pricing: Flightmap is free for up to 200 stops per month per vehicle for 2 vehicles. If this isn't enough, you can increase the limits by paying $0.04 per stop or $5/vehicle/month.
Key route planning features:
Optimize your fleet based on vehicle type and its volume, speed, and fuel efficiency—whether it's a bike or a car
Interactive drag-and-drop interface
Share routes with drivers in one click by exporting to a spreadsheet, email attachment, or shareable web URL
Integrates with Tookan, Junglework's delivery management solution
---
4. MapQuest Route Planner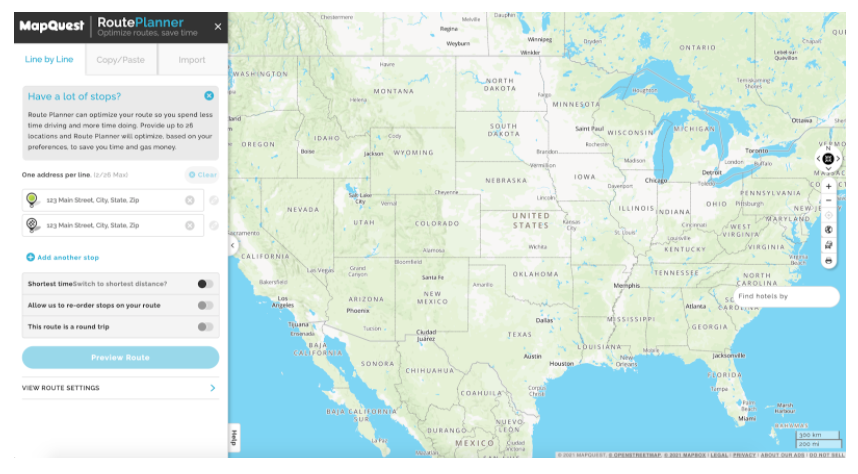 MapQuest is like Google Maps except with a higher limit on the number of addresses you can input. Similar to other options on this list, you can upload addresses through copy/paste or a spreadsheet upload. Your route is then optimized for free and stops will be reordered to make your route as efficient as possible, giving you the option to choose between the shortest time or shortest distance traveled.
What makes MapQuest unique is it has the option to set your route as a round trip, accounting for the time it takes your driver to return to the warehouse. Routes can be sent to your drivers through an SMS link.
The biggest downside to this app is probably the pop-up ads, which can get annoying. Otherwise, MapQuest is a good free option if you only have a single driver and no more than 26 addresses to deliver to.
Pricing: MapQuest is free to use.
Key route planning features:

Option to optimize route based on the shortest time or shortest distance traveled
Option to create a round trip
Ability to import routes from a spreadsheet or through copy/paste
Customize routes to avoid toll roads, highways, ferries, seasonal roads, time-restricted roads, and country borders
---
5. Route4Me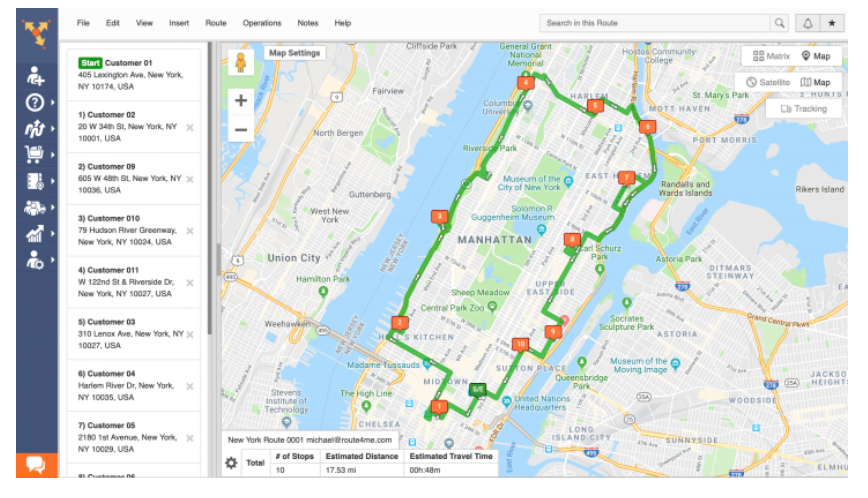 Route4Me is second on this list after Onfleet in terms of customization and add-on capabilities.  It offers route optimization, route monitoring, customer communications, and proof of delivery.
Route4Me's customization support, known as its marketplace catalog, makes it popular among larger delivery operations, particularly in the service tech industry.
A downside to this, however, is some things that come readily available with other programs such as Onfleet come at an additional fee. For example, real-time driver tracking is not included in any of the regular plans.
Like Onfleet, Route4Me can support both single-driver and multi-driver routes. It also lets you optimize your roots with specific constraints in mind,  like avoiding highways and tolls. It also offers GPS tracking and collects driver data,  putting it all front-and-center in a dashboard for you to view predicted travel times vs. actual travel times and whether any deviations were made from the planned route.
Pricing: Route4Me's Route Optimization Plus plan is their tier that offers both route optimization and multi-driver routes and costs $299 per month. Add-on features from the marketplace catalog (like real-time driver tracking) come with additional fees.
Key route planning features:
Promises to reduce the time it takes to plan routes to less than 60 seconds per day
Cross-platform functionality syncs it across your iPhone, iPad, and Android devices
Mobile app offers turn-by-turn directions and works automatically with Google Maps and Waze
Supports route customization for multiple drivers
---
Start Planning Better Delivery Routes Today
You should now have a good idea of which features to look for in your future delivery route planner app, and just how sophisticated of a tool your business needs.
A demo or free trial can be invaluable in the decision-making process. Check out the websites of any of the apps we mentioned in this article to see if they offer one.
Want to see what Onfleet can do for you?
---
Start a free trial or get in touch with our sales team.
Tags: Industry | Product
Sours: https://onfleet.com/blog/delivery-route-planners/
1229
1230
1231
1232
1233