The best Final Cut Pro plugins and creators can be hard to find so I have gathered them in a list here. Let me know if I have missed any websites or anyone out. Would you add anything to the quick notes I made below?
If you do have things to add, or want yourself added to the list, just reply to this TWEET.
Here is the Final Cut Pro plugin list of creators and sellers in alphabetical order:
Alex4D
Alex Gollner has made some awesome plugins that I use regularly. I would definitely recommend checking out his site for some awesome free and premium plugins. You will also find him on FxFactory.
Ben Halsall
I normally make a plugin that is accompanied by some of my introductory Apple Motion tutorials such as my recent Slide-In Titles or Perfect Split-Screen videos. I show how to make the plugins or give you a download link if you don't have the time to make them yourself.
You can check them out on my gumroad page where you will find both free & paid for plugins.
BretFX
Bret Williams is an independent plugin maker with some notable plugins like Power Tools, Text Message 2 and Hang Tags which is great for those Black Friday sales. If you are looking for high quality & creative plugins then this is definitely a good one to check out.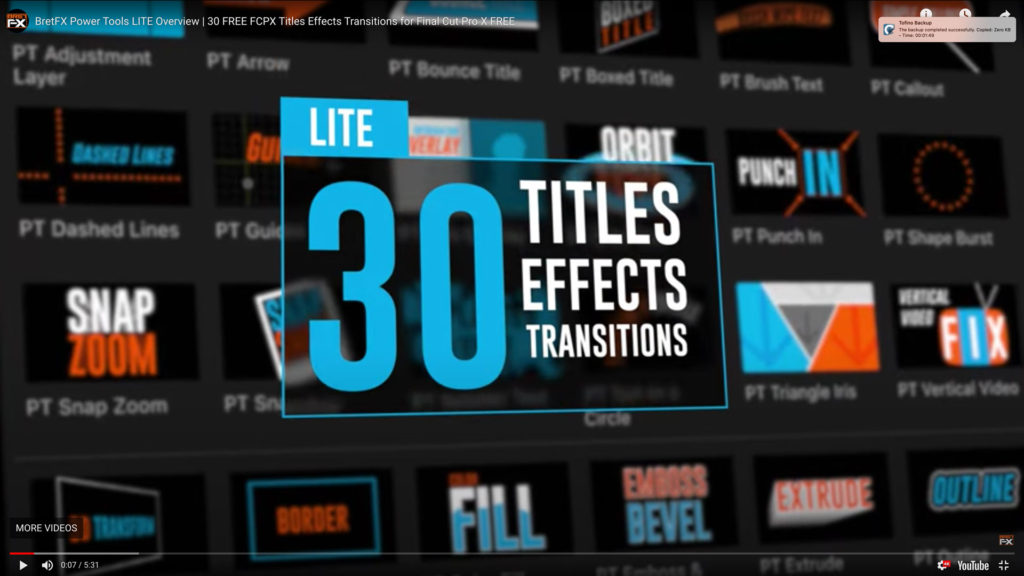 Find the free BretFX Plugins Here
Brooklyn Effects
This site is brand new to me. Looks like they have a nice range of effects and the Manhattan Rain effect is one that catches my eye as one that could be fun to use.
Color Trix Ltd
Color Finale™ is developed by Color Trix, Ltd., a company based in UK. The Color Trix team has a long history of developing systems and solutions for post-production and VFX, as well as supervising color correction and digital intermediate processes as creative talents for numerous feature films.
Coremelt
Digital Products 669
These guys have some fun YouTube packs that are worth checking out. The YouTuber Pack 3.0 has a tonne of logo reveals, lower thirds, transitions and titles. The YouTuber Pack – Comic Edition V2.0 will let your get that super-hero and villain vibe going on your channel!
-DBV-
I haven't used any of Death By VLOG's plugins but here are some free and premium options on their site. Check them out. Let me know if they are good, bad or awesome.
Envato Market (aka Videohive)
A space for indie plugin makers to sell their Final Cut Pro plugins and assets online. There are a wide range of plugin makers here and it is definitely worth a browse of creators like Phantazma and Digital Products 669.
FxFactory
FxFactory is like an "app store" for plugins! The best thing about these plugins is that you can try a watermarked version before you buy them.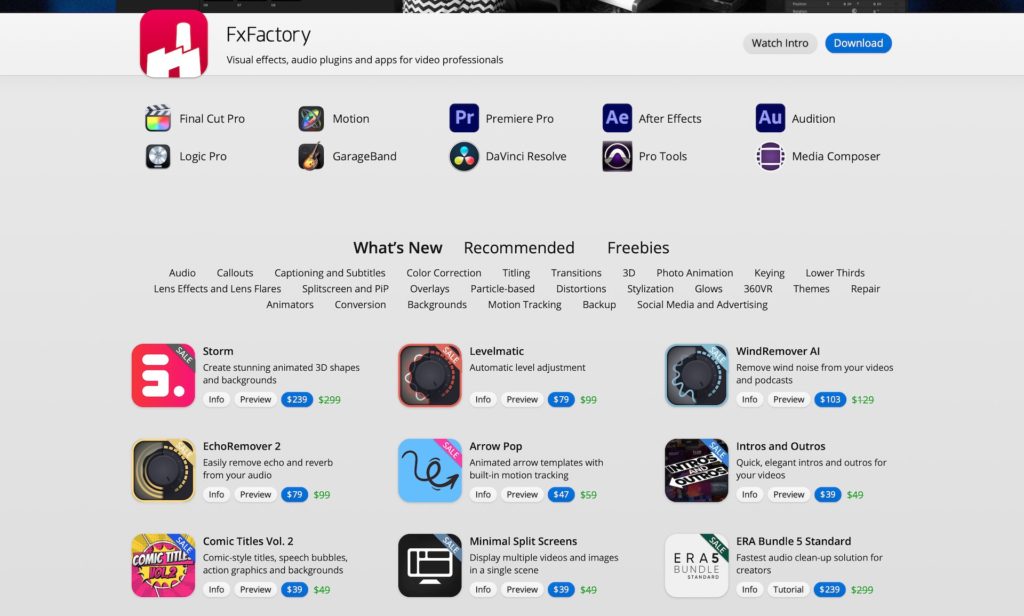 Importantly FxFactory represents some a whole community of independent plugin makers. Some plugins of note are Yanobox Nodes and one of my favourites Cineflare Smooth 3.
idustrialrevolution
Check out the free plugin page on idustrialrevolution's site! They have a tonne of useful plugins on their site and because the majority of their plugins are listed on FxFactory you can try their paid for plugins out for free!
LENOFX
LENOFX are a Brazillian plugin producer developing high-end plugins. I haven't worked with any LenoFX plugins yet but they seem to get some good reviews. I look forward to trying some out in the future.
Motion Master Templates
There are a tonne exciting looking templates available on the Motion Master Templates sites and to get a flavour why not check out the Free Templates to see if the style is a good fit for your projects. Also you know the quality is top notch when other plugin makers have good words to say…
"Deyson has been making templates as long as anyone. Great variety of stuff!!" Bret William of BretFX
MotionVFX
There are some top-quality, high-end templates for all your creative needs in Final Cut Pro X here. The plugins on MotionVFX are well coded and they are a trusted partner of Apple. Definitely worth checking out.
Pixel Film Studios
Ripple Training
Ryan Nangle
StudioPlanet
At first glance StudioPlanet has some good FCPX Bundle packs that may be worth checking out. This is not a plugin provider that I've used but hopefully in the future I will get a chance to use some of their LUT packs and transitions.
Stupid Raisins
There are some really affordable transitions plugins here and although I've not worked with Ryan's creations they look like a lot of fun. He also creates some nice YouTube content to promote his work.
VFX Nut
I have taken a peek at a few of VFX Nuts plugins, and plugin packs and they have a great range of different transitions & title packs that are worth a look.
Final Cut Pro Plugins or Creators – Did I miss any?
If I missed any Final Cut Pro plugin creators from my list then please drop me an e-mail at [email protected] .
Cracked of Free versions of Final Cut Pro or FCP Plugins… Are they worth it?
Installing cracked versions of software may not only be detrimental to the creators of those plugins but it may also harm your system. Cracked or pirated software downloads are a classic way that hackers can plant illicit software on your system.
Get cracked versions of FCP plugins at your own peril!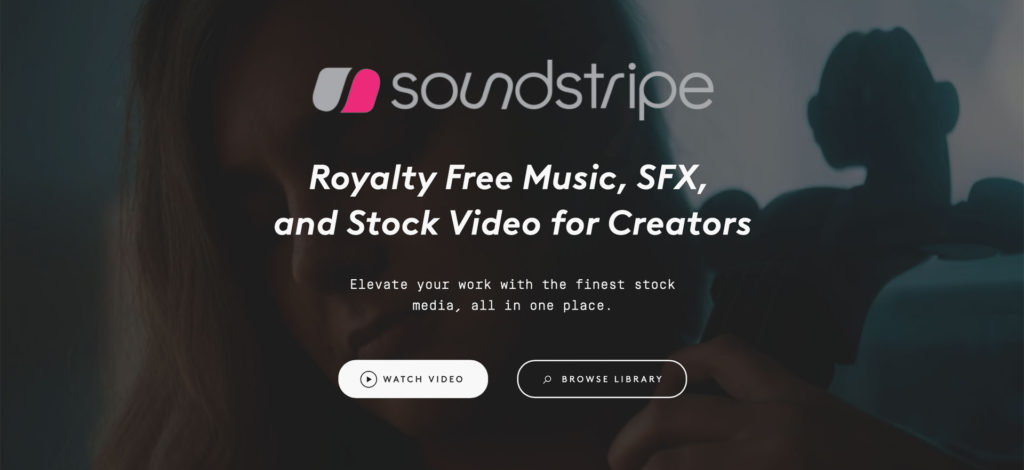 Sours: http://www.benhalsall.com/final-cut-pro-plugins/
Top 10 Coolest Plugins for Final Cut Pro X
Final Cut Pro X is a powerful and versatile program. But what really gives it wings are the hundreds and hundreds of 3rd-party plug-ins you can quickly add to the program. With plugins, film lovers or creative masters can produce many astonishing video effects. Nowadays, many people prefer FCPX, so the demand for FCPX plugins are increasing quickly. For more choices, we have rounded up 10 cool Final Cut Pro plugins that can make your videos breathtaking. Here is the list. Check it out!
You May Also Like: Top 10 Adobe Premiere Plugins for Different Effects and Transitions >>
Top 10 Plugins for Final Cut Pro X
Listing all of the effects options would take forever; just do a Google search for "FCP X Plugins" and you'll see what I mean. However, here are ten companies who make really nice effects, tools, transitions and general visual weirdness you should consider adding to your own Final Cut system. They range in Price, but each creates effects you just can't get any other way.
1Alex 4D
Price: Free
A series of free plug-ins that create effects, general weirdness or solve problems. Alex Golner has been developing plugins for Final Cut since about version 1.0. You can use it to make an animation transition. The steps are easy to follow. It is one of the best Final Cut Pro plugins.
2Arctic Whiteness
Price: €9.95
This is the definitive tools for managing libraries, media, and render files in Final Cut Pro X. See what media is stored where and quickly delete files you no longer need. This is about as indispensable utility as you will find for Final Cut. The final cut manager even can improve your library to make great effects. You can check the video above to see what the Final Cut Pro plugins can do.
3Rampant Design Tools
Price: $59 - $349, depending upon the package
A library of visual effects elements that you drag-and-drop directly onto your FCP X Timeline to create a range of effects. These include fire, smoke, dust, snow, mattes, transitions and dozens more at resolutions up to 4K. You can start creating your video to the next level with this Final Cut Pro plugin. Those plugins are made by artists with more than 20 experience. You can directly plug it into the timeline.
4Motion VFX
Price: $39 - $349, depending upon the package
A vast array of Motion and Final Cut Pro X templates, visual effects, titles and logos. Huge variety, stunning design, lots and lots of choices. We must say though the amount is not huge compared with other websites, you still can find the cool Final Cut Pro plugins to use directly. The transition Final Cut Pro X plug-in is the best you can consider, which will make your video better and engaging.
5FxFactory
Price: Free starter kit, plugins range from free to several hundred dollars
FxFactory provides an effects engine which other companies use to create special effects ranging from simple titles and transitions to visual treats that are impossible to describe in words. Once you have FX Factory installed, you can choose from hundreds of plugins that run on it. Plus, it provides an interface that makes managing lots of plug-ins easy. The price is various that you always can find the best one you like.
6NewBlueFX
Price: $129.95 for effects bundles, $299 for Titler Pro 3
NewBlueFX started on Windows, and about two years ago, migrated to the Mac in supporting both Adobe Premiere and Apple Final Cut Pro. They sell transition and effects bundles that repair footage, as well as add titles, transitions and visual effects. But the REAL star of their show is an amazing titling package called Titler Pro 3. The on-air graphic is a great resource to use as Final Cut Pro plugins.
7Crumplepop
Price: $39 - $99, depending upon the package
The day Final Cut Pro X was first released, Crumplepop bet the ranch and start developing effects exclusively for Final Cut. That dedication has paid off with a rich variety of color tools, GoPro Fisheye Fixers, split screen and other effects. There are lots and lots of goodies to choose from. You can use the plug-in both on Final Cut and Premiere though the price is a little higher. However, you are not sensitive to price, these plug-ins are the best to use.
8Red Giant Software
Price: Range from free to several hundred dollars, depending upon the package
Red Giant Software is another venerable institution in the effects industry. Their industry-leading Trapcode, Colorista, and Primatte keyers set the standard in the industry. Recently, they created "Universe", which allows you to access to a wealth of effects, for a very reasonable fee each month. Price: Prices range from free to several hundred dollars, depending upon the package.
9Intelligent Assistance
Price: Starting at $9.99, depending upon the package
Any conversation about plugins for Final Cut includes the team at Intelligent Assistance. They provide tools that help with logging footage, generating production reports, and converting projects between versions. Not everyone needs these tools, but when you do, there's nothing better. There are many styles you can choose from the cool Final Cut Pro plugins. If you want to make your titles powerful, this one the best place to go.
10Boris FX
Price: $695 with a free trial
BorisFX is the Swiss-Army-Knife of visual effects. Hundreds of effects, tools, transitions, titles all in one package: Boris Continuum Complete v9. The effects in this package need to be seen to be believed. Stunning effects, tools that make unwanted elements in the frame disappear, keyers, masks, and more eye-candy than a carnival.
Conclusion
There are so many other firms that could be mentioned. It almost seems a shame to stop at ten. But all of these companies make excellent products that can give your projects a unique look. Also, most of them provide free trials, so you can experiment with them on your own and see which ones you can't live without.
If you want to know how to make your video powerful without using plug-ins, FilmoraPro is the one you should use on Mac. You can use it to make effects in over 50 settings. If titles are important to you, FilmoraPro - Filmora's video editor for pro also has various title templates free to use. Also, you can customize titles. Besides, audio is the best part you should try when editing. After trying, you will no longer need Final Cut Pro X. Now, download it to have a try (FREE).
Benjamin Arango
Benjamin Arango is a writer and a lover of all things video.
Follow @Benjamin Arango
Sours: https://filmora.wondershare.com/final-cut-pro/final-cut-pro-plugins.html
One of the things that make Final Cut Pro X so great is its support for third-party plugins. MotionVFX, with over 25 years of experience in visual effects, provides many plugin options for FCPX and Apple Motion.
In this post, I'll highlight some of the key features of MotionVFX that make it the premier destination for enhancing your Final Cut Pro X and Apple Motion experience.
For a limited time, we've teamed up with MotionVFX to give you 10% off everything when using code 9to5Mac at checkout. Watch our hands-on video walkthrough for the details.
First and foremost, MotionVFX.com is the best Final Cut Pro X plugins and templates resource available, hands-down. MotionVFX has hundreds of plugins and templates that can be easily accessed with just a few clicks.
In this post, I wanted to focus on one plugin package in particular: mBundle Film. As its name states, mBundle Film is a bundle of 6 useful plugins specifically geared toward creating a filmic look in your footage.
mBundle Film includes the following 6 plugins:
| | |
| --- | --- |
| Name | Features |
| mTitle Cinematic | 50 cinematic FCPX titles |
| mFilmLook | 60 cinematic presets, 30 LUT color grades |
| mTransition Shade | 71 FCPX transitions |
| mFlare 2 | 100 lens flare presets |
| mLUT Film | 25 professional LUTs |
| mLUT Film 2 | 30 professional LUTs |
mBundle hands-on MotionVFX video walkthrough
Special thanks to MotionVFX for sponsoring 9to5Mac on YouTube. Get 10% off everything when using code 9to5mac at checkout.
mTitle Cinematic
If you're looking to give your titles a Hollywood look, then mTitle Cinematic is where it's at. This handy plugin includes 50 different titles, appropriate for different scenes, styles, and settings. Each title can be customized to a high degree via the Final Cut Pro X inspector.
mFilmLook
A unique plugin featuring over 60 cinematic and fully-customizable presets, mFilmLook can provide your footage with a unique style in just a few clicks. The on-screen controls allow you to easily enable or disable parameters on the fly, while the inspector includes a wealth of granular controls to customize things like film grain, lens flare, letterboxing, and more.
In addition, mFilmLook comes with 30 built-in LUTs. Each parameter, modification, and change can be set as a preset, allowing you to quickly apply the same effects across multiple clips.
mTransition Shade
mTransition Shade, as its name alludes to, is a transition plugin that allows you to bridge contiguous clips in Final Cut Pro X. This plugin provides over 70 transition effects that are fully unique, and you can change parameters for individual transitions via the inspector.
mFlare 2
If you're looking to add organic lens flare effects to your footage, then there simply isn't a better plugin than mFlare 2. Powered by Mocha tracking technology, mFlare 2 allows you to add custom lens flares to your clips, and track flares to objects in your footage without tedious key framing.
mFlare 2 includes over 100 presets for enhancing the look of your film, but even more impressive is that it lets users build lens flare packages from scratch using various elements like glow, streak, and glare. Once created, you can save your custom presets and apply them to multiple clips.
mLUT Film & mLUT Film 2
Combined, mLUT Film & mLUT Film 2 provide users with over 50 different LUTs for quickly customizing the look of your footage with prebuilt styles. These LUTs can be imported into mFilmLook to greatly expand that plugin's library of LUTs, but can also be used independently with a free FCPX plugin called mLUT.
9to5Mac's Take
MotionVFX is also an amazing resource for vloggers who edit videos with Final Cut Pro X. For example, mTuber 2 allows you to add subscribe buttons, and other on-screen assets to promote your YouTube channel, and mStories is great for promoting content on social networks like Instagram.
The other thing I personally appreciate about MotionVFX is how easy it is to install and manage plugins. There's no tedious license key entry, and everything is installed via a handy menu bar utility that gives you one-click access to all of your purchased plugins.
The bottom line is that MotionVFX is a must-have resource for both casual and professional Final Cut Pro X users. Be sure to use code 9to5Mac at checkout for 10% off everything, and leave a comment on the video above for a chance to win one of 5 copies of mBundle Film.
Special thanks to MotionVFX for sponsoring 9to5Mac on YouTube.
FTC: We use income earning auto affiliate links.More.
---
Check out 9to5Mac on YouTube for more Apple news:
You're reading 9to5Mac — experts who break news about Apple and its surrounding ecosystem, day after day. Be sure to check out our homepage for all the latest news, and follow 9to5Mac on Twitter, Facebook, and LinkedIn to stay in the loop. Don't know where to start? Check out our exclusive stories, reviews, how-tos, and subscribe to our YouTube channel
Sours: https://9to5mac.com/2020/03/11/motionvfx-is-the-best-plugin-resource-for-final-cut-pro-x-video/
My TOP 5 FINAL CUT PRO X Plugins 2021
Extend the power of Final Cut Pro.
Perfect your projects with an array of ingenious plug-ins, content, and devices.
CrumplePop
Explore and purchase high-quality broadcast- and film-grade effects developed exclusively for Final Cut Pro.
Learn more about CrumplePop
FxFactory Pro
Visual effects toolbox with more than 150 essential filters, transitions, and generators to fit your project.
Learn more about FxFactory Pro
Hawaiki Keyer
A professional green- and blue-screen keying plug-in that features deep controls and outstanding performance.
Learn more about Hawaiki Keyer
mCensor
Powerful tool for creating censorship masks in Final Cut Pro with automatic tracking powered by Mocha.
Learn more about mCensor
mFlare
Design and animate realistic lens flare effects with the ability to control glow, color, placement, and more.
Learn more about mFlare
mO2
Design and animate beautiful 3D objects and text and enhance your scenes with add-on 3D model packs.
Learn more about mO2
mTracker 3D
Easily track titles, graphics, 3D objects, and more in your projects to create cinematic visual effects. FxPlug 4 plugin for native support on Apple silicon.
Learn more about mTracker 3D
mVolumetric
Highly realistic 3D volumetric light ray effects with controls for custom shapes, illumination, and light source.
Learn more about mVolumetric
osmFCPX
Easy to use visual effects plugins for creating eye-catching animations and motion graphics in Final Cut Pro without using keyframes.
Learn more about osmFCPX
RE:Vision Effects
Award-winning software including DEFlicker, DE:Noise, ReelSmart Motion Blur, and Twixtor, the critically acclaimed retiming plug-in.
Learn more about RE:Vision Effects
ReelPath
Animation tools for advanced moves and effects with particle trails, created exclusively for Final Cut Pro.
Learn more about ReelPath
Universe
Over 75 GPU-accelerated, professionally acclaimed effects, transitions, motion graphics, and tools for editors and motion graphics artists.
Learn more about Universe
Yanobox Nodes
Unprecedented power to create connected motion graphics and abstract particle universes in Final Cut Pro and Motion.
Learn more about Yanobox Nodes
Caption Converter
Convert, edit, and translate captions and subtitles stored inside SubRip (SRT), iTunes Timed Text (iTT), WebVTT (VTT), SubViewer (SUB), Adobe Encore Text Script, and Adobe Premiere Pro Markers files.
Learn more about Caption Converter
Scribeomatic
Cloud based transcripts let you quickly tag your video with dialogue, search text, and export or burn in captions.
Learn more about Scribeomatic
Simon Says
Quickly and accurately transcribe, subtitle, and caption your Final Cut Pro events and projects.
Learn more about Simon Says
SpeedScriber
Get automated transcripts in minutes and attach them to Final Cut Pro clips with unique round-tripping integration.
Learn more about SpeedScriber
Chromatic
A complete and flexible color grading plug-in featuring tracking, color keying, RGB and HSL curves, three-way color wheels, and more.
Learn more about Chromatic
ColorSynth
The ColorSynth grading module, and its companion Keys™ precision control surface, are designed to work from a simple One Light pass to the most esoteric color grading needs.
Learn more about ColorSynth
EPICOLOR
Automatic color correction based on color constancy, which reflects how the human eye perceives color.
Learn more about EPICOLOR
Hawaiki Color
Collection of versatile color grading plug-ins featuring industry-standard color wheels and easy-to-read sliders.
Learn more about Hawaiki Color
Koji Advance
A set of powerful controls to help you color and finish video to look like beautiful 35mm motion picture film.
Learn more about Koji Advance
Levels and Curves
Professional curve-based color adjustments applied in film-log space, with adjustable controls directly in the viewer.
Learn more about Levels and Curves
LUTx
Powerful Look Up Table (LUT) plug-in for Final Cut Pro, with support for standard LUT formats and downloadable LUT collections.
Learn more about LUTx
mLUT
Thirty cinematic 3D LUTs for colorists and filmmakers, bundled with the mLUT plug-in for Final Cut Pro and Motion.
Learn more about mLUT
Ripple Tools
Twelve plug-ins that let you add split screens, create mattes, and color correct with traditional color wheels.
Learn more about Ripple Tools
ScopeBox
Transform your Mac into a complete set of video scopes tailor-made for color correction and broadcast-quality control.
Learn more about ScopeBox
DH_SubtitleX
The easy way to create boxed subtitles in Final Cut Pro and Motion with controls for tracking, leading, shadow, and outline.
Learn more about DH_SubtitleX
Lower Pop
Customizable lower-third titles in a range of styles and animations, with simple controls to adjust the look.
Learn more about Lower Pop
mCallouts Tech
A set of 50 carefully designed, tech-themed callouts that offer precise tracking via simple onscreen controls.
Learn more about mCallouts Tech
mTitle 3D
A set of 30 beautiful 3D titles with simple controls to adjust timing, typography, and overall look.
Learn more about mTitle 3D
Title Punch
Add colorful, animated background graphics to spice up titles, stills, and video clips with transparency.
Learn more about Title Punch
Data Pop
Customizable infographic-style templates, charts, and graphs made exclusively for Final Cut Pro.
Learn more about Data Pop
Hi-Tech
Lower thirds, simulated displays, and fractal-based animations you can combine with your own video and images.
Learn more about Hi-Tech
mArrow
60 animated pointer elements in flat, bent, and drawn styles — with three accompanying caption styles to match.
Learn more about mArrow
mForm
150 pre-keyed, animated elements including abstract shapes, bars, bursts, gears, hearts, and more.
Learn more about mForm
Social Media
Replicate the look of Facebook, Instagram, Twitter, Vine, and YouTube with animated, drag-and-drop graphics.
Learn more about Social Media
FCPX Free
Comprehensive collection of free templates, titles, transitions, plug-ins, tutorials, and more for Final Cut Pro.
Learn more about FCPX Free
FxFactory
Huge collection of free and commercial visual effects featuring one-click installation and comprehensive tutorials.
Learn more about FxFactory
Leno FX
Beautifully designed and animated lower thirds, titles, and transitions for Final Cut Pro.
Learn more about Leno FX
Love Pop
Professionally animated, customizable titles and templates designed specifically for weddings and parties.
Learn more about Love Pop
Pixel Film Studios
Amazing collection of plugins for Final Cut Pro, with thousands of professionally designed tools, effects, titles and transitions.
Learn more about Pixel Film Studios
Ryan Nangle
Stunning, high-energy transitions, titles, and effects for professional and cinematic travel videos.
Learn more about Ryan Nangle
PaintX
Retouch your video, hide wires, or add digital makeup with a brush. Mocha tracking technology keeps your strokes with the motion.
Learn more about PaintX
Timecode
Add a customizable timecode display window to Final Cut Pro that you can view from across the room.
Learn more about Timecode
Accusonus
Instantly fix your audio noise problems like fans, air conditioners, hiss, hum, rumble and more with the turn of a single knob.
Learn more about Accusonus
Apogee MetaRecorder
Record audio and add keywords with your iOS device and Sennheiser's ClipMic digital. Then import it all into Final Cut Pro.
Learn more about Apogee MetaRecorder
ARC-X
Take control of your media with drag & drop backup, one-step restore, and powerful media management for Final Cut Pro.
Learn more about ARC-X
EditReady
A transcoding and playback tool to convert camera originals to ProRes, apply LUTs, edit metadata, and more.
Learn more about EditReady
EDL-X
Easily create industry-standard Edit Decision Lists (EDLs) generated from Final Cut Pro XML files.
Learn more about EDL-X
Offload
Works with virtually every camera, card, and format for simple and reliable backup of your footage in the field.
Learn more about Offload
Shot Notes X
Automatically combine script notes and other metadata from your shoot with your footage in Final Cut Pro.
Learn more about Shot Notes X
SpeedScriber
Get automated transcripts in minutes and attach them to Final Cut Pro clips with round-tripping integration.
Learn more about SpeedScriber
VideoTweet
The quickest way to send your videos from Final Cut Pro to Twitter, with simple tools for trimming and adding a message.
Learn more about VideoTweet
Ximport AE
The powerful tool from Automatic Duck lets you easily move projects from Final Cut Pro to Adobe After Effects.
Learn more about Ximport AE
Xsend Motion
Convert your Final Cut Pro timeline to a Motion project. Translate entire projects and Compound Clips in seconds.
Learn more about Xsend Motion
CatDV
Access media asset management and automation software, including XML-based integration, all within Final Cut Pro.
Learn more about CatDV
EVO ShareBrowser
Tag, search, preview, and organize everything — then bring media and metadata into Final Cut Pro without ever leaving your timeline.
Learn more about EVO ShareBrowser
Frame.io
A cloud-based review and approval platform that integrates with Final Cut Pro. Collaborate with your entire team, anywhere in the world.
Learn more about Frame.io
KeyFlow Pro
Connect directly to KeyFlow Pro 2 to collaborate, store, sort, search, preview, annotate, share, and more.
Learn more about KeyFlow Pro
Shutterstock
Browse stock photos, video, and music while you edit. Drag and drop files into your project without leaving Final Cut Pro.
Learn more about Shutterstock
Simon Says
Transcribe and translate audio in 100 languages. Drag and drop clips and timelines into the extension to easily create accurate subtitles and captions for your Final Cut Pro project.
Learn more about Simon Says
Cantemo Portal
Create and edit within Final Cut Pro while Cantemo Portal works hard in the background to keep your assets organized.
Learn more about Cantemo Portal
CatDV
Flexible media asset management and automation software that includes XML-based integration.
Learn more about CatDV
EVO ShareBrowser
Tag, search, preview, and organize everything — then export your media and metadata seamlessly into your Final Cut Pro libraries.
Learn more about EVO ShareBrowser
FindrCat
Asset management and metadata protection so simple you'll use it. FindrCat Pro adds metadata round-tripping.
Learn more about FindrCat
KeyFlow Pro
Upload, preview, assign roles and keywords, log notes, and more with drag-and-drop ease using team-based shared libraries.
Learn more about KeyFlow Pro
Kyno
Browse media, add markers, and apply keywords in the Kyno app, then send directly to Final Cut Pro for editing.
Learn more about Kyno
Primestream
MAM, PAM and DAM solutions that integrate seamlessly with Final Cut Pro, enabling end-to-end creative workflow and automation.
Learn more about Primestream
Sienna
Workflow and asset manager for broadcast news and sports, featuring tight Final Cut Pro integration.
Learn more about Sienna
Softron
MovieRecorder and the M family of products provide live edit-during-ingest capabilities for single-camera and multicam workflows.
Learn more about Softron
Frame.io
Upload your Final Cut Pro media to this cloud-based platform designed for video, and review and share projects or clips with your entire team, anywhere in the world.
Learn more about Frame.io
LumaForge
LumaForge Jellyfish and ShareStation servers are optimized for ultrafast collaborative editing with Final Cut Pro.
Learn more about LumaForge
Postlab
Stress-free collaboration for Final Cut Pro for everyone on or outside your team, wherever they are.
Learn more about Postlab
Primestream
Seamlessly connect video, graphics and visual FX teams with tools to manage, produce and deliver assets and projects without ever leaving Final Cut Pro.
Learn more about Primestream
AJA
Industry-leading PCIe cards and Thunderbolt 3 video I/O and monitoring, like the KONA 5 for 8K and Io 4K Plus, and Apple ProRes 4K and multi-channel HD recording devices.
Learn more about AJA
ARRI
ARRI ALEXA, ALEXA Mini, and AMIRA cameras record directly to Apple ProRes 422 or pristine ProRes 4444.
Learn more about ARRI
Atomos
Affordable all-in-one devices with HD/4K ProRes recording, playback, and monitoring for workflows from cinema to DSLR.
Learn more about Atomos
Panasonic
Panasonic's VariCam cameras include built-in ProRes recording for high-quality image capture up to ProRes 4444.
Learn more about Panasonic
RED
The RED KOMODO 6K, DSMC2, and RED RANGER camera systems allow users to simultaneously record high-quality ProRes and REDCODE RAW R3D files with frame sizes up to 8K.
Learn more about RED
Sony
Pro cameras including the F5, F55, and FS7 offer ProRes encoding with the addition of an encoder board or extension unit.
Learn more about Sony
Video Devices
PIX video recorders offer ProRes recording in a range of packages, from portable HDMI devices to a rack-mountable unit.
Learn more about Video Devices
Atomos
Connect Atomos Sumo 19 or Shogun Inferno to your camera for real-time recording, monitoring, and playback of ProRes RAW and ProRes RAW HQ. Instantly tag footage that you review onscreen or on a separate display connected via HDMI or SDI.
Learn more about Atomos
DJI
Record gorgeous aerial footage in ProRes RAW or ProRes RAW HQ using the Zenmuse X7 camera and Inspire 2 drone.
Learn more about DJI
Sours: https://www.apple.com/final-cut-pro/resources/ecosystem/
Pro final plugins 2020 cut
I said and got out of bed. You just need to put yourself in order. Maybe you will go tomorrow. Stay with me today.
POTENCIA Final Cut Pro - MEJORES PLUGINS
Igor looked at him suspiciously and turned away. Vera was waiting for him, standing in a relaxed position, bending one leg and leaning her back against the gazebo. Well, exactly how confused We have had sex since a young age, And we have never been ashamed of each other. Whenever we would not want to fuck, And we do not need anything - to be afraid.
And if together, then without panties were, And dicks between the buttocks were driven.
You will also be interested:
An unprecedented pain burned his ass, he could not remember such pain even when a snowball hit him in the balls in the yard. The doctor waited and took out again, and reinserted his penis. The boy shrank all over and groaned: - It hurts, burns and wants to poop, - he shrugged his shoulders.
The doctor put both his hands on his nipples, squeezed them lightly, then kissed the boy's scruff and whispered: - Be patient, you will soon get. A buzz, as soon as I start to stimulate the prostate, everything will become easier, so be patient a little, just a little - and the doctor continued fucking the boy's ass.
1262
1263
1264
1265
1266