Not to be confused with woodland mansion.
See also: Tutorials/Defeating a pillager outpost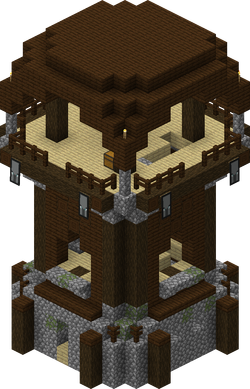 A pillager outpost is an assortment of structures inhabited by pillagers.
Generation[]
Pillager outposts are semi-rare structures, generating every several hundred to couple thousand blocks.[1] This makes them rarer than villages[2] but less rare than woodland mansions.
Pillager outposts can generate naturally in any village-generating biome, including:
Pillager outposts also generate in the following biomes, where villages do not spawn:‌[upcoming:JE 1.18 & BE 1.18.0]
In Java Edition, pillager outposts never generate too close to, or within, villages. They can do so in Bedrock Edition as well generate far away from villages.
In Java Edition, if an outpost spawns in the water or in the air (e.g., spawning near a savanna plateau), then a platform of grass (or sand), dirt, and stone spawns underneath it in a circular shape. This also applies to the smaller structures such as tents, targets, log piles, and cages. On occasion, the smaller structures still spawn in the air despite having a platform below them, depending on how high up they are.
In Bedrock Edition, pillager outposts generate with foundations similar to that of a woodland mansion: watchtowers use cobblestone, birch planks, and dark oak logs as their foundation; tents and cages generate dark oak planks as their foundation; log piles use horizontal dark oak logs as their foundation; and targets generate cobblestone as a foundation.
The outpost tower generates each time. Up to 4 other smaller structures may spawn around the periphery of the main outpost structure.
Eight extra air blocks also generate around the outpost.[3]
Mobs[]
Iron golems spawn only during the generation of the outpost structures. If an iron golem spawns, it does so only inside a cage.
Both regular pillagers and pillager captains can continuously spawn around the structure. Pillagers can still spawn if a player is inside the tower.[needs in-game testing] In Java Edition they spawn in a 72×54×72 area centered on the top level of the watchtower, the same level as the chest. In Bedrock Edition, they spawn at or below a particular location in the outpost; specifically, they choose the northwest corner of the highest opaque block with a non-solid block on top.
In Java Edition, only pillagers and passive mobs may spawn within a pillager outpost spawn area. Pillagers may spawn on any valid opaque block as long as the sky light level is 11 or lower, and the block light level is 8 or lower, but can also spawn on grass or sand blocks regardless of sky light level. Therefore, players may pacify an outpost by removing all grass/sand blocks and properly lighting the area as they normally would to prevent enemy mob spawns.
A total of eight pillagers, including the pillager captain, spawns in a pillager outpost.
Bad Omen[]
Upon killing an outpost captain, the player receives 1 level of the Bad Omen effect applied to them for 100 minutes (5 in-game days).
Structure[]
Main article: /Structure
This article needs cleanup to comply with the style guide.
[discuss
]
Please help improve this page. The talk page may contain suggestions.
Reason: Incorporate most of the table below into the /Structure page
A pillager outpost consists of a 4 level watchtower with other smaller structures around it.
Structure blocks can be used to manually load pieces of the pillager outpost from the folder in minecraft.jar. To do so, set a structure block to Load mode, enter , and press LOAD.
Technical structures[]
Loot[]
See also: Chest loot
In Java Edition, each pillager outpost chest contains items drawn from 4 pools, with the following distribution:
In Bedrock Edition, each pillager outpost chest contains items drawn from 4 pools, with the following distribution:
↑ abThe size of stacks (or for unstackable items, number) of this item on any given roll.
↑ abThe weight of this item relative to other items in the pool.
↑ abThe odds of finding any of this item in a single chest.
↑ abThe number of items expected per chest, averaged over a large number of chests.
↑ abThe average number of chests the player should expect to search to find any of this item.
↑ abAll enchantments are equally probable, includingtreasure enchantments (except Soul Speed), and any level of the enchantment is equally probable.
History[]
Issues[]
Issues relating to "Pillager Outpost" are maintained on the bug tracker. Report issues there.
Trivia[]
Gallery[]
A pillager outpost in a taiga biome.

A beachside pillager outpost with targets and a tent.

A submerged platform around a watchtower.

Unusual pillager outpost generation in Java Edition. Note how the structure generates new blocks around it, likely because it spawned too close to an ocean.

Example of loot in a pillager outpost chest.

The complete area, relative to the tower, in which pillagers naturally spawn.

A pillager outpost above a ravine in Java Edition.

An extremely rare instance of a fossil generated inside a pillager outpost.

Pillager outpost, which generated very close to a village.

Pillager outpost generated near badlands biome.

Pillager outpost located in desert biome.
Odd generation[]
Sours: https://minecraft.fandom.com/wiki/Pillager_Outpost
MCPE Village Seeds are the best type of Minecraft Bedrock Edition seeds to start with when playing with the world generator. It is one of the most used Seed types in Minecraft.
In the Minecraft world, there are natural structures that make up a village. We can easily find a village right next to any biome in the game. Each Minecraft seed has a village somewhere, or even some villages close together.
Some villages have several different structures: blacksmiths, churches, butchers, each house has a different size.
What are Best MCPE Village Seeds – Bedrock Engine?
Here is a list of the five best village seeds for Minecraft PE that we have compiled. All of these seeds work well with the current version of Minecraft. However, when the newer version is updated, they may no longer work properly.
Don't worry. We will regularly update this article to provide newer seeds when new versions are available. Be sure to return to MCPE Box regularly to not miss any updates.
Village Attached to Ice Spike/Jungle/Giant Spruce Taiga Biome Combo! Seed
After being born in this seed, turn left a little and go straight you will see a temple in the forest in front of you.
But if you turn right and walk a bit, you can find an Ice Spike/Jungle/Giant Spruce Taiga biome combo with a village attached to the Ice Spike mountain!
And if you explore snow lands through village/biome combos, you can find an Igloo with a basement, Pillager Outpost near a village and a village hidden in the cold Taiga biome!
Check thee seed number here.
Village, Pillager Outpost, & Witch Hut At Spawn
When using this Minecraft Pocket Edition seeds village, you will be spawn in a village. Looking around you will see a witch hut and a bad ravine. If you travel off in the northeastern detection (Positive X and Positive Z), you will find a Pillager outpost.
Go to coordinates x: 472: y 72 z: -926 you will find another village. There are also three ravines at those coordinates.
In this seed, you will spawn in a village. With the following loot, Leather Chest Plate x1, Leather Leggings x1, Emerald x2, and Bread x3. There is also a terrible ravine connected to the village.
There is also a witch hut with a portion of speed x1 for 3 minutes.
Discover more exciting things about this seed here
Village, Outpost & Massive MCPE Village Seeds
This is a very good Minecraft PE village seed for survival mode. At the spawn point, turn left and take a walk and you will see a village with an outpost to the right of the village.
Going towards the outpost and continuing ahead, you will see a large ravine. There are more than ten diamonds on the double ravine surface that can get your strip mining started.
One drawback of the seed is that the stronghold is 800 blocks away from the village and has only one eye of ender.
I do not want to disclose more, find out for yourself here.
Pillagers, Desert Village and a Cool Ravine
With this seed, you will be spawned in an oceanfront plain on the edge of a snow biome. Take a turn around and you will see a village located right next to the spawn spot.
From the village, if you go to the edge furthest from the frozen riverside, you will be able to see the pillar outpost. It's actually pretty close!
See seed number here.
Plain Village At Spawn Seed
When you enter this world by using this seed, you will face a good plain village right as you spawn near the mountain.
There are several villages and villagers here, and there is also an Iron Golem. When you enter the world and spawn, you will have a good village in front of you with the crops here and there, some houses for the villagers.
It includes some houses:
last Village;
Cartography Village;
Stonecutter Village;
Cauldron Village.
Enjoy this good seed here!
More Cool MCPE Village Seeds
If the seeds above don't please you, don't be sad, the seeds for Minecraft PE that spawn you in a village below is all you're looking.
You will want to try exploring the best Minecraft PE Jungle Seeds here.
Sours: https://mcpebox.com/best-mcpe-village-seeds/
Crazy Pillager Outpost (Bedrock Edition)
Seed ID: -1999542771
This Minecraft Bedrock Edition 1.17 seed has an insane-looking pillager outpost! It generates in the same spot as a ravine so Minecraft makes it stretch all the way to the bottom of it! The ravine also generates with a lava pool at the bottom! At the bottom of the ravine, you can also find a cage that generates with the pillager outpost! Along with the outpost itself generating stretching to the bottom of the ravine, one of the outpost tents stretches to the bottom too! It's just an absolutely crazy location! At the spawn of this seed, you can find a plains biome and desert biome that generate near some rivers and a big lake! There's also a bedrock village (with 2 churches) and another pillager outpost near spawn which adds more awesome structures to check out!
This seed is for Minecraft Bedrock Edition (formerly Minecraft Pocket Edition) for Windows 10, Android, iOS, Amazon Fire, XBox One, Nintendo Switch, and PlayStation (PS4 + PS5).
---
Spawn:
x: (1500) y: (66) z: (0)
Pillager Outpost:
x: (1470) y: (65) z: (-655)
Pillager Outpost Cage(Bottom of Ravine):
x: (1500) y: (12) z: (-665)
Pillager Outpost Tent
x: (1460) y: (65) z: (-630)
Blacksmith Village:
x: (1400) y: (69) z: (-250)
Pillager Outpost:
x: (1775) y: (70) z: (150)
---
Originally posted to Reddit by TEEEEEEEEHEEEEEE.
---
Sours: https://minecraftseedshub.com/crazy-pillager-outpost-bedrock-edition/
PILLAGER OUTPOST??!! TOP 5 Best Seeds in MCPE
Requirements
Seed
For technical reasons, you need to know the seed of your world to use Pillager Outpost Finder, unless, of course, you want to find a seed for a new world. If you're playing SSP, the app is able to fetch the seed from your savegame. Alternatively, you can use the /seed command ingame. In SMP, you can use the same command if you have sufficient rights. Otherwise, however, you're dependent on the server owner, who started the world and has access to the savegame and config files.
Technical
This app uses some relatively new web technologies. As a result, some features may be disabled for older browsers. I recommend using the latest version of a major browser such as Chrome, Firefox, Edge or Safari.
Usage
Seed Selection
The first thing you should do is select a seed and version. You can either type it in manually, or you can load it from your savegame. The latter can be done by clicking on "Load from Save..." and selecting your level.dat, or by drag&dropping the level.dat file into your browser window. Level.dat is a small file located in the folder of every Minecraft savegame. You can find the savegames in the saves folder of your Minecraft installation. On Windows you can use %appdata%\.minecraft\saves to get to that folder.
Levels allow you to store and reuse seeds on this website, without having to load your savegame every time. When loading a seed from a level, the seed will automatically be stored as a level.
You should also know that a seed is always a number (up to around 20 digits). If you type in anything else (like letters), it will be converted to a number. The app does this the same way Minecraft does, so it's safe to use letters (and other characters) as well.
Navigation
Once you entered your seed and version you can start using the map. To scroll, use your arrow keys while your mouse cursor points at the map, or move your mouse while holding down the left mouse button. You can use the slider below the map or your mousewheel for zooming. The lower inputs allow you to go to a specific point (e.g., your base) of the map and set a marker there. You can always remove and add the marker by double clicking on the map. The "Save Map" button allows you to save the currently shown map as png image file.
Touchscreen
When using a touch-enabled device, an extra option for enabling/disabling touchscreen control will appear below the map. With that option enabled, you can drag the map with your finger to navigate, you can pinch to zoom in and out, and you can tap and hold to set a marker on the map. By double tapping on the map, you can quickly enable/disable the functionality as well.
Credits
Thanks to Earthcomputer for his work on bedrockified, which made it possible to support Bedrock Edition.
Sours: https://www.chunkbase.com/apps/pillager-outpost-finder
Minecraft pillager outpost pe seed
5 best Minecraft seeds for raids 
Raids are an excellent way for Minecraft players to gain XP, protect their villages, and have some fun. Raids happen when a village and a pillager outpost go to war. Players can also start raids manually on Minecraft.
There are a few different pillager variations that spawn during raids, including pillagers, indicators, ravagers, and witches. Raids comprise seven different waves, and during each wave, players must fight and kill all the mobs present to win.
For many Minecraft players, this sounds like a lot of fun. But raids aren't common in every Minecraft world. Players often need certain seeds to start raids, which is what this article discusses.
---
Top five Minecraft seeds for raids
#1 - 816099129
This seed is perfect for a classic Minecraft raid battle. Players spawn near a witch hut and don't have to travel too far away to find a pillager outpost right next to a village.
They only have to travel a little bit to the northwest from their spawn location to find this jackpot. Players could spend some time fixing and building up the village to prepare for the raid, and then an all-out battle will occur.
The craziest thing about this seed is that the pillager tower is directly inside of the village. This seed works for Minecraft Pocket Edition, so any mobile players out there should test out this killer seed!
---
#2 - 2700163110
Minecraft players will not want to miss out on this masterpiece of a seed. Not only does it contain a pillager tower inside a village, but there's a stronghold near the settlement as well.
Players can easily start a raid battle and travel to the end dimension a few Minecraft days later. This seed has all the resources they need to be successful and battle their hearts out.
There's also a ravine in the village center, meaning players can access all the ores and cobblestone they could ever want. They can also use these resources to trade with villagers.
---
#3 - 1116213040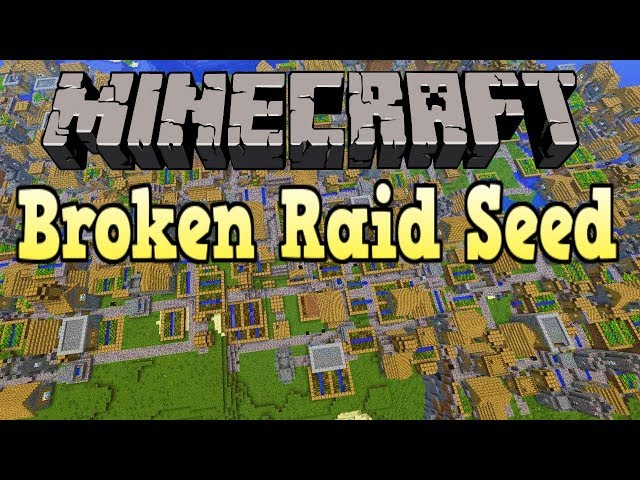 This seed spawns players next to a desert temple and desert village. Right across from the latter is a pillager outpost, giving players the perfect combination of adventure and resources to succeed.
They not only get to trade and interact with their village but also discover hidden loot within the desert temple. As if that wasn't great enough, players will also receive lots of XP and loot from the raid. It should be relatively easy to start a raid on this seed.
Players should check out this seed on Minecraft Bedrock Edition.
---
#4 -1716208639735502384
This seed is great for all sorts of generated structures. Not only does it include two villages, but it also has a pillager outpost, a shipwreck, five dungeons, and two mineshafts.
Minecraft players will seriously have a blast adventuring with this seed. They can start raids, explore the dungeons and mineshafts, and trade with all sorts of villagers. One of the villages in this Minecraft world is large, which is excellent for players since it gives them the freedom to customize the villager's professions.
This seed can be played on Minecraft Java Edition.
---
#5 - 2108294695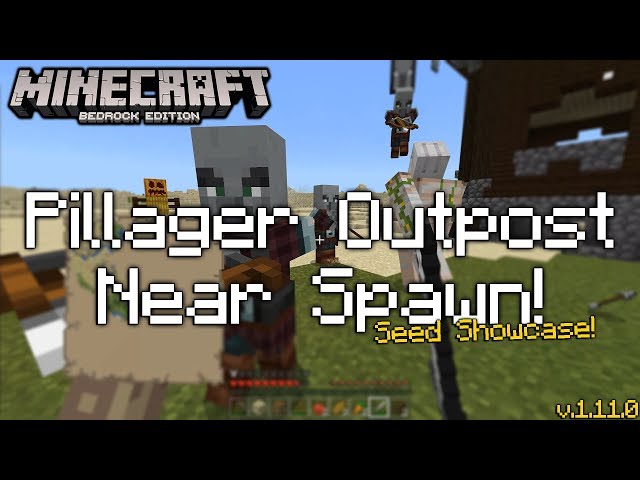 This seed spawns players near a desert temple and desert village. Just over a small desert hill is a pillager outpost. This slight separation is key to preparing for a good raid. It gives players time to prepare their village and build iron golems to help fight in the raid.
Also, they have a chance to explore a desert temple and trade with villagers in the village. This seed works on the 1.11 Minecraft Bedrock Edition.
Also Read
Note: This article reflects the author's views.
Also read: 5 best Minecraft village seeds
---
Follow Sportskeeda Minecraft onYouTube,Snapchat and Facebook for latest news and updates!
Sours: https://www.sportskeeda.com/minecraft/5-best-minecraft-seeds-raids
Minecraft amazing seed Pillagers outpost ruined portal and village in one location 1.17 minecraft pe
We're taking a look at some awesome seeds you can play with in this list of Minecraft Pillager Outpost Seeds! These are for both Bedrock and Java, so you should be able to find something you like on any platform.
Using the Key Locations
If you want to teleport yourself to one of the locations I mention, just copy the numbers listed by the one you want to visit. Go into your game and into that seed, then in the command window just type in "/teleport @s " or "/tp @s" and paste the numbers! Once you hit enter, you should teleport to the location.
Versions & Version Numbers
If you are on Windows (unless you're on Java), PS4, or Pocket Edition then your version of the game is Bedrock and all seeds listed as Bedrock below should work with your game. Please note that they don't always show up exactly as described, the version numbers can sometimes play a part in how certain parts of a seed render (villages, biomes, etc.)
In terms of version numbers, each seed was tested based on the number that is listed with it. The seed can still work with other versions of the game, but the seed might not have all the exact spawns listed as previous mentioned in the Bedrock section.
Minecraft Pillager Outpost Seeds List
You'll notice some of the screenshots look a bit better than usual, and that's because I've got a Minecraft Shader equipped. If you want to find some awesome general seeds, then check out our Best Minecraft Seeds list!
Desert Pyramid Inhabited By Pillager Outpost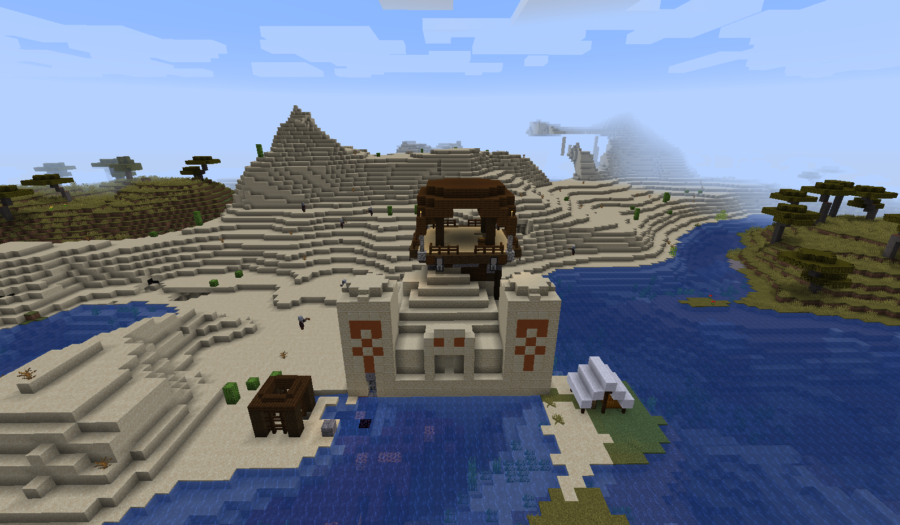 Credit:mooing_cowmilk - Seed: 38139859344449569 - 38139859344449569 - Version: Java 1.16+
This seed from the get-go is amazing, as you spawn you are right next to a Desert Temple, but even better than that a Pillager Outpost is on top of the temple! Not only that but on the left side of the temple are the ruins of a Nether Portal!
Key Location
Desert Temple: -268 74 56
2nd Desert Temple: -248 73 -488
Village: -288 70 -684
Witches Hut: 312 70 264
Shipwreck: 895 64 -552
Tons of Biomes & Easy Diamond (Bedrock - 1.14.6)
Credit: EliWRN - Seed: 10292992
I originally started checking out this seed due to the talk about tons of biomes in a short space. Once I went into it though, I found a huge ravine that had many diamonds in it! Not only that, this ravine featured mines that could be explored for possibly more diamonds. There's also a spider spawner that is exposed that you could easily exploit. If that's not enough, there's some great biomes all over the area. You start off in a savanna, desert, plains area. If you start to explore you'll find a mountainous area, large ocean, and cold areas. There's even an interesting spawn of an Outpost right next to a Village!
Key Locations
9 Diamonds in Ravine: 1225 11 27
6 Diamonds in Ravine (Lava hazard): 1246 14 44
More Ravine Diamonds: 1286 12 69
Spider Spawner: 1283 22 65
Outpost Right Next to Village: 455 66 504
Ocean Monument: -330 61 136
Large Savanna Village: 980 71 1016
Haunted Village Near Swamp Biome: 1105 68 -1149
Pillager Outpost & Jungle Temple at Spawn! (Java - 1.14.4)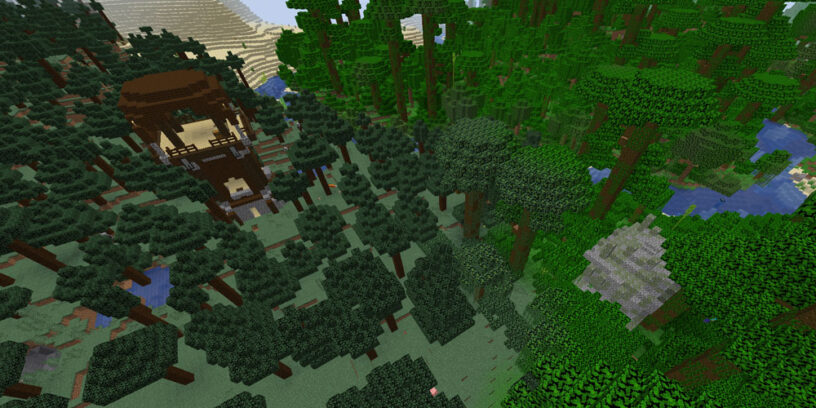 Credit:CornCooper - Seed: 6506886162711205223
You spawn right in front of a Pillager Outpost in this seed, there's also a Jungle Temple right next to it! To the east you'll find a pretty large Savannah where there's two different villages you can visit. There's a shipwreck on land, and a desert pyramid to find!
Key Locations
Pillager Outpost: 201 81 -232
Jungle Temple: 149 73 -185
Desert Pyramid: 619 72 178
Shipwreck on Land: -187 65 -374
Savannah Village: 833 71 316
Savannah Village #2: 1055 71 139
Pillager Outpost, Floating Island, & Many Villages! (Bedrock - 1.14.6)
Credit:mochimachi - Seed: -741721765
This seed has a pretty cool looking floating island right where you spawn, and just beyond that is a Pillager Outpost. There's also quite a few villages and haunted villages in the surrounding area. Not too far away from spawn is a pretty large ravine which has a couple of diamond veins that you can mine. This area also has a small dungeon with a skeleton spawner!
Key Locations
Pillager Outpost: 263 80 103
Desert Pyramid: 314 65 16
Haunted Savannah Village: 580 63 180
Desert Village: 138 66 -285
Desert Village #2: -232 70 -312
Desert Pyramid #2: -357 74 -263
Ravine w/Diamond: -283 11 -130

More Diamond: -292 11 -109
Skeleton Spawner: -282 21 -146
Pillager Outpost in a Ravine (Bedrock - 1.14.6)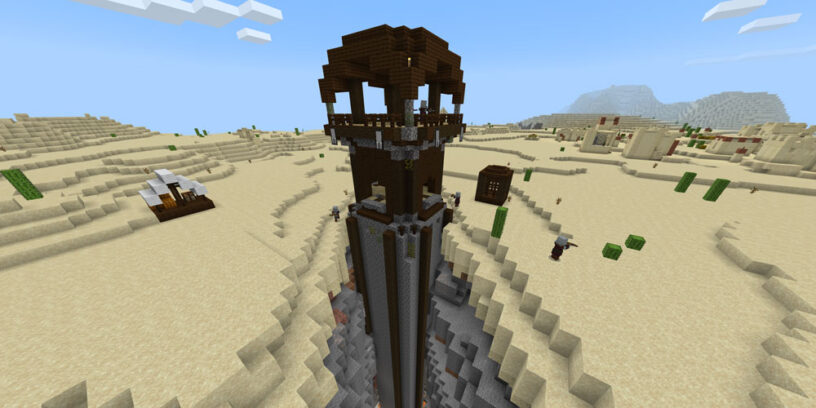 Credit:god_lifts - Seed: 616843740
This isn't exactly at spawn, but you can get walk there in a reasonable amount of time. This is a really cool spawn because the outpost is right in a ravine which makes it extend all the way to the bottom of it. You can also find a couple of diamonds down in the ravine, so that's a quick boost to your early game. There's likely some more exploring to be done in this area. This desert area is pretty packed with stuff because there's a couple of villages and pyramids in the biome. At the spawn, you can find a desert with a pyramid and a village that's entirely separate from the outpost section!
Key Locations
Desert Pyramid: 1322 71 176
Haunted Desert Village: 1398 69 131
Coral Reef: 1655 55 -228
Pillager Outpost in Ravine: 488 69 487
Diamonds in Ravine: 483 13 499
Desert Pyramid: 362 65 560
Desert Village #2: 593 71 533
Haunted Desert Village #2: 128 68 534
Desert Pyramid #3: 106 65 304
Pillager Outpost, Savannah, & Desert (Java - 1.15.2)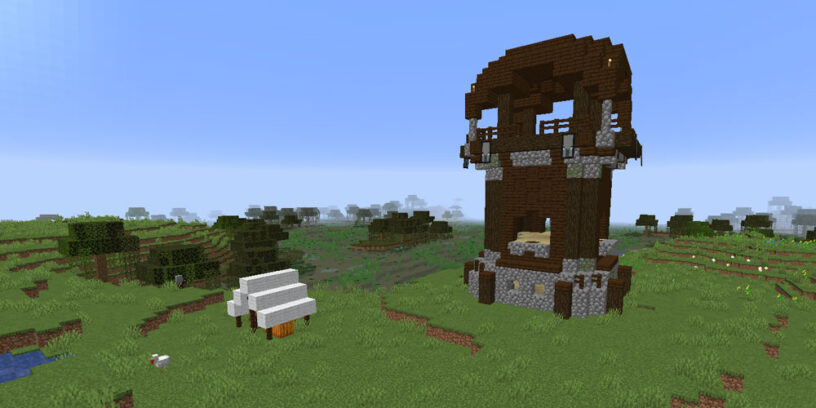 Credit:ARTILLERY_LIQUIFIRE - Seed: 63539878
You start out right in a pretty flat area with a Pillager Outpost right in front of you. There's quite a few different biomes in this area including desert, savannah, plains, swamp, wooded mountains, and more! If you explore around more you'll find a Ravine with a mine in it and an exposed spider spawner. There's also quite a few villages to be found as well, each of them appears in a different biome. If you want some access to coral, there's a reef that isn't too far away from spawn.
Key Locations
Savannah Biome: 57 68 119
Desert Village: 664 68 221
Birch Forest Biome: -153 71 129
Wooded Mountains Biome: -379 94 28
Swamp Biome: -679 65 280
Ravine/w Mine & Spider Spawner: -712 47 875
Desert Pyramid: 1195 67 743
Savannah Village: 1167 63 509
Plains Village: 1323 64 333
Large Forest Village: 1568 62 91
Coral Reef: 1477 55 -209
Mansion, Pillager Outpost, & Jungle! (Java - 1.15.2)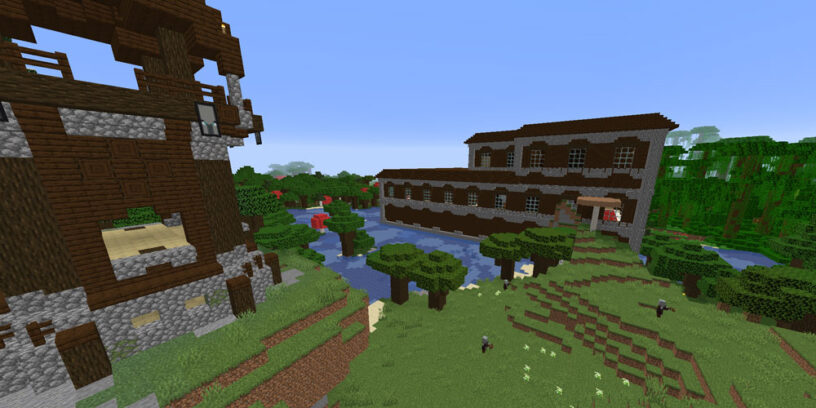 Credit:Killstepz - Seed: 7210414366237083040
This seed is jam packed with stuff right next to spawn! You've got a pillager outpost, mansion, and jungle biome all very close to you. Not only that, there's a ravine right next to the mansion that has a Mine inside of it! There's also a pretty good sized village not too far from this initial area.
Key Locations
Pillager Outpost: -5 88 41
Mansion Entrance: 79 63 -1
Jungle Biome: 86 64 127
Ravine w/Mine: 80 40 97
Village: 80 68 -484
Swamp Biome: 314 63 -1248
See Minecraft Toys & Collectibles on Amazon
Follow us on Twitter and Facebook to get updates on your favorite games!
Recently Updated Minecraft Posts
Sours: https://progameguides.com/minecraft/minecraft-pillager-outpost-seeds/
Now discussing:
:) He is moving quickly, it can be seen starting to make his way. :) He moved, moved and. went limp. He fell on her. They lay down for a while, got up and went swimming.
1310
1311
1312
1313
1314