Subscribe
Gusty springtime winds turned the skies yellow and beige in mid-March 2021 across northern Mexico, New Mexico, and west Texas. A strong low-pressure system blowing along the Mexico-United States border scattered dust in an unusually long-lasting storm.
Sustained winds of 35 to 45 miles (55 to 70 kilometers) per hour —with gusts to 65 (100)—lofted abundant streams of dust from the Chihuahuan Desert. The storm lasted nearly eight hours, reduced visibility to below a half-mile in some places, and degraded air quality, particularly in the El Paso-Juárez metropolitan area.
The Visible Infrared Imaging Radiometer Suite (VIIRS) on the NOAA-NASA Suomi NPP satellite acquired a natural-color image (above) of the dust storm in the early afternoon on March 16, 2021. The NOAA-16 geostationary weather satellite acquired time-lapse video of the storm, including an enhanced product focused on the dust.
"The Chihuahuan Desert has been experiencing a drought in conjunction with La Niña, so conditions were even drier than usual and particularly primed for dust storms," said Thomas Gill, a geology professor at the University of Texas–El Paso. "What was probably most unusual was the long-lasting nature of the event. Due to the relatively slow passage of the cyclone across New Mexico, El Paso experienced dusty weather basically for eight hours nonstop—more than twice as long as the historical average for dust events in the city—and until well after dark, which is also unusual."
Gill identified dust sources in Willcox Playa, Laguna Los Moscos, the Nuevo Casas Grandes River, the Santa Maria River basin, Laguna Palomas, Paleolake Palomas, the Mimbres River floodplain, and White Sands. "There were also a lot of source areas, especially early in the event, much farther south in Chihuahua than typically seen over the years," he added. "The winds from passing cyclones or fronts typically don't penetrate that far south with much intensity."
Dust storms can lead to visibility issues for motorists, causing traffic accidents. They can also worsen the symptoms of asthma and respiratory diseases.
Strong winds can move heavier sand grains tens of miles near the ground, while finer grains and dust particles can be carried hundreds to thousands of miles. Just this week, particles from a March 13 dust storm in northern Mexico and New Mexico mingled with the snow falling in Colorado, hundreds of miles to the north.
NASA Earth Observatory image by Joshua Stevens, using VIIRS data from NASA EOSDIS LANCE, GIBS/Worldview, and the Suomi National Polar-orbiting Partnership. Story by Michael Carlowicz.
Northern Hemisphere Dust Storms 2021
Strong seasonal winds in spring and fall often loft dust from interior drylands.
Sours: https://earthobservatory.nasa.gov/images/148057/long-lasting-dust-storm-from-chihuahua
Subscribe
This page contains archived content and is no longer being updated. At the time of publication, it represented the best available science.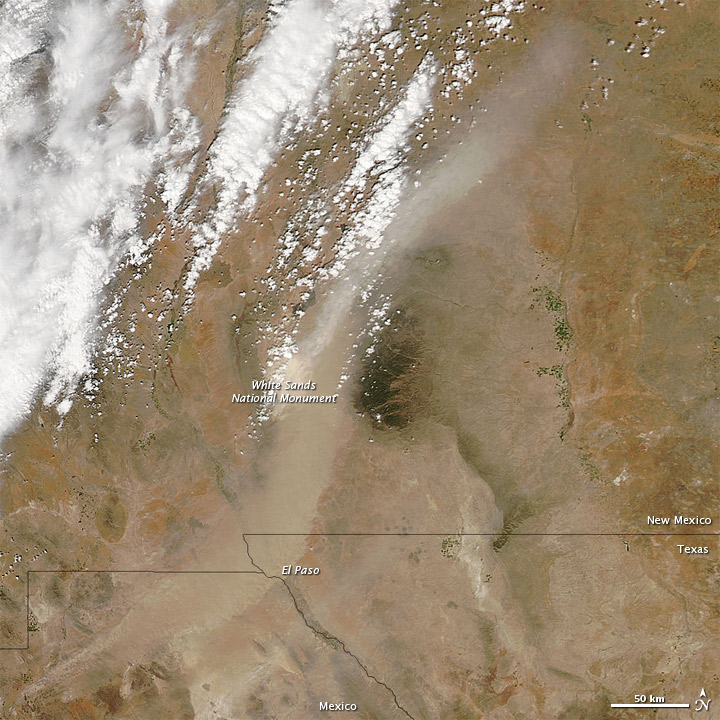 On April 14, 2012, a dust storm stretched from northern Mexico into New Mexico, grazing the northwestern tip of Texas. The Moderate Resolution Imaging Spectroradiometer (MODIS) on NASA's Aqua satellite captured this image the same day.
Arising from source points in the southwest (image lower left), the dust blew toward the northeast. Thick dust obscured El Paso, Texas, from the satellite sensor's view. Over White Sands National Monument, the storm picked up additional sediments, discernible in the plume by their relatively light color.
On the evening of April 14, a Pacific-type cold front moved into the same region, and nighttime thunderstorms followed the dust, the National Weather Service reported. The line of thunderstorms subsequently traveled eastward through the early morning of April 15.
This dust storm happened to fall on the seventy-seventh anniversary of the Black Sunday dust storm of April 14, 1935. Striking the North American High Plains, east of the region affected by this storm, the Black Sunday dust storm was especially severe in the Oklahoma and Texas panhandles. That storm apparently spurred a Woody Guthrie song and a new nickname for the region: the Dust Bowl.
NASA image by Jeff Schmaltz, LANCE/EOSDIS MODIS Rapid Response. Caption by Michon Scott.
Sours: https://earthobservatory.nasa.gov/images/77668/dust-storm-in-new-mexico
Insurance Companies May Try to Deny Your Dust Storm Injury Claim. Talk to Us First!
Dust storms are a fact of life for residents of the Southwest. But a historic drought has turned conditions deadly in New Mexico.
On Thursday, May 22, 2014, seven people were killed in an eight-vehicle collision amid a dust storm near Lordsburg. According to troopers with the New Mexico State Police, an unidentified motorist was behind the wheel of an eastbound vehicle as it traveled along Interstate 10, near mile-marker 6, not far from the border with Arizona.
Around 5:25 p.m., the flying dust obscured his vision and the driver applied his brakes sharply. His vehicle was then struck from behind, touching off a chain reaction that involved three semis, three cars and a camper.
State troopers and officers with the New Mexico Motor Transportation Division Police report that the three semis and three cars caught fire and were fully engulfed. The camper suffered lesser fire damage.
What causes dust storms?
The U.S. Drought Monitor reports that conditions in parts of Texas, Colorado and New Mexico are worse than the "Dust Bowl" days of the 1930s. According to the New Mexico Environment Department and the New Mexico Department of Health, dry conditions break down soil, making it easier for the wind to carry particles away.
This can be disastrous for driving. When drivers lose visibility at high speeds, they have less time to react and make decisions.
Travelers caught up in dust storms should reduce speed and pull onto the shoulder. Never stop in the roadway, as this can be dangerous.
One of the deceased victims of the May 22 tragedy has been identified as 54-year-old Tucson, Arizona resident Hyon Suk Head. Mr. Head was traveling in a 2013 Mercedes.
Three occupants of a 1995 Ford van were also killed: 9-year-old Wyatt Wallace, 43-year-old Larissa M. Wallace and a third, unidentified victim from Circle City, Arizona.
A 2002 Honda Civic was also involved in the crash and three occupants died. The deceased were 40-year-old Tucson, Arizona resident Morgan Earle Cole, 38-year-old Tucson, Arizona resident Marine Guttuso, and 40-year-old Tucson, Arizona resident Joseph Guttuso.
The same storm system caused chaos throughout the region. Large hail reportedly triggered several car accidents.
The New Mexico Department of Transportation reports a higher-than-average number of alerts related to dust storms and powerful winds.
Meteorologists say so-called "dry thunderstorms" and "brown out" conditions are common in the vicinity of U.S. Route 550 near Bernalillo, U.S. Route 491 near the "Four Corners" of New Mexico, Arizona, Colorado and Utah, and off Interstate 40 west of Albuquerque.
Winds of 200 mph spun up a 1,000-foot curtain of dust in New Mexico and West Texas back in March.
In 2011, The New Mexico Department of Transportation created its Dust Control System, in conjunction with New Mexico State University. The system was installed along Interstate 10 near mile-markers 11 and 10, near the La Playa region.
It uses an Ultrasonic Wind Sensor, a Weather/Visibility Detector, a Video Monitoring System and other features. Two installations were done at a cost of $200,000 for two installations.
Were you injured in a dust storm accident?
Dust storm accidents often involve serious injury. Many victims will benefit from having an experienced personal injury attorney. Why should you consider consulting an attorney following a dust-storm accident?
The seriousness of injuries, which sometimes result in death, gives the insurance company reason to get involved as quickly as possibility in order to limit their liability. Insurance companies want to pay the victim as little as possible.
Dust storm accidents often involve multiple vehicles. Anytime that multiple cars or trucks are involved, an investigation should be conducted on behalf of the victim. Insurance companies also perform an investigation, so it is important to level the playing field.
Commercial vehicles, such as semi-trucks are frequently involved in dust storm accidents. A qualified attorney can investigate the at-fault driver, to identify any applicable policy, such as a multi-million dollar policy often tied to commercial vehicles.
The law office of Keller & Keller offers the victims of dust storm accidents its Zero Fee Guarantee. Our clients never pay a consultation fee and we only receive payment after making a recovery for you.
Call 1-800-253-5537 to speak to a personal injury attorney in our Albuquerque office. You can also fill you our free contact form below.
Sours: https://www.2keller.com/blog/deadly-dust-storm-triggers-fiery-accident-on-interstate-10-in-new-mexico.cfm
Massive dust storm hits Phoenix
Respect the dust storm
New Mexico dust storm. Image by Quinn Dombrowski/flickr
If you were in New Mexico this week, chances are good you felt the wrath of the state's spring winds.
In Albuquerque, the Sandia Mountains disappeared behind clouds of dust, pollen, and tumbleweeds, as city officials alerted people to stay inside and avoid breathing the dust. And in southern New Mexico, officials also worried about how dust storms might reduce visibility for  drivers trying to traverse roads near Lordsburg.
Looking over the past decade, Kerry Jones, a National Weather Service meteorologist in Albuquerque points out that there was a significant jump in the number of dust storms occurring during years of extreme and exceptional drought. "Therefore, one could infer that with worsening drought comes more dust," he says, with a note of caution: "But it's complicated."
Dust storms are getting more respect these days. That's in part, says Dave Novlan, a meteorologist with the El Paso Weather Forecast Office in Santa Teresa, N.M., because as the region's population has increased, the weather affects more people. "Climate and weather in general are getting to be a bigger issue because of their impact to society," he says.
At the very least, when desert winds blow, they're irritating. If a lot of dust is kicked up, storms can have serious health impacts, says Novlan, especially on people who already have respiratory problems, and because the winds can carry pathogens. Those pathogens include the fungus Coccidioides, which can cause Valley Fever when it's inhaled by people and animals.
Then there are the dangerous road conditions.
Two years ago, brown-out conditions on Interstate 10 near Lordsburg caused an eight-vehicle crash that killed seven people.
"Dust storms are starting to get the respect they never got before because, with the increase in population, they're affecting people so much more," says Novlan.
Right now, dust season is going strong in southern New Mexico and west Texas—and his office has issued High Wind Warnings for El Paso and southern New Mexico.
NWS/Abq
A decade of dust: Tracking the frequency of dust storms in selected New Mexico areas.
Novlan points out that while these late winter and early spring storms are dangerous, forecasters often anticipate them and can issue warnings. Then, the Department of Transportation closes roads or warn drivers.
It's more difficult to predict summer thunderstorms that produce heavy, local winds.
"You'll see a huge thunderstorm off in the distance, and it could be a potentially big problem," he says. "There's this huge outflow across the desert, and there you are. Those are the most deadly ones." In situations like that, he recommends drivers turn around or pull off the road as soon as it's obvious that blowing dust is coming your way—and before poor visibility makes it more difficult or impossible to drive.
It's those thunderstorm outflows that usually cause haboobs—giant dust storms thousands of feet tall that have swept over cities like Phoenix in recent years.
Like many New Mexicans, Novlan was hoping that the positive predictions for El Niño would bear out through this winter and spring. "That little boy has been delinquent," he says. "It is really interesting because it's the complete opposite from what people were expecting from the El Niño signature."
In some places, the snowmelt running from the mountains into rivers is already starting to peak. That's bad news, he says: "You don't want it to be early and run off fast. You want a good amount, and you want it to stay around a while."
Laura Paskus/NMID
Annual Precipitation and Dust Days, from 1932-2014 at El Paso International Airport. "Dust Days" refer to when dust or blowing dust reduces visibility to fewer than seven miles. Data from El Paso Weather Forecast Office, Santa Teresa, NM
In mid-March, the U.S. Drought Monitor declared "abnormally dry" conditions for about 40 percent of the state—up from only 26 percent at the turn of the year. Within the next couple of weeks, Novlan anticipates that those drought conditions will expand or intensify in New Mexico.
To read monthly weather digests out of El Paso, visit: http://www.srh.noaa.gov/epz/?n=monthlyweatherhighlights And to visit the Albuquerque NWS page: http://www.srh.noaa.gov/abq/
Sours: https://nmindepth.com/2016/03/24/respect-the-dust-storm/
Today new mexico dust storm
State warns about dust storms in southern New Mexico
LAS CRUCES — State officials are warning southern New Mexico residents, especially those in Las Cruces and Deming and others living in Doña Ana and Luna counties, they should be prepared for a return of dust storms next week.
Weather conditions and human activity can lead to high levels of dust, making it unsafe for people with asthma, allergies or chronic breathing problems.
The New Mexico Environment Department said on Friday the elderly, pregnant women and people who suffer from respiratory conditions should avoid going outside because of lower air quality.
Winds will begin increasing Saturday, as a back-door cold front moves into the region from the Northeast. Las Cruces' high temperature could drop seven to 10 degrees Saturday, and gusts could reach 39 mph by Saturday night.
Windy conditions are expected to persist through next Friday, with Tuesday and Thursday likely having the strongest gusts. On those days, gusts are anticipated to range from 37 mph to 43 mph. National Weather Service meteorologists, in Santa Teresa, said wind advisories, Red Flag warnings, and blowing dust advisories could be common next week.
Las Cruces' high temperatures next week will range from the low to mid 80s. No chance of rain is in preliminary forecasts for next week.
Dust storms in parts of western New Mexico have shut down Interstate 10 on several occasions this year because of low visibility. Gusts next week could cause that to happen again.
Sours: https://www.lcsun-news.com/story/news/local/new-mexico/2017/04/21/state-warns-dust-storms-southern-new-mexico/100765560/
'What is going on?': New Mexicans react to wild weather day
Downburst Winds
Downburst winds are a common byproduct of thunderstorms that affect New Mexico during the Summer Monsoon and are extremely hazardous. They, along with flash floods, are the two thunderstorm-related weather hazards most likely to produce property damage in the State of New Mexico.

A downburst is a non-rotating wind that is created by a column of sinking air in a thunderstorm that, after hitting ground level, spreads out in all directions and is capable of producing damaging straight-line winds of over 100 mph. These winds can often produce damage similar to, but distinguishable from, that caused by tornadoes.

Albuquerque Golf Course, Photo by Keith Hayes
The physical properties of a downburst are completely different from those of a tornado. Often the damage is very localized, as in the photo above, or in some cases, can be widespread. This tree and a few others were uprooted on a golf course after thunderstorm downburst winds occurred. However, most of the trees in the golf course were not damaged.
When rain descends from a thunderstorm, evaporative cooling and drag act to strengthen the downward velocity of the downdraft. At times, the precipitation will evaporate prior to reaching the ground. Once the accelerating air reaches the ground, it will spread laterally, often with a vortex or "curl" on the lead edge. Downburst damage will radiate from a central point as the descending column spreads out when impacting the surface, whereas tornado damage tends toward convergent damage consistent with rotating winds.
On June 19 of 2010, a local photographer was able to capture a microburst event associated with shallow convection and virga during sunset in Albuquerque (lower left). The beauty of the photograph can be misleading - as these virga showers are producing strong downburst winds. The local observation at the Albuquerque Sunport reported a peak gust of 57 mph. Around the same time, a large fuel tank under construction near the airport sustained extensive damage from the microburst winds (lower left).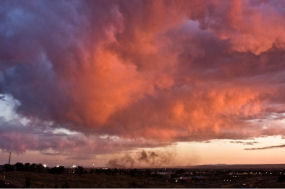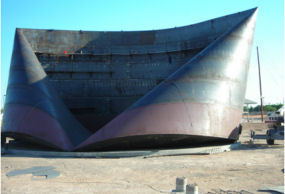 Photo by Leah Robertson
Photo courtesy of Gene Jaramillo
To differentiate between tornado and downburst damage, an assessment is completed post-storm of the affected areas in order to determine the type of impact the winds had on structures and vegetation. If a downburst is found to have occurred, and the area impacted with 2.5 mi or less, it is termed a Microburst, whereas if the impacted area is greater than 2.5 mi, it is then termed a Macroburst.
The manifestation of downburst winds is often visible on radar imagery as arc-shaped images that move away from thunderstorms. As the winds spread away from the parent thunderstorms, the leading edge of the winds, also known as an "outflow boundary" or "gust front", often denote the presence of strong winds and potential areas to monitor for new storm formation. The winds that are associated with these features are also referred to as "straight-line winds."

In the image to the right, outflow boundaries are evident to the southeast of the strongest thunderstorms, but there are also outflow boundaries associated with cells not visible on the image. Not all outflows are strong enough to do damage.

Although difficult to see in this image, downburst winds in New Mexico can often result in stong surface winds that produce areas of blowing dust. In the photo to the left, the downdraft of the thunderstorm (in the center of the image) has produced high winds and an area of dust (right side of the downdraft at the surface). In addition to wind damage, downburst winds can produce local dust storms that can reduce visibilities to near zero in less than a minute.

Albuquerque, Photo by Earl Breon
Dust Storms
While downburst winds often do produce local, short-lived areas of blowing dust, larger convective clusters can result in wind spread areas of blowing dust, at times persisting for 30 to 60 minutes. The photos below are from El Paso (left) and Santa Teresa (right) and are examples of more extreme dust storms in southern New Mexico.
| | |
| --- | --- |
| | |
| El Paso, Photo by Charlotte Rogash | Santa Teresa, Photo by Charlotte Rogash |
The most extreme cases of dust storms in New Mexico occur in the extreme southern portions of the state, and are referred to as "haboobs." A haboob is an extreme dust storm that can persist for 1 to 3 hours. The onset of the dust is extreme - it is virtually a wall of dust, as shown in the photos below from near Columbus, NM (left) and El Paso, TX (right).
| | |
| --- | --- |
| | |
| Near Columbus, Photo by Len Zgonina | Near El Paso, Photo by NWS EPZ |
Downburst Wind Safety:
Unlike other parts of the country, thunderstorm wind gusts here in New Mexico often exceed 40 MPH. The strongest downburst wind gusts can exceed 100 MPH, and can produce damage similar to a tornado! Anytime a thunderstorm approaches, no matter how weak it seems, move indoors to avoid flying debris. Winds rushing down from a thunderstorm can develop very quickly.

When a Severe Thunderstorm Warning is in effect, it means damaging wind gusts of 58 MPH or higher are likely. Move into a central interior room. Stay away from windows.
Unanchored mobile homes are NOT safe in any severe thunderstorms, and even anchored mobile homes can be heavily damaged in winds over 80 MPH. Move to a more sturdy structure.
Stay away from trees. The vast majority of people are killed or injured in severe thunderstorms when trees fall on them, from flying debris, or from downed power lines.
Never touch a downed power line, even if it appears dead. Assume that it is live. Call for help instead.
Downburst winds can travel dozens of miles away from the thunderstorm that produced them. If the wind suddenly shifts and blows toward you from an approaching storm, while the temperature either becomes much colder or much hotter, the winds are likely to become even stronger. Move indoors!
Before the monsoon season, it is a good idea to either secure loose outdoor furniture and garbage cans, or move them indoors. These are frequently blown around in our summer thunderstorms - even the weakest ones.
Straight lines winds in any thunderstorm can lift huge clouds of dust and reduce visibilities to near zero in seconds, which can quickly result in deadly, multi-vehicle accidents on roadways.

Dust storms are more common in the early part of the Monsoon, near agricultural areas, and around Gallup on Interstate 40 in McKinley county. Use caution in these areas any time thunderstorms are nearby.
If you encounter a dust storm, pull off the road immediately. Turn off your headlights and taillights, put your vehicle in "PARK," and take your foot off the brake. Other motorists may tend to follow taillights in an attempt to get through the dust storm, and may strike your vehicle from behind.
Dust storms in the northern portion of New Mexico usually last a few minutes, and up to an hour at most.
Across extreme southern New Mexico, haboobs can persist for 1 to 2 hours resulting in extremely hazardous driving conditions. In either case, stay where you are until the dust storm passes.

Storm Data has listed 20 wind events as either dry or wet microbursts since 1990. There are likely many other thunderstorm wind events that could be classified as microbursts or macrobursts. Winds up to 80 mph were reported with a microburst in Chama on June 2, 1998.
On a somewhat larger scale, on August 4, 1998, a line of thunderstorms moving off the San Andres Range produced a macroburst with winds that measured 112 mph at the White Sands Missile Range. The anemometer at Holloman AFB recorded speeds of 75 mph before breaking! The core of strongest winds moved over uninhabited military land, but considerable tree damage and some structural damage occurred well to the east near Alamogordo in Bolles Acres. It was also reported that a vehicle was blown sideways for two blocks.
Storm Data also lists 6 dusts storms since 1990. A dust storm in Lordsburg on the 4th of July, 1974 injured 13 people!
Downbursts are particularly strong downdrafts from thunderstorms. Downbursts that occur in precipitation-free air or with virga (evaporating rainfall) are known as dry downbursts; those accompanied with precipitation are known as wet downbursts. Most downbursts are less than 2.5 miles in extent: these are called microbursts. Downbursts larger than 2.5 miles in extent are sometimes called macrobursts. Downbursts can occur over large areas. In the extreme case, a derecho (a widespread and long-lived, violent convectively-induced straight-line windstorm that is associated with a fast-moving band of severe thunderstorms in the form of a squall line) can cover a huge area more than 200 miles wide and over 1000 miles long. Derechos have been known to last up to 12 hours or more, and are associated with some of the most intense straight-line winds. The generative process of a derecho is somewhat different from that of most downbursts.
Sours: https://www.weather.gov/abq/prepawaremonsoondownwinddust
You will also like:
On the right side of the road there is a lake, and on the left - a green field, then a. Living forest. People are nowhere to be seen or heard.
1318
1319
1320
1321
1322