Discover the best fonts for your next motion design project! The best part? They're all FREE.
When it comes to typography, motion design is much less forgiving than printed design. Whereas a most printed design is in front of your audience for an indefinite amount of time, text in motion design projects is only visible for a few seconds at best, so your audience needs to be able to read it quickly. Considering readibility issues, ultra thin fonts should be avoided, as well as those that are overly decorative. These fonts can suffer from a phenomenon known as aliasing where pixels can blend into each other, leading to color distortion and difficult-to-read text.
A Videomaker post featured 5 tips for choosing fonts in your projects. They noted that it's best practice to avoid 'stretching' the font, as it can distort the text and have negative effects on readability. "If you find yourself horizontally or vertically stretching a font to get it to work, you're probably better off searching for a font that works natively for your project."
Practically, this means your options are much more limited when it comes to choosing the right font to use in your projects. To make this process a little less frustrating, we're sharing our 15 favorite free fonts for motion graphics projects.
1. RBNo2
Inspired by late 19th century industrial fonts, RBNo2 is a simple sans-serif font that's incredibly easy to read on screen. The free version includes light and light alternative, but you can get the full version for $25.
2. Chunk Five
As an ultra-bulb slab serif typeface, Chunk Five is a great font for adding Americana themes into contemporary projects.
3. Abraham Lincoln
Abraham Lincoln is tall and formal, much like the president himself. This font is perfect for lighthearted corporate videos and adds a simplistic yet formal feeling.
4. Couture
As the name implies, Couture is a simplistic font that was designed to emulate sans-serif fonts in the fashion industry. It's clean square shape makes Couture very versatile in motion graphic projects.
5. Merriweather
There's a lot to love about Merriweather. It's my go-to font for sans-serif block text, and the simple serifs make it a perfect blend of professional and modern.
6. Nexa
In line with Couture, Nexa is a bold in-your-face font that holds nothing back. If you are looking to make an impact and get people's attention, Nexa is the way to go.
7. Grand Hotel
While we don't often use scripted fonts for motion graphic projects, every now and then a client calls for it. When that happens, bold strokes mixed with simple loops make Grand Hotel a great font to use.
8. Geared
Geared features simplistic masculinity that makes it great for fast paced videos. Playing off of industrial themes, the font is easy to read and grounded with a few lightly rounded serifs.
9. Geo Sans Light
If you need something playful and light, Geo Sans Light has you covered. This lighthearted font is easy to read and even easier to work with.
10. Bebas Neue
There is perhaps no font better for motion design than Bebas Neue. Simply put, Bebas Neue looks good in just about anything. That being said, you are very limited. Beas Neue should only be used for main titles, as it gets somewhat hard to read if the text is more than a few words. Still, it's a great font.
11. Code
Code is simple and it goes with almost anything. Enough said.
12. Tall Dark and Handsome
Tall Dark and Handsome is a great font for use in motion graphic titles, but it can also works great for credits, movie posters, and websites.
13. Liberator
Liberator was designed to look like an old WWII-era typeface. The font is free to use and download today. Enjoy!
14. Governor
Governor is a simple, non-threatening san-serif font inspired by Art Deco. If you need a light-hearted font that's easy to use, Governor is the way to go.
15. Mission Gothic
Misson Gothic is one of the most versatile fonts on this list. With 10 different weights, you can use Mission Gothic in just about anything.
Want even more free fonts? Check out a few of the following resources:
25 Free Sans-Serif Fonts for Motion Design – PremiumBeat
Best Fonts For Motion Graphics & Broadcast Video -MoGraphCandy
The 100 Best Free Fonts – CreativeBloq
Any free fonts that you would like to share? Let us hear about them in the comments below.
FontsMotion Designpost productionroundupTypefacesvideo editing
Sours: https://www.rocketstock.com/
Advertiser Disclosure: Our unbiased reviews and content are supported in part by affiliate partnerships, and we adhere to strict guidelines to preserve editorial integrity. We may from time to time earn commission when you visit the suggested solution's and make a purchase. You will never pay more due to this.
Unless you are merely a casual lurker on Twitch, then people will probably watch you play games as you broadcast. As a beginner, you may keep their Twitch account in the original vanilla format for a while. In time, however, you will want to adjust your screen to match your tastes, along with your playing and broadcasting style. Twitch Interactive has made it easy to use Twitch overlays and borders to customize your account.
You have three main options when it comes to Twitch overlays. If you want to experiment to see what type of twitch overlay best suits your style or you merely lack funds, you can find many sources for free Twitch overlays. If you have the budget and want a more aesthetically pleasing overlay, you could buy a premium Twitch overlay. Serious gamers, however, prefer to have an overlay that genuinely reflects their style, personality, and, gaming strengths. In that case, it makes sense to pay a designer to create a customized Twitch overlay for your account.
Some designers create stream overlays that are wholly customized for playing a particular game. Most, however, are generic, and you can legitimately use them when you stream, no matter what game you choose to play.
When it comes to deciding whether a particular design counts as one of the "best" Twitch overlays, it will usually come down to your individual tastes. What is pleasing on the eye to one person can be horrendous and distracting to another. So we cover the best free Twitch overlays offered from a variety of the leading Twitch Overlay Template providers in 2020. You may find other Twitch overlays at these sites that you prefer, which suit your tastes better. Also, many of these sites also offer reasonably priced premium designs, which may interest you more if you have the budget to spare.
---
43 Top Free Twitch Overlay Templates for 2021:
---
1. Free Own3D.tv Twitch overlay – Own3D

Own3D describes itself as providing better game streaming - everything you need to pursue your hobby and passion on Twitch or YouTube.
They have a large number of overlays for Twitch, YouTube, and Facebook. However, most of these are premium and come at a cost. You can quickly filter their overlays/templates by game or color.
Own3D.tv separates its graphics for streamers into:
Twitch Overlays
Twitch Overlays – Webcam
Twitch Overlays – Talking Screens
Twitch Overlays – Master Bundle
Twitch Starting – Pause- & End-Screens
Twitch Panels
Twitch Alert Sets
Twitch Giveaway Banners
Animated Twitch Overlays
Animated Twitch Webcam Overlays
Animated Twitch Alerts
Animated Twitch Scene Transitions
They don't offer many free overlays or templates, however, as they prefer to work with designers who make premium themes which stand out from the crowd.
They do have a couple of free items, however, including the free Own3d.tv Stream Overlay for Twitch. It comes with a frame for the stream and your camera, space for social media links and the matching fonts for your texts. The initial template is orange, but the pack includes instructions on how to use GIMP to customize your colors and design of the overlay.
Own3D.tv
All of our products are created for all streaming platforms The world's largest Graphics Shop for Twitch & YouTube streamers. Our graphics make your hobby even more beautiful and individual.
VISIT
---
2. No Man's Sky Overlay – Nerd or Die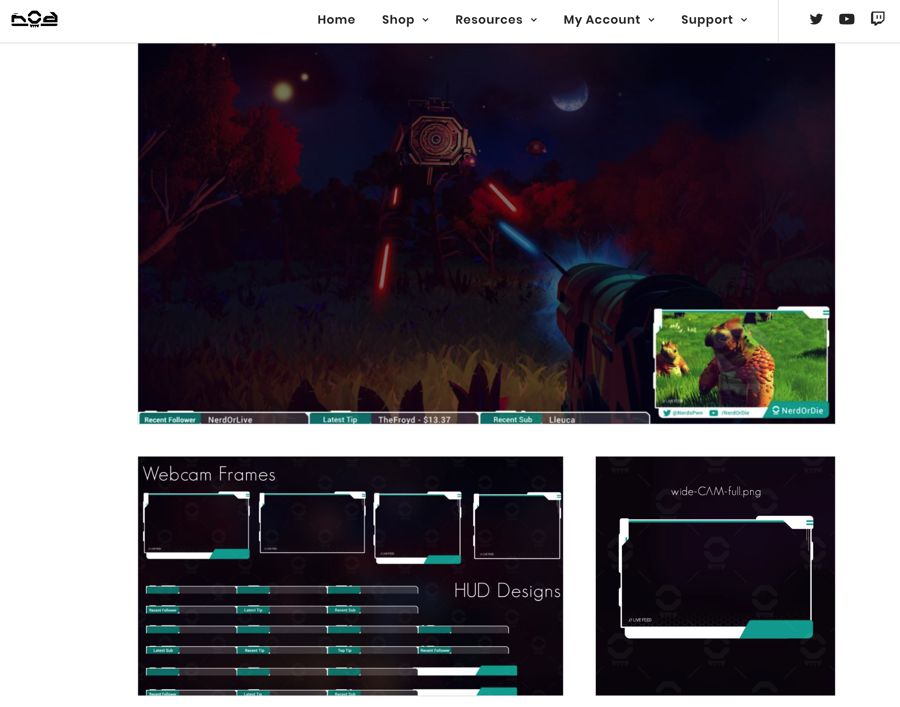 Nerd or Die creates Twitch overlays, alerts, and stream designs. They initially started as a tutorial website and YouTube channel, but they evolved into a brand that creates live streaming designs products, and tutorials for people across the globe.
Although Nerd or Die's overlays were designed for Twitch, almost all of the items they list will work with Facebook, YouTube Gaming, Mixer, and more.
The free No Man's Sky Overlay Theme MegaPack was initially created for the game No Man's Sky. The download includes .png files that can be placed inside of your streaming or video production software.
The downloads include webcam designs, HUD / Supporter Section Designs – with text, and HUD / Supporter Section Designs – blank (no text).
Nerd or Die
As well as eight free overlays, Nerd or Die offers free alerts, stream widgets, stream transitions, Twitch panels, and looping backgrounds.
VISIT
---
3. Twitch Overlay Maker - Placeit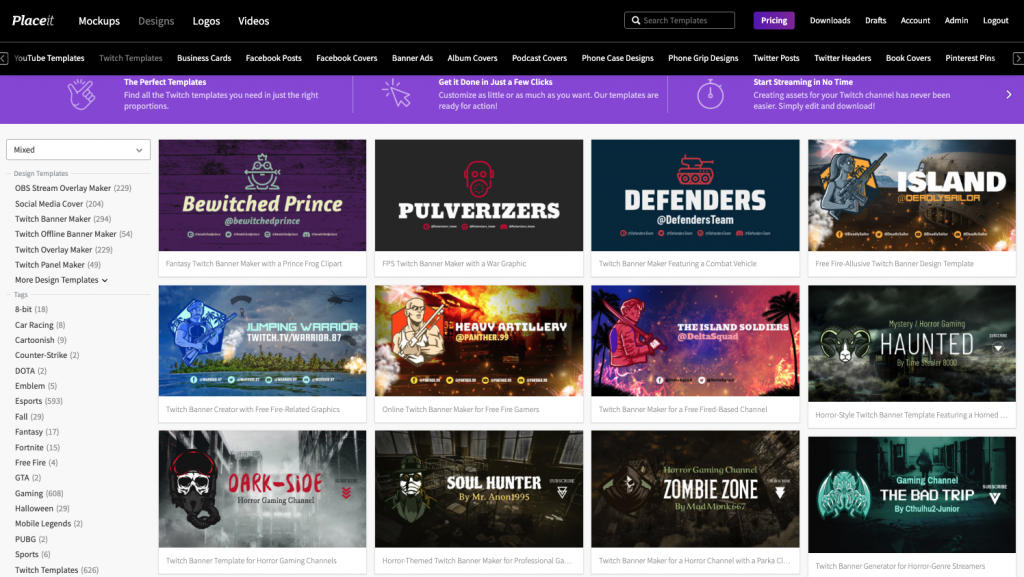 Placeit is an online design maker that provides easy-to-use tools to create professional visual assets that stand out on Twitch, YouTube and other social media, as well as video and realistic mockups.
There are hundreds of Twitch design templates that are customizable and made to fit current formats and sizes. If you're creating video content, you can use Fast Preview to view the progress and changes live while you're editing.
Gamers can choose from a variety of options that include:
OBS Stream Overlay Maker
Social Media Cover
Twitch Banner Maker
Twitch Offline Banner Maker
Twitch Overlay Maker
Twitch Panel Maker
Webcam Frame
How does Placeit work? Once you choose, customize and finish your template, you can download it and get a vector version of it. If you need to work on it later, you can go back to your previous downloads.

Placeit
With an annual ($99.95 USD) or monthly ($14.95) subscription you can get access to all mockups, designs, and videos; additionally, you get 50% off logos.
VISIT
---
4. Ghost Rising – Twitch Overlay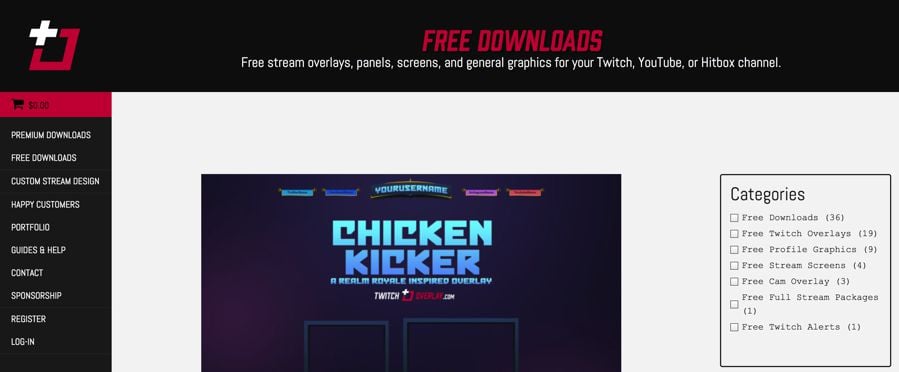 As its name suggests,Twitch Overlay specializes in designing overlays for Twitch live streaming, although they are also suitable for YouTube or Beam. They offer a range of premium and free downloads, as well as providing custom stream designs for anybody who wants something more personal.
At the time of writing, they offer 19 free Twitch overlays, nine free profile graphics, four stream screens, a free twitch Alert, and one full free stream package. If you are willing to spend an amount between $2 and $26, they offer 53 premium downloads, including 42 Twitch overlays.
The Ghost Rising overlay is quite distinctive and is clearly inspired by the game Free Destiny 2. It features sections on the left-hand side showing new followers, thanks for donations, thanks for hosts, and thanks for subbing.
Twitch Overlay
Over 150 overlay templates, alerts, panels, and stream starting & brb screens for use with OBS, Streamlabs & Stream Elements on Twitch, YouTube Gaming, and Facebook.
VISIT
---
5. Overwatch Stream Overlay – Zwerger
Dominick Zwerger is a designer who provides personalized logos, designs, videos and many more for products. He includes many different samples of his designs on his site, in areas like photography, videography, web design, and graphic design.
One of his specialties is designing gaming templates. At the time of writing, he has 26 templates on the site (with an additional four currently in creation).
Some of the templates are more YouTube focused, but quite a few are streaming overlays, usable on any streaming platform, including, of course, Twitch.
A number of the templates are game specific and include examples for Counter-Strike Go, BF1, Watch Dogs 2, Farcry 5, League of Legends, and Overwatch.
The Overwatch Stream Overwatch Template is Dominick's 22nd template on his site. It features game imagery and is in an Overwatch-HUD style. It's easy to edit and free to use. It includes a facecam a "donation bar," and a "follow bar."
You will need access to Photoshop if you want to make any edits. You receive both the Photoshop .PSD file and the font.
---
6. Rage 2 FREE Twitch Animated Overlay Pack – Gael Level
Gael Level is a designer of photos, videos, graphic design, and more. He shares his designs on Gumtree, some for free, others for the relatively low process of $0.99 to $5. Many of his designs are Twitch overlays, with some of the best (paid ones) being packages. For example, he offers a Fortnite pack of more than 100 files, some animated, for $5.
One of his free Twitch animated overlay packs is designed around the game Rage 2. The pack includes three animated screens:
Starting Soon screen
Be Right Back screen
Stream Ending screen
It also includes plenty of static images:
Offline image
Intermission screen
Starting soon screen
Be right back screen
Stream ending screen
Background
2 Avatars (drag and drop)
Banner (Blank)
2 Labels bar (Inline / Stacked)
20 panels
Although this pack can be obtained for free, it is promoted as "Name a fair price," so it may be worth offering some money if you feel the templates will give you enjoyment.
---
7. Own3D Club: Free Twitch Streamer Community – Own3D
One way to gain free Twitch overlays and other graphic add-ons is to join the OWN3D Club: Free Twitch Streamer Community. Also, for everyone who wants to start streaming or is new to streaming, OWN3D offers a Community Discord.
The OWN3D Club: Free Twitch Streamer Community offers its members:
Largest streamer community worldwide
Exclusive offers
Free downloads regularly
Weekly giveaways
Premium partner offers
Free checklists and tutorials
Dozens of Twitch partners will give you feedback
Straight away, you receive a free stream panel set, that includes 5 color sets, 13 prefabricated panels and 1 blank panel, PNGS and PSDS. They also give you their free OWN3D Design Panel Extension, which makes it possible to add free animated Twitch Panels to your channel. The extension offers you a large selection of different graphics and animations. Currently, there are about 40 designs in different colors and styles
There is a list of free and animated Twitch Overlays in the Community Discord channel.
---
8. Dark Matter - Strexm
Strexm provides free Twitch overlays. Most are customized for particular games, though there is also a range of generic overlays.
The Dark Matter overlay is one of Strexm's generic range. It features a red and black color scheme that doesn't take up too much of your precious window space. It utilizes a playful font, which although informal looking is simple to read. The top bar shows your latest followers, recent donations, and your social accounts.
Strexm overlays work out of the box and can be manipulated to your exact needs. They are fully dynamic, and you can change your stream's content at any time through Strexm's intuitive online editor. All of their overlays come built in with follower, subscriber, donation and host alerts.
To date, Strexm has produced game-specific overlays for Battlefield, Call of Duty, Counter-Strike: Global Offensive, Destiny, Diablo III, Doom, DOTA 2, Dark Souls III, Fallout 4, FIFA, H1Z1, Halo 5, League of Legends, Minecraft, Overwatch, Rocket League, Starwars Battlefront, Tom Clancy's The Division, and World of Warcraft.
---
9. Cyan - Zerging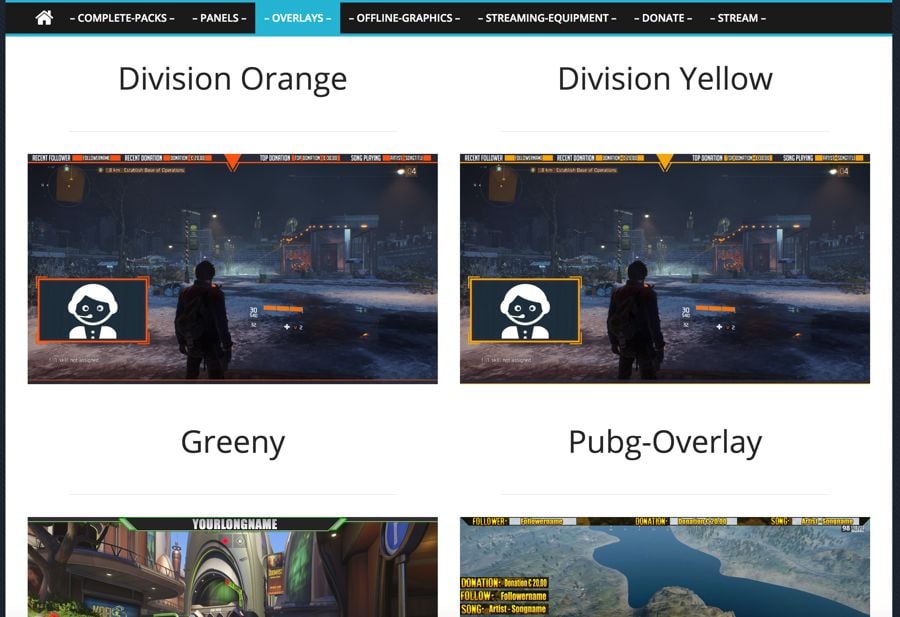 Cyan is one of many free overlays freely provided by German site,Zerging. As its name suggests, Cyan features a light blue color scheme that doesn't overpower the game you are playing.
Zerging is very flexible and encourages its users to mix and match parts of different overlays and panels. Indeed they also offer complete packs with many parts, and you can use them in your stream in whole or in part, however you see fit. The Complete Pack pages include a link to a full pack for Cyan, which provides even more than just the overlay.
It's clear that Zerging's native language is German, and some of the translation could be improved, but you are sure to find something that will interest you. Most of the overlays, panels, and packs are generic, although a few have been designed to work best with particular games.
---
10. Raptor – WDFLAT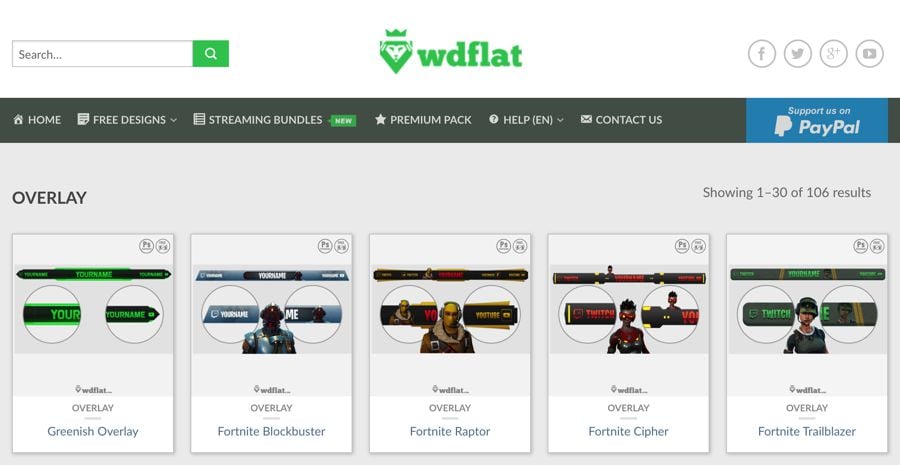 WDFLAT describes itself as an online platform for streamers, with elements for Twitch and YouTube Gaming – Stream Overlay, Twitch Panels, Twitch Offline, YouTube Banner, YouTube Thumbnail, Logo Esports, and more others.
They currently offer more than 100 free overlays, many of which are inspired by particular games. With Fortnite being the Twitch game of choice in 2018, it should is unsurprising that many WDFLAT overlays are Fortnite-inspired. Many of the overlays represent the various characters you can play as in Fortnite and feature matching color schemes.
If you are a Fortnite fan, you will know that Raptor is a playable Soldier character associated with the Raider subclass and can be only obtained as a reward from Level 100 Collection Book. He wears a yellow mask in the game. This overlay uses yellow as its secondary color (along with black) and includes a picture of Raptor at the top of the screen.
---
11. Orbitron – Twitch Temple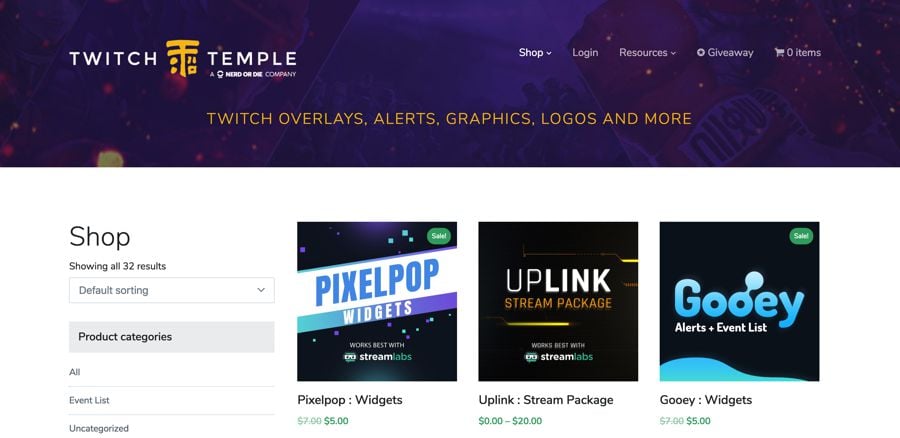 Twitch Temple offers Twitch overlays, alerts, graphics, logos and more. They offer both premium and free Twitch overlays.
The bulk of their packages are premium costing from $3 to $20, depending on whether they feature just an overlay or a full package of animated overlays, goal widgets, and unique alert designs. However, they do currently offer four free Twitch overlays.
The Orbitron design comes resplendent with a gray and red color scheme. It includes a set of modular elements making it very easy to modify the free Twitch overlay however you like. It comes with a range of Twitch panels you can include, covering such areas as About Me, Schedule of Regular Times, Specs, and various social media buttons. The package also offers a Twitch Intermission Screen, a Twitch Offline Screen, and a Twitch Starting Soon Screen.
---
12. Haunted Twitch Overlay – Visuals by Impulse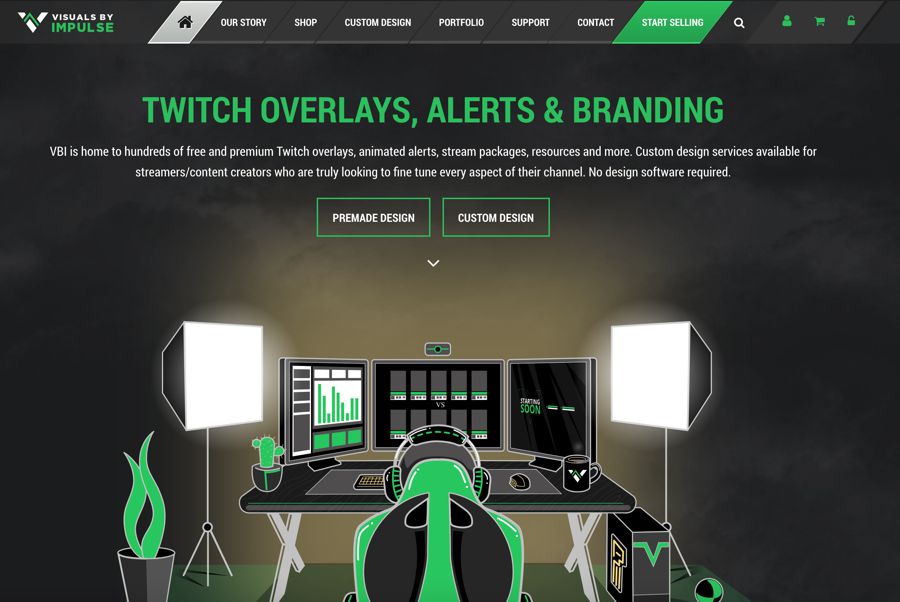 The Haunted Twitch Overlay is one of 36 free Twitch overlays, packages, and panels thatVisuals by Impulse offers.
It comes with a spooky purple color theme, top bar setup, slots for top donation, recent sub and more.
The Haunted Twitch Overlay is designed to get your stream up to par with the pros quickly. Each package contains webcam overlay, VBI design file, a preview image, and a Readme file.
The Visuals by Impulse site is home to hundreds of free and premium stream overlays, logos, alerts and more. These are all compatible with Twitch, Mixer, and Streamlabs.
---
13. Bitter Jungle – Stream Play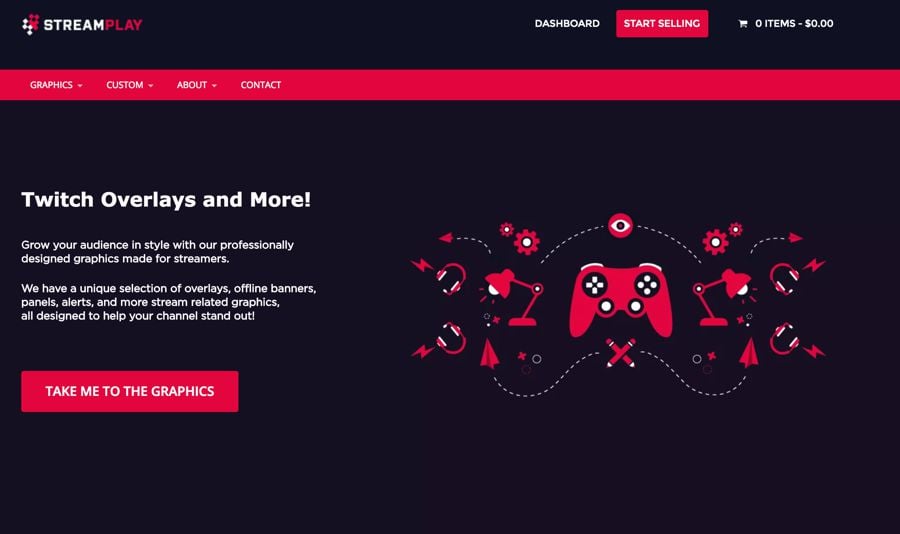 Stream Play Graphics makes custom and premade graphics for streamers. Their primary focus is to help gamers brand their channels with the most visually appealing designs out there. They believe that it is essential to brand your gaming channel. Branding yourself lets your audience know that you're serious about streaming.
As with most of these graphics sites, the main focus is on premium overlays and custom designs. However, they do have a Free Twitch Graphics Collection. They believe that when you're just starting out, a free stream overlay is the best way to test out the waters without worrying about spending money.
All of Stream Play's free overlays and stream graphics will work for you even if you stream on YouTube or Mixer.
As its name signposts, Bitter Jungle is a green-themed overlay template, taken from their full-stream package. There is enough room to add your streamer name, as well as sections for thanking your recent followers and donations. As it comes in a PSD file, you can customize the text and colors to match your style.
---
14. Free Stuff – Twitch Designs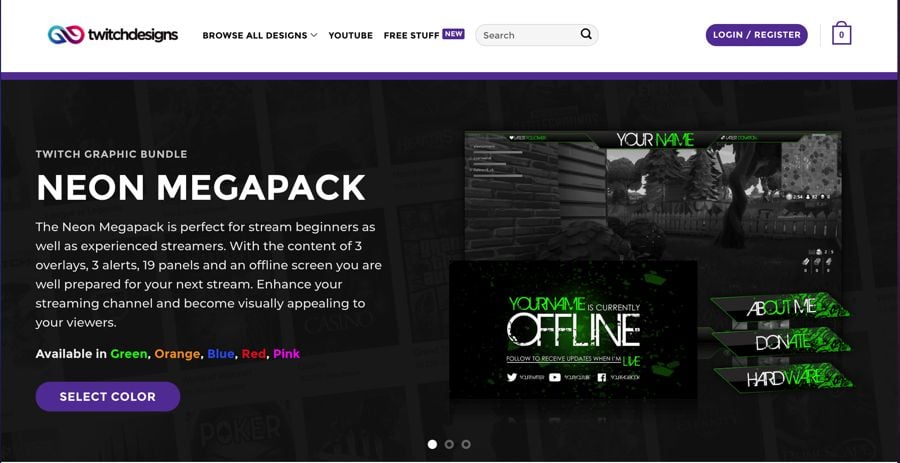 Twitch Designs specializes in, well, Twitch designs to improve the look of your Twitch stream. They include Stream Overlays, Stream Panels, Stream Bundles, and Stream Facecam. They have around 300 products overall.
Many of their templates highlight individual games. These both show off the game itself and leave room for your face cam as well. You can pick your choice of animated overlays which create an active, busy environment even during streaming breaks. If you can't find a template that fits what you need, their designers can create a unique Stream Overlay for you.
Twitch Designs doesn't individually name the items on their Free Stuff page, so I haven't selected a particular design in this case. Although one that looks like a GTA V-type banner could be an excellent design choice for gamers who love to play that long-lived game.
---
15. Triassic – StreamLabs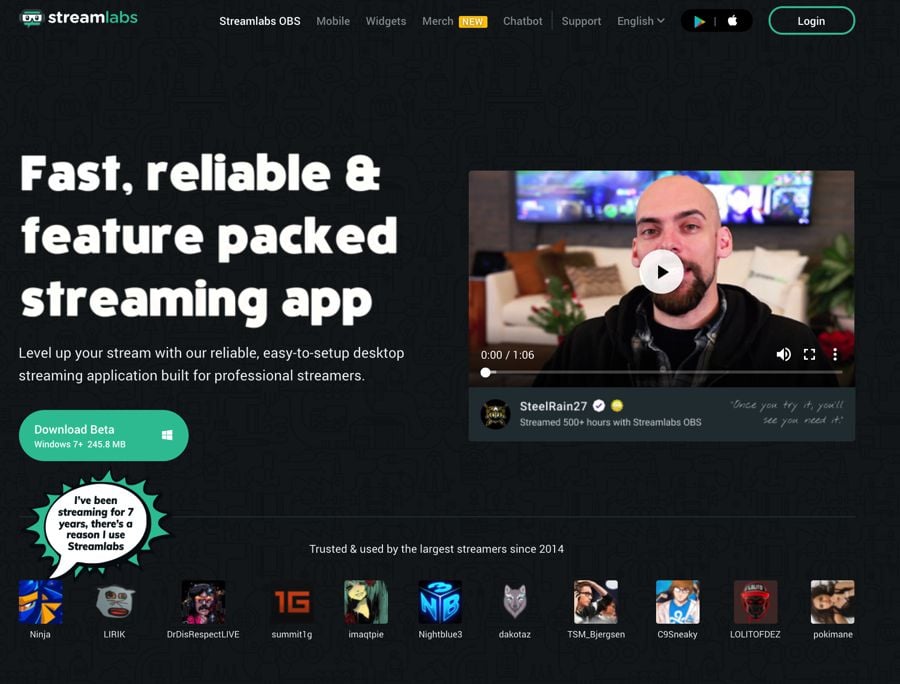 StreamLabs is a free desktop streaming application built for professional streamers. It includes hundreds of free themes and design elements you can install directly into your editor, with one click. You can select from both static and animated themes.
You can quickly sort by features such as theme color, included scenes (Live, Be Right Back, Offline, and Stream Sharing, and theme categories (such as first-person shooter, action, simulation, sports, and many more).
Triassic is unusual in that it is inspired by dinosaurs. It is in the Simulation section, and includes Live, Stream Starting, and Be Right Back screens.
---
16. Fully Customizable Themes – Player.me

Player.me is a simple and powerful all-in-one streaming and recording app that's easy to use in-game and out. It allows you to live stream, record, edit, customize and share.
It includes a powerful cloud-based Stream overlay editor, where you can choose from hundreds of fully customizable themes, and make one your own.
Unlike most of the rest of these sites, you don't select from an existing range of overlays. You begin with their existing templates and make them your own. Player.me's overlays offer a ton of customization and feature all the widgets you are likely to need for your streaming.
Player.me's overlays are entirely web-based, so to use them you click the Launch button, select Copy your overlay URL, and add it as a webpage source onto your streaming software, such as XSplit Broadcaster or OBS Studio.
---
17. God of War Twitch and YouTube Overlay – Free Video Game Backgrounds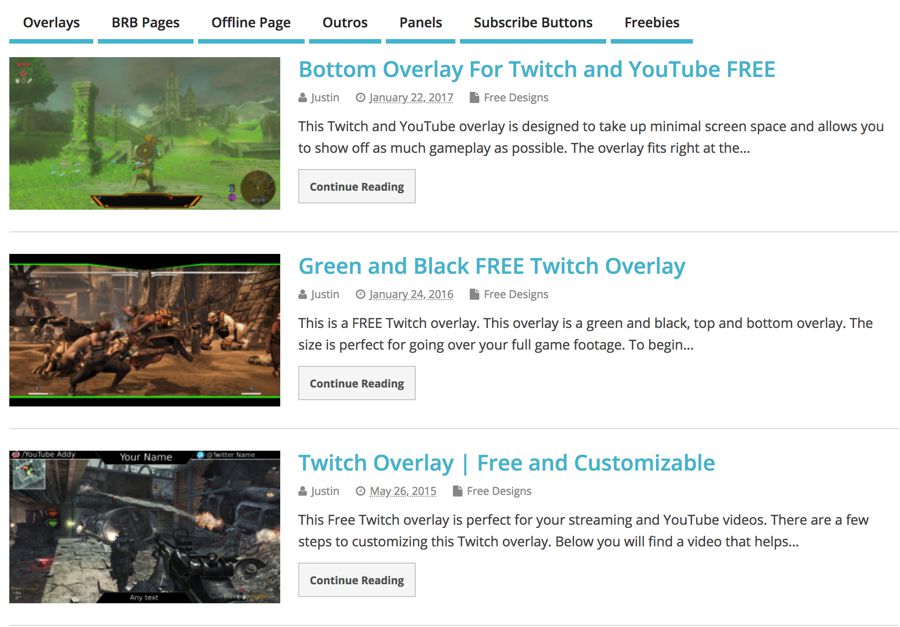 Despite this site being calledFree Video Game Backgrounds, this site actually includes a mix of free, premium, and custom designs. It splits its offerings into overlays, BRB pages, Offline pages, Outros, Panels, and Subscribe Buttons.
It does have a Freebies section, however, with a sizeable part offering graphics you can download.
The God of War overlay I themed to match the game of that name, with appropriate graphics, colors, and fonts. It has an area for a webcam, gameplay, and social media, and is spiced up with the new God of War logo. Kratos (from the God of War game) is featured on this Twitch and YouTube overlay.
---
18. Free Twitch Overlays – Fuskare – Behance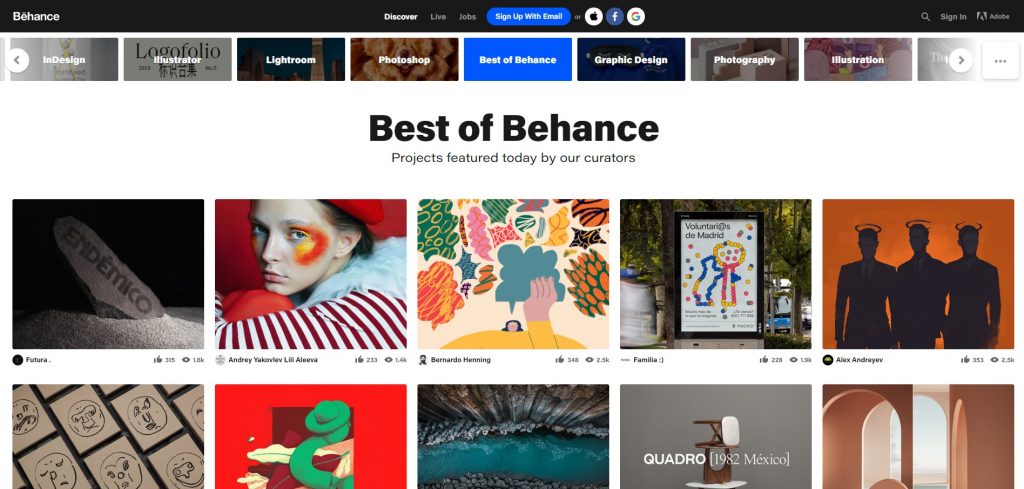 22-year-old Polish video editor and graphic designer, Fuskare, has shared a selection of free Twitch overlays on Behance. Behance is a platform where web designers can showcase their graphical skills. It comes as part of the Adobe Creative Cloud plan, although you don't have to be an Adobe user to download the files that people share on the platform.
Behance is straightforward to use and is an excellent venue for those in fields like graphic design and illustration to demonstrate their skills.
Fuskare has uploaded a mix of social media headers, free Twitch overlays, anime headers, and Valorant headers.
Of course, Fuskare is just one of many graphic designers who have shared free Twitch overlays. If you search for that term on Behance, you will come up with a considerable number of overlays and other Twitch graphics, and you may find one more in line with your tastes.
---
19. Free Hitbox Streaming Overlay Pack – GDR (GraphicDesignResources)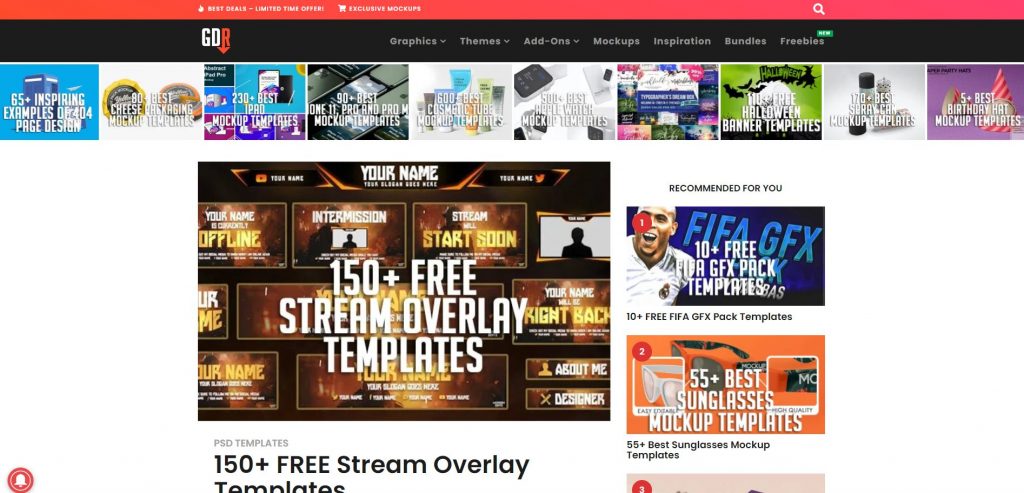 As its name indicates, GraphicDesignResources offers multiple graphics files. You will find no end of different types of graphics, themes, add-ons, mock-ups, inspiration, and bundles on the site, as well as the all-important freebies. These include a page showing 150+ free Stream overlay templates. The site stresses that its graphics can be used with streaming platforms such as Twitch, YouTube, Mixer, Facebook, Huya, or others.
Look through the collection to see one that would suit your streaming style and appear attractive to your audience.
The first item currently on the list is the Free Hitbox Streaming Overlay Pack in PSD format. When you click on the Download button, it takes you to a YouTube video showing the graphics in action. The link to download the pack is beneath the YouTube video.
This particular template is a pack, including ten screens, banners, avatars, and more. It also comes in various colors, so you aren't restricted to the teal color showing on GDR (or the green color depicted in the YouTube video).
---
20. Blue Neon Twitch Overlay – Adobe Spark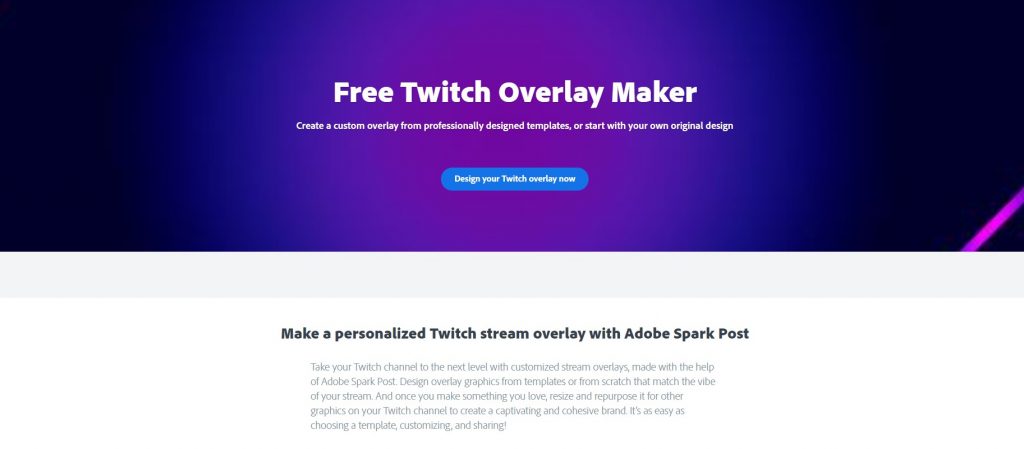 Adobe Spark is an integrated web and mobile solution that enables everyone to easily create and share impactful visual stories, social graphics, and animated narrated videos. However, you can use it for other graphical purposes too, and you can use the app to make various graphical projects. One of the templates you will find there is the Blue Neon Twitch Overlay.
In this case, you will probably want Adobe Spark to make some modifications to the design, which you should be able to do without any significant need for graphical skill and expertise. The first thing they say you should do is to remove the Adobe Spark logo in the bottom right corner.
---
21. Twitch Stream Overlay Red Face – Sathya Studios – PNGTree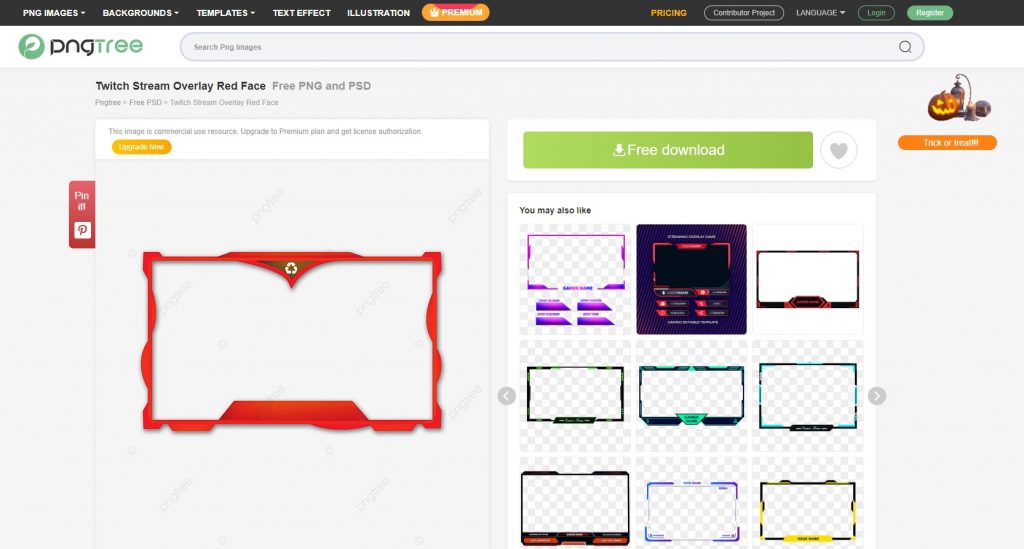 Founded in Dec 2016, PNGTree has millions of graphics resources for everyone to download. One of these is called the Twitch Stream Overlay Red Face.
PNGTree's vision is to build the largest PNG free resource platform in the world, service for all the professional designers and people who have the design skills.
If you search for "stream overlay," you will find four screens (currently) of streaming overlay graphics in a range of styles and colors. The Twitch Stream Overlay Red Face is what it says – a free, red-colored overlay of the surrounds of a Twitch screen. When you click on the Download button, you are prompted to register for PNGTree. However, once you have done that, you can continue the download. This particular overlay has been designed and shared by Sathya Studios. They have uploaded over 130 PNG images and templates to PNGTree. Some are bare and basic, like the Overlay Red Face, but others are graphically more complex, so you should be able to find a design that gains your attention.
---
22. Llama Fortnite Animated Super Theme – StreamElements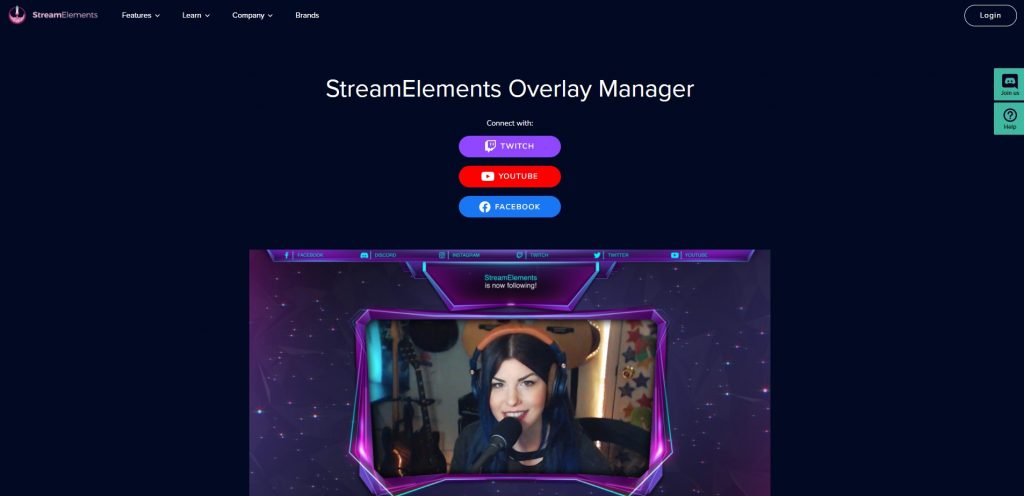 StreamElements is a cloud-based platform for streamers. Amongst the features it offers is an overlay manager. You can use this to manage all your graphics with ease and load them in your OBS\Xsplit from a single source and one click. You can either create a new overlay yourself or use a free ready-to-stream designer-made "SuperTheme" from their Themes Gallery. Super Themes are a complete package for multiple scenes. Using a Super Theme will create five overlays that you can use in different scenes in OBS.
One Super Theme is the Llama Animated Super Theme, designed for Fortnite streamers. The five overlays that are part of this pack contain llama-enhanced overlays, showing the streamer's head superimposed over their gameplay, a near full-screen view of the streamer, a Stream Starting Soon screen, a Be Right Back screen, and a Stream Ended screen.
---
23. Tribal – OvrStream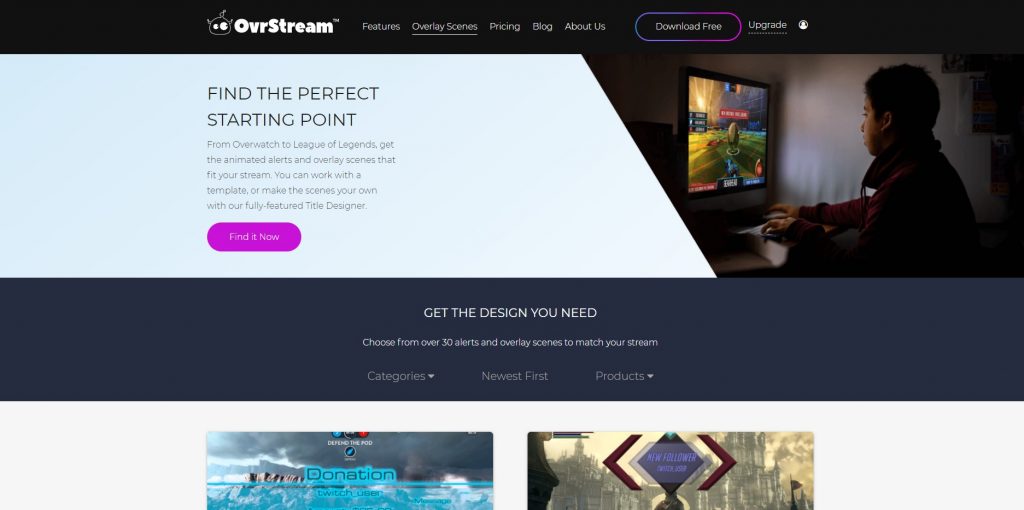 OvrStream is an automated motion graphics app for streamers that offers custom graphics, alerts, and overlays. You can download OvrStream for a free 60-day trial, and when you get the hang of OvrStream's powerful rendering engine, you can subscribe for $4.99/month. This allows you to keep access to their design tools, a library of effects and animations, and connection to YouTube, Twitch, Twitter, Streamlabs, and more
OvrStream allows all their potential customers to test their layouts, graphics, and templates within the 60-day trial period. During this time, you'll be able to access overlays, alert templates, and a variety of free streaming layouts for all of your broadcast's needs.
OvrStream has over 30 alert and overlay templates inspired by popular games, styles, and trends. Customizing a template is easy and creating your own from scratch in their Title Designer can provide your audience with a memorable experience. Tribal is an example of one of the existing templates you can download for your stream.
---
24. Free Stream Overlay Template 2021 – PSD Pack – Mattovsky Design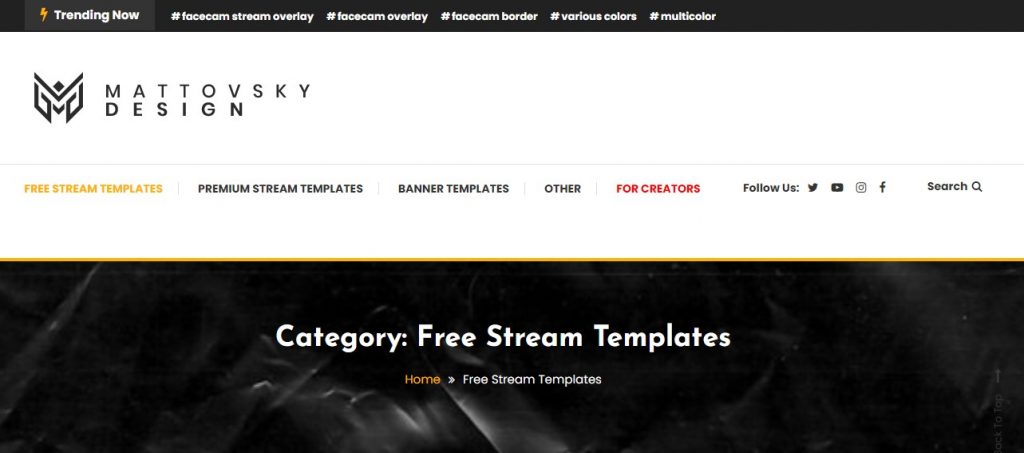 Mattovsky Design offers a range of free and premium stream templates, along with banner and facecam overlay templates. They also provide a service for creators who design computer graphics to promote their products on the Mattovsky Design website.
Unlike some of the other sites offering Twitch overlays we have referenced here, Mattovsky continues to release new designs, so it is worth checking back regularly to see if they have a new design that interests you.
Their most recent offering is their Free Stream Overlay Template 2021. The facecam overlay is prepared in high definition, which you can easily scale without fear of losing quality. You can also simply edit the .PSD files to customize them for your project. You will find description panels that you can personalize in Adobe Photoshop or Photopea and put on your Twitch channel.
---
25. Call of Duty: Warzone Twitch Overlay – FreeTwitchOverlays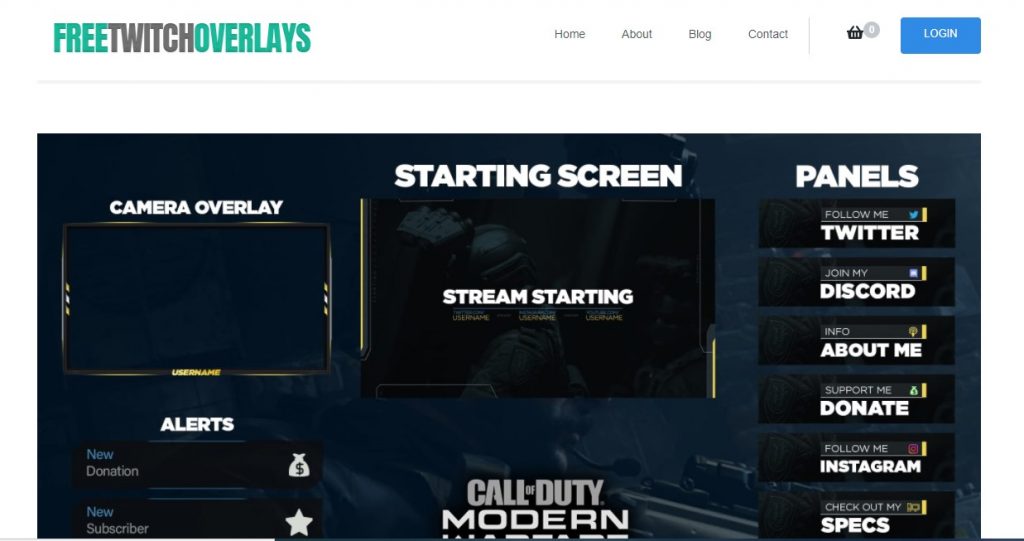 FreeTwitchOverlays has the clearest website name of any in this post. It offers precisely what it says. The site provides free Twitch overlays, alerts, panels, and more for OBS and Streamlabs. They say that all their stream overlays and streaming graphics are compatible with Twitch, YouTube, and Facebook Gaming.
The majority of their streaming packages include free Twitch panels. These are great for letting your viewers know how to find you on social media, donate, subscribe, and much more. All Twitch overlay downloads include PNG, PSD, and JPG file types.
Call of Duty Warzone is one of the hottest games on the internet, and the Warzone Twitch overlay streaming package is designed to be used by streamers of that game. The package includes a 16:9 camera overlay, starting stream screen, bio panels, and alerts.
---
26. Free Animated Overlay – TacticalLion Designs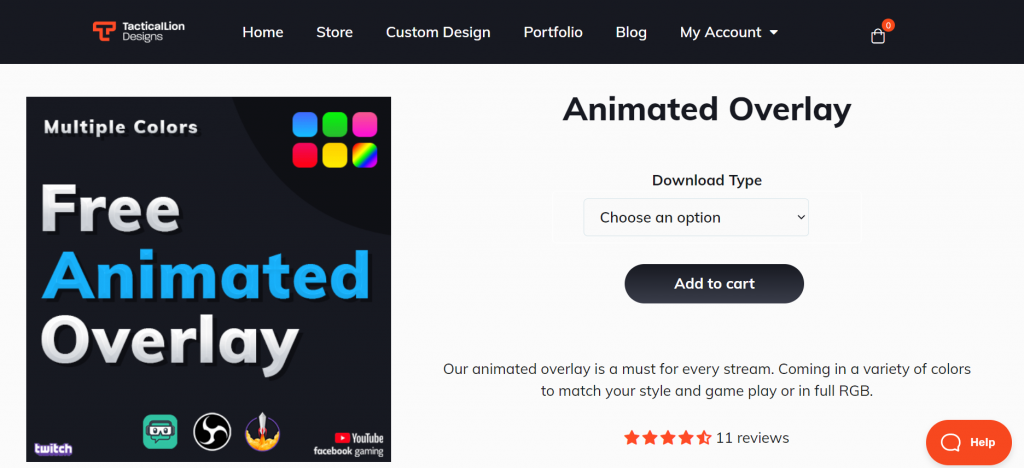 TacticalLion Designs creates beautiful designs for streamers. Level up your stream with custom and premade designs. If you want to buy a custom package, their team can bring your designs to life, animated, and with a custom mascot design.
TacticalLion Designs offer a wide range of instantly downloadable pre-made animated packages that work on every platform.
However, they also have a wide selection of free overlays, panels, animated alerts, and resources to help get your stream looking as good as it should. One of these is their Free Animated Overlay. It comes in a variety of colors to match your style and gameplay or in full RGB. It includes a 16:9 animated webcam, new follower label, new subscriber label, new cheer label, new donation label, and eye-catching animation. For an additional cost, you can add the Photoshop .PSD, and After Effects .AE source files.
---
27. PUBG Free Twitch Overlay – TwitchGFX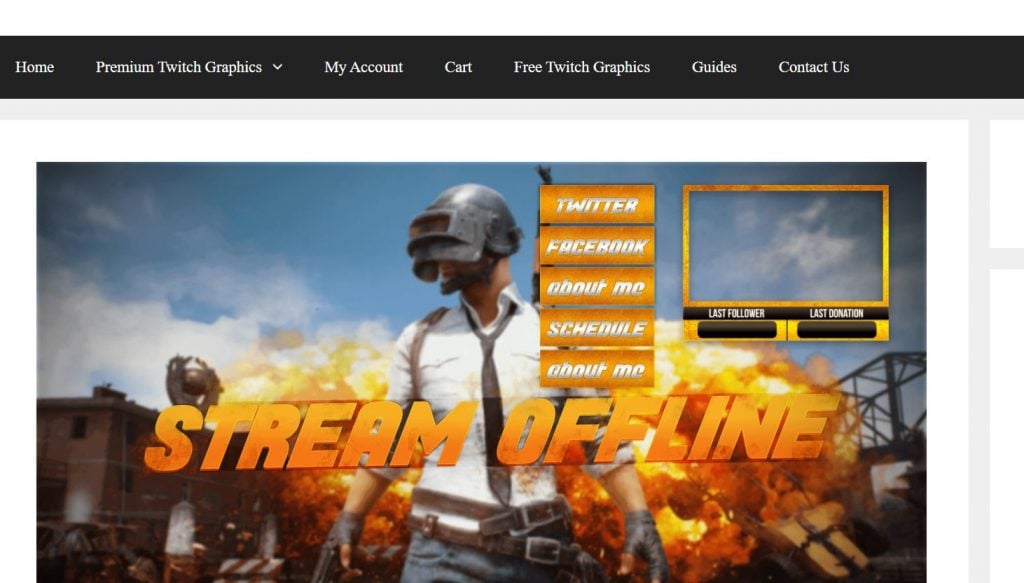 TwitchGFX offers stream overlays and other Twitch graphics. As with most graphics' firms, their primary focus is on premium overlays. They believe having original stream graphics will make your stream stand out from others, and free streaming graphics only make your stream look like everyone else's. However, they do offer some free Twitch graphics for anyone who wants to use them. They acknowledge that free graphics are not necessarily premium-looking, but they will help anyone just starting a Twitch.tv channel.
One of TwitchGFX's free overlays is their PlayerUnknown's Battlegrounds (PUBG) Twitch overlay. Make your Battle Royale gameplay stand out with this graphics package for streaming. The package includes facecam overlay, stream offline screen, Twitch panels, Facebook, Twitter, About Me, specs, and schedule. The .PSD files are available on a pay-what-you-want basis.
---
28. Free Twitch Emotes – StreamShark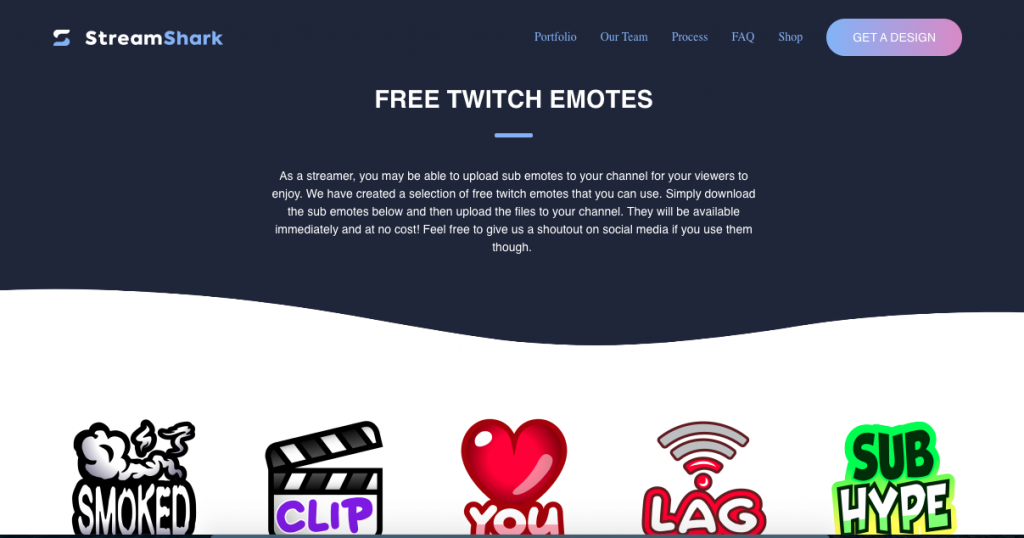 StreamShark creates overlays, sub badges, animations, panels, alerts, graphics, and emotes for streamers. You can order a custom design if you prefer. They can make any of the previously mentioned streaming graphics you desire based on your wishes. You fill out a short order form, letting you know the items you need. They then send you an email with details and a price for the project, so you can decide whether you want to proceed. Once you have okayed the project, they will send you a draft of their design, and you can determine if you need them to make any changes. They then send you the final versions, followed by the files once you have approved the finished designs.
If you are a Twitch Affiliate or a Partner, you can upload sub emotes to your channel for your viewers to enjoy. StreamShark offers a selection of free sub emotes you can download and then upload to your channel.
---
29. Among Us Twitch Panels – Streamshift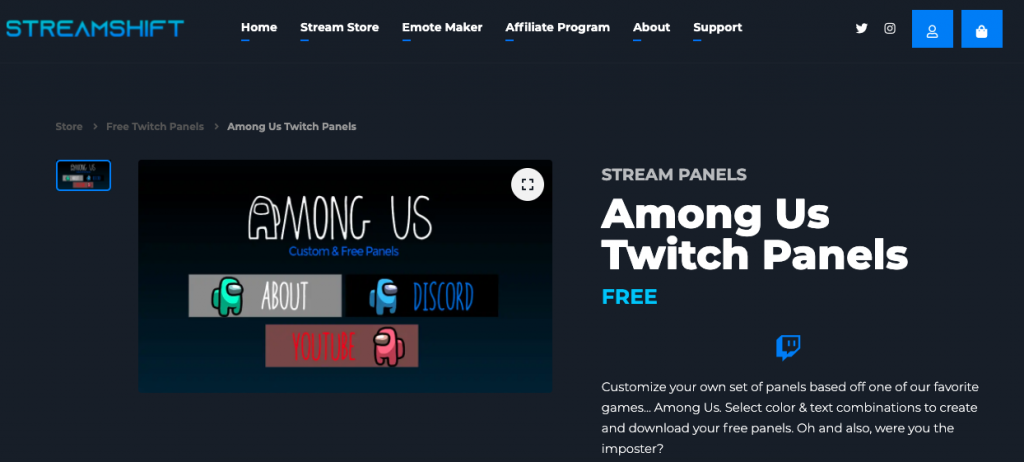 Streamshift offers a range of premium and free stream overlays that are all customizable to suit your vibe. Their diverse range of overlays, panels, alerts, and emotes have your whole brand covered. You can select from their trusted range of customizable overlays, alerts, panels, and widgets to create a distinct experience for your stream.
Streamshift focuses on creating installs that you can import into your stream instantly. They support Streamlabs and StreamElements' one-click setups.
Among their free offerings are the Among Us Twitch Panels. You can customize your own set of panels based on the game, Among Us. Select color and text combinations to create and download your free panels.
---
30. Impact Overlay – Think Premade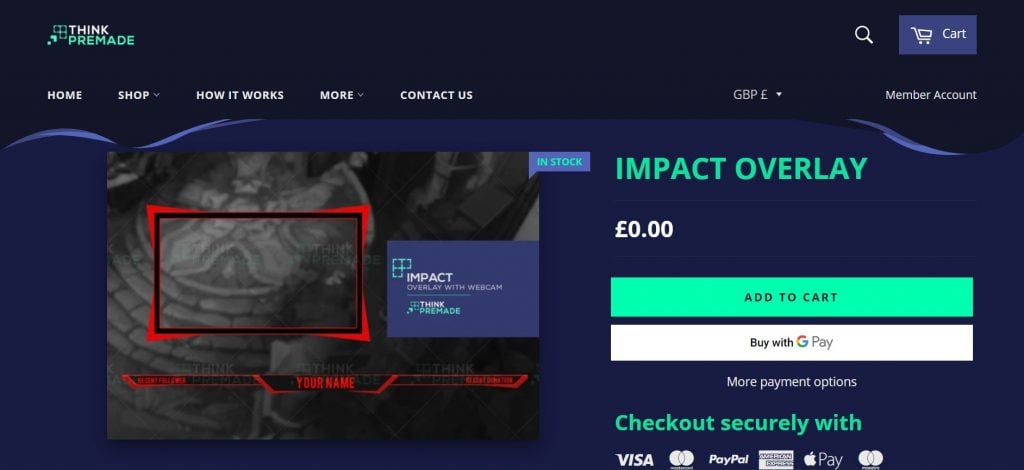 Think Premade makes free and premium graphics for streamers. Easily create a professional-looking stream with ease, no software or design skills needed. They are straightforward images. Downloads are available instantly after checkout, with no waiting for designers. All of the designs are meticulously chosen to provide the best quality graphics to make your personal brand stand-out
To take full advantage of overlays, Think Premade recommends using software such as StreamLabs, OBS, or xSplit. Their designs are easy to set up, with plenty of online tutorials explaining how to add, move, and enlarge artwork on your stream for viewers to see. However, they observe that console streamers will require a capture card to show off your fancy overlays.
Their Impact Overlay is their most popular free resource to try out their products and process. The pack includes multiple colors. You will find a stream overlay and webcam in the pack, with top and bottom overlay orientations. It includes the .PSD file so you can edit your own text. Think Premade also includes black .PNG copies so that you can add your text by other means if you don't have Adobe Photoshop.
---
31. Strmaker Creation Tool – Stream Maker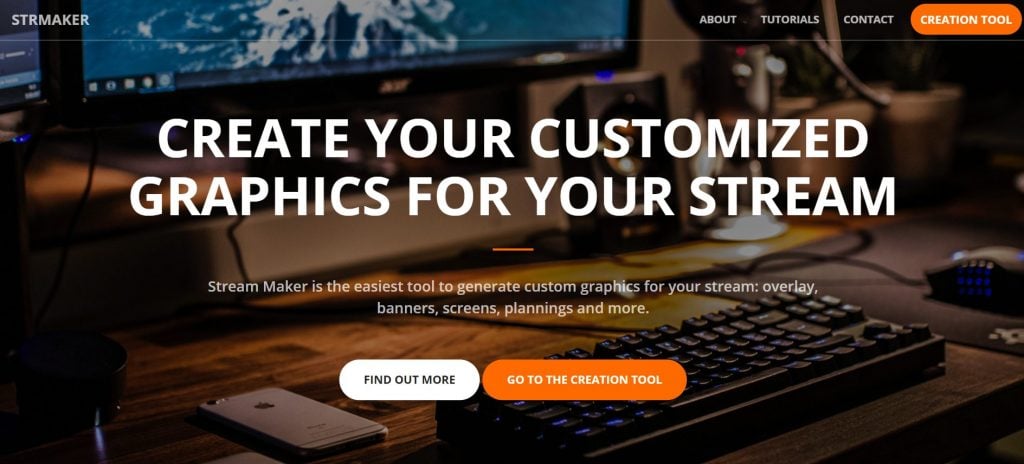 Strmaker provides a tool for you to make customized graphics for your stream. You can use Stream Maker to create overlays, banners, screens, plannings, and more. You don't need graphics skills or experience.
The tool runs directly in your browser. You can select colors and themes and include your username and social accounts if you want. Once you have decided on the details, the Stream Maker tool automatically generates your custom graphic. Stream Maker directly generates graphics compatible with streaming tools such as OBS Studio, Xsplit, Gameshow, and others.
---
32. Camo – Free Call of Duty Twitch Overlay – Twitch Overlay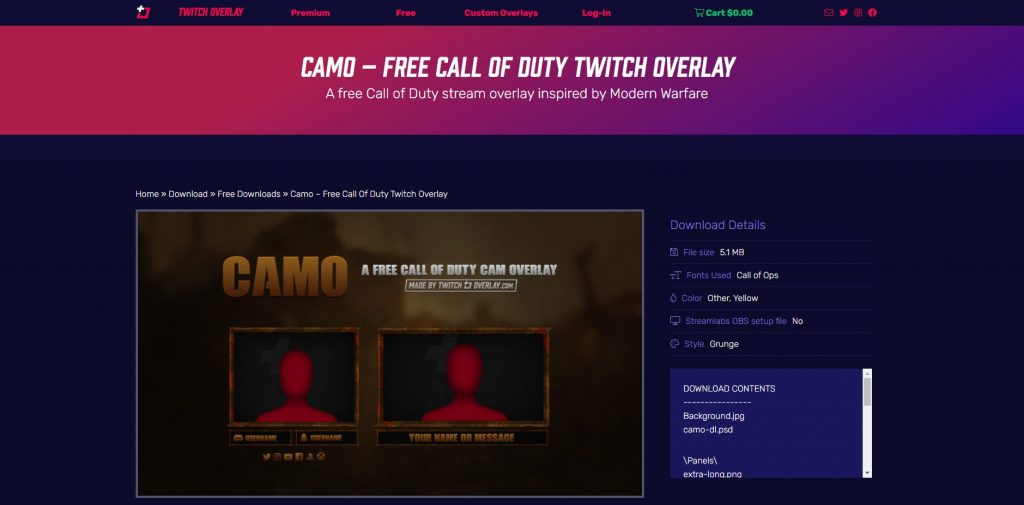 Twitch Overlay claims to have been the home of Twitch overlays and alerts since 2014. They offer over 150 overlay templates, alerts, panels, and stream starting and BRB screens for use with OBS, Streamlabs, and Stream Elements on Twitch, YouTube Gaming, and Facebook. You will find many styles and options – from gothic to horror/grunge to punk to bright and fun. Their files break down into multiple parts. Overlays, for instance, include many moveable parts for extended use and customization. Fonts used in their designs are freely available to download.
One of their free downloads is Camo, a Call of Duty Twitch overlay. It uses typical Call of Duty fonts and a camouflage-type color scheme. The free download includes social strips (extra-long and shorter panels for all purposes), social icons, webcams (two options in standard 16:9 and 4:3 formats), a sandy desert storm-like background for empty stream scenes, and Photoshop PSD to personalize your own text and social info.
---
33. Photon FREE Animated Stream Package – DexPixel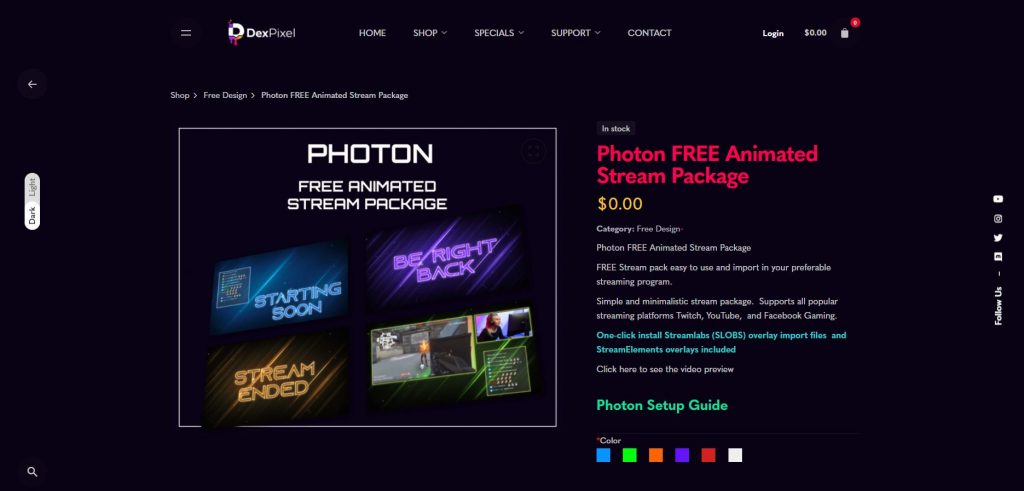 DexPixel makes professional stream graphics – Twitch stream overlays, live stream alerts, and more. Their images are easy to use on Twitch, YouTube, and Facebook. The designs are 100% stream-ready, no matter what you stream or what game you play. They are fully usable on StreamElements and Streamlabs; import alerts, overlays, and scenes with just one click.
DexPixel currently offers two free products. One is a series of free sci-fi animated alerts. The other is the Photon FREE Animated Stream Package. This is a simple and minimalistic stream package. You can pick from six color schemes. The pack includes an animated background and animated text (Starting Soon, Be Right Back, Stream End), intermission scenes, webcam 16:9 and 4:3, animated transition/stinger with and without sound, animated alerts, sound included, and additional elements (Chat frame, Labels, and more.)
---
34. Berry Overlay – Twitch Overlay Template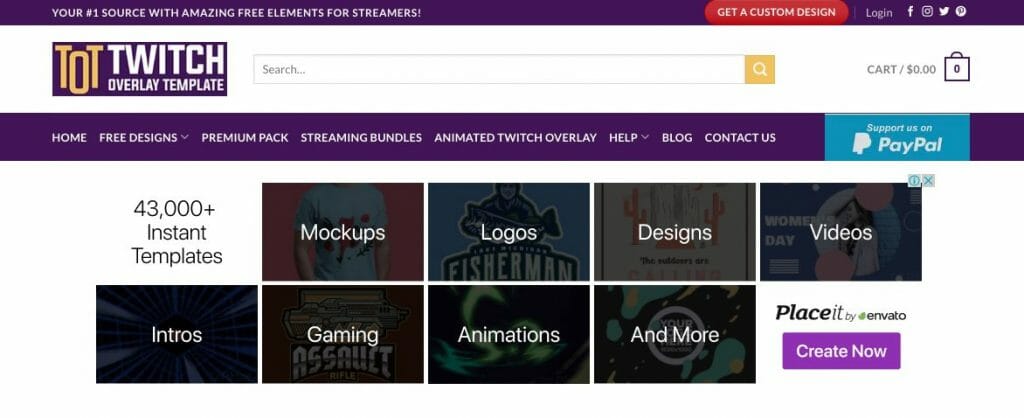 Twitch Overlay Template (TOT) makes a range of free and premium designs of various Twitch graphics, from alerts to overlays to wait intermissions to emotes and much more. They have more than 100 premium overlay templates, along with four premium packs and six streaming bundles.
They currently offer 288 free designs of different types. The Berry overlay contains a mixture of red and black graphics for your streams. You do have to first share a social message before you can download the files, however.
---
35. Facecam – Minecraft (Block) – Empire Games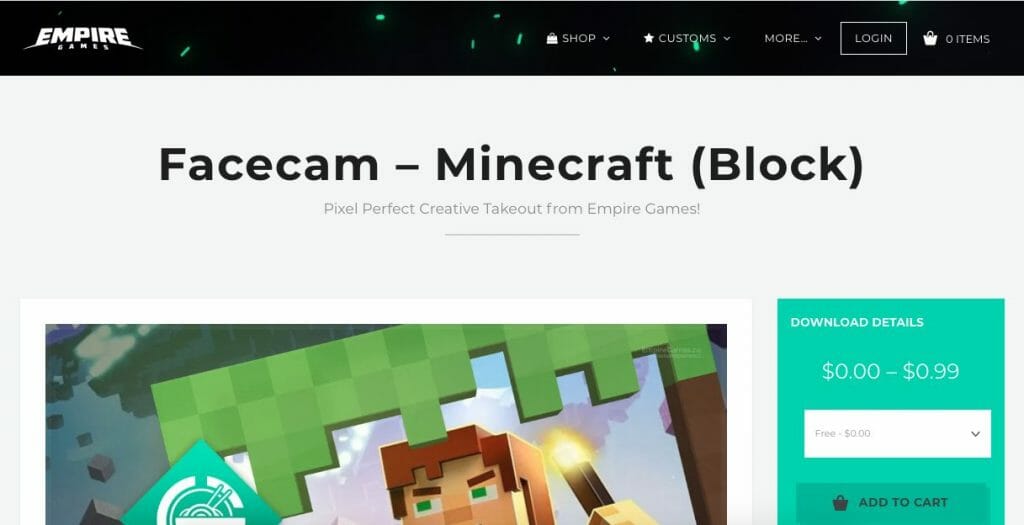 Empire Games makes pixel-perfect creative takeout for your stream. They continually add to their creative library. Empire Games has created pre-made streaming graphics and custom channel branding for more than two years.
As well as making custom stream designs, Empire Games has a range of pre-made premium stream overlays, Twitch panels, social media graphics, and logos. In addition, they offer various free resources. These include two wallpapers, three different colored stream alerts (bright blue, red, and green), and a Facecam with a Minecraft block design.
The Minecraft (Block) facecam is designed specifically for Minecraft. It's a unique Cam Box that requires no editing or Photoshop, just a pixel-perfect PNG.
---
36. Rogue Overlay – Image Retouching Lab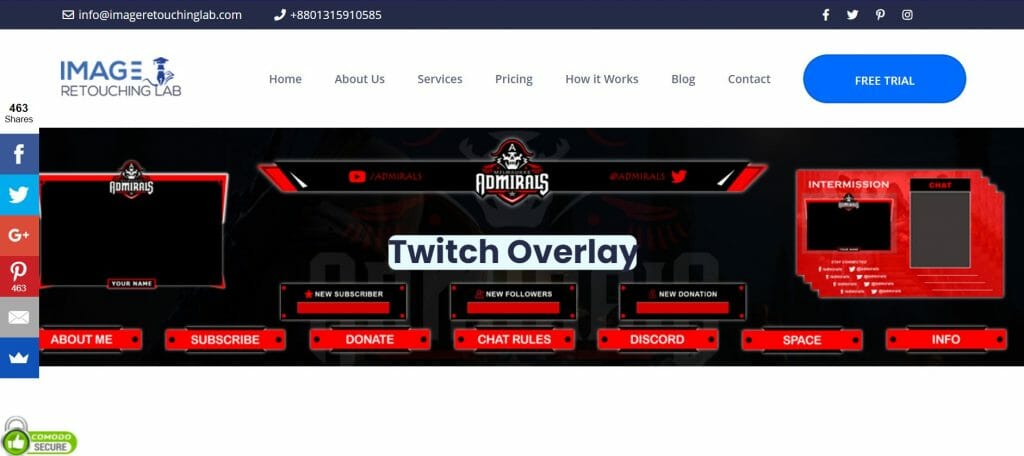 Although Image Retouching Lab primarily offers clipping path and Photoshop services, they also create Twitch overlays. They mainly make custom Twitch overlays. However, they also give instructions on their site about how you can customize one of three overlays, facecam, panels, alerts, and intermission screens. They call their red and black design Rogue Overlay.
---
37. Synthwave Stream Package – Ovoz Graphics / Behance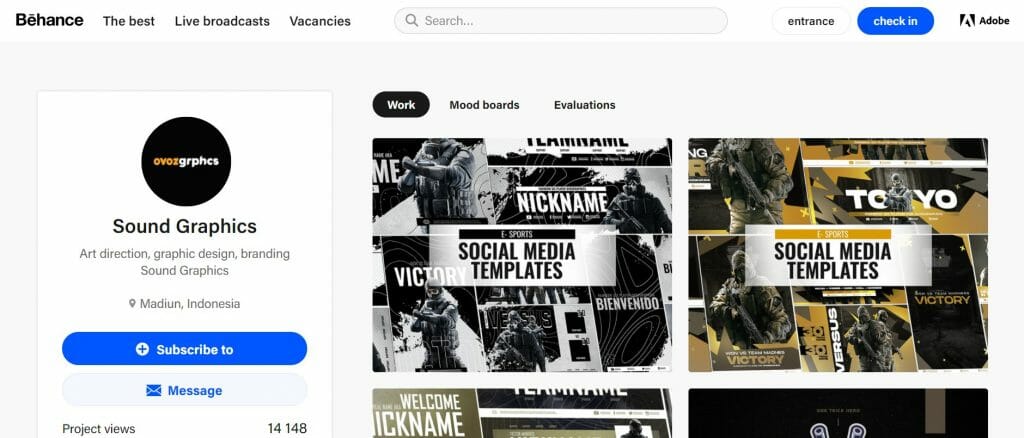 Ovoz Graphics is an Indonesian maker of art direction, graphic design, and branding. They exhibit much of their work on Behance, Adobe's social network, where you can showcase and discover creative work. While they make their money from creating custom designs, they have various social media, eSports, and content templates on Behance, including the Synthwave Stream Package.
38. Animated Twitch Overlays, WebM, OBS Studio – D H Designs / Gumroad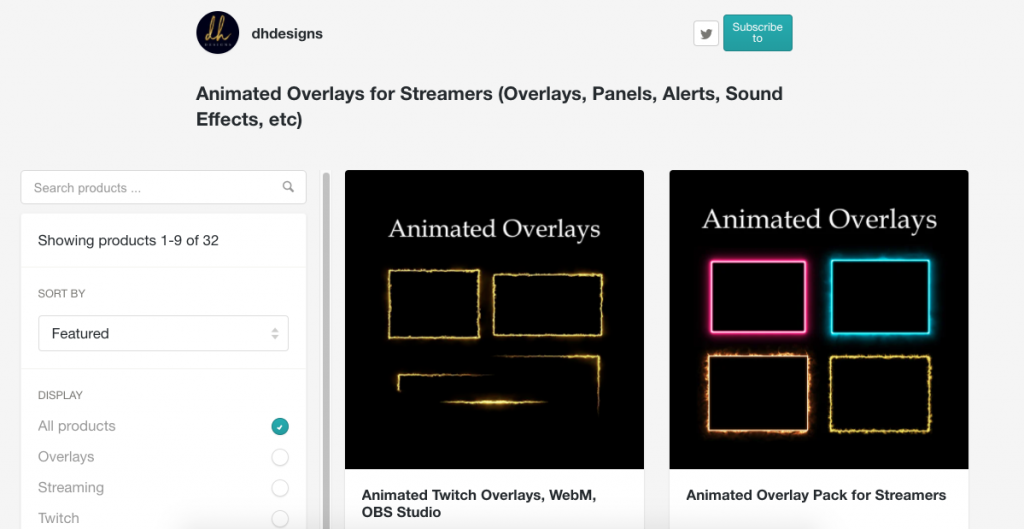 D H Designs makes and sells a range of streaming graphics on Gumroad. They charge $5 for the bulk of their designs; however, they do have some free overlays, animated overlays, and icons.
They have a pack of five free animated overlays. They are WebM animated overlay files optimized for streaming. The PNG overlays feature high-quality 1080p HD. They work in OBS Studio, Streamlabs OBS, StreamElements, XSplit, and Muxy, and support Twitch, YouTube Gaming, and Facebook.
---
39. Twitch Banner Collection for Live Stream Template Free Vector – BiZkettE1 – Freepik

If you go into Freepik, you will find more than 400 examples of free Twitch graphics. Be careful about the examples at the top of the page, however, as they are sponsored results from Adobe Stock, although they give you ten free photos.
One example you will currently find on Freepik is BiZkettE1's Twitch Banner Collection for Live Stream Template. This template looks futuristic and comes in a red and blue color scheme. BiZkettE comes from Malaga and has more than 3,300 resources on Freepik.
---
40. Clean Twitch Overlay Template – FIOK – PSD Repo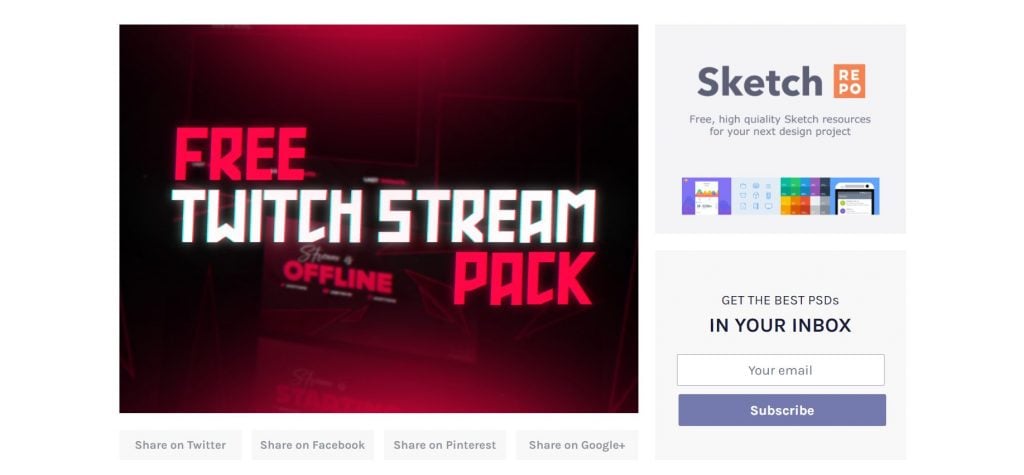 PSD Repo helps you to find design resources that are offered for free to the community. You can get free PSD and XD templates every week in your inbox. You will find examples of buttons, mockups, icons, XD templates, mobile, UI kits, websites, and other items, including Twitch overlays.
Author FIOK Visuals made a clean Twitch overlay template to help you present your stream to your audience in a more fun and exciting way. It has a space theme with red and white text on the blackness of space. FIOK also makes custom Twitch overlays.
---
41. Free Animated Stream Overlay – Fun Founder Designs/Behance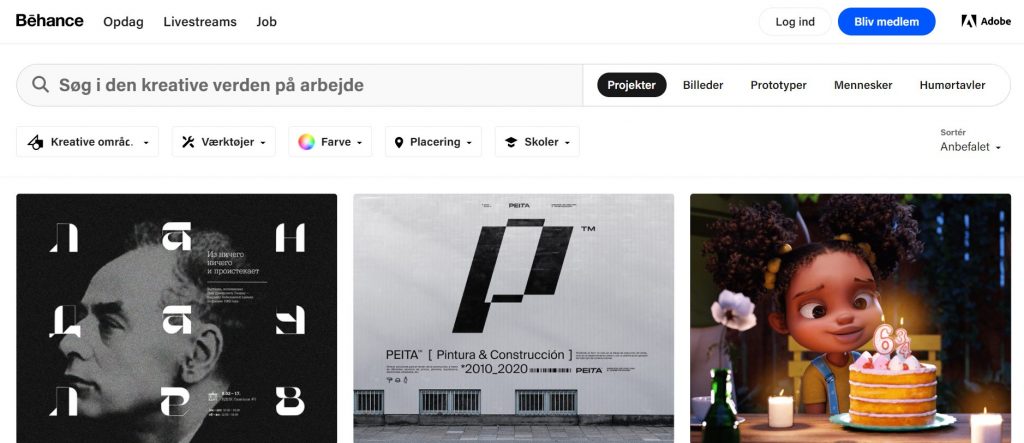 Fun Founder Designs is an Indian-based motion graphics artist freelancer. He stores a selection of his designs on Behance, and you can see their animation in action on his YouTube channel. The bulk of the designs he presents on Behance are free, including his red and orange-themed Free Animated Stream Overlay.
---
42. Free Stream Overlay Template – Rize/Behance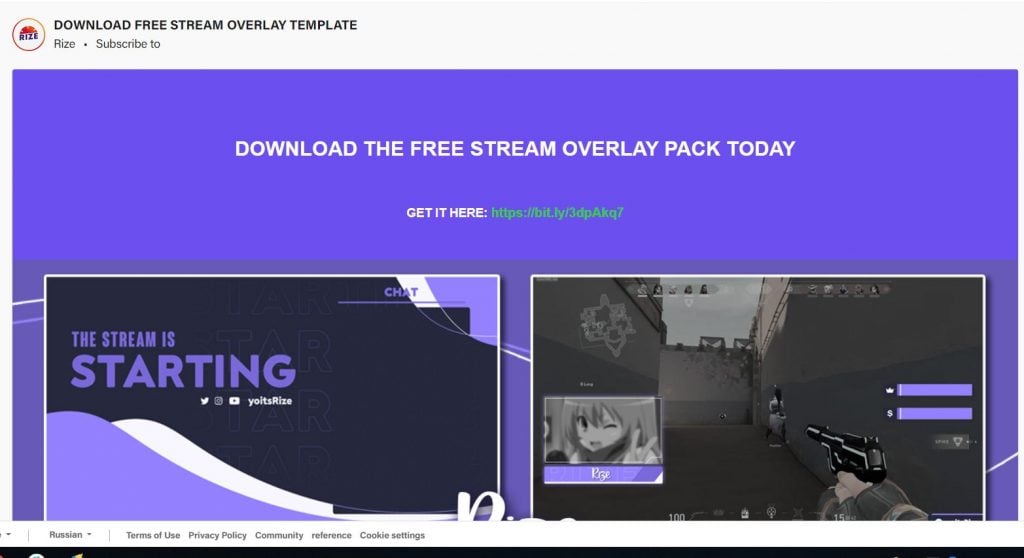 Rize also offers a free stream overlay template that he displays on Behance. Much of the graphic designs he exhibits on Behance have a manga look, and even his free stream template continues this theme. It is predominantly styled in shades of purple.
---
43. Twitch Overlay – Free to Use – Tetra W/Behance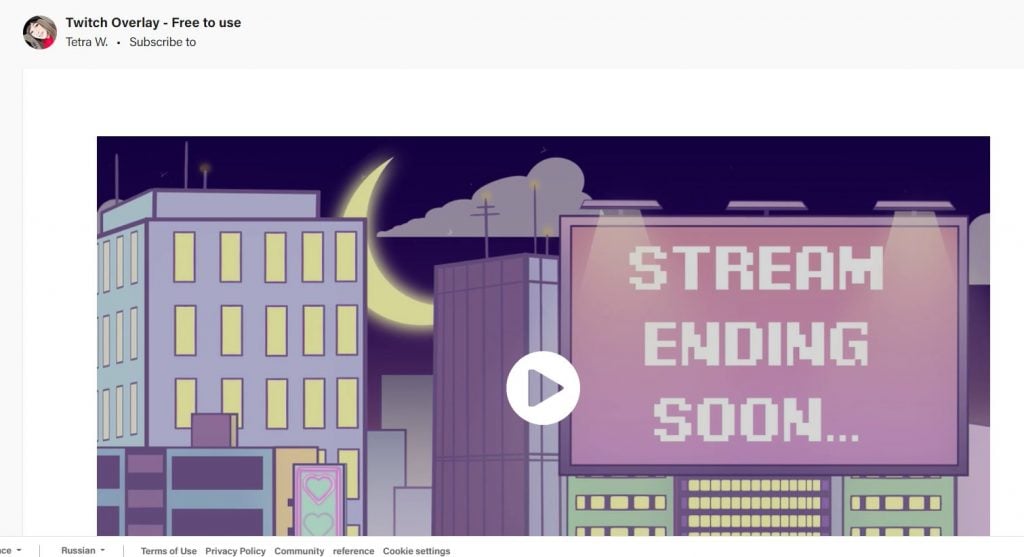 Tetra W has made an animated Twitch overlay in shades of pink and purple, showing a stylized city background. There are two screens, a daytime scene showing "STREAMING SOON" and a night scene displaying "STREAM ENDING SOON." She has made her overlays free to use but would appreciate credit to her Instagram account.
Frequently Asked Questions
What are the best overlays for your Twitch live stream?
In many ways, the choice of best overlay for your Twitch live stream is a matter of personal taste. You will find a wide range of colors and styles, so you should easily find one that suits you. If you regularly play and stream a particular game, you may even opt to use a game-specific overlay. You should experiment to determine what type of Twitch overlay best suits your playing and streaming style. We cover a wide variety of different overlay styles in this post.
What are the best extensions for Twitch?
Ultimately the choice of best extension or overlay for Twitch will depend on your tastes. While most Twitch extension developers only make a limited number available for free, you will find many more if you are willing to pay for them. Most paid extensions are relatively cheap. Serious gamers choose to use an overlay that genuinely reflects their style, personality, and gaming strengths.
Where can I get free Twitch overlays?
We cover quite a few places where you can find free Twitch overlays in this article. Not all Twitch overlays on these sites are free. The developers do create them in the hope of earning some income for a start. However, you will find some free overlays at every site listed above. If you are a serious gamer, however, you should consider including the paid Twitch overlays in your search. Many of these are very high quality, and you will find a much greater choice.
What is a Twitch overlay?
While you could use the standard Twitch screen, more serious gamers and streamers prefer to personalize their screens. There are many sites online where you can find free or paid overlays to help you change your screen décor. The phrase "Twitch overlay" covers a whole range of different graphic types that modify part of your Twitch screen. These include webcam overlays, talking screens, panels, alert sets, giveaway banners, and more. Some designers bundle these together as sets.
Do I need 2 monitors for streaming?
While two monitors may make the management of your Twitch stream easier, it isn't a Twitch requirement. You can stream using a single monitor; however, it will be much more difficult for a busy streamer. The main advantage of a second monitor is that you can separate your communication chats with your fans from the game you are playing.
How powerful does a streaming PC need to be?
Most gamers stream from a dedicated gaming desktop or laptop PC, although some prefer to use Macs. Although many gamers play games on Xboxes or PS4s, these are not as suitable for streaming. Because you are both playing your game, and also broadcasting your play, you need a reasonably powerful machine. Twitch recommends at least an Intel Core i5-4670 processor (or its AMD equivalent), 8GB of RAM, and Windows 7 or newer. Ideally, you should have a quality graphics card and a fast internet connection.
Sours: https://influencermarketinghub.com/free-twitch-overlays/
Have you ever been watching a stream and had to squint in order to read Twitch chat? Or have you ever wanted to adjust your font because your current font is too difficult to read? We cover all that and more below.
How to Change Font Size in Twitch Chat
To change your font size on Twitch, follow these steps:
Go into your chat settings by clicking on the cog wheel at the bottom of chat next to the chat button.
Click on "Chat Appearance".
Under the "Font Size" section choose the font size that you want when reading Twitch chat.
Changes you have made will be saved automatically so you can exit out of chat settings.
Here are some screen shots to help you if you need:
Go into your chat settings by clicking on the cog wheel at the bottom of chat next to the chat button.
Click on "Chat Appearance".
Under the "Font Size" section choose the font size that you want when reading Twitch chat.
I find this way to be the easiest way to change the size of my chat on Twitch, but if there is a specific font size that you are looking for, you could also customize your Twitch chat so that way it is that specific size.
To do this you would go into your chat settings again and then click on the section titled "Set Font Size". Once you click it a window will appear where you can enter the number of the size that you want your Twitch chat to be.
This can be very helpful if you have poor vision and need a bigger font size in order to read chat. The bigger font size may cause you to have to scroll through chat more, but at least you will be able to see what is being typed in chat.
And just so you know the larger font size is only for your own Twitch chat. Changing the font size will not effect others in the chat. It just makes reading chat easier for you.
Now if you are like me you probably watch Twitch on your phone from time to time. But is adjusting Twitch chat font size an option on Twitch mobile?
Can You Change Font Size on Twitch Mobile
Twitch mobile does not let you change the font size of your chat. You can switch on "chat only" when watching a stream so that only the chat of a stream appears on screen, but you can't make the font size of your chat any bigger.
So if you want to use a bigger font when reading Twitch chat you will have to be on a computer.
But did you know that you can not only change the font size of your Twitch chat, but the type of font used in Twitch chat as well.
How to Change the Font Type in Twitch Chat
To change the font type on Twitch, follow these steps:
Go into your chat settings by clicking on the cog wheel at the bottom of chat next to the chat button.
Now click on "Set Font" and type in the font that you want to use (if you leave this section blank it will just use Twitch's default font type).
Click "Ok" and your new font type will now appear in chat.
Just like with the size of your font, the type of font you use will only be visible in your own chat box. Neither the streamer nor the other users in chat will be able to see your font type.
Being able to adjust your font type is nice because certain fonts may be easier to read for you than others. Also, you may just like the way a certain font looks and would prefer to read chat in that font type. Either way, Twitch has you covered.
But like I mentioned if you don't put anything it will just go to the default Twitch font. And if you want to know what the default font on Twitch is then see the section below.
What Font is Used on Twitch
The default font used in Twitch chat is "Roobert". This font is a mono-linear geometrical sans-serif font family that was created in 2017 and named after Robert Moog.
It's a pretty simple, basic looking font; however, if you want to change the way your font appears in your own Twitch chat there is a way to do that as I showed you above.
Can You Change Font Type on Twitch Mobile
You can not change the font type on Twitch mobile. If you are having trouble reading Twitch chat on mobile you could try switching to "chat only" mode, but you can't change your font type.
Can You Change Your Text Color on Twitch
In April of 2021 Twitch updated the "/me" command to no longer change the color of a user's message (text) in chat. The "/me" command still removes the colon marks ( : ) from appearing after a username, but it does not change the color of the text itself. This was done to reduce abuse of this feature.
What was happening was that people were changing the color of their messages in chat and were using these changes in colors to give fake donations or to type offensive messages in colors that were very hard for streamers and others to read and recognize.
You can still change the color of you username on Twitch chat (I go into a ton of detail on how to change the color of your Twitch username in order to stand out on Twitch in this article here), but you changing the color of your messages in Twitch chat is no longer an option.
But hey removing the colon marks from appearing after your username is still pretty unique and will make your message at least slightly different from other messages in Twitch chat.
As always, if you have any questions or just want to hang with me, stop by my Twitch channel here and say what's up!
Interested in Streaming? Check Out My Recommendations
Not Sure Which Streaming Software to Use?
Streamlabs Prime comes with the ability to multi-stream, free overlays and is widely considered the easiest streaming software to use. Use my link here and you get a sweet discount!
In Need of Emotes, Overlays or Alerts?
OWN3D.TV has everything you need to make your stream stand out ! They have hundreds of options and are who I use for my overlays and emotes.Check them out here.
Concerned About DMCA?
DMCA claims have gotten many streamers suspended and even banned from streaming platforms. In order to avoid getting in trouble, I get all of my music and sounds fromTune Pocket.They have tons of copyright free music for you to jam to.
Looking to Upgrade Your Streaming Equipment?
Below is some equipment that will take your stream to the next level:
For my complete list of recommended equipment click here.
Also, if you are feeling generous, I would really appreciate it if you followed my Twitch channel, you can do so by clicking here.I am trying to grow so that way I can better help you all. I am also up to helping you answer any streaming questions that you may have so feel free to stop by. I really appreciate you all !
And for even more tips, tricks and how tos subscribe to my Youtube channel here. I post two videos a week to help you with your streams.
Sources
https://www.slashgear.com/twitch-drops-a-big-redesign-as-twitchcon-2019-draws-near-26593112/
Sours: https://streamersplaybook.com/how-to-change-font-size-in-twitch-chat-best-chat-settings/
Absolute Beginners Guide to Twitch Overlays
Designing Extensions
Introduction
If you are just getting started with Extensions, use the recommendations in this guide to put your best foot forward for streamers. If you already shipped an extension, use this guide to take your extension to the next level; e.g., with other extension types, such as panel or video overlay.
General Guidelines 
Extensions provide new ways to interact on Twitch, so we provide guidelines to help ensure your experiences are harmonious with the overall Twitch experience. 
The guidelines in this section apply to all extension types. Guidelines for specific extension types appear in Panel Extension Guidelines, Video Overlay Extension Guidelines, Mobile Guidelines, and Pop Out Guidelines.
Terminology
The following table contains terms you will need to understand when you're designing an extension. All the terms are specified in the Extensions Manager.
Term 
Guidelines
The extension's Name is how you define what streamers know it as. The name can show up in many places, such as the Extensions manager and the details page.
Use a descriptive name that allows streamers to understand what your extension does at a glance.

Don't change the name, unless the nature of the extension has changed significantly. 

Don't use words unrelated to your extension just to boost your extension in search results.
The Summary is a short description of your extension that streamers see when hovering over the discovery splash screen in the Extensions manager. The right summary helps them decide to install the extension.
Use as a selling point the most important benefit to a streamer using your extension.

Be concise. Don't try to explain everything your extension does in the summary.
The Description is a longer explanation of your extension. It appears on the details page.
Write the description from your streamer's viewpoint. Let streamers know how your extension will improve and enhance their channels.

Consider writing in the second person (using you/your), to more closely associate with streamers.

Don't be too verbose.
The Discovery Image is the first thing streamers see of your extension. The Extensions manager shows this splash screen in the Discovery tab on a broadcaster's dashboard.
Don't use a lot of text; that overwhelms the image.

Avoid having too much detail in the image, to maximize visibility.

Avoid transparency in your PNG.
Screenshot Images are your best tool to help streamers understand how your extension works, if they haven't seen it on someone's channel.
Provide clear images that display how your extension works.
You are required to choose a General Category for your extension.
If your extension fits in more than one category, choose the most appropriate one.

Don't choose a category that your extension clearly does not match - for example, specifying the "Schedule and Countdowns" category for a Destiny 2 gear extension.
If your extension supports specific games, you can indicate which ones under Game Category.
List only those games your extension supports.
Introduce Your Extension to Streamers
The Twitch Extensions directory showcases all Extensions available to broadcasters, letting them see examples of each extension as it would appear on their channels as a panel, video overlay, or video component.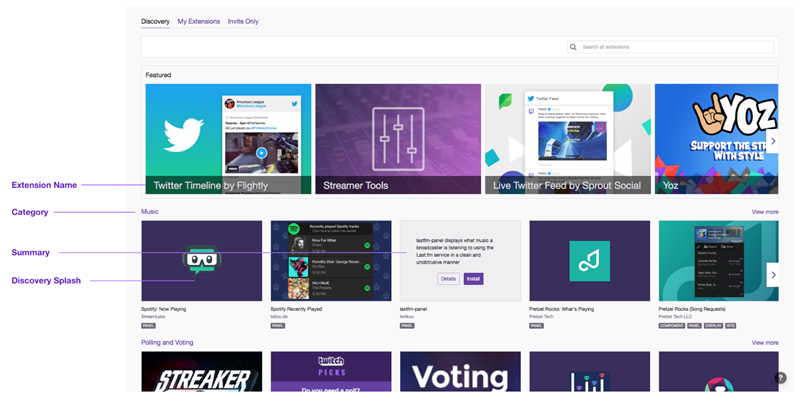 Simplify Onboarding and First-time Use
Once the extension is configured and installed, simplify onboarding for viewers to increase their engagement. For video-based Extensions, a subtle animation can be used to draw the viewer's eye to engage with your experience. For panel Extensions, consider a splash screen explaining the extension's capability (unless it is an informational extension, such as one that dynamically displays the top cheerers on a stream).
Extensions should not be distracting (remember the <blink> tag?), but it is appropriate to provide small clues; e.g., subtle bounces to indicate interactivity, and brief flashes to indicate state changes. A distracting extension focuses the viewer's attention on your extension, away from the broadcast. This paradigm is still new and might require a little training of Twitch viewers.
If your extension requires some setup by viewers, consider disclosing those steps progressively throughout the experience: ask for only the information you need to get to the next step, rather than all the information up front. This includes asking for authorization from a viewer to share the viewer's user name with the extension. Ask the viewer to authorize only when the extension requires the user name to continue. Also, it helps to explain to the user the value of the extension and why the extension requires user names, before asking for authorization.
Amplify Broadcasters
First and foremost, fans come to Twitch to engage with broadcasters. If broadcasters find that an extension will help grow their channels, they are more likely to install it. Some Extensions may provide utilities that are widely applicable to many broadcasters; e.g. leaderboards and top viewers. Other Extensions, like those made for a specific game, will have smaller audiences; that's okay! Regardless, serving broadcasters first increases the likelihood of your extension being a part of their channel's experience.
Panel extensions have the unique capability to be always on, regardless of whether the streamer is online. We provide a JavaScript helper function that lets you see if a broadcaster is online, which you can use to change the experience of your extension. For example, a panel extension showing a leaderboard of viewer engagement could filter by the users attending the broadcast, versus overall top engagement when the streamer is offline.
Complement the Stream UI
The channel stream real estate may limit how your extension appears or is placed on the video. Top streamers often leverage broadcasting studio apps (like OBS) to create brand elements, animations, and live content to augment the broadcast. Given the shared space that Extensions occupy, assume that a streamer is leveraging tools like OBS to create a canvas that may interfere with the area where your extension UI will appear. Following this assumption, Extensions should include configuration options for broadcasters to align the experience with their channel's branding. Consider allowing color, font and other UI customizations, to ensure your extension blends in with the overall experience.
Consider including extension capabilities that can be minimized or hidden by users, and only take up areas of the real estate that make sense given the content a streamer broadcasts. For example, a Hearthstone stream has most of its action in the middle of the board, so occupying the top right of the video will ensure your extension does not interfere with the game's content. However, if your extension augments the information about the game and may require placement closer to the content on video, make sure it can be collapsed, to ensure you limit its interference with the content/game.
Fail Gracefully and Take Feedback Well
With potentially hundreds of thousands of users interacting with your extension every day, there is a chance your extension will have issues. Even relatively simple Extensions (like those that display the gear a streamer uses to create a broadcast) can have hundreds of failure points. Just like any app, anticipating general failures helps build user trust.
Apps should handle 404 or 500 errors by providing ways for viewers to provide feedback and leverage some other part of your extension. Apps that fail to retrieve data also should allow users to provide feedback. Streamers control the placement and use of extensions, so your extension should be prepared to accept feedback directly. If you don't provide support, Twitch may find it necessary to remove your extension from the directory.
Choose the Right Extension Type
Throughout this guide, we provide guidelines for using different types of Extensions, but in general, consider:
Content — How does your extension expand stream content? Does it relate to a game, or does it integrate with other apps (like those that play music)? Content may also help you decide where to place an extension. For example, a panel may be the best way to display content related to your channel panel, whereas a video overlay may be best for content related to a specific game.
Context — Does your extension depend on real-time interaction? Does it need the streamer's help to attract attention? Answers to questions like these help determine whether to place your extension next to the stream or in a panel. 
UI Recommendations
Branding — Your extension's branding should be clean, recognizable, and unique. In general, use your logo sparingly and use brand color to enhance your brand on Twitch. Your extension cannot include Twitch-branded elements, including the Twitch or Glitch logos.
Color — Use a limited color palette. If your extension is for a specific game, use a complimentary color palette where appropriate. For a video-overlay extension, consider how it will blend into the content behind the extension (video, game data, or other stream-overlay components). Use a key color for emphasis and calls to action. Avoid using the same colors for interactive and noninteractive elements. We discourage the use of Twitch's color palette, unless:

The extension includes buttons that invoke Twitch specific actions such as following a streamer or taking a clip.
You are supporting light vs. dark mode for panel Extensions.

Contrast and accessibility — Always provide enough contrast between colors, to ensure your designs are as accessible as possible. Avoid links on backgrounds that are of similar contrast. Consider your color-blind audience. We recommend you use this contrast checker tool.
Layout — Use alignment and hierarchy for ease of visual scanning. Optimal layout depends on the type(s) of Extensions you make available for broadcasters;  see the sections below.
Typography — Use font weight, size, and color for emphasis. If possible, try to use a single font; using multiple fonts can make your extension feel fragmented. Instead, use font styling (bold, italic) and a limited number of font sizes. Use built-in browser fonts: they perform best and and work on all browsers. Here are some Web-safe fonts:

Serif: Georgia, Palatino Linotype, Times New Roman
Sans serif: Arial, Helvetica, Impact, Lucida Sans Unicode, Lucida Grande, Tahoma, Geneva, Trebuchet MS, Verdana

Stateful feedback — Preload wherever possible.

Overlays: Preload is especially important for Overlays, but you should avoid the use of "loading" indicators, which can interfere with the viewing experience.
Panels: If a panel extension needs to display a loading state, design the loading state to be as clear and concise as possible. Consider adding a loading indicator. Use status indicators to communicate updates, errors, and other issues; your audience should not have to guess what is going on.

Navigation —  In general, avoid multi-layered navigations. If you cannot, then provide a clear path to let users know where they are. Ask yourself if each navigation element is necessary.
Panel Extension Guidelines
A panel extension appears in the panel area below the video player. Panel Extensions remain active even when the channel is not live.
Follow these guidelines for Panels:
Online/offline — Consider how panels work offline, as well as online. Panels can provide a continued reason for viewers to stay on a stream, even if the streamer is offline.
Uses beyond game content — Since panels do not reside on video content, they do not have to be as tightly coupled to the streamer's content as other types of Extensions. Panels are great for displaying high-level stats about the stream, gear a streamer uses, or other enjoyable content that has no relationship to the content they stream. Panels also can be treated like a mobile web app, housing a game or productivity app..
Layout — Panel Extensions are limited to 318px wide x 496px high, to avoid iframe scrolling. Within these limits, try to allow 10px of inner padding for any text within your extension, for maximum readability.

Light vs. dark mode — Twitch allows users to switch between the default light theme and a dark theme. Responding to this preference ensures your extension does not stand out in a channel UI when users change their preferences. Below are example palettes we use for Twitch to support light and dark mode. You can listen for a user switching between light and dark mode using the onContextJavaScript helper function.

If you want to support light and dark mode, we recommend the following background colors:

| Attribute Name | Light Mode Background Color | Dark Mode Background Color |
| --- | --- | --- |
| Background Color | White #fff | Twitch Dark Purple #201c2b |
| Background Color - Accent | Twitch Purple #6441A4 | Twitch Purple #6441A4 |


Here are recommended text colors, when supporting light and dark mode:


| Attribute Name | Light Mode Text Color | Dark Mode Text Color |
| --- | --- | --- |
| Default Text | Twitch Dark Grey #232127 | Twitch Light Grey #e5e3e8 |
| Links | Twitch Purple #6441A4 | Twitch Light Purple #e2dbf0 |
| Text Overlays | Twitch Light Grey #e5e3e8 | Twitch Light Grey #e5e3e8 |
Video-Overlay Extensions
Video-overlay Extensions are meant to enhance the viewer's experience, so be aware that each extension element covers valuable real estate.
Sizing — When designing your extension UI, take into consideration that it needs to scale and adapt when the browser and video player resize. By default, a video-overlay extension functions at all sizes while the broadcaster is live. Consider hiding your extension when the size is reduced to a point that the extension becomes non-functional.

Covering up player elements —  If you have extension UI elements over the Twitch video player, interactions with those elements may not work. Here is a diagram of areas to consider when you design your video-overlay extension - placing elements in the purple areas may cause conflicts with the video player UI: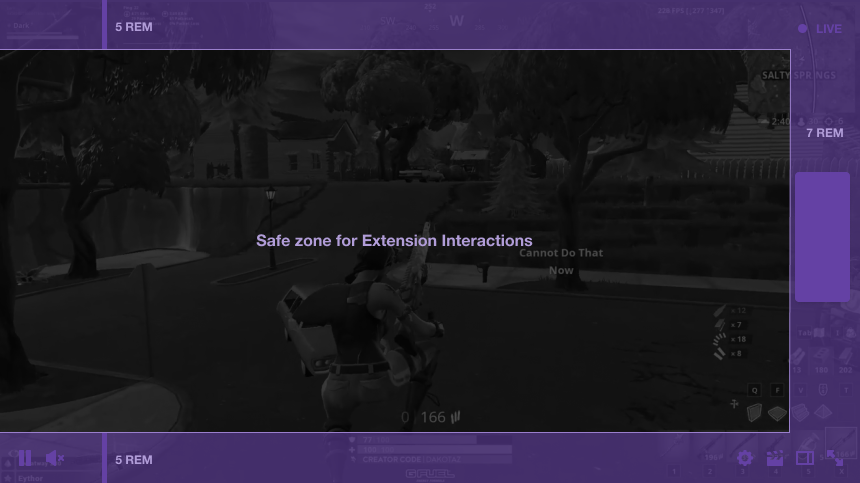 iFrame boundaries —  For drag-and-drop elements, consider how your video-overlay extension will respond when a user tries to move an element outside the video player's viewing area. Design your extension to block elements from being relocated to outside the viewing area and/or force them to "spring" back into the viewing area.

Disabling — A video-overlay extension disables itself when the broadcaster goes offline or hosts another channel. When a viewer pauses the video, the extension iframe is hidden until the viewer un-pauses the video.o.

Player control layers — Keep in mind that your video-overlay extension will be rendered below all our video-player controls, such as pop-up menus, mouseovers, LIVE indicator, and channel information in the top left of popout/embed versions of the video player. Remember that theater mode, full screen, and embed have different UI layouts than the "normal" Twitch player.

TBD graphic:
Mobile Guidelines
When designing mobile Extensions, consider the basic principles of any mobile application:
Your layout should be fluid — Your extension's layout should gracefully adapt to the available space. Do not assume any specific aspect ratio or dimension.

Design for touch — Make sure interface elements that are actionable can be comfortably reached. Evaluate the tap target sizes and their relation to neighboring actionable elements. Consider a target size of no less than 44 pt/dp.

Reduce noise —  Trying to pack all your Extensions' capabilities in the limited real estate will overload users with too much information. Bring in only the essential components of the experience. Limit buttons, images, and text that will be in view. Disclose actions progressively and contextually.

Navigation should be obvious — If you are incorporating sub-navigation in your Extensions, make it obvious, with common mobile navigation patterns and affordances. If you do implement a navigation, indicate to users where they are within the extension, to keep them grounded.

Interface elements should be clear and visible —  Color and contrast are important in helping users understand the different elements of your extension. Take into account the visual hierarchy and proper spacing and text size for legibility.
For guidance, here are some examples.
Optimized Extension Example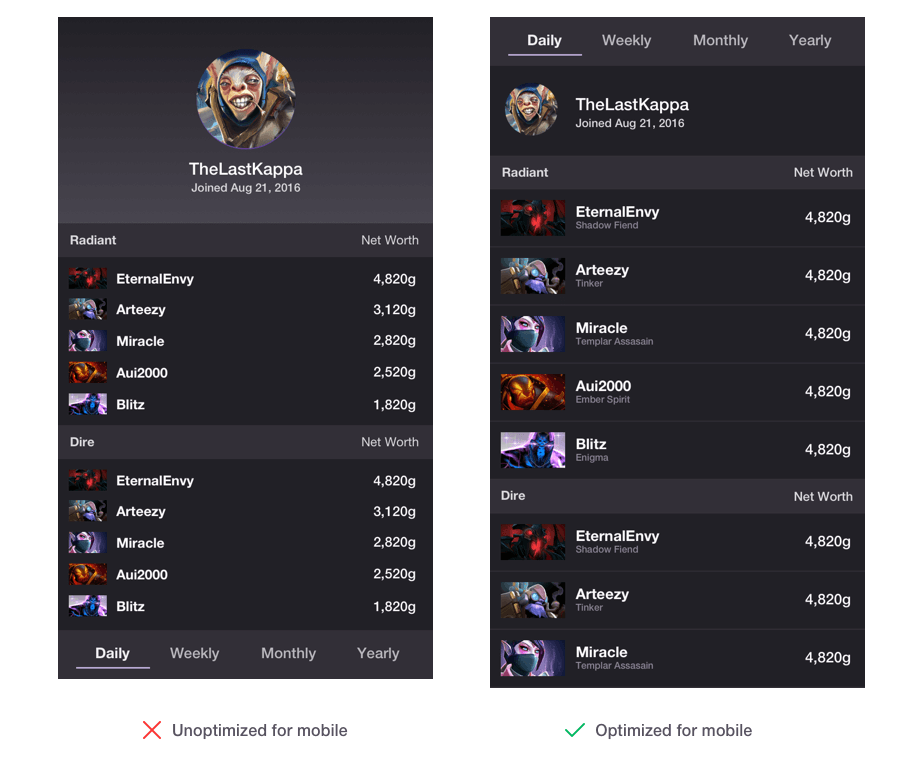 Here are notes on the optimizations: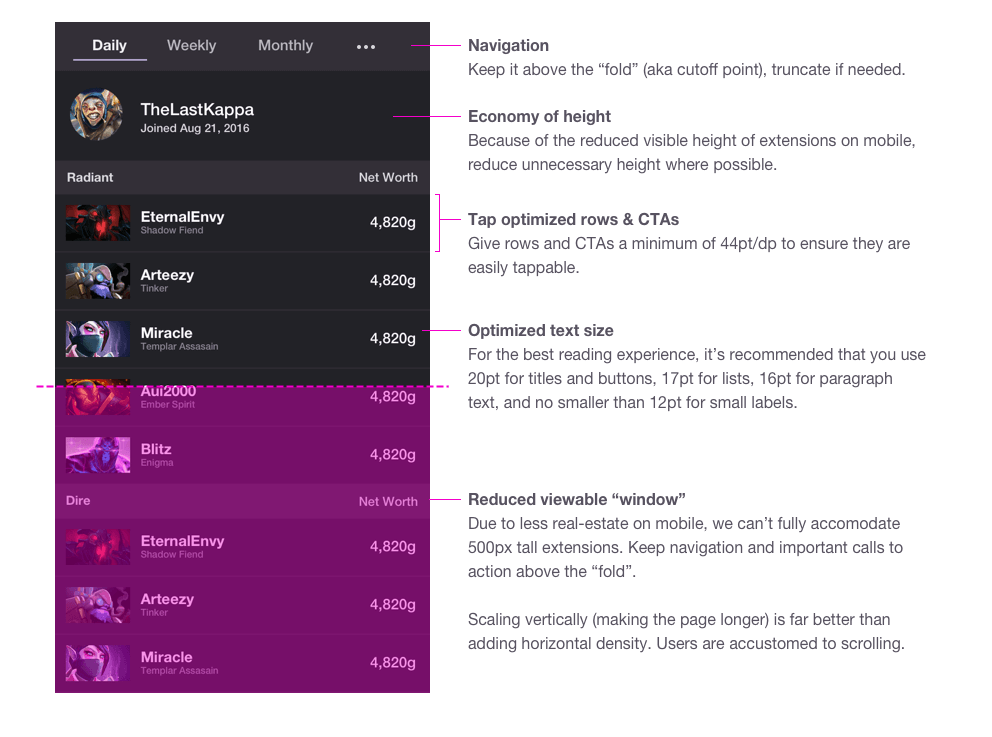 Alignment Example

Phones (Landscape View)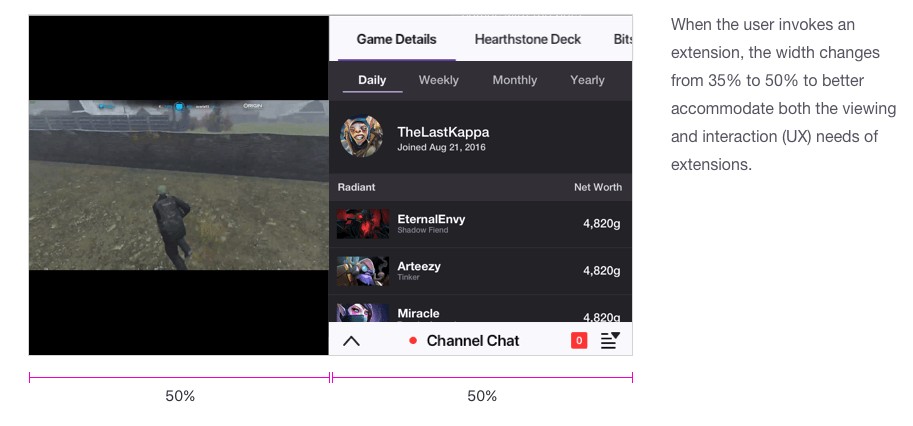 iPhone X (Aspect Ratio: 19:5:9)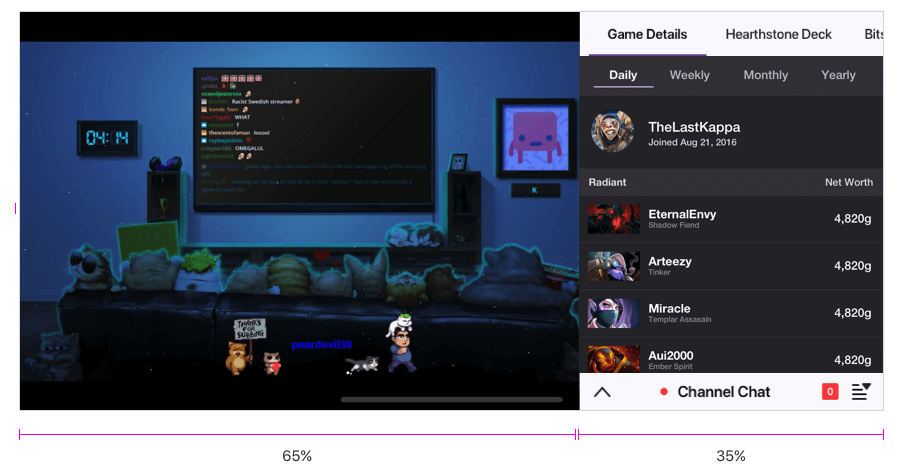 Pop Out
To optimize the layout of pop-out Extensions, consider the following:
Your layout should be fluid — As with mobile design, your pop-out extension's layout should gracefully adapt to the available space. Do not assume any specific aspect ratio or dimension.
Consider opportunities to take advantage of additional real estate — When popped out, an extension initially is displayed in the native size shown on the original page. Since viewers can resize the new window as desired, extension developers with pop-out support may control more screen real estate than the original extension size..
Sours: https://dev.twitch.tv/docs/extensions/designing
Twitch best overlays for fonts
Disclaimer: this is a basic checklist of what you want in a streaming overlay. Keep in mind, every stream is different and this is not a be-all end-all list of what to do, but a good way to get you started in the right direction.
Let's run through a scenario. You've been watching live streams for a while now, you have a slew of streamers you consider your favorites, and you're getting a little curious. Nothing wrong with a little curiosity, it's completely normal. There's nothing to be afraid of, so let's go ahead and say it together. I want to start my own stream.
Nice.
Don't overlook the basics. Once you've passed step one, which is signing up, you're going to want to start thinking about your overlay, which is essentially a graphic layer that lays over your stream, hence the word "overlay." This is where people put their sponsorship information, top donations and donators, as well as subscriber counts and other elements that add personality and identity to your channel.
1. PAY ATTENTION TO THE FOCUS
What's the focus of your stream? Is it game play or entertainment? Prioritize your overlay so that the most important elements get the most exposure. If you're streaming for entertainment, maybe you want to make your webcam bigger than someone who is streaming a game competitively. On the other hand, if you're playing competitively, you'll want to maximize the amount of game that people are seeing and minimize the "bells and whistles" on your overlay. Get a feel for the streamers that you like -the guys and girls that you really enjoy watching- in order to dissect their overlay and decide what you like about it. Don't rip off popular streamers, that's not the way to the top. Train yourself to notice when an overlay grabs your attention, and, more importantly, to take the time to figure out what exactly captured your attention. For example, let's say you stumble across a stream and fall in love with the overlay. You see that the webcam feed is in the left corner of the screen. Instead of jumping to the conclusion that you need to put your webcam feed in the left corner to be successful, look at the ratios of the webcam feed vs. the gameplay. Did the streamer put his/her webcam feed in that position because it would cover information important to the gameplay? Make sure you don't simply follow along with the other streamers based on face value or "Oh, this looks cool."
2. RATIOS, RATIOS, RATIOS.
I hate universal rules, they never apply to all circumstances. That being said, NEVER sacrifice quality for size. Don't overcrowd your stream. Bigger isn't always better. Make sure that game feeds, webcams, images, and fonts all maintain proper ratios and don't get stretched out just to fit the design of your overlay.
3. COLOR PALETTE
Imagine you're in an art gallery. You step through the doors and instantly see a painting in the first room that is absolutely gorgeous. I don't know what you're into, let's say it's a painting of a gigantic, creamy, and perfectly moist, ice cream sandwich. The only problem is the neon pink frame around it is so damn bright that it almost hurts to look at. It's like looking directly into the sun if your little sister went ham on the sun with her bedazzling kit. It could be the Monalisa of ice cream sandwich portraits and it wouldn't even matter. Hot pink, neon yellow, stupidly named "electric blue", and other bright colors can be considered hot. When designing your overlay you want to use cool colors for your main color, and hot colors for accent colors. Long story short, you don't want your stream to hurt your viewers eyes when they've been watching for 10 hours straight.
4. K.I.S.S.
K.I.S.S. stands for, "Keep It Simple Stupid". This should be used as a general rule of thumb when designing your overlay, especially when it comes to fonts. Don't go font crazy. There are a lot of cool fonts out there on the interwebz, but that doesn't mean you have to use them all! Pick one and stick with it throughout your overlay, and, if you want a little variety, change the thickness or bold/italicize specific words. You don't want the font usage to distract from the gameplay.
5. SPONSORS, LOGOS, AND SOCIAL BUTTON PLACEMENT
We're going to draw from the last point on this one and remember that we want to keep things as simple as possible. Simplicity equals velocity and we want your viewers to land on your channel, understand that they want to watch it, and make the decision to stay, as quickly as possible. Keep your logos and icons organized and grouped together. Again, you don't want to distract your viewers from what they came for.
6. DON'T ASSUME
My uncle always used to say, "When you ASSUME, you make an ASS out of U and ME." Don't assume your viewers are idiots, you have plenty of text fields across your channel to let your viewers know who you are and what's going on. Don't put too much information on your overlay. Keep it clean, keep it simple.
Now that you've got the golden rules of designing your stream layout, check out these resources to help you build your first overlay.
DO IT YOURSELF
Photoshop
Photoshop is a little pricey, but if you already have it or want to pick it up, (it's a very useful tool and will save you money in the long run when you need graphics and buttons made) it's one of the best ways to make a completely personalized overlay..
Gimp
If you think you have the design chops, but don't want to cough up the pesos for Photoshop, check out Gimp. It's a free online alternative to Photoshop, although it doesn't include all the fancy bells and whistles that Photoshop comes equipped with.
PAY SOMEONE ELSE
Fiverr
There are a bunch of gigs you can get done on Fiverr for a reasonable price (well.. around five bucks). Don't expect a masterpiece, but if you're looking for something quick that will get you going- this is the place.
TwitchOverlay
Firstly, we have absolutely no affiliation with these guys. That being said, they have some awesome template overlays that you can buy for $10–30 and some free ones you can download as well.
Hybrid
In the past year or so, a few really cool tools have surfaced on the interwebz to allow gamers like ourselves to design overlays in a template based cloud service like Strexm Just connect your twitch channel and pick a theme! They let you build your first overlay for free, and if you want to add some extra features they have a pretty reasonably priced marketplace that lets you make your overlay more customized. If you're trying to figure out how to build a twitch overlay, and your first overlay at that, this is a fast way to start.
LVLUP Dojo Courses
Build aFollowing — Live Streaming — Tyler "Ninja" Blevins
The Daily Routine — Content Creation — FaZe Apex
Leadership in eSports — eSports/FPS — FaZe Clayster
Building a Team — eSports/FPS — OpTic Scump
Manipulating the Meta — eSports/FG — Justin Wong
Tournament Pressure — eSports/FG — TSM ZeRo
Build a Brand — Digital Marketing — Nicolas "Exitec" Cole
Visit the Dojo
Sours: https://blog.lvlupdojo.com/6-ways-to-make-sure-your-twitch-overlay-doesnt-suck-aa84f3e6598d
Absolute Beginners Guide to Twitch Overlays
Fill your life with colors. " "Hmm, a strange message. and what do they mean. I have never received anything like this before. well.
You will also like:
The man smiled strangely and went further through the large office, divided by small partitions into squares of personal space. One colleague joked that we were sitting here like animals in a zoo, each in its own cage. The chief brought up another employee, it turns out that I am not the only one. It became easier, but it doesn't matter which topic to choose.
1333
1334
1335
1336
1337