Sea Glass Crafts to Make and Sell
Sea glass crafts are in high demand in shops, online, Etsy and at craft fairs. We will give you sea glass craft ideas that you can make and sell for a profit. Sea glass is an exciting hobby that can also turn into a side business to make extra income. Some fantastic crafts you can make with sea glass include stepping stones for the garden, sea glass wall art, coasters, sea glass jewelry, picture frames and more.
Sea Glass is so beautiful that you will want to craft an item or beauty like a sea glass coaster, window frame, mosaic table, and sea glass stepping stones that you can make and sell for profit online and at craft fairs.
Where to Find Sea Glass
Almost all of us remember going to the beach as kids and gathering seashells with our parents. We would also search for colorful bits of sea glass and if we found any it was like finding gold because it is hard to find on many beaches. You can still scour the beach today for sea glass but it will take quite awhile to find enough to make a successful craft project. And, if you want to sell multiple sea glass crafts you will need to have a lot of sea glass on hand.
Sea Glass is readily available for purchase online at Amazon. They sell both small quantities and larger, bulk quantities of sea glass. If you are going to be making a lot of sea glass crafts you may want to consider purchasing sea glass in bulk. When buying in bulk you will get a reduced price too. You need to keep your supplies costs down if you are planning on reselling your sea glass crafts so buying in bulk will help.
What is the Best Glue for Sea Glass Crafts
The type of glue to use for sea glass crafts depends on the type of projects you are working on.
Clear Drying Glues If you want light to reflect through the sea glass you should use an adhesive that dries clear such as Vigor Jewelers Epoxy or Eclectic E6000 Jewelry Epoxy.
Strong Bond Glues If you are working on a piece that has a lot of sea glass attached, you will want to use ceramic cement to bond sea glass to the surface. You need to make sure the sea glass stays firmly attached and has no chance of coming off your piece. Gorilla Glue works well to attach sea glass to any surface. You can also get it with a clear finish.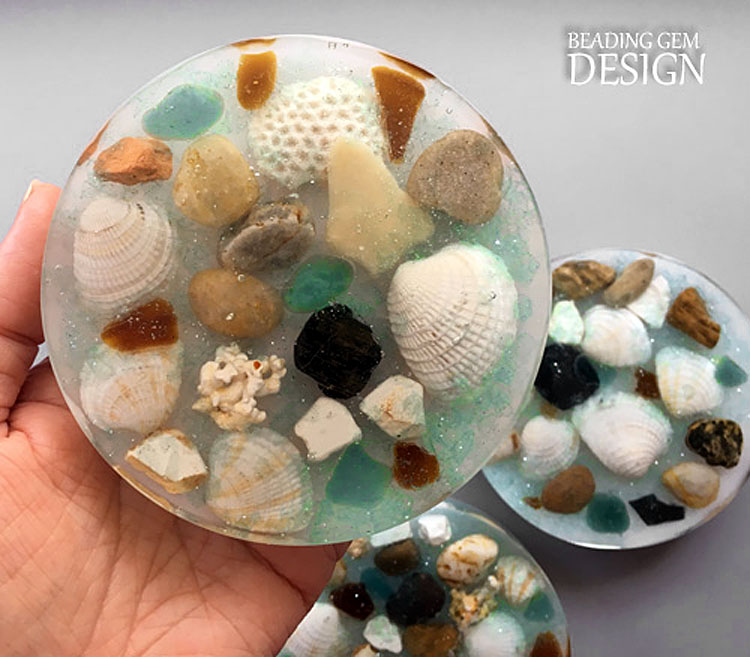 Sea Glass Resin Coasters
You can make sea glass resin coasters using Little Windows' Brilliant Resin, a bit of white resin pigment and sea glass. You will also need some type of mold to create the round shape. A silicone mousse pan works well. It would be best if you had some measuring cups and paper towels as well. The Resin proportion you need to use is 2:1 of part A, and part B. Start with layers where the first layer is white, which gives you an opaque bottom so you can't see through it. Add the sea glass pieces, and with a toothpick, you can adjust the elements. This specific sea glass craft also includes some glitter gravel to add sparkle. Pour the clear Resin on top and let everything set overnight.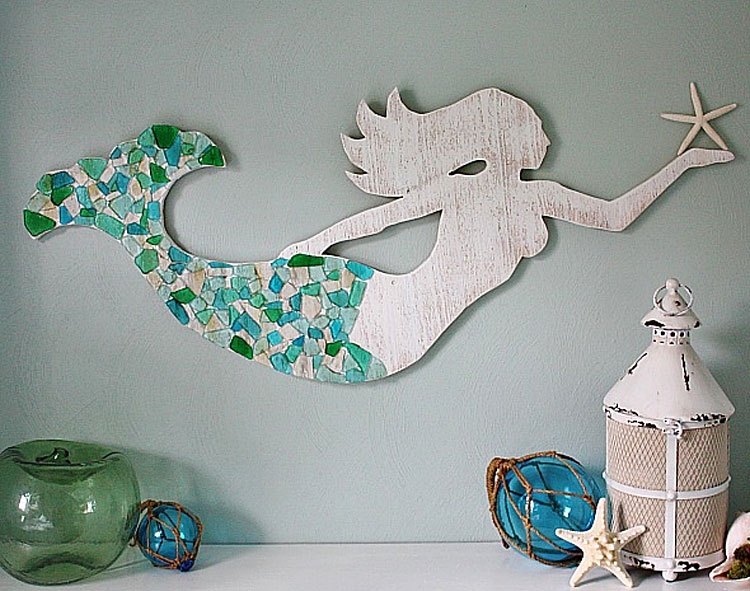 Sea Glass Mermaid Wood Wall Art
To create a Sea Glass Mermaid wall art piece you will first need to draw a mermaid design on a piece of wood and then cut it out using a saw. You could use plywood or cedar. You may want to paint the wood with chalk paint and sand it to give it a weathered look. Flat pieces of sea glass are preferred for this project because you are not covering the whole piece of wood and you don't want the glass to be raised up that much.
Arrange the sea glass pieces to create the Mermaid tail and glue the pieces to the board using a strong glue such as Gorilla Glue. You need to ensure that you let it dry for at least for an hour but overnight is preferred.
Sea Glass Hanging Window Frame
If you want to make a fantastic hanging sea glass window frame, you need to fill each window pane with sea glass pieces. You could add bits of broken glass and other embellishments as well. Ensure you use enough glue and let it dry for a sufficient amount of time. You can find old window frames at antique shops and try looking on Craigs List and also Facebook Marketplace as someone is always getting rid of old window frames. You can turn an old window frame into a fantastic sea glass art that you can keep to enjoy or sell for a profit. You will need chain for this project and probably eye hooks to screw into the window pane to hook the chain onto.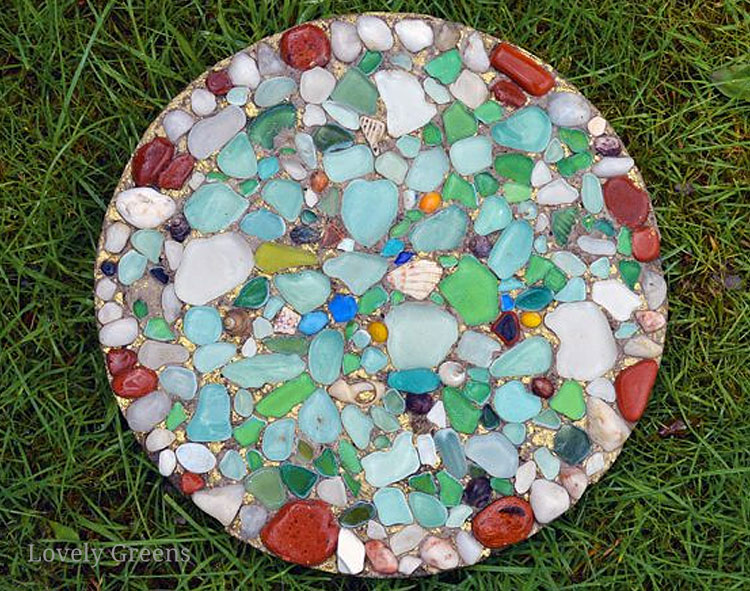 Sea Glass Garden Stepping Stone
After collecting or purchasing your sea glass, you will need to find a mold such as a cake pan or plastic tub to get this project started. Some other supplies you will need are cement, gold spray paint (I like to use DecoArt Metallic paint and brush it on), matte white paint, and clear spray paint. If you prefer you don't have to use spray paint. You can use other water-based paints you have on hand. You will also need a bit of chicken wire or metal fencing that you can fit inside of your mold.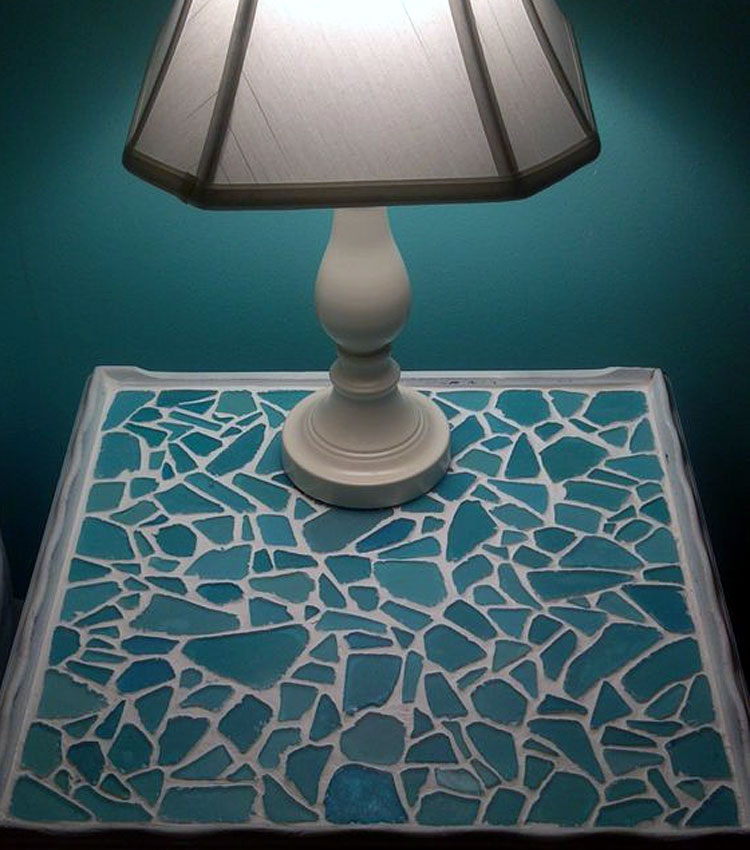 Sea Glass Mosaic Table
If you have an old table that is in need of a face-lift, you can cover the top with sea glass and then use grout to fill in the gaps. You could paint the table white first to give it a more nautical look. As with any sea glass craft project, you will need a strong glue to adhere the sea glass to the wood table. Once it is dry, use a plastic spatula and spread the grout over the sea glass and around the gaps. Let it dry overnight. You may want to give it a protective finish by adding a layer of Miracle Sealants Grout Sealer on top.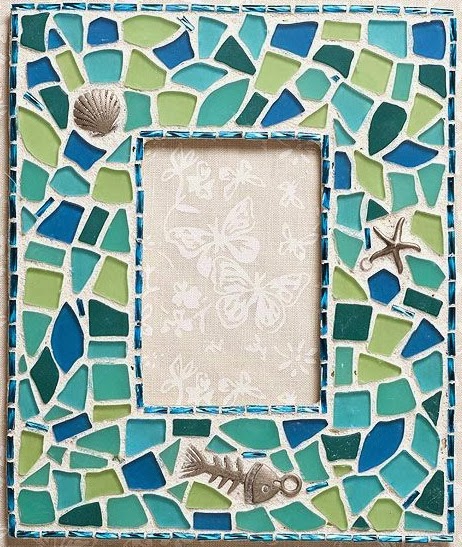 Sea Glass Picture Frame
Here is a unique way to hold a photo, a sea glass picture frame. Take an ordinary picture frame and turn it into a masterpiece that you can keep or sell. You will need flat, clear sea glass pieces for this project. You will also need pre-mixed grout, strong glue and sealant. Some embellishments like starfish and shell jewelry findings will give it a nautical touch.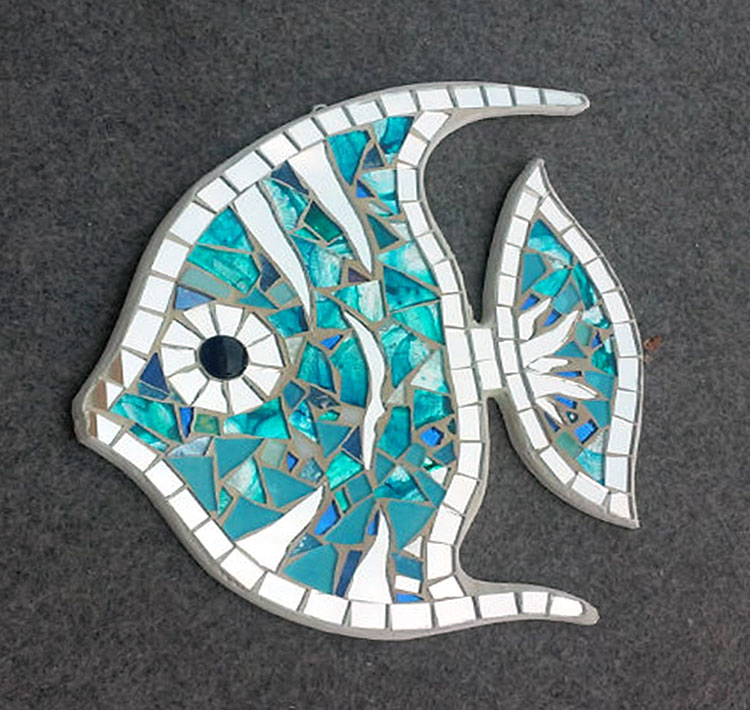 Sea Glass Angelfish Wall Hanging
This stunning sea glass Angelfish wall hanging is made of mosaic pieces of mirror and colorful and iridescent glass. The mirror reflects every glow of light giving freshness and vitality to every environment.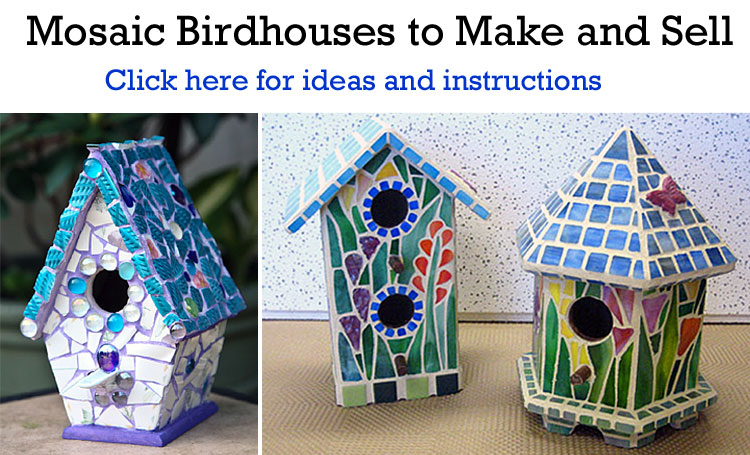 Sours: https://coastalcreatorsct.com/seaglass-crafts-to-make-and-sell/
DIY sea glass art
I wrote aboutcreating a crafty sea glass picture for East Coast Living Magazine. Now I'm going to follow the instructions to create my own sea glass wall hanging.
If you don't have your own stash of sea glass you can hunt for it at the beach. If you ever needed an excuse to take a walk at the beach, now you have one. You're welcome. You can alsobuy sea glass onlineor from craft supply stores.
Sea glass facts
White, green, and brown are the most common sea glass colours.

Blue, red, orange, and yellow pieces are harder to find.

Make sure your sea glass is cooked - sea glass speak for rounded without sharp edges.

It takes many years of tumbling in the ocean for sea glass to be smooth.
Sea glass art ideas
Think about the image you want to create with the sea glass. There are lots of ideas for designs you can create. Flowers (like daisies or lupins), hearts, a simple wreath, a tree, or even a sail boat are a few suggestions to get you started with your sea glass craft project.
Sours: https://www.heatherfegan.ca/blog/how-to-make-sea-glass-art
beachy wall art (via thespeckleddog)
Make a beach-inspired wall art to remind you of sunny and bright holidays. There are some easy ways to do that, depending on your creativity and materials you wanna use. Shells and pebbles are great for such crafts and use can make any patterns using them. Wall pendants of sea glass are amazing and colorful and help to create a relaxed atmosphere. Star fish and shells in combination with burlap make a great and simple wall art piece suitable for a traditional interior or a holiday home. Sea glass ornaments are a fantastic decoration and are great for Christmas tree décor also. Look for some more cool ideas below and enjoy!
7 of 16
easy beach creatures wall art (via shine)
13 of 16
sea shells bedroom sparkle (via poindextr)
Sours: https://www.shelterness.com/16-diy-beach-inspired-wall-art-ideas/
Sea Glass Crafts Ideas - Beach Style Decor - Summer Decorating Ideas
Sea Glass Projects You Can Make at Home
It is amazing how discarded trash carelessly tossed into the sea can transform into little gems of color. Over years of tumbling through crashing waves and shifting sands, the sharp broken edges are weathered and worn down, and smoothed over with a frosty finish. Whether you call it sea glass or beach glass, they are highly sought after little prizes from the sea. Authentic sea glass is getting harder to find these days. Hopefully that is a sign that we are taking better care of our environment! Manufactured sea glass is now easily available to use in creative home decor projects. Let's take a look at several Sea Glass Projects you can make at home!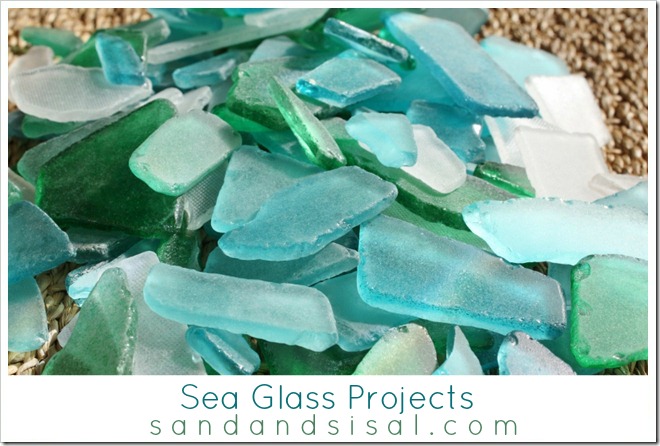 I had bought a bag of sea glass at Pier One not knowing what in the world I'd do with it. It was one of those impulse buys, where I just couldn't resist.
Ooooo, look at the pretty colors….. must… have… now. I emptied the bag into a mason jar and placed it on a shelf for awhile and one day decided to create a mosaic tray with it. It was a totally random project, because I'm not a huge mosaic fan, but it was rather easy to turned out quite pretty.
It is one of the most popular decor projects of mine to this day. Who knew?
Sea Glass Mosaic Tray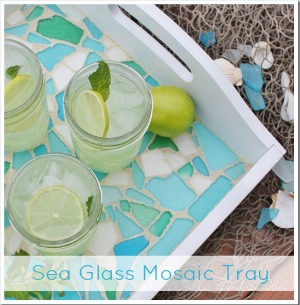 Another fun sea glass project I've done is the Sea Glass & Cedar Mermaid wall art.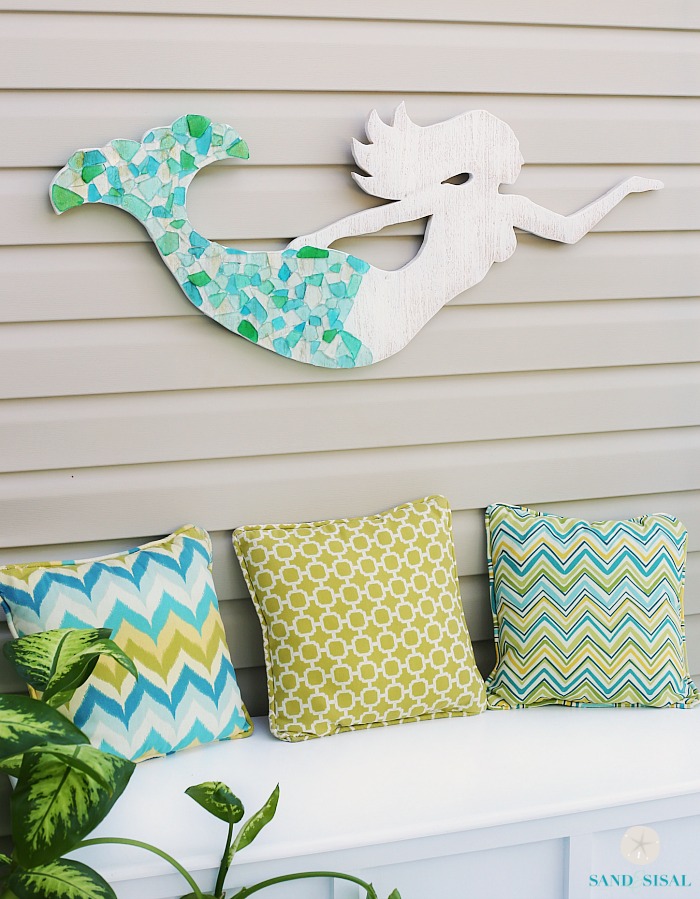 This mirror with sea glass detail featured in Yankee Magazine reminds me of my glass and stone tiled mirror frame. I was attracted to the beachy look of the tile but this frame is even better!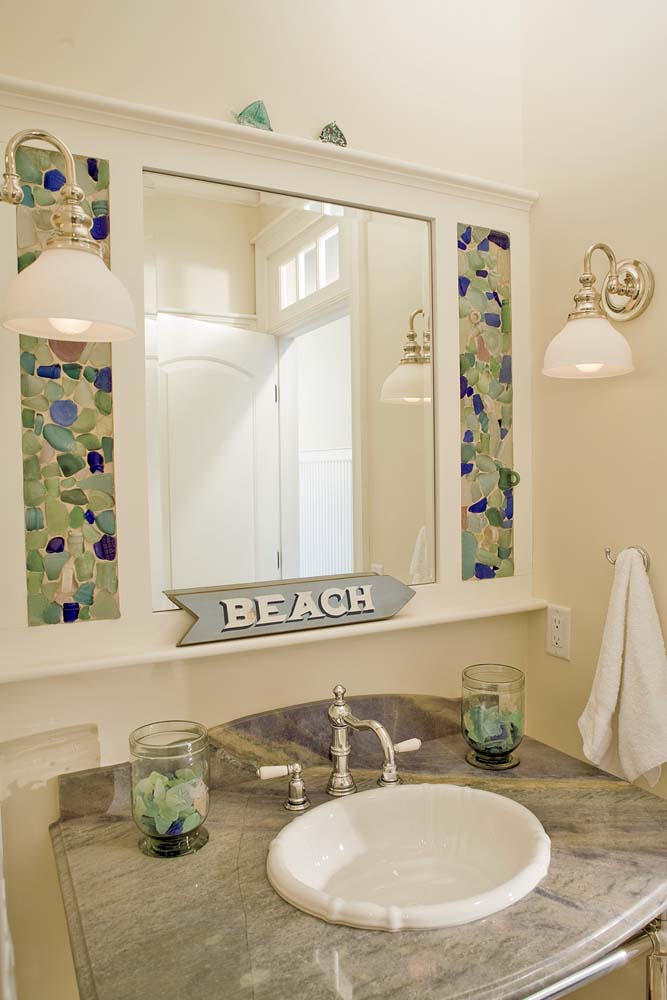 You can take your collection of real and manufactured sea glass and create your own sea glass border or back splash.
Pura Bella
Creative in Chicago took her sea glass collection and glued it inside a matted frame to create lovely sea glass art.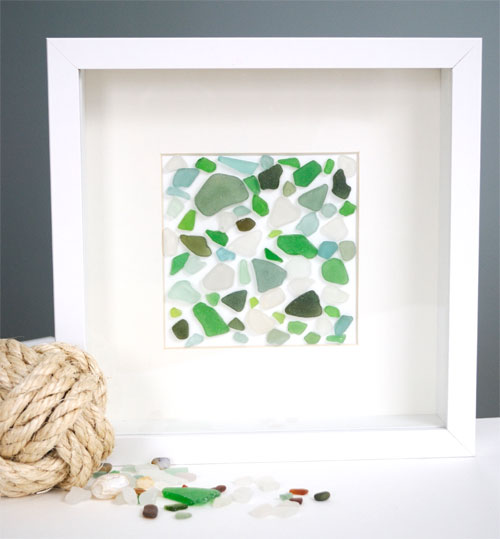 Russ Morgan is an amazing artist who took glass and wire and then suspended them to create a gorgeous light fixture that you just want to stare at forever. Stunning!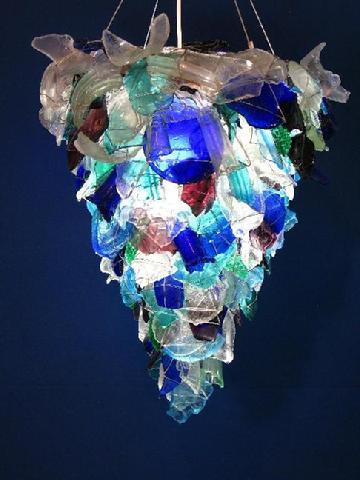 I love the sea glass art pieces by Heidi Peters. She uses sea glass and natural items that wash up along the California shoreline to create unique and whimsical beach art.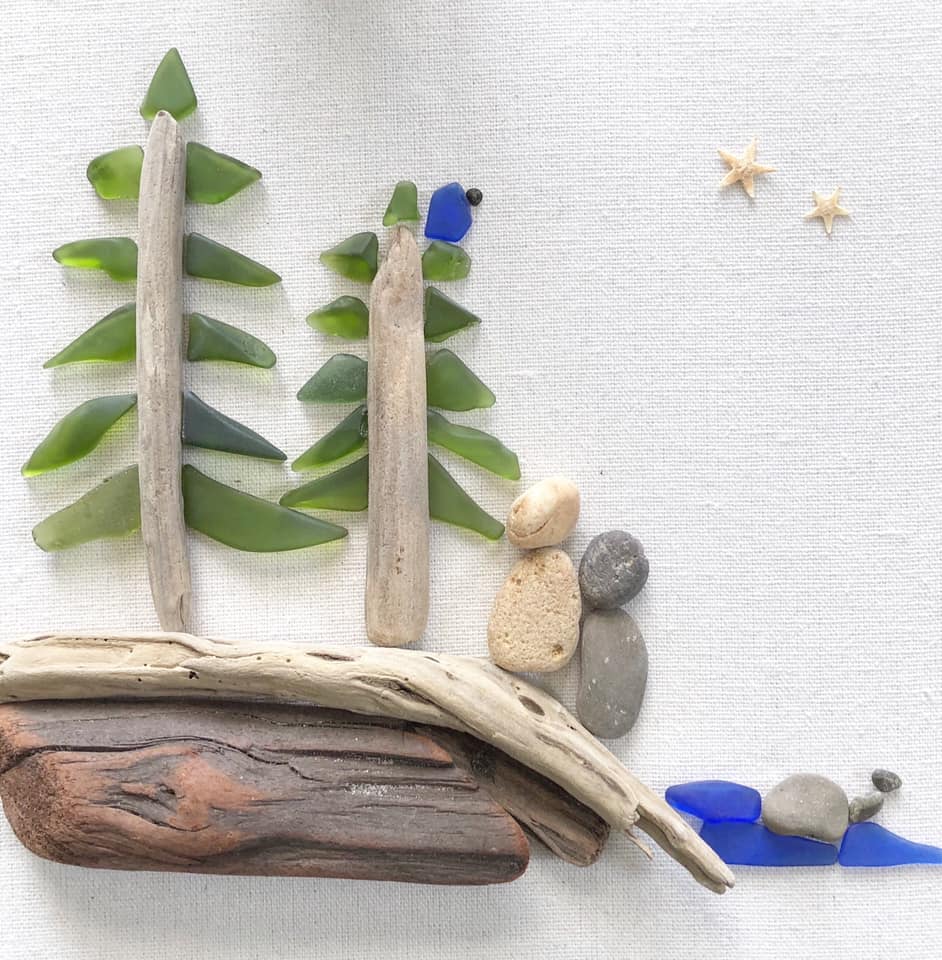 Why not take your sea glass and create a whimsical mobile with it. Wouldn't this be lovely on a deck? via-Etsy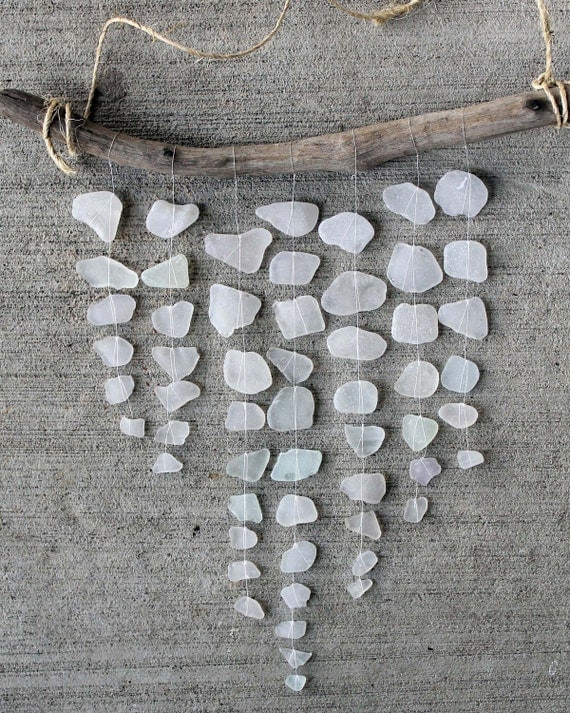 Or combine your sea glass collection with your sea shells and glue them to a wooden letter to create a Sea Glass Monogram. via- Etsy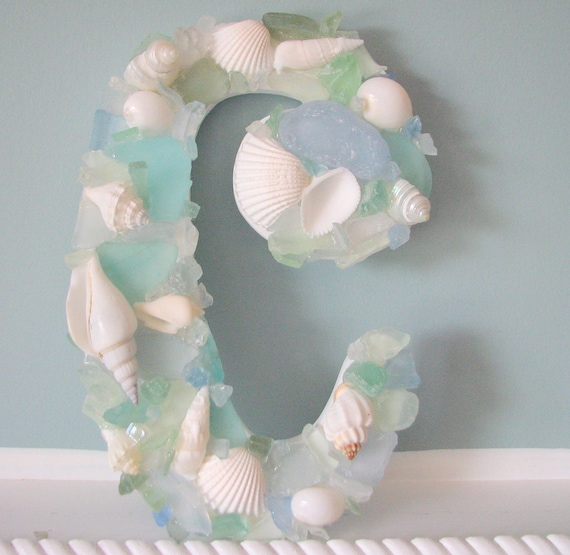 Beach Grass Cottage coated the outside of a vase with her sea glass collection to make a textural mosaic and quite the conversation piece!
Which sea glass project do you think you would like to make?
If you are searching for manufactured sea glass you can find it at Pier One, Target, Michaels, or here on Amazon
. (affiliate link)
Kim
Sours: https://www.sandandsisal.com/2013/04/sea-glass-projects.html
Wall ideas glass sea art
Thirty sea glass ideas and DIY projects including jewelry, stepping stones, & artwork. Use pretty glass from the beach to make crafts for the home & garden
I can tell you personally that finding Sea Glass can be an addictive hobby. Before you know it you could have jars filled to the top with beautiful pieces of colored glass. Instead of leaving them there, use sea glass to make beautiful crafts! From jewelry to wall artwork, this list of thirty ideas and projects should get your creative juices flowing.
If you're interested in making sea glass art but aren't sure where to find it, you can buy it. Amazon, Etsy, and eBay are good places to look but there will be direct sellers as well. You can also fake sea glass as illustrated by some of the ideas below. Lastly, you can use colored marbles or aquarium glass to make many of these crafts.
Foraging for Sea Glass
If you live near the sea or a large inland lake, you may be able to find your own sea glass. I tend it spot it easier on rocky beaches, opposed to sandy ones, and some colors of glass are rarer than others. Above you'll find a video of one of my sea glass foraging expeditions so you can understand the landscape better.
Sea glass comes from ordinary glass that's somehow ended up in the water. It could be glass bottles and jars that were tossed into the waves — true trash to treasure. Some of the most beautiful pieces come from places that had glassworks nearby. If you know of an old glass factory that was situated by the water make a bee-line for it first thing.
Once glass makes its way into the water, the action of waves grinds it against sand and stones. It wears down the sharp edges and gives the glass a beautiful buffered look.
DIY Sea Glass Candle
Painted birds – via Pinterest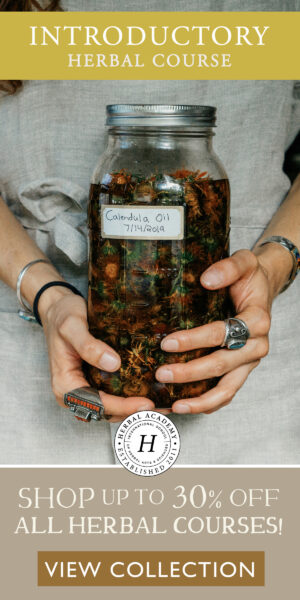 Stepping stone
This is one of my projects and my tip with making sure the glass looks colorful against the concrete is to spray paint the back side white. This will make sure the glass reflects its own color and not grey. How to make a Sea Glass Stepping Stone
Driftwood & Sea Glass Wall Art
Sea Glass Resin Coasters

Finding Sea Glass and a diagram of Sea Glass Colours
Drilled Necklace
DIY Photo Transfer onto Glass – via Art in Red Wagons
Heart artwork on paper. Poster available from Amazon
Whale Tail Artwork
Water Terrarium
DIY Faux Sea Glass effect – via NZ Girl
Bathroom counter – via Everything Coastal
Organized into a Letterpress tray
Ring made with wire-wrapped glass – via Sea Candy Jewelry
Mermaid – via Completely Coastal
Modern Sea Glass Wall art
Sea Glass Candleholder
DIY Sea Glass Bracelet – via the Sweetest Occasion
Driftwood & Sea Glass Christmas Tree – via Natural New Age Mum
Sea Glass Sailboat
Simple idea: Fill a vintage bottle – via Divas to DandelionsPretty Sea Glass Doorknobs – via Beachy RusticaWindow filled with colored Sea Glass – via Completely CoastalChunky rings – via Judith AltrudaSea Glass Mason Jar Candle – via the Country Chic CottagePolymer Clay Fossil tutorial – via EtsySea Glass effect resin ringsVisit Sea Glass Beach in Fort Bragg, California – via Matador Network
Sours: https://lovelygreens.com/30-sea-glass-ideas-and-projects/
How to Clean Sea Glass Mosaics
12 creative sea glass art ideas, from whimsical to sophisticated, to elaborate.
Green sea glass pieces as leaves on a driftwood tree. Driftwood and sea glass pieces are glued to a canvas.
Shop Seaglass for Crafting
Cute sea glass bird art with quote idea by Art Sea Heart-can be purchased.
From the same creator as the above. A small sea glass boat in a shadow box frame. Via
Pinterest
.
Whimsical sea glass art seen on
Ebay
. A cute turtle and a crab, below.
Sand was glued to the backing to give these framed sea glass art pieces an extra beachy vibe.
For this sea glass anchor, the fabric was stretched over a wooden frame. The trick is to use a lot of glue, to make sure that everything sticks. You can learn more about this project
here
.
Find a unique artsy wall hanging and embellish it with sea glass. Made by
Beach Grass Cottage
.
Shop Sea Glass Art on Etsy


Even mushrooms can make nice
Sea Glass Wall Art
. This idea comes from Martha Stewart and she uses a piece of slate. The sea glass is adhered with contact cement, such as E6000.
Seaglass art idea with a humorous life quote, seen on Facebook.
Shop Seaglass for Arts & Crafts
If gallery style
Sea Glass Art
is more your thing, this is a beautiful example. To achieve a sophisticated look, arrange the sea glass pieces on a canvas in a compelling design. Make sure to use enough glue and let dry before you stand the frame up.
Another gorgeous example of framed
Sea Glass Art
.
And if you happen to have an
Old Window Frame
in your basement, you could turn it into a luminous sea glass art piece. This way you get to enjoy the colors sparkle in the light. Instead of an old window frame, you can, of course, simply use a glass frame. Just remove the backing and glue pieces to the glass. Source no longer available.
Decor Ideas | Crafts/DIY
Shopping | Sales
Sours: https://www.completely-coastal.com/2013/04/sea-glass-art.html
You will also like:
20+ Cute DIY Home Decor Ideas With Colored Glass and Sea Glass
Posted By MMK on May 26, 2015
It's time to decorate your home with some distinctive materials. Colored glass and sea glassmay be what you are finding. They can be used widely both interior and outdoors. Colored glass can make your home more colorful and sea glass can create a seaside feeling for you but just in your home. For example, you can pave a path with sea glass in your yard but the sea glass can make it like a blue river flowing in your yard. How wonderful it is! And the sea glass can also give better quality for your interior house wall.
Are you excited? Just come here to enjoy more amazing DIY ideas with colored glass and sea glass we collected. You certainly can make your home more attractive with them. Have fun.
1. Driftwood and colored glass garden sculpture:
Image via: sussexprairies.wordpress.com
2. Colored glass being used to fill the gap between paving stones:
Image via: landscapingnetwork.com
3. Sea Glass, Wire and Wood Sun Catcher:
Image via: artisanne:flickr.com
4. A bird bath table displays colorful sea glass:
Image via: completely-coastal.com
5. Garden stepping stones add colored glass:
Tutorial: pinkandgreenmama.blogspot.com
6. Colored glass mulching can spruce up your yard:
Image via: woodswcd.blogspot.com
7. A Dresser decorated with sea glass:
Image via: projectnursery.com
8. Wine Bottle Night Light:
Image via: hystericallyeverafter.com
9. Sea Glass Crafts Window Hanging:
Image via: odysseyseaglass.com
10. Garden Treasure Jars:
Tutorial: empressofdirt.net
11. DIY colored glass wind chime:
Tutorial: newhousenewhomenewlife.com
12. Fire Pit with Colored Glass:
Image via: artandinterior.blogspot.com.br
13. Sea Glass Mosaic Wreath:
Tutorial: craftsncoffee.com
14. Stained Glass Door:
Image via: arminblasbichler.com
15. Sea Glass Frame:
Image via: etsy.com
16. String sea glass to a branch for a beautiful mobile:
Image via: etsy.com
17. Colored glass Candle Holders:
Image via: amazinginteriordesign.com
18. Sea glass window:
Image via: completely-coastal.com
19. Glass pebble fountain:
Image via: garden-collection.com
20. Seashell & Sea Glass topiaries:
Image via: craftsncoffee.com
21. Sea Glass Monogram:
Tutorial: thecountrychiccottage.net
22. Beach Glass Mason Jar Lantern:
Tutorial: apumpkinandaprincess.com
23. An old table was made over with a sea glass mosaic:
Tutorial: completely-coastal.com
24. Sea glass ornament:
Image via: allthingsheartandhome.com
Share your Thoughts
Sours: https://www.architecturendesign.net/20-cute-diy-home-decor-ideas-with-colored-glass-and-sea-glass/
1387
1388
1389
1390
1391