Throughout all the talent interviews we've done in the television world over the last year, one common thread is that, whether it's press-speak or not, networks are loosening their grips on the creative process. Out of the box is the starting point and niche is the new norm.
We've called this the Golden Age of the TV Sitcom. It's not just sitcoms, though. It's dark comedy, it's thriller-mystery comedy, alt-comedy, web series, broadcast sitcoms (yes those still made the list!), faux talk shows, animated series, and parodies. TV's investment in the diversity of thought and talent in the comedy world has been years in the making, but it's really starting to flourish across the entire medium.
The evidence is in the polls. When it came time for the Den of Geek writers to crown the top comedies of 2016, we increased the size of our electorate (10 writers, up two from the previous year) and it resulted in 36 different shows receiving votes. That's 13 more shows than our 2015 list and it speaks to the volume and quality out there right now. It also speaks to the competition. The top four comedies of 2016 were separated by one vote each. Voting matters! Get out and vote, people! 
The top three comedies of 2015 as voted by Den of Geek staff–Comedy Central's Review and Nathan for You and Adult Swim's Rick and Morty–all went on extended hiatus and sat out 2016. They'll return in 2017 (Review, sadly, for the final time), but that means we have an entirely new crop taking the coveted Gold, Silver, and Bronze on our list. Here we go… 
Honorable Mentions: 
Baskets (FX), Love(Netflix), Horace and Pete, Difficult People(Hulu), Speechless(ABC), Great Minds with Dan Harmon (History), Check It Out! with Dr. SteveBrule(Adult Swim), The Good Place (NBC), Vice Principals (HBO), Crazy Ex-Girlfriend(The CW), The Last Man on Earth(Fox), Younger(TVLand), People of Earth(TBS), Drunk History (Comedy Central), Last Week Tonight with John Oliver (HBO), Haters Back Off (Netflix), Bob's Burgers (Fox), Fleabag(Amazon). 
Dishonorable Mention:
All Three Televised Presidential Debates 
16. The Mindy Project (Hulu) 
From a drunken confession at her ex-boyfriend's wedding to a romantic comedy expert Ob/Gyn, Mindy Lahiri is the perfect combination of comedy, charm, and a bit of ridiculousness (ok, a lot actually.) Mindy's ability to always be herself adds a realness to an over-the-top, but hilarious, character. Her love for romantic comedies (similar to the real Mindy Kaling) such as You've Got Mail and When Harry Met Sally is often referenced whether blatantly or subtly and play a huge role in Mindy's quest for love. She is always striving for that perfect "meet cute" and though it tends to put her in uncomfortable situations, they are memorable moments for audiences.
Every season has returning favorite characters and new cast members that bring a new element to Mindy's journey. In season five, it's clear there is no end for fresh plot lines. With new cast members Bryan Greenberg (Bessie, How to Make it in America) and Rebecca Rittenhouse, (Blood & Oil) Mindy and her support group (her co-workers) continue to fuel the heart of this show. Whether it's the awkwardness or embarrassing moments, Morgan's plentiful misunderstandings or Mindy's unabashed trueness to be who she is—no matter how foolish she may seem—it will have you laughing on the floor. 
– Lindsay McGhee
15. Broad City (Comedy Central)
There is no series quite like Broad City. If one hundred years from now the human race is no more and the Tralfamadorians come and take over the planet and the only remnant of us is Broad City, that would totally suffice.
The Comedy Central hit stands in a pot-hazed girl-power category all its own and nothing can even top it's feminism, hilarity, and progressive nature. Even heading into its fourth season, Broad City still has all the gusto and appeal it did when it first hit the Comedy Central lineup back in 2014. 
Co-creators Abbi Jacobson and Ilana Glazer managed to make a third season that topped all the other seasons in ridiculousness while having their characters grow and deal with real-life situations like new relationships, rent money, and unrealized dreams culminating in a "soul-searching" trip to the motherland of Israel, which turns into a hunt for a tampon. We can't say we're surprised. 
Broad City is best at shining a bright neon light unto the fact that it is okay to be flawed and have no idea where your life is going. Abbi and Ilana make no apologies for who they are and are pioneering this "hot mess" culture and owning it. They are both strong women with strong personalities who aren't afraid to speak up and be a little weird.  
– Daniella Bondar
14. Blunt Talk (Starz)
Starz's Blunt Talk began its existence last year primarily showcasing a surreal gimmick with the reverential Patrick Stewart playing a narcissistic, emotionally unstable, capricious, iniquitous television journalist Walter Blunt. Those weekly hijinks, complemented by Blunt's eccentric show staff, worked out well enough for the inaugural season. Yet, with the initial shock of seeing Stewart cursing, drinking and picking up a transsexual prostitute settled, the second season had its work cut out.
Fortunately, Blunt Talk has evolved effectively in this year's sophomore outing. While the whimsies of Stewart's Walter Blunt remain the running gag, the supporting cast have stepped further into the limelight, building on the show's delightfully demented dynamic. The exploits of Walter's ludicrously devoted manservant Harry Chandler (Adrian Scarborough) shine the brightest. Additionally, staff member Shelly Tinkle (Mary Holland) has become one of the most curious characters on television. While quixotically pursing over-extended ambitions to host Walter's show, Shelly's also fielding unrequited romantic feelings for co-worker Celia (Dolly Wells), who's dating co-worker Jim (Timm Sharp), regularly making feeble machinations to induce their breakup.
Blunt Talk does have its share of warts and there are still occasional moments when it seems to be trying too hard to push the characters' idiosyncrasies. However, the show has managed to clear a rather sizable second season hurdle, becoming much more than its initial premise. I, for one, am keeping my fingers crossed for a renewal.
– Joseph Baxter
13. Always Sunny (FXX)
It's hard to believe that It's Always Sunny in Philadelphia in its eleventh season could end up being as sharp and adventurous as the series' formative years. 
I was particularly reluctant and concerned about some of the more outlandish episode titles from the season ("Charlie Catches a Leprechaun," "The Gang Goes to Hell"), but I found it to be pretty flawless (although "Being Frank" was a total misfire to me, as much as I try to enjoy it).  Every episode offers up something new and absurd to this twisted gang's tried and true formula, where something as pedestrian as the gang going skiing can end up turning into an homage of '80s cinema. Fan favorite episodes like "CharDee MacDennis" are satisfying follow-up installments, Guillermo Del Toro makes a bonkers guest appearance as a McPoyle, and there's a two-part finale that really pushes the limits of just how rapey you can make Dennis (the answer is still very). 
Season 11 had some of my favorite material in years. "Charlie Catches a Leprechaun" is truly a feat of storytelling, with not only some inspired Charlie material, but great characterizations all around. And "Mac and Dennis Move to the Suburbs" is a too good dissection of their relationship that also throws a heavy dose of The Shining in to make things extra upsetting. Seriously, you could watch those two episodes alone and you'd still be getting more laughs there than from entire seasons of other shows. If nothing else though, the season has proven that this show still has plenty more stories to tell. With the Always Sunny gang under contract for several more seasons, we should be excited for the show's future. 
– Daniel Kurland
12. Unbreakable Kimmy Schmidt (Netflix)
In its second season, Unbreakable Kimmy Schmidt was the best thing a comedy can possibly be: very, very funny. The 30-minute format on television is considered by default a comedy by the award shows but seems to be trending towards serialized dreamed territory with shows like Search Party and Transparent. 
Kimmy has its serialized, emotional-affection elements but at the end of the day it's a comedy, pure and simple. Characters are larger than life and New York City is a bizarre funhouse where all the strangest people on Earth live and interact (ok, maybe that part is realistic) and creators Tina Fey and Robert Carlock don't let too many moments go by without an offbeat joke or two.
Season two starts a little slow but after a few episodes it's back to it's wild and irreverent self. Kimmy deals with the emotional fallout of her time in the bunker, meets a therapist (hey, it's Tina Fey again!), gets a new job and learns what WiFi is. By the time the finale rolls around with Kimmy meeting her birth mother and Titus finding a new place just for him, the show firmly establishes itself as one of 2016's funniest shows.
– Alec Bojalad
11. Jon Glaser Loves Gear (TruTV)
Anytime Jon Glaser heads up a project, it's invariably the strangest and most inventive comedy of the season and Jon Glaser Loves Gear is no different. It's arguably well-worn territory for Glaser as he plays an impossible jerk who pisses off and pushes away everyone around him (a la his Adult Swim show Delocated), but JGLG breaks comedic ground in other ways. Glaser is a master of parodying the reality TV format to create brilliant scripted television, but where Delocated had a clear narrative focus about a man and his family, JGLG is aping less obviously structured reality shows about things, shows more like American Chopper or Pawn Stars.
JGLG isostensibly about nothing more than Jon Glaser showing off his love for gear (which encompasses everything from sporting equipment to camping equipment to dog toys) but it actually ends up being a grand tragedy about the downfall of a man, not unlike Barry Lyndon or There Will Be Blood. In just this first season Jon was instrumental in a murder and there was one haunting episode that all took place inside his nightmare—and throughout it all the names and prices of the gear Jon was using continued to pop up onscreen. Insane.
– Joe Matar
10. Better Things (FX)
Better Things is a masterpiece. For fans of Louie, this Pamela Adlon-starring FX comedy is basically Louie through the eyes of a woman. The series, co-created by Adlon and Louis CK, follows single mother Sam as she navigates motherhood, relationships, and her acting career. 
There is a moment early on where Adlon's character, Sam, attends her daughter's woman empowerment meeting at school. When asked to speak, she gives a long monologue on women and young girls owning their womanhood and their periods. "Look, we're all girls, and we're all women and we all bleed and we all suffer. And then the bleeding stops and we still suffer. But you're going to find your own path because we're tough and we can take it."
That moment marked the tone and trajectory for a series that would not shy away from important, and sometimes uncomfortable, issues.  
Better Things allows for the imperfect woman. More importantly, it allows for an imperfect mother. Sam is a woman who is trying to live and love and raise her daughters as happy strong independent women, which often makes her the enemy. Sam does everything for her children but can also just hate them sometimes or fuck up, and that's okay too.  
This series deserves a long and vibrant future, and Adlon should be around always. 
– Daniella Bondar
9. Brooklyn Nine-Nine (Fox)
Now in its fourth season, some might accuse Fox's Brooklyn Nine-Nine of complacently coasting on a formulaic sea of gags and zany character quirks. Well, that's partially true. After a clunky resolution to the season three cliffhanger that found Det. Jake Peralta (Andy Samberg) and Cpt. Raymond Holt (Andre Braugher) hiding in the ass-end of Florida from a dangerous gangster, the returned status quo was given a bit a twist, initially leaving the show's screwball cops stuck working the night shift at the behest of the absurdly inept Captain Stentley, played by Ken Marino, who, along with regular cast member Joe Lo Truglio, makes for a welcome mini reunion of the 90's sketch comedy staple The State.
Admittedly, the show's crucial plot waypoints are already crossed with things like the romance of Samberg's Jake Peralta and Amy Santiago (Melissa Fumero), the impromptu fatherhood of the mawkish Charles Boyle (Lo Truglio), the monumentally messed-up relationship of Rosa Diaz (Stephanie Beatriz) and the twitchy Adrian Pimento (Jason Mantzoukas) and the hilariously square domestic relationship of Holt (Braugher) and partner Kevin. Plus, Sgt. Terry Jeffords (Terry Crews) is still hulking and emotional while administrator Gina Linetti (Chelsea Peretti) is still lovably derisive. It's all comfortably set on autopilot… and that's fine.
Despite its occasional indulgences in larger storylines, Brooklyn Nine-Nine remains purely a sitcom. Like the great sitcoms of days past, this one has had time to settle its components into place, running a well-oiled comedy engine of tongue-in-cheek quips and stealth sarcasm smoothly as ever.  
– Joseph Baxter
8. South Park (Comedy Central)
This was South Park's second serialized season, telling one continuous storyline over all ten of its episodes. I admired the drastic shake-up of the series' format when they attempted the same thing in Season 19, but it didn't entirely pan out; it took some odd contrivances to wrap up some of the plotlines and the climax wasn't as satisfying as I'd hoped it would be. This season refines the formula and Trey and Matt deserve credit for just how incredibly good they've gotten at utilizing the structure of a Hollywood blockbuster. Season 20 plays out like a techno-action thriller (with gross-out gags) and I was genuinely eager to find out what was going to happen next. 
A criticism often leveled at South Park is how reductive it is in its treatment of societal issues, presenting everything as equally worthy of ridicule, but here Season 20 also demonstrates an evolution, being less dismissive and more considerate of how complicated the world is. For example, you might assume Trey and Matt would view online trolling as something not worth freaking out about, but, while they do poke fun at online drama to an extent, they also acknowledge its potential for real-world harm. (Final thought: this season gave Cartman a girlfriend and had him actually trying to be nice for a change and it was one of the best character arcs he's ever had.)
– Joe Matar 
7. VEEP (HBO) 
VEEP should not have been this good in 2016. In its fifth season it is practically geriatric by premium cable comedy standard. That's not even to mention that its original creator and showrunner, the brilliant Armando Iannuncci, decided to step aside and hand over the reigns to David Mandel. Then there's the fact that what once started out as a satirical political comedy is now a sobering documentary of modern political dysfunction as Julia Louis Dreyfus pointed out in her Emmy acceptance speech.
Against all these odds, VEEP turned in what might be its best season yet in 2016. Part of this is, of course, how purely hilarious it is. This is the show that inspired our Jokes Per Minute obsession after all. But beyond that, season five has a wonderfully propulsive plot that doesn't let up. President Selina Meyer (Dreyfus) is embroiled in a brutal re-election campaign where no one, not even her Vice Presidential nominee (Hugh Laurie) wants her to succeed. The levels of stress and political absurdity are so high that they can't help but bring out the best in each character. And it all culminates in a deeply bizarre, deeply satisfying conclusion.
– Alec Bojalad
6. Silicon Valley (HBO)
Silicon Valley may be where the world's smartest tech minds reside, but if you examine the bubble closely, the whole enterprise seems a bit silly. HBO's hit comedy only fictionalizes the strange nature of it all. Creator Mike Judge has made a career pointing out absurdities, whether it's poking fun at the excesses and self-seriousness of '90s era MTV and music videos (Beavis and Butthead), the inane bureaucracy of a corporate job (Office Space), or the slippery intellectual slope our country is heading down (Idiocracy). With Silicon Valley, Judge skewers the fickleness of the tech boom and the egos of inflated former geeks.
Season three of the series saw things get dark for most of the ensemble, even as the jokes became more hysterical than ever. Richard and his crew get their very own boss from hell and a taste for the unglamorous corporate side of software development. Meanwhile, Big Head and Erlich are served a major lesson in money management. Throw in some graphic horse fertilization, Jared's inexplicable ability to score chicks, and the continued unraveling of Gavin Belson and you've got another memorable crop of episodes in HBO's best comedy series (until Curb returns, of course).
– Nick Harley
5. The Eric Andre Show (Adult Swim) 
Of all the shows on this list, The Eric Andre Show leaves you the most susceptible to a YouTube binge. Eric Andre not only embodies the best of Adult Swim's brand of alternative comedy, but he can grab your attention like no other performer can in an increasingly fractured media environment. Whether you watch a full episode, a clip of him getting his ass kicked by Sopranos star Steve Schirripa, or find Eric by GIF or Instagram, he's made his impression on you in some completely manic, grotesque way. 
His late-night faux talk show was unhinged in its fourth season. At this point, it's safe to assume most guests have an idea of what they're walking in to when they agree to appear on the show. They responded by turning his set into a literal nightmare. Eric made guests squirm from the moment they sat down in his uncomfortable guest chair. Hannibal Buress, the "comedic relief," threw guests off with his dry, aloof humor. And then you had surprise moments like when a zombie popped out of the floor to attack T.I. and basketball star Roy Hibbert had to grab a bat in self-defense when Eric destroyed his set in the nude for the 5,000th time. 
There are shows that took risks in 2016, and there's Eric Andre, who claims he didn't bathe, wear deodorant, comb his hair, or cut his finger nails, and put his body in the way of physical harm, all in the name of comedy. There's no one individual in this medium more deserving to appear on this list. I say that for Eric Andre's own safety, because who the fuck knows what he'd do in 2017 if he didn't make it this year. 
– Chris Longo
4. BoJack Horseman (Netflix) 
BoJack Horseman is one of the funniest, most intelligent programs on the medium, but it's also sad as hell at times. BoJack's third season expands their universe by focusing on BoJack's position in the Oscar race regarding his recent star-making role in "Secretariat," but everyone's relationships get complicated and enrichened throughout the season. This comedy has discussions about the things that other shows won't. It's kind of crazy that a show starring a talking horse is willing to go to these dark places.
Part of what makes BoJack Horseman so distinct is how it pushes its protagonist and what it can say about the human condition. Beyond that, season three also does a fantastic job at proving just how damn funny the show is, too. There's a confidence in the storytelling and joke telling and some of the results—like the all-silent episode, "Fish Out of Water"—are a true explosion of creative talent.
– Daniel Kurland
3. Atlanta (FX) 
Atlanta is the anti-Empire. While the latter relishes in the extravagance and opulence of sitting atop the food chain in the music business, the former shows just how decidedly meager the lifestyles can be for rappers trying to make it in the industry. Atlanta feels like the magnum opus of creator and star Donald Glover, who knows a thing or two about making it as a rapper. Though for the sake of this article we've classified it as a comedy, it feels unfair to pigeon hole the series into one genre.
Glover stars as Earnest Marks, a smart, but underachieving new father who believes he can steer his cousin Alfred Miles' (Brian Tyree Henry), aka Paper Boi's, rap career to success for the both of them. Stuck between the realities of the ATL's streets and the glass ceiling of the music industry, Atlanta plays on the surreal nature of everyday situations like trying to pay for a date when you're flat broke, or being noticed by neighbors for your music while you're still living modestly. The series is intelligent, moving, and most of all, frequently funny, helping it become one of the best new series of 2016.
– Nick Harley
2. Search Party (TBS) (Best New Comedy Series) 
Search Party for me was the second television show of 2016 (Stranger Things was the other) where it felt like an instant cult classic was glossing over my eyes just halfway through season one. Whereas the culmination of Netflix's nostalgia-driven horror-mystery was a slight let down, Search Party completed the most air-tight first season of any show in recent memory. 
The Brooklyn-set dark comedy from creators Sarah-Violet Bliss, Charles Rogers, and Michael Showalter follows Dory (Alia Shaukat of Arrested Development fame), an aimless twenty-something consumed with finding a former college classmate after she mysteriously vanishes. Dory ropes her boyfriend Drew (John Reynolds) and friends Elliot (John Early) and Portia (Meredith Hagner) into a series of twists, dead-ends, and a shocking payoff.
TBS made the wise decision to release all the episodes at once. The binge-friendly format all the more highlights the lean direction of Violet-Bliss, Rogers, and Ryan McFaul and their ability to weave an engaging thriller around four personalities that jump through the screen. Search Party is a show that constantly brings up tough questions in life, love, and self-worth. Based on where television is heading, Search Party is this year's best new comedy because it rebuttals with clever, yet complex answers, finding fun ways to goof on millennials and say something serious about them, too. 
– Chris Longo
1. Documentary Now! (IFC)
In a year where we had far more than the 36 named comedies worthy of this best-of list, I don't see it as a shock that a niche series like Documentary Now! takes the grand prize. IFC's documentary parody series went from an honorable mention in 2015 to the mountain top in 2016, and that's a clear sign that we're demanding more of our comedies than ever before. 
Each self-contained parody is equal parts style and substance. Directors Rhys Thomas and Alex Buono are the true engine behind the series, solidifying the look and feel of each installment with an attention to detail that should make every great documentary filmmaker proud. There's an unmatched wit in the show's writing, from John Mulaney's nearly shot-for-shot ribbing of the political doc The War Room,to the liberties Seth Meyers took in cooking up his chicken and rice version of Jiro Dreams of Sushi. 
It would all be for nothing if not for Bill Hader and Fred Armisen, who anchor these larger-than-life parodies that are simply the best possible evolution of all their great character work on Saturday Night Live. Hader in particular shines as he bookends the season with his James Carville impression in "The Bunker" and his memorable take on the life of Hollywood executive Robert Evans in "Mr. Runner Up: My Life as an Oscar Bridesmaid," a play on the documentary The Kid Stays in The Picture. Part of the fun of Documentary Now! is everyone finds a different entry they connect with. Bill Hader's endless, free-associating monologue in "Parker Gail's Location is Everything" stood above the rest for me, proving that Doc Now could be as laugh-out-loud funny as it is sophisticated satire. 
Documentary Now! pulls the upset in the year of the underdog, but you should have seen it coming. As Bill Hader's Teddy Redbones said, in tears, during his victory speech: "We changed the way that election narratives are hijacked." Flawless. 
– Chris Longo
Sours: https://www.denofgeek.com/tv/16-best-tv-comedies-of-2016/
Tim Goodman: The Best TV of 2016
Having given up trying to argue the pointlessness of top 10 lists in the Platinum Age of Television, I posit another new reality to glom onto, and this one is strangely comforting: It's impossible not only to watch every scripted series out there, but to watch every episode of the ones you actually manage to watch.
As strange as it feels — especially since November and December have historically been months where TV critics were frantically trying to watch everything they missed before preparing their Year-End Best-Of lists — there's also comfort giving in to the impossible. I can make my lists with the caveat that these are the best series that I saw. Perhaps some truly great series won't be on the list because I never had the chance to see them. Apologies in advance for that, but for every TV critic I know, this is the new reality.
I can't remember doing a mere top 10 list (though I have done them as a participant in someone else's poll). Even a short look back at THR found me doing 15 dramas and 15 comedies in 2012 (ah, the good old days when you could whittle the year-end list down to 30!).
In 2013, I grappled with the uneven playing field of cable and network, separating my lists into best cable dramas (20 of them), network-only dramas (11) and then best comedies (a combined 17 because, as I reasoned then, network comedies were as good or better than cable comedies so they could compete together). Yeah, it was ungainly, but the sheer volume of excellent television was out of control and making me crazy.
In 2014, I went back to combining the best cable series of the year (a staggering 31 of them) and a separate list of network-only shows (17 total). I've stuck with that formula because networks really are playing a different game — being forced to appeal to the masses often short-circuits the ability to invest in a kookily creative niche show. For me, 2015 was Peak TV insanity (or so I thought then), when I tried to watch everything and created a list of 46 exceptionally deserving cable series and 16 network-only shows.
Exacting and fun — but also exhausting. I'm not Kimmy Schmidt. I was broken. And then 2016 came. When the final totals are counted, we're likely to have 500 scripted series that aired this year. Sometimes you just have to let go. With fellow critic Dan Fienberg also plowing through shows, I still managed to miss (or didn't watch enough episodes of) potentially worthy candidates like Easy, Lady Dynamite, Loveand The Crown on Netflix, Quarry on Cinemax, Goliath on Amazon, Queen Sugar on OWN, Underground on WGN, the O.J. Simpson documentary on ESPN and, probably, a lot of others. Not all of them were ever going to be considered for anyone's Top Whatever list, but certainly some of them were.
But that's the TV critic's new reality.
A lot of longtime favorite shows fell into that "Oh, I can watch these any time" pile —It's Always Sunny in Philadelphia, South Park, etc. — while some very good shows that I like ended up in a far bigger category called "I started to watch these and then didn't finish because life happened," so I'll list just a few in Halt and Catch Fire, Transparent, Outlander, One Mississippi, Red Oaks, Penny Dreadful, The Flash, Arrow, Narcos, Mozart in the Jungle, etc.
I will get to them. But will any of us get to everything? I still watched an insane amount of television. Countless hours. Unlike movie critics, who watch what's often less than a two-hour movie and then move on, TV critics try to watch as many episodes of as many shows as humanly possible, which isn't really possible.
I managed to create two very thorough lists (38 for cable, which I categorize as the best shows on television, and another, upcoming, 13 for network), but I still feel the need to say sorry to those I missed. So — sorry. Here then, as promised above, the best shows of 2016 that I watched.
THR Newsletters
Sign up for THR news straight to your inbox every day
Subscribe Sign Up
Sours: https://www.hollywoodreporter.com/lists/best-tv-shows-2016-tim-goodman-955668/
Best-Reviewed New TV Shows 2016
---
It was another great year for TV, and many of the new shows of 2016 garnered plenty of critical acclaim. Donald Glover's Atlanta takes the Golden Tomato this year, but all of these shows are worth binge watching as soon as possible.
The order of the list reflects the scores as of December 31, 2016, but the number displayed on the Adjusted Tomatometer may change as more reviews keep getting added after the end of the year.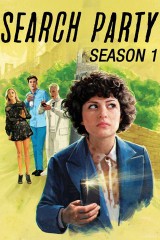 Critics Consensus:Search Party is an engaging, weird, dark, funny mystery elevated by exceptional performances throughout.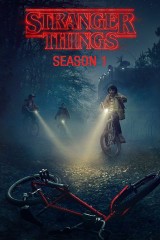 Critics Consensus: Exciting, heartbreaking, and sometimes scary, Stranger Things acts as an addictive homage to Spielberg films and vintage 1980s television.
Sours: https://editorial.rottentomatoes.com/guide/best-new-tv-show-2016/
Top 10 Best New TV Shows to Watch Now!
The best TV shows of 2016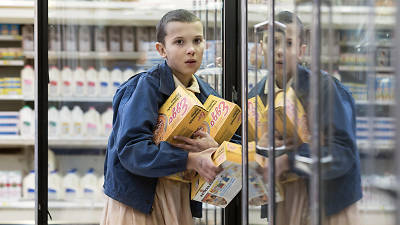 Ranking the best TV shows—2016 sure is having a good year, with standout seasons of clever comedies and gripping dramas
Written by David Goldberg
It looks like the best TV shows of 2016 (this year's seasons only) are as varied as the best shows of 2015, with international love stories, legendary legal battles and, as always, plenty of great shows set in Gotham. Whether it's Luke Cage getting gritty in Harlem or the strong contingent of NYC drag queens dominating RuPaul's Drag Race, NYC is all over the best TV. Cancel your plans this month: You've got catching up to do.
RECOMMENDED: Full guide to the best of 2016
An email you'll actually love
By entering your email address you agree to our Terms of Use and Privacy Policy and consent to receive emails from Time Out about news, events, offers and partner promotions.
🙌 Awesome, you're subscribed!
Thanks for subscribing! Look out for your first newsletter in your inbox soon!
Best TV shows of 2016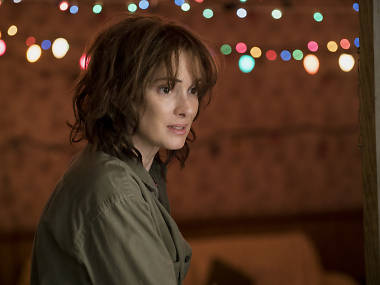 1. Stranger Things (Season One)
In 2016, elections were stolen and won on warped promises of nostalgia. Comic book movie adaptations took perverse turns in favor of the supposedly "dark" and "gritty" aesthetic of the '80s. We got TV reboots that didn't stick the landing and return trips to beloved fantasy series that weren't as enchanting as the first go-round. So when something like Stranger Things shows up and delivers a vivid, clever and original story based on the past but informed by how far we've come since, you pay attention. It was a complete story worthy of a second season but not requiring one. How often does that happen?
Best moment: "Thank you for the casserole. But I need you to leave." Winona Ryder, in a mesmerizing performance, hangs onto a bundle of Christmas lights and communicates with her lost son. Don't even pretend you could look away.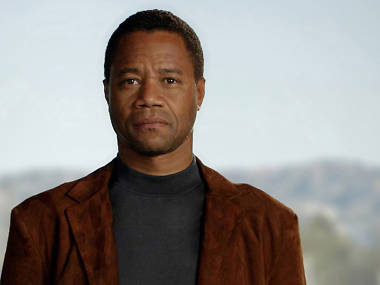 2. The People v. O.J. Simpson: American Crime Story
Normally, the names David Schwimmer, John Travolta and Ryan Murphy would not be equated with tasteful and well-acted TV, but somehow this masterful retelling of the trial of the century depicts the ever-relevant corruption and manipulation of race, gender and celebrity in American media with sophistication (and a dash of camp—note the junior Kardashians). There's something for everyone, from misadvised haircuts to courtroom face-offs that will have you on the edge of your seat even though you already know what happens. In 10 episodes, this series speaks volumes.
Best moment: "Shall I take off my watch and jewelry?" An incensed Marcia Clark (Sarah Paulson) nearly gets put in contempt when she backs up her co-prosecutor and bestie Chris Darden (Sterling K. Brown) in calling out judge Lance Ito's courtroom shenanigans. She certainly earned her emmy win.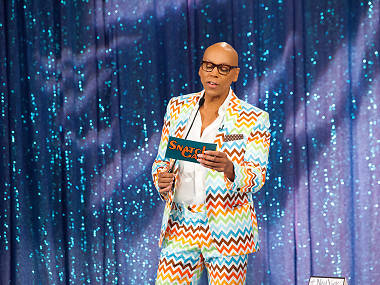 3. RuPaul's Drag Race (Season Eight)
Since its premiere in 2009, this drag queen competition series has moved the underground performance art form to the mainstream. Rather than grow stale with repetitive challenges and old gags, Drag Race took quantum leaps in its own evolution by turning the camera inward, raising dialogue among its queens about race, ethics, money and identity in their industry. While season eight reignited the franchise with a final four line-up entirely composed of queens of color, All Stars 2 dazzled fans with world-class artists dishing meta-humor and cementing their brands.
Best Moment: Fan favorites Alyssa Edwards and Tatianna dueled for the chance to come back into the competition with a lip sync of Rihanna's "Shut Up and Drive" that was so evenly matched it looked choreographed. They shredded the runway—and the results of their resurrection changed the game.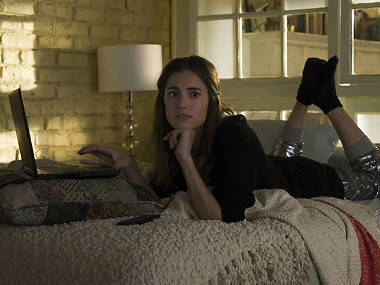 4. Girls (Season Five)
By finally allowing each girl to be the protagonist of her own story (rather than mere moons orbiting main millennial Hannah), Lena Dunham has enlivened her show past sharp satire and into a heartbreaking and resonant exploration of failure, loneliness and growing up. We just wish we'd gotten more episodes of Shoshanna (Zosia Mamet) in Tokyo.
Best moment: After a surreal night with her drug-abusing ex, Marnie (Allison Williams) dumps her loser husband, moves out and crawls into bed with BFF Hannah, finally evolving after four years of arrested development.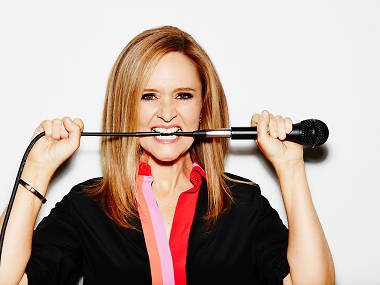 5. Full Frontal with Samantha Bee (Season One)
Many key players in the media are reflecting on their role in glorifying and perpetuating extremist celebrity politicians this election season, but this firebrand can look back on 2016 with no regrets. Roaring onto set every episode with Peaches' "Boys Wanna Be Her" as her opening, the former Daily Show correspondent wasn't afraid to pull a punch, even as the death threats came rolling in. Attacking voter fraud conspiracy theories, laws that restrict women's access to healthcare and alt-right conventions, Bee showed a burning personal passion in her reporting that left her spectatorial late-night competitors in the dust.
Best Moment: One day after the horrific massacre in Orlando on June 12, Bee opened her show with an angry, tearful address on gun violence in America. Rather than rattle off a safe speech about hope, or praying for the victims, Bee said what we were all really feeling: "Fuck it. I am too angry for that. Love does not win unless we start loving each other enough to fix our fucking problems."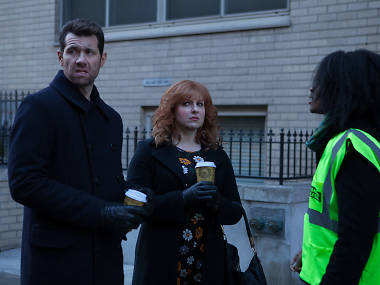 6. Difficult People (Season Two)
Fortunately, there are plenty of TV series about raunchy women and gay men, but none of them are as vicious, bold and New York as Julie Klausner's pop culture–saturated masterpiece. Between seasons one and two, Difficult People sped up the dialogue between Julie (Klausner) and best buddy Billy Eichner, ratcheted up its fearless celebrity takedowns (if you're a closeted male movie star, you're next) and added depth to the we're-all-we've-got relationships keeping its lonely New Yorkers afloat.
Best moment: During a wasted night at a karaoke bar, Julie and her mother (Andrea Martin) savage their basic competition.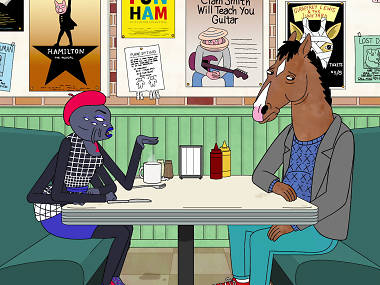 7. BoJack Horseman (Season Three)
The show is an adult cartoon that will make you forget Family Guy exists, it nails the soul-crushing realism of our deepest, darkest insecurities and one episode had a song about abortions sung by a dolphin named Sextina Aquafina who kind of looks like Nicki Minaj. So…are you sold yet? Look, any show starring Will Arnett, Amy Sedaris and Aaron Paul (along with guests Jessica Biel, Abbi Jacobson, Ilana Glazer, Wiz Khalifa, Angela Bassett and so on) is bound to be hysterical, and it's topped with a plethora of animal puns and inception-style jokes that will make you pause the show to laugh and help you finally figure out what meta means.
Best moment: The entire "Fish Out of Water" episode is a game changer, and though it undermines the entire premise of the underwater silent-film episode, that kicker is perfection.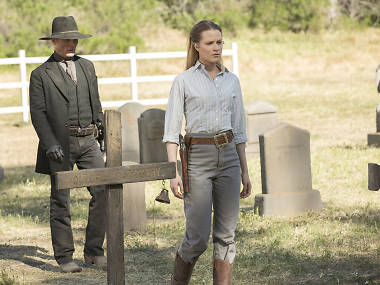 8. Westworld (Season One)
Sure, it's ostensibly a series about artificial intelligence, but this gorgeous sci-fi mind-bender is really a freaky study on trauma, free will and cognitive dissonance: How far can we stretch our morals when we're protected by Twitter avatars? If we don't see where our food is made, does it matter if it's humane? This all may sound rather icy and pretentious, but there's plenty of delicious camp to keep it watchable, as provided by Thandie Newton, Evan Rachel Wood and Anthony Hopkins.
Best moment: The only way to top a blood-smeared makeout session in front of a firing squad between Thandie Newton and Rodrigo Santoro is to feature another makeout session in an immolating tent. Keep it kinky!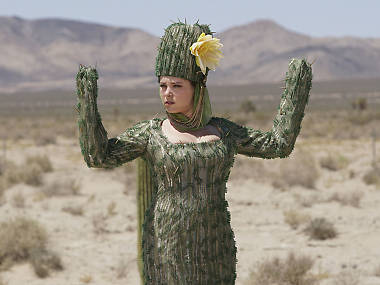 9. Crazy Ex-Girlfriend (Season Two)
Nobody could have predicted that a one-hour musical dramedy on the CW would be one of the most innovative explorations of feminism, love and mental illness onscreen today. Like other female stars on this list, Rachel Bloom, along with showrunner and head writer Aline Brosh McKenna, has created an entirely unique show, innovating a new form of confident comedy that invokes shame, self-hatred and defeat without casting judgment on the woman in the spotlight.
Best moment: Nearly every number on this show puts Glee to shame, but "You Stupid Bitch," Rebecca Bunch's (Bloom) crushing moment of self-flagellation, is worthy of an EGOT.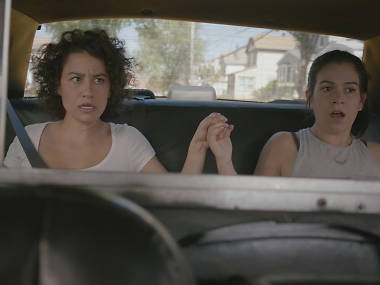 10. Broad City (Season Three)
The ladies could have remained in sitcom stasis forever and we all would have kept watching, but in season three, our queens get to grow up: Abbi (Abbi Jacobson) graduates from gym cleaner to straight-up trainer and fits in a few locker room hookups along the way, while Ilana (Ilana Glazer) finally gets fired and loses longtime friend-with-benefits Lincoln (sob). They may be growing up, but the girls are still crushing their early twenties like never before, whether it's Ilana getting creative in bed with Clippers star Blake Griffin or Abbi destroying the Soulstice Olympics.
Best moment: A bananas recreation of the restaurant scene from Mrs. Doubtfire that includes a grown-up Mara Wilson, Abbi falling over tables, nipple rings and plenty of poop jokes.
An email you'll actually love
By entering your email address you agree to our Terms of Use and Privacy Policy and consent to receive emails from Time Out about news, events, offers and partner promotions.
🙌 Awesome, you're subscribed!
Thanks for subscribing! Look out for your first newsletter in your inbox soon!
Sours: https://www.timeout.com/newyork/movies/best-tv-shows-2016
2016 comedies best tv new
The Best TV Shows of 2016
Year-end lists are stories: They tell the truth by lying. The idea that a critic can watch all the television there is today, let alone isolate the 10 best works among wildly different genres, is a fiction. But play along with it, and you tell a larger tale about what mattered that year and why.
To whittle this story down to 10 titles required some little cheats. I left out ESPN's revelatory documentary "O.J.: Made in America" because this publication reviewed it as a film. "Halt and Catch Fire" is as terrific as when I included it in 2015; I bumped it this year to make room. (Yet I repeated "The Americans," "Transparent" and "Rectify." Life is unfair.)
I didn't number my list. (The best show of the year, if you're asking, was "Atlanta," but beyond that the order would have been arbitrary.) An improved "Better Call Saul" barely missed the cut, as did the best season of "Girls" since its first. There are series I couldn't quite justify putting on this list but were crazy entertaining, like "Stranger Things."
What remains is a sampler of TV as dizzying and agitated as the year we've just lived through. We live in interesting times, and we also get to watch them. — JAMES PONIEWOZIK
'THE AMERICANS' (FX) The direct heir to "Breaking Bad" may be "Better Call Saul," but this 1980s spy drama also has a claim to that legacy. It uses a story of double lives (deep-cover Soviet spies) to create a sense of impending doom, with the added twist that its married protagonists are acting out of idealism, however misguided, not greed or bitterness. It's a ground-level view of a Cold War chess match that has deep sympathy for the pawns.
'ATLANTA' (FX) For a series about people bumping up against limitations — a midlevel hip-hop star and his cash-strapped manager — Donald Glover's comedy was limitless in its possibilities. Sliding from grit to surrealism, from pawnshops to mansions, "Atlanta" created a diorama of African-American life in its title city and a testament to the weirdness of existence.
'BOJACK HORSEMAN' (Netflix) The third season of this animated comedy follows the title character, a self-destructive movie-star horse voiced by Will Arnett, on the awards circuit for his new biopic, "Secretariat." That journey, including a tour-de-force episode set at an underwater film festival, frames a hallucinatory but heartfelt story of one horse's search for equine-imity.
'CRAZY EX-GIRLFRIEND' (CW) In a great year for complicated women on TV — "Fleabag,""Lady Dynamite,""Better Things" — this raunchy, self-aware musical did handsprings down the line between infatuated and insane. The creator-star Rachel Bloom started with a premise of lovestruck obsession, added lyrically gymnastic songs ("J.A.P. Battle,""The Math of Love Triangles") and dismantled romantic myths while using them as fuel.
'FULL FRONTAL WITH SAMANTHA BEE' (TBS) If we judge political comedy by its results — and god help us if we do — "Full Frontal" has no place here; the "screaming carrot demon" (to use one of Ms. Bee's more printable insults for Donald J. Trump) won the election anyway. But comedically, "Full Frontal" arrived fully formed and furious, establishing an outrageous voice — shocking even within the constraints of basic-cable language — and an outraged sense of purpose.
'HIGH MAINTENANCE' (HBO) Along with "Black Mirror" and "Documentary Now!" (both of which nearly made this list) and Netflix's uneven but adventurous "Easy," this itinerant comedy of a Brooklyn pot dealer and his clients marked a creative resurgence of anthology TV. A move from the web to premium cable gave "High Maintenance" a production upgrade, but its humane curiosity remains pure and uncut.
'HORACE AND PETE' (louisck.net) Louis C.K. released his barroom drama without warning, and it unfolded like a crawl through a dark attic full of musty crates and family secrets. It seemed to exist outside of time, pouring one out for angsty 2016 within the walls of a 100-year-old dive bar, using internet-era distribution to recall the crackling immediacy of early theatrical television.
'THE PEOPLE V. O.J. SIMPSON: AMERICAN CRIME STORY' (FX) With crackling scripts and criminally strong performances, this mini-series made a much-told story feel new again. Not only did it speak to America's ongoing racial tensions, but it also ended up foreshadowing an election whose result — like the Simpson verdict — exposed a country whose two halves saw reality entirely differently.
'RECTIFY' (Sundance) Beginning with an ex-convict's return to his small-town home, "Rectify" expanded over four seasons into a story of forgotten people — in halfway houses, nursing homes, big-box stores — trying to make peace with the unfairnesses of the past and find faith for the future. Its final season had two more episodes yet to air when I finalized this list, but I couldn't leave it off. Miracles must be witnessed.
'TRANSPARENT' (Amazon) You could easily label the story of transgender senior citizen Maura Pfefferman (Jeffrey Tambor) and her extended family as insular liberal-bubble TV. In fact it's a deeply empathetic show that lets every character — from fundamentalist Christians to Jewish radical feminists — be flawed and complicated. Messy, diffuse and ever-expanding, it's like a hippie prayer circle where every congregant gets a turn.
The Best International Shows
Not that long ago, making a list of the best international shows on American television would have been as easy, and pointless, as reprinting the PBS "Masterpiece" schedule. That handful of British imports was essentially the only foreign programming available.
But like everything else in TV, that's changed. My initial list for this first international Top 10 contained more than 80 shows, and that was a small slice of the foreign series available on TV or streaming services in 2016.
A few notes. Five of the 11 shows on the list are British comedies. That might seem excessive, but it reflects my feeling that some of the best, most imaginative work in the world is being done in that place and genre. (Also the most energetic. American sitcoms are at a peak, too, but the best ones tend to have a muted, distressed energy — the sheer vitality of the Britcoms can be a welcome relief.)
There's also an overall Anglo- and Eurocentrism to the list. That's partly because American programmers still overwhelmingly favor English-language shows, though streaming services do make a wealth of non-Western series available. So why no Korean or Chinese dramas, for instance? Because as attractive as some of them are, I still can't reconcile myself to the saccharine and melodramatic formulas that seem to be mandatory in their original markets.
Finally, five of the 11 entries were first shown in the United States by Netflix. Whether it's a matter of taste or of aggressiveness and large acquisition budgets, no one matches Netflix in the breadth and quality of its international offerings, beginning with my No. 1 show. — MIKE HALE
1. 'HAPPY VALLEY' Britain (Netflix) The writer Sally Wainwright started out in soap opera and domestic drama before shifting into crime, and "Happy Valley" is both a tough, sometimes harrowing cop show and a meticulous, emotionally charged portrait of a community. Season 2 picked up the story of a gruff, weary uniformed officer (the terrific Sarah Lancashire) and her nemesis (James Norton), and found believably frightening and moving ways to extend it.
2. 'DETECTORISTS' Britain (Acorn) Mackenzie Crook's melancholy comedy about the minor triumphs of a pair of friends who share a passion for metal detecting is the most delicate of shows — it feels as if it might float away while you're watching it. In its second season, Mr. Crook and especially Toby Jones continued their marvelous work as small-timers who, most of the time, mask their frustration and rage in hilariously ineffectual diffidence.
3. 'GOMORRAH' Italy (SundanceTV) The first season of this series, a traditional Mafia saga set in present-day Naples, was an addictive blend of speed, tension, desolate atmosphere and stark violence. While it raided the histories of both Italian and American film and gangster mythology for its look and style, it felt distinctly European, with an operatic realism unlike anything on American TV.
4. 'CHEWING GUM' Britain (Netflix) The playwright and actress Michaela Coel created and starred in this raucous, filthy, wildly inventive comedy about a young woman in the London projects whose sexual curiosity is in dire conflict with her Pentecostal upbringing. Ms. Coel's performance as a nerdy wallflower bursting out of repression is matched by those of Susan Wokoma as her angrily devout sister and John Macmillan as her supercilious and curiously asexual boyfriend.
5. 'CASE' Iceland (Netflix) This smart and extra-chilly example of Nordic noir — a reboot of an earlier Icelandic series, "Rettur" — begins with the apparent suicide of a young dancer. Then it slowly expands into a repellent panorama of exploitation, in which young women are taken advantage of by parents (foster and biological), pimps, lawyers, youth counselors, hackers, classmates, ballet teachers, fellow dancers and just about anyone else you can think of. Magnus Jonsson and Steinunn Olina Thorsteinsdottir, as an alcoholic lawyer and a dour detective, make an art of moody inexpressiveness.
6. 'FLEABAG' AND 'CRASHING' Britain (Amazon, Netflix) Phoebe Waller-Bridge created, wrote and starred in both of these six-episode, London-set comedies this year, an impressive achievement. "Fleabag," about a self-centered, often nasty but well-meaning young woman negotiating sex, love and family bonds, is the darker and more inventive of the two. "Crashing," about the wacky-sad lives of a group of squatters in an abandoned hospital, is a more conventional sitcom. But both are sharp, funny and furiously up to date.
7. 'MY HERO ACADEMIA' Japan (Funimation) In the self-aware category of Japanese anime, this shrewdly written and dynamically drawn series posits a world in which 80 percent of humanity has developed some sort of special powers (not all of them super, and not all used for good). But it focuses on a fanboy who obsessively follows the new costumed heroes while having no abilities of his own — a perfect stand-in for the anime and manga audience.
8. 'GLITCH' Australia (Netflix) Dead people begin to claw out of their graves in a rural Australian town in this series that recalls the French show "The Returned," but without the gloomy-doomy art-house veneer. It's a solid, straightforward paranormal mystery that left plenty of unanswered questions for its second season (already announced as a Netflix coproduction).
9. 'IN THE LINE OF DUTY' Britain (Hulu) Season 3 of this cop drama about an anti-corruption unit (the equivalent of an American internal-affairs squad) in the West Midlands may have been slightly below the level of the taut, dread-inducing previous seasons. But it's still the closest current analogue for the unadorned procedural pleasures of the early "Law & Order."
10. 'CATASTROPHE' Britain (Amazon) Sharon Horgan and Rob Delaney took their dark comedy of unexpected, not-quite-middle-age romance into new territory in a second season focused on the inevitable strains of parenthood. The writing wasn't as seamless this time around — there were times when it felt as if the two were trying out stand-up routines on each other — but the best bits were still corrosively funny.
The Most Outlandish New Shows
Who has benefited most from the explosion of television offerings in the last decade or so? I would argue that it has been people whose tastes in humor run toward the bizarre, the scathing and the incongruous. Television had long decades when "out there" meant "My Mother the Car" or "Rowan & Martin's Laugh-In." Eventually shows like "The Simpsons" began pushing matters of taste, and now, with entire channels and streaming services devoted to outlandish comedy, there are shows unpredictable enough, scalding enough or ribald enough for almost any skewed funny bone. Of the new ones that turned up in 2016, here are my favorite 10. — NEIL GENZLINGER
1. 'BAJILLION DOLLAR PROPERTIE$' (Seeso) This isn't the most demented show on this list, but it's among the sharpest. A workplace comedy in the style of "The Office," filmed with fake-documentary flourishes, it's about a Los Angeles real estate company that deals in high-end properties. How the company stays in business is a mystery, since the staff is full of misfits preoccupied with personal problems and infighting. The core ensemble clicks beautifully, and high-profile guest stars in ridiculous roles complete the package.
2. 'STAN AGAINST EVIL' (IFC) The tiny New England town of Willard's Mill put scores of witches to death centuries ago, and since then its constables and sheriffs have had very short life spans. The wonderful John C. McGinley plays the only sheriff to have made it to retirement; Janet Varney portrays the new one. They reluctantly team to battle the town's lingering demons. It's a gruesome, deadpan delight.
3. 'DEBATE WARS' (Seeso) There's a reason that Seeso, the comedy streaming service, is on this list more often than any other outlet: It takes more chances. Who would have thought that a simple series in which comics take on topics like "Cats vs. Dogs" in high school debate style could be so funny? Not many shows make me laugh out loud. This one had me on the floor. It was introduced amid the presidential campaign; it has lost its topical aura since, which is the only reason it's not my No. 1.
4. 'DREAM CORP LLC' (Adult Swim) A dream-therapy company employs some decidedly unorthodox treatments in this daffy series, a mix of live action and animation. When patients nod off, the lead doctor (Jon Gries) inserts himself into their dreams, not always to beneficial effect. A sassy robot voiced by Stephen Merchant adds to the fun.
5. 'LEGENDS OF CHAMBERLAIN HEIGHTS' (Comedy Central) The great television tradition of having animated characters voice thoughts that a human actor never could is furthered by this cheeky show about three vulgar freshmen, bench warmers on the basketball team, who are trying to establish themselves at their high school. Fat jokes, racial jokes and sex jokes abound; the series requires a high tolerance for raunchiness. But the reward is that it makes points bluntly that other shows can only dance around.
6. 'FLOWERS' (Seeso) This comic drama, which turned up on Seeso in May, is almost indescribably off kilter and anchored by a terrific performance by Olivia Coleman. The matriarch of the titular Flowers family, she teaches music and balances on the edge of sanity. Her husband writes children's books that a drunk Dr. Seuss might have produced. Their 25-year-old twins, Donald and Amy, still live at home, and both have romantic designs on the female neighbor next door. It's the kind of domestic tableau you might encounter in "The Twilight Zone," funny, unsettling and enthralling.
7. 'BRAINDEAD' (CBS) Not many network comedies are going to turn up on a list like this, but the summer series "BrainDead" was one of the oddest shows of the year. A bug infested Washington: not the flu, but an actual bug that crawled into people's ears, took over their brains and turned them into empty-headed automatons. The thing was, inside the Beltway it was hard to tell the infected politicians and staff members from the regular ones. The show was delightfully cast — Aaron Tveit, Nikki M. James, Danny Pino, Mary Elizabeth Winstead, Jan Maxwell, Tony Shalhoub — and everyone embraced the zaniness. Alas, they will not assemble for an encore; the show wasn't renewed.
8. 'MR. NEIGHBOR'S HOUSE' (Adult Swim) This was a one-off special, but it was a small masterpiece of unsettling ideas and imagery. It was a parody of "Mister Rogers' Neighborhood," joining Mr. Neighbor (Brian Huskey) on his kiddie TV show as he prepared to celebrate his "31st annual fifth birthday party." It soon became clear that this was a gentleman with an extreme case of mommy-issue-itis.
9. 'WRECKED' (TBS) This summer series, a humorous version of "Lost," hasn't received much attention, but it's a well-made show with a sly sense of incongruity. A plane crashes on an island; the survivors try to, well, survive. Among the major issues they face: where to go to the bathroom and what movie to watch with the last bit of DVD battery. It's broad, sometimes gross comedy, delivered with verve.
10. 'VICE PRINCIPALS' (HBO) To like this series, you need to be able to tolerate two very unlikable lead characters. They are vice principals played by Danny R. McBride and the great Walton Goggins, enemies who band together to take on their new boss. The humor is often crass, and the lead characters have exceedingly foul mouths, but over all the series is an amusingly caustic variation on both the teenage comedy and the bromance genre.
The Best in Culture 2016
More highlights from the year, as chosen by our critics:
Movies, Pop Albums, Pop Songs, Classical Music, Dance, Theater, Art, Podcasts and Performances
Sours: https://www.nytimes.com/2016/12/05/arts/television/best-tv-shows.html
Top 12 Best New TV Shows to Watch This Year! 2021
My name is Vika. I am 27 years old. I bought a car a couple of years ago. I had no rights then and my boyfriend drove it.
You will also be interested:
Be quiet. And undress. Everyone, and alive. The girls began to take off their clothes, and at a pace, and Vika, silently watching the unfolding discussion, smiled carnivore.
1499
1500
1501
1502
1503