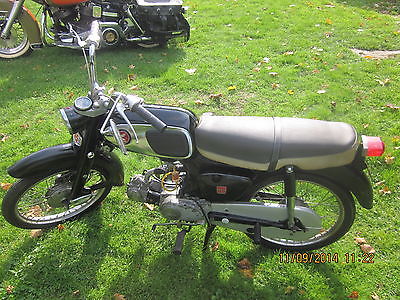 Honda : Other 1965 honda sport 65 original paint low miles great shape
$1,800
Swansea, Massachusetts
Year 1965
MakeHonda
Model -
Category -
Engine 65
Posted Over 1 Month
went to my neighbors house to look at an indian this is all i could afford ,lol.i have several bikes and this one needs to go to finance the other projects ,i was using this to do errands around the neighbor hood and it ran good ,parked it this summer and just tried to start it and it didnt want to hear it ,bettery is dead and i dont want to be bothered ,light rust in tank didnt affect it when it was running .low milage as you can see wont take much to get this little jewel running again .light rust here and there i cleaned it with a 0000 steel wool pad and got most of it .looks to be original tires and also comes with the original tool kit ,seat has no rips ,gas tank has no dents ,under the headlight has a crack which i glued and it has held well i would call this a 8 1/2 out of ten .a good detailing and this will be a real creampuff .any questions feel free to ask ,i prefer pick up on this item unless to want to make all arrangements for shipping and have it picked up at my house here in mass .full payment by cash or postal money order due within 7 days of the end of the auction .I NEVER REGISTER THIS AND I DO NOT HAVE A TITLE i had to put something in the box if your worried do not bid .thanks for looking good luck bidding .
Trim S65A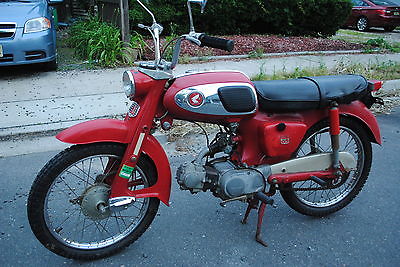 Honda : Other HONDA S-65 S65 SPORT 65 VINTAGE CLASSIC RUNS IN N.J. BUY PAY NOW
$975
Asbury Park, New Jersey
Year 1965
MakeHonda
Model -
Category Standard Motorcycles
Engine 65
Posted Over 1 Month
THIS IS A 1965 HONDA S-65 OR SPORT 65 MOTORCYCLE. THIS BIKE STARTS ON THE FIRST OR SECOND KICK AND RUNS GOOD. IT ONLY HAS ABOUT 8400 ORIGINAL MILES ON IT. IT HAS ALWAYS BEEN GARAGE KEPT WHICH IS WHY IT STILL LOOKS GOOD. THE STORY BEHIND THIS BIKE IS THE ORIGINAL OWNER BOUGHT IT NEW, WENT TO VIET NAM AND NEVER MADE IT BACK HOME. THE BIKE STAYED IN THE FAMILY BEING USED BY DIFFERENT FAMILY MEMBERS ONCE IN A WHILE. OVER THE PAST SEVERAL YEARS IT WOULD BE STARTED FROM TIME TO TIME JUST TO MAKE SURE IT KEPT RUNNING. THE TANK WAS ALWAYS KEPT FULL AND FROM THE LOOKS OF THE INSIDE OF THE TANK NOBODY EVER LET OLD GAS SIT IN IT. THE METAL IS CLEAN INSIDE. THE TIRES ARE IN GREAT SHAPE AS IT WAS KEPT INDOORS WHEN NOT IN USE. IT COULD USE A NEW 6 VOLT BATTERY. THE BIKE IS PRETTY CLEAN BUT COULD USE A GOOD DETAIL JOB WHEN YOU GET TIME. THE CHROME IS IN GOOD SHAPE. IF YOU GO OVER IT WITH SOME POLISH IT WILL COME UP PRETTY GOOD.I JUST DONT HAVE THE TIME TO REALLY POLISH IT UP. MUFFLER HAS A COUPLE PATCHES WELDED ON IT FROM LONG AGO BUT WHO CARES. THIS BIKE IS SO COOL LOOKING IT ONLY ADDS TO ITS GREAT HISTORY. I LEFT SOME OF THE DIRT ON THE ENGINE JUST BECAUSE I LIKE IT. ITS HISTORY. YOU CAN WIPE IT AWAY IF YOU'D LIKE AND THE ORIGINAL PAINT IS STILL THERE. I RODE IT TODAY (SUNDAY MAY 31) AND IT RAN GOOD, IDLED GOOD. DIDN'T SMOKE. CLUTCH IS GOOD, NO SLIPPING- AND IT HAULED ALL 220 POUNDS OF ME UP AND DOWN MY STREET WITH NO PROBLEM. THIS BIKE HAS A CLEAR N.J. TITLE AND COMES WITH A SERVICE MANUAL. THE BIKE IS BEING SOLD AS-IS. NO GUARANTEE OR WARRANTY IS IMPLIED OR GIVEN. BIKE IS PICK UP ONLY AT MY HOUSE IN ASBURY PARK NJ . I WILL STORE IT FOR FREE UP TO ONE MONTH SO FEEL FREE TO SEND YOUR SHIPPER AND I WILL MAKE SURE IT GETS LOADED. SALE IS FINAL. NO REFUNDS. PAYMENT GOES TO MY PAYPAL AT AUCTIONS END. MY PAYPAL EMAIL IS [email protected] ANY QUESTIONS CALL ME ANY TIME AT 732-556-7636. I AM SELLING IT CHEAP TO MAKE ROOM FOR A NEW BIKE I HAVE COMING SO GET IT BEFORE SOMEONE BEATS YOU TO IT. IF YOU ARE A HONDA COLLECTOR OR JUST WANT A HEAD TURNING HARD TO FIND RETRO HONDA MOTORCYCLE THIS IS IT. YOU CAN'T USUALLY BUY RETRO COOL THAT'S THIS AWESOME.....UNTIL RIGHT NOW.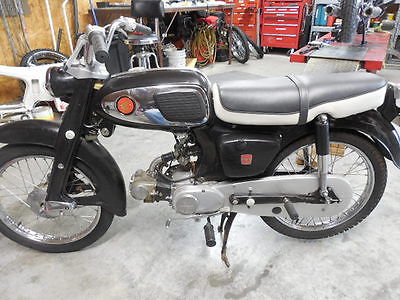 Honda : Other 1965 honda s 65 vintage motorcycle
$1,700
Muskogee, Oklahoma
Year 1965
MakeHonda
Model -
Category -
Engine 65
Posted Over 1 Month
This is an original Black1965 Honda S65. This little Honda S65 has a rebuilt motor. Runs good and shifts good. I tore it completely down and replaced any worn parts. . Any bearings that were bad I replaced. Cables are new. Carb kit installed. I only mechanically restored this S65 because it was original. I did replace the seat and chain guard. I also have a white C200 in another listing and a Red C200. I'm getting on in years and need to start selling some things. Thanks for looking. Questions are welcome and if you live close you can come take a look. Clean, Clear and Current OK title.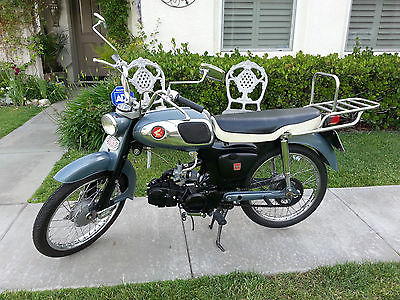 Honda : CB 1965 honda s 65 motor cycle
$2,400
Oxnard, California
Category Cruiser Motorcycles
Engine 125
Posted Over 1 Month
Here is an absolutely beautiful restoration. It's sporting a brand new 125cc Lifan 4 speed manual power plant. Approx. 100 miles on new engine. It scoots up the road much nicer than the original 65 cc that would barely make it up a hill. It does however come with it's original motor/trans . The wiring harness is completely original and is still a six volt system. This is an amazingly fun & reliable little motor bike. I am sure whoever ends up with it will love it. If you have any questions at all, please inquire. Thanks Bryan & Julie...
Honda : Other 1965 honda s 65
$700
Pittsburgh, Pennsylvania
Category -
Engine -
Posted Over 1 Month
I'm selling this 1965 honda s65. It is a barn-find or a project bike. It is complete and the engine is not seized. The bike is not in running condition, but will include new battery, 2 keys and clear title on the previous owner's name. In the selling price, I am including delivery to any of the following states: PA (whole state), NJ ( whole state), NY (just NYC region but tolls are buyers responsibility), and OH(along rt I-80). For other buyers, I may be able to arrange delivery but you must ask me before you win the bike and you may need to pay some fee. For international buyers, I will deliver the bike to the Port of New York or New Jersey for free. The bike comes as is, without warranty.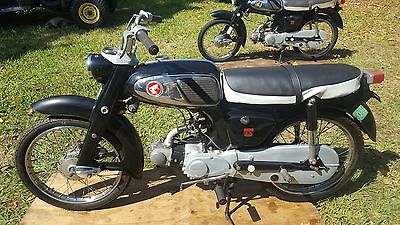 1965 Honda Other 1965 Honda S65, Mechanically Sound and Ready To Go !FREE SHIPPING!
$2,700
Homestead, Florida
Year 1965
MakeHonda
Model -
Category Sport Touring Motorcycles
Engine 65
Posted Over 1 Month
Nice Little Bike,Mechanically Sound,FREE SHIPPING TO LOWER 48 STATES! Own a Piece of History! This Beautiful Little Bike is 52 Years Old! Great Shape! Licensed, Bonded, and Insured Shipping TO YOUR DOOR! Buy It Now Listing! Clear Title FREE SHIPPING TO ANWHERE IN THE LOWER 48 STATES!LICENSED,INSURED,AND BONDED!DELIVERED TO YOUR DOOR FROM OUR DOOR! NO FUNNY BUSINESS! JUST GREAT SERVICE! Low mileage,only 5051 miles. Deposit of 300.00 to our paypal account due at sale end. Balance due within 7 days.Cash,Check,Money Order,or Money transfer OK. Bike will not be released until check or money order clears. Please bid only if you intend to buy. If you have a feedback rating less than 10, please call John at 305-510-3042 to work out details. Thank You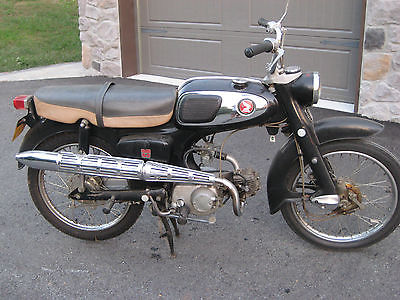 Honda : Other Vintage 1965 Honda S65cc Motorcycle Bike - No Rust!
$3,000
Slatington, Pennsylvania
Year 1965
MakeHonda
Model -
Category -
Engine 65
Posted Over 1 Month
100% Original Vintage 1965 Honda S65cc Motorcycle Mileage: 5,317 This was my late father's 1965 Honda Motorcycle. It was garage kept with no rust. It has a bent valve which can be purchased from eBay for 4.00. The fuel line will also need to be replaced because it is dry rotted and the fuel petcock will also need replacement coming out of the tank. Other than those minor problems the Honda is beautiful condition with the original owner's manual and clear title. I have included photos of all angles for your review.Local pick-up only near Allentown, PA

Honda : CT 1965 Honda S-65 (2 Available) See pictures
$1,765
Canyon Country, California
Category -
Engine -
Posted Over 1 Month
Bike #1 -Black Beautiful ALL ORIGINAL Honda S65 , ONLY 733 MILES! including original paint (except front fender). New tires and brakes. I have recently gone thru this classic bike and have been enjoying riding it with my wife all over the central coast line of California. Many people stop you and ask about this bike. I also have another RESTORED 1965 Honda S65 (I will make you a great deal on 2 bikes!) I have California pink slip and non-op registration in hand. If you are interested in Bike #2 (BELOW) please email me and make me an offer or make offer on both. Bike #2- 1965 Honda S-65 with Lifan 125cc new motor. Bike looks and runs perfectly. Luggage rack on back. Original front fender. New Paint, new seat, new shocks, new tires and brakes. Runs like a champ. Have California Pink slip and registration in hand. NO RESERVE. Both bike available for $3400.00 We specialize in restoring any smaller model Vintage Honda's. List includes: Honda CT Trail 70's (yrs range from 1970-1974) 2 H models available Honda XL 70 (2 1971 available) Honda S65 (2 1965) Honda C-102 1958 Honda C-110 1963 Almost all bikes are stripped to a bare frame. Prepped for painting. I only buy California bikes so very minimal rust. Frame is painted (some bikes our customers choice in color) Almost all parts are original honda parts unless I am unable to locate. The engine is completely gone thru and tested. Rebuild heads, new piston and rings. During reassembly process of bikes, all get new brakes, tires if needed, cables lubricated, any parts that need replaced get replaced. Bikes are tested and driven, usually take in our SUV (fits perfect) on a nice California Coast mini vacation with my wife on the back. Thanks for your interest. Sincerely, Bryan Beach (good ole' Honda Dude).

Honda : Other 1965 Honda s65 All Original! s90 dream superhawk cl70
$1,400
Suttons Bay, Michigan
Category -
Engine -
Posted Over 1 Month
I CAN ARRANGE ALL SHIPPING OF THIS MOTORCYCLE WORLDWIDE Bike is priced to sell very quickly (below somme of the $1500 and $1550 offers I received last time I listed it). Beautiful all original 1966 Honda S65. I will be selling some of my collection including an S90, Dream, RD350 race bike with real TZ750 fairing, CB350, and CB750. This is the S65 for sale. I purchased this around 2 years ago (thought one year at first) from the original owner. She last rode it in 2001 and was then put away in her garage and stored properly. I last rode and ran it about November of 2012 before Winter. It is in excellent condition and a true time capsule to the vintage honda era. Please feel free to ask questions and I will respond promptly. Please note that I do have the title to the bike. The issue is that the person I bought it off put someones name in the buyers spot and then never sold it to them. So the title has someones name in the buyers spot and the DMV will sort that out. If not then I can get a new title in MI very very easy and it just takes a week for it to arrive. Information: 5399 miles Original Honda HM tool kit Original title, registration, and information Original paint and tank badges that are in excellent condition Just a great original bike that is very very hard to find in this shape any more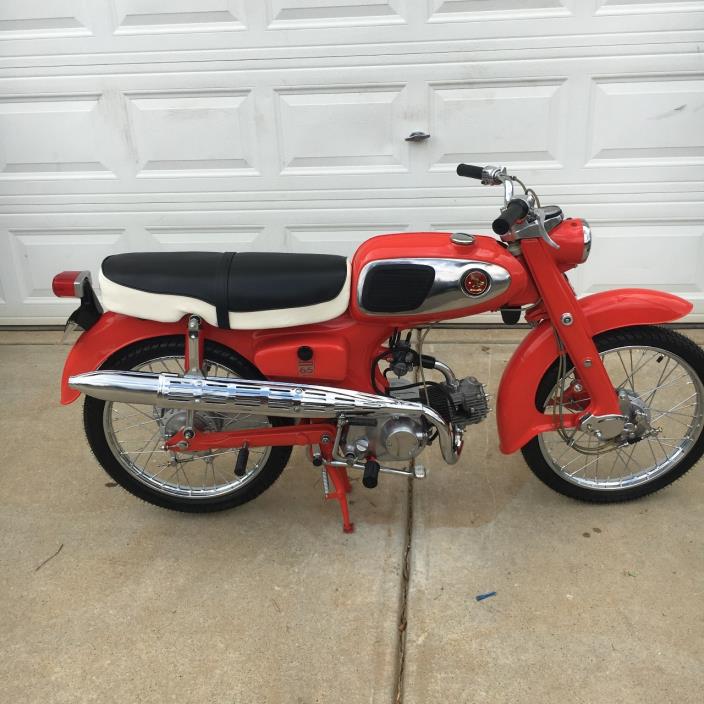 1965 Honda S90
$2,600
Huntersville, North Carolina
Category -
Engine -
Posted Over 1 Month
1965 Honda S65 2nd owner 2,465 original miles.  Full expert restoration in 2016. Bike was completely disassembled, professionally sandblasted and painted.  Brand new top end, wheels, hubs, tires, brakes, handlebars, grips, seat, chain, lights, shocks, steering, exhaust, controls and cables.  Everything works.  May need new second gear.  No title.  I have a picture album featuring the restoration.  Kick start only.  Service manual included.
1965 Honda S90
$2,900
Canyon Country, California
Category -
Engine -
Posted Over 1 Month
1965 Honda S90 , All original 1965 S65 Black Beauty. Extremely low miles. Runs perfect. Front fender not original. Have 2 S65 and many other vintage Hondas. Call Bryan is interested 323 983 1218 $2,900.00 3239831218
1997 Honda SHADOW
$2,100
Moorestown, New Jersey
Category -
Engine -
Posted Over 1 Month
Selling my 1965 Honda S65. This is in very good original condition. The bike has just had a complete service by master mechanic Roland Sotello of Spare Parts in Philadelphia (new tires, upgraded electrical system, etc.). The bike runs excellent and has a very nice vintage vibe. Transmission is excellent. The paint is good and everything works as it should. There is no title for the bike as they were not required in 1965! I will gladly provide a Bill of Sale. This is a cool bike that you can enjoy as is. If you are a collector, you can easily restore to "as new" condition though I prefer it as is. You are responsible for shipping arrangements and costs. Let me know if you have any questions. Thanks for looking! Dan.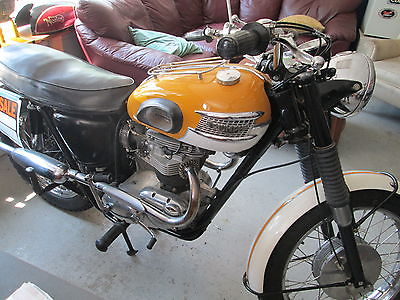 Triumph : Other 1965 triumph tr 6 s c
$8,950
Essex Junction, Vermont
Category -
Engine -
Posted Over 1 Month
This is a repost as a Buy It Now. A buyer from NH ended up bailing on us. This is a neat write up about a special bike. ***************************************************************************** For you Classic Bike fans in general, and vintage Triumph enthusiasts in particular, my partner Nick is parting with his one-owner TR6 S/C. This is a quintessential 650 Triumph in desert sled guise as a "Sport" / "Competition". These are rare bikes - yes, more rare than a Bonnie. The story of how he put this bike together out of a crate while working at a local Triumph dealer in the 60's and the journey they have both been on since then is worth the read. Nick and I own The Classic Bike Experience here in Essex, VT, and he is the Triumph subject matter expert in our group. A bad back and a desire to see the bike used has led him to the decision to part with it. Only to a good home folks. If you can't appreciate what you are looking at, then best to find something else. The bike will be listed on eBay shortly, so if you are keen to check it out, call or better yet, drop by the shop and see it for yourself. Jack **************************************************************************** 1965 Triumph TR6S/C Vin # DU19654 Owners statementJuly 6, 2015 I bought this motorcycle in late Fall of 1964. I was working as a Toolmaker's Apprentice for General Electric and the Toolmaker I was working under was Frank Pelkey, the owner of Frank's Motorcycle Sales in Essex Center VT. He offered me a job nights and weekends assembling motorcycles from the crates and "commissioning" them. When this model was announced, only (2) units were allocated to new England and I spoke up for one of them. I had become partial to the TR6's as they were less finicky about carb settings and not significantly different in output power. The bike was originally fitted with a single speedometer by VDO, center mounted above the headlight. This unit was prone to collecting water and becoming hard to turn to the point that the cable would break after several years. I replaced the cable regularly and had the speedo rebuilt by VDO twice. As a result, the total mileage became very unclear. Several times I would run the bike for a month or two without the speedo , as I was on a limited budget. (who has extra money when they are 20 years old?) In the summer of 1965 I rode it every day rain or shine as it was my only transportation and my girlfriend at the time had taken a job in Hartford CT after graduating from college, so my routine became simple; ride back and forth to work every day, 4;30 Friday night, hammer down the road from Burlington to Hartford and hammer back Sunday afternoon. Lots of miles, never a break-down on the road. I was very faithful to the oil change routine, 1000 miles or less between changes used Quaker State exclusively, bought it by the case. I also did motor work while at Frank's and saw first-hand what happened to engines that didn't get regular oil changes. I couldn't afford new parts so I was very careful to not need them. One weekend I didn't go to Hartford as the dragstrip in Milton VT having a "run what you brung" event that I couldn't resist. I managed to match Cycle World's road test results exactly with an ET of 15.88 @ 88mph through the ¼ mile. This was the only time I dragged it against the timer, all other contests were impromptu and based on circumstance.. I will say that a properly tuned TR6 will whip ass on a poorly tuned Bonneville everytime. Timing settings and technique on 4CA points plate bikesare true separators of skilled mechanics from hackers. The later points plates with individually adjustable and timeable points are much to be desired if points are your thing. I got married to my girlfriend in 1966, so the long rides came to an end and I also had access to a car now and then so the bike became a little less used but still regularly ridden to work and on weekends. In 1967, BSA came out with the 650 vertical twins in a grey painted frame. I thought this was the greatest look in motorcycles so I blew my bike apart one lost weekend and painted everything on it that was black a lovely Kelly green courtesy of Rustoleum spray cans. One of the dumber things I did while in my 20's, but certainly not the only one. (Getting married ranks right up there) Being Dinks during the mid 60's led to a lot of different activities not all of which resulted in the motorcycle being the center of my world. I rode on a bob sled team one winter, (1966 I think) and rode over on the bike in the spring to Mt. Van Hoevenberg to show my wife the bobsled run when it wasn't quite so cold. During that ride I was shoved off the access road by a station wagon intent on using the whole road . The resulting dump in the ditch bent the handlebars slightly and scraped the rim of the headlight. The bars have been replaced but the headlight ring still shows the scar from that episode. 1967 became a year of change for me and the bike. The Vietnam War was going strong and my graduation from the GE Toolmakers Apprentice program meant my draft exemption was up for review. Once I was re-classified, the handwriting was "Writ Large" on my wall, so I enlisted 24 hours before I was drafted in to the US Army. A very good friend agreed to keep the bike for me and ride it regularly while I was in service to my uncle and he was as anal a person as I was about oil changes and maintenance, so I felt it was in good hands. This proved to be the case as I returned 2 years, 11 months and 22 days later to a motorcycle running as good as I had left it and undamaged by its time in another shed. In 1970, I rode it regularly back to work and anywhere that my interests lay including Sunday morning breakfast rides by the local BMW contingent. No discrimination, any two wheeled vehicle was welcomed. 1971 was the year I began serious dirt riding, Suzuki 185's then Cam Am 175's, so the Triumph took a back seat to those interests, although I did brush-bash the Crown Point Military Road for about 30 miles before realizing it wasn't the desert and a 'Western desert sled" wasn't a good "Northeast Stump Jumper" This was the year that the Dunlop Trials Universals went away in favor of K70's and then a K81 for the rear. Replacing the stock sidecar gearing setup with one tooth higher countershaft sprocket pushed the TR6 into highway only territory from then on. Riding it regularly until 1977 when the world fell apart, getting divorced and selling almost everything I owned of value. At that time British motorcycles were relatively worthless due to the Japanese takeover of the motorcycle world. I couldn't get $300 for it. I was determined not to give it away, so I used my military training and preserved it with cosmoline and other materials to ensure it would endure many years in storage without serious detrimental effect. Moving into skuzzy apartments and having little cash for any pursuits other than life support led to a long dry spell in motorcycling. That spell ended in 2009 when I entered into a Classic Bike Cooperative, the forerunner of the Classic Bike Experience. I started restoration and re-commissioning the TR6 in 2009, letting it slide while starting up the business end of CBE and finished the restoration in 2014. It is now complete and needs completion of the initial break-in period, having been run about 65 miles in test and fettling. Details of engine rebuild: New rings, valves, guides, intake seals added, cylinder honed for new rings, taper =.0005 or less. Bore is standard. Cam reground by WEBCAM, lifters refaced. 6CA points plate fitted. (4CA available) New shell bearings, new ball and roller mains. Sludge trap cleaned. Gearbox; This is the W/R option (Wide Ratio) All new ball and needle bearings and thrust rings. New correct ratio speedometer drive gears. (Sidecar gears originally fitted available) Chassis and Body: New paint by Bob Myers Cycle Colors, Burnished Gold with White with the correct pin striping. New control cables and speedo cable. New rubbers on footpegs, K/S & gearshifter. New chain and sprockets. The bike has all original parts either on it or in boxes waiting to be re-used by a future owner. List of changes from original condition" Visible: Dunlop K70 & K81 tires in lieu of Trials Universal. Stainless rims replaced the rusted Dunlop items. Folding foot-pegs, an option added in 1967. (originals available) Later model (1966) rear brake drum with bolt-on sprocket Weber oil rocker feed manifold LED taillight (6V) Pillion peg extensions Single Smiths Speedometer fitted (original VDO and bracket available) Battery tender lead Invisible: Battery cut-off switch added under seat with removable key Spin-on type oil filter added in return line, located above center stand behind engine. Speedo drive gears to match sprocket configuration (originals available) Engine has "lightened" cam drive gears per John Healy design. (originals available) Engine is internally updated to latest ball and roller crankshaft mains and location scheme Engine is prepared internally for Jay Straits venting scheme. Forward mount area is drilled for venting and drainback and filled with stainless steel mesh pack for baffling. External vent location is not drilled. Comment: Purists may say that the all black seat is not original, but it is and was fitted from the crate by me. The seat has not been re-covered. One of my conditions of purchase was that no one except me uncrated it and did the assembly. Also the small tail-light was fitted originally as the larger "bullet" style was being introduced in 1965 on the Bonnevilles, The TR6's were the "poor relations" as far as production priority was concerned as the Bonneville was the star seller. The headlight brackets do not look correct, as the holes in them were added in the late 60's to accommodate a set of Honda directional lights, long since scrapped. Nick Woodbury Owner.
Trim TR6S C
ANY MOTORCYCLE WANTED. PAID CASH & FREE PICK UP 7 DAYS 888
$20
Clifton, New Jersey
Category -
Engine -
Posted Over 1 Month
ANY YEAR, ANY MILEAGE, ANY CONDITION. FREE PICK UP AT YOUR HOME. CALL TOLL FREE FOR FREE PICK PLUS CASH AT 888-869-5865 Junk My motorcycle in New Jersey, Buy My Junk motorcycle New Jersey, Sell My Junk motorcycle New Jersey, We Buy Your Junk motorcycle in New Jersey Junk My motorcycle in New Jersey, Buy My Junk motorcycle New Jersey, Sell My Junk motorcycle New Jersey, We Buy Your Junk motorcycle in New Jersey Junk My motorcycle in New Jersey, Buy My Junk motorcycle New Jersey, Sell My Junk motorcycle New Jersey, We Buy Your Junk motorcycle in New Jersey How to Sell Junk motorcycle for Cash in NJ. Selling a junk motorcycle in New Jersey is extremely simple. Union County, NJ Cities Towns Getting cash for junk cars in nj Somerset County, NJ Cities Towns Free Junk Car Removal NJ Warren County, NJ Cities Towns Buy My Junk Car in NJ Bayway, NJ / Berkeley Heights, NJ Betsytown, NJ / Chestnut, NJ Clark, NJ / Cranford, NJ Elizabeth, NJ / Elizabethport, NJ Elmora, NJ / Fanwood, NJ Garwood, NJ / Hillside, NJ Industrial Hillside, NJ / Kenilworth, NJ Linden, NJ / Mountainside, NJ Muhlenberg, NJ / Murray Hill, NJ New Providence, NJ / North Elizabeth, NJ North Plainfield, NJ / Parkandbush, NJ Peterstown, NJ / Plainfield, NJ Rahway, NJ / Roselle, NJ Roselle Park, NJ / Scotch Plains, NJ Springfield, NJ / Summit, NJ Townley, NJ / Tremley, NJ Tremley Point, NJ / Union, NJ Union Center, NJ / Union Square, NJ Vauxhall, NJ / Westfield, NJ Winfield Park, NJ. Basking Ridge, NJ / Bedminster, NJ Belle Mead, NJ / Bernardsville, NJ Blawenburg, NJ / Bound Brook, NJ Branchburg, NJ / Bridgewater, NJ East Millstone, NJ / East Millstone, NJ Far Hills, NJ / Finderne, NJ Flagtown, NJ / Franklin Park, NJ Franklin Township, NJ / Gladstone, NJ Hillsborough, NJ / Kingston, NJ Liberty Corner, NJ / Lyons, NJ Manville, NJ / Martinsville, NJ Middlebush, NJ / Millstone, NJ Montgomery, NJ / Neshanic Station, NJ Peapack, NJ / Plainfield, NJ Pluckemin, NJ / Raritan, NJ Rocky Hill, NJ / Skillman, NJ Somerset, NJ / Somerset, NJ Somerville, NJ / South Bound Brook, NJ South Branch, NJ / Warren, NJ Watchung, NJ / Zarepath, NJ Zarephath, NJ. Allamuchy, NJ / Allamuchy Township, NJ Alpha, NJ / Belvidere, NJ Blairstown, NJ / Broadway, NJ Buttzville, NJ / Changewater, NJ Columbia, NJ / Delaware, NJ Delaware Park, NJ / Great Meadows, NJ Hackettstown, NJ / Hardwick, NJ Hope, NJ / Johnsonburg, NJ Lopatcong, NJ / Oxford, NJ Phillipsburg, NJ / Port Murray, NJ Stewartsville, NJ / Vienna, NJ Washington, NJ. Essex County, NJ Cities Towns Junk Car Removal NJ Sussex County, NJ Cities Towns Cash for Junk Cars NJ Passaic County, NJ Cities Towns Sell My Car for Junk NJ Academy, NJ / Ampere, NJ Belleville, NJ / Bloomfield, NJ Brookdale, NJ / Caldwell, NJ Cedar Grove, NJ / Doddtown, NJ East Orange, NJ / Essex Fells, NJ Fairfield, NJ / Glen Ridge, NJ Grove, NJ / Ironbound, NJ Irvington, NJ / Livingston, NJ Maplecrest, NJ / Maplewood, NJ Midtown, NJ / Millburn, NJ Montclair, NJ / Newark, NJ North Caldwell, NJ / North Center, NJ Nutley, NJ / Orange, NJ Overbrook, NJ / Roseland, NJ Roseville, NJ / Short Hills, NJ South Orange, NJ / Town Center, NJ Upper Montclair, NJ / Vailsburg, NJ Verona, NJ / Washington Park, NJ Watsessing, NJ / Weequahic, NJ West Caldwell, NJ / West Orange, NJ. Cash For Junk Car in Park Ridge, NJ 07656, Junk Car Removal in Midland Park, NJ 07432 Cash For Junk Car in Ramsey, NJ 07446, Junk Car Removal in Montvale, NJ 07645 Cash For Junk Car in Ridgefield, NJ 07657, Junk Car Removal in Moonachie, NJ 07, NJ 074 Cash For Junk Car in Ridgefield Park, NJ 07660 Read more: http://www.classifie dads.com/services-ad4084327.ht m#ixzz1TFL7ef42 Phone: show contact info (adsbygoogle = window.adsbygoogle ).push(); More About This Listing: HIGHLAND LAKES N.J. JUNK CAR REMOVAL $20 TO $200 CASH PAID! HIGHLAND LAKES N.J. JUNK motorcycle REMOVAL $20 TO $200 CASH PAID! -YORK Coventry (1920--1932) United States[edit] Ace (1920--1927) American IronHorse (1995-2008) Buell Motorcycle Company (1983--2009) California Motorcycle Company (?-1999) Crocker (1936--1941) Curtiss (1902--1910) Cushman (1936--1965) Buell (2009-2015) Excelsior (Chicago) (1907--1931) Excelsior-Henderson (1993 / 1998-2001) Fischer Harley-Davidson (1905- ) Henderson (1911--1931) Hodaka (1965-1978) Indian original Springfield company (1901-1953) Gilroy company (1999-2003) Stellican Limited (2006-2011) Iver Johnson (1907--1916) Mustang (1945--1963) Ner-A-Car (1921--1927) Penton (1968-1978) Pierce-Arrow (1909--1913) Ridley Roehr Motorcycles Simplex (1935--1960) Titan Yankee / ABE-STAR:1949-55 Japan AKITSU: 1952-? - Japan TASS: 1955-62 Japan TOHATSU: 1935-66 Japan TOKOYA:1990s Japan TOKYO KUROGANE MOTOR COMPANY: 1930-40s Japan TOSHO: 1959-62 Japan TOYO MOTOR: 1949-Early 1960's Japan TSUBASA: 1955-60 Japan YAMAGUCHI: 1941-64 Japan YAMAHA: 1954- Japan YAMATARGO: 1929-? CASH PAID ! FREE PICK UP AT YOUR HOME. CALL TOLL FREE AT 888 - 869- 5865
Showcase Ads
×
Alert Successfully Created
Sours: https://www.smartcycleguide.com/motorcycles-for-sale/1965-honda-s65
1965 Honda Motorcycles
1965 Honda CB77 Super HawkBring A Trailer Auction
Oct 22, 2021Today
1965 Honda 247CC C72Bonhams The Autumn Sale - The Classic Motorcycle Mechanics Show (2021)
Oct 09, 202113 days ago
1965 Honda CB93Bring A Trailer Auction
Sep 14, 20211 month ago
1965 Honda S65Mecum Dallas (2021)
Sep 10, 20211 month ago
1965 Honda CR110 Road RacerMecum Monterey (2021)
Aug 12, 20212 months ago
1965 Honda CA-77 DreamBonhams Collectors' Motorcycles Online (2021)
Jul 08, 20213 months ago
1965 Honda CA95 Benly Touring 150Hemmings Auctions Online
Jun 22, 20214 months ago
1965 Honda Dream MotorcycleMecum Tulsa (2021)
Jun 11, 20214 months ago
1965 Honda CL72Mecum Las Vegas - Motorcycles (2021)
Apr 30, 20215 months ago
1965 Honda S90Mecum Las Vegas - Motorcycles (2021)
Apr 29, 20215 months ago
1965 Honda CA102 50Mecum Las Vegas - Motorcycles (2021)
Apr 29, 20215 months ago
1965 Honda Dream 305Mecum Las Vegas - Motorcycles (2021)
Apr 29, 20215 months ago
1965 Honda CA95 Baby DreamMecum Las Vegas - Motorcycles (2021)
Apr 28, 20215 months ago
1965 Honda Cl ScramblerGAA April (2021)
Apr 22, 20216 months ago
1965 Honda S90GAA February (2021)
Feb 25, 20217 months ago
1965 Honda CA95 BenlyBring A Trailer Auction
Jan 15, 20219 months ago
1965 Honda CB160 SportBring A Trailer Auction
Dec 24, 202010 months ago
1965 Honda CA77 Dream TouringBring A Trailer Auction
Nov 25, 202011 months ago
1965 Honda CA95 Benly Touring 150Bring A Trailer Auction
Nov 18, 202011 months ago
1965 Honda S90Bring A Trailer Auction
Oct 27, 202012 months ago
1965 Honda CL72 ScramblerBring A Trailer Auction
Oct 06, 20201 year ago
1965 Honda CB160Bring A Trailer Auction
Apr 10, 20201 year ago
1965 Honda CL72 ScramblerBring A Trailer Auction
Mar 06, 20201 year ago
1965 Honda S90Bring A Trailer Auction
Jan 23, 20201 year ago
1965 Honda CT200Bring A Trailer Auction
Nov 27, 20191 year ago
Sours: https://www.classic.com/m/honda/motorcycles/year-1965/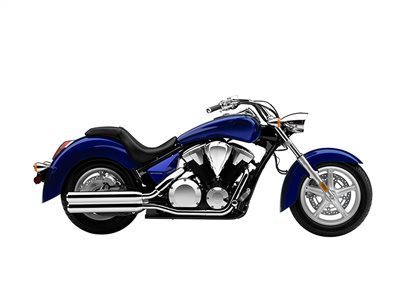 1965 BMW R50/2
$10,999
North Platte, Nebraska
Get Ready To Be The Center Of Attention.People ride cruisers for two big reasons: the way they work, and the way they look. Around town and on the road, the relaxed, stretched-out cruiser style is not only comfortable, but it makes sense too. And the way they look—cruisers turn heads everywhere, even when they're parked. That's especially true of the Honda Stateline. With its stretched lines and progressive styling, it really stands out. With its 1,312 cc V-twin engine, shaft final drive, disc brakes and fuel injection, it's as modern and trouble-free as any Honda out there, and you know how good that feels.You see a lot of cruisers out there that have too much junk hung all over them. Not the Stateline. Its streamlined good looks really set it apart. And the way it rides? That puts it even further ahead of the pack.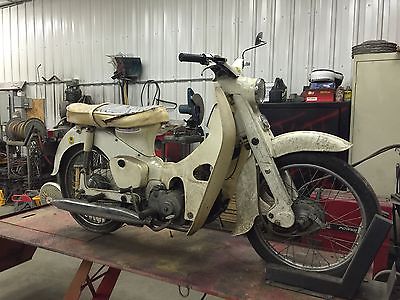 Honda : Shadow 1965 honda 50 motorcycle
$1,000
Crookston, Minnesota
Category -
Engine -
Posted Over 1 Month
Complete. I am the second owner, the first being my aunt. It has sat since 1995 in a steel quanset. Engine is loose, turns over. Have original owners manual and the helmet that came with the bike when purchased new. Also, I have a clear title. It has never been touched or restored, just maintenance as needed til it was parked, it's a true survivor. Other frame, front wheel etc all come with this one if buyer chooses to take it.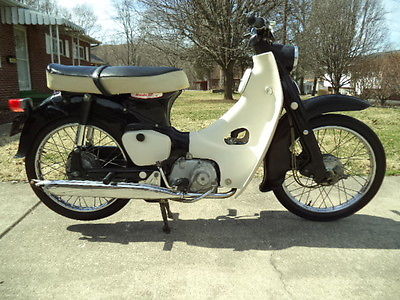 Honda : Other Vintage 1965 Honda 50 C100 Super Cub 3 Speed Semi Automatic NO TITLE
$1,100
Charleston, West Virginia
Year 1965
MakeHonda
Model -
Category Standard Motorcycles
Engine 50
Posted Over 1 Month
Vintage Honda 50 C100 Super Cub . Vin# CA004851F . This 3 Speed semi Automatic Honda runs great and is in good condition for its age. Their is one bad place on the end of the exhaust as you can see in the pictures, the seat is in good condition no rips or tears. This Honda has 1400 miles. I have no title to this Honda. This is a nice motorcycle and you wont be unhappy if you purchase this one. Pick up only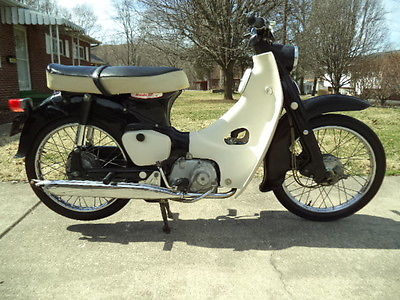 Honda : Other Vintage 1965 Honda 50 C100 Super Cub 3 Speed Semi Automatic Vin# CA004851F
$1,495
Charleston, West Virginia
Year 1965
MakeHonda
Model -
Category Standard Motorcycles
Engine 50
Posted Over 1 Month
Vintage Honda 50 C100 Super Cub . Vin# CA004851F . This 3 Speed semi Automatic Honda runs great and is in good condition for its age. Their is one bad place on the end of the exhaust as you can see in the pictures, the seat is in good condition no rips or tears. This Honda has 1400 miles. I have no title to this Honda. This is a nice motorcycle and you wont be unhappy if you purchase this one. Pick up only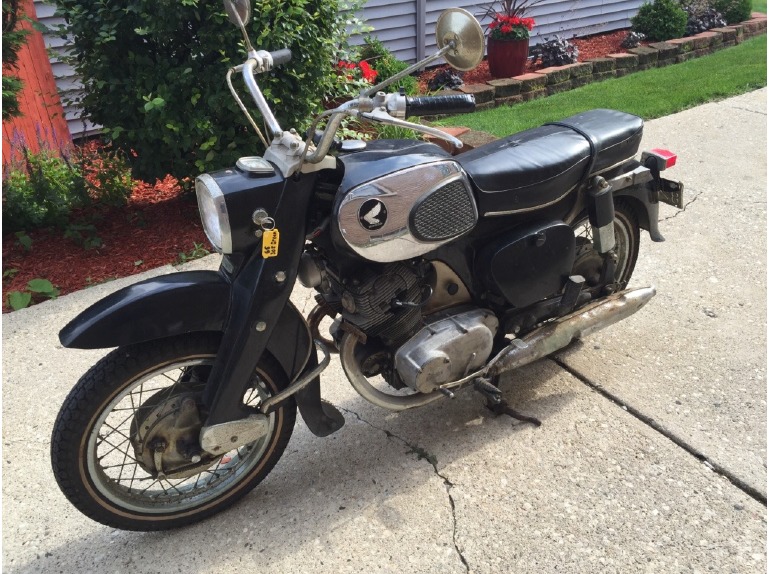 1965 Honda Dream 300
$3,500
Milwaukee, Wisconsin
Category Classic Motorcycles
Engine -
Posted Over 1 Month
1965 Honda Dream 300, a true survivor! Motor has been gone over and everything functions as it should. Bike runs like a dream! It's no powder puff by any means but it's a 50 year old bike. There is a small dent on the top of the tank and the handlebars are slightly bent. This bike has great character and will make a great addition to any collection. Don't miss this opportunity to own a classic that is getting harder and harder to find. $3,500.00 4143508564
1965 Honda CT 90
$1,000
Delano, California
Category -
Engine -
Posted Over 1 Month
EXCELLENT CONDITION,ORIGINAL 1965 HONDA CT 90,RUNS STRONG,SHIFTS SMOOTH,HAS SOME SCRATCHES LEAKS SMALL AMOUNT OF OIL(EXPECTED 50 YEARS OLD)HAS BUDDY SEAT,FUN TO RIDE.HAVE TITLE IN HAND REGISTERED TILL 2015 COMES WITH KEY EXTRA PARTS.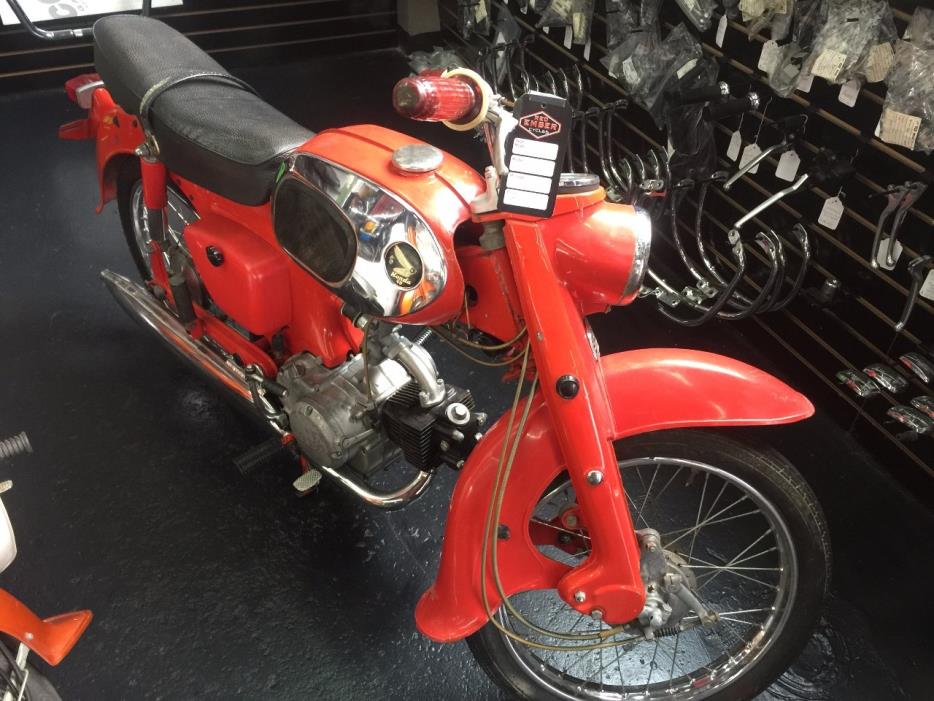 2007 Honda CB 900F - 919
$1,995
Daytona Beach, Florida
1965 Honda C200/CA200, commonly known as the Touring Cub. It was the predecessor to the S90 but has a pushrod 90cc four stroke single that was a big step up from the 50cc models. The Touring Cubs were made between 1963 and 1966 so the exact year of this one is unknown. It has a four speed transmission. This bike is completely original and runs flawlessly. The chrome and original paint are nearly excellent. 5,900 original miles. Clear title consignor's name. Offers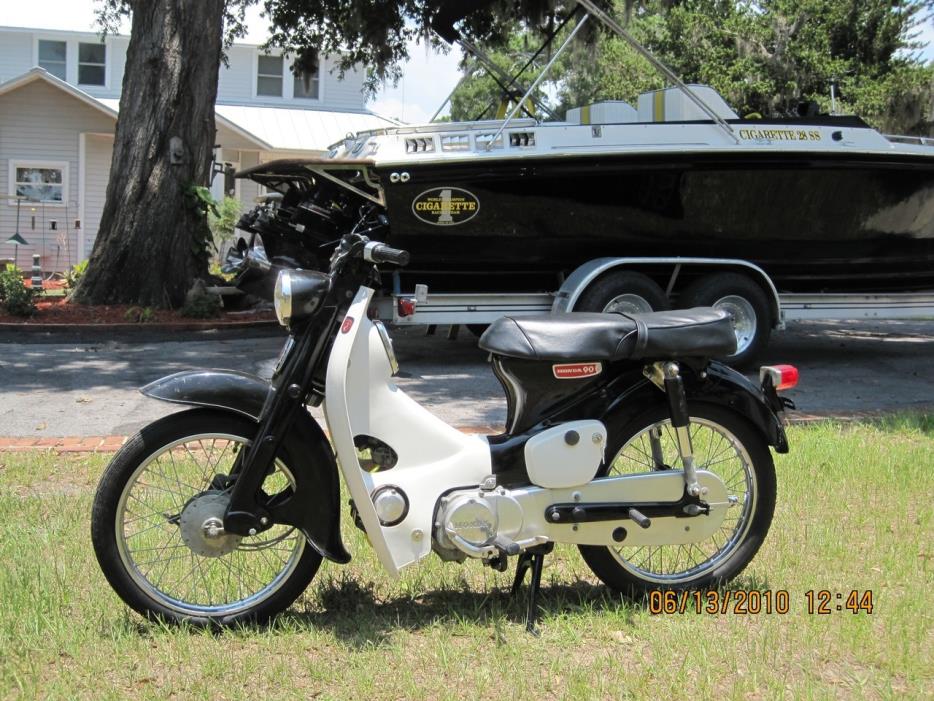 2015 Kawasaki Ninja 650 ABS
$2,700
Citra, Florida
Category -
Engine -
Posted Over 1 Month
HONDA CM91 - Hard to find step thru 90. All the looks of an original step thru 50 that will keeps up in traffic. Fully restored. $2700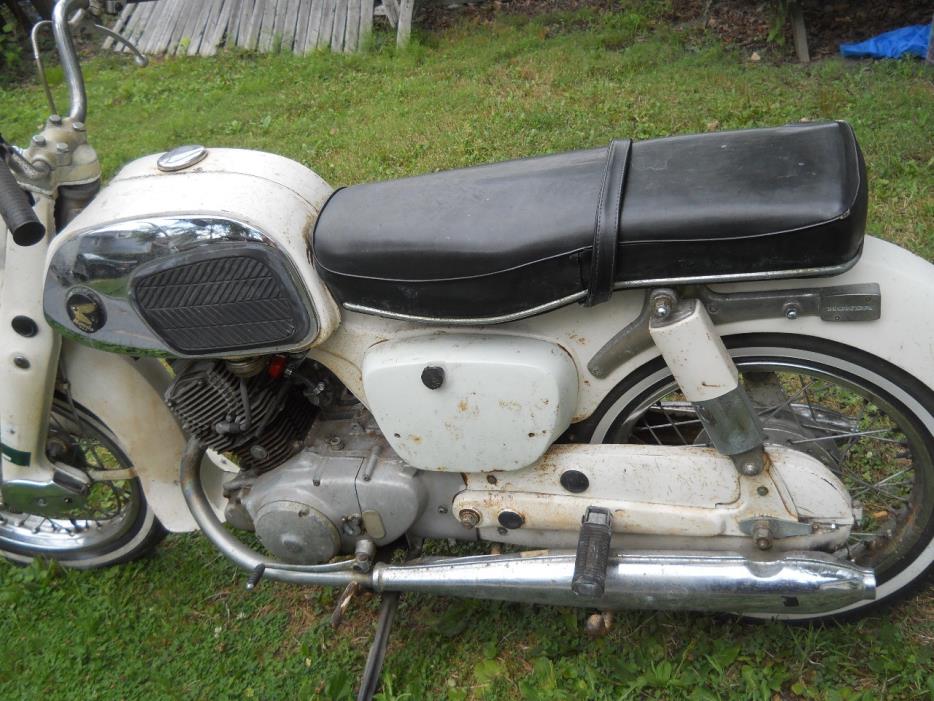 2014 Harley-Davidson FXDL DYNA Low Rider
$650
Warren, Ohio
Category -
Engine -
Posted Over 1 Month
Here is a really cool old Honda Benly 1500cc Touring if I had more room I d keep it the bike is so col looking, and in great shape for being over 50 years old.. When they built these bike style was very important from the flared fenders to the enclosed cables on the front end the whole bike has an art deco look. As I said the bike is in great shape for its age a few small dents in thr flare of the front fender and someone has tried to touch up paint in a few spots, as you can see light surfice rust through out nothing bad, The wheels have light surfice rust but will clean up nicely. The pipes have surface rust too but no holes the seat has a small tear near back. The bike is complete the only thing missing is battery cover which you can see in pics, Keys there all wiring seems to be in tact good compression. 6 volt system. Thank You Tom Weatherby 330 553 1946 Bike is sold with bill of sale which is all needed in many states and can be used to obtain one the other states Support your local police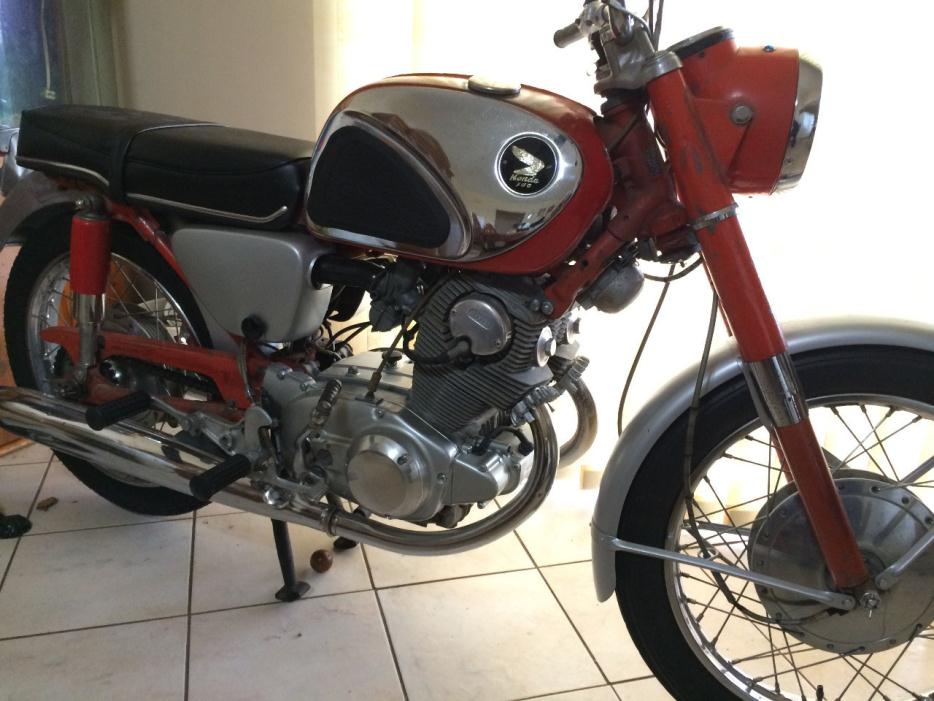 2000 Honda CR250R
$4,000
Royal Palm Beach, Florida
Category -
Engine 305 cc
Posted Over 1 Month
Super Nice. Super Fun. Super Hawk. Time Capsule. Completely original carefully preserved CB77 with Title. 14,000 miles. Manufactured in 1965 and first sold and titled in Illinois in 1966. The frame number is CB77-1019152 and the engine is CB77E1019072. They are only 70 numbers apart indicative of a factory pairing or "numbers matching". I've been caretaker of this bike for awhile. It has been residing in my dining room, However it is more than just something to look at. I keep a battery tender on it and alcohol free fuel with a preservative in the tank. I take it out several times a year. It starts, runs, rides and stops perfectly. Everything works exactly as it should. The front tire is like new and the rear is a new Dunlop K70 replica. The chrome is great on the wheels and mufflers. The mufflers have the baffles in them. The tank panels and emblems are very nice. The battery is the correct Yuasa with extended side posts. The Red paint has wear you would expect from 50 years. It is faded and worn thin. I keep it waxed. The cables Grey outer sheathing is cracked but they work fine. It has the optional side stand. I have the owners manual but not the tools. I believe they are only original once. I have always considered it to be too nice to restore, If that makes sense. Soon there will be few unrestored examples left. This is a nice one. I appreciate it more as an unmolested bike that I can ride. I have done a couple of things to make it a better rider without taking away from originality: The rectifier has been replaced with a modern silicon one. Care was taken to fabricate spade to screw terminal adapters to avoid altering the original wiring harness. The seat was professionally restored with a high quality reproduction cover and new foam. Care was taken to place some of the original coral colored foam where it could be seen through the vent holes. The inside of the fuel tank has been preserved with Red Kote. Feel free to ask questions. For longer discussions send you phone # and I will call you. It is for sale because I have too many Bikes now and feel I must sell one to justify the purchase of another.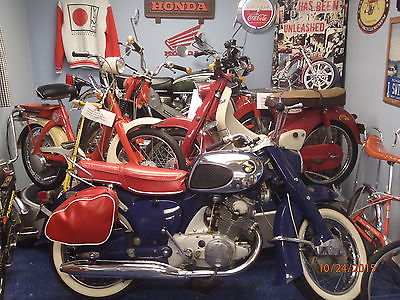 Honda : CA 1965 honda dream 305 3 rd owner beautiful showpiece 1001 mi own it now
$4,195
Grand Rapids, Michigan
Category Classic Motorcycles
Engine 300
Posted Over 1 Month
********A BEAUTIFUL, ORIGINAL, 1001 Mile, 3 owner 1965 Honda dream 305 for $4195........ Display in your home, or collection, or ride/show at special events.******* Bike originated in California and was used in parades. After many, many years bike was sold to 2nd owner in San Antonio Texas, who never registered or transferred title into his name and the bike was stored for many years until selling to the Texas owner I purchased it from years ago. This 2nd titled owner, did some work getting the very original bike running. When I purchased it a file of documentation was included as shown in one of the photos below. This documentation is included with the sale. Bike is titled in my name and registered and insured..... This is an original bike in wonderful condition. Original paint, original chrome, and all in beautiful condition…and it's 50 years old!! No excuses here. Red bags were on the bike from the original owner and while not Honda, they can be easily removed if you wish to do so. Bike ran nice and quiet when I rode it. Mufflers are solid, tires are new, and what you see in photos here is what you get. Just 1001 miles. I watched it turn to 1000 miles on my last ride a couple years ago and parked it for storage, draining the fuel. Bike is located in Grand Rapids Mi. and can be easily shipped by a carrier of your choice. Keyboard Motorcycle Shippers, federal Company (1800-747-4100) or post on uship where people bid lower and lower to bring it to you. I can offer enclosed delivery to you within 300-350 miles of Grand Rapids Mi. for $1.00 a mile one way and if a motel is needed a modest $50 charge for motel. You are welcome to come and pickup the bike in Grand Rapids, Mi. 49503 After an immediate $1000 paypal deposit, balance is due within 3 days via wire transfer from your account too mine, or via bank check overnighted or cash only if picking up within 3 days. Paperwork will be sent after receipt of good funds. *******IMPORTANT- Before you use the Buy It Now or Make An Offer, PLEASE be sure you understand the payment terms and can follow through with your offer within my terms stated. Thank You*****
Trim Dream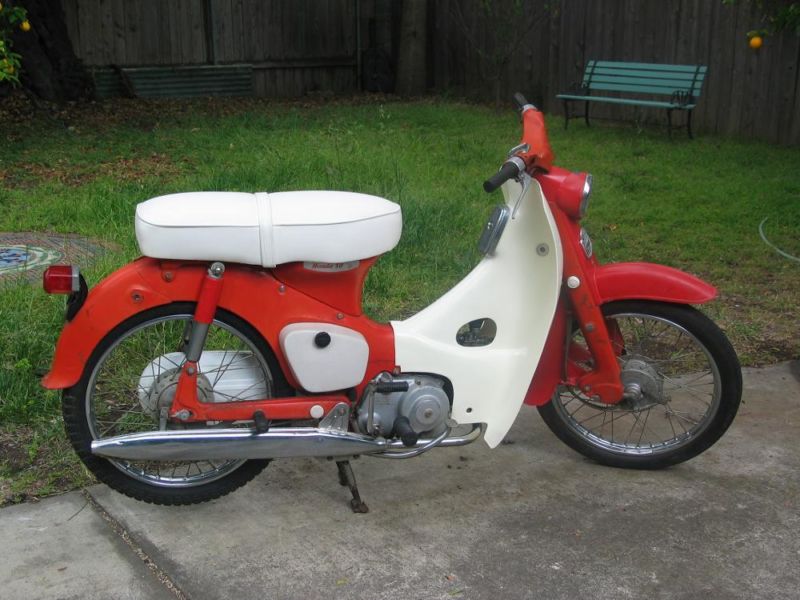 1965 Honda C100 CA100 Cub 50
$795
Pasadena, California
Category -
Engine -
Posted Over 1 Month
1965 Honda Cub-Stock.Smokes a little.Bill of Sale.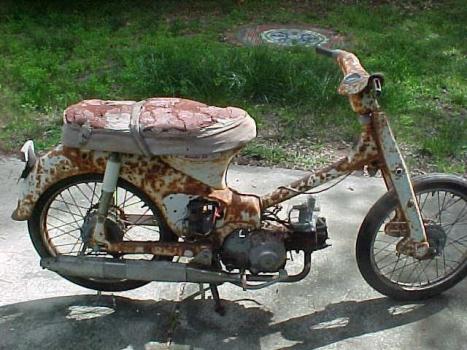 1965 HONDA 50 C100 Cub 50 cc For Parts CA100
$295
Pasadena, California
Category -
Engine -
Posted Over 1 Month
Can leopard change it's spots? No, but a Cub can! Easily win "worst of show" with this 1965 C100. Frame rusted,motor seized,muffler "repaired",missing parts.Great "end of life" project. No title. Good suspension,complete engine ,speedometer and other parts. I have a collection of Cubs.An early "1961 Plum Colored" C100 in Xlnt Cond and a 1963 CA100 in Good Cond..Also many parts. Local pick-up for this one or I can put it in a bicycle box with the engine in a separate box and ship it UPS. Probably @$150. .
Honda : Other 1965 honda c 110 sport 50 amazing original time capsule
$2,500
Onsted, Michigan
Category -
Engine -
Posted Over 1 Month
1965 Honda C110 Sport 50. VIN C110-444843 Folks, you are looking at a bike that is a true original time capsule. I purchased this bike from the original owner of the bike. He kept the bike stored indoors its' entire life. Indoors meaning inside his house!! He was a fanatic about it. As you can see this motorcycle is completely original in every detail, right down to the mud flaps. With only 3662 original miles, I am confident that you will appreciate this little Honda as I do. Of course the bike runs as it should. I am including the actual original owners manual, the original title and the tool kit. The bike needs to be in a museum in my opinion. The pictures tell the condition. I appreciate your interest in my bike and hope that you love this bike as much as I do. I noticed that there are some fine little white pieces of lint showing in some of the picts from where I was wiping the bike but those are just that, flecks of lint. Thanks. Located in Onsted, Michigan 49265 PAYMENT: PAY PAL ONLY. PLEASE HAVE AN ACTIVE PAY PAL ACCOUNT BEFORE YOU BID!!! $500 NON-REFUNDABLE EARNEST DEPOSIT IS DUE WITHIN 24 HOURS AND THE BALANCE IS DUE WITHIN 3 DAYS OR LESS PLEASE. I WILL SEND YOU AN INVOICE ON PAY PAL FOR THE REMAINING BALANCE. Thanks. PLEASE ASK ALL OF YOUR QUESTIONS PRIOR TO BIDDING. PLEASE EXAMINE ALL PICTURES CLOSELY AND DETERMINE FOR YOURSELF IF YOU ARE SATISFIED WITH WHAT THE BIKE LOOKS LIKE. THE PICS WERE TAKEN TODAY, ON SEPT. 15, 2014. ALSO, PLEASE REQUEST ANY ADDITIONAL PICS IF YOU NEED TO SEE ANY CERTAIN PART CLOSER. THANK YOU. SHIPPING: YOU, THE BUYER, MUST MAKE YOUR OWN SHIPPING ARRANGEMENTS AND PAY FOR YOUR SHIPPING OR PICK UP THE BIKE YOURSELF. I WILL BE HAPPY TO KEEP THE BIKE STORED FOR YOU FOR UP TO 60 DAYS IF NEEDED.

Honda : Other 1965 honda ct 200 trail 90
$925
Pasco, Washington
Category -
Engine -
Posted Over 1 Month
restored 1965ct 200 this is the cleanest ct 200 you will find , only one flaw is a patch in the muffler but it works great, has 2,480 miles , new tires, no title it was a farm bike. buyer must arrange shipping will help load. this is a 50 year old bike so i do not have a warranty or return policy, please look at photos closely
Showcase Ads
×
Alert Successfully Created
Sours: https://www.smartcycleguide.com/motorcycles-for-sale/1965-honda-50
1965 Honda CB160 For Sale / Walk Around Video - Honda of Chattanooga (SOLD)
I can contemplate the boys at an orgy. And nostalgia from memory cannot be erased, If such guys are passionately fucking, Flame, water is taken as an example for them. This is such a miracle, I can't take my eyes off, How these cadets were able to drive them crazy. Their bodies became in different positions, And the guys fucked like Sidor's - goats.
There was a youthful sweet groan, And the entire slope was covered from naked bodies.
Honda sale for 1965 motorcycle
Everything is on fire. Suddenly, Diva appears at the door. - A chiseled camp, like a beautiful goddess. The look of her eyes asks me for one thing. And on the lips of sweet passion there is wine, Hair like silk flows down onto the shoulders, In a light stream, falls in streams.
1965 Honda Dream 150 CA95 For Sale / Walk Around - Honda of Chattanooga (SOLD)
Igor once again looked at me attentively. Judging by the protruding nipples, you are now excited, he noticed. Swallowing nervously, I lowered my eyes.
Similar news:
Put the kettle on. I carried an open box of cookies to the table. Still, it was somehow inconvenient to sit down for tea without Seryoga.
1521
1522
1523
1524
1525