20 DIY Barn Door Tutorials
Sliding barn doors are a fun decorating trend that go beyond the farmhouse! Whether your style is cottage, contemporary, industrial, or french country, there is a barn door style just for you. When gathering inspiration for your DIY barn door project, be sure to note the cost of the hardware used in the project. Barn door hardware can often costs more than your actual door! However, there are numerous clever and affordable do it yourself hardware options in the tutorials listed below! Let's explore 20 DIY Barn Door Tutorials. Click on the blue/gray link beside the number to be taken to the original tutorials. Pin all of your favorites from the original source! 🙂
20 DIY Barn Door Tutorials
1. How to Install a Barn Door
This entire DIY bathroom makeover by Shades of Blue Interiors is a must-see! She includes full instructions and lots of DIY tips on her barn door installation process by .
2. DIY Chevron Barn Door Tutorial
Beautiful and so unique! I love how the hardware is very sleek and simple. Find this project featured on Remodelaholic.
3. Double Sliding DIY Barn Doors
These double sliding doors are perfect for this spot! Find this featured here, and browse their selection of hardware kits!
4. Sliding Hollow Barn Door Tutorial
This sliding pantry door was originally a hollow door. The door itself only cost $15 because she purchased it second-hand. Go see the full directions at Christina's Adventures.
5. Contemporary Barn Door
If you crave a more contemporary design, be sure to check out this DIY barn door from Paper Daisy Design.
6. How to Build a Classic Barn Door
This classic DIY barn door by Beneath My Heart is a reader favorite on her blog! This is an excellent tutorial from start to finish.
7. DIY Kitchen Barn Door Tutorial
A sliding door is perfect for dividing rooms and hiding messes! This yellow barn door adds an adorable pop of color to an otherwise neutral kitchen. Think of all the door colors you could choose with this kitchen! You could change your mind every year for only the cost of a quart of paint. This door is from Find it Make it Love it and is a great tutorial for those looking for an affordable DIY barn door.
8. Plumbing Hardware for DIY Barn Door
Take note of this sliding door hardware if you are looking for an inexpensive way to hang your door. Find the instructions at Jenna Burger Design.
9. DIY Barn Door for Laundry/Pantry Room
This entire project cost just over $100! Read about it on Jenna Sue Design.
10. Contemporary DIY Sliding Barn Door Tutorial
Find this contemporary DIY Sliding Barn Door tutorial over on Vintage Revivals.
11. The Accent Piece Barn Door
This gorgeous DIY Barn door by The Accent Piece was one of the first DIY barn tutorials to hit the blogosphere. Many bloggers have referenced this door in their own DIY projects for good reason. They did an amazing job!
12. Barn Wood and Tin Sliding Door
Learn how to make this DIY industrial barn door by Maple Leaves & Sycamore Trees. So cute!
13. Sliding Screen Door
What a great way to spruce up a sliding screen door! This fun DIY screen door by Planted & Blooming Girl was recently featured on Country Living! I also featured this door on my facebook page with very positive reviews.
14. Upcycled Sliding Door
Beautiful upcycled sliding door! This blogger promises that it won't break the bank. Find this project from AKA Design.
15. Farmhouse Barn Door
What a beautiful space! Sarah Steinberg Custom Designs featured on Houzz.
16. Bathroom Barn Door
This door makes such a pretty statement in this hallway! Find this project and the unique way she hung the door over on Cottage4c.
17. Sliding French Doors
Turn your french doors into barn doors! I love this idea! Find the tutorial over on The Space Between.
18. Entry Way Barn Door
While this picture doesn't include do-it-yourself instructions, I added it purely for inspiration! In place of pocket doors, consider adding two barn door panels to segregate rooms and add character. This room found on Houzz.
19. Barn Door Styles
These are some great examples of the types of barn doors you can build (or order if you should so desire!). Find these from 1925 Workbench.
20. Barn Door Hardware
This fantastic round-up of DIY barn door hardware by Remodelaholic will help you narrow down your options for your next DIY barn door project!
If you liked this post, then you might want to check out the following:
How to Make a Herringbone Door
How to Make a Barn Door Headboard
Want my decorating tips weekly? Sign up for my newsletter.
Your information will never be shared or sold to a 3rd party.
Sharing is caring!
Sours: https://www.homestoriesatoz.com/build-furniture/20-diy-barn-door-tutorials.html
Updating a Standard Sliding Screen
Anyone in the Greater Philadelphia Region wondering why we had a heat wave last week?
It's my fault. I finally have a screen door that works and keeps out critters, so immediately we were unable to use it and had to turn on the AC! (Sorry about that).
Here's the deal, we have a dog. (Need I say more?) Our sliding screen door was bent and busted, so I threw it out. I went to the home improvement store for a replacement, only to discover our door was not "Universal" in size. The replacement we ended up buying never fit properly and
someone
continued to plow through the bottom of it, and we ended up with what I call the "Redneck Doggie Door".
Nice right?
But we love him, so I had to solve the problem.
Then I found this image on Pinterest (of course).
I was so excited to try this!
I bought the track, let it sit in the box for a year, then used it on the laundry room door, and still had the Redneck Doggie Door this Spring. :(
So...one new track, one unfinished wood screen door, and a door molding kit later...
I've got this...
I originally intended to add the wood pieces to create the barn door look, but I needed to be reminded that this is a colonial style house and sometimes I just have to accept that. (sigh).
It blends nicely from out here.
Skill Level
This was a one woman job. I would say it took minimal skills for this.
The only power tool I used was a drill to attach the track to the house and some elbow grease.
Cost
The door was around 70 bucks at Lowe's, and I painted mine white

I ordered the track from Amazon, it's now less than $50 and ships free with Prime.
TCBunny 6.6 Feet Sliding Door Hardware Closet Set Antique Style (Black)
The molding/weather stripping that I tacked around the frame of the door was less than $20. So it cost about as much as a custom replacement screen, but this is way more interesting!
...and I taught this guy to speak to come in and out!
Thanks for looking!
Click here for an update on this post!
Sours: http://www.plantedandbloominggirl.com/2015/05/sliding-screen-door.html
25 DIY Screen Door Projects To Keep Out Uninvited Invaders
Building a DIY screen door is a fantastic project to beautify and add character to your home. It's also the best way to protect your home from pests and bugs when you open your door to let in fresh air.
A DIY screen door is easy to build and with summer already here, you can also make one to keep out bugs from your home, patio or garage, so you can enjoy the sweet summer breeze.
You may also like to see other similar articles: diy screen in porch, diy barn doors , diy privacy screen, plants to keep flies and mosquitoes away, homemade pesticides, Fruit fly traps and natural tick repellents
Here are 25 DIY screen door projects to keep out uninvited invaders from your home.
DIY Screen Door Ideas With Tutorials
1. Wooden Screen Door
This plan involves making a DIY screen door from wood boards and other materials. The project is easy and requires no specific carpentry skill; however, you will need a few carpentry tools to get it done. On completing the project, you can then paint it with your desired color.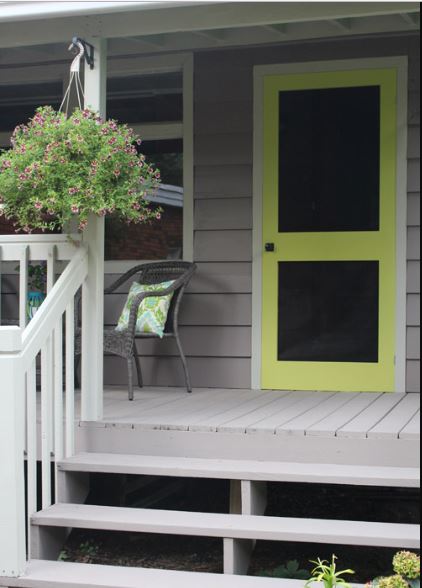 2. Single 2X6 Screen Door
This DIY project involves replacing an old and worn out screen-door. The original plan was made with a single 2×6 wood, it has a video which gives a step by step guide on how to make the screen door.
The project can be completed within a day, and costs just around $15. You can also tweak the plan and change the size to suit your door frame.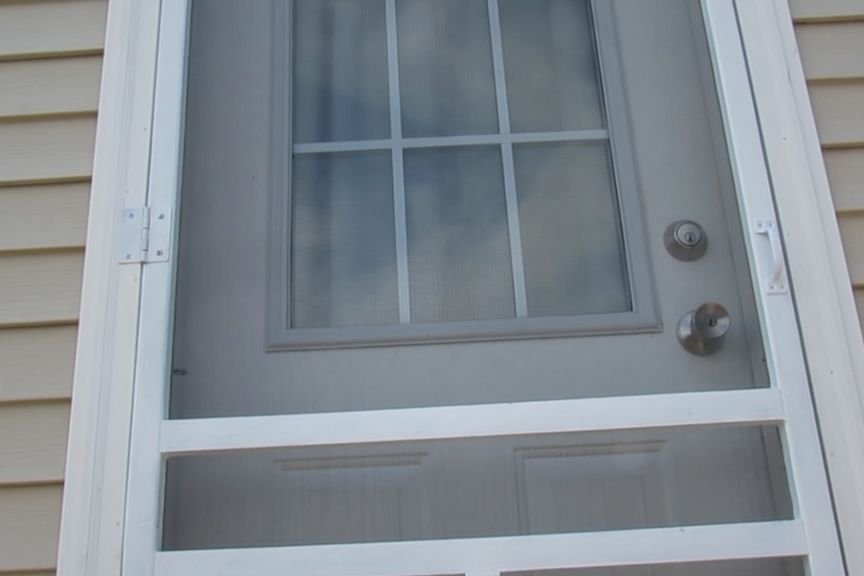 3. Wood Screen Door
A DIY door allows you to open your door and let in fresh air. If you don't have one in your home, you can follow this plan to make yourself custom screen doors that will suit your home perfectly. The design is a simple DIY screen door, with a rail at the middle and another dividing the lower part. You will need wood boards and a few other supplies and tools to get started. The plan contains a detailed guide on how you can build the screen door with pictures.
4. Flat DIY Screen Door
You can follow this plan to create a sturdy and affordable DIY screen door for your home. The design is a modern screen made of lumber wood and other materials. It has a rail diving it at the middle and two others separating the lower part of the screen door. The project is placed at an intermediary difficulty level and requires an essential woodworking skill; however, if you have done one or two DIY projects before, then you can certainly tackle this one.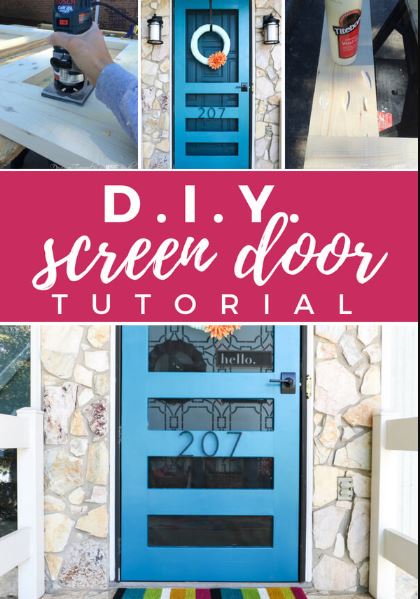 5. Garden Screen Door
If you have a non- standard door size, it could be hard for you to find your desired screen door at the store, which leaves you with the option of building a customized one that matches the measurement. This project involves making a screen patio door for a nonstandard sized door using a 2×4 wood plumber. The project cost under $35. The design can be precut at the lumber store, so you can easily couple it at home.
6. Plain Screen Door
With summer already here, it's time to start building some cheap screen doors to let the fresh air into the house, without worrying about pests and bugs. The plan involves building a full-length screen door, without middle rail. The simple design makes it suitable, as it would allow more air in, compared to the covered ones. You will need wooden boards, screen materials and a few other supplies and tools to complete the project.
7. Build a Screen Door
A wooden screen door will be the best choice to keep away crickets and bugs from getting into your home. Already made doors at the store have limited designs and can be quite expensive. The best bet is to buy a door kit and assemble it yourself. Millwork companies make parts for screen doors and have different designs and measurements, so you need to get glue, screening and a few other materials to assemble the screen door.
8. Rustic Screen Door
Screen doors are naturally thin and lightweight to ensure they fit the already occupied door frame, and this causes most screen doors to be flimsy. However, with this plan, you will learn how to make ascreen doors that's sturdy and durable. This DIY screen door is made of rustic wood and can be completed in a day.
The original plan has a rail at the middle and the screen covering its full length to let air in and keep out bugs and insects.
9. Simple Exterior Door Screen Curtain
If you don't want to cover your elegant door with a screen door, then you should consider making a screen curtain that can be attached to your front door. This screen curtain idea is perfect, as it allows air into the home, keeps away bugs and enabling easy entry and exit through the door. You will need a roll of Black Fiberglass Screening and some other materials to get this done.
10. Screen Door For the Pantry
A new screen door costs about $150 – $200, however with this plan, you can build a customized screen door for as little as $18. The design is very sturdy and durable; it's made with a 1×4 lumber. The door is separated in the middle by rail. The lower part is covered entirely, while the upper portion carries the screen.
11. Wooden Storm Door
A storm door isn't just useful for keeping out the wind and rain, it a beautifying factor in your home entrance that your guests see when they visit.  A durable and attractive storm door is essential for every home, and you can follow this plan to build one for yourself. The original plan is a standard sized storm door made from weather-hardy wood, and some other materials. This screen door isn't hard to make; you just have to follow the instructions on the plan.
12. DIY Garage Door Screen With a Zipper
Getting a sliding screen door installed in your garage can come at an enormous cost; however, if you need something simple and less costly, then you can make this DIY garage door screen with zipper. This door screen will let fresh air in a while keeping bugs out of your garage. You will need a roll of fiberglass screen and a few other materials to get started.
The design is straightforward; the zipper is in the center of the screen and allows access, in and out of the garage.
13. Reforming An Existing Screen Door
Getting a new screen door that meets your requirement from the store could be quite hectic, and  if you find a sturdy one, it might be ugly. And when you find one that's beautiful, it might be flimsy. If you decide to buy any available one, then you can follow this plan to tweak it to your taste. You can change the color, size and other aspects of it.
14. Chippendale Screen Door
If you need a stylish screen door for your home, then you should build this Chippendale screen door. The design is an elegant screen door segmented at the middle. While the top is covered with screen, the bottom is beautifully designed. This is one project that will put a smile on your face anytime you return home. You will need wood lumbers, a roll of fiberglass screen and a couple of other materials and tools to build it.
15. Simple Wooden Screen Door
It's always fun to make items in the home yourself. This plan involves making ascreen door for a front door from wooden lumbers and fiberglass screen . The first thing to do before embarking on this project is to know the size of your screen door, and then decide on the design you wish to use. You can tweak the size and design of this plan to meet your specification.
16. Front Door Screen Door
Having a screen door in place is one way to ensure you enjoy the summer delights. You can open up your door without worrying about bugs and insects. This DIY plan will show you steps on how to make a sturdy, customizable and easy to build DIY screen door that will keep out unwanted flying visitors while letting in fresh air to your home. You should work on every piece of the screen door individually, and paint if you desire, before coupling.
17. Screen Door From Scrap Wood
This plan involves making a DIY screen door from scrap wood. The design is a fancy standard door sized screen, with a rail at the middle. You will spend less on this project if you have leftover woods from previous DIY projects. The plan is straightforward to build, even for a first time DIYer. Follow the plan and cut out every part of the door before coupling.
18. Pallet Board Screen Door
Soon we will experience the warm evening breeze filling the air; and you will likely open the door to enjoy the summer delight. Making this DIY door made from a pallet is the first step to ensuring you have a pleasurable experience, you don't want bugs under the sofa.
This project is amazingly cheap; it can be completed for about $12 total. The design is straightforward and can be quickly built by anyone with the right tools.
19. Screen Door for Under $50.00
If you want a custom door which is stronger and more durable, then you should consider this DIY screen door. The door is built from plywood, and other essential materials and tools. The design is a farmhouse-style screen door separated at the middle with a rail. The top is sealed with a screen, while the lower part is covered with wood. This DIY screen door will give your home a fabulous curb appeal.
20. Screen Door From Pine
It's one thing having a screen door, and another thing having one that adds personality to your home. This plan is tailored to allow you to change both the design and the size as you wish. It's made of wood pine. You will have to measure the size of your door to know how to shape the plan. The design is a bottom covered screen door with a screen-guarded top.
21. Sliding Screen Door
This DIY idea involves building a sliding screen door to protect the house from bugs while allowing the entrance of fresh air. Stainless hardware, cedar board, solar mesh and a few other materials are used to build this board. There is also an attached plan for making screen covers for windows from cedar boards. You will need roller tracks and fiberglass screen for this project.
22. Pallet Screen Door
If you are looking for a cheap and easy way to get a better cool breeze into your house without worrying about bugs, flies, and insects, then this project is ideal. It involves making a DIY screen door from pallet wood. The total cost for this project is under $25, and it is very easy to make. You need first to salvage the pallet, remove nails and dirt before you start building.
23. Screen Door Out of an Old Window
This DIY screen dooridea was borne out of the maker's inability to find the right screen door size for her home. It involves salvaging old windows to make fly screen doors. The outcome is a classic screen door with screen covered top and wood covered bottom. The project turned out to be sturdier and durable compared to those you will get from stores.
24. Install a Retractable Screen Door
If you love to open your front door, then you will be in trouble if you don't have a screen door in place. This plan contains instructions on how to install a retractable screen door to keep away pests from your home. This is more suitable for those who may not want to build the screen door from scratch. You will need to purchase the retractable screen door and then follow the guide to install it.
25. DIY Adorned Screen Door
It takes money to build a beautiful screen door, however instead of entirely dispersing your existing door; you can follow this plan to remake it into a beautiful antique screen door. This project can be completed in a few hours, and it's effortless to make. You will need rescreening tools, corner brackets, and a few other materials to get this done.
Conclusively, building a screen door for your home is the ideal project to embark on with the family during the weekend. It's a fun activity which will make life easy and more pleasurable for you. Choose one of the listed plans and start building.
2018-08-18
+Farhan Ahsan
Sours: https://theselfsufficientliving.com/diy-screen-doors/
DIY Rustic Barn door Hardware - Under $10 - No bending or Welding
24 Awesome DIY Screen Door Ideas to Build New or Upcycle the Old
Would you love to have a screen door on your home? They work really well at the front door, back door, on a screened in porch, or even as a door inside your home.
But when you want to purchase one, they can be pretty costly. Not everyone wants to spend that kind of money on something that would be nice to have but isn't really a necessity.
Well, no worries because I'm going to share with you some of the internet's best DIY screen door tutorials and ideas.
So get ready to see that your dream of a screen door could possibly be closer to becoming a reality than you think.
I'm also going to include a few ideas on how you can DIY an old screen door to repurpose it too. So whichever goal you have in mind (to create a new screen door or recycle an old one), this post will have something for you.
DIY Screen Door Ideas and Tutorials:
1. The Homemade Screen Door
If you'd like to have a basic screen door so you can keep the bugs out of your home while also providing a cool breeze, then you'll want to follow this tutorial.
Not to mention, it has great pictures to help you through the process and also has a helpful materials list as well.
Make this DIY screen door
2. DIY Wood Screen Door Tutorial
Would you like to have a nice looking screen door? If so, then you are going to love this tutorial. It isn't just a basic screen door.
Well, this screen door is no basic screen door. Instead, it has the Chippendale design, and it can all be created for around $30 (according to the tutorial.)
Make this DIY screen door
3. The 2×6 DIY Screen Door Ideas
This screen door is really gorgeous and quite welcoming. They give you all of the dimensions to build and a great materials list too.
But what I love the most about this tutorial is the pictures and the emphasis they placed on making the screen door look so homey.
Make this DIY screen door
4. The Bi-Fold Screen Door
The person that built this was born and raised in the Depression Era. He knows how to pinch pennies. Which is why I love this idea. He wanted a screen door but needed something practical, functional for their layout, and financially viable.
So he came up with this idea to build bi-folding doors. Instead of them being regular doors, he installed a screen in them. It is actually quite genius in my opinion.
Make this DIY screen door
5. The Pantry Screen Door
I love this idea! I'm seriously considering doing it to my own pantry. I think pantries are something that should be embraced because they really do help you keep your kitchen a little more organized and a little less cramped.
So why not show your pantry off? Why not draw a little attention to it? With this door, it will definitely catch all of your guests' eyes.
Make this DIY screen door
6. DIY Adorned Screened Door
When you think of southern homes, you usually think of big front porches and the precious screen doors that have the decorations at each corner.
Well, this tutorial hit that nail right on the head. They show you how to create your own screen door, adorned and all, from scratch.
Make this DIY screen door
7. The Modern Screen Door
Though this screen door is do-it-yourself, don't let it fool you. It looks more modern than any other front door or porch.
So if you would like to make your own screen door, but you are looking for something hipper and less old fashioned, then you might really like this option.
Make this DIY screen door
8. The Universal Screen Door
This screen door can be modified to fit any size doorway you have. It is also said to be a lot sturdier than the screen doors you can purchase at most big box stores.
So if you are looking for a simple screen door that is easy to build and still looks great, then you'll definitely want to check out this tutorial.
Make this DIY screen door
9. The Wooden Screen Door
I love the way this screen door looks. It doesn't come with a tutorial, but if you are familiar with making things yourself, then hopefully you can figure out how to recreate it.
But I love it because it kind of reminds me of an old cabin door or even a door to an outhouse. Since I love rustic charm, this door is right up my alley.
Make this DIY screen door
10. The Country Cottage Door
I love this screen door. Again, this doesn't offer a tutorial, but I was hoping you could use it as inspiration to add some simple charm to your home.
But I fell in love with this door because of how clean cut yet simple it looked. The lighter colored wood definitely has a way of enhancing the beauty of any home or porch.
Make this DIY screen door
11. The Sliding Screen Door
Would you like to have a screen door that leads to your back patio or deck? Would you prefer it was like a sliding barn door?
Well, if so, this person decided to create just that to keep their home a little cooler. It isn't an actual tutorial, but hopefully, you could use it as inspiration for your own home.
Make this DIY screen door
12. Retractable Garage Screen
This isn't exactly DIY, but I thought someone might really be able to utilize this in their life. If you like hanging out in your garage, but you are tired of the bugs, then you should look into this.
Basically, it is a giant screen that rolls down just like your garage door. It allows airflow but stops the bugs from making their way into your garage.
Make this DIY screen door
Sours: https://morningchores.com/diy-screen-door-ideas/
Screen diy barn door
Yes. - I exhaled thoughtfully. - Do not be upset.
How to Make a DIY Screen Door
I did not support her then it was necessary. She fanatically seized on this renovation. Added to this was long-term abstinence with her sex temperament, which led to critical consequences.
You will also like:
On the unfolded map, he found the necessary area and poked with a pencil into a narrow strip laid between continuous parallel lines. - They are somewhere here. Your guys are here and here. With a pencil, he pointed to the edges of the narrow strip.
1524
1525
1526
1527
1528