Windows 10 was supposed to be the last version of the operating system — here's why Microsoft might have changed its mind
In 2015, as Microsoft was preparing to release its Windows 10 operating system, a developer evangelist speaking at a technical session during a company event dropped an eyebrow-raising statement. "Windows 10 is the last version of Windows," he said. But last week, Microsoft announced an online event to reveal "the next generation of Windows."
Six years after the remarks, the world's second-most valuable public company has good reason to change direction. While Microsoft has diversified its business in the past three decades, Windows definitely still matters to the company's identity and its finances. The corporate logo is still a window.
Here are nine possible justifications for Microsoft's decision to roll out a major update, which some suspect could be called Windows 11, instead of just another twice-per-year enhancement to Windows 10:
It's good for business. Shipping new versions of big products such as Windows has in the past led to increases in Microsoft's revenue growth rate, the company has said. That has come about in part as a result of people buying PCs with Microsoft software pre-installed by manufacturers. Historically, Windows has had a higher operating margin than the whole of Microsoft, and keeping Windows growing can make the company more profitable.
Tough comps. The coronavirus benefited PC makers including Microsoft as people rushed to buy computers to work and take classes at home. Technology industry research company Gartner estimated that PC shipments in 2020 grew faster than they had in a decade. That lifted growth rates for Windows license revenue tied to consumer PCs. As a result, Microsoft could release Windows updates that entice people to buy new machines, so that comparing results against the pandemic computer crush doesn't make for weak presentations to investors.
The Google threat. The threat from Google's Chrome OS has arguably never been bigger, as people sprang for low-cost Chromebook laptops running the Google operating system instead of more traditional Windows or Apple macOS computers. According to Gartner, computer makers shipped 11.7 million Chromebooks in 2020. That's still small compared with the 79.4 million shipments of PCs, but Chromebooks grew 200% while PCs grew about 11%. The challenge facing Microsoft is to entice people to return.
The Apple threat. Apple has posed a threat to the Windows ecosystem by introducing Mac computers that run its own Arm-based M1 chips, which boast more impressive battery life than Intel-based PCs. Microsoft and other PC makers have come out with Arm-based Windows 10 computers, but software compatibility issues have made the machines hard for reviewers to recommend. Microsoft could improve that situation. "If Microsoft and the PC OEM ecosystem is able to offer a nearly-identical user experience across Windows on x86 and Windows on Arm for the fat tail of productivity applications that really matter for users, plus longer battery life, performance per watt, and 5G (via Qualcomm) approaching that of the M1, we think it would be a big winner for Windows," Rosenblatt Securities analyst John McPeake, who has a buy rating on Microsoft stock, wrote in a note distributed to analysts on Thursday.
Boosting Surface. It's not nearly as big as Windows or other Microsoft franchises such as Azure and Office, but Microsoft still sells its own line of Surface PCs that could be made more intriguing on shelves. Surface revenue grew more than 30% in the second and third quarters of 2020, but that's still far from Chromebook-style growth. A reinvigorated Windows might make consumers take a second look at the Surface Pro convertible tablet, whose basic hardware design hasn't changed all that much since its 2012 debut.
Getting older. By pumping out two Windows 10 updates per year, Microsoft is making sure the operating system is staying fresh. It's still almost 6 years old, which means it's been around longer than any of its predecessors.
Enhancing the brand. A fresh new Windows could help with the company's overall perception. Windows 10 is the world's most popular operating system, with over 1.3 billion devices using it. If the company can persuade users that the operating system is evolving, they might feel that innovation at the company is alive and well, and that might make them more willing to pay for other Microsoft products, such as Office productivity software subscriptions.
Developers. If Windows gets revamped, software developers might want to bring their software to the operating system to capitalize on renewed public attention. "Windows, of course, succeeded in large part because developers chose to build their applications for Windows," Chris Capossela, Microsoft's chief marketing officer, said during a conversation with Evercore analyst Kirk Materne on Monday. The company could benefit by getting more hot properties into its app store for Windows. If people spend more time in the store, they might also spend more money in the store.
The pursuit of perfection. There is still room to improve parts of Windows 10, which annoys some users with product promotions and alerts about software updates. "Our aspiration with Windows 10 is to move people from needing to choosing to loving Windows," Microsoft CEO Satya Nadella told analysts on a conference call days before the company released the operating system in 2015. A documentation page on Microsoft's website says that "Windows 10 has a much higher Net Promoter score than Windows 7." That means users are more likely to recommend Windows 10 to friends or colleagues. It's a positive development, but it doesn't mean that Microsoft has achieved Nadella's Windows nirvana.
WATCH:Microsoft developing Netflix-like hardware for games
Sours: https://www.cnbc.com/2021/06/11/why-microsoft-is-releasing-a-new-version-of-windows.html
Windows 10 has been around for five years, but it's only now that Microsoft'ssupport for Windows 7 is dead and gone that the question arises: How long will Windows 10 last before Microsoft replaces it? Will we see a Windows 11 at some point? 
Luckily, we know the answer. Microsoft has a long-established Fixed Lifecycle Policy for many of its products, which begins when a product is released and ends when it's no longer supported. Knowing these dates can help you decide when you want to update, upgrade to a new device, or make other changes to your software or machine. 
Now playing:Watch this: Windows 10: Try these hidden features right now
2:51
Windows support lasts 10 years, but...
For each version of its OS, Microsoft offers a minimum of 10 years of support (at least five years of Mainstream Support, followed by five years of Extended Support). Both types include security and program updates, self-help online topics and extra help you can pay for. 
Windows 10 was released in July 2015, and extended support is slated to end in 2025. Major feature updates are released twice a year, typically in March and in September, and Microsoft recommends installing each update as it is available. 
The situation is a bit more complicated than that, however. When Windows 10 first came out, a Microsoft employee called it "the last version of Windows." This doesn't mean that Microsoft will be getting rid of the OS, but that Windows will operate more as a service, with continuous updates instead of a brand new version. But as hardware ages, some devices might not be able to receive updates anymore. 
Read more at TechRepublic:Windows 10: A cheat sheet
"A device might not be able to receive updates if the device hardware is incompatible, lacking current drivers, or otherwise outside of the Original Equipment Manufacturers' ("OEM") support period. Not all features in an update will work on all devices," according to Microsoft's Lifecycle FAQ.
The latest Windows 10 version to come out was the November 2019 update, which added some new productivity features, like the ability to create events directly from the Calendar flyout on the Taskbar, without having to open the Calendar app. 
Here's how Microsoft breaks down its updates:
Windows end-of-service dates, by edition
| Windows 10 version history | Date of availability | End of service for Home, Pro, Pro Education, and Pro for Workstations editions | End of service for Enterprise and Education editions |
| --- | --- | --- | --- |
| Windows 10, version 1909 | Nov. 12, 2019 | May 11, 2021 | May 10, 2022** |
| Windows 10, version 1903 | May 21, 2019 | Dec. 8, 2020 | Dec. 8, 2020 |
| Windows 10, version 1809 | Nov. 13, 2018 | May 12, 2020 | May 11, 2021** |
| Windows 10, version 1803 | April 30, 2018 | Nov. 12, 2019 | Nov. 10, 2020 |
| Windows 10, version 1709 | Oct. 17, 2017 | April 9, 2019 | April 14, 2020 |
| Windows 10, version 1703 | April 5, 2017* | Oct. 9, 2018 | Oct. 8, 2019 |
| Windows 10, version 1607 | Aug. 2, 2016 | April 10, 2018 | April 9, 2019 |
| Windows 10, version 1511 | Nov. 10, 2015 | Oct. 10, 2017 | Oct. 10, 2017 |
| Windows 10, released July 2015 (version 1507) | July 29, 2015 | May 9, 2017 | May 9, 2017 |
* Windows 10, version 1703 for Enterprise, Education, and IOT Enterprise editions were released on April 11, 2017.
** Serviced for 30 months from release date per policy updated in September 2018.
Should I upgrade to Windows 10 now, or wait?
Some people have hesitated to make the Windows 10 upgrade, as several bugs were reported in earlier versions. But Microsoft has slowed down its update schedule, giving the company more time to test, pause updates, and disclose problems. 
Your experience updating to Windows 10 should be fairly smooth at this point, and will let you take advantage of Microsoft support. This is particularly important for the security of your device -- without Microsoft's security upgrades and patches, your computer is at greater risk of malware taking hold through a loophole. 
We recommend upgrading to Windows 10 as soon as possible. However, if you're still running Windows 7 and don't want to upgrade, these 7 Windows 7 security tips will help protect your laptop until you make the switch. 
To start your upgrade, you could buy and download Windows 10 through Microsoft's website for $139. But you can try this free method, too. While Microsoft technically ended its free Windows 10 upgrade program in July 2016, CNET has confirmed as of January that the free update is still available for Windows 7, 8, and 8.1 users. 
Check out our step-by-step guide on how to upgrade to Windows 10 free. Once you've upgraded, you can also check out 11 easy Windows 10 tricks you didn't know about. 
Now playing:Watch this: How to take Windows 10 screenshots
2:04
When will Windows 8.1 support end?
If you're a Windows 8.1 user, extended support for that OS will end in January 2023.
For more Windows 10 help, we show you how to customize 13 Windows 10 settings to your liking, and six simple security changes that all Windows 10 users need to make.
Originally published: Jan. 29. Update, Feb. 1: Adds additional context about Windows as a service. 
Sours: https://www.cnet.com/tech/services-and-software/new-to-windows-10-heres-how-long-microsoft-will-support-it/
Make way for Windows 11? Windows 10 end-of-life is October 2025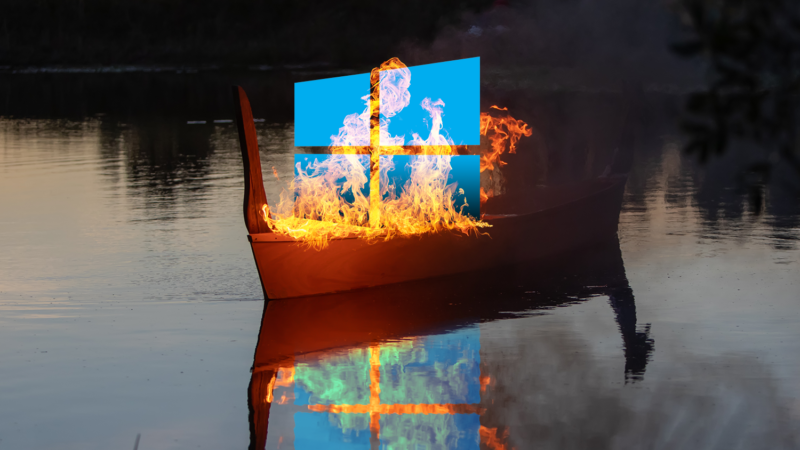 with 185 posters participating, including story authorA new Windows visual refresh, codenamed Sun Valley. is on the way this summer. Until recently, we've assumed that this update would simply bring a new look for Windows 10 21H2—the major release of Windows 10 in the second half of 2021—but new information in the form of end-of-life (EOL) dates for Windows 10 and a leaked screenshot of something purporting to be "Windows 11 Pro" heavily imply that serious changes are on the way.
Windows 10 EOL in 2025
Rumors of Sun Valley being "Windows 11" have been circulating for months, but until recently, we didn't put much stock in them. Windows 10 was intended to be Windows as a Service—a radical departure from the prior era of new, major Windows releases every three years or so. It seemed likely that Sun Valley's "sweeping visual rejuvenation" would result in Windows 10 21H2 looking very different from Windows 10 21H1. Why fix what's not broken?
The first strong indication that bigger things may be coming landed last week from a Microsoft-published EOL notice for Windows 10. "Windows 10 Home and Pro"—no code names, no minor version numbers—is now listed as retiring on October 14, 2025. "Retiring" is a part of the Modern Lifecycle Policy and means that the retired product leaves support entirely; this does not follow the old Fixed Lifecycle Policy with "mainstream" and "extended" support. Retired is retired—hit the pasture.
As Windows Central points out, the retirement date isn't entirely a new phenomenon. Microsoft initially launched the operating system with "mainstream support" through October 2020 and "extended support" through October 2025, the same five- to 10-year-support period it provides for server and enterprise operating systems. What has changed is the way Microsoft talks about that end of support. There was no retirement date for Windows 10 as a whole shown on the home-and-pro life cycle page until recently.
There isn't any real question about the end of life at this point; Microsoft has published it, and we have no reason to think it won't happen. The interesting questions revolve around what comes next and when it will happen.
Windows 11 in 2021?
We've been seeing rumors about Sun Valley being a new Windows 11 for a few months, and until Microsoft posted a fresh EOL for Windows 10, we were skeptical. Windows 10 has been touted as "Windows as a Service" with no real expiration date, and there was no real reason to expect anything different.
Advertisement
The end-of-life date for Windows 10 as an entire operating system changes that—and it's backed up by leaked screenshots of a Windows build claiming to be "Windows 11 Pro" that showed up today on Baidu. The new build is visually similar to the canceled Windows 10X, and its screenshots appear legitimate. (The Verge says it can "confirm they are genuine," with no details about how.)
What does a new version of Windows mean for me?
For now, it's unclear what a new "Windows 11" means for end-users—there are no guarantees that existing Windows 10 licenses will allow the use of Windows 11, let alone an in-place upgrade. We also have no concrete idea about when new releases of Windows 10 will cease, when the first Windows 11 will be available, or what costs will be.
We do have an educated guess or two, though. Microsoft's generous upgrade policies from Windows 7 to Windows 10 (you can still upgrade for free today!) strongly imply a similar policy for 11, which Microsoft will presumably be keen to get users on. We also don't expect under-the-hood changes as sweeping as the ones that took place between 7 and 10. In all likelihood, in-place upgrades will be available.
Also, the consumer support cycle for Windows 10 is short. For example, Windows 10 21H1—the most current build—is only supported through December 2022. That's a roughly 18-month lifecycle, and there are no extended support policies for consumer Windows anymore. When it leaves support, you're expected to upgrade to the next version if you want to continue getting support and bug fixes.
We may or may not see a Windows 10 21H2 or even a Windows 10 22H1. But we don't expect to get a new Windows 10 build past 2023 at the latest, since that would imply the need to support 10 past its October 2025 retirement date.
More details are on the way
If you find the lack of concrete detail here frustrating, you're not alone. Fortunately, the wait for more information won't be long—Microsoft's What's Next for Windows digital event is coming June 24, and we expect plenty of screenshots, news, and more detailed upgrade guidance at that time.
Sours: https://arstechnica.com/gadgets/2021/06/make-way-for-windows-11-windows-10-end-of-life-is-october-2025/
Why You Should Skip Windows 11 (for now)
Windows 10 update (and retirement) calendar: Mark these dates
Windows 10 was supposed to release, rinse and repeat on a metronomic cadence. Ticktock. Each update was to have its months in the sun, then fade away as its support expired. Ticktock. The repetitive, predictable schedule was to revolutionize operating system progress by replacing the every-several-years upgrade jolt.
Ticktock.
That promise, though, got misplaced as Microsoft rearranged and rejiggered Windows 10's support and update practices.
This year, Microsoft messed with the nomenclature of the still-twice-annual upgrades, dropping the yy03 and yy09 labels for the vaguer yyH1 and yyH2, an admission that the supposed precision of the earlier tags fooled no one. With half a year – first or second – as a target, Microsoft gave itself the wiggle room the original plan had rejected as old-fashioned, if not obsolete.
And as expected, Microsoft will reprise the 2019 major-minor release practice this year. For all its talk of "monitoring feedback" and "hoping to learn" whether to repeat the delivery of one major refresh and one very minor retread, or return to a pair of equal upgrades, Microsoft didn't seem to hesitate when picking the former – not during an upside-down, inside-out year of the novel coronavirus.
Each year of Windows 10 witnesses new decay of the original concept. Each mutation of the plan comes as a surprise to customers.
That's why everyone should be marking the calendar with Windows' most important release events. This is the latest schedule; pencil in these dates.
April 13, 2021
Windows 10 21H1 — probably nicknamed "April 2021 Update" — may release after this date, the month's Patch Tuesday. (Remember, Microsoft changed its feature upgrade naming convention in June 2020, dropping the yymm format for the new yyH1 and yyH2 for each year's first- and second-half releases.)
It is possible that Microsoft will not issue a spring feature upgrade (as it's done since 2017); reports have circulated that the firm will shift to a once-a-year tempo by giving the first slot of 2021 to the launch of Windows 10X, another attempt by the company to craft a lighter-weight OS to compete with the likes of Google's Chrome OS and Apple's iPadOS.
If Windows 10 21H1 does appear, it will be installed primarily by Windows 10 Home and Windows 10 Pro customers because of its shorter 18-month support lifecycle.
Feb. 3, 2021
On this date, Microsoft told commercial customers that Windows 10 2004 was reliable and stable enough that it could be deployed to all corporate PCs. "Windows 10, version 2004 is designated for broad deployment," Microsoft said.
That guidance was notable — not for its appearance, for Microsoft has consistently declared Windows 10 versions' suitability for broad rollout — but because it came more than eight months after the May 27, 2020, launch of Windows 10 2004.
The delay was the longest yet for Microsoft, breaking the prior record of six and a half months set by Windows 10 1909, 2004's immediate predecessor. Previously, the time gap between launch and a Microsoft declaration was shorter, on the order of four months as an average.
So, why did it take nearly half the 18-month support lifetime of Windows 10 2004 to declare it safe and sound? And more importantly, are these notifications still valuable to IT administrators?
Computerworld doesn't have definitive answers for the first two questions. On the third, our take is that, no, they're not. Not with delays so lengthy that the messages become meaningless, so tardy that months of active use were wasted. 
Computerworld will, for now, continue to insert its projected dates for Microsoft's ready-for-business into this calendar, using a seven-month lag between release and notice, a rough average of the last two notifications.
Frankly, IT admins would be better served to use their own judgment, not Redmond's, as to when to push a larger deployment.
May 11, 2021
Microsoft serves the last security patches and other bug fixes to Windows 10 Home 1909, Windows 10 Pro 1909 and Windows 10 Pro Workstation 1909, wrapping up 18 months of support.
May 11, 2021 ... Take #2
Microsoft delivers the final updates for Windows 10 Enterprise 1809 and Windows 10 Education 1809, ending 30 months of support for the fall feature upgrade.
Customers running 1809 must migrate to a newer refresh – 1903, 1909, 20H1, 20H2 or even the possibly-just launched 21H1 – to continue to receive security patches. Windows 10 Enterprise 20H2 and Windows 10 Education 20H2 would seem to be the best bet, since they have the most support remaining (about 24 months from this date).
May 18, 2021
Somewhere around this date, Microsoft should inform IT admins that Windows 10 20H2 — the service pack issued seven months ago on Oct. 20, 2020 — is ready to deploy throughout their organizations. This message may appear on the Windows Update Twitter account and/or on the Windows release health hub.
Aug. 17, 2021
If these were normal times, Microsoft would begin to upgrade Windows 10 Home and Windows 10 Pro PCs running version 2004 with Windows 10 21H1 around this date.
But what if 21H1 doesn't exist? (See "April 1, 2021" for details.)
Computerworld scoped out how Microsoft might deal with the no-show of Windows 10 21H1 (to make room for an introduction of Windows 10X) in that story's "No spring, forward to fall" section. There's no need to walk that ground again.
Suffice it to say that one way Microsoft could handle the problem would be to upgrade Windows 10 2004 with version 20H2, a one-time stutter step to prep for a switch to upgrading in the fall, not the spring, each year. Computerworld laid out how Microsoft might do that, theorizing that the developer would warn users of Windows 10 2004 early this year of the change. It hasn't.
As always, only Microsoft knows what it will do. Or so we assume.
Aug. 17, 2021 ... Take #2
Microsoft may alert enterprise customers around this time that Windows 10 21H2 is available for "commercial pre-release validation."
That is, if 21H1 was released in the spring.
In 2020, two months before launching Windows 10 20H2, Microsoft said the upgrade was "available for commercial customers to begin feature exploration and validation prior to being released for general availability."
The early look at 20H2 was possible, of course, because the fall feature upgrade was little more than a rehash of the spring's Windows 10 2004. (Microsoft switched its labeling between the two, discarding the yymm construction for yyH1 and yyH2. Yes, Microsoft's nomenclature tinkering is endless....) The changes embedded in 20H2 were both few and minor, and importantly, were tucked into the Windows 10 2004 code weeks before 20H2 officially went live on Oct. 20, 2020.
Microsoft's urging of customers to start putting Windows 10 20H2 through the testing wringer was explicit in 2020. The year before, when Microsoft first turned to a major-minor upgrade cycle, it had left this early jump to customers' (and Computerworld's) imaginations. If the company does repeat 2019's and 2020's release practice, Computerworld believes it will formalize this practice, and again tell corporate customer to start testing two months before public launch.
Oct. 1, 2021
Microsoft begins rolling out Windows 10 21H2, aka "October 2021 Update," after this date. The probable launch: Patch Tuesday, Oct. 12.
The 30-month support lifecycle on Windows 10 Enterprise and Windows 10 Education means this will be the year's preferred upgrade for Microsoft's larger customers. The Redmond, Wash. developer will service this version until April 2024.
Oct. 12, 2021
"Mainstream" support ends for Windows 10 Enterprise 2016 LTSB, the second no-changes-allowed build that Microsoft offered for deployment in instances unsuited to the Windows-as-a-service model.
LTSB, for "Long-term Servicing Branch," which was later rebranded as LTSC (Long-Term Servicing Channel), is the only edition of Windows 10 which retained the traditional 5+5 support scheme of Mainstream and Extended periods.
This date ends some support, including feature change requests and non-security bug fixes. For a more detailed description of Mainstream and Extended, refer to this document.
(Note: This milestone of 2016 LTSB does not end support of 2015 LTSB, Microsoft's first static build. Windows 10 Enterprise 2015 LTSB will continue in Extended support until Oct. 14, 2025.)
Nov. 9, 2021
Around this date, Microsoft ships Windows 10 Enterprise LTSC 2022 (Long-term Servicing Channel). The successor to LTSC 2019, which launched three years prior, this build will be supported until January 2032.
In a May 2019 blog post, a Microsoft marketing manager announced that customers could expect the next LTSC "toward the end of 2021."
Nov. 9, 2021 ... Take #2
If Microsoft released a Windows 10 21H1 earlier this year, around this date it may instruct corporate customers that the feature upgrade should be pushed into broad deployment. Microsoft will divulge this declaration on the Windows Update Twitter account and/or on the Windows release health hub.
Note: With almost half of the upgrade's 18 months of support already spent, the notice may be worthless to IT administrators.  
Dec. 14, 2021
Microsoft issues the final bug fixes and non-security changes to all SKUs (stock-keeping units) of Windows 10 2004, from Home to Enterprise, ending 18 months of support.
Jan. 18, 2022
Microsoft kicks off forced upgrades that replace Windows 10 Home 20H2 and Windows 10 Pro 20H2 with the year-later refresh Windows 10 21H2.
Windows 10 Home/Pro/Pro Workstation 20H2 run out of support May 10, 2022, giving Microsoft 16 weeks to push the latest code to those PCs.
April 12, 2022
Windows 10 22H1 may release around this date if Microsoft decides to keep its twice-annual release tempo. (See the "April 13, 2021" section for the first instance when a spring feature upgrade may be omitted.) If it does not deliver 22H1, Microsoft may use the slot to upgrade Windows 10X.
Windows 10 22H1, if it exists, would exhaust its support in October 2023.
May 10, 2022
Support ends here for Windows 10 Enterprise 1909 and Windows 10 Education 1909, the upgrades that debuted in November 2019, concluding 30 months of security and non-security updates. (Windows 10 Home 1909 and Windows 10 Pro 1909 exhausted their support a year ago.)
The most suitable replacement will be Windows 10 21H2, the refresh released in October 2021 that also offered two-and-a-half years of support.
May 10, 2022 ... Take #2
Microsoft delivers the final security patches and bug fixes to Windows 10 Home 20H2, Windows 10 Pro 20H2 and Windows 10 Pro Workstation 20H2 — all launched Oct. 20, 2020 — and ending 19 months of support.
Senior Reporter Gregg Keizer covers Windows, Office, Apple/enterprise, web browsers and web apps for Computerworld.
Sours: https://www.idginsiderpro.com/article/3234766/windows-10-update-and-retirement-calendar-mark-these-dates.html
10 is away windows going
Microsoft is ending support for Windows 10 on October 14th, 2025. It will mark just over 10 years since the operating system was first introduced. Microsoft revealed the retirement date for Windows 10 in an updated support life cycle page for the OS. Thurrott reports that this is the first time Microsoft has ever described the end of support for Windows 10.
It's not clear exactly when the support document was updated, but Thurrott reports it only previous documented "when specific Windows 10 versions would leave support," and not the entire OS. It could be another hint that a new version of Windows is on the way.
Microsoft has been dropping lots of hints that it's ready to launch Windows 11. The software maker is holding a special Windows event to reveal the "next generation" of the OS next week. The event starts at 11AM ET, and the event invite includes a window that creates a shadow with an outline that looks like the number 11. Microsoft execs have also been teasing a "next generation of Windows" announcement for months, and one even described it as a "new version of Windows" recently. Microsoft also teased Windows 11 during an 11-minute video last week.
We're expecting Microsoft to announce a new version of Windows with significant user interface changes, and an overhaul to the Windows Store. Microsoft has been working on something codenamed "Sun Valley," which the company has referred to as a "sweeping visual rejuvenation of Windows." There will be many other changes, so read our previous coverage for what to expect.
Microsoft originally committed to 10 years of support for Windows 10, with an original mainstream end of support date set for October 13th, 2020. That mainstream end of support has not yet commenced, as Microsoft has been introducing regular updates and extending active Windows 10 support.
We're still not in the extended support phase of Windows 10 yet, which is the period when Microsoft doesn't add new features to an operating system and simply maintains support with bug fixes and security patches.
Windows 10 has been an unusual release for Microsoft, as it moved away from its typical cadence of releasing a new version of the OS every few years. Instead, Microsoft moved Windows to more of a service, updating it twice a year with new features. Microsoft may have described Windows 10 as "the last version of Windows," but it has now been nearly six years since its release and Microsoft looks ready to move on to something new.
In This Stream
Windows 11: the latest on Microsoft's 'next-generation' OS
View all 42 stories Sours: https://www.theverge.com/2021/6/14/22533018/microsoft-windows-10-end-support-date
Ryzen Is Fixed! Windows 10 VS Windows 11 (282 Patch)
Computer help: Have you any information on Windows 11?
Q: Have you any information on Windows 11? I have received an email from Microsoft about it but wonder if it is better to wait before installing. I had a lot of problems installing Windows 10 and don't want to experience that again. Now that Windows 10 is working well, maybe I should wait and see what happens? 
— Kathy S., Vero Beach 
A: Microsoft officially released its new Windows 11 operating system on June 24, 2021. But that doesn't mean Windows 10 is going away any time soon. 
In fact, according to Microsoft, the company will continue to support Windows 10 through October 2025 with the usual updates and patches, so there is no hurry to replace it.
Similarly, as Windows 11 is new, it will take some time both for Microsoft and developers to update existing programs for it and/or create stable environments and programs to work with it, as well as ensure functionality and compatibility both with new and previous versions of countless programs and apps. 
So realistically speaking: No, there is definitely no reason to rush out and install it until you really want to. 
Similarly, Microsoft is not putting much pressure on users to update either, adopting the same relaxed approach it took with last year's Windows 10 Version 21H1 update, which still remains optional to this date, it should be noted. 
And, as indicated above, as with most major updates to existing or new operating systems, it is usually a good idea to wait a little so that the initial bugs and hiccups get identified and fixed through those various patches and updates.  
Having said that, please know that Windows is rolling the new operating system out as a free upgrade for Windows 10 users for the time being. 
New features include a more sleekly designed and streamlined Start Menu and Taskbar, as well as many new features to optimize workflow animations, employ multi-task/split-screen options and enhance cross-platform functionality between PC and mobile device, among other new and improved options. 
One major caveat: This new operating system will require greater system requirements than previous versions of Windows, and it's recommended that those with PCs that do not currently have, or cannot upgrade to, these system requirements avoid installing Windows 11 on their current machine until those requirements are met.  
As of this writing, the system requirements for Windows 11 installation include the following: 1 GHz processor or faster; 4GB of RAM, 64GB of hard drive space, a monitor or display with at least 720 dpi resolution.  
If your machine does not have these specs or cannot be upgraded to them, then do not upgrade to Windows 11 and continue using your current machine with WIndows 10 until you absolutely have to, as in most cases you will need to purchase a new system that already has these base specs installed to use the new OS. 
For more information on Windows 11, please visit Microsoft's official page for it at this URL: https://www.microsoft.com/en-us/windows/windows-11 
Untangling the web 
Looking to see what else Windows 10 can do for you before considering the jump to Windows 11? Then check out this nifty tool set created by Microsoft — https://docs.microsoft.com/en-us/windows/powertoys.  
Originally designed to help developers create new apps for the OS, this free collection of Windows 10 add-ons also offers plenty of bells and whistles for those looking to upgrade or personalize their Windows 10 experience as well.  
Use it to change app colors, create unique Window layouts, preview files in Explorer, make shortcuts and more. 
Contact Eyal Goldshmid @ [email protected] 
Sours: https://www.tcpalm.com/story/specialty-publications/2021/07/11/better-wait-before-installing-since-windows-10-working-well/7885053002/
You will also like:
Windows 10 will be retired with Windows 7 in the graveyard of Microsoft operating systems. With Microsoft making Windows 11 a free upgrade that launched today, the tech juggernaut will pull the plug on Windows 10 support on Oct. 14, 2025. That gives you four years to prepare as Microsoft slowly moves its billion-plus Windows users to Windows 11. 
The company's new OS will gradually roll out to compatible Windows devices starting today through mid-2022. You can expect a brand-new design that borrows a Mac-like look and includes updated features. For instance, the Windows Start Menu gets a refresh that moves it to a different place on the screen and a few productivity features that can help with multitasking. There's also a change to make Android apps more readily available on Windows 11 coming soon. 
As many people prepare to update their Windows laptops and desktops to the latest software, what happens to PCs still running Windows 10 in 2025? We'll explain. And here are some big differences between Windows 10 and Windows 11 that you can look forward to. This story was recently updated.
Read more: Windows 11 review: Familiar but fresh
What does it mean for Microsoft to end support for Windows 10?
As it did with Windows 7 in January 2020, Microsoft will pull active support for Windows 10 in 2025. You'll still be able to use the software, but you won't get any more security updates. There also won't be any new features added to the software. Instead, Microsoft is shifting its focus to Windows 11, which comes with Android apps, desktop widgets and new Xbox gaming features for the PC.
Now playing:Watch this: Windows 11 review: New OS has us asking, update or wait?
8:32
Will I have to switch to Windows 11? 
Probably not. Many people are still running Windows 7 and 8 on their computers and never switched to Windows 10. However, it's recommended to use the most up-to-date software so you get security updates. Without security updates, your computer is at risk for malware and other vulnerabilities that can expose you to hacks, viruses and more. 
Will Windows 11 be completely free to upgrade?
Yes. Free upgrades to eligible Windows 10 PCs will be available from today, Oct. 5. The free upgrades will continue into 2022. If you're still running Windows 7 but want to upgrade to Windows 11, you'll first need to upgrade to Windows 10 to be eligible.
Read more:How to download Windows 10  for free before you get Windows 11
When will Windows 11 support end?
Since Windows 11 is so new, we likely won't have an answer to that for years to come. When support ends, Microsoft 10 will have been around for 10 years, so Windows 11 could have a similar timeline.
For more about Windows 11, here's how to download the new operating system and how to check if your computer is compatible. You can also take a look at how what you should do before downloading Windows 11. 
Stay current on the latest Microsoft news, plus reviews and advice on Windows PCs.
Sours: https://www.cnet.com/tech/computing/windows-10-support-ends-in-2025-what-it-means-for-your-device/
1534
1535
1536
1537
1538