Destiny 2 Assistant Game Director Confirms New PvP Maps Are Coming In Future Seasons
By Sean Murray
ShareTweetEmail
Destiny 2 is getting new Crucible maps in future seasons, according to assistant game director Joe Blackburn.
It has been almost two years since Destiny 2 received a new Crucible map, and as we reported several months ago, Guardians aren't happy about it. Some have even speculated that Bungie has completely forgotten about adding new PvP content to Destiny 2 in favor of focusing on PvE pursuits.
Assistant game director Joe Blackburn is here to put those rumors to bed. Not only is Bungie hard at work creating new maps for the Crucible, but the Destiny 2 developer has plans to make PvP maps a more regular thing.
This all comes from a long Twitter thread Blackburn posted earlier today reaffirming Bungie's commitment to competitive PvP game modes in Destiny 2.
"Competitive modes are part of what makes this game special. I can't imagine a version of Destiny 2 that doesn't involve getting a sweet new gun and taking it for a spin in the crucible," wrote Blackburn. "This year the team has spent a lot of our future-facing effort on plussing up the current crucible experience."
Related: Bungie Outlines Destiny 2 Crossplay Features Coming In Season 15
Stasis and a stale meta had long been a problem for Destiny 2 after the launch of Beyond Light, but both seem to have largely been fixed since Season of the Splicer's sandbox update. Next season will continue this trend with a revamp to Trials of Osiris, according to Blackburn, as well as a fix to sword-peaking.
After season 15 begins a new era of PvP updates in Destiny 2 with the "ultimate goal" being "consistency." Starting in Season 16, two Crucible maps that were removed with the arrival of Beyond Light will return after being ported to work with the various engine updates Bungie has made since the expansion's release. Season 17 will also bring an entirely new Crucible map that makes use of some of the "new environments" that have come to Destiny 2 since Shadowkeep. Season 18 will bring a remastered version of a classic Destiny map.
Blackburn wasn't able to provide specific dates, but he did promise a "predictable roadmap of maps in Lightfall and beyond." Bungie is also working on bringing back the Rift game mode as well as making brand new game modes for some time in 2022.
We'll get more details for all of this when Bungie hosts its Destiny 2 showcase on August 24.
Next: Avi Roque on The Owl House, Raine Whispers, And Non-Binary Representation
ShareTweetEmail
Crew Member Killed And Director Critically Injured After Accident Involving Alec Baldwin And Prop Gun
A crew member has died after a firearm was discharged on the set of Rust, a western starring Alec Baldwin.
Read Next
About The Author
Sean Murray (4762 Articles Published)
Freelance writer and contributor at The Gamer, Sean hails from Toronto, Canada. If you ask Sean what he likes, he'll say, "Robots, Ninjas, donuts - in that order."
More From Sean Murray
Sours: https://www.thegamer.com/destiny-2-new-pvp-maps-coming/
Bungie has hinted they will be revealing some major news about
Destiny 2
at their upcoming August showcase. However,
Destiny 2
Assistant Game Director Joe Blackburn has offered players some information about what they can expect over the next few seasons. There will soon be new
Destiny 2
Crucible maps, modes, and quality of life changes.
Bungiewill be unveiling two "vaulted" Crucible maps during Season 16. There will then be an entirely brand new map in Season 17 and a remastered map from the original
Destiny
in Season 18. Blackburn argued that it is no simple matter to create new maps or port old ones. He commented, "When we upgraded our engine with
Beyond Light
it means we had to hand port all of our
Destiny 2
maps and modes. So, while it may seem from the outside like we're just pushing a button there's a significant lift from the team to get more of this content back in rotation." He further noted Bungie is working on creating a predictable road map for Crucible maps in the upcoming Lightfall expansion and beyond. This means that PVP should expect a few new, vaulted, and remastered Crucible maps each year after Season 18.
PVP players have several new modes to look forward to. Blackburn remarked that the team is working on bringing in "Rift," a mode that was popular in
Destiny
. There are two teams that spawn on opposite sides of the map in Rift. There is, unsurprisingly, a rift at each team's spawn point. The teams race to the middle of the map to grab the "Spark." The players must then take the Spark to the other team's side and dunk the Spark into their rift to blow it up. The player holding the Spark has only seventy-five seconds to dunk it before they themselves blow up. This mode very much relies upon teamwork and communication. Blackburn also hinted that players should expect entirely new modes in 2022. He did not elaborate but stated that he believes the "twists and rules" will "make Shaxx proud."
There will also be a major Trials of Osiris update during Season 15. More information will be available during the August 24th showcase. Blackburn further remarked that after the next Trials' update, the team will "want to look at what other broad systemic improvements the PVP ecosystem needs. We want to provide something on the scale of this trials rework to players every year."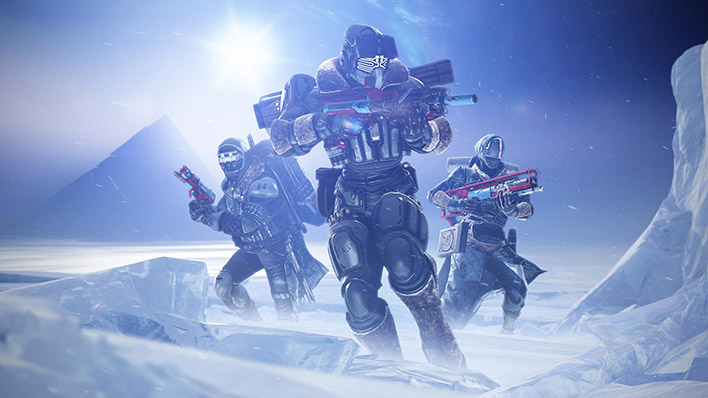 There is good news for Gambit players too. Blackburn noted in another tweet that their team is actively creating new Gambit maps. They are also focusing on changing up the Heavy Ammo economy, Primeval fights, and the "invasion cadence/power."
Bungie has been trying over the last few months to improve the player's experience during PVP. They recently nerfed Shotguns, (120 RPM) Hand Cannons, Exotic Scout Rifle Dead Man's Tale, and certain Stasis abilities. All of these had become "meta" in Crucible and had made the experience tedious and frustrating. However, PVP players have also been discontented with the variety of maps and modes in Crucible. It has been over a year since a new map was introduced and eleven maps were vaulted with
Beyond Light
. Blackburn's update should therefore hopefully be good news for PVP players.
Images courtesy of Bungie
.
Sours: https://hothardware.com/news/destiny-2-future-crucible-maps-and-modes
The Last Destiny 2 Crucible Map Came Out 600 Days Ago And Fans Are Not Happy
By Vaspaan Dastoor
ShareTweetEmail
It's been 600 days since Bungie put out a new Crucible map in Destiny 2 and fans of the PvP mode are understandably dejected.
Destiny 2 is an ever evolving beast. Drop off the game even for a month and you'll come back to new events, raids, weapons, and challenges that you'd have no idea about. Bungie has done a fabulous job of keeping the game fresh and engaging. Except when it comes to the Crucible mode.
Despite the developer's efforts to keep the game updated with new content, there hasn't been a new map in Destiny 2's PvP mode for 600 days now. Widow's Court, Twilight Gap, and Fragment were the last new maps added to Crucible with the Shadowkeep expansion that landed on October 1, 2019. It should also be considered that Widow's Court and Twilight Gap featured in the original Destiny.
Fans of the Crucible mode are understandably upset, as one player took to Reddit to commemorate the 600 day anniversary since the mode's last map released. However, that wasn't the only thing that fans were complaining about. Not only has Bungie not put out a new map, but has also been vaulting some of the older ones, which has caused additional dismay to the fans.
RELATED: Destiny 2 Player Removed From Vault Of Glass Leaderboards Over Offensive Username
Some of the comments have suggested that Crucible fans have lowered their hopes so much that they'd be happy even if Bungie simply put out the vaulted maps. "Same. Instead of making new ones Bungie will bring back the old ones and we will be semi happy," replied the original poster to one such comment. "The Bungie way, make a problem sell a solution".
"Actually we have 11 fewer crucible maps than we did 600 days ago," reads another comment, referring to the vaulted maps. It seems that these PvP fans will take anything fresh at the moment, even going as far as saying that original Destiny Crucible maps would do.
Earlier this month, Bungie revealed the roadmap for Season of the Spicer in Destiny 2. The season brings with it three new mission quests, a new season of Trials of Osiris, the return of the Vault of Glass raid, new weekly pinnacle missions, and an epilogue. Iron Banner is the only event pertaining to the Crucible mode that's mentioned in the roadmap, but that's nothing new.
NEXT: Calculator For Switch Has A Better Metacritic Score Than Spider-Man And Animal Crossing
ShareTweetEmail
TheGamer Podcast Episode 12 Is Out Now
This week's episode features the first-ever podcast interview, a lengthy news breakdown, and a hearty goodbye from Dave.
Read Next
About The Author
Vaspaan Dastoor (580 Articles Published)
Vaspaan Dastoor is a News Editor for TheGamer. Previously worked at IGN India and constantly tries to get people to make time for an LOTR marathon. He can be found giving hot takes for cold responses at @DastoorVaspaan
More From Vaspaan Dastoor
Sours: https://www.thegamer.com/destiny-2-crucible-map-600-days-ago-bungie/
Destiny 2 PvP Map Guide: Radiant Cliffs (Spawns, angles, opening routes and more)
Destiny 2's PvP community has been up in arms for months. Between rampant cheating in the pinnacle Trials of Osiris game mode and their frustration at a lack of new maps, players focused on the Crucible have felt ignored for quite some time. But ahead of Bungie's Destiny 2 showcase on Aug. 24 — which will show off season 15 and next year's Witch Queen expansion — assistant game director Joe Blackburn took to Twitter to announce some planned PvP improvements.
First, Blackburn revealed that Trials of Osiris is getting a revamp in season 15, which starts later this month. He didn't go into detail on what this revamp will improve, but promised players will get more information in the showcase on Aug. 24. Blackburn doesn't mention anti-cheat anywhere in his thread, so it's unclear if the cheating issue will play into the company's upcoming announcement.
According to Blackburn, Bungie spent the past year working to build its team for the expressed purpose of creating more Destiny, and PvP players should start to see the fruit of their labor in 2022. Ideally for Blackburn, PvP players should be able to predict when the next new map or mode will come into the game, rather than counting the days since the last new addition. Next year will feature new and returning maps and modes to help breathe life back into the Crucible.
In an effort to get new-ish toys into players' hands quickly, Bungie will unvault two Crucible maps in season 16. These will be maps that went away last year in Destiny 2: Beyond Light, when Bungie shifted the game's engine. Because of that technical improvement, getting them back into the game takes more work than players might expect.
The following season, season 17, will feature Destiny 2's first new map in years. Blackburn hinted that it'll take place in one of Destiny's new locations, which suggests either Europa from Beyond Light or whatever the new location is for Witch Queen — likely Old Chicago. Season 18 will feature a reprised map from the original Destiny, but one that's never made the leap to Destiny 2. These kinds additions will hopefully continue through Destiny 2's life.
In addition to maps, the Crucible team is looking into Rift — the original Destiny's beloved Capture the Flag-type mode. Because of the new pace of Destiny 2, it's unclear if Rift will actually translate one-to-one from the original game, so Blackburn isn't able to guarantee its return to the series. The Destiny 2 Crucible team is also working on other new modes outside of Rift, but Blackburn wouldn't offer any details yet.
Blackburn followed up his collection of PvP tweets with a brief tweet about Gambit. The team will start working on new maps soon, but the current focus is on play-testing some larger changes ahead of season 16.
Most of these changes are pretty far out, and players will need to wait months — likely until the Witch Queen expansion next year — to see any different maps in the Crucible rotation. But PvP players seem pleased that Bungie is even acknowledging their existence. With the showcase coming later this month and a revamp for Trials of Osiris in the next season, all different kinds of Destiny 2 players should have some hope for the future.
Sours: https://www.polygon.com/22610126/destiny-2-pvp-crucible-joe-blackburn-tweets-witch-queen-maps-rift-modes
All crucible maps destiny 2
11 Crucible Maps Getting Vaulted In Destiny 2 Beyond Light
When Year 4 of Destiny 2 launches, some Crucible maps will enter the Destiny Content Vault. Crucible maps will be curated as a "best of" list from Destiny 1 and Destiny 2. Not all maps were fan favorites but it seems like Bungie is removing the ones that are not completely loved by fans. Although Bungie said the worlds and the content attached to them, such as strikes, will be entering the DCV, it does not include Crucible maps.
RELATED: Destiny 2: The 5 Best Crucible Maps (& 5 Everyone Hates)
The maps that are leaving the game are from Destiny 2 Year 1 and various expansions. Also, the maps that returned from Destiny 1 will still be playable when Beyond Light launches. Here is the list of maps from Destiny2 that will enter the Destiny Content Vault this November.
11 Meltdown
Meltdown is located on Mars at the Clovis Bray Special Projects facility and it is from the Warmind expansion. The fighting on this map is not just centered in the middle area, it spreads to different parts of the map which allows players to use different weapon types. However, players seem to find the spawn at the Plaza to be near the center while players that spawn at the Landing Pad are more closed off. This map really pushed players to be tactical with their approach since enemies are everywhere and the map is quite asymmetrical.
10 Solitude
The map Solitude is a Warmind facility in Hellas, Mars. The map is a mix of icy, rocky caves, and the inside of the facility is at the center of the map. Unlike many other maps, the middle is tight, and while the rest of the map is open and spaced out. This map is built for both shotguns and snipers. A downside to this map is that the team that takes the middle is often trapping the other team in their spawn. On the other hand, if the outside team has a strong group of snipers then the people inside the facility may need to watch out.
9 Retribution
Retribution launched with the Destiny 2 base game. This map is located on a Cabal ship in the Upper Stratosphere on Mars. This map is known for its circular shape, closed-in hallways which feels too cramped for 12 players to fight in. Retribution was introduced as a PS4 exclusive but became available to players on other platforms when Forsaken released.
RELATED: Destiny 2: The 5 Best Things About Crucible (& 5 Things It Would Be Better Without)
The map was originally smaller, but when Bungie changed Quickplay modes to 6v6, this map was opened up to accommodate more players. However, it still one of the smallest maps.
8 The Citadel
The Citadel is a fairytale-like map that feels like a castle sitting above a mountain. This map is also like a castle because it is huge and a map like this can only be in the Dreaming City. This is currently the only Dreaming City map in Destiny 2. The main problem with The Citadel is that players have more of a peek-a-boo fight with the other team rather than being tactical. Also, the map is too symmetrical which makes the gameplay lackluster. Although the Dreaming City is not leaving when Beyond Light launches, this map will be.
7 Emperor's Respite
Emperor's Respite appeared quite often in the Competitive playlists in early Destiny 2. This map was released after the world's first completion of the Leviathan raid which is why it is on the Leviathan ship. It is often a sniper camping ground because of its open sights and multiple lanes. Also, it is notorious for spawn trapping players during Iron Banner Control. With all Leviathan related activities entering the Destiny Content Vault, it makes sense for this to go with them.
6 Equinox
Equinox is a minimalist map set in Unknown Space with geometric objects surrounding the area. Having spans perched on the sides made it easy to see enemy players running around which made the map feel like a playground. While this map favors long-range weapons, the room between the spawns is good for short-range weapons. Besides its PvP gameplay, this map has players wondering its connection to the Vex and the Triangle ships.
5 Eternity
Eternity is also located in Unknown Space with a similar look to the Equinox map. However, this map is not an open concept and it gives players the ability to use various types of weapons because of the open areas and small rooms. This map was introduced as the Trials of the Nine map in Destiny 2 base game.
RELATED: Destiny 2: Every Title Ranked From Easiest To Hardest To Earn
The area has white stone and deep blue metallic shapes scattered around with bright pink lights. The tower above has a dramatic display of ribbons which set an otherworldly vibe about the Nine. Ribbons like these can also be seen in the Prophecy Dungeon.
4 Firebase Echo
Firebase Echo is a map from Forsaken on a giant Cabal Firebase located in the Arcadian Valley on Nessus. The map is small and has sights from the top and bottom towards the enemy spawn. The middle area is highly contested as well while the rest of the map has barely any activity. Also, the yellow Cabal shielded Bridge section is merciless. It is one of those maps where if one team has the advantage, it is hard to get back up on your feet. However, the open area and long sights are perfect for snipers and bows.
3 Gambler's Ruin
Gambler's Ruin is another map introduced during Forsaken that is leaving the game. It was first launched as a PS4 exclusive as well. Gambler's Ruin takes place in the Tangled Shore with Fallen buildings and rocks anchored together. The map is often criticized for its tight space which does not help the layout which has players running around to different areas. With so many paths to get around, players are either great at flanking or players were accidentally flipping spawns.
2 Legion's Gulch
Legion's Gulch is a giant Cabal drill that sits in the middle of a European Dead Zone neighborhood. This map directly relates to the Red War storyline since it launched during Year 1 of Destiny 2. A significant part of this map is the air cannons that shoot players from the Drill to the other side of the map. A lot of time gets spent hopping around the map with few sights and this leads to easy spawn flipping.
1 Vostok
Vostok is near the social area from Destiny 1's Rise of Iron expansion. It was converted to a Crucible map in Destiny2. This nostalgic map is an observatory that is located on Felwinter's Peak right beside the Iron Temple. This map has perches for snipers, tight spaces for close-quarter weapons, and hiding spots for stealthy players. It is a large map that does not have an open combat area in the middle so the fighting is evenly spread throughout the map.
NEXT: Destiny 2: 10 Things You Need to Know About Exos
ShareTweetEmail
Amouranth Returns to Twitch After 3 Day Ban
Twitch reverses its fifth ban against popular streamer Amouranth, allowing her back on the streaming platform after just three days.
Read Next
About The Author
Saniya Ahmed (26 Articles Published)
Saniya Ahmed writes about video games that ignite her love of gaming. She is involved in gaming not only as a writer but as an artist. Inspired by video games and anime, she creates cyborg characters that explore her culture and feminism and they're set in a world of environmentalism.
More From Saniya Ahmed
Sours: https://gamerant.com/destiny-2-beyond-light-crucible-maps-being-vaulted/
All 31 Destiny 1 PVP maps (the video that Aztecross used to make his) what an honor
Destiny 2 – Trials of Osiris Revamps, Crucible Maps and More Inbound
For all the new content and improvements that Destiny 2 has seen after the split from Activision, PvP has been one area where fans have felt neglected. With the August 24th showcase later this month, assistant game director Joe Blackburn shared some plans on how the Crucible will be supported in the coming days. Along with "three-peaking" (aka peaking around corners by going into third person), Trials of Osiris will be receiving some revamps.
Two vaulted maps are also coming back in Season 16, which starts later this month. Blackburn noted that, "When we upgraded our engine with Beyond Light it means we had to hand port all of our Destiny 2 maps and modes. So, while it may seem from the outside like we're just pushing a button there's a significant lift from the team to get more of this content back in rotation."
Season 17 will see a brand new map being introduced with Blackburn teasing a "bunch of new environments" coming to the game and the team being excited to "start bringing them into the Crucible." Season 18 will see a remastered Destiny 1 map also coming. "All this effort is going to be done in parallel with the team looking to fund the far future with a predictable roadmap of maps in Lightfall and beyond."
But that's not all. Bungie is also looking into adding Rift into the game next year. Brand-new modes are also in the works for 2022, though it's not going to spoil what these are just yet. "We're excited to offer new twists and rules to the ways you can make Shaxx proud," said Blackburn. Following the Trials of Osiris update in the next season, the developer will look at broad systemic improvements that the ecosystem needs, ideally offering a similar revamp each year.
Stay tuned for more details when the upcoming showcase airs. Destiny 2's next big expansion, The Witch Queen, is out in early 2022.
---
Sours: https://gamingbolt.com/destiny-2-trials-of-osiris-revamps-crucible-maps-and-more-inbound
You will also be interested:
Destiny 2 players have been begging for any news about new PvP content, especially with the recent overhaul to balancing within modes like Crucible and Trials of Osiris. With the Witch Queen expansion on the horizon and Season of the Splicer coming to a close, Destiny 2 assistant game director Joe Blackburn just gave Guardians everywhere a little Light (puns) at the end of the tunnel regarding new PvP maps and new modes.
Blackburn took to Twitter with a lengthy thread ahead of a showcase detailing season 15 and the Witch Queen expansion later this month. In the thread, he provided some insight into what Bungie has currently planned for Destiny 2 PvP, including the return of vaulted maps and the return of a Destiny 1 favorite.
"Competitive modes are part of what makes this game special," he began in his thread. "I can't imagine a version of Destiny 2 that doesn't involve getting a sweet new gun and taking it for a spin in the Crucible. This year, the team has spent a lot of our future-facing effort on plussing up the current Crucible experience." Part of that "plussing" is the drastic changes made to Stasis in PvP, which has been a massive point of contention within the Destiny community.
In his thread, he promises that players will see even more efforts towards PvP tweaks next season, which is the game's 15th season, including changes made to Trials of Osiris. More about Trials will be revealed during the event later this month, taking place on August 24, but he added that it's important that the studio keeps their "foot on the gas" when it comes to making PvP special and feeling fresh. While the first half of 2021 was focused on balancing and tweaking the current PvP experience, the last half will be dedicated to bringing new experiences into the mix.
"We believe in this investment," he said regarding new PvP content, "but it is going to take some time before you start seeing results in-game. The ultimate goal here is consistency. If you play PvP, the team wants you to understand that you will be getting new maps and modes every year, and that the cadence of those coming out feels predictable. But in order to get to predictable, we need to open the faucet again."
Because new maps take time, that aforementioned faucet is set to "open" for season 16, including bringing back two vaulted Destiny 2 maps that are compatible with the engine upgrades. When Bungie created Beyond Light, the scale was so massive that quite a bit of content was vaulted. While the studio mentioned that vaulting doesn't mean permanently gone, it was sad to see entire planets fall into oblivion. So what's the timeline looking like?
"While it may seem from the outside like we're just pushing a button," he added when talking about the complexities relating to vaulted content, "there is a significant lift from the team to get more of this content back in rotation. After reprised maps in season 16, season 17 will come with a brand-new map. There are a bunch of new environments in Destiny 2, and we're excited to start bringing them into the Crucible."
After those three maps are added during those two seasons, he then promised that Bungie is remastering a map from Destiny 1 during season 18. But the team isn't just looking at new maps, but new modes, as well. Scorched is fun and all, but what about something completely out of left field? "There are three main efforts going on behind the scenes here," Blackburn added about additional modes. "First, the team is investigating getting Rift in Destiny 2 next year. It's been too long since we've dunked on some Guardians. The Destiny Sandbox has sped up in Destiny 2, so right now the team is validating that the mode still holds up with our new gameplay."
Several new modes are also in the works, slated for a 2022 launch, though he mentioned that they're not quite ready to share more on that at this time. If you're an avid Destiny 2 player or interested in jumping back in, you can read his full thread here.
---
If comments are still showing as disabled, a site update is happening on our side that has caused a temporary takedown. We hope to have them back up and running soon so our community can go back to sharing their thoughts with us about everything gaming-related!
Sours: https://www.gameinformer.com/2021/08/05/brand-new-destiny-2-pvp-maps-and-modes-are-on-the-way-including-a-remastered-destiny-1
1576
1577
1578
1579
1580