By Mark Leck
In our ever changing economy, agents throughout the country employ a myriad of tactics to bolster their business. The once-taboo practice of working Expired Leads has, out of necessity in most cases, become an integral part of most successful agents' business strategy. Similarly, more agents have also begun prospecting FSBOs, who only a year or so ago, would never have volunteered for that type of abuse!
In the past, I have frequently been questioned about the merit of prospecting in general. However, now more than ever, the question is less about whether or not to prospect and more about what to prospect.  I would like to help answer that question, by comparing and contrasting the differences between your two major lead choices – Expireds & FSBOs.
Expired Leads
I have always been surprised by how many agents get caught up in the question of going after another agent's expired listings as opposed to focusing on selling a home for a potential new client interested in moving. Expired listings represent an incredible opportunity for agents that are capable of tackling the problems inherent with this type of lead source. However, understanding this lead type is the key to not getting frustrated in the process.
Q. What are the pros of working expireds?
A. First and foremost, expireds want to sell their home and have already demonstrated a willingness to work with an agent. They understand the value an agent can bring; they just have not met the right agent yet. So get in there and let them know you are the right agent for the job!
Q. What are the cons?
A. The first problem you are going to encounter with Expired Listings is trying to contact the owner. In most cases the only information you have is an address, and unfortunately, not every address has a phone number associated with it. Expect disconnected numbers, wrong numbers, and tenant numbers. It is all part of the game. Like panning for gold, you have to sift through the dross before you get to the gold nuggets – and gold is exactly what good expireds are. Using an automated system like REDX to do most of this legwork can save you a tremendous amount of time and give you a competitive advantage. You will still have to make the calls and sift through the dross of wrong/disconnected numbers, but in the end it will be worth the effort when you find those golden home owners.
Once you get in contact with the homeowner, the second likely obstacle you will encounter is "the dissatisfied customer." They have been hoping to sell their home for the last six months – their agent swore on the Holy Grail they could do it, but they did not deliver. What makes you any different? This, however, is not a difficult objection to overcome and may actually help with the next hurdle: price objections.
By far, the number one cause for a listing to expire is due to a poor listing pricing. Unfortunately, most real estate agents allow the homeowner to act as the professional and set the listing price on their home, instead of the other way around. Far too few agents are willing to walk away from a listing, when they know that the seller has an unrealistic price and that the property will not sell. What is the result? The listing expires, and the agent ends up with mud on their face because the homeowner blames them. If more agents had the courage to walk away from these types of listings, they could save themselves the disappointment of an unsatisfied seller along with its associated repercussions. Down the road they might also be surprised to find that the homeowner is willing to work with the agent on their terms, once they have seen that the agent predicted their folly.
In some markets, this problem has been exacerbated significantly by depressed home values. Homeowners are in denial that the value of their home has dropped substantially and they frivolously hope they will be the exception to the rule. The ensuing disappointment felt by the homeowner, however, can actually work to your advantage. Many times, the homeowner of the expired listings has already experienced a reality check and is now more willing to do what it will take to sell the home.
For Sale By Owner Leads
For Sale By Owner ("FSBO") leads are another excellent source of listings for the willing agent. This does not come without its price, however, and many agents have been led unsuspectingly into the challenges of FSBOs merely because of their desire to avoid working expireds. The key to these leads, as with all leads, is to clearly understand the obstacles you will encounter before you begin your prospecting.
Q. What are the pros of working FSBOs?
A. FSBOs represent a source of potential listings that have yet to be claimed by an agent. Once you have aggregated your list of FSBOs, they are relatively easy to get in contact with. Unlike expired listings, locating the contact information for the homeowner is relatively easy because just about every listing has a good phone number. When calling FSBO listings, you rarely experience disconnected or wrong numbers because the individual selling it is expecting phone calls from interested buyers.
Often times, FSBOs experience the difficultly of selling their home solo; this experience can often make them more open to your professional advice and experience. With the right approach, this new found humility can be your ticket to acquiring a golden listing with a seller that is ready to work with you on pricing.
Q. So what are the cons?
A. The difficulty in working with FSBOs often depends on the individual, but one thing you can count on with any FSBO is objections. Typically anyone that puts their home up for sale also considers working with a professional who makes a living trading those assets. Something has made this person choose to go solo, and your task will be to determine what it was, and then resolve their concerns. Most likely they have a concern related to pricing and the cost of commissions, but it could also have been a negative experience with another agent, or a new found streak of independence.
Prospecting FSBOs also tends to be more popular than prospecting expireds. As a result, you may find more competition. This should not deter you from prospecting them, but it may cause you to consider alternative strategies (such as prospecting "aged" FSBOs that are 30-90 days old, using mail-outs, etc).
Aggregating a list of FSBOs in your area can also be a challenge if you are doing it on your own. However, utilizing a FSBO leads provider like REDX can easily help you overcome this obstacle and help you get on the fast track to prospecting this valuable lead source.
Conclusion
Agents who find success in this ever changing industry are not afraid to work; and while prospecting definitely takes a higher degree of commitment, energy, and even skills; the return from these golden nuggets makes it worth sifting through the dross. No longer are agents asking "should I prospect", but instead: "what should I prospect?" Understanding the differences between FSBOs and Expireds will help to prepare you to prospect either one – or both! So get after it! — Good hunting!
Mr. Leck is the Founder/CEO of Real Estate Data X-Change, Inc. (REDX)
Sours: https://www.theredx.com/blog/fsbos-or-expireds-that-is-the-question/
For sale by owner leads are one of the toughest leads to prospect and acquire. However, they can also be the most rewarding sales that you can make as an agent. Unlike expireds or short sale leads, for sale by owner leads require a particular set of skills in order to be successful. The most important is the ability to empathize with your client's situation.
Generally, with for sale by owner leads, the owners have already tried to sell their property, if not multiple times before. And often times these owners are so desperate that they attempt to sell these houses themselves. Most of the time, this desperation will lessen their expectations, potentially losing money on their property.
With REDX, you will have all of the tools necessary to satisfy your clients. While it takes an immense amount of care, planning and intuition, REDX's prospecting platform will give you everything you need to successfully prospect, land and sell a for sale by owner lead.
Will REDX show me where to find FSBO leads?
Yes, REDX's Vortex platform will give you all of the information necessary to find your FSBO leads. Vortex begins by using a specific algorithm to mine through terabytes worth of raw data. From this raw data, REDX fills in any missing information, giving you a complete and accurate listing. The listing and all of its information is then compiled and made readily available for your specific area.
REDX will separate listings based on their status, making it easier to discern between a FSBO or expired lead. For FSBO's it is crucial that you have all of the information readily available to you. With REDX, you have the ability to organize and customize each property listing with specific notes or script. Instead of cold calling or scouring your area for properties, REDX allows you to locate and organize your leads from the comfort of your office or home.
Sign up for less than the cost of a tank of gas!
Unlike other prospecting platforms and services, REDX wants you to make money on your sales. With the Vortex platform, not only will you save time and energy for your client, but also save money by eliminating typical prospecting costs like gas. Starting at $29.99 a month you can have full access to Vortex's list of for sale by owner leads. These lists are updated daily and available at all times. Go to http://www.theredx.com/fsbos to learn more about for sale by owner leads and why REDX will give you the edge on closing them. Sign up today!
Sours: https://www.theredx.com/blog/how-to-find-for-sale-by-owner-leads/
Mojo's Dialer and FSBO Data Service are Real Estate Prospecting Must Have's People who list their homes themselves don't want to talk to you. Well,
Read more
FSBO Lead Prospecting Simplified People who list their homes themselves don't want to talk to you. Well, they do, but they just yet don't know
Read more
Whether you are a new Real Estate agent just starting out or a veteran agent adding FSBO prospecting to your lead generation, the Mojo on
Read more
After listening to thousands of FSBO prospecting calls I've noticed agents don't know how to deal with the single most important question in the mind
Read more
For Sale By Owner or FSBO leads, can be the most lucrative lead type for Real Estate agents to prospect for listings . For starters, the
Read more
For Real Estate agents, a solid listing inventory can make the difference between struggling to make ends meet or hitting pay dirt in the one
Read more
If you're on this blog, you likely already know how Mojo's Triple Line Power Dialer makes your sales team three times more productive by ensuring ALL their time is spent chatting on the phone with no time wasted with hang-ups, wrong numbers or answering machines.
BUT let's go back to the first part of the success equation. There's no one to talk to if you don't have the phone numbers in the first place. Where do all those expired listings and For Sale By Owner (FSBO) listings come from anyhow?
Read more
Sours: https://www.mojosells.com/blog/for-sale-by-owner-leads/
REDX FSBO Demo
6 Best FSBO Lead Sources for 2021
For sale by owner (FSBO) leads are properties listed for sale where the seller is not represented by a real estate agent. Aging FSBO listings can be one of the most effective leads, as a homeowner has already tried to sell their home without success and is more inclined to recognize the value of your help. To help, we looked for the best tools for prospecting FSBO leads.
The top six FSBO lead sources for real estate professionals in 2021 are:
REDX: Best overall value for agents who want affordable, reliable leads and training to improve conversions
Landvoice: Best for professionals wanting long-term access to aging FSBOs, expired listings, and preforeclosure leads
Vulcan7: Best all-in-one option for seller prospecting and marketing
Offrs: Ideal for professionals who want to use artificial intelligence (AI) and automated marketing
My +Plus Leads: Best for agents who want data covering a large geographical area
Mojo Sells: Most affordable leads with a triple-line dialer
How We Evaluated FSBO Lead Sources
The best FSBO lead sources will provide accurate and up-to-date data, as well as tools to organize it. The way that each real estate agent or broker contacts FSBOs can vary, so we selected platforms that offered a variety of communication methods in addition to tools for prospecting.
Based on the needs of real estate agents, brokers, and teams, the criteria we used to evaluate the best real estate lead generation companies for prospecting for sale by owner leads include:
Pricing
Accurate data
Lead management tool
Marketing tools
Geographical limitations
Customer support
After analyzing more than 10 FSBO lead sources, we determined the best to be REDX. It's one of the most well-respected lead sources because of its affordable prices, data accuracy, lead management system, and training and support to help you get the most success out of every lead.
REDX: Best Overall Source for FSBO Leads
REDX

What We Like
High rate of data accuracy
Includes lead management system
Free trainings
What's Missing
Search data limited to the last 30 days
No auto-dialer
REDX Pricing
FSBO leads start at $39.99 per month
Other lead categories, such as expired listings, geoleads, for rent by owner (FRBOs), and preforeclosures range from $39.99 to $79.99 per month
Discounts available when you pre-pay quarterly, semi-annually, or annually
REDX is one of the oldest and most popular real estate lead generation services, known as a reliable source of fresh FSBO leads. REDX delivers your leads through Vortex, an online lead management platform, and provides live training, script practice, and a podcast to improve your skills. These features make REDX best for agents who want an affordable way to access accurate data and learn how to successfully convert FSBO leads.
REDX Services & Features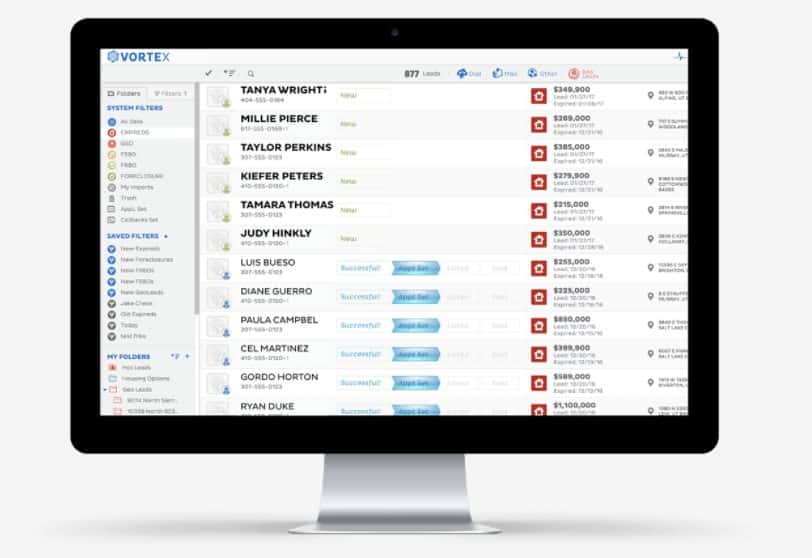 Vortex screenshot via REDX
Platform searches hundreds of sources and verifies contact details
Monthly fee includes two areas
Vortex allows users to organize, track, and tag leads
Platform allows you to make calls through any web-enabled device
Free role-playing and FSBO script practice
Live prospecting training sessions
Free podcast for additional support and expertise
Customer support available via phone during business hours
Sign up to start prospecting FSBO and other niche real estate leads by visiting their website.
Landvoice: Best for Long-term Access to FSBO Leads
Landvoice

What We Like
Access the last six months of data
Searches up to 2,000 data sources
Packages include multiple types of listing leads
What's Missing
Higher-level packages can be costly
No training offered
Landvoice Pricing
Starter: $87 per month
Essential: $127 per month
Pro: $177 per month
Elite: $227 per month
Discounts available with quarterly and annual payments
Landvoice is another popular service for leads in niche markets, like FSBOs, expireds, and preforeclosures. You can choose which type of lead data you want to receive from their package options, which makes Landvoice ideal for real estate professionals who specialize in niche markets. However, what makes it stand apart from the others on this list is the length of access to lead data, making it a particularly great option for agents who want to focus on FSBO leads with the least amount of competition.
Landvoice Services & Features
Searches 2,000 sources for FSBO leads
Lead management platform allows you to organize, tag, sort, and add notes to each contact
Access to the previous six months of lead data, which is the longest period available
Daily lead delivery via email
Status updates on older leads to continue follow-up
Offers multiple packages, including expired leads, FRBOs, and preforeclosure homes
Customer support is available via live chat, phone, email, or online form during business hours
Start targeting FSBO, expired, or preforeclosure leads by visiting Landvoice.
Vulcan7: Best All-in-One Platform for FSBO Prospecting
Vulcan7

What We Like
Robust customer relationship management (CRM)
Video tools and emails
Accurate data
What's Missing
Lacks access to past data
Does not include online ad management
Vulcan7 Pricing
$349 for FSBOs, FRBOs, Expireds, and Geosearch
Discounts available when you pre-pay annually or semi-annually
Vulcan7 is a lead service that helps you prospect all kinds of seller leads with unique marketing features and a complete lead management system. Its marketing integrations, customer relationship manager (CRM), and video messaging capabilities make this a great fit for experienced agents who want to invest in the most impactful all-in-one tools to receive and convert seller leads.
Vulcan7 Services & Features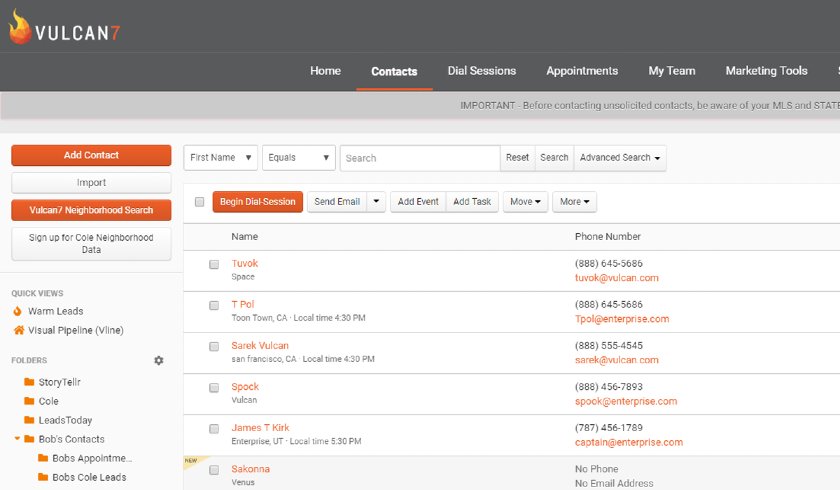 Vulcan7 lead management screenshot
Packages include data on FSBOs, FRBOs, expireds, and preforeclosures
Includes an auto-dialer
Weekly live training calls
Includes scripts and objections
CRM includes email marketing functionality
Only FSBO lead provider that includes video messaging
Run advanced searches through the MLS
Customer support available via phone, email, or online form during business hours
Visit Vulcan7's website to learn more about how you can use its service to start managing your FSBO or other niche leads from end-to-end.
Offrs: Best FSBO Lead Source for Automated Insights
Offrs

What We Like
Easy-to-use online ad builder
One of the largest data sources
Predicts over 70% of listings
What's Missing
Packages can be expensive
Takes time to learn
Offrs Pricing
5 cents per month per targeted area property
10 cents per month per targeted area property with exclusivity
$300 per month for each ZIP code
$600 per month for exclusivity in one ZIP code
Offrs is a real estate lead provider that uses artificial intelligence (AI) to find homeowners who are likely to list their homes in the future. The combination of AI and automated marketing gives you a more targeted strategy to find highly qualified leads. Offrs is particularly appealing for agents, brokers, and teams who don't want to spend time on cold calling and emailing but want to use data and online marketing to attract leads.
Offrs Services & Features
Data aggregator, which means you receive new data before others
Only FSBO lead source that uses predictive analytics
Includes an ad builder and manager
Packages include predictive seller leads, FSBO leads, expired listing leads, and seller signal leads
Customer support available via phone or email
Learn more about how AI can help you spend less time searching through FSBO leads so you can spend more time selling by visiting Offrs.
My +Plus Leads: Best Source for Large Geographical Areas
My +Plus Leads

What We Like
Get data in your ZIP code plus a 50-mile radius
Ability to search specific neighborhoods
Affordable monthly cost
What's Missing
No marketing tools included
No access to past data
No CRM or auto-dialer
My +Plus Leads Pricing
FRBO: $29 per month
FSBO and FRBO: $58 per month
FSBO and Expireds: $59 per month
Custom solutions
14-day free trial
My +Plus Leads is a data aggregator that offers verified FSBO leads as soon as they are published. This platform gathers property and online data, when applicable, so you have multiple ways of contacting each lead. My +Plus Leads is the only lead source that provides data for one ZIP code plus a 50-mile radius, so it's an ideal choice for agents or brokers who want leads in a large geographical location.
My +Plus Leads Services & Features
Searches data across thousands of sources daily
Delivers new FSBO leads the day they're published
Receive information about each property, contact information, and social media profiles
Neighborhood search tool allows you to search through extensive data in specific areas
Help center and +Plus Leads forum for questions
Customer support available via phone, email, and online form
Visit My +Plus Leads' website to learn more about how your team can expand your farm area through FSBO lead prospecting.
Mojo Sells: Most Affordable FSBO Lead Source
Mojo Sells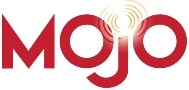 What We Like
Most affordable FSBO lead data
Customizable packages
Verified data
What's Missing
Pricing for multiple data types or marketing can add up
Mojo Sells Pricing
FSBO leads: $25 to $35 per month, per county
Neighborhood search: $49 per month
Expired data: $50 per month
Single-line dialer: $99 per license
Triple-line dialer: $149 per license
Mojo Sells offers verified FSBO leads for individual agents and teams, along with a single- or triple-line auto-dialer. Packages are customizable, so you can choose which data and marketing tools you will use. In addition, the triple-line auto-dialer makes Mojo Sells the best option for agents and teams that focus on cold calling to find seller leads in addition to those who are looking for leads at the lowest cost.
Mojo Sells Services & Features
Multiline dialer for agents or brokers who want to maximize cold calling
Auto-dialer leaves prerecorded voicemail messages
Organize and sort contacts into lists and groups
Integrates with services like BoomTown, Wise Agent, Follow Up Boss, Top Producer, and Zapier
Auto-dialer can be used from any mobile device
Customer support available via phone or ticket system
You can learn more about the service's low-cost plans and additional benefits like its auto-dialer by visiting Mojo Sells.
How to Find FSBO Leads on Your Own
We highly recommend agents use the tools we've recommended for lead generation services. This is because FSBO leads can be purchased for as little as $1.35 per day, and if used properly, will result in more closed deals at a significant time savings. However, there are some advantages to manually researching FSBO leads at no cost.
Some of the places you can search for FSBO leads include:
Craigslist (in your local market)
Zillow ("make me move" or FSBO listings)
Local newspapers websites
Brownstoner (New York City only)
Forsalebyowner.com
For more information about how you can find FSBO leads, visit our more in-depth article on FSBO lead prospecting.
Bottom Line
FSBO leads are some of the warmest leads you can find, but you need to nurture them effectively with accurate, up-to-date data and a complete marketing strategy.
Check out REDX to jump-start your search for FSBO leads. This popular lead management platform constantly scours sites, classifieds, and signs for FSBOs in your area and delivers seller leads right to your inbox.
Visit REDX
Sours: https://fitsmallbusiness.com/best-fsbo-lead-sources/
By sale redx owner for
Connecting Agents to Qualified Sellers
The prospecting platform with leads and tools to help you set more listing appointments.
Buy Now Watch Demo
First,
You Need Quality Leads
REDX gives you more than just phone numbers, we connect you with homeowners who are actively looking to sell.
Expireds

Start your prospecting journey with the most accurate contact information on the market. Connect with more qualified sellers and convert expired listings into sales.

Starting at $59.99.

Buy Now Learn More
Geoleads™

Neighborhood farming just got a lot easier. Get phone numbers and addresses for homeowners in your area in seconds.

Starting at $49.99.

Buy Now Learn More
For Sale By Owners (FSBOs)

Owners who try to sell their homes on their own end up involving an agent 88% of the time. REDX gets you their contact information so you can be the first agent to reach them.

Starting at $39.99.

Buy Now Learn More
Pre Foreclosure

Get in contact with homeowners who are highly motivated to sell. Be the agent to capitalize on these homes that have more equity than ever before.

Starting at $39.99.

Buy Now Learn More
Second, Make Your Leads Manageable
Vortex® organizes your leads, past clients, and sphere of influence all in one place.
Save time by prioritizing who you call with Vortex filters.

Always know what to say with built-in scripts & objection handlers.

Visualize new inventory with a clean, distraction-free interface.

Set notes and reminders so you can keep your leads warm
Buy Now Learn More
Second, Make Your Leads Manageable
Vortex® organizes your leads, past clients, and sphere of influence all in one place.
Save time by prioritizing who you call with Vortex filters.

Always know what to say with built-in scripts & objection handlers.

Visualize new inventory with a clean, distraction-free interface.

Set notes and reminders so you can keep your leads warm
Buy Now Learn More
Third, Start Setting
More Listing Appointments
Increase your prospecting efficiency with a power dialer.
Stop wasting time punching in a phone number for each lead.

Hear "Hello" more often. REDX's Power Dialer connects you when someone picks up just like a regular call.

Power Dialer leaves a pre-recorded voicemail so you don't have to.
Buy Now Learn More
What It Takes To Succeed
1
Quality Leads
We verify our data for accuracy so you can feel confident prospecting right away.
2
Commit to the Process
Start making calls and fall in love with the prospecting and listing process. Then, enjoy the results that follow.
3
Let REDX Back You Up
Take advantage of our live phone support and role playing with REDX prospecting experts.
Buy Now
Proof Prospecting Works
Jason Morris, Myrtle Beach SC
Whether you're new to prospecting or a top prospector, the fundamentals are the same. The more homeowners you reach, the more listing appointments you set. That's why we offer you 6 lead types, an auto-dialer, and a platform to more easily there set listing appointments.
2000+
Career transactions
50
Average active listings
Read More
Zach Zaleski, Denver CO
I focus on building my business with prospecting - it's given me the freedom to live a great life and to do nice vacations. I've tried a bunch of different services, but I really like REDX's because it's the most accurate and well-scrubbed data I've found.
Read More
Paula Burlison, Las Vegas NV
Be patient. Having a positive mindset and a strong business doesn't happen overnight. It takes work. It takes practice and commitment. And you know what? So what if it takes a long time? You're gonna be better for it in the end, and unless you're not planning on being in the business, there's no other option than to get better.
Top 1%
Las Vegas Realtors®
Read More
Steve Matthews, Denver CO
I believe that anyone can get good at prospecting and make $200,000-300,000 per year. If you're a Realtor® and you don't have REDX, you're not a Realtor®.
Read More
David Ernst, New Orleans LA
What I love about REDX (for the simple man who's a technology fool) is they make it easy to pick up the phone and make the calls. If you want something that's user-friendly, something you can just log in to without being scared to make your first call, just call REDX. They'll get you set up.
Read More
Edward Estrada, Northridge CA
When I'm low on contacts and need to speed up my calling session, I turn to my GeoLeads™. I choose any area, drop a pin, and start dialing. Don't worry about the specific information, you get that as you go into the phone call. Go with the positive mindset to help someone and you'll find success along the way.
17
Listings in first 90 days
4
Months of vacation/year
Read More
Len Nevin, Gilbert AZ
From not being able to take a listing or sell a house to running an office of 200+ agents. Now I'm building my own team and teaching other agents how to control their career using REDX.
Read More
Get Started Now
Choose your leads, your dialer and start getting organized with the free Vortex lead manager.
Sours: https://www.theredx.com/
Podcast de REDX con Andy Rosas (Español)
How to Find FSBO Leads & Prospecting Tips
For sale by owner (FSBO) leads can be found organically in a number of ways. This takes time, but the benefit is that there is no financial cost. Alternatively, you can also prospect for FSBO leads using a paid service, which provides added insights, can represent a significant time savings, and increases the probability of successful conversion.
This is why we recommend using a mix of organic and paid lead generation strategies when targeting FSBO leads, especially if you're looking to scale your profits. We recommend REDX as the best paid service because of its accurate lead data, contact management platform, and affordable pricing.
Visit REDX
However, you can also find additional FSBO leads using the following organic sources:
Craigslist
FSBOs typically don't have access to the MLS, so you'll find many homes listed on the site by unagented sellers. If the seller is not very marketing-savvy, which is frequently the case, they may only list their home on Craigslist. That makes it a great place to search for new seller leads that might not be on social media or on listing sites.
The drawback to using Craigslist as a real estate lead generation source is the amount of time it takes to search for homes, look at home details, and reach out to the owner. Even if you check Craigslist for new FSBO properties every day, you could consistently be 24 or more hours behind your competition.
Social Media Platforms
The Marketplace feature found on Facebook is another way to discover potential sellers who aren't currently represented by a listing agent. You can use the tool to look up properties for sale in your area under the home sale category. However, you can also simply type in the phrase "home for sale by owner" in the search field to find properties, or for sale by owner groups, in your area or for sale by owner groups.
Another way to use social media to find listings that could benefit by working with an experienced agent is to look for people who are asking for help. Often people use these platforms to share descriptions and images of their neighbor's listings, with captions like "do you want to be my neighbor?"
Another social media platform, Nextdoor, is a good alternative to Facebook for identifying potential FSBO leads. However, you must first be invited by someone within the neighborhood to join the platform before you can start searching for listings, and the platform discourages communication that can be seen as self-promotional, so be careful how you use it. LinkedIn or Instagram can also be used for this purpose to a lesser extent.
Zillow
Zillow is connected to MLS and has tools specifically designed to connect with a listing's agent. However, it can also be used to discover seller leads that aren't under a listing contract. For example, Zillow gives you the ability to search for preforeclosure homes as well as expired or off-market listings.
These homes are not actually on the market, but they signify which homes have received a Notice of Default. So while the bank is technically the seller, not the homeowner, this allows you to contact homeowners before the house lists, which benefits sellers by providing them with a sense of control. Just note you are not going to be the only agent looking for these properties on Zillow. You'll be facing significant competition from agents, investors, and wholesalers.
Plus, it's important to keep in mind that preforeclosure homes are likely to be in a condition that's less than ideal. These homeowners are also in a difficult place of facing foreclosure, so it can be hard to convert these leads, especially for newer agents. As a result, while this feature can be a source for leads, it may not be a worthwhile prospecting tip for every agent.
Forsalebyowner.com
Forsalebyowner.com is a third-party listing site designed for FSBO sales. Since you won't have to sort through tons of agent listings to find a FSBO lead, you'll get more potential leads in less time.
However, it's a guarantee that you'll also face more competition with leads on this site than any of the other organic FSBO lead sources. Plus, you'll need a foolproof system to find, track, and follow up with all of these leads. Otherwise, your efforts to contact them will be disorganized and ineffective.
Local Newspaper Websites
Similar to Craigslist, searching your local paper will be where many FSBOs without MLS access post their home for sale. This has become a less popular source in recent years, but it can still be a place to find sellers who aren't advertising their listing online. It has the same significant drawbacks as searching on Craigslist.
You will have to establish a habit of checking the newspaper at least once per day, and approach each of these leads with the knowledge that you are likely not the first agent to contact them. This can put you at a consistent disadvantage.
Why Real Estate Prospecting Should Include FSBO Leads
Many new agents believe that FSBO leads will be tough and resistant prospects. Though they may have gone through the effort of listing the home themselves, at the end of the day, they share your goals of wanting a quick sale and a solid price. Here are three reasons why FSBO leads are some of the easiest to convert.
FSBO leads are ready to sell now: The fact that FSBO leads have listed their homes on the market shows that they are ready to sell fast.
They need little client education: They may have worked with an agent before and simply had a negative experience, but they also have probably had a few dozen strangers walk through their home, several open houses, and heard a lot of talk without seeing enough action. They can recognize your value.
They are likely frustrated by the status quo: Selling a home is a lot of work. They may have first set out to avoid paying a commission, but when buyers aren't knocking down their door, they may quickly realize they are not getting the return they expected. As a result, they are more likely to be ready to make a change.
What to Do Before Contacting FSBO Leads
No matter how you originally identified a contact, always make sure to do your due diligence and research properties before contacting a FSBO lead. Pull up the listing and assess the seller's pictures, description, and general marketing strategy.
Sometimes your seller is operating in a hot market, has a genuine interest, and has their home accurately priced. These cases are rare. The majority of FSBO leads will struggle with effectively listing and selling their own home for a variety of reasons. By doing your research as an agent, you will usually have a very clear picture as to why your FSBO leads are struggling and how you can help them remedy it.
It's worth noting that you will likely need to contact a FSBO lead more than once. While you can simply call them after a set period of time to personally check in and show them you genuinely care, another strategy is to add them to your email list with their permission. This can help build their trust as they see your expertise in their inbox.
A good real estate customer relationship manager (CRM) can help you keep track of your leads and remind you when to follow up. Freshsales lets you make calls and send emails directly from the CRM and sends you automatic follow-up reminders after your first contact. You can also create custom emails based on where a lead is in the sales cycle so no one falls through the cracks. Sign up for free today.
Visit Freshsales
When to Reach Out to FSBO Leads
Some real estate agents believe that reaching out to FSBO leads immediately is the best strategy, while others purposely wait until the listing has ripened. You'll have to test what works best for you and your market, but here are some of the benefits of contacting a FSBO right away versus waiting for several weeks to pass from the original listing date.

Whether you choose to contact a lead right away, or wait for time to pass, the most effective method of communicating with FSBO leads is to call them by phone and use a script. FSBO scripts save time, keep you focused, and help build your confidence. Since you'll be talking to people in the same situation repeatedly, using a script will help you address objections, concerns, and always have well-thought-out and formulated answers.
Don't worry if you don't get the listing from the first phone call—in fact, it's more than likely that you won't. The objective of your call is not to immediately get a new listing, but to set up a time to meet personally.
Pro tip: The best time to call is usually after working hours on a Monday.
Bottom Line
FSBO leads can be some of the easiest leads to convert into clients as long as you have a good way to find and reach them. You can find FSBO leads through organic searches or by paying a lead source like REDX, and call them using an FSBO script. Start calling and converting FSBO listings with REDX today.
Visit REDX
Sours: https://fitsmallbusiness.com/prospecting-fsbo-leads/
Similar news:
Be the Agent Who Makes a Difference
Many FSBO homeowners will fail to sell a home by themselves. With your help, they can net more money and get the most out of their listing. Be the first to reach out and provide the value they couldn't get on their own.
Sign Up
How Prospecting FSBOs Works
First, Vortex Finds Phone Numbers For All FSBO Listings In Your Area
Vortex does the dirty work by searching hundreds of classifieds, websites, newspapers, and magazines for homes listed as for-sale-by-owner, and finds missing contact information.

Then, You Call The Leads
80% of prospecting success is just showing up and making the calls. As long as you have good data, setting listing appointments is a function of time – consistently invest time prospecting and you will set listing appointments.

Practice Makes Perfect
The other 20% is knowing what to say to set the listing appointment. There are proven ways to transform FSBO listings into your listings. However, memorizing and internalizing them will take time and practice. That's why we offer free roleplaying and script practice for all of our customers and consistently host live prospecting so you can see other prospectors in action.
Struggling Agent Generates $300,000 In Commissions Prospecting FSBOs
How Steve Matthews became a confident six-figure FSBO prospector after early struggles in his career. Read what it takes to go from "terrified to terrific" without wasting tons of money.
Read More
Sours: https://www.theredx.com/products/fsbos/
1587
1588
1589
1590
1591