Outfits with Hunter Boots-20 Ways to Wear Hunter Boots
Tips on How To Wear Hunter Boots – With the winter season upon us, the time has come to wear long shoes. These protect us from the rain, cold and wind. Aside from these practical reasons, hunter boots look extremely stylish.
They make legs appear longer and thinner, and come in a range of colours and types. Paired with jeans, tights, skirts, trousers, pants, sailor pants, palazzos, dresses, shirts etc., they look extremely hot this winter season. Girls of all ages can try this style for the cold season. Take cue from our tips on how to look awesome and fashionable this chilly season. Enjoy and remember to have fun with your shoes!
Cute Outfits with Hunter Boots
#1. Classical and Chic Lady Diana Style
The Princess of Wales' style has always been considered iconic across the globe. Despite having passed away more than a decade ago, she continues to inspire women all over. Here, she is seen wearing long green wellington boots with a funky, bright sweater.
via
#2. Sophisticated High School Girl Style
For young girls, it is easy to get away with daring fashion looks. One of these is wearing bright red shoes along with jeans and a white blouse. Pair a multi coloured scarf along to add more color to your style.
via
#3. School Girl Fashion
For school girl style, match your mini skirt with your hunter shoes. Adding a pop of color with a bright yellow coat, jacket or blazer will make heads turn in your school.
via
#4. Reese Witherspoon's Sexy Style
Reese Witherspoon knows how to look super sexy and unique. Here, she wears an interesting outfit by mixing and matching a lacy white dress, with a black blazer and shiny black, patent leather boots. Such a fun, daring outfit!
via
#5. Weekend Brunch Look
Want to look sophisticated but different? Instead of your usual heels or ballet flats, wear rubber boots with your attire. You go girl!
via
#6. Sexy Mommy Look
Who says mothers can't look stylish? Why not pop on a plain t-shirt, a stripy mid-length skirt along with long hunter boots. Practical and fashionable style for women on the move.
via
#7. Sorority Girl High Fashion
Rich girls love to try new looks, and hunter boots is just the right thing this season. Match a sexy, elegant fur vest and denim top with tights and long wellington boots.
via
#8. Cute Innocent Girl Look
For a sweet style that is appropriate for teenage girls, wear polka dot tights or leggings with hunter boots. Can be worn in school and for a shopping trip with friends.
via
#9. Pretty in Pink Girly Look
Feel like dressing up like a barbie girl? Why not go all pink from head to toe. A pink parka jacket or hoodie works well with pink shoes or boots of any kind. Have fun!
#10. Street Style
via
Like the check shirt? Then you must have a look at [highlight]18 best check shirt outfit combinations for girls in all seasons[/highlight].
#11. Casual Wear
via
#12. Look For Girls In Their 20's
#13. Smart, Sophisticated Older Woman Style
via
#14. Weekday Date Look

via
#15. With Short Dress
via
#16. Perfect Look For Blondes
via
#17. Rainy Season Look
#18. Skinny Jeans with Hunter Boots
#19. Work Wear Fashion
via
#20. With Skirt
Also check out [highlight]Lita Boots outfits – 17 ways to wear lita shoes fashionably[/highlight]
via
Caz Jones
Caz, aka Vixen, has been freelance creative writing for several years. She has a lot of experience in different fields including high street fashion, tattooing art, and even the gothic and historical costumes. Caz has a Diploma in Fashion and Textiles and also a Bachelors Degree in Historical Costume and Corsetry. Her passion lies with gothic design, corsetry and any other styles considered to be taboo or unusual. Style-wise Caz has a love for Vivienne Westwood and her take on the punk era. Although Caz loves the weird and wonderful, she has a deep love for all fashion and allows this to show through her work.
Sours: https://www.outfittrends.com/outfits-with-hunter-boots-ways-to-wear-hunter-boots/
How To Style And Wear Hunter Boots
Struggling to figure out how to look chic in the rain? This season, wellies are no longer relegated just to muddy festivals – British footwear favourite Hunter Boots are hitting the streets. Stylish, practical and comfortable, with our outfit ideas you'll be jumping happily in puddles in no time.
How to wear Hunter Boots with Jeans
Classic and versatile, wearing your Hunter Boots with jeans is the easiest way to work these rainboots into your wardrobe.
The trick is to keep the jeans slim and streamlines. Skinny jeans tucked in perfectly show off the Hunter boot shape.
Elongate your pins with dark denim. Blue or black can be paired with any Hunter boot colour – from the classic black Hunter boot, vibrant red to olive green.
Comfy thick socks will keep you comfortable and help retain the Hunter boot structure.
Top off your look with plaid scarves, chunky cardigans or your favourite tailored wool coat.
How To Wear Hunter Boots With Skirts
Hunter Boots and skirts are a match made in fashion heaven. Universally flattering and feminine, here's how to style your favourite skirts with Hunter Boots.
Getting the length right is key. Keep hemlines above the knee to add enough of a break between the boot and the skirt. See more cute ways to wear a mini skirt.
For cold days, stay warm with a of pair tights. Go for classy dark tones and avoid prints.
Don't be afraid to switch things up with your skirt shape. An A-line is classic city chic while skater style adds a trendy vibe.
Fabric and texture add interest to your outfit. We love corduroy for winter days and cotton for summer.
How to wear Hunter Boots With Shorts
The Hunter Boots and shorts combination is a look which never goes out of style. Read our top fashion tips:
Channel that eternal summer vibe with a pair of frayed denim cutoffs.
Feeling too casual? Instantly dress up the look by throwing on your favourite black leather jacket or military jacket: See more ways to style the military jacket.
While knee high socks are optional, they will help the boot stay in place and keep you comfy through the day.
Balance the rest of your look with a loose long sleeve top, scarf and cross body bag.
Still need more ideas of what to wear with Hunter Boots? These stylish bloggers have all the inspiration you need:
Featured: Elegant and trendy, Katarzyna Tusk pairs her Hunter Boots with tights, oversized scarf and a tailored coat. Umbrella: optional
Skirt: Zara, Boots: Hunter, Coat: Stefanel, Scarf: COS, Bag: Torebka, Sweater: Mango 
Sours: https://www.justthedesign.com/outfits/fall/how-to-wear-hunter-boots/
Spring is officially here! April Showers are coming which means we need to break out our rain boots! I rounded up so many Hunter Rain Boots Outfits for you to see.
There are many great deals going on right now and I was shocked to find that some were almost half off!
Scroll through to be inspired by these cute outfits and shop the amazing sales I found!
Hunter Rain Boots Outfits aka Wellies (love that name!)
WHY HUNTER RAIN BOOTS?
They are ALWAYS in Style! These photos range from many years ago to today! That just shows that they are not a quick trend that is going to be over with next season. They are here to stay!
2. They have a classic look that pair with any outfit. You can see that they go with anything in your closet from jeans to leggings and skirts to dresses. Not only that, but they can go from season to season. They work year round so you get the most for your money.
3. They stand the test of time for both style and quality. You are going to pay more for them, but they are going to last you for years. They do get a worn out look to them if you don't buy the glossy pair. To polish them up use olive oil or this Hunter boot buffer from Amazon. This boot buffer will bring your boots back to life! If they get a chalky look to them, just use the boot buffer and it will shine them right up.
4. They are adorable and totally fashionable! That's the main reason I love them! They come in tons of colors and as well as short and tall. In addition, you can buy these cute little socks to wear with them for extra warmth.
Can You Wear Them In The Snow?
Yes, you can wear them in the snow as it will not damage your boots. However, they are not super warm. They are truly just rain boots. You can buy the boot socks for increased warmth, but if it's freezing out you'll definitely want to wear your Winter Boots.
How To Get Them for Less
Okay, so here's the exciting part if you are lucky enough to have smaller feet(not me)! Buy them in KIDS SIZES!!!! The rule of thumb is to subtract 2 sizes from your regular shoe size to figure out your kids shoe size. So if you are a 7 then your kids shoe size is 5.
Kids Boots
Original Gloss from Nordstrom you can get for $80
These adorable Pink Kids Boots are only $65!!
Original Classic Kids only $55
Shop all kids boots at Zappos
If you are a half size it is recommended that you size down.
Zappos and Nordstrom both have free shipping and returns so you can order multiple sizes and return if you're not sure on sizing.
Rain Boots on Sale at Zappos
Tall Boots
Short Boots
Search the rest of the Sales at Zappos. There are alot 🙂
Find Your Style
TALL
SHORT
Too many cute looks to choose from, right? I understand why so many of you have bought different ones through the years!
If I see any more sales I will try to update this post with the latest. I'm all about finding a deal.
Oh and if you don't have Amazon Prime here is a link for a free trial so that you can get free shipping if you want any boots from Amazon.
Thanks so much for visiting.
If you liked this post please pin and share!
RECENT POSTS: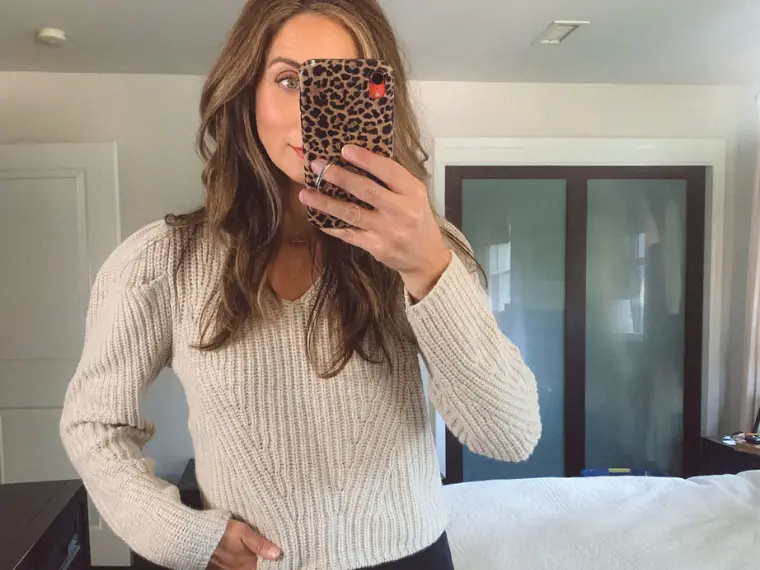 Target September Try On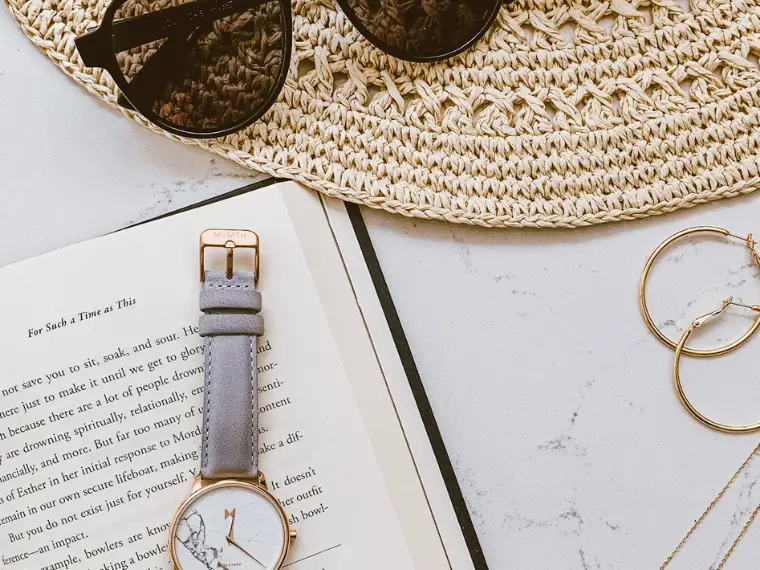 MVMT Brand Review| Is MVMT a Good Brand?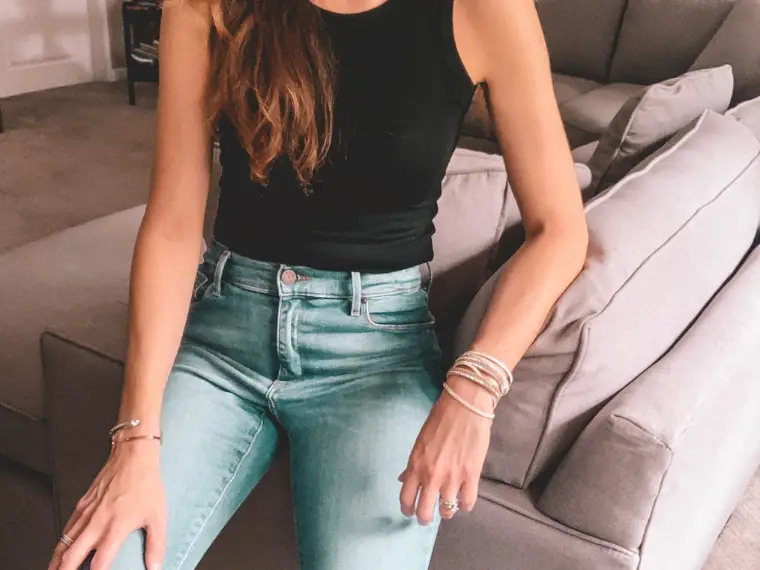 How I'm Styling My Light Wash Jeans For Spring and Summer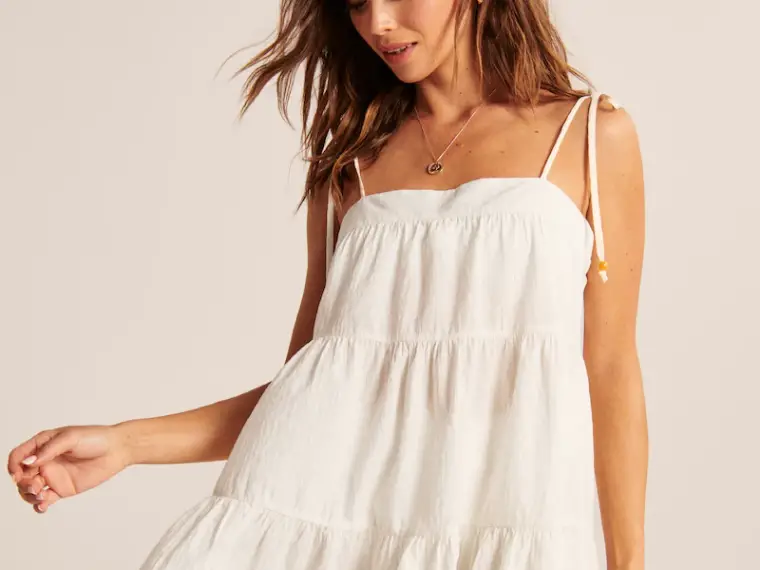 The Cutest Swim Cover-Ups For Summer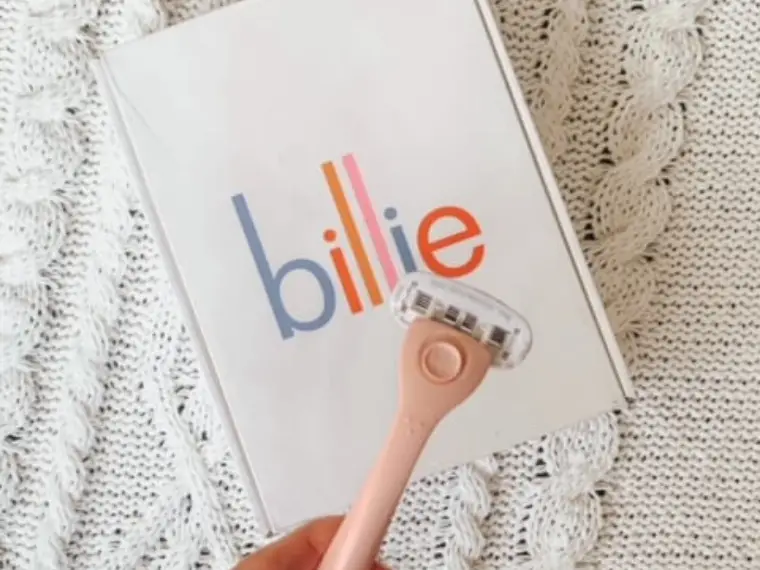 Billie Razor Review| Is The Billie Razor That Good?
by Nicole | 0 comments
Sours: https://www.lilliesandlashes.com/hunter-rain-boots-outfits/
Water proof rain wear rubber hunter boots outfits ideas/how to style glossy rain wear hunter boots
6 Ways To Wear Rain Boots: From Cute To Classy
Some wardrobe items are just trickier to pull off than others. Rain boots are one of those items. No-one questions their practicality, but when it comes to incorporating them in an outfit, it's easy to get sartorially stumped. Check out these 6 tips on how to wear rain boots to help you out.
Have fun with color
Brighten up a rainy day with colorful footwear. Make your rain boots a talking point of your outfit by choosing a pair in an eye-catching color, like red, fuchsia or purple.
This casual combination of a navy leather biker jacket and blue jeans comes in handy when you need to look stylish but have no time to dress up. Wondering how to round off? Add a pair of purple rain boots to the mix for a more laid-back aesthetic.
Chooka
Top Solid Rain Boot Black
Out of stock
Helly Hansen
Veierland Rain Boot
Out of stock
Joules
Rain Boot Field Welly
Out of stock
Opt for a grey polka dot crew-neck sweater and a grey horizontal striped mini skirt to pull together a seriously chic and modern-looking off-duty ensemble. Hot pink rain boots provide function, but with a fashion effect.
Hunter
Wellington Rain Boots
Out of stock
Ilse Jacobsen
Rub 1 Rain Boot
Out of stock
Hunter Boot
Original Tall Welly Boot Lipstick Pink
Out of stock
Teaming a navy fair isle crew-neck sweater with black leggings is a great option for an off-duty but totaly chic outfit. You could perhaps get a little creative when it comes to shoes and throw in a pair of red rain boots.
PENDLETON BOOT
Pendleton Rainier National Park Chelsea Rain Boot
$99
Free US shipping AND returns!
Ilse Jacobsen
Hornbk Rubber Boot
$189
Free US shipping AND returns!
Hunter
Original Short Waterproof Rain Boot
$150
Free US shipping AND returns!
Add rain boots to a classy outfit
Don't be afraid to incorporate rain boots into a dressy outfit. Believe it or not, but a pair of rain boots in black or navy can be a classy and sophisticated addition to your work outfit. You can swap them for heels before an important meeting, but slide back into them afterwards and look just as polished and pulled together.
Why not marry a charcoal herringbone coat with black skinny pants? Both pieces are very practical and will look great married together. Feeling creative? Mix things up a bit by wearing navy rain boots.
Armani Jeans
Rainboot With Crystal Rain Shoe
Out of stock
No Brand
Sloosh Italy Sloosh Classic Rain Boot
Out of stock
PENDLETON BOOT
Pendleton Crater Lake National Park Tall Rain Boot
$150
Free US shipping AND returns!
You'll be surprised at how easy it is to get dressed this way. Just a tan trenchcoat worn with a black pleated mini skirt. Why not introduce a pair of black rain boots to the mix for a touch of stylish nonchalance?
Chooka
Top Solid Rain Boot
Out of stock
Hunter
Sandhurst Tall Rain Boot
Out of stock
Helly Hansen
Veierland Rain Boot
Out of stock
Go for something off-duty yet current in a navy parka and navy skinny jeans. And if you need to immediately dial down your ensemble with one piece, add black rain boots to the equation.
MICHAEL Michael ...
Michl Michl Kors Stockard Rain Boot
Out of stock
Kate Spade
New York Romi Rain Boot
Out of stock
Gucci
New Prato Rain Boot
Out of stock
Wear rain boots with socks
A sure-fire way to keep your feet warm and dry on a rainy day and also look super cute, is to wear your rain boots with knee-high socks.
Exhibit your style-savvy side by wearing a charcoal herringbone coat and black leggings. Complete your look with purple rain boots to easily kick up the appeal of this getup.
Hunter
Gloss Short Rain Boots Violet
Out of stock
Helly Hansen
Veierland Rain Boot
Out of stock
Hunter
Original Tall Gloss Wellington Boots Violet
Out of stock
For an outfit that's super simple but can be flaunted in a ton of different ways, team a red coat with black leggings. Get a bit experimental on the shoe front and complement your look with a pair of red rain boots.
Baffin
Packables Boot Boots
Out of stock
Aigle
Ntine
Out of stock
Superga
Tall Rain Boots
Out of stock
A pink windbreaker and black leggings are great pieces to add to your day-to-day casual arsenal. Take a more casual route on the shoe front with dark green rain boots.
Hunter
Rain Boots Original Tall
Out of stock
Steve Madden
Dreench
Out of stock
Jessica Simpson
Misty Rain Boots
Out of stock
Wear rain boots with skinny jeans and leggings
When it comes to rocking a pair of rain boots, skinnies and leggings are a no-brainer. Tuck them in and show off your rain boots in a cute and cozy outfit.
Team a red crew-neck sweater with olive skinny jeans if you want to look casually edgy without trying too hard. A pair of navy rain boots will add a relaxed aesthetic to the outfit.
Very Volatile
Huxley Rain Boot
Out of stock
Hunter
Original Contrast Rubber Rain Boot
Out of stock
Aigle
Venise
Out of stock
Opt for a black crew-neck sweater and charcoal skinny jeans for an everyday outfit that's full of charm and personality. Go the extra mile and change up your ensemble by rocking black rain boots.
Tretorn
Kelly Vinter Lined Rain Boots
Out of stock
No Brand
Posh Wellies Quizz Quilted Tall Rain Boot
Out of stock
Ted Baker
London Berklean Waterproof Rain Boot
Out of stock
For a casually cool outfit, wear a white cable sweater with navy skinny jeans — these items play perfectly well together. Why not take a more relaxed approach with shoes and complete your ensemble with a pair of white rain boots?
Pendleton
Glacier National Park Chelsea Rain Boot
$110
Free US shipping AND returns!
Bogs
Kicker Chelsea Waterproof Rain Boot
$65
Free US shipping AND returns!
Bernardo
Penney Rain Bootie
Out of stock
Wear rain boots with skirts and dresses
Don't be afraid to team your rain boots with a girly skirt or a summer dress.
Consider wearing a light blue print skater dress for a relaxed look with a modern take. If you wish to easily dial down this look with shoes, introduce a pair of orange rain boots to the equation.
Chinese Laundry
Dirty Laundry Royal
Out of stock
Kamik
Mission Rain Boot
Out of stock
Tretorn
Wings Rain Boots
Out of stock
For a look that offers comfort and style, choose a red varsity jacket and a black skater skirt. To add a more laid-back finish to your look, complete this getup with black rain boots.
Melissa
Riding Rain Boots
Out of stock
No Brand
Sloosh Italy Sloosh Original Rain Boot
Out of stock
Superga
Tall Rain Boots
Out of stock
Try pairing a multi colored floral blazer with a white lace tank dress to feel confident and look trendy. A pair of red rain boots effortlesslly bumps up the cool of this getup.
MICHAEL Michael ...
Michl Michl Kors Fulton Harness Rain Boots
Out of stock
Salvatore Ferragamo
Rain Cold Weather Boots
Out of stock
Le Chameau
Footwear Cavaliere Rain Boot
Out of stock
Make a statement with printed rain boots
Printed rain boots are a great way to demonstrate your fashion savvy. Luckily, the selection of printed rain boots available these days leaves your options endless.
For something on the cool and casual side, try this pairing of a grey hoodie and black leggings. Finishing off with brown leopard rain boots is a guaranteed way to inject a more relaxed touch into this ensemble.
Missguided
Kat Leopard Print Wellie
Out of stock
dav
Jelly Lug Leopard Print Rain Boots
Out of stock
Charlotte Russe
Rubber Leopard Print Rain Boots
Out of stock
This off-duty combination of a black wool tunic and blue skinny jeans is extremely easy to throw together without a second thought, helping you look chic and ready for anything without spending a ton of time digging through your closet. Put a modern spin on an otherwise standard ensemble with a pair of brown plaid rain boots.
Kamik
Edinburgh Plaid Rain Boot
Out of stock
Emilio Pucci
Rain Boots
Out of stock
Burberry
Beige Nova Check Rubber House Check Rain Boots
Out of stock
This casual combo of a beige oversized sweater and navy skinny jeans takes on different nuances depending on how you style it out. Want to play it down on the shoe front? Complement this outfit with a pair of black print rain boots for the day.
Emilio Pucci
Rain Boots
Out of stock
The Sak
Rhythm Rain Boots
Out of stock
Pendleton
Harding Waterproof Short Rain Boot
$130
Free US shipping AND returns!
Do you like the featured outfits? These are some of the most stylish and popular combinations out there. But you can also filter out the outfits you see to match your own clothes.
Add some of your clothes to your digital wardrobe on Lookastic, and we'll show you outfits you can put together. Click here to get started .
Sours: https://lookastic.com/women/trends/6-ways-to-wear-rain-boots-from-cute-to-classy-35
Ideas boots outfit hunter rain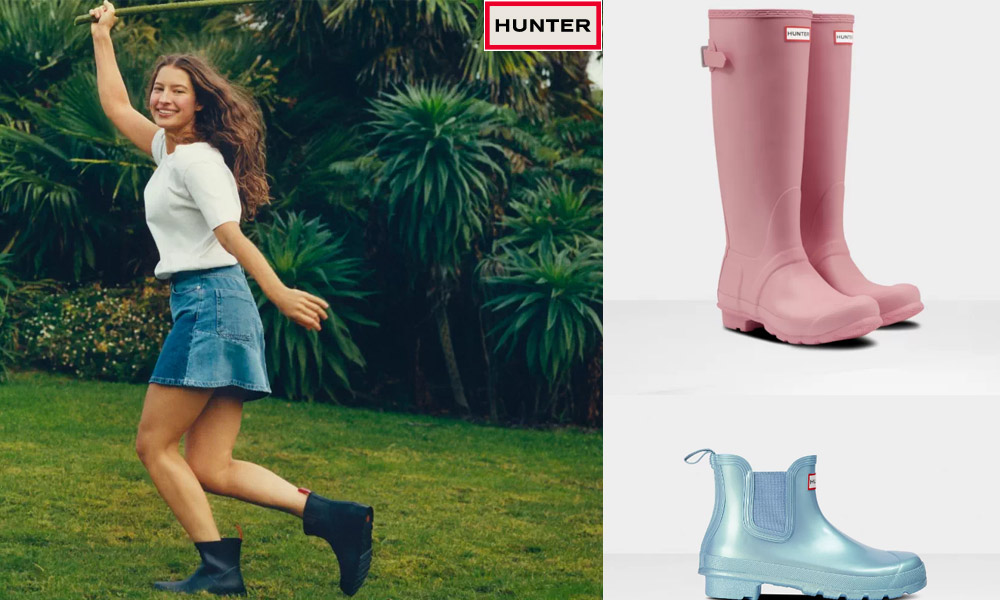 Rubber rain boots from Hunter boots brand are becoming a staple in the fashionable woman's closet. They are the equivalent of a souped-up wellie, which has a ton of trendy style and a great range of bright and dark colors to match your winter and summer outfits.
They are more durable than other rain boots and will last for many years, because you are buying top quality materials and a well-made piece of practical footwear.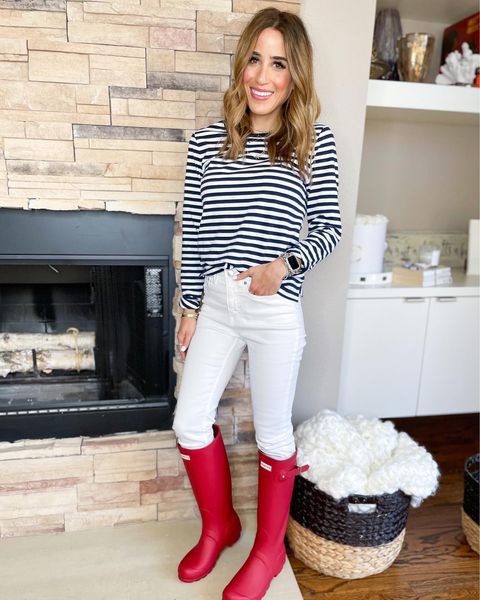 Town & country
Hunters are equally useful in town and country life, and will protect your shoes as you travel to work in the rain, and then change into your smart, dry shoes for the rest of the day. No-one needs to have wet feet and soggy shoes as they begin their working day and when you've paid a fair amount for smart shoes, it's silly to ruin them in wet and muddy conditions.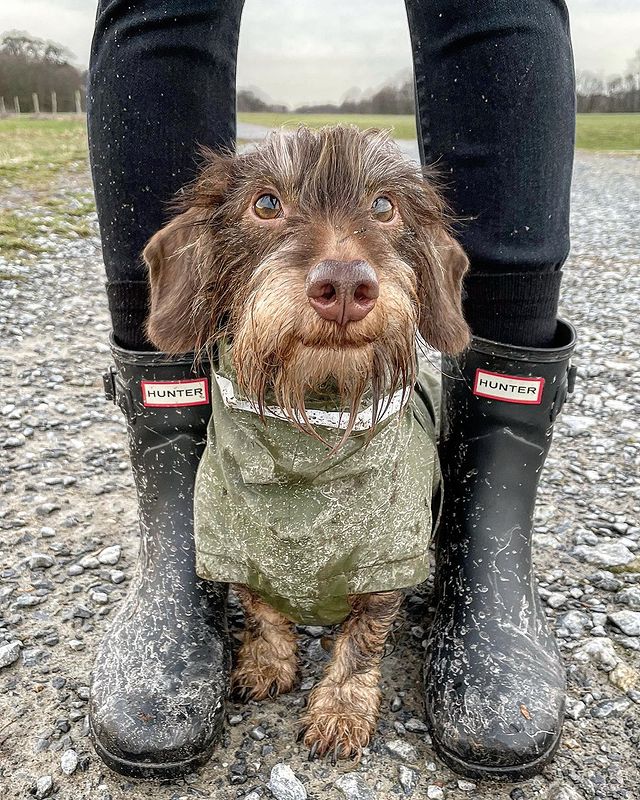 Hunter boots styling ideas for fashion fans
Hunters are a contemporary wellington boot that became popular owing to the need for protective boots during the music festival season, when mud is everywhere. However, they recently crossed over to become a more comfortable and modern-looking wellie, we fashion fans can wear anytime to keep our feet warm and dry.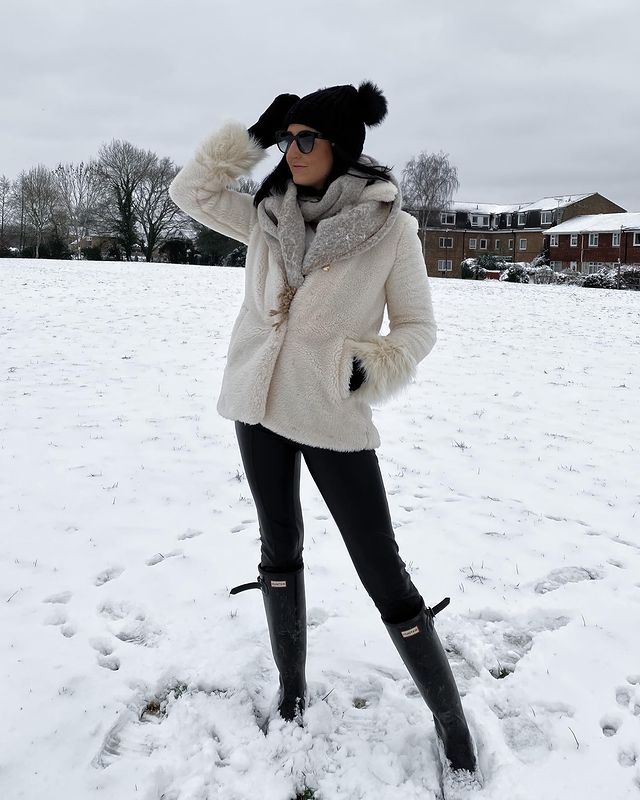 It's not easy to look chic when you're outside on a rainy day and so here are some useful suggestions about how to make your outfit look great when wearing Hunter boots.
Styling Hunter boots with jeans
As it's usually cold when you need to wear your Hunter boots, you'll probably be wearing jeans to make a classic and easily varied outfit.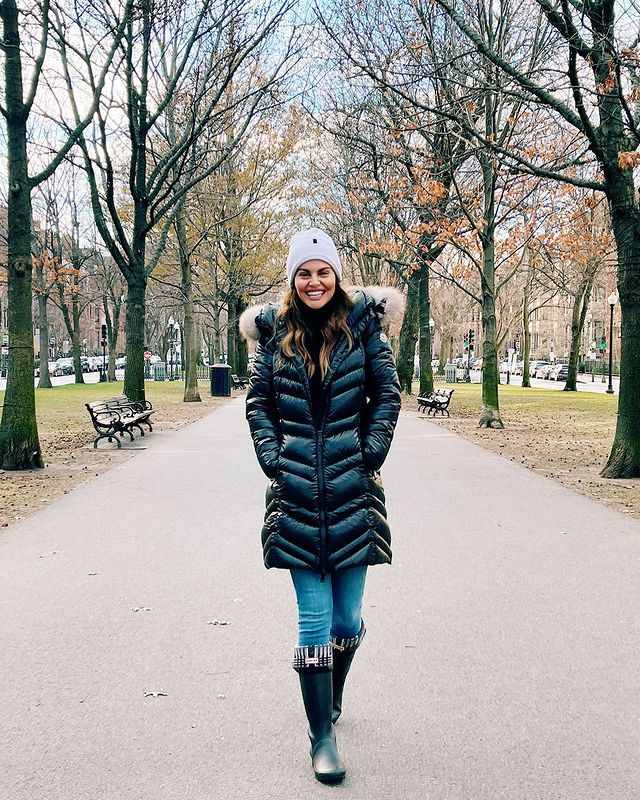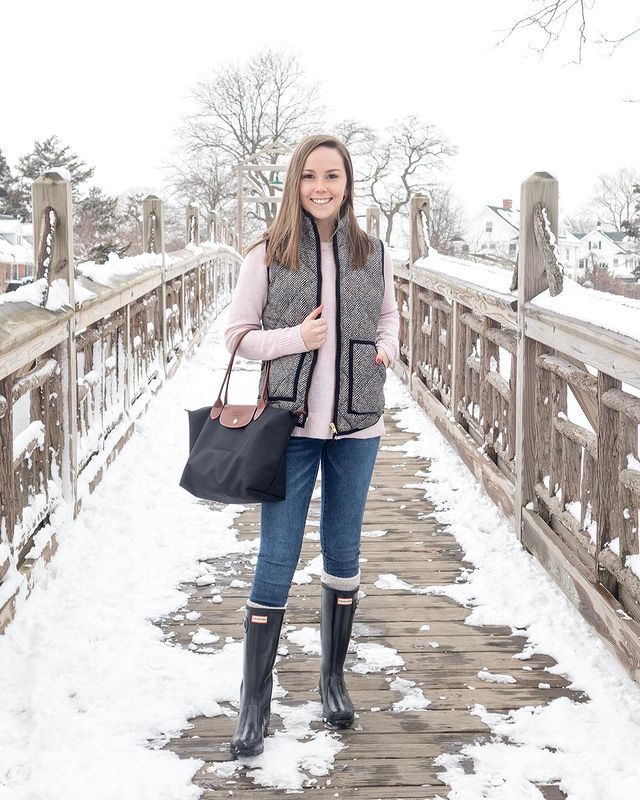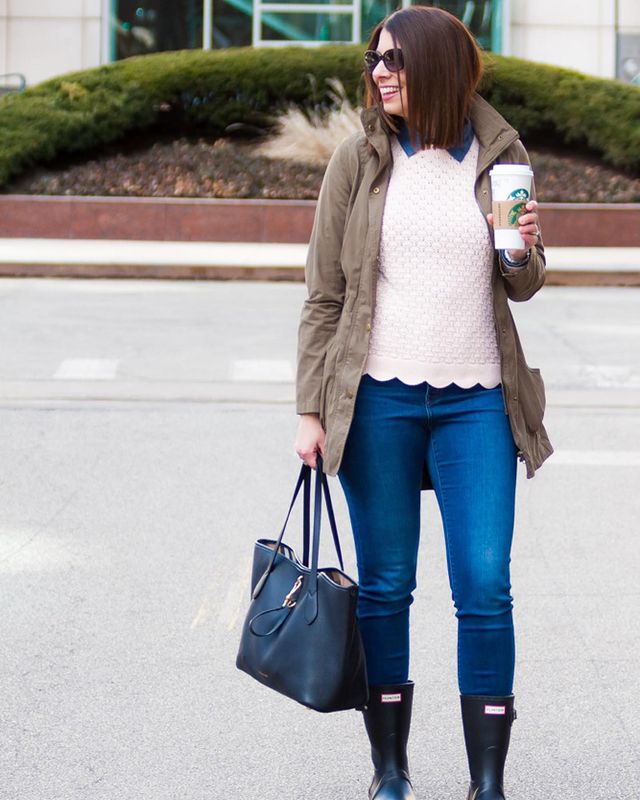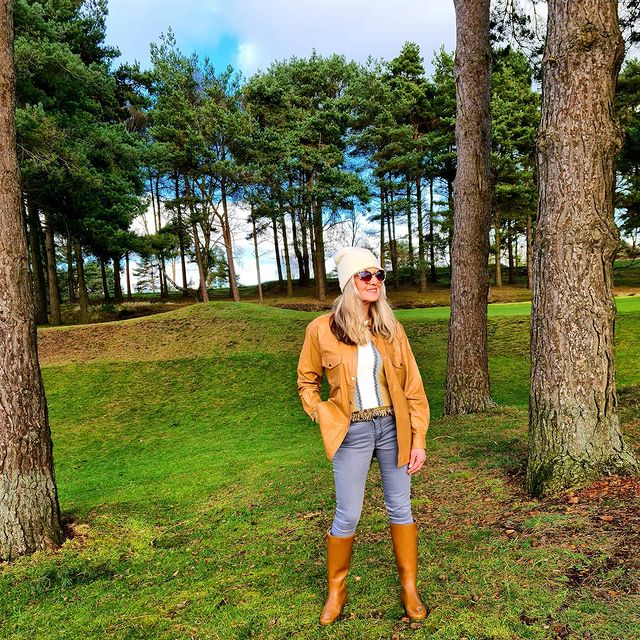 The original idea was to wear skinny jeans tucked into the top of your Hunters to display the elegant shape of your footwear in a streamlined silhouette.
You will be able to wear your Hunter boots with all of the wider-leg jeans' styles, but obviously you won't be able to tuck your jeans in to the top of the boots. However, we recommend high-waist, straight-cut or the 'boot-cut' style to get the best look with this brand of practical high boots.
You can make your legs appear longer by wearing dark denim, which you probably will be anyway as it rains more in the winter months. However, you can also match black with any Hunter boot color – from vivid red, olive and black.
Very thick socks will keep your feet comfy and they also work to keep the Hunter boot structure looking sharp.
Finish off your outfit with a trendy plaid scarf, a thick sweater and a warm, fitted overcoat.
Styling Hunter boots with skirts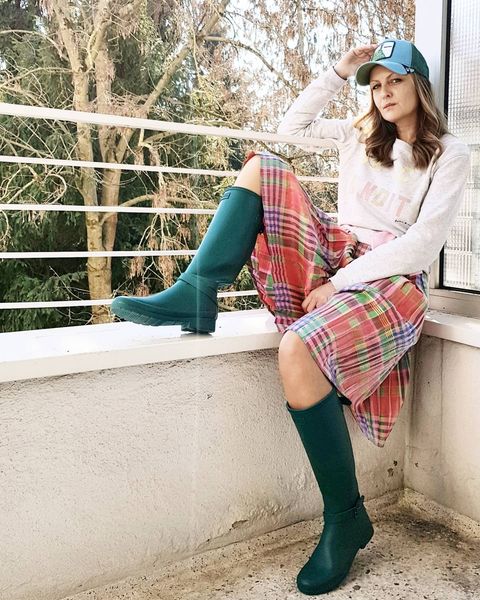 Not as difficult as you may imagine! Hunter boots and short skirts actually look great together and here's how to look feminine and stylish in your fave skirts and boots.
Wearing a short enough length to create a break between the top of the boot and your skirt's hem is vital. So skirt hemlines should be above the knee and never so long that they cover the top of your Hunters.
Wear fine or thick tights and choose plain darker colors, not patterned tights.
Skater style skirts add a trendy vibe, and an A-line shape is perfect for urban chic. Stretchy tube, pencil skirts are also fine and will give you a slimmer silhouette.
Think about the fabric and its texture when adding interest to any outfit. For instance, corduroy is great for fall and winter, whereas cotton fabrics look good in the summertime.
This year's trendiest skirt for summer will be the tennis skirt. This is a micro-mini skirt you probably need to wear with short, cycle shorts underneath, as it's pleated and will blow upward in windy conditions. The new tennis skirts are not white, but fashionable checked and plaid patterns in gray, beige, black, white or red tartans. So they'll look great with your Hunter boots at a festival!
Need to look well-dressed for an appointment on a rainy day? Wear your Hunter boots with a brown and camel plaid skirt, a camel or cream sweater with a nice gold pendant necklace and a woolly hat with a fur pom-pom.
Wearing shorts with Hunter boots
Hunter boots look great with all types of shorts, and that includes denim, leather, biker shorts, fitted dress shorts and loose cotton-print shorts.
And loose, summery cotton-print shorts can be worn with Hunter boots and a pretty blouse or shirt. There are lots of lace tops that would look great in white and cream, so easy to match with patterned shorts.
The cropped cardigans for summer this year are available in cute, feminine pastel colors that are perfect for wearing as sweaters over shorts or skirts and Hunter boots. The colors are lavender, pale blue, baby pink, soft moss-green and gentle yellow plus all beige and cream shades. And some of the cardigans have lovely pearl or jewel buttons, as well as gorgeous lace collars.
In the summer, you can wear a pastel colored faux-leather jacket with your colored or black patent Hunter boots for a fresh, summer look with a dress or skirt.
You always need to wear knee-high socks with Hunters, as they help the boots fit well, so choose an unexpected color like vivid pink and match with black, biker shorts and a pink sweater.
For a classic and casual fall outfit, pair your rain boots with a fall plaid-flannel, button-down top and a camel coatigan.
For a military look, wear dressy black shorts with one of the collarless, zip-up faux black leather jackets from Kiabi stores. They are high-quality, but incredibly low-priced, like all of the new faux leather garments we're enjoying right now.
Cover up with one of the over-sized denim jackets that are fashionable for spring and summer.
If it's cold, style your Hunter's with one of the latest shearling denim jackets, which have a lovely lambskin collar to keep out the draughts.
Add a dull-green, military jacket for a suitably scruffy festival or evryday neo-grunge look.
Wear a contemporary trench-coat in trendy olive or brown over a short skirt or tucked-in jeans and a cross-body bag with Hunter boots in the city.
In spring, you can look fashionable in a cardigan-coat, which is a long, thick cardigan in gray, brown shades and subtle colors. And as we leave the coldest weather behind, there are lots of cardi-coats with vivid colors and unusual patterns to brighten up those days when you need to wear your Hunter boots.
Green and brown are colors that have often been ignored, but not this year! So style-up your boots with green or brown jeans, and a leopard-print beanie to show your personal style.
And don't forget that white and beige jeans are now an all year round staple, which always looks fresh. Try wearing with this year's soft camel sweaters for a soft, feminine vibe.
Matte finish or glossy Hunter boots?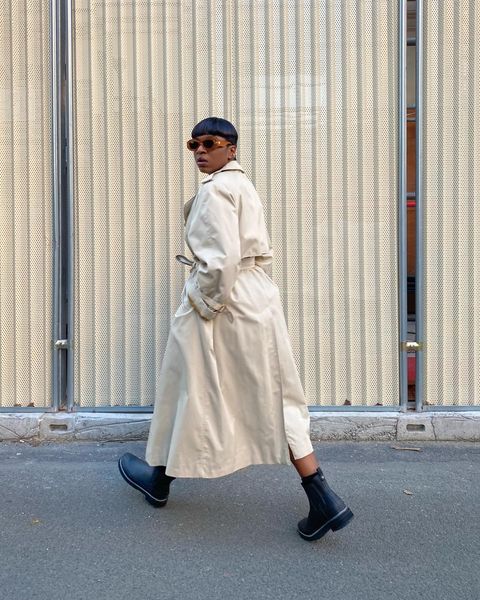 It's a difficult decision for some of us, as shiny boots do look pretty swish and the variety of shiny colors includes vivid red, hot pink, Kelly green and bright yellow glossy boots, along with black. If you are a frequent Hunter boot wearer, you'll probably decide to have two different pairs.
Shiny black books look ultra-smart especially with shiny vinyl leggings and rainbow colors will fit right in with lots of different skirts, shorts and dresses. Most people wear matte finish for bad weather and glossy boots when they want a smarter look.
Now that we are all starting to wear our summer clothes more, as layers during the winter time, we get better value for money on our fashion investments. And Hunter boots are an incredibly trendy and versatile way to protect your good leather shoes and boots when the weather is wet and muddy. So will you be wearing red Hunter boots with thick tights and a red plaid tennis skirt this spring?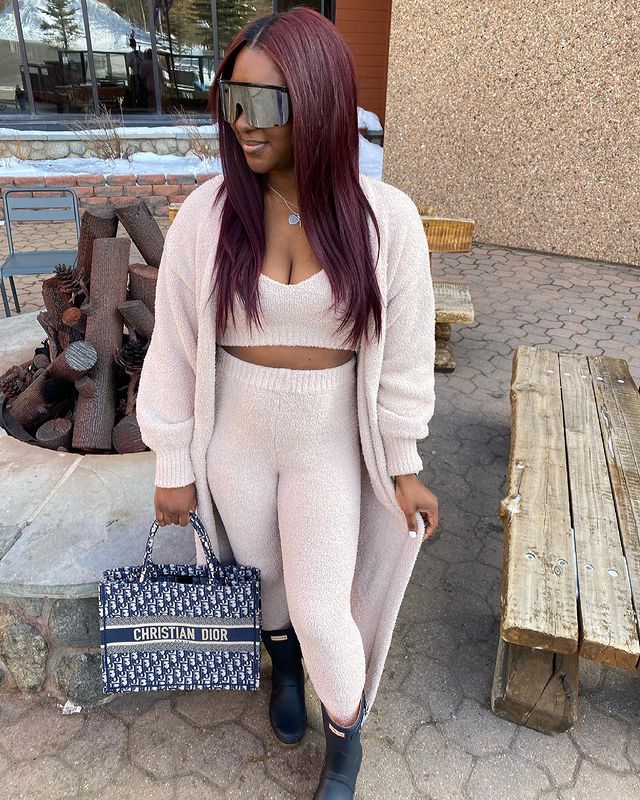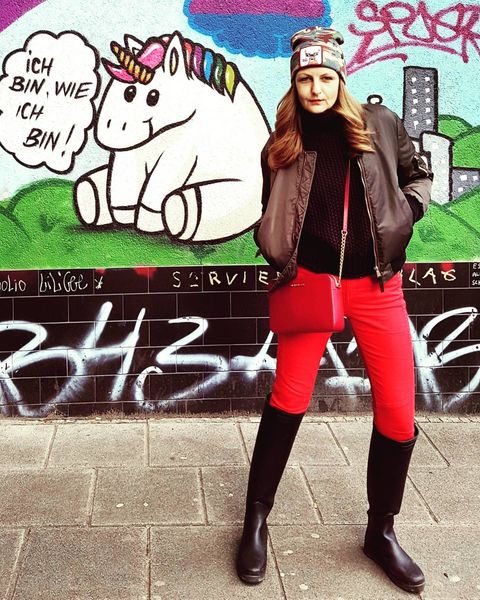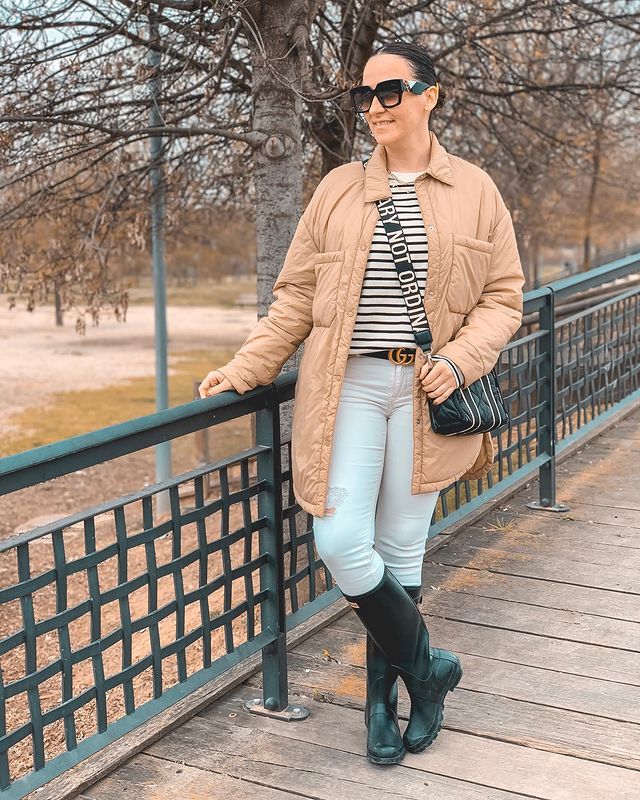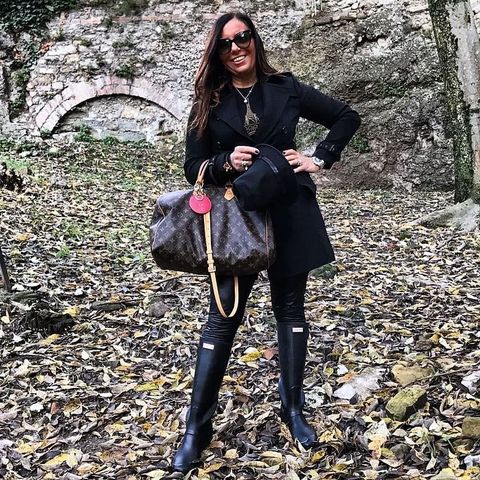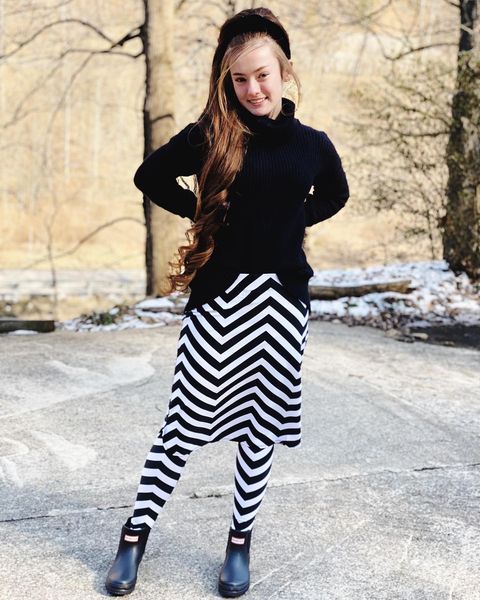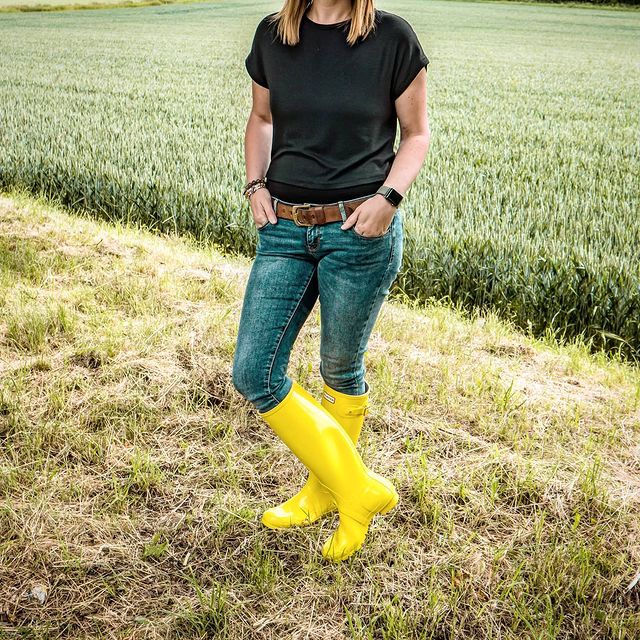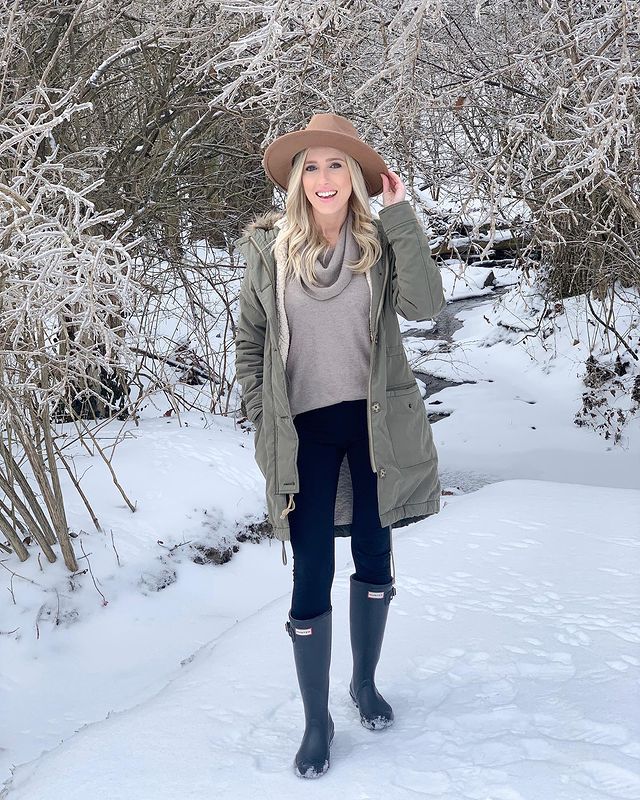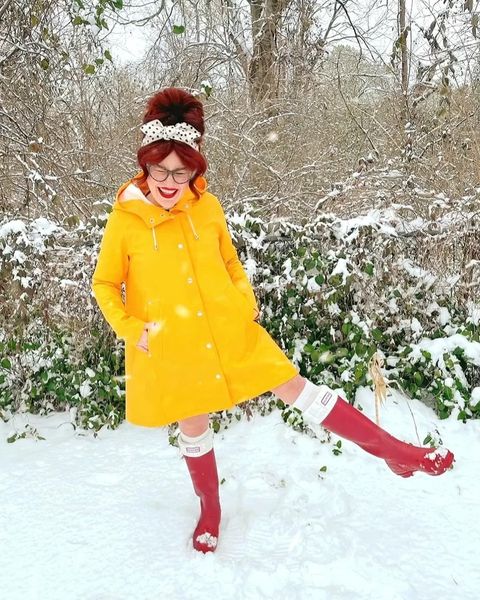 Sours: https://www.herstylecode.com/fashion/how-to-wear-hunter-boots-as-a-trendsetting-fashion-fan/
WINTER OUTFITS 2020 - Samantha Guerrero
How To Wear Hunter Boots and Look & Feel Cool, ft. 9 Outfits
Hunter boots are a pain to wear.
… like they look really cute, but they're heavy.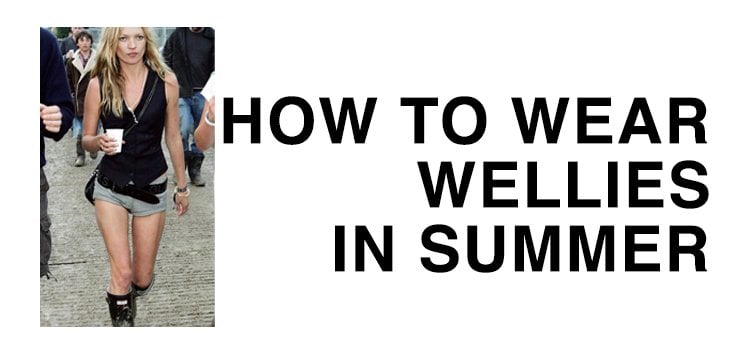 While most celebrities wear them at Glastonbury, clocking in at 2 pounds, they aren't easy to wear all the time.
Let alone a city in the summer.

… but when the puddles are too deep for your Converse, Hunter rain boots become a necessity.
So let's look at how we can wear Hunter boots in the summer and still keep cool (literally and figuratively).
---
In 2006, I bought my first pair of wellies — over the next 2 summers (before I left Montreal), I wore them to every music festival I went to.
Classic Hunter boots have a 16" shaft, which means they come just to the bottom of your knees… it also means that they can be a bit tricky to wear.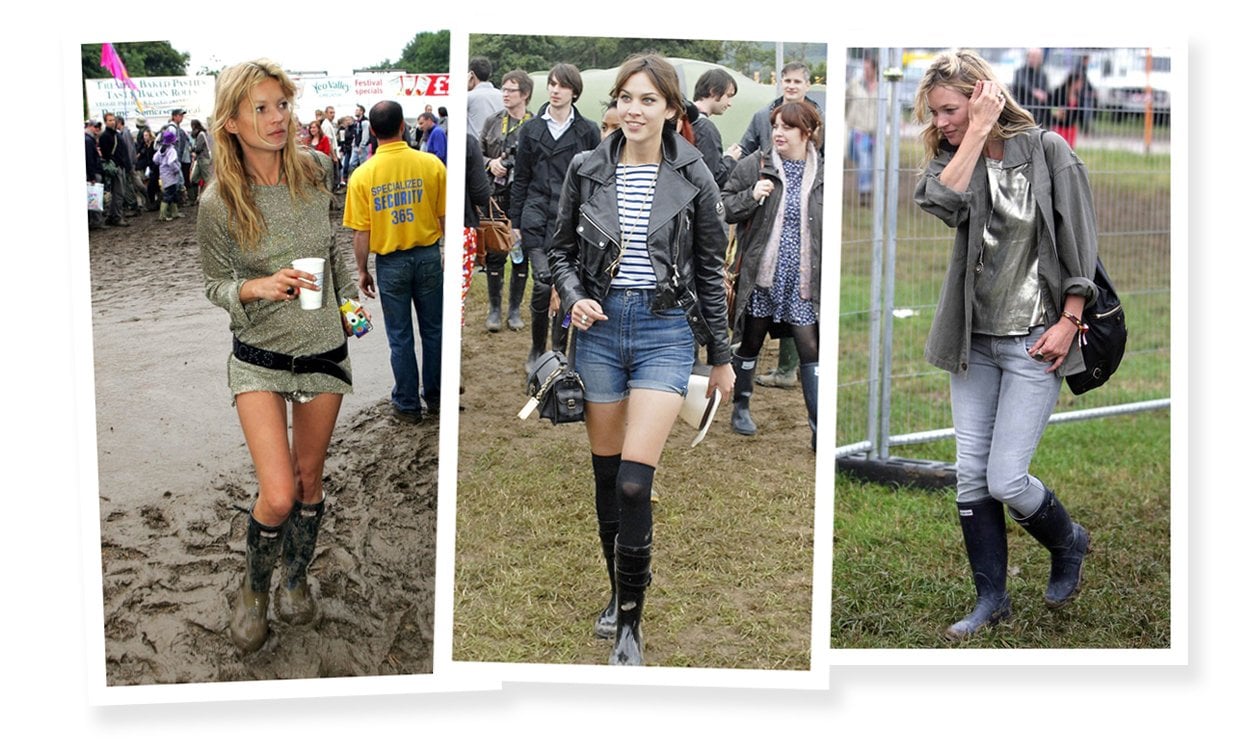 Here's the #1 thing I've learned about wearing these tall rain boots in the summer:
Keep Cool
The main thing about wearing Hunter boots in summer is to keep literally cool — especially since these rubber boots trap heat.
What to Wear with Rain Boots to Beat the Heat:
1- Dresses: If your dress is short enough, it'll complement your tall Hunter boots and help keep you cool… unless you're Dame Shirley Bassey headlining Glastonbury, then ball gowns all the way!
2- Shorts: Denim shorts (or regular shorts) will let your legs get some air while you're lugging around in these 2lb sweat traps.
3- Jeans: Wearing jeans with Hunter boots is possible, but you really need to make sure your top is breathable — otherwise you might overheat. Also, flared jeans can work if you fold the bottoms before you put on your boots (skinny jeans still look better though).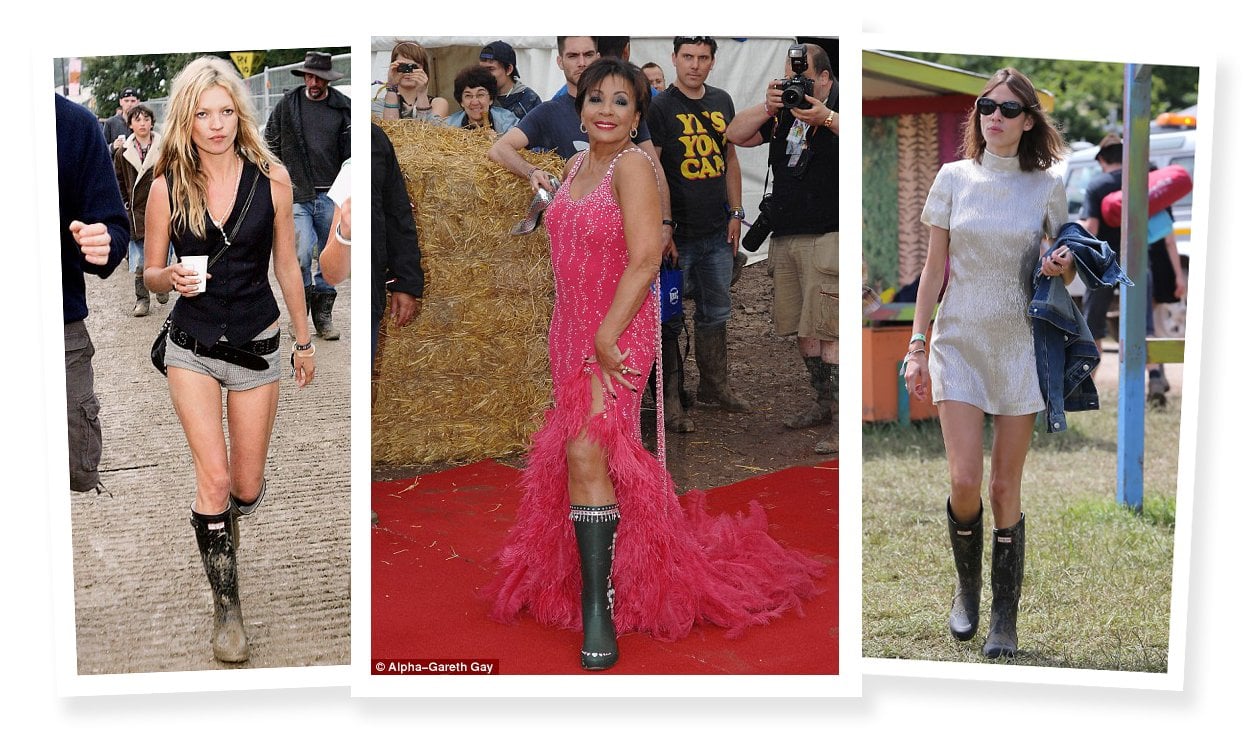 TIP: If you're wearing them to/from your office, bring an extra pair of shoes with you — wearing wellies in your office while you're working could weigh you down, so it's way easier just to change out of them when you get there.
… and how to keep figuratively cool?
Try vintage or vintage-looking accessories and don't take your outfit seriously. Imperfections (that includes messy hair!) make an outfit look much more interesting.
Now for some real and really wearable outfits…
What Bottoms to Wear with Hunter Boots
Hunter Boots and Dresses Outfits
Who doesn't love a dress with Hunter boots in the summer?
Super cute and super cool, you'll want to wear this combination even if it isn't raining out…
Left to Right: Skin slip dress with a G Star Jacket, Dita sunglasses, vintage earrings and a Kate Moss x Topshop bag; Kate Moss x Topshop dress with a Burberry trench coat, Celine sunglasses, In God We Trust necklace, and a vintage bag; HVN dress with a Burberry Trench Coat, Celine sunglasses, Jennifer Fisher x Goop hoops, and a Kate Moss x Longchamp bag.
Hunter Boots and Denim Shorts Outfits
Denim shorts make your outfits literally (as in actually temperature wise) cooler — while a light cotton top will also help your outfit breathe feel cooler.
I love how denim shorts and rain boots look with a trench coat, but you can totally wear any waterpoof jacket (obviously, it's your outfit after all).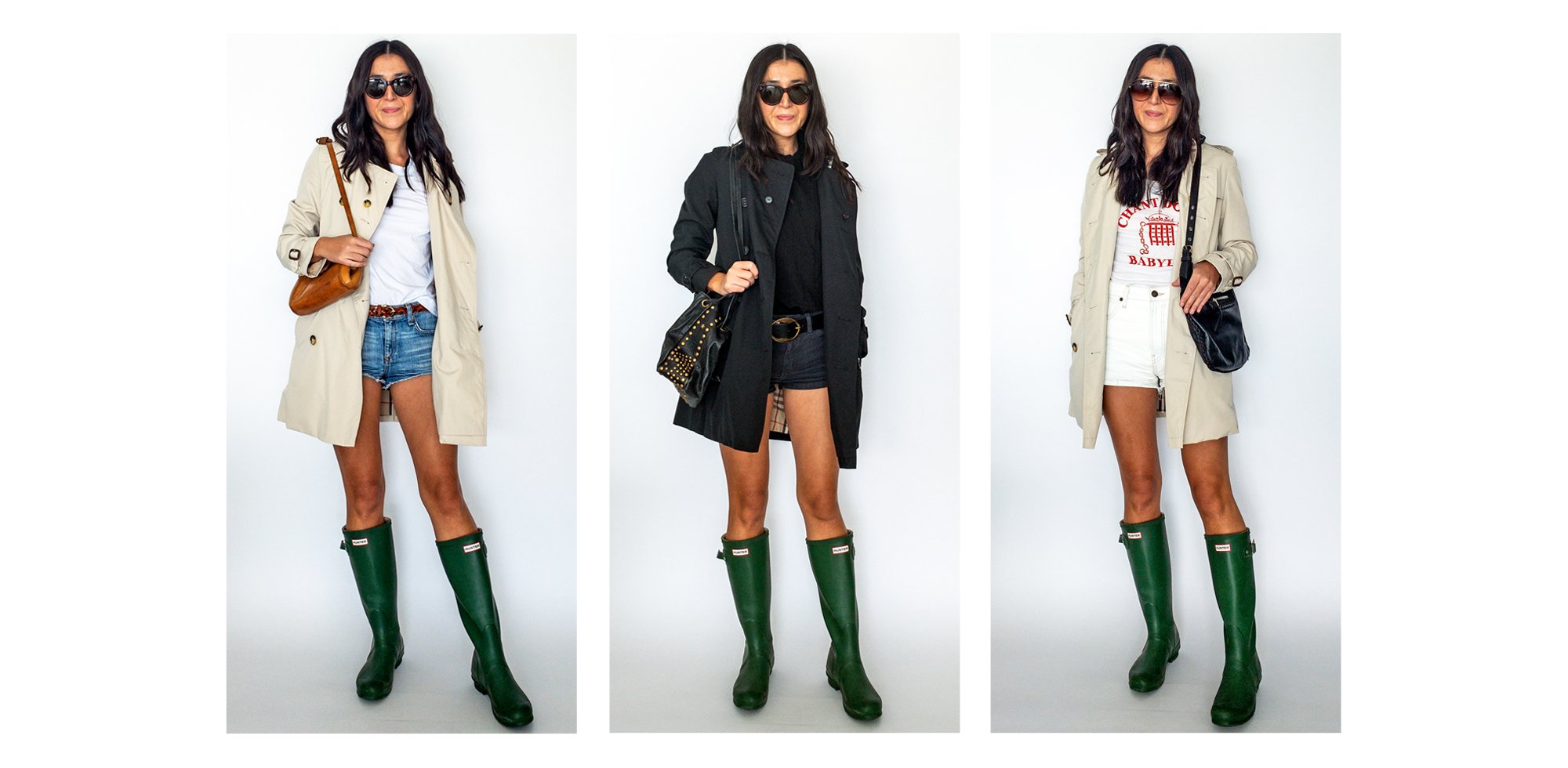 Left to Right: Rag & Bone denim shorts with a Burberry trench coat, Celine sunglasses, A.P.C. belt, James Perse t-shirt, and a vintage bag; American Apparel black denim shorts with a Burberry trench coat, Celine sunglasses, Isabel Marant belt a Re/Done tank top, and a Kate Moss x Topshop bag; Re/Done denim shorts with a Burberry trench coat, Dita sunglasses, Rockins graphic t-shirt, and a Kate Moss x Longchamp bag.
Hunter Boots and Jeans Outfits
While the tops shown with these jeans are cotton, with a jacket, jeans, and boots, you could still over heat.
You might want to consider only wearing jeans and rain boots when it's a slightly cooler summer day (like 23°C/73°F).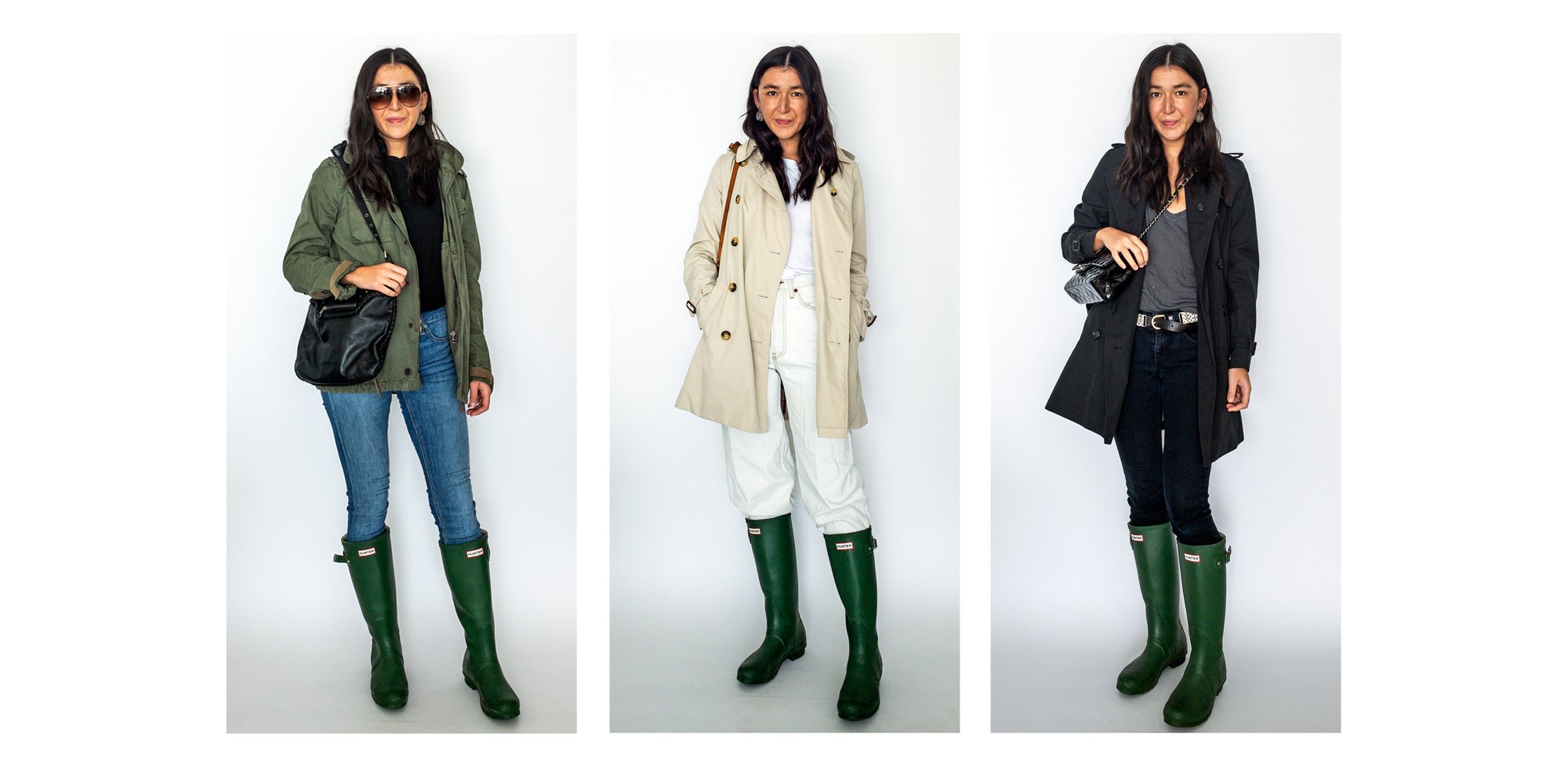 Left to Right: Rag & Bone skinny jeans with a G Star jacket, Dita sunglasses, vintage earrings, a Re/Done tank top, and a Kate Moss x Longchamp bag; Re/Done jeans with a Burberry trench coat, vintage earrings, James Perse t-shirt, and a vintage bag; Black Rag & Bone skinny jeans with a Burberry trench coat, an Isabel Marant x H&M belt, a James Perse t-shirt, vintage earrings, and a Chanel bag.
---
Hunter rain boots are a mainstay for festivals in the summer — there is no boot that can conquer mud or rain like these.
… but you can still wear them during normal summer rainy days.
If keep your top & bottoms light — your outfit will look cool and keep you cool…
Let me know in the comments if you have any questions about styling rain boots in the summer.
Note: newinspired uses affiliate links which costs you nothing… but means a lot to me. When you use these links, the money newinspired earns gets reinvested in blog content. Absolutely nothing on newinspired is "gifted," I purchase each item with my own money. Affiliate commissions are used to purchase new items to honestly & thoroughly review. If you found this review helpful, consider using them to support newinspired.
---
---
YOU MIGHT ALSO BE INTERESTED IN…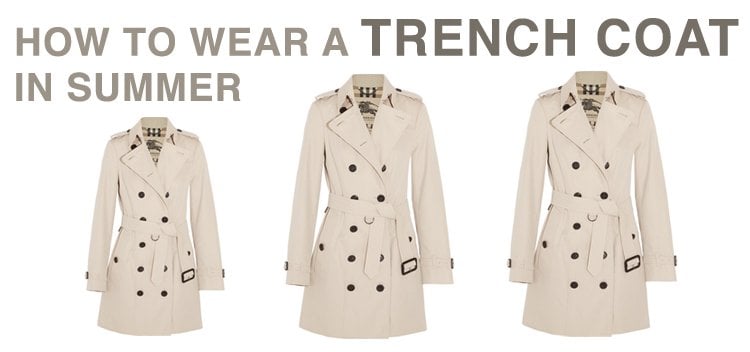 Sours: https://www.newinspired.com/how-to-wear-hunter-boots-in-summer/
You will also like:
Hello, my lovely girls and ladies! Today's post is devoted to hunter boots. You are about to see my favorite outfit ideas that feature this amazing footwear design. We all know that hunter boots are ideal for Autumn rainy days.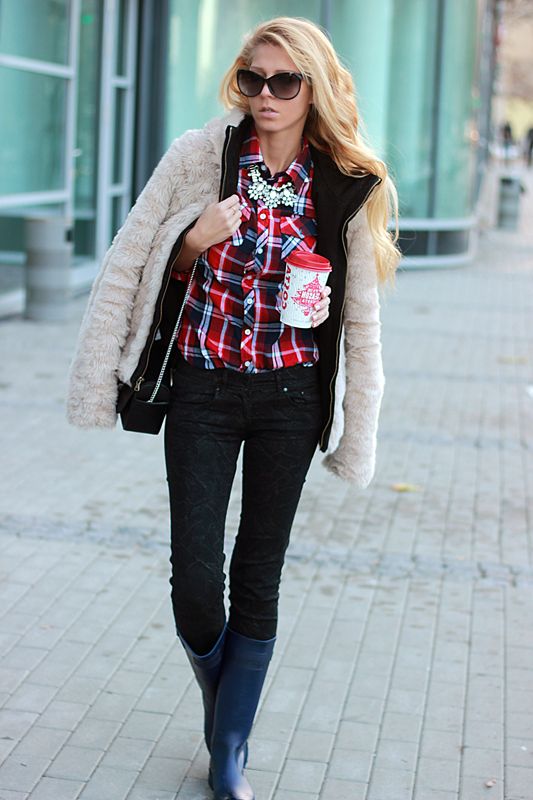 Buy Similar Here
We see dark blue wellies combined with a pair of black jeans plaid shirt and stylish cream white shearling jacket.
Check out this amazing street style idea with wellies. A dark blue pair of hunter boots are styled with a white boho dress layered under dark blue leather jacket completed with a pom-pom cream-white beanie and red leather backpack. Speaking of leather jackets, I highly recommend to see my post on ways how to wear leather jackets for women, I am 100% sure, every ladu will find something special in this article:
Buy Similar Here
Well, you can still have much fun by wearing appropriate shoes that will make you stand out from the crowd. Yes, I am talking about hunter boots that come in so many interesting designs, colors, and fabrics. If you want to know more about these shoes, then you are welcome to see my favorite ways how to make them look great on you.
Cream beige trench coat looks classy teamed with a black sweater, black leather skinnies tucked in dark green rubber boots. The style is completed with aviator sunglasses, cream white scarf, and spacious tote bag: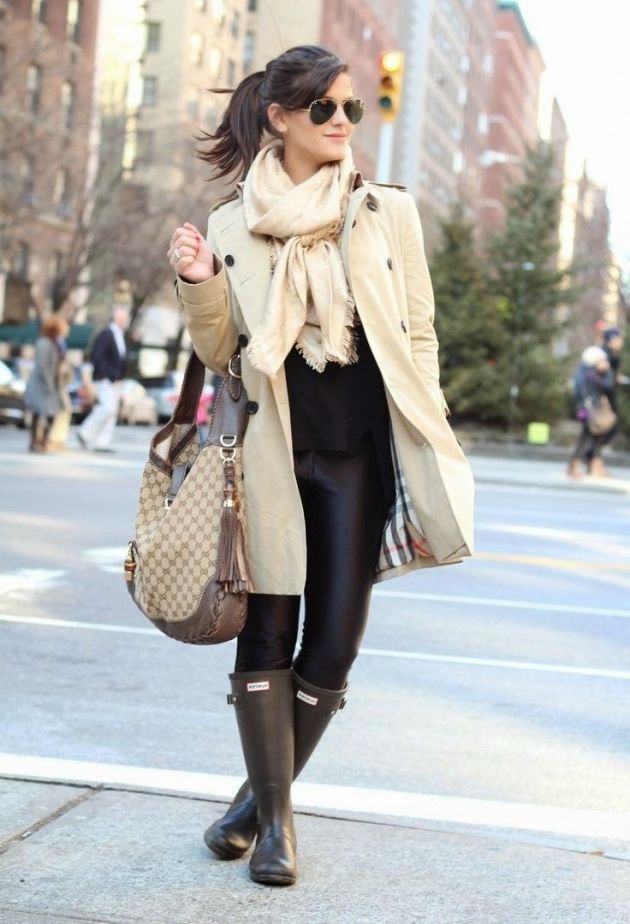 Buy Similar Here
I think you all know that this type of footwear is made of water-resistant material. These boots come in various colors and lengths. The most basic ones are black hunter boots that look awesome with everything.
A khaki green jacket ideally matches black romper teamed with black hunter boots: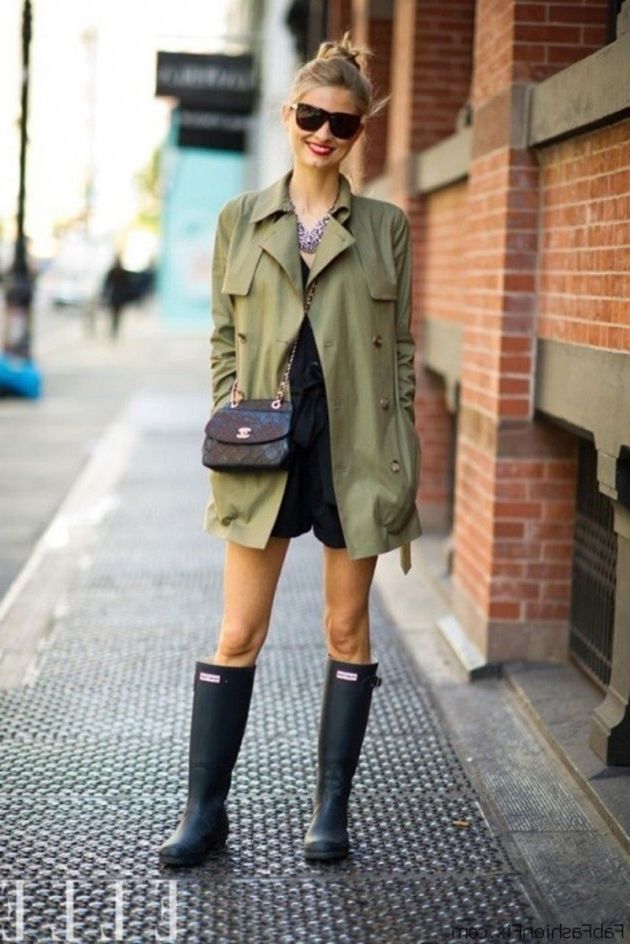 Buy Similar Here
If you want to make a real statement, then you should choose bright color styles, like purple, burgundy, red, yellow, blue or green. Speaking of possible combos, then you can try rain boots with jeans, dresses, skirts, shorts, and leggings. Make them look awesome with coats, leather jackets, and ponchos.
An oversized plaid scarf complements this combo consisting of a dark blue coat teamed with knee ripped blue jeans and black glossy gumboots, update this combo by adding classy fedora hat, oversized shades and black leather tote bag: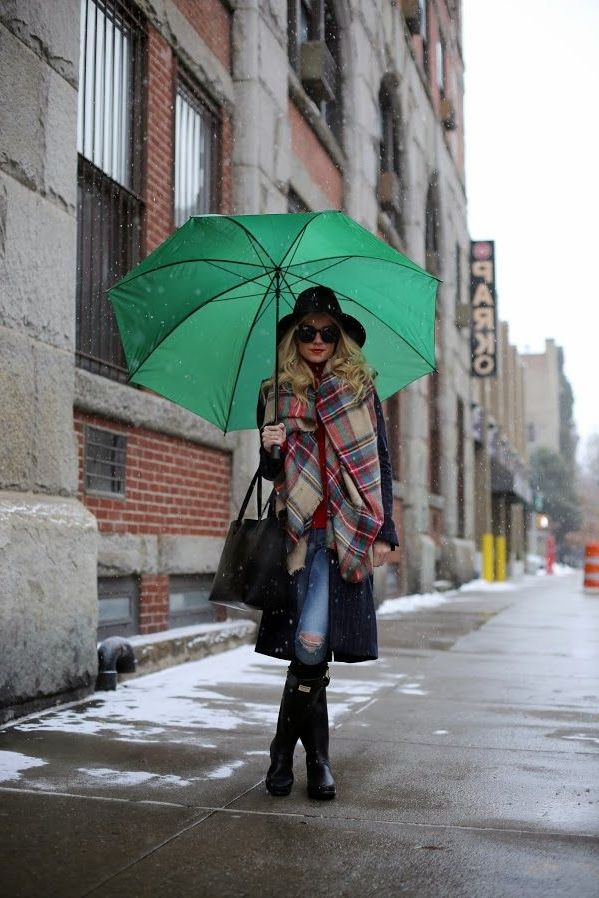 Buy Similar Here
Personally, I love to see ladies who add over-the-knee socks that show up from the hunter boots, the result looks sexy and chic. So, tell me, what you think of this footwear?
A collarless black coat in slim fit ideally suits knitted black dress and beige Hunter boots: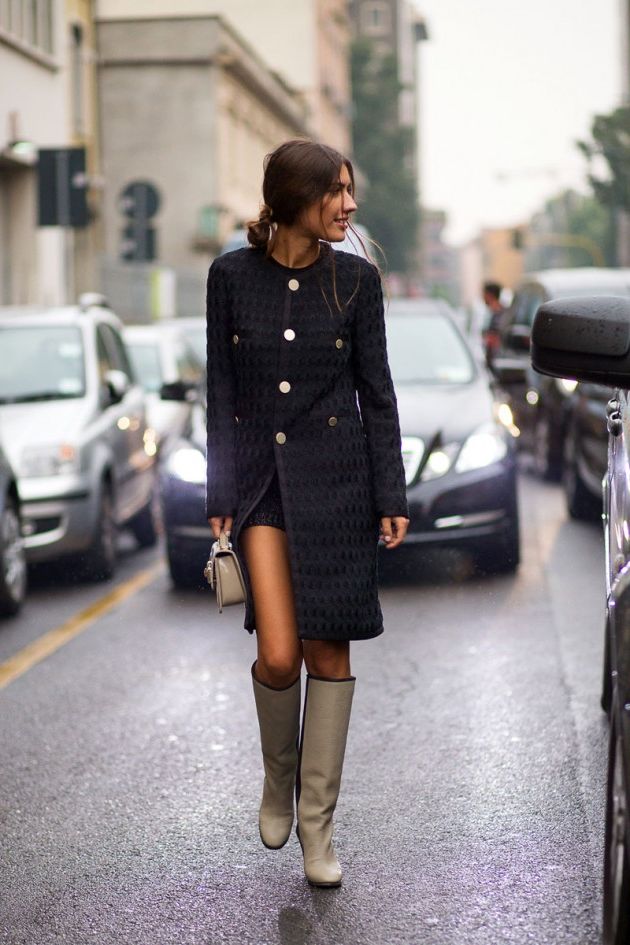 Buy Similar Here
Anyway, let's see some basic guidelines, to understand when you can wear this footwear, where you can wear them, with what and what designs are so must have this season.
A pair of black Hunter boots are teamed with an LBD in lace completed with a black leather jacket, would you dare to try this all-black look in the rainy day: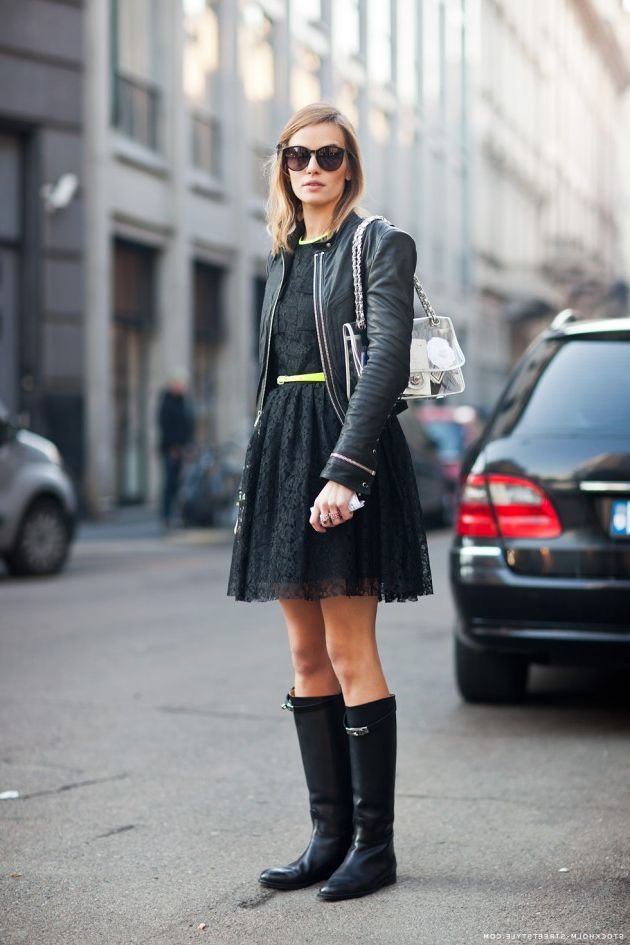 Buy Similar Here
Dark violet glossy Hunter boots are styled with high grey socks, black tights, oversized pullover dress, and grey wool coat: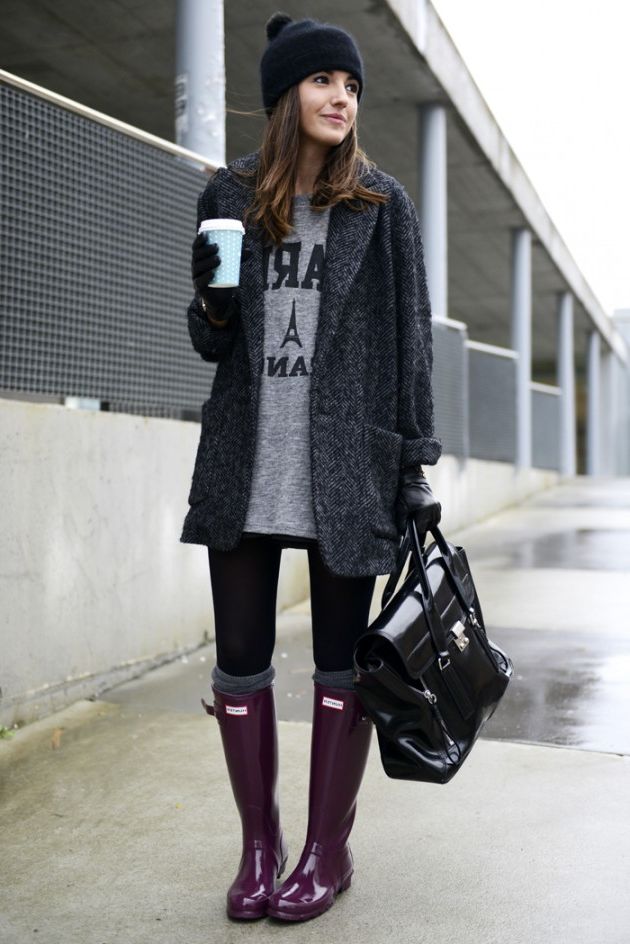 Buy Similar Here
A pleated skirt in grey is styled with a white sweatshirt and dark violet gumboots completed with grey socks: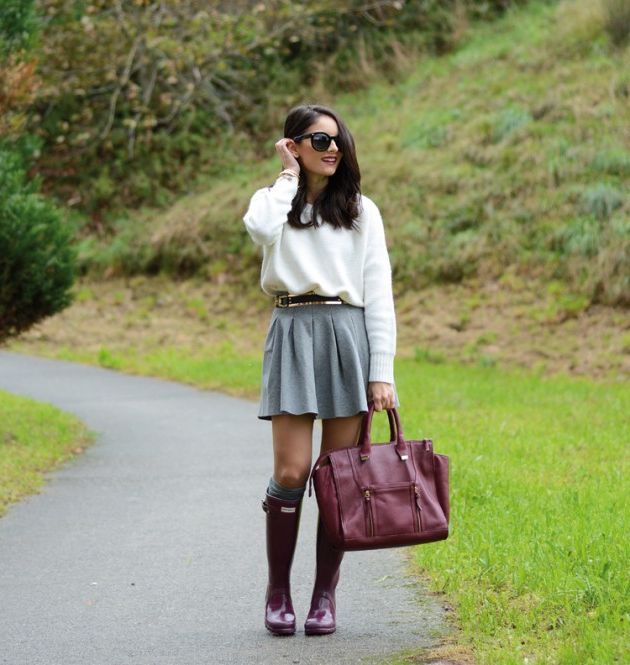 Buy Similar Here
Wellies and parka is a cool combo. If you do like parka jackets, then I recommend to check out my blogpost on ways how to wear parkas. Red gumboots look damn chic with a green parka, plaid red shirt, and black skinny jeans, complete this combo by adding oversized shades: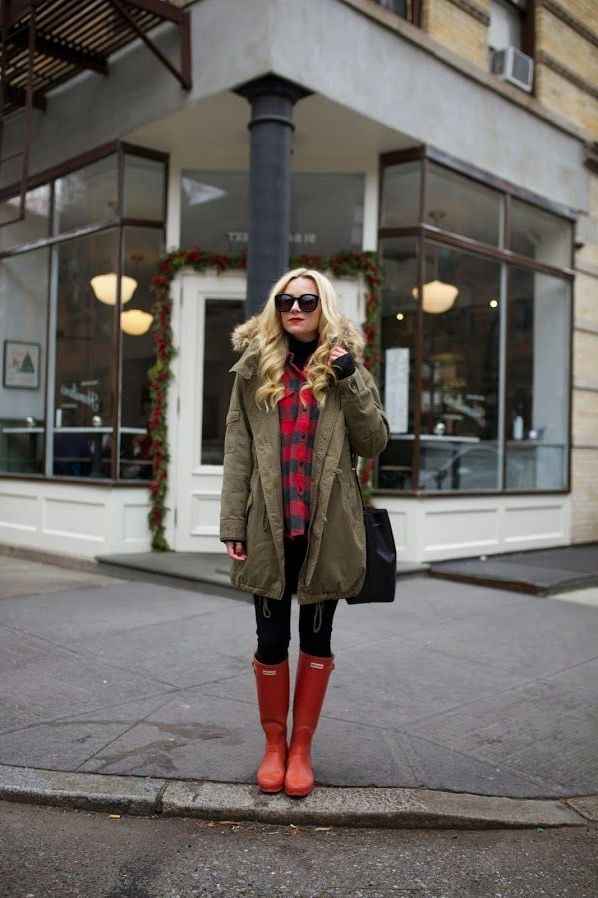 Buy Similar Here
A kind of Paris style outfit idea for rainy days! If you did like this outfit, then I recommend you to check ou my post on Parisian style outfit ideas for women. A black peacoat ideally matches this striped top tucked in wash blue skinny jeans updated with green wellies :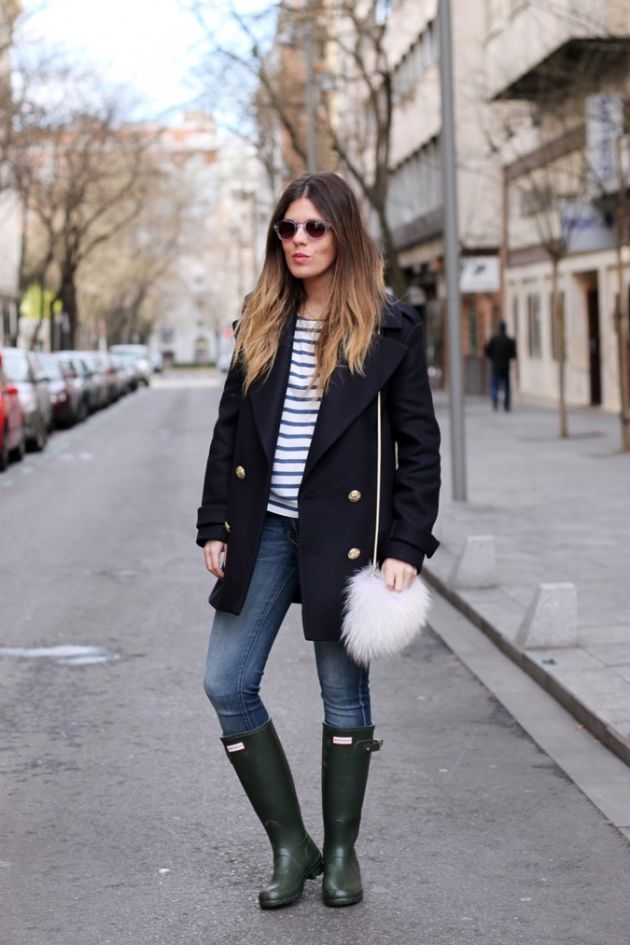 Buy Similar Here
Here we see Britain flag gumboots combined with wash blue jeans, striped top, and beige trench: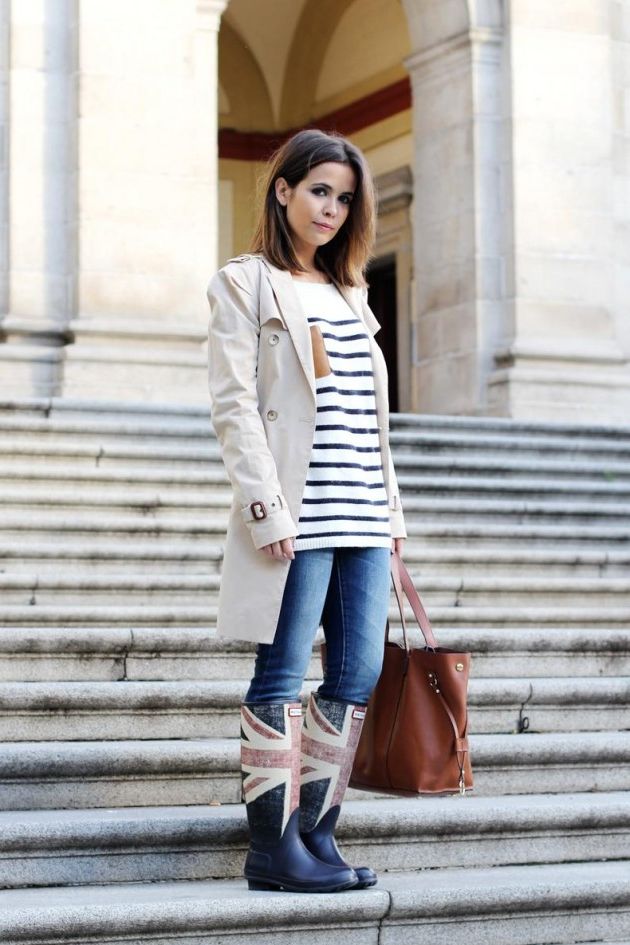 Buy Similar Here
A turquoise peacoat ideally matches striped dress completed with bright yellow Hunter boots and high socks: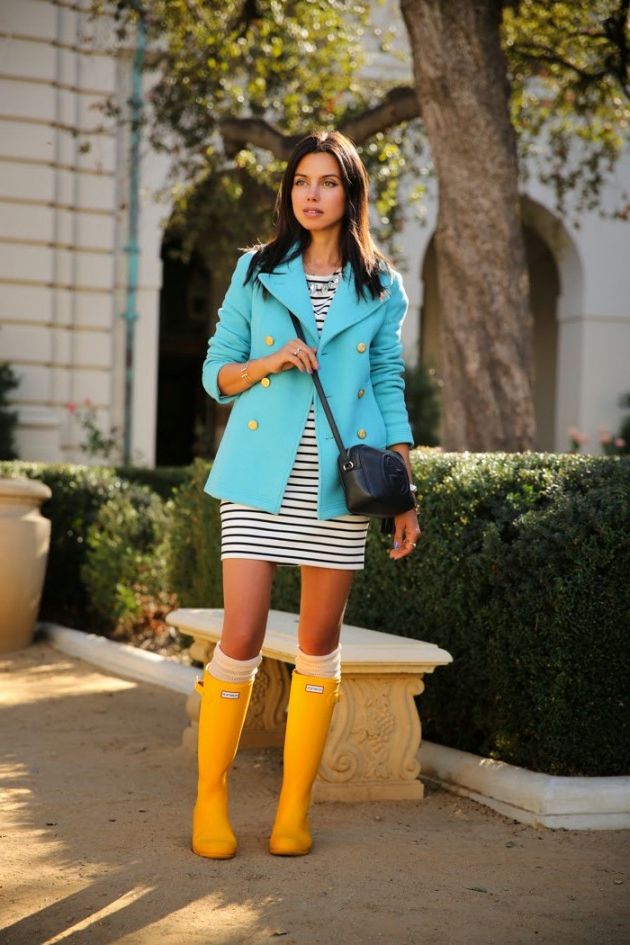 Buy Similar Here
Another simple day looks with blue gumboots. Add skinny jeans, white tee, burgundy scarf, and grey wool coat: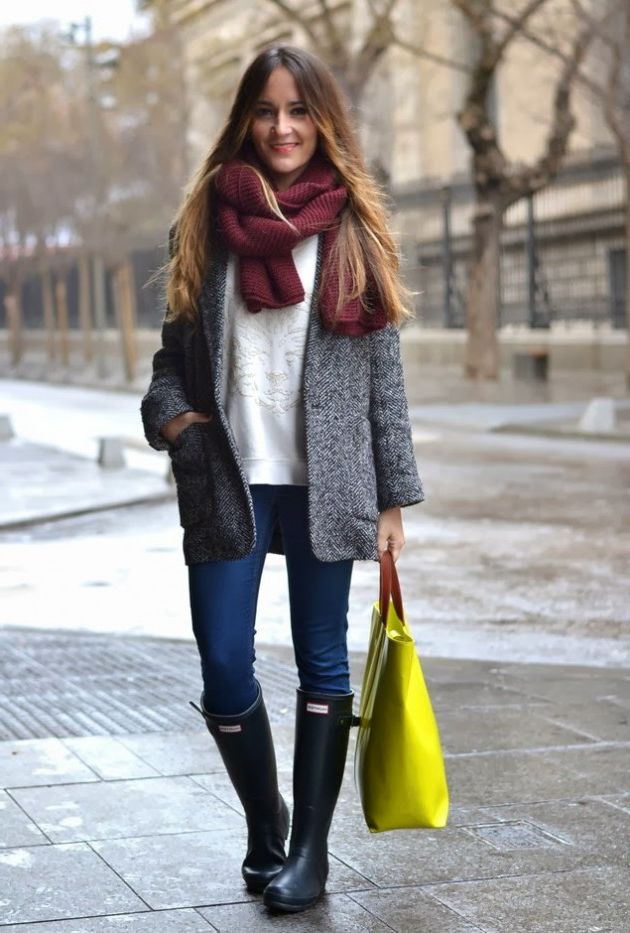 Buy Similar Here
Another cool parka in dark green combined with a black-white striped sweater, mini skirt in black and bright red wellies updated with black high socks: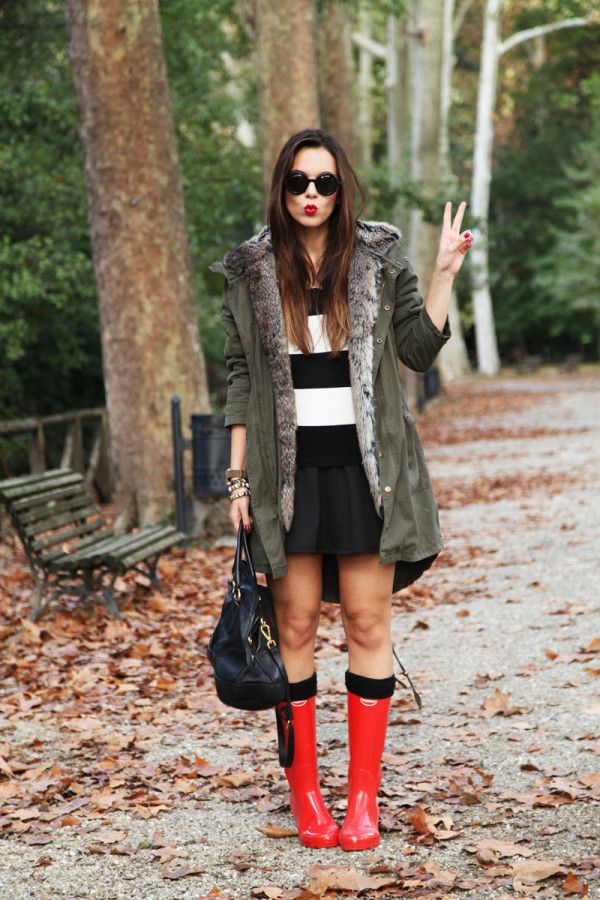 Buy Similar Here
A perfect day look for fancy parties! We see a black fedora, classy shades, turtleneck sweater dress in cream white layered over black lace skirt completed with dark blue gumboots and white socks: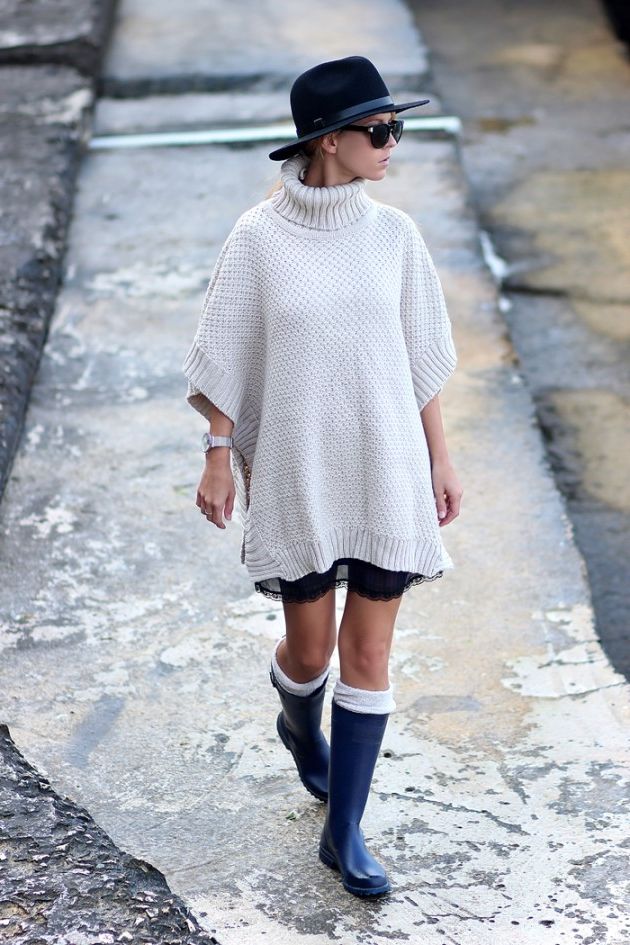 Buy Similar Here
Hunter Boots And Weather Condition
When can I wear hunter boots
Wellington boots are usually worn when it's a rainy day outside, during Winter snowy time (just make sure your feet feel warm inside), as well as during sunny weather, when you simply want to create an original outfit. Yes, in today's fashion world we see a cool thing when functionality meets fashion and you don't see the difference between them.
How to wear hunter boots in spring
Springtime is a perfect period for women who want to keep things a bit lightweight, and they underline their femininity by wearing light layers, light dresses and everything in between. That's where Hunter boots come in! You can simply add them to your favorite leggings and sweater outfit, or keep things light with a printed dress and trench coat.
A lovely combo for Spring. We see a cream grey cardigan layered over white shirt tucked in wash blue slim jeans completed with green gumboots: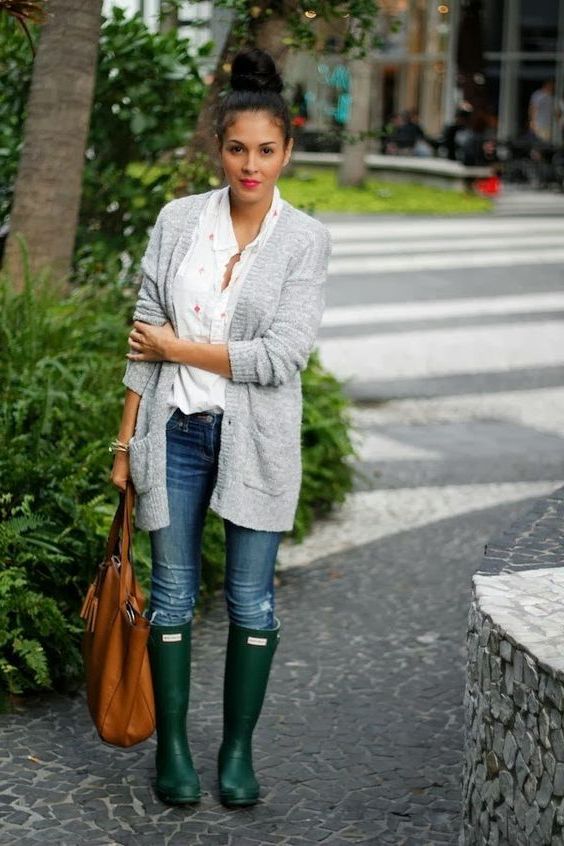 Buy Similar Here
Can I wear hunter boots in the summer
Yes, you can wear these boots on a sunny day in the summertime. This is no functional footwear, but can really make you stand out from the crowd. Just make sure you keep other apparel light and weather appropriate. All in all, you can wear Hunter boots when it's not raining.
A perfect summer look! We see a striped hoodie in white and blue combined with white skinny jeans and red wellies: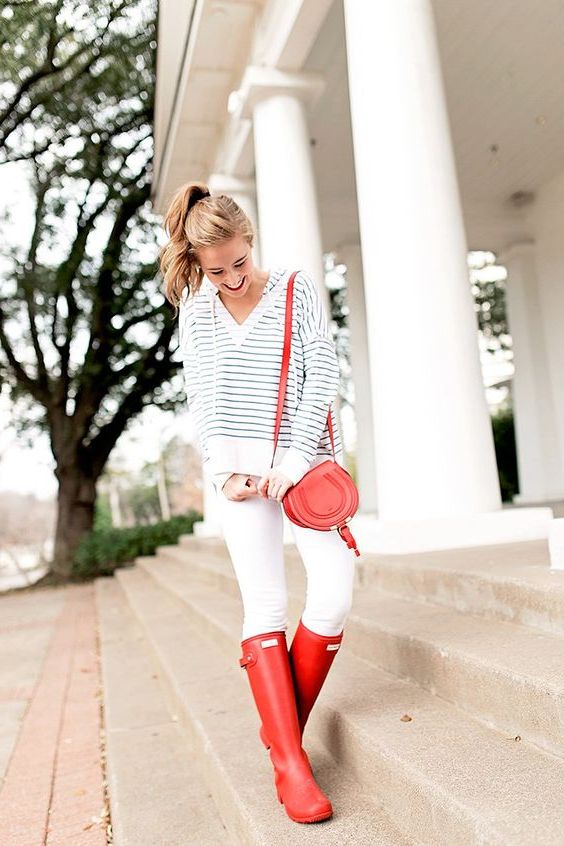 Buy Similar Here
Here we see an off-shoulder pinstripe blue-white dress updated with light blue Hunter boots: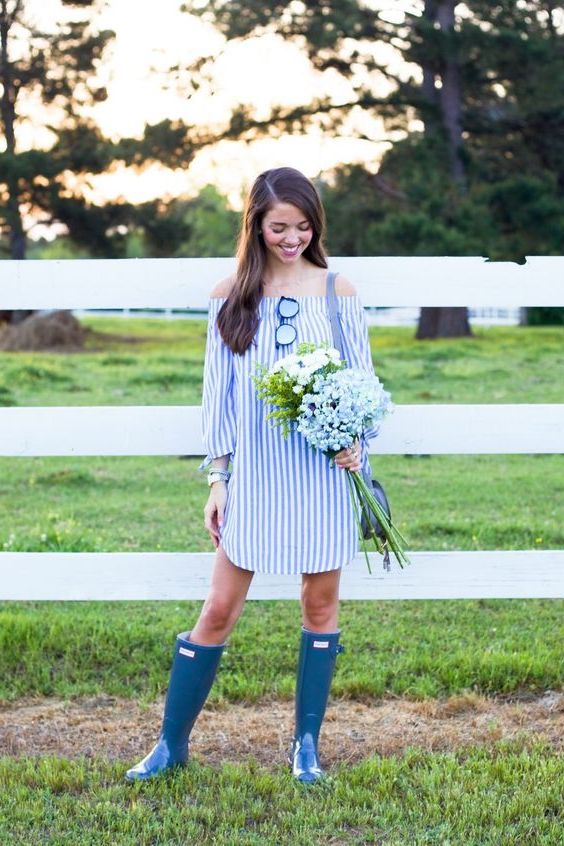 Buy Similar Here
Can I wear hunter boots in the winter
Absolutely yes! gumboots do look cool in combination with heavy coats and leather jackets, especially with knitwear. Just make sure you wear cozy socks underneath. Can you wear hunter boots in the snow? Wellies are extremely functional. Why? You can wear hunter boots in the snow without worrying your feet can get can wet.
Go for a black down jacket and style it with a cozy turtleneck in black teamed with black warm leggings and black gumboots: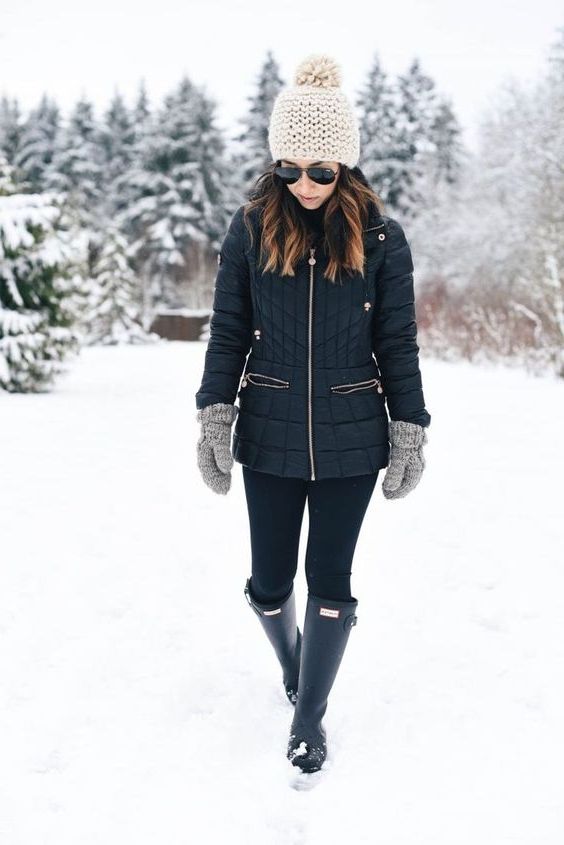 Buy Similar Here
Here we see an oversized pink scarf styled with grey long sleeve sweater dress in grey and black leggings tucked in glossy black wellies: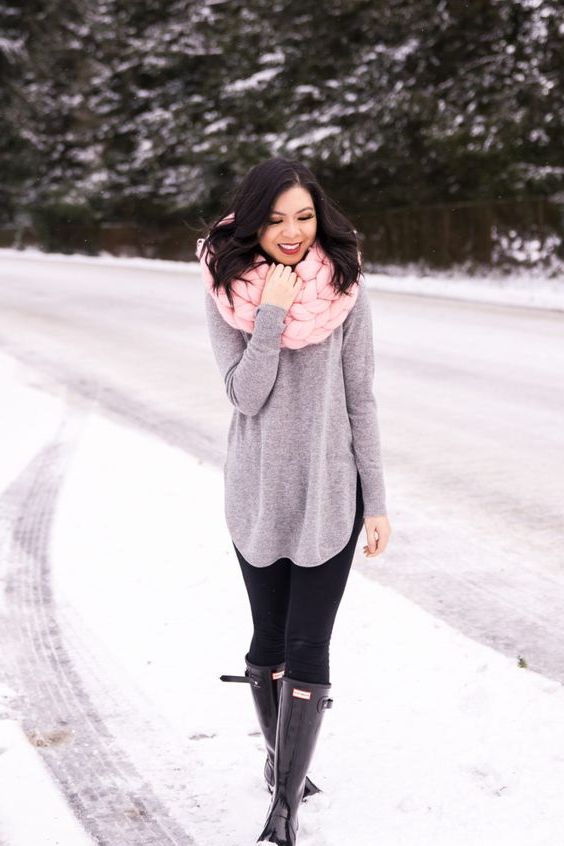 Buy Similar Here
Where Can I Wear Hunter Boots?
Can I wear hunter boots to work?
This is a pretty controversial question. From one side I would say no (if we speak about indoor exploitation, but it also depends on your workstation), but if we speak about the distance from your home to work, then you definitely can wear gumboots. They do look pretty chic with tailored pants, pencil skirts, and other office-style clothing. Don't believe me? Check out these OOTD styles.
Here we see a good example of how to wear hunter boots to work. Go for a black coat, grey scarf, black skinny pants, and red gumboots: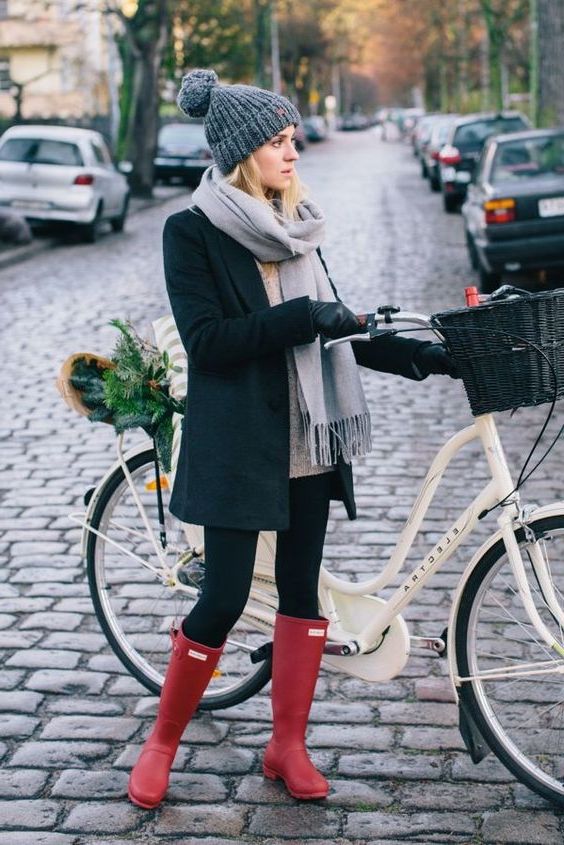 Buy Similar Here
A classic cream white dress looks great with a black coat and black gumboots for work: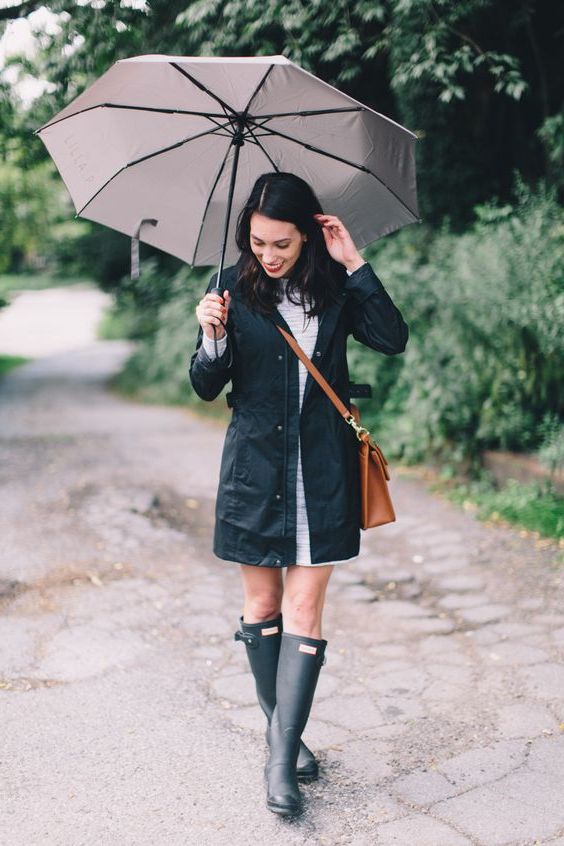 Buy Similar Here
Hunter Boots For Casual Parties
Yes, this footwear looks pretty cool with casual party outfit ideas. You can wear them with all sort of knitted dresses, fancy skirts, tulle skirts, two-piece dresses, shirtdresses, etc.
We see a boho style floral dress combined with black wellies: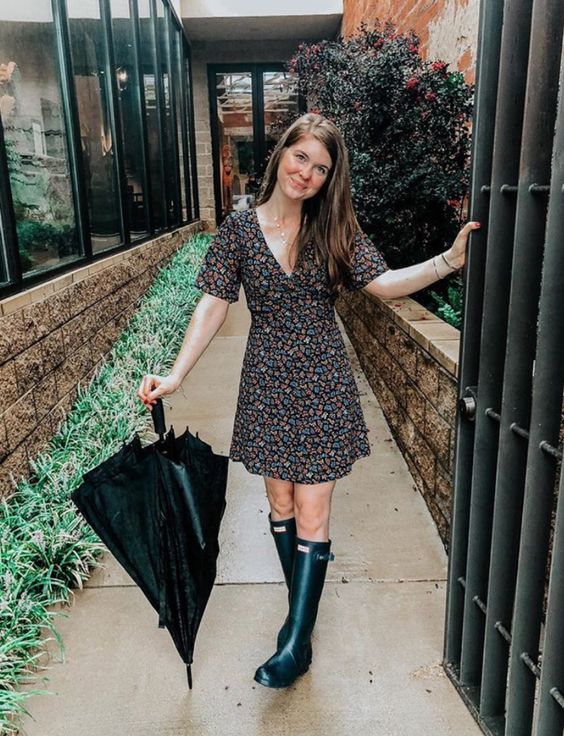 Buy Similar Here
Hunter Boots For Country Weekend
That's what I call the place to be, the place to wear! Hunter boots are so must-have for countryside weekend wear. You can easily style them with almost anything, from leggings to joggers, from skirts to sweater dresses.
An absolute must-try look! Go for a red beanie, draped cardigan, a black top and blue skinny jeans tucked in red Hunter boots: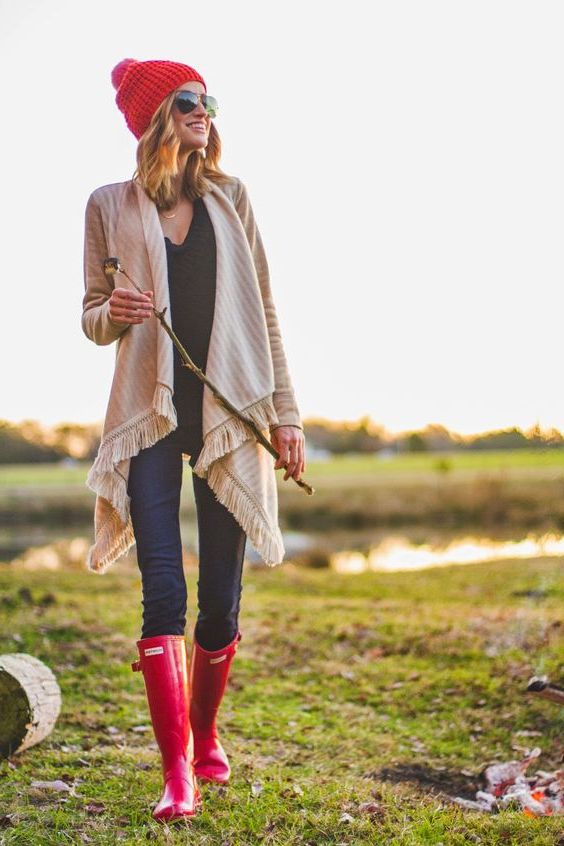 Buy Similar Here
Hunter Boots Must-Try Designs
I just want to show you some cool and eye-catching designs of hunter boots that are here to stay for a long time. Most of them can be bought in webshops as well as in offline stores in your city, so get inspired and tell me which ones are your favorite.
Hunter boots with laces
An all in black look with a hooded raincoat, pants, and lace-up Hunter boots: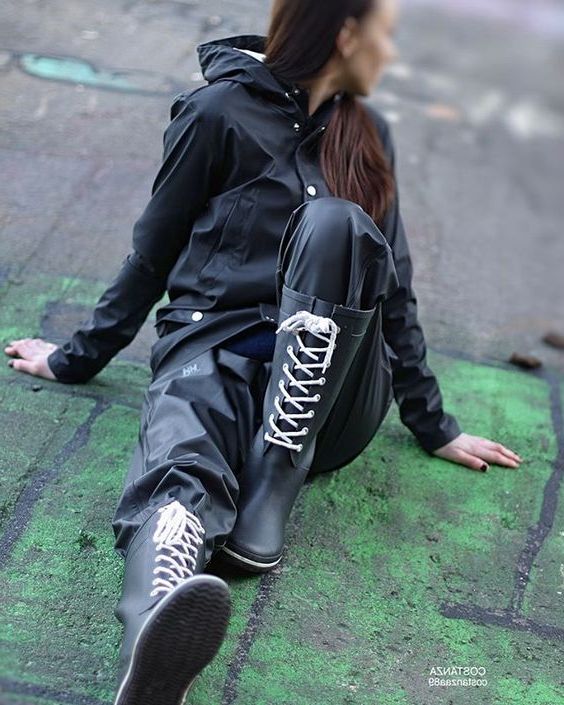 Buy Similar Here
Can I wear hunter boots with fur trim
Hunter boots with fur trim are worn with dark blue jeans, white sweater, tartan scarf, and red raincoat: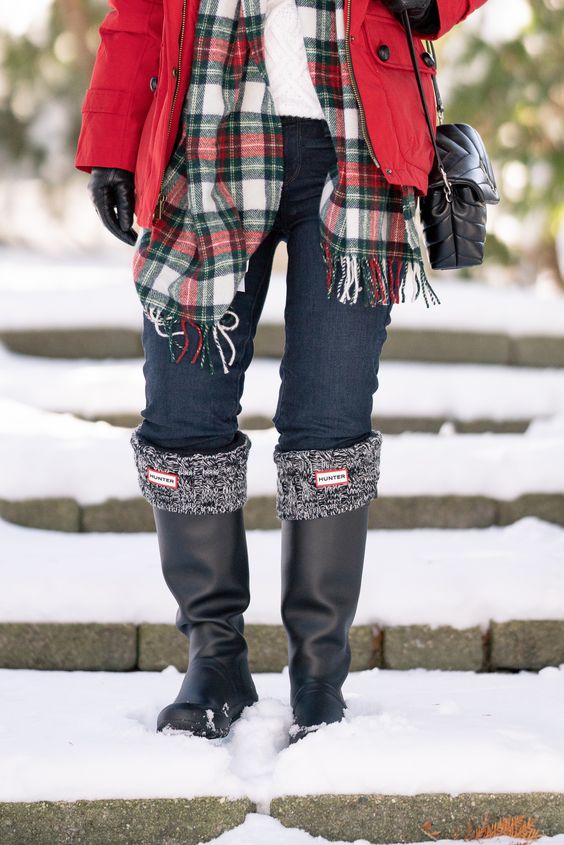 Buy Similar Here
Can I wear hunter boots with heel
We see a pair of black Hunter boots with a heel styled with grey high socks and black tights: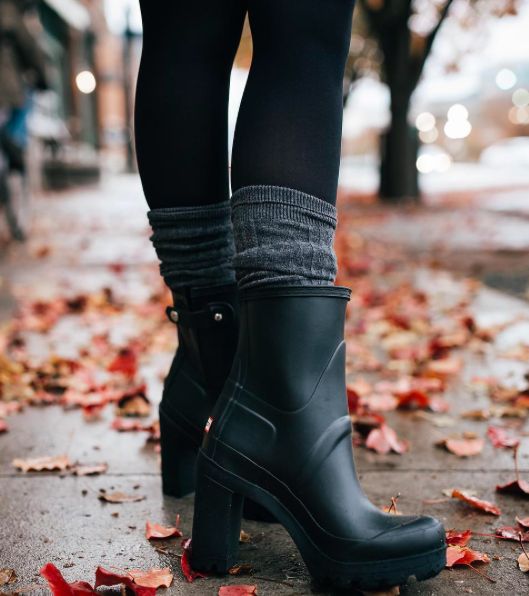 Buy Similar Here
Hunter Boots And Different Apparel
In this section, I want to make it clear and show you the best ideas and ways how to make sure the hunter boots look amazing with all kind of clothes. Read on to see best street style ideas with wellies.
Can I wear hunter boots with a cocktail dress
We see a black dress combined with a beige trench coat and black Hunter boots: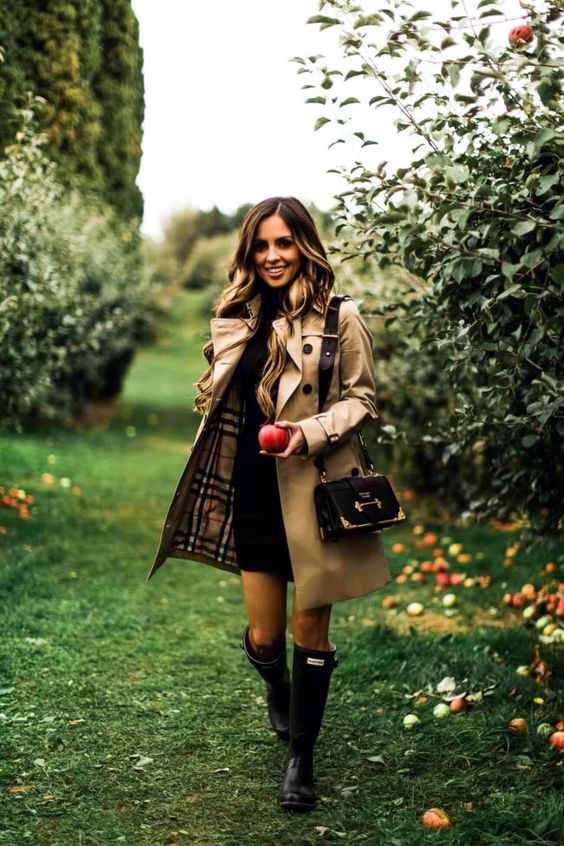 Buy Similar Here
Can I wear hunter boots with a suit
As you can see, Hunter boots in black do look great with a black skirt suit and black-white gingham print shirt: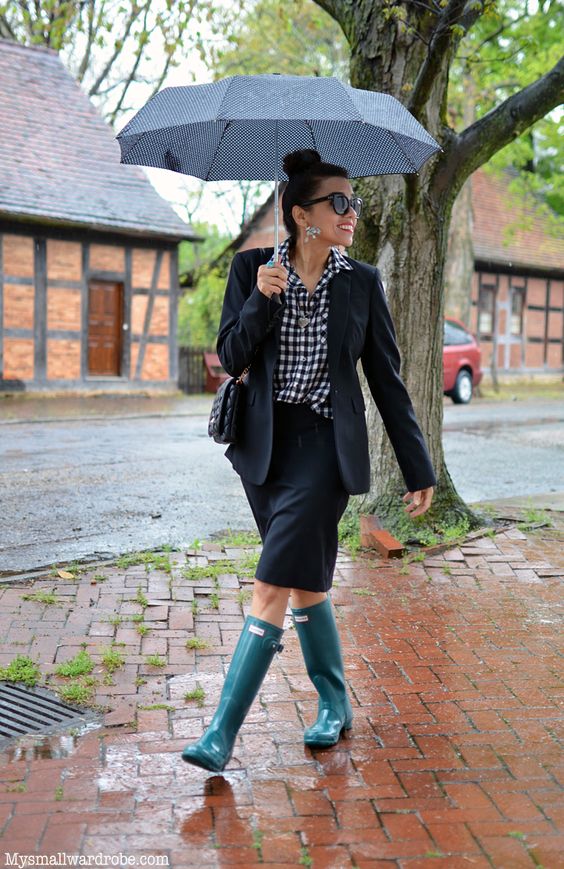 Buy Similar Here
Can I wear hunter boots with a dress
Yes, hunter boots do look great with dresses. Here we see a pinafore dress in light blue layered over the white long-sleeve top and completed with green gumboots: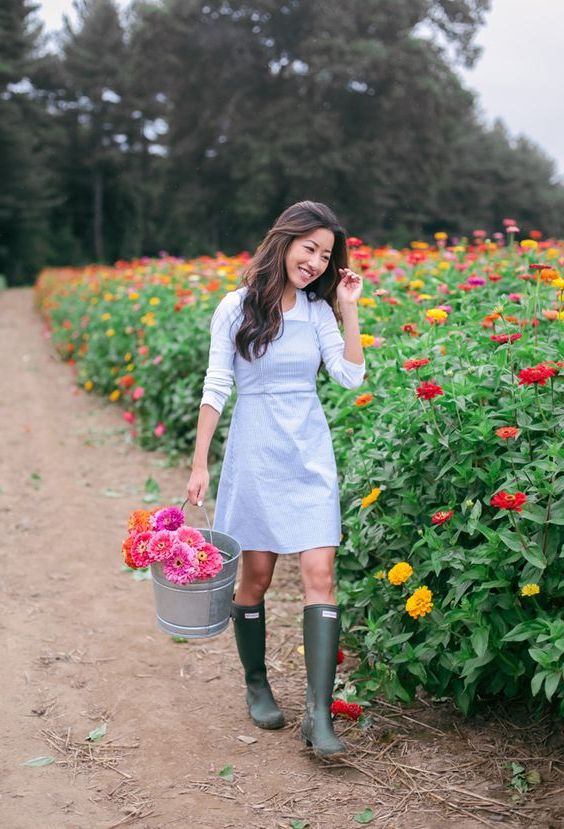 Buy Similar Here
can I wear hunter boots with shorts
Go hot this Summer! How about wearing green gumboots with blue denim shorts and a white shirt during your hiking: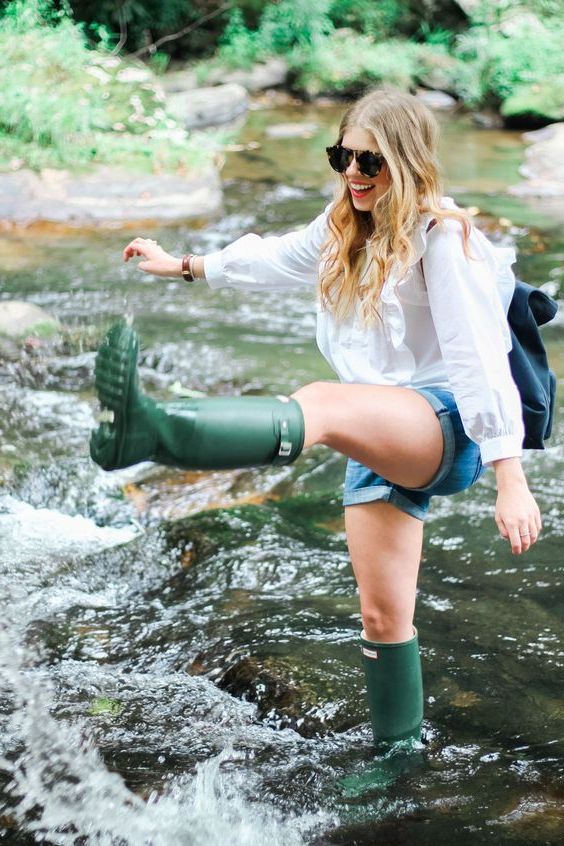 Buy Similar Here
Can I wear hunter boots with black pants
Check out this simple Fall outfit idea consisting of a beige peacoat, striped top and black pants tucked in black Hunter boots: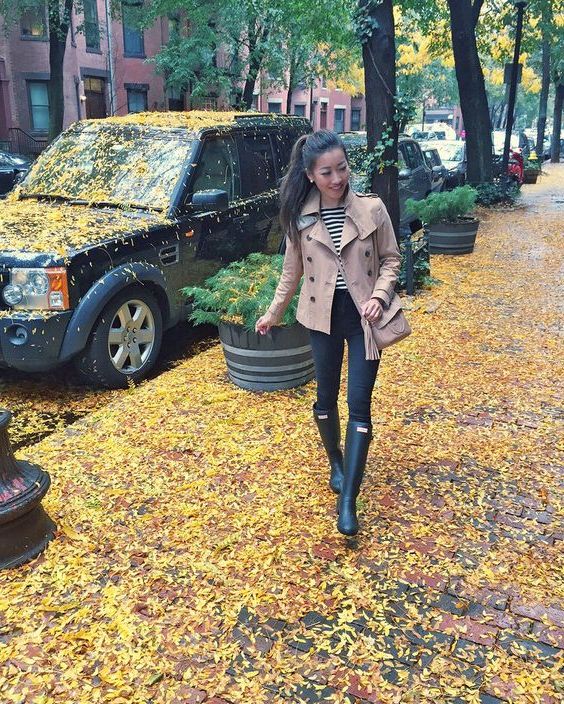 Buy Similar Here
Can I wear hunter boots with black leggings
A simple day look for a casual street walk. We see a green parka styled with a red plaid shirt, black leggings and black wellies, complete this look with a white beanie: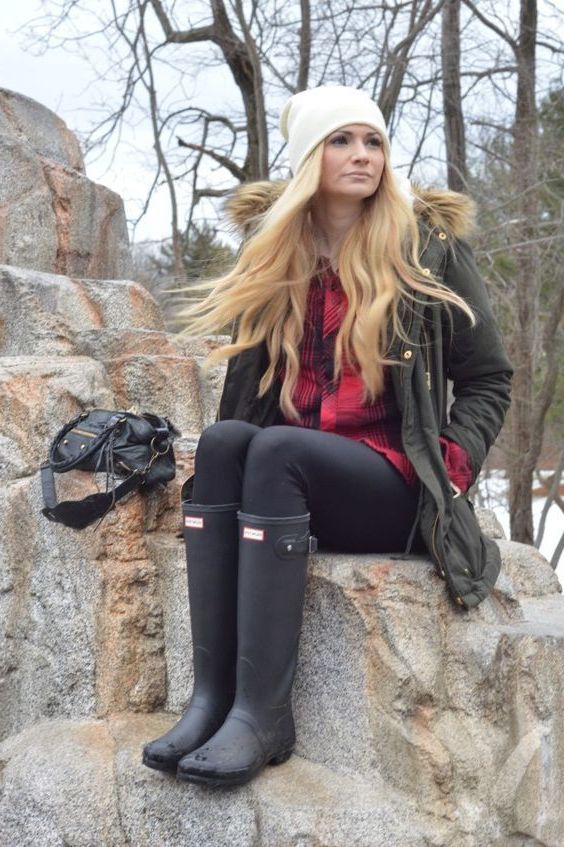 Buy Similar Here
Can I wear hunter boots with black jeans
A beautiful grey sweater with ruffled detailing is styled with knee-ripped black skinny jeans tucked in black gumboots: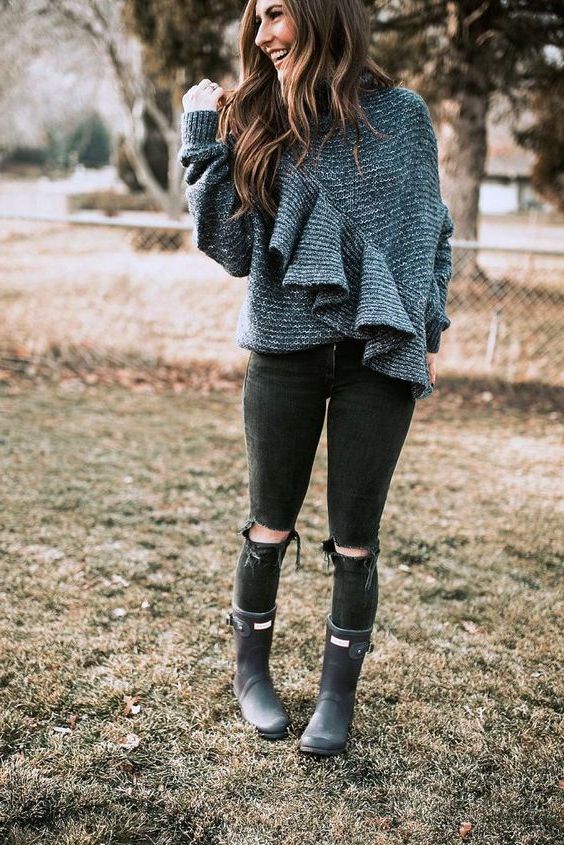 Buy Similar Here
Can I wear hunter boots with a black leather jacket
Here we see an all-black look completed with red Hunter boots. Add a black leather jacket, black turtleneck, and black mid-rise jeans: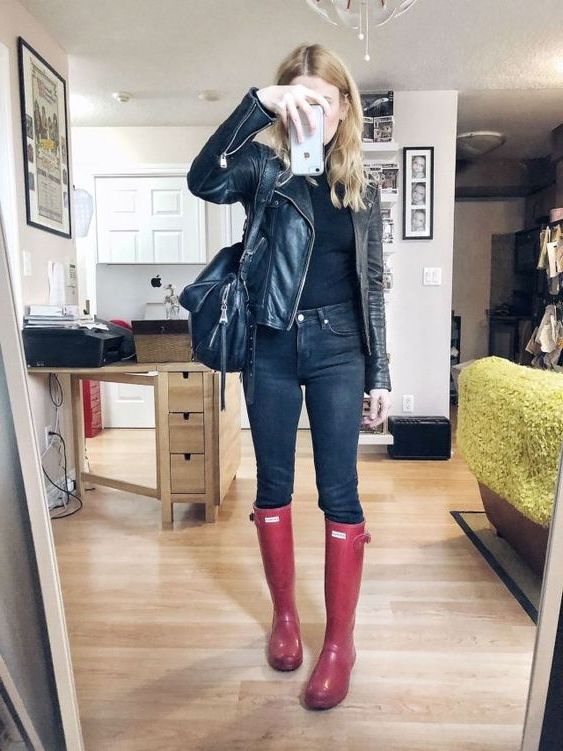 Buy Similar Here
Can I wear hunter boots with skirts
A striped pencil skirt is teamed with white front-knotted T-shirt and black Hunter boots: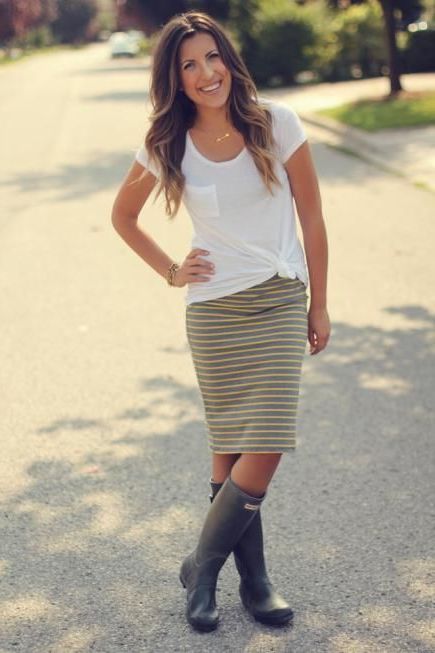 Buy Similar Here
Can I wear hunter boots with leather leggings
Another all in black outfit idea. It consists of a black beanie, black leather jacket, a black top, black leather leggings, and wellies: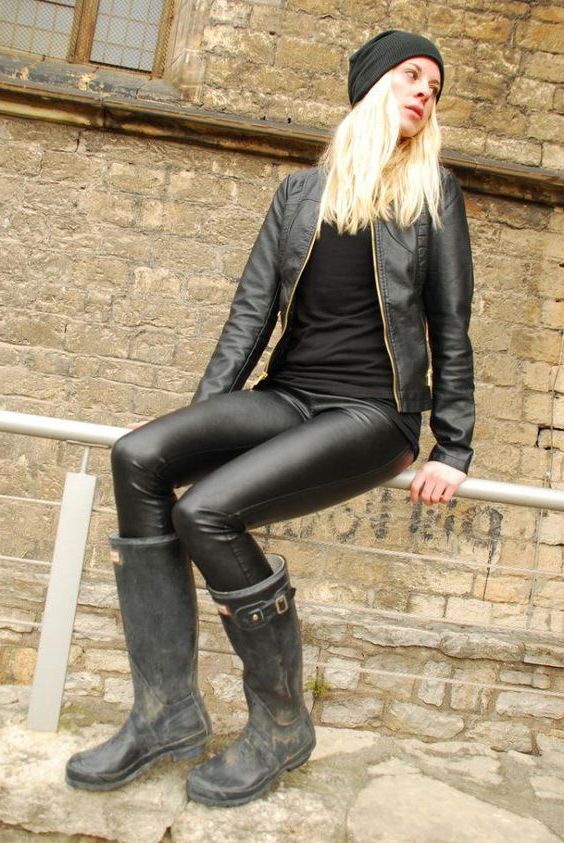 Buy Similar Here
How can I wear hunter boots and socks
A horizontal striped T-dress looks pretty chic with high socks in grey and glossy cherry red Hunter boots: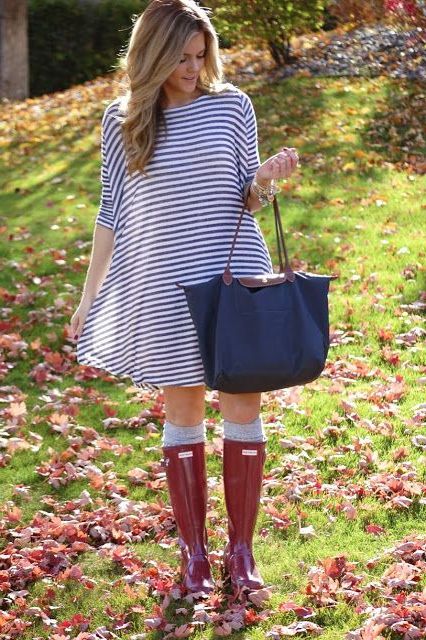 Buy Similar Here
Sours: http://ladyfashioniser.com/hunter-boots-for-women-my-favorite-outfit-ideas/
1597
1598
1599
1600
1601