Learning how to paint a car in your garage and how to paint a wall in your house are far from the same thing. One job requires a few paint rollers and a can of paint, while the other involves a litany of products, clear coats, primers, and sprayers. That's why professional auto paint jobs can get so pricey.
➡
The process is complex and there's some skill involved, but that doesn't mean you can't learn how to paint a car and give your ride a new look. Here's how to paint a car on your own.
How to Paint a Car Tip #1: Find Some Time and Stock Up on Supplies
First: set aside time for this project. A paint job can take anywhere from several days to a couple of weekends, so finding a shed or garage—or something shielded from the elements—is important. Once you secured your painting location and set aside time to get the job done, you're ready to gather your materials.
But you'll need more than just paint. Essential tools include 1200- and 2000-grit wet-and-dry sandpaper, an electric sander, masking tape, an air compressor or a spray gun, newspapers for masking off, face masks, safety glasses, and paint thinners.
And if you can afford a dust extractor, get one. It's not essential, but it will help keep the air free of debris.
DeWalt DWE6421K Random Orbit Sander
SHOP NOW
Scotch 3M Masking Tape
SHOP NOW
Porter-Cable C2002-WK Pancake Compressor
SHOP NOW
Astro 4008 Spray Gun
SHOP NOW
For a small- or medium-sized vehicle, you'll need approximately 1 gallon of base coat or primer, 3 gallons of topcoat, and 2 to 3 gallons of clear coat. Larger vehicles will require about one and a half gallons of base coat, four gallons of topcoat, and three to four gallons of clear-coat lacquer. These amounts are likely more than what you'll need—and professionals will use less—but it's better to have too much paint as opposed to too little.
If you want to match the original color of your car, find the color code located on your car's compliance plate. An auto paint shop will also be able to match it.
How to Paint a Car Tip #2: Put in the Prep
Carmen Martínez TorrónGetty Images
Once you have your supplies, you should move onto preparing your workstation. First, clean your working area. If you're working inside a shed or garage, sweep the floors and make sure you have plenty of space to work. Obstacles in the way will only make the job harder.
If you're working outside, hose down the area with water to settle the dust, and don't paint underneath a tree—or anything else, for that matter. Contaminants can drop onto the wet paint and ruin the finish. Then, wash the car to remove any surface contaminants such as dirt, grease, and road grime.
Before you start sanding and applying primer, decide what you want to paint. Do you want to paint the engine bay, trunk, or inner doorsills? Painting these can add time and complexity to the project, especially if you're going to paint the engine bay, which could require some mechanical knowledge to remove the engine and other accessories. If you're looking to improve the exterior, mask off the areas you don't want to paint.
How to Paint a Car Tip #3: Strip It Down
With your work area clean and a shelf full of painting products, you're now ready to get to work. You'll start by sanding in circular motions, removing the clear coat, top coat, and base coat. This can be done with a sander, though you'll like have to sand the corners and crevices by hand.
To achieve the best finish, sand the entire car back down to the bare metal, giving the new prime coat a perfectly smooth surface to adhere to. If you're operating under a time constraint, then sand the surface to as smooth and as even as possible.
Once the car is stripped to your desired surface, wipe down the exterior with a clean rag and paint thinners. This will help remove any dust, and then wait until any residue from the thinners evaporates before continuing.
How to Paint a Car Tip #4: Get Ready for Prime Time
Mask off the areas you don't want to paint and then mix the primer with the thinners. You'll need to read the instructions for the correct ratio.
Before you begin painting, it's best to practice. The best way to practice is to get a cheap used car panel from a junkyard or a piece of steel if lugging a door home isn't your cup of tea. Hold the spare gun approximately six inches from the panel and spray in a side-to-side sweeping motion. You'll want only to apply the trigger when you're moving the spray gun. If you continuously hold the trigger down, you'll get a continuous spray of paint. This will lead to the paint being thicker in some spots, which could cause the paint to run.
With your painting technique mastered, you can start applying the primer to the car. You'll want to work from the roof down, applying it in thin, even coats. It usually takes two or three coats to cover a surface. Each coat will take about 10 minutes to apply per vehicle panel and another 20 minutes-to-an-hour for the primer to cure between coats.
When you're finished, the primer will have a powdery finish, which you'll need to smooth with 2000-grit wet-and-dry sandpaper. You'll also want to clean the spray gun and then wipe down the primed and cured surface with a rag slightly dampened with thinners. Using too much thinner could strip the primer, so be careful.
How to Paint a Car Tip #5: Paint Your Masterpiece
Now, you're ready to paint. Mix the paint with the thinners using the recommended ratios on the paint instructions. You'll use the same spraying technique you used to apply the primer for the topcoat. Just like the primer, it should take you about 10 minutes per panel to apply the paint and another 20 minutes to an hour for the paint to cure between paint applications.
Apply three to four coats using the recommended drying time specified on the paint can. Before you apply your last coat of paint, remove any powdery residue with 2000-grit wet-and-dry sandpaper and wipe down with a clean rag. Repeat the previous two steps with the clear-coat lacquer.
Before the clear coat dries, remove the masking tape used to mask off the areas where you didn't want paint applied, but be careful not to get any tape or paper stuck on the wet paint. Then, let the clear coat cure for the recommended time. Once the clear coat is cured, inspect the finished job for runs or other imperfections. If you find any, you can sand back the affected area with 2000-grit wet-and-dry sandpaper and respray. Buff paint in circular motions with a buffer. Be careful not to burn the paint by holding the buffer in one spot too long.
With some practice and a methodical mindset, you can learn how to paint a car—and you'll have the satisfaction of doing it yourself while saving some money.
---
🎥 Now Watch This:
Anthony AlanizAnthony is a freelance writer covering the automotive industry and horror entertainment.
This content is created and maintained by a third party, and imported onto this page to help users provide their email addresses. You may be able to find more information about this and similar content at piano.io
Sours: https://www.popularmechanics.com/cars/how-to/a3110/a-diy-guide-to-painting-your-car-15998013/
Painting Your Car with Single-Stage Urethane Paints
By Nick Capinski
A common question we hear from hobbyists is, "I want to paint my car. What products do I need?" This seems like an easy enough question, but with so many primers, paints, and clear coats available, there are a lot of variables that come into play. To reduce the confusion, Eastwood developed its own line of single-stage urethane paints with the first-time painter in mind. This is a professional-quality paint system that's easy to mix, easy to apply, and easy on the wallet.
Understanding mix ratios is something that often causes confusion. To clear-up that issue, Eastwood Single-Stage Urethane Paint comes in a gallon can filled with 3 quarts of reduced paint. Simply pour-in the one quart of activator, stir, and you have a full gallon of sprayable material. Since single-stage urethanes are basically clear coat with color pigment added, these paints can be sprayed as is, or clear coat can be used afterwards for additional shine and protection.
When repainting a vehicle, you will either strip the vehicle to bare metal or paint over an existing finish. Depending on which route you decide to go, there are different primers to use.
Painting Over Bare Metal
Most full restorations involve stripping the vehicle down to bare metal. This allows you to see what's hiding under the existing finish and ensure that any damage is properly repaired. Because bare metal starts to rust almost immediately, it's a good idea to apply a primer as soon as possible.
With Eastwood's Single-Stage Urethane system, apply Eastwood Epoxy Primer over bare metal. This primer offers excellent adhesion to bare metal and provides a proper foundation for your paint job. The 1:1 mix ratio makes it easy to mix (one part primer to one part catalyst). Unlike other epoxy primers on the market, Eastwood's Epoxy Primer can be easily sanded two to three days after application. It can be topcoated from 30 minutes after application up to five days later, without sanding. If topcoating after five days, a scuff sand is required.
Eastwood's Epoxy Primer offers good filling characteristics, but if you need a higher build, it can be topcoated with our 2K Urethane Primer that offers high-build capabilities and is very easy to sand.
Painting Over Existing Finishes
The other scenario when painting a vehicle is to paint over the existing finish. This practice is perfectly acceptable, as long as the existing finish is solid and in good shape (not flaking or cracking). If the vehicle has been repainted multiple times over existing finishes in the past, it is generally best to strip the vehicle down. If you're unsure about hidden repairs under the finish, it's also a good idea to strip the vehicle down.
If you have come to the conclusion that your vehicle's finish is solid enough to paint over, you have two options: Eastwood Epoxy Primer or Eastwood's 2K Urethane Primer. For both these primers, thoroughly clean and degrease the existing finish, then sand it with 320-400 grit (be sure all traces of wax are removed prior to sanding). After sanding, clean and degrease again.
If there are areas with bare metal showing, apply a coat or two of Eastwood's Epoxy Primer. If the sanded surface did not expose bare metal spots, you can apply Eastwood's 2K Urethane Primer. This primer has a 4:1 mix ratio (4 parts primer to 1 part activator). This primer's high-build characteristics will allow you to block sand your vehicle and ensure that everything is smooth. Prior to block sanding, apply a light coat of guide coat to highlight any problem areas when sanding. Guide coat is simply a different color primer or powder that is applied to the surface. During sanding, low areas will be highlighted by the guide coat left behind.
Applying Eastwood Single-Stage Urethane Paints
Prior to applying your color, ensure that you have thoroughly prepared the surface for paint. A common saying you hear when talking about paint is that "the prep work makes or breaks the paint job". After cleaning and degreasing the surface to be painted, sand with 320 grit, working your way up to 600 grit. Re-clean prior to applying your color.
Eastwood's Single-Stage Urethanes offer a 3:1 mix ratio (thoroughly mix three parts single-stage urethane paint with one part 21856ZP Activator). No additional reduction is required, although we do offer a urethane reducer that some experienced painters may want to add to increase flow out (generally not needed, and may increase the likelihood of the paint running if added). Mix only enough paint as you will be using since Eastwood's single-stage urethane paint may begin to gel after approximately two hours (at 70°F).
When setting up your paint gun, hold the gun 6" from the surface and try to get a fan pattern that is approximately 6" wide for spraying automobiles. If you're spraying smaller objects, a 4" pattern is usually ideal. We recommend that you practice with different fan patterns before you begin spraying your project.
When spraying, be sure to keep the gun parallel to the surface you're spraying. If you're spraying a solid or metallic color, you should use a 50% overlap on each pass. For candies and pearls, you usually want to use a 75% overlap. When spraying, you should walk with the gun, keeping your wrist firm. If you move your wrist, this will vary the gun's distance from the surface you are spraying, resulting in uneven coverage. A large part of spraying is developing a feel. The more you practice, the better you will become. There is a fine line between laying the paint on flat and texture-free, and running it off the panel. To get this feel, you must practice and become acclimated to your spray equipment and the products you're spraying.
Apply single-stage urethane paints in two or three medium wet coats as necessary to achieve sufficient coverage, allowing 10-minute flash time between coats. Additional coats may be necessary to achieve total coverage for some metallic colors. A final "fog coat" may be applied with metallic colors to help set an even flake pattern and/or adjust flake orientation. A dry film thickness of approximately 2 mil is recommended. Paint should be dust free within 10-15 minutes and tack-free within one hour (at 70°F). Recoat anytime after the previous coat has flashed, or before 18 hours. After 18 hours, paint should be abraded prior to recoating for proper adhesion purposes.
This urethane paint may be applied as a stand-along single-stage system, or in combination with Eastwood Urethane Clearcoat Plus Activator as a basecoat/clearcoat system. Additionally, Urethane Clear may be integrated into Urethane color. When combining the two systems, be sure to activate each side (the paint and the clear) separately, with their own activators at the correct mix ratios, before blending.
When used as a single-stage urethane paint, this coating may be wet-sanded and polished for increased depth and gloss like any other urethane topcoat. Care should be taken when lightly cutting metallic colors to prevent disturbing the aluminum flake.
Eastwood Customer Vehicles Painted with Our Single Stage Urethanes

Terry R's 1967 Ford Galaxie painted with Eastwood Malibu Sunset Metallic Orange

Howard S's 1965 Chevy K10 Truck painted with Eastwood Pro Street Red
Sours: https://www.eastwood.com/Paint_Your_Car
Your form message has been successfully sent.
Your particular color is mixed to order and then loaded into a new spray can with one of our aerosol filling machines.  Most colors are available to be put into a spray can in either basecoat, single stage enamel 2K urethane, and paint for flexible vinyl and plastic.  We can make as few as one can to as many as you need. 
We offer the Dupli-color Omni-Fill filling system for both enamel and basecoat paints and the Fillon Pichon filling system with Sem and Spraymax cans for enamel and basecoat paint 2K urethane and vinyl/plastic paint.  
Your paint is mixed in whatever quantity of paint needed (pint, quart, gallon ...) and we make as many spray cans from that paint as you want or as many as the paint will allow.  This is available in both basecoat or single stage enamel paint in the Nason paint line, in addition to Chromabase basecoat paint and Centari acrylic enamel.  Pricing for this is the cost of the paint itself, which varies depending on the quality and quantity of paint needed, plus $10.99 for each spray can made.
2K ureathane single stage enamel paint is also sold as the cost of the paint plus $21.99 for each spray can made.  This is a premium activated acrylic enamel paint that gives superior gloss and durability.  The spray can is activated by pushing a button on the bottom of the can.  There is a pot-life of approxiately 4 days after activation, so only activate it when ready to spray.
Paint for flexible vinyl and plastic, Wanda brand basecoat paint, and Axalta Mosaic paint is also available and is priced at the cost of the paint plus $11.99 for each spray can made. 
Contact us with your color information and specific nees and we will give you a quote for this complete service.  Quantity discounts are available.
Sours: https://www.fapco.com/we-make-spray-cans/
How to Setup your Paint Gun to Spray a Car Guide!
How to Prep a Car before Painting: Cutting, Sanding, Priming and Picking the Right Paint
When it comes to painting a car, any automotive professional will tell you the same thing: it's all in the preparation. Whether you're repairing a chip or re-spraying the whole car, prepping the paintwork is just as important as applying the paint, and plays a huge part in the quality of the end result.
To help you prep like a pro, we'll guide you through some handy hints on cutting, sanding, priming and picking the right paint for your car's new look, with insider tips to give your car a truly professional finish.
Search for your car paint today!
Find Your Paint
Cutting
What is Cutting?
Cutting is using an abrasive compound to removes thin layers of paint. Cutting can be carried outdone as a prep step before you apply paint or afterwards to blend the new paint into the old. There are different types of compound, each with a different cutting power. Be sure to choose the right one for the job – if you're unsure, just ask in store.
How to Apply Cutting Compound to Your Car
Before you start the process of applying a cutting compound, be sure to tape off surrounding areas, especially if you're applying it with a machine. It can get all over the place, so work smart; wear old clothes or overalls, safety glasses, gloves and cover up anything you don't want to have to clean afterwards.
Using a clean cloth, apply the compound in a circular motion by hand. Larger areas might be a bit too big to do by yourself, so get an orbital polisher with the appropriate pads. Watch your pressure and be sure to pause every now and then to inspect the area you've just treated.
Insider Tips
When you first start there's a good deal of trial and error – so be patient and keep calm.
Always take care to move the compound around; spending too long in one area can heat up the paint and burn it, creating more damage.
Spraying water on the surface will cool the paint down and help to move the compound over the surface.
Sanding
What is Sanding?
Sanding removes the top layer of your car's paint using abrasive materials.
One of the most important parts of paint preparation, it's well worth investing time to do it right for professional results. Depending on the job, sanding can be done with either sand paper or an electric orbital sander, and you'll need to use different grades of paper depending on the task.
How to Sand your Car's Bodywork
If you plan to strip paint from the car's bodywork, use 1,200-grit paper or sanding pads to quickly remove the clear-coat and paint. To avoid the headache of trying to match the paint you want to apply to the existing paint on the car, you'll need to remove the primer and expose the bare metal. The paint on older cars may be incompatible with modern water based paints and gel coats. Better to be safe than sorry – do it right and do it once.
You'll want to ensure that no glossy spots remain on the car's bodywork, otherwise the primer and paint won't stick. It might be a long process, but it's worth it to get the right results.
Insider Tips
Alternatively, if you don't need to completely repaint the surface and you're doing a quick repair or touch up, smooth the surface using 2,000 – 2,500-grit wet and dry paper.
Press lightly to remove minor light scratches in colour coats and clear coats quickly.
Priming
What is Priming?
An essential step in painting metal surfaces, and one you'll need to do before applying any top coat or colour, priming seals the surface and creates a protective barrier, creating the ideal surface for the colour coat paint to stick to. High build primers contain high solids which help to smooth any imperfections on the bare metal.
How to Prime Your Car Before Painting
Always choose a high-quality automotive primer that's developed for use on metal surfaces, and make sure the area you plan to paint is cleaned thoroughly before you start. Typically, you should apply two or more coats of primer to ensure the bare metal is completely covered. If you're painting plastic, you'll need a specific plastic primer.
Either way, make sure you've covered up the areas you're not painting, and tape down any edges with masking tape. Is it dry and mild outside? These are peak priming conditions.
If you're doing the process indoors, cover up with eye protection, a dust mask and keep exposed skin covered. Apply the primer evenly to the areas that need painting, and wait for it to dry.
Insider Tips
Pause and inspect the area. This is the ideal time to take stock of the situation and work out if any further surface prep, such as sanding, needs to be done. You can clearly see any surface imperfection once the primer has dried. Don't skimp or rush this key stage.
Remove any bumps or rough patches by re-sanding the area. Clean and re-apply the primer. It's normal to have to repeat this stage a couple of times to get it right.
Choosing the Right Paint
Whether you're painting your car a totally different colour, or matching the existing paint, you'll need the correct shade. Unsure what the correct colour for your car is? Holts Paint Match Pro makes things easy.
Using our clever paint match tool, pin-point the right paint for your car based on its manufacturer, colour and registration year. With over 8,000 vehicle colour matches across the range, find the paint that's the perfect match for your car's paintwork in a matter of minutes.
Once you've picked the correct colour, check out our step-by-step guide to painting metal right here.
From the smallest job to major makeovers, at Holts, we want your car looking and running its best. To find out more, and view our complete product range, visit the homepage.
Sours: https://www.holtsauto.com/holts/paintmatchpro/news/prep-car-cutting-sanding-priming-right-paint/
Auto paint ready to spray
Car Painting 101: Your Guide to Spray Painting Your Car
However, the difference between a proper spray paint job and a DIY disaster requires research, planning and prep work. Use our car painting guide to give your vehicle a shiny new coat of paint, and a new lease on life!
What You'll Need
In order to properly spray paint your vehicle, you will need a few important materials:
A power sander
Sanding pads
An air compressor
A paint sprayer
1200- and 2000-grit sandpaper
A cleaning solvent
Newspaper
Masking Tape
Primer
Enamel, acrylic enamel, or polyurethane paint
Paint thinner
A face mask
Safety glasses
Undercoat/primer
A clear coat lacquer
A rag
Denatured alcohol or mineral spirits
Rubbing compound (optional)
Preparation
A proper paint job cannot be rushed – painting your vehicle requires plenty of time, so make sure that you have a few days set aside in order to do the job right.
Step 1: Choose Your Location Wisely
Before you begin any actual painting, you will need to find a suitable location for your DIY project. Make sure your location offers plenty of room for working around your car, and is well ventilated and well lit. Choose a place with electricity and minimal dust. Avoid residential garages, since these often have furnaces or heaters, which pose a fire hazard when coming into contact with paint fumes.
Step 2: Remove rust, dents, and trim
Make sure your paint job does not accentuate any imperfections – fix any visible dents, repair any rust, and remove chrome or plastic trim. Moldings and trim can be replaced after painting is complete.
Sanding
Step 3: Sand
Give your paint a smooth and even surface onto which it can adhere – sand your entire vehicle using circular motions, either all the way to the bare metal, to the original primer, or at least enough for your new coat of paint to adhere to.
If you are short on time, the 3rd option will suffice – however, you will get the best results from sanding down to bare metal.
Step 4: Clean
Using a rag and denatured alcohol or mineral spirits, wipe down all surfaces of your vehicle thoroughly, to remove any oil residue and ready it for painting.
Step 5: Tape Surfaces
Use masking tape and newspaper to cover the surfaces of your vehicle that you don't want painted, including mirrors, window trim, glass, grills and door handles.
Priming
Step 6: Prime
If you have sanded down your vehicle to the bare metal, you will want to use a corrosion-resistant and self-etching primer in order to prime the surface of your car.
Step 7: Allow primer to cure
If you removed any rust, make sure to prime these properly by feathering them until they are smooth and applying enough primer to the areas. Allow all primer to cure thoroughly, according to instructions on the container.
Step 8: Sand once more
Sand the newly primed surfaces once more, but be sure not to sand too much and expose the metal surface again.
Step 9: Wipe down
Wipe the primed surfaces with a rag slightly dampened with thinner.
Painting
When you are ready for painting, make sure to follow manufacturer's directions and prepare the paint for spraying.
Step 10: Paint
Holding your spray gun approximately 6 inches away from your vehicle's surface, and using a side-to-side sweeping motion, apply paint in thin and even coats. Typically, it will take three to four coats to completely cover the surface. Be sure to follow the manufacturer's drying time – this can vary from 20 minute to an hour.
Step 11: Sand and Wipe
Before you apply your last coat, sand the surfaces once more to remove powdery residue, then wipe with a clean rag.
Step 12: Apply lacquer
Apply a clear coat lacquer, using the same painting technique.
Step 13: Remove masking tape
Remove masking tape while the clear coat is still wet, then allow the clear coat to dry according to your manufacturer.
Step 14: Buff
Using circular motions, complete your paint job by buffing out all painted surfaces. What's more, you can use a rubbing compound to bring out a glossy finish.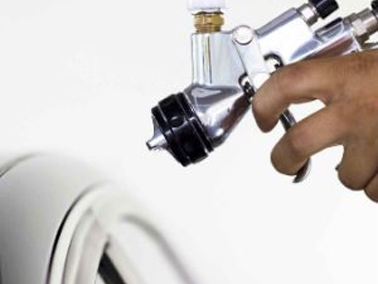 October 30, 2017
Whether your car's paint job is looking a little worse for wear, or you just want a change of colour, spray painting your vehicle is a cost-efficient way to give your ride a whole new look.
FacebookTwitterCourriel
Sours: https://www.desjardinsgeneralinsurance.com/blog/-/car-painting-101-your-guide-to-spray-painting-your-car
How To Apply Automotive Primer
Fix my scratch or chip by looking up my...
Features, Benefits and Technical Information
Pre-reduced, ready-to-spray lacquer
No mixing or reducing required
Easy to apply and dries quickly
No recoat window, reapply at any time
Must be clear coated
Wet sands easily
Ideal for automotive exterior body projects
Pre-reduced, ready-to-spray lacquer
Translucent Candy Color adds depth to paint finish
No mixing or reducing required
Easy to apply and dries quickly
No recoat window, reapply at any time
Must be clear coated
Wet sands easily
Application Humidity Level

Application Temperature

Between 60°F (16°C) and 95°F (35°C)

Dry to Touch

Handle In

3 Hours

Paint Type

Lacquer

Application Tips

Download File
Sours: https://www.duplicolor.com/product/paint-shop-automotive-lacquer-finish-system/
Similar news:
To dispel his embarrassment and cheer up, I invitingly opened my mouth, stuck out my tongue and, looking into his eyes, froze in anticipation. - Oh, uuu. Vladimir Nikolaevich groaned, and at the same second his hot urine splashed on my face. The air was filled with a strong scent, and a golden stream drifted down his cheeks and into his mouth and eyes.
Due to the strong current, I could see little and just swallow as much as I could.
1602
1603
1604
1605
1606