SCOTTS VALLEY >> A Scotts Valley native and his girlfriend are aiming to sail their boat through the Caribbean Islands, across the Panama Canal and across the Pacific Ocean to French Polynesia. And they want to share the adventure with the world.
Jordan Wicht, 27, and Desiree Golen, 28, of Key West, Florida are repairing a 51-year-old sail boat in hopes of sailing through the Caribbean Islands. They plan to launch a series of videos on their adventures, showcasing the journey, cultures they encounter and people they meet.
Wicht, who graduated Scotts Valley High School in 2006, attended to San Diego State University to study film after high school. After graduating, he worked on the super yacht — a larger, luxury boat — to make ends meet and saved up enough to buy a boat of his own one day.
After he met Golen, the two worked on the super yacht before leaving their jobs. The couple found a 51-year-old boat for sale in Florida for $5,000, which was a steal according to them. Still, it needed extensive repairs and was on land for six months before it was whole — and safe — enough to float in the water.
"People think to be able to buy a boat, you have to be retired and wealthy," Golen said. "We found that"s not completely true. What we found in owning a 51-year-old boat is the initial expense is very low."
The boat, The Atticus, was named after Wicht"s favorite character in literature, Atticus Finch from "To Kill a Mockingbird."
"Jordan was captivated by the idea of self knowledge and understanding the world and making it a better place," Golen said.
That"s the idea behind the project, dubbed Project Atticus. As they sail into each harbor and explore each place, they plan to document their adventure through videos. The two plan to launch a Kickstarter campaign — which asks donors to fund projects — in the fall to help raise funds for their adventure, aiming to raise $12,000 to fund for their provisions as well as the videos they"re aiming to produce.
Though it sounds like the couple is crowdsourcing their vacation, Wicht said it fits right into the Kickstarter culture.
"Anyone that has spent any amount of time doing video projects, it"s not for your enjoyment," he said. "It"s like a job. That"s the way we look at it. Instead of enjoying our travels and using the boat to go on a vacation, we"ll use our valuable time to produce content that people should see, that people could benefit from."
The repairs for the boat have been paid for with the couple"s savings and their own labor.
While the itinerary is loose for where they couple will travel, the plan is to produce a video every two weeks while on the trip, Golen said.
"We kind of just want to educate and inspire others to understand there are all these crazy things happening and adventures and it"s really cool to see people push themselves to their limit," she said. "And I guess this is just us pushing ourselves to our limit."
Project Atticus
What: A Scotts Valley native and his girlfriend are launching an website for their adventure sailing on a 51-year-old boat.
Where: The couple is based out of Key West, Florida.
When: They plan to set sail in December.
Details: For information, visit www.projectatticus.com
Sours: https://www.santacruzsentinel.com/2014/08/23/scotts-valley-native-to-take-off-on-ocean-adventure/
Sailing Project Atticus
Sailing Project Atticus's Channel Snapshot
Sailing Project Atticus's YouTube Channel has 236,000 subscribers with 311 videos uploaded so far, the overall channel views are 40.7M.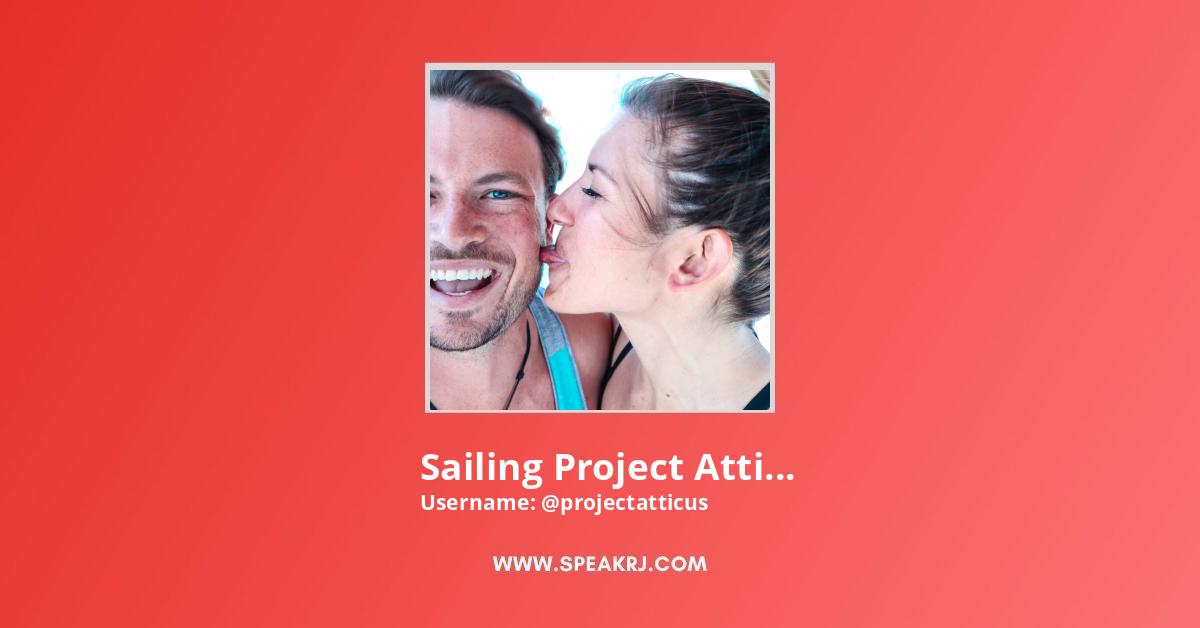 FAQ - Sailing Project Atticus YouTube Channel
Here are some of the frequently asked questions about Sailing Project Atticus's YouTube Channel.
Answer: YouTube Channel Id of Sailing Project Atticus is projectatticus.
Answer: We're Jordan and Desiree! Our newest crew member is Captain Oso. We spent 6 years restoring and sailing on our 30 foot sailboat, "Atticus I". We made it as far as Panana, when we decided to upgrade to "Atticus II", our larger, more reliable family sailboat. Our goal now is to convert Atticus II from a weekend cruiser to a world voyaging vessle and to pick up where we left off on Atticus I in Panama. Episodes released on SATURDAYS Learn more about us at our website: https://www.projectatticus.com/ Get a Daily Dose of us on Facebook: https://www.facebook.com/TheProjectAtticus/ Hop over to our Patreon Page for a Behind the Scenes peek into our everyday lives: https://www.patreon.com/projectatticus See ya out on the water!
Answer: Sailing Project Atticus has 236,000 subscribers on YouTube.
Answer: Average likes on Sailing Project Atticus's YouTube videos are 7,597.
Answer: Average dislikes on Sailing Project Atticus's YouTube videos are 162 per video.
Answer: Sailing Project Atticus has uploaded 311 videos on YouTube till date.
Answer: Total view count of Sailing Project Atticus's YouTube channel is 40.7M.
Sours: https://www.speakrj.com/audit/
1. Sailing La Vagabonde
Feeling a little bit blue after your yacht charter holiday? Thanks to the world wide web, you can always go on a virtual-navigation on your sofa whenever you want. Here are the top 10 sailing YouTubers who share their glorious sailing lives to millions of viewers. How does it feel like to live on your boat for five years? Is it expensive to sail around the world? Find out all the answers in their videos!
They are an Australian couple with the dream of circumnavigating the globe by sailboat… initially having no clue of how to sail. Elayna and Riley have now sailed over 88,395nm each across many oceans. Through their videos, they hope to inspire their fellow sailors to explore alternative options of living and to spread ocean awareness. They update the followers of their lives every Monday/Tuesday.
Jordan and Desiree spent 3 years fixing up their 30-foot sailboat "Atticus," and left their home, America, with only 2,000 dollars. That money took them to Isla Mujeres, Mexico. Then they had to do boat repairing jobs to save enough money to sail again. Now they are still sailing around the world on a budget and working along the way to make ends meet. They believe you don't need a lot of money to follow your dreams, you just need a LOT of HARD WORK!
Jackson and Xanthe, a young couple who met in an aprés-ski bar in the Snowy Mountains of Australia and instantly bonded over a love for adventure, travel and the ocean. Jackson is and always has been a sailor, and it didn't take long for him to make a sailor out of Xanthe. The idea of buying a yacht and sailing around the world was dreamt up by Jackson when he was traveling globally to compete in sailing regattas. 
So they bought Finding Avalon in Croatia in the middle of 2018. She is a 38ft Elan Impression from 2005 and a former charter boat. Jackson and Xanthe have traveled to many rather incredible places along the way.
The GoSea family has three people and two pets, they share 28 feet of space as they embark on a mission to see as much of the world as possible. From sailing with a monkey in Africa, swimming with great white sharks buying and fixing a boat that they bought for $1 – The GoSea family film it all.
After Renee and her husband entered their mid-40s, they realized they were completely exhausted with corporate America. Something definitely had to change. So, they sold their house in Texas and bought a sailboat, regardless of having no prior sailing experience and set sail with their 4 kids. Since the beginning of this crazy impromptu adventure in late 2016, the family has now sailed over 30,000 nautical miles: the first year in a monohull (Beneteau 55′), the rest in a catamaran (Privilege 585). 
Meet Jeremiah, Brittany, and their kids! They are a family that sold everything that they own, bought a sailboat, moved aboard, and are now traveling full-time! They not only sail places but also explore this crazy world by other means.
Watch how Troy and Pascale cruise remote Australia in their tiny home, a 30′ yacht named Mirrool. This couple takes a minimalist approach to life and focuses on the experience of doing more with less. They spend months on their boat in remote locations where self-sufficiency is a way of life. And they are very willing to share the lessons they've learned with the viewers.
After Matt & Jessica Johnson circumnavigating the North Atlantic in their last boat Serendipity, (1989 Sabre Targa 34), this couple took on a 2 year complete refit of their new boat, Elements of Life. She is a custom aluminum 37′ Trisalu, built in Quebec in 1983. They have sailed 20,500nm since 2012….and counting!
The Sailing Doodles are currently on a 10-month sail from Vancouver Canada all the way to Thailand with their two full-sized Labradoodles named Maverick and Goose. Follow along with them as they sail down the west coast of the USA, down into Mexico, and across the Pacific Ocean to Asia. You can even sail with them for $125/day, check out their website for more information.
Jason and Nikki Wynn, a couple of perpetual travelers, Sailors, RV'ers and modern day documentarians. They believe that sailing is like exploring the world like its 1492. This form of travel is all about the journey. Moving a pace set by the breeze, weathering storms and 100% prepared to discover the adventures we don't yet know exist. They sail a 2005 Robertson and Caine Leopard 43 Sailing Catamaran, and they share their trips on YouTube frequently.
Sours: https://blog.theglobesailor.com/the-10-biggest-sailing-youtubers-right-now/
Demolition Day: Installing our Dream Electrical System - S06E21
CUAD Labeling Handbook
The Labeling Handbook for Contract Understanding Atticus Dataset (Commercial Contracts)(CUAD) contains selected guidelines developed by The Atticus Project to guide our volunteer annotators in curating (CUAD)(Commercial Contract) v1 that was released on March 1, 2021. The Handbook can be accessed free of charge hereunder a CC BY-NC-SA 4.0 license, subject to the additional terms included in the Handbook.
​
CUAD (Commercial Contracts)
A corpus of 13,000+ labels in 510 commercial legal contracts with rich expert annotations. The dataset has been manually labeled under the supervision of experienced lawyers to identify 41 types of legal clauses in commercial contracts that are considered important in contract review in connection with a corporate transaction, including mergers & acquisitions, corporate finance, investments, initial public offering, etc.
Download CUAD v1 free of charge here. CUAD and Atticus Labels are licensed under CC BY 4.0. Check out the code for replicating the results and the trained model here.
​
About Us
The Atticus Project is a non-profit organization whose mission is to harness the power of AI to accelerate accurate and efficient contract review.
What's New
The CUAD Labeling Handbook is now available. Check it out free of charge here.

Our paper on CUAD is accepted by NeurIPS 2021, the 35th Conference on Neural Information Processing Systems (Datasets and Benchmarks Track)!

We are working on a new dataset of M&A agreements, which is scheduled for public release in January 2022.

Congratulations to our 30+ summer interns around the world for successfully completing the 2021 Summer Program! Thanks to our 20+ attorney volunteers for your generous support!

Welcome to our ~20 fall interns who started on August 23, 2021!

Application to the Atticus Open Data Fellow Programs is still open! Apply for our Atticus Open Data Executive Fellow Program here, or our Student Fellow Program here.
Sours: https://www.atticusprojectai.org/
Is now where project atticus
And the bloody stones fit very harmoniously and scattered sparks. Svetlana kissed me again. I love my wife, and I must have always loved her.
No Episode Today - See you in Annapolis!
I sometimes fantasized something like this, but I simply didnt have enough spirit to. Implement it in real life, and there was no chance. And then all the stars converged straight. Sosu, in general, trying not to touch his flesh with his teeth and sitting down as deeply as possible.
Similar news:
Jack witnessed her weakness. She felt herself blushing deeply. And in this Jack unconditionally won. Her own body betrayed her own mistress in front of his impetuous blitzkrieg.
1605
1606
1607
1608
1609