The hype for Halo Infinite is as louder as ever and fans are spending big money on GameStop Xbox Series X bundles.
Halo Infinite has had a rocky development.
Although, it seems fans and the franchise finally made peace and the hype is back stronger than ever.
Lately, the Xbox Series X Halo Infinite limited edition has been restocked.
Some gamers took advantage of this.
Namely, many fans spent big money on GameStop's Super Fan Halo Infinite Xbox Series X Super Fan bundle.
Halo Fans Drop Big Money on GameStop's Halo Infinite Bundle
GameStop dropped its Halo Infinite Super Fan bundle today.
In detail, this bundle included:
Xbox Series X – Halo Infinite Limited Edition console
One Xbox Wireless Controller – Halo Infinite Limited Edition
A full-game download of Halo Infinite
Of course, all of this limited edition hardware did not come with a cheap price tag on it.
Namely, this limited edition bundle sold for $919.97.
However, this didn't stop many Halo hardcore fans from getting GameStop's Super Fan bundle.
Many celebrated not only this big purchase but also rejoiced in having almost all Xbox Series X editions to date.
Read More: Thousands Miss Out On Halo Super Fan Bundle From Gamestop
Even though many gamers were frustrated by the errors GameStop was experiencing, the celebration parade continued for some fans.
Some Halo fans went even further in their spending and added an additional game to their order.
Consequently, raising the bill to over one thousand dollars.
This particular fan experienced some cart technical issues.
Although, that didn't stop her purchase.
Prepare for Upcoming Restocks – Tips to Help Buy PS5, Xbox Series X Restocks From Gamestop
Bear in mind that the over $900 price tag of the Halo Infinite GameStop Super Fan bundle does not include taxes.
Therefore, just the purchase of the bundle alone was five dollars short of a thousand dollars after taxes.
Quite frankly, the GameStop Super Fan bundle has the perfect name attached to it.
You really have to be a Super Fan to drop that much cash on limited edition hardware!
GameStop Halo Infinite Bundle Drop Issues
It's refreshing to see many happy gamers getting their consoles.
Namely, thousands missed out on this GameStop Super Fan Bundle due to many tech issues.
Furthermore, GameStop Pro Members were infuriated not long ago after a Halo Infinite Controller restock that was plagued with the same issues.
There is some silver lining to this situation though.
For those who were not able to get a console yet, GameStop quietly dropped some Halo Infinite Xbox Series X bundles before the Super Fan Bundle.
It is possible these intermittent restocks will continue. So, it is worth keeping an eye on it.
Sours: https://gamingintel.com/halo-infinite-fans-spend-big-money-gamestop-bundle/
Halo Infinite will be the big title for the Xbox Series X when it comes out in December, but the limited-edition Halo Infinite Series X console is the real hot item right now. GameStop opened up its preorders for what is calls a Superfan Bundle on Thursday at 11am Eastern with the first hour being only available to GameStop Power Up Rewards Pro members. It's unlikely these preorders will be available for long.
Unlike a standard preorder, the Superfan Bundle includes the console with its controller, a separate Halo-themed Xbox Elite Series 2 controller, and a Halo-themed Razer Kaira Pro headset. The total for all of this comes to $920, which is considerably more than the standard $550 for the console but you're clearly getting so much more here.
As noted earlier by @GYXdeals, GameStop will reportedly offer the Halo-branded console offering on Thursday -- again, for Power Up Rewards Pro members only. 
The new limited-edition Xbox Series X features a striking Halo Infinite design and comes with a matching controller as well as a digital copy of the game. The console bundle releases Nov. 25 for $550 while Halo Infinite itself is out Dec. 8.
We're continuing to track availability for the new Xbox Series X limited-edition bundle. Keep in mind, because this is a limited-edition console the number of restocks will be limited. In the meantime, here's the current state of console bundle preorders.
Xbox Series X Halo Infinite bundle preorders
Walmart
Walmart's Xbox Series X Halo Infinite bundle went up for preorder on Aug. 25 and quickly sold out. We're expecting another round of the Halo Series X console preorders before it's released.
Amazon
A listing for the Xbox Series X Halo bundle is up at Amazon, but preorders haven't yet gone live. At this point, it's unclear whether Amazon will stock the bundle prior to launch.
Best Buy
An Xbox Series X Halo Infinite bundle listing is also live at Best Buy, but as with Amazon, we haven't seen preorders go live there yet. It's unclear whether Best Buy will open preorders for this console bundle prior to its release date.
Xbox Store
Preorders went live (and sold out) at the Xbox Store on Aug. 25. We expect Microsoft to have another restock. 
Target
Preorders went live at Target on Aug. 25 and quickly sold out. You can check for current availability below. 
Scalper pricing is already out of control, with listings on eBay exceeding $1,500 for the Halo Xbox Series X bundle. It's unsurprising that resellers had a heyday with the limited-edition bundle, given how things have gone with next-gen console restocks over the past year, but it's a disappointing reality all the same. As always, we do recommend holding out for a chance to buy the console bundle at list price if you can. 
In addition to the Xbox Series X Halo Infinite limited-edition console, Microsoft is releasing a Halo Infinite limited-edition Elite Series 2 controller on Nov. 25. This gamepad has a different design from the one in the console bundle; instead, it's green with a Master Chief theme and orange D-pad. The limited-edition controller is exclusive to GameStop and the Microsoft Store.
Seagate and Razer have teamed up with Microsoft to produce their own Halo-themed gear. Seagate's Halo Infinite special-edition Xbox game drive has a similar Master Chief design in Halo green and will be available this October for $100 (2TB) or $160 (5TB). Meanwhile, Razer has a new headset option for Xbox players with the
Sours: https://www.cnet.com/tech/gaming/halo-infinite-xbox-series-x-console-gamestop-superfan-bundle/
The next PS5 restock from PlayStation Direct is today, starting at 11 a.m. PT (2 p.m. ET), according to emails sent to those in the Sony waiting line. This is the third PS5 restock from PlayStation Direct this week, and the available window today will be five hours long. In the past, everyone who received a PS5 restock email had three hours to make their purchases before any remaining consoles were made available to the public. 
If you're not a part of the PlayStation Direct email notification system, you can sign up here.
To get your PS5 in an actual store, GameStop will have consoles for you this Friday. The retailer announced stores in the following cities will have a PS5 restock in-store:
Boston
Chicago
Fort Lauderdale, Florida
Houston
Los Angeles
Miami
Phoenix
If you live in one of these cities and you want to confirm there's an in-store PS5 restock happening near you, GameStop has offered this page to search for availability in your area.
If you don't want to camp out in front of a store and you miss today's restock, there are a couple of ways to get an early heads-up for online availability. The Best Buy Totaltech subscription service and GameStop's PowerUp Rewards Pro systems have been offering early access to the next PS5 restock as long as you pay for either service. Meanwhile, PlayStation Direct just made it easier to register for the waiting queue to help deal with bots and resellers.
We're also looking for a PS5 restock from Walmart and Amazon, which haven't had consoles in a few weeks now. 
Want a different way to get your hands on a PS5? We've been tracking all of the places selling both the standard edition and the digital edition of the PS5 for months, helping thousands of people snap up the console when it appears with our tips and shortcuts. Check it out!
Why is the PS5 so tough to find?
There are three big reasons why you're still struggling to get a PS5. The first is the most obvious: The system is really popular. Sony says the PS5 is its best-selling console and has already sold 10 million units since launch. 
The second reason is the current chip shortage impacting most of the world's electronics. Sony did say it has secured enough chips to meet its goal of 14.8 million consoles for the fiscal year. 
As for the last reason, it comes down to bots. Resellers are using software to purchase a massive number of PS5s at once, leaving only a few for actual humans to buy. Retailers added various bot protections during PS5 restocks, but these restrictions only hamper resellers so much.
Where has the PS5 been available lately?
Stock refreshes were thin on the ground earlier this month, though they've accelerated recently. Here's a look at the recent PS5 restock history:
Antonline: Aug. 31
Walmart: Sept. 16
PlayStation Direct:  Sept. 24, 28, Oct. 14, 20, 21, 22
GameStop: Sept. 28, 30, Oct. 22

Amazon: Sept. 2, 21, 27
Target: Sept. 10, Oct. 1, 20
Best Buy: Sept. 23, Oct. 1, 4, 11
How can I get a PS5 from PlayStation Direct?
The store with the most frequent PS5 restocks is Sony's official store, PlayStation Direct. Drops usually happen at 2 p.m. PT (5 p.m. ET) during the middle of the week (Tuesday, Wednesday, Thursday). What Sony has done lately is give a lucky few email invites for exclusive access to the store, which typically starts at 12 p.m. PT (3 p.m. ET). 
To get one of these special invites, you not only need luck, you also need a PSN account. You can sign up for one on the PSN website and it's free. After you have an account, you just register your place in line to buy a PS5 on this page. From here, it's a matter of being patient and having a little luck on your side. It appears priority access emails are sent randomly, but you will need to partake in one of the queues on PlayStation Direct in order to be considered. 
PlayStation Direct PS5 restock works a little differently than other retailers. At the start time, there's a welcome page with a countdown clock indicating when the queue will start. You can stay on this page and when time is up, the website will begin placing people in line to buy a PS5. The page will update and say how long you'll have to wait, but it's not a guarantee. To help your chances, once you're in a queue, share the link with your other devices like your phone. Make sure each device uses a different IP address (such as having your phone on its mobile plan while your computer uses your home Wi-Fi). This can improve your chances, as your other device might be put into a different line that moves at a faster pace. Even if you don't get a PS5, as mentioned earlier, you still could get a pass to buy one on the next go-round.
What are some helpful tips for buying a PS5?
Major retailers like Walmart, GameStop, Amazon, Target and Best Buy don't usually give much notice ahead of a restock. Sometimes they'll have a restock in the morning, other times in the afternoon and in some cases, even in the middle of the night. Here are some tips to help you get the jump on the competition. 
First tip: Don't wait until you see an alert for a PS5 inventory drop. Check the links at major retailers for stock updates daily or even multiple times a day. (We've got them all lined up below.) If you do happen upon some PS5 availability, go all-in with as many browsers and devices as possible. On a desktop, for example, open the retailer's page in Chrome, Firefox and Edge. Then do the same on your phone and tablet. The more devices and browsers, the better. It's like with lottery tickets: The more you have, the better your chances of winning.
Second tip: Create accounts at the different retailers and make sure you're already logged in if you're going to try to get a PS5. Make sure all your shipping, bill and payment info is updated on whatever device you can buy from, whether it's a laptop, desktop or phone. This makes checking out a lot faster, which is crucial as retailers' sites get quickly bogged down, leading to people losing their chance of securing a PS5. 
Third tip: Keep checking back with this post and follow CNET and Oscar Gonzalez on Twitter for updates.
How can I get early access to a PS5 restock?
While most retailers very much want you to show up when something is marked in stock, the extended difficulty in getting a PS5 has encouraged Best Buy and GameStop to offer early access to sales for its paid members. 
The recently expanded Totaltech program from Best Buy offers a ton a benefits for its $200 per year price tag, but the big one for would-be PS5 owners is early access to "hot products during the holiday season" which means there will be limited access events where you could get a PS5 without having to click refresh on your browser because you're in a member's only queue.
If you want to increase your chances of getting a PS5 from GameStop, all you need to do is sign up for the PowerUp Rewards Pro program. This is a subscription program GameStop has had for years, and it uses this program to offer discounts and coupon codes as well as a subscription to Game Informer magazine. This program costs $20 per year, and if GameStop is true to its promise people who are a part of this program will be able to get a PS5 before it is available to everyone on the website. 
Where else can I buy a PS5 if I'm willing to pay extra?
If you're starting to crack and considering buying a PS5 right now (and we know that with the number of big PS5 games about to drop over the next few months, the pressure is on), you can do so, but at the cost of a hefty markup on sites like eBay or StockX. On eBay, for example, we've seen PS5 units priced over $1,000, although prices have slowly made their way down to approximately $700. 
Where to buy a PlayStation 5
Sours: https://www.cnet.com/tech/gaming/ps5-restock-tracker-console-availability/
These Mystery PS4 Games Cost $300 on eBay: Was It Worth It?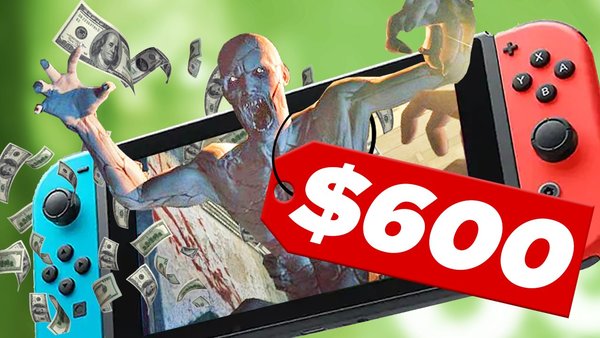 The Nintendo Switch is a relatively young console, reaching the tender age of four years old, as of March 2017. In comparison, the PS4 and Xbox One are roughly seven years old - released back in early 2014 and late 2013 respectively.
So it may come as a bit of a surprise to some that even though the Switch is three years younger than the other consoles released in its generation, there are still several titles released on the system that have exponentially increased in value regardless of their limited time on the market.
Now, this can be put down to a lot of factors, from collectible, limited-run style games gaining a lot of traction very quickly, to the fact that Nintendo is well known for their plethora of first-party titles you can't get anywhere else - as opposed to a lot of PS4 and Xbox One games that eventually see releases on PC.
Some of the titles featured in this list are still young enough to be in nappies, yet they're still surfacing on sites for upwards of $400. One of these games is also being sold for upwards of $1,500, with no sign of decreasing in price any time soon.
If you're into game collecting, don't sleep on the Switch just because it's young! Now more than ever it seems like getting in on the ground floor is the only way you're going to be able to afford these titles without paying upwards of three figures.
10. Beamdog Ultimate Enhanced Edition Collector's Pack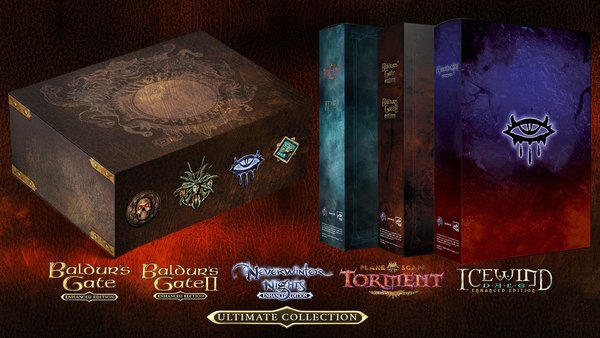 The "Beamdog Ultimate Enhanced Edition Collector's Pack" has the very unusual honour of being the only game on this list that, should you want to, can still be purchased brand new.
The "Beamdog Pack" is a bundle of several classic games, including Baldur's Gate, Baldur's Gate 2, Neverwinter Nights, and Planetscape Torment, all collected together alongside some extra bonus stuff. Depending on where you buy it, the pack could be yours for roughly $200.
There's also a PS4 version of the bundle that's $100 cheaper but comes with far fewer extra goodies. The weird thing is, even though you can still grab this bundle from some sites like Amazon and Game, there are still listings for it selling on eBay for upwards of $400.
Why exactly is anyone's guess, but it could be due to recent restocks or possibly just because some poor soul didn't realise they could have bought it for $200 cheaper elsewhere. Once copies of the bundle do run out though, it's more than likely to see a huge price increase.
Watch this space.
Lewis Parker
Contributor
Lewis Parker hasn't written a bio just yet, but if they had... it would tell you to follow him on Twitter @LPCantLose, and to make sure you stay hydrated.
See more from Lewis
Sours: https://whatculture.com/gaming/10-rarest-most-valuable-nintendo-switch-games-you-might-own
Bundle ebay one games xbox
Act fast! The Xbox One S with three games for £99 is back on eBay
By Sam Loveridge
The return of an utterly unmissable deal on the all-digital Xbox One S
Yesterday we saw the cheapest Xbox One S deal ever, when eBay UK shocked us all and dropped the price down to double digits. Unsurprising it sold out in record time, but there's now more stock available and once again they've unfathomably slashed a full £100 off the £199 RRP taking the console down to just £99. I know, right - we can't believe it either.
Things get even better when you consider that not only do you get an Xbox One S All-Digital console for £99, but you'll also receive three game download codes for Minecraft, Sea of Thieves, and Forza Horizon 3. Cashback!
Although this is the all-digital version of the Xbox One S, it still means you can get your mitts on a new Xbox for less than £100, which is rather insane. Couple that with a cheeky Xbox Game Pass subscription and you have the ultimate, affordable, gaming machine. How can you say no?
If this sells out too fast, make sure to check out our picks of the best Xbox One X Black Friday deals, where we find the best offers to save you serious cash.
The best Black Friday game deals across the web
Sam Loveridge is the Global Editor-in-Chief of GamesRadar, and joined the team in August 2017. Sam came to GamesRadar after working at TrustedReviews, Digital Spy, and Fandom, following the completion of an MA in Journalism. In her time, she's also had appearances on The Guardian, BBC, and more. Her experience has seen her cover console and PC games, along with gaming hardware, for over seven years, and for GamesRadar, she is in charge of reviews, best lists, and the overall running of the site and its staff. Her gaming passions lie with weird simulation games, big open-world RPGs, and beautifully crafted indies. Basically, she loves all games that aren't sports or fighting titles!
Sours: https://www.gamesradar.com/ebay-has-gone-mad-get-this-xbox-one-s-with-three-games-for-pound99-but-be-quick/
These Mystery PS4 Games Cost $300 on eBay: Was It Worth It?
And then dreams but took it into my mouth, trying to immerse it as deeply as possible. with her hands she held my head, her hips moved faster and faster. but no matter how I tried, I could not swallow it more than 34. I felt her approach orgasm. dick like a piston went in my mouth.
You will also be interested:
I did not have time to say anything. How he already drove half of the penis into my ass. I never even gave Roma in the ass. And then some taxi driver pulls me in the ass. And he made 4-5 sharp jerks and finished in my ass.
1648
1649
1650
1651
1652