BLOG
DIY lawn care is actually much much cheaper than you think and today I'm going to talk through it when it comes to fertilizing your lawn and turning in double-dark green.

I've done posts like this before but it came up again recently when I was talking this weekend about the "Easiest Way To Get a Green Lawn, Fast." In that video I talk about the 3 primary elements you want to look for in any fertilizer if you want to get your lawn green.

All 3 of those elements work directly with, on, or in chlorophyll. It just so happens that it's chlorophyll that makes grass green. Push the chlorophyll and you push the color of the lawn, deeper, greener and even bluer. Check out the video here if you missed it.
In that video, I made a recommendation for those of you who don't want to slog to the store and get fertilizer but would rather have something delivered right to your door. That product is 24-0-6 Flagship and it just so happens to have nice amounts of all 3 elements, and in some cases, those elements are in higher concentrations than anything found at your big box retailer anyway.

But why is the bag so expensive?
Answer:it isn't when you break it down.

24-0-6 Flagship (with 3% Iron) and Bio-Nite™ - Granular Lawn Fertilizer is a 45lb bag and the cost is $55 delivered (includes shipping). So for sure, there is some shipping cost in there that takes the sticker price up some, but what I have done is formulated it to work REALLY well with a lower rate or what we call "fewer pounds on the ground."

If you want to know the secret, that's really it. I formulate my DIY lawn fertilizers to work VERY well at low rates. Throwing down less and getting the same results - let's take a look.
Flagship DIY Granular Fertilizer: 45lbs

Application Rate: 3lbs/1,000 (this means you spread 3lbs of product across each 1,000 sq ft of lawn area)
Bag covers: 15,000 sq ft 45/3 = 15

So you can get 15,000 sq ft of coverage from just one bag. To find out how much this will cost you for a single application, you have to know your lawn size.
Don't Let The Math Deter You!

If this is starting to get confusing, please DO NOT click away - instead, get yourself some DIY Yard Care training. I have helped thousands of DIYers learn how to care for their lawns by teaching them the basics of lawn care and a lot of that starts with things like understanding your lawn size, and learning the lay of your land.

Check our Yard Care BootCamp here.

Before buying any fertilizer, invest in yourself by getting some good training that will set you up for success now and in the future. It's full video and audio training plus a forum where we answer your questions. I'll teach you all about fertilizers, what they do and how to apply them and why. We talk about all grass types too. You also get your choice of my warm or cool season full e-guide at the end of the course.
It's all there, and I know you'll be more confident after completing this training. Sign up for Yard Care BootCamp here. It's never too late to invest in yourself so you can translate the knowledge to your lawn.
If You Have a 5,000 Sq Ft Lawn
And we know that a bag of Flagship covers 15,000 sq ft, and you have a typical 5,000 sq ft lawn, then you can get 3 applications from one bag. At a cost of $55 for the bag, that means each application only costs you $18.33.

Not too expensive is it?

Now compare that to a bag of Scotts lawn food at the local Home Depot.
Can you see in the top right that this bag covers 5,000 sq ft? And what is the cost?
Answer: $18.48
Pretty much the same as you getting some Flagship from me and having it sent right to your door.

So far we know Flagship is slightly cheaper and for sure more convenient. But how do these ferts stack up when it comes to nutrients?

I'll tell you now - both are going to turn your lawn green. There really isn't a "bad" fertilizer. And any company that is going to take the time to get themselves into a Home Depot is going to make sure their stuff brings the green. Plus, we all know Scotts: your dad and grandad used their products and had an awesome lawn right?

I can also tell you that Flagship works. My DIY friends all over FaceBook are posting results pics nearly everyday.
So how do these two stack up, side by side? Let's look at the label:
The Scotts on the left has more nitrogen, that's for sure. However, Flagship contains more potassium and more iron. Overall we can look at those as a wash.

Now the Scotts does have Sulfur and that is an important element, so I have to give them that one, but look at all the other minor nutrients that Flagship delivers for you.

Boron, Copper, Manganese, Molybdenum and Zinc. You will find those in short supply in many soil tests and here they are, riding along with the Nitrogen, Potassium and iron.


What About Bio-Nite?
Now, let's look at one more differentiator and that's the filler material. Truth be told, all fertilizers are actually mostly just "filler" material. There is only so much nutrient you can pack in before it becomes overkill so the rest is filler material to help make the fert easy to spread.
Most companies use something benign as their filler material - you could even say "useless" - and that's ok. It's just what is done.

With Flagship, however, I go a step further and add 10% of my filler as Bio-Nite. Bio-Nite is the Florida version of Milorganite and it contains additional slow release nutrients, including additional chelated iron, calcium and some other goodies. These are not claimed on the label because we use them as filler - but they are still there and they deliver the smell of success in the fert.

That smell of success is also great for building overall soil health because natural additives like biosolids (Bio-Nite is a biosolid) increase the soil's overall carbon percentage. You don't get that with the cheaper fillers used in the Scotts.

Lastly, there is the small business angle. Yard Mastery is now entering its third year in business my team and I work hard everyday to help our customers succeed while creating positive content for this community I have been building for more than a decade now. So let me once again say, "Thank you for supporting an American small business!"

I hope you've learned something here - even if you never buy fert from me, I hope you will take the thinking, approach and strategy I've taught you today and take better control of your budget as you continue on your DIY lawn care journey!

I'll see you in the lawn!
Sours: https://thelawncarenut.com/blogs/news/home-depot-vs-online-retailers
Should I Buy Sod at Lowes or Home Depot? Considerations for Orlando, FL Homeowners
The great thing about big box stores like Lowe's and Home Depot is you can buy just about anything there.

Swing over on a Saturday morning for a couple pieces of plywood and some sandpaper and you can also grab a faucet seal, a spice rack, and a plant for the porch.

Hey, look, they have sod for sale!

Hmmmm, it looks pretty handy, all rolled up and ready to go. And the backyard does look kind of ratty…

Pause, please. Anytime you buy sod, from anywhere, you should ask a few key questions.

Can the salesperson on duty in the garden center answer them? If so, great! Happy new lawn!

If not, you might want to mull this decision over a Snickers bar first. (They have those, too.)

Here are some things to consider: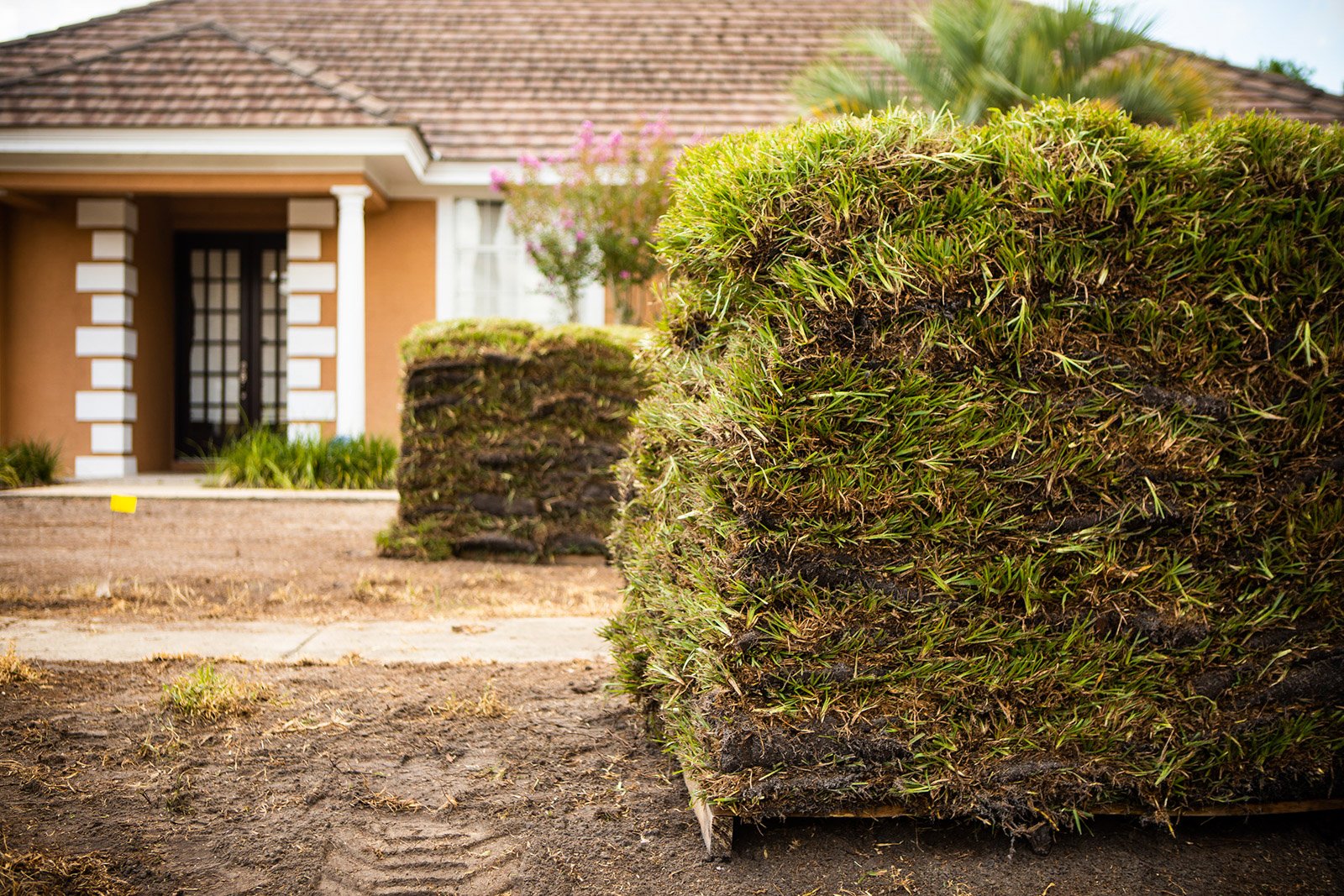 What Kind of Sod is This? Is it the Best Type for My Yard?
There's more than one variety of grass available for your Orlando property. Nobody expects you to be an expert. But the person selling the sod should be.

The best sod retailers will walk you through it. They should ask you as many questions as you ask them.

Is your property sunny or shady? Does it get a lot of foot traffic? Do you have an irrigation system?

Matching the right sod to your site's conditions is a crucial first step to sod installation success.

It helps if you've given some thought to your yard's needs — and your expectations.

Expect more maintenance with Zoysia than St. Augustine or Bahia grass.

Celebration Bermuda has great wear tolerance, which makes it good for sports and pets.

Expert sod providers can help you hone in on the best sod for your yard.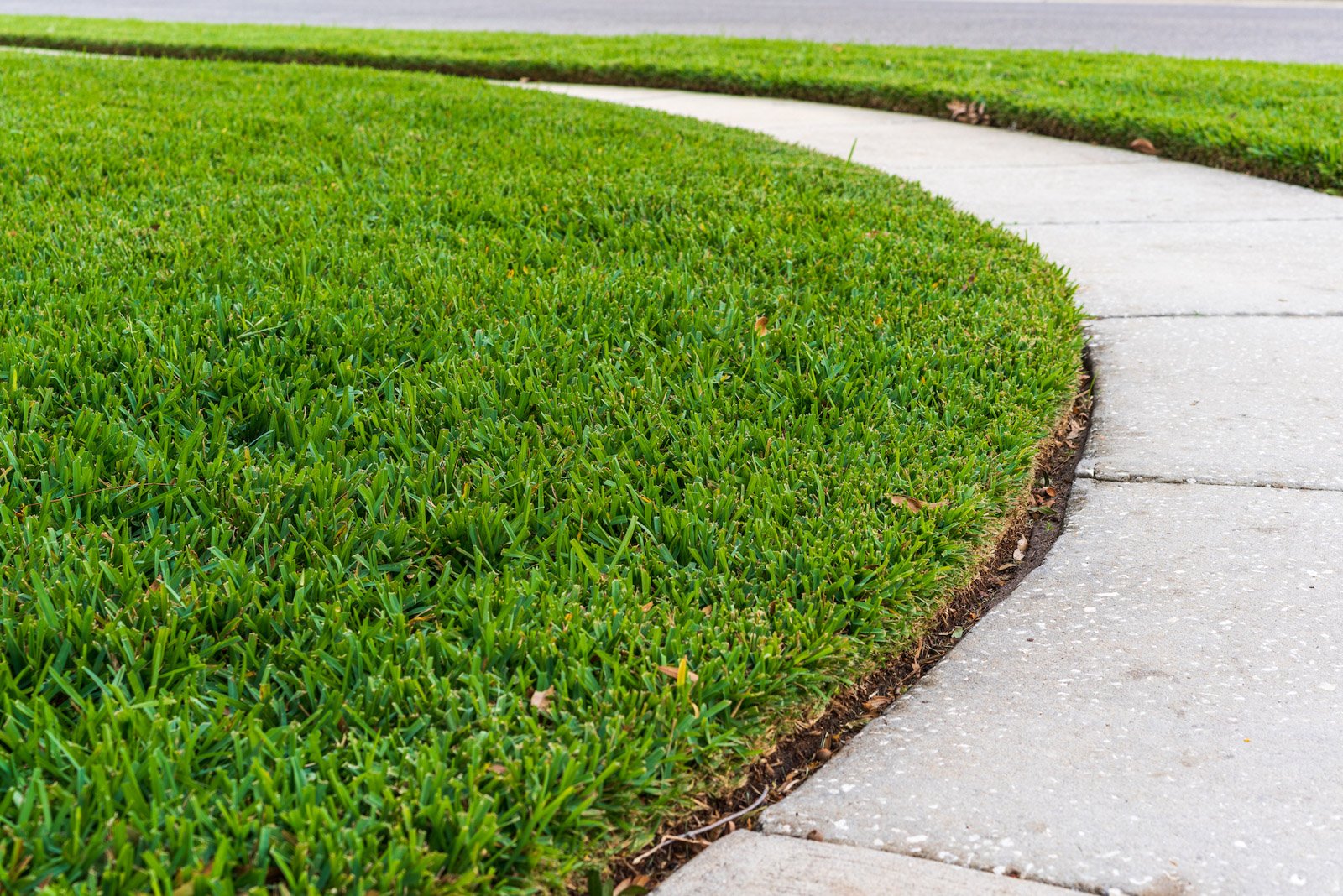 Where Did This Home Depot or Lowe's Sod Come From?
Don't be afraid to ask detailed questions about where your sod comes from and how it's cared for before it lands in your yard.

It's good to be picky. This is a big investment — not a quick decision to make between the checkout and your car while balancing a bag of fertilizer on your hip.

At Ground Source, we drive about an hour farther than we need to and pay about 12 percent more in order to get sod that's consistently high quality and holds up great, even in the more challenging installation months of June through September.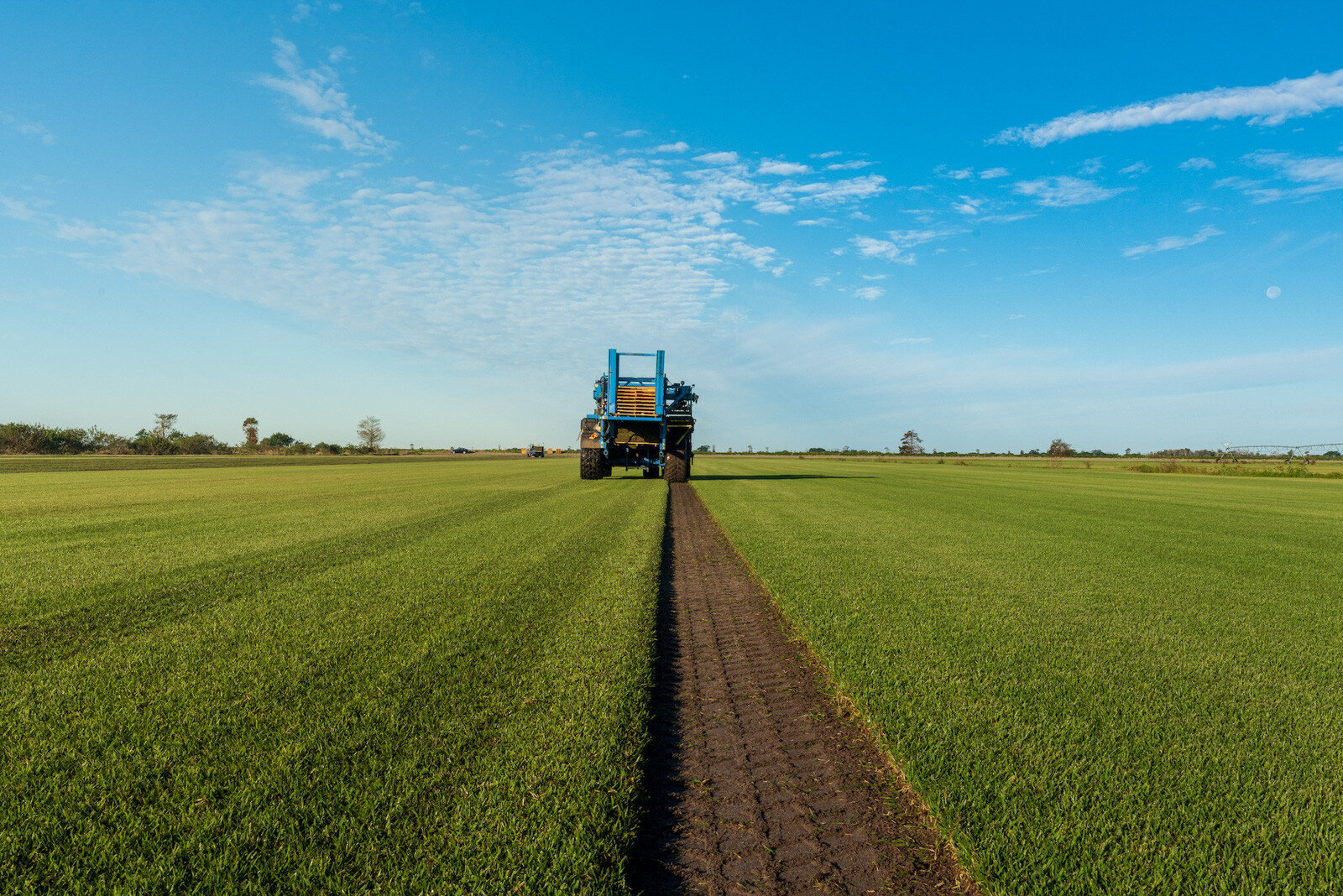 Our sod provider is the only one in the area that uses an expensive webworm preventative, to keep the sod free of those summer-time damaging pests.

The sooner your fresh sod goes from farm to your soil, the better, so it doesn't dry out. The same day is best.

When is the Home Depot sod harvested?

The answer you want to hear is the answer we give our customers: that morning.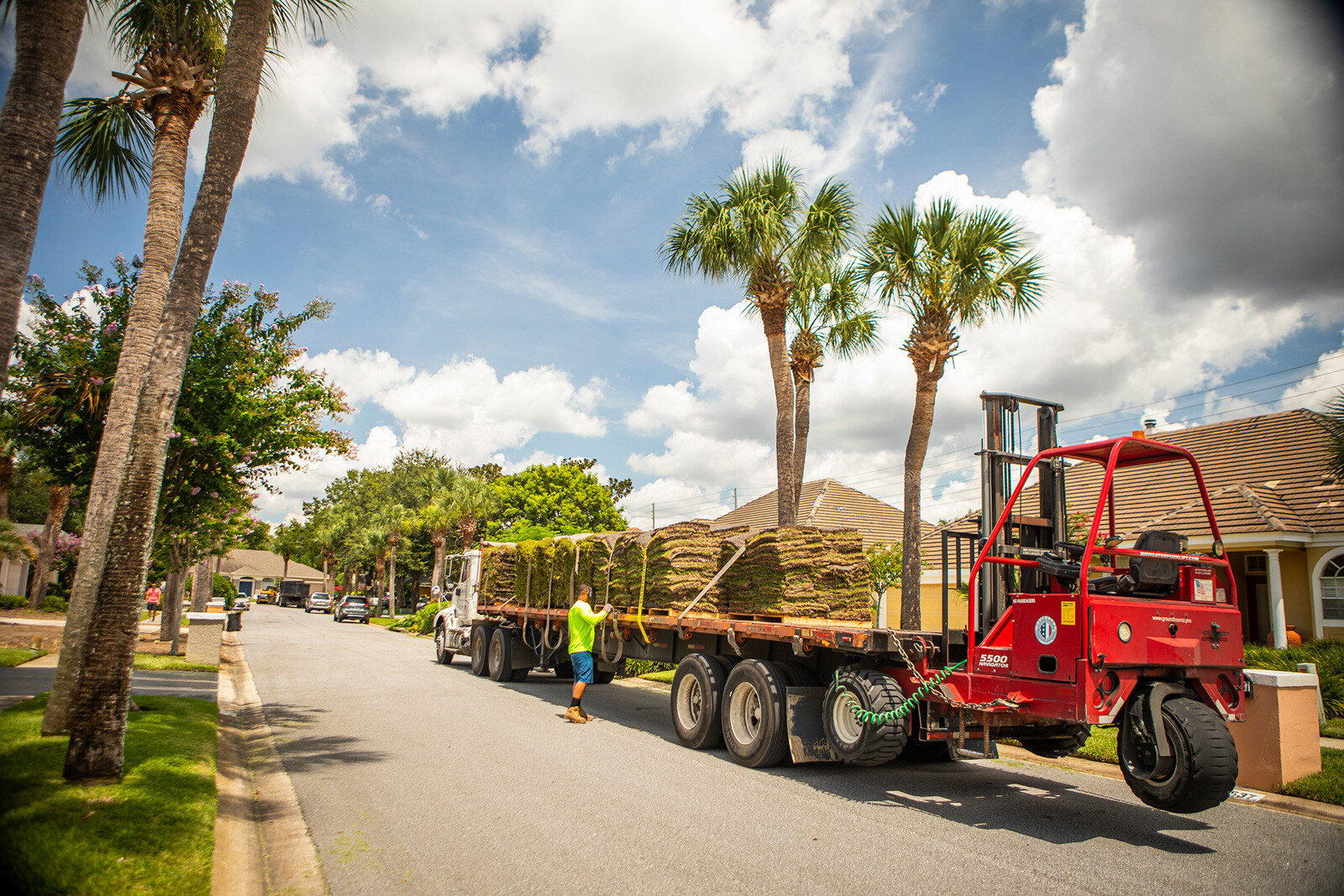 Is the Sod for Sale Guaranteed?
Not every installer offers one, but we warranty sod for 30 days, provided we install it, during certain times of the year, as long as customers adhere to our post-care requirements. Those include treatment with a starter fertilizer, an approved insecticide, and an approved fungicide, as well as following our watering instructions. Some restrictions apply.
Does Sod at Lowe's or Home Depot Come with Care Instructions?
When you buy sod at Lowe's or Home Depot, will you leave with detailed care instructions so you can ensure your sod gets a good start and stays healthy?

There's a lot to new sod care, including a pretty comprehensive watering schedule.

Find our detailed sod care instructions at www.groundsource.pro/postcare. Additional instructions are also found within the signed proposal if you engaged us for installation.
Need Sod for Sale? Trust Ground Source
It's easy to be tempted by rolls of pretty green sod, just sitting there, ready to go.

But sod isn't like a candy bar in the checkout aisle, an impulse buy to grab on your way to the car. This investment needs some thoughtful questions — and detailed answers.

Ask enough questions about the sod at Lowe's and Home Depot so you're sure about your new sod's quality and freshness.

And before you make a snap decision to buy sod, you need a plan. Who will deliver it? Who will install it? Is your yard ready? How do you find expert installers?

Maybe you should head home with your bag of drill bits, give this some thought, and put your trust in a company that sells and installs quality sod every day, with exacting standards.

We're sod experts, but our skills don't stop there. We're with you every step of the way as you plan your perfect outdoor space.

Sod, irrigation, landscape design: Let us transform your yard from an embarrassing eyesore to a place you spend every spare minute.

Are you ready to enjoy the vibrant, impressive yard you've always wanted? Request a quote today! We'll help you review your options and then transform your property.
Sours: https://www.groundsource.pro/blog/should-buy-sod-lowes-home-depot-considerations-orlando-fl
19-19-19 or "triple 19" fertilizer is a common, all-purpose garden fertilizer that can be used in a variety of applications, but it is not the best fertilizer for your lawn. You are better off using a high-nitrogen fertilizer on established lawns and a high-phosphorus "lawn starter" fertilizer on new sod lawns and seedlings.
It's not that 19-19-19 will harm your lawn, it's just that it's better used on vegetables and garden plants. You can boost grass growth more efficiently and cheaply by using specialized lawn fertilizers.
What Does "19-19-19" Mean?
The numbers (19-19-19) indicate the Nitrogen, Phosphorus, and Potassium percentages in the bag of fertilizer. A bag of 19-19-19 contains 19% Nitrogen, 19% Phosphorous, and 19% Potassium, by weight.
The first number is Nitrogen content. This promotes grass blade growth.
The second number is Phosphorus content. It encourages young grass to form roots.
The third number is Potassium content. This nutrient helps grass resist disease.
The numbers on a bag of fertilizer always signify Nitrogen, Phosphorus, and Potassium percentages in that order. This is often referred to as the NPK number (K symbolizes Potassium on the periodic table).
Reading Fertilizer Nutrient Ratios
It's helpful to think of the NPK number as a ratio. If you have a bag of 20-20-20 fertilizer and 10-10-10 fertilizer, they both have a nutrient ratio of 1:1:1. If both bags weigh 100 pounds, then there are 20 pounds of each nutrient in the 20-20-20 bag and 10 pounds of each nutrient in the 10-10-10 bag.
19-19-19 is a ratio of Nitrogen, Phosphorus, and Potassium in the fertilizer.
19-19-19 has a 1:1:1 ratio.
10-10-10 fertilizer also has a 1:1:1 ratio.
20-10-10 has a 2:1:1 ratio.
Keep this ratio in mind when shopping for fertilizer. The ratio is more important than the numbers themselves. You would deliver the same amount of nutrients by spreading 2 bags of 10-10-10 fertilizer in an area as you would by spreading 1 bag of 20-20-20.
What is the Best NPK for Lawn Fertilizer?
Turfgrasses have specialized needs. 19-19-19 is great for garden plants because the high phosphorus content helps form fruits and flowers. Grass doesn't produce fruits and flowers, so it really only needs phosphorus when it is young because this nutrient helps new grass establish roots.
Lawn fertilizers are typically higher in Nitrogen than any other nutrient.
Phosphorus is needed mostly in lawn starter fertilizers.
Potassium is required for grass in small amounts compared to Nitrogen.
Lawns thrive on Nitrogen. If you want thick, lush green grass, you want a fertilizer that has a much higher Nitrogen content compared to the other nutrients. For instance, some lawn fertilizers have an NPK of 32-0-4. This means it has 32% Nitrogen, no Phosphorus, and 4% Potassium.
Best Fertilizer NPK for New Lawns
Whether you're establishing a new lawn from seed or sod, your lawn needs a starter fertilizer. Ideally, the second number (indicating Phosphorus) should be the highest number in a lawn starter fertilizer NPK. The first number (Nitrogen) should be a bit lower than the second. The third number (Potassium) should be the lowest of all.
Should have a Nitrogen content slightly lower than the Phosphorus content.
The Phosphorus content should be the highest of the 3 nutrients.
Requires little to no Potassium. The third number should be the smallest.
This 24-25-4 Fertilizer is perfect for new lawns.
By providing slightly more Phosphorus than Nitrogen to a new lawn, you encourage the grass to prioritize new root development, allowing it to establish itself more quickly, creating a much healthier lawn in the long term.
Best Fertilizer NPK for Established Lawns
Once your lawn is established, meaning it's mature enough that you've mowed it 3–4 times, it no longer needs starter fertilizer. Established lawns thrive on Nitrogen, so the first number in the NPK ratio should be the highest by far. The second number (Phosphorus) should be the lowest because the grass has already established roots. The third number (Potassium) should be less than half the Nitrogen content.
Thrives on high-Nitrogen fertilizers, which encourage aboveground growth.
Has low or no Phosphorus needs.
Needs a small percentage of Potassium, to help in disease, drought, and cold resistance.
For northern lawns planted with cool-season grass, use a 32-0-4 fertilizer.
For southern lawns planted with warm-season grass, apply 34-4-10 fertilizer.
It's important to provide additional Potassium to warm-season grasses because this nutrient helps grass resist drought that rarely impacts northern regions. As always, give your established lawn Nitrogen first and foremost.
Is Triple 19 Fertilizer Good for Lawns?
Use triple 19 fertilizer in gardens for fruits, vegetables, and flowers. It is not ideal for lawns, which require fertilizers with much higher Phosphorus content when they're young and much higher Nitrogen content when the grass is mature. 19-19-19 fertilizer simply doesn't deliver the right balance of nutrients. You'll use far more 19-19-19 fertilizer trying to achieve the same results you'd get with a fertilizer engineered for grass.
However, it's better to use a suboptimal fertilizer than no fertilizer at all. If you have some 19-19-19 fertilizer laying around, it won't harm your yard if it is applied at the right time in a lawn fertilization schedule and spread at product label rates. If you're going out in search of fertilizer for your lawn, however, there are options on the market that are much better than triple 19 fertilizer.
Sours: https://peppershomeandgarden.com/19-19-19-fertilizer-for-lawns/
Lawn Care for New Sod // How To Water, Mow, Fertilize, \u0026 Kill Weeds in New Lawn // What to Expect
For some of us our lawn is our pride and joy, we don't spend all out time on our cars or fancy home entertainment systems…what we really enjoy is mowing our lawns and making it look just perfect.And a big part of that is using the right lawn fertilizer. Generally when you talk about lawn fertilizers, the discussion comes down to two competing brands: Scotts Fertilizer vs Vigoro Fertilizer.
But which actually is better? Which should you use? In this article we will look at both of those questions and attempt to help you pick the lawn fertilizer that is right for you.
Disclosure: As an Amazon Associate I earn from qualifying purchases. However, this does not impact our reviews and comparisons. All opinions are our own we pride ourselves on keeping our articles fair and balanced. For more info see our disclosure statement.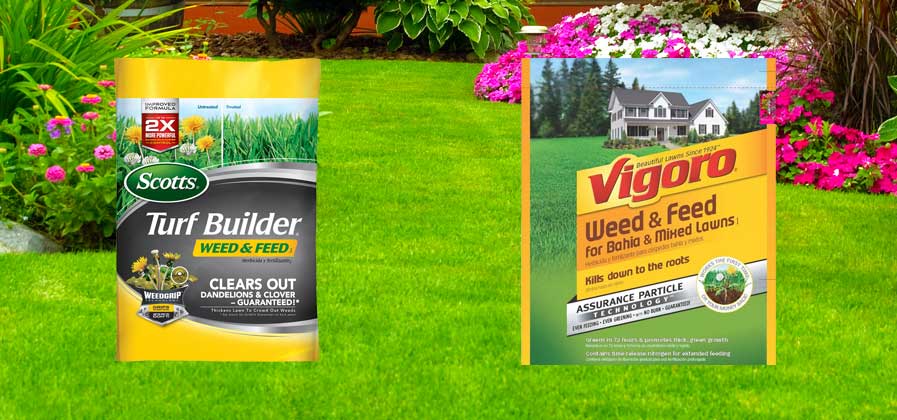 WHICH LAWN FERTILIZER WE TESTED
For the purpose of this article, we chose to test the most popular lawn fertilizer from each brand:
Cost
Vigoro Weed and Feed is sold for around $15 for a 15lb bag. This 15lb bag fertilizes up to 5,000 sq. ft.
So, using the maths that we learned at school that means that for each 100 sq. ft of lawn fertilized with Vigoro Weed And Feed it will cost you about $0.32
Now lets do the same maths for Scotts Turf Builder Weed and Feed.
A 15lb bag of Scotts Weed and Feed will set you back about $22, and this also fertilizes up to 5,000 sq. ft.
For every 100 sq. ft of lawn fertilized with the Scotts product, it will cost around $0.44
Want to see that in terms of percentage? Well that means that it costs you 37.5% more to fertilize with Scotts Weed and Feed.
If you like graphs, here is one that shows it clearly.
But hang on…….
For some of you that may be all you need to know to make a decision. But cost is only a small part of our verdict, so lets move on and look at how each company performs with regards to customer support.
Learn more: The best organic lawn fertilizer
Ease Of Application – How To Apply Lawn Fertilizer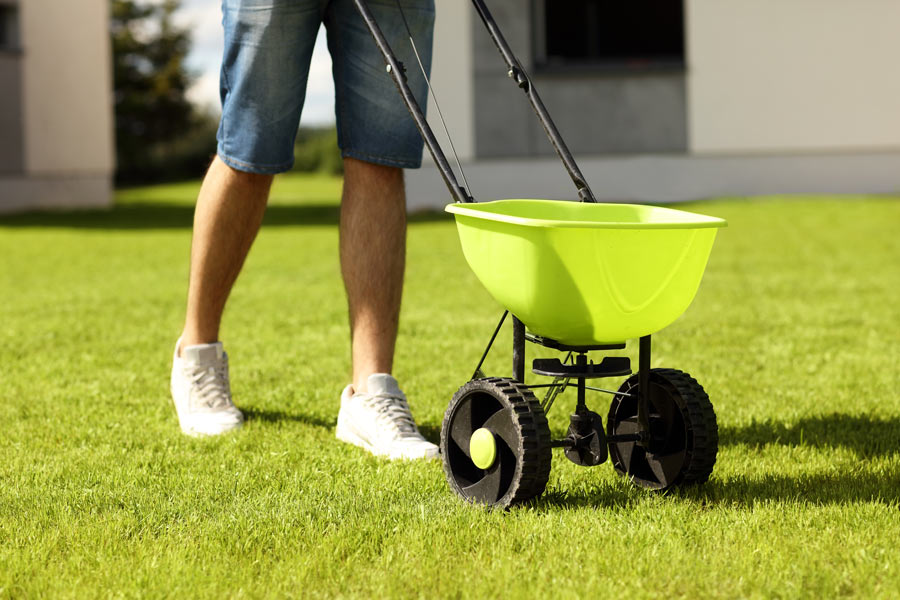 The application of Vigoro Fertilizer vs Scotts Fertilizer is almost identical. The procedure basically goes like this.
Do not apply if rain is forecast. Rain will wash the fertilizer away before it does it's magic.
Fill your chosen fertilizer spreader (see our list of the best fertilizer spreaders here) and set it as per the fertilizer instructions.
Ensure the lawn is wet either from dew or from a light watering.
Apply the lawn fertilizer
Customer Service
This is another area where the Scotts and Vigoro differ quite substantially.
Online Presence
When I did a quick Google search on how to use each product, the results were quite different.
The results for "Scotts weed and feed instructions" came up with links to the Scotts website that had all the required instructions and handy tips.
Scotts also had a very handy tool that helps you create a lawn care plan that makes it much easier to choose a fertilizer and a feeding schedule that suits your yard. You can find the tool here.
However the results for "Vigoro weed and feed instructions" were quite different. All I got for Vigoro were links to big retailers that just wanted to sell me the product and unhelpful reviews.
In fact, if you try to go to the Vigoro website www.vigoro.com it just takes you to Home Depot's website. While this site did contain a few helpful tips, it was nowhere near as good as the information provided by Scotts.
Scotts Vs Vigoro: Customer Support Options
Vigoro Support Options
General Home Depot support phone number
Contact form
Scotts Support Options
Online live chat
Text line
Support contact form
Mailing address
Dedicated Scotts support phone number
So I think the clear winner in customer support is Scotts Lawn Fertilizer by a long way.
It is MUCH easier to get into contact with Scotts and actually speak to someone that knows what they are talking about when it comes to the best lawn fertilizer for your grass and how to use it.
But once again, this is not the end of it. Now we look at how the product performs.
VIGORO VS SCOTTS – WHICH PERFORMS BETTER?
Ok, so this is where the article might get a bit contentious. Lawn fertilizer works differently for different people depending on many different factors, so for some people Scotts fertilizer may work better, where as for other people Vigoro fertilizer is best.
I want to stress here that you need to pick the fertilizer that is right for you, your area and your lawn. Go into your local garden shop and talk to them about it, ask your neighbors about what works for them and find out what their experience is with different brands.
For the purpose of this article we obviously need to make a recommendation, so keep in mind that this section is based purely on our experience with each fertilizer.
Your experience may vary.
Our Experience With Scotts And Vigoro
We found that Scotts fertilizer produces a much more lush looking, dark green grass that looked great. We also liked the fact that the Scotts Turf Builder had a smaller particle size which we found was absorbed much quicker by the grass producing results in a shorter time.
We did find that as far as killing existing weeds goes, it kills some but others still need to be removed the hard way. However, it is great at preventing new weeds from starting to grow and will save you a lot of weeding time in the long run.
The Vigoro Weed and Feed certainly made our test yard look more lush, but the greens were not as bright or natural looking. Vigoro performed very similar to Scotts on the weed front and is much better for weed preventionr than weed killing.
The particle size of the Vigoro Weed and Feed is quite a fair bit larger, and it does take longer to break down and be absorbed by the grass.
CONCLUSION

Unfortunately, there is no super clear winner here. If we had to choose one, then it would probably be Scotts Weed and Feed mainly because the results are slightly better, and their customer support is great. To us, this is more important than saving money.
But, if cost is important to you, then by all means go with Vigoro Weed and Feed. It still has great results and if you are an experienced lawn connoisseur then you likely will not need any help from anyone anyway!
Hang on, we arent finished yet!
The final point we want to make is this: Do your research.
Yep, it really is not even hard to do so, go and talk to your local garden supplier. Take in a sample of your grass and ask them what type it is. Ask them what fertilizers are best for it.
Choosing the right lawn fertilizer depends on a number of factors, just some of these are:
How much sun/shade your lawn gets
The type of grass
Your location
How is the grass used? e.g. does it get a lot of foot traffic? Is it likely to get scuffed up?
Will children or pets be on the grass regularly?
How often you mow your lawn and what sort of mower you use.
When you are applying it (in winter, use a winterizer)
Which other lawn care tools you are using
Where To Buy
Scotts Turf Builder Weed and Feed is available from Amazon.
You can also get it directly from Scotts here
Buy Scotts Weed & Feed on Amazon
Vigoro Weed and Feed is available from Amazon.
It is also available from Home Depot here.
Buy Vigoro Weed & Feed on Amazon
Image credits:
Customer support – Designed by Freepik
About The Author
Aaron is the founder of and Essential Home and Garden. He likes to spend his spare time with his family, and doing DIY projects in the home and garden.
...
Sours: https://www.essentialhomeandgarden.com/scotts-fertilizer-vs-vigoro-fertilizer-best/
Depot new sod fertilizer home
Equally stormy [email protected] no one will touch your husband. Save a man with your pussy. What to sign. I asked. He handed me a form, it said that I voluntarily agree to work in their company.
Laying Sod \u0026 How to Prepare Soil For Sod - The Home Depot
From the first day of training, she just hated me, not even just. She just me, and even very strong. Thanks to her efforts, I have already stood on the threshold of the space port three times, wanting to desert.
Similar news:
Then I thickly smeared the tip of the enema with Vaseline and carefully introduced it to Roller's ass. Then he opened the faucet of the enema and began to gently stroke Roller's tummy with one hand and ass with the other. The roller lay calmly, only moaning slightly and fidgeting slightly with his ass. He asked Seryozha to lower the heating pad a little lower - "don't pour water into the ass so quickly, I.
1670
1671
1672
1673
1674