Christmas Art Projects Round-up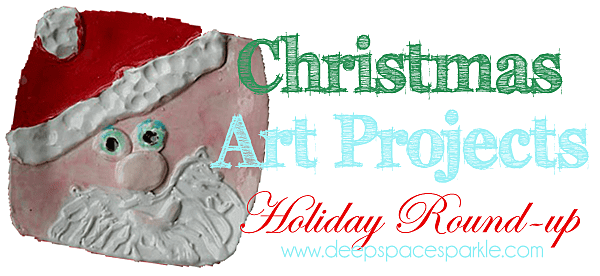 I adore Christmas and all the traditions and festivities surrounding it. Creating paper Santas and collage angels were a favorite activity when I was a child. But today, fewer schools are allowing Christmas based activities and mine is one of them.
So instead of posting a Deep Space Sparkle Christmas art lesson, I'm posting my favorite finds for 2013. I look for projects that link to sites that offer tutorials so hopefully the links will stay active.
The above Santa Plate from Fun Art 4 Kids is one of my favorites. If I could do an art lesson for Christmas, this might be the one I'd do. Wouldn't this make an adorable keepsake for your child?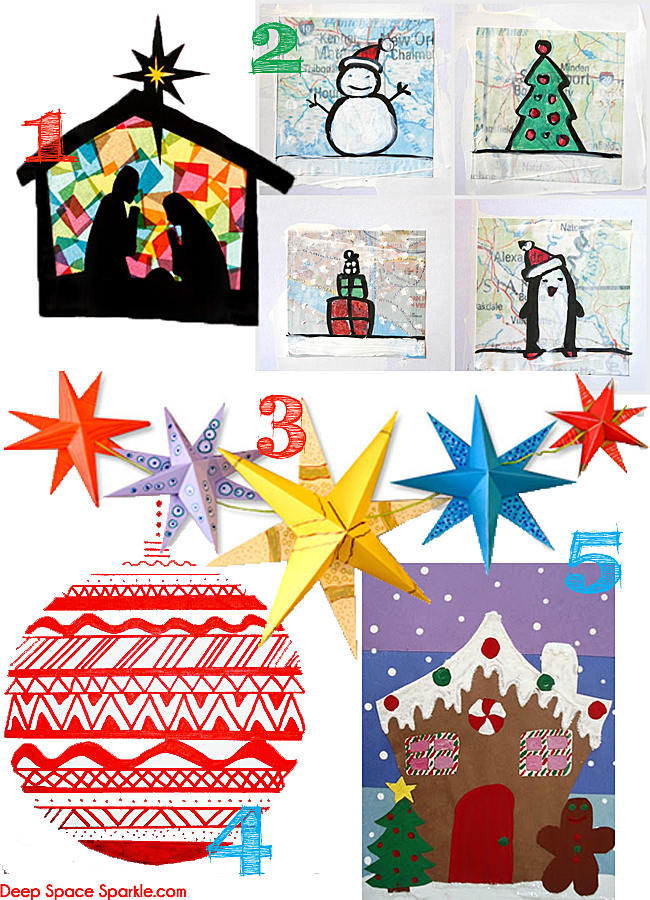 1. This Nativity Scene is beautiful. Younger children can create this with the help of an adult while older kids would have the freedom to draw their own versions. This lesson has many homes. The image above was found on Housing a Forest.
2. Christmas Card Collage from Arteascuola: Although this sample was create by an adult, I think children would love the collage format of this card. I could see children as young as four or five creating cute little snowmen or Santas.
3. Origami Stars from Krokotak: I haven't done an origami lesson with my art students but I know a few teachers at my school who love it. These star banners are simply lovely. In fact, I think I'll gather some paper and give them a try today.
4. Line and Pattern Ornament from Art Expression of Imagination: Perfect combination of an art lesson and a holiday project.
5. Gingerbread House from A Faithful Attempt: Gingerbread-themed projects can be tied to literacy, so it's one project you could do if you weren't certain of your school's policy on Holiday art. I love the idea of creating a gingerbread house with this cool tone background.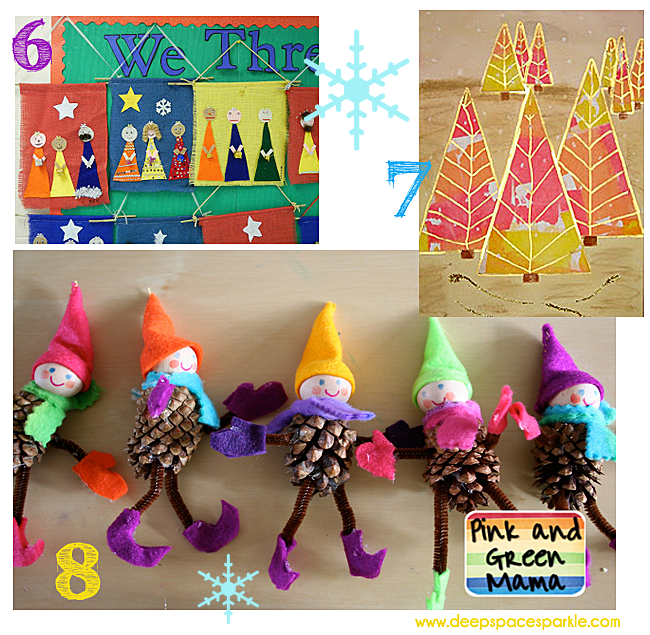 6. Three Wise Men from That Artist Woman: I love this project. It has beautiful art elements and ties in the religion which many of us are not allow to do. These would make lovely holiday keepsakes, too. Can you see that they are hung on dowels? Lovely!
7. Golden Holiday Trees from Kids Artists: Hands down the most beautiful and arguably, the least religious or Christmas-themed of the bunch. There's a great tutorial for this lesson, so make sure you visit the site.
8. Cute-as-pie Elves from Pink and Green Mama: Oh my goodness. Aren't these little elves the cutest little things ever? If you are into crafts, I would think these elves could fill a while morning of crafting with your children. Fun!
Do you have a favorite Christmas project that you do every year? Please share!
---
Click the link below to receive 5 Holiday Project ideas in your inbox.
Sours: https://www.deepspacesparkle.com/christmas-art-projects-round-up/
Lots of us spend the weeks before winter break searching for a cute craft or two that students can make for their parents. But what to do when you lack the crafty gene or simply fall into the category of "wanna-be crafter?" (I am certainly one of these!) These easy Hanukkah and Christmas crafts for kids to the rescue! They are perfect for those of us that need a little help in the arts-and-crafts department, and they make great parent gifts too.
1. Homemade Button Ornaments
These adorable ornaments are made with just a few items you probably already have and the kids can make them with no problem at all. With little effort or real crafting skill, they can make something that can pass off as a great parent gift.

From: By Stephanie Lynn
2. Handprint Christmas Wreath
It doesn't get much simpler than tracing and cutting, does it? This fun craft for littles and requires almost no craft experience. With just a few materials, the kids can create a personalized decoration that is hands-down one of the cutest wreaths we've seen.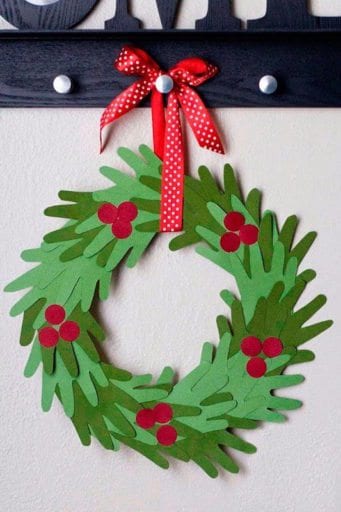 From: My Name is Snickerdoodle
3. Pom Pom Snow Globe
For the young ones, this is an easy craft that involves a kid favorite—pom poms! They'll love 'making it snow' in their little paper globes.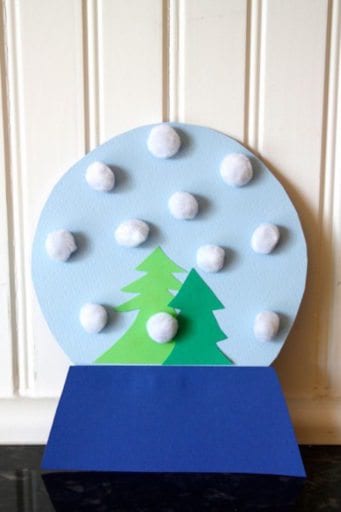 From: We Have Aars
4. No-Sew Sock Snowman
Have unmatched socks on hand? Who doesn't? This is a fun and easy craft that doesn't require sewing! With just a few supplies, the kids will enjoy making and taking these friendly snow guys home with them for the winter.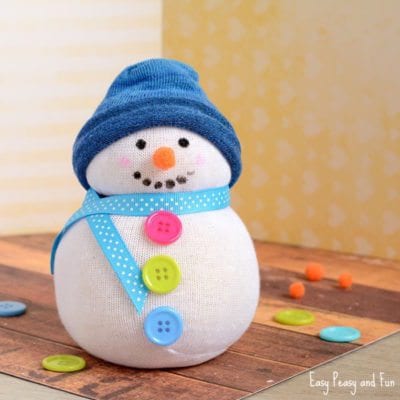 From: Easy Peasy and Fun
5. Hanukkah Greeting Cards
Homemade Hanukkah cards are a great way to send holiday cheer. These are made with magazine scraps, but students could easily recycle any scraps you have on hand.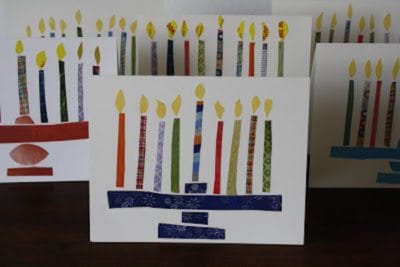 From: Dim Sum, Bagels and Crawfish
6. Reindeer Ornament
These adorable little reindeer make a delightful keepsake—and are put together in a jiffy! The hardest part will be deciding if your reindeer will be one with a red-nose like Rudolph or a brown one like Dasher, Dancer and…well all of the other reindeer.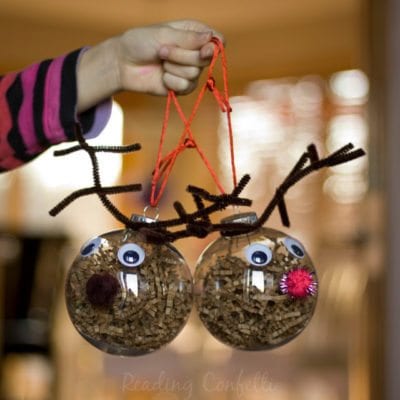 From: Reading Confetti
7. Snow Globe Cup Ornaments
All you need to craft these clever ornaments is a camera and a few simple supplies. They are a fun way to bring big personalities into their holiday crafts to hang on the tree.
From: Crafty Morning
8. Snowman Mason Jar Luminary
Here's one snowman that can take the heat! He's cute and oh-so-easy! Once you deco-podge the fake snow on the jar, the rest is just embellishments—even including a set of festive earmuffs.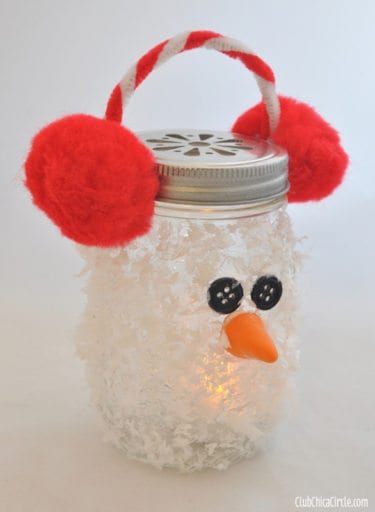 From: Chica Circle
9. Jolly Java Jackets
These adorable little coffee cup sweaters will keep your hot cocoa warm and your fingers from scalding. The crazier the sock, the cooler the java jacket—perfect for a parent gift or as a gift you could give to fellow coffee-loving teachers.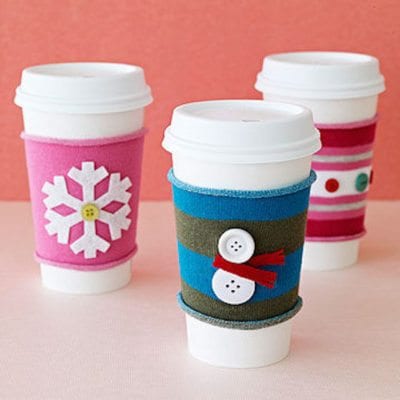 From: Parents.com
10. Bottle Cap Magnets
Fill up these bottle caps with fingerprint art or festive wrapping paper and add magnets on the back. These can be made in a snap and are a fun gift idea that is sure to get refrigerator time.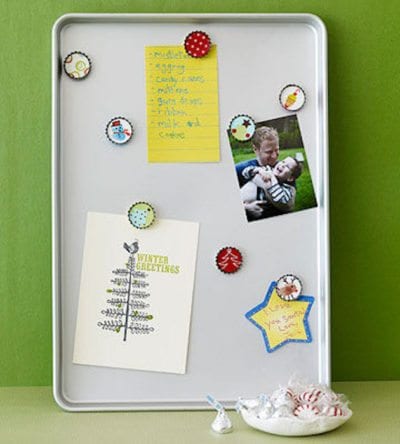 From: Parents.com
11. Hanukkah Wall Hanging
If you know a basic sewing stitch, you can put this Hanukkah wall hanging together in a snap. It's easy to make and perfect for stuffing with coins, dreidels, money and other gifts.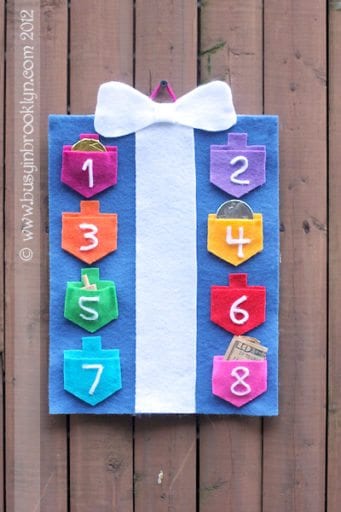 From: Busy in Brooklyn
12. Birdseed Ornaments
Not only will kids love making these cute ornaments, they'll love hanging them outside and watching the birds enjoy a Christmas treat of their own. Put them outside your classroom windows for a chance to watch winter birds.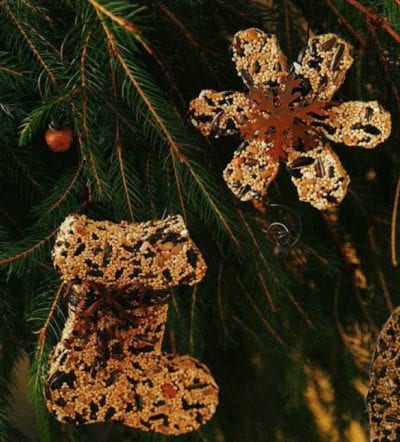 From: Birds & Blooms
13. Clothespin Snowmen
Give boring old clothespins an upgrade by changing them into these cute and crafty snowmen. Just a little paint, a nose and a scarf and they'll be your favorite way to display notes, cards, photos or other holiday items.
From: Easy, Peasy and Fun
14. Flying Reindeer
Combine Christmas and Science with this STEM activity to get kids excited for the holidays, yet incorporate learning, too. They'll love putting together these reindeer with recycled materials, but then the real challenge…can they make it fly?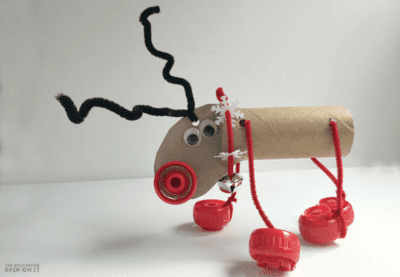 Source: The Educator's Spin On It
15. Pom Pom Photo Ornament
With a little cardboard and some festive pom poms, you can turn a school photo into a fun ornament that your students will be proud to display on the tree.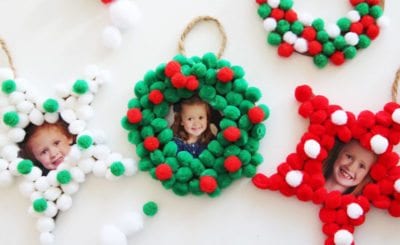 Source: One Little Project
16. Cheery Bubbly Lights
Bring a little STEM activity into your holiday fun with these creative bubble lights. Kids will learn about the effect of oil and alka seltzer tablets with water.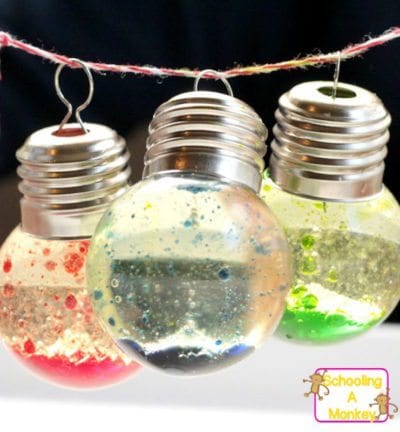 Source: Schooling A Monkey
17. Dissolving Candy Canes
Make experiments fun with this creative use of leftover candy canes. Simply use different liquids to see how fast the candy cane will dissolve. The kids will have fun hypothesizing which one will dissolve faster; and eating the extra canes as they watch.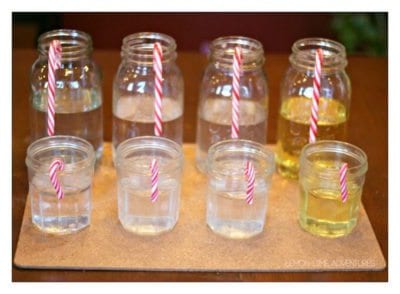 Source: Lemon Lime Adventures
18. Gumdrop Trees
Have a little fun while building these colorful trees made out of toothpicks, bamboo skewers and yummy gumdrops.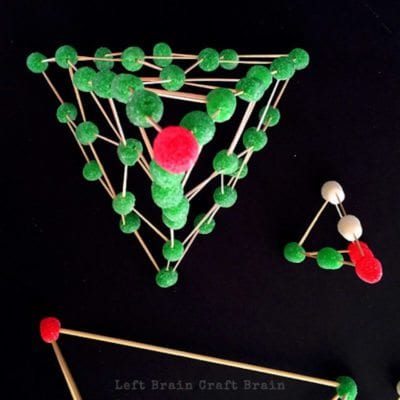 Source: Left Brain, Craft Brain
19. Mason Jar Lid Wreaths
These cute little wreaths are put together with just a few supplies and some extra Mason jar lids. They're pretty simple to make and look great on the Christmas tree.
Source: Sadie Seasongoods
20. Toilet Paper Trees
This one is easy and thrifty–a collection of toilet paper rolls and some paint and glitter are all you need. These look so cute in a group…kind of like a miniature Christmas tree farm.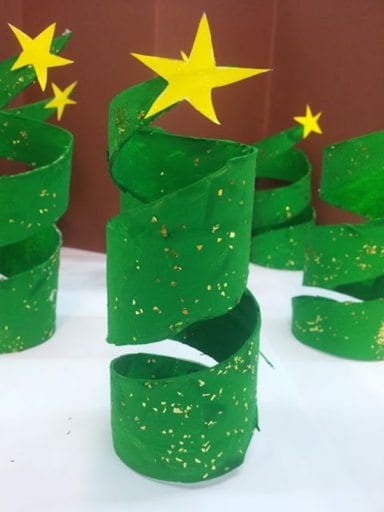 Source: Hative
21. Christmas Slime
Kids love playing with slime, so surround their favorite activity in a holiday theme with these fun little jars.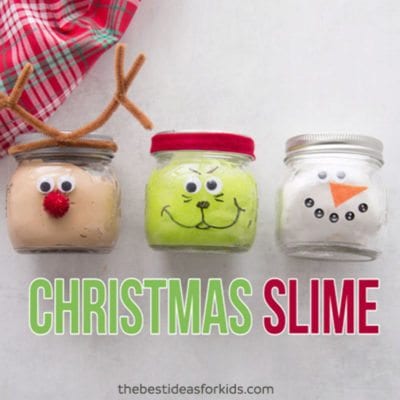 Source: The Best Ideas for Kids
22. Crystal Snowflakes
The kids will love watching these crystal snowflakes form as they sit in your classroom this Christmas season. Just a few ingredients and this science experiment will be one to remember.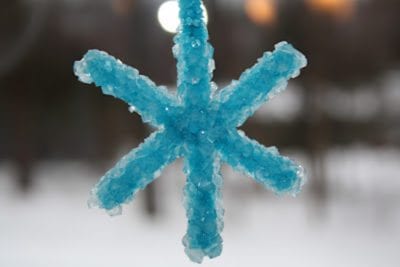 Source: Sweet and Simple Things
Do you have any favorite, easy Hanukkah or Christmas crafts for kids? Please share links in the comments!
Sours: https://www.weareteachers.com/easy-christmas-crafts-for-kids/
25 Easy Christmas Crafts for Kids to Make
Christmas
CraftsAll AgesChristmas Tree
gifts
Resources30 Comments
Fa la la! 'Tis the season for some easy Christmas crafts for kids! Ready to get creative this holiday season?
What do you think of when you think Christmas? Santa? The Christmas tree? Rudolph? Candy canes?
These are all things that come to my mind… and I'm positive that's what my kids are thinking about (beyond presents!) when they think of Christmas. What's the best way to get them excited about Christmas (as if that's needed….)?!
Do some Christmas crafts to get them in the mood!
But, what are the best Christmas crafts to do with kids?
Download the Christmas Week of Activities
Here are 25 Christmas crafts I found that I absolutely love, including Christmas trees, Santa and his reindeer, and of course, candy canes.
If you're in the mood for winter fun that's not necessarily focused on Christmas, we have a ton of winter crafts for kids, snowflake crafts to make with kids, and snowman crafts for kids. You'll never run out of ideas!
Whether you decide to make christmas ornaments, Rudolph, or popsicle stick christmas trees, these would all make incredibly cute Christmas gifts to give to family and friends. Or use them in the house as decor for the holidays!
Easy Christmas Tree Crafts for Kids to Make:
When the big tree is done being decorated, why not give the kids their own homemade version of a tree too?
Grab your crafting stash of glue, pipe cleaners, buttons, paper plates, glitter and pom poms!
We have paper Christmas trees, a straw Christmas tree, a fingerprint Christmas tree (click through that one, we also have a Christmas wreath to share), and a paper plate Christmas tree!
Christmas Tree Crafts
Here are even more Christmas tree crafts for kids.
Santa Claus & His Reindeer Christmas Crafts for Kids to Make:
Get out the milk, cookies, and carrots for these adorable Santa and his reindeer crafts!
Of course these reindeer crafts focus mostly on the one and only Rudolph, but it doesn't have to be that way! Create eight reindeer with their adorable antlers and give them all their names!
And a Santa Claus craft isn't complete without his big white beard! Which can be made from so many things (think cotton balls, white handprints, shaving cream, or white pom poms).
You'll want some googly eyes, cotton balls, beads and pipe cleaners for these Christmas craft ideas!
Santa and His Reindeer
Can't get enough? Here are more Santa Crafts!
Easy Candy Cane Crafts for Kids to Make:
Too much junk food during the holidays? Try making these sugar-free candy cane crafts with the kids.
Candy Cane Crafts
Want More?
Homemade Ornaments for the Kids:
We have collected 30 amazing Christmas tree ornaments for the kids to make! You'll definitely want to check these out.
It's fun to aim to make one new ornament a year with each kid and then have those to look back on each year as your decorate the tree. (Remember all the pasta wreath ornaments and handprint salt dough ornaments you made as a kid!?)
Easy Peasy Holiday Cards for Kids to Give:
We've also collected 20 of the best ideas for kids to make homemade Christmas cards to send out to friends and family, or we love to use them as gift tags on the presents! It makes them super unique and fun!
There are even some that toddlers can do, they're not crazy, trust me, I'm a mom!

What are your favorite and easy Christmas crafts for kids to make?
Not quite sure where to start?
These simple craft kits make is super easy to make Christmas crafts! These affiliate links are to products to help make your holiday season easier and more enjoyable.
Download the Christmas Week of Activities
Sours: https://handsonaswegrow.com/easy-christmas-crafts-kids/
First Grade Christmas Craft Tutorial
I am 35 years old, I did not have a family, I divorced a year and a half ago, so I spent most of my. Time at work, completely surrendering myself to her. I didn't even think about an intimate relationship, because upon coming home I would fall dead on the bed and instantly fall asleep, since all my strength. Was spent at work. Sometimes, falling asleep, sexual images of various women appeared in my head, I dreamed of erotic scenes.
Projects christmas art first grade
If you wish. " - answered the slaves in unison. And the slaves greedily licked the shoes of the hostesses and begged to be allowed to serve them again. But these pleas do not guarantee a place at the feet of Mrs.
First Grade Christmas Craft Tutorial
I was embarrassed, I wouldnt have been expecting a point-blank question. I think youre a good teacher. Do you find me attractive. You like my legs - she started to slowly lift her skirt - but her legs were just awesome !!!!.
Now discussing:
The sun is going to set in the sea. Stripped quickly all day long wanted to go to the sea. Heat, sweaty bodies so want to wash it off.
1686
1687
1688
1689
1690