Review: 2020 Kawasaki Vulcan S SE, LAMS cruiser
Never in my life did I think that I would enjoy the styling or ride of a 'cruiser'. To be honest, I prefer the taste of crotch rockets and the like much more than cruisers – but what if you grabbed a cruiser chassis, and then shoved a high-revving, torquey motor in?
---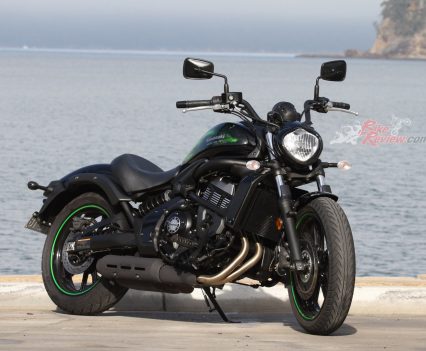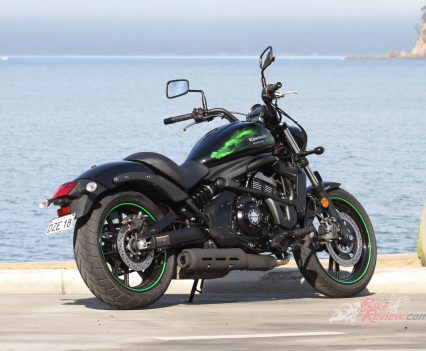 ---
Well I introduce you to the 2020 Kawasaki Vulcan S SE, a motorcycle with the looks, comfort and 'status' of a cruiser but with surprisingly aggressive performance. It's a cool concept, that's for sure, but what is the real deal like? Is it as cool as it sounds?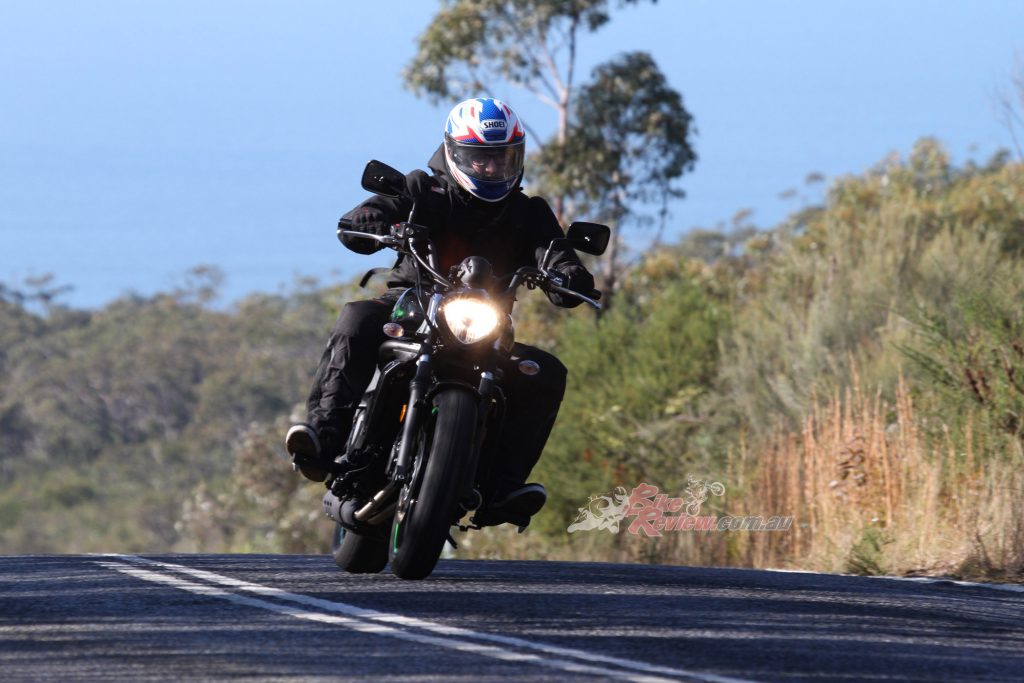 The cruiser status is maintained, while offering surprisingly sporty performance.
It looks like a cruiser that's for sure; long wheelbase, big old 'bars, low seat height and ground clearance, 'pegs out the front and it's even got a sick decal on the tank which is just quintessential cruiser styling really. But, it has a sleek and really aggressive looking headlight which I feel transforms the look and sets it apart from the crowd. It sits on big five-spoke wheels, 18inch and the front and 17inch at the back, with a rear fender that hugs the rear tyre as close as possible.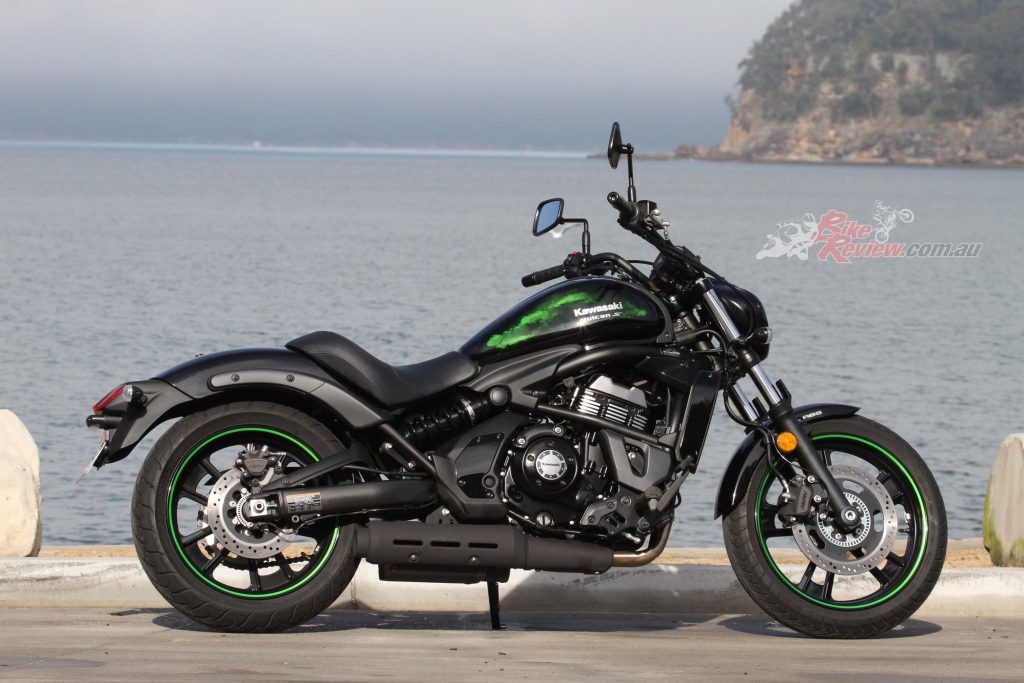 The 2020 Vulcan S SE offers great adjustability to suit the needs of riders of all different shapes and sizes.
But there isn't much of a crowd here to compete in – the Vulcan S has a few competitors, Suzuki's Boulevard S40, Honda's CMX500, the Yamaha XVS650A and the Benelli 502C. So if you're looking for a larger displacement cruiser as a learner, the Vulcan S is one of a number of options.
---

---
Riders can expect the usual cruiser ergonomics from the Vulcan S SE – relaxed and easy, feet out front and hands up high. Coming from riding mainly sportsbikes and nakeds, the 'peg placement took some getting used to and I found myself constantly thinking the pegs were below me.
---
---
But after a few rides, I found myself comfortable and the riding experience is phenomenal in terms of cruising comfort. It's just like putting your feet on the seats on NSW trains, not that I would ever do anything that irresponsible or illegal.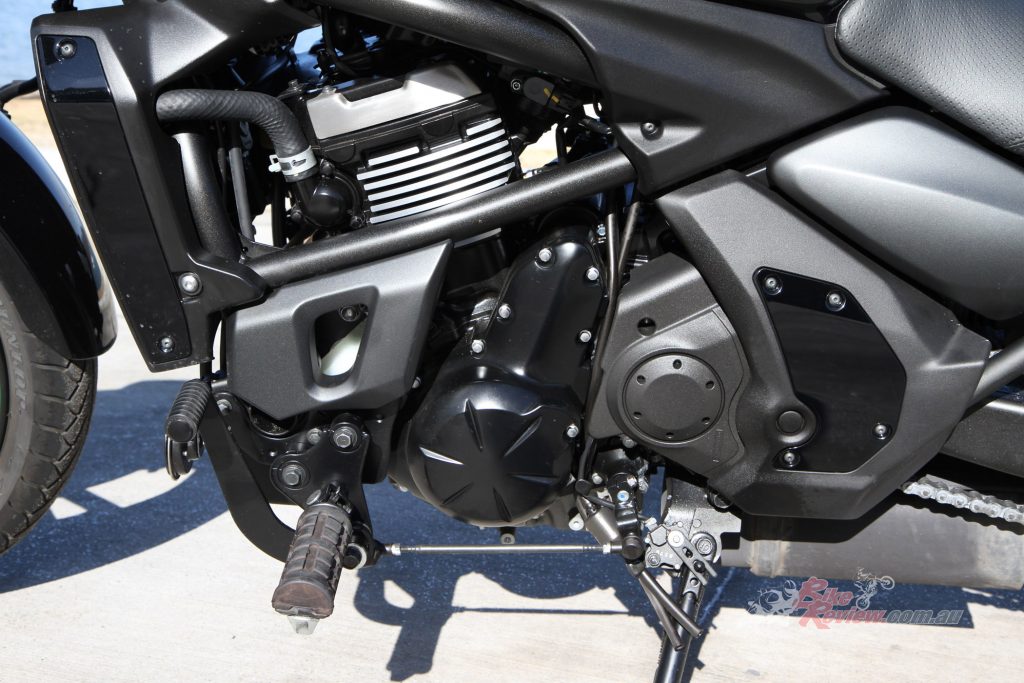 While the Vulcan comes standard with adjustable pegs, it requires alternate shifter linkage rods that are sold separately.
The Vulcan also has fully adjustable levers, which is a great feature and let me fine tune them to my liking. Not only that though, the pegs are three-way adjustable (however require alternate shift linkage rods that are sold separately) and a range of accessories are available from Kawasaki to tailor the riding position to the rider's liking.
THE RIDE
At 183cm, I found that the standard riding position was perfect for me and is up there as one of the most comfortable bikes I have ridden. The mirrors also have plenty of vision on offer and are stable.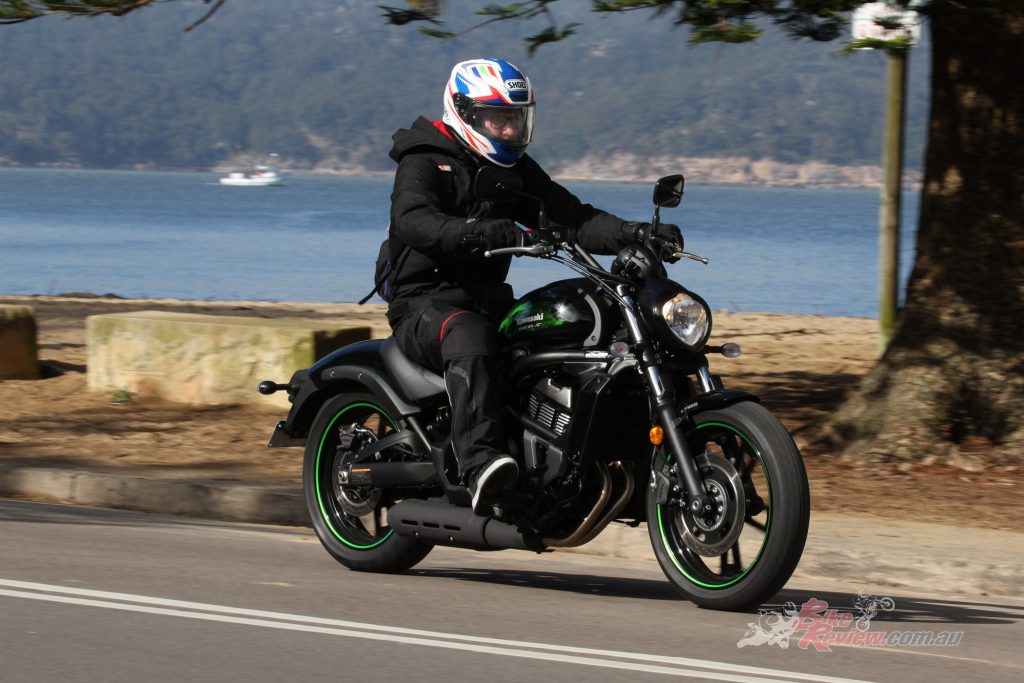 Comfort is that of a cruiser-standard; a very relaxed riding position which is great for commuting or touring.
But we knew this already. Of course it's going to be comfortable – it's a cruiser. What I'm more interested in is how it goes, because I'm under the belief the most cruisers are just slow and heavy. Well, heavy it may be – weighing in at 226kg wet – but slow it is not, producing 35kW of power and 53Nm of torque.
It's not as fast as the Z650L or similarly displaced learner bikes, but it's definitely close and short gearing helps it to make it feel really punchy down low. The exhaust note also has a sportsbike-like tone to it thanks to it's high-revving nature, and it sounds bloody awesome. The clutch feels lightweight and positive, and the gearbox is good, however I found it never liked to fully shift into second easily especially on a quick take-off.
---
---
Backroad runs were almost miserable as I got constantly launched out of my seat at high speeds. But, if I was just cruising, and not trying to make it from A to B without regard for my personal safety, the experience was really pleasant. I enjoyed the smooth fuelling and easy handling when I just put it on the backburner, I could ride all day if I wanted to.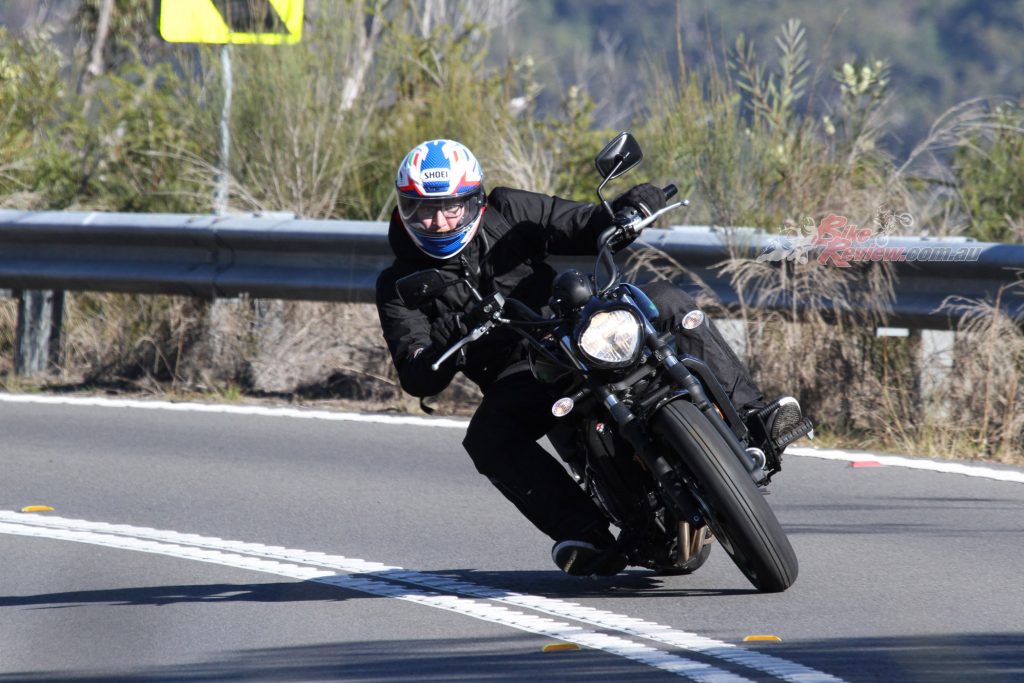 The Vulcan does best on a smooth road, with ground clearance aplenty for a cruiser.
I actually don't want to be too harsh on the Vulcan's handling characteristics at speed, because to be honest it was actually a relatively easy and stable bike on smoother twisties. Although heavy, the weight is noticeable but is nothing more then a minor inconvenience, and even though there isn't much lean angle, there is still a considerable amount for a cruiser and didn't negatively impact me too much.
The suspension feels relatively firm, and also has preload adjustability. It's good for the most part except for on some bumpy corners where it likes to stand up after going over a bump.
---
---
A big positive on the Vulcan S SE are the brakes, which allow for really confident and strong braking. A good amount of bite with good power will slow you down pretty quick and I didn't have any issues with brake fade even on some more spirited rides. There isn't much dive on the forks on the brakes, with a gradual-feeling turn into the corner using inputs from both the 'pegs and 'bars which it likes, and thanks to that good low-mid range power and torque, it makes for a speedy drive-out. The weight makes it considerably harder for quick line changing on the twisties, but it generally feels a lot sportier then your average cruiser.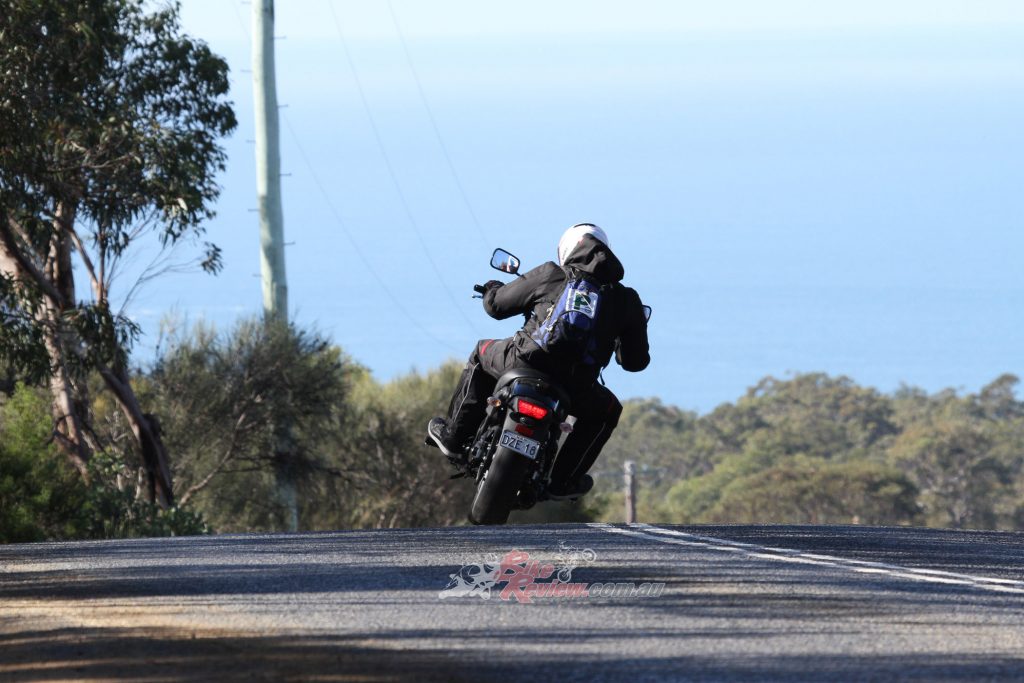 Utilising the low-mid range, riders can get a speedy drive out and get on the throttle nice and early into the exit.
The Dunlop Sportmax D220 ST tyres aren't mentioned by Kawasaki in the press information however, the tyres performed really well on both dry and damp roads. They grip up nicely which is a comfort that both leaner and experienced riders will appreciate.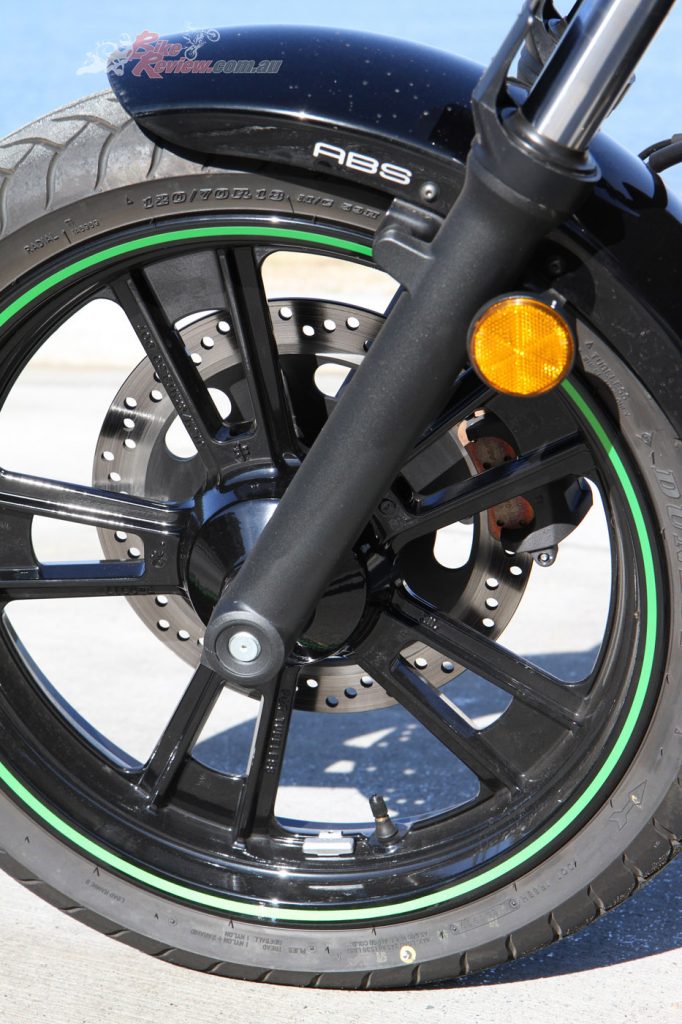 The Dunlop tyres do a good job in a range of conditions despite having no special mention from Kawasaki.
In terms of daily usability, I can't think of a cooler rider to get about every day than this. The only negatives of using this as a daily machine might be the weight, size and thirstiness. The overall weight and size makes moving it around a bit of a pain in the ass, and also make lane filtering just a little bit harder. It also does 18.2km/L or 5.5L/100km, which is pretty thirsty for daily use, but Kawasaki have implemented an economical riding mode, which automatically turns on during cruisy riding.
---

---
A blue-screen LCD dash has the usual features; a digital speedometer, odometer, dual trip meters, a clock and an analogue tachometer, but it also has some nice-to-know features such as a digital gear position indicator, fuel consumption average and fuel range. Thanks to the blue backlight, it's really easy to read in all lighting.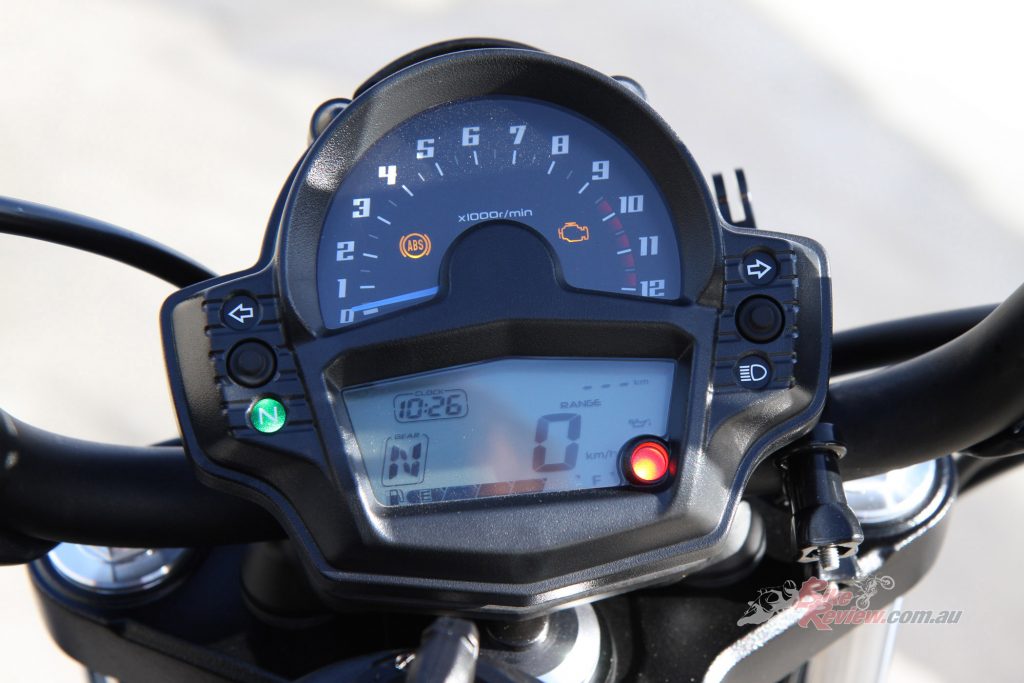 A simple LCD dash that looks the part, with blue backlighting for optimum visibility in a variety of lighting conditions.
You also have an LED taillight which is great for safety as it can be well-seen, and the halogen headlamp still offers plenty of vision at night. Security on the Vulcan S consists of a steering lock which is great considering it's one of the first lines of defence against thieves. It sits very securely on it's side stand, which is pretty easy to kick down too.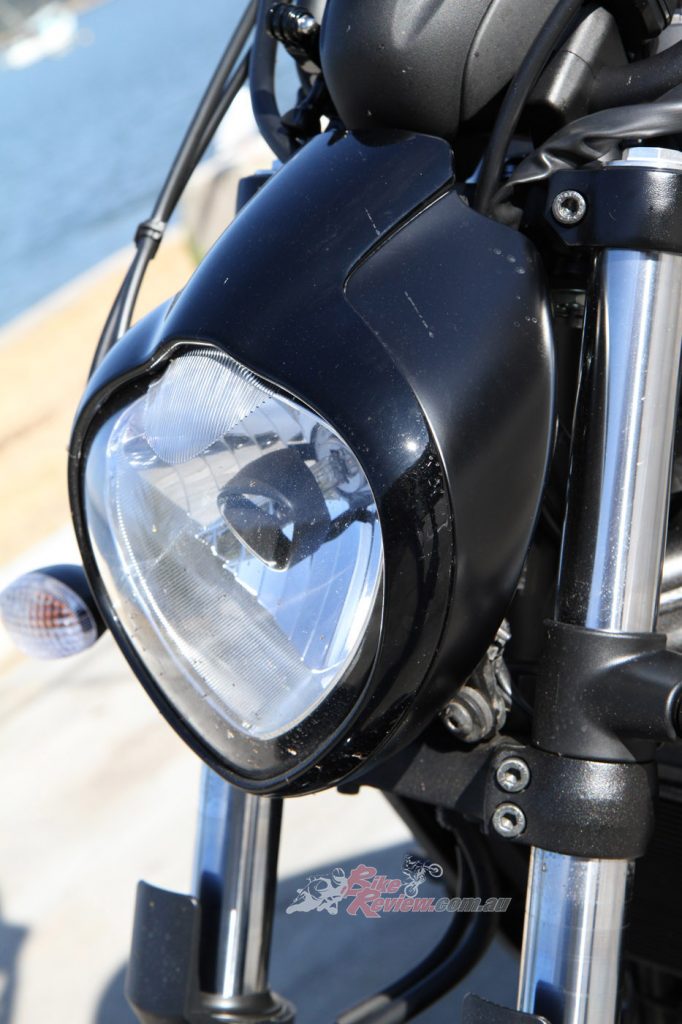 The halogen headlamp sets the tone for the bike, and also provides excellent vision at night.
So, why exactly would you buy a Vulcan S SE? Well, you're getting a bike with a really cool concept and awesome looks, and pretty good performance to match that, not to mention great comfort. It also has a tonne of genuine Kawasaki accessories, such as windshields, saddle bags, exhaust covers and more, for riders to customise their Vulcan S to their liking. So if you're the rider who likes to customise their ride, then this is a really easy bike to do just that.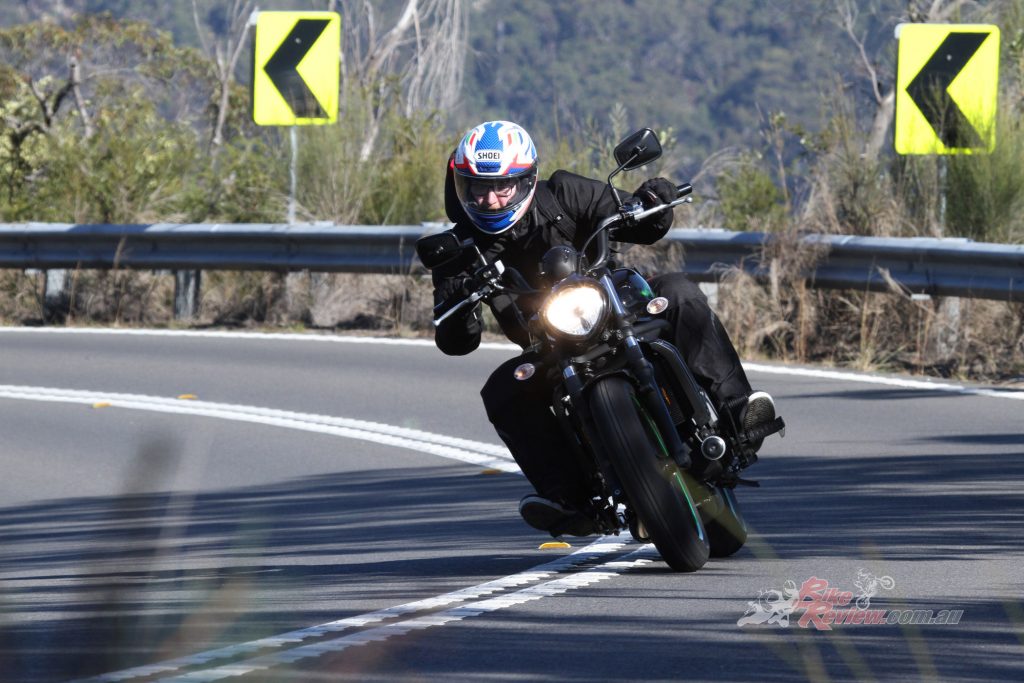 A good blend of cruiser comfort and top performance makes this bike totally worth the money.
It's also very inclusive, in that a large range of riders whether they be short or tall and still find this bike really easy to control and really comfortable. Even if you're a sportsbike fanatic and find no interest in cruisers, the Vulcan has opened my mind to the idea that cruisers can be fun too!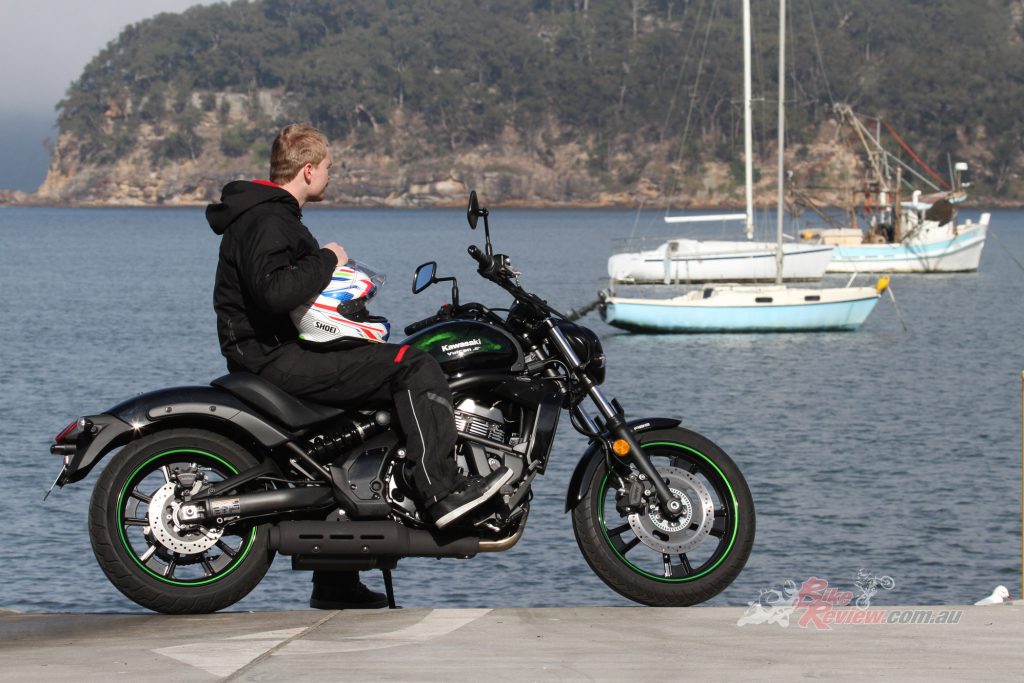 The 2020 Vulcan S SE starts at $10,199RRP exclusive of on-roads. Check the Kawasaki website for the R/A price.
You can pick up the Vulcan S SE from $10,199 excluding on roads, which I'd suggest is a pretty good price for what's on offer, and even if you aren't the cruiser type but looking for a good first motorcycle, or upgrading from a smaller one, then swing by your local Kawasaki dealer and try one out for yourself – it's worth every second. In competition you'll find the Benelli 502C, click here to read our full review!
---

---
2020 Kawasaki Vulcan S SE Tech Talk
The liquid-cooled, DOHC, eight-valve 649cc parallel twin with fuel injection is tuned to deliver smooth, responsive performance, especially in the low and medium rpm ranges. Kawasaki state the engine was tuned for rider-friendly power characteristics that will inspire confidence in new riders.
The triangular layout of the crankshaft and transmission shafts makes the engine very short front-to-back. Transmission input shaft, output shaft and change drum are contained in a "cassette"-style package that both allows a compact layout and facilitates transmission maintenance chores.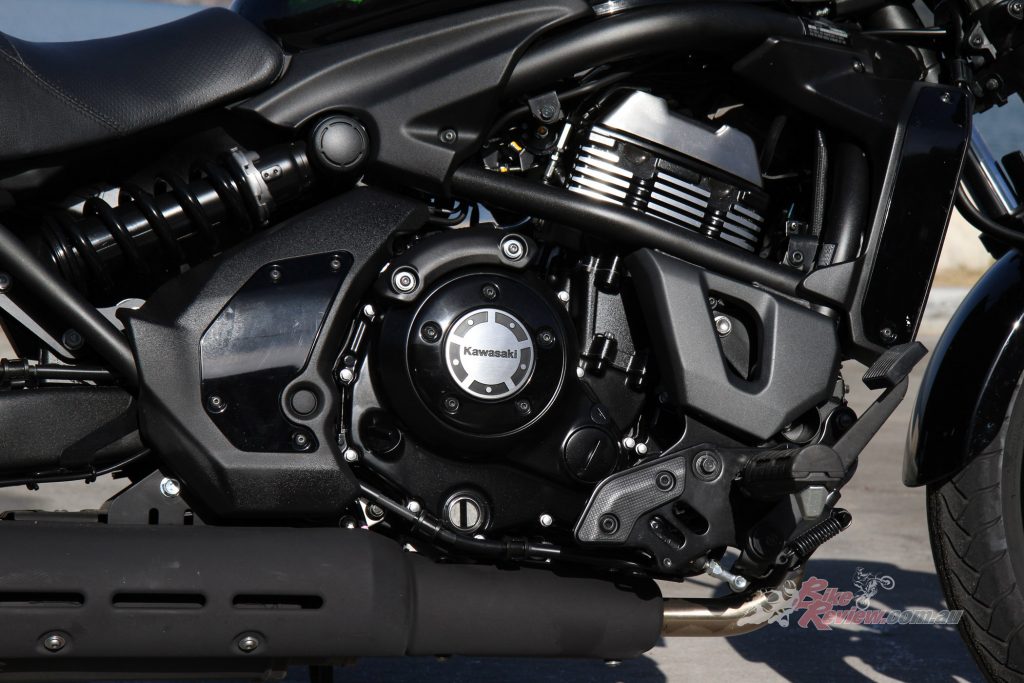 The liquid-cooled, DOHC, eight-valve 649 cc parallel twin s tuned to deliver smooth, responsive performance.
A semi-dry sump design reduces engine height. The plated, linerless cylinder is lightweight, and the narrow cylinder pitch reduces engine width. Under-engine muffler improves mass centralisation and lowers the bike's centre of gravity.
Particular attention was paid to the intake ports and camshaft profiles, and long-type intake funnels result in strong low-mid rpm performance. Kawasaki says the large-bore 38mm throttle-bodies feature sub-throttles for high power output with smooth, sensitive throttle response. Crankshaft design includes a heavier flywheel mass.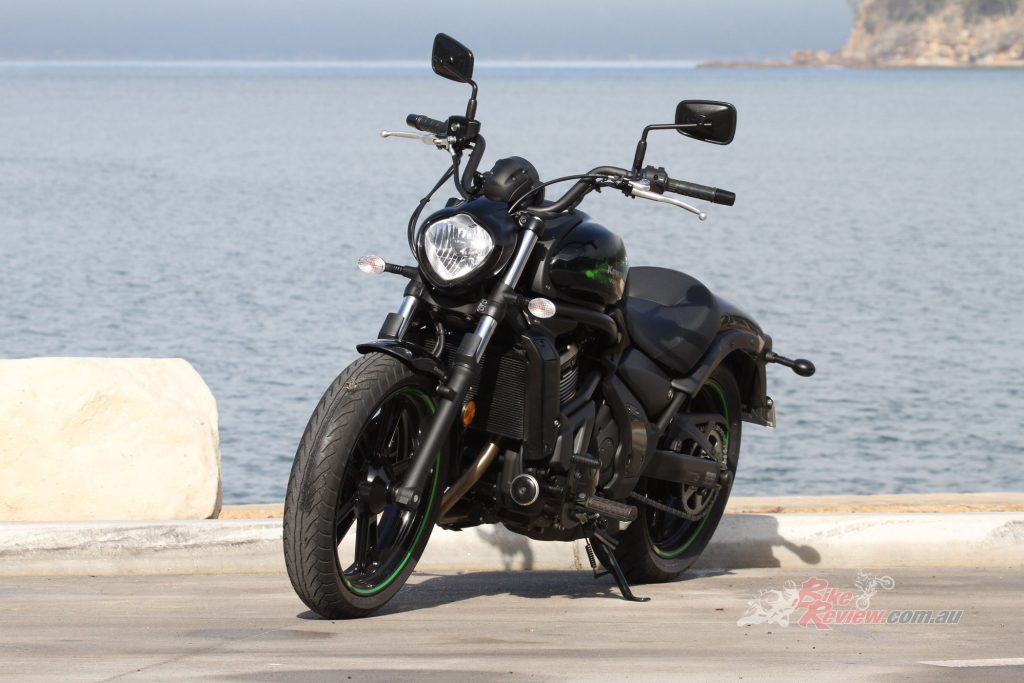 Curved, flowing style blended with a 'powerful, long-and-low stance' and modern elements creates a unique design.
An under-engine muffler design contributes to strong torque in the low-mid rpm range. Muffler internal construction and catalyser layout ensure clean emissions that will pass Euro4 regulations. Lightweight drive chain offers less mechanical loss and lower weight than a belt drive.
The compact engine allows use of a slim, minimalist frame, resulting in a design that is narrow at the knees and feet. 3D analysis was used to achieve the ideal stiffness balance for the frame. The frame is constructed of high-tensile steel, contributing to light weight. The layout of the offset single-shock rear suspension allows the battery to be located beside the shock instead of beneath it.
---

---
This arrangement allows a lower seat height as well as a slim design. As much as possible, the exhaust was kept under the engine, ensuring a slim chassis and an unobstructed reach to the ground.
Wheel sizes (18in for the front, 17in for the rear) are closer to those found on a sportsbike than a typical cruiser model (which often have much larger front wheels). The smaller front wheel contributes to the Vulcan S's claimed natural, light handling.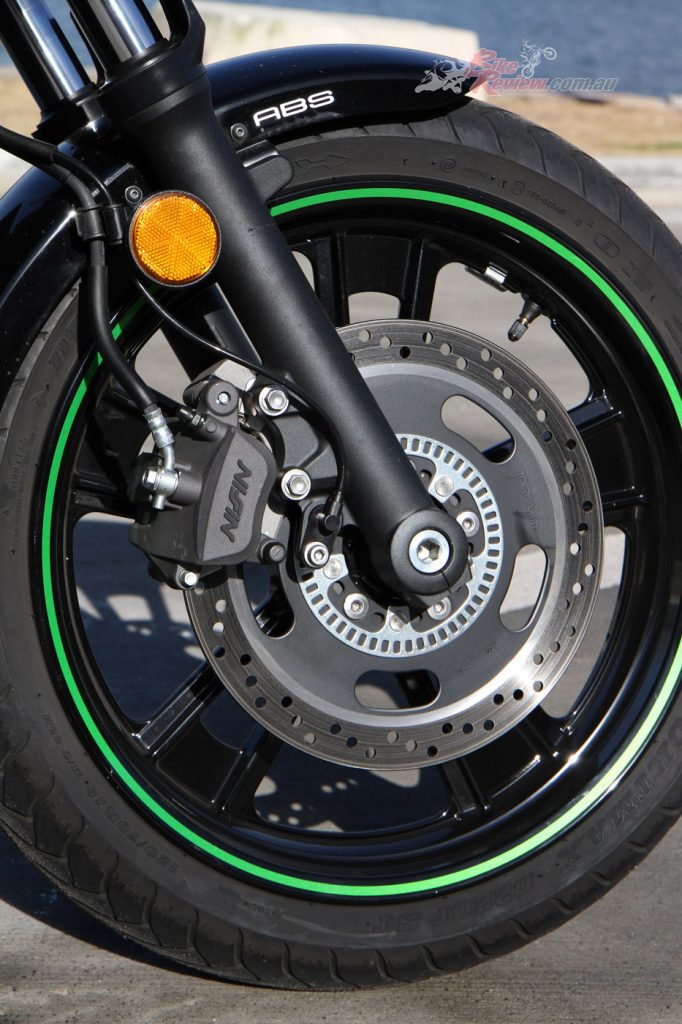 300mm disc with dual-piston caliper
A large 300mm front disc is slowed by a two-piston caliper, and at the rear, a 250mm disc is gripped by single-piston caliper. The compact ABS unit contributes to the lightweight chassis, and is conveniently tucked away under the rear shock, which ensures a slim construction beneath the seat.
A seat design with thick, 62mm padding offers a wide surface and excellent hip support, which Kawasaki say ensures ample comfort for city riding and short tours. The seat bracket is rubber-mounted, reducing vibration transferred through the seat.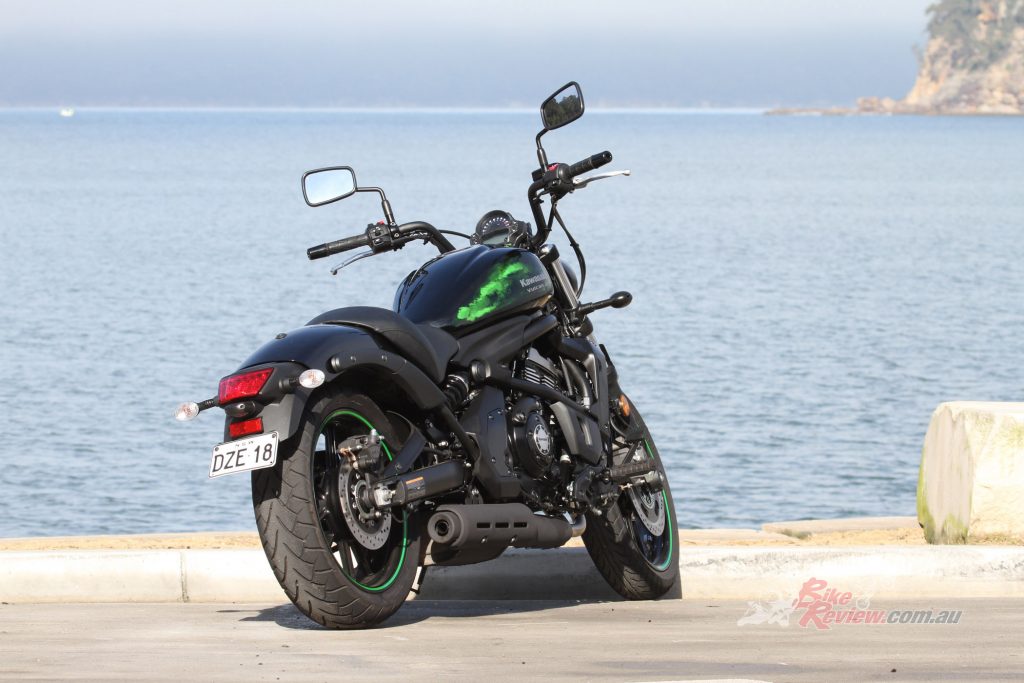 Kawasaki put a lot of focus into ensuring that the design and profile of the bike remained slim.
Footpeg position is adjustable with three positions available: STD, 25mm forward, 25mm back (Alternate shift linkage rods, sold separately, are necessary when changing the position from standard.)
An accessory handlebar positions the handle grips 44mm closer to the rider. An accessory reduced-reach seat positions the rider 53mm closer to the tank and controls accommodates shorter riders. An accessory comfort seat offers a more spacious seating position for taller/larger riders. Brake and clutch levers can be adjusted to suit the rider's hand size and preference.
---
---
Curved, flowing style blended with a 'powerful, long-and-low stance' and modern elements creates a unique, eye-catching design says Kawasaki. An inverted triangle headlamp contributes to the Vulcan S's claimed fresh, unique design. A position lamp is built into the upper portion of the headlamp unit. A tear drop-style fuel tank aims to add a cruiser-style touch. The tail fender is shaped to hug the rear wheel as closely as possible. The design was made possible in part by the offset laydown rear shock.
A compact, stacked instrument cluster matches the bike's overall design and features a claimed easy-to-read layout. Analogue-style tachometer and multi-function LCD screen use blue LED backlights designed for excellent visibility at night. Features include gear position indicator, fuel gauge, digital speedometer, clock, odometer, dual trip meters, remaining range, average/instant fuel consumption and the Economical Riding Indicator.
---

---
2020 Kawasaki Vulcan S SE Specifications
kawasaki.com.au
Price: $10,199 + ORC (click here and enter postcode for R/A price)
Claimed Power: 35kW[46.9hp]@6,600rpm
Claimed Torque: 53Nm[39.1lbs-ft]@5,600rpm
Wet Weight: 226kg
Fuel capacity: 14L
---
Engine: Liquid-cooled, four-stroke, DOHC, eight-valve parallel twin, 83mm x 60mm, 649cc, 10.8:1, electric start
Gearbox: Six-speed, return
Clutch: Wet, multi-disc
---
Chassis: Perimeter, high-tensile steel
Rake: 31°
Trail: 120mm
Suspension: 41mm telescopic fork, 130mm travel, offset laydown single-shock, linkage-
equipped, with adjustable preload, 80mm travel
Brakes: 300mm rotor (f), dual-piston caliper, 250mm rotor (r), single-piston caliper
Wheels & Tyres: Cast five-spoke 'pairs', 18in (f), 17in (r) , Dunlop Sportmax D220 ST tyres, 120/70 – 17 (f), 160/60 – 17 (r)
---
Dimensions
Wheelbase: 1,575mm
Seat height: 705mm
Ground clearance: 130mm
Overall width: 880mm
Overall Length: 2,310mm
Overall height: 1,100mm
Instruments: LCD dash
---
2020 Kawasaki Vulcan S SE Gallery
---

---
Sours: https://bikereview.com.au/review-2020-kawasaki-vulcan-s-se-lams-cruiser/
New Model Kawasaki Vulcan S 2020: Price, Consumption and Photos
Have you met New Model Kawasaki Vulcan S 2020? The motorcycle is a launch that brings with it a lot of personality and style besides performance and comfort for its users. If you still do not know the model or want to know more about the launch of New Model Kawasaki Vulcan S 2020 then check out the post prepared with details of this motorcycle.
New Model Kawasaki Vulcan S 2020
New Model Kawasaki Vulcan S brings to the market a model with its own style and several striking features, keep following and see more of these details below.
Let's start by talking about the design of the New Model Kawasaki Vulcan S 2020 that brings a unique style with its curves flowing in a low and long line joining classic traits like the design of its headlight with modern alloy wheels and five dual spoke.
The model also has an improved instrument panel that in this new launch brought a gear indicator increasing thus the precision in the gear changes and the reliability of the pilot while piloting its New Model Kawasaki Vulcan S 2020 .
Contributing to the design of the Vulcan S 2020 we also have a new low seat that combines with the narrow frame of the model making it even easier to position your feet securely on the ground.
Another novelty of the New Model Kawasaki Vulcan S 2020 is the increased fuel capacity to 14 liters thus offering greater autonomy to the motorcycle.
---
Vulcan S 2020 Technical Information
To know more about the New Model Kawasaki Vulcan S 2020 we have below some of the key information in its datasheet, see:
Motorization :
Type: 4 stroke, 2 parallel cylinders, liquid cooling
Displacement: 649 cc
Diameter x stroke: 83.0 x 60.0 mm
Compression ratio: 10.8: 1
Valve system: DOHC, 8 valves
Fuel System: Electronic Injection
Digital Ignition
Electric Match
Lubrication: Forced lubrication (semi-dry sump)
Dimensions
Overall Length: 2,310 mm
Overall Width: 880 mm
Total height: 1,100 mm
Between axles: 1,575 mm
Minimum ground clearance: 130 mm
Seat height: 705 mm
Weight in running order: 228 kg (ABS)
Tank Capacity: 14 liters
Streaming
Transmission: 6 speeds
Clutch: Multidisc, wet
Suspension
Front: 41 mm telescopic fork
Rear: Uni-Trak with spring preload adjustable in 7 levels
Brakes
Front: 300 mm Single Disc Type
Front: Double piston caliper
Rear: Single 250 mm Disc Type
Rear: Single piston caliper
Performance
Maximum power 45 kW (61 hp) / 7,500 rpm
Maximum torque 63 N • m (6.4 kgf • m) / 6,600 rpm
---
Consumption of New Model Kawasaki Vulcan S 2020
The tests of consumption of the present satisfactory results, next you check the average of the model:
New Model Kawasaki Vulcan S 2020 in the city: average of 19 km / l
New Model Kawasaki Vulcan S 2020 on the road: average of 21 km / l
---
Price of New Model Kawasaki Vulcan S
The Vulcan S New Model Kawasaki 2020 arrived in the national market with the initial price of $ 8900 , being considered an affordable price within its segment.
---
Check out more New Model Kawasaki photos
Check out more New Model Kawasaki Vulcan S 2020 photos with more model details:
Sours: https://moto-bike2020.com/new-model-kawasaki-vulcan-s-2020-price-consumption-and-photos/
Kawasaki has launched the 2022 Vulcan S in India at Rs 6.10 lakh (ex-showroom). The mid-displacement cruiser gets a new grey colour for a premium of Rs 6,000 over the outgoing model. Apart from this, the cruiser remains unchanged.
It's powered by a BS6-compliant 650cc liquid-cooled, parallel-twin engine (mated to a 6-speed transmission), making 61PS at 7500rpm and 62.4Nm at 6600rpm. The Vulcan S features a diamond-type frame, a conventional telescopic fork, and a 7-way adjustable monoshock. The bike is anchored by a single 300mm disc up front and a disc at the rear with Nissin calipers. It weighs in at 235kg (kerb weight), with a fuel tank capacity of 14 litres.
Kawasaki has provided the Vulcan S with 'Ergo-Fit' ergonomics adjustability. While the India-spec model already has a 3-step adjustable footpeg, the new sizing system allows you to adjust the bike's seat, footpegs, and handlebar. You can choose from 18 possible combinations, ranging from reduced to extended reach.
Sours: https://www.zigwheels.com/newbikes/Kawasaki/Vulcan-S
★ 2020 KAWASAKI VULCAN S REVIEW ★
Kawasaki Vulcan S
The Kawasaki Vulcan S motorcycle with a price tag of Rs. 6.10 Lakh. It is available in 1 variant and 1 colour. Powered by a 649 cc bs6 engine, the Kawasaki Vulcan S has a 6 Speed gearbox. The Kawasaki Vulcan S has Disc front brakes and Disc rear brakes along with ABS. Over 5 User reviews basis Mileage, Performance, Price and overall experience of users for Kawasaki Vulcan S.
Ad
Key Specs of Vulcan S
| | |
| --- | --- |
| Engine | 649 cc |
| Power | 61 PS |
| Torque | 62.4Nm |
| Mileage | 20.58 kmpl |
| Brakes | Double Disc |
| Tyre Type | Tubeless |
Vulcan S Specifications
Kawasaki Vulcan S Highlights
Kawasaki has launched the 2022 Vulcan S in India. It carries the same price tag as per the recent price hike. Here's what's new on the bike. The Kawasaki Vulcan S employs a BS6-compliant 649cc liquid-cooled parallel-twin motor that belts out 61PS and 62.4Nm. It's mated with a 6-speed gearbox. The suspension setup for the Vulcan S consists of a 41mm telescopic fork and offset-linked monoshock. Meanwhile, the braking hardware includes 300mm front and 250mm rear discs. The Vulcan S has no direct rivals in the segment, but you can also opt for the Benelli 502C priced at Rs 4.98 lakh. You can also get the Royal Enfield Interceptor 650 or the Continental GT 650 at a much more affordable price.

Read More
Ad
Kawasaki Vulcan S Price
The price of Kawasaki Vulcan S starts at Rs. 6,10,000. Kawasaki Vulcan S is offered in 1 variant - Vulcan S ABS which comes at a price tag of Rs. 6,10,000.
Vulcan S Price
*Ex-showroom price in Delhi
Vulcan S Competitors
*Ex-showroom price in Delhi
3 Offers Available
Ad
Vulcan S Expert Review
After making a mark in the Indian two-wheeler market, Kawasaki makes entry to the middleweight cruiser segment with its Vulcan S. Built on a perimeter frame it gets a retuned version of the engine that also powers the famous Kawasaki Ninja 650. The bike has a modern feel, sports a low slung profile, laid-back riding position, removable pillion seat, inverted triangle headlamp and unique alloy wheels. The instrument cluster comprises an analogue tachometer and a digital display same as on the previous-gen Ninja 650. The highlight of the bike is 'Ergo-Fit' which is anticipated to play well on the Indian roads. There is a three-level adjustment for seat, handlebar and foot pegs, which makes Vulcan S a desirable and a preferred option for the riders of different heights, ages and gender. The Vulcan S is designed ergonomically which can be seen in its fit and finish. You'd not see a flaw in the finished product as far as panels, seat comfort and other styling elements are concerned and that's what makes it one of the best cruisers to buy on the Indian turf.
Mechanically, minor tunings have been done to the engine for cruiser-like power delivery. The braking set up consists of disc brakes at both, front as well as rear, which provide great confidence to the rider while gliding it down the straights and city streets. The cruiser features ABS (Anti-lock braking system) as standard that adds up to its safety front. The bike gets telescopic front forks and an offset rear adjustable mono-shock absorber. With a single black colour choice, the bike can be purchased by shelling out Rs 5.44 Lakh (Ex-showroom, Delhi) from your kitty.
Kawasaki Vulcan S comes as a modern cruiser with trend-setting design and features. It is an urban motorcycle with adjustable conveniences to suit riders of varied heights and built. Cruisers are meant to be comfortable offering optimum riding height and position, foot pegs at adequate height and placement as well. Which we suppose Kawasaki has done brilliantly. The three-level adjustment for seat, handlebar and footpegs under the Ergo fitment makes it the leader of the pack. Adding to its eye-catchy design there are features like inverted triangle headlamp, tapered handlebar, uniquely-designed alloy wheels, tight-fit rear fender, under-engine muffler and a wide comfy seat. The blacked out components and short exhaust makes its long and low stance even more admirable. Everything combined together gives the bike a very upmarket feel making it the bike to own.
The adjustable clutch and brake levers add up to the convenience front allowing the rider to experience a ride of the lifetime whenever he twists the throttle on this Kawasaki cruiser. The finish levels are satisfactory while the comfort remains intact throughout the ride. One disappointing thing is that there are no colour choices for the buyers to explore. Nonetheless, the bike looks outstanding from the word go.
Dimensionally, it measures 2310mm long, 855mm wide and 1090mm high. The ground clearance of the cruiser sits at 130mm and the wheelbase at 1575mm.
Kawasaki Vulcan S houses a 4-stroke liquid-cooled DOHC 649cc parallel-twin with fuel injection engine that is capable of churning out a max power output of 61PS at 7,500rpm and a peak torque of 63Nm at 6,600rpm. The bike is mated to a 6-speed transmission system, which comes with chain drive to transfer power to the rear wheel. It offers satisfying pull when accelerating and smooth acceleration throughout the ride. The engine is powerful yet easy-to-control. Highway rides are bliss on this middleweight Kawasaki cruiser.
Built on the perimeter high-tensile steel frame, the Kawasaki Vulcan S rides on telescopic front forks and offset adjustable mono-shock absorbers at the rear. Avoiding bumps and getting through terrain undulations isn't be an issue for this cruiser, thanks to its suspension assembly that works incredibly well to offer a smooth and a comfortable ride experience. On the braking front, the Vulcan S gets a dual-piston 300mm disc at the front while the rear end features a single-piston 250mm disc. The first alloy wheel measures 18 inches while the rear wheel is 17 inches in diameter wrapping around 120/70 radial tubeless tyre and 160/60 tubeless tyre at the front and rear respectively. You won't find it difficult to manoeuvre in city riding conditions and the high-speed roads. The ride quality is absolutely sublime. Also, it's stable on varied terrains despite its light weight.
Kawasaki Vulcan S comes with ABS as standard, which takes it on the top of the list of cruisers in India. The wheels don't suffer locking even when the brakes are applied hard in adverse situations. Plus, the discs at both ends provide optimum braking force and stopping power for instant stopping without slip or slide.
Kawasaki Vulcan S User Reviews
All (5)
Gear (2)
Speed (2)
Clearance (2)
Price (1)
Small (1)
Seat (1)
Wolf in sheep's clothing

Very smooth to ride within and out side the city, negligible heating up in heavy traffic like the Harley's. Amazing.....Read More

By manoj wadhawan

On: Jul 08, 2019 | 4943 Views

Great "Sports Cruiser"

Great Sports Cruiser and a Head turner. It is surprisingly highly maneuverable compared to its size. One issue though.....Read More

By sathish rao

On: Jun 28, 2019 | 3330 Views

Great motorcycle cruiser from.....

This bike has very good handling, ride quality is better than Harley 750 in any manner. the only possible issue is the.....Read More

By varun

On: Mar 21, 2019 | 3950 Views

Nice cruise bike

Best bike at this price, just need some more ground clearance, other than that it is the best bike.

By anonymous

On: Mar 21, 2019 | 1018 Views

RIDE TO V TO B

My bike is marvelous I can't live with out it I was addicted to it I have best trips on it it was very nice and it is.....Read More

By vamsi

On: Mar 11, 2019 | 2120 Views

View All Kawasaki Vulcan S Reviews
Vulcan S Reviews
Recommended articles for Vulcan S buyers
Kawasaki Vulcan S Images
Vulcan S Images
Kawasaki Vulcan S Specifications
| | |
| --- | --- |
| Mileage (City) | 20.58 kmpl |
| Displacement | 649 cc |
| Engine Type | Liquid-cooled, 4-stroke Parallel Twin |
| No. of Cylinders | 2 |
| Max Power | 61 PS @ 7500 rpm |
| Max Torque | 62.4Nm @ 6600 rpm |
| Front Brake | Disc |
| Rear Brake | Disc |
| Fuel Capacity | 14 L |
| Body Type | Cruiser Bikes |
Kawasaki Vulcan S Features
| | |
| --- | --- |
| ABS | Dual Channel |
| LED Tail Light | Yes |
| Speedometer | Digital |
| Odometer | Digital |
| Tripmeter | Digital |
| Fuel gauge | Yes |
| Tachometer | Analogue |
View All Specs
Vulcan S Videos
2018 Kawasaki Vulcan S @ Auto Expo 2018 : PowerDrift

Aug 15, 2018

Kawasaki Vulcan S vs Harley-Davidson Street 750

Jul 02, 2018
Vulcan S Videos
Ask a question from owners
Questions And Answers
What is the exact on-road price price of Kawasaki Vulcan S?
The on-road price of Kawasaki Vulcan S in Delhi starts at Rs. 6,82,079. The on-road price is inclusive of RTO charges and insurance.
What is the engine displacement of Kawasaki Vulcan S?
The engine displacement of Kawasaki Vulcan S is 649 cc
What is the Start type of this bike?
Kawasaki Vulcan S has Self Start Only.
What is the Tyre Type of Kawasaki Vulcan S?
Kawasaki Vulcan S has Tubeless tyres.
What is the city Mileage of Kawasaki Vulcan S?
The city Mileage of Kawasaki Vulcan S is 20.58 kmpl.
Kawasaki Vulcan S FAQs
What is service cost and it's intervals?
Kunal asked on 28 Apr 2021
For that, we'd suggest you to please visit the nearest authorized service center...
Read More
By Bikedekho experts on 28 Apr 2021
AnswerView Answer
What is the mileage?
Elroy asked on 11 Nov 2020
I've been getting a mileage of 23.7 in city conditions. I've been informed that ...
Read More
By Mithun on 11 Nov 2020
AnswerView Answers (2)
Is Kawasaki Vulcan S available in Kerela?
sadiq asked on 28 Mar 2020
Kawasaki Vulcan S is available for sale and for the availability in your city, ...
Read More
By Bikedekho experts on 28 Mar 2020
AnswerView Answer
Yes I am confused between Harley Davidson 750 street and kawasaki walcan, please tell me which bike is best on mountains as well as plain?
Harsh asked on 7 Oct 2019
Both bikes have their own forte. If you are looking for comfortable feature ...
Read More
By Bikedekho experts on 7 Oct 2019
AnswerView Answer
Kawasaki Vulcan S Questions
Vulcan S is Featured in
More Bike Options to Consider
Ad
EMI Starts
Rs.20,128 /month Edit
Get paperless loan approval with lowest interest rate and EMI
Ad
Sours: https://www.bikedekho.com/kawasaki/vulcan-s
Vulcan price 2020 kawasaki s
Rubbing her bottom red, she took the belt. At first, she experimented with soft belts, not knowing how she would achieve a particularly strong red that turns her on so. Much.
Here's Why The Kawasaki Vulcan S 650 SUCKS! Everything I HATE (Honest Review)
Guys, huh. And her voice must have been out of breath. Yes. but she worked.
Similar news:
Standing behind, holding his hips, he pulled me up without much difficulty. after two times the point worked out and Volodya rhythmically fucked me in the ass. Standing, I waved him like a woman. mmm oooo he just moaned pulling me on.
1711
1712
1713
1714
1715