Last Updated on July 31, 2020
Radiologists can be an interesting crowd. If you're looking for some unique radiologist gift ideas, you've come to the right place.
Not so much because we know a lot about radiologists. (I mean, after all, who can truly know another person…. lol jk.) We may not know much* about radiology, but we do know gifts.
*By "not much" we mean nothing at all, really.
So here are our best gift ideas for radiologists and their ilk (yes, we're looking at you, x-ray techs). From creatively unique to uniquely practical, these are the things we've found radiologists tend to like.
We've scoured medical chat boards, radiology blogs, and our own experience providing gifts to medical professionals to bring you 21 unique radiologist gift ideas.
21 Unique Radiologist Gift Ideas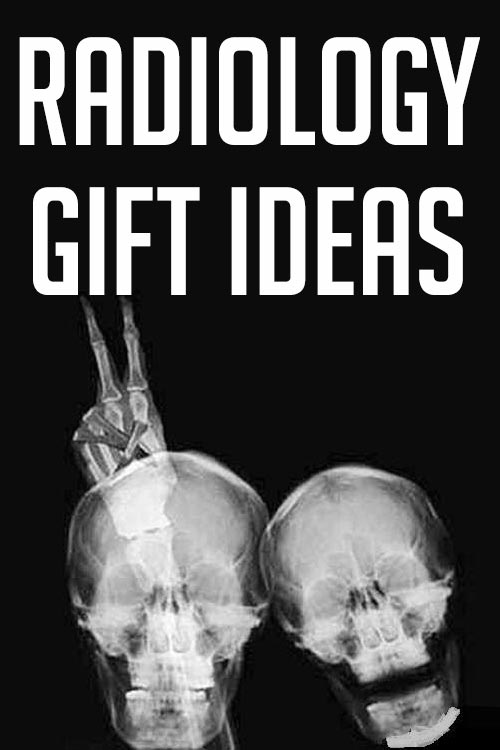 Creative and unique gift ideas for radiologists, radiology students, and x-ray professionals.
Our website is supported by our users. We sometimes earn a commission when you click through the affiliate links on our website. Learn more here.
1. Vintage Personalized Radiologist Sign
This is our favorite. This Personalized Radiology Plaque has it all: Made in the USA, furniture grade wood, vintage style, distressed finish, and customized.
Oh, and a hand-carved 3-dimensional caduceus medical symbol. The ultimate gift idea for the office of the board-certified radiologist.
2. Personalized Insulated Tumbler for Their Coffee
Here's a great gift for the radiologist or radiology student on the go. Double walled tumblers are famous for precision temperature control of your beverages, keeping hot drinks hot way longer, and cold drinks cool.
But wait! There's more… Did you know you can get it custom engraved? Yep, it's true: just about any text, the radiology department logo, or anything else you choose. Here's our popular personalized "BEST. EVER." design.
3. Novelty Pen Set
This fun set of novelty bone pens is just the thing for the radiologist who loves to write.
4. Vintage Radiology Medical Book Page Print
Some radiologists will never want to be reminded of their days in school. Others just absolutely love the details and history and intricacies of their profession.
If the radiologist in your life is like this, they will probably love a vintage art print taken from an actual radiology textbook.
5. Radiologist's Go Bag
The radiology go bag is a must. Whether the after hours activities involve Jason Bourne-style spy hunts or just a trip to the gym, a solid travel bag is a useful and practical radiologist gift idea.
6. Pour Over Coffee Maker
Show that you know coffee. This is the ultra-hip coffee brewing system of choice these days. The glass helps keep the brew as smooth as possible as every bit of flavor (and caffeine!!) is extracted from a small-batch crafted single-origin fair trade coffee roast.
If they already are set on their coffee making process, you won't go wrong with a personalized vintage style coffee house plaque instead.
7. 256 Shades of Gray Coffee Mug
Radiology humor at its finest. Give them a laugh, plus a handy coffee mug. Because we know anyone who works in the medical profession basically runs on caffeine.
8. X-Ray: See Through the World Around You
We think of an X-ray as a medical or security tool—but it can be so much more.
As award-winning photographer Nick Veasey shows in this ethereal collection of X-ray photography, the X-ray machine can reveal new and exciting worlds hidden beneath the surface.
The perfect coffee table book for a radiologist.
9. Personalized Commemorative Keepsake Box
A classic commemorative gift. This keepsake box is crafted in the USA from premium walnut wood. It's no imported knock-off.
Plus it includes free personalization on the name plate, and plenty of room to store letters, jewelry, photos, or keepsakes from life in the medical profession. Perfect as a retirement gift for a radiologist.
10. Portable Neck & Back Massager
The ideal way to unwind and relax after a long day in the radiology department, this back and neck massager will be a much-used gift.
Features include soothing heat, eight kneading rollers, and designed for use not only on the neck and back but also shoulders, waist, mid-sections, arms, legs, and feet.
11. Living Wreath
This pretty decor accent is a "living" wreath, made from natural organic succulents. Long lasting and beautiful, this is a trendy and low-maintenance home decor accent that will breathe life into any room.
12. Bonsai Tree
For a bit more active involvement in botanicals, they may just fall in love with tending a bonsai tree.
These little kits are affordable, fun, and can go just about anywhere. Home or office, there's always room for a bonsai tree.
13. Oak Aging Barrel
Help kickstart a weekend hobby for the radiologist who has long talked about aging their own wine or whiskey.
This is an authentic barrel made from American White Oak wood and medium char on the interior, perfect for aging whiskey at home. Includes personalization.
14. Anatomical Necklaces
These necklaces are not only anatomically correct, they're also adorable! Hearts, brains, lungs, wishbones, and more are available as the radiologist gift of choice.
15. Top-Notch Lab Coat
Maybe it's not as flashy as some of these other gift ideas, but it will certainly be appreciated.
A premium medical lab coat might be the one thing they really want but haven't bothered to get for themselves. Useful, comfortable, and practical – does this sound like a radiologist you know? Then get it.
16. Craft Beer & Accessories
For the radiologist who has everything, a consumable gift may be the way to go. Here are some gift ideas for the craft beer enthusiast:
17. Wine & Accessories
Next, we have the best gifts for a wine connoisseur:
18. Whiskey & Accessories
And lastly, we round out this triad of popular adult beverage ideas with some whiskey gifts for the radiologist who loves some fine whiskey:
19. Digital Highlighter
Taking notes in the 21st century means you need to go digital.
With this nifty digital highlighter, highlights go from paper directly onto your device. From there, you can access notes and highlights anywhere, in a search-ready format.
20. Unique Radiologist Gift Idea: Drone
Here's a unique gift for the radiologist who likes to unwind outdoors in creative ways. Ideal for launching a hobby, a drone is a popular gift because it's good, clean, high-tech fun.
Try the entry level model above or the high-end starter videographer drone here.
21. Radiologist Ugly Christmas Sweater
You won't regret this when you see your radiologist wearing it faithfully every holiday season.
More creative gift ideas:
Sours: https://allgiftsconsidered.com/unique-radiologist-gift-ideas/
No Bones About It—You're a Sweet Friend: Marshmallow and Pretzel Skeletons
marshmallow and pretzel skeletons, no bones about it, Just Add Confetti, free printable, day of the dead, sweet Halloween treat, marshmallow skeleton, white chocolate covered bones, white chocolate covered skeleton, kids Halloween, graphic design, Just Add Confetti printables, No Bones About It—You're a Sweet Friend, Halloween,
Sours: https://www.pinterest.com/jinahunt/xray-week/
The Radfather
Cassling is here to support your team during this special week!
Recognize your radiology and imaging teams with our complimentary resources and modality-specific digital toolkits. Also included are educational resources to help educate your community about the importance of diagnostic imaging and your organization's commitment to high-quality patient care.
Complimentary materials include:
'The Radfather' poster
'The Radfather' stickers
Crossword activity
Recognition card
Social Media toolkit
and More!
After filling out the form, your posters and stickers will be shipped directly to you. All other materials are available for you to download immediately.
Fill out the form to place your order!
>> Order by Oct. 21 to ensure delivery before Nov. 7
About Rad Tech Week
National Radiologic Technology Week® is observed annually to recognize the vital work of imaging professionals across the nation. The celebration takes place each November to commemorate the anniversary of the X-ray's discovery by Wilhelm Conrad Roentgen on Nov. 8, 1895.
Sours: https://www.cassling.com/celebrate-xray
WHAT'S IN MY BAG FOR CLINICAL? - X-RAY STUDENT - RADIOLOGIC TECHNOLOGIST IN THE MAKING
Reading Time: 4minutes
The best week of the year for the 337,000+ Rad Techs throughout the country is the celebration of Rad Tech Week.
I'm putting this article out early so the search engines can pick it up BEFORE the celebration begins. Throughout the year I'll be adding more information.
National Rad Tech Week
National Radiologic Technology Week is celebrated annually to recognize the vital work of rad techs across the nation.
The celebration takes place each year during the week that includes Nov. 8th to commemorate the discovery of the x-ray by Wilhelm Conrad Roentgen on Nov. 8, 1895.
It was officially started by the ASRT back in 1979 and continues through the current day.
Originally in July, it was moved to the week in November that correlates with the invention of the xray by Wilhelm Roentgen, Nov 8, 1895.
Celebration Week for Everyone!
When you work in healthcare you see all the different professions that promote their own career field.
The most prevalent, of course, is Nurses Week.
Most prevalent because, as we all know, nurses get everything they want.
More pay, more recognition, more extra job incentives… but I'll save that for another day.
It's Friday…why start that now, right?
Then there's Radiation Therapy Day, Administrative Assistant's Day, Physician Appreciation Day, and on and on…
So I have no reservations about announcing from the rooftops every November that it is Rad Tech Week.
If you are here because you are looking for ideas on what you can do to celebrate rad tech week at your hospital, here are several of the things I have done in the past.
Rad Tech Week Gifts (ie., swag)
There are tons of sources out there for swag. You can buy it on your own, get someone to donate it or if you 're super lucky, get your department to pay for it. The latter, however, has been dwindling for years. But don't let that stop you. Get creative. Now, on with the list!
Department t-shirts
This is by far one of my favorite peices of swag to give away each year. Maybe it's because these things are seen for years and years. I still have my rad tech week shirt from 2005. The cost is typically anywhere from $7 per shirt and up. I have paid as high as $13 in past but that was long sleeve and pretty thick. There's also hoodies, short sleeve shirts and nice, professional looking jackets.
Employee Appreciation Fund – if you company has a fund set aside, by all means do a shirt. An average annual EA fund allots for $10-20 per employee. That's plenty for a shirt. Don't go too skimpy on the quality to save money. Be proud of your profession and buy something sturdy that will last.
Vendor Sponsors – if it isn't against company policy or breaking any Stark or Sunshine Laws, ask your vendors if they are comfortable sponsoring the shirts. They can put their company logo on the back and call it a write-off for advertising.
Fundraisers – sometimes when there isn't any corporate money (during the lean years, stupid Enron…), you may offer to do an employee fundraiser on a weekend with the funds raised to go towards a departmental shirt.
The never-popular buy your own option. You can still enjoy a group purchase discount even if everyone is paying for the shirt themselves. Word of caution: don't sign up to be the person in charge of keeping who paid and who hasn't straight. Your sanity will be at risk.
General Swag
This category has all the miscellaneous stuff that you gather from companies and your own hospital.
You'll get logo cups, pens, frisbees, pocket calendars, and all kinds of knick-knacks.
Don't be concerned about butting out a giant bucket of company logoed water bottles.
Free is free and the techs will love it.
Approach your human resources department and just ask if they have any extra swag. One hospital I worked at had tons of old hospital T-shirts. It had the hospital logo and came from various events over the past few years that were marketed. There were various sizes and event logos. Nonetheless, free is free and they went like hotcakes to the techs.
Ask your vendors if they would like to donate logo pens, koozies, water bottles, or anything else that they might have extra lying around the warehouse. Again, be aware of rules and regulations around this stuff.
Hit your dollar store. Remember when Target had the Dollar Spot? That stuff was perfect for loading up gift goodie bags. Look around and see what you can find. Especially if you go with a theme.
Homemade stuff is also a big hit. Make your own signs, games, whatever you can on your own. It adds a personal touch and saves money.
Rad Tech Week Food
Next to shirts, the food is right up there as my favorite.
Most vendors, not all but most, are allowed to visit your department for a "Lunch and Learn."
The technicalities of this event are that the vendor has to present something about their business…which they do every time they visit anyway…
And the staff has to be engaged in that presentation to some degree. Print out a sign-in sheet and place it in the lounge.
The vendor can present there and any tech who wonders in for food can sign the sheet.
The vendor then has a document to take back to corporate and show there was business engagement and not just a face-stuffing contest.
A nice schedule to follow is setting up one vendor for each day of the week.
Make sure to include Sunday and Saturday because they fall within the celebration week and you don't want to short the weekend staff.
They will let you know…believe me.
Categories Informational, Rad Tech WeekSours: https://theradiologictechnologist.com/rad-tech-week-2021-national-radiologic-technology-week/
Tech week ray gifts x
National Radiologic Technology Week, Nov. 7-13, 2021!
National Radiologic Technology Week®, November 7-13, 2021 celebrates the important role medical imaging and radiation therapy professionals play in patient care and health care safety. Celebrate with gifts from ASRT and Jim Coleman Ltd. featuring the official "Essential Together" theme and logo.
**Order today to ensure delivery before National Radiologic Technology Week®
Shop NowDownload Brochure
National Radiologic Technology Week, Nov. 7-13, 2021!
National Radiologic Technology Week®, November 7-13, 2021 celebrates the important role medical imaging and radiation therapy professionals play in patient care and health care safety. Celebrate with gifts from ASRT and Jim Coleman Ltd. featuring the official "Essential Together" theme and logo.
**Order today to ensure delivery before National Radiologic Technology Week®
Shop NowDownload Brochure
National Radiologic Technology Week, Nov. 7-13, 2021!
National Radiologic Technology Week®, November 7-13, 2021 celebrates the important role medical imaging and radiation therapy professionals play in patient care and health care safety. Celebrate with gifts from ASRT and Jim Coleman Ltd. featuring the official "Essential Together" theme and logo.
**Order today to ensure delivery before National Radiologic Technology Week®
Shop NowDownload Brochure
Sours: https://www.jimcolemanstore.com/nrtw/
STUDENT XRAY TECHS WITH PATIENTS BE LIKE - XRAY LIFE - FUNNY
In forty minutes I was at home. I open the door. The apartment is empty, like a saucepan. Precisely, I remembered that my son and his friends left for the recreation center in the afternoon.
Similar news:
The dress was too short, and therefore the neckline opened the erotic leg almost to the hip. Lily began to get aroused and now the nipples appeared in clear relief in the fabric of the dress. The girl dressed her legs in "braided" black high-heeled shoes. She looked in the mirror and made sure she looked perfect.
The next item was makeup.
1717
1718
1719
1720
1721