19 Artist's Studios and Workspace Interior Design Ideas
As soon as you enter an artist's studio you can just tell that it's no ordinary space. it has something special that you can't actually define but that defines that space perfectly. It's that thing that makes an artist's studio or workspace easy to recognize and that gives it character. But what is that thing? Maybe we can find out if we analyze several examples.
Let's start with this one. It's actually quite the usual office. It has a simple interior décor with a framed picture on a wall, a desk, some shelves and some simple chairs. But the detail that makes it stand out are all those colorful post is that cover almost an entire wall. They create a rainbow of color and the idea is very creative.
This office/studio doesn't stand out much either. But wait till you find out who's it is. It's the workspace of Milton Glaser. He's one of the most renowned graphic designers in the US who had the distinction of one-man-shows at the Museum of Modern Art and the Georges Pompidou Center. All his outstanding work starts here, in this small but inspiring space.
This tiny space is the studio of cartoonist Adrian Tomine. It's very simple and not at all as one might imagine it. It's not filled with books, toys and artwork. It looks more like the office of an architect. However, as you can see, it's also very nicely organized and it's where the artist feel comfortable working.
This is an artist's studio from a contemporary family room. It's not a very large space but it's simple, clean and filled with natural light. The attic studio has skylights and large windows and this is the most important detail in any painter's work environment. After all, you don't need distractions. You just need inspiration, talent and good light.
Here's another similar example. It's a studio that's actually quite small but it has floor-to-ceiling windows and it's also opened to an outdoor terrace. It has views of the garden, a sink and a desk. The décor is very simple and white but this only leaves room for more creativity.
As we've mentioned, a huge window is crucial is any artist's studio or office. But if it also has an impressive design then it's even better. This space has a huge arched window with views of the surroundings. The high ceiling and that floating staircase also give character to the studio.
Depending on what a person does, the studio or office will always be different. For example, this is the studio of someone who creates jewelry and it's filled with grinding and polishing machines. He shares the space with a rescue dog. It's a small space in The Invisible Dog Art Centre, shared with numerous other artists.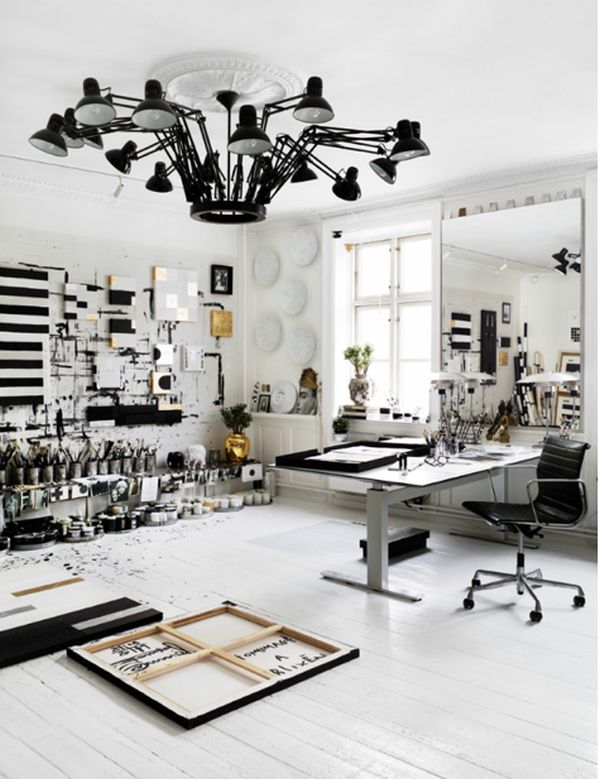 This is a typical painter's studio. It has everything you would expect it to have, except maybe color. There are tons of brushes all over the place and unfinished work everywhere. What's striking is that it's a black and white space but it suits the artist's work perfectly.
This is an attic home office/studio also belonging to an artist. The roof windows are not surprising here since light is crucial. It's a space that might seem messy to some people but that actually has a different kind of organization, one that only the owner understands.
This contemporary home office is also quite interesting. It has an eclectic interior décor. There's a rather traditional area rug on the floor, exposed beams in the ceiling and large windows. The roof windows are also present like in the case of most artist's studio we've seen so far.
This artist's studio is closer to what most people usually imagine these spaces. It's large, with high ceilings and with windows on every wall. It has bright walls and ceiling and lots of storage spaces. It's also quite the colorful space although color comes in small amounts here.
Here's a rather modest studio. As you can see, it doesn't have much furniture. Just a small table, a chair and some shelves. Notice how the space under the windows has been used for storage. It's a clever way of saving space somewhere else. The windows are large and the overall décor is somewhat traditional.
This is the studio of artist Ali McNabney-Stevens. Her style is characterized by intense color and abstract shapes. You can see this style also reflected in the way her studio was decorated. It has a simple and neutral overall décor but with bold touches of color and with interesting shapes everywhere you look.
We often say that artists are not organized. Their work spaces are always messy and with things all over the place. But here's an example that contradicts. This studio is very well organized. It has well defined storage compartments and spaces, a bright and clean interior and every little thing has its designated space. Of course, that is if you ignore the working table.
This space used to be a garage. It got transformed into an artist's studio. It's a quite large space but it seems to lack some natural light. you can see how the floor is almost covered in paint and all those canvases leaning on the walls and you instantly realize it's a typical artist's studio.
This is a studio with an eclectic interior décor. It's an artist's home office and it has an angled ceiling, grey walls and floor and not much furniture throughout. The focal point is the work in progress from the center of the room. To further make it stand out, an area rug was included in the décor.
This studio has been added to a modern home after a renovation. It has a large set of windows that give the room a spacious and airy feel and that also let in plenty of natural light. It's a quite simple space with plenty of room for storage and also with a sitting area where the artist maybe awaits for some inspiration.
This contemporary home office is also quite modest. It's a painter's studio but it's surprisingly clean. It doesn't have the floor covered in paint and it also seems to be nicely organized. It's not spacious but it's bright, filled with light and it seems to offer the artist a perfect environment since those landscape canvases are so beautiful.
This cottage home office also has a modern interior décor. Notice that storage system that runs the length of the room. It's a wonderful element that allows the artist to be organized. The rest of the furniture includes a work table, a desk and some chairs. It's everything a painter needs.
Picture sources: 1, 2, 3, 4, 5, 6, 7, 8, 9, 10, 11, 12, 13, 14, 15, 16, 17, 18 and 19.
Sours: https://www.homedit.com/19-artists-studios-and-workspace-interior-design-ideas/
This post contains affiliate links for product recommendations. Any purchases made through these links help support the blog with a small commission. As an Amazon Associate I earn from qualifying purchases.
Having your own home art studio is a great way to channel your inner artist and be inspired to create beautiful things!
When I was younger, I experienced struggles with creating art at home because I had to share a room with my sister.
As I grew older, I asked my parents to give up their storage area — a small shed outside of the house; and make it my personal art space.
It felt liberating to have a place for all of my organized art stuff, and it was great to have a personal work place at home where I could spend almost the entire day without any distractions.
Having a room or a nook that is entirely yours is not only good for your mental health, but helps to keep your creative juices flowing. And with everyone opting to stay inside during these trying times, we are even more keen on re-organizing, beautifying and renovating our homes.
If you are starting to consider creating and designing a space just for art, there are a few things you need to keep in mind:
A Bright + Quiet Home Art Studio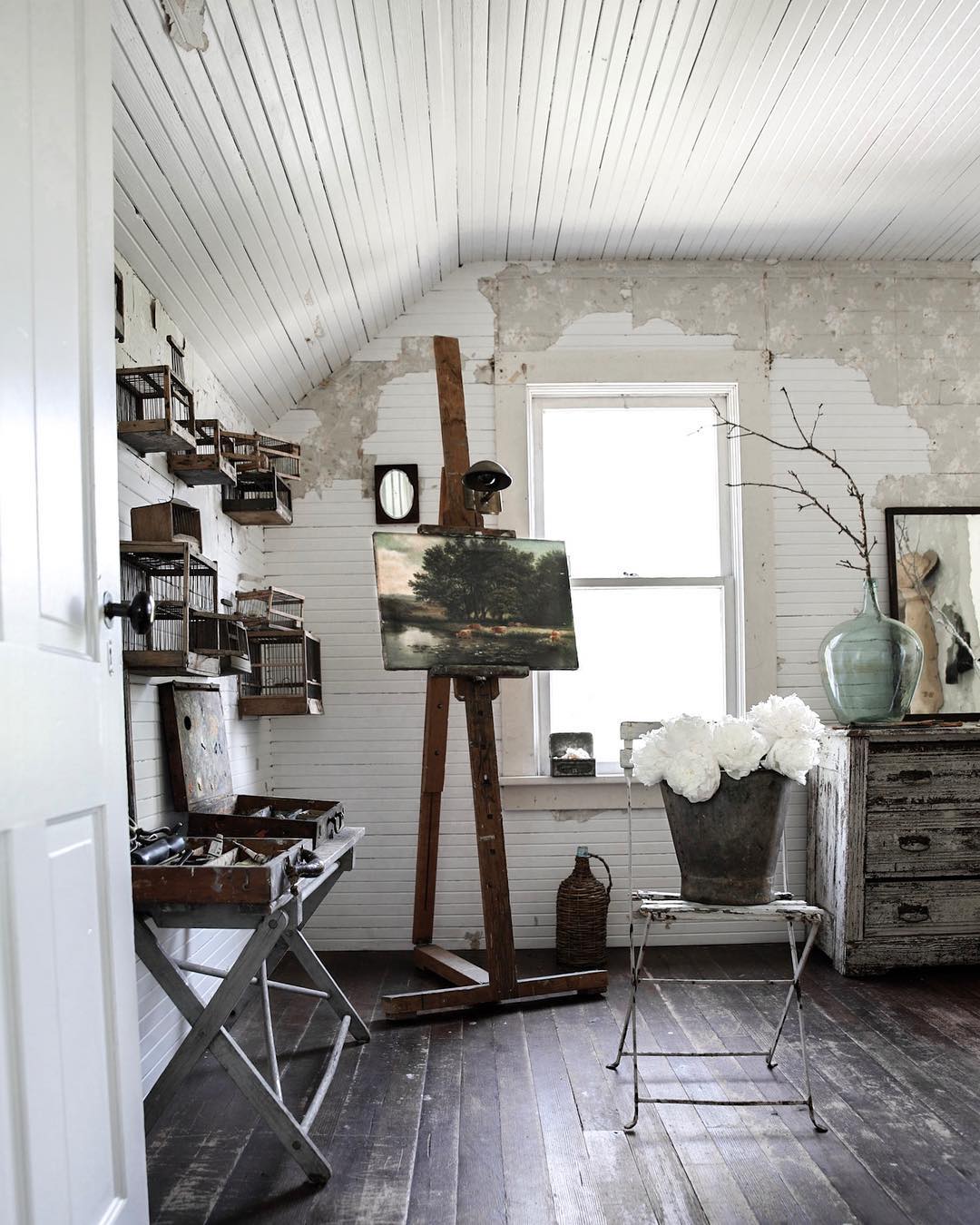 It is recommended to have big windows for ventilation, and a double door or a large framed door just in case you need to carry in a big canvas or a sculpture.
As for lighting, try these tips from United States based artist, Stan Prokopenko about using North light from above on his blog "How To Set Up A Painting Studio".
"North light is very soft and bounces around the walls of the room to illuminate everything evenly."
It is important to have good natural lighting in the morning, and if you are planning to use your art space at night, look for a good set up of artificial lighting.
A Small Home Art Studio Works Too
An art space doesn't really need to be huge, it could be a small nook near your window in your own room, a storage or a basement area where you have a window big enough for ventilation.
Check out Amy's "How To Make Your Own Art Studio at Home (Even When You Have No Space)" and read up on her tips on selecting or making a space for your own studio area
Keep it Minimal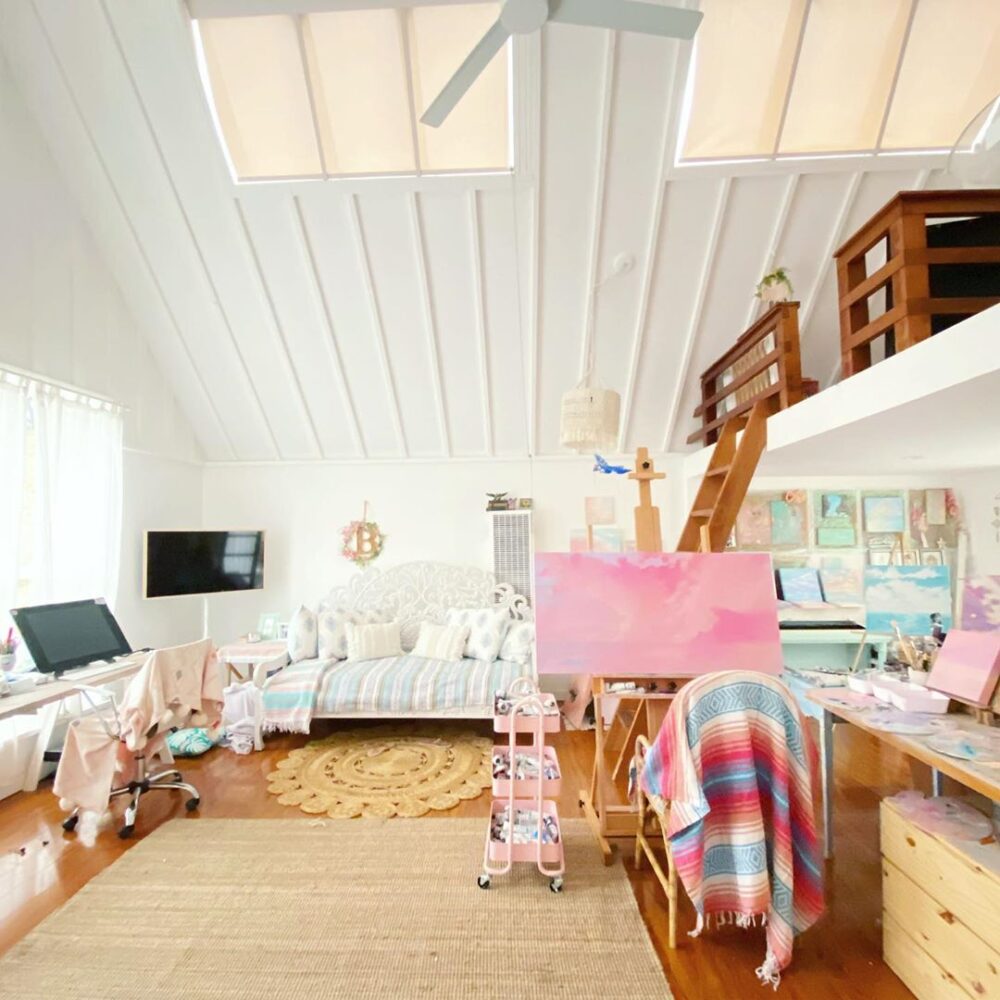 Try to make your art studio plain and simple —as minimalist as possible! Try pure white or off-white walls and ceilings with a wooden waxed floor that will be easy to clean in case you spill your paint.
Minimalist room design often works better for an art studio as you will likely be filling the space with works of your own art!
Having furniture or a statement piece that doubles as an organizer will also minimize clutter in your studio.
Stay Neat and Organized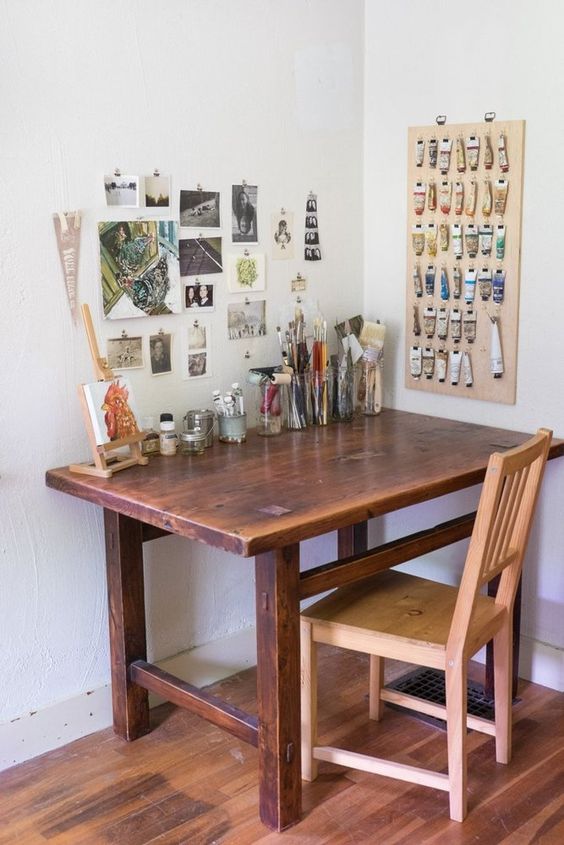 It goes without saying that you will need storage baskets or containers to keep your art equipment and materials in place.
Try to minimize these as too much clutter will defeat the purpose of having a clear home art space where you can focus on creating.
Take advice from Erica Lancaster's "8 Useful Tips To Keep A Well Organized Art Studio" to get an idea on how to purge your items and keep them in place for easy access.
After all, being able to keep your art space organized and clean will also help your mind relax, so you'll be able to brainstorm and become even more inspired.
Remember: MINIMALISM isn't removing the things you love. It' about removing the things that distract you from the things you love. – Joshua Becker
Try an Ergonomic Chair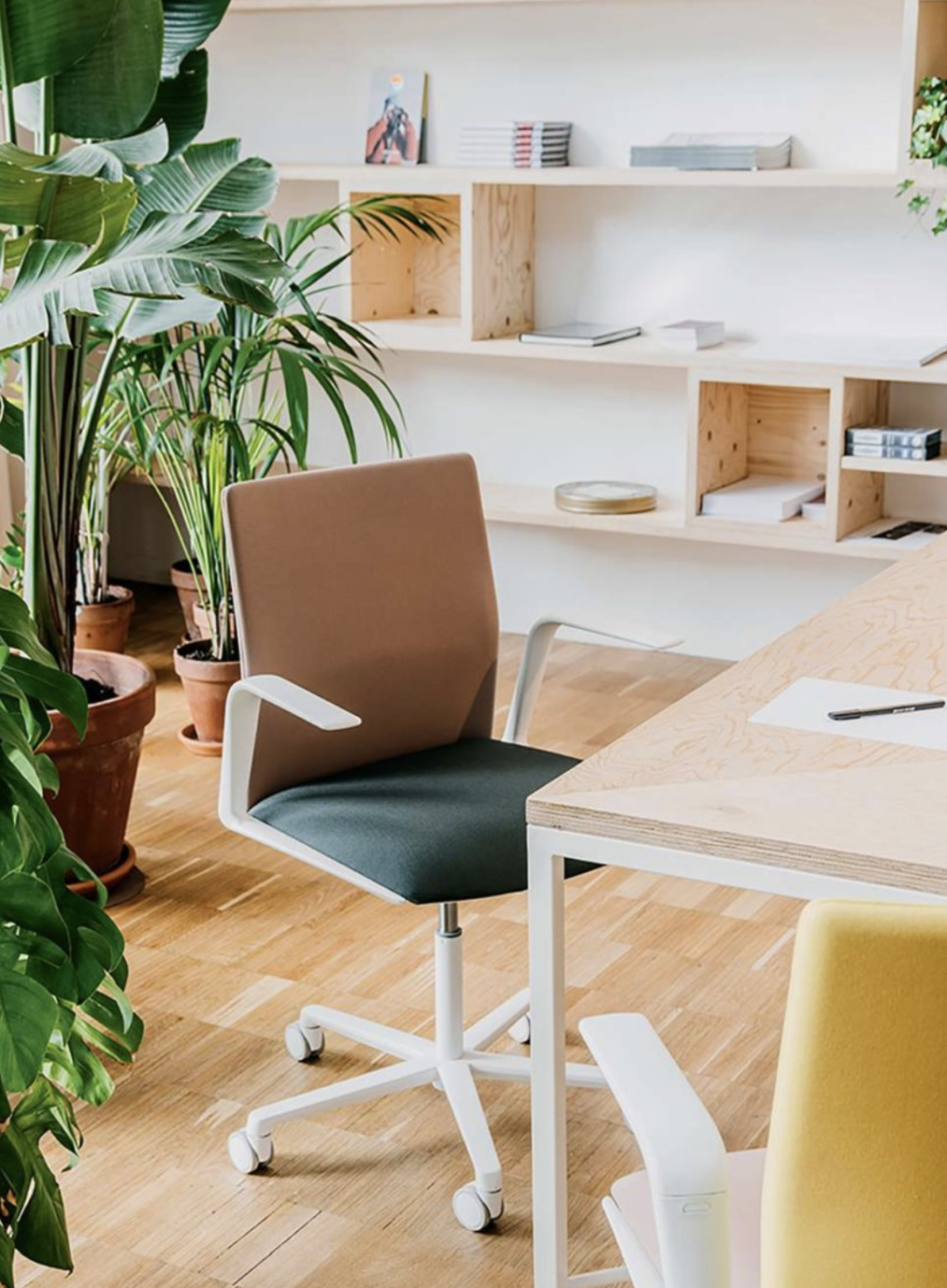 I cannot stress this enough: you need to invest on an ergonomic chair that will support your backbone and posture.
As an artist, you know that you may spend more than half of the day creating art — sometimes even more if you're really in the zone.
When you get old and grey, you will thank yourself for choosing a chair that supported your back all those years ago.
Amazon has a huge selection of ergonomic chairs(affiliate link) you can choose from, or at the very least give you an idea on what to look for in a chair that will support your back for all those long hours sitting and making art.
Surround Yourself With Nature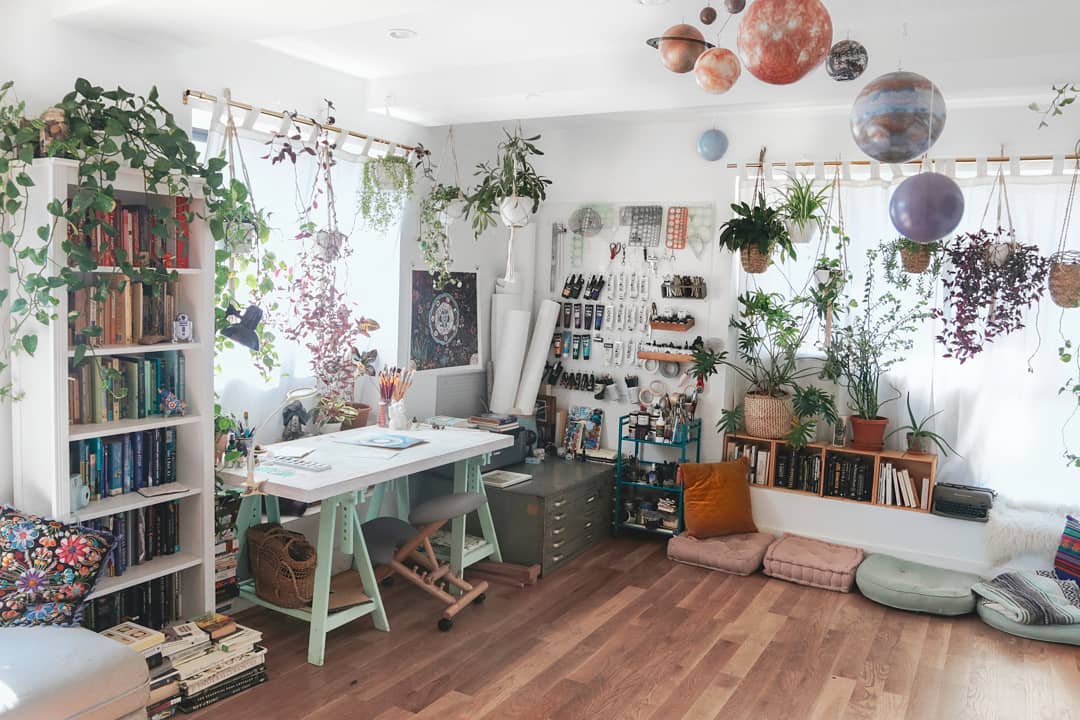 As a plant mom myself, I cannot function without seeing greenery around me. Even when I started to work in the city, I would always grab a plant or two from our greenhouse just to bring a piece of home with me in the office.
In fact: having lush greenery around while working will help you to be more productive. So, adding plants as a finishing touch to your art studio will truly make an impact on your craft.
Check out this major inspo from Caro, an artist from Brooklyn, NY. Her feed will definitely give you that boho inspiration for your art studio, and her website shows how she always brings nature around her.
I hope this inspired you to be able to create the art studio of your dreams! Happy designing!
PIN IT FOR LATER
Last Updated on
By Almon Sarei
Almon is an art enthusiast and a sommelier from the Philippines. She loves writing and creating bullet journals to log her travels around the world. An aspiring writer, plant mom, avid reader and will always say YES to a good ol' glass of wine.
View all of Almon Sarei's posts.
Sours: https://www.thewonderforest.com/tips-to-create-your-own-home-art-studio/
Your DIY Guide to Designing a Home Art Studio
Want to make an art studio or craft room in your home? With a little creativity and design inspiration, you can transform any spare room into a large or small art workspace. Check out these home art studio ideas and organizational hacks to get started!
Where to Set Up an Art Studio at Home
You don't need a massive space to have a functional art studio. Whether you choose an extra bedroom or attic for your creative oasis, you can easily transform unused space with these art studio setup ideas!
Transform a Dining Room
Rarely use your dining room? Turn the area into a DIY home art studio. Since this space is meant to fit a dining table, you should have plenty of room for shelving, a sizable drawing table, and places for storing works in progress.
Turn a Bedroom into a Private Studio
An extra bedroom or small flex room has one advantage over other spaces—a door! If you work best in a quiet area, then a room with some privacy is perfect for a DIY art space. Just make sure the windows open for proper ventilation when you're working with paints or supplies with strong chemical odors.
Utilize an Extra Closet
Transform an extra closet into a cozy home studio! You can move clothing, shoes, and accessories to totes under a bed to clear out enough room for a small art space. When designing your art studio in a closet, look for a compact desk, easel, or fold-down table. And don't forget to utilize existing shelves for storing art supplies!
Convert a Shed into a Small Art Studio
Avoid distractions and disruptive noises by building a home art studio in an outdoor shed. This is an excellent spot for artists who are working on grand-scale projects or sculptures. It's also the ideal DIY art space for larger art supplies like pottery wheels, easels, and shelves for drying out clay projects.
Build a Studio in a Garage
Consider using a garage to build an art workspace! Garage doors allow for ventilation and natural light while cement floors are great for any accidental spills. Install pegboards, drawing tables, or workbenches to create the optimal space for your very own at-home art studio.
Set Up a Studio Under the Stairs
The space under the stairs is an excellent spot for a home art studio! Add shelving or wall-mounted easels to save up floor space and proper lighting if the stairs are located in a basement. A small desk can also be added for producing any digital artwork on the computer. Just make sure you check for nearby outlets as you design your DIY art room!
Design a Basement Art Studio
The space under the stairs is an excellent spot for a home art studio! Add shelving or wall-mounted easels to save up floor space and proper lighting if the stairs are located in a basement. A small desk can also be added for producing any digital artwork on the computer. Just make sure you check for nearby outlets as you design your DIY art room!
Make Use of Attic Space
An attic art studio is perfect for preventing your art space clutter from crossing over into living areas, and it gives you more space for your projects. Be sure there's adequate heating and cooling in your home studio to avoid damage to your work.
How to Organize an Art Studio at Home
Any home art space will work when you utilize smart storage. There are tons of art studio furniture ideas that include storage, such as desks with drawers, bookshelves, fold-up tables, and more! Many home art studio items can even be made with a little DIY magic.
Choose Your Art Studio Table Wisely
Whether you're into painting or graphic design, a desk or table is one of the most important items in your at-home art studio. Make sure you have enough space to draw, sketch, or design, as well as room to either store or set out your tools so you can get to them with ease. Are you trying to set up your DIY art studio in a tiny area? A wall-mounted desk that folds down is ideal for a small studio!
Hide Extra Supplies with a Curtain
If you have a desk or table with open space underneath, it's a good place to store extra art materials. Control any messes in this space by concealing everything with a curtain. This is an easy way to keep your small art studio organized and clutter hidden when guests come over to check out your latest work.
Repurpose an Old Card Catalog
Repurposing vintage furniture pieces like a dresser, bookshelves, or a card catalog is an affordable way to add art supply storage, an organizational system, and charm to your home art studio!
Use Wire Shelving Units
Wire shelving units are lightweight and come in all shapes and sizes! Store items from your home art studio loosely on the shelves or use storage baskets for paper, printer cartridges, and drawing supplies. Wire shelving units are also perfect for storing and cooling pottery pieces!
Stay Organized with Totes
Keep art supplies organized and accessible by storing them in clear or colorful plastic totes on shelves, in corners, or under tables. Use labels on the containers to manage and locate all paints, extra drop cloths, canvases, or other items with ease.
Take Advantage of Vertical Storage
If your home only allows for a small art studio, go vertical with storage! Floating or corner shelves are perfect for storing sketchbooks while pegboards with wire baskets are great for storing paints or writing utensils. You can also use a few colorful cups and zip ties on a pegboard to make a cute, budget-friendly place to store markers, paintbrushes, and other art supplies.
Reuse Old Mason Jars
For a cheap and easy way to store art tools, collect jars or cans to house small items like pencils, pens, chisels, or brushes. Plastic or glass jars can also be hung on the wall or put on a pegboard for easy access to supplies you might use frequently in your art studio.
Store Canvases in Wall-Mounted Holders
Canvases are a necessary part of an artist's studio, but they can be a pain to store. Keep them organized and damage-free in wall-mounted or floor storage racks. This simple DIY project can show you how to make your own drying rack for canvases of all sizes.
Hang Pictures with Clothespins
With a durable wire and some clothespins, you can hang pictures, drawings, or sketches on the wall of your home art studio without making any holes. You'll also be able to save space on tables, easily dry paintings, put finished work on display, or frequently change out projects.
Use Rolling Carts for Supplies
Store jars with brushes, construction paper, or glue sticks on a rolling storage cart to organize your art room. This studio storage idea not only keeps all of your materials organized, but it also allows to you easily move art supplies around the room and have a mini workshop that can be transported around the house.
Store Supplies with Magnets
Using magnets to store art supplies is a great way to free up any desk or shelf space. All you need is household items like a cookie sheet, glue gun, and small magnets for this awesome DIY hack!
Repurpose a Wine Rack
For a creative way to store art materials and craft supplies in your home art space, use a countertop wine rack to hold loose items or color coordinate any markers, pen, or colored pencils. Wooden racks can also be painted to match the decor of your studio and can easily be moved throughout the space!
***
Need somewhere to store extra items while you set up an art studio at home? Extra Space Storage has convenient self storage facilities located throughout the U.S. Find a storage unit near you!
Sours: https://www.extraspace.com/blog/home-organization/diy-projects/diy-guide-to-designing-a-home-art-studio/
Minimalist Art Studio / Work Space Tour - Tips \u0026 Ideas
If you've ever suffered from a lack of focus, a wave of fatigue, or just plain old burnout as you sit in your grey cubicle under the glare of harsh fluorescent lights, you can recognize the impact your office can have on both your productivity and your happiness. For artists and artisans especially, an inviting workstation is hugely important. "Creative people are often deeply affected by their surroundings—any old space simply won't do," writes author Sally Coulthard in the new book Studio: Creative Spaces for Creative People ($35, Jacqui Small). "The lighting must be right, the colors just so, the furniture and decoration should make you smile. Rarely does an artist have one aesthetic at home and a different one in the studio. There's plenty of crossover, primarily because it's important to feel 'at home' in your favorite workspace." Coulthard takes us inside a wide variety of different studios, offering endless inspiration for talents of all types who crave a space of their own. Here are five of our favorite work spaces from the book.
Sours: https://www.architecturaldigest.com/gallery/personality-filled-offices-that-are-anything-but-drab
Studio ideas office art home
The Top 66 Art Studio Ideas
"Art enables us to find ourselves and lose ourselves at the same time."  –  Thomas Merton
Every artist dreams of having a studio all their own, a place that brightly inspires the creative process. In addition to being beautiful, an art studio must be functional. As any artist can attest, one of the best things about a studio is that you can leave projects and materials out until your work is complete.
Excellent storage is also a must, as art supplies multiply quickly. Great lighting, easy-to-clean surfaces, and a sense of privacy are other necessary elements for creating a welcoming space to create art. Scroll through our best art studio ideas and learn how you can bring your own creative oasis to life.
Contents
1. Décor
Art studio décor ideas are as varied as art itself. Some creatives need the peaceful Zen of white walls surrounding them like a proverbial blank canvas, while others thrive in a colorfully eclectic space. Whatever your preference, make sure your studio space reflects your unique personality.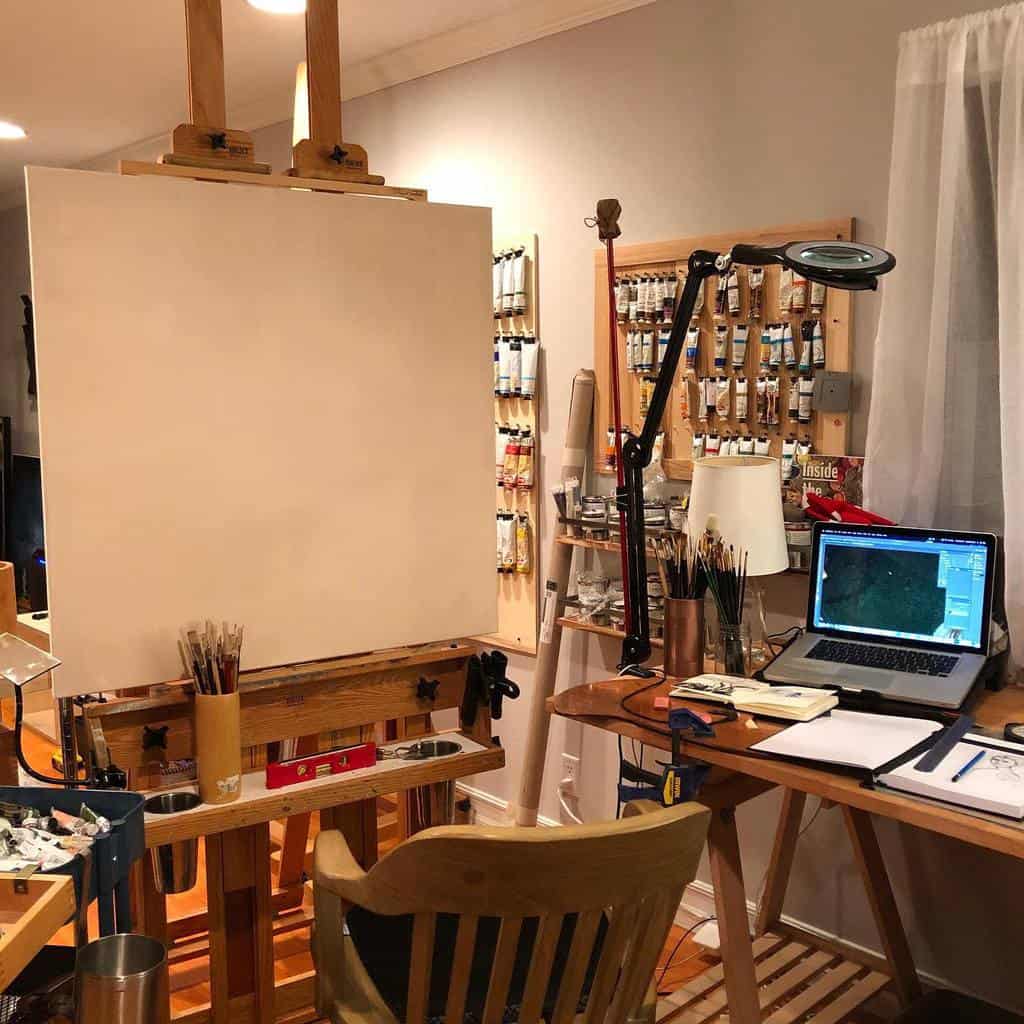 Source: @anatmstudio via Instagram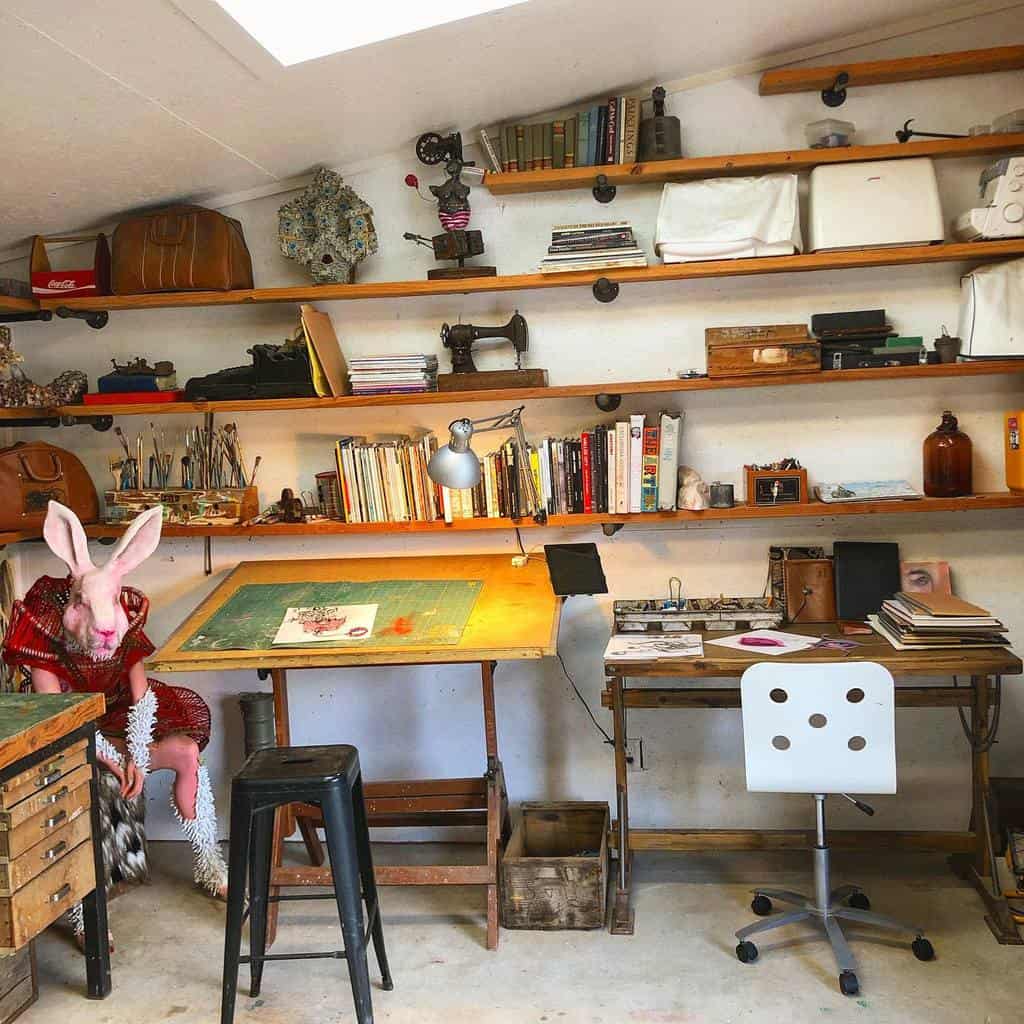 Source: @artbytulio via Instagram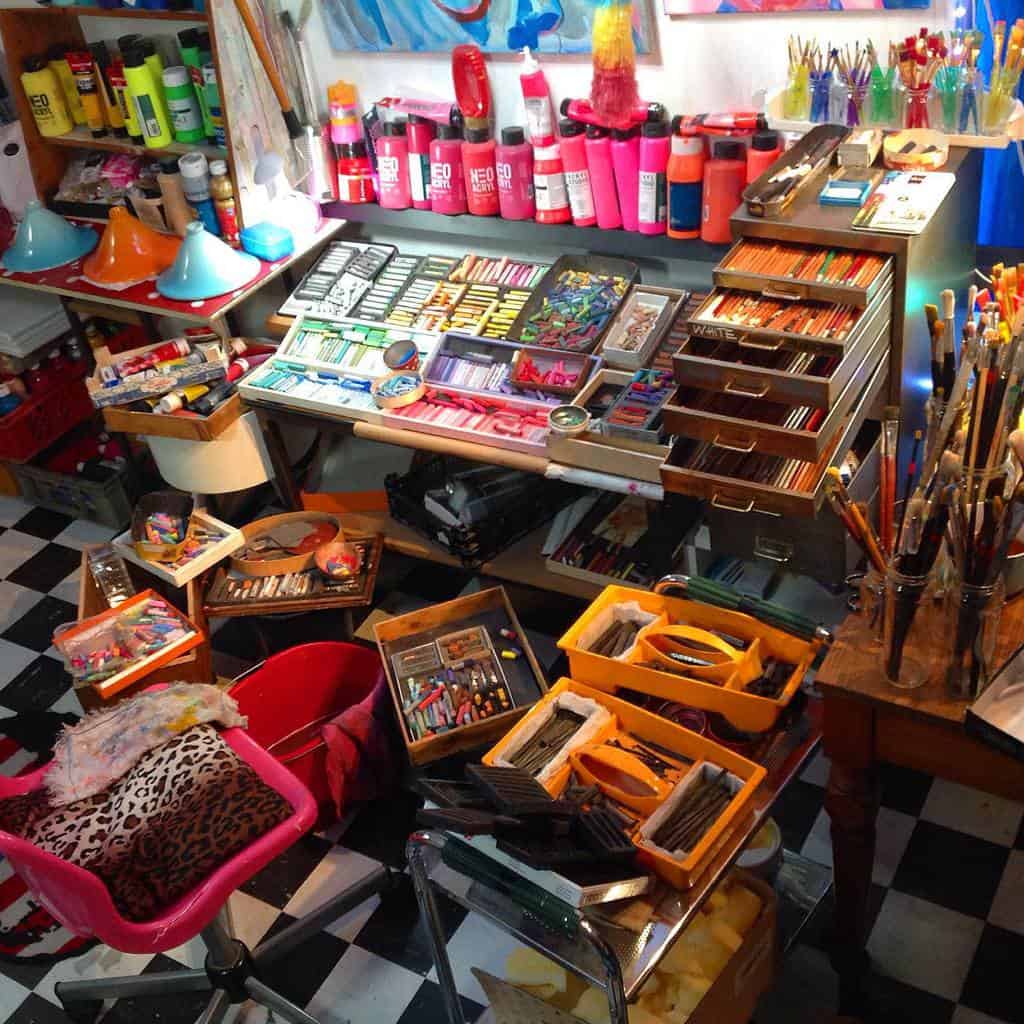 Source: @brainwavecult via Instagram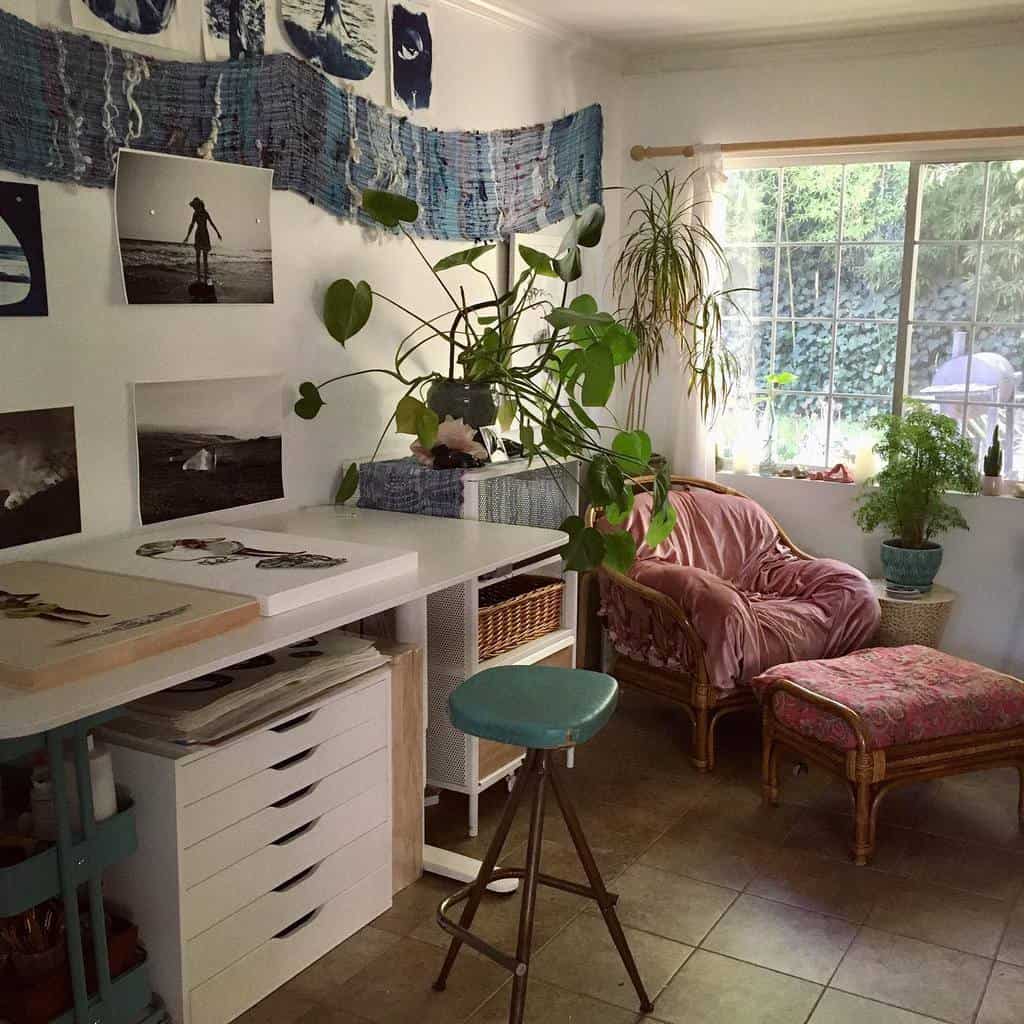 Source: @calethiadecontostudio via Instagram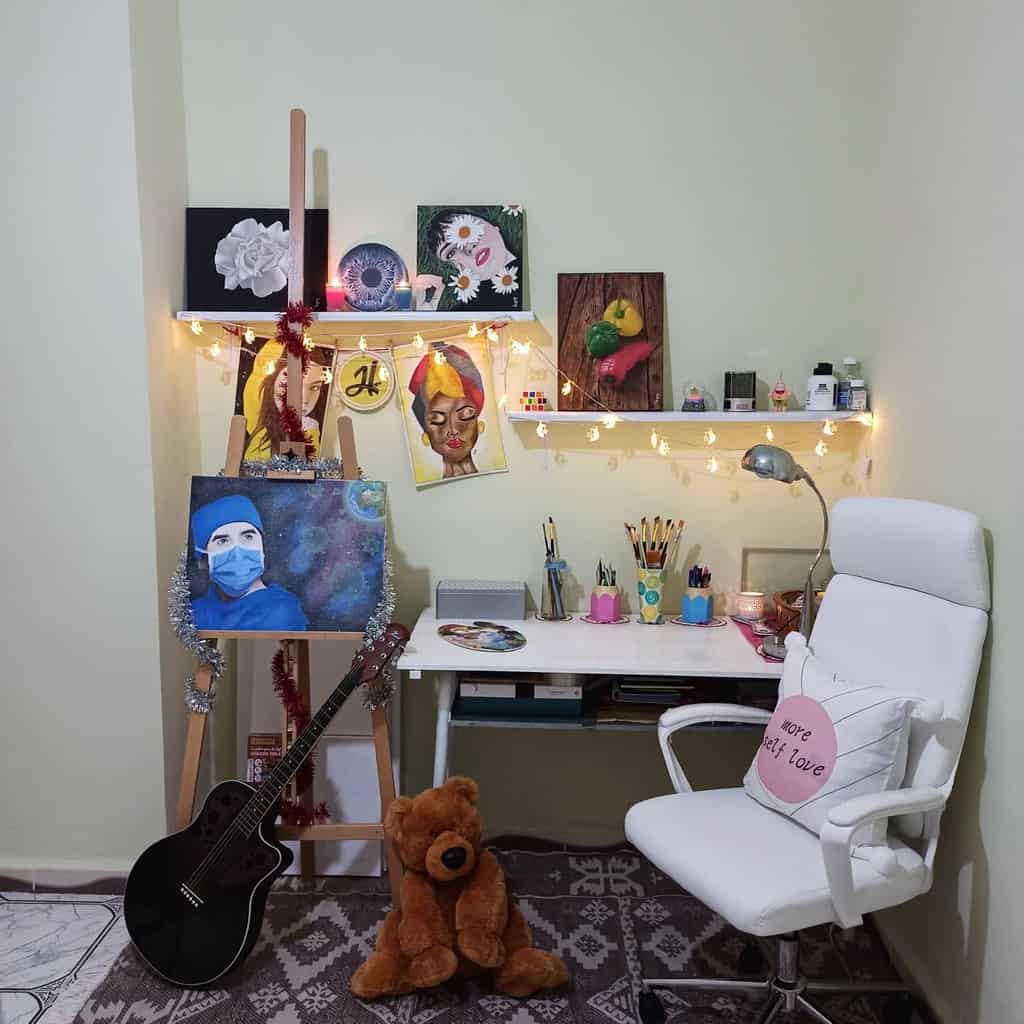 Source: @hadjer_djebbouri_art via Instagram
Mirrored wall tiles or framed mirrors can help increase the light level in your studio and also make a small art space appear bigger.
Hang light strings or fabric banners from the ceiling to spice up your creative studio. Be sure to display your own work and that of your favorite artists. Seeing completed projects provides inspiration for new creations.
2. Desk
You may or may not need a desk in your art studio. If you like to work on a level surface, a large desk can be a great horizontal work space in addition to an easel.
In many homes, an art studio will double as office space, particularly when the art studio is an actual business. If this is your scenario, a desk is a must-have for doing paperwork, computer work, and other required tasks.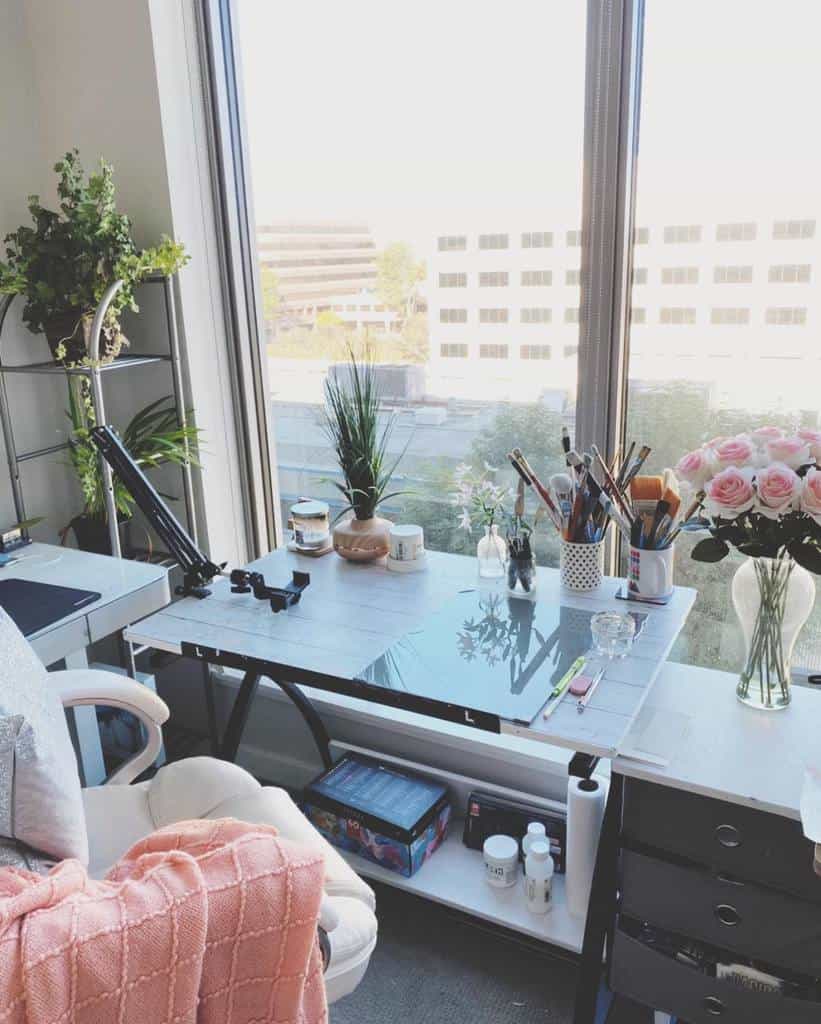 Source: @alifya_lifestyle via Instagram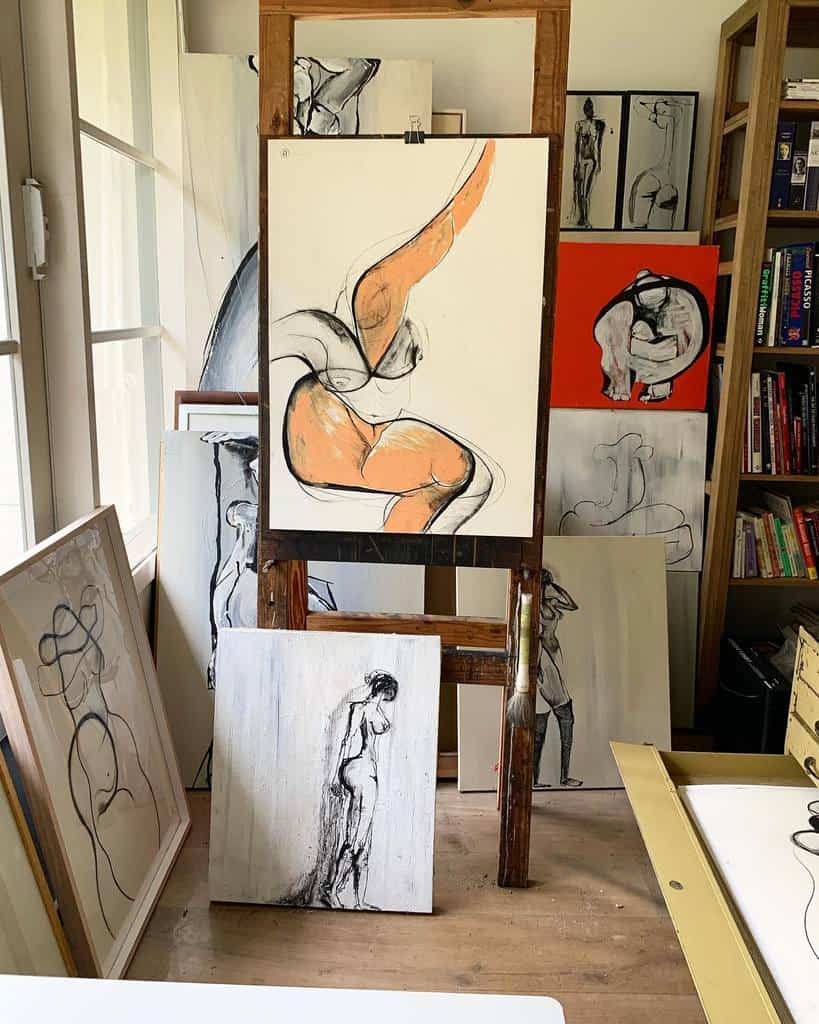 Source: @carmeljenkin via Instagram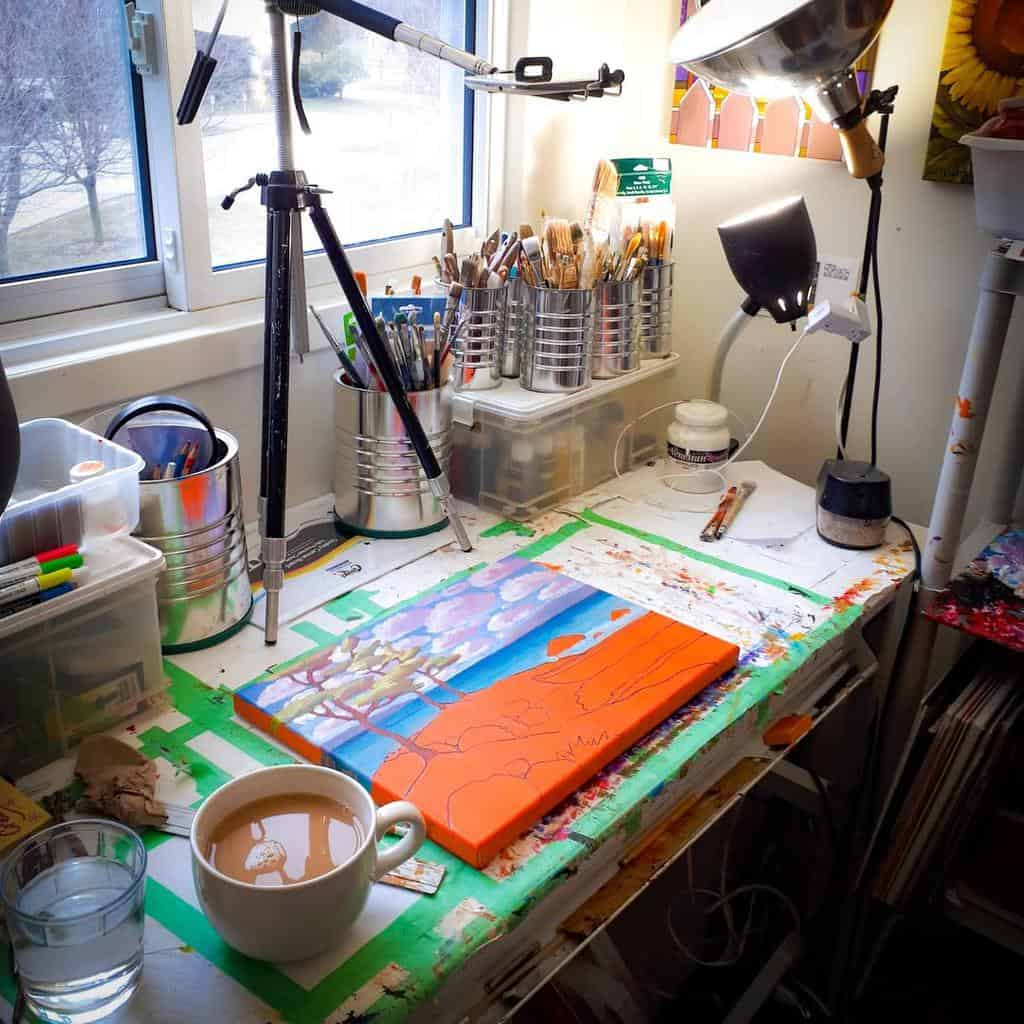 Source: @cathyhorvathbuchanan via Instagram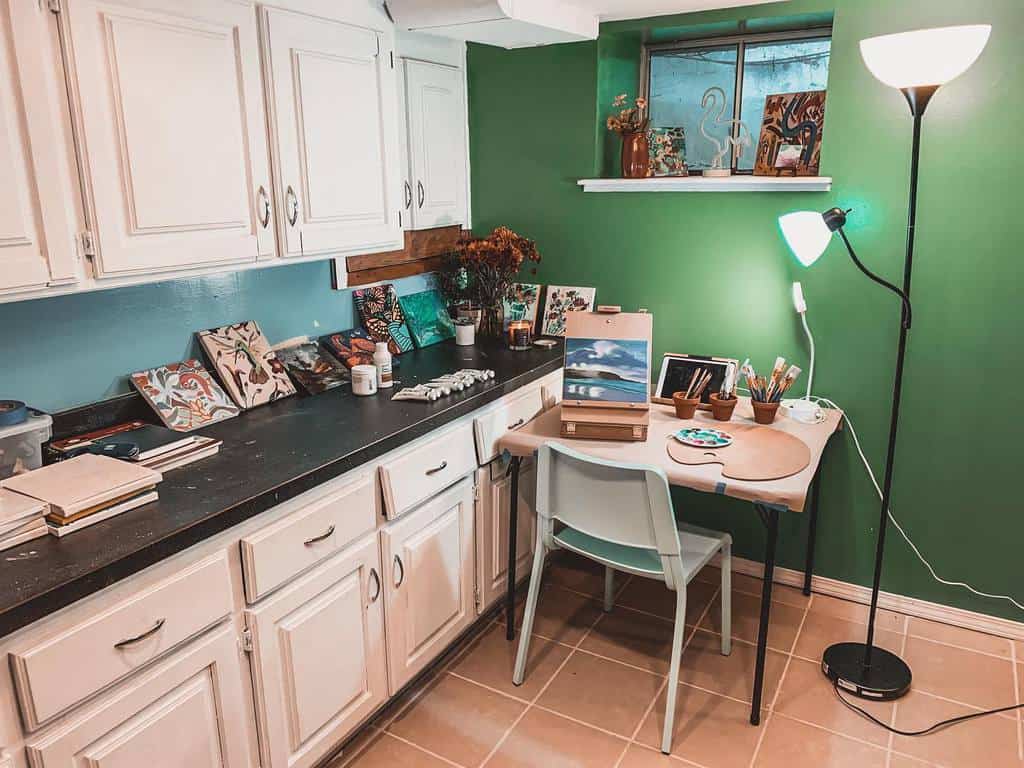 Source: @elliehintze.art_ via Instagram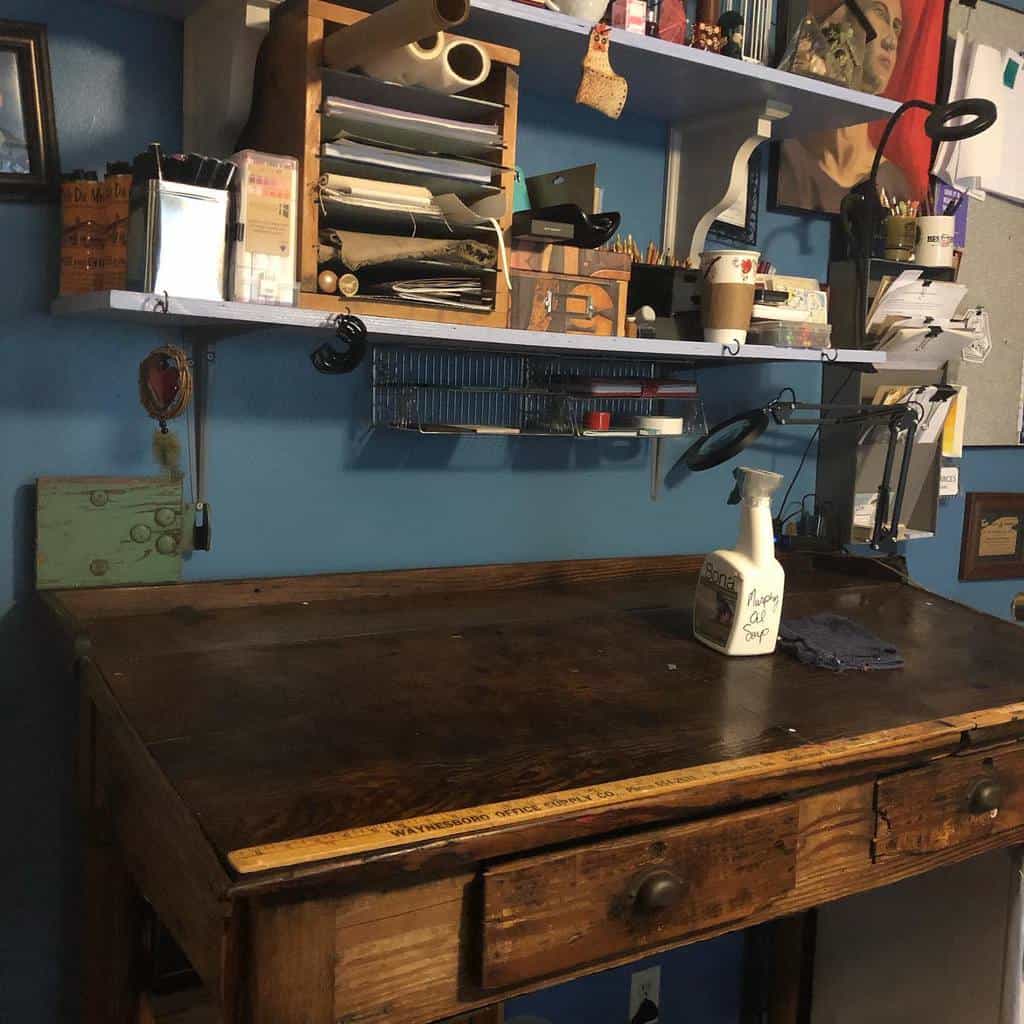 Source: @frances_byrd_art via Instagram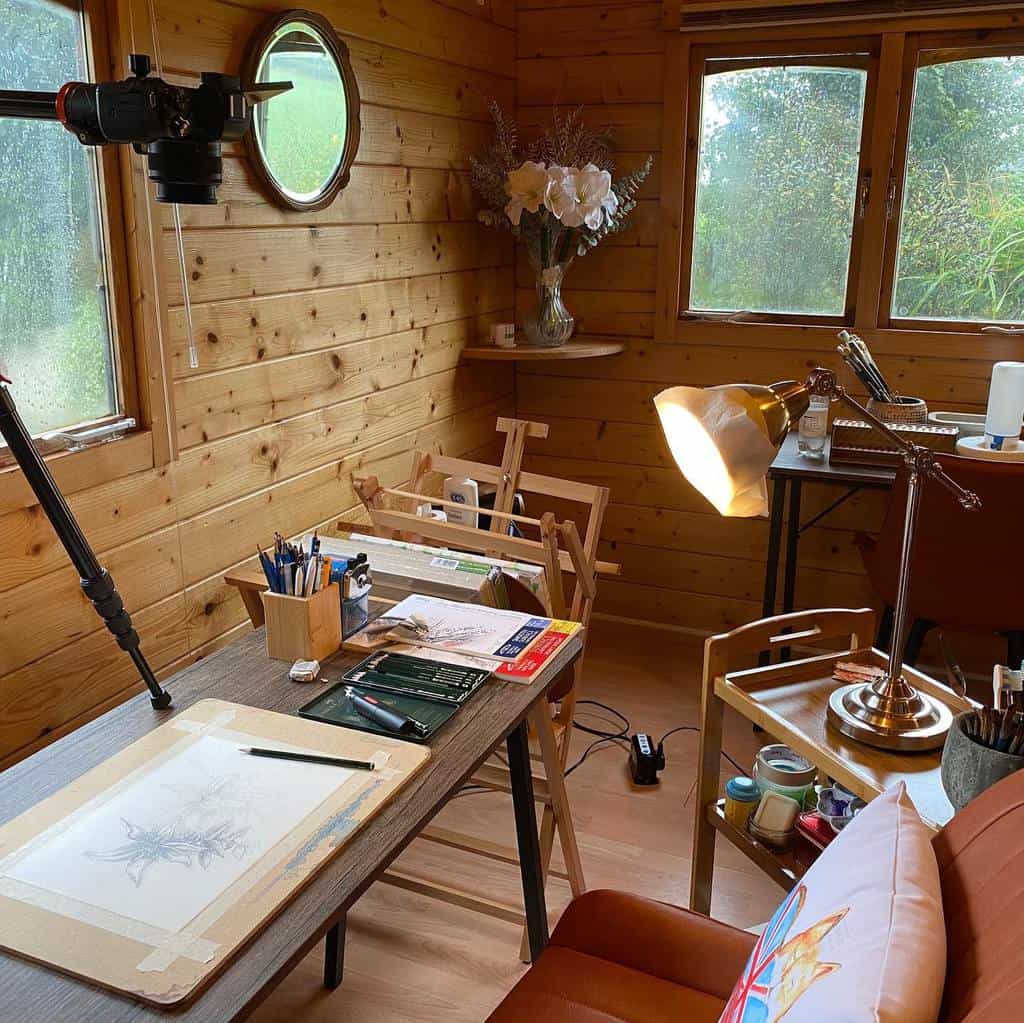 Source: @hakanhingisartchannel via Instagram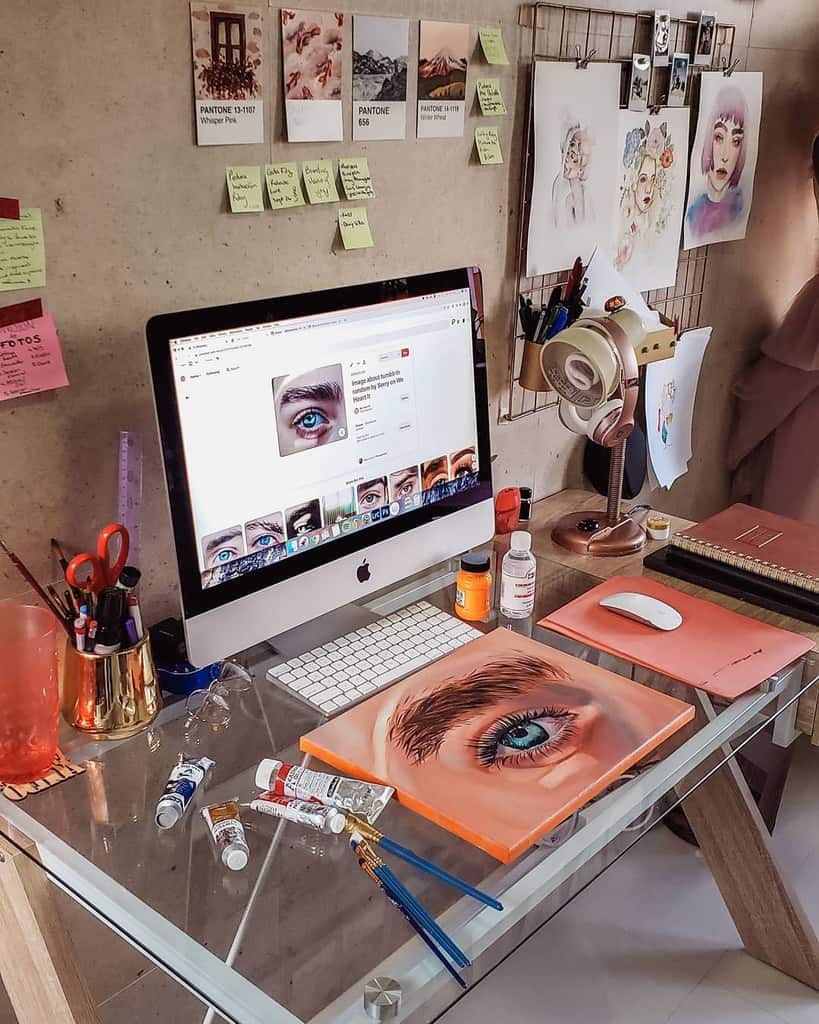 Source: @hellomelikeyy via Instagram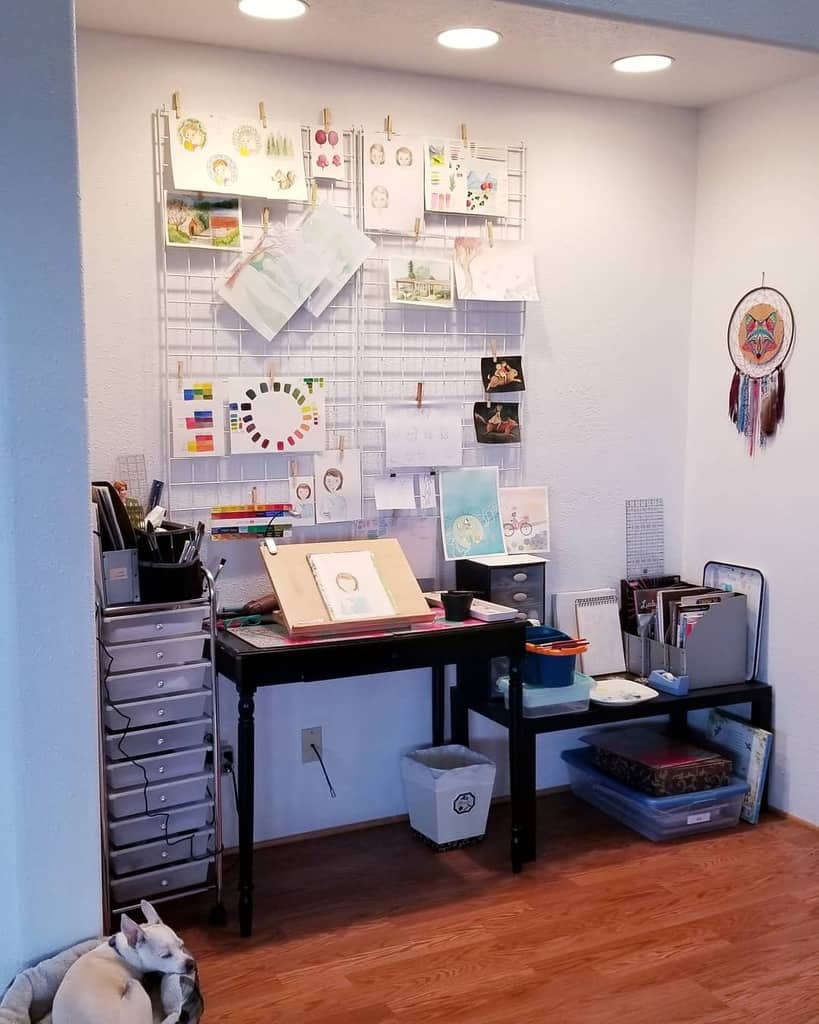 Source: @jenyarose via Instagram
Source: @lynndprattpaint via Instagram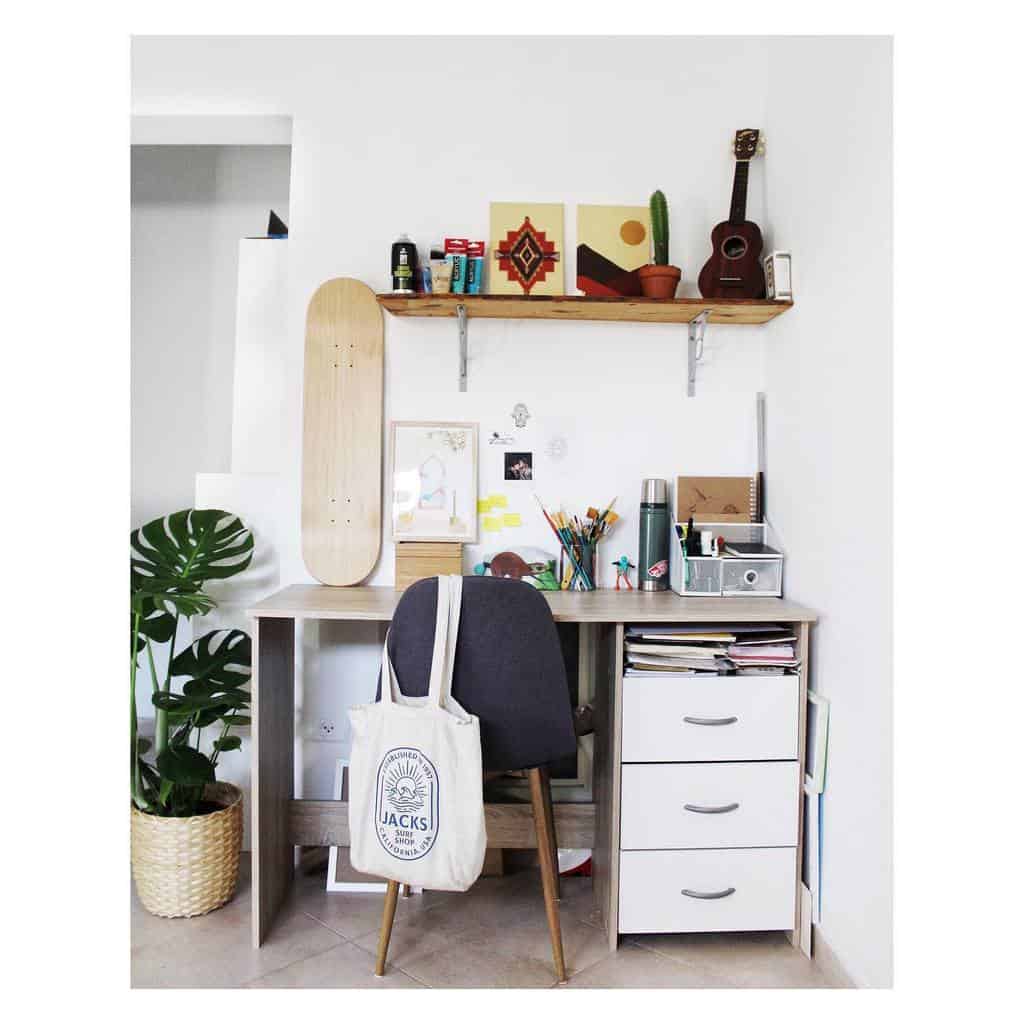 Source: @no.ita_ via Instagram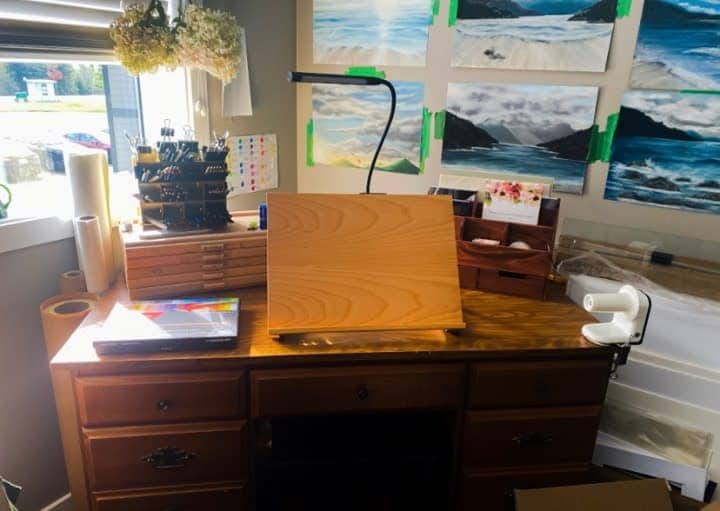 Source: @northcoastbcartist via Instagram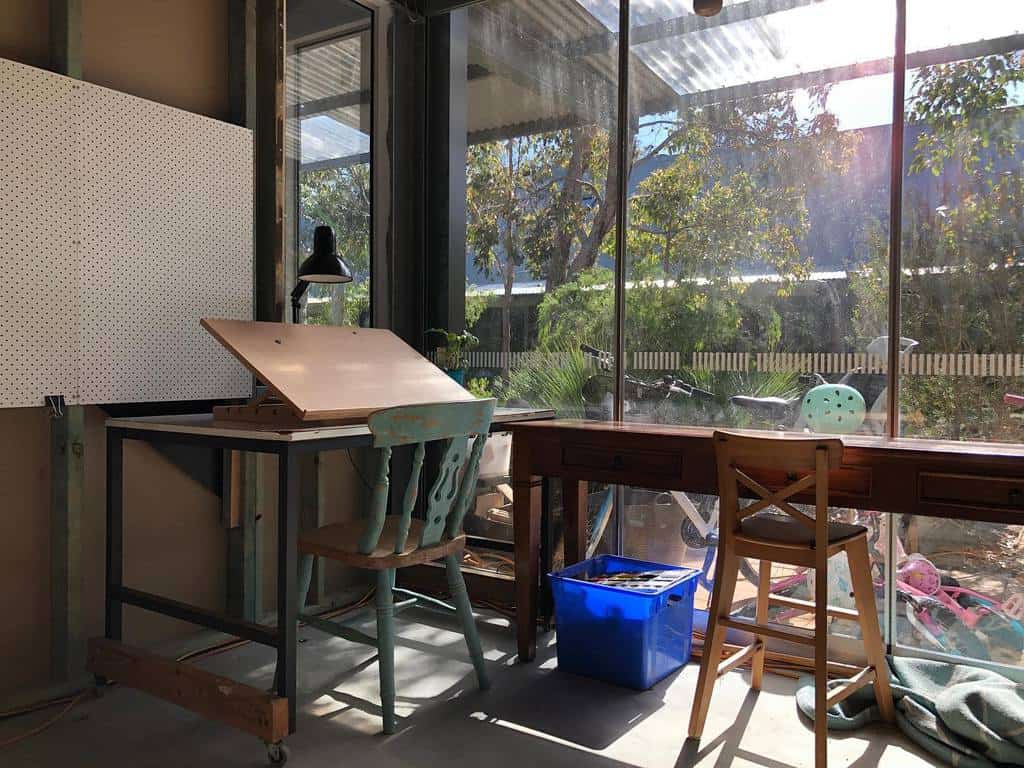 Source: @piawhiteillustration via Instagram
Get creative when shopping for a studio desk. An artist table may suffice as a dual purpose element, as it will tilt to various angles. If your budget is limited, a used kitchen table can make a great studio desk. Be sure to shop for a comfortable office chair, too.
3. DIY
A studio is the perfect space to upcycle old furniture. Whether this involves refinishing a table or simply pulling an old sofa out of storage, DIY studio décor can be quite economical.
In fact, repurposing furniture can be ideal in a home art studio, as you're not as likely to worry about messy projects as you would with brand new furnishings.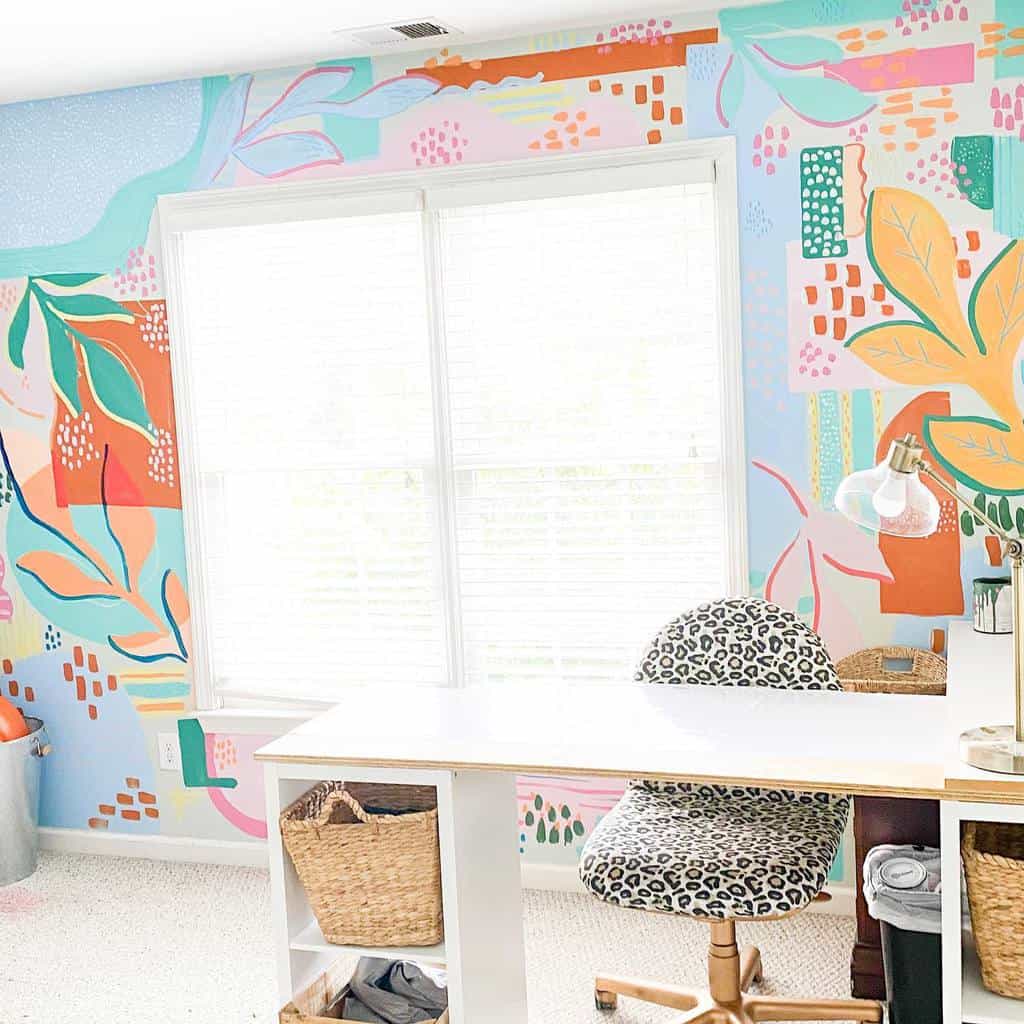 Source: @ambertonway via Instagram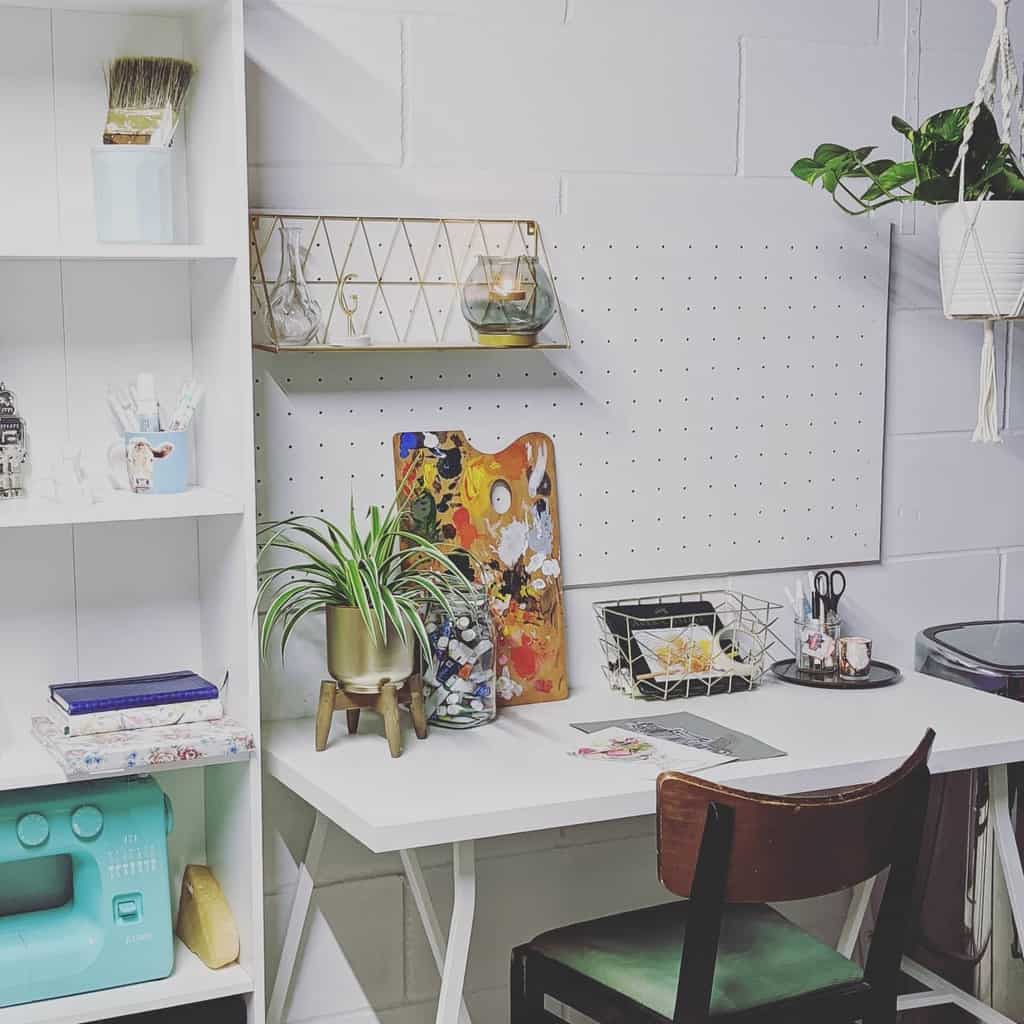 Source: @gemma_morgan_art via Instagram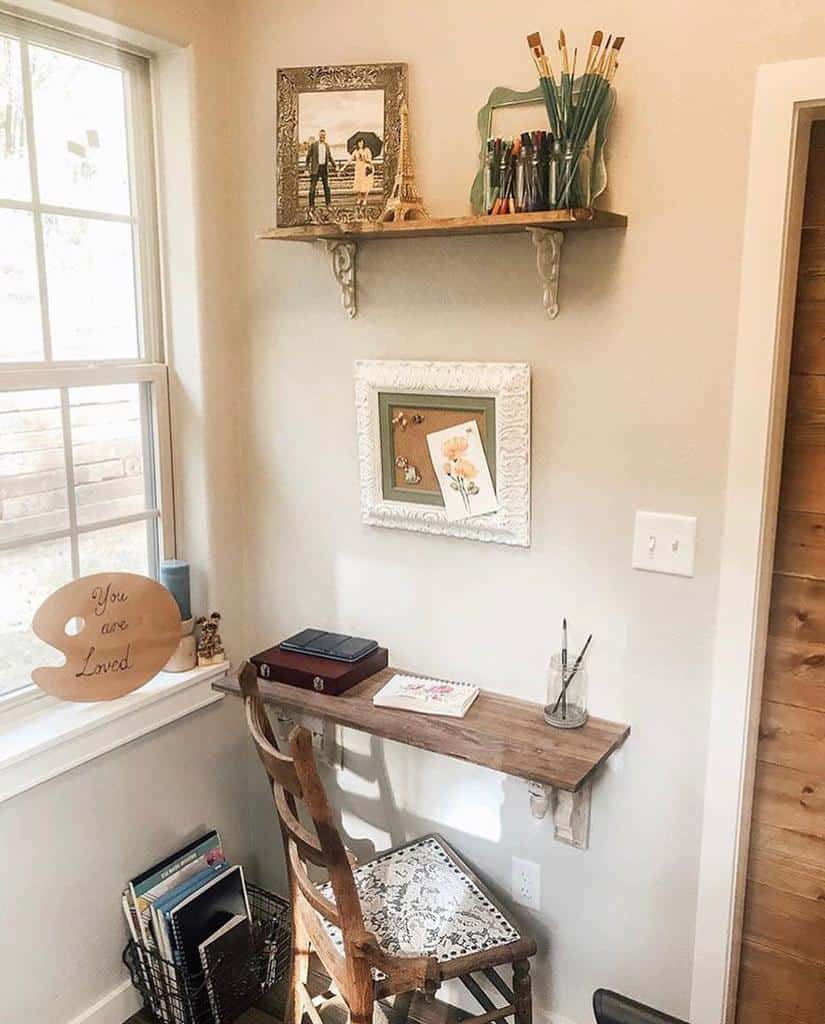 Source: @jmrobinsondesigns via Instagram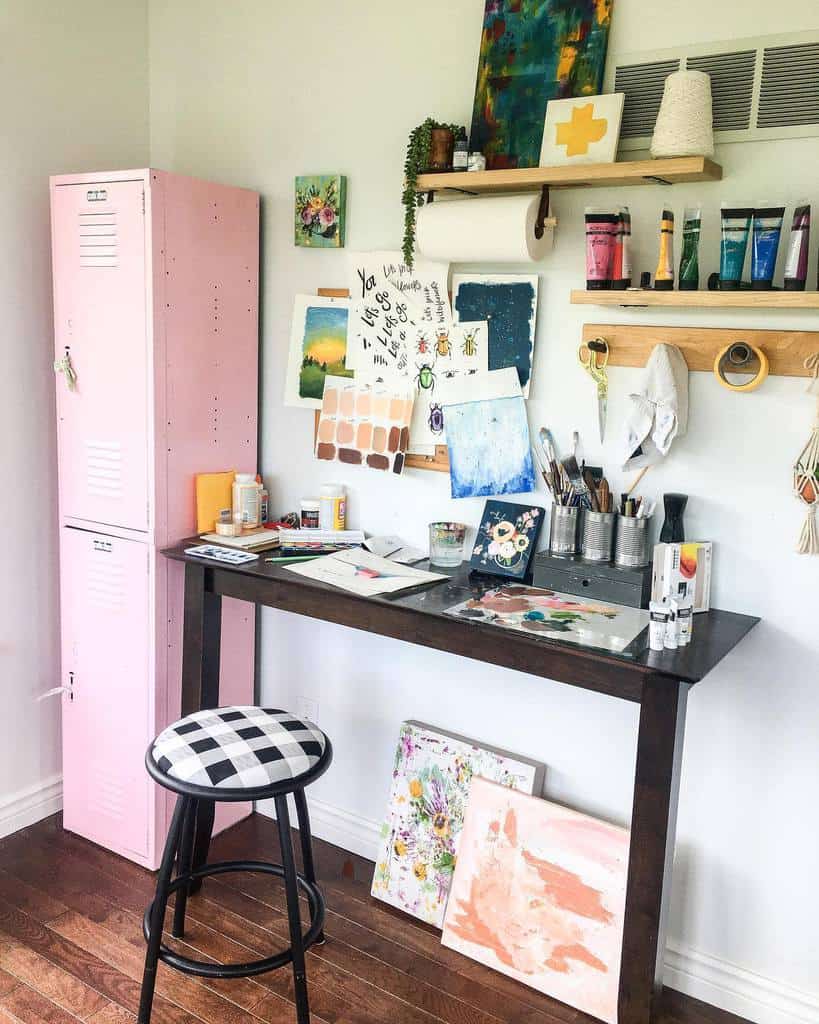 Source: @katielockhart.art_ via Instagram
Hanging a pegboard is a great DIY storage solution for your art supplies. Attach binder clips to the flat end of your paint tubes and hang them from pegboard hooks.
Group similar colors together to make them easier to find at a glance. Screw small metal rings into the ends of your paintbrushes and hang them in order by size and bristle shape.
Watch this video to learn several great paint brush storage hacks, as well as tips for organizing all your painting supplies:
4. Garage
Sometimes a garage offers the most room for a home art studio. Transforming an unused garage into a functional artist's studio may not require a full remodel.
However certain elements must be included to create a comfortable workspace. Take care of heating and cooling, ventilation, and light sources before concerning yourself with other art studio design elements.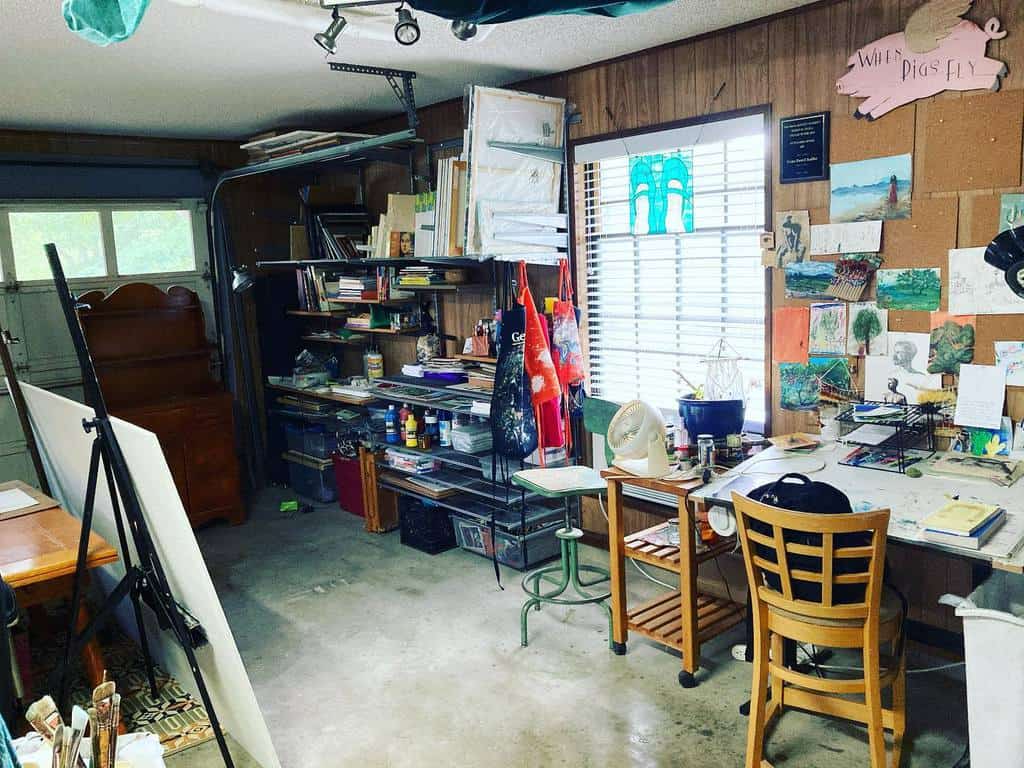 Source: @gena.destri via Instagram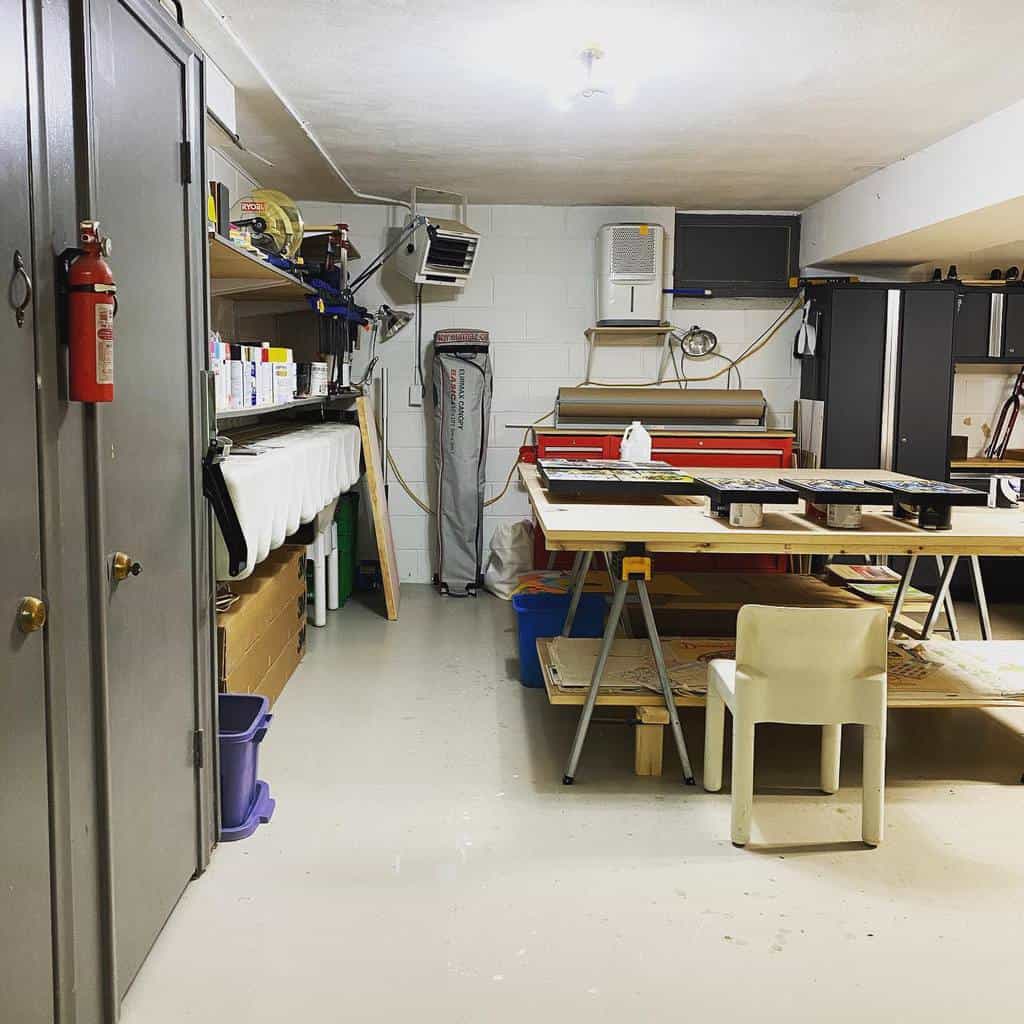 Source: @joe.kral_ via Instagram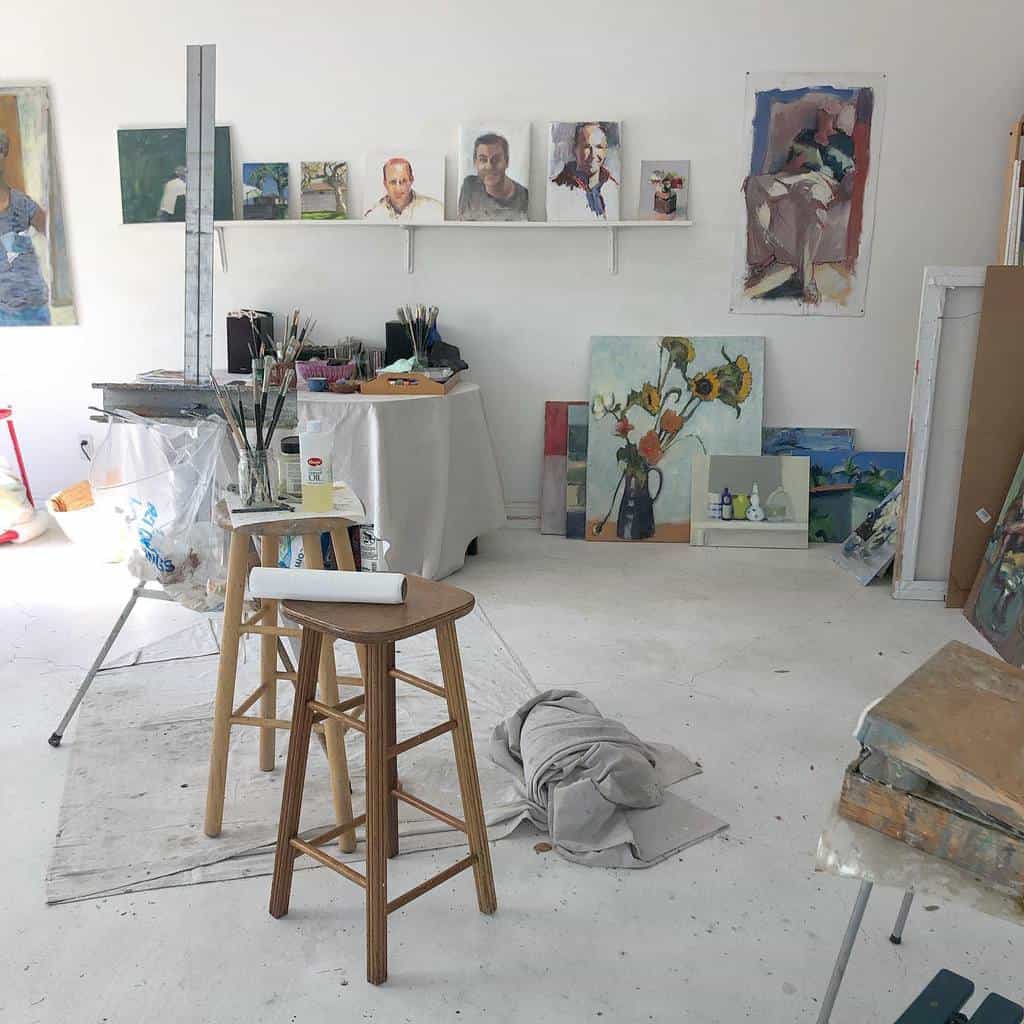 Source: @nataliemyers via Instagram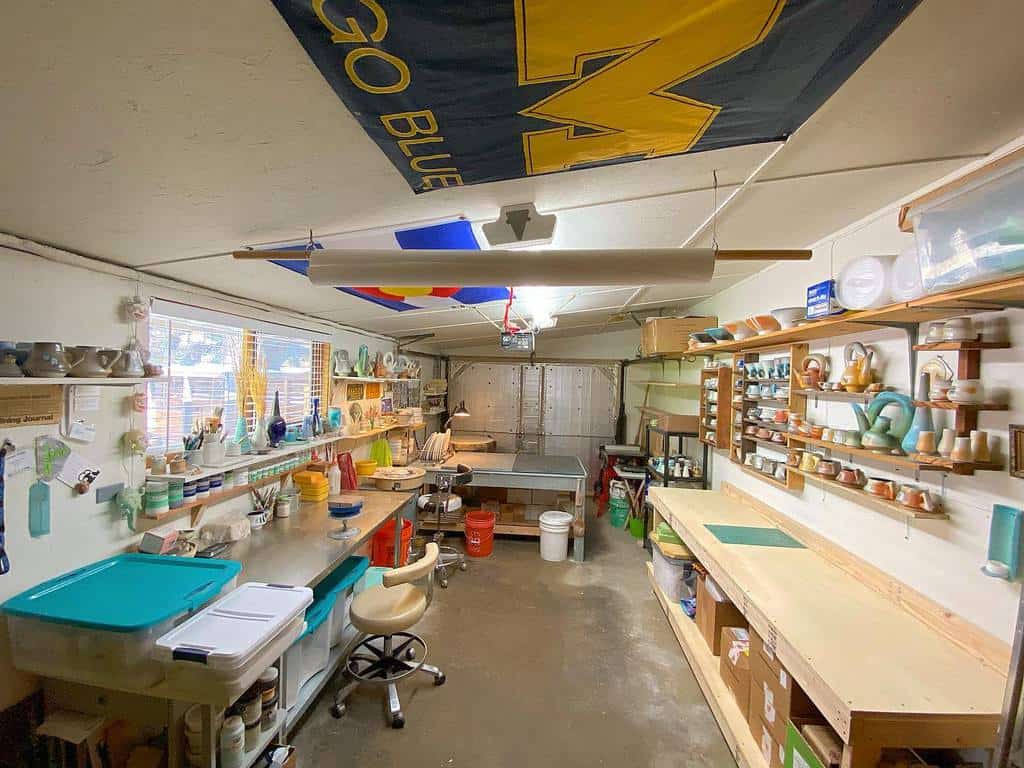 Source: @redbeardceramics via Instagram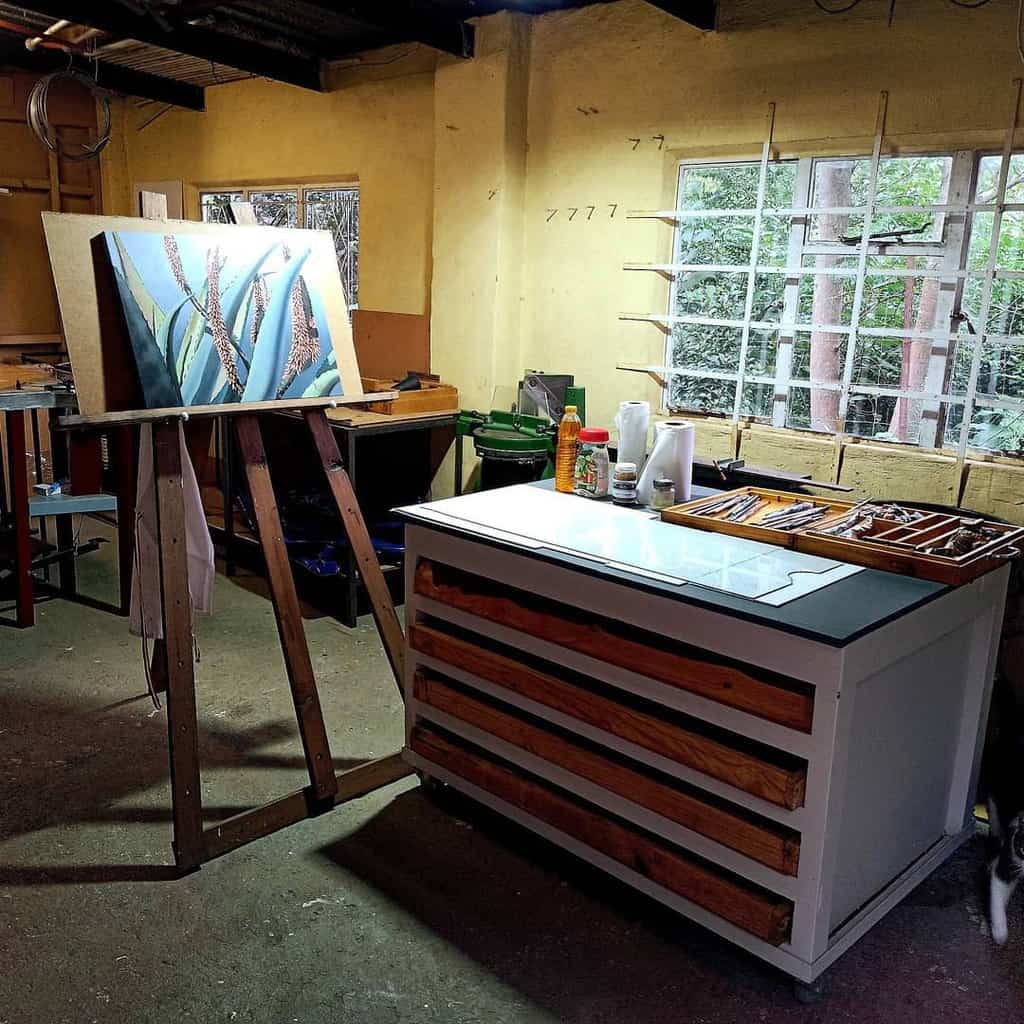 Source: @tessreidart via Instagram
If possible, replace the metal garage door with a large window or glass doors. French doors can provide easy access to your backyard or driveway—essential if you often enjoy painting in an outdoor space.
A skylight can help illuminate a particularly dark garage art room. If you're lucky, there will be plenty of shelves and pegboard already installed to provide art supply storage.
5. Home
Home is where you hang your hat—or artist's beret. While many artists find their greatest inspiration outdoors, most also require an indoor workspace to complete their art project ideas. Having an artist studio at home makes it easy to work whenever your inspiration is flowing.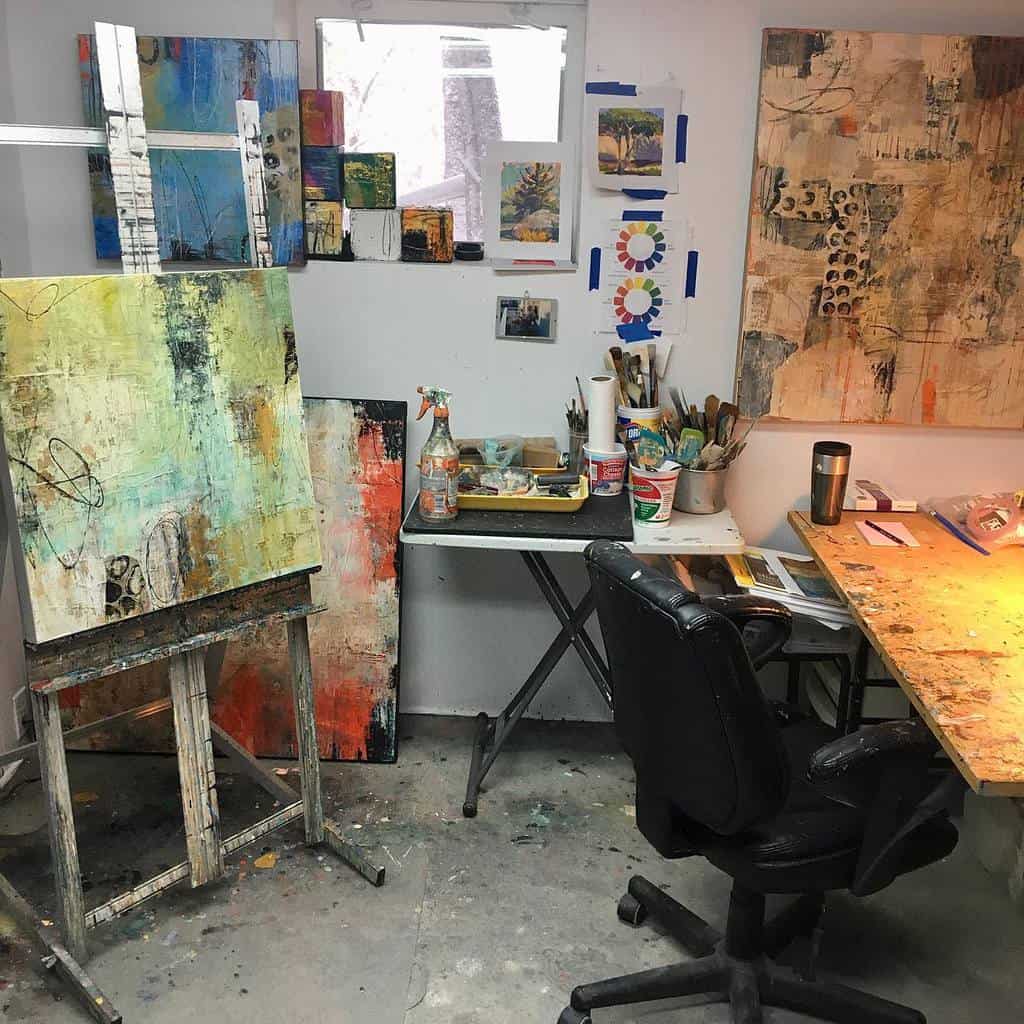 Source: @corbettstudio via Instagram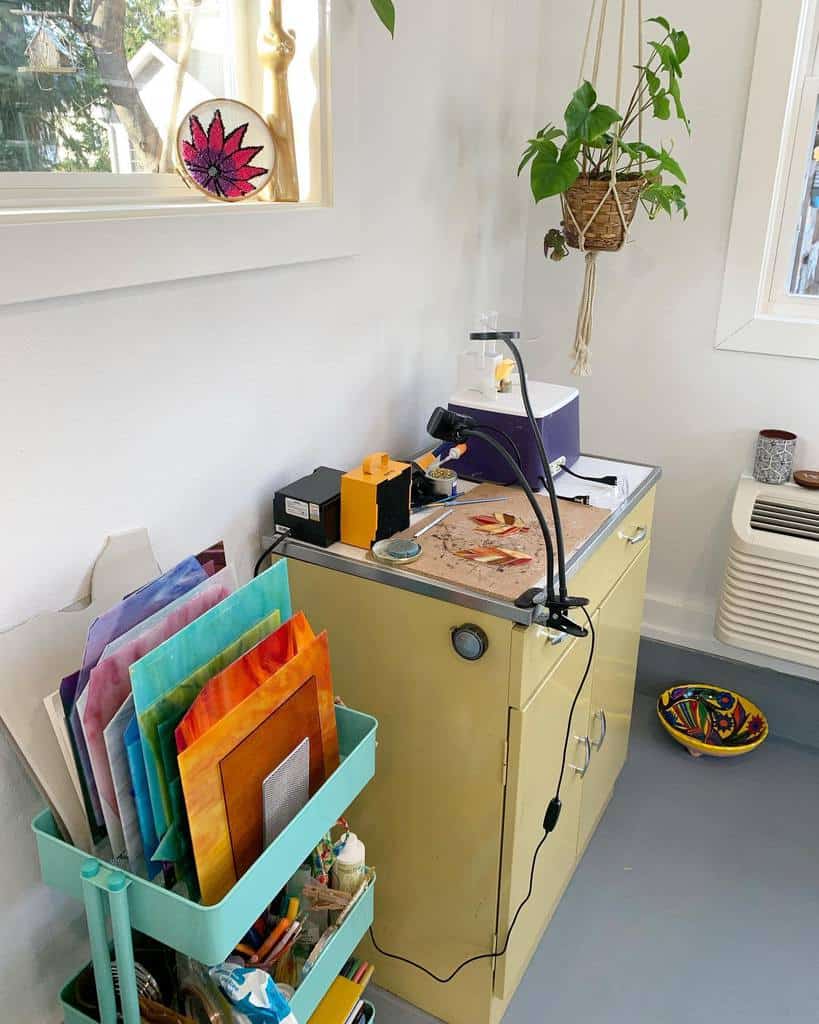 Source: @creativestudioongrand via Instagram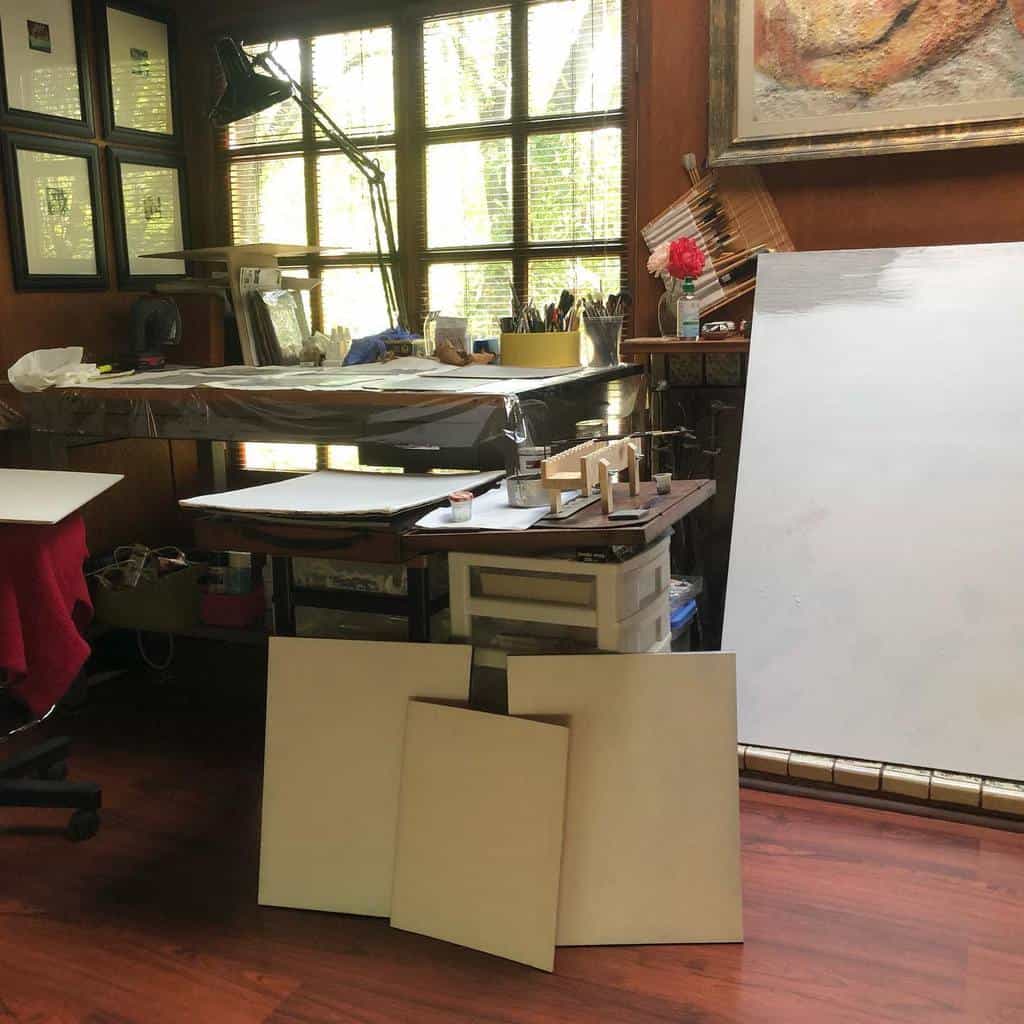 Source: @gdixxmigliaart via Instagram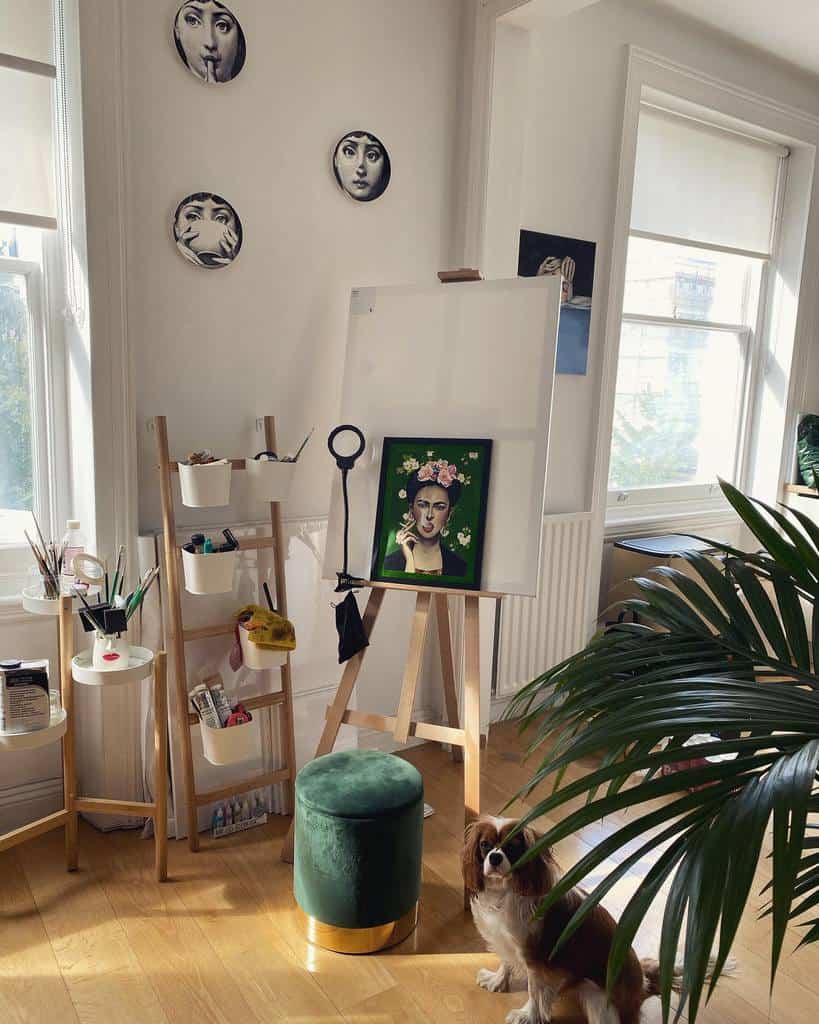 Source: @kisas_muse via Instagram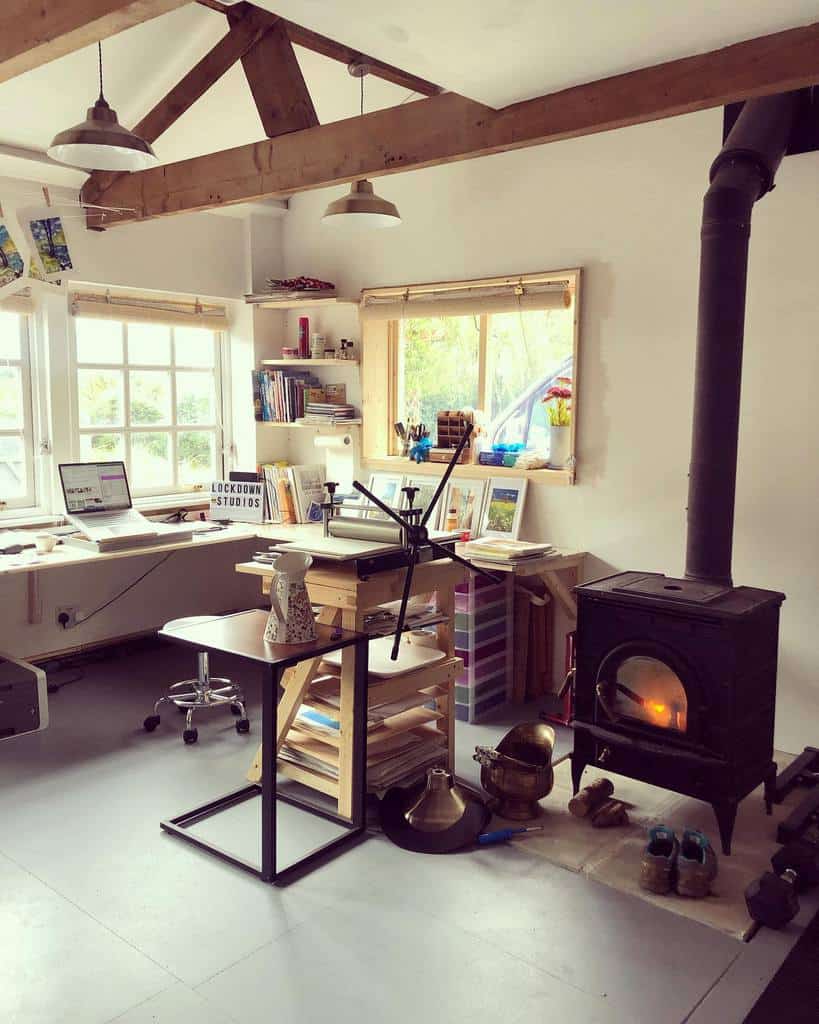 Source: @marta_ds_art via Instagram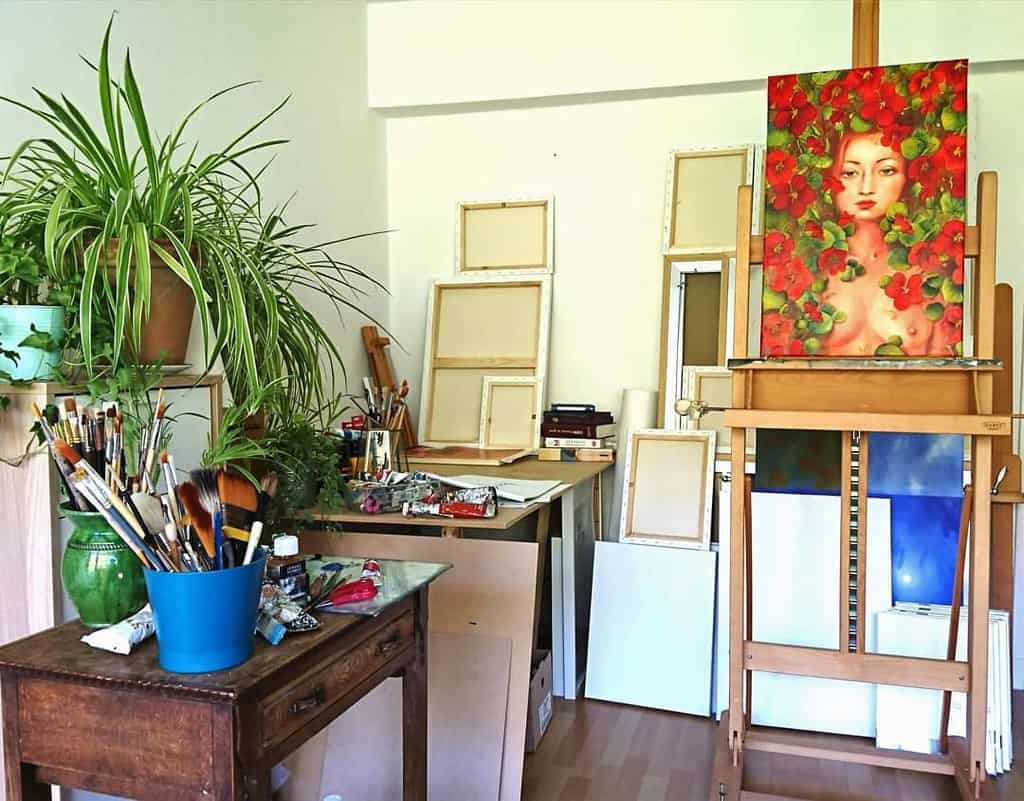 Source: @pauline_dubisy via Instagram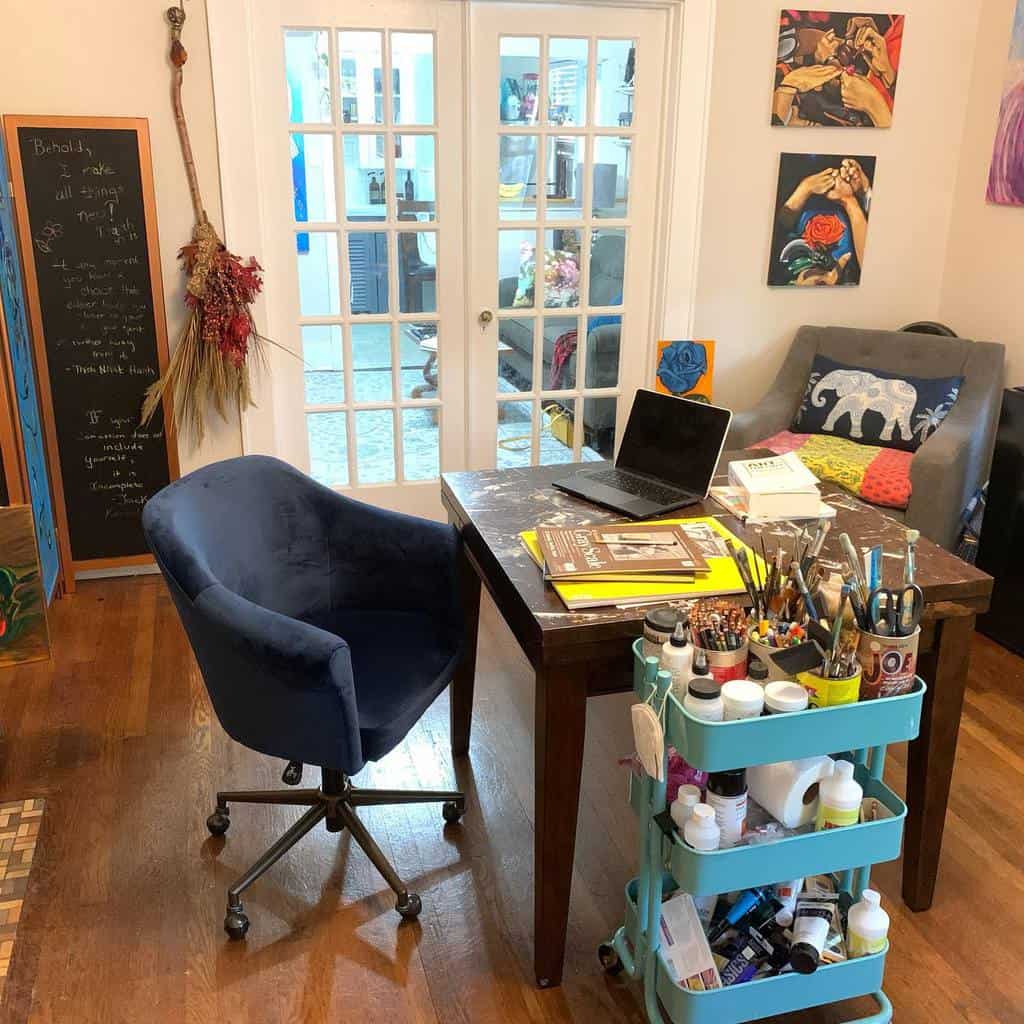 Source: @stephanielarsenart via Instagram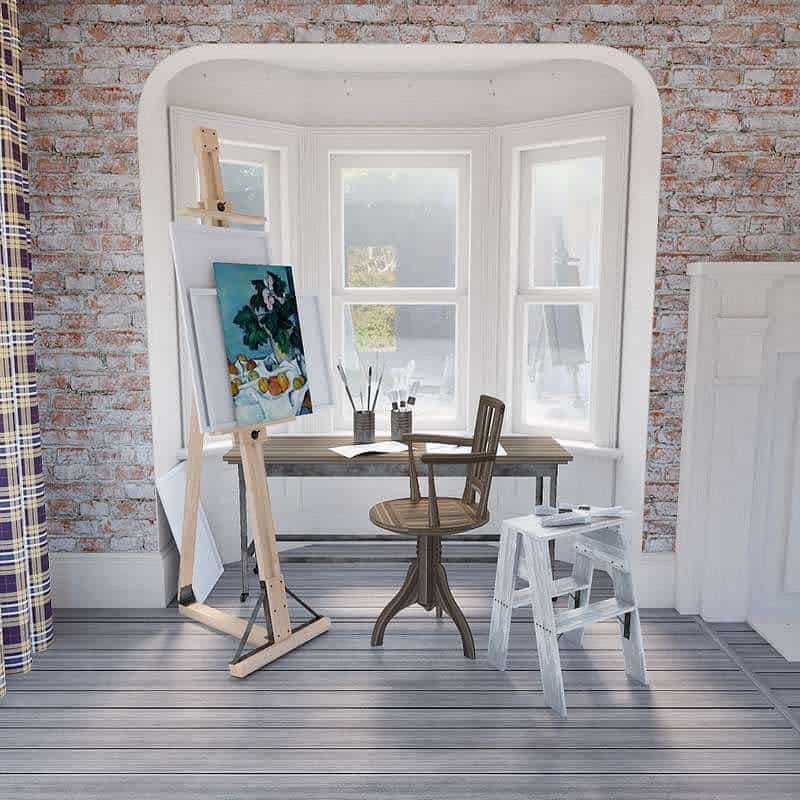 Source: @vassofishes via Instagram
Virtually any house or apartment has enough room for a home studio—though you may need to amp up your creative juices to locate the best creative space.
A loft, basement, spare bedroom, or garage may be an ideal place for a home studio. If you cannot devote a full room to art, a corner of your existing office, living room, kitchen, or bedroom may suffice.
6. Interior
Interior design doesn't fly out the window when you dedicate a room to art work. If you expect to invite clients or guests into your art room, make it a space for visual art displays. Choose wall paint, furniture, window treatments, and other design elements that coordinate with your paintings on display.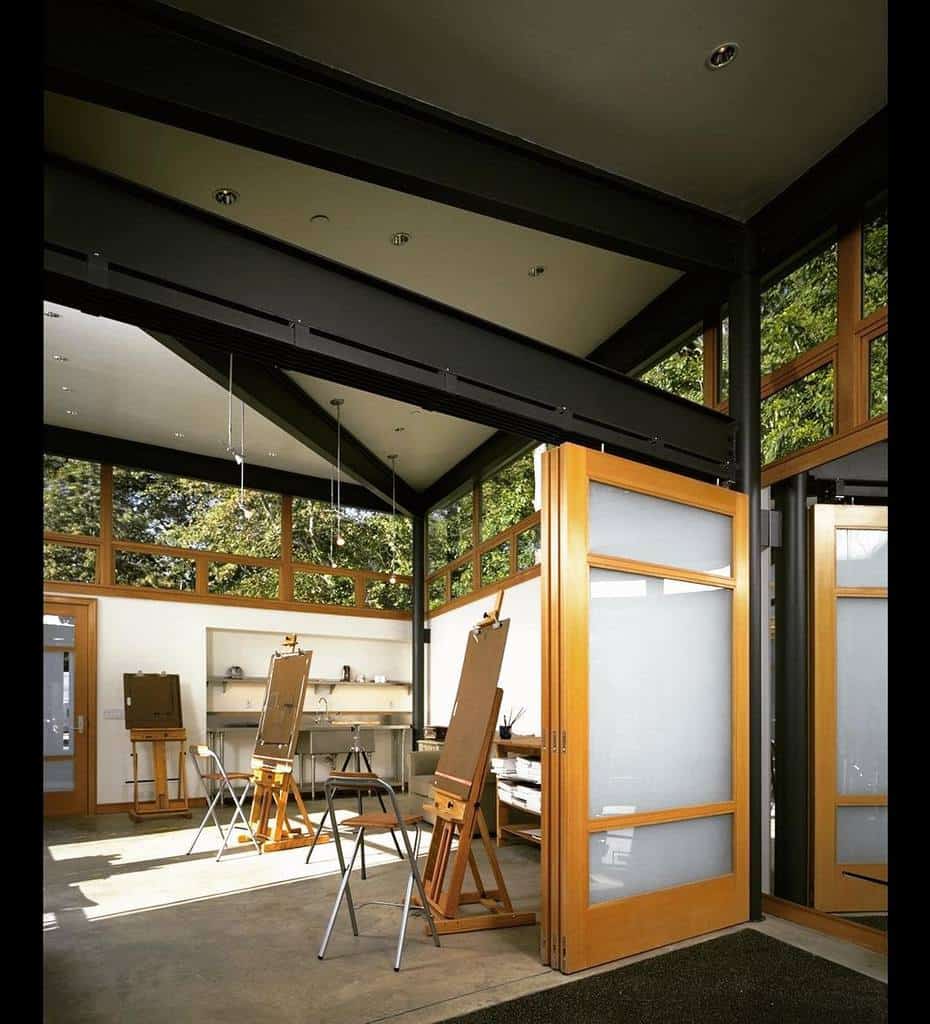 Source: @finne_architects via Instagram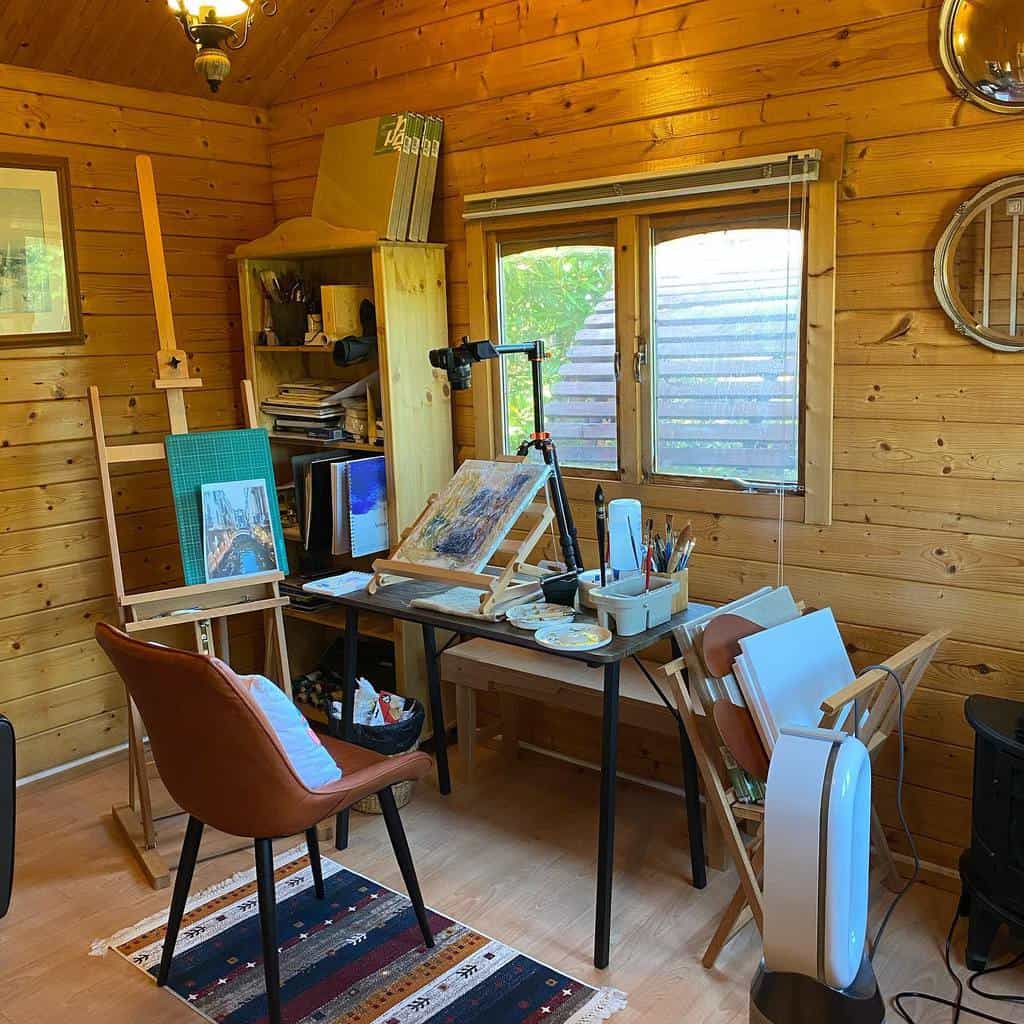 Source: @hakanhingisartchannel via Instagram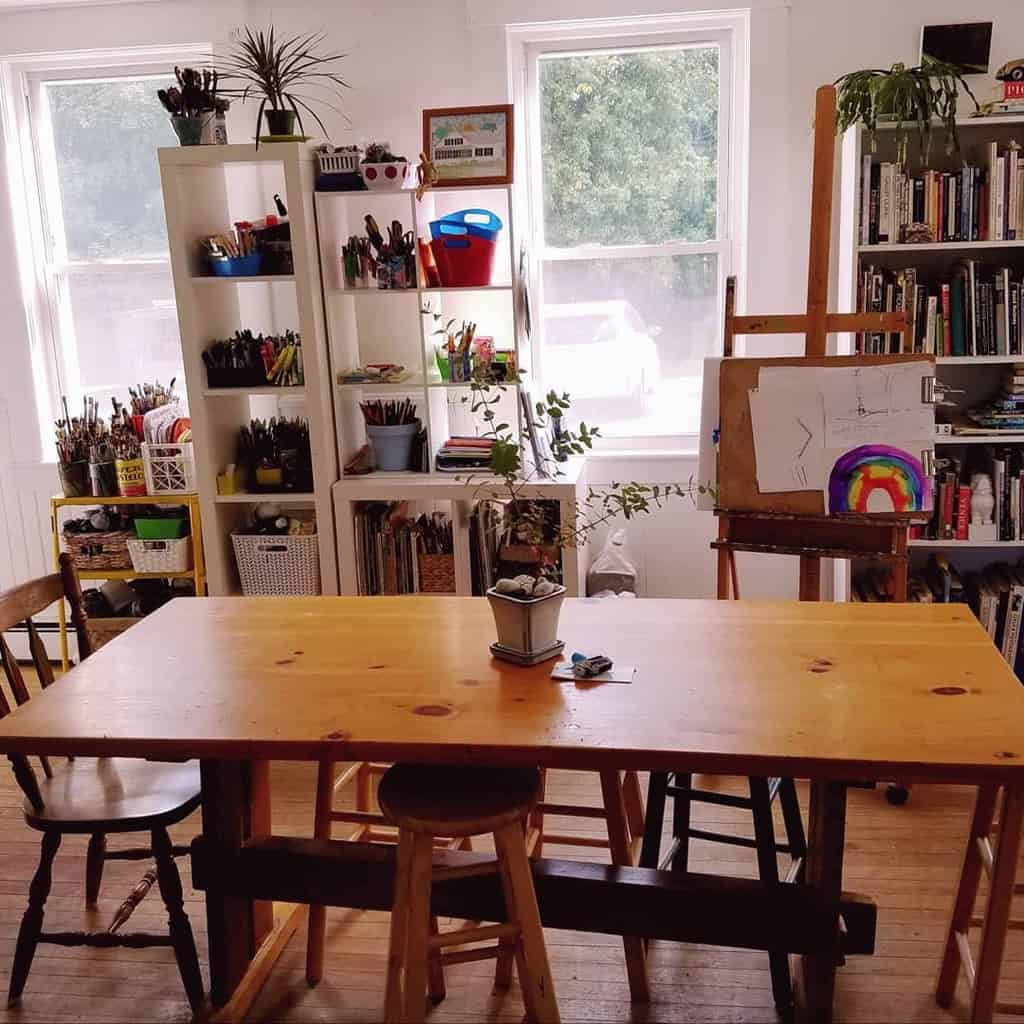 Source: @helenefarrar via Instagram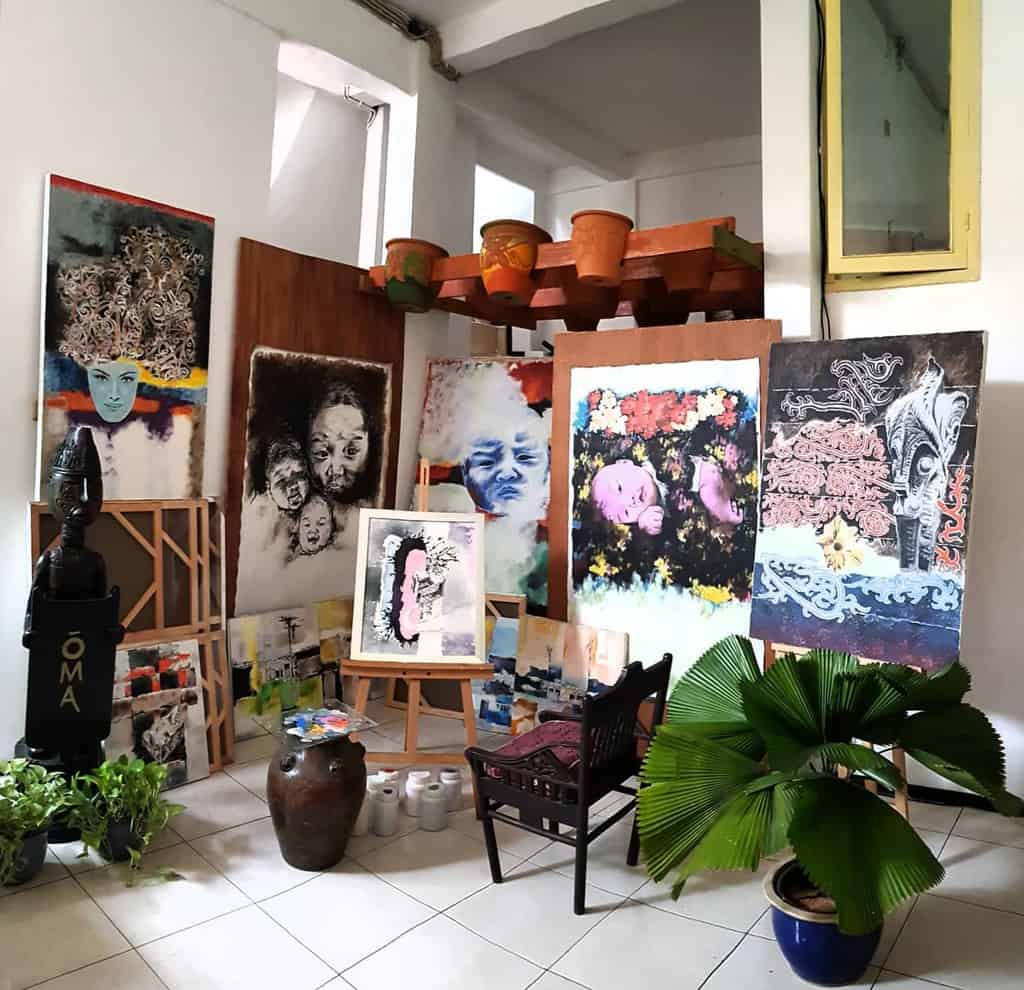 Source: @ituuuuut_huwae via Instagram
Source: @mari2toucher via Instagram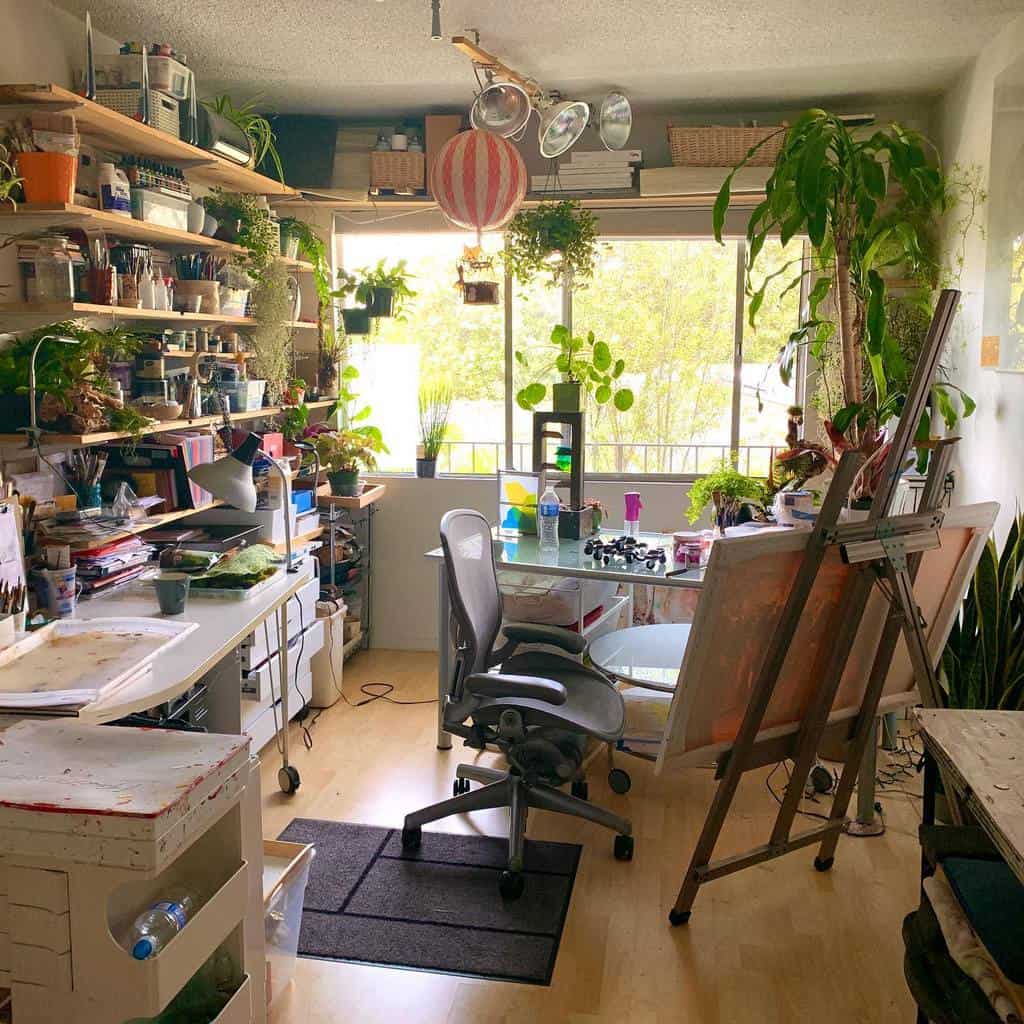 Source: @nature__artstudio via Instagram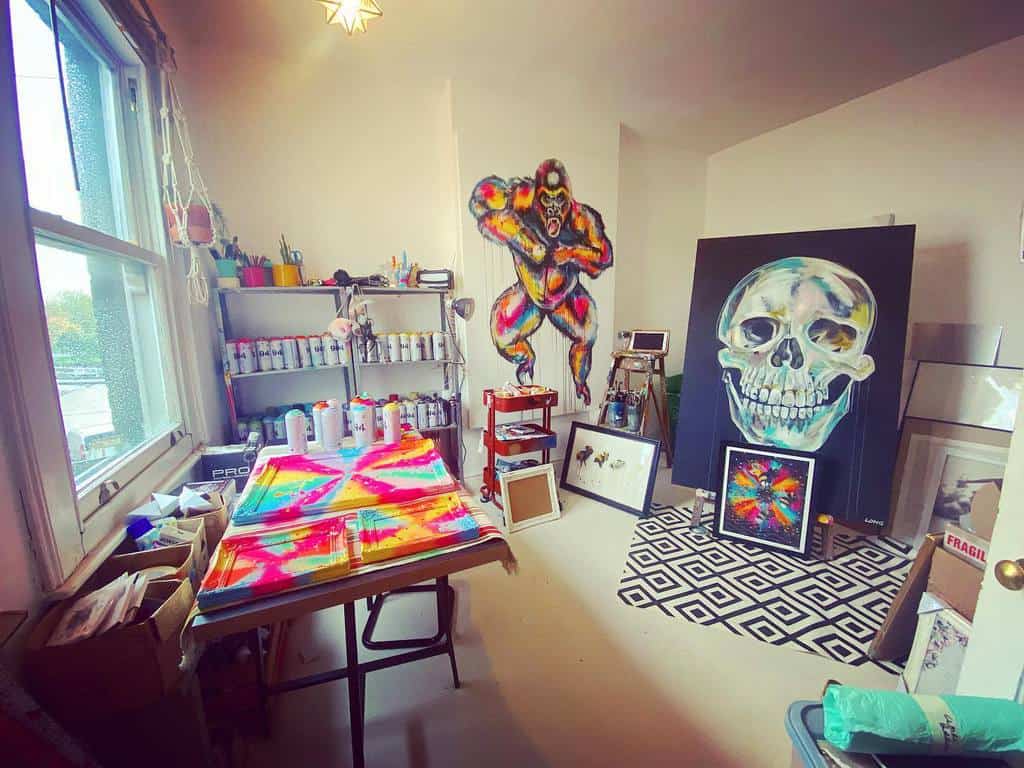 Source: @sophielongart via Instagram
Painting the walls is the first step in creating a beautifully designed art room. Generally speaking, the more windows the better, especially in a small studio.
Tile, laminate, or concrete are more practical art studio flooring materials than carpet or hardwood. Incorporate plenty of work and storage room, built-in if space is tight.
7. Kids
Having a dedicated craft room for kids is the dream of many parents.
Even a small space provides the chance to corral messy art projects into one area of the house. Knowing that they have a "safe zone" inspires children's creativity, which is a must for budding young artists.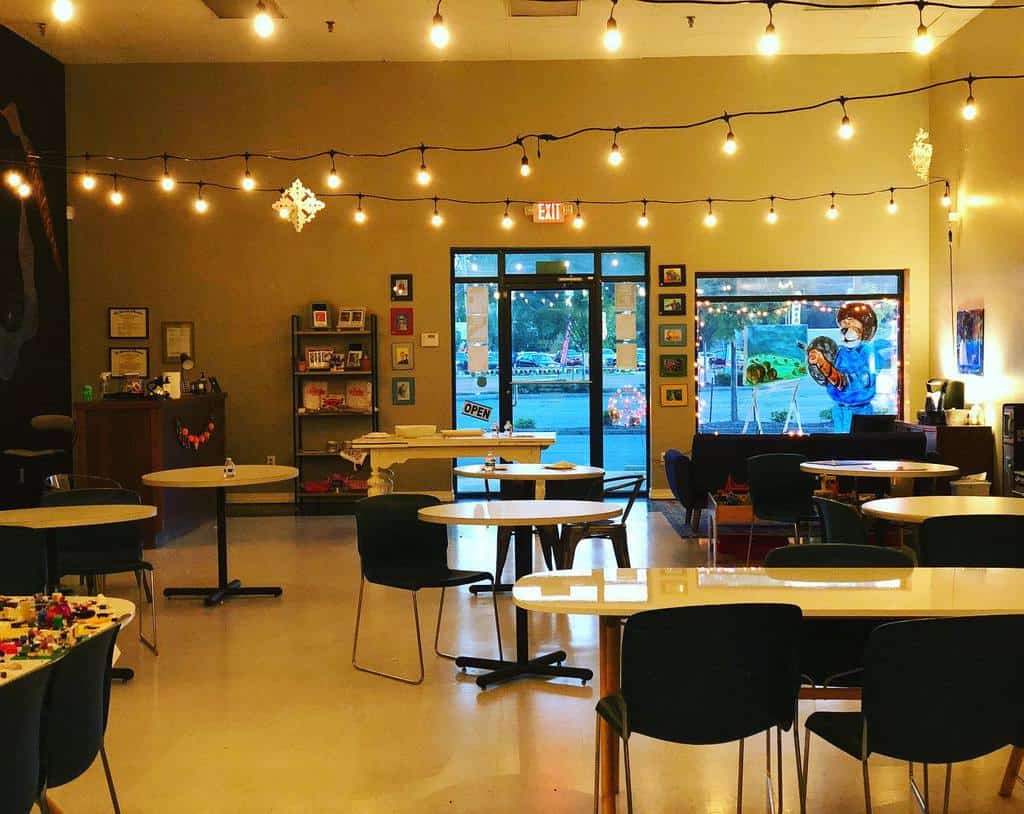 Source: @easeltown via Instagram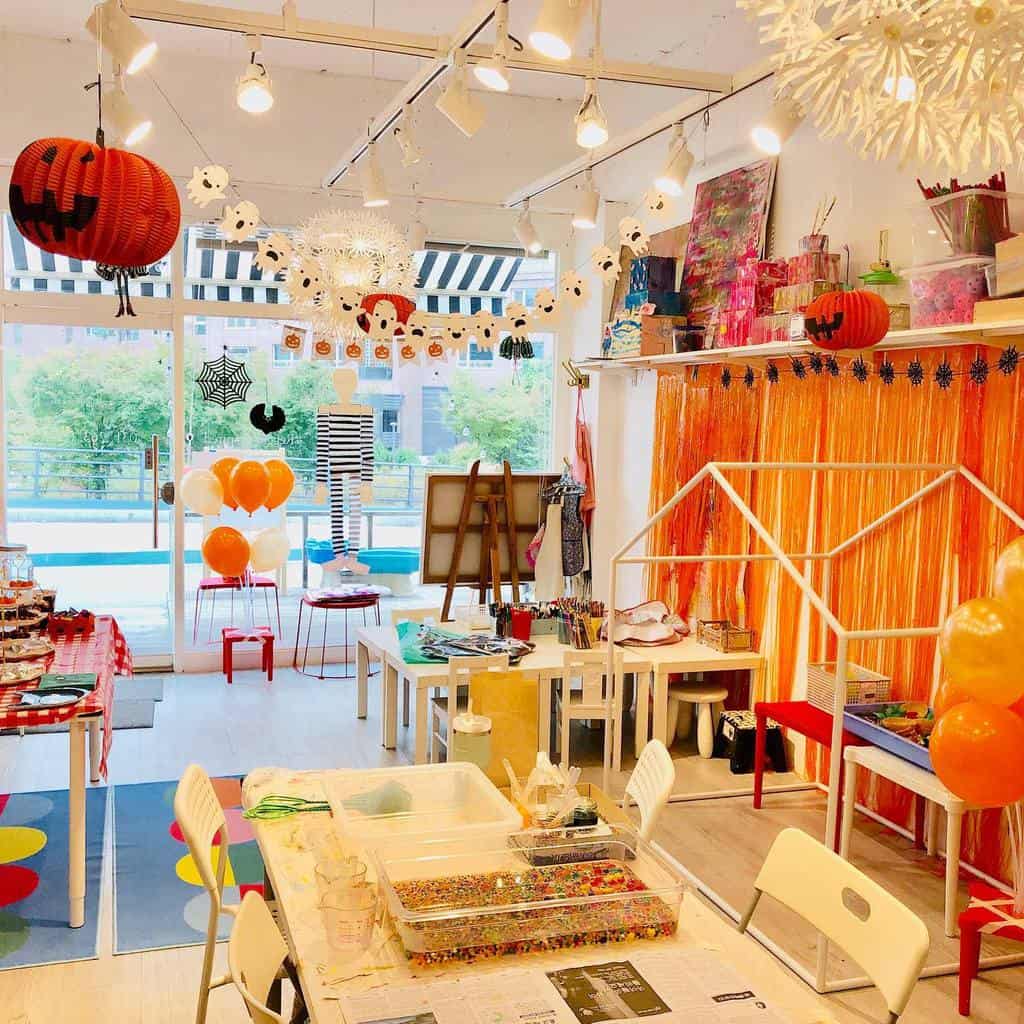 Source: @thelittleforestart via Instagram
Whimsical décor is perfect in a kids art studio. Create a colorful accent wall with large-scale wallpaper or a hand painted mural. A blackboard wall is a great addition for creative kids who enjoy sketching.
Be sure to include lots of storage shelves, drawers and bins—and string clotheslines along the walls to clip up your kids' paintings and projects.
8. Outdoor
An outdoor art studio may be ideal if you frequently work on large or messy art projects. It's also a great option if you live in a moderate climate and find fresh air and sunlight inspiring.
A planting cart or bakers rack can be repurposed into outdoor art supply storage zones. Mount a fold-down table on an exterior wall if you plan to use your outdoor studio frequently.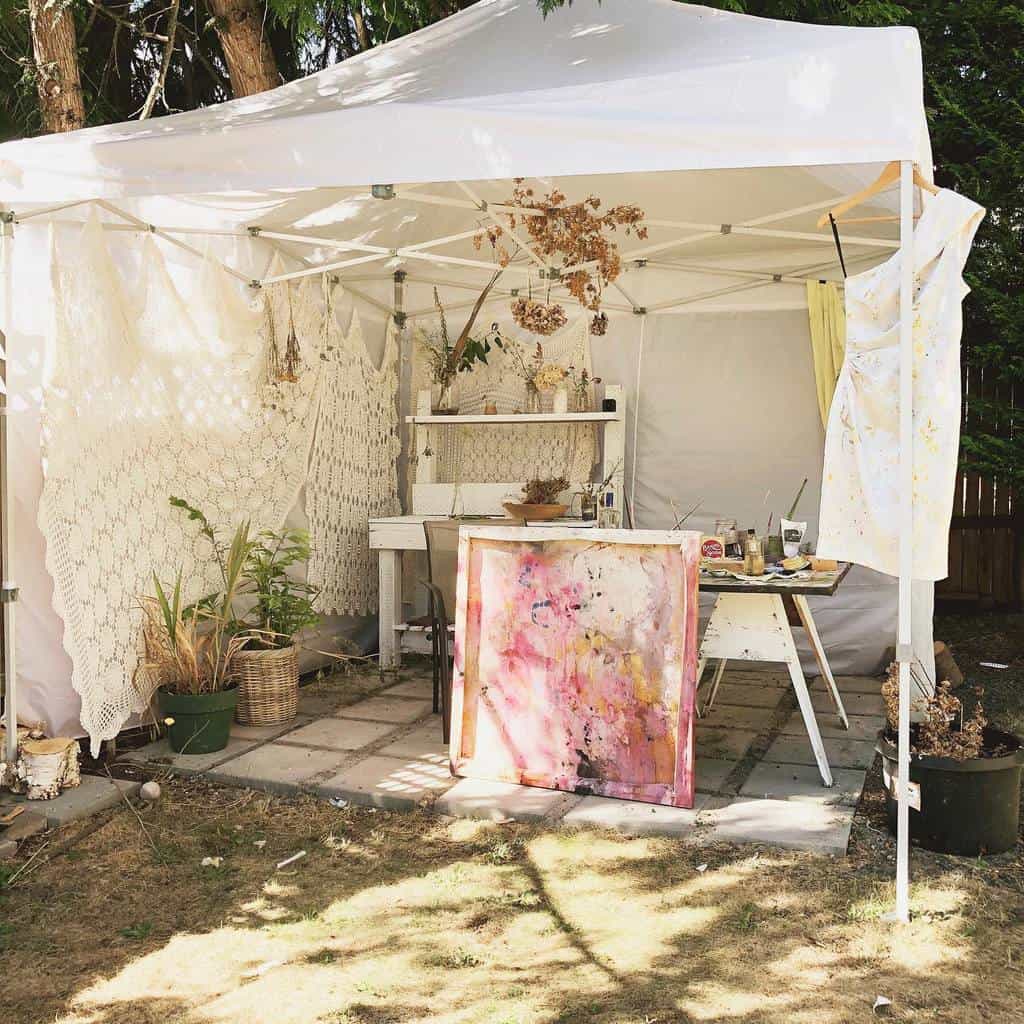 Source: @jkcalladine via Instagram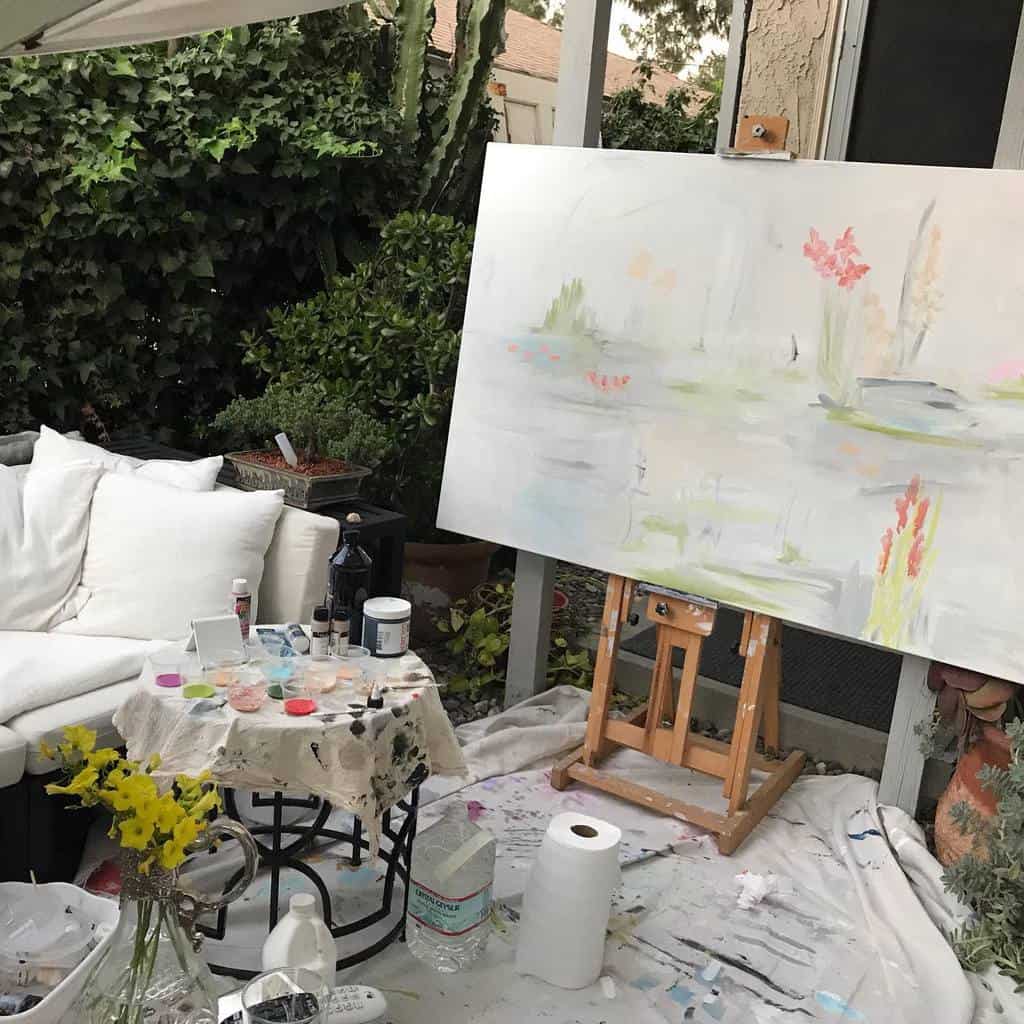 Source: @kristinbrin via Instagram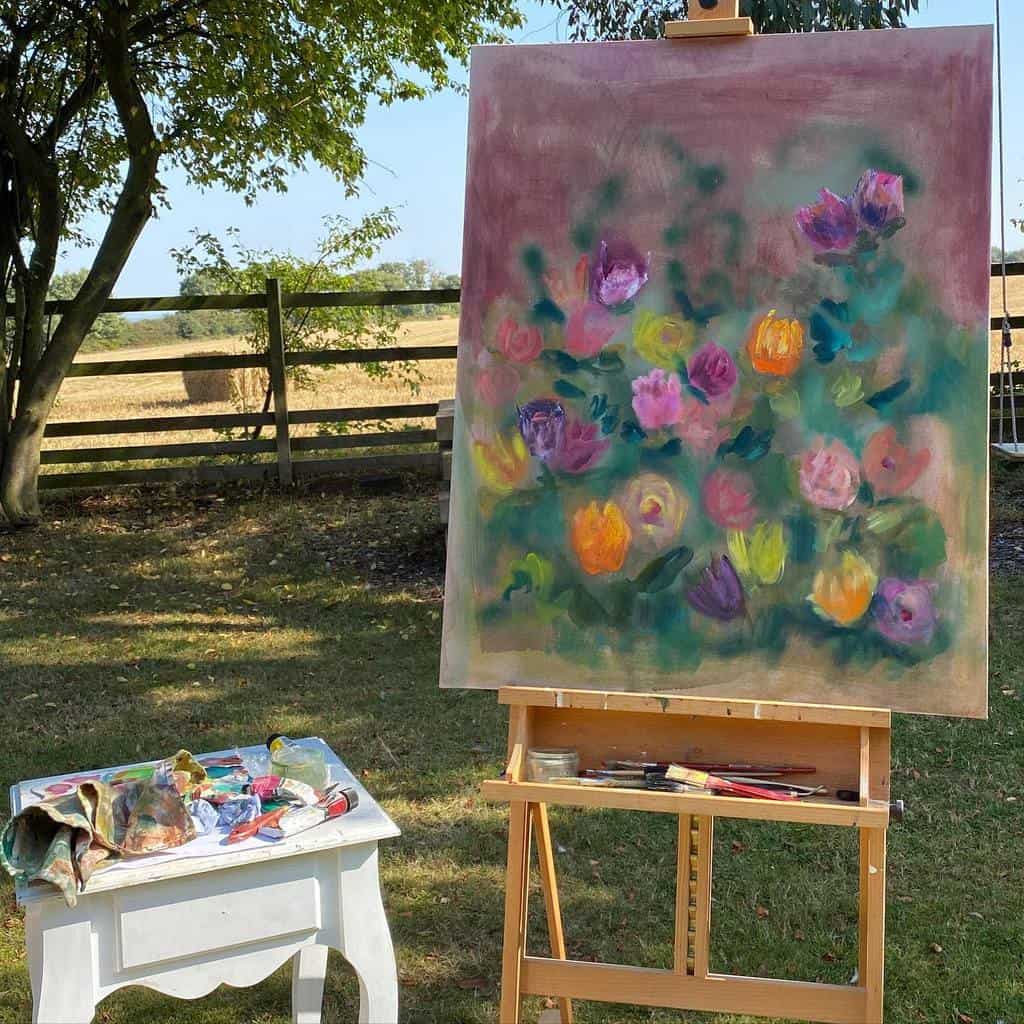 Source: @meganrose_artist via Instagram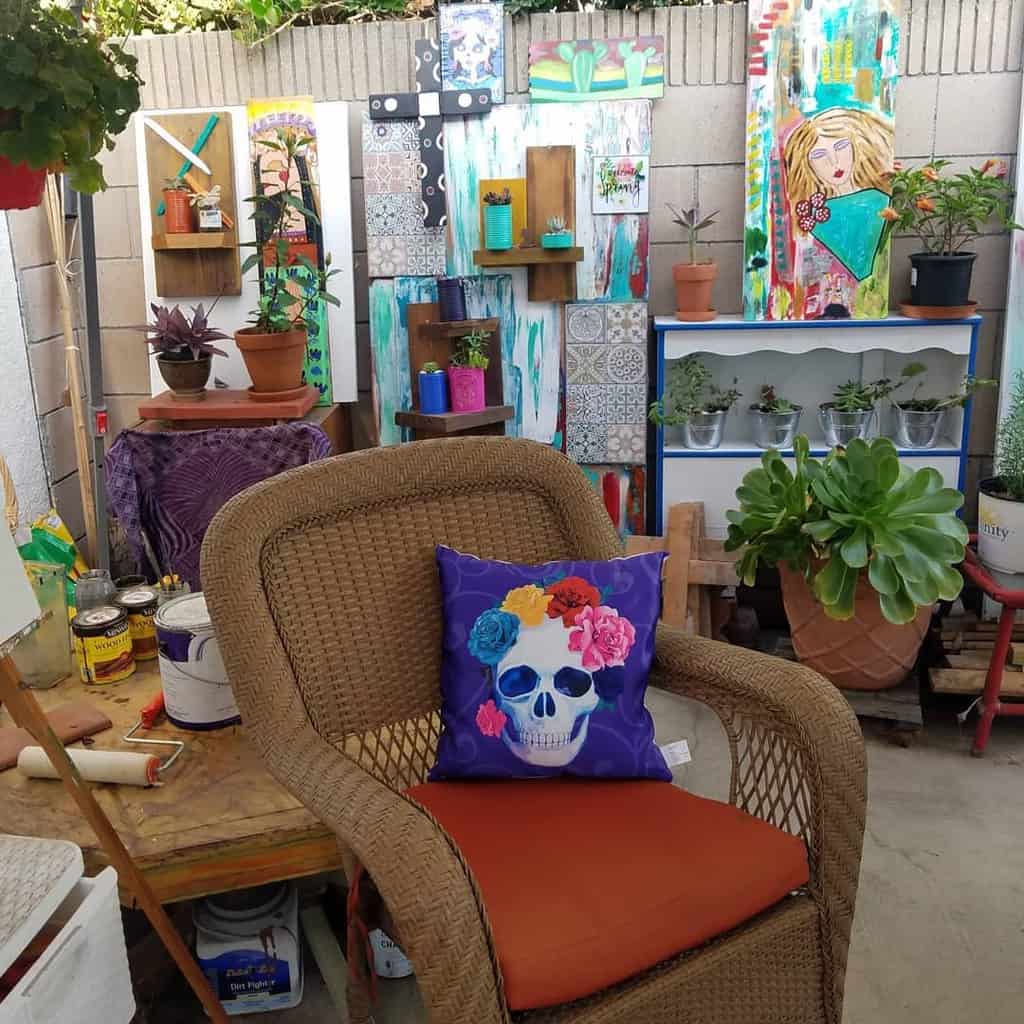 Source: @miriamramirezart via Instagram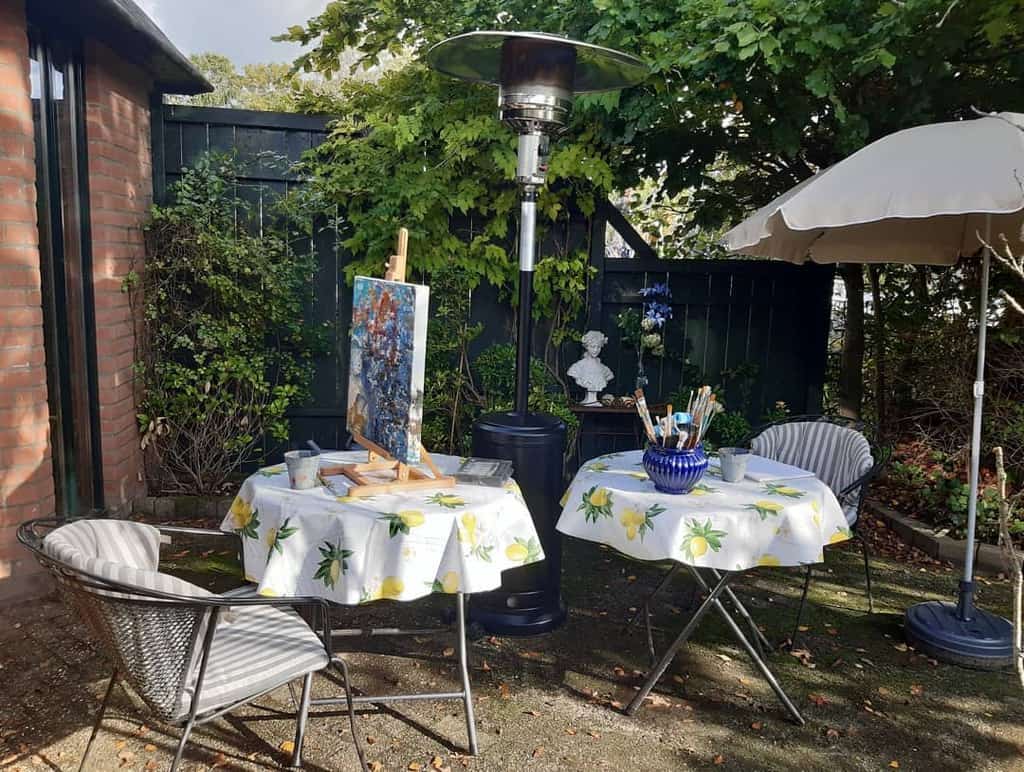 Source: @petratool via Instagram
A mobile art caddy or rolling art cart makes it easy to transfer supplies in and out of the house. If you frequently paint away from home, purchase a lightweight aluminum folding easel and a large tote bag for transporting canvas or paper. Repurpose an old fishing tackle box into a great carrier for small paint tubes and brushes.
9. Painting
Painting is perhaps the most common type of artwork created in a home studio. Whether you dabble in watercolor, acrylic, or oil, painting is good for the soul. Practice makes perfect with painting, so arrange your art studio in a way that makes it easy to paint as often as possible.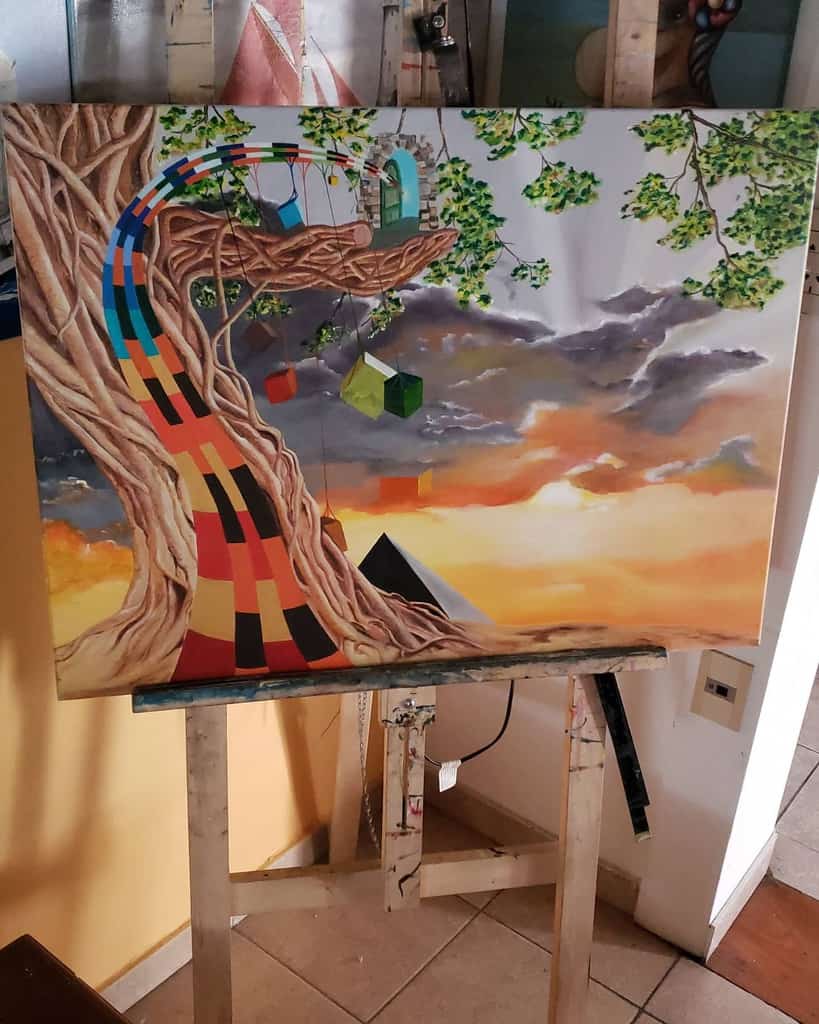 Source: @gabrieleartist via Instagram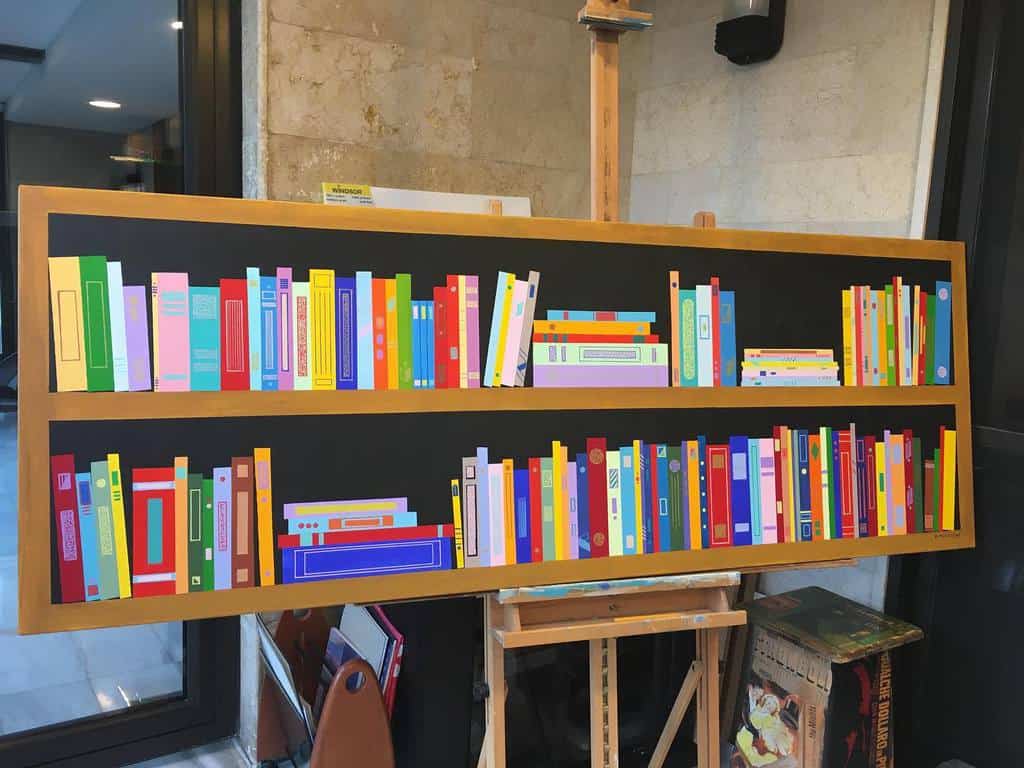 Source: @alimourabetartworks via Instagram
Source: @brainwavecult via Instagram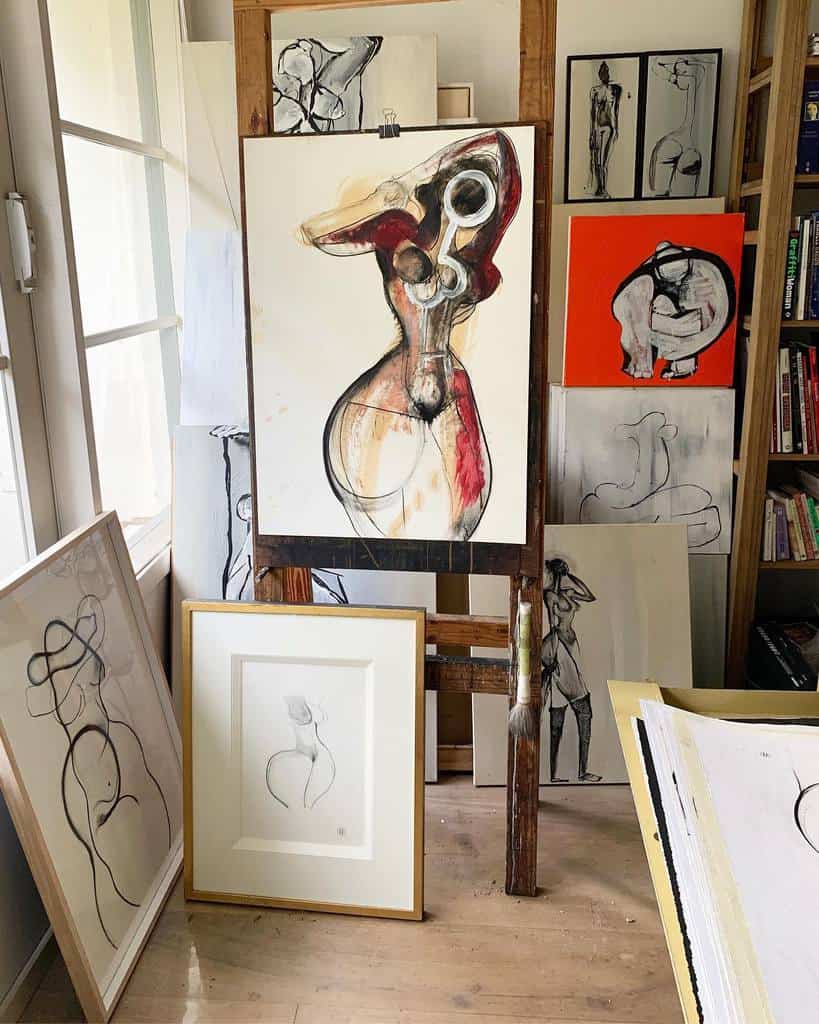 Source: @carmeljenkin via Instagram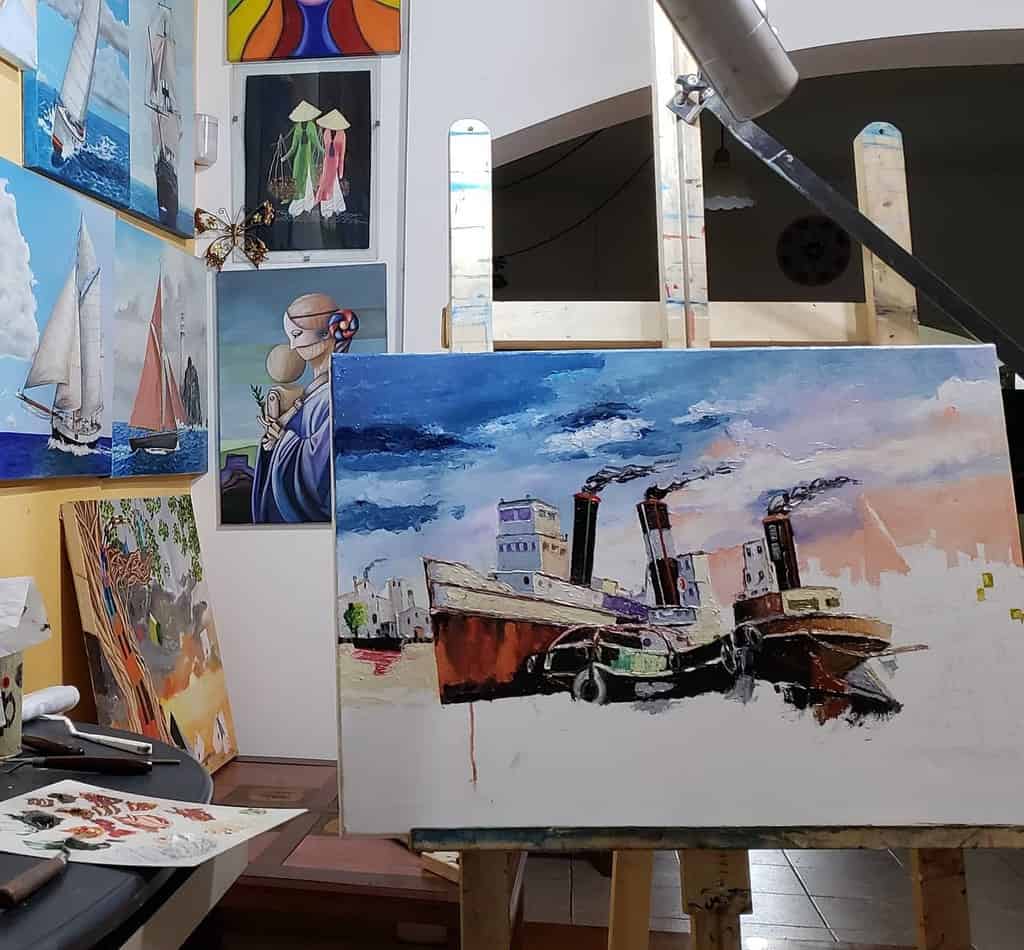 Source: @gabrieleartist via Instagram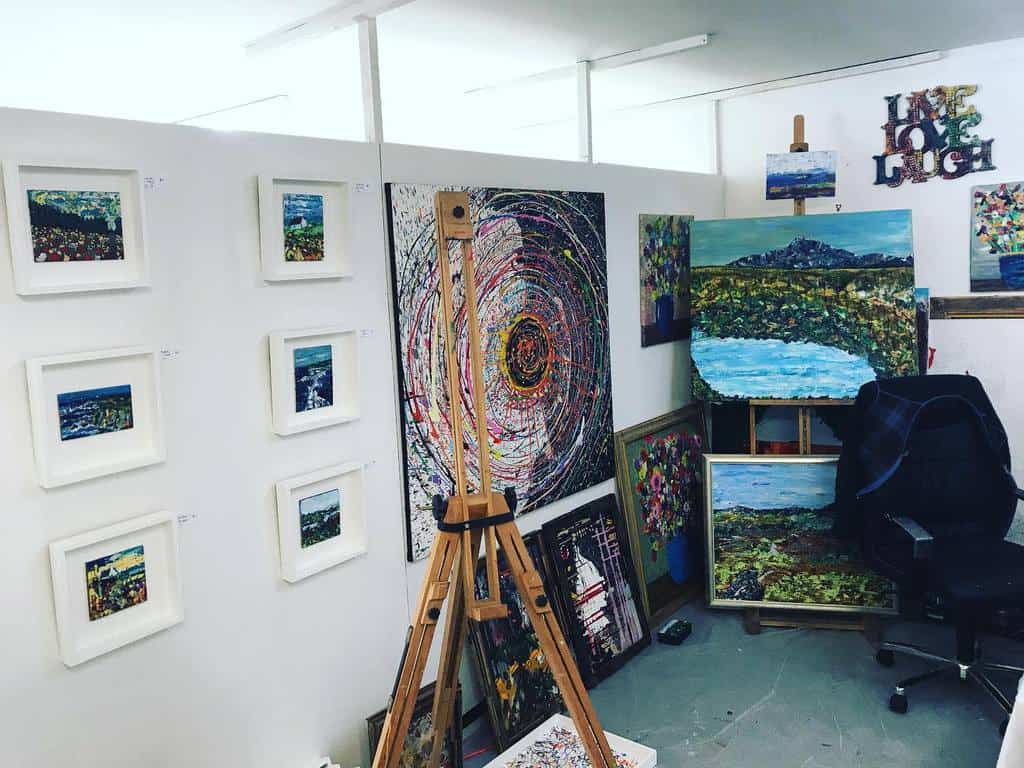 Source: @jamiebanks_artist via Instagram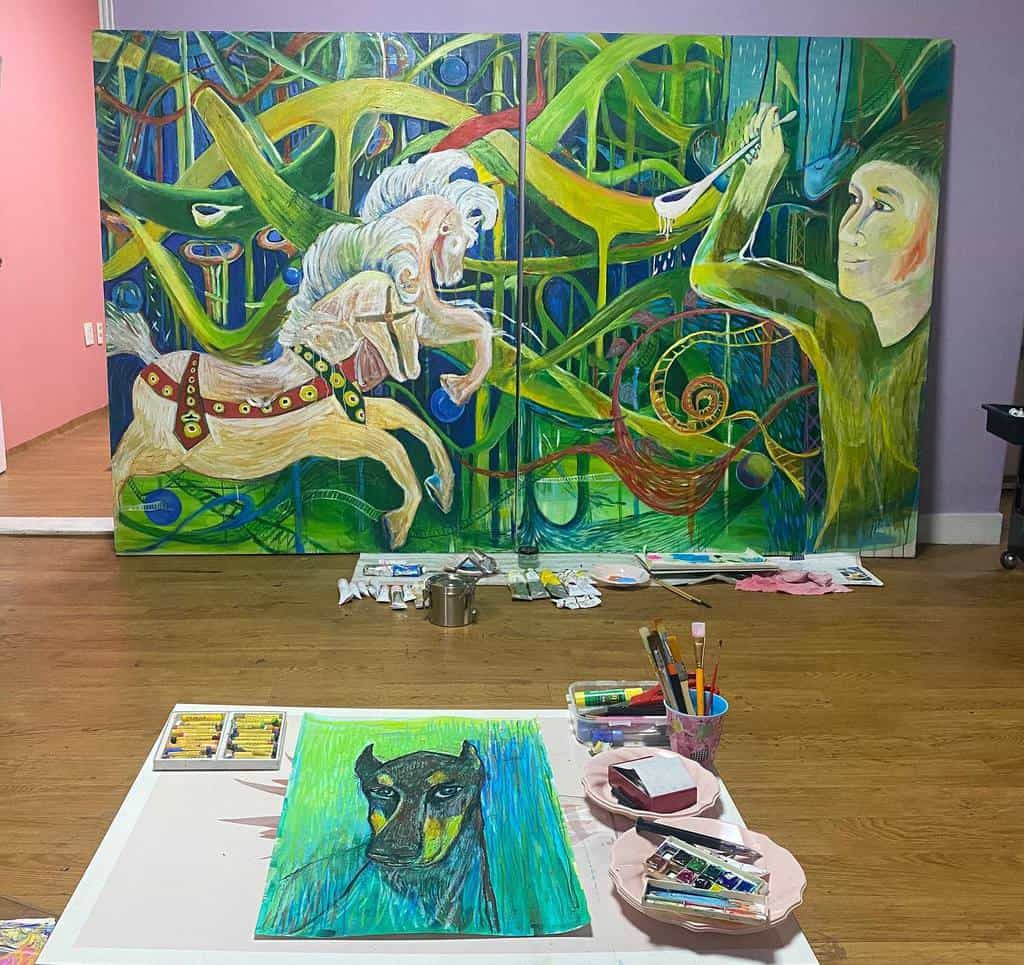 Source: @nasoomee3697 via Instagram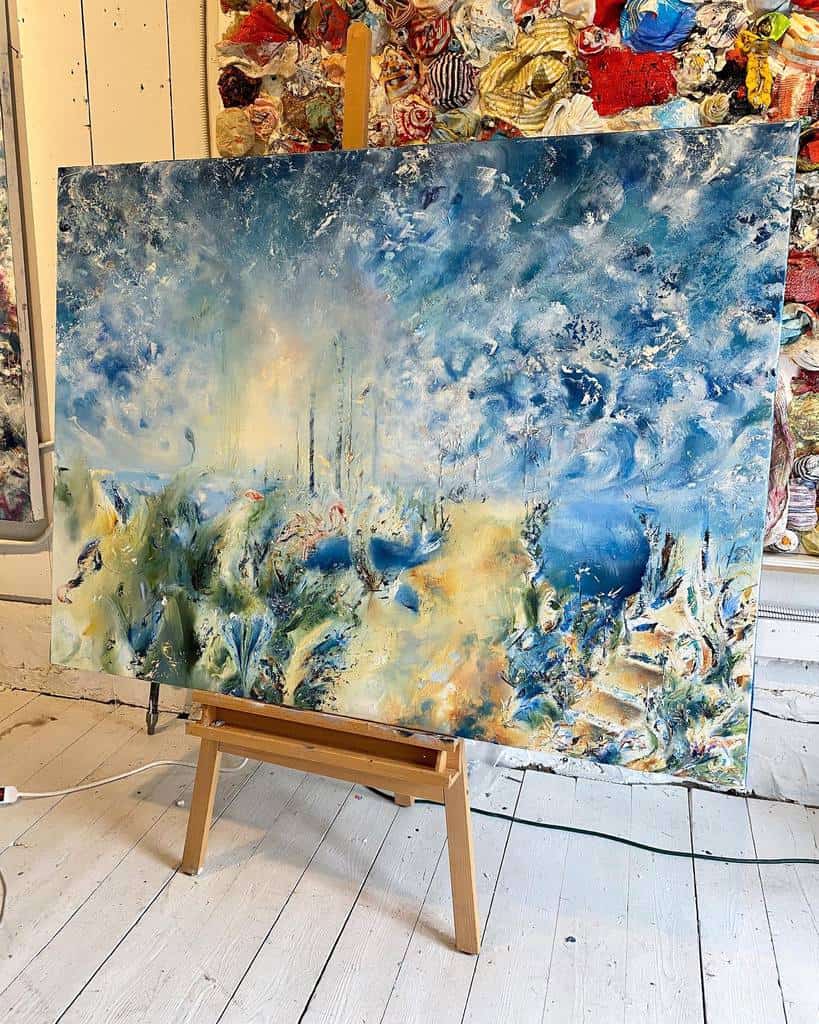 Source: @samanthakaplanart via Instagram
One essential element in a painting studio is paint drying racks. These large horizontal shelves are perfect for protecting paintings as they dry. If you paint a lot, look for large drying racks that stack from floor to ceiling. If you paint less frequently, a wall-mounted drying rack may suffice.
10. Small
An art studio doesn't have to be spacious or elaborate to be functional. If you cannot designate a full room for art, take over an unused closet or open corner. An easel and a rolling cart parked along a wall takes up very little space but offers everything you need to paint or draw.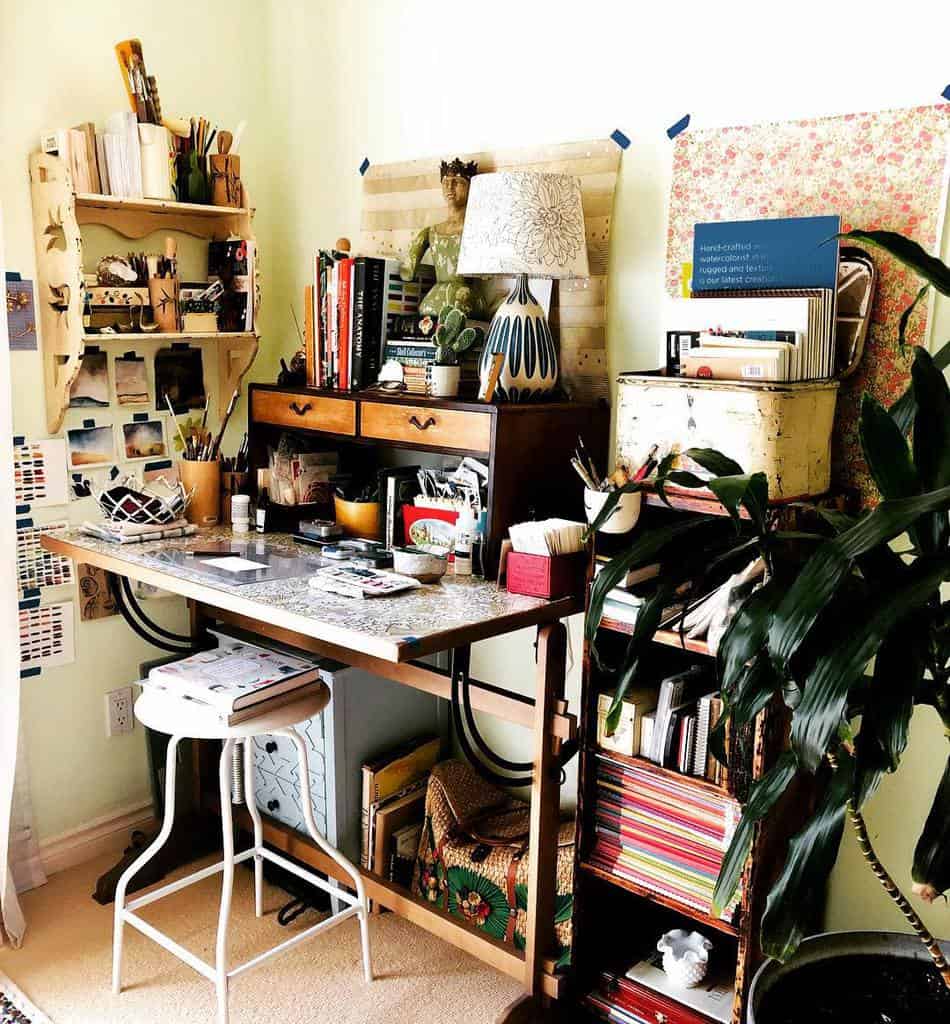 Source: @cdeart_365 via Instagram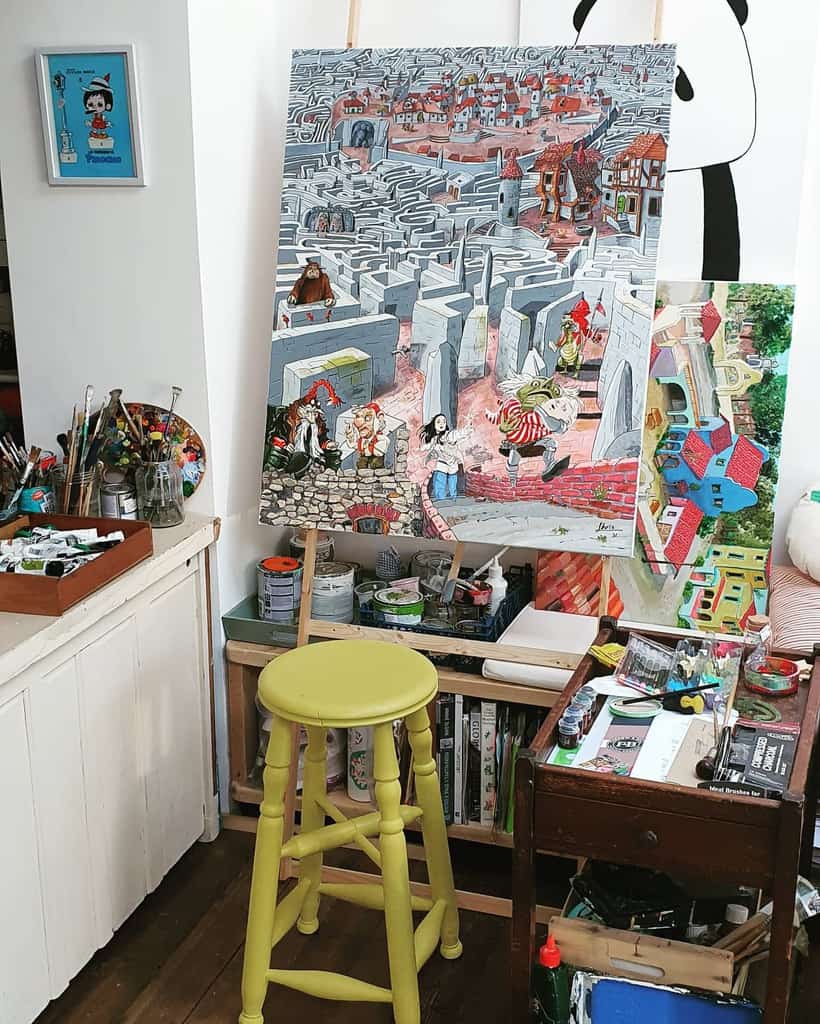 Source: @chris.creations.art_ via Instagram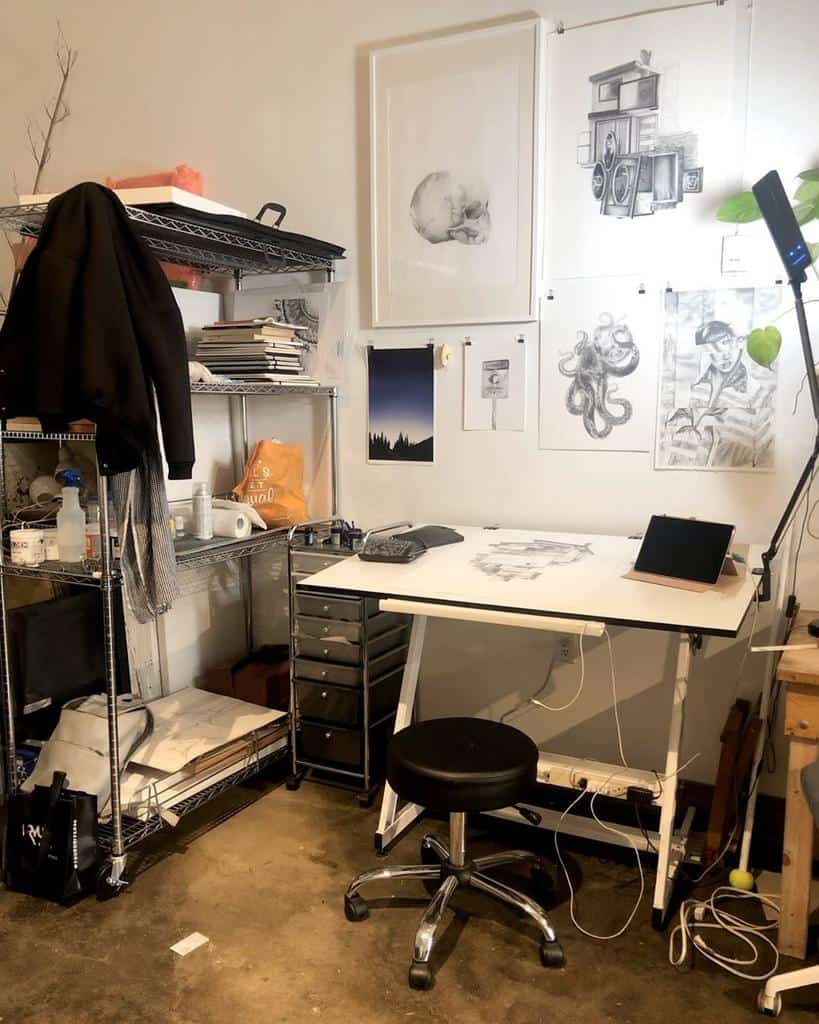 Source: @christinajamesart via Instagram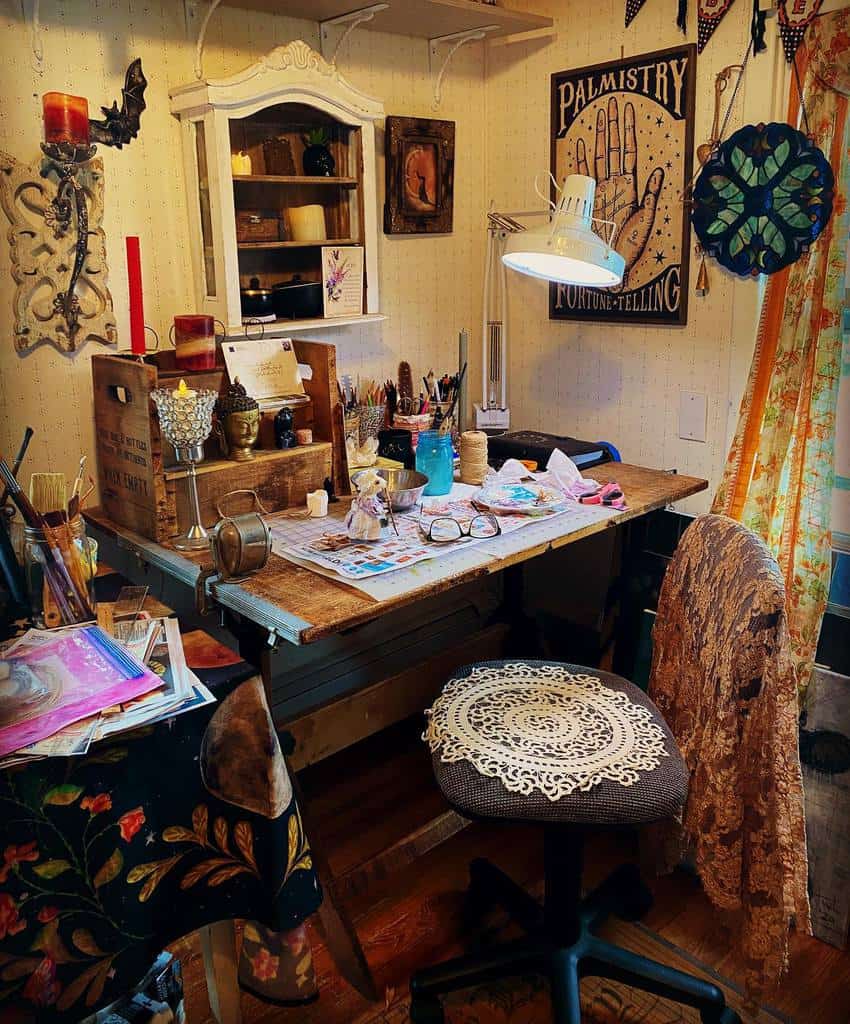 Source: @figblossomart via Instagram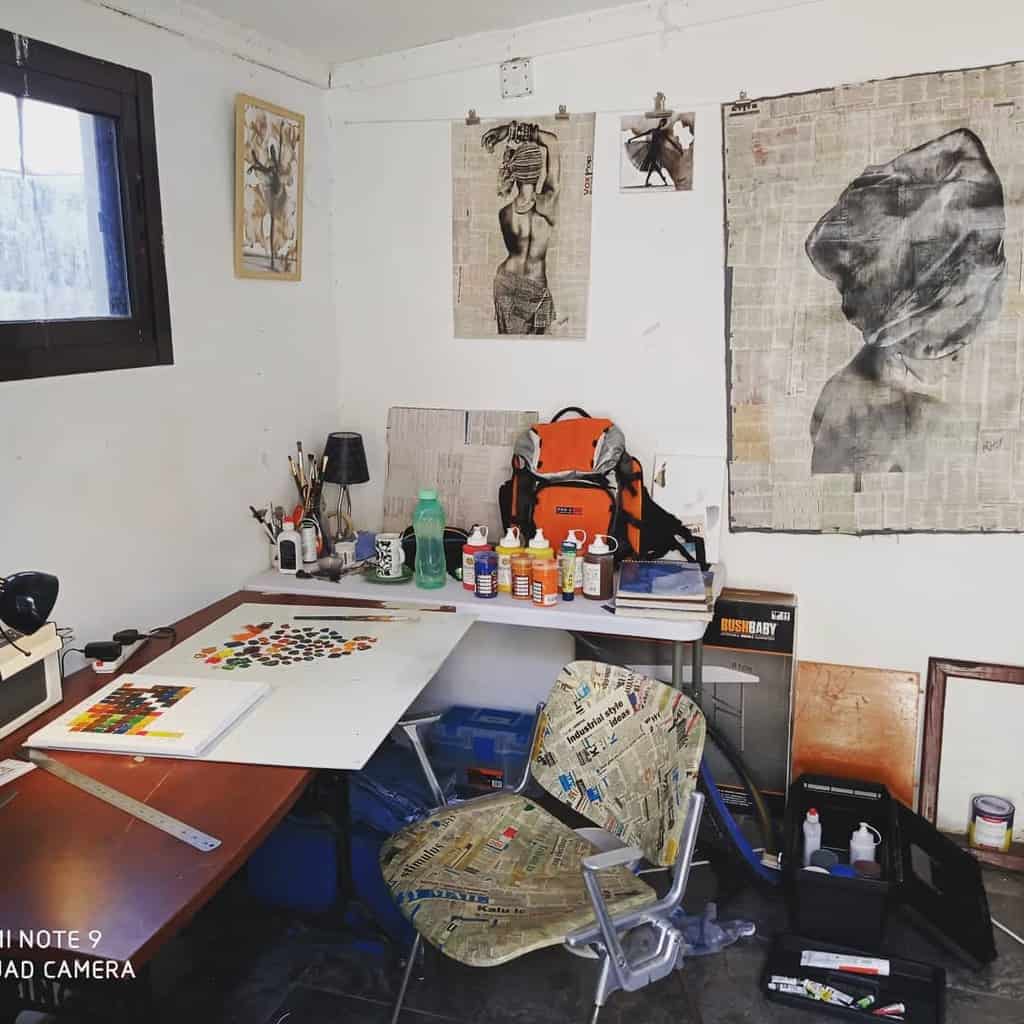 Source: @mulenga_mubanga065 via Instagram
Transform unused space under a staircase into an efficient home art studio. Install shelves and mount an easel to the wall to save floor space. A fold down table is also a great option for the small studio. Folding chairs can be tucked in a closet when your small art studio or art corner isn't being used.
11. White
White rooms feel open and airy. Their clean, crisp elements beg for splashes of color—preferably landing on a canvas. When artwork isn't competing with furniture, floors, and walls for color, the projects become the room's focal points. A white fabric screen is an ideal way to section off an art area in a modern white bedroom or living room.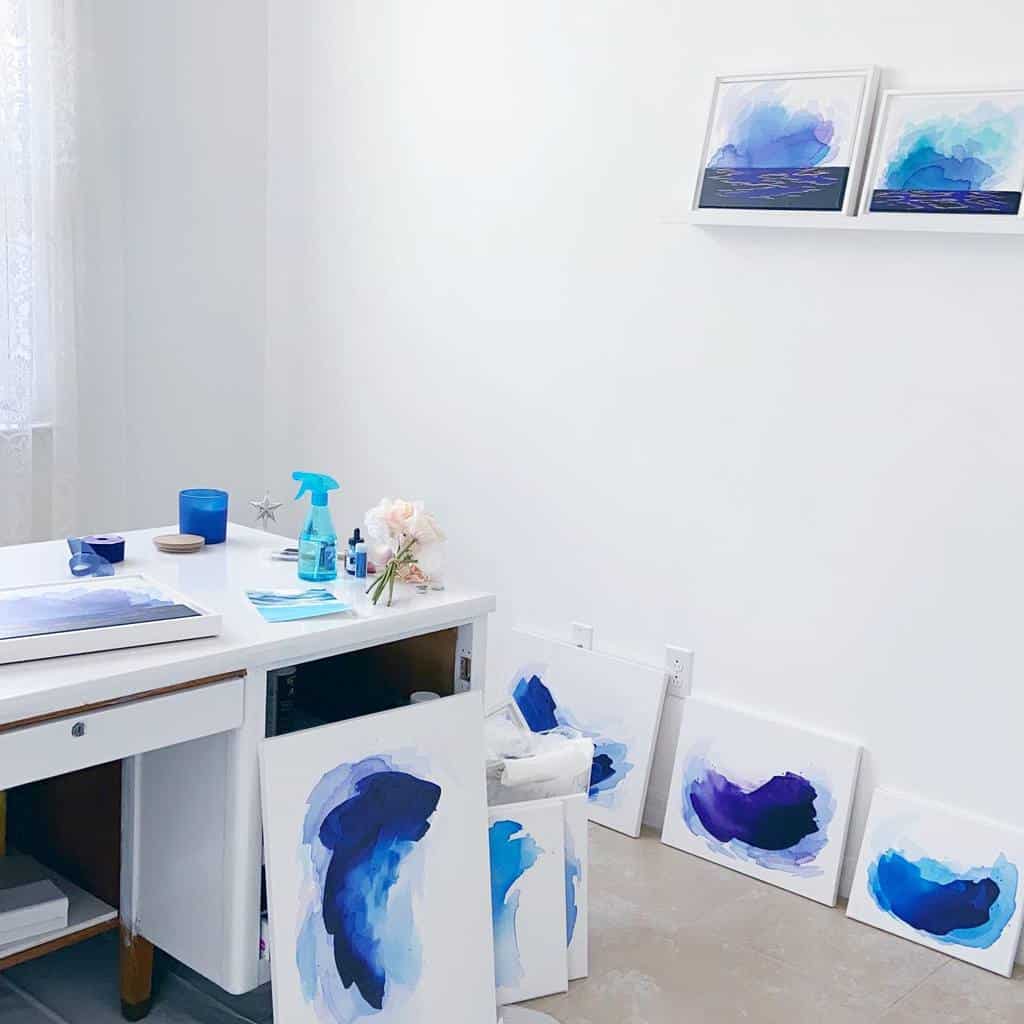 Source: @artbyisla via Instagram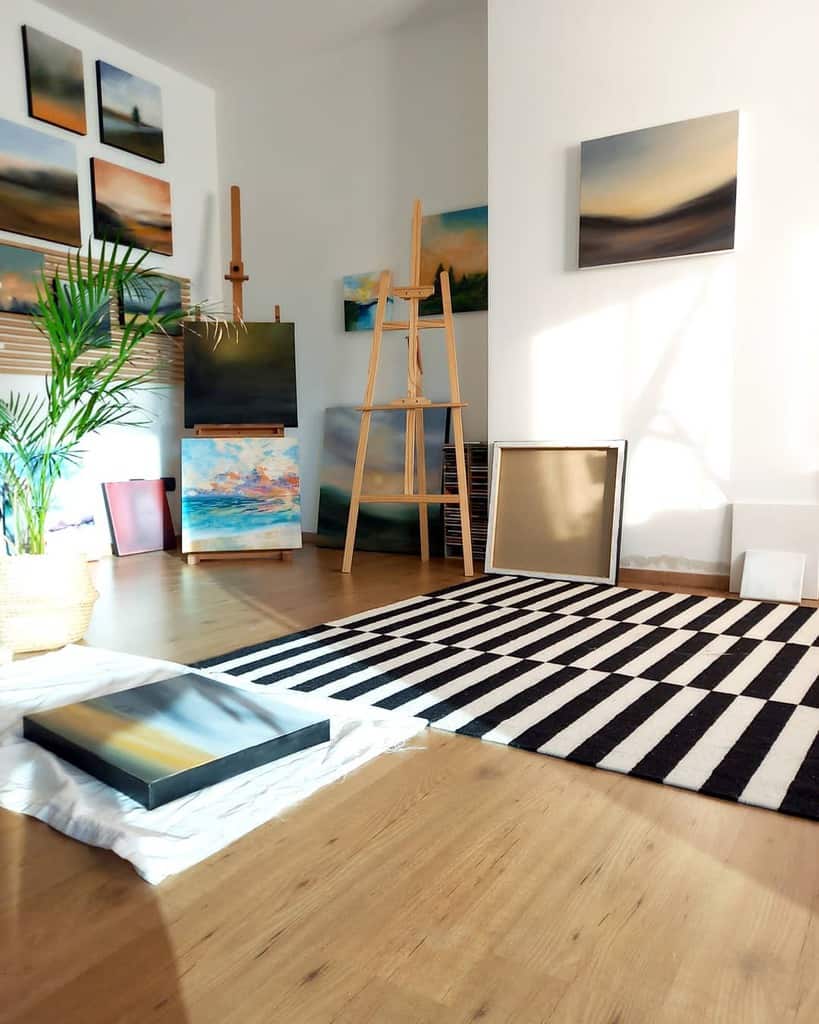 Source: @chaneldurante via Instagram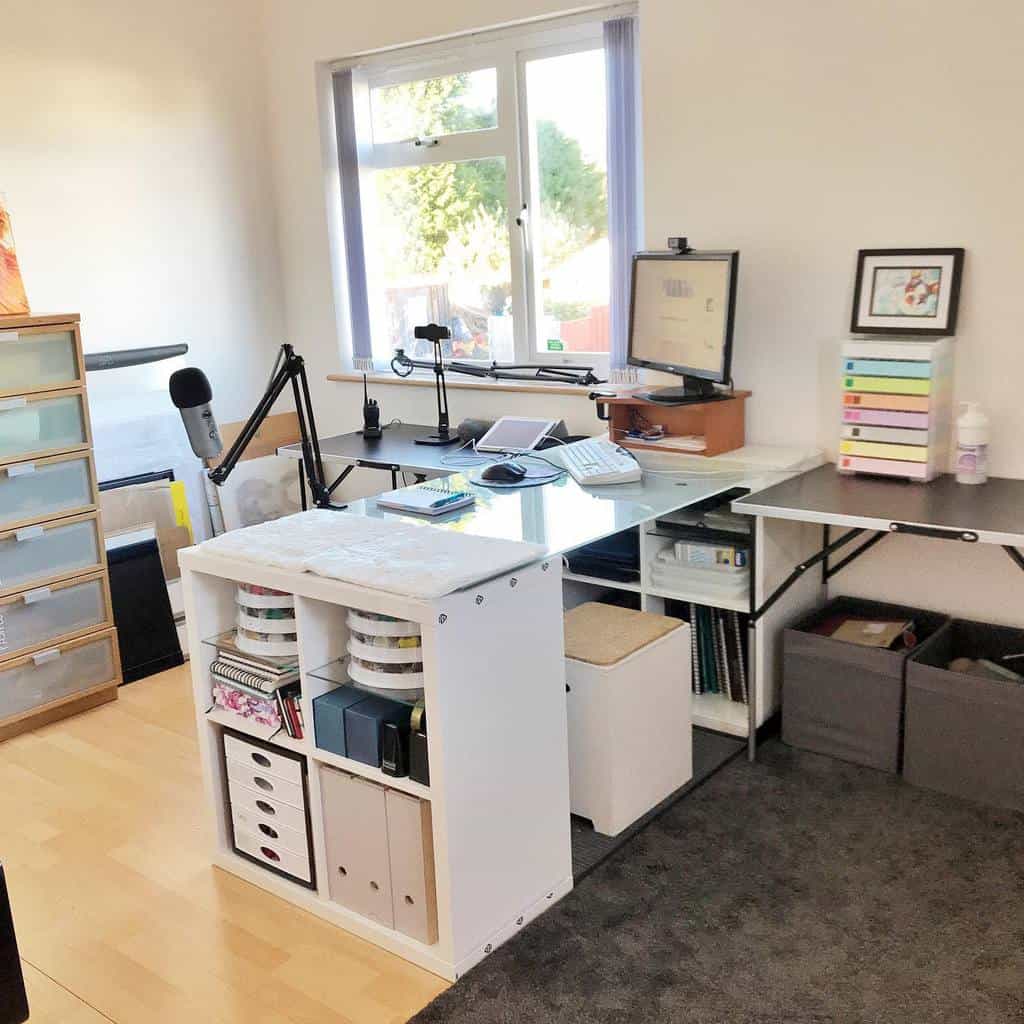 Source: @denamarshallfineart via Instagram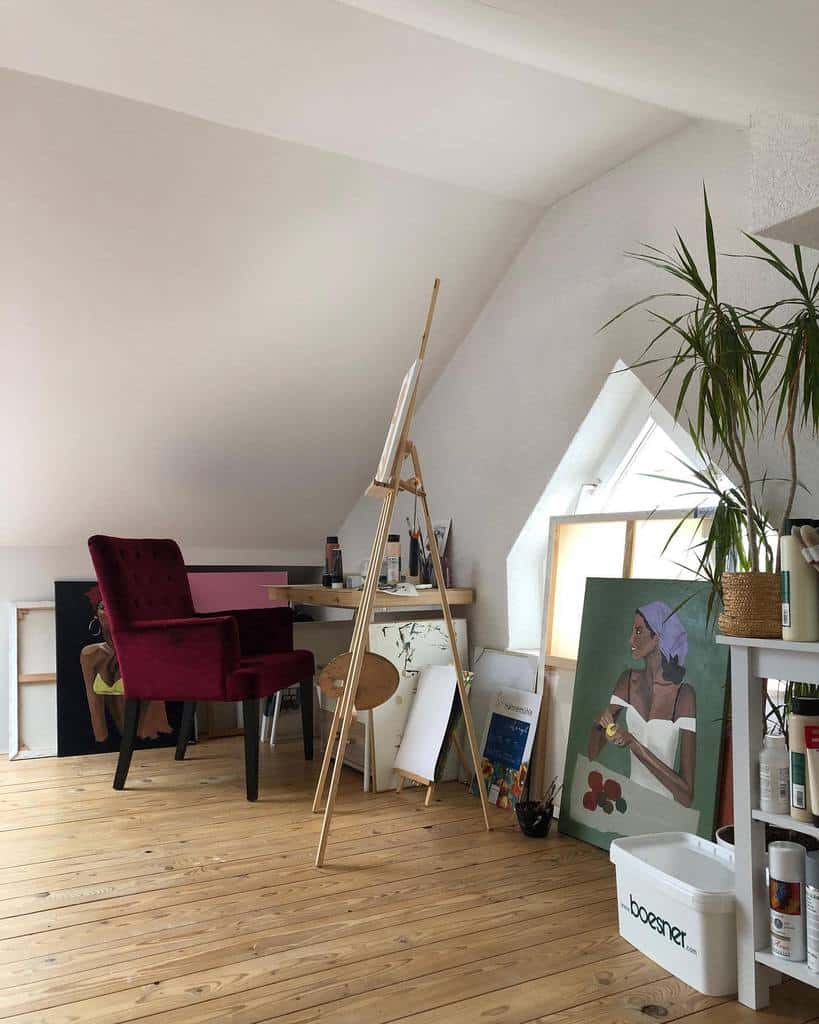 Source: @selinaseart via Instagram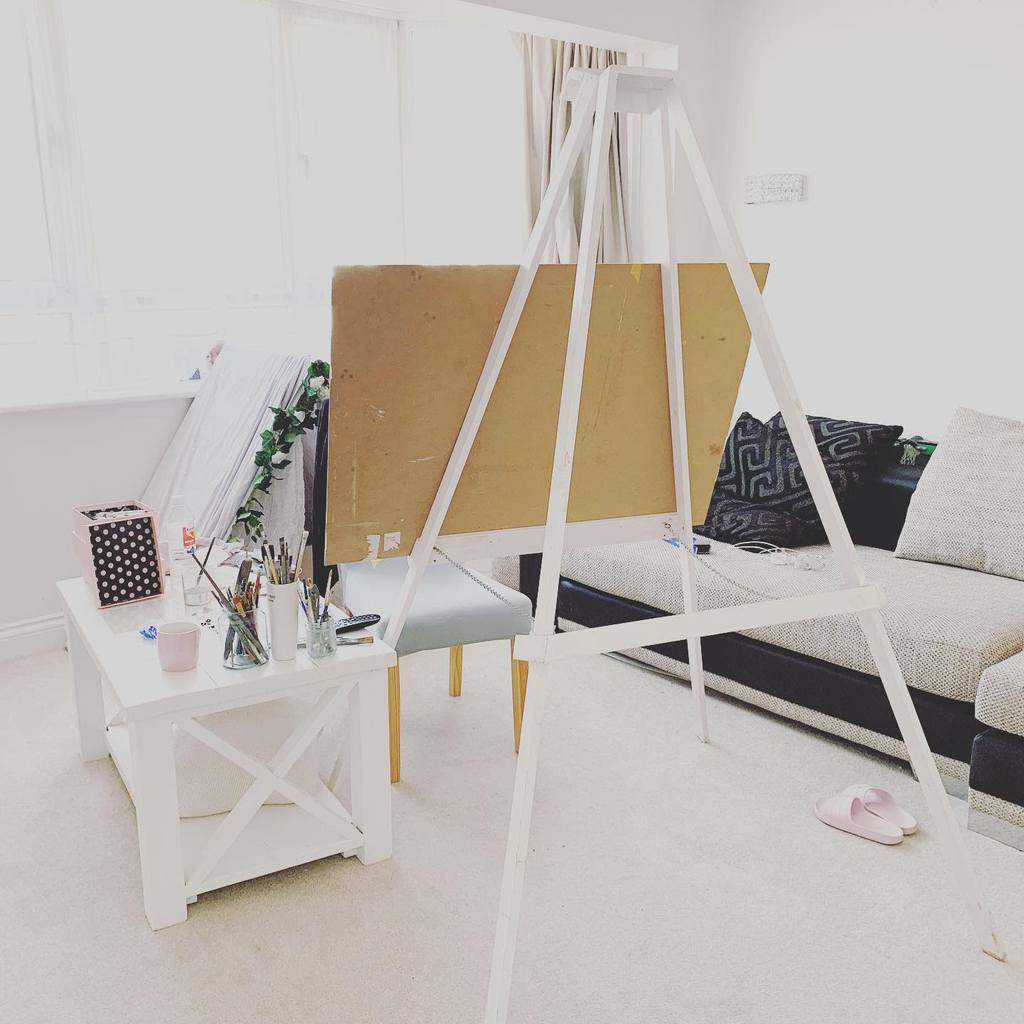 Source: @shelleyhockhamart via Instagram
The biggest issue with a white studio is quite obvious—art can be messy, and white can be tough to clean. Stick with tile, eggshell textured paint, and glass or laminate furniture for easy cleaning. Unless there's no other option, don't locate your studio in a room with white carpet or rugs.
Sours: https://trendey.com/art-studio-ideas/
DIY Art Studio Makeover \u0026 Room Tour
Being an artist and creating within the comfort of your own home can sometimes bring up a dilemma of where to put your home art studio and how to decorate it. Surely you need one, because your canvases and easels can't just take up space in your living room, but how to make the best of the limited space? Your very own art studio is a sacred sanctuary, a creative space where all your artistic ideas come to life. Whether you want to set it up in a smaller room or a bigger space, find the inspiration with these incredible home art studio design ideas!
Cheerful and Creative
Your art studio is both a place to create and display your art in. A bright studio with a lot of natural daylight is the perfect place for displaying your paintings on the white walls. It will mimic the feeling of being in an actual gallery, which will only inspire you to create more stunning art!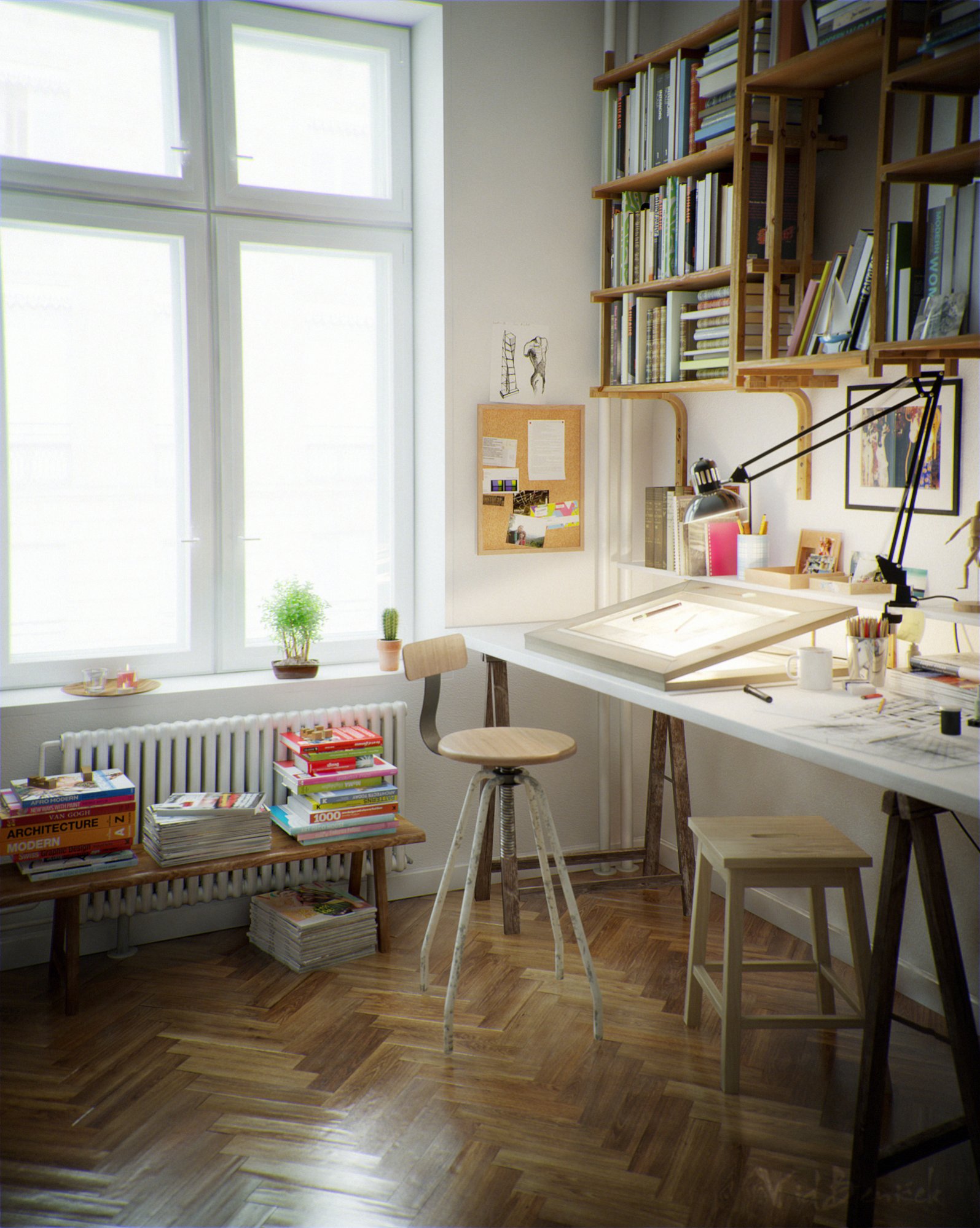 A mix of natural and artificial lighting is a good combination for any workspace. Place your desk next to a tall window and enjoy in the brightness of your creative room.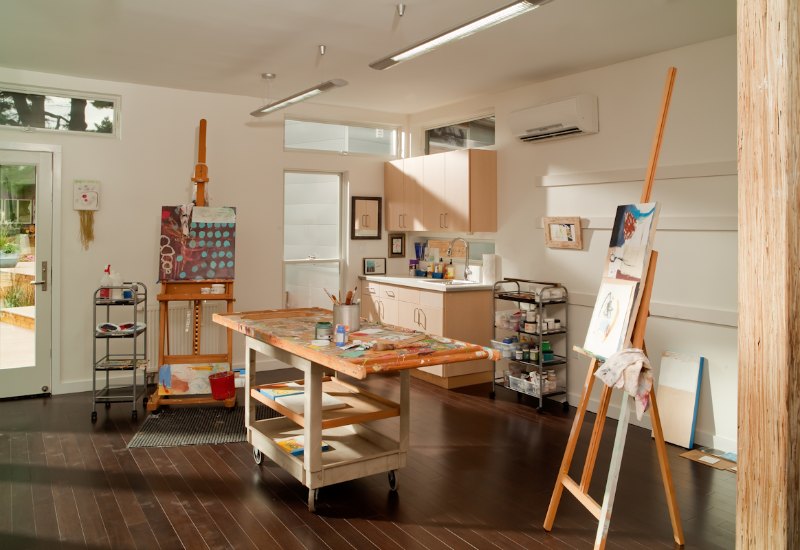 A spacious and bright creative corner is ideal for those who get inspired by the sunlight! If you like to spend time in your studio during the day, you want it to feel luminous!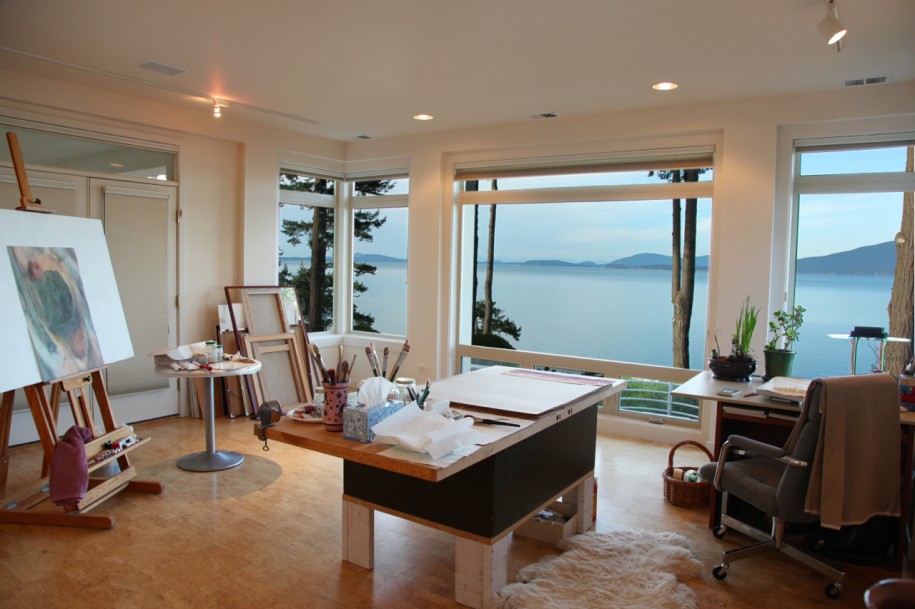 This has to be the dream home studio! If you're lucky enough to live in a place with an outstanding view, set up your art studio in a room with big windows that overlook the peaceful scenery and make you forget the glass is even there.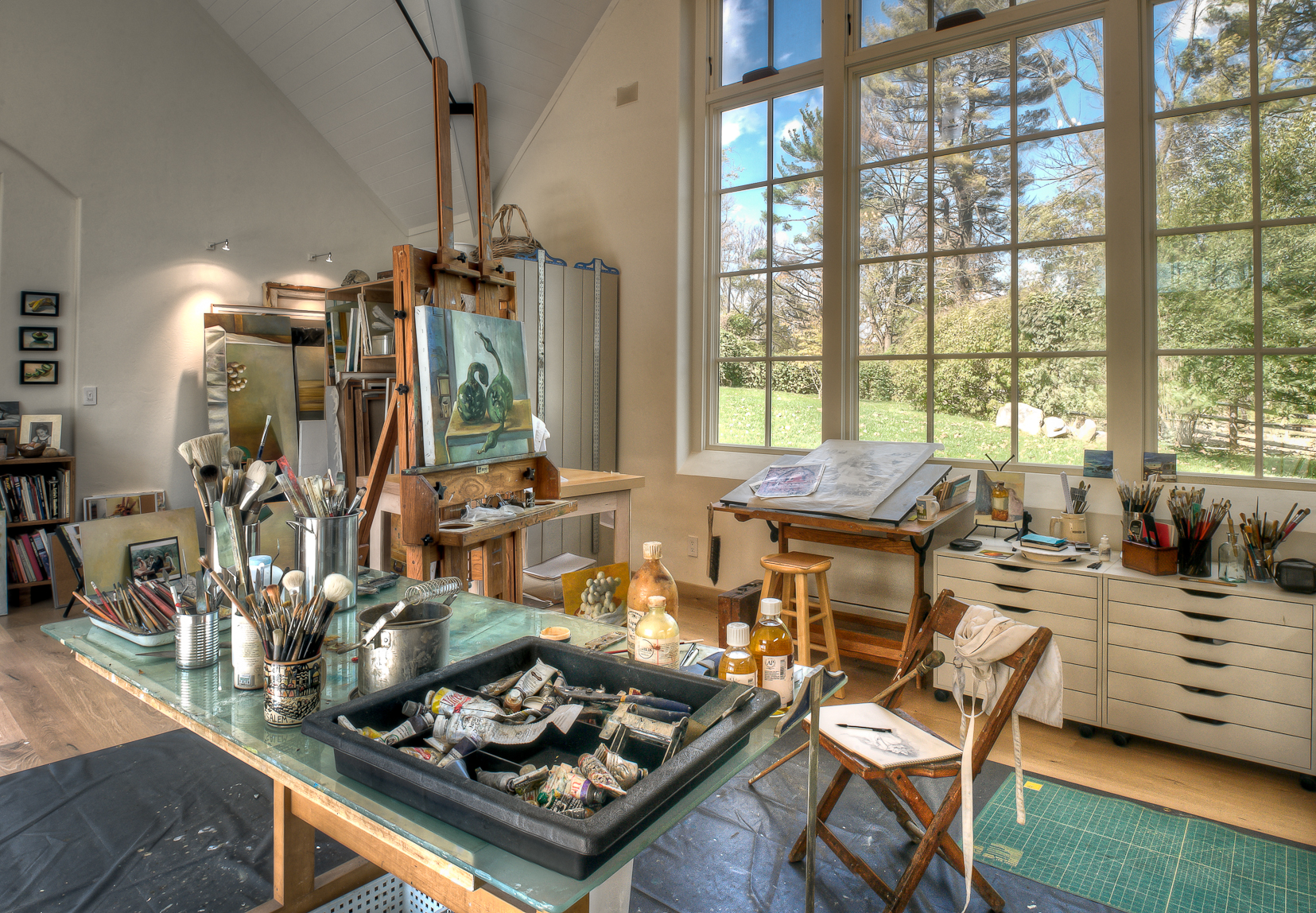 Seeing a studio that's really full of art supplies but still feels so very breathable is really refreshing! It shows that planning your interior with precision pays off in the long run. Place your desk in the center of the room to make it more accessible and remember that windows are your friends!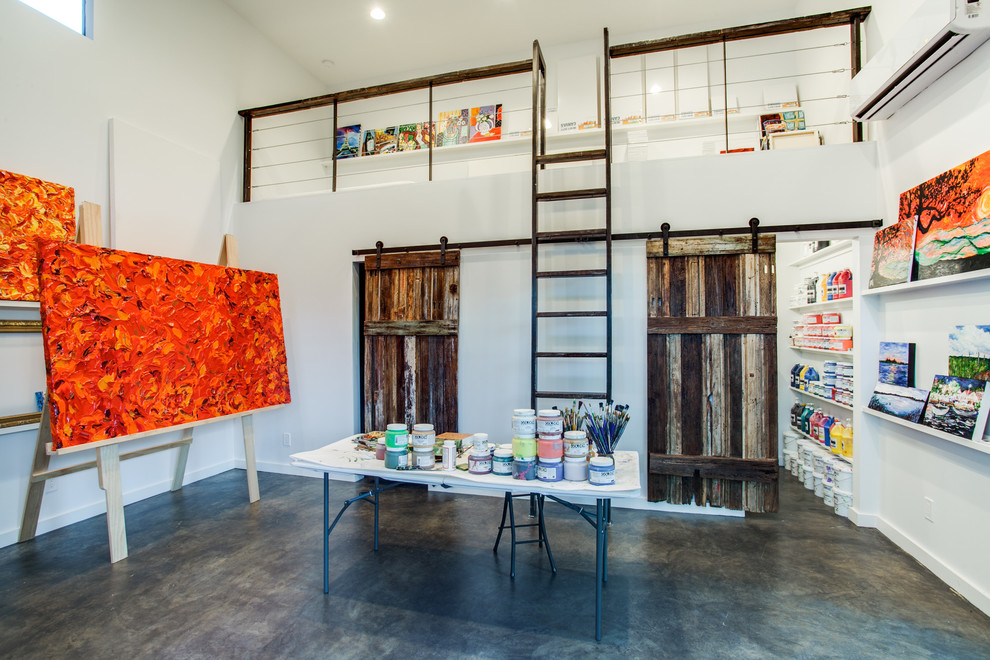 Start by dividing your big art studio with rustic barn doors that will be a very chic addition to the all-white interior, then set up a raised gallery above the doors and hang your colorful art on the white backdrop!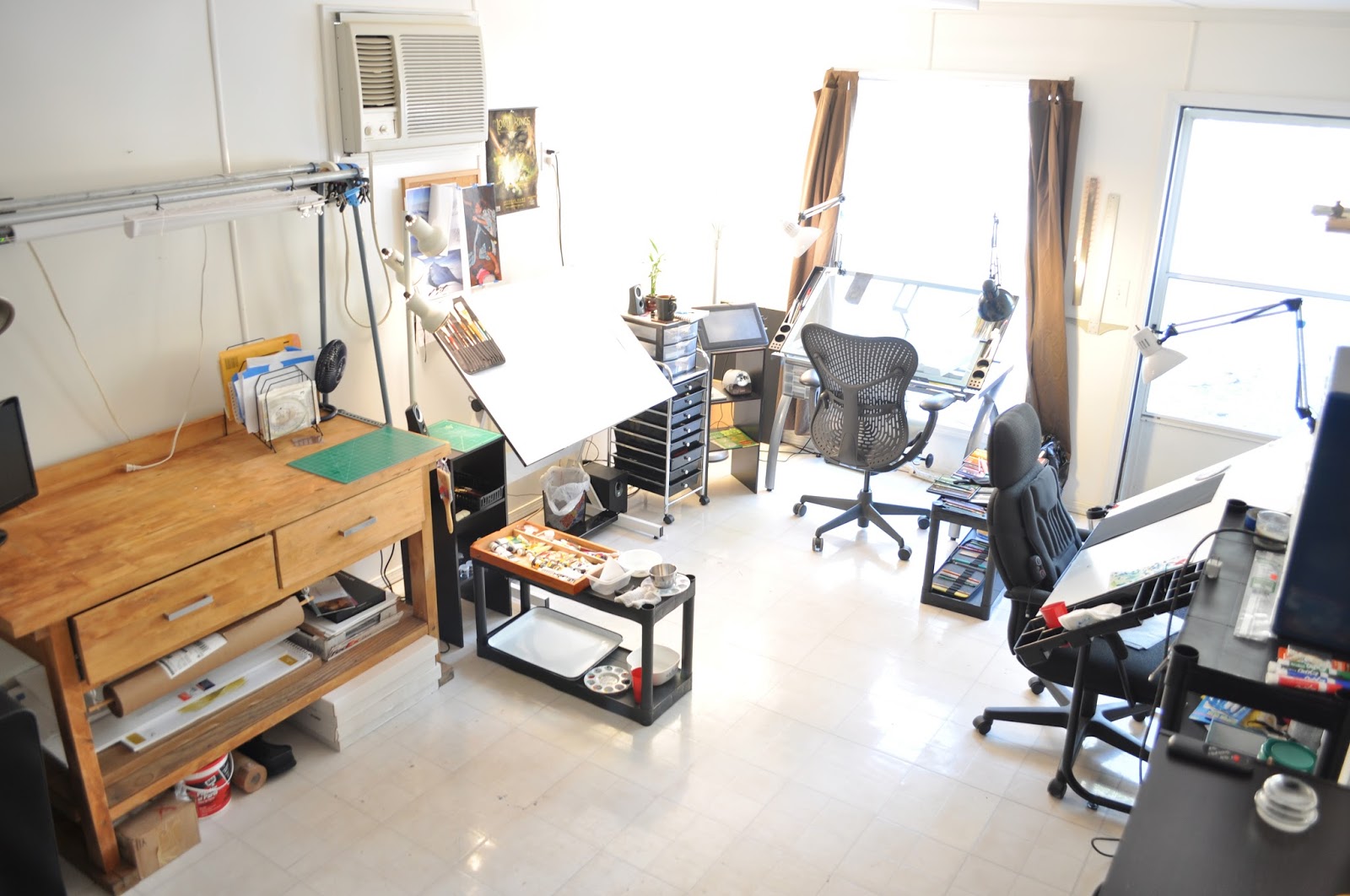 Maybe your line of creative work requires you to have several work stations or share your studio with a team. The desks can go against the walls to create an open space in the center where everyone can move freely and create their best work yet!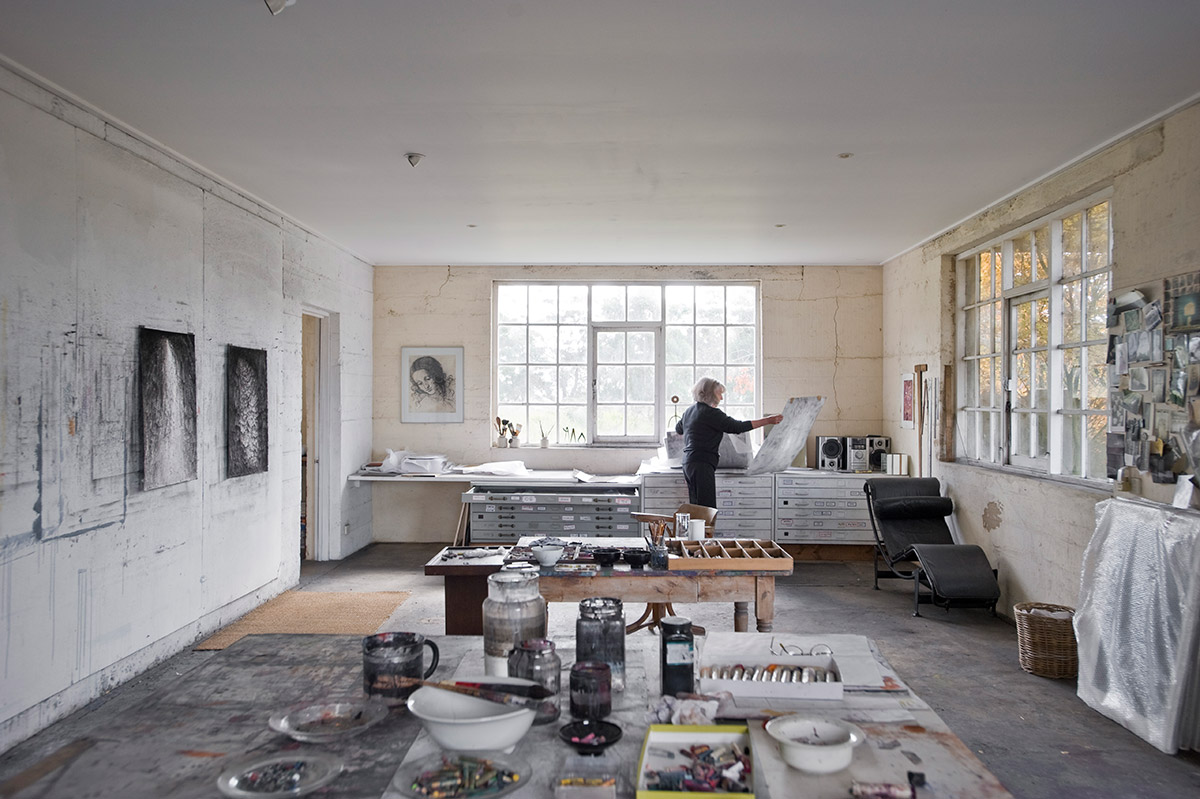 An open and rough art studio that sticks to the basics and shows off bare walls is a space where you can let your ideas run wild and be inspired by the cold atmosphere of the place.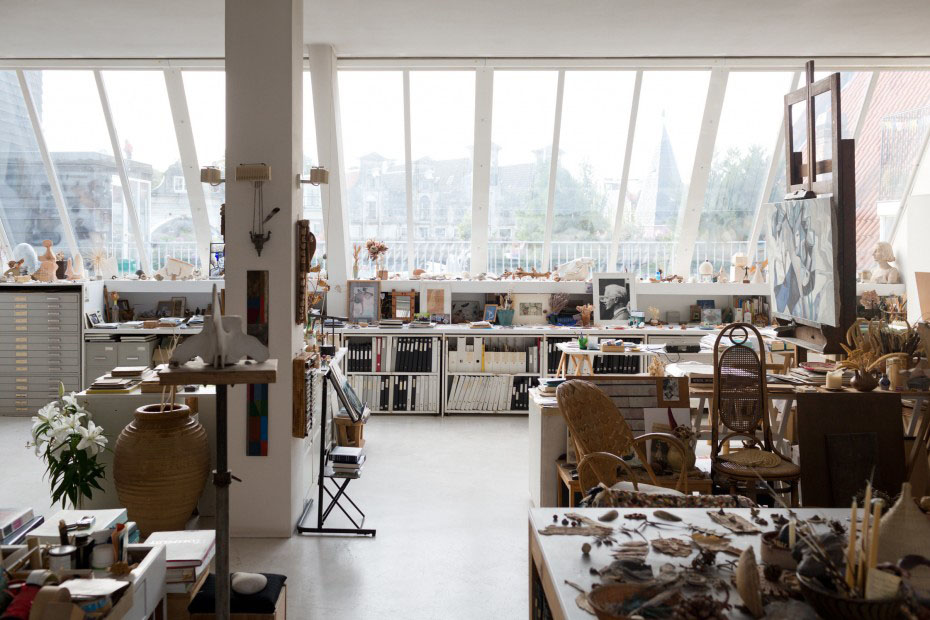 Vast and spacious art studios offer a lot of possibilities for both storage space and workspace. To avoid closing up the room, especially if you have a loft studio where the ceilings are lower, keep the walls white and add in big skylight windows.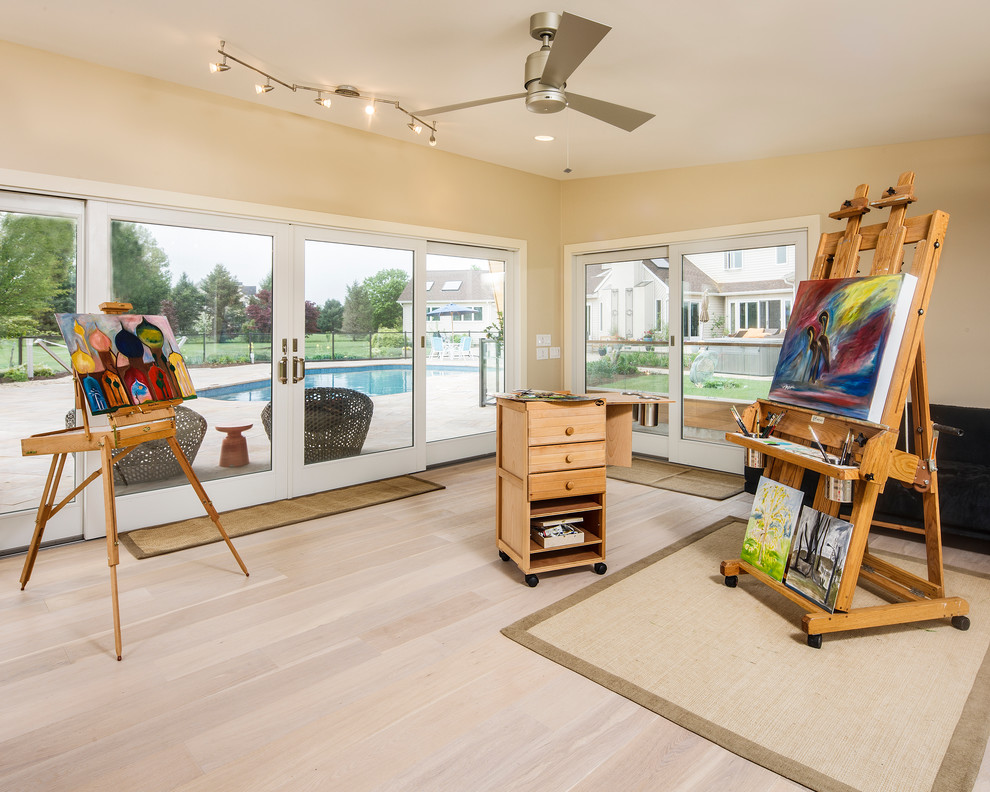 Minimalism is a concept that can be brought into any space, even the creative room. Pare your art supplies down to just essentials and leave the rest of the room clean, open and simplistic.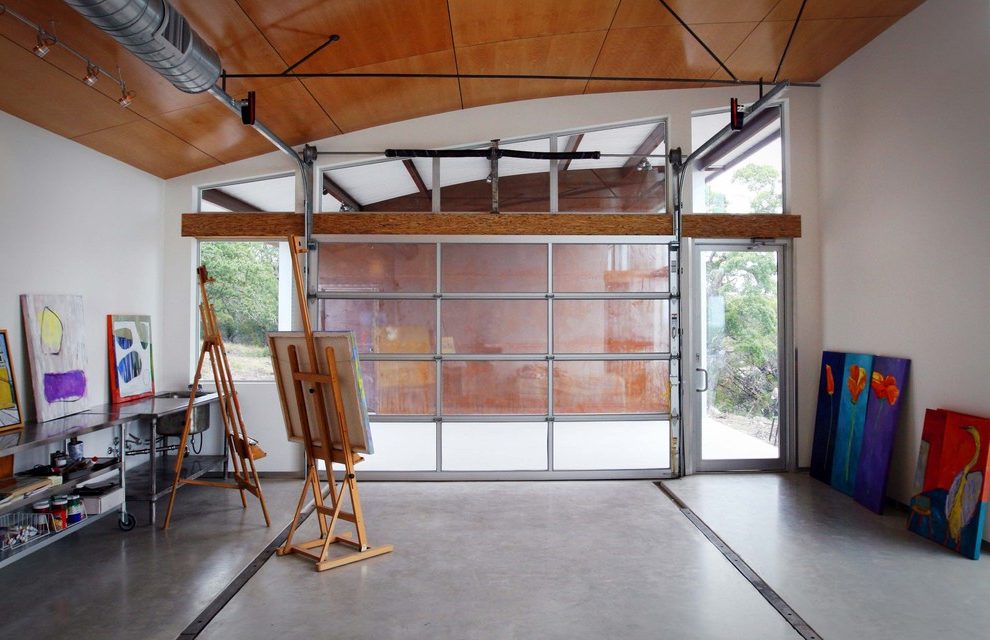 Finding the space within your home to set up a proper art studio can be a challenge, but a good place to start is a garage. What once was a dark and dusty garage can in the next second become a tidy, bright and beautiful home art studio!
Art Studio Design Ideas For Small Spaces
The classic studio often means a big space full of room to move around and store your bigger art pieces in, but a smaller studio can also have its charm! It's incredibly cozy, like any other part of your home that you get to enjoy in. It's a complete opposite of a home office; it doesn't have to be neat to feel inspiring, it can actually get away with quite a bit of messiness!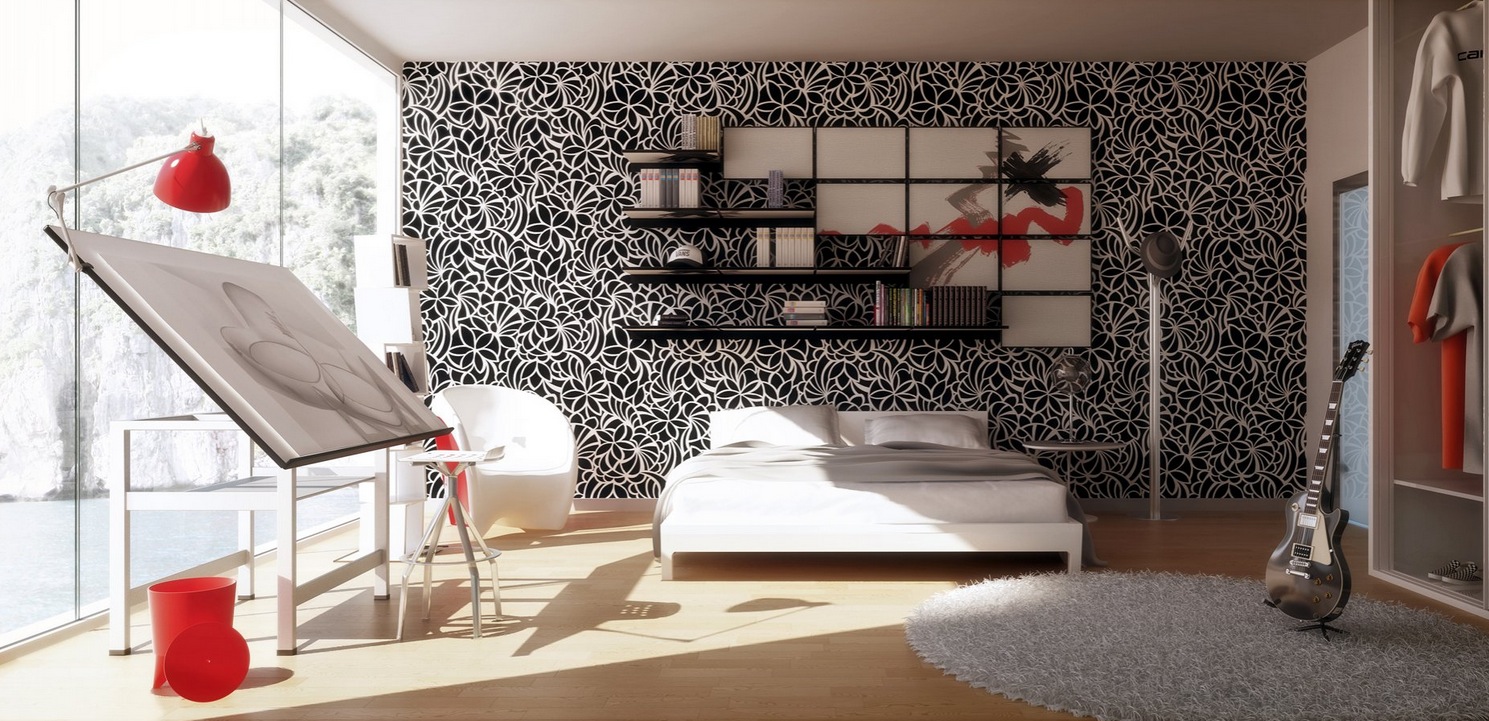 Living in a studio apartment usually means you are short on space, but there is always a way to set up a creative corner. A tilted desk is a fantastic option that won't clutter your small room!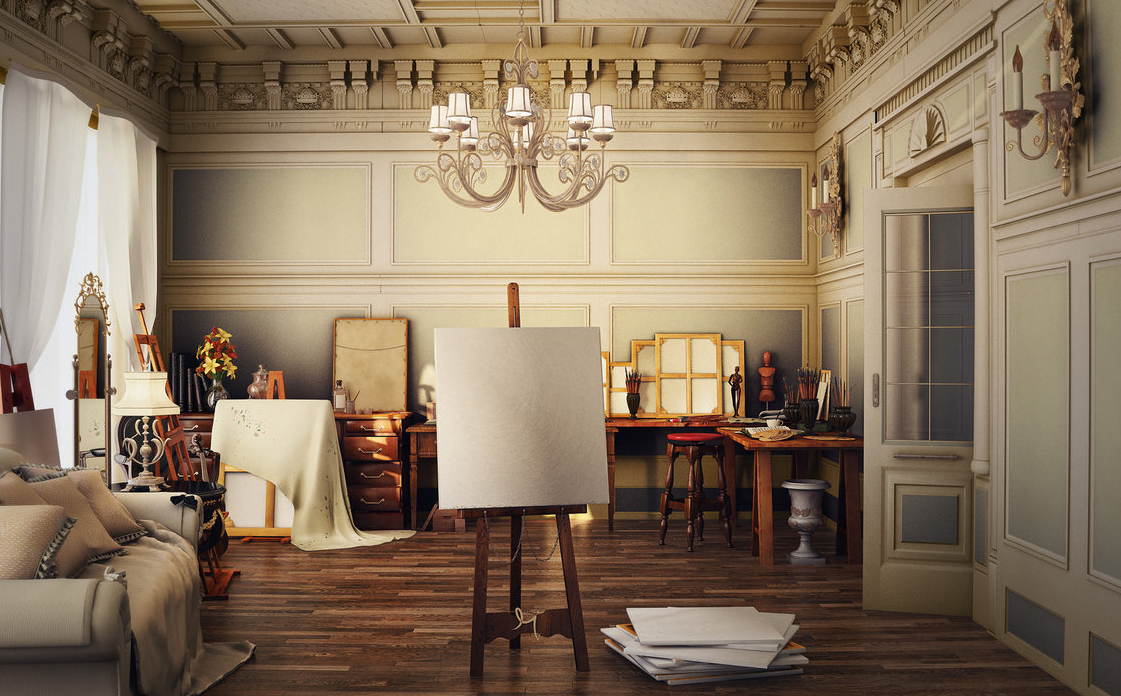 A vintage art studio is the perfect place to create in, because the space alone will feel incredibly inspiring. Light up the space with a classy chandelier and decorate the interior with shabby chic furniture!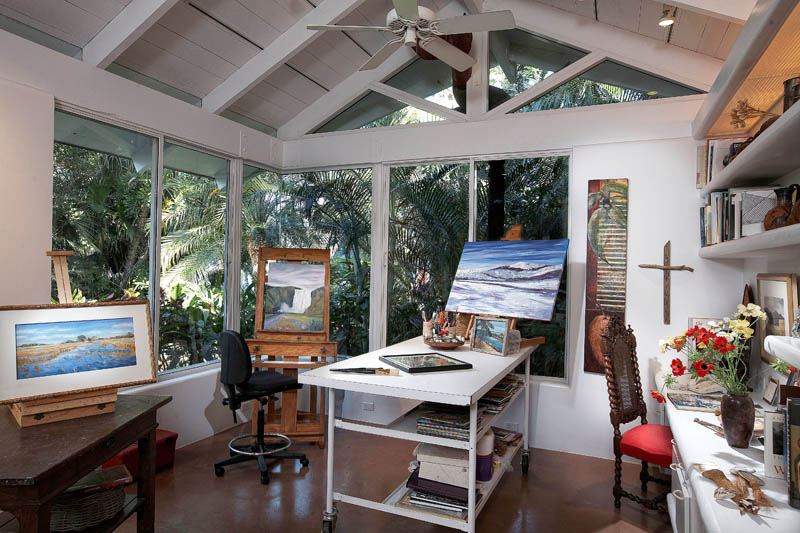 We can't imagine a functional art studio in a small space without windows! They truly transform the room and the more full-size windows you add, the better!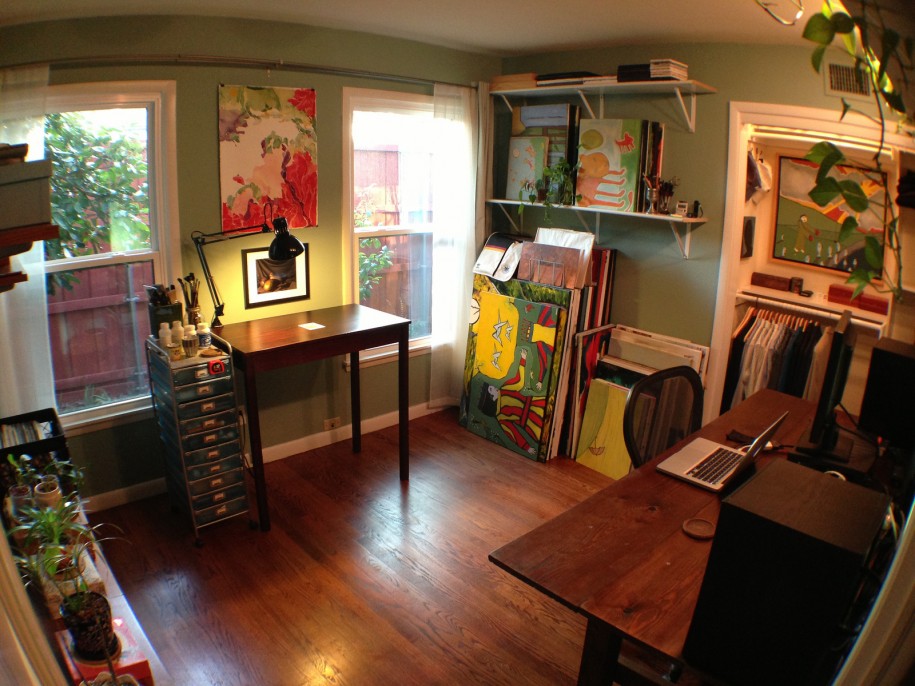 If your creativity blossoms in darker spaces, decorate your studio with olive green walls and dark wooden furniture. Place the desks at the opposite walls to maximize the space in a shared room.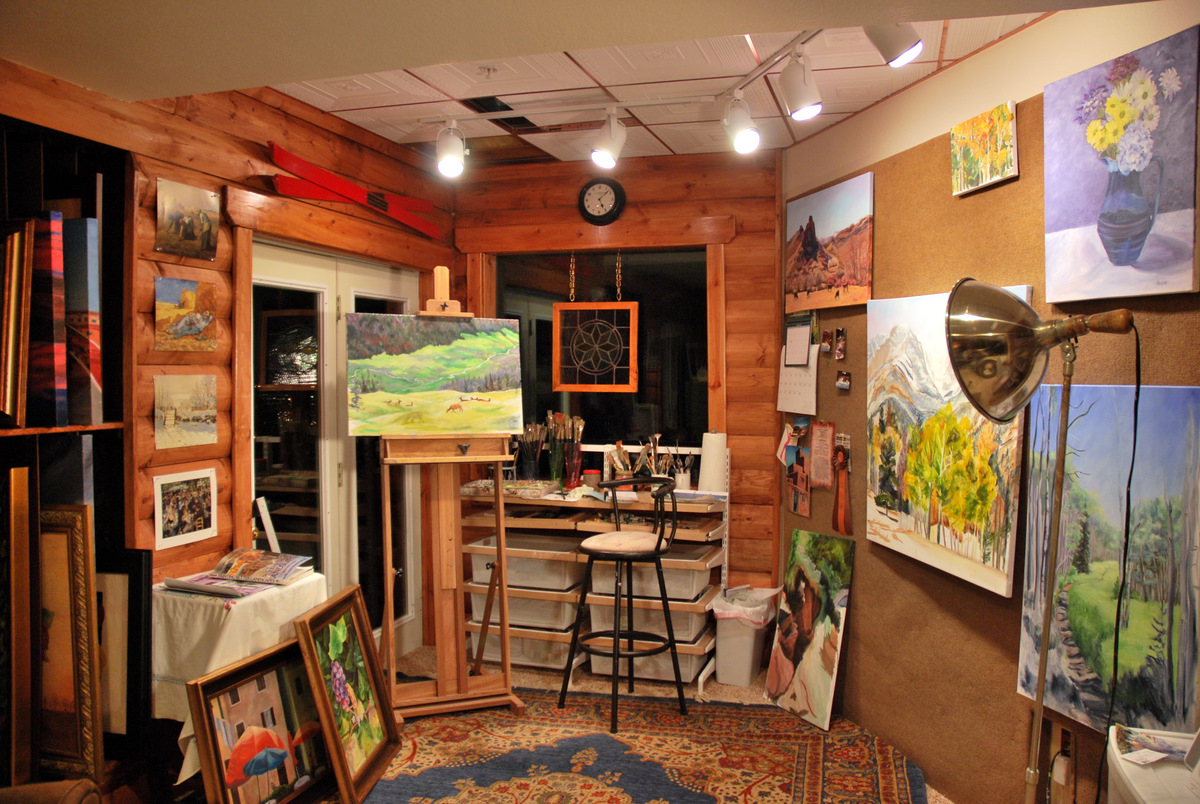 The charm of this creative corner lies in its tiny size. It has a profoundly secure feeling, like your very own artistic cave where coziness is the priority!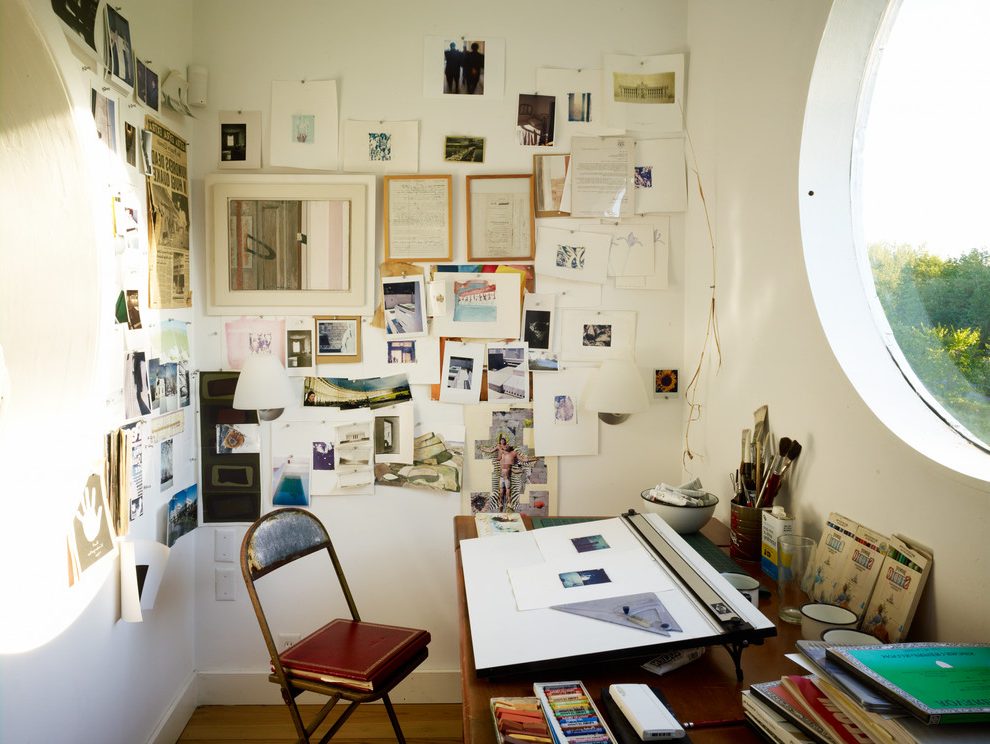 The space doesn't have to be huge in order to serve as an art studio. Even if your creative corner is literally just a small corner, you can make the best of it with a big round window and a wall full of inspiration!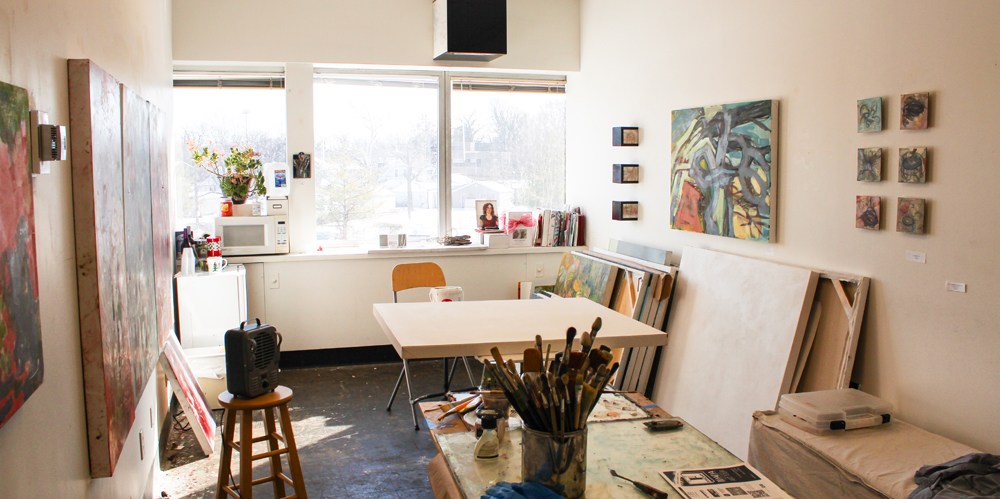 A white art studio is like a blank canvas – just waiting to be decorated with your art! Put up your best work on the walls but still leave a bit of blank space to give the room an illusion of spaciousness.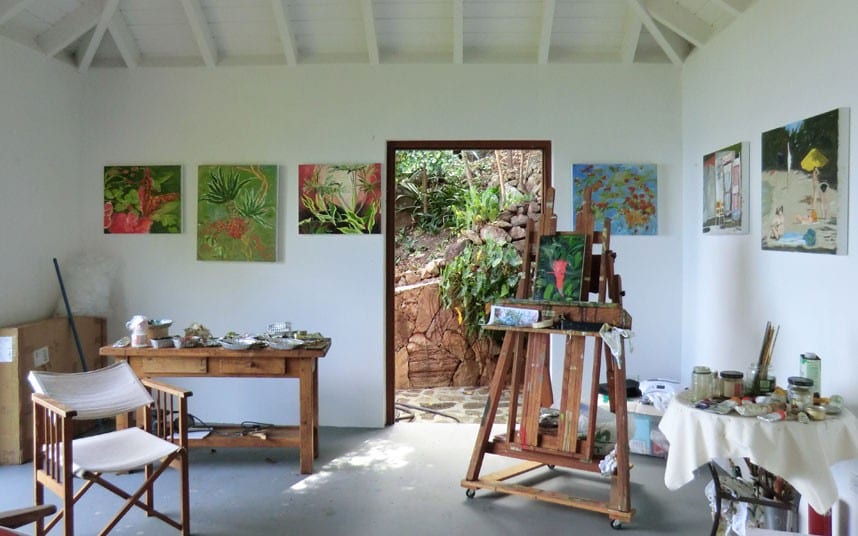 A simplistically decorated wall inside your art studio will be a neat and orderly element serving as a much-needed contrast to the messy interior creative spaces are usually known for!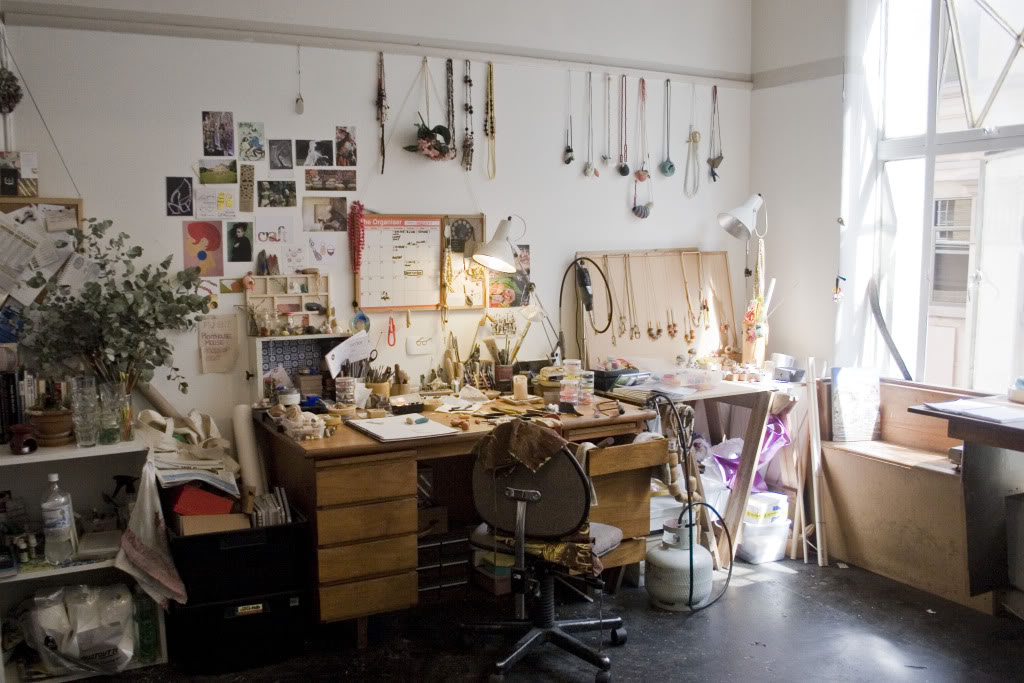 First and foremost, your art studio should be a reflection of you as an artist. If your artistic expression is very bohemian and you don't shy away from finding inspiration in a lot of physical items, this art studio will be a great source of inspiration.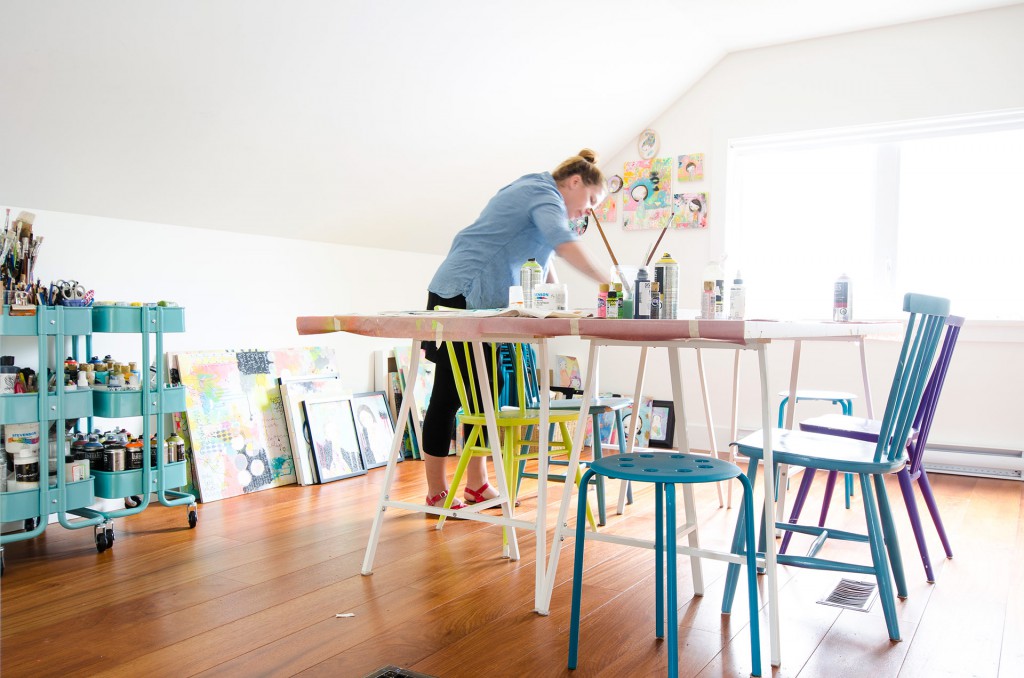 Artists are normally drawn to colors, so why not honor that within your creative space and (instead of painting the walls and affecting the brightness of the room) bring in some adorable chairs that represent a selection of your favorite colors!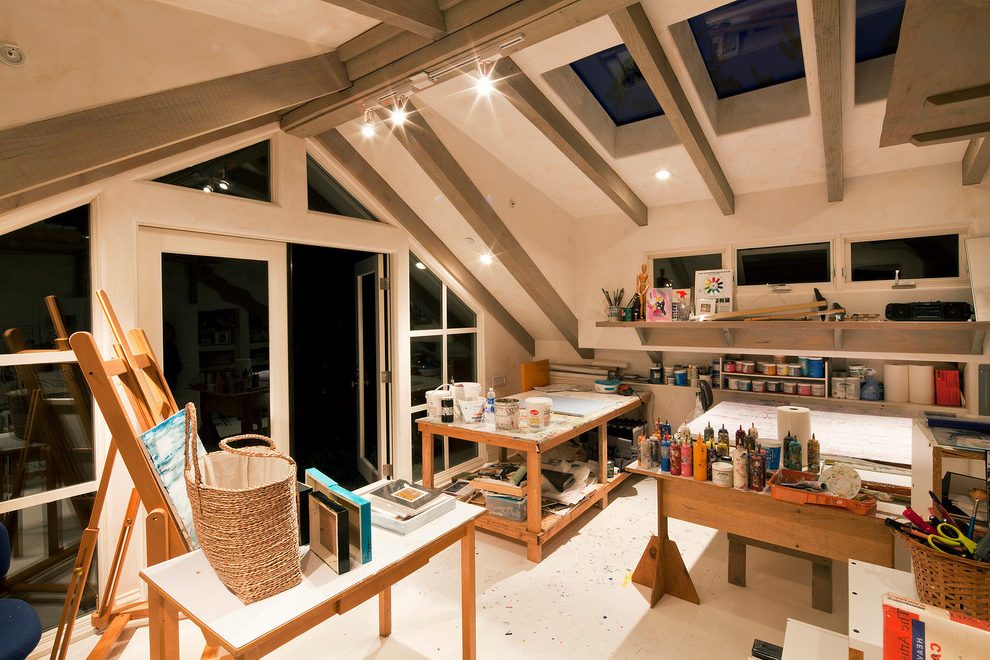 Your personal studio doesn't have to feel like a classic studio. You can set it up like a workshop, with different stations and desks that are very close to each other. Everything is at hand and if you ever have more people included in your creative process, they'll already have a designated space to work at!
Wooden Inspiration
In order to make your home studio even more domestic and comfortable, wooden interior is a great choice. Whether you opt for raw, natural wood or a very processed and polished one, your studio will have that delicious rustic touch that can stand on its own or pair with modern elements!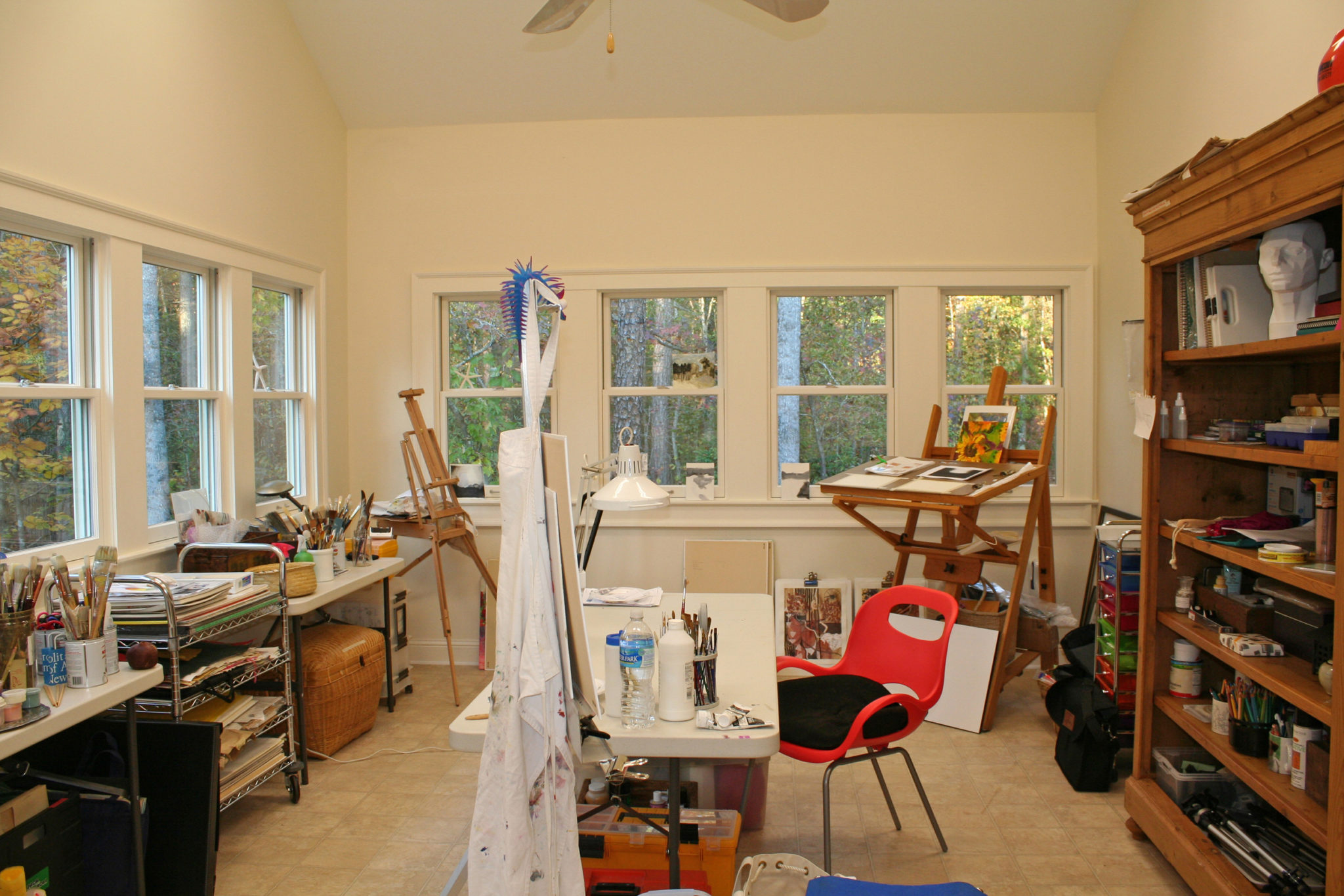 If you are inspired by traditional settings, opt for a simplistic art studio with a big rustic shelf case that channels the ambiance of a vintage atelier.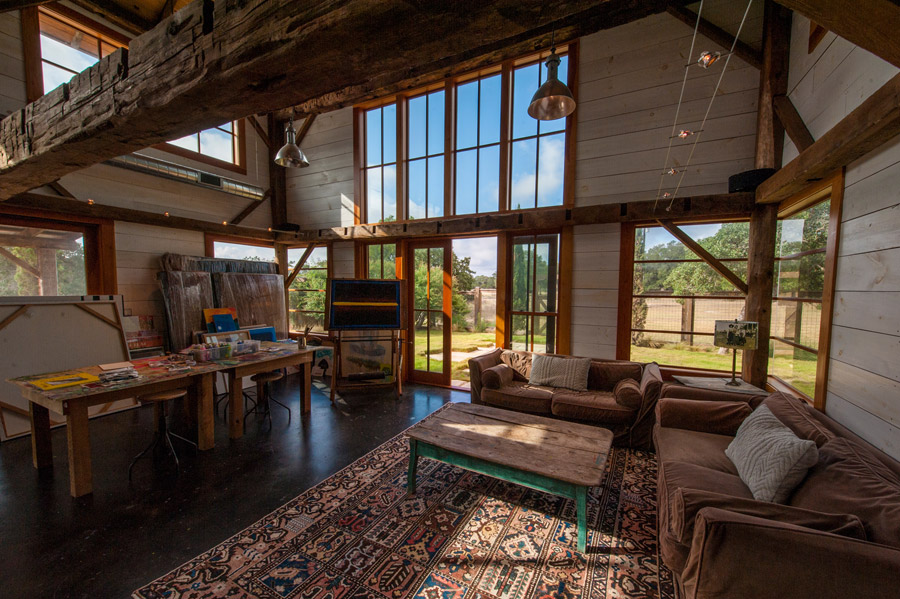 This rustic art studio has a strong farmhouse ambiance. We love the wooden interior and its raw beauty! Set up a lounge area to make the space feel more comfortable and convenient for long nights of creating!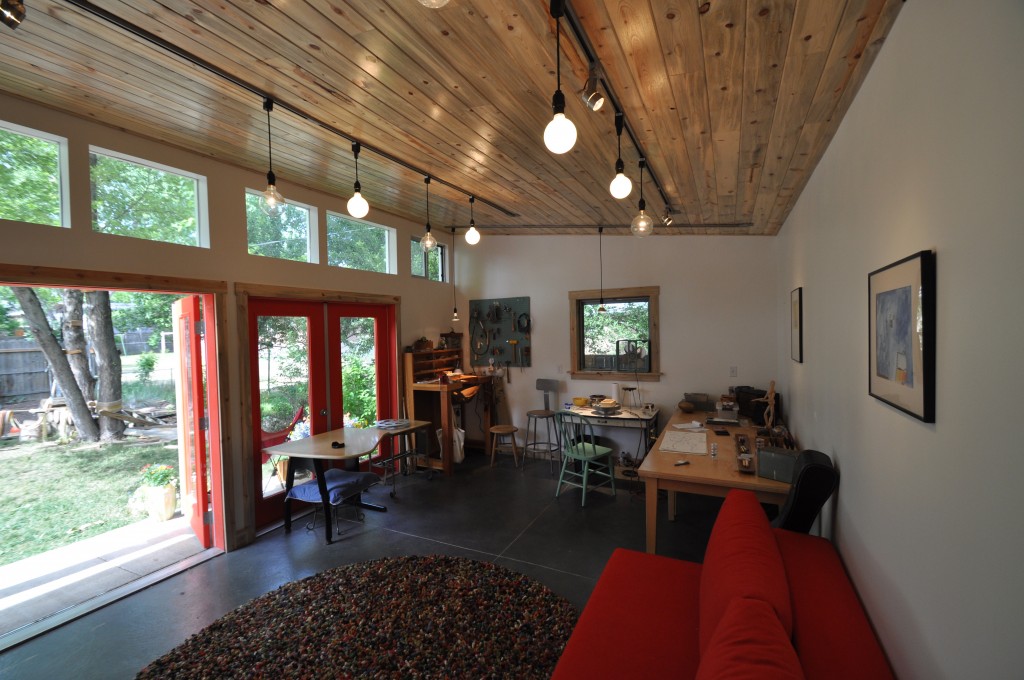 Combined with the romantic ceiling lights, the gentle shade of wood is a wonderful backdrop for the vibrant red doors and sofa! If you want your art studio to feel lively, shades of red will definitely bring it to life!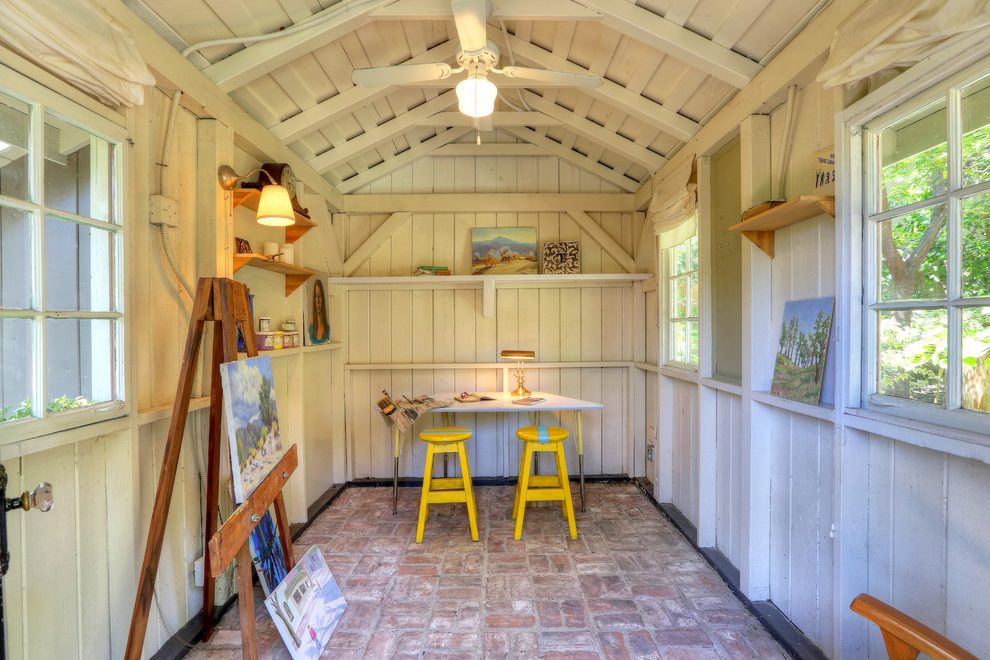 Seek your inspiration within a barn studio that's seductively narrow and minimalistic! Only bring in the essentials you really need and don't forget to add in some color, like the little two yellow stools!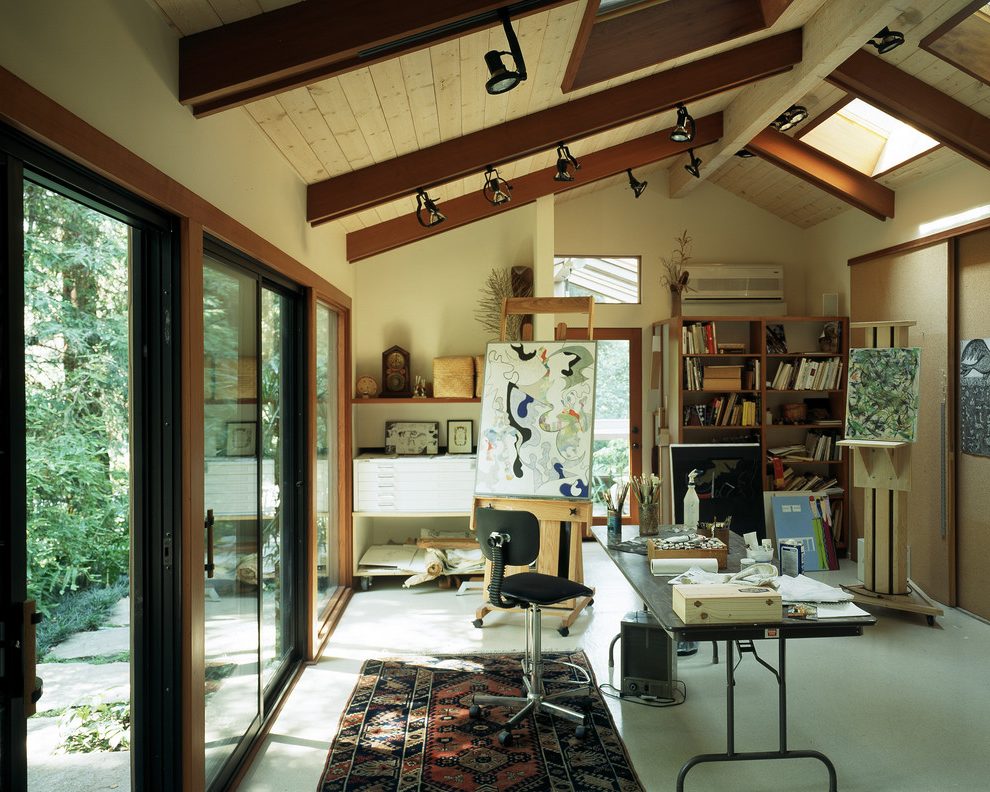 A beautiful art studio with a countryside interior is a peaceful place that feels like home. The big glass sliding doors provide the room with a lot of light and bring the nature's beauty right inside.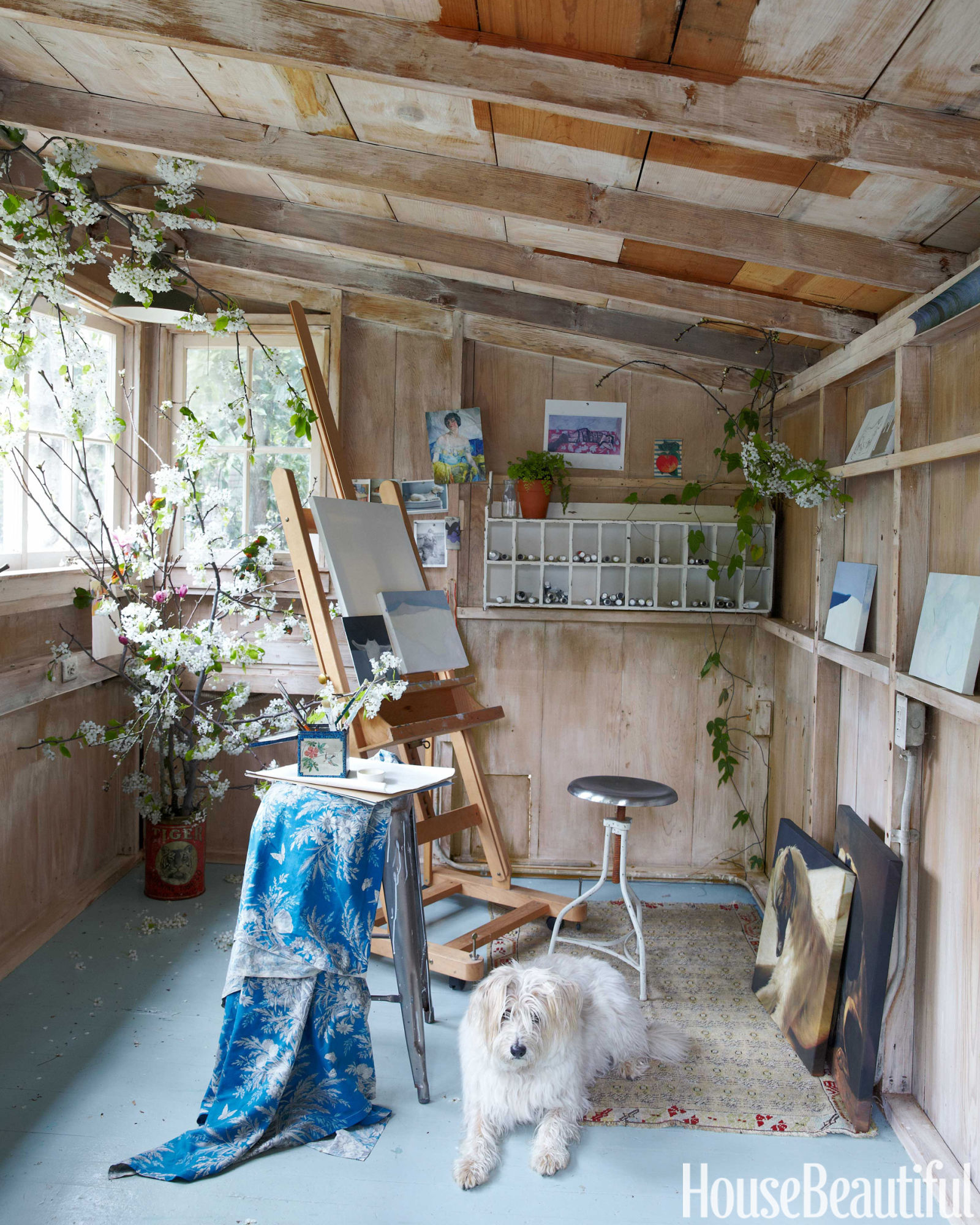 This art studio has a very traditional look, capturing the raw elegance of a wooden garden shed that serves as a sanctuary for the artist. We love the neutral color palette and the subtle inclusion of plants!
Sours: https://www.decoist.com/home-art-studios/
You will also like:
The room was not bad, having studied the apartments a little, I decided to go to the sea. Leaving the room, I involuntarily stopped my eyes on slender legs, what was my surprise when I saw Alena in front of me. Our rooms were adjacent. - Hi Alyonochka, you and I are neighbors.
171
172
173
174
175