A Seasoned Mom's Tips for the Challenge Program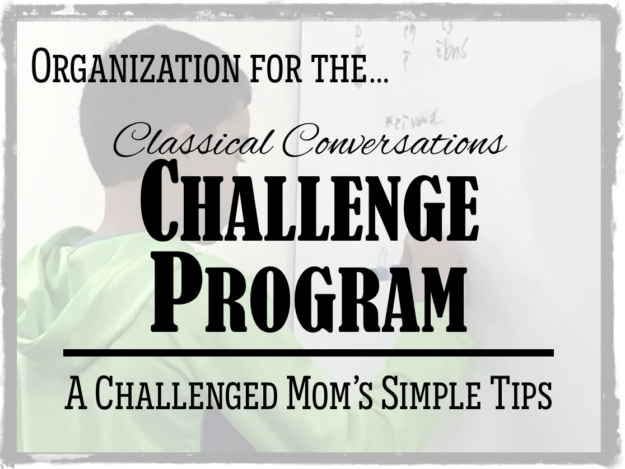 I'm always hesitant to share my thoughts on the Classical Conversations Challenge Program because I want parents' first source to be their child's Challenge tutor. Nevertheless, in case this is helpful to other Challenge parents, here are a few things that have kept us organized and moving forward over the past couple of years. Just remember that your director is trained to help you make the most of the Challenge program, so be sure to see them first when you need advice or assistance with anything Challenge-related! (Challenge directors rock!)
And… if you're completely new to Challenge, you might just save this back and come back to it after you've gotten into the semester a few weeks. (It was honestly easier for me to just walk into Challenge A for the first time without trying to overplan or overthink it.)
The Plan-Your-Week Meeting. After we get back from our community day, I meet with our Challenge student to plan his week. Although we are both usually pretty tired after community day, it has proven worthwhile to meet for 30 minutes (sometimes less!) to discuss and organize the coming week's work before bedtime. When we wait until the next morning, it takes a much longer period of time and throws the day off by at least one hour. For us, it's just worth being diligent about doing this on community day. I also don't throw a complicated planner at my son, but just provide him with a simple single planner page for each week for him to jot down his assignments.
Organize with Post-it Tabs. The Challenge Guide is pretty simple to organize. We use 6 index dividers with pockets to divide each seminar's information (in the appendix). Behind these dividers, we also include anything that a tutor gives the student in class (or anything we print at home). For the weekly lessons, we place a single sturdy post-it-note tab on the current week and move it through the weeks as our year progresses.  In the Challenge Guide, we've only used one post-it tab, but we now use post-it tabs as bookmarks for everything. (And it's also how I've organized our Foundations Guide. Post-it Tabs are my favorite.)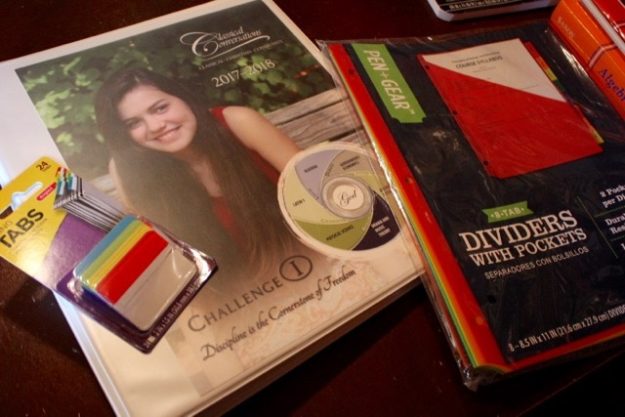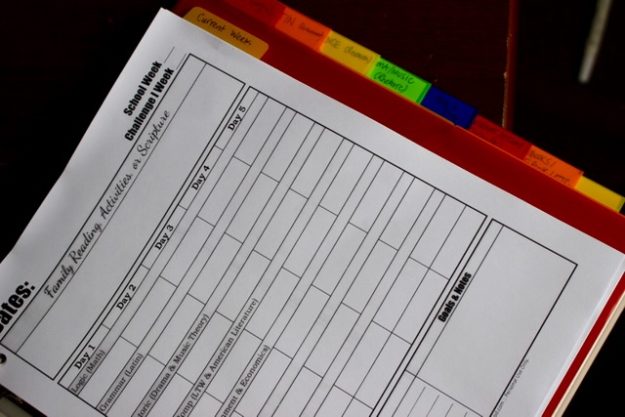 The planner pageshown above may be downloaded as the second option here. I print out 15 of these per semester; he fills one out each week after we get home on seminar day to plan for the coming week.
We also organize our Latin book with Post-It tabs. In the picture below, Stephen has tabbed the lesson numbers on the right and the unit numbers at the top. Inside our Henle book, we've highlighted in blue all the new vocabulary as it is introduced. I did this for myself last year, and Stephen thanked me this year as he was returning to the beginning of the book to start all over again in Challenge I.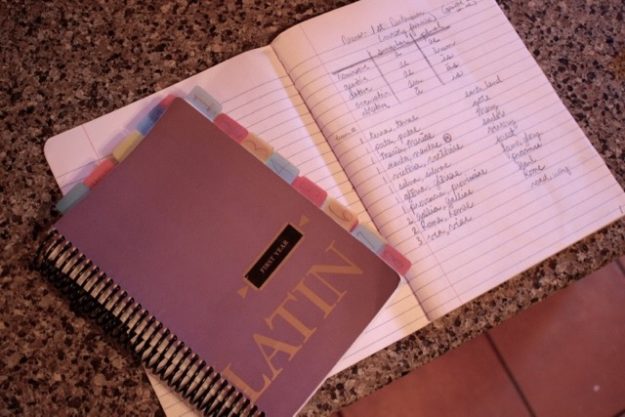 Composition Books. We use a composition book for almost every strand. For us, it's easier than keeping up with individual notebook pages in a great-big-ole-gargantuan binder, and composition books can handle the wear and tear of a teenage boy better than a spiral notebook can. You can use the bullet-journal method for organizing what's inside by numbering the pages and using the first two pages as an Index to list the page numbers for anything you may want to later look up. (The bullet-journal-indexing method is shown in the photo below. You'll have to number the pages in your composition book, but I think it's worth it to be able to find stuff later!)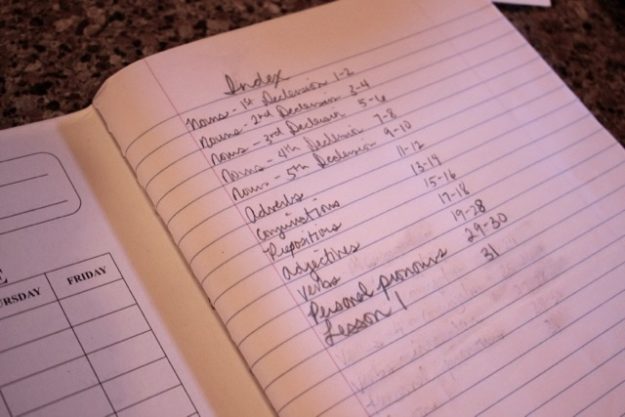 Latin. That leads us into Latin. Okay, fellow parents. It's time for another episode of "Confessions of a Homeschool Mama." Errr….. I didn't really keep up with Latin studies. Yep, I'm starting to feel it now that we're entering Challenge 1. (I regret not keeping up with vocabulary and grammar in Challenge A and B, mainly because the entire Henle 1 Latin book is really quite intimidating for me at this point.) Because managing an enormous number of flashcards gives me heart palpitations, I'm instead keeping a log of all vocabulary to memorize as our oldest son races through Henle 1 this year.  He asked if – instead of making a new set of cards this year as I had him do in Challenge B – he can also keep a log of the vocabulary as I'm doing. Funny thing is, it's already a much easier way for me (and him) to study vocabulary. Here's what it looks like: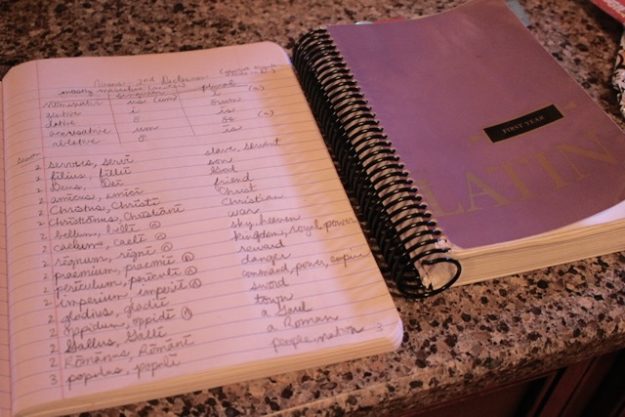 On the first 30 pages or so of my Latin notebook, I've organized pages with headings for the different parts of speech, and then I've listed those on the first page in my "index."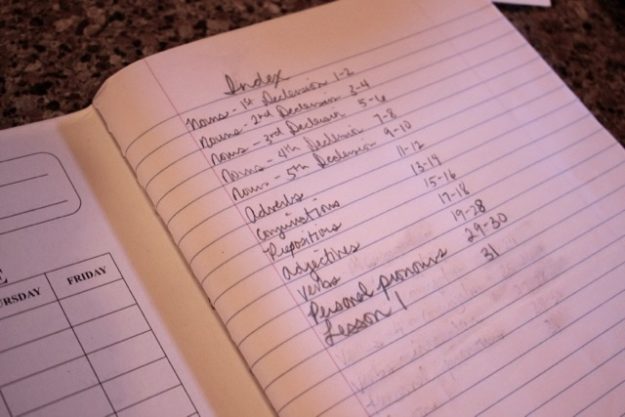 The Latin Parts of Speech pages are currently…
Nouns – 1st Declension
Nouns – 2nd Declension
Nouns – 3rd Declension
Nouns – 4th Declension
Nouns – 5th Declension
Adverbs
Conjunctions
Prepositions
Adjectives
Verbs (Later I may make new lists organized by conjugation, but for now I just want to list the verbs as I work through the text. For now, I've left a lot of pages open for verbs.)
Pronouns (Labeled as Personal Pronouns, but I've changed this so I can log all pronouns as I come across them in the Henle book)
(I've set aside at least two pages for each part of speech or declension.) Now that I've logged all the vocabulary from Lessons 1-6, I can drill the vocabulary by covering up one side and quizzing myself on the English or Latin counterpart. (I've also included whether a noun is feminine or masculine if it goes against the normal gender for that declension.)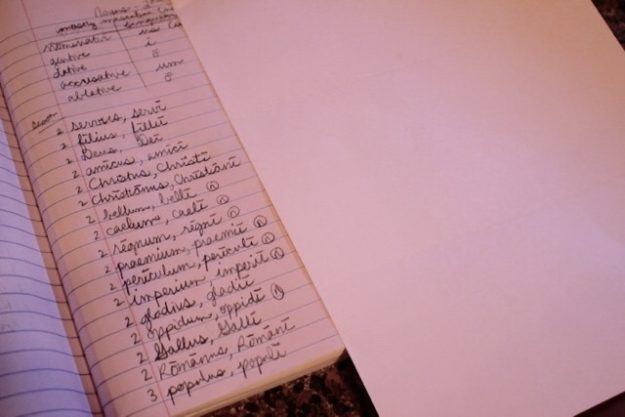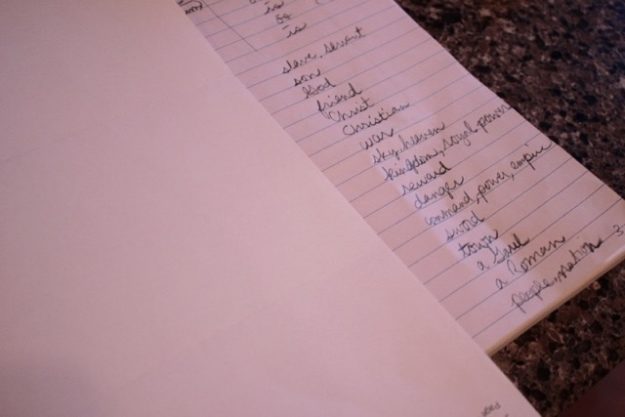 I still find value in flashcards, but this will help me significantly as I play catch up this year. Quizlet is also a great study tool!
Scale assignments. Although we've never dropped a seminar, we've held back the pace or adjusted assignments at times according to our family's needs and circumstances. For example, in Challenge A, our Challenge student did not keep up with the geography term flashcards but instead used other resources such as the Exploring Water & Land Forms Pin-It Map. (The regular Pin-It Maps are also great for countries & capitals practice, although Stephen primarily used our Capitals & Countries Flashcards to memorize capitals. Other options include Quizlet geography terms and Quizlet geography countries/capitals.) In Challenge B, he read all of the short stories and completed the respective assignments, but the construction of his short story was delayed by a few weeks. In just one afternoon, however, he was able to apply all that he had learned up to that point to come up with the structure, characters, plot, etc. for his story. Sometimes doing a job well means you have to do fewer things . That doesn't mean we drop a strand altogether just because we find the work hard. (After all, man has had an aversion to work since the fall in the garden; it's part of our nature that we must and can overcome – think Philippians 4:13.) Although students need to be prepared for all seminars, they can be prepared for seminar at their level. That means sometimes we complete fewer tasks within a seminar. It's part of honoring the student and meeting the student where s/he is. That might mean a different pace for Latin, a different text for math, a different number of LTW essays. Adjust it in a way that makes sense for your family instead of giving up on everything.
Science Fair (for Challenge B'ers). At the beginning of the school year, brainstorm everything your child is interested in, and write it all down in a notebook to explore ideas together throughout the semester. If I could turn back time, I would have had our son do this at the beginning of the year to find a science research project that truly interested him rather than just selecting something – anything – just because it was simple and measurable. Stephen immensely disliked science fair because, although the topic was simple, he was not at all interested in it. I have come across some students who have absolutely loved science fair. In the end, I think it's a matter of interest in the topic. So… try to exhaust all experiment ideas that align with their genuine interests before just giving up and looking on the Science Buddies website. Remind your child s/he doesn't have to do anything new or different or Einstein-ish – they're learning the scientific method and how to present their findings. Encourage them to choose a simple project (but still one they truly want to do).
Engage in discussion. Don't forget to seize the opportunity to engage in discussions with your teenager. This is such a beautiful part of the Challenge program! Remember the Challenge tutor only has your child for 30 days per year. Your child is with you the other 150 days of the school year. By being plugged in, you not only model mentorship, but you also show them their education is important to you.  Does that mean you have to keep up with every book they've read? No, it doesn't (although I admit it would be great if I could!). But we can brainstorm with them as they work on the ANI charts and offer food for thought when it comes to Current Events or other topics. When I don't have the time to read all the books on the Challenge booklist, I use the Plot Diagram (from Teaching the Classics) for my student to give me a Cliffs-Notes synopsis of the book. It helps him to organize his thoughts as he narrates the entire book back to me. It's a great warm-up to invention week!
Well, I'm afraid I've exhausted my thoughts at this point! Do you have questions about the Challenge program? Do you have other thoughts or advice you would offer to parents who are coming into Challenge for the first time? We'd love to read your thoughts in the comments!

By Brandy Ferrell15 CommentsTagged With: CHALLENGE PROGRAM, CLASSICAL CONVERSATIONS
Sours: https://www.halfahundredacrewood.com/cc-challenge-program-tips/
Blog
Seventh grade in our homeschool is bringing about major CHANGES.
We are joining a Classical Conversations community and my seventh grader will be a part of the Challenge A program. Anna will meet with a small group of her peers and a tutor one day each week for 8 hours. She will take part in dialectic discussions and receive all of her assignments during this time.
I'm very excited about this change - but it also brings about some unknowns for all of us.
I have heard this is a DIFFICULT year - academically and socially. We will be starting Latin, lots of writing, and tons of self management. Our family is prepared to put many things on the back burner to make this year successful.
There are some pertinent reasons we chose Classical Conversations at this point in our journey. I'll outline those for you, and then proceed to share the curriculum we will be using.
Keep in mind: Most (if not ALL) of this curriculum can be used at home separate from a CC experience. (I think, however, it is optimal to be a part of a group setting at this age.) The curriculum is beautiful and exciting!
Why Classical Conversations?
We believe in the Classical Christian method of home education. We have used bits and pieces over the years, and after reading The CORE by Leigh Bortins and observing a CC Community we are confident this will be a good fit for our family.
The mission of CC is to Know God and Make Him Known. This is exactly what we want for our children!
It satisfies a need for community and camaraderie - which is especially important as my oldest is approaching the Dialectic Stage of her learning.
Accountability! As the material gets more challenging and my daughter is older, we needed an outside person to hold us accountable. Anna's CC Challenge A group will also have a lot of peer accountability.
College Preparatory - I want to know that my children will be receiving what is necessary for college entrance, should they choose that path.
Less is more. I need to do less planning and worry about our homeschool. I have a hard time narrowing down what I would like the kids to do, and we need focus.
Math
After a a full year using Saxon I am sold.
We have tried other math programs, and Saxon provides the best mastery of facts, a spiral math approach we like just overall success.
Now - ask me if my kids LIKE IT. They will probably tell you they don't.
But (and I am so proud of my Anna for saying this) they will tell you that their math skills are more solid and they can see the benefit of Saxon.
This year Anna will be working through Saxon 8/7.
What happens if the math gets too hard for mom and I have trouble explaining/understanding? We then have 2 options:
*It is a myth that homeschooling upper grades math is difficult. You just have to know the resources that are available and be willing to invest the time in doing some learning YOURSELF.
Literature
I'll detail the specifics for you here - but you can also look at the Classical Conversations Challenge A resource list, as well.
Something that drew us to CC was also the lovely literature that will be read in Challenge A. The books Anna will read, write reports, and present about this year are:
The companion literature guide for these books is Words Aptly Spoken, which will help me start discussions about the books with Anna. I would love to read these books along with her - thereby sharpening my literary skills this coming year, too.
Writing
Anna is a graduate of the Writing With Ease. We LOVED this writing program, and I think it has prepared her nicely for the next (and more difficult) phase of her writing.
She will be using The Lost Tools of Writing, from the Circe Institute.
Looking at the materials is very exciting to me - I know this program is going to push her to become a better writer.
Latin
This scares me. I will be honest.
We haven't studied Latin in much depth, and this year Anna will jump in feet first, using Henle Latin.
Geography
By the end of the year the Challenge A students are expected to draw the world freehand and labels as many countries as possible.
From what I understand, they practice a small section of the world each week and by the end of the year it really isn't a big deal to do this.
So - no geography curriculum (per se), and geography is woven into almost everything they are studying.
I like that.
Science
Again - we are new to this, but from what I understand Anna will be learning body systems this year - along with other biology concepts.
They perform experiments at her Challenge A class and discuss. We are using the Biology 100+ Series and Lyrical Life Science to guide us.
Rhetoric
This part of the curriculum excites me!
Two books will be used to help Anna learn to defend her faith and understand what she believes and WHY.
History
History is not a formal subject per se in Challenge A. It is woven throughout the other subjects, and the program assumes the student has a firm foundation in history from Foundations and Essentials.
I was wondering how this would work since Anna is new to Classical Conversations. Essentially, we have been utilizing a very strong history program (Story of the World) since we began homeschooling, so she should have a grasp of the major events in history.
She will also benefit from having a younger sibling in the Foundations program and will be listening in on his memory work each week (which includes timeline sentences).
With both children I'll be usingHomeschool in the Woods to supplement their history - I'm very excited about this.
We will also be cycling back to Medieval History again and will listen to the audio CDs from Story of the World.
Fine Arts
It's become quite obvious that Anna is a musical young lady.
She is in her fifth year of piano lessons and has not intentions of stopping. I love that her teacher incorporates a lot of music theory and also teaches her the history of the music she is studying.
Anna will also continue to sing in the Spivey Hall Children's Chorus this year.
And, you know we wil always be doing SQUILT for music appreciation!
Since my third grader will be using the Harmony Fine Arts plans, I am sure Anna will be listening in and doing picture study and other things as she is able.
Also, this past year she loved doing lessons from A Simple Start in Chalk Pastels, so there will be much more of that this year.
Tending to Her Heart
This is such a great time in a child's life. They are capable of SO much, but are still young in so many ways, too.
I look for ways to let her be independent and have lots of opportunities for success and "safe" failures.
She and I will be using the One Year Mother Daughter Devo by Dana Gresh. I think staying in God's word is crucial during all of our children's years, but especially the middle grades years.
Anna is just starting to babysit and will hopefully be doing more of that this year and will be taking a babysitting course this summer.
She is also a part of our church middle grades youth program, which in seventh grade marks the beginning of a two year Confirmation program.
In short, I'm just anticipating a year full of adjustment, academic rigor, joy, and growth. We won't have an opportunity to drop the ball with anything school related, because of the accountability we are gaining through Classical Conversations.
I invite you to follow along as we navigate seventh grade this year!
Do you have a middle grades student? Do you have any advice for me??
Sours: http://www.homegrownlearners.com/home/2013/7/8/curriculum-plans-for-seventh-grade.html
When we started CC Challenge A I didn't have a clear picture of what our days at home would look like. I felt like I had no guidance on how to organize and prepare for the year. So here's an explanation of how Challenge A works- in class and at home. I hope this helps other families venturing into the Challenge level or those considering whether the program will work for their children. This is a long post so grab a cup of coffee or tea and settle in…
**This post contains affiliate links, which means my family receives a small commission, at no extra cost to you, if you make a purchase using this link. Thank you**
CC Challenge A- The Basics
Challenge A is a Classical Conversations program that families can join. It is a drop off program for students ages 12 and over that meets one day per week (ours meets from 08:30 am to 3 pm) for 30 weeks. Students are guided through the day by the program director (this is typically a fellow CC parent-tutor). Our daughter is in Challenge A for 7th grade.
The community day is meant to give students the opportunity to discuss the subjects they are studying. The program lays out the schedule and plan for the curriculum but the parent remains responsible for determining what the student will do each week and grading their work (if you choose to grade as part of your homeschool). At home, students follow the guide to complete the assignments and prepare for class.
The CC Challenge A Guide
Once you are enrolled in a Challenge program you will receive the guide from your director. The program is divided into two- 15 week semesters. So in the guide you will have semester one weeks 1-15 and semester two weeks 1-15. Very confusing at first glance! The guide is laid out by week so if your student needs a daily schedule you will need to create one. I found that at the beginning my daughter needed a daily schedule (shown in the photo above) but as the year went on she was just fine with opening up the guide and working through the week.
In CC Foundations (the elementary age program) community day is used to present the materials and then families work on that info at home. For CC Challenge it is the opposite, students complete the work at home in preparation for the upcoming class.
To get information about joining a CC group you will need to contact a director in your area- you can do that by going here.

The Subjects Covered

Challenge A consists of 6 strands- Logic, Grammar, Research, Rhetoric, Debate, & Exposition/Composition. These are just fancy names for- Math, Latin, Science, Apologetics/Reasoning, Geography, & Literature/Writing. Let's dig into each strand.
Logic (aka Math)
CC recommends Saxon 8/7 for Challenge A but any math may be used at home. Math is such a personal decision for every family so Challenge students are free to use whatever program works best for them. Every community is different, but in ours only 2 of the Challenge A students use Saxon.
In CLASS: Our tutor uses the Saxon 8/7 text to go over a new concept/lesson during class. So for my daughter's group, the logic strand consists of a speed drill or math game, mental math problems, lesson introduction, and questions/discussion. I know that some Challenge classes use the logic period to simply review any problems students are having within their own math lessons and to play math games that solidify math facts and/or engage the students in conversations about math.
At HOME: Complete the math assignments from the math curriculum of your choice and choose 2 problems to bring to class for discussion. The guide states which Saxon lessons to complete but, as I mentioned before, you don't have to follow the math recommendations or schedule. We are using Saxon 8/7 but we do not follow the guide for lesson assignments. We just plug along at our own pace.
Grammar (aka Latin)

Henle First Year Latin is the text used for the Grammar strand. Each week students are assigned pages to read from the Henle First Year Latin text book and/or the grammar book, exercises to complete, and vocabulary to memorize.
In CLASS: The tutor will introduce new concepts, complete some practice exercises and lead students in reviewing vocabulary or endings.
At HOME: Students follow the guide to complete the assigned reading from the Latin book and the Latin Grammar book. They study the new vocabulary and grammar rules while also reviewing past vocabulary & grammar. They work through the assigned Latin exercises. We have found it helpful to work through Latin exercises together using a dry erase board. Students will go through this same material in Challenge B, so we really focus on learning the endings, vocabulary, and grammar rules. Exercises are done as time allows. My daughter loves Latin! For a free noun declension worksheet that I created check out Top 12 Tips to Thrive with CC Challenge A.
Research (aka Science)
The science strand is divided into approximately 9 weeks of topic research/presentations, 10 weeks of science fair, and 11 weeks of anatomy.
In CLASS: Class time depends on the week. During the first 9 weeks of the science strand, students give a presentation on their research topic. The science fair weeks are spent discussing their projects and introducing each new step in the process. The anatomy weeks are spent drawing and labeling various body systems.
At HOME: For the first science the guide provides a suggested topic for students to research each week. For example, one week was insects and my daughter did the orchid mantis. Students choose a specific topic from the suggestion and then research it using at least 2 sources, record their notes/outlines along with a sketch/picture in their journals, and practice their presentation.
The science fair weeks are broken into bite-size steps that students complete each week to prepare for science fair. Every week they will work on their project step by step. If your student keeps up with the schedule it makes things very manageable.
The anatomy section is spent memorizing, drawing, and labeling various body systems. For each system, the Challenge A guide contains a labeled image along with a fill in the blank style image. My daughter has enjoyed coloring these in as she memorizes the various parts.
Rhetoric (aka Apologetics/Reasoning)
This strand uses the books, It Couldn't Just Happen & The Fallacy Detective. During the first half of the program, students read the book It Couldn't Just Happen and memorize corresponding catechisms. By the end, they will have memorized 57 catechisms. The final section of the program has them reading and discussing The Fallacy Detective while continuing to practice the catechisms.
In CLASS: Students discuss the assigned reading. They may play a game to practice the memorized catechisms. My daughter has really enjoyed this portion of the program.

At HOME: Students read the assigned chapter(s) for each book and memorize the catechisms. For It Couldn't Just Happen, each week students read the assigned section, complete a study guide (this is just a worksheet found in the CC guide to help them summarize what they have read), and memorize the corresponding catechisms. During the second semester, they read the assigned chapters in The Fallacy Detective, complete any exercises in those chapters, and continue to practice the previously memorized catechisms.

Debate (aka Geography)
By the end of the year, students can draw and label the entire world from memory. Oh, and they will learn approximately 152 geographical terms. Can you define atoll and ? If not, ask a Challenge A student.
In CLASS: The tutor will introduce any new areas/features. They will review their geography terms and practice drawing their maps. They also will discuss the areas that they are learning about.
At HOME: Each week students focus on a particular area of the world while continuing to review all past areas. The guide provides a list of the countries and capitals as well as prominent features for the students to memorize and draw. For this strand, students are also learning geographical terms such as bay, mesa, strait, steppe, etc. Each week they will learn a few more terms and continue to review already learned terms. They will use the Classical Conversations text Exploring the World through Cartography for maps and information on each area.
My daughter does not like to draw- it is not enjoyable for her- so this is a strand that we have modified to fit her learning style. Her week looks something like this:
Day one- label a blank map of the continent/area, drill countries/capitals, and drill geographical terms.
Day two- trace map, drill countries/capitals, and drill geographical terms. Review previously learned areas.
Day three- trace map, drill countries/capitals, and drill geographical terms. Read cartography book.
Day four- draw a map to take to class, drill countries/capitals, and drill geographical terms. Once she has the countries and capitals down she starts adding in prominent features for the continent/area.
Exposition (aka Writing/Literature)
Lost Tools of Writing (LTOW) by the CiRCE Institute is the writing program used for the year. Every three weeks the students write a persuasive essay based on an assigned novel. Students will read 10 novels and write 10 essays using the LTOW lessons for each essay. The literature is intentionally chosen to be at a lower reading level so that students can focus on their discussion and writing skills without getting bogged down in difficult to read literature. starts out extremely basic using a specific format and building on that base as the year goes on. At first, you may think that it is way too easy compared to what your child had been doing (especially if they had been using IEW with the CC Essentials program). However, with each lesson, a new component is added until your child is writing excellent persuasive essays using the canons of rhetoric- invention, arrangement, and elocution. We have loved this program!
In CLASS: The tutor introduces the new LTOW concept. They discuss their paper topics and the process. On weeks that a paper is due each student reads their paper aloud in class. They also use this period to discuss the literature they are reading. Again, my daughter loves getting to discuss books with her peers!
At HOME: They need to read the assigned literature- basically a novel every three weeks. follows a step by step process so each week they will work on a part of the writing process using the student workbook to guide them. Typically, the focus is on Invention for week one, Arrangement for week two, and Elocution for week three. By the third week, they literally just plug their outline into essay format. Done! There are also video lessons that you have access to once you buy the LTOW teacher guide. My daughter and I watch these together. We have seen a dramatic improvement in her writing ability over the year. Love !
Questions?
I realize this is a lot of info but I hope it helps shed some light on what exactly your student will do for the year with CC Challenge. We have found that it is a nice mix of structure and while maintaining a balance of work. As soon as you think you absolutely cannot research, write and present another science topic, it switches to the science fair section. This kept things interesting.
If you would like to download our CC Challenge A checklist to give you an idea of how to create a daily schedule please click below. In order to complete the checklist each week, you would need a CC Challenge guide to fill in the exact exercises/lessons. A few notes about the checklist: Math just says "lesson" because we just open our book and do the next lesson. Latin says "Exercise" so we could write in the exercises due for that week. The LTOW section intentionally just has space so that we could write in the student workbook pages as they change week by week. We actually created an LTOW notebook with copies of all the needed workbook pages for each novel so that it was easy to just open to that section and work through the worksheets for each essay.
This method forced us to sit down with our CC Challenge guide to fill in our checklist. This taught my daughter how to schedule and pace the curriculum so that by mid-year she could maintain her own checklist/planner system- yay! She now uses this lovely planner, along with the weekly CC guide to ensure that she is getting all her work done each day.
More Tips
For our favorite CC Challenge A tips and hacks to help your year run smoothly check out this post. Take a look at our must-have homeschool supplies for the small things that make a big difference in our homeschool days!
Still t to decide if CC Challenge A is right for your family? Take a look at my CC Challenge A pros & cons post.
Please comment below with any questions about CC Challenge or CC in general. Also, check out the Classical Conversations site for more info.
Happy Curriculum Searching!
~ Melissa

Related
Sours: https://acreekrunsthroughit.com/beginners-guide-to-cc-challenge-a/
Classical Conversations - Challenge A - Top 5 Need To Knows
Challenge A
Students start at the beginning of Henle First Year Latin. Seminar usually begins with a review of an English grammar concept, and then students discover how that concept is treated in Latin. Together, students and the director practice translating sentences that contain the day's concept. There is an emphasis on memorization of vocabulary and word endings. Students gain skills for learning any language through this systematic approach.
Students read inspirational novels of heroes who overcome obstacles and follow Christ such as Amos Fortune, Free Man; The Bronze Bow; and Carry On, Mr. Bowditch. If students have not discovered a love of literature by now, they may discover it this year! Students enjoy lively discussions during seminar time and use their notes to compose persuasive essays at home. They begin to use a composition program called The Lost Tools of Writing, which lays the foundation for higher level thinking, writing, and speaking skills.
Come along on a thrilling adventure aboard one of CC's new resources, Exploring the World Through Cartography, which will ignite the imagination of the entire family, while integrating material from Foundations through Challenge IV. Challenge A will use this in the Debate strand to draw a map of the world, compare a variety of maps from ancient times to the present, navigate a user-friendly index and read insightful stories from around the globe. This non-consumable, flat-lying resource will allow families to travel throughout time, terrain and tales from the comfort of their own home.
Instead of giving students a textbook to read, in this seminar we give them a blank book to fill. Following the director's guidance, each student researches one sub-category of a topic and presents it in seminar with illustrations. Topics range from fungi to aquatic mammals. In the final quarter, students do an intensive study of human biology, drawing body systems daily until memorized.
Science Fair will be a unique opportunity for students to creatively explore the art of inquiry through scientific research.  The students will use the common topic questions to expand their knowledge of the scientific method as they perform an experiment of their own choosing.  The process will include: developing a research plan, performing an experiment, formulating a research paper and enhancing presentations skills.  Through this experience, they may discover the scientific laws which govern our universe, and the God who designed them in all of their complexity.
Two general topics are discussed during the year: connecting ideas by constructing analogies, and thinking and speaking truthfully. Both courses set the foundational premises upon which other Challenges build. Students will be assigned weekly readings and exercises, including recognizing analogies, writing with stylistic devices, and identifying fallacies in arguments. In seminar, tutors will lead discussions on the materials studied and students will share their creations from the week at home.
Students discuss math in class by working problems together and describing the problem solving process to the director and other students. Saxon 8/7 is used as a guide for seminar practice and is recommended (but not required) for use at home. Mathematics has its own language, and seminar time is used for practicing "speaking the language" of math. No matter what math level or curriculum the students are doing at home, they will all benefit from this practice time. More advanced students find that they build a stronger foundation by learning how to help others see and understand new concepts, while students who may be working at a lower level at home benefit from a preview of what they will see soon at home.
Sours: https://members.classicalconversations.com/classical/programs/challenge/challenge-a
Book cc list a challenge
Only a blind man could miss the Bear. Almost two meters tall, a handsome blond with sky blue angelic eyes. Broad shoulders and fists the size of a child's head.
Magicians Nephew chapter 1 - audio book - CC Challenge A
I saw the men leaning forward at the next table to get a better look at the dancers. The beautiful young bodies gradually lit up and thunderous applause was heard in the hall. A bright light came on, but the girls were in no hurry to leave the stage, advertising their charms to potential customers on the second floor.
Similar news:
He tried to move to the beat and groaned even harder: Aaaaaa he screamed. At this moment I could not resist and finished and my orgasm lasted much longer than usual. It was just divine, I have never experienced such strong sensations, it's like dozens of ordinary orgasms.
After all, I told my whore to go to the shower, and then prepare us a few more tracks of this wonderful powder.
1737
1738
1739
1740
1741