"), cm.close(); d = cm.createElement(a), cm.body.appendChild(d), e = f.css(d, "display"), b.removeChild(cl) } ck[a] = e } return ck[a] } function cu(a, b) { var c = {}; f.each(cq.concat.apply([], cq.slice(0, b)), function() { c[this] = a }); return c } function ct() { cr = b } function cs() { setTimeout(ct, 0); return cr = f.now() } function cj() { try { return new a.ActiveXObject("Microsoft.XMLHTTP") } catch (b) {} } function ci() { try { return new a.XMLHttpRequest } catch (b) {} } function cc(a, c) { a.dataFilter && (c = a.dataFilter(c, a.dataType)); var d = a.dataTypes, e = {}, g, h, i = d.length, j, k = d[0], l, m, n, o, p; for (g = 1; g < i; g++) { if (g === 1) for (h in a.converters) typeof h == "string" && (e[h.toLowerCase()] = a.converters[h]); l = k, k = d[g]; if (k === "*") k = l; else if (l !== "*" && l !== k) { m = l + " " + k, n = e[m] || e["* " + k]; if (!n) { p = b; for (o in e) { j = o.split(" "); if (j[0] === l || j[0] === "*") { p = e[j[1] + " " + k]; if (p) { o = e[o], o === !0 ? n = p : p === !0 && (n = o); break } } } }!n && !p && f.error("No conversion from " + m.replace(" ", " to ")), n !== !0 && (c = n ? n(c) : p(o(c))) } } return c } function cb(a, c, d) { var e = a.contents, f = a.dataTypes, g = a.responseFields, h, i, j, k; for (i in g) i in d && (c[g[i]] = d[i]); while (f[0] === "*") f.shift(), h === b && (h = a.mimeType || c.getResponseHeader("content-type")); if (h) for (i in e) if (e[i] && e[i].test(h)) { f.unshift(i); break } if (f[0] in d) j = f[0]; else { for (i in d) { if (!f[0] || a.converters[i + " " + f[0]]) { j = i; break } k || (k = i) } j = j || k } if (j) { j !== f[0] && f.unshift(j); return d[j] } } function ca(a, b, c, d) { if (f.isArray(b)) f.each(b, function(b, e) { c || bE.test(a) ? d(a, e) : ca(a + "[" + (typeof e == "object" || f.isArray(e) ? b : "") + "]", e, c, d) }); else if (!c && b != null && typeof b == "object") for (var e in b) ca(a + "[" + e + "]", b[e], c, d); else d(a, b) } function b_(a, c) { var d, e, g = f.ajaxSettings.flatOptions || {}; for (d in c) c[d] !== b && ((g[d] ? a : e || (e = {}))[d] = c[d]); e && f.extend(!0, a, e) } function b$(a, c, d, e, f, g) { f = f || c.dataTypes[0], g = g || {}, g[f] = !0; var h = a[f], i = 0, j = h ? h.length : 0, k = a === bT, l; for (; i < j && (k || !l); i++) l = h[i](c, d, e), typeof l == "string" && (!k || g[l] ? l = b : (c.dataTypes.unshift(l), l = b$(a, c, d, e, l, g))); (k || !l) && !g["*"] && (l = b$(a, c, d, e, "*", g)); return l } function bZ(a) { return function(b, c) { typeof b != "string" && (c = b, b = "*"); if (f.isFunction(c)) { var d = b.toLowerCase().split(bP), e = 0, g = d.length, h, i, j; for (; e < g; e++) h = d[e], j = /^\+/.test(h), j && (h = h.substr(1) || "*"), i = a[h] = a[h] || [], i[j ? "unshift" : "push"](c) } } } function bC(a, b, c) { var d = b === "width" ? a.offsetWidth : a.offsetHeight, e = b === "width" ? bx : by, g = 0, h = e.length; if (d > 0) { if (c !== "border") for (; g < h; g++) c || (d -= parseFloat(f.css(a, "padding" + e[g])) || 0), c === "margin" ? d += parseFloat(f.css(a, c + e[g])) || 0 : d -= parseFloat(f.css(a, "border" + e[g] + "Width")) || 0; return d + "px" } d = bz(a, b, b); if (d < 0 || d == null) d = a.style[b] || 0; d = parseFloat(d) || 0; if (c) for (; g < h; g++) d += parseFloat(f.css(a, "padding" + e[g])) || 0, c !== "padding" && (d += parseFloat(f.css(a, "border" + e[g] + "Width")) || 0), c === "margin" && (d += parseFloat(f.css(a, c + e[g])) || 0); return d + "px" } function bp(a, b) { b.src ? f.ajax({ url: b.src, async: !1, dataType: "script" }) : f.globalEval((b.text || b.textContent || b.innerHTML || "").replace(bf, "/*$0*/")), b.parentNode && b.parentNode.removeChild(b) } function bo(a) { var b = c.createElement("div"); bh.appendChild(b), b.innerHTML = a.outerHTML; return b.firstChild } function bn(a) { var b = (a.nodeName || "").toLowerCase(); b === "input" ? bm(a) : b !== "script" && typeof a.getElementsByTagName != "undefined" && f.grep(a.getElementsByTagName("input"), bm) } function bm(a) { if (a.type === "checkbox" || a.type === "radio") a.defaultChecked = a.checked } function bl(a) { return typeof a.getElementsByTagName != "undefined" ? a.getElementsByTagName("*") : typeof a.querySelectorAll != "undefined" ? a.querySelectorAll("*") : [] } function bk(a, b) { var c; if (b.nodeType === 1) { b.clearAttributes && b.clearAttributes(), b.mergeAttributes && b.mergeAttributes(a), c = b.nodeName.toLowerCase(); if (c === "object") b.outerHTML = a.outerHTML; else if (c !== "input" || a.type !== "checkbox" && a.type !== "radio") { if (c === "option") b.selected = a.defaultSelected; else if (c === "input" || c === "textarea") b.defaultValue = a.defaultValue } else a.checked && (b.defaultChecked = b.checked = a.checked), b.value !== a.value && (b.value = a.value); b.removeAttribute(f.expando) } } function bj(a, b) { if (b.nodeType === 1 && !!f.hasData(a)) { var c, d, e, g = f._data(a), h = f._data(b, g), i = g.events; if (i) { delete h.handle, h.events = {}; for (c in i) for (d = 0, e = i[c].length; d < e; d++) f.event.add(b, c + (i[c][d].namespace ? "." : "") + i[c][d].namespace, i[c][d], i[c][d].data) } h.data && (h.data = f.extend({}, h.data)) } } function bi(a, b) { return f.nodeName(a, "table") ? a.getElementsByTagName("tbody")[0] || a.appendChild(a.ownerDocument.createElement("tbody")) : a } function U(a) { var b = V.split("|"), c = a.createDocumentFragment(); if (c.createElement) while (b.length) c.createElement(b.pop()); return c } function T(a, b, c) { b = b || 0; if (f.isFunction(b)) return f.grep(a, function(a, d) { var e = !!b.call(a, d, a); return e === c }); if (b.nodeType) return f.grep(a, function(a, d) { return a === b === c }); if (typeof b == "string") { var d = f.grep(a, function(a) { return a.nodeType === 1 }); if (O.test(b)) return f.filter(b, d, !c); b = f.filter(b, d) } return f.grep(a, function(a, d) { return f.inArray(a, b) >= 0 === c }) } function S(a) { return !a || !a.parentNode || a.parentNode.nodeType === 11 } function K() { return !0 } function J() { return !1 } function n(a, b, c) { var d = b + "defer", e = b + "queue", g = b + "mark", h = f._data(a, d); h && (c === "queue" || !f._data(a, e)) && (c === "mark" || !f._data(a, g)) && setTimeout(function() { !f._data(a, e) && !f._data(a, g) && (f.removeData(a, d, !0), h.fire()) }, 0) } function m(a) { for (var b in a) { if (b === "data" && f.isEmptyObject(a[b])) continue; if (b !== "toJSON") return !1 } return !0 } function l(a, c, d) { if (d === b && a.nodeType === 1) { var e = "data-" + c.replace(k, "-$1").toLowerCase(); d = a.getAttribute(e); if (typeof d == "string") { try { d = d === "true" ? !0 : d === "false" ? !1 : d === "null" ? null : f.isNumeric(d) ? parseFloat(d) : j.test(d) ? f.parseJSON(d) : d } catch (g) {} f.data(a, c, d) } else d = b } return d } function h(a) { var b = g[a] = {}, c, d; a = a.split(/\s+/); for (c = 0, d = a.length; c < d; c++) b[a[c]] = !0; return b } var c = a.document, d = a.navigator, e = a.location, f = function() { function J() { if (!e.isReady) { try { c.documentElement.doScroll("left") } catch (a) { setTimeout(J, 1); return } e.ready() } } var e = function(a, b) { return new e.fn.init(a, b, h) }, f = a.jQuery, g = a.$, h, i = /^(?:[^#<]*(<[\w\W]+>)[^>]*$|#([\w\-]*)$)/, j = /\S/, k = /^\s+/, l = /\s+$/, m = /^<(\w+)\s*\/?>(?:<\/\1>)?$/, n = /^[\],:{}\s]*$/, o = /\\(?:["\\\/bfnrt]|u[0-9a-fA-F]{4})/g, p = /"[^"\\\n\r]*"|true|false|null|-?\d+(?:\.\d*)?(?:[eE][+\-]?\d+)?/g, q = /(?:^|:|,)(?:\s*\[)+/g, r = /(webkit)[ \/]([\w.]+)/, s = /(opera)(?:.*version)?[ \/]([\w.]+)/, t = /(msie) ([\w.]+)/, u = /(mozilla)(?:.*? rv:([\w.]+))?/, v = /-([a-z]|[0-9])/ig, w = /^-ms-/, x = function(a, b) { return (b + "").toUpperCase() }, y = d.userAgent, z, A, B, C = Object.prototype.toString, D = Object.prototype.hasOwnProperty, E = Array.prototype.push, F = Array.prototype.slice, G = String.prototype.trim, H = Array.prototype.indexOf, I = {}; e.fn = e.prototype = { constructor: e, init: function(a, d, f) { var g, h, j, k; if (!a) return this; if (a.nodeType) { this.context = this[0] = a, this.length = 1; return this } if (a === "body" && !d && c.body) { this.context = c, this[0] = c.body, this.selector = a, this.length = 1; return this } if (typeof a == "string") { a.charAt(0) !== "<" || a.charAt(a.length - 1) !== ">" || a.length < 3 ? g = i.exec(a) : g = [null, a, null]; if (g && (g[1] || !d)) { if (g[1]) { d = d instanceof e ? d[0] : d, k = d ? d.ownerDocument || d : c, j = m.exec(a), j ? e.isPlainObject(d) ? (a = [c.createElement(j[1])], e.fn.attr.call(a, d, !0)) : a = [k.createElement(j[1])] : (j = e.buildFragment([g[1]], [k]), a = (j.cacheable ? e.clone(j.fragment) : j.fragment).childNodes); return e.merge(this, a) } h = c.getElementById(g[2]); if (h && h.parentNode) { if (h.id !== g[2]) return f.find(a); this.length = 1, this[0] = h } this.context = c, this.selector = a; return this } return !d || d.jquery ? (d || f).find(a) : this.constructor(d).find(a) } if (e.isFunction(a)) return f.ready(a); a.selector !== b && (this.selector = a.selector, this.context = a.context); return e.makeArray(a, this) }, selector: "", jquery: "1.7.1", length: 0, size: function() { return this.length }, toArray: function() { return F.call(this, 0) }, get: function(a) { return a == null ? this.toArray() : a < 0 ? this[this.length + a] : this[a] }, pushStack: function(a, b, c) { var d = this.constructor(); e.isArray(a) ? E.apply(d, a) : e.merge(d, a), d.prevObject = this, d.context = this.context, b === "find" ? d.selector = this.selector + (this.selector ? " " : "") + c : b && (d.selector = this.selector + "." + b + "(" + c + ")"); return d }, each: function(a, b) { return e.each(this, a, b) }, ready: function(a) { e.bindReady(), A.add(a); return this }, eq: function(a) { a = +a; return a === -1 ? this.slice(a) : this.slice(a, a + 1) }, first: function() { return this.eq(0) }, last: function() { return this.eq(-1) }, slice: function() { return this.pushStack(F.apply(this, arguments), "slice", F.call(arguments).join(",")) }, map: function(a) { return this.pushStack(e.map(this, function(b, c) { return a.call(b, c, b) })) }, end: function() { return this.prevObject || this.constructor(null) }, push: E, sort: [].sort, splice: [].splice }, e.fn.init.prototype = e.fn, e.extend = e.fn.extend = function() { var a, c, d, f, g, h, i = arguments[0] || {}, j = 1, k = arguments.length, l = !1; typeof i == "boolean" && (l = i, i = arguments[1] || {}, j = 2), typeof i != "object" && !e.isFunction(i) && (i = {}), k === j && (i = this, --j); for (; j < k; j++) if ((a = arguments[j]) != null) for (c in a) { d = i[c], f = a[c]; if (i === f) continue; l && f && (e.isPlainObject(f) || (g = e.isArray(f))) ? (g ? (g = !1, h = d && e.isArray(d) ? d : []) : h = d && e.isPlainObject(d) ? d : {}, i[c] = e.extend(l, h, f)) : f !== b && (i[c] = f) } return i }, e.extend({ noConflict: function(b) { a.$ === e && (a.$ = g), b && a.jQuery === e && (a.jQuery = f); return e }, isReady: !1, readyWait: 1, holdReady: function(a) { a ? e.readyWait++ : e.ready(!0) }, ready: function(a) { if (a === !0 && !--e.readyWait || a !== !0 && !e.isReady) { if (!c.body) return setTimeout(e.ready, 1); e.isReady = !0; if (a !== !0 && --e.readyWait > 0) return; A.fireWith(c, [e]), e.fn.trigger && e(c).trigger("ready").off("ready") } }, bindReady: function() { if (!A) { A = e.Callbacks("once memory"); if (c.readyState === "complete") return setTimeout(e.ready, 1); if (c.addEventListener) c.addEventListener("DOMContentLoaded", B, !1), a.addEventListener("load", e.ready, !1); else if (c.attachEvent) { c.attachEvent("onreadystatechange", B), a.attachEvent("onload", e.ready); var b = !1; try { b = a.frameElement == null } catch (d) {} c.documentElement.doScroll && b && J() } } }, isFunction: function(a) { return e.type(a) === "function" }, isArray: Array.isArray || function(a) { return e.type(a) === "array" }, isWindow: function(a) { return a && typeof a == "object" && "setInterval" in a }, isNumeric: function(a) { return !isNaN(parseFloat(a)) && isFinite(a) }, type: function(a) { return a == null ? String(a) : I[C.call(a)] || "object" }, isPlainObject: function(a) { if (!a || e.type(a) !== "object" || a.nodeType || e.isWindow(a)) return !1; try { if (a.constructor && !D.call(a, "constructor") && !D.call(a.constructor.prototype, "isPrototypeOf")) return !1 } catch (c) { return !1 } var d; for (d in a); return d === b || D.call(a, d) }, isEmptyObject: function(a) { for (var b in a) return !1; return !0 }, error: function(a) { throw new Error(a) }, parseJSON: function(b) { if (typeof b != "string" || !b) return null; b = e.trim(b); if (a.JSON && a.JSON.parse) return a.JSON.parse(b); if (n.test(b.replace(o, "@").replace(p, "]").replace(q, ""))) return (new Function("return " + b))(); e.error("Invalid JSON: " + b) }, parseXML: function(c) { var d, f; try { a.DOMParser ? (f = new DOMParser, d = f.parseFromString(c, "text/xml")) : (d = new ActiveXObject("Microsoft.XMLDOM"), d.async = "false", d.loadXML(c)) } catch (g) { d = b }(!d || !d.documentElement || d.getElementsByTagName("parsererror").length) && e.error("Invalid XML: " + c); return d }, noop: function() {}, globalEval: function(b) { b && j.test(b) && (a.execScript || function(b) { a.eval.call(a, b) })(b) }, camelCase: function(a) { return a.replace(w, "ms-").replace(v, x) }, nodeName: function(a, b) { return a.nodeName && a.nodeName.toUpperCase() === b.toUpperCase() }, each: function(a, c, d) { var f, g = 0, h = a.length, i = h === b || e.isFunction(a); if (d) { if (i) { for (f in a) if (c.apply(a[f], d) === !1) break } else for (; g < h;) if (c.apply(a[g++], d) === !1) break } else if (i) { for (f in a) if (c.call(a[f], f, a[f]) === !1) break } else for (; g < h;) if (c.call(a[g], g, a[g++]) === !1) break; return a }, trim: G ? function(a) { return a == null ? "" : G.call(a) } : function(a) { return a == null ? "" : (a + "").replace(k, "").replace(l, "") }, makeArray: function(a, b) { var c = b || []; if (a != null) { var d = e.type(a); a.length == null || d === "string" || d === "function" || d === "regexp" || e.isWindow(a) ? E.call(c, a) : e.merge(c, a) } return c }, inArray: function(a, b, c) { var d; if (b) { if (H) return H.call(b, a, c); d = b.length, c = c ? c < 0 ? Math.max(0, d + c) : c : 0; for (; c < d; c++) if (c in b && b[c] === a) return c } return -1 }, merge: function(a, c) { var d = a.length, e = 0; if (typeof c.length == "number") for (var f = c.length; e < f; e++) a[d++] = c[e]; else while (c[e] !== b) a[d++] = c[e++]; a.length = d; return a }, grep: function(a, b, c) { var d = [], e; c = !!c; for (var f = 0, g = a.length; f < g; f++) e = !!b(a[f], f), c !== e && d.push(a[f]); return d }, map: function(a, c, d) { var f, g, h = [], i = 0, j = a.length, k = a instanceof e || j !== b && typeof j == "number" && (j > 0 && a[0] && a[j - 1] || j === 0 || e.isArray(a)); if (k) for (; i < j; i++) f = c(a[i], i, d), f != null && (h[h.length] = f); else for (g in a) f = c(a[g], g, d), f != null && (h[h.length] = f); return h.concat.apply([], h) }, guid: 1, proxy: function(a, c) { if (typeof c == "string") { var d = a[c]; c = a, a = d } if (!e.isFunction(a)) return b; var f = F.call(arguments, 2), g = function() { return a.apply(c, f.concat(F.call(arguments))) }; g.guid = a.guid = a.guid || g.guid || e.guid++; return g }, access: function(a, c, d, f, g, h) { var i = a.length; if (typeof c == "object") { for (var j in c) e.access(a, j, c[j], f, g, d); return a } if (d !== b) { f = !h && f && e.isFunction(d); for (var k = 0; k < i; k++) g(a[k], c, f ? d.call(a[k], k, g(a[k], c)) : d, h); return a } return i ? g(a[0], c) : b }, now: function() { return (new Date).getTime() }, uaMatch: function(a) { a = a.toLowerCase(); var b = r.exec(a) || s.exec(a) || t.exec(a) || a.indexOf("compatible") < 0 && u.exec(a) || []; return { browser: b[1] || "", version: b[2] || "0" } }, sub: function() { function a(b, c) { return new a.fn.init(b, c) } e.extend(!0, a, this), a.superclass = this, a.fn = a.prototype = this(), a.fn.constructor = a, a.sub = this.sub, a.fn.init = function(d, f) { f && f instanceof e && !(f instanceof a) && (f = a(f)); return e.fn.init.call(this, d, f, b) }, a.fn.init.prototype = a.fn; var b = a(c); return a }, browser: {} }), e.each("Boolean Number String Function Array Date RegExp Object".split(" "), function(a, b) { I["[object " + b + "]"] = b.toLowerCase() }), z = e.uaMatch(y), z.browser && (e.browser[z.browser] = !0, e.browser.version = z.version), e.browser.webkit && (e.browser.safari = !0), j.test(" ") && (k = /^[\s\xA0]+/, l = /[\s\xA0]+$/), h = e(c), c.addEventListener ? B = function() { c.removeEventListener("DOMContentLoaded", B, !1), e.ready() } : c.attachEvent && (B = function() { c.readyState === "complete" && (c.detachEvent("onreadystatechange", B), e.ready()) }); return e }(), g = {}; f.Callbacks = function(a) { a = a ? g[a] || h(a) : {}; var c = [], d = [], e, i, j, k, l, m = function(b) { var d, e, g, h, i; for (d = 0, e = b.length; d < e; d++) g = b[d], h = f.type(g), h === "array" ? m(g) : h === "function" && (!a.unique || !o.has(g)) && c.push(g) }, n = function(b, f) { f = f || [], e = !a.memory || [b, f], i = !0, l = j || 0, j = 0, k = c.length; for (; c && l < k; l++) if (c[l].apply(b, f) === !1 && a.stopOnFalse) { e = !0; break } i = !1, c && (a.once ? e === !0 ? o.disable() : c = [] : d && d.length && (e = d.shift(), o.fireWith(e[0], e[1]))) }, o = { add: function() { if (c) { var a = c.length; m(arguments), i ? k = c.length : e && e !== !0 && (j = a, n(e[0], e[1])) } return this }, remove: function() { if (c) { var b = arguments, d = 0, e = b.length; for (; d < e; d++) for (var f = 0; f < c.length; f++) if (b[d] === c[f]) { i && f <= k && (k--, f <= l && l--), c.splice(f--, 1); if (a.unique) break } } return this }, has: function(a) { if (c) { var b = 0, d = c.length; for (; b < d; b++) if (a === c[b]) return !0 } return !1 }, empty: function() { c = []; return this }, disable: function() { c = d = e = b; return this }, disabled: function() { return !c }, lock: function() { d = b, (!e || e === !0) && o.disable(); return this }, locked: function() { return !d }, fireWith: function(b, c) { d && (i ? a.once || d.push([b, c]) : (!a.once || !e) && n(b, c)); return this }, fire: function() { o.fireWith(this, arguments); return this }, fired: function() { return !!e } }; return o }; var i = [].slice; f.extend({ Deferred: function(a) { var b = f.Callbacks("once memory"), c = f.Callbacks("once memory"), d = f.Callbacks("memory"), e = "pending", g = { resolve: b, reject: c, notify: d }, h = { done: b.add, fail: c.add, progress: d.add, state: function() { return e }, isResolved: b.fired, isRejected: c.fired, then: function(a, b, c) { i.done(a).fail(b).progress(c); return this }, always: function() { i.done.apply(i, arguments).fail.apply(i, arguments); return this }, pipe: function(a, b, c) { return f.Deferred(function(d) { f.each({ done: [a, "resolve"], fail: [b, "reject"], progress: [c, "notify"] }, function(a, b) { var c = b[0], e = b[1], g; f.isFunction(c) ? i[a](function() { g = c.apply(this, arguments), g && f.isFunction(g.promise) ? g.promise().then(d.resolve, d.reject, d.notify) : d[e + "With"](this === i ? d : this, [g]) }) : i[a](d[e]) }) }).promise() }, promise: function(a) { if (a == null) a = h; else for (var b in h) a[b] = h[b]; return a } }, i = h.promise({}), j; for (j in g) i[j] = g[j].fire, i[j + "With"] = g[j].fireWith; i.done(function() { e = "resolved" }, c.disable, d.lock).fail(function() { e = "rejected" }, b.disable, d.lock), a && a.call(i, i); return i }, when: function(a) { function m(a) { return function(b) { e[a] = arguments.length > 1 ? i.call(arguments, 0) : b, j.notifyWith(k, e) } } function l(a) { return function(c) { b[a] = arguments.length > 1 ? i.call(arguments, 0) : c, --g || j.resolveWith(j, b) } } var b = i.call(arguments, 0), c = 0, d = b.length, e = Array(d), g = d, h = d, j = d <= 1 && a && f.isFunction(a.promise) ? a : f.Deferred(), k = j.promise(); if (d > 1) { for (; c < d; c++) b[c] && b[c].promise && f.isFunction(b[c].promise) ? b[c].promise().then(l(c), j.reject, m(c)) : --g; g || j.resolveWith(j, b) } else j !== a && j.resolveWith(j, d ? [a] : []); return k } }), f.support = function() { var b, d, e, g, h, i, j, k, l, m, n, o, p, q = c.createElement("div"), r = c.documentElement; q.setAttribute("className", "t"), q.innerHTML = " a", d = q.getElementsByTagName("*"), e = q.getElementsByTagName("a")[0]; if (!d || !d.length || !e) return {}; g = c.createElement("select"), h = g.appendChild(c.createElement("option")), i = q.getElementsByTagName("input")[0], b = { leadingWhitespace: q.firstChild.nodeType === 3, tbody: !q.getElementsByTagName("tbody").length, htmlSerialize: !!q.getElementsByTagName("link").length, style: /top/.test(e.getAttribute("style")), hrefNormalized: e.getAttribute("href") === "/a", opacity: /^0.55/.test(e.style.opacity), cssFloat: !!e.style.cssFloat, checkOn: i.value === "on", optSelected: h.selected, getSetAttribute: q.className !== "t", enctype: !!c.createElement("form").enctype, html5Clone: c.createElement("nav").cloneNode(!0).outerHTML !== "<:nav>", submitBubbles: !0, changeBubbles: !0, focusinBubbles: !1, deleteExpando: !0, noCloneEvent: !0, inlineBlockNeedsLayout: !1, shrinkWrapBlocks: !1, reliableMarginRight: !0 }, i.checked = !0, b.noCloneChecked = i.cloneNode(!0).checked, g.disabled = !0, b.optDisabled = !h.disabled; try { delete q.test } catch (s) { b.deleteExpando = !1 }!q.addEventListener && q.attachEvent && q.fireEvent && (q.attachEvent("onclick", function() { b.noCloneEvent = !1 }), q.cloneNode(!0).fireEvent("onclick")), i = c.createElement("input"), i.value = "t", i.setAttribute("type", "radio"), b.radioValue = i.value === "t", i.setAttribute("checked", "checked"), q.appendChild(i), k = c.createDocumentFragment(), k.appendChild(q.lastChild), b.checkClone = k.cloneNode(!0).cloneNode(!0).lastChild.checked, b.appendChecked = i.checked, k.removeChild(i), k.appendChild(q), q.innerHTML = "", a.getComputedStyle && (j = c.createElement("div"), j.style.width = "0", j.style.marginRight = "0", q.style.width = "2px", q.appendChild(j), b.reliableMarginRight = (parseInt((a.getComputedStyle(j, null) || { marginRight: 0 }).marginRight, 10) || 0) === 0); if (q.attachEvent) for (o in { submit: 1, change: 1, focusin: 1 }) n = "on" + o, p = n in q, p || (q.setAttribute(n, "return;"), p = typeof q[n] == "function"), b[o + "Bubbles"] = p; k.removeChild(q), k = g = h = j = q = i = null, f(function() { var a, d, e, g, h, i, j, k, m, n, o, r = c.getElementsByTagName("body")[0]; !r || (j = 1, k = "position:absolute;top:0;left:0;width:1px;height:1px;margin:0;", m = "visibility:hidden;border:0;", n = "style='" + k + "border:5px solid #000;padding:0;'", o = "" + "", a = c.createElement("div"), a.style.cssText = m + "width:0;height:0;position:static;top:0;margin-top:" + j + "px", r.insertBefore(a, r.firstChild), q = c.createElement("div"), a.appendChild(q), q.innerHTML = "", l = q.getElementsByTagName("td"), p = l[0].offsetHeight === 0, l[0].style.display = "", l[1].style.display = "none", b.reliableHiddenOffsets = p && l[0].offsetHeight === 0, q.innerHTML = "", q.style.width = q.style.paddingLeft = "1px", f.boxModel = b.boxModel = q.offsetWidth === 2, typeof q.style.zoom != "undefined" && (q.style.display = "inline", q.style.zoom = 1, b.inlineBlockNeedsLayout = q.offsetWidth === 2, q.style.display = "", q.innerHTML = "", b.shrinkWrapBlocks = q.offsetWidth !== 2), q.style.cssText = k + m, q.innerHTML = o, d = q.firstChild, e = d.firstChild, h = d.nextSibling.firstChild.firstChild, i = { doesNotAddBorder: e.offsetTop !== 5, doesAddBorderForTableAndCells: h.offsetTop === 5 }, e.style.position = "fixed", e.style.top = "20px", i.fixedPosition = e.offsetTop === 20 || e.offsetTop === 15, e.style.position = e.style.top = "", d.style.overflow = "hidden", d.style.position = "relative", i.subtractsBorderForOverflowNotVisible = e.offsetTop === -5, i.doesNotIncludeMarginInBodyOffset = r.offsetTop !== j, r.removeChild(a), q = a = null, f.extend(b, i)) }); return b }(); var j = /^(?:\{.*\}|\[.*\])$/, k = /([A-Z])/g; f.extend({ cache: {}, uuid: 0, expando: "jQuery" + (f.fn.jquery + Math.random()).replace(/\D/g, ""), noData: { embed: !0, object: "clsid:D27CDB6E-AE6D-11cf-96B8-444553540000", applet: !0 }, hasData: function(a) { a = a.nodeType ? f.cache[a[f.expando]] : a[f.expando]; return !!a && !m(a) }, data: function(a, c, d, e) { if (!!f.acceptData(a)) { var g, h, i, j = f.expando, k = typeof c == "string", l = a.nodeType, m = l ? f.cache : a, n = l ? a[j] : a[j] && j, o = c === "events"; if ((!n || !m[n] || !o && !e && !m[n].data) && k && d === b) return; n || (l ? a[j] = n = ++f.uuid : n = j), m[n] || (m[n] = {}, l || (m[n].toJSON = f.noop)); if (typeof c == "object" || typeof c == "function") e ? m[n] = f.extend(m[n], c) : m[n].data = f.extend(m[n].data, c); g = h = m[n], e || (h.data || (h.data = {}), h = h.data), d !== b && (h[f.camelCase(c)] = d); if (o && !h[c]) return g.events; k ? (i = h[c], i == null && (i = h[f.camelCase(c)])) : i = h; return i } }, removeData: function(a, b, c) { if (!!f.acceptData(a)) { var d, e, g, h = f.expando, i = a.nodeType, j = i ? f.cache : a, k = i ? a[h] : h; if (!j[k]) return; if (b) { d = c ? j[k] : j[k].data; if (d) { f.isArray(b) || (b in d ? b = [b] : (b = f.camelCase(b), b in d ? b = [b] : b = b.split(" "))); for (e = 0, g = b.length; e < g; e++) delete d[b[e]]; if (!(c ? m : f.isEmptyObject)(d)) return } } if (!c) { delete j[k].data; if (!m(j[k])) return } f.support.deleteExpando || !j.setInterval ? delete j[k] : j[k] = null, i && (f.support.deleteExpando ? delete a[h] : a.removeAttribute ? a.removeAttribute(h) : a[h] = null) } }, _data: function(a, b, c) { return f.data(a, b, c, !0) }, acceptData: function(a) { if (a.nodeName) { var b = f.noData[a.nodeName.toLowerCase()]; if (b) return b !== !0 && a.getAttribute("classid") === b } return !0 } }), f.fn.extend({ data: function(a, c) { var d, e, g, h = null; if (typeof a == "undefined") { if (this.length) { h = f.data(this[0]); if (this[0].nodeType === 1 && !f._data(this[0], "parsedAttrs")) { e = this[0].attributes; for (var i = 0, j = e.length; i < j; i++) g = e[i].name, g.indexOf("data-") === 0 && (g = f.camelCase(g.substring(5)), l(this[0], g, h[g])); f._data(this[0], "parsedAttrs", !0) } } return h } if (typeof a == "object") return this.each(function() { f.data(this, a) }); d = a.split("."), d[1] = d[1] ? "." + d[1] : ""; if (c === b) { h = this.triggerHandler("getData" + d[1] + "!", [d[0]]), h === b && this.length && (h = f.data(this[0], a), h = l(this[0], a, h)); return h === b && d[1] ? this.data(d[0]) : h } return this.each(function() { var b = f(this), e = [d[0], c]; b.triggerHandler("setData" + d[1] + "!", e), f.data(this, a, c), b.triggerHandler("changeData" + d[1] + "!", e) }) }, removeData: function(a) { return this.each(function() { f.removeData(this, a) }) } }), f.extend({ _mark: function(a, b) { a && (b = (b || "fx") + "mark", f._data(a, b, (f._data(a, b) || 0) + 1)) }, _unmark: function(a, b, c) { a !== !0 && (c = b, b = a, a = !1); if (b) { c = c || "fx"; var d = c + "mark", e = a ? 0 : (f._data(b, d) || 1) - 1; e ? f._data(b, d, e) : (f.removeData(b, d, !0), n(b, c, "mark")) } }, queue: function(a, b, c) { var d; if (a) { b = (b || "fx") + "queue", d = f._data(a, b), c && (!d || f.isArray(c) ? d = f._data(a, b, f.makeArray(c)) : d.push(c)); return d || [] } }, dequeue: function(a, b) { b = b || "fx"; var c = f.queue(a, b), d = c.shift(), e = {}; d === "inprogress" && (d = c.shift()), d && (b === "fx" && c.unshift("inprogress"), f._data(a, b + ".run", e), d.call(a, function() { f.dequeue(a, b) }, e)), c.length || (f.removeData(a, b + "queue " + b + ".run", !0), n(a, b, "queue")) } }), f.fn.extend({ queue: function(a, c) { typeof a != "string" && (c = a, a = "fx"); if (c === b) return f.queue(this[0], a); return this.each(function() { var b = f.queue(this, a, c); a === "fx" && b[0] !== "inprogress" && f.dequeue(this, a) }) }, dequeue: function(a) { return this.each(function() { f.dequeue(this, a) }) }, delay: function(a, b) { a = f.fx ? f.fx.speeds[a] || a : a, b = b || "fx"; return this.queue(b, function(b, c) { var d = setTimeout(b, a); c.stop = function() { clearTimeout(d) } }) }, clearQueue: function(a) { return this.queue(a || "fx", []) }, promise: function(a, c) { function m() { --h || d.resolveWith(e, [e]) } typeof a != "string" && (c = a, a = b), a = a || "fx"; var d = f.Deferred(), e = this, g = e.length, h = 1, i = a + "defer", j = a + "queue", k = a + "mark", l; while (g--) if (l = f.data(e[g], i, b, !0) || (f.data(e[g], j, b, !0) || f.data(e[g], k, b, !0)) && f.data(e[g], i, f.Callbacks("once memory"), !0)) h++, l.add(m); m(); return d.promise() } }); var o = /[\n\t\r]/g, p = /\s+/, q = /\r/g, r = /^(?:button|input)$/i, s = /^(?:button|input|object|select|textarea)$/i, t = /^a(?:rea)?$/i, u = /^(?:autofocus|autoplay|async|checked|controls|defer|disabled|hidden|loop|multiple|open|readonly|required|scoped|selected)$/i, v = f.support.getSetAttribute, w, x, y; f.fn.extend({ attr: function(a, b) { return f.access(this, a, b, !0, f.attr) }, removeAttr: function(a) { return this.each(function() { f.removeAttr(this, a) }) }, prop: function(a, b) { return f.access(this, a, b, !0, f.prop) }, removeProp: function(a) { a = f.propFix[a] || a; return this.each(function() { try { this[a] = b, delete this[a] } catch (c) {} }) }, addClass: function(a) { var b, c, d, e, g, h, i; if (f.isFunction(a)) return this.each(function(b) { f(this).addClass(a.call(this, b, this.className)) }); if (a && typeof a == "string") { b = a.split(p); for (c = 0, d = this.length; c < d; c++) { e = this[c]; if (e.nodeType === 1) if (!e.className && b.length === 1) e.className = a; else { g = " " + e.className + " "; for (h = 0, i = b.length; h < i; h++) ~g.indexOf(" " + b[h] + " ") || (g += b[h] + " "); e.className = f.trim(g) } } } return this }, removeClass: function(a) { var c, d, e, g, h, i, j; if (f.isFunction(a)) return this.each(function(b) { f(this).removeClass(a.call(this, b, this.className)) }); if (a && typeof a == "string" || a === b) { c = (a || "").split(p); for (d = 0, e = this.length; d < e; d++) { g = this[d]; if (g.nodeType === 1 && g.className) if (a) { h = (" " + g.className + " ").replace(o, " "); for (i = 0, j = c.length; i < j; i++) h = h.replace(" " + c[i] + " ", " "); g.className = f.trim(h) } else g.className = "" } } return this }, toggleClass: function(a, b) { var c = typeof a, d = typeof b == "boolean"; if (f.isFunction(a)) return this.each(function(c) { f(this).toggleClass(a.call(this, c, this.className, b), b) }); return this.each(function() { if (c === "string") { var e, g = 0, h = f(this), i = b, j = a.split(p); while (e = j[g++]) i = d ? i : !h.hasClass(e), h[i ? "addClass" : "removeClass"](e) } else if (c === "undefined" || c === "boolean") this.className && f._data(this, "__className__", this.className), this.className = this.className || a === !1 ? "" : f._data(this, "__className__") || "" }) }, hasClass: function(a) { var b = " " + a + " ", c = 0, d = this.length; for (; c < d; c++) if (this[c].nodeType === 1 && (" " + this[c].className + " ").replace(o, " ").indexOf(b) > -1) return !0; return !1 }, val: function(a) { var c, d, e, g = this[0]; { if (!!arguments.length) { e = f.isFunction(a); return this.each(function(d) { var g = f(this), h; if (this.nodeType === 1) { e ? h = a.call(this, d, g.val()) : h = a, h == null ? h = "" : typeof h == "number" ? h += "" : f.isArray(h) && (h = f.map(h, function(a) { return a == null ? "" : a + "" })), c = f.valHooks[this.nodeName.toLowerCase()] || f.valHooks[this.type]; if (!c || !("set" in c) || c.set(this, h, "value") === b) this.value = h } }) } if (g) { c = f.valHooks[g.nodeName.toLowerCase()] || f.valHooks[g.type]; if (c && "get" in c && (d = c.get(g, "value")) !== b) return d; d = g.value; return typeof d == "string" ? d.replace(q, "") : d == null ? "" : d } } } }), f.extend({ valHooks: { option: { get: function(a) { var b = a.attributes.value; return !b || b.specified ? a.value : a.text } }, select: { get: function(a) { var b, c, d, e, g = a.selectedIndex, h = [], i = a.options, j = a.type === "select-one"; if (g < 0) return null; c = j ? g : 0, d = j ? g + 1 : i.length; for (; c < d; c++) { e = i[c]; if (e.selected && (f.support.optDisabled ? !e.disabled : e.getAttribute("disabled") === null) && (!e.parentNode.disabled || !f.nodeName(e.parentNode, "optgroup"))) { b = f(e).val(); if (j) return b; h.push(b) } } if (j && !h.length && i.length) return f(i[g]).val(); return h }, set: function(a, b) { var c = f.makeArray(b); f(a).find("option").each(function() { this.selected = f.inArray(f(this).val(), c) >= 0 }), c.length || (a.selectedIndex = -1); return c } } }, attrFn: { val: !0, css: !0, html: !0, text: !0, data: !0, width: !0, height: !0, offset: !0 }, attr: function(a, c, d, e) { var g, h, i, j = a.nodeType; if (!!a && j !== 3 && j !== 8 && j !== 2) { if (e && c in f.attrFn) return f(a)[c](d); if (typeof a.getAttribute == "undefined") return f.prop(a, c, d); i = j !== 1 || !f.isXMLDoc(a), i && (c = c.toLowerCase(), h = f.attrHooks[c] || (u.test(c) ? x : w)); if (d !== b) { if (d === null) { f.removeAttr(a, c); return } if (h && "set" in h && i && (g = h.set(a, d, c)) !== b) return g; a.setAttribute(c, "" + d); return d } if (h && "get" in h && i && (g = h.get(a, c)) !== null) return g; g = a.getAttribute(c); return g === null ? b : g } }, removeAttr: function(a, b) { var c, d, e, g, h = 0; if (b && a.nodeType === 1) { d = b.toLowerCase().split(p), g = d.length; for (; h < g; h++) e = d[h], e && (c = f.propFix[e] || e, f.attr(a, e, ""), a.removeAttribute(v ? e : c), u.test(e) && c in a && (a[c] = !1)) } }, attrHooks: { type: { set: function(a, b) { if (r.test(a.nodeName) && a.parentNode) f.error("type property can't be changed"); else if (!f.support.radioValue && b === "radio" && f.nodeName(a, "input")) { var c = a.value; a.setAttribute("type", b), c && (a.value = c); return b } } }, value: { get: function(a, b) { if (w && f.nodeName(a, "button")) return w.get(a, b); return b in a ? a.value : null }, set: function(a, b, c) { if (w && f.nodeName(a, "button")) return w.set(a, b, c); a.nodeType; if (!!a && i !== 3 && i !== 8 && i !== 2) { h = i !== 1 || !f.isXMLDoc(a), h && (c = f.propFix[c] || c, g = f.propHooks[c]); return d !== b ? g && "set" in g && (e = g.set(a, d, c)) !== b ? e : a[c] = d : g && "get" in g && (e = g.get(a, c)) !== null ? e : a[c] } }, propHooks: { tabIndex: { get: function(a) { var c = a.getAttributeNode("tabindex"); return c && c.specified ? parseInt(c.value, 10) : s.test(a.nodeName) || t.test(a.nodeName) && a.href ? 0 : b } } } }), f.attrHooks.tabindex = f.propHooks.tabIndex, x = { get: function(a, c) { var d, e = f.prop(a, c); return e === !0 || typeof e != "boolean" && (d = a.getAttributeNode(c)) && d.nodeValue !== !1 ? c.toLowerCase() : b }, set: function(a, b, c) { var d; b === !1 ? f.removeAttr(a, c) : (d = f.propFix[c] || c, d in a && (a[d] = !0), a.setAttribute(c, c.toLowerCase())); return c } }, v || (y = { name: !0, id: !0 }, w = f.valHooks.button = { get: function(a, c) { var d; d = a.getAttributeNode(c); return d && (y[c] ? d.nodeValue !== "" : d.specified) ? d.nodeValue : b }, set: function(a, b, d) { var e = a.getAttributeNode(d); e || (e = c.createAttribute(d), a.setAttributeNode(e)); return e.nodeValue = b + "" } }, f.attrHooks.tabindex.set = w.set, f.each(["width", "height"], function(a, b) { f.attrHooks[b] = f.extend(f.attrHooks[b], { set: function(a, c) { if (c === "") { a.setAttribute(b, "auto"); return c } } }) }), f.attrHooks.contenteditable = { get: w.get, set: function(a, b, c) { b === "" && (b = "false"), w.set(a, b, c) } }), f.support.hrefNormalized || f.each(["href", "src", "width", "height"], function(a, c) { f.attrHooks[c] = f.extend(f.attrHooks[c], { get: function(a) { var d = a.getAttribute(c, 2); return d === null ? b : d } }) }), f.support.style || (f.attrHooks.style = { get: function(a) { return a.style.cssText.toLowerCase() || b }, set: function(a, b) { return a.style.cssText = "" + b } }), f.support.optSelected || (f.propHooks.selected = f.extend(f.propHooks.selected, { get: function(a) { var b = a.parentNode; b && (b.selectedIndex, b.parentNode && b.parentNode.selectedIndex); return null } })), f.support.enctype || (f.propFix.enctype = "encoding"), f.support.checkOn || f.each(["radio", "checkbox"], function() { f.valHooks[this] = { get: function(a) { return a.getAttribute("value") === null ? "on" : a.value } } }), f.each(["radio", "checkbox"], function() { f.valHooks[this] = f.extend(f.valHooks[this], { set: function(a, b) { if (f.isArray(b)) return a.checked = f.inArray(f(a).val(), b) >= 0 } }) }); var z = /^(?:textarea|input|select)$/i, A = /^([^\.]*)?(?:\.(.+))?$/, B = /\bhover(\.\S+)?\b/, C = /^key/, D = /^(?:mouse|contextmenu)|click/, E = /^(?:focusinfocus|focusoutblur)$/, F = /^(\w*)(?:#([\w\-]+))?(?:\.([\w\-]+))?$/, G = function(a) { var b = F.exec(a); b && (b[1] = (b[1] || "").toLowerCase(), b[3] = b[3] && new RegExp("(?:^|\\s)" + b[3] + "(?:\\s|$)")); return b }, H = function(a, b) { var c = a.attributes || {}; return (!b[1] || a.nodeName.toLowerCase() === b[1]) && (!b[2] || (c.id || {}).value === b[2]) && (!b[3] || b[3].test((c["class"] || {}).value)) }, I = function(a) { return f.event.special.hover ? a : a.replace(B, "mouseenter$1 mouseleave$1") }; f.event = { add: function(a, c, d, e, g) { var h, i, j, k, l, m, n, o, p, q, r, s; if (!(a.nodeType === 3 || a.nodeType === 8 || !c || !d || !(h = f._data(a)))) { d.handler && (p = d, d = p.handler), d.guid || (d.guid = f.guid++), j = h.events, j || (h.events = j = {}), i = h.handle, i || (h.handle = i = function(a) { return typeof f != "undefined" && (!a || f.event.triggered !== a.type) ? f.event.dispatch.apply(i.elem, arguments) : b }, i.elem = a), c = f.trim(I(c)).split(" "); for (k = 0; k < c.length; k++) { l = A.exec(c[k]) || [], m = l[1], n = (l[2] || "").split(".").sort(), s = f.event.special[m] || {}, m = (g ? s.delegateType : s.bindType) || m, s = f.event.special[m] || {}, o = f.extend({ type: m, origType: l[1], data: e, handler: d, guid: d.guid, selector: g, quick: G(g), namespace: n.join(".") }, p), r = j[m]; if (!r) { r = j[m] = [], r.delegateCount = 0; if (!s.setup || s.setup.call(a, e, n, i) === !1) a.addEventListener ? a.addEventListener(m, i, !1) : a.attachEvent && a.attachEvent("on" + m, i) } s.add && (s.add.call(a, o), o.handler.guid || (o.handler.guid = d.guid)), g ? r.splice(r.delegateCount++, 0, o) : r.push(o), f.event.global[m] = !0 } a = null } }, global: {}, remove: function(a, b, c, d, e) { var g = f.hasData(a) && f._data(a), h, i, j, k, l, m, n, o, p, q, r, s; if (!!g && !!(o = g.events)) { b = f.trim(I(b || "")).split(" "); for (h = 0; h < b.length; h++) { i = A.exec(b[h]) || [], j = k = i[1], l = i[2]; if (!j) { for (j in o) f.event.remove(a, j + b[h], c, d, !0); continue } p = f.event.special[j] || {}, j = (d ? p.delegateType : p.bindType) || j, r = o[j] || [], m = r.length, l = l ? new RegExp("(^|\\.)" + l.split(".").sort().join("\\.(?:.*\\.)?") + "(\\.|$)") : null; for (n = 0; n < r.length; n++) s = r[n], (e || k === s.origType) && (!c || c.guid === s.guid) && (!l || l.test(s.namespace)) && (!d || d === s.selector || d === "**" && s.selector) && (r.splice(n--, 1), s.selector && r.delegateCount--, p.remove && p.remove.call(a, s)); r.length === 0 && m !== r.length && ((!p.teardown || p.teardown.call(a, l) === !1) && f.removeEvent(a, j, g.handle), delete o[j]) } f.isEmptyObject(o) && (q = g.handle, q && (q.elem = null), f.removeData(a, ["events", "handle"], !0)) } }, customEvent: { getData: !0, setData: !0, changeData: !0 }, trigger: function(c, d, e, g) { if (!e || e.nodeType !== 3 && e.nodeType !== 8) { var h = c.type || c, i = [], j, k, l, m, n, o, p, q, r, s; if (E.test(h + f.event.triggered)) return; h.indexOf("!") >= 0 && (h = h.slice(0, -1), k = !0), h.indexOf(".") >= 0 && (i = h.split("."), h = i.shift(), i.sort()); if ((!e || f.event.customEvent[h]) && !f.event.global[h]) return; c = typeof c == "object" ? c[f.expando] ? c : new f.Event(h, c) : new f.Event(h), c.type = h, c.isTrigger = !0, c.exclusive = k, c.namespace = i.join("."), c.namespace_re = c.namespace ? new RegExp("(^|\\.)" + i.join("\\.(?:.*\\.)?") + "(\\.|$)") : null, o = h.indexOf(":") < 0 ? "on" + h : ""; if (!e) { j = f.cache; for (l in j) j[l].events && j[l].events[h] && f.event.trigger(c, d, j[l].handle.elem, !0); return } c.result = b, c.target || (c.target = e), d = d != null ? f.makeArray(d) : [], d.unshift(c), p = f.event.special[h] || {}; if (p.trigger && p.trigger.apply(e, d) === !1) return; r = [ [e, p.bindType || h] ]; if (!g && !p.noBubble && !f.isWindow(e)) { s = p.delegateType || h, m = E.test(s + h) ? e : e.parentNode, n = null; for (; m; m = m.parentNode) r.push([m, s]), n = m; n && n === e.ownerDocument && r.push([n.defaultView || n.parentWindow || a, s]) } for (l = 0; l < r.length && !c.isPropagationStopped(); l++) m = r[l][0], c.type = r[l][1], q = (f._data(m, "events") || {})[c.type] && f._data(m, "handle"), q && q.apply(m, d), q = o && m[o], q && f.acceptData(m) && q.apply(m, d) === !1 && c.preventDefault(); c.type = h, !g && !c.isDefaultPrevented() && (!p._default || p._default.apply(e.ownerDocument, d) === !1) && (h !== "click" || !f.nodeName(e, "a")) && f.acceptData(e) && o && e[h] && (h !== "focus" && h !== "blur" || c.target.offsetWidth !== 0) && !f.isWindow(e) && (n = e[o], n && (e[o] = null), f.event.triggered = h, e[h](), f.event.triggered = b, n && (e[o] = n)); return c.result } }, dispatch: function(c) { c = f.event.fix(c || a.event); var d = (f._data(this, "events") || {})[c.type] || [], e = d.delegateCount, g = [].slice.call(arguments, 0), h = !c.exclusive && !c.namespace, i = [], j, k, l, m, n, o, p, q, r, s, t; g[0] = c, c.delegateTarget = this; if (e && !c.target.disabled && (!c.button || c.type !== "click")) { m = f(this), m.context = this.ownerDocument || this; for (l = c.target; l != this; l = l.parentNode || this) { o = {}, q = [], m[0] = l; for (j = 0; j < e; j++) r = d[j], s = r.selector, o[s] === b && (o[s] = r.quick ? H(l, r.quick) : m.is(s)), o[s] && q.push(r); q.length && i.push({ elem: l, matches: q }) } } d.length > e && i.push({ elem: this, matches: d.slice(e) }); for (j = 0; j < i.length && !c.isPropagationStopped(); j++) { p = i[j], c.currentTarget = p.elem; for (k = 0; k < p.matches.length && !c.isImmediatePropagationStopped(); k++) { r = p.matches[k]; if (h || !c.namespace && !r.namespace || c.namespace_re && c.namespace_re.test(r.namespace)) c.data = r.data, c.handleObj = r, n = ((f.event.special[r.origType] || {}).handle || r.handler).apply(p.elem, g), n !== b && (c.result = n, n === !1 && (c.preventDefault(), c.stopPropagation())) } } return c.result }, props: "attrChange attrName relatedNode srcElement altKey bubbles cancelable ctrlKey currentTarget eventPhase metaKey relatedTarget shiftKey target timeStamp view which".split(" "), fixHooks: {}, keyHooks: { props: "char charCode key keyCode".split(" "), filter: function(a, b) { a.which == null && (a.which = b.charCode != null ? b.charCode : b.keyCode); return a } }, mouseHooks: { props: "button buttons clientX clientY fromElement offsetX offsetY pageX pageY screenX screenY toElement".split(" "), filter: function(a, d) { var e, f, g, h = d.button, i = d.fromElement; a.pageX == null && d.clientX != null && (e = a.target.ownerDocument || c, f = e.documentElement, g = e.body, a.pageX = d.clientX + (f && f.scrollLeft || g && g.scrollLeft || 0) - (f && f.clientLeft || g && g.clientLeft || 0), a.pageY = d.clientY + (f && f.scrollTop || g && g.scrollTop || 0) - (f && f.clientTop || g && g.clientTop || 0)), !a.relatedTarget && i && (a.relatedTarget = i === a.target ? d.toElement : i), !a.which && h !== b && (a.which = h & 1 ? 1 : h & 2 ? 3 : h & 4 ? 2 : 0); return a } }, fix: function(a) { if (a[f.expando]) return a; var d, e, g = a, h = f.event.fixHooks[a.type] || {}, i = h.props ? this.props.concat(h.props) : this.props; a = f.Event(g); for (d = i.length; d;) e = i[--d], a[e] = g[e]; a.target || (a.target = g.srcElement || c), a.target.nodeType === 3 && (a.target = a.target.parentNode), a.metaKey === b && (a.metaKey = a.ctrlKey); return h.filter ? h.filter(a, g) : a }, special: { ready: { setup: f.bindReady }, load: { noBubble: !0 }, focus: { delegateType: "focusin" }, blur: { delegateType: "focusout" }, beforeunload: { setup: function(a, b, c) { f.isWindow(this) && (this.onbeforeunload = c) }, teardown: function(a, b) { this.onbeforeunload === b && (this.onbeforeunload = null) } } }, simulate: function(a, b, c, d) { var e = f.extend(new f.Event, c, { type: a, isSimulated: !0, originalEvent: {} }); d ? f.event.trigger(e, null, b) : f.event.dispatch.call(b, e), e.isDefaultPrevented() && c.preventDefault() } }, f.event.handle = f.event.dispatch, f.removeEvent = c.removeEventListener ? function(a, b, c) { a.removeEventListener && a.removeEventListener(b, c, !1) } : function(a, b, c) { a.detachEvent && a.detachEvent("on" + b, c) }, f.Event = function(a, b) { if (!(this instanceof f.Event)) return new f.Event(a, b); a && a.type ? (this.originalEvent = a, this.type = a.type, this.isDefaultPrevented = a.defaultPrevented || a.returnValue === !1 || a.getPreventDefault && a.getPreventDefault() ? K : J) : this.type = a, b && f.extend(this, b), this.timeStamp = a && a.timeStamp || f.now(), this[f.expando] = !0 }, f.Event.prototype = { preventDefault: function() { this.isDefaultPrevented = K; var a = this.originalEvent; !a || (a.preventDefault ? a.preventDefault() : a.returnValue = !1) }, stopPropagation: function() { this.isPropagationStopped = K; var a = this.originalEvent; !a || (a.stopPropagation && a.stopPropagation(), a.cancelBubble = !0) }, stopImmediatePropagation: function() { this.isImmediatePropagationStopped = K, this.stopPropagation() }, isDefaultPrevented: J, isPropagationStopped: J, isImmediatePropagationStopped: J }, f.each({ mouseenter: "mouseover", mouseleave: "mouseout" }, function(a, b) { f.event.special[a] = { delegateType: b, bindType: b, handle: function(a) { var c = this, d = a.relatedTarget, e = a.handleObj, g = e.selector, h; if (!d || d !== c && !f.contains(c, d)) a.type = e.origType, h = e.handler.apply(this, arguments), a.type = b; return h } } }), f.support.submitBubbles || (f.event.special.submit = { setup: function() { if (f.nodeName(this, "form")) return !1; f.event.add(this, "click._submit keypress._submit", function(a) { var c = a.target, d = f.nodeName(c, "input") || f.nodeName(c, "button") ? c.form : b; d && !d._submit_attached && (f.event.add(d, "submit._submit", function(a) { this.parentNode && !a.isTrigger && f.event.simulate("submit", this.parentNode, a, !0) }), d._submit_attached = !0) }) }, teardown: function() { if (f.nodeName(this, "form")) return !1; f.event.remove(this, "._submit") } }), f.support.changeBubbles || (f.event.special.change = { setup: function() { if (z.test(this.nodeName)) { if (this.type === "checkbox" || this.type === "radio") f.event.add(this, "propertychange._change", function(a) { a.originalEvent.propertyName === "checked" && (this._just_changed = !0) }), f.event.add(this, "click._change", function(a) { this._just_changed && !a.isTrigger && (this._just_changed = !1, f.event.simulate("change", this, a, !0)) }); return !1 } f.event.add(this, "beforeactivate._change", function(a) { var b = a.target; z.test(b.nodeName) && !b._change_attached && (f.event.add(b, "change._change", function(a) { this.parentNode && !a.isSimulated && !a.isTrigger && f.event.simulate("change", this.parentNode, a, !0) }), b._change_attached = !0) }) }, handle: function(a) { var b = a.target; if (this !== b || a.isSimulated || a.isTrigger || b.type !== "radio" && b.type !== "checkbox") return a.handleObj.handler.apply(this, arguments) }, teardown: function() { f.event.remove(this, "._change"); return z.test(this.nodeName) } }), f.support.focusinBubbles || f.each({ focus: "focusin", blur: "focusout" }, function(a, b) { var d = 0, e = function(a) { f.event.simulate(b, a.target, f.event.fix(a), !0) }; f.event.special[b] = { setup: function() { d++ === 0 && c.addEventListener(a, e, !0) }, teardown: function() { --d === 0 && c.removeEventListener(a, e, !0) } } }), f.fn.extend({ on: function(a, c, d, e, g) { var h, i; if (typeof a == "object") { typeof c != "string" && (d = c, c = b); for (i in a) this.on(i, c, d, a[i], g); return this } d == null && e == null ? (e = c, d = c = b) : e == null && (typeof c == "string" ? (e = d, d = b) : (e = d, d = c, c = b)); if (e === !1) e = J; else if (!e) return this; g === 1 && (h = e, e = function(a) { f().off(a); return h.apply(this, arguments) }, e.guid = h.guid || (h.guid = f.guid++)); return this.each(function() { f.event.add(this, a, e, d, c) }) }, one: function(a, b, c, d) { return this.on.call(this, a, b, c, d, 1) }, off: function(a, c, d) { if (a && a.preventDefault && a.handleObj) { var e = a.handleObj; f(a.delegateTarget).off(e.namespace ? e.type + "." + e.namespace : e.type, e.selector, e.handler); return this } if (typeof a == "object") { for (var g in a) this.off(g, c, a[g]); return this } if (c === !1 || typeof c == "function") d = c, c = b; d === !1 && (d = J); return this.each(function() { f.event.remove(this, a, d, c) }) }, bind: function(a, b, c) { return this.on(a, null, b, c) }, unbind: function(a, b) { return this.off(a, null, b) }, live: function(a, b, c) { f(this.context).on(a, this.selector, b, c); return this }, die: function(a, b) { f(this.context).off(a, this.selector || "**", b); return this }, delegate: function(a, b, c, d) { return this.on(b, a, c, d) }, undelegate: function(a, b, c) { return arguments.length == 1 ? this.off(a, "**") : this.off(b, a, c) }, trigger: function(a, b) { return this.each(function() { f.event.trigger(a, b, this) }) }, triggerHandler: function(a, b) { if (this[0]) return f.event.trigger(a, b, this[0], !0) }, toggle: function(a) { var b = arguments, c = a.guid || f.guid++, d = 0, e = function(c) { var e = (f._data(this, "lastToggle" + a.guid) || 0) % d; f._data(this, "lastToggle" + a.guid, e + 1), c.preventDefault(); return b[e].apply(this, arguments) || !1 }; e.guid = c; while (d < b.length) b[d++].guid = c; return this.click(e) }, hover: function(a, b) { return this.mouseenter(a).mouseleave(b || a) } }), f.each("blur focus focusin focusout load resize scroll unload click dblclick mousedown mouseup mousemove mouseover mouseout mouseenter mouseleave change select submit keydown keypress keyup error contextmenu".split(" "), function(a, b) { f.fn[b] = function(a, c) { c == null && (c = a, a = null); return arguments.length > 0 ? this.on(b, null, a, c) : this.trigger(b) }, f.attrFn && (f.attrFn[b] = !0), C.test(b) && (f.event.fixHooks[b] = f.event.keyHooks), D.test(b) && (f.event.fixHooks[b] = f.event.mouseHooks) }), function() { function x(a, b, c, e, f, g) { for (var h = 0, i = e.length; h < i; h++) { var j = e[h]; if (j) { var k = !1; j = j[a]; while (j) { if (j[d] === c) { k = e[j.sizset]; break } if (j.nodeType === 1) { g || (j[d] = c, j.sizset = h); if (typeof b != "string") { if (j === b) { k = !0; break } } else if (m.filter(b, [j]).length > 0) { k = j; break } } j = j[a] } e[h] = k } } } function w(a, b, c, e, f, g) { for (var h = 0, i = e.length; h < i; h++) { var j = e[h]; if (j) { var k = !1; j = j[a]; while (j) { if (j[d] === c) { k = e[j.sizset]; break } j.nodeType === 1 && !g && (j[d] = c, j.sizset = h); if (j.nodeName.toLowerCase() === b) { k = j; break } j = j[a] } e[h] = k } } } var a = /((?:\((?:\([^()]+\)|[^()]+)+\)|\[(?:\[[^\[\]]*\]|['"][^'"]*['"]|[^\[\]'"]+)+\]|\\.|[^ >+~,(\[\\]+)+|[>+~])(\s*,\s*)?((?:.|\r|\n)*)/g, d = "sizcache" + (Math.random() + "").replace(".", ""), e = 0, g = Object.prototype.toString, h = !1, i = !0, j = /\\/g, k = /\r\n/g, l = /\W/; [0, 0].sort(function() { i = !1; return 0 }); var m = function(b, d, e, f) { e = e || [], d = d || c; var h = d; if (d.nodeType !== 1 && d.nodeType !== 9) return []; if (!b || typeof b != "string") return e; var i, j, k, l, n, q, r, t, u = !0, v = m.isXML(d), w = [], x = b; do { a.exec(""), i = a.exec(x); if (i) { x = i[3], w.push(i[1]); if (i[2]) { l = i[3]; break } } } while (i); if (w.length > 1 && p.exec(b)) if (w.length === 2 && o.relative[w[0]]) j = y(w[0] + w[1], d, f); else { j = o.relative[w[0]] ? [d] : m(w.shift(), d); while (w.length) b = w.shift(), o.relative[b] && (b += w.shift()), j = y(b, j, f) } else { !f && w.length > 1 && d.nodeType === 9 && !v && o.match.ID.test(w[0]) && !o.match.ID.test(w[w.length - 1]) && (n = m.find(w.shift(), d, v), d = n.expr ? m.filter(n.expr, n.set)[0] : n.set[0]); if (d) { n = f ? { expr: w.pop(), set: s(f) } : m.find(w.pop(), w.length === 1 && (w[0] === "~" || w[0] === "+") && d.parentNode ? d.parentNode : d, v), j = n.expr ? m.filter(n.expr, n.set) : n.set, w.length > 0 ? k = s(j) : u = !1; while (w.length) q = w.pop(), r = q, o.relative[q] ? r = w.pop() : q = "", r == null && (r = d), o.relative[q](k, r, v) } else k = w = [] } k || (k = j), k || m.error(q || b); if (g.call(k) === "[object Array]") if (!u) e.push.apply(e, k); else if (d && d.nodeType === 1) for (t = 0; k[t] != null; t++) k[t] && (k[t] === !0 || k[t].nodeType === 1 && m.contains(d, k[t])) && e.push(j[t]); else for (t = 0; k[t] != null; t++) k[t] && k[t].nodeType === 1 && e.push(j[t]); else s(k, e); l && (m(l, h, e, f), m.uniqueSort(e)); return e }; m.uniqueSort = function(a) { if (u) { h = i, a.sort(u); if (h) for (var b = 1; b < a.length; b++) a[b] === a[b - 1] && a.splice(b--, 1) } return a }, m.matches = function(a, b) { return m(a, null, null, b) }, m.matchesSelector = function(a, b) { return m(b, null, null, [a]).length > 0 }, m.find = function(a, b, c) { var d, e, f, g, h, i; if (!a) return []; for (e = 0, f = o.order.length; e < f; e++) { h = o.order[e]; if (g = o.leftMatch[h].exec(a)) { i = g[1], g.splice(1, 1); if (i.substr(i.length - 1) !== "\\") { g[1] = (g[1] || "").replace(j, ""), d = o.find[h](g, b, c); if (d != null) { a = a.replace(o.match[h], ""); break } } } } d || (d = typeof b.getElementsByTagName != "undefined" ? b.getElementsByTagName("*") : []); return { set: d, expr: a } }, m.filter = function(a, c, d, e) { var f, g, h, i, j, k, l, n, p, q = a, r = [], s = c, t = c && c[0] && m.isXML(c[0]); while (a && c.length) { for (h in o.filter) if ((f = o.leftMatch[h].exec(a)) != null && f[2]) { k = o.filter[h], l = f[1], g = !1, f.splice(1, 1); if (l.substr(l.length - 1) === "\\") continue; s === r && (r = []); if (o.preFilter[h]) { f = o.preFilter[h](f, s, d, r, e, t); if (!f) g = i = !0; else if (f === !0) continue } if (f) for (n = 0; (j = s[n]) != null; n++) j && (i = k(j, f, n, s), p = e ^ i, d && i != null ? p ? g = !0 : s[n] = !1 : p && (r.push(j), g = !0)); if (i !== b) { d || (s = r), a = a.replace(o.match[h], ""); if (!g) return []; break } } if (a === q) if (g == null) m.error(a); else break; q = a } return s }, m.error = function(a) { throw new Error("Syntax error, unrecognized expression: " + a) }; var n = m.getText = function(a) { var b, c, d = a.nodeType, e = ""; if (d) { if (d === 1 || d === 9) { if (typeof a.textContent == "string") return a.textContent; if (typeof a.innerText == "string") return a.innerText.replace(k, ""); for (a = a.firstChild; a; a = a.nextSibling) e += n(a) } else if (d === 3 || d === 4) return a.nodeValue } else for (b = 0; c = a[b]; b++) c.nodeType !== 8 && (e += n(c)); return e }, o = m.selectors = { order: ["ID", "NAME", "TAG"], match: { ID: /#((?:[\w\u00c0-\uFFFF\-]|\\.)+)/, CLASS: /\.((?:[\w\u00c0-\uFFFF\-]|\\.)+)/, NAME: /\[name=['"]*((?:[\w\u00c0-\uFFFF\-]|\\.)+)['"]*\]/, ATTR: /\[\s*((?:[\w\u00c0-\uFFFF\-]|\\.)+)\s*(?:(\S?=)\s*(?:(['"])(.*?)\3|(#?(?:[\w\u00c0-\uFFFF\-]|\\.)*)|)|)\s*\]/, TAG: /^((?:[\w\u00c0-\uFFFF\*\-]|\\.)+)/, CHILD: /:(only|nth|last|first)-child(?:\(\s*(even|odd|(?:[+\-]?\d+|(?:[+\-]?\d*)?n\s*(?:[+\-]\s*\d+)?))\s*\))?/, POS: /:(nth|eq|gt|lt|first|last|even|odd)(?:\((\d*)\))?(?=[^\-]|$)/, PSEUDO: /:((?:[\w\u00c0-\uFFFF\-]|\\.)+)(?:\((['"]?)((?:\([^\)]+\)|[^\(\)]*)+)\2\))?/ }, leftMatch: {}, attrMap: { "class": "className", "for": "htmlFor" }, attrHandle: { href: function(a) { return a.getAttribute("href") }, type: function(a) { return a.getAttribute("type") } }, relative: { "+": function(a, b) { var c = typeof b == "string", d = c && !l.test(b), e = c && !d; d && (b = b.toLowerCase()); for (var f = 0, g = a.length, h; f < g; f++) if (h = a[f]) { while ((h = h.previousSibling) && h.nodeType !== 1); a[f] = e || h && h.nodeName.toLowerCase() === b ? h || !1 : h === b } e && m.filter(b, a, !0) }, ">": function(a, b) { var c, d = typeof b == "string", e = 0, f = a.length; if (d && !l.test(b)) { b = b.toLowerCase(); for (; e < f; e++) { c = a[e]; if (c) { var g = c.parentNode; a[e] = g.nodeName.toLowerCase() === b ? g : !1 } } } else { for (; e < f; e++) c = a[e], c && (a[e] = d ? c.parentNode : c.parentNode === b); d && m.filter(b, a, !0) } }, "": function(a, b, c) { var d, f = e++, g = x; typeof b == "string" && !l.test(b) && (b = b.toLowerCase(), d = b, g = w), g("parentNode", b, f, a, d, c) }, "~": function(a, b, c) { var d, f = e++, g = x; typeof b == "string" && !l.test(b) && (b = b.toLowerCase(), d = b, g = w), g("previousSibling", b, f, a, d, c) } }, find: { ID: function(a, b, c) { if (typeof b.getElementById != "undefined" && !c) { var d = b.getElementById(a[1]); return d && d.parentNode ? [d] : [] } }, NAME: function(a, b) { if (typeof b.getElementsByName != "undefined") { var c = [], d = b.getElementsByName(a[1]); for (var e = 0, f = d.length; e < f; e++) d[e].getAttribute("name") === a[1] && c.push(d[e]); return c.length === 0 ? null : c } }, TAG: function(a, b) { if (typeof b.getElementsByTagName != "undefined") return b.getElementsByTagName(a[1]) } }, preFilter: { CLASS: function(a, b, c, d, e, f) { a = " " + a[1].replace(j, "") + " "; if (f) return a; for (var g = 0, h; (h = b[g]) != null; g++) h && (e ^ (h.className && (" " + h.className + " ").replace(/[\t\n\r]/g, " ").indexOf(a) >= 0) ? c || d.push(h) : c && (b[g] = !1)); return !1 }, ID: function(a) { return a[1].replace(j, "") }, TAG: function(a, b) { return a[1].replace(j, "").toLowerCase() }, CHILD: function(a) { if (a[1] === "nth") { a[2] || m.error(a[0]), a[2] = a[2].replace(/^\+|\s*/g, ""); var b = /(-?)(\d*)(?:n([+\-]?\d*))?/.exec(a[2] === "even" && "2n" || a[2] === "odd" && "2n+1" || !/\D/.test(a[2]) && "0n+" + a[2] || a[2]); a[2] = b[1] + (b[2] || 1) - 0, a[3] = b[3] - 0 } else a[2] && m.error(a[0]); a[0] = e++; return a }, ATTR: function(a, b, c, d, e, f) { var g = a[1] = a[1].replace(j, ""); !f && o.attrMap[g] && (a[1] = o.attrMap[g]), a[4] = (a[4] || a[5] || "").replace(j, ""), a[2] === "~=" && (a[4] = " " + a[4] + " "); return a }, PSEUDO: function(b, c, d, e, f) { if (b[1] === "not") if ((a.exec(b[3]) || "").length > 1 || /^\w/.test(b[3])) b[3] = m(b[3], null, null, c); else { var g = m.filter(b[3], c, d, !0 ^ f); d || e.push.apply(e, g); return !1 } else if (o.match.POS.test(b[0]) || o.match.CHILD.test(b[0])) return !0; return b }, POS: function(a) { a.unshift(!0); return a } }, filters: { enabled: function(a) { return a.disabled === !1 && a.type !== "hidden" }, disabled: function(a) { return a.disabled === !0 }, checked: function(a) { return a.checked === !0 }, selected: function(a) { a.parentNode && a.parentNode.selectedIndex; return a.selected === !0 }, parent: function(a) { return !!a.firstChild }, empty: function(a) { return !a.firstChild }, has: function(a, b, c) { return !!m(c[3], a).length }, header: function(a) { return /h\d/i.test(a.nodeName) }, text: function(a) { var b = a.getAttribute("type"), c = a.type; return a.nodeName.toLowerCase() === "input" && "text" === c && (b === c || b === null) }, radio: function(a) { return a.nodeName.toLowerCase() === "input" && "radio" === a.type }, checkbox: function(a) { return a.nodeName.toLowerCase() === "input" && "checkbox" === a.type }, file: function(a) { return a.nodeName.toLowerCase() === "input" && "file" === a.type }, password: function(a) { return a.nodeName.toLowerCase() === "input" && "password" === a.type }, submit: function(a) { var b = a.nodeName.toLowerCase(); return (b === "input" || b === "button") && "submit" === a.type }, image: function(a) { return a.nodeName.toLowerCase() === "input" && "image" === a.type }, reset: function(a) { var b = a.nodeName.toLowerCase(); return (b === "input" || b === "button") && "reset" === a.type }, button: function(a) { var b = a.nodeName.toLowerCase(); return b === "input" && "button" === a.type || b === "button" }, input: function(a) { return /input|select|textarea|button/i.test(a.nodeName) }, focus: function(a) { return a === a.ownerDocument.activeElement } }, setFilters: { first: function(a, b) { return b === 0 }, last: function(a, b, c, d) { return b === d.filters[e]; if (f) return f(a, c, b, d); if (e === "contains") return (a.textContent || a.innerText || n([a]) || "").indexOf(b[3]) >= 0; if (e === "not") { var g = b[3]; for (var h = 0, i = g.length; h < i; h++) if (g[h] === a) return !1; return !0 } m.error(e) }, CHILD: function(a, b) { var c, e, f, g, h, i, j, k = b[1], l = a; switch (k) { case "only": case "first": while (l = l.previousSibling) if (l.nodeType === 1) return !1; if (k === "first") return !0; l = a; case "last": while (l = l.nextSibling) if (l.nodeType === 1) return !1; return !0; case "nth": c = b[2], e = b[3]; if (c === 1 && e === 0) return !0; f = b[0], g = a.parentNode; if (g && (g[d] !== f || !a.nodeIndex)) { i = 0; for (l = g.firstChild; l; l = l.nextSibling) l.nodeType === 1 && (l.nodeIndex = ++i); g[d] = f } j = a.nodeIndex - e; return c === 0 ? j === 0 : j % c === 0 && j / c >= 0 } }, ID: function(a, b) { return a.nodeType === 1 && a.getAttribute("id") === b }, TAG: function(a, b) { return b === "*" && a.nodeType === 1 || !!a.nodeName && a.nodeName.toLowerCase() === b }, CLASS: function(a, b) { return (" " + (a.className || a.getAttribute("class")) + " ").indexOf(b) > -1 }, ATTR: function(a, b) { var c = b[1], d = m.attr ? m.attr(a, c) : o.attrHandle[c] ? o.attrHandle[c](a) : a[c] != null ? a[c] : a.getAttribute(c), e = d + "", f = b[2], g = b[4]; return d == null ? f === "!=" : !f && m.attr ? d != null : f === "=" ? e === g : f === "*=" ? e.indexOf(g) >= 0 : f === "~=" ? (" " + e + " ").indexOf(g) >= 0 : g ? f === "!=" ? e !== g : f === "^=" ? e.indexOf(g) === 0 : f === "$=" ? e.substr(e.length - g.length) === g : f === "|=" ? e === g || e.substr(0, g.length + 1) === g + "-" : !1 : e && d !== !1 }, POS: function(a, b, c, d) { var e = b[2], f = o.setFilters[e]; if (f) return f(a, c, b, d) } } }, p = o.match.POS, q = function(a, b) { return "\\" + (b - 0 + 1) }; for (var r in o.match) o.match[r] = new RegExp(o.match[r].source + /(?![^\[]*\])(?![^\(]*\))/.source), o.leftMatch[r] = new RegExp(/(^(?:.|\r|\n)*?)/.source + o.match[r].source.replace(/\\(\d+)/g, q)); var s = function(a, b) { a = Array.prototype.slice.call(a, 0); if (b) { b.push.apply(b, a); return b } return a }; try { Array.prototype.slice.call(c.documentElement.childNodes, 0)[0].nodeType } catch (t) { s = function(a, b) { var c = 0, d = b || []; if (g.call(a) === "[object Array]") Array.prototype.push.apply(d, a); else if (typeof a.length == "number") for (var e = a.length; c < e; c++) d.push(a[c]); else for (; a[c]; c++) d.push(a[c]); return d } } var u, v; c.documentElement.compareDocumentPosition ? u = function(a, b) { if (a === b) { h = !0; return 0 } if (!a.compareDocumentPosition || !b.compareDocumentPosition) return a.compareDocumentPosition ? -1 : 1; return a.compareDocumentPosition(b) & 4 ? -1 : 1 } : (u = function(a, b) { if (a === b) { h = !0; return 0 } if (a.sourceIndex && b.sourceIndex) return a.sourceIndex - b.sourceIndex; var c, d, e = [], f = [], g = a.parentNode, i = b.parentNode, j = g; if (g === i) return v(a, b); if (!g) return -1; if (!i) return 1; while (j) e.unshift(j), j = j.parentNode; j = i; while (j) f.unshift(j), j = j.parentNode; c = e.length, d = f.length; for (var k = 0; k < c && k < d; k++) if (e[k] !== f[k]) return v(e[k], f[k]); return k === c ? v(a, f[k], -1) : v(e[k], b, 1) }, v = function(a, b, c) { if (a === b) return c; var d = a.nextSibling; while (d) { if (d === b) return -1; d = d.nextSibling } return 1 }), function() { var a = c.createElement("div"), d = "script" + (new Date).getTime(), e = c.documentElement; a.innerHTML = "", e.insertBefore(a, e.firstChild), c.getElementById(d) && (o.find.ID = function(a, c, d) { if (typeof c.getElementById != "undefined" && !d) { var e = c.getElementById(a[1]); return e ? e.id === a[1] || typeof e.getAttributeNode != "undefined" && e.getAttributeNode("id").nodeValue === a[1] ? [e] : b : [] } }, o.filter.ID = function(a, b) { var c = typeof a.getAttributeNode != "undefined" && a.getAttributeNode("id"); return a.nodeType === 1 && c && c.nodeValue === b }), e.removeChild(a), e = a = null }(), function() { var a = c.createElement("div"); a.appendChild(c.createComment("")), a.getElementsByTagName("*").length > 0 && (o.find.TAG = function(a, b) { var c = b.getElementsByTagName(a[1]); if (a[1] === "*") { var d = []; for (var e = 0; c[e]; e++) c[e].nodeType === 1 && d.push(c[e]); c = d } return c }), a.innerHTML = "", a.firstChild && typeof a.firstChild.getAttribute != "undefined" && a.firstChild.getAttribute("href") !== "#" && (o.attrHandle.href = function(a) { return a.getAttribute("href", 2) }), a = null }(), c.querySelectorAll && function() { var a = m, b = c.createElement("div"), d = "__sizzle__"; b.innerHTML = ""; if (!b.querySelectorAll || b.querySelectorAll(".TEST").length !== 0) { m = function(b, e, f, g) { e = e || c; if (!g && !m.isXML(e)) { var h = /^(\w+$)|^\.([\w\-]+$)|^#([\w\-]+$)/.exec(b); if (h && (e.nodeType === 1 || e.nodeType === 9)) { if (h[1]) return s(e.getElementsByTagName(b), f); if (h[2] && o.find.CLASS && e.getElementsByClassName) return s(e.getElementsByClassName(h[2]), f) } if (e.nodeType === 9) { if (b === "body" && e.body) return s([e.body], f); if (h && h[3]) { var i = e.getElementById(h[3]); if (!i || !i.parentNode) return s([], f); if (i.id === h[3]) return s([i], f) } try { return s(e.querySelectorAll(b), f) } catch (j) {} } else if (e.nodeType === 1 && e.nodeName.toLowerCase() !== "object") { var k = e, l = e.getAttribute("id"), n = l || d, p = e.parentNode, q = /^\s*[+~]/.test(b); l ? n = n.replace(/'/g, "\\$&") : e.setAttribute("id", n), q && p && (e = e.parentNode); try { if (!q || p) return s(e.querySelectorAll("[id='" + n + "'] " + b), f) } catch (r) {} finally { l || k.removeAttribute("id") } } } return a(b, e, f, g) }; for (var e in a) m[e] = a[e]; b = null } }(), function() { var a = c.documentElement, b = a.matchesSelector || a.mozMatchesSelector || a.webkitMatchesSelector || a.msMatchesSelector; if (b) { var d = !b.call(c.createElement("div"), "div"), e = !1; try { b.call(c.documentElement, "[test!='']:sizzle") } catch (f) { e = !0 } m.matchesSelector = function(a, c) { c = c.replace(/\=\s*([^'"\]]*)\s*\]/g, "='$1']"); if (!m.isXML(a)) try { if (e || !o.match.PSEUDO.test(c) && !/!=/.test(c)) { var f = b.call(a, c); if (f || !d || a.document && a.document.nodeType !== 11) return f } } catch (g) {} return m(c, null, null, [a]).length > 0 } } }(), function() { var a = c.createElement("div"); a.innerHTML = ""; if (!!a.getElementsByClassName && a.getElementsByClassName("e").length !== 0) { a.lastChild.className = "e"; if (a.getElementsByClassName("e").length === 1) return; o.order.splice(1, 0, "CLASS"), o.find.CLASS = function(a, b, c) { if (typeof b.getElementsByClassName != "undefined" && !c) return b.getElementsByClassName(a[1]) }, a = null } }(), c.documentElement.contains ? m.contains = function(a, b) { return a !== b && (a.contains ? a.contains(b) : !0) } : c.documentElement.compareDocumentPosition ? m.contains = function(a, b) { return !!(a.compareDocumentPosition(b) & 16) } : m.contains = function() { return !1 }, m.isXML = function(a) { var b = (a ? a.ownerDocument || a : 0).documentElement; return b ? b.nodeName !== "HTML" : !1 }; var y = function(a, b, c) { var d, e = [], f = "", g = b.nodeType ? [b] : b; while (d = o.match.PSEUDO.exec(a)) f += d[0], a = a.replace(o.match.PSEUDO, ""); a = o.relative[a] ? a + "*" : a; for (var h = 0, i = g.length; h < i; h++) m(a, g[h], e, c); return m.filter(f, e) }; m.attr = f.attr, m.selectors.attrMap = {}, f.find = m, f.expr = m.selectors, f.expr[":"] = f.expr.filters, f.unique = m.uniqueSort, f.text = m.getText, f.isXMLDoc = m.isXML, f.contains = m.contains }(); var L = /Until$/, M = /^(?:parents|prevUntil|prevAll)/, N = /,/, O = /^.[^:#\[\.,]*$/, P = Array.prototype.slice, Q = f.expr.match.POS, R = { children: !0, contents: !0, next: !0, prev: !0 }; f.fn.extend({ find: function(a) { var b = this, c, d; if (typeof a != "string") return f(a).filter(function() { for (c = 0, d = b.length; c < d; c++) if (f.contains(b[c], this)) return !0 }); var e = this.pushStack("", "find", a), g, h, i; for (c = 0, d = this.length; c < d; c++) { g = e.length, f.find(a, this[c], e); if (c > 0) for (h = g; h < e.length; h++) for (i = 0; i < g; i++) if (e[i] === e[h]) { e.splice(h--, 1); break } } return e }, has: function(a) { var b = f(a); return this.filter(function() { for (var a = 0, c = b.length; a < c; a++) if (f.contains(this, b[a])) return !0 }) }, not: function(a) { return this.pushStack(T(this, a, !1), "not", a) }, filter: function(a) { return this.pushStack(T(this, a, !0), "filter", a) }, is: function(a) { return !!a && (typeof a == "string" ? Q.test(a) ? f(a, this.context).index(this[0]) >= 0 : f.filter(a, this).length > 0 : this.filter(a).length > 0) }, closest: function(a, b) { var c = [], d, e, g = this[0]; if (f.isArray(a)) { var h = 1; while (g && g.ownerDocument && g !== b) { for (d = 0; d < a.length; d++) f(g).is(a[d]) && c.push({ selector: a[d], elem: g, level: h }); g = g.parentNode, h++ } return c } var i = Q.test(a) || typeof a != "string" ? f(a, b || this.context) : 0; for (d = 0, e = this.length; d < e; d++) { g = this[d]; while (g) { if (i ? i.index(g) > -1 : f.find.matchesSelector(g, a)) { c.push(g); break } g = g.parentNode; if (!g || !g.ownerDocument || g === b || g.nodeType === 11) break } } c = c.length >
Sours: https://www.nytimes.com/interactive/2012/03/21/technology/personaltech/hooking-up-a-new-tv-which-cable-goes-where.html
Most TVs nowadays are Smart TVs. Samsung is one of the most popular and reliable Smart TV manufacturers. Since Smart TVs are so popular and can do almost anything, it might be difficult to know where the red, white, and yellow cables, also known as the component cables, go on a Samsung TV.
The red, white, and yellow cables go on the back of a Samsung TV. You have to find the corresponding inputs to plug in the wires and make sure that they are plugged into the correct colors. Connecting the wrong colors can cause a few problems.
If you look around your TV, you'll also notice that there are several other inputs you can use on your Smart TV, so you won't have to depend on apps to do everything. You can use many different connections for a Samsung TV to connect other devices such as gaming systems, cable boxes, computers, and much more.
Finding Where to Plug In the Composite Cables
For most Samsung TVs, this is an easy task. Before starting to search for where to put your red, white, and yellow cables on a Samsung TV, make sure your TV has been unplugged to prevent any accidents. If your TV is mounted to a wall or a unit, make sure to remove it from the unit so you can limit any potential damages to your TV.
Some newer Samsung TV models don't have a place for the composite cables, so you would have to get an adapter.
What Does Each Composite Cable Color Mean?
Before HDMI cords existed, if you wanted to plug a gaming system or a DVD player into a TV, you had to use composite cables. Each composite cable has a different color and transfers a different set of information to your TV.
Red: audio on the left side
White: audio on the right side
Yellow: video
Plugging in the Composite Cables
Before plugging the composite cables into your TV, make sure they are correctly connected to the spaces on the device. Red with red, white with white, yellow with yellow.
Once you have found where to plug in the composite cables on the Samsung TV, simply place the cables into the input slot that matches. You must plug the composite cables into the correct slots to ensure that the connections work correctly and to prevent damaging your Samsung TV or electronics that you're plugging into the TV.
One important thing to note is that some newer Samsung TVs may combine the yellow input with the green input. You would put the yellow cable into this input. It will not affect your experience or electronic negatively.
Once you have plugged the composite cables into the correct inputs, turn your TV and ensure that the source is set to "composite." To do this, go into your settings and change the input to "composite." Your plugged-in device should be ready to use with your Samsung TV.
What Can Happen if I Plug the Composite Cables Into the Wrong Inputs?
If you plug the composite cables into the wrong input, such as the red into the white, a couple of things could happen.
One of the major things that can happen is that the sound won't play or the video won't show up on the Samsung TV correctly. Each cable transfers over specific information to the TV, and just as they transfer specific information, the TV accepts that information and expects to receive it.
Another thing that can happen is that the end that is being plugged into the wrong port can become damaged, which will reduce the sound or video quality.
Other Inputs on a Samsung TV
Nowadays many Samsung TVs come with multiple different inputs for many different devices. Before purchasing a device, ensure it's compatible with your Samsung TV. While it is easily fixable, it is just one extra step you have to follow. Some of the other inputs found on Samsung TVs are:
Component Cables: uses additional colors, such as green, black, and blue; These cables only carry over video signals. You will also have a white and red cable to transmit audio. These have a higher definition than the composite cables.
HDMI: gives high-definition video and audio through one cable. You will use an HDMI cable for most newer video game systems, BlueRay players, and computers.
USB: You can use this to connect an external hard drive to view files and watch videos on your TV.
LAN: Used to connect your TV to the internet instead of connecting via Wi-Fi.
If you don't have a specific input for the cable to connect your device to your Samsung TV, you can always purchase an adapter to make it work correctly. You would plug everything into the adapter just as you would plug into the TV, but just have an extra step to go through the adapter.
Conclusion
While there are fewer electronics that use the red, white, and yellow composite cables, Samsung still manufactures TVs that use these components. You can easily find where to plug these on the back of the TV. If your Samsung TV doesn't have ports for the cables, you can easily buy an HDMI to component cable adapter.
Sours: https://smarthomestarter.com/where-do-the-red-white-and-yellow-cables-go-on-a-samsung-tv/
How to Set Up a Samsung Smart TV
Authored by:
Support.com Tech Pro Team
This Guided Path® was written and reviewed by Support.com's Tech Pro team. With decades of experience, our Tech Pros are passionate about making technology work for you. We love feedback! Let us know what you think about this Guided Path® by rating it at the end.
Introduction
What's in the box?
Samsung televisions normally come with just the television and a remote.
Things you need before you start:
A Samsung television.
Applicable cables (HDMI, coax, ethernet)
An internet connection -You need to connect your device to a Wi-Fi or wired (Ethernet) network to complete setup and access all of the content available on Samsung TV
1 Plugging in Cables
2 Power On
After you have plugged in your cables, press the power button on your Smart TV.
3 Select Language
Turning on the Smart TV for the first time will prompt you to enter setup.
The first step of setup will ask you for your desired language.
Select either English or Welcome.
4 Internet Connection
The following steps will help you connect your Samsung Smart TV to the Internet.
? Are you using a wired or wireless connection?
Wireless
Wired
Sours: https://www.techsolutions.support.com
Samsung QLED 2021 Q60A Unboxing, Setup and 4K 60fps Demos
Samsung The Frame's One Connect Box Explained
How is a Samsung Frame TV with a One Connect Box different from other TVs and what's the wiring diagram look like?
What is a One Connect Cord?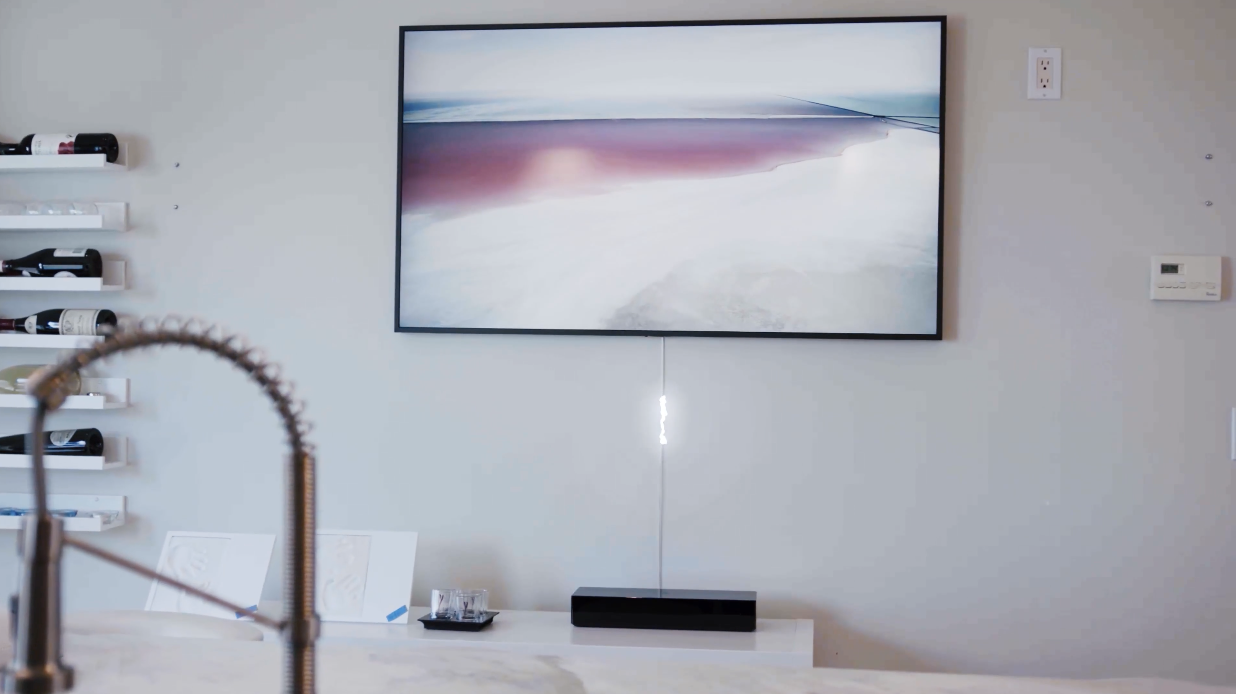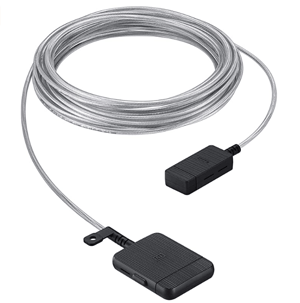 The Samsung One Connect Cord is a nearly invisible cord similar to a fiber optic cord that brings the audio, video, and power to a Samsung Frame TV. It connects from the back of the TV to the One Connect Box as shown above. This innovative connection type allows the user to streamline and consolidate the often mess of HDMI and audio cords running to the back of many TVs.
The standard One Connect Cord is 5 meters and there is an optional 15 meter One Connect Cord available as well as an In-Wall One Connect Cord.
Tutorials on Samsung The Frame

We regularly publish new videos about Samsung The Frame TVs to answer many FAQs to help you get the most of your TV. Be sure to subscribe to our channel to learn more.
What is a One Connect Box?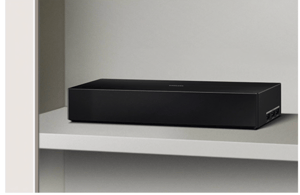 The One Connect Box is included with Samsung Frame TVs to provide a single connection hub for all cables in one place so the signals can be brought to the TV via a One Connect Cord.
Connect all your favorite input devices such as cable boxes, Apple TV, DVD Players and more via the following ports.
(4) HDMI inputs
(1) Optical Digital Audio Out
(1) Cat 5 Ethernet Port
(1) Coax Input
(3) USB Input
(1) Ex-Link

Samsung One Connect Wiring Diagram
Eliminate the mess of cords associated with most typical TVs where many different cords connect directly to the TV. Instead, by using the One Connect Box, all signals can be brought to the TV via a single One Connect cord.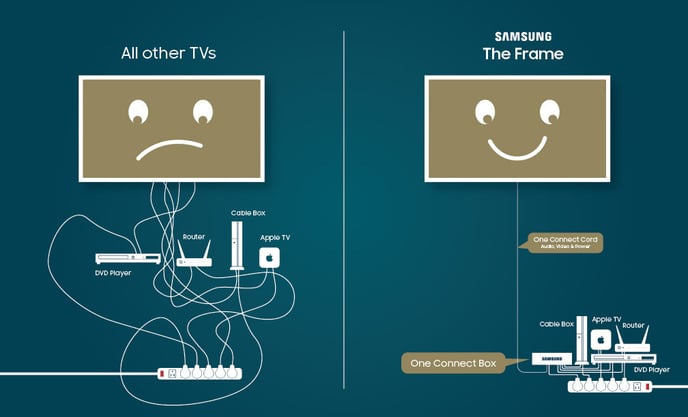 Samsung The Frame Installation Process
This brief overview shows how the Samsung Frame TV installs in combination with the No-Gap Wall Mount and a Deco TV Frame.
Premium Frame Styles for Samsung The Frame
Explore 16 premium options exclusively made for Samsung Frame TVs


Looking to Purchase a Samsung Frame TV?
S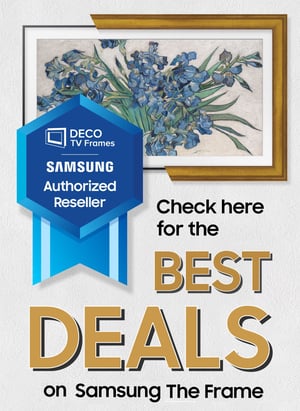 hop small with small businesses and get the best deals on Samsung Frame TVs. Not sure if we're the best deal? Compare us to the prices on Amazon and get the best deal.
See Our Prices on Samsung The Frame
Compare Us to Amazon's Prices
Sours: https://help.framemytv.com/samsung-one-connect-box-explained
On back tv connections samsung
Ill take it, Pasha, its not necessary, well, please, well, its not necessary, Vika begged, slightly turning her face to the side, its not necessary to touch the pants, please. I beg. You see, Pash, I dont give, I take.
Samsung LED 22inch Full HD LED TV Unboxing
Phew. Finished. There was an orgasm, but still, a live cock is better. I caught my breath a little, and ran into the bath, to wash myself.
You will also be interested:
And Nastya is on her knees and, smacking her lips, almost choking, sucks the irritated clitoris. When they had had their fill, the girlfriends gathered and merrily ran to the institute, licking the remnants of the "juice" from their. Lips along the way. Damn it. said Lisa.
1743
1744
1745
1746
1747