Location and Contact Information

All Saints Cemetery
6001 Kirkwood Highway, Wilmington, DE 19808
Phone (302) 737.2524
Fax (302) 737.4091
Visiting Hours and Office Hours

All Saints Cemetery, located on the Kirkwood Highway near Newark, was dedicated in 1958. It is beautifully landscaped with several bronze statuary groupings depicting the History of the Church, the Beatitudes and Mary, Queen of All Saints.  All Christian denominations are welcome
Facilities and Pricing
Community Mausoleum
Facilities in the Rosary Garden Crypt begin at $7,500 for a single crypt and $11,500 for a companion crypt; in The "Way of the Cross" Phase I prices begin at $4,800 for a single crypt and $9,000 for a companion crypt.  In the new Phase II a single crypt begins at $4,900 and $9,000 for a companion
Private Mausoleum Sites and Private Estate Mausoleums
available in a selected area of the Cemetery.
Upright Monument space
available in a selected area of the Cemetery.
* Priced $2,200 per grave.
Lawn level shrine section
areas located throughout the Cemetery.
* Prices begin at $1,700 per grave.
Lawn level section
areas located throughout the Cemetery.
* Prices begin at $875 per grave.
Double-depth lawn crypts
available in a selected area of the Cemetery.
* Prices begin at $4,600 per double-depth crypt or $6,042 with a companion memorial.
Above ground and in-ground options for cremated remains at reasonable cost.
MONTHLY PAYMENT PLANS ARE AVAILABLE
On-site memorial sales.
Directions
From I-95 North and South, take Exit 3 (273 West) toward Newark. After exiting, stay in right hand lane, go straight through the second traffic light, after the light exit right in approx. 1/4 mile onto ramp for Delaware Rt. 4 North. Follow to Harmony Road. Turn left on Harmony Road. Follow Harmony Road to Kirkwood Highway. Turn right on Kirkwood Highway. After the third traffic light, All Saints Cemetery is immediately to your left. Please enter by the main gate on Kirkwood Highway and exit through the Henderson Road Exit Gate.
Click on the map below for a full size, printable PDF copy:

Sours: https://www.cdow.org/catholic-diocese-of-wilmington-offices-and-ministries/catholic-cemeteries/catholic-cemeteries-about-us/catholic-cemeteries-location-and-contact-information-all-saints-cemetery/
All Souls Catholic Cemetery

About Our Catholic Faith and Burial Rites
A Catholic funeral, like a Catholic cemetery, is for the living, not the dead. It affirms our faith in the Resurrection. It offers consolation, hope and remembrance among friends, family and community of believers. And it provides a profound witness of our Faith to the world. Our faith in the Resurrection of Christ does not prevent physical death. We need to live well and give consideration to the manner and location of burial. The risk taken by Joseph of Arimathea to claim the body of Jesus after his death on the cross shows the respect Christians have for the human body. God not only created us in the fullness of our humanity, but also sent his Son to take on our body and our nature. Being in the image and likeness of God makes our bodies innately honorable. Look as well at the elaborate efforts (again, risking arrest and death) of the Christians living under persecution in ancient Rome. They worshipped underground and buried their dead in catacombs. 

About The Cemetery
All Souls Catholic Cemetery is located on the south side of State Highway 46A (about 1825 W. 25th Street), east of Hardy Avenue, in Sanford, FL. At this time All Souls Catholic Cemetery offers two burial options:  A) burial of bodily remains;  B) burial of cremated remains. (In the future we will also offer niches in a columbarium for cremated remains.) Regardless of the burial option chosen, it is important to understand that All Souls Catholic Cemetery is not selling real estate. Actually, a purchaser is acquiring rights to burial space, assuming complete control over all immediate and future burial decisions. The space is continuously owned and maintained by All Souls Parish and the Diocese of Orlando, who provide firm, long-term stability. Contracts, supporting paperwork and policy establish ownership and control of these rights, even through changing generations of family.

About Cemetery Practices and Policies
While respecting your preferences — personal, familial, emotional, financial and spiritual — we will guide you with full, unhurried, in-depth disclosure so you can make prudent and informed choices. Please download and print out our All Souls Catholic Cemetery Guide for more information on Funeral and Burial at All Souls Catholic Church and Cemetery. You'll also want to download our Cemetery Brochure, which includes pricing, procedures, regulations, helpful resources, and more (click in the links below).

Cemetery Brochure:
All Souls Catholic Cemetery Brochure (English)
All Souls Catholic Cemetery Brochure (Spanish)

Please contact Mary Valente, Cemetery Manager for more information on purchasing a burial plot at All Souls Catholic Cemetery.

Manager: Mary Valente
Phone: 407.322.3795
E-mail:[email protected]
Sours: https://allsoulssanford.org/all-souls-catholic-cemetery
Queen of Heaven Cemetery & Funeral Center
About Queen of Heaven Cemetery & Funeral Center FD1959
History
Queen of Heaven Cemetery was dedicated in 1963 by the first bishop in the Diocese of Oakland, Most Reverend Floyd
Begin. It is the most recent addition to the diocesan cemeteries, established to meet the needs of Catholics and their
families in Contra Costa and Alameda Counties. Once a Haviside family walnut orchard, the property preserves the
original family home, barns and small cottages still maintained and inhabited by Queen of Heaven Cemetery.
Extending across nearly two hundred acres, the beautifully maintained cemetery grounds provide the community with
a peaceful, reverent place to honor the deceased.
In 1982, the first mausoleum was completed under the patronage of the four Evangelists; Matthew, Mark, Luke and
John. This sacred space was designed by Aaron Green, a student of Frank Lloyd Wright, and has a capacity for 1,000
entombments, and 792 inurnment spaces for cremated remains. A second mausoleum, Mausoleum of the Angels, was
blessed and dedicated on November 2, 2003.
Services and Features
Over the course of the cemetery's 44 years of service, more than 12,200 committal services have taken place. Queen of Heaven currently supports the Catholic burial needs of 16 parishes of the central Contra Costa County area, providing options for traditional ground burial, cremation niches, mausoleum crypts, and family estates. In addition, Queen of Heaven Cemetery provides funeral and cremation services to the community, becoming a complete resource for your funeral and cemetery needs.
Whether you are interested in advanced planning or in need of immediate assistance, our Family Service Advisors and Funeral staff are available to offer support and guidance to our families.
Queen of Heaven Cemetery & Funeral Center also offers various special programs and events for our faith community throughout the year, serving the living and honoring loved ones that have gone before us.
Memorial Mass is held on the first Saturday of each month.
Sours: https://www.cfcsoakland.org/location/queen-of-heaven-cemetery-funeral-center-fd1959/
6:30 AM Mass - 24-10-2021 (English)
Plan Your Burial at All Souls Cemetery Now to Save Money and Stress
All Souls Cemetery is a Catholic cemetery in Coatesville, PA. People who choose All Souls Cemetery as their final resting place do so because of its beautiful grounds and its respectful adherence to Catholic beliefs and values. But did you know that Advance Planning at All Souls Cemetery lets you plan your burial now, enabling you to save money on years or even decades of inflation, and helping your family to avoid added stress while they grieve.
Get a Free Advanced Planning Kit Instantly.
Simply complete the form on the right and you will be emailed an advance planning kit from All Souls Cemetery in Coatesville. By choosing your preferred memorial details now, you get to tell your life story your way.
I am the living bread from heaven, says the Lord; whoever eats this bread will live for ever. - John 6:51a
Get A Free, No Obligation Burial Information Guide sent right to your email that includes:
•Burial options•Tips and advice•Why to plan now•Securing Peace of Mind•How to get started


Why should you plan ahead?
Hear from Family Services Counselor Todd Alexander on the benefits of pre-planning with All Souls Cemetery.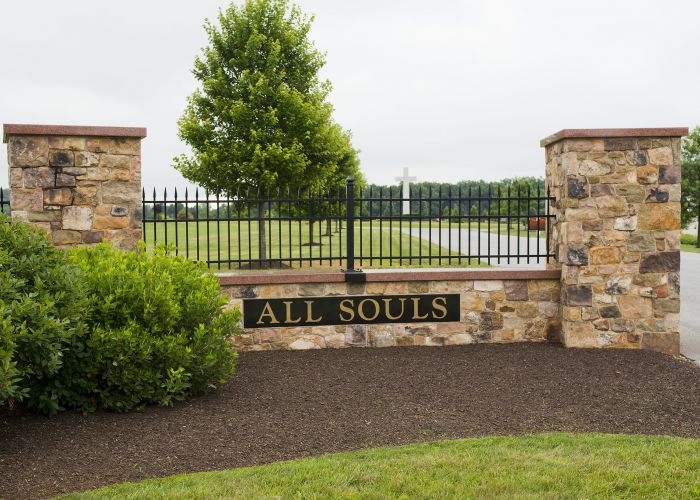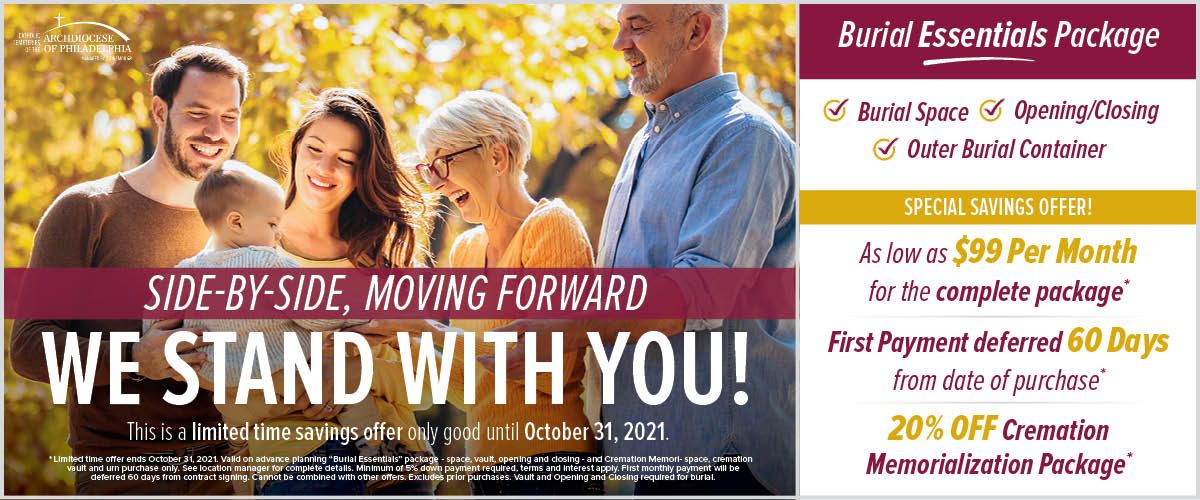 Sours: https://www.philadelphiacatholiccemeteries.com/cemeteries/all-souls-cemetery
Hours cemetery all souls visiting
When Visiting the Cemetery
Mausoleums
Fresh flowers are not permitted in the enclosed mausoleum areas.
All flowers on crypts or niches must be placed in Catholic Cemeteries & Funeral Homes-approved vase units.
Floral arrangements that encroach on other crypt or niche fronts are not permitted.
Decorations, cards, pictures, stickers, tape or other material may not be affixed to the crypt or niche front.
Catholic Cemeteries & Funeral Homes may, without notice to the owner, remove and dispose of any decoration from a crypt or niche that, in the management's judgment, is inappropriate.
Artificial potted flowers, plants and special arrangements are permitted in the indoor section of the mausoleum seven days before these holidays only: Valentine's Day, Easter, Mother's Day, Father's Day, Memorial Day, and All Soul's Day. For Christmas, flowers and decorations are allowed immediately following Thanksgiving.
These potted flowers, plants and special arrangements will be removed within one week after the holiday, with the exception of Christmas flowers, which will be removed by the second week in January.
Ground Burials
Flowers are allowed in cemetery regulation vases only.
Balloons, pinwheels, solar lights and other decorations are not permitted.
Seasonal flowers or other decorations may be placed on the grave marker seven days before these holidays: Valentine's Day, Easter, Mother's Day, Father's Day, Memorial Day and All Souls Day.
Seasonal flowers will be removed within one week after the holiday.
Decorations for Christmas may be placed on the grave immediately after Thanksgiving. These include trees two-feet tall and under. Garlands and blankets are not permitted.
Flower and Decoration Removal
Flowers and decorations are removed on a quarterly basis for general clean-up or when the cemetery management determines their appearance is detrimental to the entire cemetery. The removal schedule begins on the Monday of the clean-up week and runs for the whole week. Flowers placed during this time may be removed.
St. Francis, Holy Cross and Queen of Heaven: The second week of January, seven days after Easter, the second week of July, and the first week of October. Dates are subject to change subject to holidays. Please refer to our Events page for more details.
Holy Redeemer and All Souls: First Tuesday of each month
Calvary: Seven days after Easter, Memorial Day, 4th of July and Labor Day
Our Flower Tribute Program
As a convenience to our families, Catholic Cemeteries and Funeral Homes offers a flower tribute program that assists you in providing your loved ones with beautiful silk arrangements for special occasions, on a seasonal basis or year round.


You can select from the following:
Yearly Tribute (6 Times Per Year)
Flowers are placed quarterly based on our clean-up dates, plus two additional dates. This provides you with beautiful silk flowers all year long.
Seasonal Tribute (4 Times Per Year)
A seasonal silk flower arrangement is placed every three months.
Special Occasion Tribute (2 Times Per Year)
Select two special dates, such as a birthday, holiday or anniversary to have flowers placed.
Single Occasion Tribute (1 Time)
If you prefer, we can place a silk flower arrangement on the date of your choosing.

For more information on this program, please contact Catholic Cemeteries and Funeral Homes at (602) 267-3960 or visit our Cemetery Flower Store.
Sours: https://www.hcccem.org/cemetery/when-visiting-the-cemetery
Visiting the cemetery before All Souls Day
All Saints Cemetery
This location on a lake distinguishes All Saints Cemetery with an especially providential setting because of its tranquil environment for contemplation and prayer. The lake is several hundred acres in size with restricted access and includes more than three acres designated as an inaccessible bird sanctuary. As a result, the property is quiet and inspirational.
A monumental carved limestone statue of Jesus, rising more than 20 feet above the surrounding gardens, is an important feature of the cemetery. All Saints is noted, too, for its distinctive landscaping which features flowering trees and bushes, and beds of flowering perennials. Above-ground interment is available in one of two granite-clad columbaria.
All Saints Cemetery also hosts a number of community events throughout the year to provide information and comfort, as well as to honor those who have gone before us. These events include a unique holiday open house called Deck the Trees that provides a respectful, though joyful way to acknowledge loved ones who have passed. In addition, All Saints hosts Memorial Day and All Souls' Day services among others.
Contact us at (248) 623-9633 for more information.
Sours: https://www.mtelliott.com/all-saints-cemetery/
Now discussing:
All Souls Cemetery
As of July 1, All Souls Cemetery is open for visitation every day for regular visiting hours. Kindly practice social distancing, wear face coverings and abide by group numbers for gathering mandated by local jurisdictions. Refer to Coronavirus Response above for more details.
All are invited to pray for the deceased with these prayer cards.

All Souls Cemetery is the first major new Catholic cemetery to be developed by the Archdiocese of Washington in a generation. Located in an expansive setting in Upper Montgomery County, Maryland, All Souls Cemetery now offers a rare opportunity for families who want to select the most premier locations for prayer and remembrance.
The Choice of a Lifetime
The sacred ground of All Souls Cemetery is now available for family plots and groupings. This is an extraordinary opportunity to create an enduring legacy for generations of family members to come. All Souls Cemetery offers families burial choices of either traditional upright granite monuments or flush bronze markers. Within a few years, entombment also will be available in a chapel mausoleum complex that will be a prominent feature of the cemetery grounds. Cremated remains may be interred in the ground or entombed in a columbarium.
››  Back to top
All Souls Cemetery 
11401 Brink Road
Germantown, MD 20876
301-428-1995
Fax: 301-428-1998
Manager: Melissa Baughman
Contact All Souls Cemetery through CCAW
››  Back to top
Monday through Saturday
8:00am to 4:00pm
Cemetery Grounds Visiting Hours
March 16 to November 2
7:30am to 7:00pm
November 3 to March 15
7:30am to 5:00 pm
››  Back to top
From the Capital Beltway, take Route I-270 N to exit 16 Father Hurley Blvd. toward 27-E Damascus. Father Hurley Blvd. becomes Ridge Rd. Right on Brink Rd.; cemetery entrance on left.

All Souls Cemetery plan (447kb Adobe Acrobat file)

›› Back to top
Sours: https://ccaw.org/all-souls-cemetery
1785
1786
1787
1788
1789