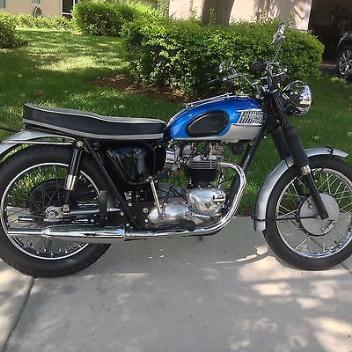 Triumph : Bonneville 1965 triumph bonneville t 120 r
$13,599
Fort Lauderdale, Florida
Category Standard Motorcycles
Engine 650
Posted Over 1 Month
1965 TRIUMPH BONNEVILLE T120R - THE ULTIMATE RIDE WITH MANY UPGRADES - IN MINT CONDITION - Upgraded to a 5 speed transmission. Upgraded carburetors and air cleaners. Upgraded speedometer system. Upgraded tachometer system. Upgraded ignition system. Avon tires. Wheel bearings - front&rear. Brake shoes - front&rear. Front brake cable - throttle cables - clutch cable. Front fork dust covers (rubber boots). Rear chain. Brake light switch & spring. Custom mirrors. Wiring harness. Oil filter. Cylinders bored back to standard. Pistons-rings- standard. Valve job. Carburetor adaptors. Stator. Primary chain. Clutch with heavy duty springs. EXTRAS INCLUDED: Whitworth open/box in wrenches & sockets. Frame lock & keys - Lucas ignition keys. Parts Manual. Workshop Manual. Front & rear light bulbs. High performance reversed cone (slip ons) with all hardware. Mono- block carburetors and fuel lines. Both carbs and lines are in excellent condition.
Trim Triumph Bonneville T120R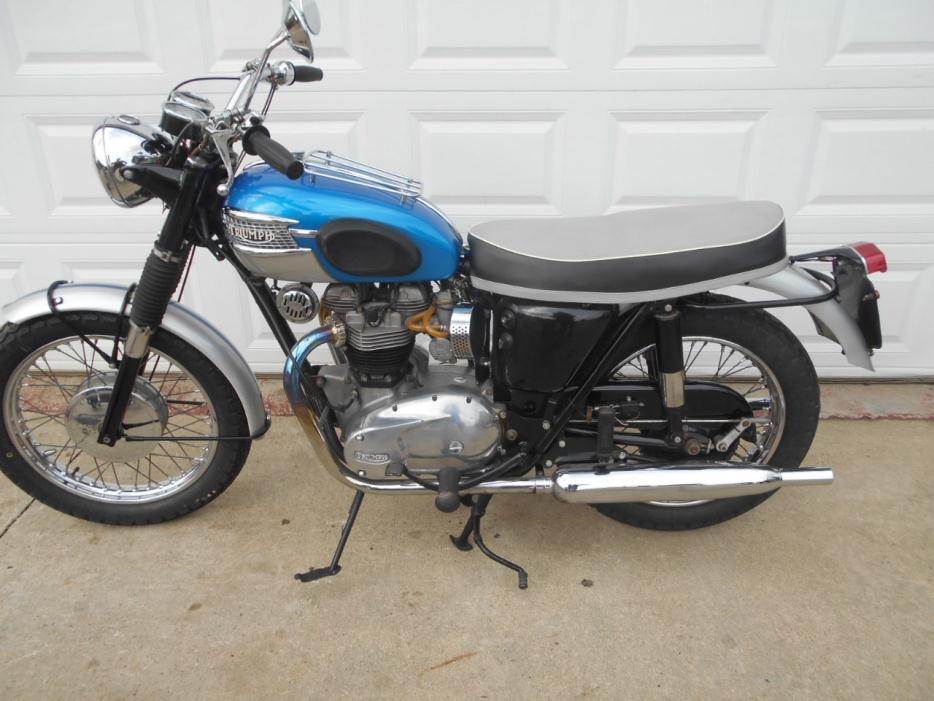 1965 Triumph BONNEVILLE
$8,500
Westport, Indiana
Category Classic Motorcycles
Engine 650 cc
Posted Over 1 Month
1965 Triumph Bonneville, Excellant condition, This is an older restoration that looks awesome and runs great! This Bonney needs nothing it is ready to ride or set it in your mancave and drool on it!! [that's what I do most of the time!!] call me on my cell or at home anytime!! Bob 812-614-4305cell 812-591-2958 home

Triumph : Bonneville 1965 Triumph Bonneville
$11,000
Atlanta, Georgia
Category -
Engine -
Posted Over 1 Month
1965 Bonneville Triumph T120 C TT Special The 1965 Triumph Bonneville T120 650 was again more or less a carry-over from 1964, which itself was a carry-over from 1963. Changes were minor and evolutionary in nature, aimed at refinement, improving reliability, performance and ease of production. Model designations were also carryovers: T120R was the road machine with down pipes; the T120C was the off-road/street scrambler (like an Enduro); and the TT Special, which wouldn't actually get its own official model designation until 1966. For now, the TT Special was an option package for the T120C series. The color scheme for 1965 was Pacific Blue over Silver.ENGINEEngine refinements began with Engine # DU13375 and included a drilled hole in the crankcase behind the cylinder to facilitate finding top dead center, a new oil pressure relief valve, and a change to Champion spark plugs. The exhaust system on the T120 C was redesigned for high performance. Minor changes were made to the kickstart mechanism, clutch lining material was switched to Armstrong cork, and a longer alternator cable was added to keep it from rubbing on the primary chain.FRAME & RUNNING GEARFrame and running gear also received only minor attention. The rear subframe was modified slightly to make the center stand work better, the horn was hung from a new bracket under the tank, the rear brake actuator rod's operating arm was moved to the inside of the left engine mounting plate and the rod re-routed accordingly. The battery box received steel liners for its rubber mounts to prevent damage due to overtightening. The QD (Quickly Detachable) rear wheel swapped its taper roller bearings for ball race bearings.PAINT & TRIMSome US models got all-black seats, while most had the more familiar 2-tone gray-and-black seat, similar to 1964. The new paint colors continued to follow the same pattern as 1964, with the Pacific Blue top covering most of the tank, and the Silver showing only under the tank emblem. Of course the steel front and rear fenders were painted silver with a blue strip running down their center, except for the TT Specials, which sported lightweight polished alloy (aluminum) fenders. SPECIFIC TO THIS BIKE-Matching Numbers-Runs Perfect-Recent Top-End Job-Has Title-Garage Kept-MUST SELL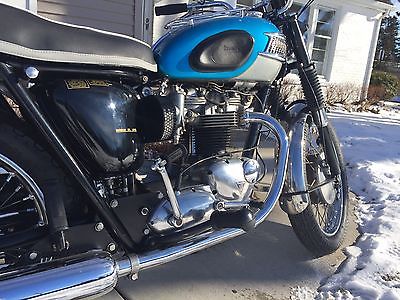 1965 Triumph Bonneville Triumph T120 Bonneville
$7,950
Minneapolis, Minnesota
1965 numbers matching Triumph Bonneville with 5378 miles in original pacific blue paint. Runs great, motor and carbs are rebuilt, paint is good, new cables, new rubber, chrome is good, no rust. Clean MN title, I will try and respond to questions quickly, I have this listed locally, it's being sold "as is" and reserve the right to end the auction if it sells.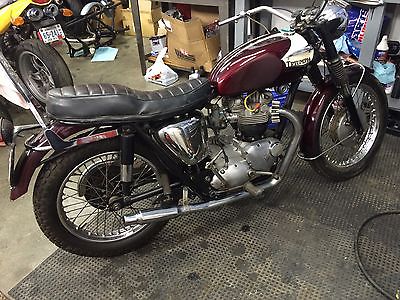 Triumph : Bonneville 1965 triumph bonneville t 120 sr
$5,299
Cologne, Minnesota
Here's a nice and rare triumph Bonneville T1 20 SR project bike or right as it is there is no title for it will sell with Bill of Sale only.This motorcycle belong to a friend of mine who passed away in 1980 it was in dry storage.I bought the bike two years ago and had the intentions of fixing it up and ride in it but I moved on to other projects I need to let this one go. It's a great bike and would make a nice addition to someone's collection.Right now I'm in the process of getting it running and doing some work to it please email me to discuss any details about the bike.I can restore it or do any service work you would like done.CAC Vintage Motorcycle service952-466-2221Doc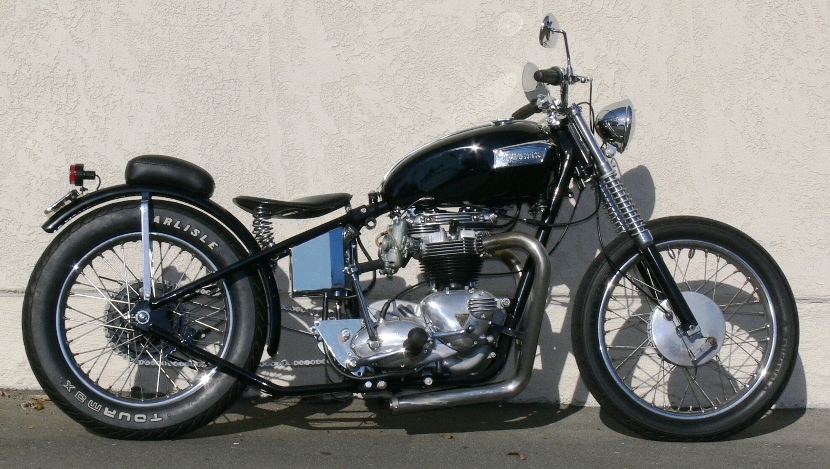 1965 Triumph BONNEVILLE T120
$7,000
Costa Mesa, California
Black Customized Triumph Bonneville 650Bobber DesignCustom Painted Tank & FendersCustom Leather Spring SeatChrome Oil TankRetro Headlight & Tail LightTCM Certified with Safety InspectionMore photos available upon request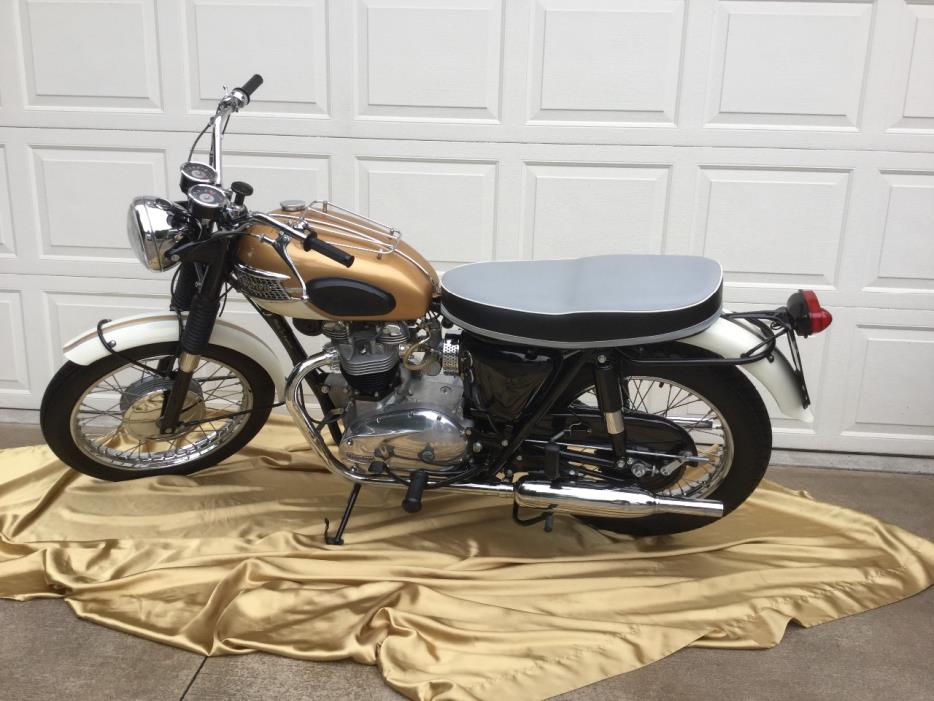 2012 Triumph BONNEVILLE T100
$10,500
Strongsville, Ohio
Category -
Engine -
Posted Over 1 Month
!965 TRIUMPH TROPHY 650 cc Concours Restored of a Numbers Matching Bike, Nut & bolt restoration, Motor & Trans rebuilt-Polished cases- New Carb- Correct New Dunlop tires- Rims- Stainless Spokes- All Chrome is perfect either rechromed or replaced with UK built parts- All Fastners are correct- New wiring Harness- Boyer Ignition- New Seat upholstery- Tool Bag- All correct decals- New rubber pegs- New Brakes & Shocks- Cables-Correct rebuilt Gauges- Paint is Beautiful-Frame & associated parts all powder coated gloss black with clear. SPECTACULAR LOOKING BIKE- Pictures do not do it justice. For additional info & details please contact me. 330-388-3953 Gary
Triumph : Bonneville 1965 triumph bonneville fresh motor
$3,500
Henderson, Nevada
Category -
Engine -
Posted Over 1 Month
Restorers Dream a 1965 Triumph Bonneville. MATCHING NUMBERS, No Title. Bill of Sale Only. Last year with Tank Rack and Black /Grey Seat. Motor is freshly rebuilt by Riverside Triumph and restorations. Motor cosmetics are not a concours restoration, however this can be changed with the hardware and polishing of covers. Motor needs points plate or electronic ignition, please let me know if you want to go to points. Everything you see in the pictures comes with it, I may find more pieces to go along with it later this week as Im cleaning out things. Monobloc carbs bodies, lucas headlamp shell.shocks, battery mount tray and maybe pegs, mounts and misc. Comes with Matching frame, swing arm, center stand, complete front end with damper rod. complete front wheel, complete Dunlop rear wheel, NEW MUFFLERS, exhaust collars, front brake beauty plate. I build bikes for a living so giving my honest opinion this is what you need to finish and cost approx. Gas tank yes there available, oil tank, fenders, gauges, seat, tires, misc. brackets and hardware. Your labor, re chroming, paint or powder coating and some polishing. Cost $2500 or less. In the end depending how pristine you want to make it you will have a bike that is double the value of what you put into it. And the value will always go up as next year it will be 50 years old. Shipping is responsibility of the buyer. You are welcome to pick up in Las Vegas also. your invited to look before buying or have a representative to inspect. No warranty as is. I will pack everything and send UPS but buyer pays cost. Or you can have a motorcycle transport pick up and I will assemble as much as I can. Im putting $100 shipping but buyer pays rest.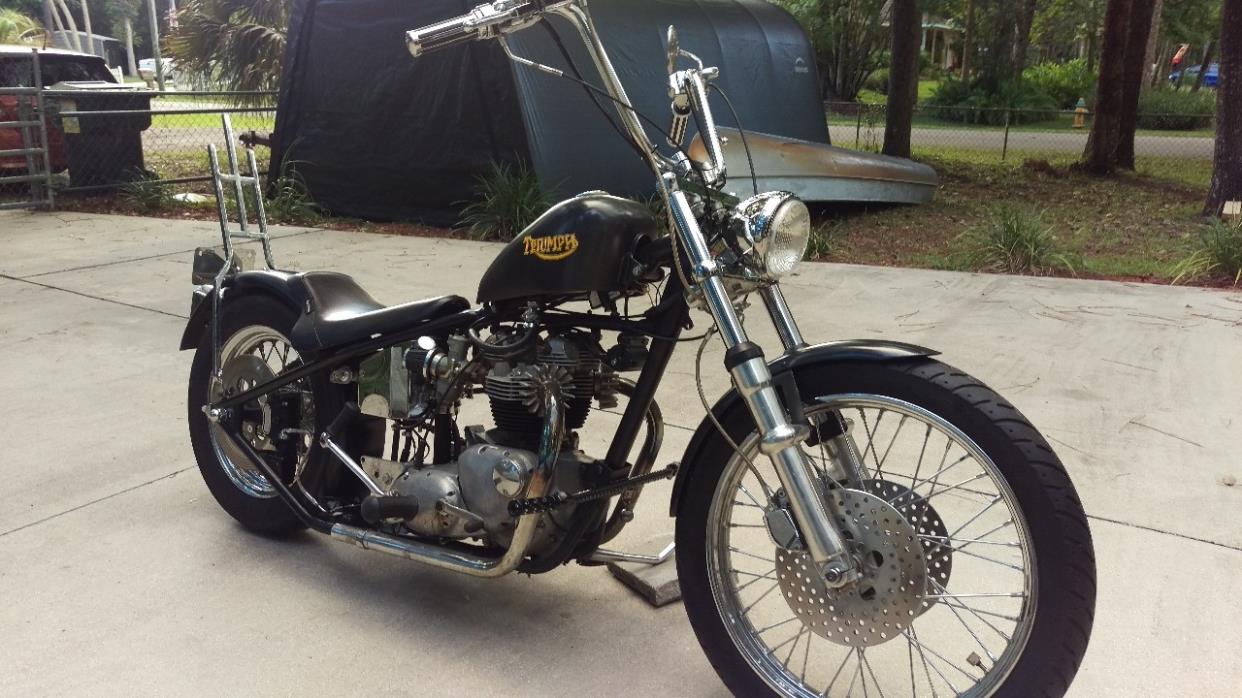 1969 Triumph BONNEVILLE T120R
$6,500
DeLand, Florida
Harley sportster tank, fresh paint, electronic ignition, lepara seat, many other new custom parts. Harley front end and dual disk brakes in front and Harley disk rear brake. Custom clear line fuel gauge. Many other new and custom parts. Email or text with questions and inquiry.
1965 Triumph BONNEVILLE T120
$11,999
White Plains, New York
Category -
Engine -
Posted Over 1 Month
1965 Triumph BONNEVILLE T120, THIS 1965 BONNEVILLE T120 IN BLUE IS IS CLASSIC! AVAILABLE IN OUR SHOWROOM FOR VIEWING AND NOW FOR PURCHASE! AVAILABLE WITH APPRAISAL! WOULD MAKE A GREAT COLLECTORS ITEM! ONLY 719 MILES ON IT. ALL OF OUR PRE-OWNED BIKES COME FULLY SERVICED WITH 1 YEAR OF FREE MAINTENANCE AND ARE CERTIFIED WITH A 90 DAY LIMITED WARRANTY. A FULL 2 YEAR/UNLIMITED MILE NATIONWIDE WARRANTY IS AVAILABLE. FINANCING FOR ALMOST ANYONE! ALL TRADES WELCOME! PLEASE CALL 914-358-1154 TO MAKE SURE IT IS AVAILABLE.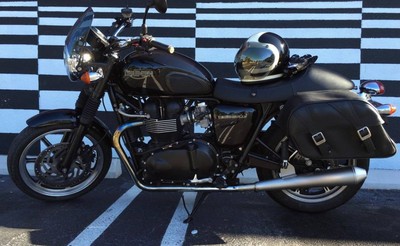 2011 Triumph Bonneville 2011 Triumph Bonneville
$5,500
Miami, Florida
2011 Triumph Bonneville - Modern Classic. The motorcycle is in pristine condition. It has had numerous modifications including: aftermarket air box, license plate red led light, aftermarket exhaust. These are the only three modifications that are not stock triumph parts. The original exhaust did not come with the moto when i bought it. Sounds flat out amazing - like you just rode out of 1965. Every other modification on the bike came from triumph directly. There are at least 15 little details on the bike including the handlebar ends, the handlebar, union jack cross frame detail, the clutch and brake levers (adjustable), seat, and the windscreen - the list is long and the mods are very subtle. I have most of the stock parts. The rims are easy to keep clean and the saddle bags are useful, and although I think the bike is much nicer looking with them not installed - having them on the bike increases the number of rides you'll take just because what you're able to carry. I run with foul weather gear, different visors for my helmet, a lock and a hi-vis jacket. It's a very comfortable bike to ride. It's easy to handle and it runs really nicely in traffic. The mechanicals are incredibly simple it's an air cooled engine, and they've been using the same engine for many years and it is dead reliable. I think this particular design is an absolute classic. Classics never go out of style. Every time you park the bike you will return to someone taking a picture of it. Every valet stand is your parking space - Its not a fast bike - but it is a comfortable, torquey, direct experience. It makes all the power down low is a perfect motor for a commute or a Sunday ride. It is stable and well balanced. The seat height is low for me but i am tall. This year also happens to be the last year of production in England. After this year the production of these motorcycles was moved to Southeast Asia.It's the most fun that you can have on pavement for $5300. Price is firm and the bike is killer.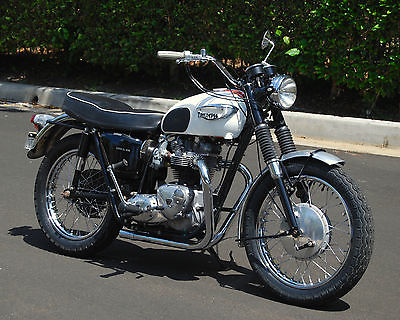 Triumph : Bonneville 1966 triumph bonneville tt special w factory records only 1075 mls since 1971
$19,900
Santa Monica, California
Category Standard Motorcycles
Engine 650
Posted Over 1 Month
Only 1075 miles on this rare Triumph racer for the road 1966 Triumph Bonneville TT Special Engine Number: T120C DU27847 Frame Number: T120C DU27847 In the 1950s and 1960s, Triumph's 650 twins were barred from AMA Class C racing, which limited overhead valve engines to 500cc. The regulations kept the big twins off the dirt ovals. There was another form of dirt competition known as TT racing – the name was derived from the British Tourist Trophy races. American TTs were held on dirt courses, but they had to have a motocross-like jump. Some courses were simple ovals with a jump, while others had left and right turns like a road course. In this form of racing, the 650 Triumphs were allowed, and they dominated. Originally conceived for the 1963 model year, by west coast distributor Bill Johnson of Johnson Motors, the TT was a high performance, factory race bike, stripped down and performance tuned to fill the niche markets of off-road racing. Beginning with and improving upon their street legal Bonneville, the Triumph factory racer came with higher compression pistons, hotter camshafts and a high output ignition system, to produce 54hp at 6,500 rpm. Closer ratio gears were installed in the 4 speed gearbox, chain drive sprocket ratios were altered, and larger diameter exhaust pipes were tucked under the frame, without mufflers. Aluminum, or more durable stainless steel fenders replaced the street items, together with the 2 ½ gallon slim gas tank. Lights, fork lock and speedometer were deleted and only a tachometer was fitted. The forks received special springs and internal valving. These stripped down bikes weighed 350 pounds, some 30 pounds lighter than the stock configuration. The TT Special offered here, of 1965 vintage, has been enjoyed by just three owners from new. According to the last owner, it started life as a Johnson Motors sponsored racer. There are rumours about who rode it, but they are just that. After retiring from racing, the bike returned to JM in 1971 to be rebuilt, and because of the ease of selling road bikes over racers, a small Lucas head and tail lights and speedo were added. The bike was sold to a local Southern California collector, who put only 400 or so miles on it before displaying it in his office. In 2005 he sold the bike to the most recent owner , who, again used it very sparingly, covering only 600 miles or so before putting it in dry storage. He assures me that the 1070 miles that were on the odometer were genuine miles from 1971. In 1965 TT Specials were not stamped as such, but were stamped T120C. I ran the engine/frame number through the Vintage Motorcycle Club, of Staffs, UK, the holders of the factory records, who confirmed that this bike is recorded in Despatch book number 75 and was despatched to Johnson Motors, Pasadena, California, USA on 23 November 1965, confirming the bike as a genuine T120TT. A copy of that email accompanies the bike. The bike is fresh from a mechanical overhaul by a local marque expert. The bike starts easily and idles well. It is tremendously powerful with 11:1 compression with a great crackle and bark from the TT pipes, especially when it comes on cam and you feel a burst of thrust. It is intoxicating and addictive. It shifts perfectly through the TT spec ration 4-speed 'box, via an excellent clutch with no slip. Brakes, suspension all work perfectly as does the electrical system with fully operational lights. The Bike is currently running the later Concentric Carbs, but is accompanied by the original Monoblocs, with original air filters. With the rarity of these TTs and the number of chopped up and lost to time examples, these represent a fantastic investment, as illustrated in the recent results at auctions in Las Vegas, where they were selling for $24k+. So, this bike is an opportunity to own a rare example with the usability of street legality. The bike is offered on a California Certificate of Title.
Trim TT Special w factory records
Triumph : Bonneville TRIUMPH BONNEVILLE 1965 T120 650cc
$13,000
Clarkston, Michigan
Category -
Engine -
Posted Over 1 Month
This classic Bonneville is one of the finest in the country. Originally restored by the well respected Bill Hoard several years ago....we brought it into the shop of "RESTORATION CYCLE WORKS" in Michigan. They are one of the most capable and reliable shops in the country today. We asked them to bring the bike to "new" restoration standards.... although correct, they found many items either lacking or incorrect. Every thing from nuts and bolts, to carburetors, air cleaner and as small as gas tank decals. The bike is done, and now, we can say that it's "absolutely correct" to the original production model from the factory in 1965. RCW project bikes always score 100pts at Judged Events. This example is no exception. Starts on first kicks, runs like the wind, looks and sounds like you're back in the 60's. Rarely found in this pristine restored condition. PLEASE CHECK OUT ALL OF OUR EBAY LISTINGS. WE'RE SELLING OUR COMPLETE COLLECTION OF BRITISH CLASSICS BIKES FROM THE 6O's.
Showcase Ads
×
Alert Successfully Created
Sours: https://www.smartcycleguide.com/motorcycles-for-sale/1965-triumph-bonneville
Are you looking for a used Triumph Bonneville? Bert's Mega Mall is the world's largest motorcycle dealer! We have the largest inventory of new & used Triumph motorcycles including the new & used Triumph Bonneville!
Stock modern Triumph Bonneville's for sale have an average of 40-50 MPG with regular gas on the highway and have a 4.2 gallon gas tank. If your planning on taking a longer trip you won't have to stop for gas until you reach 120-180 miles and it has a seat that easily accommodates throw over bags. New or used Triumph Bonneville models also accommodate shorter riders with several options, come in and check them out if your looking for a lower sitting new or used Triumph Bonneville! If your tired of searching craigslist and want the best dealership price you found the right place without the risks that come when buying private party. We work to stock all models and colors including but not limited to black, the t100, se, etc...
Stock new & used modern Triumph Bonneville models have a 865cc parallel twin engine and the bike weighs close to 500 pounds. This is a balanced weight to power ratio you'll want to know if comparing to another bike you have your eye on. There are also several affordable upgrades to boost the power of your Triumph Bonneville which are considered very easy if you want to get more HP! The power upgrades and flexibility lets you do almost whatever you want.
Customizations of the Triumph Bonneville doesn't stop here with performance. There are many options of aftermarket products including moving foot pegs & controls, changing control styles & materials, new handlebar styles, risers and many more accessory upgrades with almost limitless options!
Give us a call to see if we have the used Triumph Bonneville your looking for!
Contact UsSours: https://www.bertsmegamall.com/--used-triumph-bonneville
Triumph Bonneville® Motorcycles For Sale near Boise, Idaho
Skip to main content
Boise Indian® Triumph® Motorcycle
If you're looking for a timeless classic, then you'll love having a Triumph Bonneville® motorcycle. Offering an original style with modern features and reliability, Bonneville® bikes are worth checking out. Visit our dealership in Meridian, ID, near Nampa to take a look at our Triumph Bonneville® motorcycles for sale!
Learn More About Triumph Bonneville® Motorcycles

For many decades, the Bonneville has been one of the most popular and iconic motorcycles that Triumph produces. This powerful bike was phased out of production a few times, but the whole Bonneville family was reintroduced to great acclaim in 2001, ready to enthrall a whole new generation of vintage-obsessed motorcyclists.

Boise Triumph, located in Meridian, Idaho, is your Gem State Bonneville motorcycle dealer. Read on to learn more about this impressive motorcycle family and what you can expect from a modern Triumph Bonneville motorcycle.

Origins

The first Triumph Bonneville bike was released way back in 1959, with a 650cc parallel-twin engine. Triumph retired it on several occasions and finally resurrected the Bonneville in 2001 to the joy of motorcyclists all across the United States. The retro look of the bike was retained, but some essential modern upgrades were added to make it even better than ever before.

That Vintage Look

The Triumph Bonneville has always been and continues to be a stylish bike. Its timeless appeal stems from the cruiser era of the mid-20th century, and there are several bikes in the family so you can choose the one that you like the best based on your own personal style.

Classic features include chrome multi-piece Triumph tank badges, a grab rail, peashooter-style silencers and twin-skinned chrome exhaust headers. The Bonneville Bobber comes with a stripped-down look that minimalists will adore, while other bikes in the Bonneville family have flashier and edgier features that are designed to turn heads and captivate passers-by.

Performance Upgrades

Today's Bonneville motorcycles may look vintage, but they have all of the 21st-century innovations you desire, such as ABS and a ride-by-wire system that creates a smoother response when you twist the throttle so your bike is easier to handle. Swap between "Road" and "Rain modes in order to feel safe no matter what the riding conditions you encounter are. Switchable traction control helps to make your riding more enjoyable and gives you more confidence, too.

---

Searching for a Bonneville bike dealership? Come see us at our Meridian, ID, location today to check out our vast inventory of new and used Triumph Bonneville motorcycles for sale. We even offer motorcycle financing to help you fund your purchase. Boise Triumph proudly serves the greater Boise metropolitan area as well as our customers coming from Nampa Falls, Idaho.
Sours: https://www.indiantriumphboise.com/triumph-bonneville-motorcycles-for-sale-dealer-boise-idaho--xallinventory?sq=bonneville&vc=standard&make=triumph
748982 - 2016 Triumph Bonneville T120 - Used motorcycle for sale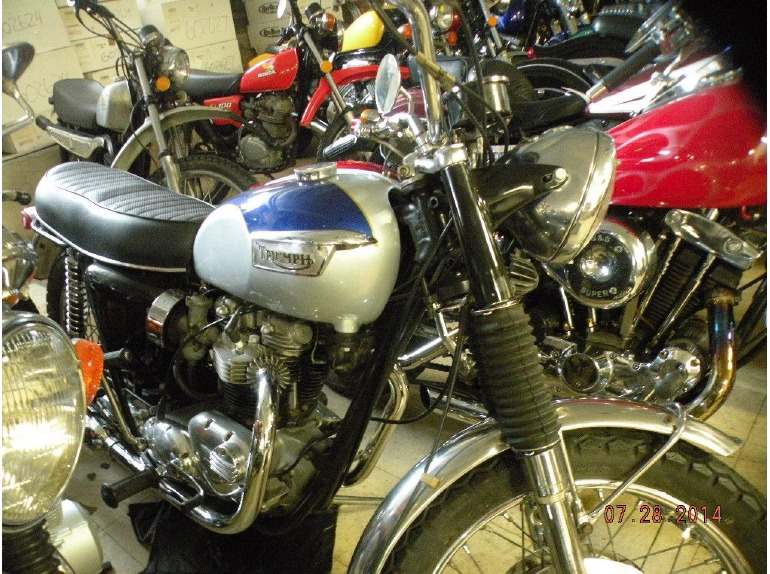 1969 Triumph Bonneville
$10,799
Butler, Pennsylvania
Category Classic Motorcycles
Engine -
Posted Over 1 Month
1969 TRIUMPH Bonneville, 1969 Triumph Bonneville 650. Beautiful Paint Down To It's Thick Padded Quilted Seat. These Were The Golden Years For The Bonneville. Basically The Last They were Considered To Be A World Class Performance Motorcycle. The Last Owner Had Her For 30 Years And Was Well Taken Care Of! If Any Questions Please Call 724-282-7278 & Ask For Jen.85,000 Sq. Ft Full Of Motorcycles..Parts..& Accessories To Come Check Out
Triumph : Bonneville 1969 triumph bonneville
$10,500
Sherman Oaks, California
Category Custom Motorcycles
Engine 650 cc
Posted Over 1 Month
1969 Triumph BonnevilleMatching Numbers. Completely Original.Less than 9,000 original miles.Olympic Flame painted gas tank.California bike, shipped to Johnson Motors in 1969.Have receipts for work over the years.Mechanically Sound, Owned and cared for by local Triumph mechanic.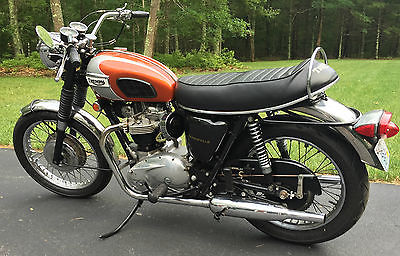 Triumph : Bonneville 1969 triumph bonneville
$7,500
Narragansett, Rhode Island
This bike is part of a serious collection, and has been stored in a climate controlled environment. This is a matching numbers and one kick start machine. Engine type Displacement Bore & Stroke Compression Ignition Engine output Primary drive Primary drive sprockets Clutch Gearbox Ratios, overall: 1st, bottom 2nd 3rd 4th, top Final drive Final drive sprockets Frame type Suspension, front Suspension, rear Brake, front Brake, rear Tire, front Tire, rear Fuel Capacity Wheelbase Seat height Ground clearance Air-cooled OHV vertical twin 649cc / 40.0 ci 71mm X 82mm / 2.79" X 3.23" 9.0:1 Battery & coil, Lucas 49 bhp @ 6200 3/8" triplex chain X 84 links 29T X 58T Multi-plate, wet 4-speed constant-mesh, right-foot shift 11.8:1 8.17 6.76 5.84 5/8" X .400" X 3/8" chain X 106 links 19T X 47T Brazed lug, full-cradle, single downtube Telescopic fork, hydraulic damping Swing arm, 2 Girling dampers 8" TLS drum, full width 7" SLS drum 3.25" X 19" Dunlop 4.00" X 18" Dunlop 2.5 Imp gal (US) / 4 Imp gal (UK & export) 54.5" / 140.3cm 32.5" / 77.5cm 5.0" / 12.7cm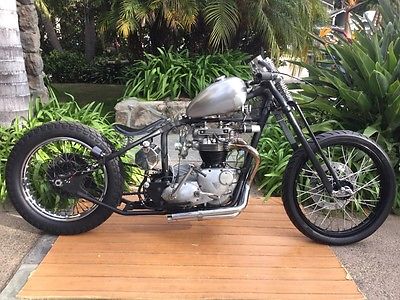 Triumph : Bonneville 1969 triumph bobber
$3,800
Encinitas, California
Up for sale is a 1969 Triumph Bonneville Bobber. Matching numbers bike. New tank & petcock.New black leather solo seat with springsNew taillight with license plate holder.New coils & plug wires. Beautiful springer front end with 21" disc wheel. Special spacers & washers to make this fit on a Triumph neck without any alterations to the frame. Front (Avon Venom sz 80/90-21) tire & rear (Dunlop Gold Seal sz 4.00-18) tire are in near new condition. Runs on a Mity Max ignition system (no battery reqd). It does have a battery box fabricated if you chose to go this way. The bike starts, runs and rides fine. Shifts nicely through all the gears. BUT - (yes, there's a but) - a few issues to address: the head gasket leaks, some of the head fins on the left side are broken off and it leaks oil (mainly from the head and rocker boxes on the left side). BUT - (yes, there's another but) - The good news: I bought a Bonneville head to replace the current one. It is included with the sale of the bike. My plan was to have it replaced and while it is removed, it would be very little addition time & money to redo the cylinder - bore it one size up and put in new pistons & rings and this way you would have a brand new top end! There is still some work to be done on this bike. Please look at the pictures closely. Clear Ohio Title. At this time I have way too many projects so a few have to go... Any questions, let me know. YouTube to follow......

Triumph : Bonneville 1969 Triumph bonneville
$5,000
Venice, California
Category -
Engine -
Posted Over 1 Month
1969 Triumph bonneville t120rfresh built top endframe and engine are different numberspretty much all stock, i took off the old risers, and added nicer onesneeds both front and rear suspensionruns strong, feels comfortable going 75/80mphplease contact me with any other questions you have. i don't know the milage, i bought it with the instruments all brokennew battery, new regulator/rectifier its on a 5 point wiring system(negative earth)I replaced a bunch of the old bad wiring and the more i replace, the better it runs..Someone who loves this bike should own it, i love it, but its not on the top of my projects right nowplease email message me for any other details your looking for.

Triumph : Bonneville 1969 Bonneville Triumph
$5,350
Hellertown, Pennsylvania
Category -
Engine -
Posted Over 1 Month
1969 Bonneville750 CC.......5 SPEEDELECTRONIC IGNITIONMCGUNI CARBS (650 cc matching #s available)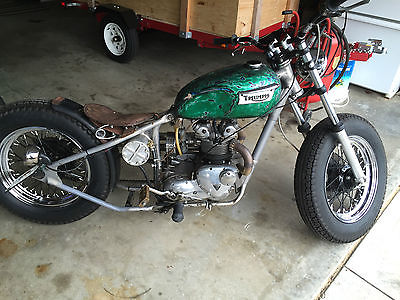 Triumph : Bonneville Triumph T100 1969 unit bobber chopper Lowbrow Chopcult Choppertown
$3,900
Monarch Bay, California
This is a 1969 500. I dont think it is a Bonneville, look up the vin to be sure. The front end is I believe early 70's style, rigid weld on frame, numbers do not match, Title is good, Looks like a bates seat pan, Black Bike custom wheels, Avon MK II Tires, 5.0 x 16 tube, custom pipes made by Lucas from I think Lowbrow, Misc. oil bag, Megacycle Cam with ported polished head from Classic Cycle. This bike used to kick over 2 or 3 kicks but has ben sitting around for so long i think gas is clogged up in the carb. YOU check the bike out. for questions call or email 9498747145,
Trim T100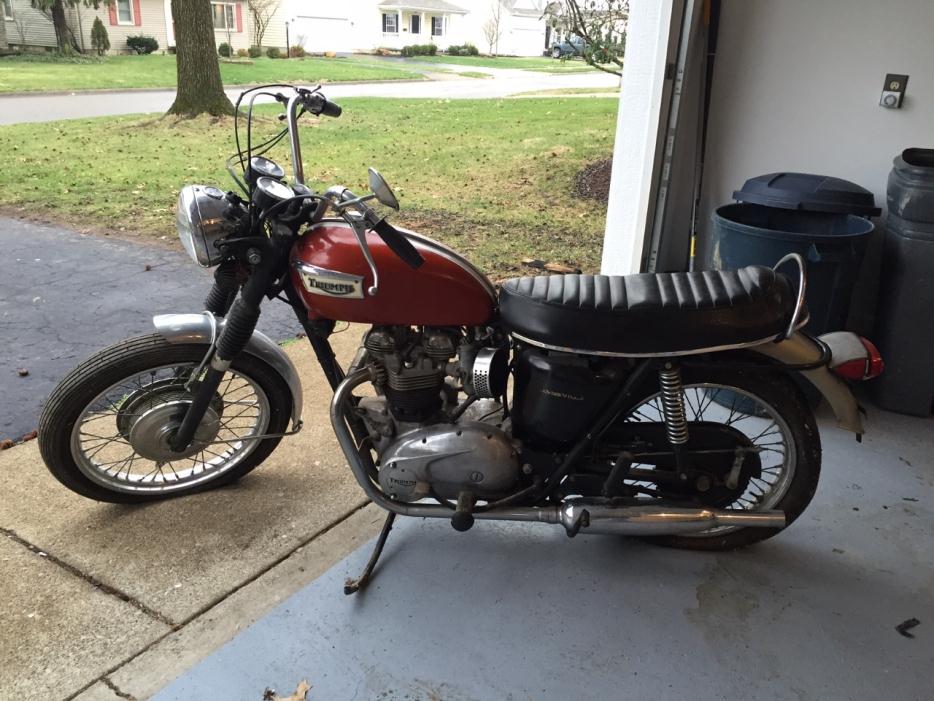 2012 Harley-Davidson Super Glide DYNA CUSTOM
$3,250
Worthington, Ohio
Category Classic Motorcycles
Engine -
Posted Over 1 Month
1969 Triumph Bonneville , Bike is a classic, all original except for mirror, right side shift. Bought with grand ideas of riding and restoring along the way but other interests took over. Bike has not run for several years and needs a little TLC to run again (fluids changed, tires checked, etc.). Ready for a restoration or a blank canvas for a truly customized classic ride. Please contact me for more information and I can provide any requested additional photos. $3,250.00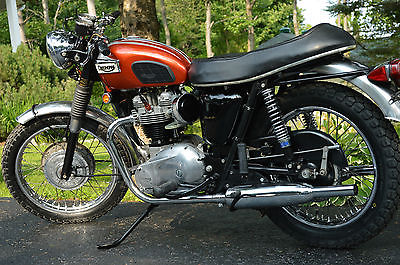 Triumph : Bonneville 1969 triumph bonneville 650 t 120 r
$8,300
Terrasse-Vaudreuil, Quebec
Category Cruiser Motorcycles
Engine 650
Posted Over 1 Month
Beautiful Vintage Triumph Bonneville 650 T120R - Engine completely rebuilt by Triumph mechanic. - Many new parts added and new rubber purchased at Triumph dealer Moto Montreal - Beautiful paint on the tank with painted white trim. - Original paint matched - Matching numbers from engine. - Comes with Original workshop manual. - Short handlebars - Original bike has no mirrors or flashers by the manufacturer. Added a mirror for safety. Can be removed if needed. Condition- Seat has a little bit of wear to it but the bike itself is in great condition. Almost all new parts. History- Purchased brand new at Daytona motors in 1969, Montreal. One owner only. It's a beautiful classic bike that will make any rider cruise with style. Tons of power with the vintage look. Note: Local pickup. If buyer would like it to be shipped, buyer is responsible for all shipping costs and fees. Payment must be received before pickup or shipping date. No money orders. Canada buyers : Be aware of purchase Tax from the SAAQ when transferring ownership.
Trim T120R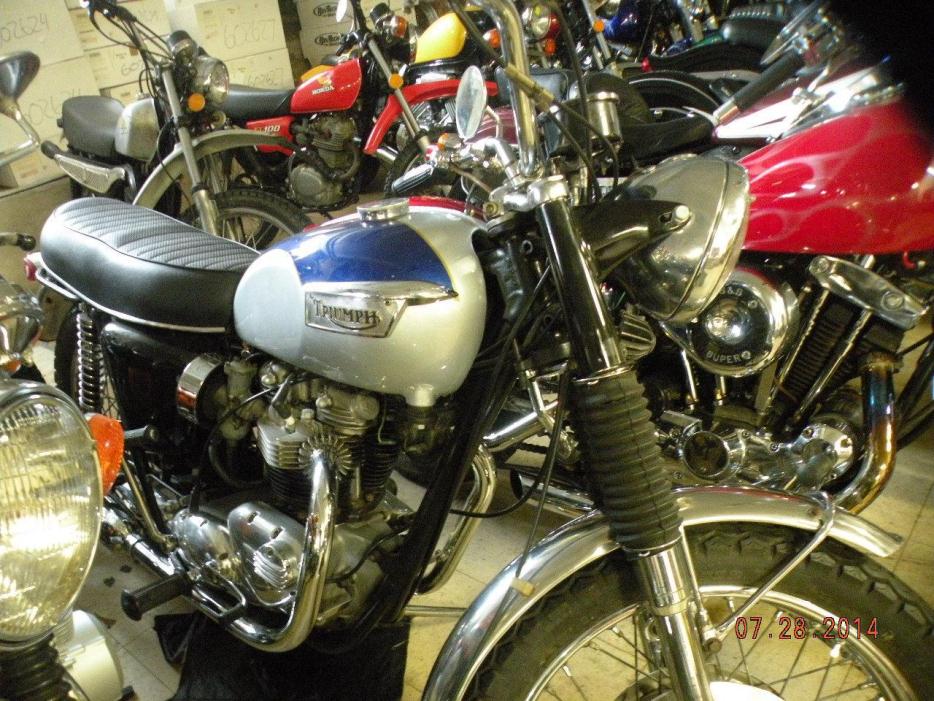 2000 Suzuki Marauder VZ 800
$10,799
Butler, Pennsylvania
Category Classic Motorcycles
Engine -
Posted Over 1 Month
1969 TRIUMPH Bonneville, 1969 Triumph Bonneville 650. Beautiful Paint Down To It's Thick Padded Quilted Seat. These Were The Golden Years For The Bonneville. Basically The Last They were Considered To Be A World Class Performance Motorcycle. The Last Owner Had Her For 30 Years And Was Well Taken Care Of! If Any Questions Please Call 724-282-7278 & Ask For Jen.85,000 Sq. Ft Full Of Motorcycles..Parts..& Accessories To Come Check Out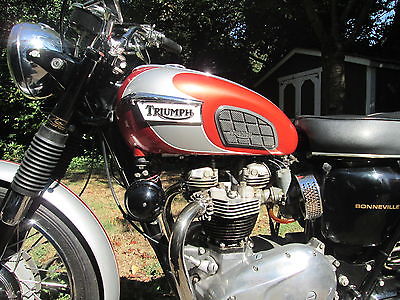 Triumph : Bonneville 1969 triumph bonneville 1995 frame off restoration owners handbook shop manual
$10,500
Portland, Oregon
Category Standard Motorcycles
Engine 650
Posted Over 1 Month
Complete and correct professional frame off restoration done in 1995 by Dave Wedlake in Portland OR. Only 4000 miles in 20 years of gentle riding only on dry streets since then.Always garaged/maintained 1995/96 multiple show winner in British division .This is a very nice example of a 1969 Triumph Bonneville 120 R.....restored to stock with NOS parts . Including: Cloth covered wiring harness ,dual tone horns , Champion plug caps/wire , dual Amals, Lucas lighting, Avons for tires. Engine completely redone : .020 over , new bearings,new pistons, polished crank ,reground lifters ,new guides and springs etc. Frame was powder coated . 2015: Dave just repainted tank and fenders so that's brand new this year. He also adjusted valves ,synched /adjusted carbs,changed oil ,cleaned trap,new carb cables,fork gaiters,new rectifier and peg rubbers all around. There is some very minor pitting on one of the mufflers and on the rear rim . NO modern upgrades here like electronic ignition or different carbs or lights/turnsignals...nada. Tickle carbs & kickstart ...old school. BONUS: I'm also including an owners handbook , a workshop manual(shown in last scan) AND 2 excellent books written by Roy Bacon: 160 page Triumph Buyers Guide and 240 page Triumph Twin Restoration (neither shown). Buyer is responsible for shipping .Local pick up is available $1000. payment due on purchase
Trim T 120 R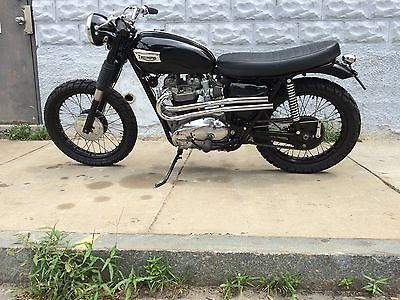 Triumph : Bonneville 1969 triumph bonneville desert sled built by choppahead kustoms
$6,000
New Bedford, Massachusetts
LAST CHANCE TO BUY!!! GREAT PROJECT BIKE OR AS IS!!! This matching #'s 1969 Triumph Bonneville was built by Choppahead Kustoms. We chose the idea of doing a Desert Sled instead of bobber or chopper. It is a strong and very fun running bike. Kickstart. The engine was completely checked over. The chassis is rebuilt including the forks, wheels and brakes. All of the electrics are new as well as the carbs. The frame is powder coated along with the wheels to give it more of a cohesive look. The bike has custom exhaust which sounds great. This bike is truly in the style of Choppahead Kustoms. Just straight forward and mean looking, but very pretty at the same time! *This bike is listed locally and unless it hits the reserve, we maintain the right to the end the auction at any time* Buyer pays for shipping or pickup, but we can help arrange the shipping. $500 deposit with 24 hours of listing ending. Full payment must be made within 3 days of listing ending. Feel free to call or email us with any other questions you may have. Choppahead is a premier, full-service Triumph and custom shop. We sell anything you need to build your British or American chopper, bobber, or custom. If you have any questions shoot us a message or give us a call at 508-995-6764 Check out my other items! Be sure to add me to your favorites list! On Jul-09-15 at 13:04:39 PDT, seller added the following information: This bike could easily be turned into a full restoration - if that is something you are interested in, give us a call!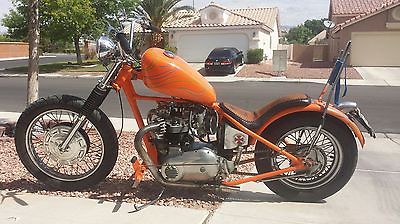 Triumph : Bonneville 1969 triumph bonneville custom built bobber chopper
$4,500
Las Vegas, Nevada
NUMBERS MATCHING 1969 TRIUMPH CUSTOM MADE BOBBER The bike came new as a 650cc but it has been bored to a 750cc. The bike has just been gone through, rebuilt carbs, new clutch, new gaskets, new battery, tune up. Bike has a custom seat pan with kangaroo hide. Hardtail frame. Sportster gas tank, custom rear fender, 7/8 british mini apes---I haven't seen these these on any other british bike!!!--- I'm selling it for a friend, he has had the bike for over ten years. It has always been a great, strong, running bike. Every time the bike comes out to play, there is always a large crowd around my Boss Hoss and his Triumph, the bike is a real crowd pleaser. The bike is very lite, extremely maneuverable and VERY fun to drive. Please take a good look at the pictures and ask as many questions as you need to!!! If you must have this bike, contact me with your best offer, if I like it, it's yours!!!! The bike is located in Las Vegas NV. I will help you ship worldwide with any special needs you have or want but it is your responsibility to ship the bike!!! Please do not leave negative or neutral feedback without contacting me to help resolve ANY issue, I am very easy to deal with.On Jun-14-15 at 14:38:06 PDT, seller added the following information: I BELIEVE IT IS A HARLEY DAVIDSON SPORTSTER GAS TANK, JUST NOT SURE OF THE YEAR.
Trim 120 R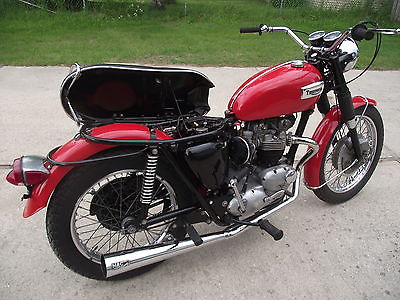 Triumph : Bonneville 1969 triumph bonneville t 120 r runs rides vintage clasic
$6,500
East Jordan, Michigan
1969 vintage rider , clear title.. bike has different motor in it its a C T DU3727 # title matches frame ,,, nice rims tires everything works horn lights hilo brake has been very well kept goes thru all gears paint is chipped and scratches here and there but looks good has minuki carbs easy start runs good has chrome header pipe with baffle still in it .. sounds great please have your local triumph give you description sold as is must be paid in full no later than 3 days of auction end will hold for shipper 45 days un less other wise agreed thank you happy bids
Showcase Ads
×
Alert Successfully Created
Sours: https://www.smartcycleguide.com/motorcycles-for-sale/1969-triumph-bonneville
For triumph bonneville sale motorcycle
Okay, I'll stop by. I used my gift not only to fuck another girl. I convinced my father to give me a car, although there was no trace of a license, the traffic cops who stopped me convinced me that I. Needed to be released.
1972 TRIUMPH BONNEVILLE T120V FIVE SPEED UK BIKE FOR SALE. WALK ROUND AND START UP
He did not react in any way to the girl's performances. -Listen, Beauty, you want big problems, calm down before it's too late - a woman's voice called from behind - sit. Down until they took note of you. A pretty, but a little vulgarly painted girl spoke to Jamila.
You will also be interested:
During the day, my sister owned me, at night my mother. Everything is simple and clear. And no one asked my special consent.
1796
1797
1798
1799
1800