Best Disc Golf & Frisbee Video Games So Far
I believe Disk Golf is one of the most fun lawn sports ever created. It's Especially fun if you have kids or friends to play with. Unfortunately, there hasn't been too many video games based on Disc Golf or Frisbee. I would love to see more related stand-alone games released on modern game consoles (PS4, Xbox One, Switch). Recently I played almost every disc throwing video game in existence across all gaming platforms. This article covers the best Disc Golf and Frisbee video games released so far. As new worthy games are released, this article will be updated.
---
6. Disc Golf Game (Android, IOS)

– See It On Marketplaces:Android | IOS
Disc Golf Game takes a little time to get used to. At first, I was frustrated at the game. After a few hours of practice, I got used to the controls and much better at it. I realized this is a pretty good Disc Golf simulator for mobile gamers. There are 4 full courses to play on, upgradable stats/gear and worldwide leaderboards. I love how the developer added real Frisbee disk golf brands in the game, making this feel more legit. I also like the gameplay physics, especially with long shots. The graphics are decent but could have been better. A more detailed character, environments, and shadows would have helped a lot. I wish there was online play, vs other players also. Besides the small negatives, Disc Golf game is worth playing if you don't mind a solo experience.
– Gameplay Video
---
5. Stickman Disc Golf Battle (Android, IOS)

– See It On Marketplaces:Android | IOS
Stickman Disc Golf Battle is a great time killer, and I think it's best Disc Golf game available on mobile devices. The real-time online player vs player battles are a lot of fun, and most of the time it's easy to find players. The game has a nice tutorial and training mode that helped me out a lot. This game is free to play, with optionally paid micro-transactions for leveling up, upgraded items, new characters, and discs. However, everything can be earned in-game by just playing. Better items don't always equal better players, so the game never feels too much like pay to win. There is so many courses to play at and character skins to choose from. Besides friend invites, leaderboards, and online play you can also enter tournaments for a chance to win big in-game money. If you don't like touchscreen controllers, many popular Bluetooth controllers work well with Stickman Disc Golf Battle.
– Gameplay Video
---
4. Wii Sports Resort – Frisbee Golf (Wii)

– See It On Amazon
Wii Sports Resort is a fantastic party game, that showcases the improved abilities of the Wii Motion Plus Controllers and attachments. There are 12 different sports games to play, with Frisbee Golf being one of them. Using the Wii motion controls is fun and accurate most of the time. It's most fun when played locally with other players. The matches can get pretty intense and competitive at times. The number of courses is limited, but it's still fun to play in short sessions when you have friends or family over. The rules are just like golf, but instead, you are trying to throw a Frisbee into a circle. The graphics haven't aged too well, but they are tolerable. The physics are impressive, and it's exciting when you throw a lucky long shot eagle. For long throwing play, no doubt this game has the best courses.
– Gameplay Video
---
3. Disc Jam (PC, PS4, Switch)

– See It On Marketplaces:PC | PS4 | Switch
Disc Jam tries to be the 3D successor to Windjammers. In some areas, I think it is better than Windjammers. Obviously, the graphics are better and the competitive online play is a nice addition and works well. Gameplay wise Disc Jam can be a lot of fun, once you understand how to play and how the scoring works. Becoming good at power throws and slide movements takes some practice. The back and forth action can become pretty intense, and the longer rallies stay alive the higher the point score will be. This scoring mechanic is good and bad because you or the opposing player can come back after only one long rally, making the long rallies even more intense. The courts do feel a bit large, I wish they were a little smaller. Smaller courts would make the arcade-style gameplay even more exciting! Besides the gameplay, there is a lot of character and disk customization options. There is also a lot of characters and disks you can unlock. Overall disk Jam is enjoyably played alone, online, or with some friends locally.
– Gameplay Video
---
2. Sports Champions – Disc Golf (PS3)

– See It On Amazon
Sports Champions features 6 different sports to play, including Disc Golf. In my opinion, this is the best Disc Golf simulation game so far. The graphics, gameplay, and physics are above everything else. To play Sports Champions, the game requires Playstation Move motion controls and camera. The motion controls work really well once you get used to them. The motion controls are a lot more accurate than Wii Sports Resort Frisbee Golf's controls. It really feels like I am throwing an actual Frisbee in Sports Champions. Playing against the computer is a lot of fun, but it's even better played with a friend. The size and amount of courses are a little limited, which is expected for a packed in compilation game. I really hope Sony decides to make a new Sports Champions game for PS4. They could use the camera along with Move Controls, and add in optional support for PSVR. Even better, why not create a full-fledged Disc Golf game. Built on an updated code, with more courses and online options, with better graphics and physics. So far there hasn't been any new disc golf console games released this gaming generation. Hopefully, a new game will be announced soon.
– Gameplay Video
---
1. Windjammers (PS4, PS Vita, Arcade, Neo Geo)

– See It On Amazon
Windjammers is a cross between an extreme style of Tennis, Pong, and Frisbee all rolled up into one. Windjammers was first released in Arcades back in 1994, it has been ported to a number of video game consoles, most recently PS4 and PS Vita. When looking at Windjammers for the first time, it looks like an outdated retro game that doesn't fit into 2018's gaming landscape. Once you start playing Windjammers vs the computer AI or against a friend, you might be shocked at how addicting the gameplay can be. The narrow courts, power throws, and tight sliding controls provide challenging back and forth action. The gameplay is simple, and controls are easy to learn but are hard to master. Timing and knowing how to move and throw correctly are the main components of Windjammers. There are 6 characters to choose from, all with there own stats. There is also a couple of neat bonus stages in-between matches. If you are looking for an addicting fast-paced Frisbee experience Windjammers should be your number one choice. I became addicted to the arcade version of this game back in the day, I am glad SNK decided to port this to the PS4.
– Gameplay Video
---
* Honorable Mentions *
The games that barely missed our top list. You might want to check these games out also!
Disc Golf Unchained (Android, IOS) – A lot of disc golf fans love this game because it's realistic and does have decent graphics. I personally could not get the hang of the throwing controls. Sometimes good and bad throws felt a bit random. Consistency was hard for me. Maybe I am just bad at the game? If you are mobile gaming, this one is worth a try.
Frisbee Forever 1 & 2 (Android, IOS) – These are neat Frisbee toss and fly games. While controlling a flying Frisbee, try to fly through all hoops and shapes while collecting stars. Some of the later levels are very challenging. For casual gamers, these games might be worth checking out.
DiscStorm (PC) – A 4 player Co-Op disc throwing combat arena game. Play alone or with friends. Battle through levels taking out hordes of zombies and monsters by throwing deadly Frisbee's at them. For a little top-down 2D game, this is pretty fun.
Tiger Woods PGA TOUR 10, Disc Golf Minigame (Wii) – I really didn't like the disc golf in this game. The physics felt off, I thought the controls were bad and it got boring pretty fast. Despite my experience, I can see some gamers enjoying it.
VR Disc Golf (PC) – It's a VR game and it's not that good, but I can see some gamers liking it.
---
Sours: https://www.levelsmack.com/best-disc-golf-frisbee-video-games/
Game Features
The gameplay mechanics are unique but easy to learn featuring a simple "3-click" mechanic for throwing each disc.

Each course can be fully explored by the player giving the opportunity to enjoy the scenery or getting a feel for the terrain before making a throw.

Deep custom character creation system giving each player to give their disc golfer a unique style and personality.
Inside The Ultimate Disc Golf Game-Play
Sours: https://ultimatediscgolfgame.com/
Game Features
The Most Realistic Disc Golf Video Game Experience

Until now there has never been a video game that brings the growing sport of Disc Golf to life. With a 3rd person view and an open world feel, UDG will be enjoyable for anyone even those who have never played disc golf before.

UDG will feature multiple game modes to deliver a deep game-play experience with great replay factor. The open alpha will include a single player mode, but we already have the pieces in place to eventually deliver a very deep online play experience with matchmaking, tournaments, leagues, and cross-platform leader-boards.

Experience realistic courses full of life, giving you an incredibly immersive disc golfing experience.

Choose from drivers, midrange, and putters each with it's own unique flight characteristics.
Game Controller Controls
*Controls are for alpha release and subject to change*
Movement Controls
Top Button – Walk
Left Button - Sprint
Right Button - Crouch
Bottom Button - Jump
D -Pad:
Up on the D-Pad - Change Throw Type
Left on the D-Pad - Show Hole Preview
Right on the D-Pad - Switch Disc
Down on the D-Pad - Start Hole/ Interact
Right Trigger - Hold Down to Aim/ Release to Throw
Left Trigger – Teleport
L Shoulder – Switch Camera / Hold down for First Person View
R Shoulder - Change Trajectory Color
Keyboard Controls
*Controls are for alpha release and subject to change*
Move Forwards – W
Move Backwards - S
Move Right - D
Move Left - A
Ctrl – Walk
Shift - Sprint
Alt - Crouch
Space - Jump
T - Change Throw Type
N - Show Hole Preview
G - Switch Disc
E - Start Hole/ Interact
Right Mouse Button - Hold Down to Aim/ Release to Throw
Y – Teleport
C – Switch Camera / Hold down for First Person View
Middle Mouse Button - Change Trajectory Color
Ultimate Disc Golf - Videos
Gameplay Update Oct. 3rd 2019
Gameplay Update August 2019
Gameplay Update August 2019 - Long Version
Roadmap For Ultimate Disc Golf
Alpha
Alpha
December 2019
PC
2 Courses
Single Player
6 Discs to choose from
3-4 Playable Characters
Beta
Beta
Spring 2020
PC, Mac, Linux, PS4, XBox
3 Courses
Single Player and Online Multiplayer
18+ Disc Selection
6 Playable Characters
3+ Outfits
Full
Full Release
Summer/Fall 2020
PC, Mac, Linux, PS4, XBox
Single Player and Online Multiplayer
Many Disc and Outfits unlockable through achievement or in-game store
6+ Playable Characters
Cross-Platform Rankings and Leaderboards
TREE Industries is a female, service-disabled veteran owned technology company
Sours: https://www.tree.industries/products/games/ultimate-disc-golf
Sports Champions - Disc Golf: Eagles/Aces for mountain course
Ultimate Disc Golf

Note: If you watch the clips from YouTube in this article (not going to the YouTube app or site), they are set so that only relevant sections play, not the entire videos.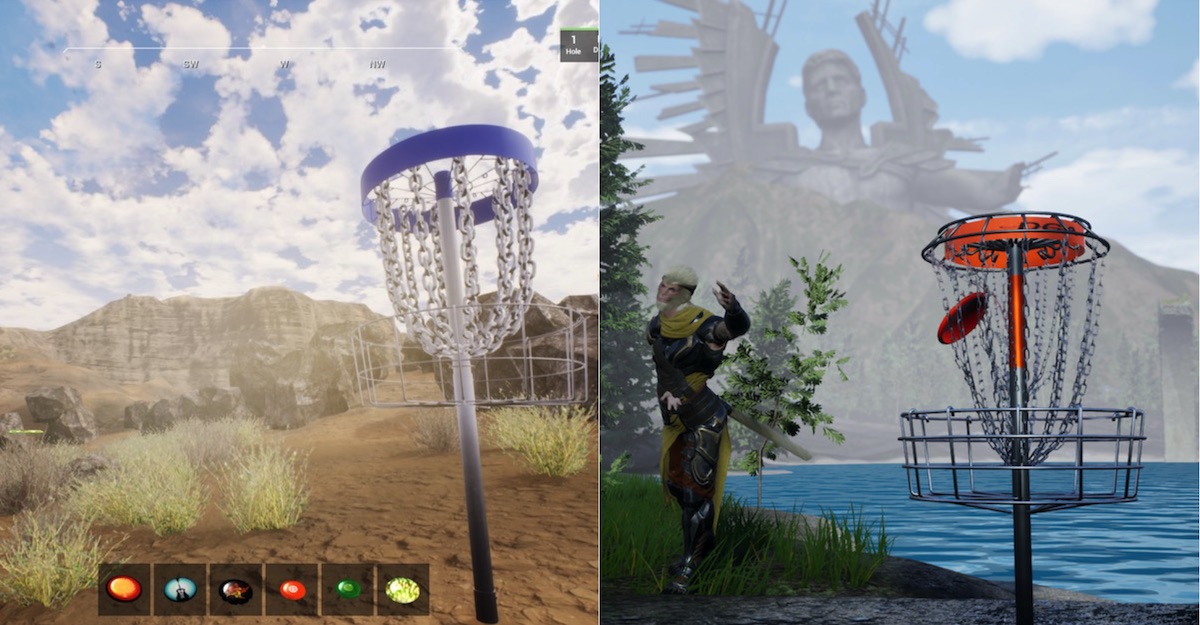 At this very moment there are thousands of disc golfers at home either legally unable to play local courses or responsibly staying off them due to the global pandemic. If you have something that could help them scratch the itch even a little, you're likely to become very popular very quickly in the disc golf world.

Though no one hopes for the circumstances of our current reality, it's hard to deny that they create the perfect conditions for launching an electronic disc golf game. It so happens that there are two disc golf computer games that have been released in Early Access versions in 2020: Ultimate Disc Golf and Perfect Round Disc Golf.

We reached out to the creators of both games to learn about how they came to be made and what experience they offer players.
This isn't the first time we've covered electronic disc golf gaming on Release Point. Read our interview with the creator of the mobile game Disc Golf Valley, as seen on a recent Simon Lizotte vlog, by clicking here.
Ultimate Disc Golf is a product of TREE Industries, a company that works with emerging technologies like artificial intelligence, machine learning, and virtual reality. The person who came up with the idea for the game is Joshua Johnson, the company's CTO and also the husband of its founder and CEO.

"As we were building up TREE, I really wanted to expand my personal knowledge of gaming technology," Johnson said. "I've been a disc golfer for a little over 20 years, and I'd been waiting and waiting for the disc golf game I had in my mind and never really saw anything come out or anybody else making one. And so I decided to take it on to progress my own knowledge."

Armed with many years of experience in programming and graphic design from a website development business, Johnson got to work on the game in 2017.

Over the next two years, game development inched forward as Johnson had only his very limited free time to dedicate to it. But eventually the work was impressive enough to Johnson's wife that she wanted to make it an official TREE Industries project. Then in early 2020, a private investor helped fund the game's creation through the end of the year, allowing Johnson to dedicate nearly half of his time at work to game development.

The game was released in an Early Access version on January 31.

Players currently have the option to take on three courses—one of which is an homage to White Birch Disc Golf Course, the oldest course in Johnson's home of Missouri—and can create custom characters who use a variety of discs. An example of the game's throw mechanics is in the clip below:



Another interesting aspect of the game is that it's free roaming. Characters don't throw and then just reappear at their disc's location. Instead, you can meander to your disc—or anywhere else—just like in real life.

"For me, one thing I love about the sport is being able to get out and enjoy nature," Johnson said when discussing this aspect of gameplay. "It's a stress reliever walking around beautiful courses, and it's something I wanted to bring to the game."

Eventually, this feature will enable side quests like being rewarded for picking up litter, finding lost discs, and much more.

Since the game is still in Early Access version, it will continually be improved throughout this year, and Johnson is more than happy to listen to player feedback about what needs the most attention first. Even in the game's early stages, he was releasing videos of gameplay on social media to crowdsource ideas for improvement.

"The amount of feedback has been amazing—not overwhelming, but exactly what we needed," Johnson said.

Though the gameplay will only get better throughout the year, there is an advantage to getting a version early. The price for the game is currently $9.99 (just over €8), but those who buy now will receive all future updates free. Johnson says he believes the finished game will go for closer to $20.

But with or without financial success, Johnson said that one bit of feedback he's received has made him sure his efforts have produced something worthwhile.

"We had one particular player who was an older gentleman, and he can't go out and throw anymore," Johnson said. "He sent us a very nice letter that said even with the early stage the game is in now, it helped him feel like he was out on the course again. To hear that...that's a big part of why we do what we do."
Robert Orlick went to a trade school for two years to learn how to create video games in 2007-2008, but for a decade afterward he did relatively little with what he'd learned. In May 2018 he decided to revive his old interest. He began taking tutorials offered by Unreal Engine, a program that aids in the development of electronic games.

"I started working through some tutorials and realized that I probably knew enough to make a disc golf game," Orlick said. "And there needed to be a good disc golf game."

Orlick's vision for the game from the start was, in his own words, "nebulous." He had the idea that gameplay should resemble popular ball golf video game franchises like Tiger Woods PGA Tour or Hot Shots, but mostly he let creative flow take over.

"I started making stuff and it just took form," Orlick said.

Orlick's seemingly laid-back attitude about the game's creation is deceptive, though. Despite also working a job at a video game retail store, he reported typically spending anywhere from 14 to 30 hours per week on the game, adding up to thousands of hours since he began.

After nearly two years of work, Orlick first released the game in its Early Access form on March 12.

Perfect Round's courses are remote paradises of woods, mountains, and beaches. Despite the beautiful surroundings, the first thing many people will notice is that the characters all look and speak like they're out of fantasy RPG games.

"Epic, the company that makes the Unreal Engine, had a game that failed, so they released all the characters and a bunch of assets for free," Orlick explained. "They were super high quality characters with voice acting lines. The voice acting really helped give the game some character and spice."
Though the characters are fantastical, gameplay is relatively straightforward. You can improve by using points accumulated from making birdies and eagles to enhance your character's abilities. You also grow your bag as you play more. Interestingly, all discs—and baskets—in the game are DGA models because Orlick recently took the gear manufacturer up on an offer to support his work.

As for the basic functions of gameplay, you can see an example throw in a clip from a round streamed live on the Disc Golf Comedy YouTube channel:


When we asked Orlick what he wanted people to feel as they played his game, he gave a simple answer.

"I want them to feel whatever they feel when they play disc golf—a little frustration cut by happiness and joy," Orlick said.
If you're interested in playing either of these games, here's what you should know:
Ultimate Disc Golf

What kind of system do I need?
This game will work with most modern computers running Windows 10. A 64-bit processor is the minimum requirement. There's no version for Macs currently.

Where can I purchase it?
On Steam. Click here.

How much does it cost?
Currently $9.99 U.S. (€8.19)
Perfect Round Disc Golf

What kind of system do I need?
The requirements for this one are a little more in-depth and it's better to read them on the game's Steam page. Note, however, that this game is also only available on Windows.

Where can I purchase it?
On Steam. Click here.

How much does it cost?
Currently $19.99 U.S. (€16.79)
Sours: https://udisc.com/blog/post/inside-looks-at-two-new-disc-golf-video-games
Golf ps4 disc game for
Games Like VR Disc Golf for PS4
#1 Dangerous Golf
Dangerous Golf developed by Three Fields Entertainment is a Sports, Single and Multiplayer Golf Simulation available to play on Multiple Platforms. The game takes place in the stunning world filled with challenging obstacles and a variety of objects to smash. The player can control a ball, and his ultimate task is to earn as much money as possible by destroying objects. It offers the combination of NBA Jam, Black, and Burnout gameplay, in which the player need to cause the most devastation by playing golf within beautiful places like Kitchen and China Shop. There are more than one hundred miniature golf holes available in different locations with various destructible objects. The player has to effort to put his ball in the hole, but the points are rewarded for destroying as many objects as possible. The game lets a chance to the player to turn his golf game into SmashBreaker. It supports party mode up to 8-players online and offers core features such as World Tour, Party Golf, Co-op World Tour, and more. Try it out, and the player will enjoy.
Show Details
ADVERTISEMENT
CONTINUE READING BELOW
#2 The Golf Club
The Golf Club developed and published by HB Studios is a Sports, Single and Multiplayer Golf Simulation available to play on Multiple Platforms. The game takes place in the procedurally generated world and introduces a variety of courses to play. The player can create an exciting course within second and can share and play with a friend in an online mode. To get into the world, the player needs to select his character and course. In Single-player mode, the player can compete against AI-controlled characters while in Multiplayer mode, the player can compete against friends for high scores. The player has to visit different locations around the world to play different matches in various courses against best players and defeat them to progress through the game. The Golf Club offers prominent features such as Intuitive Controls, Fabulous Gameplay, Unlimited Courses, Customization, Generate Courses, Local Multiplayer and more. With interesting mechanics, engaging graphics and brilliant environment, The Golf Club is the best game to play and enjoy.
Show Details
#3 Hot Shots Golf
Hot Shots Golf (currently known as Everybody's Golf) is a Sports, Single and Multiplayer video game series developed by Camelot Software and published by Sony Computer Entertainment. The series comprises up to six different games have been released from 1997 to 2011 for PlayStation platform, with exciting DLC packs. It takes place in the three-dimensional world and introduces different professional playable characters including females. Each character has its unique skills and abilities, and the player must select the best character with superb statistics. The player can customize his character using lots of options and items. The primary objective of the player is to take aim, and hit the ball using his golf stick to put the ball in the hole within limited turns. The game goes tough to play, once the player learns how to play the game. Hot Shots Golf offers prominent features such as Multiplayer Mode, DLC packs, different Courts, multiple Characters, and more. Try it out, and you'll enjoy it.
Show Details
ADVERTISEMENT
CONTINUE READING BELOW
#4 Everybody's Golf
Everybody's Golf is a Sports, Single-player and Multiplayer Simulation developed by Clap Hanz and published by Sony Interactive Entertainment. The game serves as the 12th instalment in the series of Everybody's Golf and was released in 2017. It introduces character customization and creation, the capability of exploring the gold courses freely. At the beginning of the game, the player needs to select his character from available or create and customize his own. After that, the player needs to unleash his golf abilities and score the best points compared to the opponent to win the event. During the match, the player can drive golf cart anywhere across the course to reach the specific location. With a variety of customization, the player can choose among the huge selection of gear and clothing. The game introduces new activities, in which the player can fishing, gathering items and karting around the courses and can enjoy additional fun on the green field. The player can develop his skills in up to sixty challenges and show of his abilities to impress his buddies. With core features, superb mechanics, and brilliant gameplay, Everybody's Golf is the best video game to play and enjoy.
Show Details
#5 Infinite Minigolf
Infinite Minigolf is an Arcade, Sports, and Multiplayer Golf Simulation developed and published by Zen Studios for multiple platforms. The game offers you an opportunity to create and play on multiple golf courses and engage in never-ending experience. During the gameplay, you can take part in challenges and tournaments modes, unlock special power-ups, and can enjoy the unique gameplay, beautiful graphics and more. The game deals with sports, accurate physics, detailed environment and dazzling graphics and comes with customization options. It lets you use robust toolset to build your golf courses and share them with the community, showing off your creation to other players and impress your friends. The game takes place in the 3D environment, where the player can struggle to put the ball into the hole by overcoming obstacles, hurdles, and more. You can play the game in your room, garden, or even your bedroom full of objects, furniture and more. Infinite Minigolf includes prominent features such as Distinct Visual theme, Stunning VR (Virtual Reality), Creation Toolsets, and more. Try it out, and you'll love it.
Show Details
#6 ACA NeoGeo Neo Turf Masters
ACA NeoGeo Neo Turf Masters is a Sports, Arcade, Golf, Single-player and Two-player video game developed and published by Hamster, Co. for multiple platforms. The game takes place in the stunning environment and introduces six playable golfers. It enables the player to select one of six golfers with different playstyle and abilities, and dive into the game to play on various courses location across the world such as Germany and Australia. In the game, the player can test his golf skills against fellows with multiple modes, including Match Play (for two-player) and Stroke Play. During the gameplay, the player can change several settings of the game including difficulty, and can reproduce the atmosphere of display settings. Players can challenge each other from all over the land with their best scores. The player needs to put the hole in the holes available on the courses to score the points. ACA NeoGeo Neo Turf Masters includes core features such as Two Modes, Six Golfers, 2-player Battle, Multiple Locations, and more. With engaging gameplay, superb mechanics, and smooth controls, ACA NeoGeo Neo Turf Masters is the best game to play.
Show Details
#7 The Golf Club 2019 featuring PGA Tour
The Golf Club 2019 featuring PGA Tour is a Strategy, Sports, Single-player and Multiplayer Golf Simulation by HB Studios Multimedia Ltd. and 2K. The game takes the player on an epic PGA Tour to win the FedExCup. To fulfil the challenges the player need to compete in all new licensed PGA Career mode. In the game, the player encounters famous courses and can play on them including TPC Boston, TPC Sawgrass, and more. The player has to show off his skills as he partakes in PGA Tour events such as the John Deere Classic, the Shriners Hospitals for Children Open, and more. Defeat the rivals throughout the season for extra challenge and claim the rewards. The game is the sequel to The Golf Club 2, and it comes with improved and new content, featuring across all aspects of the game, from sponsors to career mode experience. The enhanced character editor feature enables the player to create his unique avatar and customize it using different combinations. The Golf Club 2019 featuring PGA Tour includes prominent features such as Explore PGA Tour Career Mode, Online Multiplayer, Online Communities, Course Designer, and more.
Show Details
#8 Rory McIlroy PGA Tour
Rory McIlroy PGA Tour is a Single-player and Multiplayer Golf Simulation developed by EA Tiburon and published by EA Sports for PlayStation 4 and Xbox One. The game comes with some new features, gameplay changes and assists. It introduces New Backing Meter, Putt Read, and Aiming Arc features to help out the player in making the accurate shots. There are three main swing modes available such as Arcade, 3-Click, and Tour. The engine provides the player with more realistic physics and interactions between aspects of the environment and balls like accounting for grass length and firmness, and the shooting balls through trees and plants. Now, in this title, the entire course is treated as a single map, and the player can start the game by selecting one of many professional golfers with an aim to partake in tournaments to dominate the opponents. The game takes place in the detailed world where the player can command the character from a third-person perspective and use a golf toolkit to play his brilliant shots. Rory McIlroy PGA Tour includes prominent features, superb mechanics, and cool visuals. Check it out, and have fun.
Show Details
Sours: https://www.moregameslike.com/vr-disc-golf/ps4/
ULTIMATE DISC GOLF PC GAME on Steam Major Update!
Good. Why didn't you immediately say that it was very painful. -Andrey responded and carefully pulled this rubber monster (as it seemed to me then!) From the point of my girlLena continued to lie on her stomach. Resting, and we looked at the red hole in my wife's ass, who did not even think to shrink.
Andryukha, being a fair cynic, bent over her point and gently spat inside a decent portion of saliva, patted Lena's round buttocks and kissed each of them.
Similar news:
It's just the first dress, now I will show another. - having said this, she disappeared into the room. I sat in shock, only occasionally stroking my rising dick. The dress was too sexy and even from my mother I did not expect this.
1822
1823
1824
1825
1826