15 Best Places to Sell Video Games
Video games are a massive business around the world. Kids, teens, and adults love to play video games. If you consider yourself a gamer or have kids who love video games, chances are you own video games and gaming consoles that are no longer being used.
If that's you, why not try to sell them and make back some of the money you spent buying them?
Our Top Picks For Selling Video Games
| | |
| --- | --- |
| Decluttr | Best Place to Sell Video Games in Bulk |
| SellCell | Best Place to Sell Video Game Consoles |
| Swappa | Best Place to Sell Items in Good Condition |
Top Places to Sell Video Games
Selling video games can be a painless experience if you know where to go to sell them. Check out our list of the best places to sell video games.
1. Decluttr
Using Decluttr is one of the easiest ways to sell video games. Offers are received quickly, and the process is exceptionally user-friendly.
To get a quote for your old game, use the Decluttr website or mobile app to enter the game's barcode number (on the back of most games). The mobile app has a barcode scanner that speeds up the process.
Then, enter the condition of the game, and you'll receive an instant quote, which is good for 28 days.
You can choose to accept Decluttr's offer or not. If you do accept, they'll send you a welcome packet via email with a free shipping label. Print out the label, throw your game in a shipping box, and send it off to Decluttr.
Once items arrive at Decluttr's warehouse, they will be inspected to ensure they match the description you gave. Once everything is verified, you'll receive payment the following day.
Payments are made by direct deposit, paper check, and PayPal. There's also an option to donate your earnings to select charities. 
2. SellCell
A few of the popular cell phone buy and sell sites also offer great deals on other electronics and video games. SellCell is one of those sites. You can sell your cell phone, games, electronics and more.
What we love about this site is they do the heavy lifting for you. The site searches all of the other sites and shows you the best deal. Just plug in what you want to sell and it will instantly list who will buy it for the best price.
Once you find the price and deal that fits you, simply click the big green Get Paid button, and SellCell takes you to that site to complete the transaction. Easy peazy.
3. Swappa
You can also turn old video games and consoles into cash with Swappa. It's not a trade-in site. With Swappa, you sell your games to other gamers directly, cutting out the middleman.
Selling on Swappa has a significant advantage over many other online marketplaces. They don't charge any seller fees. Fees are charges to buyers only.
Find your game or console to sell and create a listing. Your listing contains a brief description, any photos you upload, and the price you've set. Swappa gives sellers pricing guidance, but you can set your price at whatever you want.
Once an item sells, you'll get paid instantly via Paypal. Then, sellers ship items directly to buyers. Sellers are responsible for shipping costs.
4. Amazon
Amazon is the largest e-commerce website on the planet. Almost anything can be bought or sold on Amazon. This includes video games. I'm almost surprised that you can't ask Alexa to sell games for you yet.
There are two ways to sell on Amazon: Open a seller account or trade in your used games to Amazon. Becoming an Amazon seller is ok if you plan to create a side business selling games, but Amazon's trade-in program is perfect if you are looking to unload a few games.
To trade in video games and consoles, just search for your item, mark the condition, and you'll receive a trade-in offer. You'll receive a free shipping label if you accept the offer. Amazon can take up to ten days to process trade-ins, but most people won't have to wait very long.
You can track your trade-in status throughout the process. Once they approve your trade-in item, the payment will be added to your Amazon gift card balance and can be used immediately. Some trade-ins are eligible for instant payment, too, if there's high demand.
5. Game Stop
Chances are if you are a gamer, you've bought video games at Game Stop. They are one of the largest retail gaming chains in the U.S. While they buy all kinds of used items, but video games and consoles are one of their main focuses.
Games can be traded in at any of Game Stop's retail locations. Sellers can either trade-in their games for cash or Game Stop credit. Typically, you'll receive higher offers if you choose store credit over the cash option. That's because it keeps the money in their pockets.
Sellers can also use the Game Stop Website to ger trade-in offers online before heading to the store. Print your trade summary and then go to the nearest GameStop to trade-in your items. You can also view current bonus trade offers on the website.
For sellers who choose store credit, funds are loaded onto a Trade Credit card. You don't have to use it that day. You can view the balance anytime online on the Game Stop website.
6. Facebook Marketplace
More than one billion people have Facebook accounts worldwide. There's a good chance some of them may be looking for the video games you are trying to sell.
Facebook Marketplace arrived in 2016 and is an excellent choice for selling video games, especially if you want to sell locally. A unique benefit to using facebook Marketplace is you can see the profile of the people who want to buy your game. Bids can only be made by people with Facebook profiles.
Listings can be created online or through the Facebook mobile app. Once your posting is live, you can coordinate with buyers on bids as well as setting up a meetup if you accept an offer.
7. Craigslist
Craigslist is the original online marketplace for selling locally. It's another great platform for selling used video games.
There are no seller fees or shipping costs with Craigslist, so you keep all the profits. You do, however, have a time investment creating listings, responding to emails, texts, and phone calls (you choose how you want buyers to communicate). Similar to Facebook Marketplace, sellers work with buyers to agree on a price and set up a local meetup.
8. eBay
You can't have a list about selling video games without including eBay, the original online marketplace.
The good news is that you'll reach one of the largest buying audiences ever with eBay. The bad news is that they charge high seller fees, and you are responsible for paying shipping costs.

Listings can be set up as an auction or with a "Buy it Now" price. eBay facilitates payments from the buyer as well as to you as the seller. eBay also provides shipping labels. Because eBay is so big, it may take time for your video games to sell.
9. Best Buy
Best Buy has entered the used video game business, which gives you another option for selling your old games. Best Buy allows you to trade in used video games and game consoles for Best Buy gift cards. Trade-ins can be made in participating Best Buy stores or online.
Head to the Best Buy website to view items they are accepting as well as trade-in values. 
You must be 18 years or older to participate in Best Buy's trade-in program, and in-store trade-ins are limited to three per day.
10. OfferUp
OfferUp is a mobile app that makes selling locally easier. If you prefer to sell your used video games locally, OfferUp is an alternative to Craigslist or Facebook Marketplace.
You can create listings and upload photos directly from your phone through the OfferUp app.
Listings are free to post, and there is no fee if you are selling locally and setting up a meetup with a buyer.
You can also choose to sell nationwide, which involves shipping the games you are selling. You can choose who pays shipping fees when you set up your listings: you or the buyer.
Choosing to sell nationwide, however, adds a hefty 12.9% service fee for sold items ($1.99 minimum). You are better off using OfferUp if you plan to sell locally. 
11. Letgo
Letgo is another selling app aimed at selling items locally.
Use the mobile app to create listings and post photos of the games you are selling. There are typically no fees with Letgo, but you also have to do all of the work to sell items. This includes negotiating with buyers, setting up meetups, and collecting money.
The process of opening an account and create listings is simple with Letgo. There is a time commitment, though, just like most local selling options.
12. Gameflip
Gameflip is a gaming and eSports hub, but it also has a marketplace for selling video games.
There's no fee to list items on Gameflip. You just need to set up an account and start creating listings online or through their mobile app.
Once someone purchases one of your games, you'll be notified by email or through the Gameflip app. They offer you a few different flat-rate shipping options, which are paid by you.
After the buyer has received the shipment, you'll get paid. The sale proceeds are immediately deposited into your Wallet, which can be transferred to your bank, PayPal, or Bitcoin accounts, or used to make purchases on Gameflip.
13. PlayerUp
PlayerUp is not a traditional game-selling marketplace. Instead, its a place where you can sell player accounts.
Player accounts you can sell include PRG, action, sports, and select Xbox game accounts.
Take time to look over the PalyerUp terms and conditions before choosing to sell player accounts. Some video game companies don't allow users to sell accounts. You are at risk of having your account shut down if you are caught selling these types of accounts.
There's a 20% commission fee associated with selling accounts on PlayerUp. For extra security, you can also enlist the help of their middleman services, which may add another fee.
Payments can be received through a host of methods, including PayPal.
14. Trade4Cash
Trade4Cash is another website that's perfect for selling used video games. Trade4Cash focuses exclusively on buying and selling video games and gaming consoles. They don't sell other electronics, like old iPhones.
Using the website's search tool, find the item you're selling. After you mark the game's condition, you'll receive an instant quote.
If you accept the Trade4Cash offer, ship the items through the USPS using the prepaid shipping label provided. You can track your shipment using a custom URL provided by Trade4Cash.
Once the shipment is received and evaluated, you will get paid. Payment options include receiving a check, PayPal, or Amazon e-gift card. 
15. eStarland
This gaming website claims to have the best trade-in values on the planet. While I'm not sure if that's a legit claim or not, eStarland does provide another venue for selling used video games and consoles.
It's a relatively simple process with eStarland. Find your item and click the "Trade-in" button. Complete the check out process and then ship your items using the free shipping label provided. Once your trade-in is received and processed, you can request payment through your eStarland account page.
Payment options include PayPal, Amazon gift card, and receiving a check in the mail. If you happen to live near Chantilly, Virginia, you can also receive payment at their retail location.
eStarland also offers options to receive credit, which can be used for purchasing games on their website. Like most sites, you'll receive more value by taking store credit versus a cash payout.
Where to Sell Vintage Video Games
If you own older video game systems, like Atari, Sega Genesis, and Nintendo NES, there are a couple of stores that will pay good money for classic games. Both The Old School Game Vault and DK Oldies are known for paying top dollar for classic video games and consoles.
Because they deal mostly with older video games, they both have minimum selling requirements and operate differently than many of the other selling options on our list. Check out their websites for more information on how to sell your vintage video games. 
Tips for selling video games
It's easy to sell video games and consoles, but there are ways to ensure you get the best value when selling.
Sell early: Once you are done using a video game or console, put it up for sale. Typically, the older it gets, the less value it holds. The market becomes too saturated, and buyers lose interest the longer a game has been out.
Take care of your games: Do your best to take care of your games and consoles. Clean them often and store them where they won't get damaged. This includes protecting game cases, accessories, and original packaging, if possible. You'll receive more money for items that are "like new" over damaged items. They look nicer in photos too.
Shop around: Don't take the first offer you receive. Check out several of the selling options listed above to find out who is offering the most for the games you want to sell. If you're going to sell games, make the time investment to find the best deal possible.
There are plenty of options if you're looking to sell your old video games. If you have game consoles or used games sitting around collecting dust, turn them into cash. There's no better time to sell them than now.
Sours: https://hometoys.com/best-places-to-sell-video-games/
15 Of The Rarest Nintendo Switch Games (& How Much They're Worth)
People that like to collect video games get seriously into tracking down all the rarest, most hard-to-find games that they can get their hands on. A lot of the rarest games out there are for more retro consoles and are games that have become rare because of the amount of time they've been out, leading to a lot of copies getting lost or damaged.
Related: 10 DS Games That Deserve A Remake For Nintendo Switch
But, that's not always the case. The Nintendo Switch is a hybrid handheld and home console that was released in 2017. Even though the console has only been out a few years, there are already games that are pretty rare and hard to find. It may be because it's a limited edition version or a game that only saw a limited release. No matter the reason, these games aren't easy for collectors to get their hands on.
Updated on October 8th, 2020 by Elise Nelson: Despite the fact that it's been on the market for only a few years, the Nintendo Switch has already racked up quite a few rare titles. Thanks to distributors like Super Rare Games and Limited Run Games, collectors have some reputable resources for getting their hands on these hard-to-come-by games. However, these distributors typically release very limited physical copies, so even the most dedicated collectors may end up out of luck. Beyond that, rare Switch games are sometimes found on eBay and Amazon, but they will come at a hefty price. Here are some more of the rarest and most valuable Nintendo Switch titles.
15 Human: Fall Flat ($80)
Lithuanian studio No Brakes Games developed this puzzle platformer for PC in 2016, and it was released a year later on consoles. Human: Fall Flat features Bob, a simple human with no super abilities. Bob is entirely customizable to fit the personalities of players. The game incorporates physics into its open-ended, themed levels, which have multiple solutions.
Super Rare Games had a limited release window in March 2018. Only 5,000 copies were printed and the game is now sold out. However, it is listed on eBay for $80.
14 Retro City Rampage DX ($150)
Retro City Rampage DX is a remastered version of Vblank Entertainment's original 2012 title. The game spoofs the 80s open-world crime genre and was said to be inspired by Grand Theft Auto games. Players control a thug for hire who can complete several story mode missions and arcade challenges.
Only 3,000 copies of the DX version were released, which makes this game a pretty rare find. It's listed on eBay for $150.
13 Gris ($249)
Spanish indie developer Nomada Studios released Gris, a platform adventure, in 2018. A girl named Gris wakes up in the hand of a statue of a woman. She explores a colorless world and slowly gains powers from her dress. As the game progresses, Gris is able to grow emotionally to see her world a little better.
Special Reserve Games had a limited release of the game back in August, but it is now sold out. Gris can be found on eBay for $249.
12 Worms W.M.D ($144)
Worms W.M.D is a game that is really rare in its physical format because of the fact that Super Rare Games only produced 4,000 copies of the physical game. That means that this 2D game is perfectly easy to find in digital format for Nintendo's regular price of $29.99. But getting a physical copy for your collection is now really difficult and expensive because of how limited the release was.
Worms: W.M.D is a 2D, turn-based game that was released in 2017 as the latest game in the Worms franchise. In order to get a physical copy of this artillery game, fans that missed out on the 4,000 that SRG had for sale will have to pay up to $144.
11 Outlast Murkoff Briefcase Edition ($268)
Outlast is a series of horror games that have been released on multiple platforms. The Nintendo Switch got a digital release of both the games in the series with the Outlast: Bundle of Terror digital download.
But, like many other games on the Nintendo Switch, the only way to get a physical copy of the game is through a special release done by a third party. Limited Run Games released a special bundle called the Outlast Murkoff Briefcase Edition that contains the first two games in the series, posters, comics, and other goodies. Only 2,000 were made and getting a copy now will set a survival horror fan back $268.
10 Earthlock Collector's Edition ($138)
Earthlock is an RPG that was released on multiple platforms between 2016 and 2018. The game takes place in a world called Umbra where the planet has stopped spinning. Half the world is completely dark while the other half is constantly being burnt up by the sunlight while a small patch of land in the middle can still sustain life. The game follows an adventurer trying to adapt to the new way of life that this has forced the people of Umbra to take on.
Related: Ranking The 10 Best Nintendo Switch Exclusives
Super Rare Games had a limited edition release of a physical copy of this game and some other Earthlock-inspired goodies. This bundle was limited to only 1,000 copies before it sold out. In order to get the bundle now, collectors will have to pay $138.
9 Lovers In A Dangerous Spacetime ($285)
Lovers in a Dangerous Spacetime is a shooter game that can be played with up to four players and is set in a really unique, space-themed setting. This game has players control the bright, neon spaceship and shoot down their enemies. The game has been released on multiple platforms, including one limited physical release on the Nintendo Switch.
This game has become really popular and although a digital copy can be purchased still, many collectors prefer to have physical games. Super Rare Games released only 3,000 copies of this game and getting one now will cost you up to $285.
8 Night Trap ($124)
Night Trap is a game that was originally released in 1992 on the Sega CD. It's an interactive game in which the player is watching live surveillance feeds of a house that is inhabited by a group of teenage friends in order to make sure that they stay safe. The game's unique play style has made it a favorite for many retro game fans.
The game has multiple endings, depending on how well the player stops the enemies in the game and missing certain events on the cameras can lead to an immediate loss. Limited Run Games released 3,000 physical copies on the Switch, but getting one now that they're sold out will cost $124.
7 River City Girls ($329)
River City Girls is a beat 'em up-style game that was released on multiple platforms in 2019. The game features characters that had previously appeared in the games Nintendo World Cup and Kunio-tachi no Banka as they fight their way past various enemies in order to rescue their boyfriends.
Related: 6 Things We'd Like To See In A Switch Pro (And 4 Features We're Okay Without)
A special bundle of the game was sold by Limited Run Games. Only 2,500 copies were made and the bundle included the game, posters, art cards, and other memorabilia related to the game. At launch, LRG sold it for $74.99, but the bundle now costs $329 on the resale market.
6 Celeste Collector's Edition ($264)
Celeste is a platforming game that was released in 2018 and was originally developed over the course of only a few days at a game jam. It was eventually expanded and released into the full, pixel art-style platforming game that we know and love now. The game has been released on multiple platforms, but a special collector's edition was released through Limited Run Games on the Nintendo Switch.
This bundle, which was limited to only 2,000 copies, contained the game, a poster, a keychain, and other Celeste-inspired collector's items. Since it's sold out, the resale market is the only way to get a copy now and it can set a collector back $264.
5 Shelter Generations ($209)
Shelter Generations is a unique game in which the player controls a lynx trying to care for its young. The game's interesting premise and incredibly eye-catching art style have definitely drawn in fans of the game. Outside of a single limited run, the game is only available in digital download format.
Physical copies of the game were produced by Super Rare Games, but the supply was super limited. SRG only produced a total of 3,000 copies of the game. Collectors that now want a physical copy of the game for their collection will have to pay up to $209.
4 Evoland Legendary Edition ($149)
Evoland Legendary Edition is an RPG that allows players to change the style of the game and the mechanics as they make their way through the game. As they unlock new game styles and mechanics, the game changes from a monochrome, top-down style game all the way through a modern 3D game.
RELATED: The 10 Best Nintendo Exclusives of The Last Decade, Ranked (According To Metacritic)
The game is super unique and was released on multiple different platforms. Although a digital download can be purchased for the Switch, fans that want a physical version will have to try to track down one of the 5,000 copies created by Super Rare Games. To get your hands on one now, you'll have to pay up to $149.
3 Gal*Gun 2 Free Hugs Edition ($175)
Gal*Gun 2 was released in 2018. This game is a sequel to a popular Japanese shooter game that was released on 2011. In this game, you play a character who is now the target of the affection of countless girls and you have to fend them off with a special weapon.
A special edition version of this game, called the Free Hugs Edition, was released to celebrate the release of Gal*Gun 2. It came with the game as well as some special Gal*Gun-themed goodies like a plushie, buttons, an art book, and more. Getting a sealed copy of this limited edition bundle will set a serious collector back $175.
2 Fox N Forests ($304)
Fox N Forests, from German studio Bonus Level Entertainment, was born from a Kickstarter campaign in 2016. The game was developed and released on Switch, PC, Xbox One, and PlayStation 4 in 2018. In this side-scrolling platformer, players control an anthropomorphic fox named Rick, who must restore order to his forest. He can use magic to change the seasons.
Strictly Limited Games released only 1,000 copies worldwide of a Collector's Edition. Today, this edition is worth more than $300.
1 Bayonetta Non-Stop Climax Edition ($470)
Bayonetta and its sequel came to Nintendo Switch in 2018. In celebration of the release, Japan released an exclusive limited edition bundle called the Bayonetta Non-Stop Climax edition. In addition to the games, the bundle included a SteelBook case, 22 Verse cards, and a full sheet of stickers.
Although the Non-Stop Climax edition was only released in Japan, North American collectors can still import the bundle. At this point, though, the price is pretty high: up to $470 on Amazon.
Next: 10 Best Nintendo Switch Exclusives (According To Metacritic)
ShareTweetEmail
xQc Reveals That Police Thought He Was A Meth Addict When Swatted
xQC has opened up about a recent swatting incident, revealing that the police wrongly believed him to be a meth addict.
Read Next
About The Author
Lacey Womack (141 Articles Published)More From Lacey Womack
Sours: https://www.thegamer.com/rarest-nintendo-switch-games-how-much-theyre-worth/
How to Save Money on Your Nintendo Switch Games
The Nintendo Switch is a fantastic console that is perfect for home and on-the-go play. One of the best things about the Switch is the first-party games from Nintendo, like Mario Odyssey and The Legend of Zelda: Breath of the Wild. But the problem with those games is that they rarely drop in price—or if they do, it takes years.
To help you out, we've rounded up these tips to help you save money when buying games on the Nintendo Switch, like buying from the eShop during a sale or using third-party key sites.
1. Buy a Nintendo Switch Voucher for a Discounted Pair of Games
If you have a Nintendo Switch Online membership, you can buy a Nintendo Switch Game Voucher. This voucher can be redeemed against two full-priced Switch games that you must buy together (the selection changes periodically to include the latest releases) and represents around a 15% saving compared against buying them separately.
Be careful which games you choose because some of them you can buy cheaper elsewhere individually. However, grab two first-party Nintendo games and you've secured yourself a deal.
The Nintendo Switch Game Voucher is only available in certain regions, though those are subject to change. At the time of writing, it's available in the UK, but not Northern America. Also, the voucher is valid for 365 days from purchase, so don't let it expire.
2. Buy From the eShop During a Sale
The Nintendo eShop is your one-stop shop for everything Switch related. It has demos, software, games, and more. You can access it via your Switch or online at the eShop website. Buying from the eShop is great because it's an official destination, and it means you can download and install your purchase immediately.
However, you don't want to pay full price for a digital download, especially if it's not cheaper than a physical copy. As such, you should wait for an eShop sale. Handily, there's always one on, and you can view all the discounts in the "Top deals" section.
Related: How to Stop Sharing Your Nintendo Switch eShop Data
Keep an eye on the eShop during holidays and franchise anniversaries, since these are when the best discounts will appear, especially on first-party Nintendo games which rarely get a price cut.
3. Subscribe to Nintendo Switch Online
Nintendo Switch Online is a subscription service that primarily grants you access to play your Switch games in online multiplayer. It costs $19.99/year, though you can also sign up for 30 or 90 days.
Unlike Sony's PlayStation Plus subscription, Nintendo Switch Online unfortunately doesn't give you discount on games. What it does give you is access to retro Nintendo games, titles like Super Mario 35 and Tetris 99, and the occasional free in-game item.
Related: How to Add Retro Console Games to Your SNES Classic Mini
As such, if you're a retro gaming fan, you can save yourself buying something like the SNES Mini and get them all on your Switch instead.
4. Buy a Switch Bundle
If you haven't actually bought your Nintendo Switch yet, there's a way you can save before you even have the console in your hands—buy a bundle.
Rather than buying the console by itself, you could buy one of the many Nintendo Switch bundles that package in a game or two. It's more expensive than just buying the console, but cheaper than if you were to buy everything separately.
Plus, if you time it right, you could get your hands on an awesome limited-edition themed console, like the Monster Hunter Rise Nintendo Switch.
5. Shop Second Hand
As we've already mentioned, it's rare for Nintendo to discount its first-party titles. That's because it knows these will continue to sell well for years, even at full retail price. For the thrifty gamer, it's unfortunate.
However, there's a market that Nintendo doesn't control: the second hand market. As long as you don't mind buying a used game (and you shouldn't, since the actual software isn't any different), you can shop on sites like eBay, Craigslist, and Facebook Marketplace and nab some pretty deep discounts.
Plus, once you've finished playing, you can then sell the game and make some money back.
6. Buy Game Keys
When you buy digital software, you often get a "key". This is just a string of characters that is redeemed against your account. As such, rather than buying your game keys from the eShop, consider using a third-party website.
These websites often sell Nintendo Switch keys cheaper than the eShop because they benefit from regional pricing and can pass that to you. However, first read our guide on everything to know before buying discounted game keys.
7. Borrow From Friends
While Switch digital games are tied to the console you buy them on, and there's no digital sharing feature like on the PlayStation, this doesn't apply to physical games. As such, if you have a group of friends who all enjoy playing the Nintendo Switch, why not club together and share your physical games?
You can take it in turns to pass the games between the group. That way you're only buying a few of the games, but you get to experience them all. Of course, this plan isn't foolproof—you might not want to wait to play a certain game or you might fall out with someone—but it's a nice and easy way to save a chunk of cash.
Gaming on the Switch Doesn't Have to Break the Bank
Gaming has always been an expensive hobby, but that cost seems to be on the rise recently. With consoles and their games becoming more pricey, it's understandable that you want to try to save as much as possible. Hopefully some of these tips have proved useful.
Be sure to always keep your eyes on game discount sites. Many of these let you set up alerts so you can be notified as soon as a game you want goes on sale. Remember, never pre-order or buy a game full priced; there's no point.
ShareTweetEmail
The Top 10 Game Discount Sites to Buy Video Games for Cheap
If you're on a budget, use these game discount sites to get video games at a fraction of their usual price!
Read Next
About The Author
Joe Keeley (677 Articles Published)
Joe was born with a keyboard in his hands and immediately started writing about technology. He has a BA (Hons) in Business and is now a full-time freelance writer who enjoys making tech simple for everyone.
More From Joe Keeley
Subscribe to our newsletter
Join our newsletter for tech tips, reviews, free ebooks, and exclusive deals!
Click here to subscribe
Sours: https://www.makeuseof.com/how-to-save-money-on-nintendo-switch-games/
Bought a used Nintendo switch of eBay
Nintendo Switch prices, trade in values and places to sell
Wondering how much a used Nintendo Switch is worth? Thinking about buying a cheap used Nintendo Switch? The following table compares how much you can expect to pay for a used Nintendo Switch in "good" condition. USED NINTENDO SWITCH "BUY" PRICES (what you can expect to pay as of 09/07/2021)
* Prices for used Nintendo Switches with neon red/blue joy-cons and Nintendo Switch Lites with gray joy-cons in "good" to "very good" condition. eBay average recent sales prices, Amazon average "buy used" prices, GameStop "pre-owned" prices. We get affiliate commissions for completed purchases.
Nintendo Switch To Sell? Find Trade In & Cash Value ›

Want to sell a Nintendo Switch instead? The table below shows how much you can expect to get for a used Nintendo Switch in "good" condition (expect 50% to 90% less if it's damaged).
USED NINTENDO SWITCH "SELL" PRICES (what you can expect to sell for as of 09/07/2021)
* Prices for used Nintendo Switches with neon red/blue joy-cons and Nintendo Switch Lites with gray joy-cons in "good" condition. eBay average recent sales prices after selling fees & PayPal fees
Nintendo Switch Price Factors
The prices mentioned here are for Nintendo Switch consoles with standard equipment and power supply. Your Nintendo Switch can be worth more if you have accessories. Special editions and bundles can also be worth more, especially if you still have the original box. Learn more about selling pro gaming controllers.
Condition has a major influence on value, as most buyers prefer working consoles with minimal cosmetic damage (though some buyers, particularly those that refurbish gaming systems, will buy damaged and non-working consoles). Expect to get 15-20% less for each downgrade in condition.
Selling A Nintendo Switch? Find What It's Worth ›
Did you know? Many phones are worth $100+. Find the value of your phone.
Related Help
> Sell your Nintendo Switch > Prices for other video game consoles > Prices for Pro Gaming controllers > Nintendo Switch game prices > More options to consider when selling your Nintendo Switch
Tags:All, Video Game Console and Games, Video Game Consoles, Video Game Consoles and Games
Previous:
How Much Does Cell Phone Repair Pay?
Next:
Is Apple's iPhone Upgrade Program Worth It?Sours: https://flipsy.com/article/7991/nintendo-switch-prices
Games used nintendo ebay switch
The video game industry is worth over $150 billion. As someone who loves to play video games, I know how much it costs to buy new games. One way I make cash to pay for new games is to sell my video games that are no longer in use.
If you are like me, and have games that are collecting dust, brush them off and get ready to sell them online.
Where to Sell Your Video Games
We checked out some of the top places to sell video games and here is what we came up with.
1. SellCell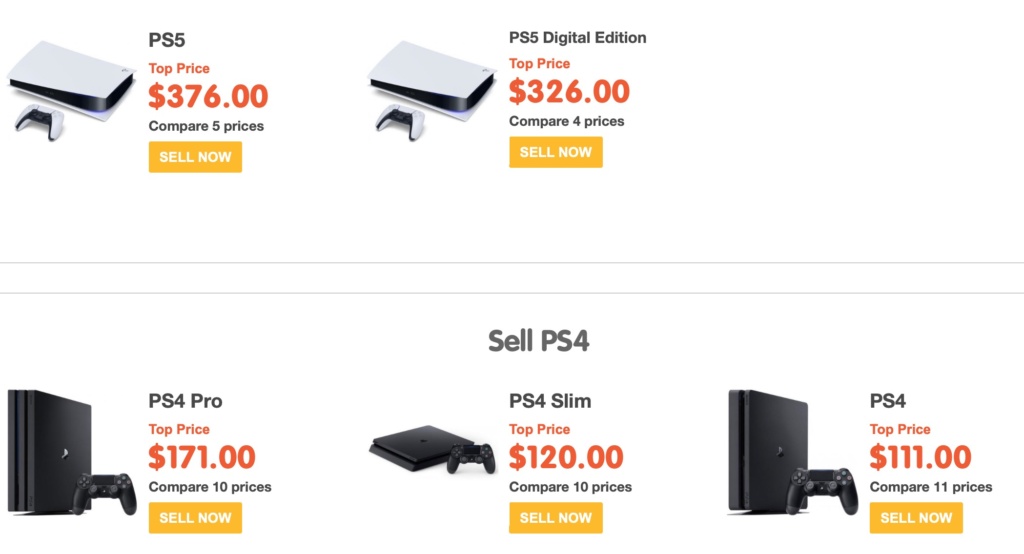 You can sell gaming consoles on SellCell and compare prices from up to 35 buyback vendors. It's possible to compare prices using the condition of your device.
Most vendors offer free shipping and guarantee the price for up to 14 days. You can expect quick payment after your console arrives and you can get free return shipping if the vendors final inspection offer is less than you desire.
These gaming consoles on SellCell can make the most money:
Xbox (X, S and One)
Playstation (PS5, PS4 and PS3)
Nintendo (3DS and 2DS)
Nintendo Switch
Older consoles can like Sony PS2 or a Nintendo DS Original can sell but may only earn a few dollars. Unfortunately, SellCell doesn't buy video games or accessories.
It's also possible to sell other tech gadgets like iPhones, tablets and wearables.
Trustpilot Score: 4.3 out of 5
2. Decluttr
A popular site that sells anything electronic is Decluttr. You can sell video games, game consoles, tech devices, CDs and DVDs.
It's also possible to sell books and LEGOs on this site too.
Theoretically, Decluttr can be more efficient than having a yard sale or listing each item individually because they accept so many different items.
Decluttr only accepts games from the PlayStation, Xbox and Nintendo consoles.
Some of the most coveted Nintendo games are Donkey Kong, Super Mario Bros and The Legend of Zelda.
To start, enter the barcode from the video game case. Shipping is free and you can get paid by direct deposit, PayPal, or paper check. A free shipping label will be sent to you.
You only need to sell $5 of goods to get started and payment is sent the next business day after Decluttr receives your items.
Add coupon code CASH10 to your cart to get a 10% bonus for your old Phones, Consoles, iPads, MacBooks, DVDs, Books and more today.
Trustpilot Score: 4.5 out of 5
Read our Decluttr review to learn more.
3. Swappa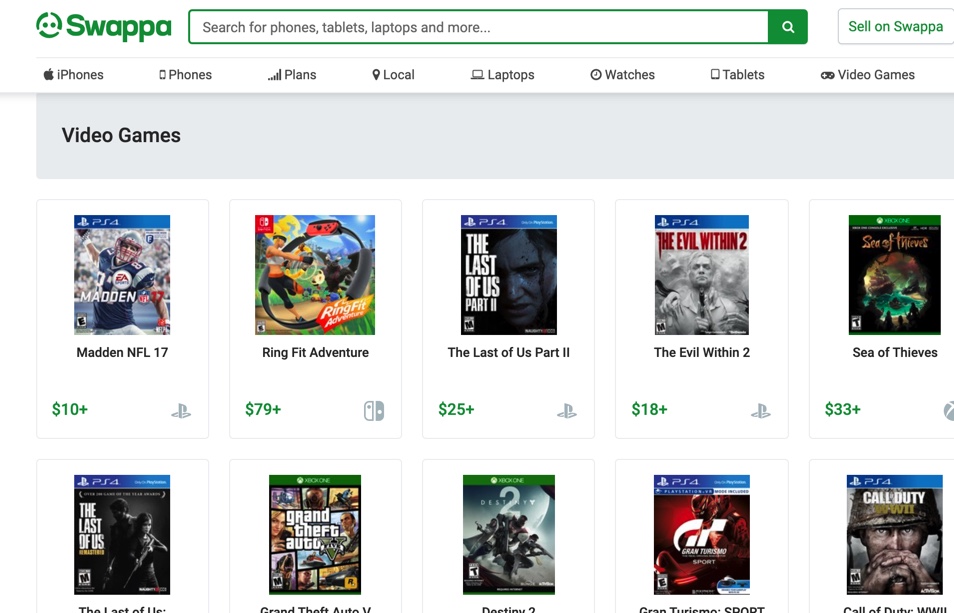 Wanna cut out the middle-man and sell your games directly to the buyer, then Swappa is a great choice.
Simply create an account and start selling. Enter the information about your game or console, upload a few pictures and choose a price. Swappa will even suggest pricing using similar items.
Once you have created an item to sell, the Swappa moderation team will approve. When approved, your item is added to the Swappa marketplace.
When items sell, you get paid via PayPal and don't pay selling fees. The buyer pays the platform fees when they make a purchase.
It's also possible to sell to local buyers in select cities if you live in a Swappa Local market. This option can boost your odds of selling your games and consoles quicker.
Swappa is very clear on not accepting junk. Every product has listing requirements and an approval process to ensure confident shopping.
Other items to sell on Swappa:
Retro Games
Cell phones
Consoles
Gaming accessories
Laptops and tablets
Trustpilot Score: 4.9 out of 5
4. Craigslist
Another option is to sell video games locally on Craigslist. This can be the most financially lucrative option because you get to keep all the profits.
That means no shipping costs and no "middle man" commissions.
Selling locally can require a larger time investment as you will have to respond to text messages, phone calls, and e-mails.
Plus, you will need to meet the potential buyer at a public place. To increase your exposure, you might also consider selling on a Craigslist alternative.
Trustpilot Score: 1.2 out of 5 (due to complaints about no-show buyers and sellers)
5. GameStop
Every avid gamer has at least visited a GameStop at least once in their gaming career. It is one of the most successful brick-and-mortar video game store franchises.
GameStop has a large presence in the gaming arena for in-person and online stores. This means you can sell or trade-in your games online or at the local GameStop store.
You can compare the buyback prices for store credit and cash payments online. You will need to take your items to a local store to receive payment.
If you trade your old video games in for store credit, you will receive a larger credit as GameStop offers up to a 60% credit on game trades.
You can also sell for cash or store credit:
Gaming consoles
Accessories
Tablets (like iPads)
Cell phones
Smartphone
You may also consider using GameStop to sell retro video games, consoles and accessories. But you will need to visit your local store to sell these classics.
In addition to selling games, GameStop buys back used phones.
Trustpilot Score: 2.3 out of 5 (due to customer service and complaints from buyers)
6. Amazon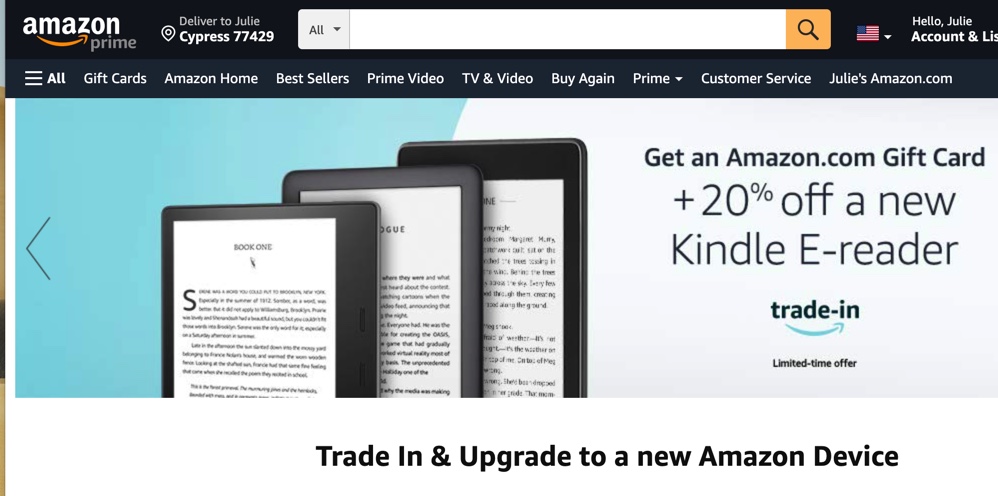 Amazon allows you to trade-in your old video games or you can sell video games as a third-party listing. If you need the cash immediately, choose the trade-in option to get instant Amazon shopping credit.
You might be able to start a selling war by listing your price for less than the current sellers. No matter how high or low you price your product, you must wait for somebody to buy it.
Keep in mind that the Amazon trade-in program doesn't always have the highest pay rate and selling your games can be more lucrative.
Trustpilot Score: 1.9 out of 5 (due to customer service complaints)
7. The Old School Game Vault
If you have classic games to sell, you might consider The Old School Game Vault. You can sell and buy retro and current titles here including your old consoles.
The Old School Game Vault will buy back many games, but, there are a few limitations. They will not buy any sports games that are more than a few years old.
There is also a $15 minimum order to make a sale and free shipping doesn't kick in until you are selling at least $100 in games and consoles.
Payment options include:
Trustpilot Score: 4.8 out of 5
8. DK Oldies
DK Oldies is another place to sell your retro video games for many platforms.
Some of the participating consoles include:
Atari 2600
Game Boy
Game Boy Color
Nintendo 64
Nintendo 3DS
Sega Genesis
Xbox 360
They do have a $20 minimum selling requirement to receive free shipping.
You can also get a 20% bonus when you exchange your games for store credit. Besides store credit, you can also be paid by PayPal or check.
There is a partial listing of games and systems that DK Oldies is currently paying the most money for. If a particular game isn't on the list, you can e-mail or call DK Oldies to see what the possible purchase price can be.
Trustpilot Score: 3.9 out of 5
9. eBay
When you want to sell your collection to the highest bidder or want exposure to one of the largest online marketplaces, try eBay.
It can also be a good option if you want to sell your game account or in-game merchandise like currency or other talismans that are trade-able yet time-consuming to accumulate.
With eBay, you can create auction listings, "Buy It Now" instant sell listings that also allow you to accept counteroffers. Selling on eBay can be a good option if you might prefer to sell a bundle instead of listing each item individually.
For example, if you simply want to sell your old Nintendo 3DS with your 13-game collection to get a higher selling price and save on shipping costs.
If you have an in-demand item like a Sony PS5, take a look at the recently sold items before stating a price. You can make more by selling on eBay than using a buyback site.
eBay also makes it easy to create a storefront if you want to become a volume seller. Individual sellers can also get 50 free listings each month and seller fees can be cheaper than Amazon.
Seller fees are approximately 10% of the final sales value. You will also pay shipping costs if you offer free shipping to the buyer.
You will receive payment by direct deposit which can take several business days. The service no longer offers PayPal payments to reduce seller fees.
Trustpilot Score: 1.3 out of 5 (due to high fees and slow payment speeds)
10. Gameflip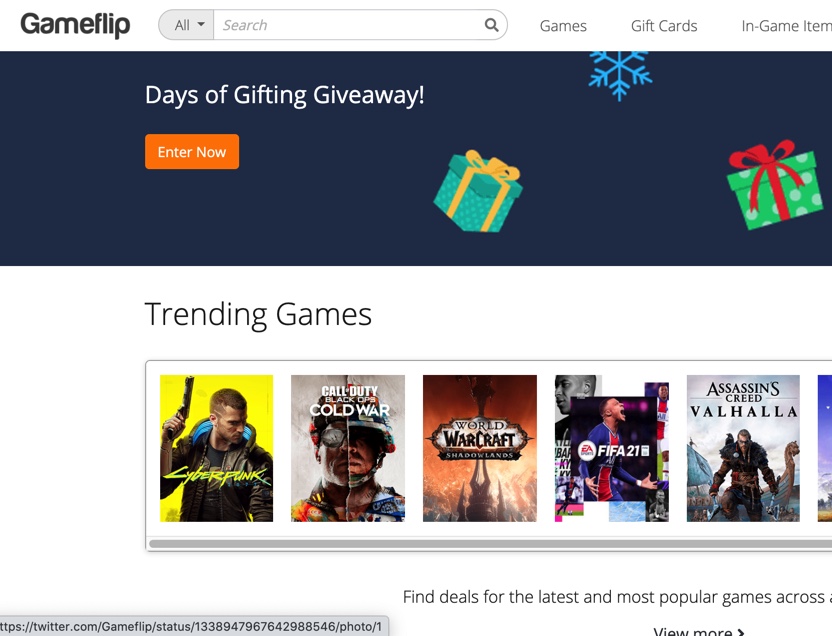 Gameflip is another site that allows you to sell physical or digital video game items.
It's possible to sell these physical items:
Game discs
Consoles
Accessories
Video game collectibles
You can only sell physical items if you live in the U.S. as Gameflip only ships to U.S. addresses.
The platform sells these in-game items:
Skins
CD codes and keys
Gift cards
Digital movies
You get paid once your items sell and you ship the physical items directly to the buyer. Your payment options include bank deposit, PayPal or for Gameflip store credit.
Trustpilot Score: 3.6 out of 5
11. PlayerUp
Another site that allows you to sell player accounts in PlayerUp for these game types:
Action
RPG
Sports
Xbox One
YouTube accounts
You can see the selling options by searching for a specific game.
There is a 3% seller's fee for most sales that use the "Middleman" feature. You can receive payment by most digital wallets, cryptocurrency exchanges and paper check.
Orders smaller than $10 incur a $1.50 fee that the seller pays. Sales below $2 incur a flat $0.99 selling fee.
To avoid seller fees, you can get PlayerUp credit for a 1.99% payment bonus. Trading accounts with other PlayerUp users is another option.
When you sell with PlayerUp, there are over 20 different payment methods including PayPal and Skrill. You might also prefer Coinbase if you want cryptocurrency payment.
Before selling your video game account, read the terms and conditions as not every video game company allows users to sell their accounts for real money. If the manufacturer discovers a policy breach, your player account can be shut down.
Trustpilot Score: 4.6 out of 5
12. Facebook Marketplace
Moving your used videos from a pile to sold is easy with Facebook Marketplace. Look for local selling groups in your neighborhood or community and join them.
Selling in the groups simple. Just take a picture of your item, describe it, list the price and post. Once uploaded, look for the feature to add to other selling groups.
In my neighborhood, we use the term PP (Porch Pickup) when selling an item. When I list an item, I post as PP if it is under $10 and have the buyer leave the cash under the mat. We use the messenger feature to communicate when the video game has been picked up and the sale is complete.
If selling items that require shipping, the seller pays a 5% selling fee ($0.40 minimum). There isn't a selling fee when you make local sales.
Buyers can also pay by debit card for local sales or if the item requires shipping. There are no selling fees to receive electronic payment instead of cash.
Selling video games and other used items is only one way to make money with Facebook. There are several options to boost your income with this social media platform.
Trustpilot Score: 1.2 out of 5 (due to usability issues and social media complaints)
13. Best Buy
It's possible to trade in video games at Best Buy. You can start by entering your game title and see the current trade-in price.
You can sell games to Best Buy online and in-store and get Best Buy gift cards.
Best Buy also runs promotions that can help you save cash on new purchases when you trade-in qualifying games and systems. One example is trading in a PS4 to get a $10 credit for PS5 games.
Trustpilot Score: 1.3 out of 5 (due to complaints from buyers)
14. OfferUp
One local selling app that's gaining popularity is OfferUp. This app is a good alternative to Facebook Marketplace and Craigslist.
It's free to list items and sell when you meet the buyer locally. Sellers can also ship items in the continental U.S. but there is a 12.9% service fee ($1.99 minimum) if the item sells.
For sold items that require shipping, the buyer pays shipping fees. OfferUp sends the seller a prepaid shipping label.
One advantage of using OfferUp is that sellers and buyers can create a profile and leave ratings. It's possible to avoid potential buyers that have bad ratings from prior sellers.
Trustpilot Score: 1.2 out of 5 (due to poor customer service)
15. eStarland
eStarland advertises the best trade-in values on the planet. It's possible to sell new and retro video games.
You can sell systems and accessories too. Enter the game title to see an instant quote.
Payment options include receiving trade-in credit or cash. Like other buyback sites, you earn more when choosing trade-in credit. If deciding to sell, you receive 30% less value.
The payment options for selling games include:
Amazon gift cards
PayPal
Venmo
Paper check
In a unique twist, eStarland lets you buy games and sell games on the same order. You have two weeks to ship your games while waiting for your purchase to arrive.
Trustpilot Score: 3.0 out of 5
16. Trade4Cash
Trade4Cash is another option worth considering for new and retro games. However, there are times when this platform doesn't accept trade-ins.
You can see the current price quote for in-demand games and consoles. Checking the "Most Wanted" section may help you earn the most money for your games.
The three payment options are Amazon gift card, PayPal and paper check.
Trustpilot Score: N/A
Summary
Although video game titles and consoles change with the times, it still possible to get paid to sell your classic or new video games. And, you can do it online or in person.
Selling old video games can be an easy way to make a quick buck when you declutter your house or as a side business.
Categories Make MoneySours: https://wellkeptwallet.com/sell-video-games/
I Bought a CUSTOM Nintendo Switch from EBAY... (I GOT SCREWED)
april 5, 2020 | 3 MIN READ
Looking to sell your Nintendo Switch? Wondering how much you should ask for it? The quick answer is that a used Nintendo Switch is selling for around $200 to $249, depending on condition of course. We're always looking to buy Nintendo Switch consoles at Pocket Pawn! Keep reading to find out more about what we pay for them!
how much is my nintendo switch worth?
The Nintendo Switch is THE most popular game console that has released in a while. Everybody wants one, but there are not many used Switch consoles out there for sale.
So, what does this mean if you want to sell yours? Does the price go up? Let's take a look.
*This article was written on 4/5/20. Price is subject to change.
how much is my nintendo switch worth used?
A typical game console will sell used for about 60% of its retail price. Here's the math: If the game console is $299 brand new, it will usually sell for around $179 used. (60% of $299 is $179)
However, this is NOT the case for the Nintendo Switch console.
The Switch retails for $299, but sells used EASILY for $249! That's only $50 off the retail price!
This is simply because of demand. It can be hard at times to find a new Nintendo Switch in stores. For instance, while writing this article I checked Gamestop to see if they had any in stock. Nope.
This means that people will pay outrageous prices to get any Nintendo Switch - new OR used.
So where's the best place to sell the Nintendo Switch…?
where can i sell my nintendo switch?
The absolute quickest way to get rid of your Nintendo Switch is the pawnshop. You can literally take your game console to the pawnshop TODAY and get cash for your Switch. That easy.
There are a couple of other options for you to get rid of your Nintendo Switch game console, though. We'll take a look at all of them:
Pawn shop
The quickest and easiest way to get rid of your Nintendo Switch! You can walk in the door of most pawnshops and sell your Switch TODAY for cash. That simple.
GameStop
GameStop is also a good choice to sell your Nintendo Switch. When you sell at GameStop, you'll typically get LESS money than if you sell to a pawnshop - UNLESS you are trading in your console for more games. GameStop always gives more money for store credit.
FACEBOOK MARKETPLACE
This has turned out to be a pretty good place to sell used stuff. You could move your Nintendo Switch within a week or so on Facebook Marketplace. You will, however, have to deal with meeting up with people and possibly having someone stand you up. Everything has its downside.
Ebay
eBay will get you THE MOST money for your Nintendo Switch. We're not going to deny it. Used Nintendo Switch consoles are selling for top dollar on eBay. However, you will need to create and account, have an active PayPal account, and deal with listing, packaging, and shipping. It might be worth it - or it might not. You decide.
how much will a pawnshop pay me for my nintendo switch?
As of 4/5/20, we are buying and pawning Nintendo Switch consoles for around $150-$175. This offer is just for the Nintendo Switch console, two joy-cons, the dock, and all hookups. If you have extra accessories, controllers, games or anything else - we'll be glad to make a higher offer.
Remember, selling to a pawnshop is super simple. Just bring your Nintendo Switch and all the accessories to Pocket Pawn, we'll test it, make you an offer, get your ID, and pay you cash. It's a quick and easy way to get cash TODAY for your Nintendo Switch.
*Important: When we talk about prices that we pay for items, please note that prices are subject to change.
how much will gamestop pay me for my nintendo switch?
As of 4/5/20, GameStop is buying Nintendo Switch consoles for $140. They do offer $175 store credit right now, but if you want cash - you'll only get $140.
Like I said earlier, pawnshops will always pay you more cash than GameStop for your video games and consoles. Typically we pay cash what they do in store credit.
wrap up
Nintendo Switch game consoles are SUPER popular right now. In fact, they are so popular that people are paying way more than they should for a used console. This is good news for everyone wanting to sell their Switch right now! Used Nintendo Switch consoles sell for $200-$249 depending on condition, and we are paying around $150-$175 if you bring your console to us to sell!
Sours: https://www.pocketpawn.com/whats-it-worth/how-much-is-my-nintendo-switch-worth
You will also be interested:
I went in and quickly undressed. I went into the shower and took a shower. After drying off with a towel, I put on a robe prepared in advance and went into the first room.
1827
1828
1829
1830
1831