5 D.I.Y. Classic Rock Star Costumes That Are Guaranteed To Make You The Life Of Your Halloween Party!
Ever wanted to look like a rock star!?
5. Slash
Slash's costume is super simple, and a guy or girl can easily pull it off. All you need is a black top-hat, aviators, a long, black curly haired wig (if you need it), and fake cigarettes! From there, you can pretty much mix and match the outfit anyway you'd like! A simple wife beater with jeans will work, a black leather jacket, or just go shirtless and rock some tight black leather pants! For added effect, put in a fake nose ring or carry around a Les Paul guitar!
4. Axl Rose
Much like Slash's costume, Axle Rose's getup is all about the accessories. All you should need is a long red or auburn wig, a red bandana, a pair of aviators or other 80's themes shades, some studded bracelets and multi-colored wrist ties. As for the outfit itself, just get a pair of tight, ripped denim jeans, and a plain black shirt, or tank top, and you should be set to go! If you're feeling risky, carry around a microphone so you can try to imitate the high-notes on "Sweet Child O' Mine"!
3. Ozzy Osbourne
Another really easy, quick costume anyone can pull off. With Ozzy, the look is really simple. You'll need a long dark brown hair wig for sure (make sure the wig is at least shoulder length) and circular glasses. From here, you can pretty much go in any direction with this costume. Black clothing is probably the best choice as far as your outfit goes, and also shaky movements and repeatedly shouting, "SHARON" is bound to reel in a ton of laughs. For added effects, you can add fake blood around your mouth and carry around a fake plastic bat! There are so many possibilities when dressing up as Ozzy.
2. Angus Young
Young's costume requires a little more effort than the previous costumes, but it's still something you can build from stuff commonly found in your closet! Just get a black or red blazer, a striped tie, a white short-sleeved dress shirt, a newsboy cap and a long curly brown wig. For added effect, carry around a Gibson SG do the "duck walk" as you strut around the party!
1. Freddie Mercury
We saved the easiest costume for last! All you really need to pull off Freddie Mercury, is a thick black mustache. Everything else is pretty much up to you. If you're going for his Live Aid look (which we're featuring down below), just gel your hair back, throw on a wife beater, tight denim jeans, a studded belt, and a studded arm band. For added effect, find a microphone and attach it to a shortened mic stand! If you don't want to do the Live Aid look you can always find the most extravagant outfit you have, and you'll blend right in. If you have long hair, you can always be Freddie in the early days of Queen! The sky is the limit with this one!
Sours: https://societyofrock.com/5-d-i-y-classic-rock-star-costumes-that-are-guaranteed-to-make-you-the-life-of-your-halloween-party/
After binging a full nine hours of Stranger Things, you've probably got the '80s on the brain. And that's good for two reasons: 1. '80s fashion trends are officially back in style. And, 2. Halloween is almost here.
Now, I'm not going to fill this article with remakes and reboots (although, Stranger Things does have some pretty epic costume ideas). Instead, I've pulled together some of the most iconic pop culture moments from the 1980s that will have strangers yelling "I LOVE YOUR COSTUME" at you all night long.
Here are the best '80s Halloween costumes from music, television, movies, and beyond.
Kate, Billy, and Gizmo from"Gremlins"
Kiss
It doesn't get more classic '80s than a good old-fashioned hair band. With their extravagant costumes and iconic face paint, Kiss is easily the most costume-worthy.
The "Stranger Things" Cast
I know, I know—Stranger Things isn't *actually* from the '80s, but it does take place during that period. From Eleven to Will—all members of the Party have got killer style. Plus, their looks are super easy to DIY.
The "Saved By the Bell" Cast
When it comes to Halloween planning, consider yourself saved by the bell. Zack, Kelly, Slater, Lisa, Jessie, and Screech were probably a huge part of your childhood, no matter when you were born.

Beetlejuice and Lydia from "Beetlejuice"
Salt-N-Pepa
Alexa, play "Push It," by Salt-N-Pepa. This iconic group deserves our recognition 365 days a year, but let's face it: those spandex-and-leather outfits were made for Halloween.

Princess Diana and Prince Charles
This might have been one of the biggest moments of the 1980s – and I do mean that literally. Those puff sleeves, that massive veil – you can replicate a similar look at any vintage store.

Madonna
You can't talk about '80s style without bringing up the queen herself, Madonna. Her lace-and-tulle "Like a Virgin" album cover is a 2021 Halloween costume just waiting to happen.

"The Breakfast Club" Cast
Just pick any John Hughes movie and you've got basically an entire lifetime worth of '80s Halloween costume ideas. This film is perfect for a group of five looking for a great squad look.

Jazzy Jeff & The Fresh Prince
Basically all you need to throw it back to the '80s is a wild vintage windbreaker. Find a mural to pose in front of to replicate this exact photo for your Halloween Instagram.

Elliott and E.T. from "E.T."
An iconic '80s costume idea that requires very little effort – just snag Elliott's famous red hoodie and wrap your bestie or bae in a blanket. Super easy.

The Twins from "The Shining"
This scene will never not be creepy – thus, making it the perfect costume idea for those who *actually* want to be scary come Halloween.

Summer and Casey from "Baywatch"
This '80s Halloween costume would be perfect for a costume-meets-pool party. (There should really be more of those...)

Marty and Doc Brown from "Back to the Future"
If you've got a puffer vest and a white shirt, you're in business. There truly is no more iconic duo when it comes to 1980s pop culture.

Whitney Houston in "I Wanna Dance With Somebody"
Pick a look from Whitney's epic music video, so you'll have an excuse to scream-sing "I Wanna Dance With Somebody" at every single party you go to.

The "Heathers" Cast
No, Heathers isn't just a play from Riverdale. This movie was an '80s classic and almost every scene has a look worthy of your '21 Halloween costume.

Freddie Mercury
Every time Freddie stepped onto the stage, he supplied a new Halloween costume for future generations. One of his easiest to make and most memorable is the white tank and studs outfit from the 1985 Live Aid concert.

Uhura and Kirk from "Star Trek"
Even if you're not big on the Star Trek fandom, you can still appreciate their costumes. I mean, Uhura was fabulous, even in outer space.
Joel from "Risky Business"
Tom Cruise's iconic Risky Business dance scene outfit crops up almost every Halloween, because it's just so easy to make. Throw on an oversized button-up, tube socks, and a pair of Ray-Bans.

The "Family Matters" Cast
So. Much. '80s. Fashion. The Family Matters cast served up hella style and some truly retro hairdos in this famed tv show.

Ferris from "Ferris Bueller's Day Off"
Yeah, there are a lot of John Hughes movies on this list. Recreate this iconic scene from "Ferris Bueller's Day Off" just by hitting up your local thrift store.

Westley and Buttercup from "The Princess Bride"
No, this isn't just an excuse to wear a pretty crown and intricate wedding dress (yes it is). The Princess Bride gets a spot on this list, because it truly is a classic.

N.W.A.
This might be one of the easiest and best costumes of the 1980s. Rep the greats in T-shirts and jeans, then add flat-bills and chains to your entire crew. Bonus points if you grow out an '80s-inspired mullet.

Johnny and Baby from "Dirty Dancing"
Nobody puts Baby in a corner, but we will steal her outfits. You probably already own everything required to duplicate this look, now you just need a Patrick Swayze to complete it.

The "Ghostbusters" Cast
Egon, Ray, Peter, Winston – the ultimate '80s squad. You can buy lookalike costumes for the entire crew at basically any party store.

The "Golden Girls" Cast
Look at those shoulder pads! Those earrings! That sass! This foursome makes for the ultimate crew costume. (Dibs on Blanche.)

Rainbow Brite
Rainbow Brite is an icon for anyone who grew up in the '80s. And her kitschy outfit is just as trendy today.

Cyndi Lauper
Cyndi's look is best described as a dress-up box explosion. Just drape beads, shawls, scarves, pins, and pearls all over yourself – then go really heavy on the eye makeup.

Andie from "Pretty in Pink"
Basically any combination of pink, pearls, and floral print will have you looking like Molly Ringwald in Pretty in Pink.

Prince
Prince basically wrote the soundtrack to the 1980s. If you happen to have a bedazzled purple suit, you can easily recreate his most famous look: a plum jacket and big hair, made famous by the hit "Purple Rain."

Jane Fonda
Let's get physical! This '80s Halloween costume is perfect for when you've got a workout at 7 and a party at 8.
Duckie from "Pretty in Pink"
Yes, we already discussed Pretty in Pink, but Duckie's looks are just too good to pass up. Honestly, I'd wear that blazer any day of the week.

Elton John
Sir Elton John is a Halloween favorite, mostly because you get to wear fun sunglasses to take on his persona. If you want to pay tribute to the literal knight of pop, rock some of his technicolor outfits from the '80s.

Hulk Hogan
The WWE was huge in the 1980s – almost as big as Hulk Hogan's biceps. Rep the most famous wrestler of all in a pair of comfy Lululemon leggings and cowboy boots.

Rubik's Cube
Before there were fidget spinners, there was the Rubik's Cube. Only the biggest nerds need apply to this costume.
Kelsey StiegmanSenior Style EditorKelsey is Seventeen.com's fashion expert and resident Harry Potter nerd.
This content is created and maintained by a third party, and imported onto this page to help users provide their email addresses. You may be able to find more information about this and similar content at piano.io
Sours: https://www.seventeen.com/fashion/g28637369/80s-halloween-costume-ideas/
Singer costumes. Famous musician fancy dress costumes
The time has come for you to let that great voice of yours shine. Or well, maybe it's not that great, but the time has come for you to have fun with these famous singers costumes with which you can turn into a rock or pop star. You can turn into your favourite singer by simply putting on a jacket and a few accessories. Turn into the King of Pop with a Michael Jackson costume or shake your pelvis with these Elvis costumes. Prince, Lady Gaga, Madonna or even Angus Young himself from AC/DC. National and international singers, from movies like Grease or from emblematic groups such as ABBA. We have the singer costume that you are looking for. What's more we also have musical and celebrity costumes for kids or adults so you can dress up as a group and form your very own band in order to reach stardom. But if you have discovered that music is not for you, maybe you would prefer having a look at our other profession costumes, you might just find your dream vocation. Tune your vocal cords, microphone at hand, glitter, glamour... and above all no shame and give the stage everything you've got! These musical costumes and famous singers' suits will make you triumph!
https://www.funidelia.com/en/cart
Sours: https://www.funidelia.com/costumes/music-pop-rock-stars/3504
80s Rocker Hair Tutorial
Tubular! These '80s Halloween Costumes Will Rock Your Leg Warmers Off
When it comes to Halloween, we have a lot of costume ideas, but when it comes to the '80s, well, we've got no shortage of amazing costumes that'll knock your leg warmers right off. In case you're thinking of traveling back in time to the most tubular decade, we've come up with pop-culture-related ideas that range from iconic '80s characters such as Claire Standish from The Breakfast Club to modern-day '80s style favorites like Barb and Eleven from Stranger Things. Whether you want to creep people out, wear a couples costume with your partner, or dress up with a group of friends, these ideas cover all the costume bases. From Beetlejuice to Baby and Johnny to the whole Ghostbusters squad, these costumes are worth getting stoked about.
Blast back to the past when you take a peek at these pop culture costumes from the '80s, and get ready for, like, a totally b*tchin' Halloween.
— Additional reporting by Lauren Harano
Sours: https://www.popsugar.com/entertainment/80s-Pop-Culture-Halloween-Costumes-35970403
Rock costume ideas stars 80s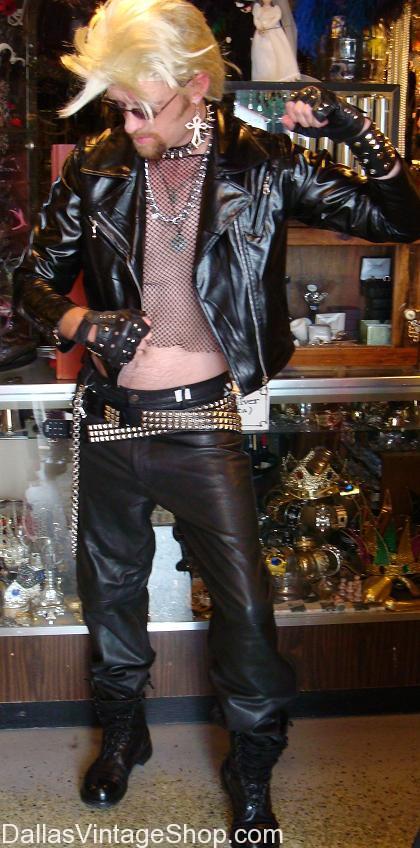 1980's Billy Idol Costume, 80s Rock Star Costumes, 80s Mens Costume Ideas, 80s Vintage Leather Outfits, 80s Vintage Attire for Costumes
Billy Idol Costume
Famous 80's Rock Stars Costumes for any 80's bands you can imagine. We have rockers leather pants, rocker clothing, rock band shirts, studded belts, fingerless studded leather gloves, studded bracelets, studded chokers, and way more stuff that you could possibly imagine.
Please follow and like us:
This entry is filed under 1980s Men. You can follow any responses to this entry through the RSS 2.0 feed. Both comments and pings are currently closed.
Sours: https://dallasvintageshop.com/1980s-billy-idol-costume/
Classic Rock 80s and 90s - Best Rock Songs Of The 80s and 90s
80's Costumes
The wild styles of the eighties are here to add some color and pizzazz to your next Halloween event! These 80's Costumes include lots of accessories like gloves, bracelets, leg warmers, and spiky wigs to help you get the authentic feeling of this colorful decade! There are lots of items for kids and adults to use for their next costume party, or while trick-or-treating!

'80s Costume Ideas
The 1980s started off with big hair and even bigger attitudes. New-wave synth pop was blaring from stereos and Walkmans across the U.S., and the side ponytail was the girl next door's go-to look. With track suits and neon colors, this decade is easily replicated and recognizable, making it the perfect costume for a blast from the past. As track suits started to make way for denim and flannel, the 1990s were well under way. From totally clueless valley girls to grungy rockers, the '90s were full of some pretty dope times. Basketball players rocked high-top shoes with high-top hair-dos to match, and everyone was stoked to see what the 2000s would bring. Dig into your old CD collection and rock the whole ensemble for your next costume party.

Character Bios
'80s Work Out
Whether you are breaking a sweat in jazzercise, getting pumped up in the gym or watching a Richard Simmons VHS in your home, the 1980s were full of peppy people who were looking to stay fit. Jump around the party keeping the energy up for your next gathering.
"I am Hans." "And I am Franz." "And we just want to * clap* pump, you up!" - Saturday Night Live
Girl's Punk Rock Star
Whether you were a fan of Madonna, Whitney Houston or Tiffany, you will be ready to belt out the chorus to your favorite tune in this shimmering punk rock star getup. There won't be a doubt in the room that your little girl was meant for the limelight!
"Get into the groove, boy you've got to prove your love to me." - Madonna
Valley girl
Not the best costume in the room? As if! Paired with your perfect valley girl impression, this costume is totally out of this world. You will leave everyone speechless and super jealous of how radical you look.
"Talk to the hand!" – Cher from Clueless
Child Retro Wrestler
Getting ready for a smack down? You will be showing off your best moves in this stand-out wrestling getup. From the big blond hair to the vibrant shorts, you certainly won't be overlooked. Just be sure that you can back up all the big talk.
"That's my name, don't wear it out!"
Rapper
Brush up on your beatboxing skills and jot down a few fresh rhymes so you can really play the part of a rapper straight out of the '80s. Whether you have some sick dance moves or you're all about the mic, you'll stand out in these golden hammer pants.
"Stop! Hammer time." – MC Hammer
Rock Star
The bigger the hair, the better the show! Put on a good one with this all-out rock star ensemble. Belt out that high note or grab your electric guitar and let it rip. You'll take center stage in no time.
"Rock and roll ain't noise pollution!" – AC/DC
Group Costumes
Rapper and Groupie
Nobody knows how to get down quite like the retro rappers do. This party won't stop till 6 in the morning. You will be balling hard with your golden ensemble and your groupies by your side. Don't worry, though, you know everyone is jealous of you.

Valley Girl and Party Girl
There is, like, no way that anyone at the party will look as good as you do. With your hair teased to the max and all of your favorite accessories, you are ready for a night on the town with your gal pals.

Woman Rock Star and Girl Rock Star
Make it a family affair this year and let your mother-daughter bond take the limelight. You two are the perfect duo whether you are singing sweet harmonies or rocking out on your guitars.

Adult Retro Wrestler and Modern Kid Wrestler
Boys will be boys, so let father and son make the most of the costume party and play the part of retro wrestlers. These tough guys will put on a show for sure!

Enhance Your Style
Valley Girl with Accessories
It's all in the accessories when it comes to the perfect outfit – and any true valley girl knows that! You'll look like you just hit the jackpot at the mall with this stellar look. Show off all the coolest '80s trends that put you on the hot list. After getting your tan on you can get all dolled up in your new dress and neon accessories so you make a statement when you walk in the room.

1. Neon Glasses
2. '80s Bracelets
3. '80s Beads
'80s vs '90s
'80s
DayGlo and scrunchies never looked so good! With a blast back to the '80s, this stellar style is so your jam. Rock out with your Walkman on to some head-banging hair bands or some bouncy synth pop and get this party started. Your far-out look can imitate any of the numerous icons from the decade or just embody the era itself.

'90s
From Seinfeld and the Titanic to Beverly Hills 90210 and Forrest Gump, this decade is full of pop-culture references that we still rely on today. Whether you are making the perfect impression of one of the characters on your favorite show or rocking out as your favorite grunge band, this era is packed with the perfect costumes for your next party.

Top of Page
Sours: https://www.buycostumes.com/categories/80s-2
Now discussing:
And not even one, but two permanent ones, and so on. sometimes there is something somewhere, somehow and with someone. It all started about a year ago - then I went to some site for the first time, dedicated to swing. I read the description, climbed in the guest house.
1843
1844
1845
1846
1847