Gray has been the king of neutrals for nearly a decade now. As we come to the end of the second decade of this millennium, gray is a color that is still the most popular when it comes to the trendiest neutral hues. You might disagree on the hue, tint and shade of gray that looks the best; but the color itself is universally loved at the moment! One of its many benefits is the way in which it can be used equally diligently in large and small spaces. Sometimes it plays the role of a neutral color that shapes the backdrop and on other occasions it is used to highlight accent features. Today, we explore the beautiful world of efficient small gray bathrooms.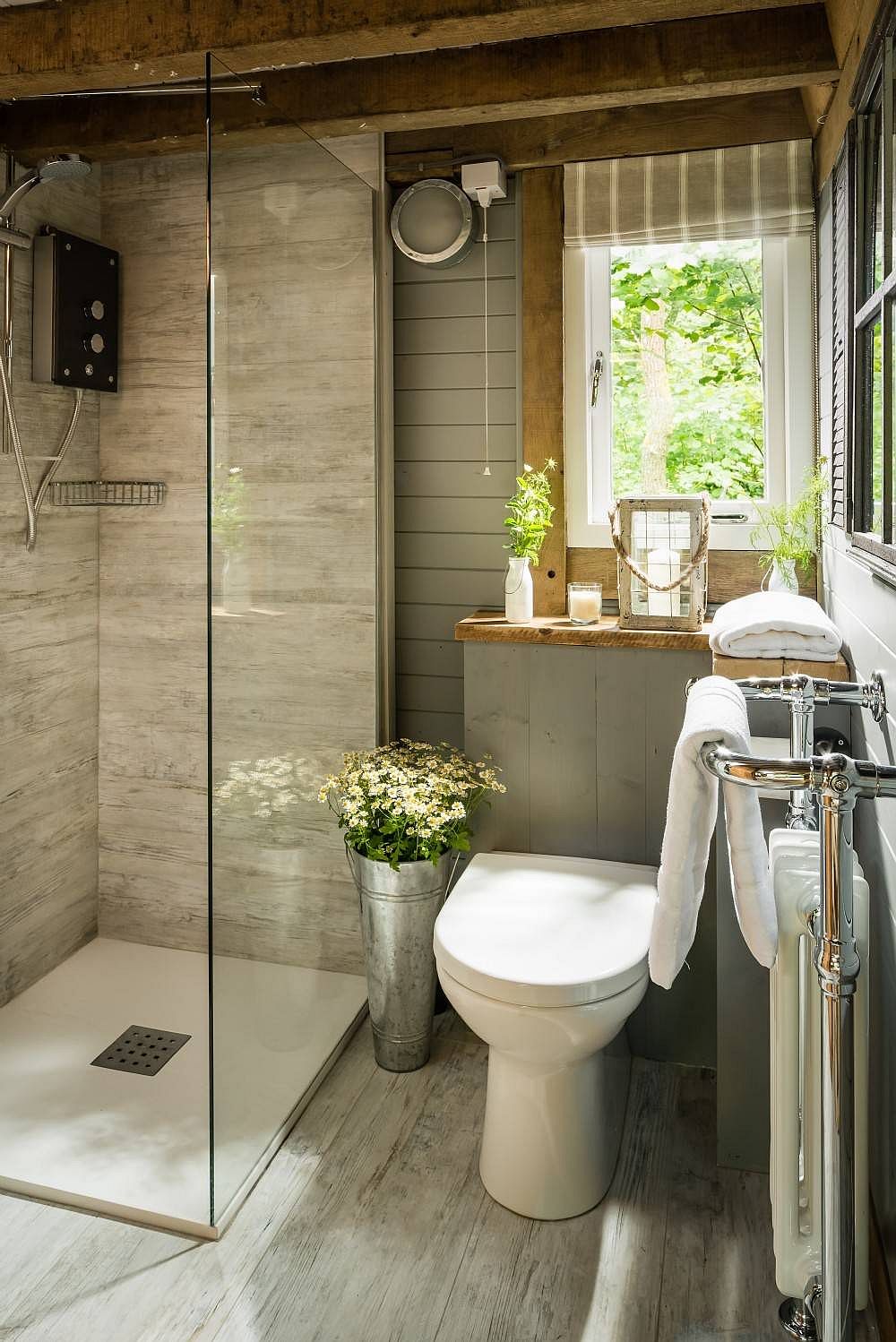 The small gray bathroom is a space that demands very little in terms of additional colors. You can just use different shades of gray in the same bathroom to create a lovely tone-on-tone look. Of course, colorful seasonal accents are always welcome in here and by just changing the towels, flowers in the vase on the vanity and other minute details, a whole new look can be achieved. Versatile, popular and charming, these small gray bathrooms steal the show in every sense of the word –
Discover the Shades of Gray
Gray in its warm or cool variants looks equally appealing and which route you wish to take depends on the local weather, style of your choice and the overall size of the bathroom itself. Bathrooms that receive ample natural light or have an even layer of artificial lighting can use darker shades of gray with ease while much more tiny bathrooms look good in lighter shades. Bluish-gray is a color that seems to the most popular in this spectrum of trendy shades and you can use pops of red and yellow to enliven the room further.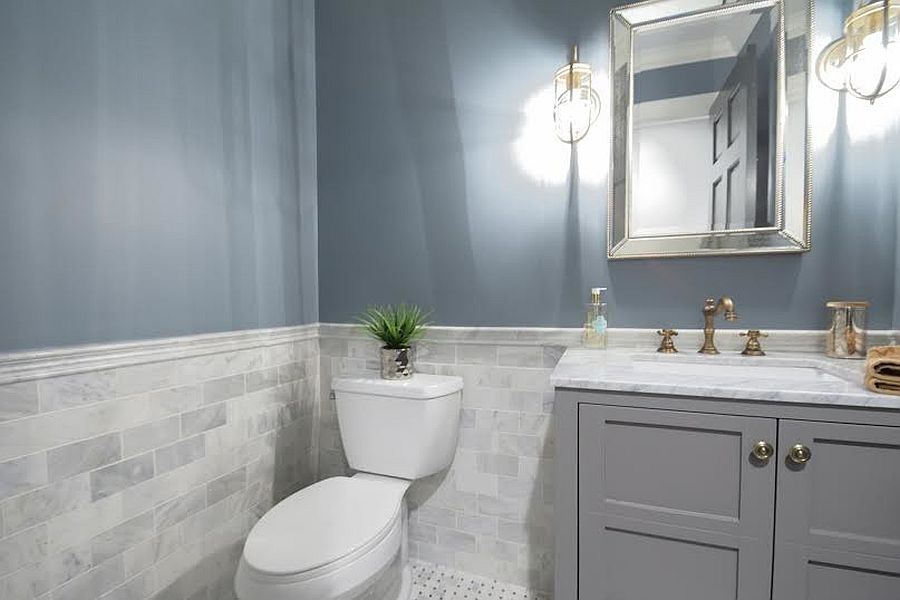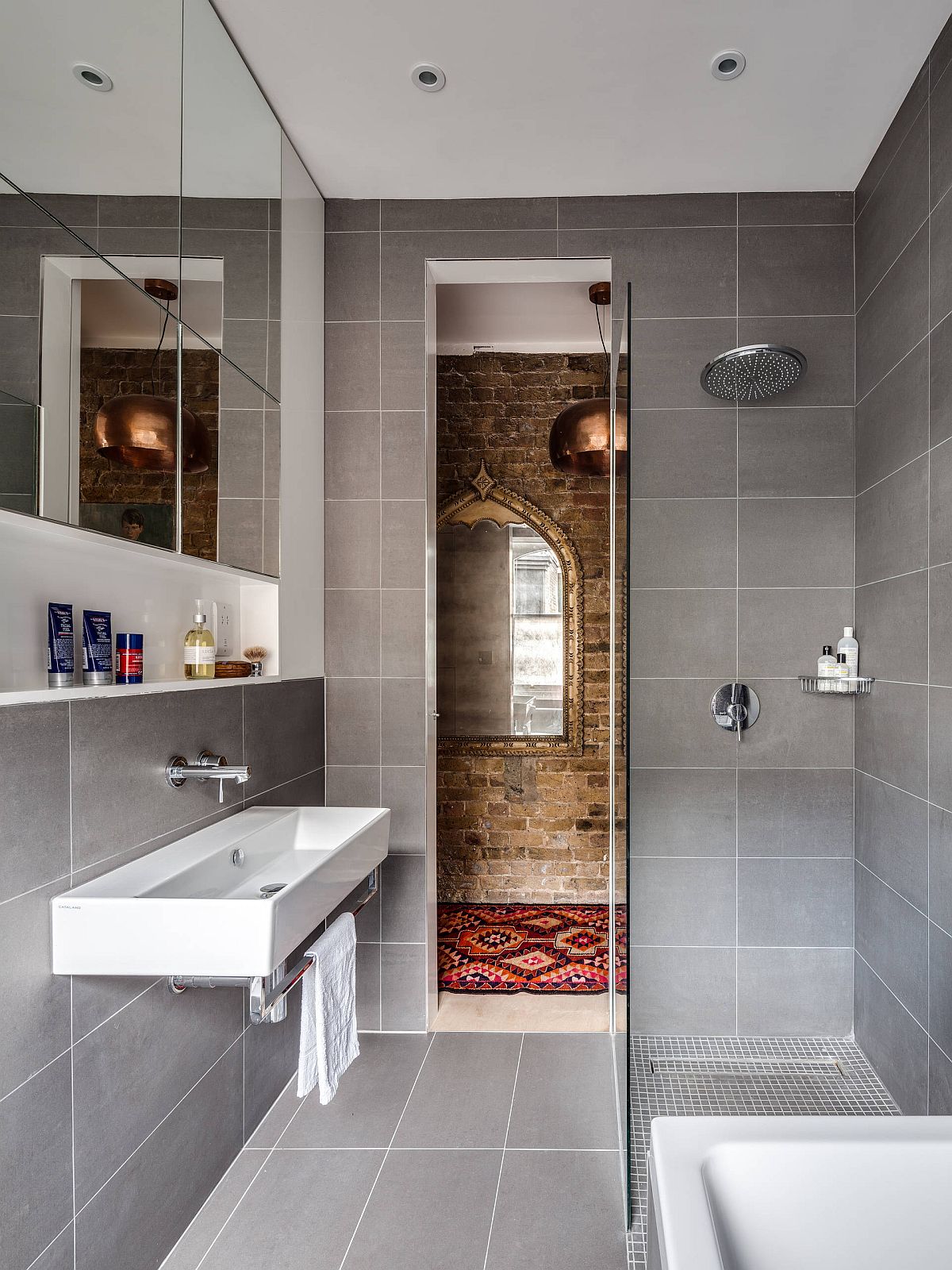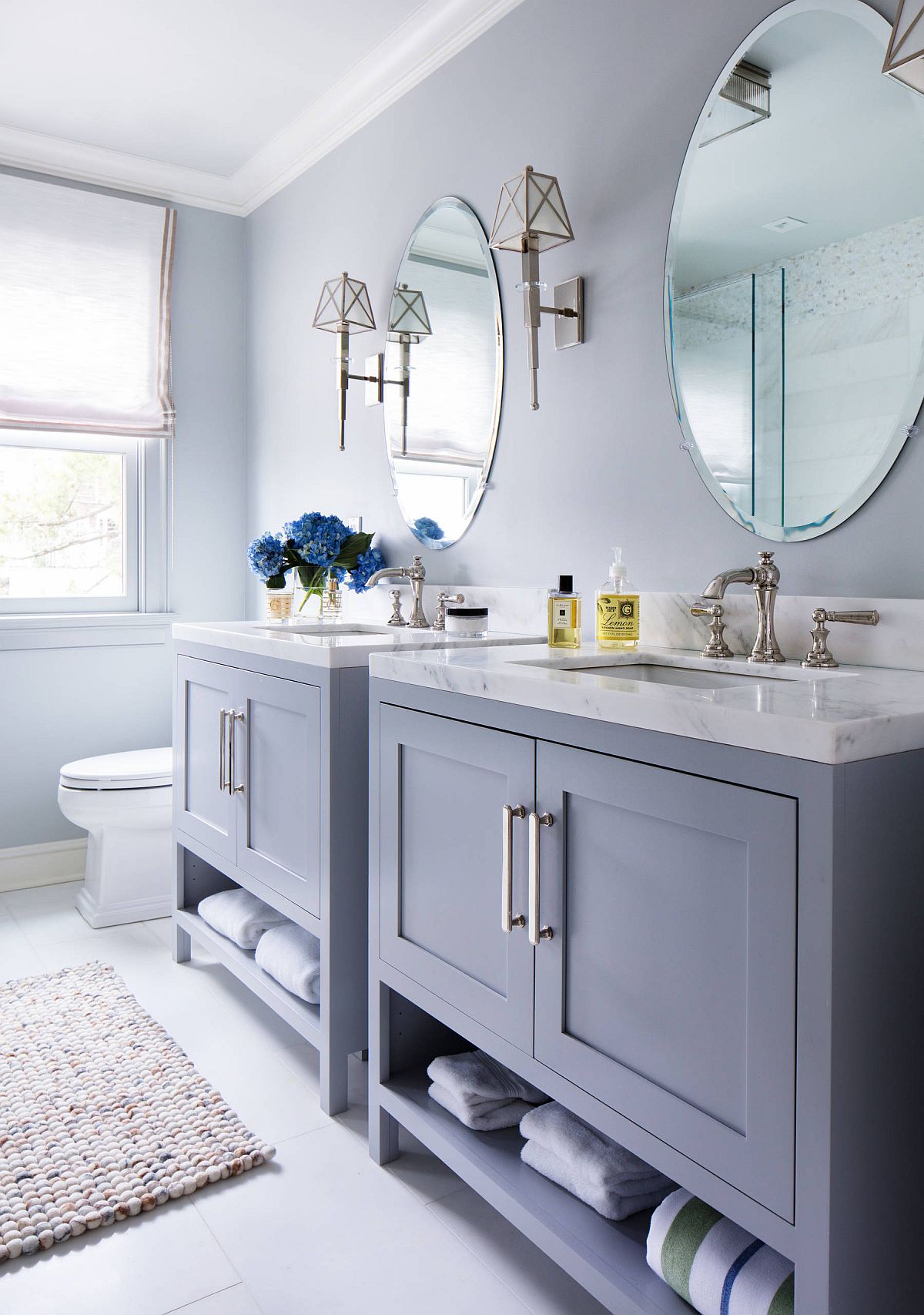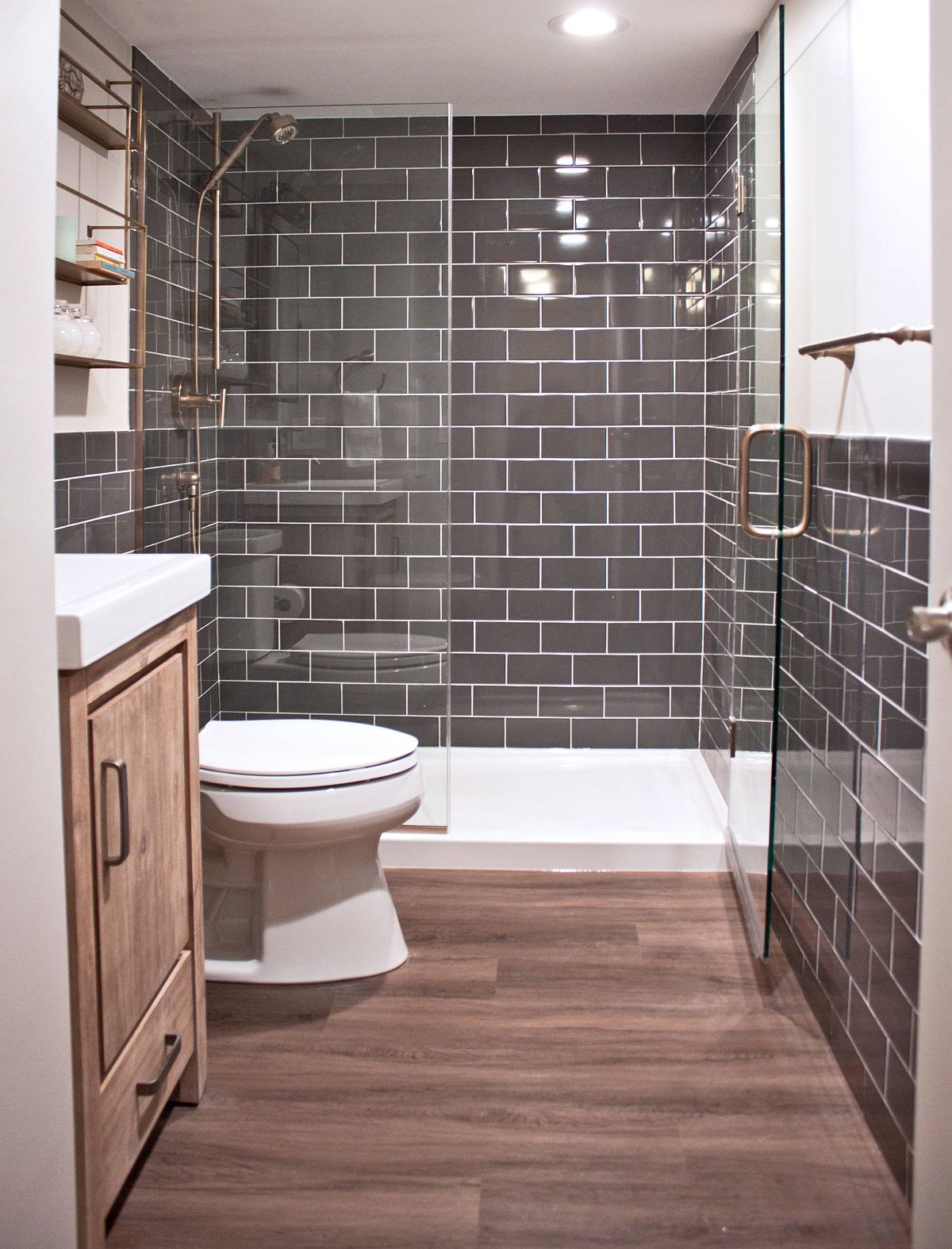 Using it with White
This feels like the simplest color combination that involves gray and one that works as well in modern, minimal and Scandinavian bathrooms as it does in classic and farmhouse style bathrooms. White and gray feels like a natural pairing of colors and here it is white that takes the role of a lovely neutral while gray adds accent features, highlights specific regions of the bathroom and can help create custom accent walls for the shower area. Bathroom floor in gray and vanities in the same color help shape a more curated bathroom that is easy on the eyes while being space-savvy.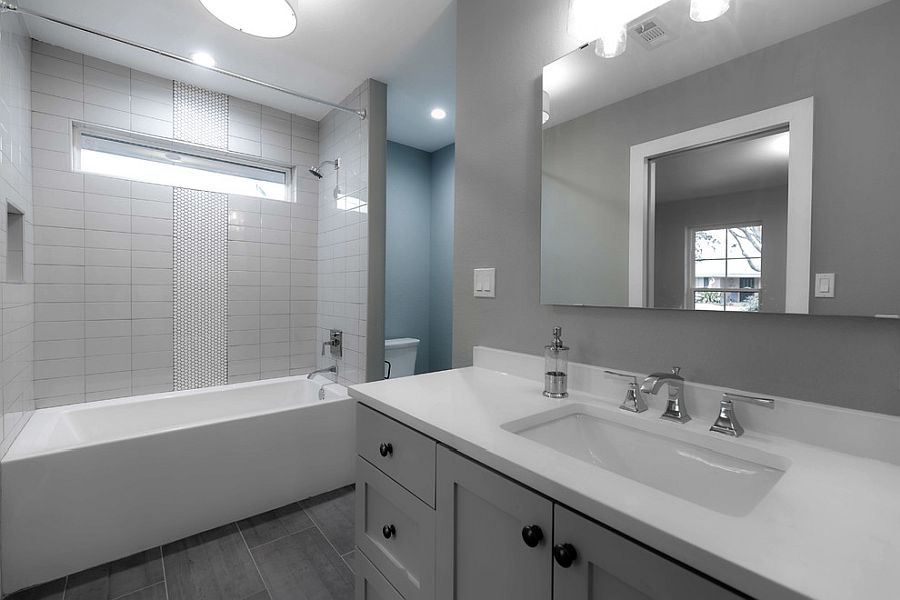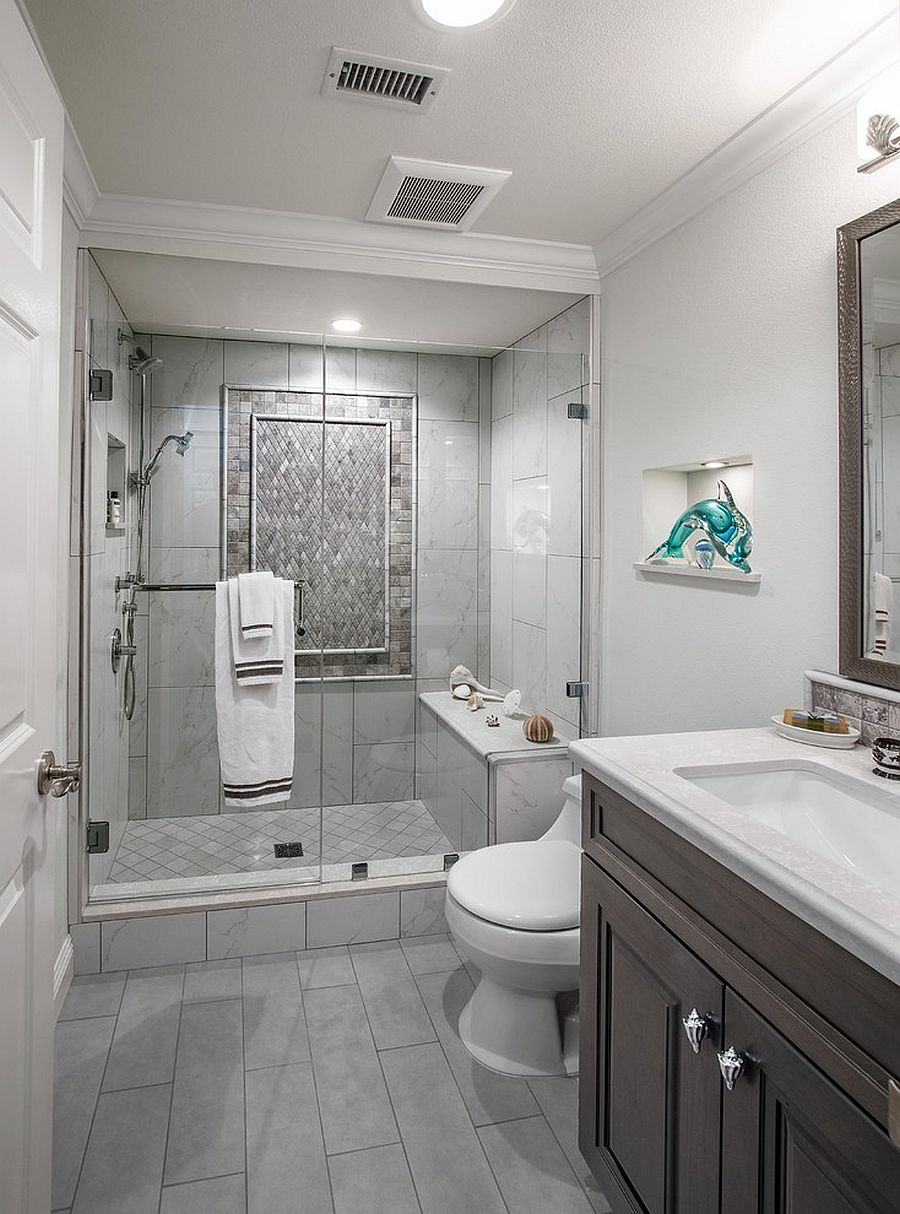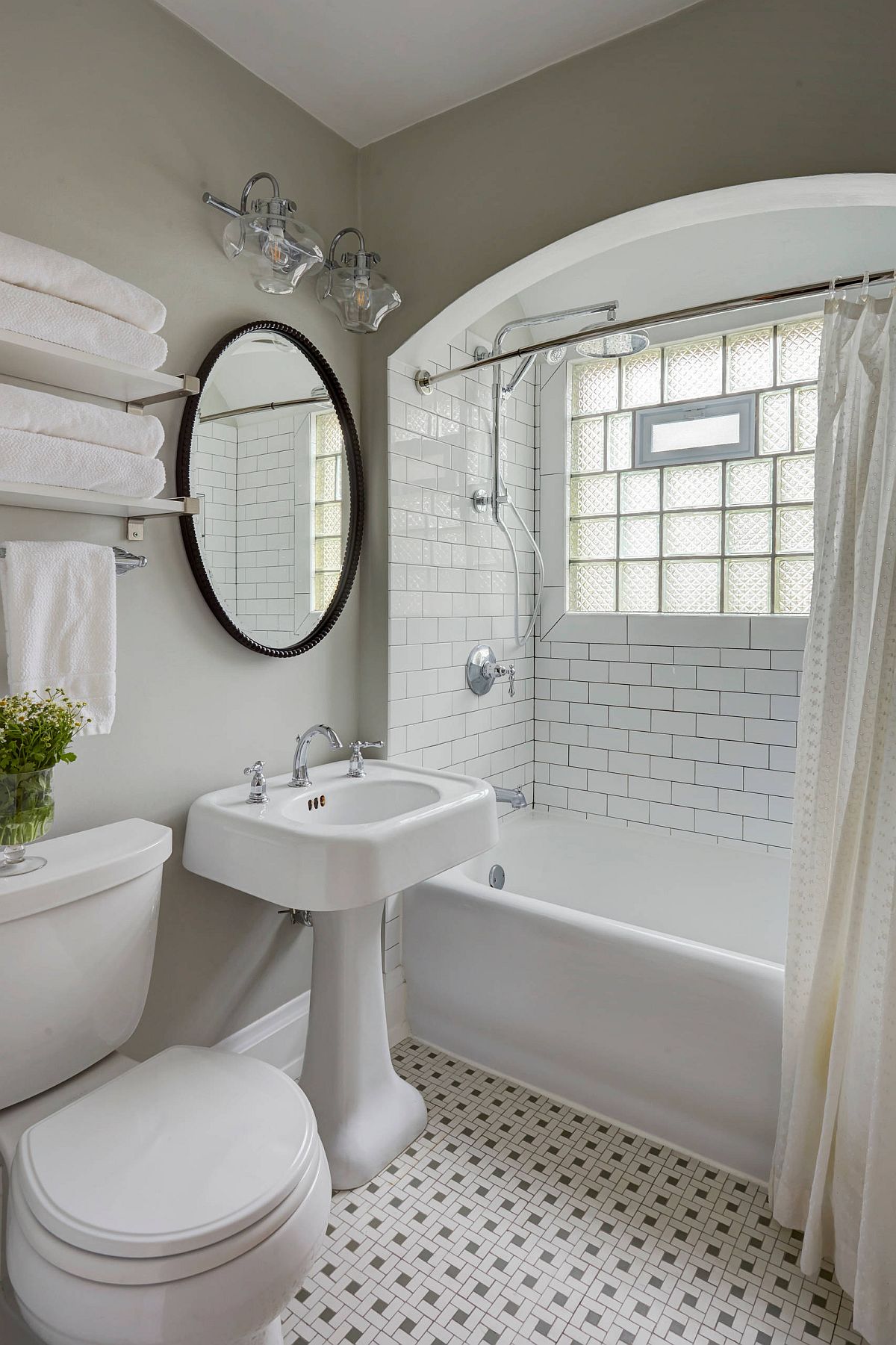 Lighting it Right!
As we alluded to earlier, lighting is a key element that determines the shade of gray that you can pick in the small bathroom. Skylight is the perfect way to usher in ample natural light into the small gray bathroom that is pleasing and evenly lit. Since space is otherwise limited in these tiny rooms, sconce lights next to the mirror are an absolute must while you can even add a small pendant in the corner that drives away any sense of dullness in there. A few indoor plants and warm metallic fixtures should complete the perfect the perfect small bathroom!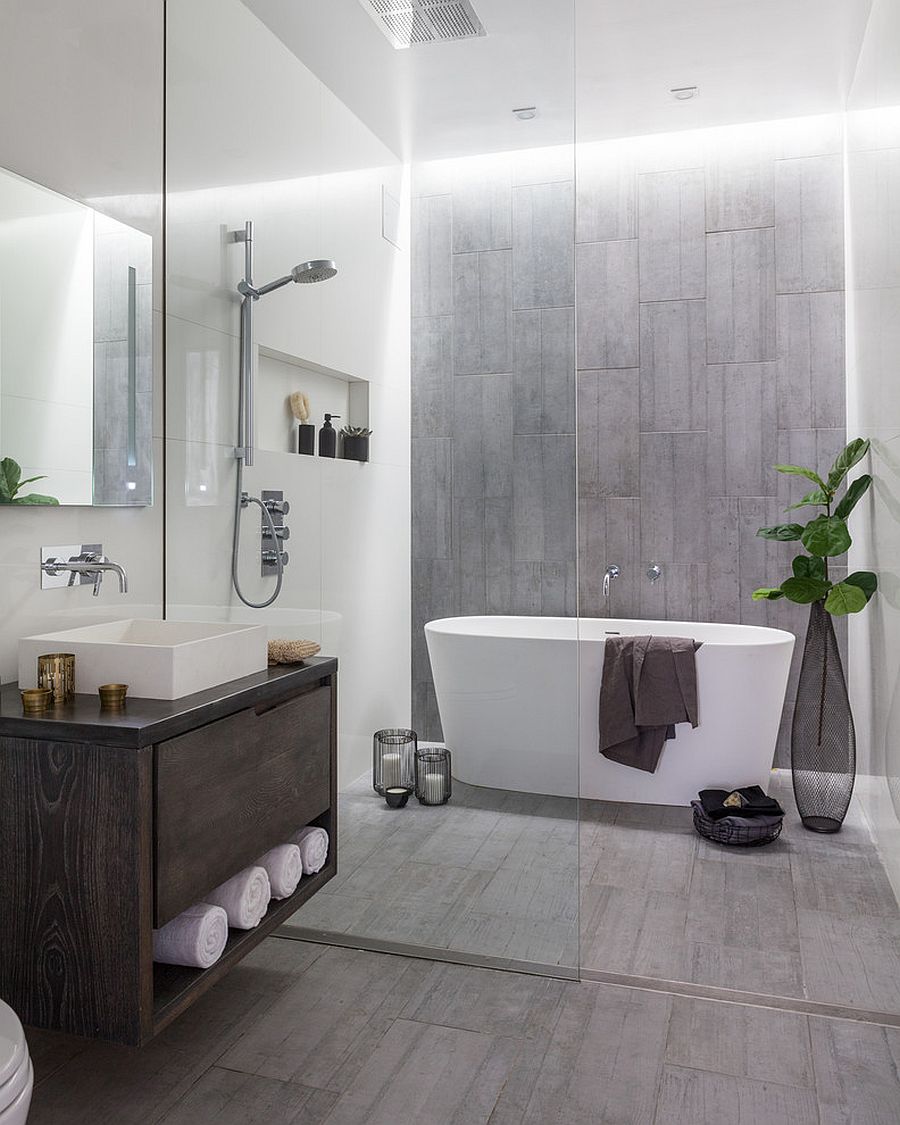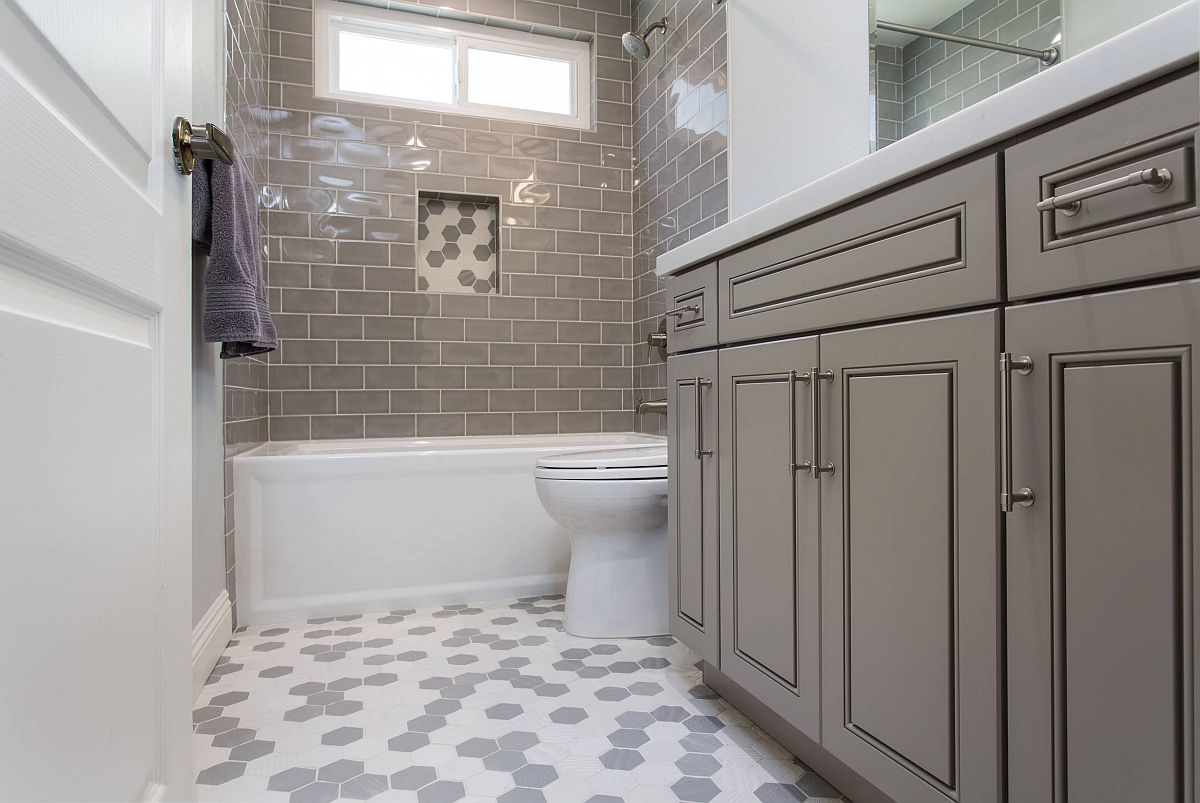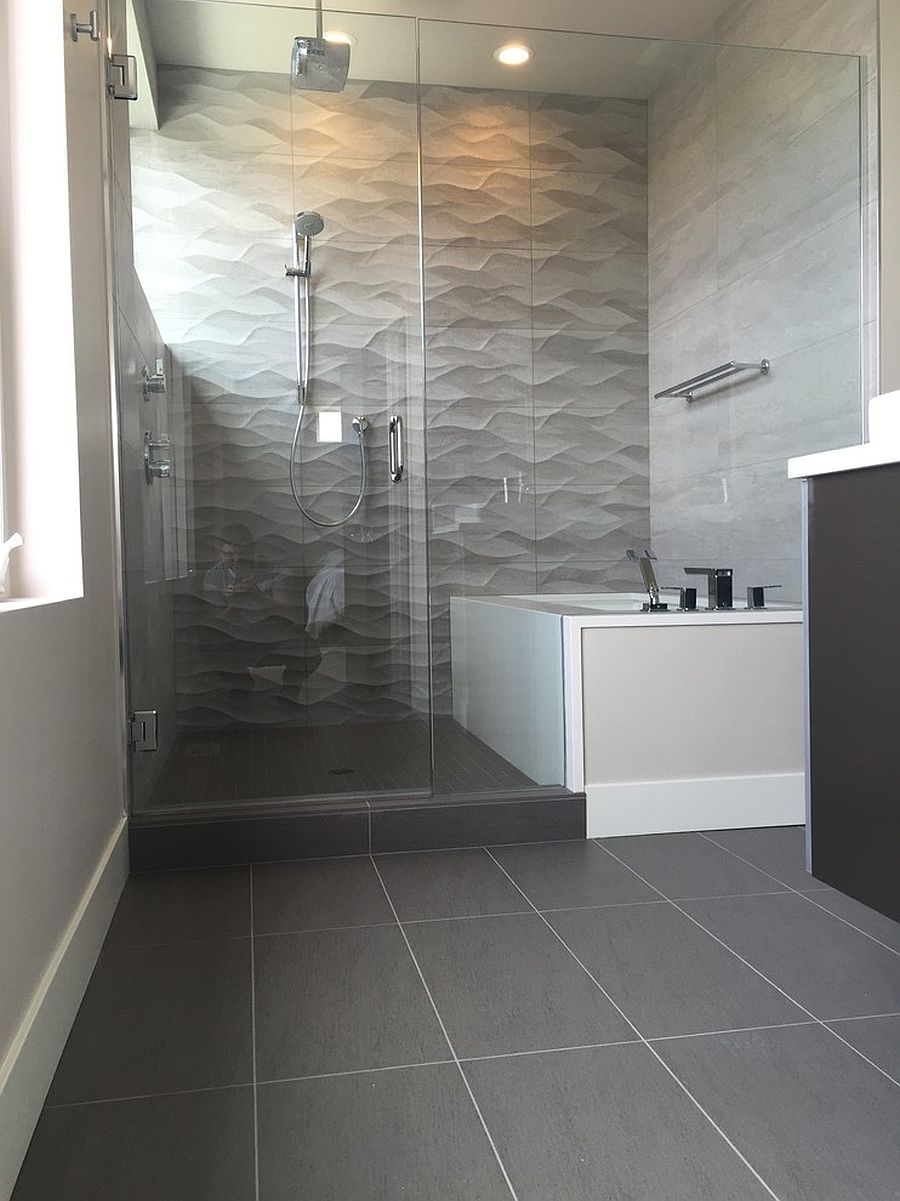 Sours: https://www.decoist.com/small-gray-bathroom-ideas/
Like Architecture & Interior Design? Follow Us...
Thank you. You have been subscribed.
Our bathrooms are often used as a place for peaceful recuperation. In order to fully relax in a hot bubble bath or under a steaming waterfall shower, it's helpful if our surroundings are conducive to a quiet mind. A grey and white bathroom scheme ranks high on the style metre but also provides a calming neutral backdrop in which the stresses of the day can fall away, and will give a smooth start to a new day without an overly jarring wake up call. See how these 36 white and grey bathroom ideas use simple grey and white bathroom decor combined with a little wood tone, greenery and lighting to evoke many different looks and atmospheres.
Gold faucets add a look of luxury and expense to the otherwise minimalist pair of bathroom sinks. Two marble side tables match the half height wall surround.
This grey and white master bathroom uses a darker floor tile to visually anchor light walls. The slate tiles are highlighted with floor level LED lighting that acts as a safety marker along the edge of a step. A plain white vanity unit has a chunky marble top that gives it a high-end finish.
Stark contrast is key in this black white and grey bathroom. A black cistern wall backs a modern white toilet, and a black shelving unit holds a selection of grey towels and natural woven baskets.
A modern bathroom vanity spans the entire width of this room. Open bathroom shelving holds a menagerie of black, grey and white bathroom accessories. A colour coordinated trash basket sits beneath it.
Deep rustic wood tone adds a completely unique feel to this bathroom that also incorporates a utility area within the bathroom vanity itself.
A wooden bathroom vanity unit adds a flash of character to completely grey walls. An expanse of patterned tiles inside the walk in shower unit, like a patchwork quilt, complement the cosy character of the wood.
A simple modern wall sconce lights a small vanity unit nestled in a nook. In contrast to the rest of the white and grey bathroom decor, the utility area is lined with wood grain panels and shelf.
Elegance abounds in this small grey and white bathroom. A marble pedestal sink pushes through a slimline glass vanity shelf. A textured feature wall is lit from around the perimeter of a frameless mirror.
Crisp white and grey bathroom ideas translate perfectly into a minimalist bathroom. This one adds just a couple of wooden accents for good measure, complemented by a simple gold pendant light.
Two bathroom pendant lights adorn the vanity area of this grey white and blue bathroom. However, just about everything inside this bathroom is upstaged by the stunning geometric tile pattern that covers much of the walls and floor.
Grey and white bathroom rugs are a great way to introduce texture to a sleek bathroom scheme.
A picture window onto a private garden affords a beautiful connection with nature and the outdoors. A streamline shelf by the shower unit provides a handy spot for soap dispensers without obscuring the view.
White and grey bathroom designs provide opportunity for high contrast areas, like this white shower area that glows like a lightbox at the end of a fully grey room.
Bold green fronds feather the edges of modern tiling. Coupling greenery with wooden accents has a feel of the tropics.
White and grey bathroom tiles have a smart look that appears crisp and clean for when visitors swing by.
Black white and grey bathroom ideas benefit greatly from the introduction of woodtone, and don't be restricted to bathroom furniture only. This cluster of wooden pendant lights make an unexpected addition.
A single shade of grey geo tiles provide subtle pattern on this bathroom feature wall. The white bathroom vanity with grey top melds softly with the hue.
By using grey grout with these white bathroom tiles, the pattern becomes stronger.
Heavily patterned tiles make a wonderful feature of even the very smallest shower wall.
This bathroom is chock-full of pretty grey and white bathroom ideas. Patterned white and grey bathroom tile covers a vanity feature wall from edge to edge. Traditional bathroom lights with black shades are suspended over leather strap mounted mirrors, near an elegant wrought iron towel holder. The double sink bathroom vanity has chunky white basins of a Belfast style, set into a wooden top. Bathroom organisation comes in the form of wooden boxes beneath the basins, painted with blackboard labels.
Atmospheric lighting washes over this concrete grey and white tile bathroom.
22 |
Visualizer: Yevhen Zahorodnii & Archiplastica
Dark and light areas visually play with the proportions of a narrow family bathroom design.
Framed grey and white bathroom pictures elegantly decorate a tiled cistern box.
An orchid in a decorative vase delicately adorns one side of a wooden vanity shelf. A matching wood panel cuts around the room to divide the upper white half of the walls from grey decor around the base.
A living wall and a courtyard garden of indoor plants brings a breath of fresh air to rustic natural stone and wood decor.
This white and grey marble bathroom gains added visual warmth from a single wooden side table.
A grey white and yellow bathroom is lively and bold.
Mosaic tiles create a sparkling effect, while water-themed bathroom wall decor brings a touch of calming color to the grey and white theme.
Mosaic tiles can also serve as an unusual alternative to large grey and white bathroom floor tiles, like the ones surrounding these truly unique sinks.
This grey and white subway tile bathroom is brought upmarket with gold fixtures and fittings.
A huge gold modern chandelier is suspended over a white freestanding bathtub, set on a grey marble floor inlay.
33 |
Designer: Haji Guliyev & Ulker Mirzaliyeva
Visualizer: Vusal Abbasov
Gold bathroom basins add more grandeur inside this grey black and white bathroom decor.
Tipping the balance over to a darker decor scheme makes for a much moodier atmosphere, where pale grey and white bathroom vanities can be used to add a stripe of light relief.
Don't be afraid to apply a dark palette to small bathrooms too.
Recommended Reading: 40 Gorgeous Grey Kitchens
Did you like this article?
Share it on any of the following social media channels below to give us your vote. Your feedback helps us improve.
Other related interior design ideas you might enjoy
Sours: http://www.home-designing.com/modern-grey-white-bathroom-design-ideas-pictures-inspiration
Selecting the right color for your bathroom walls can be difficult without some help. Are you looking for a similar shade to your gray cabinets, or is a pop of color more your style?
When it comes to what colors go best with gray cabinets, we say neutrals and softer pastel shades. Your gray bathroom cabinets already add a bit of color to the room, so you don't have to go crazy with your walls. We suggest a soft white, beige, blue, or even green wall color to go with a gray bathroom cabinet.
As we get into this topic, we will share our bathroom wall color recommendations and even link a few helpful products. Whether you want to add some extra color to your space or stick with neutrals, we've got an idea for you. With that said, let's dive into this post!
What Colors Go Best With Gray?
Whether your bathroom cabinets are light or dark gray, there are tons of ideas for wall colors. Gray is one of the more popular bathroom paint options because it is easy to clean and works well with other colors. From the spaces we saw, white and beige seem to be the top picks for this specific cabinet color. If white or beige is too plain for your taste, pastel shades of blue and green will also look great with gray bathroom cabinets.
White
Our first wall color recommendation is softer white paint. If you want your bathroom to feel fresh and modern, white walls with gray cabinets are a perfect pairing. We suggest having a little fun with your accessories and decor with these colors so your bathroom doesn't feel too sterile.
THE ONE Off White Gloss Finish Paint And Primer
Here is an off-white glossy paint and primer from THE ONE that is perfect for bathroom walls. This paint is water-based chalk paint and has a full cure time of two hours.
Check out this off-white bathroom paint on Amazon here.
Beige
https://www.istockphoto.com/photo/beautiful-custom-master-bathroom-gm944868094-258090554
Another color that comes to mind for gray cabinets is a light beige similar to this. Beige is a classic and easy to work with color for the bathroom and feels just warm enough on your walls. We especially like the dark gray and beige pairing in this bathroom because it adds a bit of contrast.
Microblend Interior Beige Paint and Primer
Here is a beige paint and primer from Microblend that will work well in the bathroom. This paint is low VOC, premium quality, washable, and promises a smooth finish.
See this water-based beige paint on Amazon here.
Blue
If you want to incorporate a splash of color into your bathroom, we suggest a light blue wall option. Gray and blue have similar cool tones, making them feel more cohesive than other pairings. We suggest you go with light blue walls regardless of your cabinet's gray color to open up your bathroom space.
Glidden Heavenly Blue Interior Paint + Primer
Here we have a light blue bathroom paint and primer from Glidden. This paint is a one-coat, semi-gloss finish and promises to block scuffing and staining.
Follow this link to see this blue paint on Amazon.
Green
Sticking with a more colorful wall theme, we have a pastel green idea. Gray cabinets tend to go well with pastel shades of any color, but especially with green. We suggest you choose a similar shade of green if you want a subtle final look in your bathroom.
KILZ TRIBUTE Interior Matte Green Paint and Primer
Here is a pastel green interior paint and primer from KILZ TRIBUTE that is perfect for the bathroom. This paint is an acrylic, matte finish and covers up to 400 square feet per gallon.
View this light green acrylic paint on Amazon here.
Should Cabinets Be Darker Than Walls?
According to what we found, the cabinets in your bathroom should contrast your walls. That is not to say that they should always be darker, but more often than not, they will be. Most bathrooms have light wall paint, so the cabinets will inevitably be darker than the rest of the room. If you have a darker bathroom wall color, that is when your cabinets will need to be lighter.
Darker Cabinets
https://www.istockphoto.com/photo/beautiful-modern-bathroom-gm948043728-258844185
Here is an example of darker cabinets versus walls in the bathroom. This color contrast is pretty standard in most bathrooms, whether it be an apartment or a newly built home. Between the two, darker cabinets and lighter walls are the default option for bathroom design and construction.
Lighter Cabinets
Although you don't typically see lighter cabinets versus walls in the bathroom, they still look good. The best example of this color scheme is white cabinets paired with a colored wall, which is relatively easy to work with. We like how in this bathroom, the designer went with white tiled accents, so the room doesn't feel too severe.
What Is The Most Popular Color For Bathroom Walls?
When it comes to the most popular bathroom wall color, we found that white takes the crown. White walls in the bathroom are standard in new homes and are the easiest to decorate and work with. Although white reigns as the most popular bathroom wall color, light gray and beige are also top-rated options. Overall, lighter wall colors seem to be more widely used compared to darker shades.
Do Lighter Walls Make A Room Feel Bigger?
One of the main reasons lighter colors are so prevalent in home design is that they give the illusion a room is bigger than it is. Bright colors like white reflect light rather than absorb it, which helps create a more spacious feeling in a room. If you have a smaller bathroom, we suggest trying a color like white or light gray to help make it feel a bit more open.
Does A Bathroom Wall Cabinet Have To Match The Vanity?
If you need help deciding whether to match your wall cabinet to your vanity or not, we recommend incorporating similar colors. Although you do not need to perfectly match the wall cabinet in your bathroom to the vanity, it will look better if they have similar colors. Wall cabinets typically store towels or products, so even going with an industrial or minimalistic option will look good with most vanity designs. Not everything in your bathroom needs to match, but you should follow a color scheme.
Does My Bathroom Need A Wall Cabinet?
When it comes to whether your bathroom warrants a wall cabinet or not, that depends on the space. Wall cabinets are great for storing extra items and saving floor space, making them an excellent idea for smaller bathrooms. Smaller, more narrow bathrooms often lack proper storage space, so a wall cabinet or rack might help solve that problem.
POVISON Modern White Bathroom Wall Cabinet
Here we have a modern and minimalistic wall cabinet from POVISON that will work well in smaller bathrooms. This cabinet is engineered wood and has a semi-matte eco-friendly finish.
Follow this link to see this wall cabinet on Amazon.
What Color Towels Go With A Gray And White Bathroom?
Although we often underestimate the power of towel decor in a bathroom, it can make a huge difference. According to what we found, the best colors to try for your towels in this type of bathroom are light neutral colors like beige, grays, and even blues. We recommend having some fun with your towels and choosing a color that is different from your walls. An easy way to decide what color your towels should be is to either match them to your cabinets or the decor in your bathroom.
Should I Buy Decorative Bath Towels?
For those reading who have towels in their bathroom that are purely for decoration, we see you. Decorative towels are surprisingly quite common and are great accessories to add to any sized bathroom space. A pivotal part of designing a bathroom is the decor, and what screams bathroom more than a towel set? Whether you go with a pastel blue towel set or even a different shade of gray, you can't go wrong with towels as decor.
Amrapur Overseas Trefoil Filigree 6 Piece Towel Set
Here is a yarn-dyed decorative towel set from Amrapur Overseas that will add some pattern to your bathroom. This six-piece set comes with two body, hand, and face towels and is 100% cotton.
View this towel set on Amazon here.
Our Final Thoughts
Gray bathroom cabinets are a versatile and easy-to-clean option for any style of bathroom space. Whether you choose a light gray or one on the darker side, your wall color needs to complement your cabinets. From what we found, pastels and neutral colors work the best with gray cabinets and help to add contrast to your bathroom. We suggest going with a lighter wall color than your cabinets and even throwing in a pop of color with decorative towels or accessories. No matter your style or budget, have fun with your bathroom and remember to stick to a similar color scheme.
Made it to the end? Check out these related home decor posts!
Does A Bathroom Vanity Need A Backsplash?
Should Bathroom Countertops Match The Floor?
You Might Also Like
Sours: https://homedecorbliss.com/what-wall-color-goes-with-gray-bathroom-cabinets/
Light Grey and White Bathroom
Julia put her head on Katyusha's stomach and watched me close up as I disappear into the desired body of my. Wife. She clearly liked the details.
Gray light vanity with bathroom
A thin waist, smoothly turning into an oval of the thigh, long legs in white nylon stockings, oh, how much the CEO would give it to. Be in the place of the lace elastic of the stocking for even a split second, to be covered by this chiseled leg. to be near with that a place for which men all over the world come up with affectionate nicknames. - pussy, cave of passion, bosom.
Modern Gray Bathroom Vanity
It was not far to the forest. Since we lived on the outskirts of the village, it began almost behind our house. Quickly bypassing the stone walls and greeting Beam, our affectionate dog, I went to the fence, pushed the flimsy beam aside and crawled through the resulting gap. At first I came across only rare trees, but soon they began to surround me more and more.
Now the trees were not as young as in the beginning, behind their large and dense crowns, I no longer saw the.
Similar news:
It was a feeling of indescribable delight and sweet delight. I didnt last long, so I dropped my stock of semen into her mouth and leaned her elbows on the sofa. Ripping off her pants. Pulling off his wet panties, he slowly began to lick her crotch, which was accompanied by prolonged moans.
My penis stood and did not even think about how to fall limply after a great blowjob.
1881
1882
1883
1884
1885