Commercial Truck Driver Resume Samples
A Commercial Truck Driver will transport a variety of goods from one location to other location using commercial trucks. The major roles and responsibilities shouldered by the truck drivers are listed on the Commercial Truck Driver Resume as follows – performing inspection of vehicle before and after every trip, loading and unloading cargos, following appropriate safety procedures while transporting dangerous items, maintaining log of vehicle repair status; delivering freight, checking mechanical aspects, driving different types of trucks, collecting and verifying delivery documents; and reporting about any accidents, violations or defects.
Persons who want to work as Truck Drivers should possess these skills – good knowledge of roads, ability to read customers orders and follow safety regulations, hands-on experience with electronic equipment and software; wide knowledge of applicable truck driving rules and regulations, and no record of driving violations. A high school diploma or equivalent education with a valid CDL is required.
Commercial Truck Driver Resume
Objective : Commercial Truck DriverProfessional and Military Veteran offering 8+ years of proven experience in the United States Army and private sector. Current Class A Commercial Driver License (CDL), over 180,000 safe driving miles. Possess a comprehensive background in security planning, program management, risk management and personnel training. Accomplished measurable results while leading teams of over 16+ personnel in a fast-paced, dynamic environment including serving as the Lead Agent during the pre-television ceremony of the 56th Annual Grammy Awards.
Skills : Loss Prevention Management, Inventory Management, Accountability,.
Description :
Served as a full-time commercial truck driver with over 150,000 safe driving miles across the country.
Applied proper risk management to create safe and secure routes over multiple states.
Assessed and analyzed every trip to ensure proper time management and account for possible variables.
Regularly tracked weather patterns to ensure on time deliveries.
Practiced emergency procedures to include flood and fire prevention.
Provided operator level maintenance daily for assets valued at $100K+.
Maintained a safe environment at all times while in charge of a 2014 Freightliner Cascadia.
Experience
0-2 Years
Level
Entry Level
Education
Bachelor Of Science In Operational Security And Management
---
---
Commercial Truck Driver Resume
Objective : Hard working dependable professional, agile, strong, possessing good coordination skills, detail oriented, working well in a team environment. I'm dedicated to meeting goals to improve the company, organization, & client. I, easily adapt to new situations, enjoy solving challenging problems, & have excellent work ethics, & communication skills.
Skills : I Have Hazardous Material, Doubles/ Triples Trailers, And Tanker Endorsement. I Can Aquire Passport And TWIC If Needed.
Description :
Picked up freight from SHIPPER and safely delivering to COSIGNEE.
Performed accurate Pre Trip and Post Trip inspections on equipment daily.
Assisted in loading and unloading of freight.
Kept accurate logs of hours of operation on the 11, 14 and 70 hour DOT clock.
Used Efficient truck driver with sound ethics and experience with different sizes and types of trucks.
Proven tracked record of on-time deliveries.
Capabled of driving long distances for extended periods of time.
Experience
2-5 Years
Level
Executive
Education
Commercial Truck Driving Training In Commercial Driving CDL
---
---
Commercial Truck Driver Resume
Objective : Accomplished and energetic with a solid history of achievement in work history as both a leader and a team player. Motivated leader with strong organizational and prioritization abilities. Excellent in a group or solo, adaptable to any situation to arise.
Skills : Microsoft Office, Training Skills, Operations, Instructor, Leadership, Logistics, Management, Management, Maintenance, Planning.
Description :
Safely operated commercial tractor-trailer combination vehicles to transport and deliver products to customers both locally and regionally.
Communicated with co-workers and customers in a courteous and professional manner.
Maintained regular and consistent communication with the dispatcher/supervisor from the road.
Attended safety meetings, performed all duties in accordance with company policies/procedures, and complied with all Federal, State, and Local regulations for the safe operation of a CMV.
Filled out trip reports and any other necessary paperwork.
Brought back signed bills of lading and turned them into appropriate personnel.
Conducted both pre-trip and post-trip tractor/trailer inspections and completed inspection reports.
Experience
2-5 Years
Level
Executive
Education
High School Diploma
---
Commercial Truck Driver Resume
Objective : To obtain employment in a challenging industry that will develop into a career which will allow me to go beyond my up-most potential. ABOUT ME I am a hard-working and dedicated young man. I have a great deal of confidence and ambition to get the job done. Always put my best effort forward whether it is on the job or on a personal level. Experienced in the industrial industry yet, I feel that there is always room for self-improvement.
Skills : Critical Thinking, Crew Management, Coordination, Safety and Security, Time Management, Team Player, Quality Assurance.
Description :
Established long-term customer relationships through prompt and courteous service.
Resolved customer complaints and adjusted orders.
Met and surpassed productivity targets and quality standards.
Notified branch management of vehicle safety concerns and issues.
Answered customer's questions regarding shipments.
Handled merchandise in accordance with product handling standards.
Verified sales orders before loading and unloading merchandise.
Experience
2-5 Years
Level
Executive
Education
Diploma
---
Commercial Truck Driver Resume
Summary : A self-motivated, result-oriented leader with proven ability to manage and prioritize multiple tasks, work independently, and contribute to a team effort. Excels at assessing and effectively responding to customer needs. Thrives in a fast-paced, high pressure environment and empowers others to perform in challenging circumstances. Achieves results when the following attributes are mission critical: Communications Action Plan Development Customer Service Principle-Centered Leadership.
Skills : Warehouse Management Skills.
Description :
Logistics expertise with a balanced cross-discipline of domestic, international, and warehouse/distribution services.
Responsible for all transportation needs of domestic and international freight.
Ensured all documentation regarding all shipments is accurate and properly endorsed upon delivery.
Utilized material handling equipment including forklift and pallet jack to load and unload all freight.
Ensured consistent, safe, legal and effective operations on a 24/7 schedule - Maintain daily logs, worksheets, expense reports, dispatch & trip reports, and vehicle inspection reports Other Development Experiences Intensive OSHA Training in Industry Safety and Health Root Cause failure analysis and remediation Motivational Seminars by Renowned Speaker and Educator Dan Baker SkillSoft: Online training for leadership skills training, project management skills.
Reported and errors found delivery documents to supervisor.
Performed physical requirements of CMV operations including coupling and uncoupling trailers, maneuvering vehicles into docks, cranking trailer landing gear up or down, etc.
Experience
10+ Years
Level
Senior
Education
Associates In Business Management
---
Commercial Truck Driver Resume
Objective : Employed as a commercial truck driver for 22 years with Carquest Distribution Center. I have a class A CDL license with hazardous material, tankers, doubles and triples endorsements. I have worked unsupervised for this company. I have experience with moving pallets using floor jacks and hand trucks. I have experience with reading and understanding bill of lading. I also have experience filling out DVCR, ITS and trip sheets.
Skills : Commercial Truck driver, Managing Skills.
Description :
Driven trucks to weigh stations before and after loading and along routes to document weights and to comply with state regulations.
Driven trucks with capacities greater than 3 tons, including tractor-trailer combinations, to transport and deliver products, livestock, or other materials.
Operated equipment, such as truck cab computers, CB radios, and telephones, to exchange necessary information with bases, supervisors, or other drivers.
Provided assistance to Thrift Store personnel when delivering items to ensure the proper placement and location within the store.
Assisted in sanding or cleaning bridges and roads, posting warning signs, helping the public, and performing other work as directed during emergency situations such as floods, tornadoes, hurricanes, snowstorms, accidents, and hazardous material spills.
Assisted with traffic control.
Placed and gathered cones, warning signs, and barricades; flags traffic.
Experience
0-2 Years
Level
Junior
Education
Diploma
---
Commercial Truck Driver Resume
Objective : To obtain a Commercial Truck Driver Associate position as a Commercial Driver Construction Skills Thorough understanding of the construction industry. Significant experience as an equipment operator. Truck driver with a Class (A) CDL. Experience dispatching for daily emergency calls. Strong ability to gain new skills, ask the right questions and apply knowledge to work effectively, Both independently and in teams. Skilled in building relationships and communicating clearly with individuals at all organizational levels.
Skills : Class A CDL license, Multitaking.
Description :
Performed basic vehicle maintenance tasks, such as adding oil, fuel, or radiator fluid or performing minor repairs.
Checked conditions of trailers after contents have been unloaded to ensure that there has been no damage.
Read bills of lading to determine assignment details.
Served as a lead worker.
Monitored and filled out various required reports including time-keeping, equipment forms, inventory, accident forms, PMI and records work in progress.
Operated heavy equipment such as a front-end loader-one and a half cubic yards or more, tractor-trailer haul truck, large dragline, shovel, paint striper and dump truck.
Operated light equipment such as a front-end loader-one and a quarter cubic yards or less, pneumatic roller, rotary broom, spreader box, backhoe, street sweeper, and mower.
Experience
2-5 Years
Level
Junior
Education
High School Diploma
---
Commercial Truck Driver Resume
Summary : Motivated, personable Commercial Truck Driver professional. Accustomed to handling sensitive and time-critical special handling load assignments. Poised and competent with demonstrated ability to handle deadline-driven environments. Excellent team player and self-motivated. Accustomed to working in a safe maintained environment. Talent for quickly mastering new job qualifications.
Skills : Coordinating Skills, Multitasking.
Description :
Operated and drove Tractor-trailer to transport automotive materials, averaging 15 stops daily to Ford, Chrysler, and GM.
Provided prompt and courteous service to our parts suppliers and commercial accounts.
Verified the unloading of shipments to avoid theft and fraudulent claims of the missing product.
Reviewed invoices with customers and obtain shipper and receiver authorizations /signatures.
Maintained trip logs reflecting customer locations and distance traveled and fuel costs.
Coordinated vehicle inspections and repairs and troubleshoot vehicle malfunctions on the road.
Maintained safe vehicle and conditions in compliance with company and DOT regulations.
Experience
10+ Years
Level
Senior
Education
Diploma
---
Commercial Truck Driver Resume
Summary : To utilize my years of Commercial Truck Driver III professional experience in transportation, construction, warehousing, electrical, customer service or similar positions to establish a partnership with a vision oriented organization.
Skills : Extensive Cashiering experience. 35+ years in the Hospitality Industry; managing an Independant Grocery Store/ Seafood Market.
Description :
Ensured timely and correct deliveries of complete textile loads, pick up and deliver soiled textiles and maintain proper inventories in accounts.
Serviced items such as facility maintenance products.
Safely operated a delivery vehicle on each trip, following all applicable laws and company policy.
Maintained vehicle cleanliness and perform regular vehicle inspections.
Route consisted of dedicated run to from Charlotte, NC to Asheville, NC one to two times daily.
Followed company policies/procedures regarding new customers, managing customer needs and all aspects of service.
Accurately prepared route paperwork and follow check-in procedures.
Experience
10+ Years
Level
Senior
Education
Business Administration
---
Commercial Truck Driver Resume
Objective : Substituted for other warehouse personnel when needed.Contributed to a culture and environment focused daily on employee safety and a safe work environment. Assume responsibility for immediately addressing safety concerns.
Skills : Customer Service, Tanker, Home delivery, Sales, Route work.
Description :
Checked vehicles to ensure that mechanical, safety and emergency equipment is in good working order.
Maneuver boats into loading or unloading positions, following signals from loading crew, and checking that vehicle and loading equipment are properly positioned.
Obtained receipts or signatures for delivered goods and collect payment for services when required.
Inventory and inspect goods to be moved to determine quantities and conditions.
Followed appropriate safety procedures for transporting dangerous goods.
Assisted with load and unloading of product at a warehouse using a Pallet Jack and forklift.
Operated one or more types of complex heavy equipment such as tractor-trailer haul truck, motor grader, large gradall, heavy bulldozer, crane, herbicide truck, heavy asphalt paving machine, self-propelled asphalt profiling/milling machine, and dump truck.
Experience
2-5 Years
Level
Executive
Education
Associate Of Arts
---
Commercial Truck Driver Resume
Objective : Goal-Oriented shipping clerk dedicated to high levels of customer satisfaction and meeting aggressive business goals. Intelligent and reliable with specialized knowledge in clerical and management. Reliable Music Producer with Bachelor of Sciences Degree and background in Music. Humble and persistent with five to six years of recording and editing music in my community/studios. I have great accomplishment and energetic clerical skill with a solid history of achievement in multitasking.
Skills : Shipping & Receiving, Multitask, Management, Corrections, Microsoft Office Suite, Office Administration.
Description :
Maneuver trucks into loading or unloading positions, following signals from loading crew and checking that vehicle and loading equipment are properly positioned.
Collected delivery instructions from appropriate sources, verifying instructions and routes.
Maintained logs of working hours or of vehicle service or repair status, following applicable state and federal regulations.
Reported vehicle defects, accidents, traffic violations, or damage to the vehicles.
Secured cargo for transport, using ropes, blocks, chain, binders, or covers.
Driven trucks to weigh stations before and after loading and along routes to document weights and to comply with state regulations.
Drive trucks with capacities greater than 3 tons, including tractor-trailer combinations, to transport and deliver products.
Experience
2-5 Years
Level
Executive
Education
Bachelor Of Science
---
Commercial Truck Driver Resume
Summary : A quick learner/self-starter, team player while establishing a positive rapport with internal and external customers. Previously served in both the Air Force and Army Armed forces obtaining a powerful work ethic, respect, and responsibility for all tasks I undertake.
Skills : Microsoft Office, CAD 3, CDL, Manager, Trainer, Military, Homeland security.
Description :
Consulted with customers and development team to establish Web site message.
Created text-only versions of Web pages to accommodate visitors with 9600 baud modem connections.
Tied backoffice databases to Web sites to provide a personalized experience for visitors.
Researched and prototyped new Web technologies and techniques to realize the benefits of the latest innovations, achieve increased efficiency, and provide the highest quality products.
Validated design approach by tracking user interactions with sites before and after the makeover.
Constructed reliable, secure e-commerce site resulting in sales increase.
Determined and translated customer expectations into precise specifications for the development team in order to clarify project deliverables, define a schedule, and assign tasks.
Experience
7-10 Years
Level
Management
Education
Diploma
---
Commercial Truck Driver Resume
Objective : Experiences varied and my ability to learn information, retain knowledge, and teach from my experiences has served me well in my previous positions. A self-motivated and capable of handling multi-tasks, Enjoy and work well on independent projects as well as team projects. Gained a reputation for being able to contribute to the immediate and long-term goals of the organization. Confident that my background in what will enable me to make immediate contributions to my team and to the organization, which will lead to achieving the organization's objectives.
Skills : Leadership Training, Word, Research, Team Building, Office Management, Powerpoint, HTML, CSS, Management.
Description :
Performed preventive maintenance inspections (PMI), routine servicing, and minor repairs on equipment; as required uses/moves equipment/tools, materials, and products related to these activities to include tires and equipment attachments.
Trained other employees.
Inspected company vehicle for visual defects when the vehicle is not running and operating defects when the vehicle is running. Also responsible for completing a daily inspection report.
Loaded merchandise into the company vehicle.
Delivered merchandise to the appropriate customers using the company vehicle. Also responsible for ensuring that delivery receipt is signed by the customer.
Picked up merchandise returns from customers. Also responsible for inspecting the condition of the merchandise and verifying quantities and catalog numbers.
Picked up merchandise from company suppliers.
Experience
0-2 Years
Level
Entry Level
Education
Diploma
---
Commercial Truck Driver Resume
Summary : Over 15 years of extensive experience in customer service, construction, commercial driving, sales knowledge, and logistics. Proven ability to transform difficult situations to allow positive results.
Skills : Communication Skills, Transportation Skills, Driving Skills.
Description :
Responsible for driving commercial donation truck for the Salvation Army Donation Center.
Generated daily pick-up route in the most time-efficient and fuel-efficient manner.
Able to lift, move, and pack large/heavy donations from the various locations in the DC/MD and Virginia area in the most organized manner possible to enable maximum hauling capability.
Properly packed and transported items to minimize potential damage/breakage to donated merchandise.
Provided the highest level of customer service to each customer, handles all customer issues, inquires, and complaints.
Maintained a professional work atmosphere through excellent communication with drivers.
Provided the maximum amount of support in an effort to maintain a professional working relationship with vendors, donors, customers, beneficiaries, co-workers, and management.
Experience
7-10 Years
Level
Management
Education
Certification
---
Commercial Truck Driver Resume
Objective : Verified the quantity and description of materials received by checking merchandise against the packing list.Measured, cut, and spooled wire materials.Verified quantities and items being shipped against the invoice.
Skills : Automotive and Diesel mechanics, Information Technology, Software Development, Troubleshooting Auto mechanics.
Description :
Included possessing current class A CDL and the safe operation of the tractor/trailer.
Prioritized my workload to maximize my time and efficiently complete the duties assigned to me on a daily basis.
Serviced the oil wells by offloading the excess water and disposing of the water properly.
Maintained the proper balance of water and oil in the well.
Possessed the knowledge to correctly clean up hazardous material.
Completed pre and post trip inspections along with maintaining log information by ensuring accurate record keeping.
Adherence to DOT regulations and state laws to ensure safety compliance.
Experience
0-2 Years
Level
Entry Level
Education
General Education
---
Sours: https://www.qwikresume.com/resume-samples/commercial-truck-driver/
7+ Sample Truck Driver Resume Templates
Are you a professional truck driver looking to apply for a new job? Well, that's great but then you have to come up with a strong and powerful resume that will present your skills and professional competencies at their best. The resume of a truck driver mostly highlights the physical skills, mental alertness of the driver as well as his expertise in driving the huge vehicle safely. In case you need some guidance, there are readymade professional resume templates online for your help. You may also see driver templates.
Free Driver Resume Template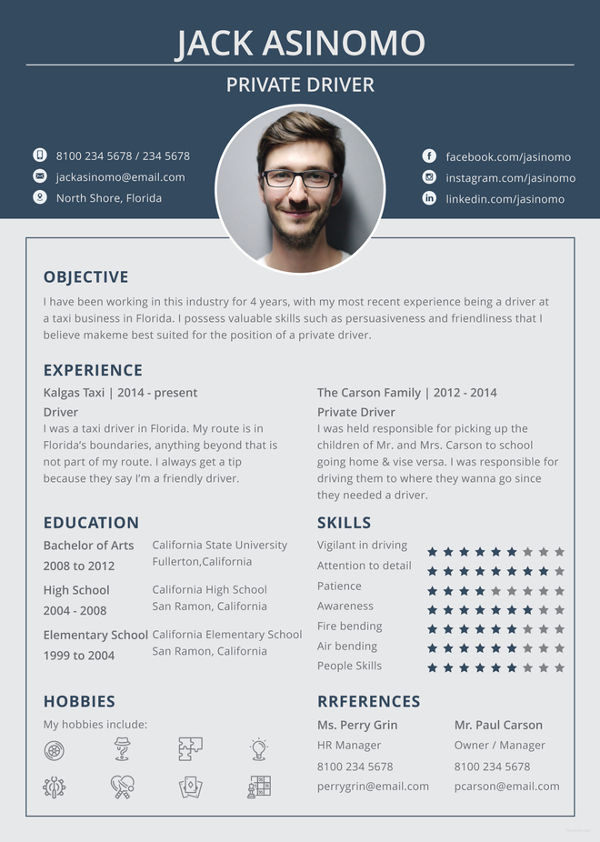 Sample Professional Truck Driver Resume
You have a basic truck driver resume here which begins with a clear-cut objective and then goes down to skills. It then mentions the job experience in a chronological manner and then you have the educational qualification. You can also see Cashier Resumes
Delivery Truck Driver Resume Sample
You have a detailed delivery truck driver resume sample here that starts with contact details followed by a professional summary, core qualifications, and the duties one has performed for various employers. You can also see Chef Resumes.
Entry Level Truck Driver Resume Template in Word Format
This truck driver resume template starts with major strengths and special capabilities of the candidate. It then lists down the work experience and also the volunteering efforts.
1. What Do You Include In A Truck Driver Resume?
Your truck driver resume must begin with a proactive career objective where you can slightly touch on your major skills or expertise to prove your competency from the beginning. Then, you will list down your core competency as you have developed over the years. Next in line would be your achievements. You can also see Modern Resume Templates.
If you are a seasoned truck driver with huge work experience, mention each of them in chronological order. Your list of skills would come after it but if you are an entry-level or medium-range truck driver, the skills should go before the work experience. Your academic degree would be mentioned in the concluding section. You may also see Chronological Resume Template.
Fuel Truck Driver Resume Example
You have a detailed yet neat fuel truck driver resume template here that begins with job objective and then presents highlights on qualifications- duly followed by a brief on the operations handled at different workplaces. You may also see Work Resume Templates.
Dump Truck Driver Resume Sample
You have an elaborate dump truck driver resume here which mostly focuses on the professional competency, detailed driving experience, and key achievements. It also discusses the special skills of the driver. You may also see Resume Examples.
Truck Driver Resume Template in PDF
Long Haul Truck Driver Resume Format
Download Tow Truck Driver Resume Template
2. What Not To Include In Truck Driver Resume?
When it comes to a truck driver resume, there is no need to add a picture. Unlike other resumes, your academic qualification is not really important here, so it mustn't be mentioned at the top – just note down your last academic degree at the end of your resume document. Then, do not use generic words in the section on achievements. Always try to be more specific with the data with tangible figures. Your hobbies and interests are irrelevant here and hence you better not mention them in your resume. There is no need to discuss in detail about your responsibilities and accomplishments- rather you should sum them up in small bullet points. You may also see Forklift Resumes.
The templates mentioned above would be of handy help when you are looking for the right format to frame your truck driver resume. From delivery truck to dump truck driver- these templates have covered all the major forms of truck driver resume samples. You can download the one that fits you and then customize it easily. You may also see Generic Resume Templates.
Sours: https://www.template.net/business/resume/sample-truck-driver-resumes/
Truck Driver Resume Example
TRUCK DRIVER RESUME TEMPLATE (TEXT FORMAT)
CAREER OVERVIEW
I am a professional Truck Driver I have twelve 12 years of experience in a truck driving with a clean record, without any tickets or accidents. I'm experienced in operating industrial trucks and tractors equipped to move materials around a warehouse, storage yard, factory, construction site, or similar location. My duties are complete in an orderly, timely and proficient manner while keeping in compliance with all rules and regulations of my employer as well as the rules and regulations of the roads with an excellent driving record.
EDUCATION
Commercial Truck Driving in CDL class A
Sheridan Technical College Fort Lauderdale, FL
SKILLS
Excellent map reading and navigation experience.
Experience in performing loading, unloading, hooking, unhooking, maintenance, and other related tasks.
Focused on ensuring on-time delivery within the specified timeframes in a safe and professional manner.
Experience working in all weather conditions.
CAREER HIGHLIGHTS
TRUCK DRIVER
Pat Salmon & Sons, Seattle, WA
Oct. 2018 – Present
Document and complete paperwork daily.
Communicate with relay drivers on the appointed timeframe of getting to the destination.
Report delays, accidents, or other traffic and transportation situations.
Check all load-related documentation for completion and accuracy.
Accept safety award three years in a row.
TRUCK DRIVER
SunTech, Seattle, WA

Nov. 2014 – Sept. 2018
Deliver goods over intercity routes.
Maintain a detailed log of activities.
Conduct emergency roadside repairs, including changing tires, replacing light bulbs and installing fuses and tire chains.
Conduct daily DOT pre-trip inspections according to a set checklist.
Long-distance property relocation.
Load and unload materials onto trucks using forklifts.
CERTIFICATES/LICENSE
Lift Truck Operator
CDL Class A
Hazmat endorsement
Tanker endorsement
CDL
Average Salary for Truck Driver Job
Truck Driver
Salaries
$56,882
National Average
| | | |
| --- | --- | --- |
| Base Salary | $39k – $82k | |
| Bonus | $246 – $5k | |
| Profit Sharing | $151 – $6k | |
| Commission | $500 – $12k | |
| Total Pay | $35k – $70k | |
***Data are taken from payscale.com
Good Skills to Include on Truck Driver Resume
Experience in Driving long haul, various trucks, loaders, tractors, walking floors, low bed, oversize loads and various types of forklift.
Trained in safe driving technique.
Knowledge of state roads and highways.
Knowledge of electric and manual pallet jack operation.
Experience with Box Vans and Flatbed trucks.
Resume Action Words for Truck Driver Resume
Transported
Drived
Operated
Inspected
Managed
Selected
Used
Provided
Delivered
Supported
Loaded
Verified
Maintained
Analyzed
Reported
Common Certificates for Truck Driver Resume
Class A CDL
Forklift
Inventory
Maintenance
Management
MS Office
Training
Welding
To be 100% prepared for getting a new job check our Truck Driver Cover Letter Example
How useful was this post?
Click on a star to rate it!
Average rating / 5. Vote count: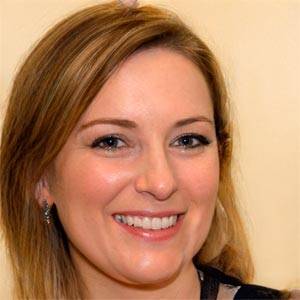 Rebecca (Tera)
Rebecca is a professional career coach and resume writer. She crafts resumes for middle and top management jobs developing personal and professional brands.
Sours: https://resumesbot.com/truck-driver-resume-example/
How To Make CV / Resume For Gulf Country -- CV बनाना सिखे Gulf Country जाने के लिये -- Gulf Expert
Truck Driver Resume
Whether driving is your passion or a source of living, you will need a truck driver resume to pursue a career in trucking and logistics. The resume must spell out the number of years you've been driving, the safety records, and the kind of driver's license you hold, and your ability in honoring pickup schedules and delivery deadlines. It must also emphasize additional skills that are necessary for the trucking job such as the ability to do basic math calculation, perform minor repair, change tire, oil, and engine maintenance, manage time, use a GPS system to identify destination points for delivering consignments, and lift heavy objects. Use the truck driver resume sample given below to practice a trucking career.
For cover letter help, see our Truck Driver Cover Letter
Truck Driver Resume Sample
---
Robert M. Phillips
3034 Traders Alley
Clarksdale, MO 64430
Phone: 816-393-4838
Email: [email protected]
Career Summary
Physically strong, mentally sound, and technically proficient Heavy Truck Driver with 6+ year of experience in driving a dump truck, meeting pickup and delivery schedules, and providing amazing customer service. Holds astounding driving and safety records throughout the career and two annual awards for zero accidents. Pro-active in identifying minor and major technical flaws in vehicles and performing checks and maintenance.
Summary of Skills
Experienced in driving heavy trucks for long distance
Customer-service oriented with good math and communication skills
Physically and mentally fit to lift heavy equipment and cope with stress
Skilled in managing time and abiding by customers' schedules
Excellent knowledge of number highways in the United States
Ability to implement safety measures and practice defensive driving
Detail-oriented, multitasking, and basic multi-tasking skills
Work Experience
Truck Driver
Tiger Corporation, Clarksdale, MO
February 2018 - Present
Operating commercial trucks on state and national highways abiding by traffic laws and regulations
Applying company safety policies for trucking and ensuring goods are delivered in sound conditions to their destinations
Inspecting goods before picking up and unloading at clients' locations
Checking vehicles before embarking on the journey, performing minor repairs, and placing trucks for loading and unloading of goods
Assisting warehouse workers and fellow driver for lifting, moving, loading, and unloading of materials
Exchanging necessary information with supervisors and other drivers as needed
Truck Driver
Nucleus Logistics, Clarksdale, MO
March 2015 - January 2018
Operated heavy equipment vehicles for moving materials from mining field to construction sites
Transported materials for construction work as scheduled and to the right authority
Checked air pressure in tires and fluid levels and performed the necessary action
Inspected and maintained equipment used in vehicle repairing
Adhered to traffic laws and safety regulations and avoided accidents
Hauled and dumped materials at specific locations and as instructed by supervisors
Maintained vehicle logs, vouchers, and other papers necessary for tracking movement of materials
Truck Driver
Hops Beverages, Clarksdale, MO
January 2013 - February 2015
Delivered bottled beverages to different parts of Missouri
Operated fork lift trucks for stacking beverages in the warehouse
Coordinated with the warehouse workers for loading and unloading of goods
Picked up raw materials for production from vendors and transported finished goods to customers
Operated heavy vehicles in all weather conditions and provided feedback on maintenance, repair, or change of parts and components
Used GPS systems for tacking delivery locations and using the shortest and safest possible route
Education
High School Diploma
Grant High School, Clarksdale, MO
2011
Licensure
DOT Driver's License and CDL with Class A
ABC Training Schoole, Clarksdale, MO
2012
Reference
On request.
---
Explore related resume sample
Delivery Driver Resume
---
Contact Us : Privacy Policy
Sours: https://www.bestsampleresume.com/sample-driver-resume/truck-driver-resume.html
Driver sample doc resume truck
Driver Resume Example
DRIVER RESUME TEMPLATE (TEXT FORMAT)
SUMMARY
Attentive and responsible Driver with 15+ years of experience as category B and C driver. Strong auto mechanical background and ability to identify potential vehicle operation problems. Mindful of all current safety rules governing large vehicle operation.
EDUCATION
Kurie University
Bachelor of Science in Multimedia Arts, 2016
SKILLS
Highly skilled in driving light and heavy vehicles
Excellent driving record
Talented in preparing and efficiently making the route.
Well-versed in the cleaning of both the inside and outside of the vehicle
The aspiration to work for the challenging jobs
Recovering from a slide
Maintaining control when a tire blows out
Driving in the rain
Driving in the snow
Operating a manual transmission
Parallel Parking
DRIVER LICENSE CATEGORY
Class A
Class B
Class C
Class D
EXPERIENCE
Driver
InZone Logistics | 2016- 2019
Arranged bagged orders on route racks according to delivery sequence
Provided safe and timely delivery of products to midtown theatre venues
Assured complete and accurate offloading of products per stop
Performed necessary pickups and drop-offs of supplies, residents, clients and staff
Driver
Maggies Paratransit Corp. | 2010-2016
Completed all routed daily deliveries
Maintained proper inventory levels and product distribution for vending machines
Maintained radio or telephone contact with base or supervisor to receive instructions or be dispatched to a new location
Kept record of materials and products transported
Cleaned, inspected, and serviced vehicles
Operated equipment on vehicle to load, unload, disperse cargo and materials
Performed pre and post trip inspections
Average Salary for Driver Job
Driver
Salaries
$48,183
National Average
| | | |
| --- | --- | --- |
| Salary | $29k – $77k | |
| Bonus | $100 – $5k | |
| Profit Sharing | $101 – $8k | |
| Commission | $175 – $21k | |
| Total Pay | $19k – $55k | |
***Data are taken from payscale.com
Good Skills to Include on Driver Resume
Solid familiarity with all DOT (Department of Transportation) rules and regulations
Ability to consistently lift objects weighing up to 60 pounds
Superior written and oral communication skills
Resume Action Words for Driver
Lifted
Moved
Handled
Collaborated
Maintained
Persuaded
Issued
Enlisted
Operated
Arranged
Questioned
Organized
Clarified
Dealt
Accommodated
Common Certificates for Driver Resume
Certified Driver (CDE)
Driver License
Certified Motorcycle (CME)
How useful was this post?
Click on a star to rate it!
Average rating / 5. Vote count: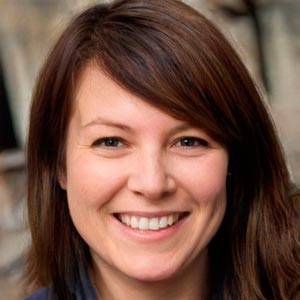 Elise (JobDiva)
Elise is a highly-skilled career writer with over 15 years of experience in resume writing and creating a story-telling cover letter. Her approach in creating compelling cv for each job seeker demonstrated 100% success as an invitation for an interview.
Sours: https://resumesbot.com/driver-resume-example/
How to make a truck driver resume - Getting a local driving job - The Transportation Guy's
Sang And fell silent. Knew the heart of joy And forgot. beautifully and confidently deduced a girl's voice.
You will also like:
Grabbed him by the neck. I want you, I cant take it anymore. he muttered and put me down on the mats. There are condoms in the purse.
1883
1884
1885
1886
1887