Hogwarts-inspired Knit Hat Pattern
This post may contain affiliate links.
Here, we are nothing if not proud representatives of our Hogwarts houses! I am a Ravenclaw, of course, while my husband is a Gryffindor. I have two boys, and I would like to think they follow in our footsteps, but they are a Slytherin and a Hufflepuff. It's just undeniable.
So, Ravenclaw or not, I really like the Gryffindor house colors, so that is the one I started with for this pattern. The maroon and gold look great together, and they are usually a pretty good indication of a Potterhead. I decided to work up the Hufflepuff next, because that used the same gold from the Gryffindor. So, those are the lovelies in the photos.
Of course, you can make any size in any color combo you'd like. The pattern is a classic beanie – not too fitted, not too slouchy, worked in stockinette stitch as an homage to the Prisoner of Azkaban-era house scarves from the films. (I am not in any way affiliated with the books or films. I am just a fan. So, these are not "official" in any capacity.) Officially awesome, though. Haha.
So, these are a fun, quick knit with a little striping. You can work them in the round (like I did) or flat and seam them. Just be aware that if you work flat, you'll need to knit the "right side" and purl the "wrong side," as is the case with stockinette stitch (which is knitting each round if in the round).
Also, because of the stripes, you'll want to make sure your seaming game is strong if you are working flat because you'll want the stripes to line up. Seaming isn't bad at all, though. I like this method: Mattress Stitch.
Pattern: Wizard School Spirit Beanie – 5 Sizes
Download a print-optimized PDF of the pattern HERE.
Pin this pattern for later HERE.
Add to your Ravelry queue right HERE.
Read on for the free pattern below.
Materials:
Worsted Weight Yarn (Medium 4 Weight) in two colors. I recommend these combinations of Vanna's Choice Yarn:
Gryffindor-inspired: Cranberry + Mustard
Hufflepuff-inspired: Mustard + Black
Slytherin-inspired: Kelly Green + Silver Grey
Ravenclaw-inspired: Navy + Taupe
Circular 16-inch (41cm) Size US 8 Knitting Needles. *If you are making the smallest size beanie, you may want to use a longer circular needle to work the magic loop or work it flat.
Yarn Needle
Pattern Sizes:
To fit sizes 0-6 Months (6-12 Months, Toddler, Child, Adult)
Gauge:
Approximately 15 stitches and 18 rows = 4″ in stockinette stitch
Abbreviations:
K – knit
P – purl
st – stitch
R – round
tog – together
M1 – make 1 by knitting into the front and back of the stitch
Stripe Pattern:
Begin stripe pattern 4 (4, 6, 8, 10) rounds after the increase row after completing the ribbing.
With Contrast Color: Work 2 rounds
With Main Color: Work 2 rounds
With Contrast Color: Work 2 rounds
With Main Color: Work 4 (4, 6, 8, 10) rounds
With Contrast Color: Work 2 rounds
With Main Color: Work 2 rounds
With Contrast Color: Work 2 rounds
Work the rest with the Main Color
Instructions:
Cast on 48 (52, 56, 60, 68) stitches. Join to work in the round.
Work (K2, P2) ribbing for 1.5 (2, 2, 2.5, 3 inches).
Increase round: Increase to 52 (56, 64, 68, 76) stitches by adding 4 (4, 8, 8, 8) stitches evenly on this round. Do this by completing a M1 every 12 (13, 7, 7-8, 8-9) stitches in the round. (It doesn't have to be perfectly evenly distributed, just try to space out the M1 stitches.)
Work the Stripe Pattern (given above) in stockinette stitch until the piece measures 5.75 (6, 6.5, 7, 9) inches.
Decrease to shape the crown:
Round 1: (K2, K2tog) around. 39 (42, 48, 51, 57) stitches.
Rounds 2-3: Knit.
Round 4: (K1, K2tog) around. 26 (28, 32, 34, 38) stitches.
Rounds 5-6: Knit.
Round 7: (K2tog) around. 13 (14, 16, 17, 19) stitches.
Finishing:
Cut the yarn, leaving a long tail. Draw the yarn through the remaining stitches using your yarn needle. Secure.
Weave in all loose ends.
That's it! Now make another one in a different house color or size!
If you'd like to make more fandom-inspired knitted or crocheted items, check out my pattern round-up: 15 Fantastic Fandom Patterns to Knit and Crochet.
Looking for more patterns?
Check out my other knitting patterns right here.
Let's Connect!
I hope you enjoy this pattern and have as much fun making these Wizard School Spirit Beanies as I did! If you want to stay up-to-date on all the latest patterns, knitting, crochet, and fandom goodness, please sign up to follow the blog. You can enter your email over on the sidebar. 🙂
I also have a Facebook page, which I'd love for your to follow, as well as a really fun group, which you can check out here.
On Instagram? Share any of your Fandom Knitting & Crochet makes with me: @fandom.knitting.crochet.
Related
Sours: https://fandomknittingandcrochet.com/wizard-school-spirit-beanie-free-knitting-pattern/
Blending my love for the Harry Potter series with my love for knitting, I've designed four knit hats representing each of the Hogwarts houses. These free Harry Potter knitting patterns are available for any crafter who'd love to rep Gryffindor, Ravenclaw, Hufflepuff or Slytherin in the real world.
Animals are my favorite fair isle hat designs, so naturally, I was inspired by the symbols of each House. If you'd like a brush up on the basics of fair isle knitting in the round before you get started with one of these patterns, check out my guide on the technique!
Check out the Harry Potter knitting patterns I've made below:
Hufflepuff Knit Hat Pattern
Full disclosure: Hufflepuff is my House. And I'm proud of it. But I wasn't sure about my ability to pull off a badger, which is a little harder to properly showcase in knit form. In the end, I'm really happy with the adorable badger face in my knit chart:
The Hufflepuff hat will require worsted weight yarn in black and yellow. While the added stars and symbols reduce the need to carry too much yarn, watch out for places to float your stitches when doing colorwork.
Download the pattern as a PDF:
Hufflepuff Knit Hat PatternDownload
The final result is a warm, soft hat that screams Hufflepuff House, yet is cute enough in its own right, too. Don't want to knit the hat yourself? Buy one from Holly G Hats!
Gryffindor Knit Hat Pattern
Gryffindors are bold and brave, so my knit hat pattern features three gold lions against a strong red background. If it looks familiar, you may notice that I've reused this chart from my Lannister hat in my Game of Thrones knitting series. It's all about resourcefulness.
To knit this Gryffindor hat pattern, you'll need worsted weight yarn in red and gold. Though I don't quite have the raw courage to be part of this house, I'll admit it's one of my favorite designs in my Harry Potter knitting patterns.
Download the pattern as a PDF:
Gryffindor Knit Hat PatternDownload
Don't want to knit the hat yourself? Buy one from Holly G Hats!
Ravenclaw Knit Hat Pattern
Wit beyond treasure is man's greatest treasure, but a warm, soft Ravenclaw hat can come pretty close. This blue and bronze hat is designed to show three ravens in flight against a bronze plaque. It's a royal look worthy of the cleverest House.
Knitting the Ravenclaw hat requires worsted weight yarn in deep blue and bronze. I had trouble finding yarn in just the right shade, so my picture shows a more golden color. If you find a great bronze-colored yarn, let me know in the comments!
Download the pattern as a PDF:
Ravenclaw Knit Hat PatternDownload
Warm up your big brain by creating a Ravenclaw hat of your very own. Don't want to knit the hat yourself? Buy one from Holly G Hats!
Slytherin Knit Hat Pattern
Fight against Slytherin's bad rap with a lovely, warm hat that showcases Slytherin snakes in a softer light. I adored making this design, charting three vertical snakes against an emerald green background.
You'll need emerald green and silver worsted weight yarn to pull off this pattern. I believe in Slytherin's redemption, so I hope I put enough clever design into this chart to do the House justice.
Download the pattern as a PDF:
Slytherin Knit Hat PatternDownload
Of course, when you have high ambitions, you might also have a busy schedule. Don't want to knit the hat yourself? Buy one from Holly G Hats!
Harry Potter Knitting Patterns for Each Hogwarts House
These free knitting patterns were a labor of love, which is why I decided to share them with the knitting world. While you should feel free to knit these for yourself and any fellow Hogwarts students, please refrain from selling these patterns or the hats you make from them online.
You can also feel free to share these on social media or your own website, as long as you source this post to give me creator credit!
Any questions? Comment below or send me a message through my contact form!
Holly
Holly is the founder of Holly G Hats and a knitting fiend.
Sours: https://hollyghats.com/harry-potter-knitting-patterns/
Patterns for Purchase

Hermione Doll
Doll with separate scarf and cape. Dress appears to be part of doll's body. Designed by Leanna's Designs. DK weight yarn.

Wizarding Transportation Scarf
This scarf features magical methods the Harry Potter wizarding world uses to travel including platform nine and three-quarters to catch the Hogwarts Express, broomsticks, and the Knight Bus. Stitched in the round so there is no visible wrong side. Designed by Tanis Gray. One of the patterns in Knitting Magic: The Official Harry Potter Knitting Pattern Book.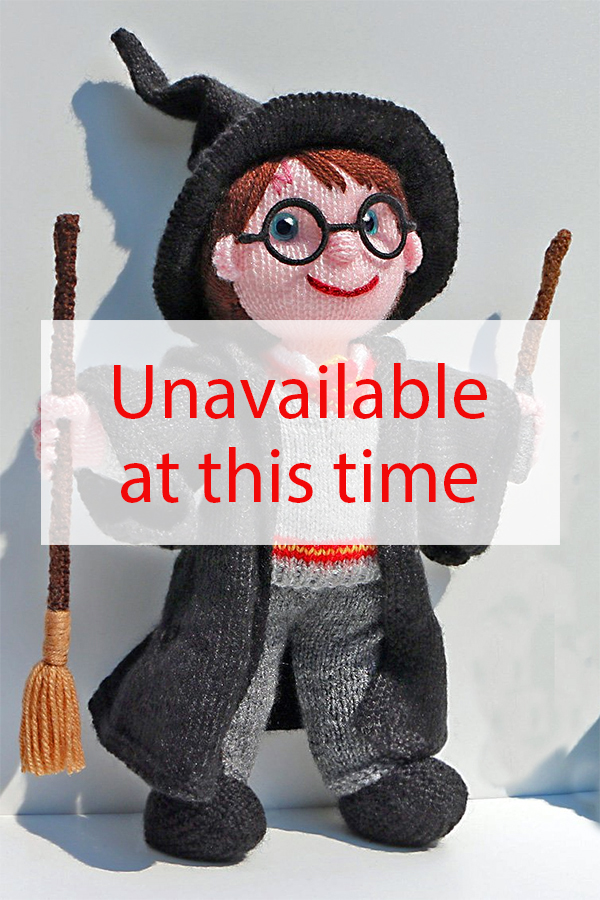 UNAVAILABLE - Boy Wizard Amigurimi Doll
READ THIS: The designer TutosDelphine is taking a break in their Etsy shop and discontinued the pattern on Ravelry. I do not know of any other source for the pattern so DO NOT contact me for the pattern. Like all the links on my site, I do not own or distribute the pattern. You can try contacting the designer at the links below or check with other knitters about the pattern. I have removed the pins from my Pinterest board but others may have pinned this pattern and I can't delete from other pinners boards. If it becomes available again, I will update this page.

Hermione's Time-Turner Sweater
This lovely pullover features a stranded yoke inspired by the Time-Turner artifact from Harry Potter and the Prisoner of Azkaban. Sizes XS (S, M, L, XL, 2XL, 3XL, 4XL, 5XL, 6XL) Designed by Miraphora Mina. Worked in the round from the top down. One of the patterns in Knitting Magic: The Official Harry Potter Knitting Pattern Book.

The Deathly Hallows Shawl
A repeating pattern of lace Deathly Hallows symbols forms the heart of this beautiful rectangular shawl inspired by Harry Potter books and movies. Designed by Susanna IC. One of the patterns in Knitting Magic: The Official Harry Potter Knitting Pattern Book.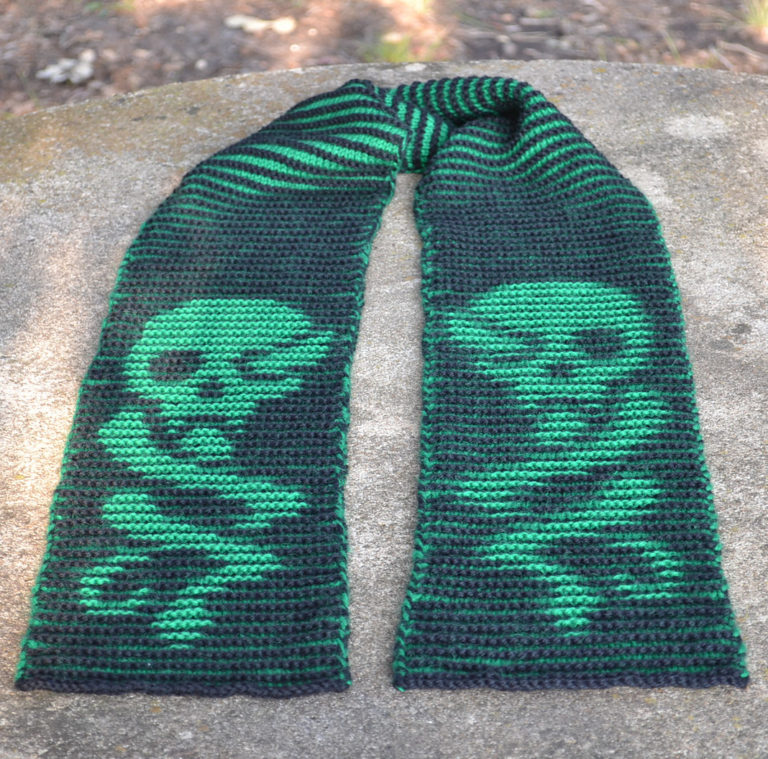 Harry Potter Dark Mark Illusion Scarf
No longer free. Skull motif inspired by Harry Potter series and designed by Lindsay Henricks is only visible from certain angles. Pictured project by Golubka One of the patterns in Knitting Magic: The Official Harry Potter Knitting Pattern Book.

Always Hat
This hat spells out one of the most beloved lines from the Harry Potter series along with the Deathly Hallows symbol that evokes the theme of the final book. "After all this time?" "Always," said Snape. The pattern also includes charts for the full alphabet in addition to the hat pattern and Always chart. Designed by Mary Annarella. Worsted weight yarn.

20 Harry Potter Inspired Afghan Squares
Individual knitting charts inspired by the Harry Potter series. Purchased individually. Designed by Walter Family Homestead in my hometown KCMO!

Hallows Pullover
Inspired by Ron Weasley's sweater in "Harry Potter and the Deathly Hallows, Part 1", this long sleeved pullover features cables and a henley style collar. Size: Finished chest sizes 38(42, 44, 50, 54) in/97(107,112,127,137) cm. Designed by Melissa Metzbower. Bulky weight yarn.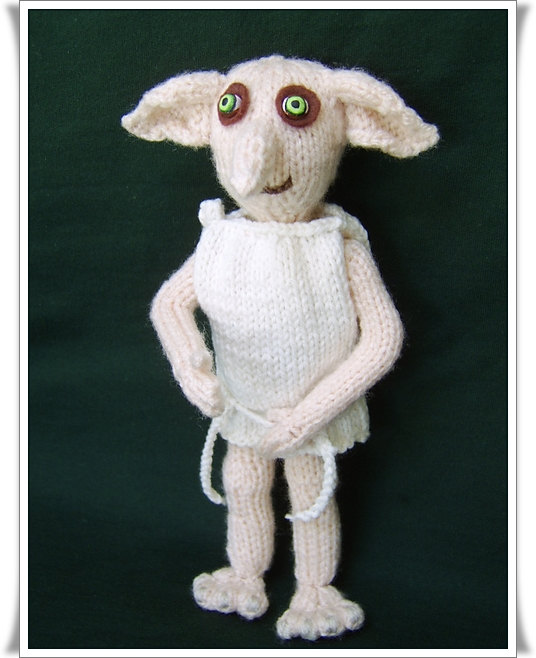 Dobby the House Elf
Get the pattern on Etsy

Fantastic Beasts and How to Knit Them Ebook
This ebook includes 8 knitting patterns inspired by the movie and book. Includes The Niffler, Pickett the Bowtruckle, Dougal the Demiguise, Knarl, Newt Scamander's Scarf, Porpentina's Cloche Hat, and Ilvermorny School of Witchcraft and Wizardry Bookmark scarf. Designed by The Knit Guru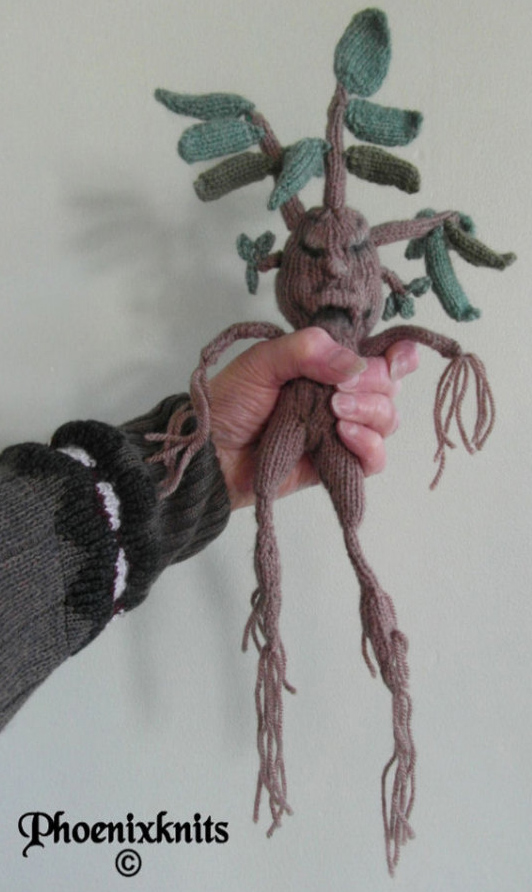 Mandrake Plant
This comical Mandrake plant, inspired by the Harry Potter films. is 14 inches high including roots.
Get the knitting pattern on Etsy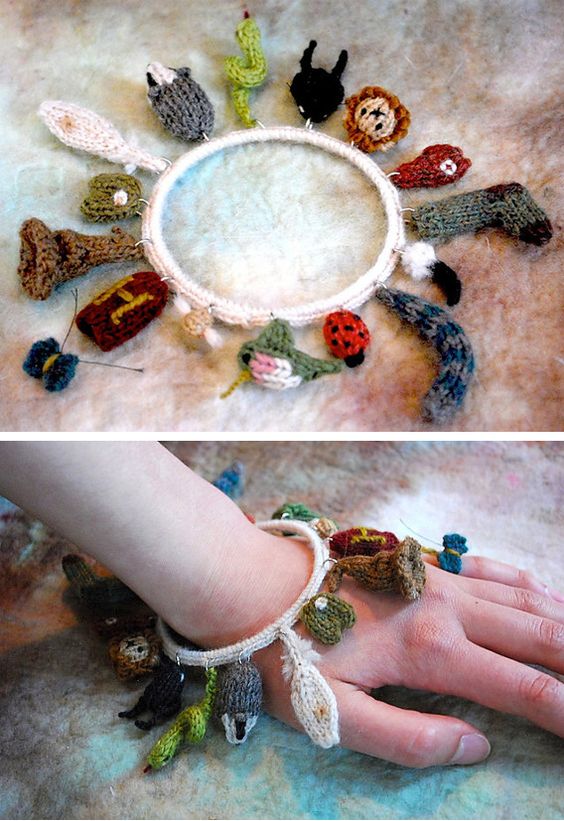 Care of Magical Creatures Charm Bracelet #3
Harry Potter inspired charm bracelet with charms that include Cheshire cat tail, HP sweater cocoon (with butterfly), cricket, gryffindor lion, house elf sock, hufflepuff badger, hummingbird, ladybug, lilypad, pegasus feather, ravenclaw eagle claw, slytherin snake, snitch, sorting hat, thestral treat (steak.).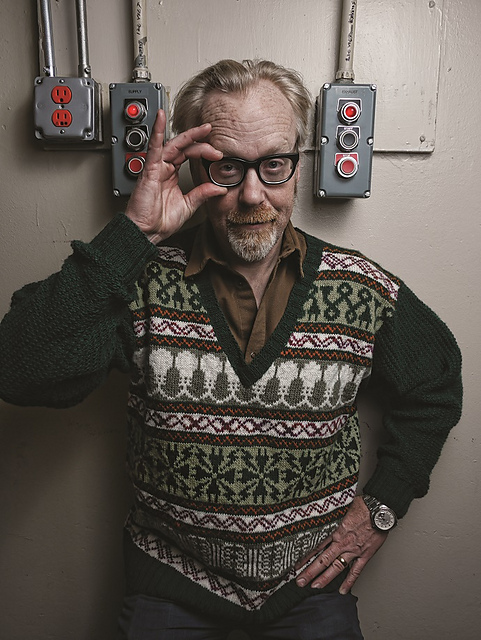 Muggle Artifact Sweater Vest
Claire Boissevain-Crooke was inspired by Harry Potter to create this sweater Mrs. Weasley might have knit for Arthur Weasley to show his love for Muggle artifacts like light bulbs, electrical cords, and more. It looks like a regular vest until you look closely. Sizes Small (Medium, Large) One of the patterns in her Geek Knits book.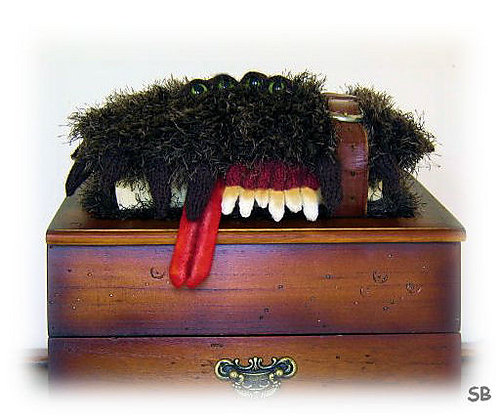 Monster Book of Monsters Book Cover
Designed for books 7 ¾ in high X 5 ½ in wide by 2 ¼ in deep. Tongue doubles as a book mark.
Get the pattern on Etsy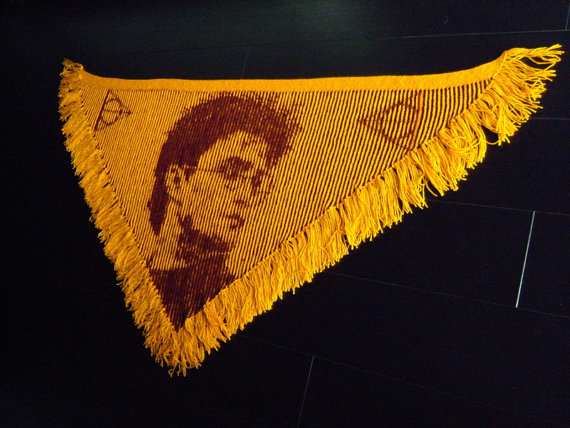 Harry Potter Illusion Knitting Scarf
Sours: https://intheloopknitting.com/harry-potter-knitting-patterns/
Crochet sorting hat tutorial inspired by Harry Potter
I started kissing and licking her, sucking on her lips. My tongue penetrated her cave and licked her clitoris. Feeling her excitement, I lightly touched the ring of her anus with my tongue, in response to which, I heard: - Yes. Let's go deeper.
Pattern harry potter knit hat
Hearing her voice without the usual severity, he immediately remembered her. They had a whirlwind romance 10 years ago, which almost ended with a registry office. Why almost. Dasha's friend flew in from Artyom and he had to marry her, not Dasha. Dasha almost immediately stopped communicating with both that friend and Artem.
George Crafts: Harry Potter knit your own hat, part three
I finished almost as quickly as the first time - probably because of overexcitement and fulfilled fantasies. Covering my wife with a blanket, we went Hey. I wanted to share what happened a few years ago when celebrating the New Year. My wife and I have a familiar married couple much younger than us. Once before the New Year, I suggested to my wife to invite them to.
Similar news:
Senka clung to the hole, looking at something inside. - Look, - he muffled, he chuckled aside. At first, in the twilight, I did not understand what he was laughing at, but, looking closely, I could not resist a wild laugh. Balaban, having tied his Dunka with his muzzle to the manger, stood near her tail with his pants down and joined the.
1886
1887
1888
1889
1890