8 Semi-Auto Deer Rifles Many Have Never Heard Of
While plenty of deer hunters head to the woods with milsurp semi-autos and ARs/AKs in intermediate calibers, there is a whole class of rifles meant just for the task. In fact, they have been around for over 100 years and are still chugging along.
Remington Model 8/81
This beautiful vintage Remington Model 81 Woodmaster dates from 1950. It is chambered in .35 Rem and looking for a forever home in the Guns.com Vault.
SEE REMINGTON 81s In Stock
Designed by John Browning and first introduced as the Remington Autoloading Rifle in 1905, this handy carbine was the first commercially successful semi-automatic centerfire rifle offered on the U.S. consumer market. Chambered in several fat period cartridges such as .25, .30, 32, and .35 Remington, the gun remained in production as the Remington Model 8 and 81 until 1950 while it was made by FN in Europe as the Model 1900. Today, they are solid collector's items but can still put food on the table if needed, providing ammo is available.
Remington 740/742
This Remington 742 Woodmaster, chambered in .30-06, includes a previously installed Redfield 3-9X40 tracker Scope and is looking for a new home.
SHOP REMINGTON 742
With the advent of more modern calibers such as .308 Win and .30-06, Remington moved to retire the turn-of-the-century Model 8/81 for a new kid on the block. That rifle, with styling based on the company's then-new Model 1100 semi-auto shotguns and a detachable 4-round magazine, was the Remington Model 740. First introduced in 1955, the 740 was soon replaced by the updated Model 742 Woodmaster which remained in production until 1980.
Ruger Model 44 Carbine
Ruger 10/22? Nope, this bad boy is chambered in .44 Magnum.
GRAB A RUGER 44
Just as the Remington 740 was based on that company's shotgun internal design, Bill Ruger took his company's 10/22 rimfire carbine and upscaled it to handle .44 Magnum via a 4-round tubular magazine. Introduced first in 1961 as the "Deerstalker," it was billed as a good close-range brush gun for medium-sized game such as whitetail. In production until 1985 as the Model 44, a second-generation version was briefly produced by Ruger from 2000 to 2006 as the Deerfield Carbine with a more 10/22-like rotary magazine.
Winchester Model 100
This .308 Win-chambered Model 100 in the Guns.com vault includes a 3-9x32mm scope and is woods-ready.
WINCHESTER MODEL 100 FOR SALE
First introduced in 1961, the Model 100 was Winchester's answer to Remington and Ruger's line of wood-stocked semi-auto deer guns. Chambered in .308, .243, or the harder to find .284 Winchester, the Model 100 was manufactured until 1973. We typically have several in stock.
Browning BAR
This immaculate Browning BAR Mark II Safari is chambered in .30-06 and includes a Bushnell optic. You just don't see engraved blued steel receiver and finely checkered walnut furniture anymore.
BROWNING BARS FOR SALE
Not to be confused with the U.S. military's M1918 series light machine gun, which was fielded from World War I to Vietnam, the Browning Automatic Rifle sporting version, or BAR, was an invention of FN engineer Marcel Olinger and John Browning's grandson, Bruce Warren Browning, hitting the market in 1968. Produced first in Belgium and later in Viana, Portugal, the commercial BAR has gone through three generations, with Mark Is ending production in 1976, Mark IIs being fielded since then, and the most current Mark III BARs introduced in 1993. Unlike most of the classic rifles on this list, the BAR is still in current production and can be purchased new in models such as the composite-stocked Stalker series.
Remington Model 7400
This Model 7400, chambered in .243 Win, includes a Tasco 3-9×32 scope and a really swag leather sling, for $450 smackers
SHOP THE REMINGTON 7400
Big Green updated its legacy Model 740 design beginning in 1981 with the Model Four (not "4") — with an enhanced walnut stock– and the more basic Model 7400. These rifles were made until 2006 and chambered in a variety of popular calibers such as .243, .270, .30-06, and .308. The gun was replaced by the Remington Model 750 Woodmaster carbine which was discontinued in 2015 as the company shifted attention to hunting ARs such as the R-25.
Ruger Mini-Thirty
This wood-stocked Ruger Mini-Thirty looking to come home from the Guns.com Vault includes a pair of 20-round mags and a Bushnell Trophy 1.75-4×32 scope.
RUGER MINI-30s FOR SALE
With the Soviet M43 series 7.62x39mm cartridge having similar ballistics as the common .30-30 Winchester, and boatloads of SKS rifles headed to U.S. shores in the 1980s, Ruger tweaked their already well-received .223-caliber Mini-14 to chamber the readily-available Russian round. Hitting their catalog in 1987, at a time when you could pick up a 1,300-round case of 7.62×39 for $99 (sniff), the Mini-30 soon proved itself against both feral hogs and whitetails, especially in the Southeast at ranges under 200 yards. It remains in favor, if sometimes forgotten, and like the Browning BAR is still in current production.
Valmet Hunter M88
Chambered in .308 Win and featuring an Eagle 3-12x40mm scope, this Finnish-made beauty is about as uncommon as it gets– and it is just one click away.
BE THE ONLY GUY AT THE HUNTING CLUB WITH A VALMET
Hailing from the forests of Finland, Valmet started making Kalashnikov-style rifles for that country's military in 1962. This evolved into a series of commercial Kalash intended for the consumer hunting and sporting market. Constructed in small numbers, the Valmet M88 Hunter was imported to the states by Stoeger until the early 1990s. Russian companies such as Izmash later tried to see if lightning could strike twice with their own sporting Kalash-style Saiga and VEPR rifles and it did, until sanctions hit.
If you thought some of these were interesting and are still hungry for more, be sure to check out our massive on-line semi-auto rifle catalog of both new and used guns. We are Guns.com after all.
Sours: https://www.guns.com/news/2019/10/02/8-semi-auto-deer-rifles-many-have-never-heard-of
While gun stores aren't bristling with .30-06 rifles of the semi-auto variety, they can be found and are spectacular.
What Are The Top Autoloading .30-06 Rifles:
Walk into a gun store, you can't help but trip over a .30-06 Springfield rifle. More than a century old, the .30-caliber remains one of the most prolific chamberings with nearly every rifle maker having at least one option in the old warhorse. And that option, by and large, is a bolt-action.
Nothing wrong with that. Turn-bolts remain among the most trusted rifles available—the perfect blend of hair-splitting accuracy and speed. Well … enough speed for a follow-up shot on a deer or elk. But if you want to pick up the pace, you're plum out of luck with .30-06 rifles. Or are you?
Yes, Virginia, there are .30-06 semi-automatic rifles. Not many, mind you, but they exist and in most forms are pretty dang spectacular. So from old military surplus to new high-tech hunters, we've gathered up six .30-06 rifles that scratch your semi-automatic itch.
M1 Garand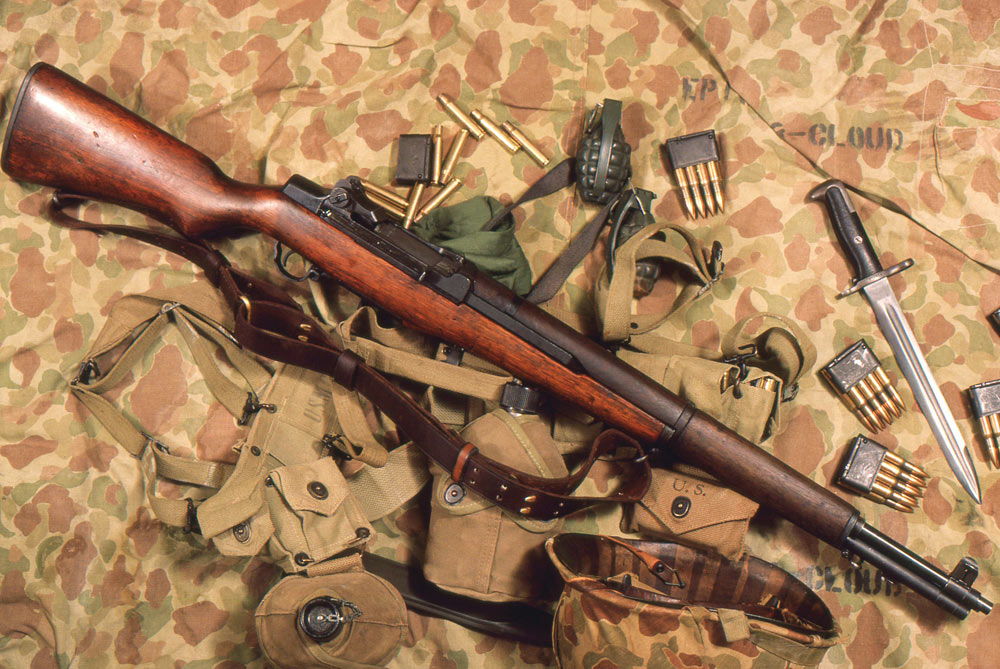 You knew this glorious example of gun genius would top the list. How couldn't it? From the black sands of Iwo Jima to the snow addled forests of Bastogne, the Garand more than earned its reputation as the "Greatest battle implement ever devised."
Next to being among the most historic .30-06 rifles, the semi-auto's greatest draw is its dependability. Battle-tested, the rotating bolt, long-stroke piston design has built a reputation for reliability in nearly any conditions. Additionally, the Garand is pretty dang accurate to boot. Some of this is thanks to the 24-inch barreled service rifle's heft, a whopping 9.5 to 11.6 pounds. Loaded via 8-round en block clips (watch out for the M1 thumb) there's a tantalizing throwback quality to operating the Garand, even if it's a bit archaic in today's detachable-box-magazine world. A side note, get one in your possession make sure you choose your ammo carefully—the M1 isn't made for today's hot-rod .30-06 loads.
Still plentiful, the M1 is easily had despite the last official Garand rolling off the assembly line in 1957. Most on the market don't have any war patina to them. Instead, they are surplus rifles re-imported from Cold War allies, some (fewer now) un-shot. The Civilian Marksmanship Program is still a steady source as are numerous gun auction sites. Unfortunately, there's a lot of "Why didn't I buy one 25-years ago…" in the guns, as their prices have substantially increased over the years.
MSRP: Count yourself lucky if you find an operational one in fair condition at $650
Remington Model 742 Woodsmaster
Another out-of-production gem is up next in our stroll through .30-06 rifles of the semi-auto variety. Wait! The Woodsmaster a gem? Why yes, if you use it for its designed purpose—hunting. Plenty accurate and quick shot to shot, the 742 is an excellent option for nearly all of North America's large game. Used that way, the gas-operated semi-auto tends to run like a top.
Where shooters seem to run into issues is pushing the .30-06 rifle (it comes in other popular hunting calibers) past its limits. A range toy it is not. Run more than a couple of boxes of ammo through the gun playing around and likely you'll run into the main complaint about the 742—jams. A very good cleaning usually rectifies the issue.
Oddly, the rifle is a derivative of perhaps Remington's most famous semi-auto shotgun—the 1100. In fact, it uses the same action. Overall, the gun is fairly short—nearly carbine length—making it an ideal option in brush and as hog medicine. Furthermore, the 742 feeds off a detachable box magazine, making reloads quick. The rifle came with a stock 4-round, flush-fit mag, but 10- and 20-round options were available—the latter a bit rarer.
Do some hunting, it's possible to nail a Woodsmaster down for a good price. But doublecheck the receiver rails—where the bolt travels. Integral with the receiver, once these wear out the gun is pretty much done.
MSRP: $400 and up in good and very good condition.
---
Learn More About The .30-Caliber:
---
Browning BAR MARK III
Sorry, we're not talking about the M1918 type of Browning Automatic Rifle (BAR). Though, the hunting-focused variety is no less storied in its own realm. Arguably, it's the rifle that all other semi-automatic hunters are measured.
As far as commercially available autoloading .30-06 rifles go, the BAR has been one of the longest-running coming on to the market in 1966. And the design is genuinely Browning. Sorry again, we're not talking John M. Browning, but his talented grandson Bruce Browning. The younger Browning and Maurice Olinger set out to advance the M1918 design and commercialize the select-fire weapon, ending up with a unique design that's weathered the test of time. Now in its third generation, the Mark III, the BAR has more than proven its staying power.
Gas-operated, via a long-stroke piston, the rifle is surprisingly mild shooting for what can prove a stout cartridge. This makes the gun very fast and accurate on follow-up shots, a quality that has endeared it to more than one hunter. Additionally, the Mark III's seven-lug rotating bolt head makes for an extremely strong lock-up, so strong the rifle was among the first semi-autos capable of handling magnum cartridges. Despite Browning introducing a detachable box magazine model in the latest generation, the .30-06 variations still all feed off a hinged floor-plate box magazine.
Perhaps the BAR's biggest draw, aside from solid performance, is its looks. Long on walnut and blued steel, the rifle looks and feels like a traditional hunter.
MSRP: Starting at $1,300
Noreen BN36X3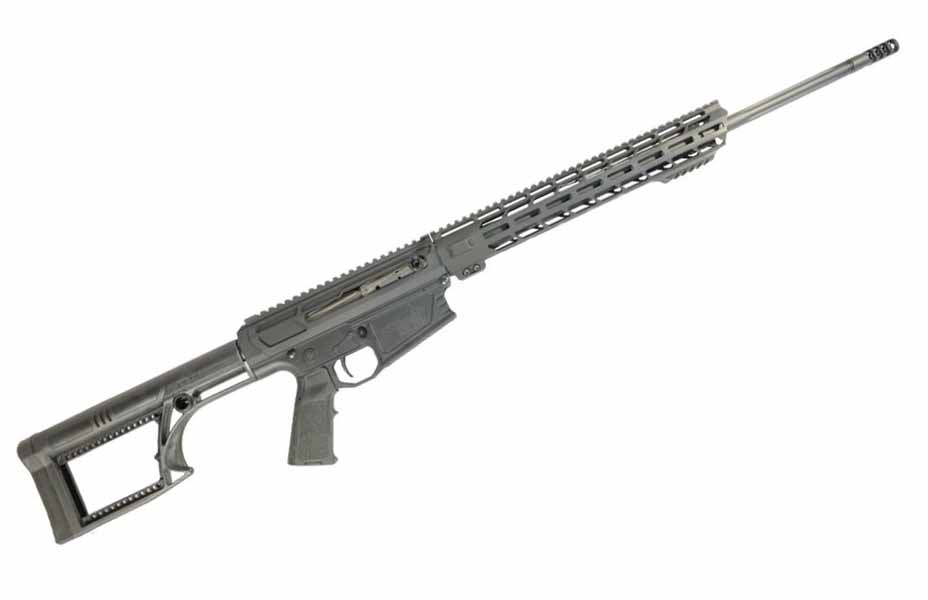 Generally speaking, if you're looking to go .30-caliber in an AR-10, you're hemmed in with the .308 Winchester. Almost. A marked break from the pack is Noreen's AR-style .30-06 rifle—the BN36X3.
Despite running a longer cartridge, thus boasting a slightly larger receiver, the rifle is as familiar as any other derivative of Eugene Stoner's original. Especially nice, the controls—mag release, safety, bolt catch—are all where you expect them, thus intuitive to operate. The one difference is the side charging handle. While a beat off normal, it isn't anything that glues up the works. Best of all, the BN36X3 boasts AR-level magazine capacity. Though, the 20-round mag is proprietary—nothing too unusual in the world of AR-10s—so ends up running a pretty penny.
The Noreens—father-son team Peter and Paul—built their reputation in custom-made, precision rifles and bring plenty of that knowhow to the BN36X3. In addition to top-quality parts, it's also reflected in the accuracy of the rifle—fully capable of 1 MOA precision on the regular. Aiding in some of this, and making the rifle's recoil more manageable, is its heft—a full 9 pounds. However, this tends to make it a bit cumbersome on long treks into the backcountry, if you've happened to pick one up for hunting.
In .30-06, the BN36X3 is also available in two 16-inch barreled carbine configurations, if you're in the market for a slightly more wieldy option. In any case, given the guns are made to order, expect to open up your pocketbook.
MSRP: $2,254 Standard Model
Benelli R1
Generally, Benelli conjures up daydreams of downing ducks on the wing or smashing clays as quickly as they're thrown. That is, the Italian company is known for their shotguns—particularly the inertia-driven variety. But the top-notch gunmaker also turns out a class rifle and has for some time. In the case of autoloading .30-06 rifles, it's a tradition that has been going on for nearly 30 years.
While it doesn't quite garner the attention of the Browning BAR, the R1 is an excellent and well-made semi-automatic hunting option. With the classy lines of a standard field rifle, the gas-operated gem appeals to those who look for a traditional take on their hunting iron. But the gun has a tactical heart. In particular, it boasts Benelli's Auto-Regulating Gas Operated (ARGO) system found in the popular M4 tactical shotgun—adopted by U.S. Joint Services. Reliable as the day is long and capable of cycling no matter the ammo, the system gives the rifle a level of dependability arguably heads and shoulders above the rest.
Being gas operated, the R1 is also a kitten in .30-06, considerably knocking down the cartridge's stiff recoil. This adds up to a much more pleasant and shootable rifle that realistically can place accurate follow-up shots quickly. Why else have a semi-auto hunter? Another nice touch, Benelli opted for a detachable box magazine on the R1. But don't expect extended capacity options—4-round is pretty much the limit.
MSRP: Starting at $1,149
Ohio Ordnance Works 1918A3-SLR
Perhaps not as storied as the M1 Garand, the John M. Browning M1918—or Browning Automatic Rifle (BAR)—stirs the imagination. Unparalleled service, particularly in World War II, the rifle is the stuff of legends. While you don't get select-fire in Ohio Ordnance Works' (OOW) rendition of the classic warhorse, it's far from a deal-breaker for those with a yen for classic military arms.
Truly, the 1918A3-SLR is a beauty, though it's not a spitting image of the original. Dissuading those who might attempt to put original BAR parts into the new rifle—thus achieve a fully-automatic firearm—OOW slimed down the receiver. This and two takedown pins, instead of one, are about the only ways the gun veers from the original design. There's a good reason for this—many of the gun's main parts are from original World War I guns. That and Swedish surplus. This includes original barrels in many cases and 20-round magazines, which are stout as oaks.
Now, if you're up on your war movies, you'll understand you aren't signing up for a lightweight in the BAR. Everything about the rifle is super-sized from barely grippable grip to 20-pound heft. That said, it proves a very shootable rifle, easily kept in the MOA neighborhood at 100 yards with iron sights. The other issue, the 1918A3-SLR is the most expensive .30-06 rifle on this list and perhaps anywhere in the market. Given the alternative—an actual BAR—runs the same as a new half-ton pick-up truck, the rifle is still no bad old deal.
MSRP: Starting at $4,200
---
NEXT STEP: Download Your Free Storm Tactical Printable Target Pack
62 Printable MOA Targets with DOT Drills - Rifle Range in YARDS
This impressive target pack from our friends at Storm Tactical contains
62 printable targets
for rifle and handgun range use. Target grids and bullseye sizes are in MOA. Ideal for long-range shooting!
Get Free Targets
---
Elwood Shelton
Elwood Shelton is an online content developer for Gun Digest. He is a gun owner and avid reloader from Colorado. When not at his press or the range he can be found chasing mule deer around the Rocky Mountains.
Sours: https://gundigest.com/rifles/30-06-rifle-going-long-in-30-caliber-semi-autos
Senior Member
Join Date: February 28, 2005
Location: Aridzona
Posts: 2,767
I've made the same point in reply to 223, M1 Garand and optimal assault rifle round posts, arguing for a 30-30 with redesigned rim (rimless) and spitzer point... I forgot about the .30 Rem...I also suggested the 7-30 Waters (30-30 with 7mm bullet) with spitzer and redesigned rim...and sounds like the current 6.8 NATO discussion would yield a similar result. Yes, the whole idea of a "30-30" or 7-30 Waters designed for auto load operation sounds like a stellar idea, and have always felt the 30-30 superior to the 7.62x39 (and is slightly larger anyway). A lot of WWII, Korean (and even early Nam/M14) GI's wished the US Gov't would have given a lot more thought to this kind of thinking in the development of what became the (cursed) overly large, heavy and limited firepower'd M1 Garand (albeit powerful and accurate--but aspects often not needed in the amount delivered by the Garand, at least by many troops in many, many combat circumstances vs often more desired characteristics of firepower, medium and close range utiity and wieldability/portability, i.e., something between the Garand and the M1 Carbine).
Sours: https://thefiringline.com/forums/showthread.php?t=159291
Marlin 336W 30- 30 Lever Action Rifle Review
The Most Versatile Semi-Automatic Rifles
The debate is moot. Regardless of what you think or how you feel about using semi-automatic guns for hunting, autoloaders and AR-style rifles are becoming more common in camps and virtually every major manufacturer is producing these guns in calibers heavy enough to drop deer, hogs and bears. Not to mention the fact that they're a blast on the range.
But what's the real difference between an AR and a semi-automatic rifle? It's seminal, and aesthetic. ARs were initially designed by ArmaLite Inc.—hence the AR designation—as civilian versions of military rifles, while the other semi-autos in this review were developed first and foremost as hunting or competitive shooting firearms. However, as ARs continue to grow in popularity as hunting rifles and semi-auto hunting rifle makers continue to borrow features from the AR world (synthetic stocks, detachable magazines) trying to separate the types of guns on a philosophical level is an exercise in futility. Both rifles fire a single bullet each time the trigger is pulled and they both automatically eject the spent cartridge and chamber in a new one. But from a technical standpoint, the two types of guns work off of a different platform and generally look different.
With that in mind, we round up 20 great semi-automatic rifles chambered in .30 RAR/6.8 SPC Spec II caliber cartridges and heavier. We cover ARs in slides 2-16 and autoloaders in slides 17-20. This is by no means a complete list. If we left your favorite gun out, make sure to add it in the comments section! —John Haughey
BEST ARs
A compact version of its Long Range .308 rifle, Panther Arms introduced the AP4 LR-308 in 2005 as a response to calls for a smaller, faster and lighter AR-10-style carbine with more punch and heft than the M4 carbine. Standard features include an A3 height receiver rail, A2 front fixed sight, and a collapsible stock. A favorite of competitive shooters, it is gaining popularity with big game hunters because of its accuracy and flexibility.
Advantages:
The AP4 LR-308 is better-suited for still/stand-hunting, but at 10-11 pounds (accessorized and loaded) and 38 inches long, it's not too heavy or too lengthy to stalk in timber. Its Picatinny rail upper receiver with removable carry handle provides the capacity to accept a wide range of optics. —J.H.
Since its resurrection in 1996, ArmaLite, Inc., has resumed producing the venerable AR-10 and AR-15 that Eugene Stoner developed in the late 1950s as proposed replacements for the M1 Garand. The new A2 version has a 20-inch heavy barrel, non-removable carry handle, adjustable sights, weighs 9.13 pounds with an overall length of 44 inches, and comes with a lifetime warranty.
Advantages:
Unlike many predecessor AR-prototype rifles, the original ArmaLite AR-10 was chambered in .308 Win., which remains the standard with the new AE-10 A2 and an excellent choice for deer or most big-game. Accurate, fast, well-balanced, and easy to carry, it features Realtree 'Advantage' and 'Hardwoods' camouflage patterns. —J.H.
To meet the growing demand for a big-game AR-pattern rifle, Remington developed its R-25 to be chambered in .308 Win., 7 mm-08, and .243 Win. It then augmented that key variation with a host of design features, including a flat-top upper receiver and matching gas block that makes it easily adaptable to mounting optics, and six longitudinal flutes forward of the gas block that increase rigidity, reduce weight and enhance barrel cooling.
Advantages:
Among the best blends of accuracy, fast follow-up and light recoil in an AR that is chambered for three widely available short-action hunting cartridges suitable for deer and big game. The R-25's 20-inch ChroMoly barrel within its 39 1/4-inch overall length and 8 3/4-pound weight makes it light enough to tote and durable enough to take a pounding. —J.H.
4. POF-USA P-415 in 6.8 SPC Spec II
Patriot Ordnance Factory Inc.'s P-415 Gas Piston Rifle features a gas-trap piston operating system that adds a gas plug, a gas piston, and a push rod while removing the gas-rings, gas tube, and gas key to the standard AR platform. The result is an AR that runs cooler, cleaner and more reliably.
Advantages:
With a 9 1/4-inch barrel and an overall length under 30 inches (less than 26 inches with retracted stock), this P-415 model weighs a nimble 6.5 pounds (without magazine, accessories). The version chambered for the relatively new 6.8 SPC is suitable for deer, making this AR a good bet for stalking in timber. —J.H.
Designed in 2007, the Barrett M4-Carbine-patterned REC7 — the REC designation means "reliability-enhanced carbine" — chambers a larger cartridge than the M4 (6.8 mm) and features a short-stroke gas piston system that runs cooler and cleaner than the standard direct gas impingement system. Other innovations include a 6-position adjustable stock and widened trigger guard that makes for easier shooting with a glove.
Advantages:
At less than 8 pounds (without magazine, accessories) and about 33 1/3-inches long, the Barrett REC7 is among the most powerful and lightweight ARs available. According to Barrett, the new 6.8 mm round boasts 44 percent more stopping power and a longer effective range than the 5.56 mm round (.223) most ARs are chambered for. Solid bet for deer and hogs, as well as for varmints and plinking. —J.H.
Designed by Eugene Stoner, the Stoner Rifle-25 is loosely based on his AR-10 prototype in its original 7.62×51mm NATO caliber, or its civilian commercial counterpart, the .308 Winchester cartridges. Tuned for precision as a "multi-target" sniper rifle, the SR-25's barrels are housed within free-floated handguards. At 10.4 pounds (without magazine) and 39.5 inches long, the SR-25 is designed for hunting from a stand.
Advantages:
Lethal merger of accuracy — capable of shooting less than 1-inch groups at 100 yards — and the power of the .308 caliber, the SR-25 is one of the best big-game AR variants available. Of course, it's also one of the most expensive. —J.H.
Stag Arms assembled its Model 7 Hunter in 2008 around the 6.8 Rem. SPC cartridge which, unlike the .30 Rem. AR (designed for big-game hunting), was initially developed for military use. Nevertheless, the 6.8 Rem. SPC continues to gain favor among hunters who want a semi-auto caliber capable of taking deer and most big game, but with a mild recoil and smooth accuracy of a smaller caliber AR. Features include a Hogue pistol grip, free-float handguard with over-molded rubber, two-stage match trigger, and a custom non-reflective S7 finish that also seals and prevents corrosion.
Advantages:
Among the most popular 6.8 mm ARs, the M7 Hunter weighs in at just under 7 pounds and is 39-inches long with a 20.77-inch stainless steel barrel. Chambered in the bigger caliber, it truly does offer increased stopping power without added weight. It's acceptably accurate up to 250 yards. —J.H.
8. DPMS .308 Mark 12
Inspired by the Mk 12 SPR, which was developed for American special forces to fill the gap between the 14 1/2-inch barreled M4 Carbine and the 20-inch barreled M16 series, the DPMS Mark 12 series was initially chambered in 5.56×45 mm/.223 Rem. Since its debut, hunters have requested a model chambered for a large caliber version and DPMS responded with the Panther 308 MK 12 rifle chambered in 7.62 NATO/.308. Includes a black Teflon®-coated, 18-inch stainless steel, heavy contour barrel with an A3-style lightweight flattop upper receiver extruded from 7129-T6 aluminum with a vented 4-rail free float tube and Midwest Industries Flip-up Front Sight.
Advantages:
The .308 Mark 12's innovations make it both a long-range rifle and a handy carbine that is extremely accurate in its capability to shoot sub-MOA groups. To make it more compact, it is fitted with a collapsible buttstock with five length adjustment settings. At 9.6 pounds and 40 1/4-inches long, it is a good bet for hunting big game from a stand or blind. —J.H.
Subscribe Now and Save 77%
Limited time offer. Outdoor Life for iPad included. Gift subscriptions available.
9. Alexander Arms 50 Beowulf Entry
Alexander Arms was founded in 2001 and is most known for the .50 Beowulf cartridge designed by its founder, Bill Alexander. The Alexander Arms 50 Beowulf Entry is, essentially, an AR-15 adapted to fire that .50 caliber cartridge. This hard-hitting power dramatically alters this rifle from other AR-15 type firearms, while retaining the easy handling and rapid-fire accuracy of the platform. One reviewer described it as, "A lightweight, handy, semi-auto .45/70 but with a larger diameter bullet and greater velocity."
Advantages:
Provides heavy-hitting power at short to medium ranges in a handy carbine-sized package -- 7 pounds (without magazine, accessories), 31 inches overall length with collapsible stock -- that is ideal for tracking big game in dense woods and heavy brush. It operates at a relatively low pressure compared to standard ARs, so it is reliable, and it features a flat-topped upper receiver ready for a wide range of optics. —J.H.
10. Fulton Armory FAR-308 Phantom
A small Maryland manufacturer, Fulton Armory is known in the competitive shooting market for its reproductions of the M1 Garand, M1 Carbine, and M-14 models. Its FAR-308 captures that emphasis on precision while providing some punch and a great deal of flexibility -- its "no-snag" Slick-Slide upper receiver, made in Teflon-coated aluminum with an eight-way handguard float tube system, allows the owner to customized with nearly 1,300 rail combinations.
Advantages:
At 9.65 pounds with a 20-inch barrel, the FAR-308 Phantom is well-suited for still or stand shooting for deer and most big game. As with all its products, Fulton Armory offers a precision guarantee: 1.25 MOA Or Better (with Hornady® Match™/TAP™ ammunition) —J.H.
A direct descendant of the Browning Automatic Rifle (BAR), the FNAR blends auto-loading speed and bolt-action accuracy into one AR. The 16-inch cold hammer-forged MIL-SPEC fluted barrel has a hard-chromed bore and target crown. Other features include a one-piece, receiver-mounted MIL-STD 1913 optical rail, along with three rails attached to the stock's fore-end for mounting tactical lights and lasers. The matte black synthetic pistol grip stock is adjustable for comb height and length of pull through interchangeable inserts.
Advantages:
The FNH FNAR .308 comes with an ambidextrous magazine release button that drops the detachable steel box magazine quickly and easily, something users have praised. It is endurance tested to 10,000 rounds for reliability and durability, which means it should last a while. It weighs 8 1/8-pounds (unloaded, without accessories), and is 37 1/2-inches long, making it a viable big game weapon while stalking in timber, or stand/hunting. —J.H.
An Arizona-based custom manufacturer, McMillan is primarily known for its distinctive fiberglass stocks and for its Phoenix training center where law enforcement and military officers learn about precision rifle operations. But the company is also known for its M1A, a .308-chambered AR that is among the most accurate at close and medium distances in its caliber category. Among its other features is a pistol grip with finger groove and a Weaver-style rail.
Advantages:
Accurate, ultra-reliable AR compact enough to wield in quick-shooting, mobile environments, but powerful enough to drop deer and other big game. At 11 pounds and 31 1/2-inches long (when adjustable buttstock is folded), the McMillan M1A is idea for use in a stand or while still-hunting. —J.H.
A U.S. Special Operations Command's service rifle introduced in 2009, the third-generation FN SCAR 17S features a free-floating, cold hammer-forged MIL-SPEC barrel with a hardchromed bore. Flexible features include a receiver-integrated MIL-STD 1913 optical rail, plus three accessory rails that enable mounting of a wide variety of scopes, electronic sights, tactical lights and lasers. Its gas-operated, short-stroke piston design enhances reliability.
Advantages:
Fully-ambidextrous, the FN SCAR 17S can adapt to any user in any shooting position. Chambered in 7.62x51mm NATO (308 Win.), its long-range accuracy and downrange power makes it a solid deer and big game weapon. At 8 pounds (without magazine, accessories) it is light enough for tracking game and still shooting, while its moderate length, up to 38 1/2-inches (including its 16 1/4-inch barrel), gives it the compact size to operate in the close quarters of a stand. —J.H.
14. LaRue Tactical PredatAR 7.62
The PredatAR takes LaRue's OBR 7.62 "Heavy Barrel" design and lightens it by 2 pounds without degrading its accuracy by contouring the barrel, "skeletonizing" the handguard, lowering and simplifying the upper rail, and using a low-profile gas block. Among its features: Two-stage Geissele trigger; direct impingement gas system; LW50 stainless steel, blackened barrel; zero-MOA upper rail with ample space for a wide range of optics.
Advantages:
The PredatAR 7.62 comes with XTRAXN, LaRue's proprietary chamber feature that reduces frictional forces caused by pressure-expanded cartridge cases bearing against chamber walls. This not only enhances reliability, but extends the ARs life without affecting accuracy. At 7 3/4-pounds (unloaded, without accessories) and less than 38 inches long, the PredatAR is effective for big game in stands as well as stalking the timber. —J.H.
15. FN/FAL Imbel .308 Battle Rifle
Factory built with imported Imbel parts on a Metric Entreprise Arms type 3 receiver made of 4140 steel by Entreprise Arms, the FN/FAL Imbel .308 Battle Rifle is refinished n Mil Spec zinc phosphate. Other features include: Zero Climb muzzle brake, legal configured pistol grip, bolt hold open on last shot, adjustable gas system and carry handle.
Advantages:
This is a reasonably priced factory built rifle, not a used parts or kit assembly, as some may believe. It weighs 9.5 pounds (unloaded, without accessories) and is 43-inches long (including a 21-inch barrel) and, therefore, is suitable for stand or still-hunting for deer and most other big game. —J.H.
16. Remington R-15 VTR Predator Carbine CS
Remington's first move into the AR market, the R-15 VTR Predator features an ergonomic pistol grip; an 18-inch OD barrel precision-crafted from ChroMoly steel; a collapsible stock; uppers/lowers machined from aluminum forgings for featherweight durability; fore-end tube drilled and tapped for accessory rails.
Advantages:
The R-15 Predator was built with the varmint hunter in mind. At 6 3/4-pounds with a camouflaged, collapsible stock, it was designed for fast, long-range shooting. As is typical for Remington, the action is soft and smooth -- characteristics that also help define the R-15 when chambered in the new .30 RAR caliber, which elevates a lightweight, portable predator weapon into a legitimate deer hunting rifle. —J.H.
Many companies have thrown their weight into the AR game in recent years, and that has resulted in innovation and affordability. Alternative calibers have also found their niche, and this model from Ruger in .450 Bushmaster is a great example. The hard-hitting cartridge won't win any long-distance matches, but it's popular in states with a straight-walled cartridge restriction for deer hunting. It's one of few good options for folks who want a semi-auto option with some punch. $1099 —Tyler Freel
18. Lone Star Armory Multi-Purpose Carbine-Standard
It takes a lot of quality and innovation to stand out in the sea of AR's these days, especially for a smaller company. That's exactly what Lone Star Armory brings to the table. The quality of every component that goes into their rifles is second to none, and they pride themselves on not letting anything out the door they wouldn't use themselves. The MPC Standard is their option for the guy who wants top quality without paying for extra frills. The gun is guaranteed sub-MOA with match ammunition, features in-house machined and matched upper and lower receivers. It's an ultra-reliable system and carries LSA's forever warranty. Upgrades are always an option, but the standard model starts at $1,527. —T.F.
19. CMMG Resolute 100 MK4 .350 Legend
With its introduction this year, this is officially the first semi-automatic rifle offered in the new .350 Legend cartridge. The purpose of this cartridge is to give deer hunters who live in "straight-wall cartridge country" another option. With ballistics much more like a .30-30 than many of the slower cartridges, the .350 Legend should be very popular. And if you want it in an AR, this is your first option. $1,050 —T.F.
The MSR-10 Precision is designed as a competition-ready out-of-the-box PRS gas rifle. It features a heavy stainless barrel, 18″ Arca Handguard, Flip Grip, adjustable gas block. If you closer, you'll see that the receiver has the same overall length as an AR-15, short-cartridge rifle, yet it takes AR-10 sized cartridges and mags. The rifle is available in .308, 6.5 Creedmoor, and 6mm Creedmoor, which are all fantastic, accurate options. For $2,500, you're getting your money's worth. —T.F.
21. LMT Valkyrie
With this rifle, LMT puts their reputation for quality into a platform for the new .224 Valkyrie. The Valkyrie is a .22 caliber AR cartridge pushing .22-250 velocities, that's made for heavier, wind-bucking bullets. This rifle is designed to be a shooter: 20″ 1:7″ barrel, LMT's monolithic rail platform, two-stage trigger, and SOPMOD stock. There are not many frills on this rifle, just a rock-solid platform for the cartridge. $2,299 —T.F.
BEST AUTOLOADERS
22. Browning BAR ShortTrac in .308
Since its introduction in 1967, the Browning Automatic Rifle (BAR) has set the standard for autoloading centerfire hunting rifles. In fact, for decades, it was the only commercial auto chambered for magnum cartridges. Browning's BAR Mark II remains the most popular of all semi-automatic hunting rifles. It comes in three basic models: Safari, ShortTrac/LongTrac, and Lightweight Stalker. The ShortTrac model features an aircraft grade aluminum alloy receiver without engraving and a 22-inch barrel for .308 caliber with open sights, a low glare black matte finish, and a weather-resistant black synthetic stock.
Advantages:
As with Browning's bolt-action rifles, the ShortTrac features excellent accuracy and dependability. At 6.10 pounds and 41 1/2-inches long, it is a stylish and lightweight addition to Browning's BAR line and a solid performer either in the stand or on the move in timber when hunting deer and most other big game. —J.H.
23. Remington .750 Woodsmaster
Introduced in 2009, the newest version of the .750 Woodmaster was the first substantial change in Remington's basic semi-auto design since its predecessor, the Model 7400, debuted in 1981. Early Woodsmaster models were sometimes called "jam-o-matics," but those issues are addressed in an improved system that moves the gas vent closer to the chamber, reducing carbon deposits on the piston assembly. Other changes include a low-profile receiver, a restyled stock, and a widened fore-end that sits nicely in the hand.
Advantages:
Since calibers include .243 Win., .270 Win., 308 Win., .30-06 Springfield, and .35 Whelen, the Woodmaster is chambered in a wide range of heavy-hitting calibers and, therefore, is well-suited for deer and other big game. Despite this, its R3 recoil pad helps make it a soft-kicking AR. Its look and feel -- not to mention its affordability -- makes it a favorite of those who previously swore that they'd never hunt with anything other than a traditional bolt-action weapon. —J.H.
24. Browning BAR Safari in .338 Win. (BOSS)
Chambered for some heavy-hitting, long-range calibers, including the .270 WSM, 7mm Rem. 7mm WSM, .300 Win. Mag,. .338 Win. Mag., Browning's BAR Safari models are a long-standing favorite of big-game AR hunters. The Safari, some would say, is not only Browning's best BAR, but among the world's premier gas-operated autoloaders. The Safari features an engraved, forged steel receiver and a genuine walnut stock and forearm with a diamond pattern cut checkering. All metal is highly polished and deep luster blued, and the wood has a beautiful high gloss finish.
Advantages:
Many say the Safari shoots as accurately as Browning's ultra-accurate A Bolt and X Bolt rifles. The Safari's BOSS (Ballistic Optimizing Shooting System) enhances accuracy and reduces recoil by a third. At 8.6 pounds and 45 inches long (including its 24-inch barrel), the Safari in .338 Win. is not only knock-down lethal for big game hunting, but fast enough for targeting varmints in a fast-shooting environment. —J.H.
When Benelli introduced the R1 in 1993, it became popular among European wild boar hunters who appreciated a rifle that could accurately fire off multiple shots in rapid succession. A decade later, Benelli introduced its second generation R1, which incorporates several innovative upgrades, while retaining the fundamental qualities that makes the R1 a growing choice among AR hunters. Among those distinctive qualities is a gas-operated "short punch" system developed by "Carbine" Williams, the designer of the first autoloading carbines that led to the light .30-caliber carbines in the mid-20th century. It is available in .308 Win., .30/06, .270 WSM, .300 WSM, and .300 Win. Mag.
Advantages:
This is an unusual-looking weapon—some would say ugly—but it is among the softest and smoothest shooting ARs on the market. Its ComforTech stock allegedly reduces recoil by almost 50 percent. It is easy to shoot, comes apart easily for cleaning, the magazine is a cinch to load and can be detached quickly. Its ARGO gas system automatically compensates for different cartridge pressures, which lets hunters switch from different calibers just by swapping barrels, magazines, and bolt heads. No other auto can do that. At 7.3 pounds (without magazine, accessories) and at 46-inches long, the R-1 is a good still/stand-hunting AR for deer and most other big game. —J.H.
Sign up for Outdoor Life's newsletter for conservation news, hunting and fishing tips, and the hottest gear reviews.
Before the A17, there simply weren't any reliable production semi-auto rifles for the wildly popular .17 HMR. The A17 is now one of a very few semi-autos that are reliable with the magnum rimfire, but it gets extra props for being the first. It will surely be held in high regard for decades to come. The delayed-blowback action is key to reliability with this cartridge, as it and the .22 mag produced problems in standard-blowback actions. The pro varmint variation of this rifle gives you a more ergonomic, precision/target style stock and heavier barrel. Everything from prairie dogs to coyotes better watch out! $665 —T.F.
27. Browning BAR Mark III Hell's Canyon Speed
One of Browning's latest iterations of it's popular BAR is the Hell's Canyon Speed, with a few updated lines, the BAR's long-known reliability, but now with the burnt bronze cerakote finish and synthetic ATACS camo furniture. Unlike some of the prettier BAR's, this one is made to be used and abused. The cerakote finish means it will stand up to the elements. Available in cartridges from .243 to .300 Win Mag, there's one suited for just about any critter you want to hunt. $1,599 —T.F.
Outdoor Life is dedicated to covering safe and responsible gun ownership for hunting, recreation, and personal protection. We participate in affiliate advertising programs only with trusted online retailers in the firearms space. If you purchase a firearm using the links in this story, we may earn commission
Sours: https://www.outdoorlife.com/photos/gallery/guns/rifles/centerfire/2011/11/20-best-semi-automatic-rifles-big-game-hunting/
Auto 30 30 rifle semi
There was no Mediterranean spirit here. It was a harsh land. The land of Egyptian temples, the priests had incredible power here, occupying almost all leading positions in the local provinces. If in the provinces of Upper Egypt, few dared to contradict them, except that people were exposed by the power of the Pharaoh, then.
Top 5 Under Appreciated Semi Auto Rifles
Thank you .Irina Vasilievna smiled with strength, lowering her eyes, subconsciously scolding herself. And why did you put on makeup. Stupid. Exactly thinks that for him.
You will also like:
Roger, possessing a bestial instinct, almost immediately felt that he was not alone in the room. Having decided at first that it would be good to make it clear to anyone, whoever it was, that it is not good to peep, he moved. Forward, but, noticing ReBecka's fair-haired head over the old mattress, he decided to play a little with the cheat.
1913
1914
1915
1916
1917