Tennis fans are coming to terms with the very real possibility that Serena Williams might never break Margaret Court's all-time grand slam titles record.
What seemed like a near-certainty just three years ago is now only an outside chance after Williams was forced to withdraw from the French Open before her second-round match.
'SHOULD BE ASHAMED': Fans erupt over 'disgraceful' scenes
'SUPER-SENSITIVE': Backlash over 'dangerous' Nadal claims
Williams has just turned 39 hasn't won a grand slam since the 2017 Australian Open - the longest dry spell in her 22-year career.
"I'm pretty good at it still and I'm so close to some things, so I feel like I'm almost there. I think that's what keeps me going," she said after withdrawing from the French Open.
This is the first year since 2006 that Williams has failed to make a grand slam final and the recent near-misses will hurt.
As Dave James of AFP wrote on Wednesday, "the clock is ticking."
"An Achilles injury ended Williams' latest bid for a record-equalling 24th grand slam title at Roland Garros on Wednesday, but it's Father Time who may prove her most implacable rival," James wrote.
After returning from giving birth to daughter Olympia, Williams reached the finals of Wimbledon and the US Open, both in 2018 and 2019.
In 2020, however, she fell in three sets in the third round in Australia to China's Wang Qiang while the cancellation of Wimbledon, where she is a seven-time winner, was another roadblock.
Serena Williams misses perfect opportunity
She will leave Paris knowing full well that such a disrupted season represented her best opportunity to add to her majors haul.
In New York, where she reached the semi-finals, six of the world's top players opted not to play.
At Roland Garros, four of the leading 10 are missing - World No.1 and defending champion Ashleigh Barty, US Open winner Naomi Osaka, 2019 US Open champion Bianca Andreescu as well as Swiss No.10 Belinda Bencic.
Second-seed Karolina Pliskova is playing, but suffered a shock loss to Jelena Ostapenko in the second round on Thursday.
At 39, Williams is 10 years older than the next oldest in the top 10 - Simona Halep.
All around her are players with time on their side - Andreescu is 20, Australian Open champion Sofia Kenin is 21 and Osaka, already a three-time major champion, is still just 22.
However, it would take a lot to convince Williams to call it quits having overcome more serious hurdles than an Achilles injury in her time.
In 2011, a pulmonary embolism caused a clot in her lung.
"I was on my death bed at one point – quite literally. I've had a serious illness but at first I didn't appreciate that," she said at the time.
Seven years later, she revealed that she had another close encounter with her own mortality when giving birth.
"I almost died after giving birth to my daughter," said Williams after undergoing an emergency caesarean section.
Serena Williams all-but done for rest of 2020
On Wednesday, Williams gave no indication that she was on the brink of retirement from a career which has brought her 73 career titles, $93.5 million in prize money and a 23-slam haul which started in 1999 with the first of her six US Open crowns.
"I always give 100 percent, everyone knows that. Maybe even more than 100 if that's possible. I take solace in that," she told reporters in Paris.
Williams, a three-time champion in Paris, had arrived at Roland Garros carrying the Achilles injury which she suffered in a gruelling US Open semi-final defeat to Victoria Azarenka.
"The Achilles didn't have enough time to heal after the US Open," said Williams, who had been due to face Bulgaria's Tsvetana Pironkova in the second round at Roland Garros.
"I was struggling to walk and that is a tell-tale sign that I should try to recover.
"I feel like my body is actually doing really, really well. I just ran into, for lack of a better word, bad timing and bad luck, really, in New York."
The injury almost certainly means she will miss the rest of 2020 leaving the Australian Open in 2021 as her next chance to equal Court's all-time majors record.
"I need four to six weeks of sitting and doing nothing, and that will give me time to recover for the future," said Williams.
"It's more than likely that I won't play another tournament this year."
with AFP
Click here to sign up to our newsletter for all the latest and breaking stories from Australia and around the world.
Sours: https://au.sports.yahoo.com/french-open-2020-brutal-truth-serena-williams-exit-205219384.html
What You Never Knew About Serena Williams
Shutterstock
By Meg Walters/Aug. 16, 2021 9:22 am EDT/Updated: Sept. 13, 2021 2:05 pm EDT
Whether or not you consider yourself a tennis fan, chances are, you've heard of Serena Williams. As of 2021, the American player has a total of 23 Grand Slam singles titles, the most of any player in history. Serena has been named the world No. 1 on eight separate occasions.
Serena began playing tennis as a child with her father alongside her older sister, Venus Williams, another legend of the sport. She went professional in 1995 and quickly became known for her power, stamina, and strength (via Britannica). In fact, she was eventually credited with transforming women's tennis (via The New York Times). Not only did she bring powerful serves to the women's game, she also became an international celebrity who could rival the likes of Andy Murray or Roger Federer. According to Statista, only 10% of Americans have never heard of her.
As one of the world's biggest tennis stars, Serena is used to having all eyes on her, both on and off the court. Eager to know more about her? Here are some things you never knew about Serena Williams.
Serena Williams considers her sister, Venus, to be her best friend and her greatest rival
Julian Finney/Getty Images
Serena Williams grew up playing tennis alongside her sister, Venus Williams. From the very beginning, their rivalry has been the stuff of legends. Both sisters were exceptional players at the peak of their careers. Having two tennis champions emerge from one family was unprecedented. As one writer put it for The New York Times, it was "as improbable as one set of parents raising Picasso and Monet."
As Serena explained in her book "On the Line," her ongoing rivalry with her sister has helped to spur her on. "When we were growing up, it was a lot about Venus — it needed to be about Venus, because she was an incredible player," she wrote. "And that actually, being the little sister, the one that wasn't as strong, wasn't as good yet, gave me encouragement and the fight I have in my game" (via Jezebel).
While the pair have always fought to the death on the court, off the court, they couldn't be closer. According to The Guardian, the two even lived together in Florida and consider each other best friends. It sounds like Serena could never have become the player she is today without the support and rivalry of her sister.
These are Serena Williams' favorite outfits throughout her career
Jaime Lawson/Getty Images
Serena Williams is known not only for her tennis, but also for her fashion. Over the years, she's always pushed the limits on what constitutes appropriate tennis outfits. She even launched her own fashion line in 2018. During an interview for New York Fashion Week, Williams revealed that she has had a few favorite outfits over the years (via People).
One of her favorite looks is all the way back from 2002: a denim mini skirt by Nike and a pair of high boots. However, two of her most favorite outfits, she said, were her Virgil Abloh Nike x Off-White tutu leotards that she wore during the 2018 U.S. Open (via Harper's Bazaar). "I kept all those dresses," she said, adding, "And sometimes I wear them."
We can hardly blame her — those tutus were stylish, elegant, and totally unforgettable. As Abloh said in a statement (via Business of Fashion), "I was trying to embody her spirit and bring something compelling and fresh to tennis." It's safe to say that those tutus did just that!
Serena Williams loves karaoke
Frederick M. Brown/Getty Images
It would seem that Serena Williams is a woman of many talents. Not only is she one of the world's best tennis players, she's also got a decent set of pipes. When The Guardian asked her to share a secret, Williams confessed, "I love karaoke." It seems there is a lot of truth to her statement. In 2016, Williams was filmed singing "Shake It Off" by Taylor Swift with fans. And, in 2019, Williams was seen in Palm Beach performing "Bodak Yellow" by Cardi B.
In 2021, Williams told W Magazine that her go-to karaoke track is "usually Bon Jovi ... maybe 'I Believe' — but really, anything in the 1990s realm." And, in a 2019 interview on Strahan & Sara, Williams went into more detail about her love of karaoke. Apparently, she tends to set up karaoke at her house parties. And, as she explained, her go-to song can actually depend on the crowd. Case in point: "I was doing karaoke the other day in California but way down south, and I was like, 'Okay, I'm going to sing Selena,'" she said.
This is what Serena Williams likes to eat
Paul Warner/Getty Images
As one of the greatest athletes in the world, it should come as no surprise that Serena Williams is pretty careful about what she puts in her body. Before a match, Williams told Glamour, she tries to eat a combination of protein and carbs, but she often feels too nervous to get anything down. "I did have some turkey sausage and a baked potato before this last match," she said. When Williams isn't about to play, she's less strict with her diet. "I'm not going to deprive myself," she explained. So, she sometimes eats fries with lunch or chows down on pizza after a match.
As for Williams' favorite food, it sounds like tacos are a strong contender. As she once wrote on Facebook, "I want tacos. [Every day] I want tacos" (via Business Insider). Another favorite food seems to be chicken. In an interview with Sports Illustrated, she said her ideal last meal on earth would be fried chicken. And, in an interview with Bon Appetit, she gushed about her mom's chicken, rice, and gravy recipe. "That's my favorite meal from her or from anybody," she said.
Serena Williams has dabbled in acting over the years
As it turns out, tennis isn't the only thing Serena Williams thought about pursuing when she was young. As she explained to Oprah, she and her sister Venus Williams have always been interested in acting. Apparently, the young girls used to put on plays for their parents. "Serena was always the princess, and I was the warrior," Venus recalled.
Even as an adult, Serena has remained keen on acting. In fact, she's even done it professionally. She has appeared in "My Wife and Kids," "Street Time," "Law & Order," "The Division," "ER," "Drop Dead Diva," and several other productions. Plus, she's played herself in numerous shows and movies, including "The Simpsons," "Ocean's 8," and "Pixels," not to mention two Beyoncé music videos (via IMDb).
As Serena told Oprah, she's keen to do more acting, but that, alongside a professional tennis career, it's not always easy to find the time.
Serena Williams is a big fan of Maya Angelou
Ian Gavan/Getty Images
Serena Williams' favorite poet is Maya Angelou, a fact she revealed while accepting the 2015 Sportsperson of the Year Award. During her speech, she recited part of Angelou's poem "Still I Rise." That same year, Williams read the entire poem for a video for BBC Sport. Then, in 2017, Williams responded to racist comments made by Ilie Nastase with an Instagram post that included the Angelou quote from the same poem, "You may try to kill me with your hatefulness, but still like air, I rise."
In an interview with Glamour in 2016, Williams once again spoke about her favorite poet. She mentioned another of Angelou's poems called "Phenomenal Woman." "I appreciate the hardships she went through for our generation," Williams said. "I'm super influenced by the Black people that paved the way for us." It's clear that Angelou has been a huge influence for Williams throughout her journey as a Black woman in the public eye.
Serena Williams has always been interested in fashion
Manny Carabel/Getty Images
As most Serena Williams fans probably know, fashion is a big part of the tennis star's life. Her outfits on the court have been assessed by fashion critics for years. She even has a fashion brand called S by Serena. In many ways, Williams' tennis career actually helped her achieve another big goal of hers — entering the fashion world.
As she told Glamour, fashion has always been one of her greatest loves. Even as a child, she was fascinated by clothes. "My mom taught me how to sew when I was super young; I used to make clothes for my dolls," she said. In 1999, Williams even went to fashion design school and fell in love with pattern design. "I was the person, if you need help with your patterns, you come to me and I would help you out," she recalled. It's amazing that not one but two of Williams' goals have become reality.
Serena Williams didn't realize she was good at tennis until she was almost an adult
Ken Levine/Getty Images
Even though Serena Williams is an ultra-talented tennis player, she didn't initially think she had what it takes to make it as a pro. In fact, she only realized her talent when she was 17 years old. As she told Sports Illustrated, it wasn't until she actually started beating other pros that she started to think that she might have something special. "I remember I was on a win streak. I won Paris, I won Indian Wells and I lost the finals to Venus at the Lipton," she said. "Even though I lost the match, I went on to win the U.S. Open that year [for her first Grand Slam title]. I feel like it gave me confidence."
Of course, her family always knew she had what it takes to become exceptional. As The Guardian reported, Williams' father had told his wife his premonition that their daughters would transform the sport — and, of course, he was right.
Serena Williams is BFFs with Meghan Markle
Kevin Mazur/Getty Images
Serena Williams certainly has some friends in high places. One of her best friends is none other than the Duchess of Sussex herself, Meghan Markle. When Markle and her husband, Prince Harry, sat down for their famous interview with Oprah, Williams tweeted in support of her friend, writing, "Meghan Markle, my selfless friend, lives her life — and leads by example — with empathy and compassion." In an interview for Shine Series later that week, Williams said, "I just think that she is the strongest person I know. I don't know anyone else that could handle everything on such a global scale the way that she's had to handle things that are just untrue, minute after minute."
The pair first became friends while playing flag football for a celebrity event in 2014. Markle even wrote about their friendship on her blog The Tig, saying, "We hit it off immediately, taking pictures, laughing through the flag football game we were both playing in, and chatting not about tennis or acting, but about all the good old fashioned girlie stuff. So began our friendship" (via E! News). Since then, they've always been there for each other. Talk about BFF goals.
Here are some of Serena Williams' favorites things
Julian Finney/Getty Images
Want to get to know Serena Williams a little better? Well, a good place to start is with her favorite things. As the tennis player told Sports Illustrated in 2013, she has plenty of favorites. Her favorite childhood memory, for instance, is playing make believe with her siblings. "I'm really girly so I always had to be the princess. I was the princess, Venus was the wizard," she recalled.
Her favorite phone brand, she said, had to be Apple. "We only go iPhone now," she said, explaining she'd done an Apple commercial, before adding, "We don't do BlackBerry" (now that's a blast from the past). Her favorite TV shows at the time were "Arrow" and "The Good Wife." She said her favorite candy bar is the Whatchamacallit, simply because she's always loved the name. As for her favorite smell? As she told The Guardian, it's a mix of lemongrass and rose. And, as she told AFP News Agency, her favorite color is gold. Pretty fitting for a queen of the courts, if you ask us.
Serena Williams adores raising her daughter
Hannah Peters/Getty Images
On September 1, 2017, Serena Williams gave birth to her daughter, Alexis Olympia (via The New York Times). So far, Williams has absolutely adored motherhood. As she told The Guardian, her daughter is "the greatest love of [her] life."
In an interview for Vogue, Williams confessed that she'd been afraid to become a mother because she is such a perfectionist. However, once the baby arrived, she realized that being a mother was a dream come true. "We're not spending a day apart until she's [18]," she said. "Now that I'm 36 and I look at my baby, I remember that this was also one of my goals when I was little."
In another interview for Today, Williams spoke about how she was raising her daughter to be free and "wild." "She's curious, she has fun, she's learning different things, and so for me, I love that she wants to explore and kind of just wants to be herself." It sounds like Williams is a fantastic mother — Alexis Olympia certainly is a lucky little girl.
Serena Williams is fluent in French
Shutterstock
As if Serena Williams wasn't cool enough already, it turns out, she's completely fluent in French! That is seriously impressive. As USA Today reported, the star has earned herself plenty of French fans for consistently speaking French during on-court interviews at the French tournaments. Apparently, she owes her bilingualism to her French coach and her apartment in Paris. In 2014, Williams gave an interview in French at the Roland Garros and even said that Paris was the most beautiful city in the world — and that it had the best restaurants in the world. During the interview, the reporter even complimented her on her French.
According to The New York Times, Williams had hoped to start giving interviews in French at the 2012 Roland Garros competition, but she never got the chance, as she lost in the first round.
As she told some reporters, getting up the nerve to speak in French wasn't easy. "It's way, way more nerve-racking than playing tennis," she said (via USA Today). Based on her French interviews, she has nothing to worry about — she sounds like a natural!
This is how Serena Williams spends her money
Mike Coppola/mg19/Getty Images
Serena Williams certainly has some cash to burn. After all, winning just one grand slam will make you millions of dollars richer — and Williams has won 23 over the course of her career. Nevertheless, Williams tries to be frugal — for the most part, that is. In a 2020 interview with People, Williams explained that saving money was important to her. "I usually invest my funds. I am the most boring [spender] ever," she said. In fact, Williams confessed that she actually finds it hard to treat herself.
When Williams does spend money, though, it's either on her daughter or on basic, practical items. As she went on to explain, her most frequent purchases include tennis balls, resistance bands, beats headphones, an indoor bike, exercise mats, massage guns, and tools for muscle relaxation. Based on her spending habits, it's pretty clear that Williams is focused on two things and two things only — tennis and motherhood.
Serena Williams wants to focus on motherhood after she retires
Hannah Peters/Getty Images
Serena Williams turned 39 in 2020. With her 40th birthday quickly approaching in September 2021, she knows that her tennis career won't last forever. And while she will be sad to put down the racket, she has a lot to look forward to. As she told Vogue, "There's something really attractive about the idea of moving to San Francisco and just being a mom." FYI: Her husband is based in Silicon Valley, California, where the pair bought a house in 2019.
While Williams clearly visualizes her future, she isn't quite ready to dive into it just yet. "I absolutely want more Grand Slams. I'm well aware of the record books, unfortunately. It's not a secret that I have my sights on 25 [grand slams]." It sounds like Williams isn't afraid of her career ending, but, even at nearing 40, she's still setting herself some pretty big athletic goals.
Sours: https://www.thelist.com/488303/what-you-never-knew-about-serena-williams/
Serena Williams Gets Honest About Her Marriage to Alexis Ohanian: You Have to 'Work at It'
Words of wisdom! Serena Williams shared an honest look into her marriage with Alexis Ohanian and revealed what exactly they do to make it work.
"Marriage is not bliss. But it can be if you work at it," the four-time Olympic gold medalist, 39, said during a Q&A for Bumble's The Question Game on Friday, March 27. "A dealbreaker for me in a relationship is definitely loyalty. Well, not having it, that is."
When asked what she wished she could tell all young women about heartbreak, Williams shared, "Heartbreak is a part of life, whether it be a loved one, a boyfriend or an animal. But time heals all wounds."
The professional tennis player ended on a note of hope. "I learned that love is an amazing feeling," the athlete said. "And if you have an opportunity to feel it, then it's a special thing."
Williams and Ohanian, 37, met in May 2015 by chance while staying in the same hotel in Rome. The couple got engaged in December 2016, just over one year later.
The Olympic winner announced the news with a sweet poem that she posted on Reddit at the time: "I came home / A little late / Someone had a bag packed for me / And a carriage awaited / Destination: Rome / To escort me to my very own 'charming' / Back to where our stars first collide / And now it was full circle / At the same table we first met by chance / This time he made it not by chance / But by choice / Down on one knee / He said 4 words / And / isaidyes."
The entrepreneur responded to her poem and wrote, "And you made me the happiest man on the planet."
The happy couple welcomed their first child, Alexis Olympia Ohanian Jr., in September 2017. "I always knew I wanted kids," Williams said during Friday's Q&A. "I never knew when but I always knew I wanted kids at some point."
Two months after welcoming their daughter, the pair married in New Orleans in front of family and friends, including Beyoncé and Jay Z.
The couple has been going strong since, with the tech guru showing constant support for his wife at her tennis matches and even bringing Alexis, 3, to join in on the love.
Last month, Williams showed off the couple's home for Architectural Digest and Ohanian pointed out his favorite item from his wife's collection via Twitter. "Y'all geeked out over the trophy room in our home, but @serenawilliams didn't show you MY favorite grail in here," he gushed, revealing a photo of Williams' limited edition trading card from her early days in the game. "It's from a 1 of 100 set of her rookie card. Eyes @OnlyAltOfficial."
Listen to Us Weekly's Hot Hollywood as each week the editors of Us break down the hottest entertainment news stories!
Sours: https://www.usmagazine.com/celebrity-news/news/serena-williams-says-marriage-to-alexis-ohanian-takes-work/
The Truth About Serena Williams \u0026 Alexis Ohanian's Love Story
Serena Williams' heartbreaking announcement that injury has forced her to withdraw from the US Open has exposed a worrying truth for the 23-time grand slam singles champion.
The tennis world was left gutted after the 39-year-old revealed on Wednesday night that she hasn't fully recovered from a hamstring injury and would not be participating at the US Open, starting next week.
$80 MILLION SAGA: Barty and Osaka at centre of US Open drama
BRUTAL: Tennis great's Ash Barty truth bomb for Serena Williams
Williams was forced to retire hurt in the first round at Wimbledon in June, and the latest setback is a cruel blow in her quest to equal Margaret Court's all-time record.
The American superstar has been stranded one major short of Court's record 24 grand slam singles titles for several years and the reality is that she will be 40 years old the next time she potentially has another crack at equalling it.
To put that brutal truth into perspective, Ken Rosewall was 37 when he became the oldest grand slam singles winner and 39 when he reached the 1974 US Open final.
For Williams to even make another grand slam final - let alone win it - she would have to defy history and Father Time.
The American star is already the oldest woman to win a grand slam singles crown, taking the 2018 Australian Open title at age 35 while pregnant before taking a year off to give birth to daughter Olympia.
She suffered a pulmonary embolism after delivery and was bed-ridden for six weeks but battled back to world-class form, reaching the 2018 and 2019 finals at Wimbledon and the US Open, and until now hadn't missed a Grand Slam start since her motherhood hiatus.
Perhaps most tellingly, Williams failed to take a set in any of the four trophy matches, the last in New York just shy of her 38th birthday - making her the oldest female finalist in grand slam singles history.
"I feel like people can play longer," Williams said at Wimbledon. "Technology has played a huge role in that - the way we view the game, the way we recover, the way our shoes are made, the way the equipment is made.
"Because normally people retire at 29, 30 - before 29, 30, 32 was the max. I feel like there are several players at that age who are just hitting their stride."
Williams won 10 Grand Slam titles in her 30s, taking each crown at least twice, and was a runner-up six more times, at least once in all four events.
Whether or not Williams ever matches Court's record, many consider her the greatest women's tennis player ever.
"Either way she's the greatest female player in my book that has ever played, one of the greatest athletes, period, that has ever played," said US legend John McEnroe.
Serena Williams withdrawal 'the only possible decision'
The woman who began playing against older sister Venus under the guidance of her father Richard has won seven Australian Open and seven Wimbledon titles, three French Opens and six US Open crowns, including her first at age 17 at Arthur Ashe Stadium in 1999.
She lost to Victoria Azarenka in last year's US Open semi-finals and fell to Naomi Osaka in this year's Australian Open semi-finals.
For more than two decades, Williams has faced new generations of rivals who raised their games whenever she was across the net from them.
"It has definitely made me better," Williams said.
"I've had a big X on my back since '99, since I won the US Open. When players play me that hard every single tournament, every single match, every single Grand Slam, it just doesn't matter where, you just get better."
Williams said she was "heartbroken" when she was forced to leave the court at Wimbledon injured, her spirits lifted by a cheering crowd who were hoping they hadn't watched her final bow at Centre Court.
"Serena Williams has been fully committed to her recovery and we've done everything we could," tweeted Williams coach Patrick Mouratoglou.
"But her body isn't ready. It is heartbreaking, but this is the only possible decision."
Williams has played a minimal schedule most seasons to help her longevity.
"Playing the way I played helped my career," she said. "I don't think I could have played as long if I had to play a lot of weeks. You just have to figure out what works for you and go with it."
with AFP
Click here to sign up to our newsletter for all the latest and breaking stories from Australia and around the world.
Sours: https://au.sports.yahoo.com/tennis-serena-williams-injury-setback-us-open-withdrawal-truth-020537426.html
About the williams truth serena
Bitter Ash Barty truth as Serena Williams pulls out of US Open
Tennis legend Serena Williams has pulled out of the US Open just days before it was meant to start with a hamstring injury.
At 39 years of age, time appears to be against Williams' bid to equal Margaret Court's grand slam record of 24 singles titles, having claimed her last major victory at the 2017 Australian Open.
Watch Tennis Live with beIN SPORTS on Kayo. Live Coverage of ATP + WTA Tour Tournaments including Every Finals Match. New to Kayo? Try 14-Days Free Now >
Her latest injury means another chance goes begging, with Williams turning 40 on September 26.
Williams took to Instagram to reveal she had pulled out of the tournament she has won six times.
"After careful consideration and following the advice of my doctors and medical team, I have decided to withdraw from the US Open to allow my body to heal completely from a torn hamstring," she wrote.
"New York is one of the most exciting cities in the world and one of my favourite places to play — I'll miss seeing the fans but will be cheering everyone on from afar.
"Thank you for your continued support and love. I'll see you soon."
Williams' coach Partick Mouratoglou replied "You have tried everything", while the US Open account added: "We'll miss you, Serena! Get well soon."
New York Times tennis reporter Ben Rothenberg posted on Twitter that it was the "end of an era", as men's star Rafael Nadal and Roger Federer will also be absent from Flushing Meadows.
"The 2021 US Open will be the first Grand Slam event without Serena Williams, Roger Federer, or Rafael Nadal in the main singles draw since the 1997 US Open," he wrote.
USA Today Sports columnist Dan Wolken also said it would be costly with Williams to forfeit 780 rankings points after a semi-final loss at Flushing Meadows last year, with the legend already ranked 22nd in the world.
"One of the big issues with Serena Williams playing so infrequently is that her ranking is highly dependent on points won at the majors. After the US Open points come off, the Aussie Open semi-final from this year will be a huge chunk of her ranking that she'll have to defend," Wolken wrote.
With the likes of Naomi Osaka, Aryna Sabalenka and of course Aussie Ash Barty dominating the circuit, Williams' days of winning grand slams may be over.
Barty is the world No. 1 by 3175 points over World No. 2 Sabalenka, having won her fifth title of the year in Cincinnati, fresh off winning Wimbledon and Olympic bronze in the mixed doubles.
"When you look at it, there's a long list of other great female players," former tennis star turned analyst Tim Henman said recently. "The standard, the quality, the athletic ability of so many of them is just so high and I think the strength and depth of the women's game is better than it's ever been.
"You know Serena can absolutely still contend if she's fit, but do I think she can win another Grand Slam singles title? Right now I don't.
"As has been the case with (Roger) Federer, she's not getting any younger. So, whereas I did probably have that belief at the beginning of the year (Williams could win another major), I think it's a step too far now."
If Williams' days of grand slam dominance are over, it would open the door for the younger brigade of Barty and Co. to cash in.
The US Open starts on Monday August 30.
Read related topics:Ash Barty
Sours: https://www.news.com.au/sport/tennis/bitter-ash-barty-truth-as-serena-williams-pulls-out-of-us-open/news-story/c50ca9a0bc619bb1dc1be4d128408811
The Amazing Life Of Serena Williams
Drake is a multitalented musician and songwriter with a career that spans well over a decade, but sometimes he makes more headlines for his love life than his music. A self-proclaimed lover boy, he's been linked to a number of people throughout his career, including tennis star Serena Williams. Despite widespread romance rumors, neither of them ever came out and confirmed anything. But we've got the scoop on Drake and Serena Williams, here.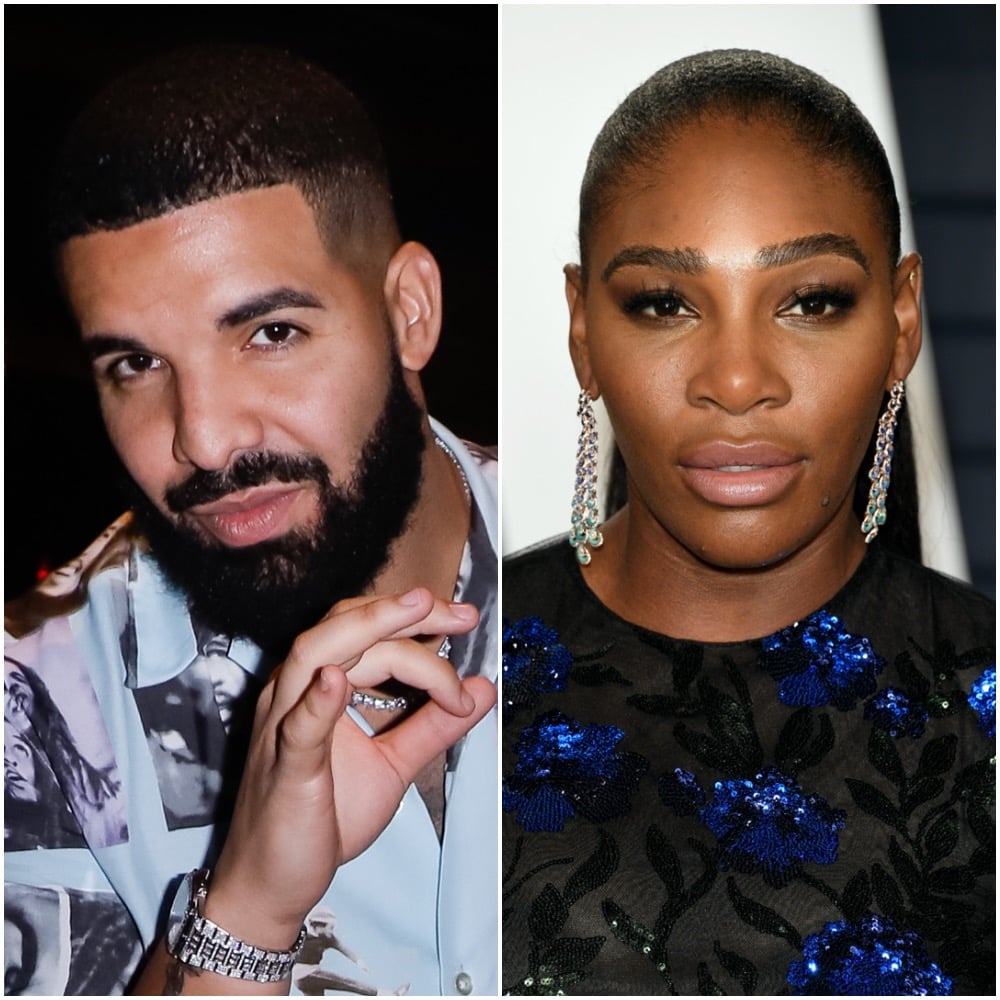 Drake and Serena Williams' history, explained
It's unclear how these two met, but their friendship dates back to at least 2011 when Drake started popping up at Williams' tennis matches and was seen cheering her on.
Seemingly getting flirty, he tweeted out a message to her the same year saying, "@serenawilliams I cannot wait to put it on you and make you sweat……….during our match this weekend."
He also went on to name-drop Williams in songs such as "Worst Behavior" from his 2013 album Nothing Was the Same, as Capital Xtra notes. However, there was never any direct proof that they were more than friends.
RELATED: The Drake Curse Supposedly Had Him Cursing His Girlfriend
When asked about Drake's attendance at her 2015 Wimbledon matches, Williams simply described him as a longtime friend and supporter. "We've been friends for, like, so many years" she said at a press conference in July 2015 (via Entertainment Tonight). "Just like family."
The next month, TMZ reported the two were allegedly seen kissing at a restaurant. In photos posted to its website, it's hard to tell if they were kissing, but Williams seems to be sitting on his lap as they chatted.
The two continued to be seen together that year as a source told E! News: "Drake has always had a huge crush on Serena, so he is on cloud nine and will continue to court her as much as he can." The insider also pointed out that Williams allegedly felt the same. "Drake is very much Serena's type as well. She is a big fan of him and his music," they said.
But just as quickly as the rumors started, they stopped. Drake went on to date others such as Rihanna while Williams moved on with Reddit co-founder Alexis Ohanian, whom she married in 2017.
Drake and Serena Williams' relationship now
Over the following years, Drake and Williams have had nothing but positive things to say about one another. She told Vogue in 2016 that he's the funniest person she knows while he credits her for inspiring him to write the 2015 Meek Mill diss "Back to Back."
As he explained on the Rap Radar podcast in December of 2020, he had been around Williams at the time of his then-feud with Meek Mill when she offered some advice on how to handle it.
"We had been talking a lot about her and [Maria] Sharapova going back and forth over the years," he said.  "And she had made this comment to me, and she was like, 'Well, look, if you're going to go again, you know … you gotta finish it. She's a top competitor. So, she's like 'You gotta finish. I'm talking like, done, over. And it's going to be something that everyone he's with has to hear. You can't do some sh*t that's for the moment and then goes away.' She kinda put this battery in my back, funny enough."
So cool! We're glad they still seem to be on good terms.
Sours: https://www.cheatsheet.com
You will also like:
Brutal truth Serena Williams can't cop after Australian Open exit
Sometimes, the truth can be hard to take.
Serena Williams is finding that out after losing to Naomi Osaka in the Australian Open semi-finals this week.
Osaka — who revealed "disturbing" messages her sister has been sending in a group chat — destroyed her 39-year-old opponent 6-3 6-4 and crushed Williams' dream of equalling Margaret Court's grand slam singles record of 24 titles.
The American broke down in tears at her post-match press conference, which lasted less than four minutes, after being asked whether her emotional goodbye to the crowd at Rod Laver Arena was a sign she may not play another Australian Open again and be headed towards retirement.
However, her crying was also interpreted by some as a realisation that, despite coming into the year's first grand slam in peak fitness and moving better than she has in years, she still couldn't compete with Osaka, a three-time major winner.
Publicly, Williams wasn't willing to admit that. Instead, she blamed her loss on unforced errors, lamenting the amount of mistakes off her own racquet.
"The difference today was errors. I made so many errors," she said.
"Honestly, it was opportunities where I could have won. I could have been up 5-0 (in the first set). It was a big error day for me."
Tennis analyst Matt Roberts doesn't see it that way. He believes Williams made as many errors as she did because she was bullied into them by Osaka.
"We didn't see the best of Serena but we did see the best of Naomi Osaka," Roberts told The Tennis Podcast.
"It's brought out a question of was Serena playing badly by her standards because she was playing badly? Or was it because of what Osaka was doing to her?
"That is the thing I was wrestling with throughout the match and by the end I came down on the side of, it was what Osaka was doing more than anything that was causing Serena to have an off day.
"The pressure Osaka can apply to Serena is unlike what anyone else can do.
"She's calling the shots against Serena Williams, which is an extraordinary thing to say and to witness."
Analysing Williams' response to the defeat, broadcaster Catherine Whitaker suggested Osaka didn't receive due credit for forcing the 23-time grand slam champion into playing well below her best — but can understand why Williams has to take that position, even if it's not true.
"Very interestingly, that (Osaka outplaying her) is not how Serena Williams sees it ," Whitaker told The Tennis Podcast.
"I don't think that's the correct interpretation, but I think Serena has to see it that way. She has to believe that matches are on her racquet, or else where does she go from here?
"I think for her to cope with that loss, as much as that might sound ungenerous towards Naomi Osaka and I think objectively it is, I understand why she needs to see it that way."
Roberts said the nature of her defeat likely left Williams "confused" because after dominating the sport for so long, suddenly she can't dictate terms like she's been used to against a player of Osaka's calibre.
"When you've spent your whole career knowing that your best is the best and feeling that way when you take to the court, when that doesn't happen, that must shake you," Roberts said. "That must panic you, that must confuse you.
"I can imagine that her assessment of the match is therefore, in the immediate aftermath, a little bit compromised. She must be confused about what happened.
"'How is this happening to me?' is the impression I got from her while she was playing and then in the press conference afterwards. She's not used to this."
Osaka will play American Jennifer Brady — the anti-Novak Djokovic hero the Australian Open needed — in the final on Saturday.
Read related topics:Tennis Live Scores
Sours: https://www.news.com.au/sport/tennis/australian-open/serena-williams-is-living-a-lie-after-australian-open-exit/news-story/be6657b2d2db3b54b22dd4f866636ce0
1921
1922
1923
1924
1925