10 Images That Show Marvel Heroes As Drawn By Hanna-Barbera
From the 1960s to the 1980s, William Hanna and Joseph Barbera were the kings of Saturday morning. Each week, Hanna-Barbera provided children filled with sugary cereal a chance to watch anthropomorphic bears, dogs, and hippos make humans look silly. In the mid-60s, they turned their attention to the creation of TV-based superheroes. The result came in the form of Birdman, Space Ghost, and the Herculoids.
RELATED: The Powerpuff Girls Meet Lobo & 9 Other DC/Hanna-Barbera Crossovers We're Dying To See
Though different in story, the Hanna-Barbera studio produced a certain look to their characters. You can see it in shows like Super Friends. While the company worked with DC for years, we wondered how Marvel superheroes would look if drawn by their illustrators. To provide some examples, here are 10 images that show Marvel heroes as drawn in the style of Hanna-Barbera.
10 Fantastic Four
This is not fan art. The Fantastic Fourwas part of ABC's Saturday morning block in 1967. Within its 22 episodes, the show tried to stay true to the comic. Hence, the appearance of villains like Doctor Doom and Galactus.
While in the style of other Hanna-Barbera heroes, the cartoon FF was also similar to their comic book appearances. Stan Lee and Jack Kirby were part of the cartoon's production team to ensure there was little change between the two media's. Out of all the Fantastic Four cartoons, this one is the most remembered.
9 The Thing
The Thing also had a Hanna-Barbera-based show in the late 70s. Episodes were paired with new installments of The Flintstones. We guess it was due to the rock theme.
Marvel didn't do much with this version of the Fantastic Four hero. It's the reason he's portrayed as a teenager with a magic ring that turns him into the Thing. Also, it's the reason he resembles a character drawn by a Hanna-Barbera illustrator than someone from the House of Ideas.
8 The Avengers
We can see some comparisons to Marvel's superhero team in this piece by @tomkrhone. Ant-Man is replaced by the Hanna-Barbera hero Atom Ant. We're not sure why he has four arms when the original character has two.
RELATED: 5 Reasons Spider-Man TAS Is The Best Comics Cartoon (& 5 Why It's Batman TAS)
Also, Dynomutt is a replacement for Iron Man, and he's more determined here than he is on his show. How about Black Widow? It's a toss-up between Hong Kong Phooey and El Kabong. Since Widow doesn't use a guitar to bash her opponents, will go with Phooey.
7 Defenders
This is not based on the Marvel comic book that featured Doctor Strange, Silver Surfer, and the Hulk. This is the group that appeared on Netflix. The artist does a nice job showing these street-level heroes as the Defenders of New York.
The homage to the Super Friends title card is a good choice. It reminds us of the title sequences that show used in the last two seasons as it began to match up to DC continuity. The thing we want to know is if the Power Friends would punch people or talk them into surrendering.
6 Guardians Of The Galaxy
This is the first of two examples of how Hanna-Barbera may have drawn Marvel's Guardians. We see a diversity of timelines and personalities in this version by jayfosgitt. Pebbles and Bamm-Bamm are Gamora and Star-Lord, respectively. Meanwhile, Mutley is Rocket and Great Ape is a version of Groot.
We're not sure who portrays Drax in this team. His mannerisms seem to be those of Captain Caveman minus his ankle-long hair. Though the captain and his Marvel counterpart have the same sense of humor, the real Drax is probably stronger.
5 Scooby Guardians
The Guardians-Scooby Gang match-ups are logical. Fred and Daphne are the requisite protagonists while Scoob portrays Rocket. He's missing a weapon in his paws. Perhaps he only holds one when he gets a Scooby Snack.
RELATED: DC: 5 Best Team-Ups With Hanna-Barbera Characters (& 5 Worst)
Shaggy and Velma confuse us. Shag has the body for Groot but is more verbal than the Marvel character. He could switch roles with Velma, except she's talkative. The addition of Scrappy-Doo as Drax could even things out.
4 Original X-Men
The Hanna-Barbera superhero cartoons of the 60s always had a title card after the introduction. It featured a still-shot of the hero or team along with the episode's title. If the X-Men were drawn by the company's artists, it would look something like the corresponding image.
This is a fine homage by NMRosario to those cartoons and the mid-60s X-Men. Their colorful uniforms represent their time when they graduated from Xavier's school. We're curious how the studio would handle a powerful story like "The Sentinels Live"? Especially since it was drawn by Neal Adams.
3 The Inhumans
At first glance, we weren't sure of the characters in the Hanna-Barbera version of the Inhumans by jayfosgitt. Then we saw the corn-cob pipe in Black Bolt's mouth and knew — Popeye.
In the late 1970s, Hanna-Barbera gained the rights to the Popeye family and began production on new cartoons. The characters seen in the image represent how they were drawn. Overall, they're characteristics fit the Inhuman roles. The artist did a fine job when he replaced Lockjaw with Eugene the Jeep.
2 Avengers: Endgame
Two instances of the most recent Avengers movie. First, is the one titled Toonvengers: Toongame. Thanks to Cartoon Network, the Hanna-Barbera studio experienced a resurgence. With a change in artistic style, they produced several popular cartoons. Among them — Dexter's Laboratory, Samurai Jack, and The Powerpuff Girls.
RELATED: The 10 Best Episodes Of Samurai Jack Seasons 1-4, Ranked (According To IMDB)
The characters in these programs are represented in liu-psypher's take on Endgame. Samurai Jack as Captain America and Dexter as Tony Stark make sense as they have similar traits as the Marvel characters. The costume variation worn by Jack makes a great alternate history outfit for Steve Rogers.
1 Endgame: Classic Characters
This version of the Endgame cast by @lartist is for fans of classic Hanna-Barbera characters. You have to look carefully to see which character resembles a member of the Avengers.
It seems like Frankenstein, Jr. is Iron Man while his young scientist creator, Buzz Conroy, is Captain America. Fred Flinstone is Hulk while his alien pal Gazoo is the Vision. What made us giggle is Yogi Bear as Nick Fury. Also, Rosie the Robot as Thanos feels right.
NEXT: Which Saturday Morning Cartoon Show Character Are You Based On Your Zodiac Type?
ShareTweetEmail
NextRed Hood: 10 Reasons Jason Is Better Off Not Using Guns
About The Author
Richard Keller (243 Articles Published)
Rich Keller is a 30-year freelance veteran. He began his career as a stringer, covering school board meetings for a local paper. Since then, Rich has written millions of words for both online and print publications. He is the author of "Coffee Cup Tales and Thinking Outside My Box. Rich was also a podcaster, hosting "The Daily Author" for nearly 300 episodes. Rich is an avid comic book fan who once braved the world of San Diego Comic-Con. You can follow Rich on Facebook.
More From Richard Keller
Sours: https://www.cbr.com/marvel-heroes-hanna-barbera-style-art/
Hanna-Barbera cartoons list: From 'Flintstones' to 'Powerpuff Girls,' a retrospective of 120 cartoons from your childhood
Photos: Associated Press
Hanna-Barbera turns 60
While Disney had Mickey Mouse and his friends and Warner Bros. had Bugs Bunny and the Looney Tunes cast, Hanna-Barbera Productions had its own prolific stable of beloved television and cartoon characters spanning the decades.
Check out our slideshow list to learn a bit more about the founders of the company and then check out our list highlighting some of the most popular and interesting characters and cartoons from your childhood as we celebrate the 60th anniversary of the company's founding.
-Mike Rose, cleveland.com
YouTube.com
It all started with a game of cat and mouse
William Hanna and Joseph Barbera met while both working for MGM's animation department. The successfully collaborated for years on the 'Tom & Jerry Show' earning multiple awards for their work.
Photos: Associated Press
Following MGM's decision to cease production of new cartoons, the dynamic duo decided to strike out on their own. Their animation studio was founded July 7, 1957.
The collaboration would lead to dozens of news shows and characters over the next 40+ years.
In addition to first-run television shows, many of the cartoons found new life in syndication, introducing them to new generations.
The studio was eventually acquired by Turner Broadcasting. The newly launched Cartoon Network provided a new wave of fans with exposure to the classic characters. After Turner merged with Time Warner in 1996, Hanna-Barbera became a subsidiary of Warner Animation. For a time, Cartoon Network Studios acted as a subsidiary until Warner Bros. folded Hanna-Barbera into the larger entity early in the new millennium.
While many prior cartoons were recycled from movie shorts, Hanna-Barbera was one of the first studios to produce content directly for television.  Step back in time to look at some of the many characters Hanna and Barbera or their company helped bring to life.
YouTube.com
1. Ruff and Reddy
'Ruff and Reddy' was the first cartoon produced by the new company.  It was produced for NBC and ran for 50 episodes over 3 seasons.
YouTube.com
2. Huckleberry Hound
The second show from Hanna-Barbera featured shorts with Huckleberry as well as other cartoon characters.  It was also the first show to earn the studio an Emmy Award.
YouTube.com
3. Yogi Bear
Yogi and his sidekick Boo Boo Bear originally appeared as part of 'The Huckleberry Hound Show' before being spun off to his own program.  Yogi was an early hit for the studio and one of their most popular characters.
Yogi was said to have been based on Honeymooners' character Ed Norton and was originally voiced by Daws Butler.
YouTube.com
4. Pixie and Dixie and Mr. Jinks
If you've ever heard the term 'I hate those meeces to pieces,' this is the show that originated it.
YouTube.com
5. Quick Draw McGraw
A spoof of television westerns featured Quick Draw and his sidekick Baba Looey. McGraw also sometimes assumed the identity of El Kabong to fight evil (spoofing Zorro).
YouTube.com
6. Augie Doggie and Doggie Daddy
Part of 'The Quick Draw McGraw Show,' these cartoons featured a father-son duo of dachshunds and their adventures.
YouTube.com
7. Snooper and Blabber
Super Snooper and Blabber Mouse put a spin on the traditional cat-and-mouse dynamic by working together to solve crimes.
YouTube.com
8. Hokey Wolf
Con artist Hokey joined 'The Huckleberry Hound Show,' replacing Yogi Bear who was moving to his own program.
YouTube.com
9. The Flintstones
The first primetime animated series was also the longest-running until it was passed by 'The Simpsons.'  Fred, Wilma, Barney, Betty and the gang were also the first animated series to be nominated for a Primetime Emmy for Outstanding Comedy Series.
YouTube.com
10. Snagglepuss
Originally appearing as part of 'The Yogi Bear Show,' Snagglepuss is best known for his catchphrases like 'Exit, stage left.' and 'Heavens to Murgatroyd!'
YouTube.com
11. Yakky Doodle
A reworking of the character Little Quacker who appeared in Tom and Jerry cartoons, Yakky was a duckling who regularly found himself in trouble before being bailed out by his friend Chopper the bulldog.
YouTube.com
12. Top Cat
Hanna-Barbera's second primetime series, Top Cat was the leader of a group of alley cats in New York City.
YouTube.com
13. Wally Gator
Part of a new Hanna-Barbera cartoon series, Wally was an alligator in a zoo who sometimes liked to sneak out for adventures.
YouTube.com
14. Touche Turtle
Touché Turtle and his sidekick Dum Dum regularly battled in different time periods to save those who were in trouble.  Best known for his catchphrase 'Touche away!'
YouTube.com
15. Lippy the Lion and Hardy Har Har
The lion and hyena duo were voiced by Daws Butler and Mel Blanc.
YouTube.com
16. The Jetsons
Hanna-Barbera's third primetime animated series is viewed by many as a futuristic bookend with the prehistoric 'Flintstones'.  The show saw additional episodes created more than 20 years after it premiered for use in syndication in the 1980s.
YouTube.com
17. Magilla Gorilla
Magilla lived in the front window of Mr. Peebles pet shop. The running gag on his show featured him being purchased only to eventually find himself returned to the shop at a later date.
YouTube.com
18. Ricochet Rabbit and Droop-a-Long Coyote
One of the featured segments of 'The Magilla Gorilla Show,' Ricochet was a sheriff as speedy as his deputy Droop-a-Long was slow.
YouTube.com
19. Jonny Quest
A departure from the standard Hanna-Barbera cartoon, 'Jonny Quest' was more adventure-related than comedic.  Like 'The Jetsons,' additional episodes were created in the mid-80s for syndication.
YouTube.com
20. Peter Potamus
Adventurer Peter Potamus and his sidekick So-So spent each episode exploring the world and visiting different time periods in his hot air balloon.  The cartoon was originally sponsored by the Ideal Toy Company, known for such hits as the Teddy bear and Rubik's Cube.
YouTube.com
21. Atom Ant
The first half of an hour-long Saturday morning cartoon, superhero Atom Ant featured Superman-like powers including super-strength and the ability to fly.  His catchphrase was 'Up and at'em, Atom Ant!'
YouTube.com
22. Secret Squirrel
Secret agent Secret Squirrel and his sidekick Morocco Mole took part in adventures parodying James Bond.  Even, Secret's nickname, Agent 000, was an homage to Bond.
YouTube.com
23. Sinbad Jr.
'Sinbad Jr. and his Magic Belt' was the first H-B produced series that didn't use original characters. The five-minute cartoons appeared as a part of other television programming for kids and featured the adventures of the son of Sinbad and his sidekick Salty the Parrot.
YouTube.com
24. Frankenstein Jr. and The Impossibles
Frankenstein Jr. was a robot who served as a superhero for Civic City.  The Impossibles were a trio of super-powered individuals who posed as a '60s rock band for their secret identities. Their cartoon originally ran Saturday mornings on CBS.
YouTube.com
25. Space Ghost
Space Ghost continued Hanna-Barbera's trend of moving towards more action-oriented cartoons. Joined by his two teen sidekicks and their pet space monkey, Blip.
Space Ghost and many of the villains who appeared in his shows were re-worked into the talk show 'Space Ghost Coast to Coast' which appeared on Cartoon Network decades after he originally premiered.
YouTube.com
26. Dino Boy
'Dino Boy in the Lost Valley' featured the adventures of a young boy who escaped from a plane crash and landed in a secluded jungle featuring many prehistoric creatures. Dino Boy befriends the caveman Ugh who helps him out of numerous jams.
YouTube.com
27. The Space Kidettes
The Space Kidettes adventures took place in outer space where they attempted to keep a treasure map away from the space pirate Captain Skyhook.
YouTube.com
28. Birdman and the Galaxy Trio
Solar-powered superhero Ray Randall worked for a secret government agency fighting crime alongside his sidekicks Avenger and Birdboy.  The Galaxy Trio were three space superheros who battled evil while working for The Galaxy Patrol.
YouTube.com
29. The Herculoids
Set on a distant planet, 'The Herculoids' featured a family that lived with five monstrous creatures who all served as protectors of the planet from alien invaders.  The show existed in the same universe as 'Space Ghost' and featured crossover episodes.
YouTube.com
30. Shazzan
Shazzan is a mystical genie who aids siblings Chuck and Nancy in their quest to return a magic ring to its rightful owner.
YouTube.com
31. Fantastic Four
Based on the series by Marvel Comics, 'Fantastic Four' holds the distinction of being one of the few animated Marvel products not controlled by Disney.
YouTube.com
32. Mightor
Caveman Tor uses his magic club to transform into Mightor to protect his friends and village.  The club also transforms his pet Tog, giving him powers as well.
YouTube.com
33. The Banana Splits
'The Banana Splits Adventure Hour' represented a shift for Hanna-Barbera.  It was the first show to feature live action segments.  The designers who created the Banana Splits went on to launch their own morning show, 'H.R. Pufnstuf'
YouTube.com
34. Penelope Pitstop
'The Perils of Penelope Pitstop' was a spinoff off Hanna-Barbera's 'Wacky Races' show.  Penelope was a wealthy heiress who regularly found herself pursued by a villain named The Hooded Claw.  In reality, The Claw was Penelope's guardian who wanted her fortune for himself.
YouTube.com
35. Dastardly and Muttley
'Dastardly and Muttley in Their Flying Machines' was another spinoff of 'Wacky Races' and focused on the team's attempts to capture Yankee Doodle Pigeon who is trying to deliver a secret message.
YouTube.com
36. Scooby-Doo
Travelling around in their Mystery Van, Scooby and his four friends Fred, Daphne, Velma and Shaggy helped solve mysteries.  Scooby's best friend Shaggy was voiced by DJ Casey Kasem.
YouTube.com
37. Josie and the Pussycats
Based on the Archie Comics characters, the show featured an all-female band and the hijinks that ensued as they travelled the globe.  Actress Cheryl Ladd was part of the real-life band the studio put together for the show.
YouTube.com
38. The Hair Bear Bunch
Living at the Wonderland Zoo, the show's main characters regularly snuck out of their enclosure, under the watchful eye of zookeeper Mr. Peevly, often while riding their invisible motorcycle.
YouTube.com
39. Sealab 2020
Centering on life in an underwater research facility, the members of Sealab regularly faced undersea dangers and explorations of adventure.  The show was later parodied on Cartoon Network in the show Sealab 2021.
YouTube.com
40. Speed Buggy
Featuring a talking dune buggy and his three friends, the group travelled the world participating in races and thwarting evil-doers.
YouTube.com
41. Super Friends
First of several shows featuring characters from DC Comics, the show starred Superman, Wonder Woman, Batman (and Robin) and Aquaman as well as three non-powered 'junior' members-in-training.
YouTube.com
42. Inch High Private Eye
A one-inch-tall detective who helps solve crimes with the help of his niece and her friends.
YouTube.com
43. Hong Kong Phooey
A parody of martial arts shows that were popular in the '70s, Hong Kong Phooey is the heroic alter-ego of police janitor Penry Pooch.  Hong Kong is often successful in his crime-fighting endeavors thanks to his cat Spot.
YouTube.com
44. Great Grape Ape
Originally part of a shared show with recycled Tom & Jerry cartoons, Grape Ape was a 40-foot-tall purple gorilla who took part in mis-adventures with his friend Beegle Beagle.
YouTube.com
45. Dynomutt and The Blue Falcon
Paired with Scooby-Doo cartoons, the duo of Blue Falcon and Dynomutt battled evil in Big City.  Featuring a premise similar to Batman, Blue Falcon is the alter ego of a wealthy socialite and Dynomutt is his sometimes bumbling sidekick.
YouTube.com
46. Jabberjaw
A walking, talking great white shark, Jabberjaw lived in a futuristic undersea civilization where he played drums for a band called The Neptunes.  Much like Scooby-Doo and several other cartoons, the group spent each cartoon solving various mysteries.
YouTube.com
47. Captain Caveman
Rescued from being frozen in ice by the Teen Angels, Captain Caveman and his sidekicks followed the formulaic trend of solving crimes.  The Teen Angels were an attempt by the studio to capitalize on the popularity of the TV show Charlie's Angels.
YouTube.com
48. The Wonder Twins
Aliens Zan and Jayna were introduced in the second Super Friends series as new heroes-in-training.  The duo had the ability to transform with Zan taking on any form of water and Jayna able to turn into any animal, both terrestrial or alien.
YouTube.com
49. Scrappy-Doo
Scooby-Doo's diminutive nephew, Scrappy was as brave as Scooby was cowardly.  His addition was an attempt to re-tool Scooby-Doo and keep the show from being cancelled.
YouTube.com
50. Kwicky Koala
Pursued by Wilford Wolf, Kwicky could move so quickly that he seemed to disappear in the blink of an eye.  The Kwicky Koala show was one of the last things that famed animator and director Tex Avery worked on before he died.
YouTube.com
51. The Smurfs
Based on a Belgian comic, The Smurfs was one of the longest-running Saturday morning cartoons.
YouTube.com
52. Pac-Man
The first cartoon based on a video game, Pac-Man and his family worked to thwart Mezmaron's ghost monsters from locating the source of their world's power pellets.
YouTube.com
53. Monchhichis
Based on the series of dolls, the Monchhichis lived at the top of forest trees far from their enemies, the Grumplins.  Peter Cullen, best known for voicing Transformer Optimus Prime voiced multiple characters in the show.
YouTube.com
54. The Snorks
Another cartoon based on a Belgian comic, Snorks had a feel similar to the Smurfs, only underwater.
YouTube.com
55. The GoBots
While not nearly as well-known or popular as the Transformers series, 'Challenge of the GoBots' actually premiered a couple weeks prior to 'Transformers.' The show featured the Guardians led by Leader-1 who battled against the Renegades led by Cy-Kill.  Similar to Transformers, GoBots were able to convert from robot form to vehicles.
YouTube.com
56. Pound Puppies
An adaptation of the toy line, 'Pound Puppies' featured a group of dogs living in a pound where they hoped to get adopted all while trying to prevent the wicked Stonehearts from tearing down the pound.
YouTube.com
57. The Pirates of Dark Water
Prince Ren and his motley crew seek magic treasures that will rid his world of dark water, a substance that is overtaking the planet Mer.
YouTube.com
58. Dexter's Laboratory
Dexter is a boy-genius with a secret lab in his house.  His elaborate experiments are usually interrupted either by his sister or his own over-eagerness. Comedian Seth MacFarlane worked on this show early in his career.
YouTube.com
59. Johnny Bravo
The slow-witted muscleman with an Elvis complex, Johnny Bravo spent most of his time trying to (unsuccessfully) date women, usually with comedic results.
YouTube.com
60. The Powerpuff Girls
Featuring the adventures of Blossom, Bubbles, and Buttercup and their father/creator Professor Utonium, episodes featured the girls rescuing their home of Townsville from various catastrophes and the forces of evil.
The show was also the last cartoon produced directly by Hanna-Barbera as the studio was folded after the fourth season.
Twitter
Even more Hanna-Barbera cartoons
In the process of putting this list together, we quickly realized that 60 cartoons just wouldn't be enough to cover the scope of Hanna-Barbera's influence on the animated landscape.
So join us as we present 60 BONUS cartoons created or produced by the studio.  While a number of these are original creations, many are also adaptations of live-action TV shows or feature animated versions of real-life actors.
YouTube.com
61. Cow and Chicken
Featuring the adventures of two siblings who often run into The Red Guy, who tries to scam them while wearing various disguises.
The show was unique in that one voice actor filled all three main roles in the show.
YouTube.com
62. Dumb and Dumber
Featuring the continuing adventures of Lloyd and Harry (played by Jim Carrey and Jeff Daniels in the original film).  This was also the last cartoon produced by Hanna-Barbera to premiere on broadcast television.
YouTube.com
63. 2 Stupid Dogs
Featuring the mis-adventures of The Big Dog and The Little Dog, the look of the show was a bit of a throwback to earlier H-B cartoons.
YouTube.com
64. SWAT Kats
After being removed from MegaKat City's law enforcement team for an accident that wasn't their fault, T-Bone and Razor use parts they salvage to build futuristic vehicles to help them battle against both the city's villains and those who they used to serve with.
YouTube.com
65. Capitol Critters
The show focused on those pests (mice, roaches, etc.) who lived inside the White House.  Both Neil Patrick Harris and Bobcat Goldthwait had vocal roles in the show.
YouTube.com
66. Fish Police
A prime-time cartoon on CBS, the show only lasted 6 episodes.  This was disappointing given the cast of actors involved including Tim Curry, Ed Asner, John Ritter and Jonathan Winters
YouTube.com
67. Dink, the Little Dinosaur
Dink and his friends lived in a prehistoric world called Green Meadow.  The show featured positive messages about teamwork and problem-solving.
YouTube.com
68. Popeye and Son
Featuring the continuing adventures of Popeye, Bluto and their families.  This time, their sons (Popeye Jr. and Tank) are also rivals.
YouTube.com
69. Sky Commanders
Battling to thwart the evil General Plague from taking control of a new continent (and element), the Sky Commanders are constantly at odds with Plague's Raiders.  The show was yet another example of a cartoon used to promote a toy line.
YouTube.com
70. Wildfire
Teen Sara learns that she is actually a princess from another dimension. Alongside her magical horse Wildfire, Sara battles against the evil Lady Diabolyn for control of her kingdom.
YouTube.com
71. Foofur
Foofur and his animal friends constantly thwart Mrs. Escrow who is trying to sell Foofur's home.
YouTube.com
72. Galtar
A sword-and-sorcery show along the lines of 'Thundarr the Barbarian' and 'Masters of the Universe' following the adventures of Galtar who uses his magical golden lance to battle against the forces of the evil Brandisar.
YouTube.com
73. Pink Panther and Sons
Brothers Pinky and Panky join with their friends to go on adventures and learn valuable lessons.
YouTube.com
74. The Biskitts
Tiny dogs guard royal treasure in their tiny castle.  The dogs are constantly on guard against King Max and his minions who are trying to steal the treasure.
YouTube.com
75. Rubik, the Amazing Cube
Rubik was a magical cube who only came to life when all his sides/colors were matched up. Rubik was voiced by Ron Palillo, best known for playing Horshack on 'Welcome Back, Kotter'
YouTube.com
76. The Dukes
An adaptation of 'The Dukes of Hazzard' featured the Dukes in a worldwide race against Boss Hogg.
YouTube.com
77. Shirt Tales
Cartoon show based on a series of characters created for Hallmark Cards.
YouTube.com
78. Mork and Mindy
Another animated series based on a live-action show, here a teenage Mork and his pet come to Earth to observe humans.
YouTube.com
79. The Trollkins
Featuring the exploits of the inhabitants of Trolltown.
YouTube.com
80. The Space Stars
The show featured new episodes of old favorites like The Herculoids and Space Ghost, but also introduced a shared world including the super-powered Teen Force and the intergalactic lawman Space Ace.
YouTube.com
81. Laverne and Shirley
Based on the live television show, the cartoon was based on the episodes where the duo joined the army.
YouTube.com
82. Richie Rich
Based on the comic book character, the show featured the adventures of Richie and his friends.
YouTube.com
83. Fonz and the Happy Days Gang
After being visited by a woman from the future, Fonzie and his friends end up travelling through time. Multiple cast members of the show returned to voice their characters including Henry Winkler and Ron Howard.
YouTube.com
84. The Drak Pack
Comprising three descendants of famous monsters, the Drak Pack is able to take on super forms including a vampire, Frankenstein monster and werewolf.
YouTube.com
85. Casper and the Angels
Adapting the comic character Casper the Friendly Ghost, the show places Casper in the future where he helps two space cops named Mini and Maxi.
YouTube.com
86. Jana of the Jungle
An attempt to make a female version of Tarzan, Jana lives in the jungles of South America where she is aided by both animal and human friends in her search for her father.
YouTube.com
87. Godzilla
An adaptation of the Japanese monster films, the show featured a group of scientists joined by Godzooky. While on their explorations, the team called on Gozilla for help, such as when they were attacked by other monsters.
YouTube.com
88. The Legion of Doom
Originally appearing in the show 'Challenge of the Super Friends,' the group of evil villains was formed by Lex Luthor as a foil to The Justice League.
YouTube.com
89. Buford and the Galloping Ghost
Bloodhound Bufford lives in the swamp and teams up with a pair of teens to solve crimes.  The Galloping Ghost is an old gold prospector who rides an invisible horse and helps his friends Wendy and Rita who work at a dude ranch.
YouTube.com
90. Dinky Dog
When Sandy and Monica adopted a cute puppy named Dinky, little did they know how big he would grow or the trouble his size would get them into.
YouTube.com
91. Wonder Wheels
Willie Wheeler solves crime on his transforming motorcycle Wonder Wheels.  Monkees star Micky Dolenz lent his voice to the show.
YouTube.com
92. The Robonic Stooges
Possessing special robotic powers, The 3 Stooges (Larry, Curly and Moe) use their abilities to fight crime as part of the Superhero Employment Agency.
YouTube.com
93. The King
Featuring an Elvis-like lion and his animal friends, the show centered around the group's antics in high school.
YouTube.com
94. The CB Bears
Trio of bears solves crimes while working as garbage collectors.  They receive their assignments over the truck's CB.
YouTube.com
95. The Clue Club
Featuring a premise similar to Scooby-Doo, the Clue Club was a group of teens joined by talking dogs Woofer and Wimper to solve crimes.
YouTube.com
96. Mumbly
Detective Mumbly mumbles and grumbles while working a case.  His look is very much like that of another famous detective, Columbo.
YouTube.com
97. Valley of the Dinosaurs
Pulled into a whirlpool while exploring the Amazon, the Butler family find themselves in an underground expanse that time forgot.
YouTube.com
98. These are the Days
A show along the lines of 'The Waltons,' this cartoon followed the Days family and their everyday adventures in the turn-of-the-century town called Elmsville.
YouTube.com
99. Partridge Family 2200
Instead of rolling out an updated version of 'The Jetsons,' Hanna-Barbera instead chose to take the beloved Partridge Family and send them into the future.
YouTube.com
100. Devlin
Ernie Devlin was a motorcycle stuntman who travelled with his family in a circus.  The character was based on Evel Knievel.
YouTube.com
101. The Adams Family
Based on the TV sitcom, the cartoon took the family on the road for all sorts of mis-adventures.
YouTube.com
102. Jeannie
Jeanie and her genie-in-training Babu help her master Corey through all sorts of jams. Corey was voiced by Star Wars legend Mark Hamill.
YouTube.com
103. Goober and the Ghost Chasers
Another cartoon similar in theme to Scooby-Doo, the main difference being that Goober's gang are ghost hunters and they often come across real ghosts who help them unmask the fakes.
YouTube.com
104. Butch Cassidy and the Sundance Kids
Unrelated to the movie, the show featured lead singer Butch and his groovy band.  The show had a similar tone to that of Josie and the Pussycats. This time, the kids led a secret life as secret agents.
YouTube.com
105. The Roman Holidays
Similar to 'The Flintstones,' Gus Holiday and his family live in a modernized version of ancient Rome.
YouTube.com
106. Wait Till Your Father Gets Home
Featuring themes of both generation gaps and politics, Harry Boyle struggles with the differences between his opinions and those of his family.  Boyle was voiced by Tom Bosley of 'Happy Days' fame.
YouTube.com
107. The Funky Phantom
Having been set free from the clock they'd been trapped in since The Revolutionary War, the Phantom and his ghostly cat Boo help their group of friends Skip, April, Augie and Elmo on their various adventures.
YouTube.com
108. The Huddles
Featuring the adventures of football players Ed Huddles his friend Bubba as well as the various interplays between their coach and team, their spouses and their neighbors.
YouTube.com
109. The Harlem Globetrotters
Based on the world-famous basketball group, the show regularly featured the team facing off against a group of villains with the outcome of the game resolving some local issue.
YouTube.com
110. Cattanooga Cats
A group of Hillbilly cats in a band travelling from gig to gig and their adventures along the way.
YouTube.com
111. Gulliver
Based on 'Gulliver's Travels,' 'The Adventures of Gulliver' features Gary Gulliver's adventures as he searches for his missing father.
YouTube.com
112. Samson and Goliath
Teen Samson and his pet dog Goliath travelled around wherever their help was needed.  By slamming his wristbands together, he could transform into a super-powered hero and also transform Goliath from a dog to a lion.
YouTube.com
113. Moby Dick
After rescuing Tom and Tubb from a shipwreck, Moby and the boys partake in undersea adventures. The cartoon shorts were paired with those of Mighty Mightor.
Sours: https://www.cleveland.com/entertainment/2017/07/60_years_of_hanna-barbera_cart.html
Can You Name All of These Hanna-Barbera Cartoons From One Image?
By: Jacqueline Samaroo
7 Min Quiz
Image: Hanna-Barbera
About This Quiz
Were you glued to the television on Saturday mornings? See how many of these Hanna-Barbera cartoons you can identify.
Although Hanna-Barbera itself is no longer in business, having ceased operations in 2001, the cartoons created by the animation studio will live on forever on the small screen. 
Hanna-Barbera was the brainchild of William Hanna and Joseph Barbera, the creators of Tom and Jerry. They founded their own animation studio in 1957 but eventually became part of Warner Brothers. The duo was a force in the animation industry because of the popularity of Saturday morning cartoons and produced such masterpieces as "Scooby Doo," "The Flintstones," "Yogi Bear," "The Jetsons," and the "Smurfs." However, in the 1980s, when weekday afternoon television eclipsed the popularity of Saturday morning cartoons, Hanna-Barbera lost ground in the industry.

Still, the duo and their animation studio won numerous awards, including Academy awards, Emmy awards, and Golden Globes awards. The partners even have a star on the Hollywood Walk of Fame. Neither Hanna nor Barbera are alive today, but their cartoon masterpieces will live on forever.
If we give you an image, do you think you can identify each of these iconic cartoons? Let's get started.

Sours: https://zoo.com/quiz/91-people-cant-name-all-these-hannabarbera-cartoons-one-image-can-you-zoo
Everyone Is Here! (Super Smash Bros.) But It's Hanna-Barbera Cartoons
Hanna-Barbera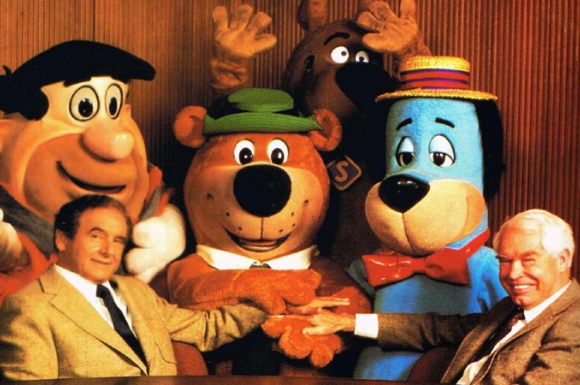 Biography
Before the rise of basic cable and syndication, Saturday mornings for many children in America consisted of watching cartoons on TV on one of three available channels. From 1958 through the 1980s, a vast majority of those cartoons bore the Hanna-Barbera (1957-2001) imprint. Creating hit shows such as The Flintstones, Scooby-Doo, Jonny Quest, Super Friends, and The Smurfs, Hanna-Barbera was an animation powerhouse.
Hanna-Barbera Productions was formed in 1957 by William Hanna and Joseph Barbera, who had been partners in animation at MGM Studios where they created the memorable Tom and Jerry shorts. They left MGM when the studio stopped production on animated films. Hanna and Barbera achieved immediate success on television with The Huckleberry Hound Show in 1958, followed later by the highly popular prime-time series, The Flintstones. Through the next thirty years, Hanna-Barbera produced an astonishing 249 individual cartoon series for television—totaling over 1,200 hours of original episodes.
When Cartoon Network was formed in 1992, Hanna-Barbera supplied most of the cartoons. Hanna-Barbera was eventually absorbed by Warner Bros., but the cartoons remain available in syndication and on DVD.
The impact of Hanna-Barbera's cartoons is evident in today's popular culture, from Fred Flintstone hawking Fruity Pebbles cereal to numerous parodies on TV's Family Guy cartoon to the live-action Smurfs films to the continued creation of new Scooby-Doo television series, comic books, and animated and live-action movies.
A partial list of television programs created by Hanna-Barbera:
The Huckleberry Hound Show (1958-1962)
The Flintstones (1960-1966)
Top Cat (1961-1962)
The Jetsons (1962-1963)
Jonny Quest (1964-1965)
Space Ghost and Dino Boy (1966)
Frankenstein Jr. and The Impossibles (1966-1968)
Birdman and the Galaxy Trio (1967-1969)
The Herculoids (1967-1968)
Fantastic Four (1967-1968)
The Banana Splits Adventure Hour (1968-1970)
Scooby-Doo, Where Are You? (1969-1970)
Josie and the Pussycats (1970-1971)
Speed Buggy (1973)
Super Friends (1973-1974)
Inch-High Private Eye (1973-1974)
Hong Kong Phooey (1974)
Clue Club (1976-1977)
Jabberjaw (1976-1978)
The Fonz and the Happy Days Gang (1980-1981)
The Smurfs (1981-1989)
Shirt Tales (1982-1984)
The Berenstain Bears (1985-1987)
The Pirates of Dark Water (1991-1993)
Johnny Bravo (1997-2004)
The Powerpuff Girls (1998-2005)
Jesse Kowalski, Curator of Exhibitions, Norman Rockwell Museum
Illustrations by Hanna-Barbera
Additional Resources
Bibliography
Barbera, Joseph. My Life in 'Toons: From Flatbush to Bedrock in Under a Century. Atlanta, GA: Turner Publishing, Inc., 1994.
Beck, Jerry. The Hanna-Barbera Treasury: Rare Art and Mementos from your Favorite Cartoon Classics. San Rafael, CA: Insight Editions, 2007.
Hanna, William and Tom Ito. A Cast of Friends. Dallas, TX: Taylor Publishing Company, 1986.
Kowalski, Jesse. Hanna-Barbera: The Architects of Saturday Morning. Stockbridge, MA: Norman Rockwell Museum, 2016.
Takamoto, Iwao and Michael Mallory. My Life with a Thousand Characters. Jackson, MS: University Press of Mississippi, 2009.
Sours: https://www.illustrationhistory.org/artists/hanna-barbera
Cartoon hanna characters images barbera
Hanna-Barbera png images
512x512px67.47KB

3288x2207px1.21MB

1166x1600px750.91KB

1737x2834px229.42KB

512x512px122.23KB

727x502px266.77KB

900x876px405.9KB

611x1024px425.88KB

905x1080px97.43KB

768x1024px330.43KB

1486x2575px166.57KB

1164x1600px553.11KB

800x568px176.56KB

478x656px78.69KB

1000x1000px306.68KB

1388x1500px141.55KB

987x1000px1.21MB

900x1095px338.76KB

949x842px284.97KB

462x692px7.28KB

688x690px377.95KB

1000x1000px133.06KB

496x738px193.06KB

786x786px240.47KB

560x1228px370.09KB

2225x1134px28.5KB

1024x768px634.75KB

1920x1129px100.84KB

512x512px94.12KB

900x720px289KB

2870x1115px529.43KB

706x400px216.82KB

1000x562px347.92KB

900x1508px675.1KB

642x736px386.59KB

641x800px259.37KB

981x365px205.74KB

513x717px279.38KB

666x768px26.57KB

1024x1203px388.61KB

1008x1008px70.25KB

1444x1632px165.82KB

1024x459px141.52KB

894x894px483.03KB

2642x3456px273.71KB

969x824px211.76KB

1024x768px127.67KB

722x608px124.86KB

1024x705px560.17KB

1024x576px376.39KB

765x510px274.17KB

1024x827px885.86KB

760x1211px355.58KB

1102x538px191.63KB

1600x563px398.96KB

512x512px32.32KB

500x500px433.98KB

500x500px428.08KB

766x1050px787.1KB

855x935px290.88KB
Sours: https://www.pngwing.com/en/search?q=Hanna-Barbera
Top 20 Hanna-Barbera Cartoon Characters of the '50s and ''60s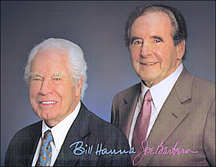 Bill Hanna and Joseph Barbera?s first collaboration was in 1940 with Tom and Jerry?s ?Puss Gets the Boot? and ?The Night Before Christmas.? Both shorts were nominated for Oscars. The next three Tom and Jerry cartoons from the duo, ?Yankee Doodle Mouse,? (1943), ?Mouse Trouble,? (1944) and ?Cat Concerto,? (1945), won the Hanna-Barbera team consecutive Oscars.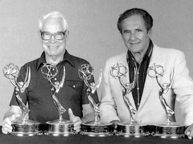 When MGM closed their cartoon division in 1957, Hanna and Barbera began their own cartoon company (the name ?Hanna-Barbera? was the result of a coin toss for whose name would go first). Since then, Bill Hanna and Joseph Barbera were responsible for the creation of more than 300 characters. As a team, they have won nearly every entertainment award possible, including eight Emmys. The duo has been inducted into the Television Academy Hall of Fame, and given a star on the Hollywood Walk of Fame.
Both of these legendary animators have since passed away. Bill Hanna passed away from throat cancer on March 22, 2001. Joe Barbera passed from natural causes on December 18, 2006.



View New Releases, Limited Edition Sericels, Limited Edition Hand Painted Cels, Animation Art
---
New Releases
---
Limited Edition Sericels
---
Limited Edition Hand Painted Cels
Click on an image to see pricing, size and description of art
---
Animation Art
Sours: https://artifactsgallery.com/art.asp?!=A&ID=639
You will also like:
10 Most Memorable Hanna-Barbera Characters
In the year 1940, aspiring artists William Hanna and Joseph Barbera met at Metro-Goldwyn-Mayer and produced their first short together, Puss Gets the Boot, that featured the prototypes of the iconic duo Tom and Jerry.
RELATED: The 10 Most Powerful Hanna-Barbera Characters Ever, Ranked
From there, the path of success for the duo take has never been very clear, making them legends in the animation industry with TV shows like The Flintstones, The Jetsons, Scooby-Doo, Where Are You? and many more to what becomes the Hanna-Barbera brand. And along with childhood-defining shows comes their iconic characters that have become household names. Here are their ten most memorable creations.
10 Space Ghost
Created by Hanna-Barbera but designed by Alex Toth, Space Ghost had his start as a standard superhero who fights supervillains in space with his sidekicks Jan, Jace and Blip the monkey. The titular show is a product of the '60s.
But in the '90s, he was reimagined as a host for the adult animated parody talk show Space Ghost Coast to Coast, which was aired in Cartoon Network, then to Adult Swim. With castmates Zorak and Moltar, the show received a cult following that marked Space Ghost as a favorite.
9 Boo-Boo Bear
Created alongside Yogi Bear, Boo-Boo first appeared in The Huckleberry Hound Show in 1958 with his recognizable purple bowtie. As Yogi's most loyal companion, Boo-Boo acts as Yogi's moral compass in every antic that the better-than-the-average bear pulls off.
With his laidback personality and his lucid intellect, he is frequently seen as the straight man to Yogi's playful personality. And just like his companion, Boo-Boo became a staple to the cartoon world and appeared alongside Yogi (except for two episodes). In the 2010 movie, he is voiced by Justin Timberlake.
8 George Jetson
The patriarch to the Jetson family, George Jetson is the typical everyman in a scientifically advanced future. Living in Orbit City with his family (his wife Jane, his son Elroy and his daughter Judy) and his dog Astro, Jetson is a caring father, constantly thrown with problems in his work and domestic life.
RELATED: MBTI® Of The Jetsons Characters
His personality is almost resembling Fred Flintstone, down to the catchphrase with "Hooba-dooba-dooba!" (Well, this is Hanna-Barbera's counterpart for The Flintstones in space.) While Rosey the Robot is iconic as the rest, George Jetson best represents the Jetsons.)
7 Huckleberry Hound
With his Southern drawl, his blue-hued skin and his yellow hat, Huckleberry Hound is another popular Hanna-Barbera character with a chill personality and a memorable trademark. Even as he faced painful obstacles or antics, he would keep his cool and end up whistling the song "Year of Jubilo". Though, he is mostly known for his misled rendition of "Oh My Darling, Clementine".
All the while, he is seen as a jack-of-all-trades with no coherent timeframe, as he is sometimes seen as a Roman gladiator, an outlaw, and a rocket scientist.
6 Penelope Pitstop
A creation of not Hanna-Barbera themselves (since she is designed Iwao Takamoto and Jerry Eisenberg at the last minute), Penelope Pitsop is the archetypal girly girl with the blonde ponytailed hair, bright pink uniform, Southern belle finesse and white go-go boots. Her character is an homage to Natalie Wood's Maggie DuBois from The Great Race.
Like any girly girl, she is seen as a damsel-in-distress in Wacky Races and the spinoff The Perils of Penelope Pitstop. However, she is given a more competent and level-headed personality in the 2017 reboot.
5 Barney Rubble
Born Bernard Matthew Rubble, Barney Rubble is the caveman husband to Betty, father to Bamm-Bamm and best friend to Fred Flintstone. Like other Hanna-Barbera characters, he has a chill personality and a dutiful attitude that makes him work alongside Fred's schemes. He even lends a memorable New Jersey accent that blends along with his chuckle-like voice.
RELATED: 10 Quotes From The Flintstones That Are Still Hilarious Today
Barney's character is based on Art Carney's Ed Norton of The Honeymooners, down to the scheming attitude. He almost shares the same interests as Fred, though at the time he is more level-headed than him.
4 Yogi Bear
He is smarter than the average bear. He is the homegrown bear of the Jellystone Park. And he is the first breakout character in the Hanna-Barbera pantheon after his appearance in The Huckleberry Hound Show. He is Yogi Bear.
As one of Hanna-Barbera's most popular and beloved characters, Yogi is a happy-go-lucky bear whose trademark antic is to steal pic-a-nic baskets within Jellystone with his companion Boo-Boo. Much like Barney, he possesses Ed Norton's personality in his schemes, especially in (unsuccessfully) outwitting Park Ranger Smith. Thanks to this simple premise, Yogi Bear became extremely popular, down to his titular movie.
3 Fred Flintstone
Yabba-dabba-doo! It is Fred Flintstone, the main character of the first-ever animated sitcom featured in primetime. With his prominent presence in the show, he soared in popularity on the show's run from 1960 to 1966 until the present day.
RELATED: 10 Hilarious Ways The Flintstone's Economy Makes No Sense
Husband to Wilma, father to Pebbles and best friend to Barney, Fred is the archetypal father figure who is often loud, hot-tempered, assertive, slightly clumsy and conniving when it comes to his get-rich-quick schemes. Yet, he remains a caring father and a loyal friend. He is also a skilled bowler and a member of the "Loyal Order of Water Buffaloes".
2 Tom and Jerry
The quintessential love-hate cartoon duo, Tom and Jerry have touched the hearts of children and adults alike from their debut as prototypes in 1940. It is hard to see who is better, but both creatures complement each other with the degree of their tenacity toward each other.
Tom is the ill-tempered cat, who constantly chases Jerry around his owner's house and sets up traps that backfire. Jerry is the quick-witted mouse, who quickly outwits Tom and ends up victorious in his schemes. Their films shorts of their hunter/prey chase have made them cornerstones of animation and icons of pop culture.
1 Scooby-Doo
While Tom and Jerry are the quintessential cartoon characters, Scooby-Doo is the quintessential Hanna-Barbera character. (Though, he is created by Joe Ruby, Ken Spears and Iwao Takamoto.) A Great Dane, a lifetime confidant of Shaggy Rogers and a mascot to Mystery Inc., Scooby-Doo had an enduring prominence throughout cartoon history.
With the numerous TV shows and films, Scooby-Doo always remains as the loyal dog to Shaggy and the gang with his penchant for food, Scooby Snacks, R-word dictation, solving mysteries, climbing on Shaggy's arm and catchphrases like "Ruh-roh!" and "Scooby-Dooby-Doo!" Whereas Shaggy, Fred, Velma and Daphne are as iconic as he is, Scooby-Doo best represents the charm of the Scooby-Doo shows, just for being a loyal dog.
NEXT: Looney Tunes: The 10 Funniest Characters, Ranked
ShareTweetEmail
NextSquid Game And 9 Other Surprising Netflix Hits
About The Author
Paolo Alfar (226 Articles Published)
Paolo Alfar is a freelance writer, based in Manila, Philippines. His passion for films is accidental when he designed a movie theater during his childhood. From there, his fondness for movies grew. And the Leo DiCaprio epic "Blood Diamond" somehow kicked off that passion. Follow him on Letterboxd at Paolo_the_TPS.
More From Paolo Alfar
Sours: https://screenrant.com/most-memorable-hanna-barbera-characters/
191
192
193
194
195