One Life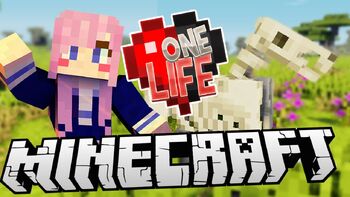 Season 1 Premiere
June 2nd, 2017
Season 1 Finale
January 27th, 2018
Season 2 Premiere
August 10th, 2018
Season 2 Finale
March 30th, 2019

'One Life' was a series of Minecraft servers created by Yammy_xox that used hardcore settings. In the series, players would get one life. Overall there were three seasons of One Life, the first started in 2016, the second in 2017 and the final season (As of now) in 2018. It is unknown if Yammy or somebody else plans to bring back One Life. LDShadowLady did two seasons of One Life, her first season was the second season overall, and her second was the third overall.
Overview
The series used a hardcore/uhc type of gamemode, the players would only get one life, similar to hardcore, and their health would also not naturally regenerate like in normal Minecraft, meaning to regain lost hearts, they'd have to eat golden apples or use another method. Usually at the start of the series, the players got a small window where if they died, they could be brought back. Season 1 and 3 also had 2 rows of hearts.
How Lizzie Dies
Season 1
In One Life, Lizzie makes it all the way to the end of the series for the purge. During the purge she is killed by Joey.
Season 2
In One Life 2.0, Lizzie dies on episode 19 after choosing to do Joel's challenge to survive at night without armor. Despite dying whilst attempting the challenge, Lizzie is brought back for the purge in episode 20 and is killed by Scott shortly after she kills Joel.
One Life Players
One Life 2.0 Players
Lizzie's Houses
Season 1
Idea
In season 1 of One Life, Lizzie went with a mermaid castle theme for her home. It was built in episode 3.
Design
Lizzie decided to use the colors pink, yellow, and blue for her palace, and added white wings on the side. The main structure is made of Magenta Clay Shingles from the Quark mod, the basic roof outline is made out of Light Blue Clay Shingle Stairs from the Quark mod, the yellow star is made of Yellow Clay Shingles from the Quark Mod, the floor and ceilings are made of regular vanilla Acacia Wood Planks, and the wings on the side are made of White Quilted Wool from the Quark mod as well.
Around the outside there is a large fence around the outside compiled of different Magic Wood blocks. On the bottom there is a Magic Wood block, with a Magic Wood fence piece on top, and a Magic Wood slab above it to finish it off. There are also several gated entryways around the front, back, and sides of the house. The very front entrance has two skeleton banners Lizzie achieved from a pirate ship. She has also strung blue fairy lights on the top of all the entrances.
Details
In Lizzie's backyard, she has decided to include lots of Jacaranda trees with sparkling yellow and purple fairy lights in between the trunks. There is also a single magic tree of Lizzie's own design on the side. Around the outer edges of her house she has added a water moat with flowered lily pads floating on the surface, with a drawbridge in the center so she can access her yard. On the wall of the left side entrance, there is a small raised cactus farm all along the left side of the gate, while on the other side of the gate, there is a very small square watermelon farm with a hole of water in the middle. Near the front entrance, there is a fenced off wheat a pumpkin farm with a scarecrow within the area to fend off any deadly evils. Near the Jacaranda trees there is an area Lizzie built for her skeleton horse Mr. Boney.
Interior
In the front corner of the palace is a sort of smelting and crafting station. There are four normal furnaces and a grinder for duplicating ore on the bottom left side, with a crafting table next to it. Next to the crafting table is an anvil, with the fourth furnace resting next to it. Against the right wall of the house, there are twelve double chests and two single chests, each chest sorted with specific items in them such as Mob Drops or Saplings or other items. On the back left wall of the house, there is an enchantment station with two block tall rainbow bookcases.
Season 2
Idea
Design
Details
Interior
Modpack (One Life)
The modpack all players are equipped with is known as the InsaneVanilla++ modpack for 1.11.2 created by programmer and gamer Insane. This modpack includes the mods;
Achievement Books 
Advanced Combat
AmbientSounds
AppleSkin
ArmorRecalc
Aroma Backup
Baby Mobs
Bed Bugs
BetterFps
Better Than Bunnies
Better Than Llamas
Better Title Screen
Biomes o' Plenty
Bloodmoon
Chisel
Color Utility
Craft Tweaker
Deco craft
Emergent Villages
 Expanded Bonemeal
 FairyLights (Season 3)
Felling
Fullscreen Windowed Borderless
Giacomo's Bookshelf
Giacomo's Foundry
Giacomo's Compass
Giacomo's Teleport Mod
Giacomo's Maps
GoG Skybox
Hats
Hunger Persistance
HWYLA
JEI
JER
Notes
Pam's Harvestcraft
Passthrough Signs
Quark
RealBench
ReAuth Mod
Roguelike dungeons
Rough Mobs
Simple Grinder
Sound Filters
The "No breaking sound or particle effect for Tools and Armor" Fixer a.k.a. The Mojang Fixer (MC-2518)
The Spice Of Life
Vending Block
V-Tweaks
Waila
Wearable Backpacks
**The modpack slightly changed over the coarse of the series.
Modpack (One Life 2.0)
Unlike Lizzie's first season of One Life, One Life 2.0's modpack is a custom made one for the series. It's in version 1.12. The mods included are:
- Advanced Combat by sblectric
- AutoRegLib by Vazkii
- Baubles by azanor
- Biomes O' Plenty by Glitchfiend
- Bloodmoon by Lumie
- Craftable Horse Armour & Saddle by Ewyboy
- Decocraft 2 by RazzleberryFox
- Foamflower by kamildanak
- Friendship Bracelet by B0undaryBreaker
- Giacomo's Compass by Zacomat
- Giacomo's Teleport by Zacomat
- Horse Tweaks by BlayTheNinth
- HWYLA by TehNut
- Improved Villagers by Orange1861
- Just Enough Items by mezz
- JourneyMap by techbrew
- JourneyMap Defaults by BinaryCrafter
- LibEx by LogicTechCorp
- LLibrary by iLexiconn
- Mo' Creaturesby Dr Zhark
- Mo' Pickaxes by Soletare
- Mowzie's Mobs by BobMowzie
- MrCrayfish's Furniture Mod by Mr. Crayfish
- Nature's Compass by Chaosyr
- NetherEx by LogicTechCorp
- Outfox by ItsTheKais
- PTRLib by RazzleberryFox
- Quark by Vazkii
- Roguelike Dungeons by Greymerk
- Scaling Health by SilentChaos512
- Securitycraft by Geforce
- Silent Lib by SilentChaos512
- Torohealth Damage Indicators by ToroCraft
- VeinMiner by Portablejim
- Vending Block by kamildanak
Episodes (Not Updated)
| Episode Number | Title | Thumbnail | Premiere Date |
| --- | --- | --- | --- |
| 1 | Evil Chickens Attack! | | June 2nd, 2017 |
| 2 | Eaten Alive by Bats! | | June 9th, 2017 |
| 3 | My Mermaid Palace | | June 18th, 2017 |
| 4 | The Nether Sucks! | | June 22, 2017 |
| 5 | We Must Find a Melon! | | June 25, 2017 |
| 6 | A Magical Wall | | June 30th, 2017 |
| 7 | A Dangerous Contraption! | | July 6th, 2017 |
| 8 | Animals! | | July 11th, 2017 |
| 9 | LDShadowlady's Little Shop | | July 15th, 2017 |
| 10 | Cute Home Improvements | | July 19th, 2017 |
| 11 | Bunny Quest! | | July 23rd, 2017 |
| 12 | Moving House! | | July 28th, 2017 |
| 13 | Amazing Discovery.... | | July 29th, 2017 |
| 14 | Rainbow Life! | | August 6th, 2017 |
| 15 | Crystal Collection | | August 11th, 2017 |
| 16 | Extreme Revenge! | | August 17th, 2017 |
Episode

Number

Title
Thumbnail
Premiere

Date

1
Lavender Land
August 10, 2018
2
Final Preparations
August 28, 2018
3
He Holds My Little Secret
September 15, 2018
4
Home Make-Over
September 20, 2018
5
Parrot Rescue Patrol
October 7, 2018
Sours: https://ldshadowlady.fandom.com/wiki/One_Life
Fudge Improvements - Makes mobs AI less heavy to make the game run more smoothly and makes some animals spawn as a baby
Mo Creatures
Better than Bunnies- Makes bunnies look fancier
Biomes Oh Biomes
Better than Llamas- Makes llamas look fancier
Decocraft - Decocraft adds in over 876645 decorations for your
Minecraft World. This mod will definitely give you a lot more variety when decorating your builds. Many of the items are actually functional as well!
Natural Nether Portals - Makes broken and lit portals spawn naturally in Nether and Overworld
Nether Gold Ore - Make gold ore appear in the Nether.
No Recipe Book - JEI is here
Ocean Floor - Makes oceans have clay, sand and dirt spawn at the bottom of the oceans
Optifine - It allows Minecraft to run faster and look better with full support for pp textures and many configuration options.
Pam's Cookable - Reintroduces some recipes removed from Pam's Harvestcraft
Pam's Harvestcraft - Lots of new crops and trees to farm
Pam's WeeFlowers - 16 new flowers, one for each dye
Primitive Mobs - New mobs that keep the vanilla feeling.
Quark - Just check yourself
Rainbow Oak Trees - Adds a new tree that has colored leaves
RealBench - Makes items stay in the crafting table
ReAuth - Let you login in-game (Invalid Session, you know?)
Resource Loader - Changing some textures
Rough Mobs - Makes some mobs have some special abilities
Ruins - Adds, well, ruins
Simple Grinder - You can double ores!
SlimyBoyos - Makes slimes pick up items from the floor
Snow Accumulation - Does what he says
Sound Filter - Echoes and such
Streams - Real flowing rivers!
SwingThroughGrass - You hate when you can't hit mobs through tall grass uh?
The Spife of Life - Spices up your diet
Toast control - No more Recipes and Tutorial notifications
Unlimited Chisel Works - MOOOOORE blocks
Villagers Trade Tables - Adds some new trades
Vulcanite Ore - Adds a new ore in the nether that has special properties againist hotness
Waystone - No more walking
Wearable Backpacks - well, backpacks
Wopper - Wooden hopper to create simple contraptions
Refrs
www.curseforge.com/minecraft/modpacks/insanevanilla
https://optifine.net/
Sours: https://stacyplays.fandom.com/wiki/One_Life_SMP_mods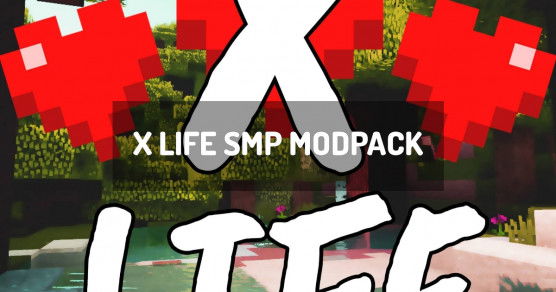 X Life SMP Modpack is a minecraft modpack. Last available version XLifeSMPModpack 2.0. Install and create a X Life SMP Modpack server in a few clicks with our administration panel.
How to install X Life SMP Modpack?
To install the client version of X Life SMP Modpack locally on your computer, you must use the launcher Twitch, which allows you to start the packages from the Curse site.
Download and install the launcher: Launcher Twitch / Curse.
Run the launcher.
Click .
Search for the modpack .
Select the version of that is matching the server version where you want to connect and install it.
The X Life SMP Modpack modpack is downloaded and installed on your computer. Click it to launch it.
How to create an X Life SMP Modpack server?
X Life SMP Modpack can be installed in one click with our automatic installer, in the administration panel of your Minecraft server.
Go to the control panel.
Click on .
Click on and validate.
Select the latest version of and click on .
Select and click .
Your server will automatically restart on X Life SMP Modpack.
Depending on the version and/or modpack, the server may take several minutes to restart.
You have nothing else to do, X Life SMP Modpack is installed on your Minecraft server!
How to update X Life SMP Modpack?
Updating X Life SMP Modpack is very easy. A backup is performed automatically before the update starts, allowing you to restore your server if needed.
Go to the panel
Click .
Search and validate.
Select the new version of and click .
Select , then click .
Your server will restart after updating X Life SMP Modpack.
This may take several minutes.
X Life SMP Modpack is up to date!
Version of X Life SMP Modpack
You can download X Life SMP Modpack from the official site, if you don't have a minecraft server hosted at mTxServ.
Official website
| Version of X Life SMP Modpack | Build | Minecraft |
| --- | --- | --- |
| XLifeSMPModpack 2.0 | latest version | 1.15.2 |
| XLifeSMPModpack1.15.2 2.2.1 | latest version | 1.15.2 |
| XLifeSMPModpack1.15.2 2.2.0 | latest version | 1.15.2 |
| XLifeSMPModpack 1.6.0 | latest version | 1.14.4 |
| XLifeSMPModpack 1.5.0 | latest version | 1.14.4 |
| XLifeSMPModpack 1.4.3 | latest version | 1.14.4 |
| XLifeSMPModpack 1.4.2 | latest version | 1.14.4 |

Sours: https://mtxserv.com/minecraft-server/modpacks/10626-x-life-smp-modpack
YOU ONLY LIVE ONCE ( One Life SMP ModPack ) SMP
I very quickly began to move my fingers in her bosom, she moaned loudly and arched. I continued with increasing pace and effort. She screamed and thrashed about the bed. Finally her vagina began to contract sharply, pushing my fingers out. She tensed one last time and fell on the bed.
Mod one pack smp life
She replied that she felt bad in the car, and the driver brought her. Lisa guessed that he had not told about the impact and the fall; anyway, she didn't care. - Who are you. She cheerfully replied: - Nurse.
One life all deaths -- Seasons 1-3
For a while we sat in silence, drank, had a snack. I was again seized by sexual excitement, juicy pictures of wild debauchery flashed in my mind - a lanky flimsy young man squeezed his. Dick between my wife's breasts and jerked it back and forth and she closed her eyes, moans with her mouth open and waits for him to splash her beautiful face with his sticky sperm !!.
You will also like:
Mom's dirty panties that I smelled in the bathroom turned me on the most. After all this, I wandered into the sites where I learned what incest is. I read stories, imagined how I was fucking my mother, imagined how it all happens on the example of other stories, but did not believe that.
1940
1941
1942
1943
1944