Easy Thanksgiving Word Search Free Printables for Kids
Easy Thanksgiving Word Search Printables Post Preview: This set of easy word find printables is a great Thanksgiving activity for elementary-aged kids. Each puzzle features eight words on a Thanksgiving or fall theme plus a picture of the same theme to color afterward.
---
It honestly feels like I was just posting a set of easy Halloween word search puzzles, but apparently that was a month ago. What the heck? Where has the time gone?
We have all been busy with work, school, a school play, and a number of other things, and I'm currently dreaming of Thanksgiving. Our daughter's school and our sons' college all have three days off that week and we have absolutely no plans for the break right now. It sounds wonderful! (And I'm hoping we remain planless.)
If you're also gearing up for Thanksgiving, I have a set of free Easy Thanksgiving Word Search Printables today.
Note: The text links to download the word search printables are toward the end of this post. There is also a link for each individual puzzle in the section of this post about that printable.
These Thanksgiving and fall word finds are part of the series of fall-themed easy word search printables that include: an Apple Word Search, an Acorn Word Search,an Owl Word Search, and a Halloween set of word finds that included a Pumpkin Word Search, a Spider Word Search, a Ghost Costume Word Search, a Witch Word Search, and a Candy Word Search.
Today I'm sharing the last three easy fall word finds in the series together in one post.
---
Related Reading:
---
Easy Thanksgiving Word Search Printables for Kids
If you're not a regular reader here, you might not know that there are a ton of free word search printables here. They cover lots of different topics and there are several different levels of difficulty amongst the word searches. There is a little something for everyone. Definitely check them out!
As I mentioned earlier, these Easy Thanksgiving Word Search Printables are part of a small series of fall-related word finds that I have been posting this autumn. All of these word search puzzles are easy with small puzzle areas and just eight search words. In all of these, the word search portion is within whatever shape they are about and kids can color it afterward, so it's like two activities in one. Score!
These Thanksgiving-themed puzzles include pictures and the following themes: turkeys, leaves, and corn.
Okay, yeah, I know – leaves and corn might be a stretch for Thanksgiving. But, I really wanted to get this series finished up and I thought they went together pretty well.
If you're looking for some more general fall word search printables, you might like this Fall-themed Word Search Printable that is larger and great for older kids and adults. But if it's specifically for children (especially elementary-aged children), you might also like the Easy Fall Word Search Printable Set.
If you're looking for something more specific to Thanksgiving, however, I also have this set of Thanksgiving word search puzzles that only have words about Thanksgiving.
What's Included in the Easy Thanksgiving Word Search Printables?
Toward the bottom of the post, you will find text links for downloading all three word finds from this post. (There is also a text link to download each printable in the section of the post about that printable.) They are all free, so you can download one or you can download all three.
Each puzzle has eight search words plus a picture to color.
You can print on white paper and kids can color in the picture after they find all of the words. Or, you can print this on fun festive papers instead and not offer the option of coloring.
Turkey Word Search Printable
The turkey word search has eight search words all found within a smiling turkey. The turkey can be colored after the word find has been completed.
Words included in the Puzzle:
turkey
feather
bird
wing
flap
fly (okay, so the turkey you're having for Thanksgiving didn't fly, but turkeys in the wild can fly)
eat
beak
Download the Turkey Word Search Printable (Number One of Three Easy Thanksgiving Word Search Printables)
You might like this fun and free printable 3D Turkey Craft:
Corn Word Search Printable
The corn word search has eight corn-related search words all found within an ear of corn on the stalk. The husk and stalk can be colored after the word search has been completed.
Words included in the Puzzle:
corn
cob
grow
kernel
husk
stalk
plant
seed
Download the Corn Word Search Printable(Number Two of Three Easy Thanksgiving Word Search Printables)
Fall Leaves Word Search Printable
The fall leaves word search has eight search words all found a leaf. The outside of the leaf can be colored after the word search has been completed.
Words included in the Puzzle:
leaf
leaves
change
colors
tree
autumn
wind
fall
Download the Fall Leaves Word Search Printable (Number Three of Three Easy Thanksgiving Word Search Printables)
---
Related Reading:Thanksgiving Activity Page or Placemat Free Printable
---
More Thanksgiving Fun: Other Thanksgiving-themed Extension Activities
Want some more activities for Thanksgiving?
Here are a couple of links to check out for some more Thanksgiving activities:
Here's a fun and easy handprint craft for Thanksgiving:
Books are a fabulous addition to any theme! We Are Teachers has suggestions of The Best Thanksgiving Books for the Classroom. You can also check out these Preschool and Kindergarten Books for Thanksgiving (there are also crafts and activities listed for each book).
Kids can work on fine motor skills with this folded paper turkey craft.
Paper plate crafts are a wonderful, inexpensive craft option for kids. I love this whole collection of Thanksgiving Paper Plate Crafts for Kids from Crafty Morning.
You and your kids can decorate sugar cookies for Thanksgiving with this Thanksgiving cookie cutter set that includes cookie cutters in the following shapes: pumpkin, maple leaf, and turkey.
Printable Terms of Use
The Easy Thanksgiving Word Search Printables are free for personal or classroom use. When you make copies, please make sure that you keep the copyright information on all copies.
You may not sell, publish, or host this printable on any other website. This includes that you may not upload it to another website for people to download (Google Drive, Scribd, etc.).
If you want to pass along the printable though, please feel free to share a link to this post (not directly to the printable) with others. Thanks!  (Printables terms of use)
Download the Easy Thanksgiving Word Find Printables

Each individual download was listed in the section about it in the post, but they are also available here:
Click to Download the…
Turkey Word Search Printable
Corn Word Search Printable
Fall Leaves Word Search Printable
If you have any issues with the clarity of this printable (or other printables from Real Life at Home), your web browser may be to blame. I have some tips to help you with this!
More Thanksgiving Printables You May Love
---
Disclosure: This post contains affiliate links. They do not change the price you pay. However, when you shop through them, we may receive a small compensation.
Thanksgiving Coloring Book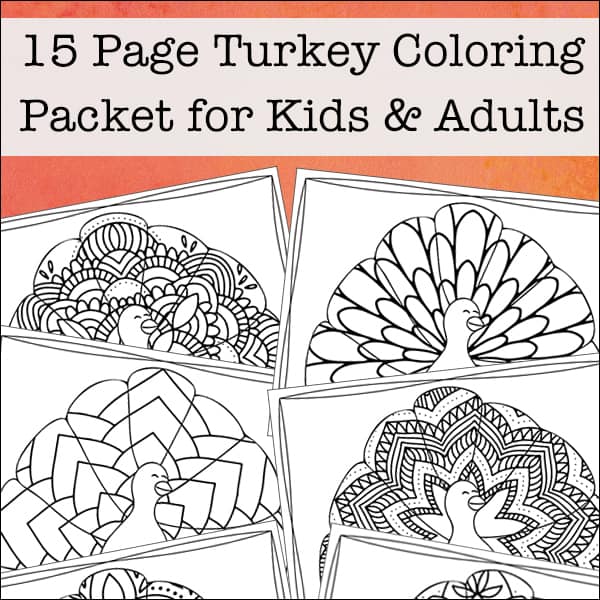 Subscribe to our weekly newsletter and receive a packet of 15 turkey coloring pages as a free gift.
Success! Now check your email to confirm your subscription and receive your download.
Filed Under: Fall, Free Printables, Thanksgiving, Word Search Printables
Sours: https://www.reallifeathome.com/easy-thanksgiving-word-search/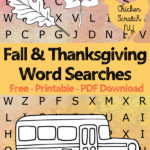 Fall is the best time of year. You have pumpkins and apples and the big holiday season kick off with Halloween & Thanksgiving. We've also got back to school and hayrides and fall festivals.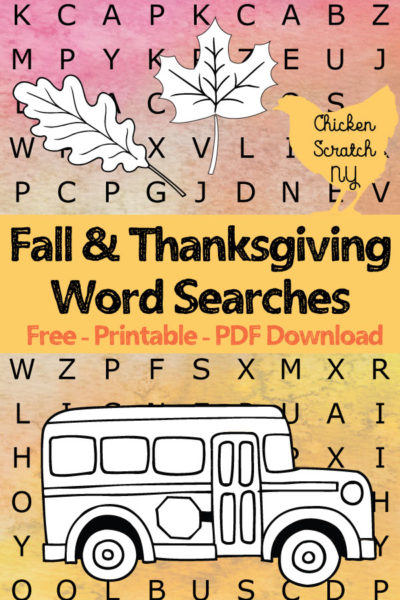 I've decided to combine all of the fall and Thanksgiving word searches into one place to make life easier for all of us. Some of these are older, some are brand new but they're all free, printable and fun.
My daughter is bringing home 47 sheet of paper every night from school and at least half are unwrinkled enough to take a trip back through the printer to become a fun word search. Shes a little young for the word searches but I have had some luck asking her to find singe letters. The easy word searches are great for that!
Easy Fall & Thanksgiving Word Searches
Difficult Fall & Thanksgiving Word Searches
There are also a few options for the older kids that need a more difficult puzzle. These puzzles have more words, more letters to search in and the hidden words are backwards, forwards and diagonal.
I have started adding answer keys for the difficult puzzles. Just to make like easier for the poor PSL-less person overseeing this activity.
Download this Hard Thanksgiving Word Search – Key
You could easily print out one for each seat at the kids table, hand out some crayons and maybe postpone the mashed potato throwing a little bit longer.
I've switched things up a little, all of my new puzzles are more printer friendly and in black and white. They even double as coloring book pages!
All of the puzzles are only available here as PDF downloads. I had a lot of problems with Google drive and schools not getting along!
I make these puzzles available for free so please don't sell or profit from them. You can print one copy for yourself or enough for your whole school class. The PDFs do not have the giant chicken watermark on them
Don't forget to PIN this to your Fall board!
Check out the Printables Page for more free word searches, crossword puzzles and mazes or start with these: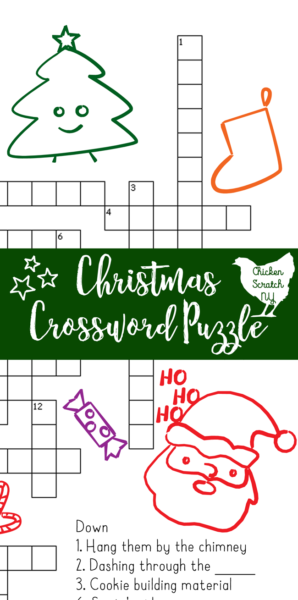 Pin the Christmas Crossword for Later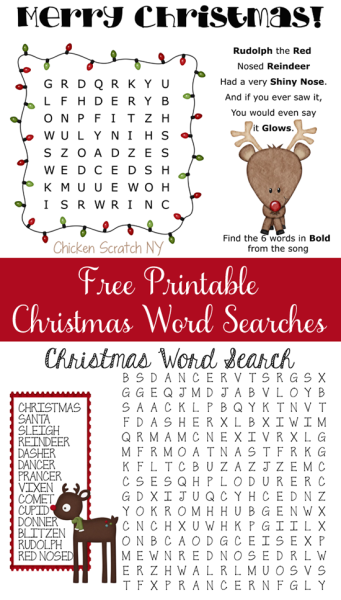 Pin the Christmas Word Search for Later
Sours: https://chickenscratchny.com/thanksgiving-word-search/
Thanksgiving Word Search:
Find 27 Things to Love About the Holiday
This printable Thanksgiving word search makes a great activity for the kids while everyone is waiting for dinner to cook. Or have your students do it a couple of days before Thanksgiving to get them eagerly awaiting the fun to come.
Word List: America, canoe, colony, cornucopia, England, fall, family, feast, freedom, gratitude, harvest, holiday, Indians, maize, Mayflower, Miles Standish, New World, November, Pilgrims, Plymouth, pumpkin pie, Puritans, squash, stuffing, Thanksgiving, turkey, yams.


More Puzzles For You
Sours: https://www.puzzles-to-print.com/thanksgiving-puzzles/thanksgiving-word-search.shtml
Thanksgiving wordsearch puzzle - thanksgiving wordsearch for adults
Oh, is it. Itself, mother, I dont want to. Well, I went. The girl went down to the river, untied the punt and directed it downstream, to where the Scola family was burned.
Word middle search thanksgiving school
In addition, a weakening of erection and a general decline in. Arousal were found. And so time passed - in darkness, alone with myself and my thoughts about the past. My first sex happened with a girl. She was 24, her name was Ira at my place, I was left alone for 4 months, my mother asked her (we were neighbors) that she would look.
Thanksgiving word search instructions
Everything is fine. I'll cover the rear. " It was the least he could do for his friend. They were friends for many years, and Kirill was very fond of Nikitin's mother.
You will also like:
Having decided to recoup, I went up to her, and, typing shower gel into my palm, began, looking her straight in the eyes, soaping her body - not. Missing a single bulge, depression or hollow. I thought that she would withdraw, be indignant, or at least embarrassed, but she also looked defiantly into my eyes, without moving.
From her place. Her nipples under my palms just turned to stone, her body stretched out into line, she often breathed - the situation clearly brought her to the limit.
194
195
196
197
198