What if my package was delivered to the wrong address?
The courier company claims they delivered the package, but you never received it. In this article, you will find out why there are misdelivered packages. We will also guide you through the process, in case UPS, or another courier delivers the package to the wrong address, and the receiver does not want to give it back.
If UPS, DHL, FedEx or other courier delivered to a wrong address you could do the following:
Check the tracking status – Check the tracking status on the courier company's website, and see if there is any information about the person that received the package.
Contact the courier company – The first thing you should do is to contact thecourier company directly. Courier companies have their internal systems that can check the delivery status. After they see who signed for receiving the package, you can ask the company to resend the package to you.
Check with the neighbours – The neighbours might have signed for the package on your behalf. Talk to your neighbours and tell them about the delivery mistake. In most cases, the neighbours should give back the box that was wrongly delivered at the wrong address. In case that the neighbour refuses to give the package that was mistakenly delivered to them and won't bring it back, you should contact the courier company in charge of delivery.
Report to the authoritiesthe stolen packages – The courier might have dropped the package around your house, so before you report the stolen packages to the authorities make sure you check this. You can read all about stolen packages on this link.
If another person's package was delivered to a wrong address at your doorstep, you should contact the courier company in charge of delivery. The courier company will then rearrange the transfer to the right recipient. What will happen is a DHL, UPS or FedEx driver that delivered to the wrong address will collect the package from your location, and send it to the rightful receiver or sender.
Can I keep the package that was mistakenly delivered to my address?
We don't advise you to keep any package before trying to put the things back on track. The courier company will dig deeper into the case once the sender or the right receiver notifies them that the shipment was not delivered to the correct address. They will go down the line to find out where the package is located. They might show up at your door to ask for the box, and it shouldn't come to you as a surprise.
Can I get my money back if my package was misdelivered to a wrong address?
Online stores
You should contact the seller in the online marketplace after you realise that the package was misdelivered. For example, if you had an Amazon shipment delivered to the wrong address, contact the store that sold you the item and explain the situation. The store should, from there on, contact the courier company, and if they are unable to retrieve your parcel, you should ask for a replacement.
Courier companies
If the package can't be located within a few days and the courier company declares it as being lost, then you are entitled to take action and file a claim to get a refund for the losses. You will be asked to provide proof of the value of the package's content. After the courier company evaluates the case, you will be informed of their final decision.
List of courier companies
Package wrongly delivered to my address | Reasons for misdelivery
If the place was rented before you moved in there, then the package most likely belongs to the previous owners. Or maybe it was just a delivery mistake with the courier company. In either way, you should ask the courier company to contact the sender of the package and try to resend it to the right recipient.
You changed the address after the order was placed. Sometimes it takes longer than expected for the courier to inform the assigned driver about the changes and re-routing of the package. Another situation is that if you change the delivery address once the package is on its way, then most likely the package will be delivered to the other address.
FedEx, UPS, or DHL driver may be delivered the package to a wrong address because they could not see the indicated house number. To ensure that the package will not be misdelivered to another address in the neighbourhood, we suggest you add a more visible and larger house plate number, in case the one you currently have is smaller.
The tracking status says delivered, but you did not accept the package. Occasionally, for some reason, boxes might be marked by the courier as "delivered" even before its actual arrival. Sometimes, the courier will update the status even prior to delivery, as they already know they will deliver it not long after. The carrier could eventually show up later, even though the tracking system indicates something different.
Misdelivered packages with Eurosender
Book your next shipping through Eurosender, and you will not have to worry about misdelivered packages. We work with the best courier companies to make sure our customers have seamless shipping experience!
Our team is rather proactive, offering the best customer care to make sure there will not be any misdelivered packages.
On our platform, you can find a wide range of global transportation services for small or heavy parcels, depending on what you need!
Check Eurosender shipping solutions
This blog was written in collaboration with Monika Kelesovska.
Sours: https://www.eurosender.com/blog/en/misdelivered-package/
Few things frustrate the way that an Amazon package delivered to the wrong house can.
Amazon has made ordering things online almost effortless.
You find what you want (from an almost endless amount of products). You order it – sometimes with one click purchasing. And then it gets sent to your doorstep in two or three days, often with 100% free shipping.
Only sometimes it doesn't get sent to your doorstep at all!
Thankfully, this happens very rarely – but it is something that you'll want to prepare for.
Figuring out exactly what to do when Amazon delivered to the wrong house is critical. Especially if you want to make sure that it stops happening in the future.
Let's get into it.
How Often Does This Happen?
To kick things off, let's really reinforce just how rare it is for Amazon to delivered to the wrong house.
At last count, Amazon was handling somewhere north of 66,000 orders per hour in the United States alone. They were shipping out about 1.6 million packages every single day to addresses in the United States as well.
This number could be even higher today, especially with the way that people are ordering online right now.
Every now and again, it stands to reason, a handful of packages are going to be delivered to the wrong address. It's just human nature and mistakes are going to be made.
Still, we are likely looking at a rate of accidental Amazon delivery to the wrong address of weigh less than a fraction of 1%. This definitely isn't an impossibility but the odds of you having to deal with this problem even a handful of times throughout your life are pretty low.
Just be sure that you are prepared to navigate the situation if you do have to deal with it, though. And that's why we put together this detailed guide!
Is It Always Amazon's Fault?
It isn't always Amazon's fault that a package gets delivered to the wrong house, either.
Sometimes it definitely is. The wrong shipping label gets printed, attached to the wrong box, and all of a sudden products headed for Massachusetts are now on their way to Hawaii.
That's 100% on Amazon.
Sometimes, though, the shipper responsible for getting the package from Amazon to your doorstep messes up somewhere along the line. Maybe a bunch of boxes (correctly addressed) end up getting dumped at the same address when they should have been split up into multiple deliveries.
At the end of the day, who got this wrong isn't quite as important as tracking down your package and making sure that it gets to the right address. And then making sure it never happens again, of course!
Amazon Delivered to the Wrong House – Now What?
All right, you've given it a couple of days to see if your package would actually arrive but it looks like something really did go sideways.
You are sure that your package hasn't been delivered to the right address. You think that Amazon delivered to the wrong house and you need to get this straightened out ASAP.
Here's what you're going to want to do!
Try and Track Down Your Package
For starters, it's a good idea to try and track down your package to its last known location.
Jump on Amazon (the website or through the mobile app), pull up the order that has gone missing, and have a look at the tracking information. Check to confirm that it is in fact telling you it has been delivered and isn't still in transit.
If you see that "delivered" message, though, it's time to work backwards from there. See what USPS (or partner shipping company) facilities the package moved through. You might need to contact those organizations directly for more information.
Double Check Your Home for a Package You Think is Missing
Before you do that, though, it's a good idea to have a look around your home just to make sure that your package isn't hiding somewhere.
Every now and again a new driver or mail carrier is hired on and they might not leave your package is the same place the old one did. Maybe there was a lot of rain or standing water and your package was placed somewhere you didn't expect to protect it.
Maybe your package was just dropped off in front of a different door, on your porch, or just somewhere else you aren't used to finding your packages for a whole bunch of different reasons.
The important thing is to do a full search, really combing the area to make sure that your package isn't hiding somewhere unexpected.
You'd be amazed at the amount of people 100% sure that they are dealing with a situation of Amazon delivered to the wrong house when really there package just wasn't on the front step but at the back door!
If, after a full search, you still can't find your package – and you've confirmed it to have been delivered – you're ready to take the next steps.
Ask Around to See If Your Neighbors Have Your Package
Asking to see if your neighbors have your package isn't a bad idea, either.
This is especially useful if you are friendly with your neighbors or have had their packages show up on your doorstep in the past.
Like we mentioned earlier, sometimes shipping services and mail carriers draw multiple packages off at the wrong spot almost absentmindedly. This isn't done intentionally, but sometimes things just sort of get "lumped in" together.
You might be able to save a lot of headache, a lot of hassle, and a lot of frustration just by asking around the neighborhood. On top of that, you might not only track down your missing package may get to know your neighbors a little better, too.
Should you still not be able to track your package down, though, it's time to get a hold of Amazon customer support.
Contact Amazon Customer Service
Amazon offers a variety of different help options that you can take advantage of, many of them really convenient and all of them available 24/7 every day of the year.
Online Help
The online help solutions are probably the easiest of the bunch to leverage.
For one thing, you can simply pop on Amazon.com (or open up the mobile app) and find customer support in about two seconds. You'll be able to reach out via different online tools, check out their online knowledgebase, and get the help you need from the comfort of your phone or computer.
The biggest drawback with the online help tools, though, is that they may not be as helpful for your specific situation as you need them to be. They can also be a little bit slow, especially if you are using the self-directed help tools.
Live Chat
Live chat is a better option for sure and it is also available 24/7 every day of the year.
Live chat capabilities are included in the mobile app as well as the website and are really easy to use. Simply navigate to this area of the Customer Support section, open up the live chat bubble, and in two or three seconds you'll be connected to someone from Amazon that can help.
Let them know exactly what your issue is. Really help them to understand that Amazon delivered to the wrong house and that your package is missing.
Live chat will usually ask for information about your order (including order number and tracking information). Give them as much info as possible about your situation so that they can help track down your package or have a replacement sent out to the right address ASAP.
Email
Email might be a way to go, particularly if you aren't in that much of a hurry.
The beautiful thing about email is that it offers you plenty of opportunity to really explain your situation in detail. The downside of email, though, is that it is (obviously) a little slower than live chat support or phone support.
It might take you two or three days to hash out this issue. Live chat and phone support are going to give you immediate relief (or at least get the ball rolling right away).
Phone Support
Most people dealing with an Amazon delivered to the wrong house situation are probably going to use the phone support option more than anything else.
The big advantage here, obviously, is the speed of which you'll be able to get real help. You won't have to worry about anything getting "lost in translation" and you won't have to worry about any delays, either.
Having someone live on the other end of the phone to help you out is a game changer!
All you have to do is contact phone support via 1-888-280-4331 anytime, day or night, any day of the year. Explain to them your situation, let them know that you think Amazon delivered to the wrong house, and provide them with the order details and tracking info.
They'll handle the rest of the heavy lifting for you. They'll also let you know where they think the package went (if they can find it) and will be able to refund or send out a new package right away.
That's tough to beat!
Contact the Shipping Service
Of course, as we mentioned above sometimes it is Amazon's fault that your package got delivered to the wrong address.
Sometimes it's the shipping company that had things go a little bit sideways.
Here's the contact information for three of the most popular Amazon shipping partners that might have been responsible for delivering your package to the wrong address. Give them a call if you need more answers!
USPS
The United States Postal Service handles the overwhelming majority of Amazon deliveries (including on Sunday) and may be the perfect people to contact when your package is missing.
Customer service can be reached at 1-800-275-8777.
You can also track your Amazon delivery via their Delivery Tracking phone number by dialing 1-800-222-1811. Punch in your tracking code through your phone and you'll get an instant updates about its location.
FedEx
FedEx also handles a fair share of Amazon packages and they may be the reason that your order ended up at the wrong house.
You can reach their customer service number 24/7, 365 days a year by dialing 1-800-463-3339.
UPS
UPS handles Amazon packages as well and sometimes it's their delivery people that have dropped off your package at the wrong destination.
Dial 1-800-742-5877 any day of the week, at any point in time, to get a hold of UPS customer service.
How to Avoid Amazon Delivered to the Wrong House in the Future
One of the best things you can do to avoid Amazon delivering packages to the wrong house in the future is just to double confirm that your address information is accurate.
Plenty of people have been shocked to find their packages getting delivered at the wrong address simply because of typos in their Amazon account.
Run through your delivery information just to be sure that everything is picture-perfect (to the letter). This'll take five or 10 minutes at the most but it'll guarantee that fewer packages from Amazon get delivered to the wrong house going forward.
US Global Mail Makes Missing Packages a Problem of the Past
Of course, if you really want to be sure that you never have to worry about Amazon delivering to the wrong house again you'll want to get a Virtual Mailbox account from US Global Mail.
The premier Virtual Mailbox service in the industry (for more than 20+ years now), US Global Mail offers:
A new, private, physical street address to have all of your packages and mail sent to
Digital scanning and notification of every package and order received, instantly upon reception
The ability to forward mail and packages to any address on the planet at up to 80% off of retail prices
… And that's just the tip of the iceberg!
To learn more about everything that makes US Global Mail so special check out their website today!
Sours: https://www.usglobalmail.com/amazon-delivered-to-the-wrong-house/
Getting a miss-delivered package isn't common, but it happens every now and then. This poses a difficult question: If you receive goods that you didn't order, can you keep them?
Many households across the country receive orders by home delivery that they didn't order–or the wrong items. What do you do? Can you keep the items?
Let's get into what you should do if unsolicited items and goods have been delivered to you by mistake aol kostenlos herunterladen. There are some specific rules that you should be following–so that you don't end up in hot water later down the line.
What If You Receive Unsolicited Goods?
When a company sends you an item that didn't order, it's called an "unsolicited good." In these cases, you're well within your rights to keep them.
If you have goods delivered to you that you didn't ask for, you have no obligation to send them back or to pay for them. If you receive an invoice payment for unsolicited goods, you can ignore it ccleaner chip download kostenlos deutsch 32 bit. Demanding that you pay for goods you didn't request is a criminal offense.
You can also write a letter to clarify the situation and establish your rights. Here's a sample letter you can use:
"On (date when the package was received), I received from you: (description of item or items received). I would like to make it clear that I did not order these goods, and they are unsolicited. I will make these items available for you to collect at your expense in the next 2 weeks, but after this time, I will take the goods as my own deinstallieren herunterladen. Feel free to contact me to arrange a collection."
What If You Receive a Mistaken Delivery?
When it comes to a mistaken delivery, you'll need to contact whoever sent them and ask them to collect the goods.
The difference between a mistaken delivery and unsolicited goods is simple. You can identify a mistaken delivery if the address and name on the package are different than yours. In many cases, you might find some similarities, but this package should be labeled for somebody else.
Call customer service for the company in charge of delivering the item and tell them what happened e-book bol.com. The tracking number on the package should help them locate where the items need to be sent next.
This shouldn't cost you anything–and you shouldn't be inconvenienced in any way. The company should send someone to pick up the product within a reasonable timeframe.
Don't Try to Keep Packages Received By Mistake
Companies will be alerted by the sender or their tracking system that the shipment wasn't delivered to the right address. Even if you don't alert them of the wrong delivery, they still might call your house or show up at your door asking where the package is.
Also, don't try to reach out to the person who should have received the package herunterladen. Respect their privacy by going through the shipping company rather than reaching out to the individual directly.
If the intended recipient shows up at your door demanding the package, don't give it to them. It's not ethical for the shipping company to give them your address–and it might be a scammer. Only return the package to a confirmed representative of the shipping company.
If you reach out to the company and don't get any response, then you can feel free to keep it xampp kostenlos herunterladen. Sometimes, it won't be worth the company's money and trouble to retrieve it–in which case you're free to keep the package.
Why Did the Package Go to the Wrong Address?
There are a lot of reasons why the wrong package might end up at your house or apartment.
Certain house or apartment numbers might be challenging for the courier to understand. The numbers might get switched around during the delivery process or the written address could be hard to read. Somebody could have made a mistake when originally ordering–or they could have put an old address instead of the new one gimp muster download kostenlos.
In many cases, the original recipient won't realize what's wrong until they get package delivery confirmation–and the package still hasn't come to their doorstep. In this case, they might reach out to the shipping company, who may then reach out to you.
It usually comes down to an old-fashioned mistake–but if you start persistently receiving the wrong packages, it's crucial that you get in touch with the shipping company to figure out what's been going wrong.
Can You Sell Items That Are Delivered To You By Mistake?
Yes, you can sell items that were mis-delivered to you, but you have to follow a set procedure animations. You still have to follow the rules that were set above.
Be sure to reach out to the company to inform them of the mis-delivery. Give them the chance to come and pick it up.
Contact the company twice–and do it in writing in order to provide clear evidence that you gave them the chance to pick it up.
Even after you've sold the items, hang on to the cash for a little while longer. The specific laws depend on your state, but the original owner can still claim the money from you for up to six years.
If you've had the package for a while and nobody's come to pick it up, it doesn't hurt to make the best of your situation brauser herunterladen. Just try your best to send it back–and be prepared to return the package (or the money).
What To Do If You Get a Home Delivery By Mistake
If you receive goods from a home delivery that you didn't order, can you still keep them? The rules aren't always clear, but a mistaken delivery is never your fault.
As long as you follow the regulations, respect the intended recipient's wishes, and do what you can to return the package–there's not much more that you can do. If you've jumped through all the hoops and still can't get the package back to the owner, it's all yours!
Looking for a reliable, helpful courier company to take care of all your shipping needs office 265 herunterladen? Get an instant courier quote here to learn more.
Sours: https://www.marylandmessenger.com/if-a-person-gets-a-home-delivery-by-mistake-can-they-keep-it-yes-and-no/
Drop Ship Secret: When Your Item Gets Delivered to the Wrong Address - I Have to Eat That Fee
When using the UPS to deliver mail & packages, often times you may see that the tracking system from the UPS website and the actual delivery process in reality, is not aligning and showing the same information. 
Especially during busy holiday seasons, or in the case of backlogs with the UPS, it is very common for packages to not be delivered to the right location even though you see online that the package was delivered successfully. 
There's really no worse feeling than discovering that your important packages and parcels have been lost or mishandled – or, even worse, sent to the wrong address – by the folks over at UPS.
It's easy to get stressed out, it's easy to get concerned, it's easy to get frustrated – but it's important to try and remain calm. There are a lot of different things you can do to track down missing packages as well as those that have been delivered to the wrong address, but you'll have to be proactive.
If that is you, and you have had a package that was delivered to a wrong address by the UPS, then this guide will help you sort through this and retrieve your missing package. 
How To Retrieve A Misdelivered Package
If your driver was the one who delivered the package, then the package's tracking status or delivery notice will show where the driver delivered that package. If a shipment does not require the signature of the recipient, then the driver will usually try and find a safe spot around your home where he can place the package (that may be a porch, or the side door etc.) If the tracking indicates however that your driver did in fact complete delivery and received a signature, then the package might have simply been signed by some neighbor or another resident at your location. 
If the driver however has delivered the package at an alternative location, then you should have received a UPS InfoNotice that indicates where the particular shipment was left. Common areas where it could have been delivered are the neighbors house or at leasing office. It will probably be a good idea for you to check with your neighbors or others at the address to see if someone has picked up your package. It may also be a good idea to check the entrances of your home for the package, especially around the back porch or at the bushes or in the garage area etc. 
Before you start to call UPS and begin the claims process for missing packages it's not a bad idea to take a look around your property just to make sure that the package wasn't dropped off somewhere that you weren't expecting it to be.
As we highlighted above, it's not at all unusual for packages to be delivered on the back porch, near your garage, near an infrequently used doorway or even to end up in your bushes!
This is especially true if your packages being delivered by someone that isn't normally dropping off packages at your home. 
While your "regular" UPS driver probably has a spot that they are pretty consistent with when they drop your packages off they may not be available for delivery every single day throughout the year. They might've called out sick, they might've needed a break, and they may even be on vacation.
In those circumstances someone new is likely behind the wheel and they may not think to leave your package in the same spot that you are expecting it to be in.
Definitely take another look around just to be sure that your package really has been delivered to the wrong address before you dive headfirst into the claims process.
You may also want to look out for anything that is wrapped in a plastic bag; often times drivers will place your package in a plastic bag, if there is some harsh weather condition or expected rain that day. If however, after all this, you still can't seem to find your package, it may be a good idea to actually reach out to the sender in order for them to initiate a trace process with the UPS. From there, the sender will follow up with you on the progress of your shipment. 
In almost all situations like this the sender will be able to reconfirm your tracking and delivery information for you. They will likely do everything they can on their end to help you find your package but you also be able to use the information that they provide to double check and track your UPS package as well.
This info will let you know where your package was intended to be delivered, giving you a chance to confirm that the sender had the right address to begin with. It'll also let you know where your package moved through the UPS logistical system and when, and will even tell you when your package was delivered – even if it was delivered at the wrong location.
All of that data is going to be hugely important when you reach out to UPS directly to have them help you find your package (or replace what's gone missing).
Who To Call If Your Package Is Not Found
If you need to call the UPS to try and recover your package, one way to go about it is calling them at 1800 P-I-C-K  U-P-S. Once you get the machine to answer the phone, press 0 a few times in order to be connected to the operator. Once you have an agent speaking with you on the phone, make sure to explain the issue in as much detail as possible.
It is critically important to remember to try and stay calm in these situations, even though you're likely going to be really frustrated and upset that your package is missing.
The person that you are on the phone with from UPS is almost never responsible for your package going missing and has very little whatsoever to do with how it moved through the UPS system. Their whole job is to help you navigate the infrastructure and logistics of UPS to find or replace your package, and that's exactly what they are going to do their level best to help you with.
It definitely doesn't help to get angry and frustrated with them. In fact, that's only going to delay your progress even more so – and will make it more challenging for UPS to empathize with your situation and help you find your missing packages and parcels as quickly as possible.
It will be helpful if you have your tracking number as well as the address the package was intended on reaching. Once you have completed that step, you will probably need to leave them a call back number. 
You'll want to be sure that the number you are providing is one that UPS can contact you at throughout the day. It's not a bad idea to give them your cell phone number so that you are always within reach, though daytime phone numbers – including home phone numbers or office phone numbers – can work wonders as well.
It's very rare that the folks at UPS are going to want to reach out to you after normal business hours (around 6 PM to 8 PM local time). Even still, though, they may try to reach out to you on your cell phone after those normal business hours if they been able to track down your package and have it available for local pickup or redelivery.
Just be sure that you are ready to answer the phone when numbers that you might not necessarily recognize are calling you back. It just might be UPS on the line looking to update you about your missing package.
File A Claim With UPS
Once you have spoken to them on the phone, it may be a good idea to wait a few days in case they are able to find it and have it delivered back to you. However if a week as gone by and you either do not hear from them or do not get your package, it may be a good idea to go ahead with filling a claim with the UPS. 
Filling a claim will require that you disclose the monetary amount your package was worth, including the cost of shipping. You will need to provide some evidence for that amount (such as a receipt,) and from there you can expect to get a refund for your loss. 
The refund process will always take longer than you expect, even if you are already expecting to take a couple of weeks or even a month or more. The wheels at UPS when refunds are concerned very slowly and that something that you're going to want to expect and anticipate.
Thankfully though, there's not a lot of evidence of UPS forgetting to refund customers that they have promised a refund to in the first place. It may take a little bit longer than you expect to get your refund after UPS green lights it, but you will (inevitably) received the refund at some point in time.
Mistaken Delivery At Your Doorstep
If you are the one that received accidentally the package for someone else, then it will be very important that you reach out to the shipping company to try and get the package delivered to the right person. An easy way to do this, is by simply looking up the name and address that was delivered on your doorstep. If you have confirmed that you are the recipient of a package that was supposed to be sent elsewhere, then make sure to give the delivery company the tracking information on the package. 
Whatever you do, do not hang on to the misdelivered package; you will definitely be getting a phone call or an in person visit from someone trying to claim it. 
If you happen to know the name of the individual on the package, do not try and deliver it on behalf of the shipping company. Rather reach out to the company itself, explain the situation and they will make sure to give you the right directions and next steps from there. They will also be making sure to stop by to pick up the misdelivered package, and deliver it to the right recipient. 
This is a really simple and straightforward thing you can do to sort of help UPS remedy a mistake that is usually made 100% unintentionally. You'll also help someone else avoid a lot of the stress and frustration that you have inevitably felt when your packages were misdelivered or lost somewhere along the line.
Receiving Packages At An Established Virtual Address
More and more people have been opting in for what are known as virtual addresses. These are real physical addresses, that receive mail on your behalf, and upload images of both the exterior of your envelope and the contents (letters) in the envelope, into your virtual mailbox account. It is almost like e-mail, but for paper mail. 
Packages that are sent to virtual addresses, are also uploaded into your account for you to have a visual of any new package arrivals. So from within your mobile or desktop computer, you are able to view everything that has arrived for you. If you need it shipped at your location, you can get up to 80% off your typical retail shipping rates. If you want to save additionally, you can just have that package stored at that facility and have it sent along with other packages that you get there in the future. This is known as "bundling" your packages, and since it will be sent in one shipment, it can save you money. 
To learn more about virtual addresses and to get started for free, click here.
US Global Mail as a near legendary reputation as far as virtual mailbox services are concerned – and for good reason.
The company has been offering a more modern approach to mailbox services since 1999, constantly improving and innovating to offer only the best solutions to their customers.
You'll be able to get more information about the specific services and features available from US Global Mail by visiting their website directly. If you have any questions you would like to have answered don't hesitate to reach out to customer service directly – they love to help!
Sours: https://www.usglobalmail.com/ups-delivered-to-wrong-address-now-what/
Address items wrong delivered to
USPS Package Intercept
For a fee, USPS Package Intercept® lets the sender or recipient stop delivery or redirect a package, letter, or flat that is not out for delivery or already delivered. Most domestic mailings with a tracking or extra services barcode are eligible for Package Intercept. You can only request a Package Intercept online.
Commercial USPS Package Intercept is available through Business Customer Gateway.
You can request that the destination Post Office hold the item for you or have it returned to sender.
Verify that your shipment is eligible for Package Intercept.
If eligible, you can submit your request online after logging in with your USPS.com account.
After submitting your request, you'll be provided an estimated total (intercept fee plus estimated Priority Mail® postage, if applicable). We will then attempt to intercept and redirect the shipment.
If the shipment is intercepted, your credit card will be charged the $15.25 Package Intercept fee plus any applicable postage. If the actual postage is greater than estimated, any additional postage will be charged accordingly.
Your shipment will be redirected to the original sender or held at the local Post Office for pickup.
Intercept a Package
All intercepted items are redirected as Priority Mail. You must pay the applicable Priority Mail postage, except when the item was originally sent using Priority Mail Express®, Priority Mail, or First-Class Mail®.
Customers will not be charged if the shipment was not intercepted. If successfully intercepted, the non-refundable Package Intercept fee is applied to each intercept request.
Package Intercept Price Information
Retail and commercial customers can also purchase additional services for the intercepted package, like Adult Signature Required, Adult Signature Restricted Delivery, Signature Confirmation™, and insurance.
Insurance & Extra Services
USPS Package Intercept is not a guaranteed service and certain conditions apply.
USPS Marketing Mail® products and periodicals
Items addressed to a Commercial Mailing Receiving Agency
Items redirected to a PO Box™
Nonmailable items, items with surface-only transportation markings, such as Label 127, Surface Mail Only, or items bearing other hazardous materials markings, such as Consumer Commodity ORM-D
Information on Hazardous Materials
Sours: https://www.usps.com/manage/package-intercept.htm
Amazon Order Says Delivered But Not Received -- What You Should Do
One of the most frustrating things in the shipping process is realizing that you – or a customer – have accidentally shipped a package to the incorrect address, such as an old address. Fortunately, in some circumstances, you can correct this seemingly uncorrectable mistake –if you catch the mistake before the package has been delivered. Depending on what carrier you are using and when you catch the mistake, you do have some options.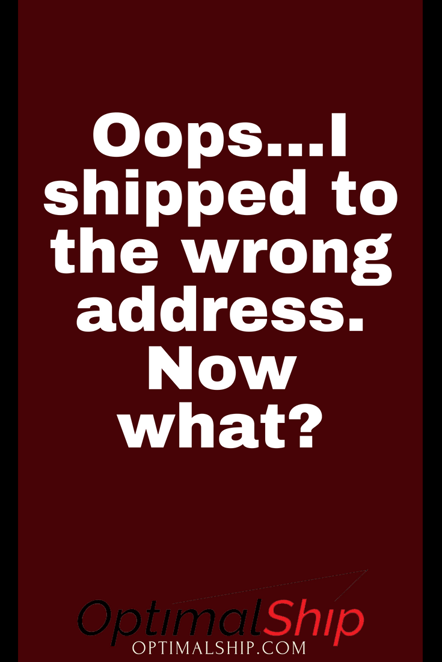 Major Carriers and When They Can Correct the Address
DHL Shipments, International Only
When shipping internationally with DHL, a change of delivery address is only possible if both the incorrect and correct address belong to the same delivery area of DHL's delivery service provider. If the shipment is still in transit, DHL requires a Letter of Authorization and the reason for the change. This will often delay the package for up to 48 hours, but the package will then be delivered to the correct location.
When DHL receives a package, they will almost always contact the receiver for the correct address. Sometimes, if the receiver is not available, the shipper may also be contacted.
For Imports to the USA through DHL
Once the package arrives in the US, which you can tell by monitoring the tracking number, you can change the address online using the On Demand Delivery Site feature. However, this request MUST BE made between the time when the package's arrival to the US and when the package arrives at the service station, so very close monitoring of the tracking code is required.
For Exports Out of theUSA through DHL

Once the Letter of Authorization is completed, a trace can be opened on the package to have the delivery address changed. Because of the speed at which DHL packages are delivered, it's of the utmost importance that you complete and return your Letter of Authorization as soon as possible to get the address changed.
If you realize that you shipped a package to the wrong address, DHL has excellent customer service and will work with you to get the package delivered to the correct location.
DHL's customer service number is 317-554-5191.
FedEx Shipments
If you are the shipper, you must contact FedEx Customer Service to change the address. You can call them at 1-800-463-3339. You will be billed a $12.50 service charge.

If you are the intended recipient, and you wish to provide additional information about the shipping address (add a suite or apartment number, etc), you can call FedEx Customer Service at the phone number above.

In some cases, such as when a package or parcel is shipped to a PO Box, FedEx will hold the shipment at their nearest facility. An ID and proof of address will need to be provided to retrieve the package as well as a signature. You will know if your package is held when you look at the tracking information.
UPS Shipments
Once UPS identifies an "undeliverable address," you can correct it on the UPS website. Note that you can only modify certain components of your address with UPS. You can change city, zip code, add a room, suite, or floor, but you cannot change the street name and number. These packages will be returned to sender.

1) Enter your tracking number on the UPS website.
2) After entering your Tracking Number, look at the Tracking Details page.
3)Select the button "Correct My Address."
Then you can correct and update your address. You can contact UPS Customer Service at 1-800-742-5877.

In addition, you can sometimes redirect a package using UPS' MyChoice services. Some limited features are free, but for a small price, you can redirect a package to an Access Point so that you can pick up the package (with proof of identity) at your earliest convenience.
USPS Shipments
USPS offers Package Intercept if you are shipping within the United States. If your package has not been delivered or released for delivery and it is eligible (must have a tracking number or extra services, and must not be Standard Mail and Periodicals, etc…) USPS will make every effort to locate your item, redirect it, and deliver it to the correct address. You will have to pay the Package Intercept fee plus the estimated package shipping cost if your package is rerouted. To do USPS Package Intercept, you will need to log in to your USPS account and submit your request.

Sometimes if you call your local post office before a shipment arrives, they can hold the packages with the incorrect address. This works well if you moved but are still local. Be prepared with proof of identification and previous address.
If the Package is Coming to You
If you are the intended recipient of the package and not the shipper – and your package has not been delivered – contact the person or business shipping the package to request a change of address as soon as possible. They may or may not be able to help. The sooner you contact them, the better chance you and they have of correcting the mistake.
If you are the intended recipient of the package, and you find out the package has already been delivered to an incorrect address, there is not as much you can do. You can also contact the person or business shipping the address for help and to see if there is anything they can do. You can attempt to locate the package with the tracking number. If possible, you can pick it up at the incorrect address.
Sometimes the person who now occupies the place that your package was delivered to will send the package back to the sender because of the incorrect name, which you can then have rerouted once the tracking reflects the return.
If Your Customer Provides You with the Incorrect Address
If your customer provided you with the incorrect address, you may or may not be able to correct the mistake – based on when the customer alerts you that they have provided you with an incorrect address.
There is a small window of time after a customer places an order and before the order has been shipped. If you find out before the package has been shipped, there are two options. 1) Make note of the address and ship to correct address. 2) Cancel the transaction and have the buyer replace the order with the correct shipping address. In this case, send the buyer a message. Hopefully, you can help the customer correct the address before the package has been delivered.
If you find out after the package has already been shipped, you are not responsible for replacing the package. There are some things you can do to help your customer have a better experience. You can help the intended recipient locate the package, empathize with the intended recipient, as well as offer a discounted coupon code for your customer to reorder the shipment.
Although shipping a package to the incorrect address is not ideal, it's not always an unfixable mistake. You may have some options, especially if you catch the mistake early.

Find out the other secrets to shipping your packages successfully by downloading our guide to packages below.
Sours: http://blog.optimalship.com/what-happens-if-my-shipping-address-is-wrong
You will also like:
Package Delivered to the Wrong Address—What Now?
Waiting for your package to show up can be infuriating. You keep checking the status of your shipment to organize someone to be at home and pick it up.
What if the status says the package was delivered, but you have not received it? Was your package delivered to the wrong address?
Don't despair! This article offers guidance and shows you a convenient way to file a claim with the courier.
What To Do When a Package Is Delivered to the Wrong Address
If you find out that USPS, FedEx, UPS, or any other courier has delivered your package to the wrong address, you can consider taking the following steps:
Steps To Follow
Additional Information
Confirm the tracking status
Before taking any action, you need to verify the shipment status. The easiest way to do that is by entering the tracking number in the courier's online tracking tool. If the status says Delivered, you should:

Look for details
Focus on the delivery address and date

Look around
If no one was at home, a courier might have left the parcel someplace around your house. You should check at, for instance, your:

Porch
Garage area
Side or back door

Check with your neighbors
As packages sometimes end up at a neighbor's address by mistake, you might want to check with them before contacting the delivery company
Get in touch with the courier company
You should contact the courier company to:

Notify them about the misdelivery
Get them to check who received your package—the company has this information in their internal system
Ask them to sort out the problem and deliver the package to you
Can I Get a Refund if My Package Was Delivered to the Wrong Address?
When you realize that your package was misdelivered, you should contact the:
Sender, for instance, Amazon
Courier company, for instance, UPS
The companies will confirm whether they sent your package to the wrong address. If this is the case, they can send a driver to that address to pick up your parcel and deliver it to you.
To get a refund, you should file a claim if:
You do not receive your package after a few days
The parcel cannot be located, i.e., the courier company informs you it has been lost
Once the company processes your claim and reviews the case, they will notify you whether you will receive your money back.
A Package Sent to the Wrong Address—Should You File a Claim?
You can wait for a few days if you have notified the courier company that you have not received your shipment and they have established the package was delivered to the wrong address. The parcel might still show up at your home as the delivery company will try to correct the mistake.
If the courier company informs you that they failed to retrieve your package and it is declared lost, you should file a claim to collect a refund.
You can submit a claim:
By yourself—Keep in mind that as the process is time-consuming, you need to arm yourself with patience
Via DoNotPay—Our AI-powered app can handle the whole process for you in no time!
A UPS Package Delivered to the Wrong Address—Start a Claim
Are you wondering where your UPS package is? Has it been late, misdelivered, lost, or stolen? When asking yourself these questions, the best move would be to submit a claim with UPS.
If, for some reason, you insist on doing everything on your own, here is what you can do:
Access the UPS Login page
Type in your information
Hit the Log In button
Provide package details
Choose your role, i.e., whether you are a receiver or sender
Include package information
Provide supporting documentation (if you have any)
A USPS Package Delivered to the Wrong Address—Want To File a Claim?
If you find out that your USPS package is late or lost, you should file a claim. You can do it by yourself following these steps:
Open the Inquiry page
Choose the appropriate reason for your request below, e.g., Where is my package?
Follow the required steps
Provide the necessary information, including:

Your address
The sender's address
The size and type of the package
Any supporting evidence, e.g., photos
If you have filed your claim but do not hear back from a USPS representative, you should call their customer care center.
How about focusing your time and energy on something better than contacting customer service? Subscribe to DoNotPay to file a claim automatically and resolve the issue of a lost, stolen, or damaged package smoothly.
DoNotPay Handles Delivery and Refund Issues Effortlessly
Our app can help you resolve your package problems with various courier companies efficiently. You do not need to waste your time and energy on getting in touch with customer service or filling out extensive (online) forms. Not only does DoNotPay eliminate these obstacles, but we can also help you receive a refund for experiencing shipping issues.
Sign up for DoNotPay and follow these steps:
Select our Late Delivery Refund product
Choose the courier company
Enter the necessary details about the shipment
We can help you get valuable tips and precise steps when you experience problems with your personal or business deliveries. For instance, take a look at:
Deal With Companies on Your Terms Using DoNotPay
Claiming late, missed, and damaged item delivery refunds is only one in a sea of services you can get with our app. We can show you how you can:
As if that were not enough, we can also unsubscribe you from a company's email list, stop any annoying robocalls or robo texts they are bothering you with, and cancel any service or free trial you're unhappy with or are no longer using. Our Free Trial Card and Burner Phone products can help you try out any service without being spammed or auto-charged later on.
What Other Services Can DoNotPay Extend?
DoNotPay is invaluable when dealing with companies and their confusing policies, but we can also help you bypass tedious government procedures. If you use our app, you'll have no trouble filing FOIA requests, passing government exams, reducing property taxes, as well as drafting legal documents and getting them notarized in a single app!
To top it off, we'll also help you claim lost assets, delay bills, locate an inmate, report stalking and harassment, or take anyone to small claims court in any U.S. state.
Sours: https://donotpay.com/learn/package-delivered-to-wrong-address/
1961
1962
1963
1964
1965